Coolers these days can keep ice for days at a time and even up to 1-2+ weeks depending on the brand and the size of the cooler.
With so many brands out there all claiming "Keeps Ice For X Days" I wanted to actually compare these cooler brands to each other to determine which coolers are the absolute best for ice retention and which cooler brands don't perform as well.
With a heck of a lot of in depth research here's what I found out:
The best cooler for ice retention in 2023 is the Kong Coolers with 10-14 days ice retention. This was followed closely by Orca Coolers, Techniice and then Siberian Alpha (two lesser known brands). Yeti coolers ranked 10th and Lifetime coolers offers the best value for money ranking 7th.
How I Determined Which Coolers Performed The Best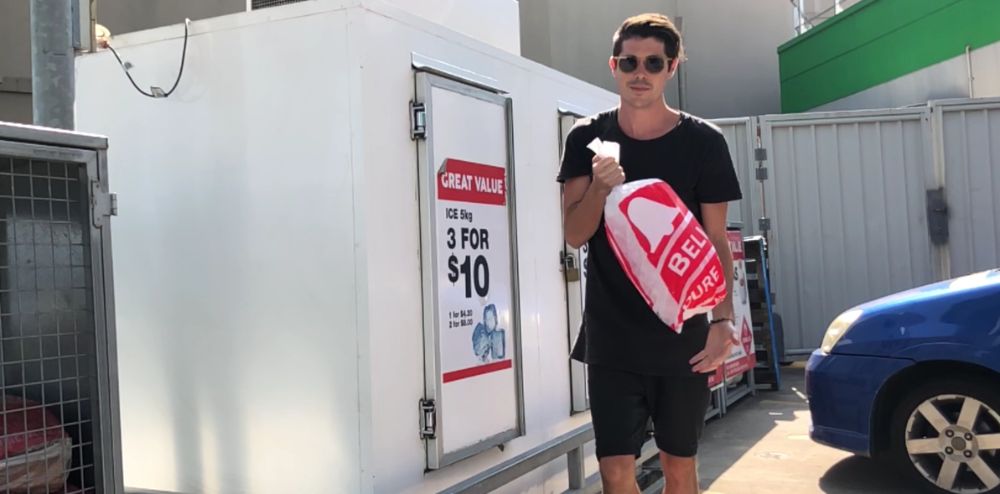 I do not personally own all these coolers and these coolers come in all different sizes, so doing a single ice test of every brand wasn't possible for me without investing tens of thousands of dollars.
However, I do own or have owned A LOT of different coolers on this list including Yeti, RTIC, Lifetime, Coleman, Engel, Pelican etc.
Instead I treated this like a detailed research project and did all the research into other ice retention tests that people have done including some of my own ice retention tests done a few years ago.
Overall I looked at 23+ ice retention tests of varying types and quality to see which coolers consistently pulled ahead and kept ice longer than other brands.
I took into considering the different sizes of coolers during the ice tests as the larger a cooler the longer it is going to hold ice if completely filled. So a larger cooler completely filled has an advantage over a smaller cooler completely filled.
When only partially filled the opposite is true. The more empty space inside a cooler the worse it's ice retention.
Also doing some cross analysis helped in creating the final ranking.
Looking at a Yeti vs Patriot video and seeing the Yeti slightly outperforming the Patriot. Then seeing how the Patriot compared to other brands etc etc gave me the ability to create a pretty robust and accurate list.
How Much Better Are The Best Coolers at Keeping Ice?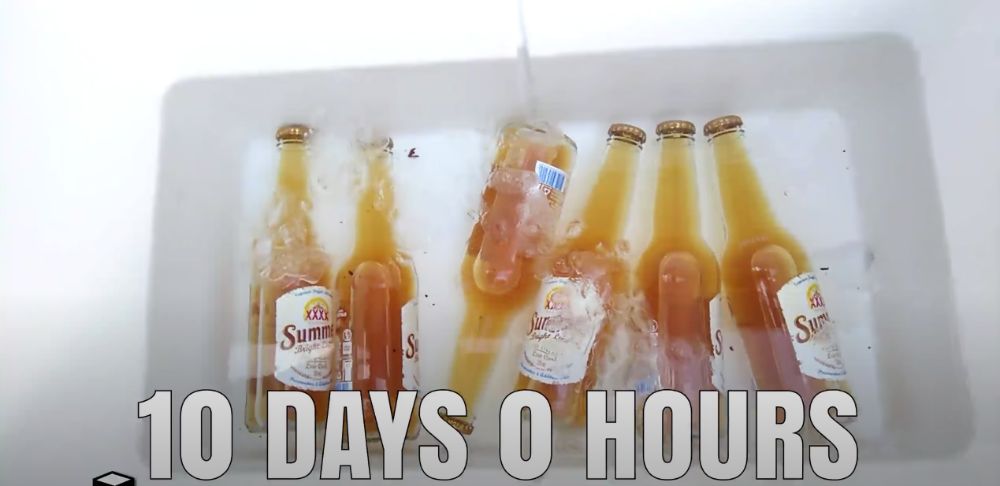 One of the most difficult things to display is exactly how long each brand will hold ice.
Given each brand has multiple sizes and larger sizes can hold ice significantly longer than smaller sizes I can't say that Otterbox can hold ice 10 days while Yeti can only hold ice 7 days.
Because a huge variety of factors play into exactly how long each cooler is going to hold ice.
I can say however that that top 1-4 coolers will likely hold ice a full 0.5-1.5 days longer than coolers 5-17 (all of which are pretty similar in ice retention).
Once you hit #18 (Ozark Trail) you start to get a larger drop off and days less ice retention than other brands.
So if you want the absolute best ice retention a cooler can offer then coolers 1-4 are going to be your best bets.
If you want above average ice retention then coolers 5-17 are all good quality coolers and can hold ice for days if not weeks.
If you're looking to save money but still get decent ice retention then 18-22 is where you want to be looking.
1. BEST ICE RETENTION – Kong Coolers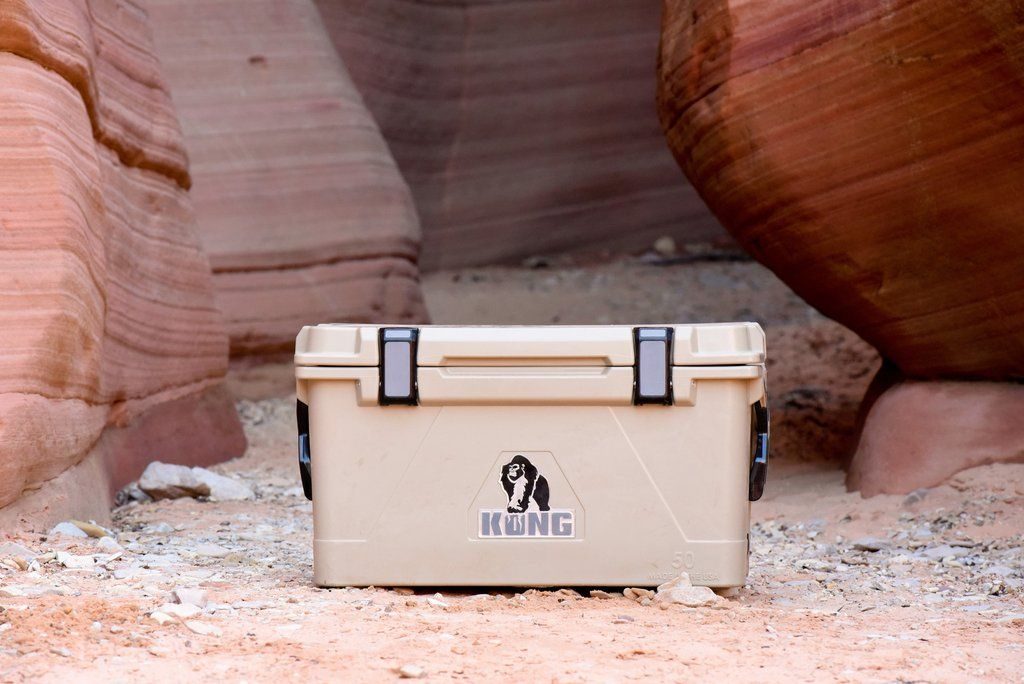 Ice Retention: 7-14 Days
Kong coolers are a high-quality USA made cooler that is backed by a limited lifetime warranty. They are a newer entrant to the market and looking at the design they don't seem significantly different from Yeti and other coolers, yet their ice retention is consistently better.
Below you can see a long video where someone tests the ice retention of all sizes of Kong cooler and they all last 6+ days with the largest lasting 10+ days.
Kong coolers have everything you would expect from a high-end cooler. They are roto-molded and super durable, bear proof, have non-slip feet and a freezer grade gasket.
Their lid latches are super thick and beefy which people love and instead of rope handles like Yeti they have thick plastic handles. Read my full Kong vs Yeti comparison.
With the Kong Kicker accessory these handles can be used to create side tables on your cooler giving your extra prep-space which is a really cooler feature.
These coolers are still fairly new and not sold in many stores (if any). But you can get them through their website. Click the link below to see the latest prices on Kong coolers at KongCoolers.com:
See the latest prices of Kong Coolers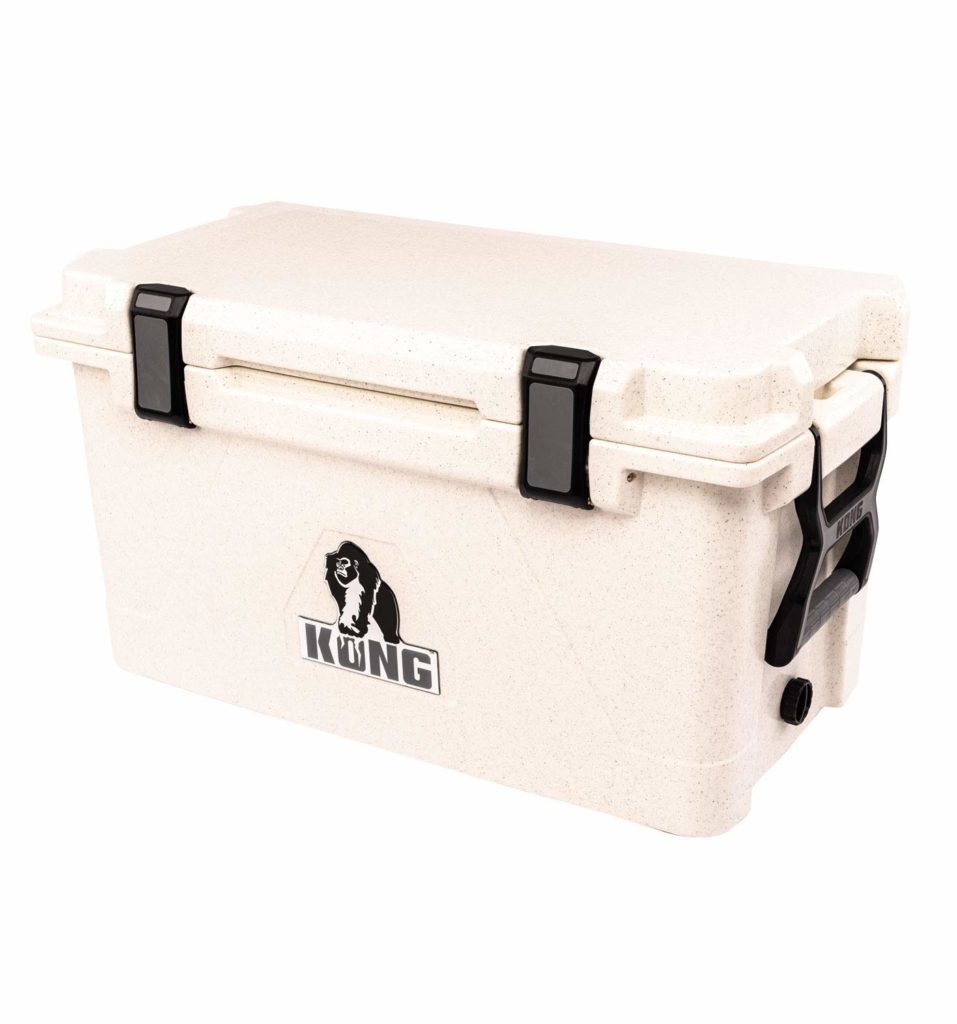 PROS:
Incredible ice retention
Big beefy latches that customers love
Made in the USA
Lifetime warranty
CONS:
Expensive compared to similar coolers
Limited color options
Not sold in local stores
2. RUNNER UP – Orca Coolers
Made In USA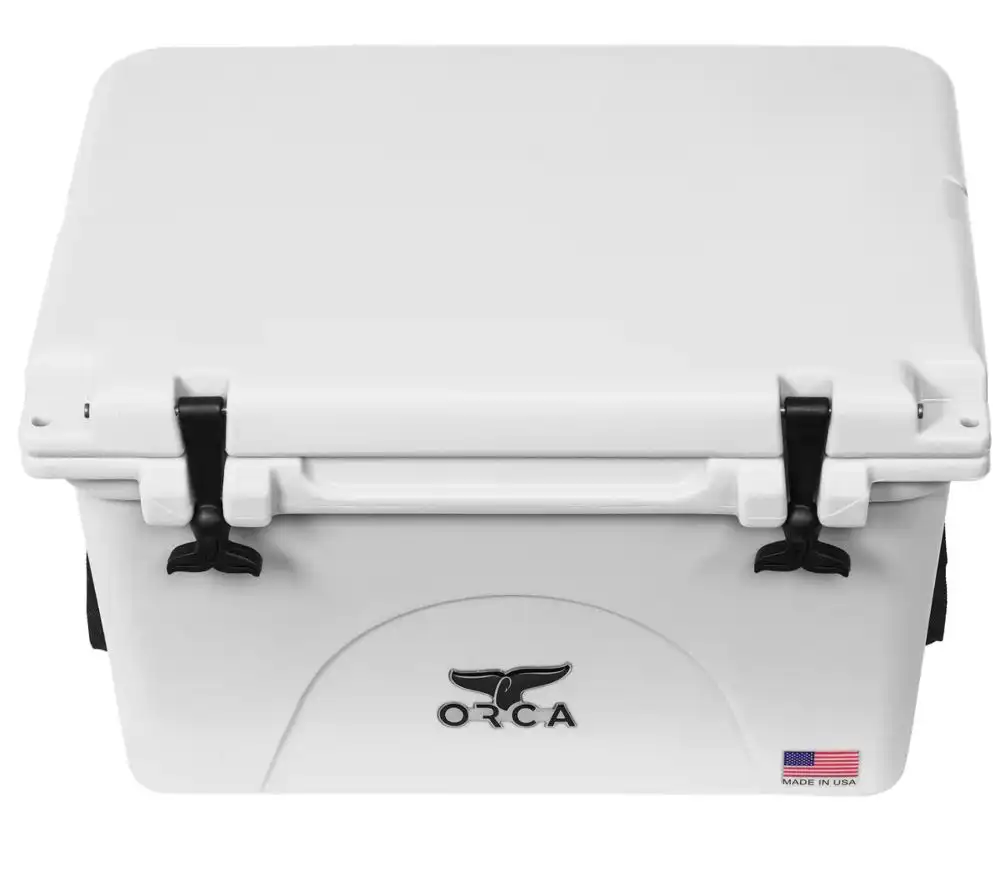 Ice Retention: 6-9+ Days
Before the newer coolers of the likes of Kong came to the market ORCA was THE go to cooler for the best ice retention of any cooler in the industry.
It continually outperformed other coolers in ice retention tests and overall is a really well built cooler.
ORCA Coolers are made in the USA are come with a lifetime warranty. In fact I rate them as the best cooler with a lifetime warranty.
Their design is extremely similar to Yeti coolers for those who want something like Yeti but cheaper and they come in a wide variety of sizes and colors.
They also have licensed coolers so you can get an ORCA cooler with your favorite Collegiate, NFL, MLB or NHA team. Overall a great product.
See the latest prices of Orca Coolers at OrcaCoolers.com
(or compare to the latest price of Orca Coolers at Amazon)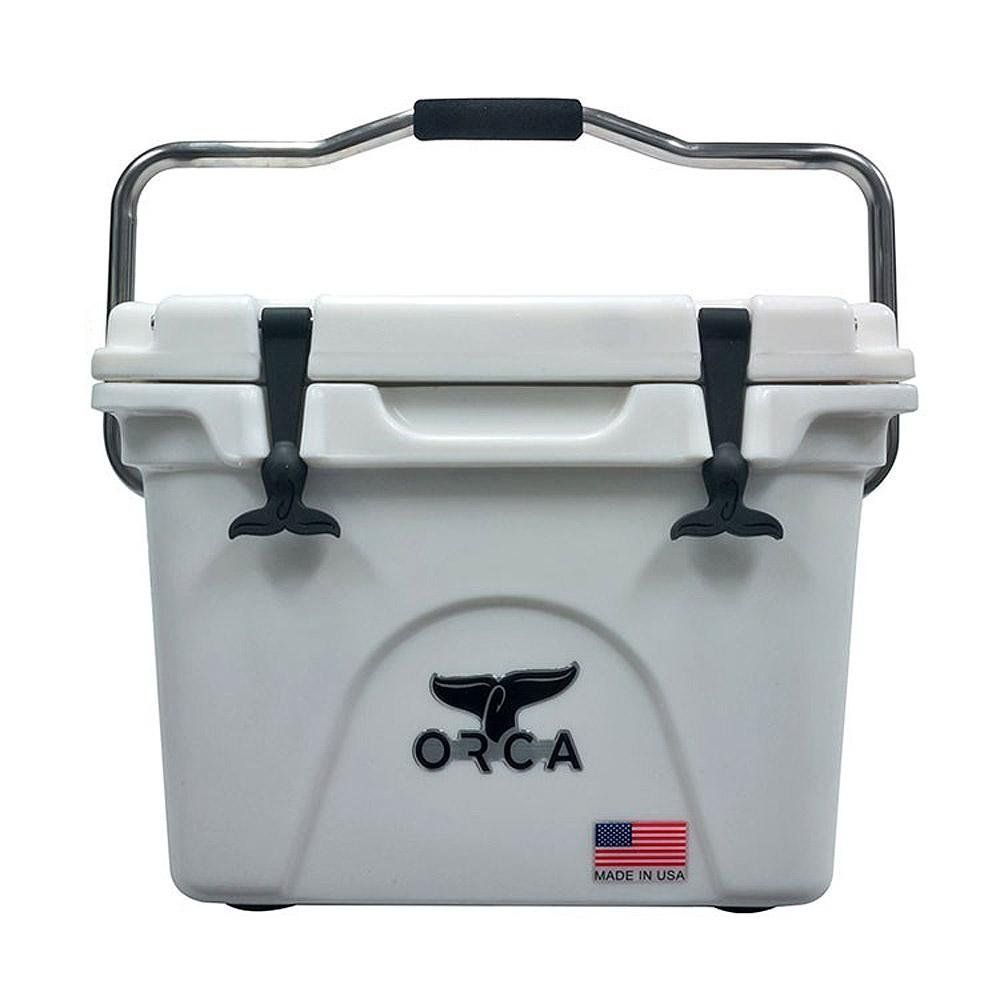 PROS:
Made in the USA
Limited lifetime warranty
Big brand name
Lots of color options
Lots of size options
3. TechniIce Coolers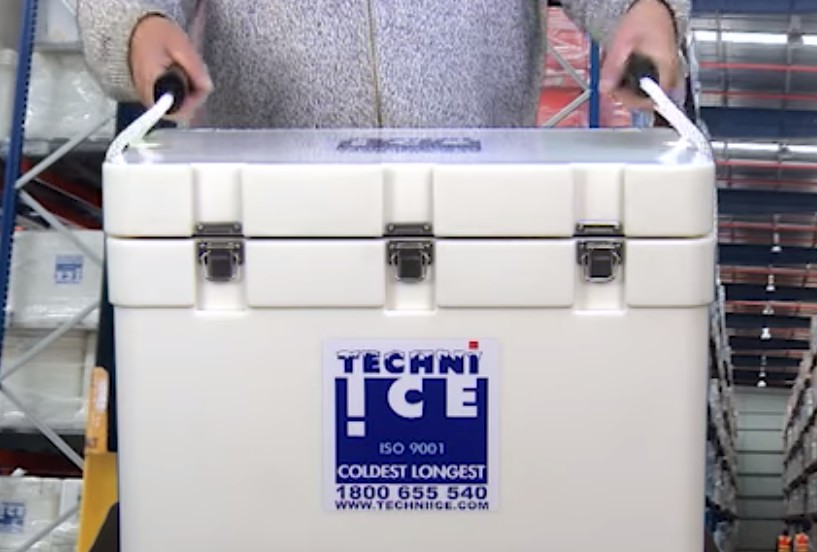 Ice Retention: 7-9+ Days
TechniIce is a brand of cooler that comes out of Australia and has shown amazing results in ice retention tests.
It's got extra thick insulation (3 inches compared to 2 inches in other brands) and it has two freezer grade gaskets to help lock in that cold and keep out the heat.
It only comes in white (white coolers keep ice longer than darker colored coolers) and it's not the most beautifully designed cooler on the market, but it works extremely well in keeping ice frozen and keeping your stuff cold.
Distribution is also limited and I'm not actually sure where you can buy these coolers from as they aren't on Amazon and I can't find what stores they are sold in. Maybe the only place you can buy them is from TechniIce's online store.
PROS:
Extra thick insulation
Two freezer grade gaskets
Keeps ice extremely long
CONS:
Not a well known brand
Not the most beautiful cooler
Not sold in many places
4. Siberian Alpha Series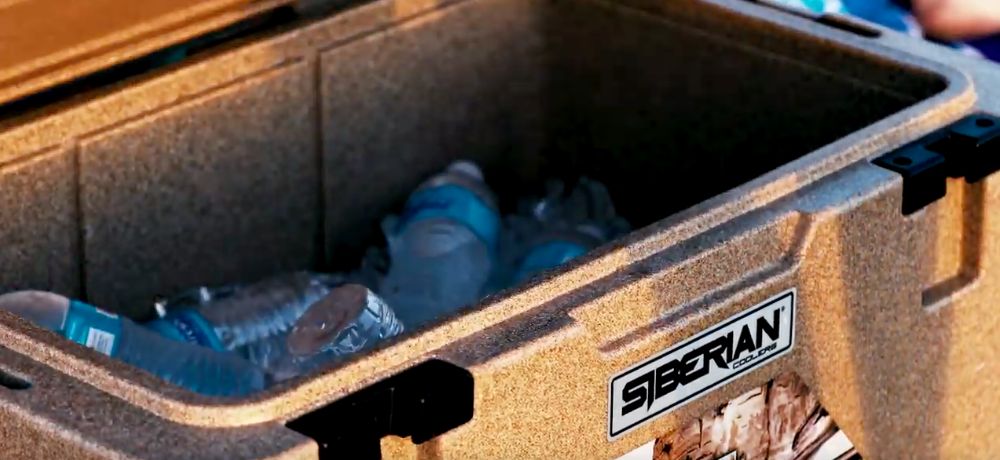 Ice Retention: 7-9 Days
Siberian Alpha coolers are one of the other top 5 performing coolers when it comes to ice retention, they are also a bit more affordable than Otterbox and Kong which is a definite positive for budget conscious shoppers.
These were actually one of the first coolers I reviewed back in 2016 when I started this website and since then Siberian have continued to improve and iterate on their design making it better and better. It's really great to see a company continue to improve their product.
This cooler features pull down metal cam latches that are recessed into the body of the cooler so the cooler has the smallest profile possible.
It's has a nylon rope handle, non-slip feet and a freezer grade gasket. All up a really great cooler and I'm looking forward to seeing what Siberian come out with next.
See the latest prices of Siberian Alpha coolers at Amazon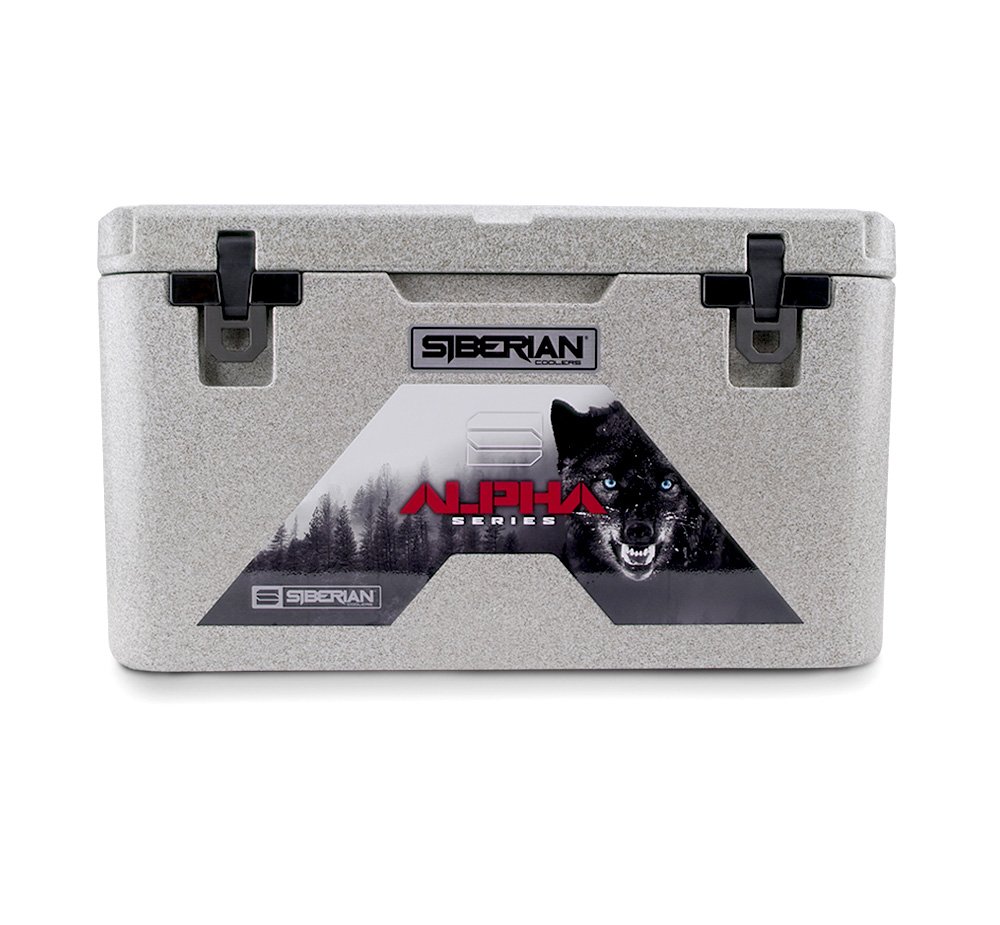 PROS:
Great ice retention
Cheaper than Otterbox and Kong
Metal cam latches
Company continues to improve it's coolers
CONS:
Not made in the USA
Very few color options available
5. Custom Cooler Store*
Ice Retention: 6-10 Days
This one has an asterisk next to it because I've only seen this cooler in one ice test challenge and the cooler was a fair bit bigger than other coolers in the challenge.
The 69-Quart cooler was pitted up against coolers around the 45-50-Quart range so it wasn't really a fair comparison as larger coolers hold ice longer than smaller coolers when filled to capacity.
This seems to be a company they imports coolers from China and then will print your brand on them so you can white label them and sell them.
Generally these imported coolers aren't as good quality as ones made by companies that do their own manufacturing (like Yeti, Orca, Otterbox etc) so this makes me sceptical. Still they are much cheaper so may be worth looking into.
I need to get myself a 37-Quart and compare it directly to the Yeti 45 which is also 37-Quart.
Maybe I should start a "The Cooler Box" line of coolers and sell them? Haha
PROS:
Good ice retention
Much cheaper than other coolers on this list
CONS:
The cooler in the ice test was much bigger which may have skewed results
You can't buy from Amazon or stores
6. Pelican Coolers
Ice Retention: 6-8+ Days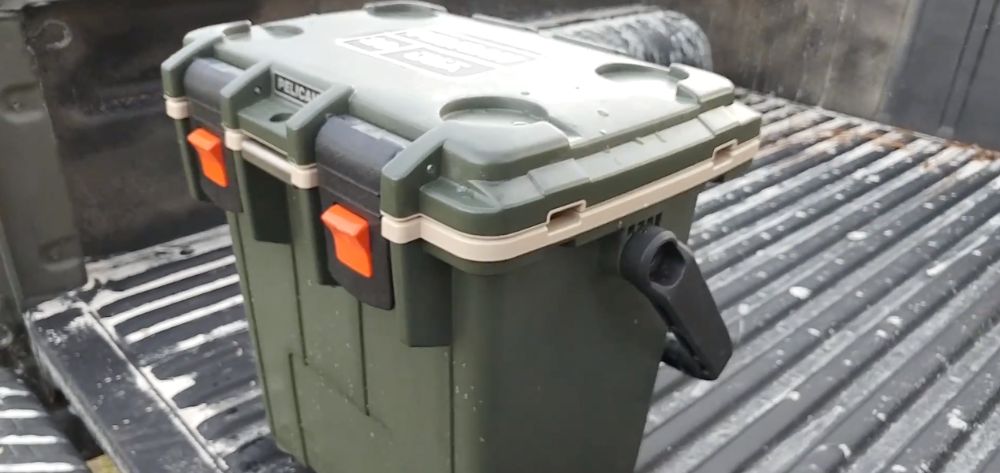 Pelican are known for creating high-quality durable products and their line of coolers is no different.
These coolers are big and bulky and just look tough. They are also extremely durable and very good at holding ice.
Pelican coolers used to have the issue that they were heavier than other coolers but this was fixed with their newer models.
They tend to slightly outperform Yeti in ice retention tests, though not by a huge margin.
They are made locally in the USA which is also a huge plus for some people. They also make a version which is, in my opinion, one of the best coolers on wheels.
Their handles protrude out the side like the Otterbox but they have these amazing pull and pull metal latches that are so satisfying to use. They also sell for slightly less than Yeti and Otterbox so might be worth checking out for that reason:
See the latest price of Pelican coolers at Amazon
PROS:
Built tough, big beefy design
Made in the USA
Great ice retention
Awesome heavy-duty metal latches
CONS:
Handles protrude out and take up more space
Older models are quite heavy
7. BUDGET PICK: Lifetime Coolers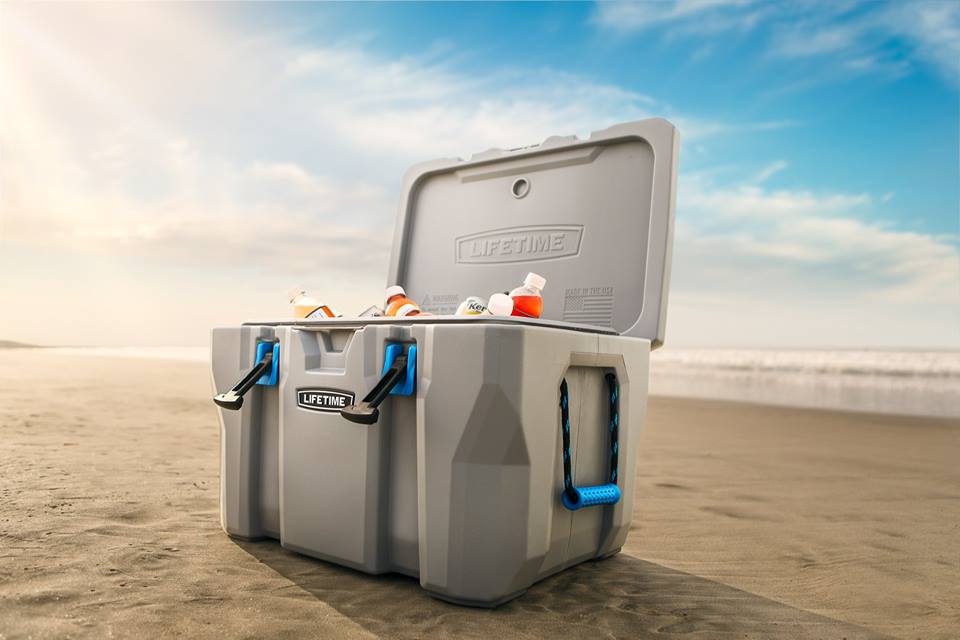 Ice Retention: 5-7+ Days
Even after writing a Lifetime cooler review over a year ago now I still continue to be shocked by how good these coolers are for the crazy low price they sell for.
They are one of the cheapest coolers on this list, with the smallest sizes selling for under $100, but despite their low price their performance is really good.
The outperform big name brands like Yeti, RTIC, Ozark Trail, Grizzly and Orion in ice retention test and their overall build quality is still really good.
They are bear proof, have easy to use cam latches, a freezer grade gasket, thick insulation and unique grip and slide feet which are extremely practical.
If you're looking for a great budget cooler that can hold ice for a really long time then you can't go wrong with Lifetime.
They are available at both Amazon and Walmart with prices fluctuating between which site is cheaper. I'll link up to both below so you can find the best price:
See the latest price of Lifetime coolers at Walmart.com
(or compare to price of Lifetime coolers at Amazon)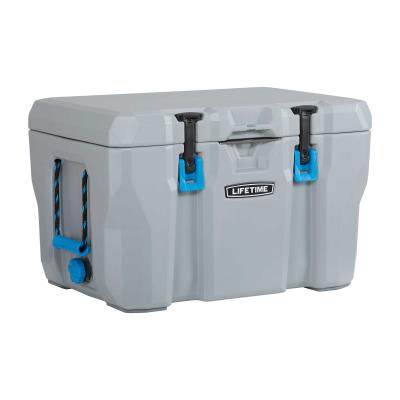 PROS:
Extremely affordable
Great ice retention
Grip and Slide feet
Made in the USA
CONS:
Not as durable as roto-molded coolers
Only comes in 1 color
8. RTIC Coolers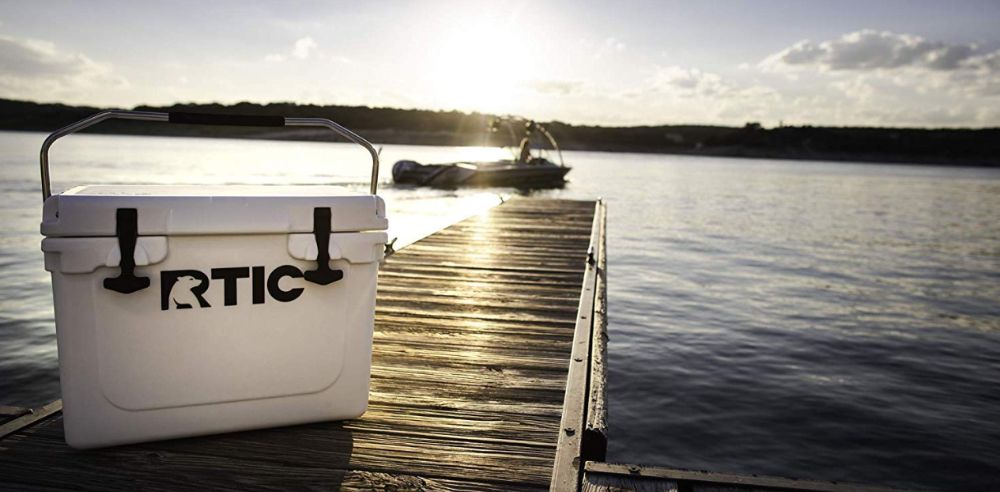 Ice Retention: 5-7+ Days
RTIC Coolers are the brand most like Yeti. In fact many people often ask me if RTIC and Yeti are the same company (they aren't) and RTIC even got sued by Yeti for making their products too similar.
If you're looking for a cooler that is like Yeti but cheaper then the RTIC is going to be the closest looking option for you.
Ice retention performance is very similar to that of Yeti with some tests showing RTIC doing a tiny bit better while other tests show Yeti doing a tiny bit better. There isn't much difference in them though.
RTIC are now a fairly well known brand themselves and a good alternative to check out.
See the latest prices of RTIC Coolers at Amazon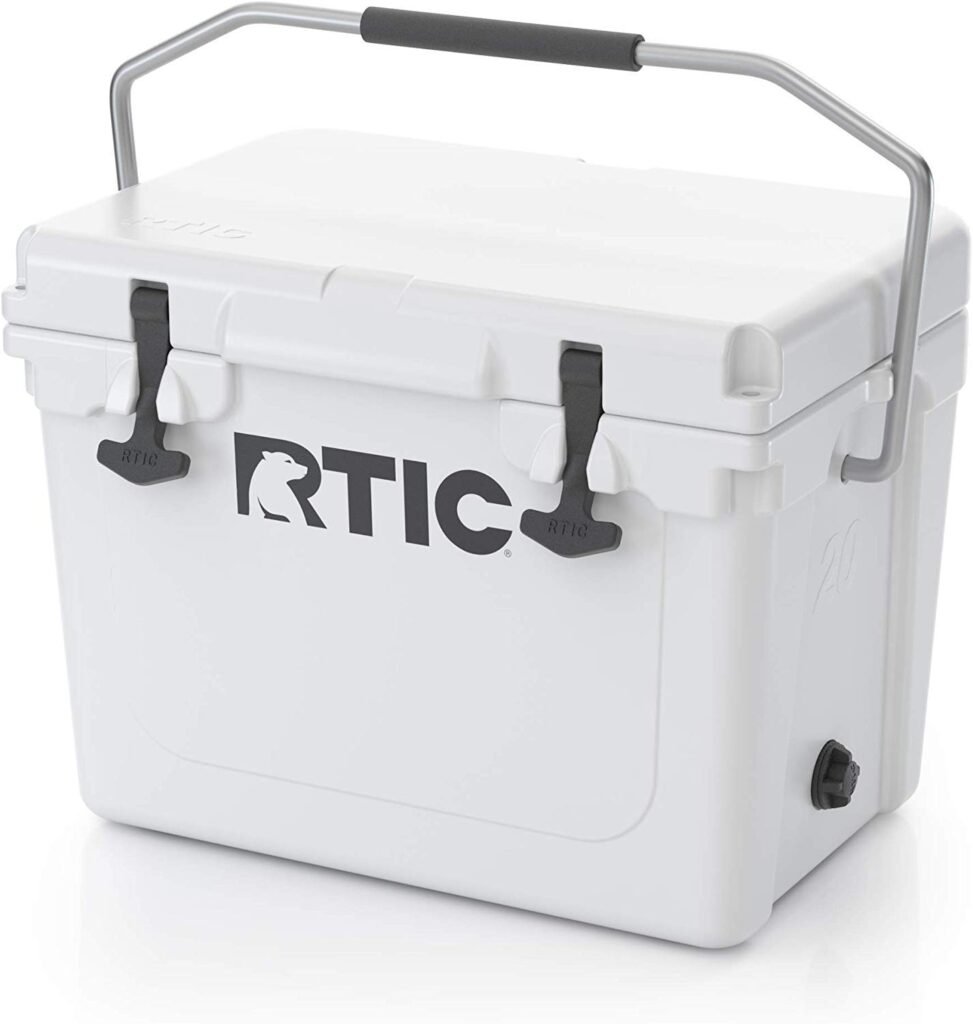 PROS:
Look extremely like Yeti
Sell for a discount compared to Yeti
Well known brand
CONS:
Not Yeti
Not made in the USA
9. Canyon Coolers
Ice Retention: 5-7+ Days
Canyon coolers offer a very affordable cooler with good ice retention and arguably the best lifetime warranty of any cooler company out there.
If you're looking to save some money then these coolers are a good quality option.
They are roto-molded and bear proof, so they are super durable and they come with everything you would expect form a high-end cooler.
Plastic cam latches, nylon rope handles, thick insulation, freezer grade gasket, non-slip feet etc.
They also have some innovative designs like the Canyon Scout and the Canyon Mule which have the ability to add a bungee net on the top for hauling more gear.
I have always really liked the vibe of this company and their coolers. Downsides for me would be the limited color options.
See the latest price of Canyon Coolers at Amazon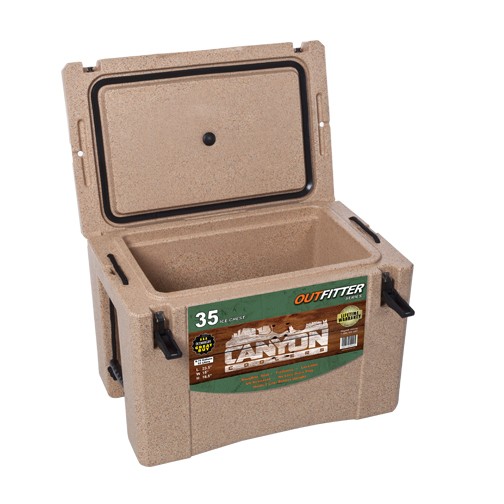 PROS:
Best lifetime warranty of any cooler
Some unique and cool designs
Great ice retention
More affordable than Yeti
CONS:
Limited color options
Not the most beautiful design compared to other coolers
Made overseas
10. Yeti Coolers

Ice Retention: 5-7+ Days
Chances are you have heard of Yeti coolers before and you're likely surprised that they are so low on this list.
This DOES NOT mean that Yeti coolers are bad at holding ice, that's not true at all. They are really good at holding ice and depending on the size can generally hold ice for about 4-7 days.
I've even done this Yeti 45 ice test challenge where the Yeti was able to hold ice for 10+ days. So it's clear they can perform really well.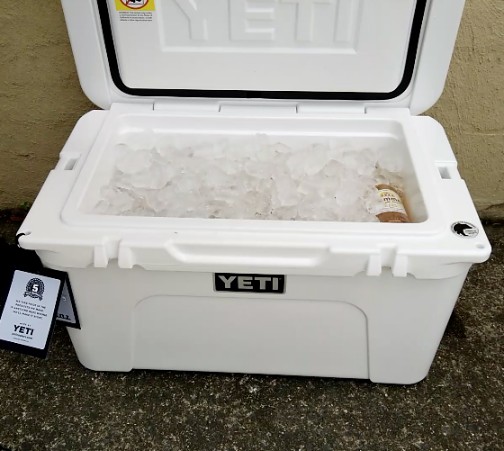 But when they go head to head against the brands mentioned above the Yeti will most often run out of ice slightly earlier than competitors.
Though, the difference between a Yeti (#10) and a Pelican (#6) can be measured in a matter of hours, not days.
The benefit of buying a Yeti over any other cooler is that Yeti is the most recognised brand, they are a lifestyle brand and their products are built to an extremely high standard.
Something about Yeti coolers feels amazing when compared to other coolers like Engel or Lifetime. A Yeti is just more premium.
If you like the brand and want a Yeti and the difference in ice retention doesn't matter to you then I would say get the Yeti. I have owned a Yeti 45 for years and absolutely love it.
See the latest price of Yeti Coolers at Yeti.com
(or compare to price of Yeti Coolers at Amazon)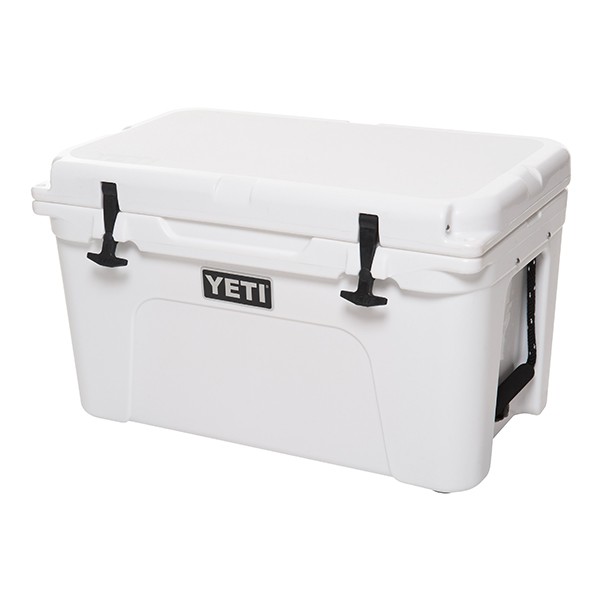 PROS:
Most recognised brand
Feels premium
Lots of color options
Lots of size options
CONS:
One of the more expensive brands
Other coolers have better ice retention
EDIT: 11. Otterbox Venture
*Otterbox Venture was previously #1 on this list but I have demoted them to #11 as they are currently not available. I don't know if this is just a short term supply issue or if they are no longer manufacturing this product. It's a bummer because it holds ice better than any other cooler out there.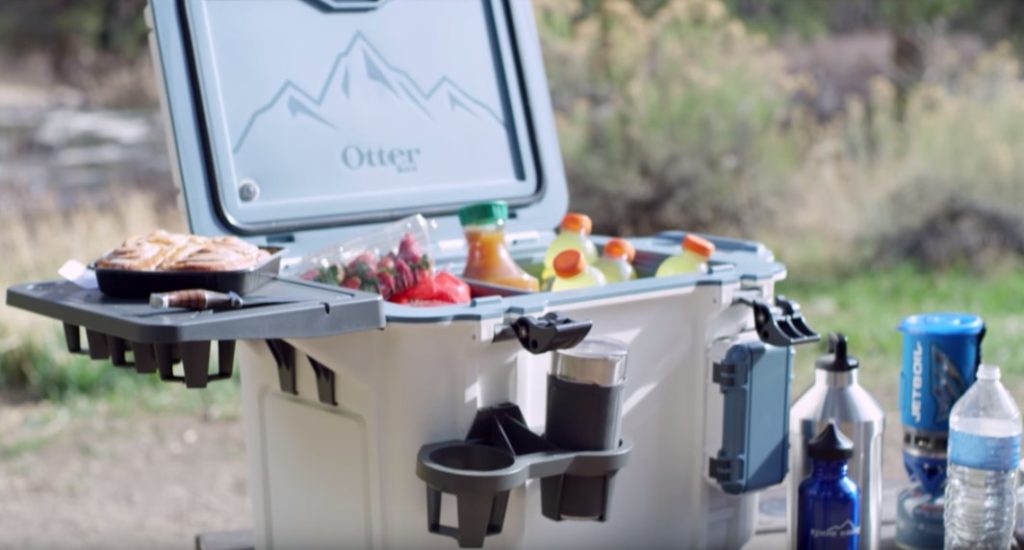 Ice Retention: 10-14 Days
The Otterbox Venture is the #11 (previously #1) cooler for holding ice on the market and will outlast any other similar sized cooler on the market.
Otterbox claim up to 14 days ice retention, and in the Florida heat it an Otterbox 45 was able to hold ice for a full 10 days. So given a cooler climate 14 days is definitely possible but for regular use in warm weather 5-7 days is more likely.
It's injection molded (compared to other coolers that are roto-molded) and this allows more attention to detail in the design.
It's got cam style rubber latches, a unique accessory mounting system and it's also made in the USA.
It's an extremely high quality cooler that is backed by a limited lifetime guarantee.
The downsides of this cooler are it's price, it's on-par with Yeti or even slightly more expensive, as well as the side handles protrude out from the cooler meaning it takes up more space than other coolers.
It's really close in ice retention to Kong, which came in at #2, but the Otterbox 45 held ice the same length of time as the Kong 50 and given the Otterbox was smaller you've got to give it the win.
To see the latest prices, sizes and colors of Otterbox coolers click the link below:
See the latest prices of Otterbox coolers at Amazon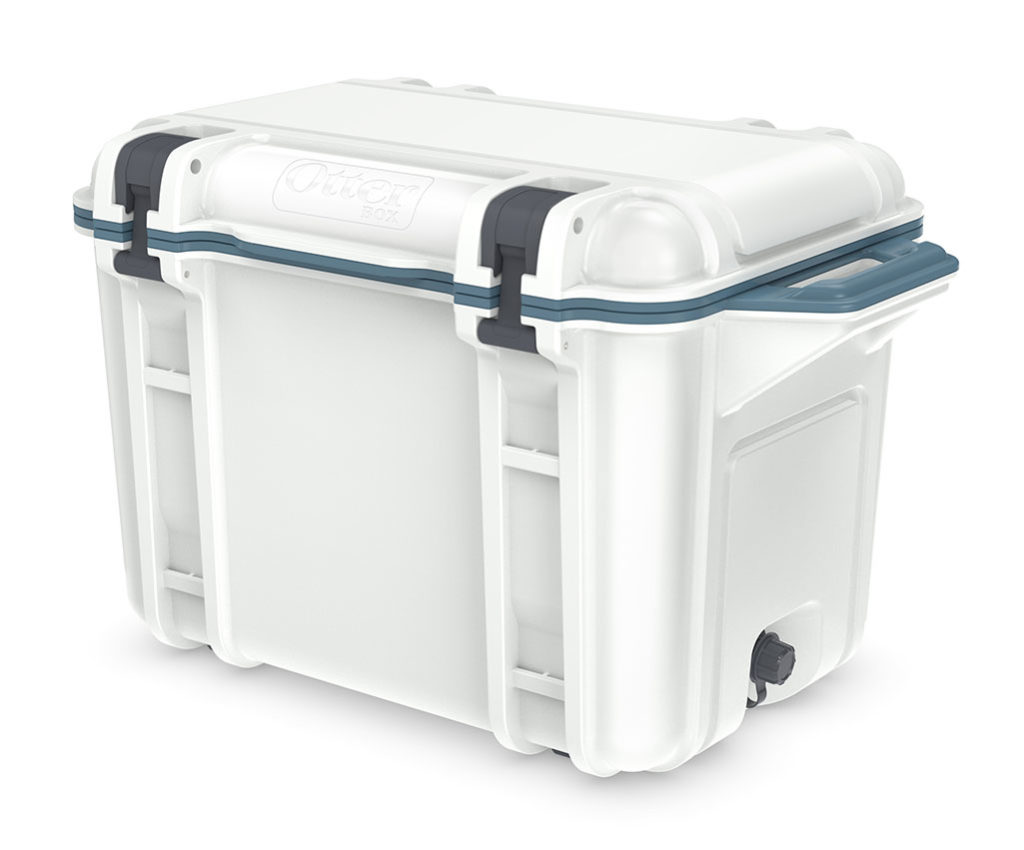 PROS:
Best ice retention out of any cooler
Exceptional build quality
Made in the USA
Lifetime warranty
CONS:
Expensive
Limited color options
Handles protrude out the side taking up extra space
Coolers That Don't Hold Ice as Long as Yeti
The below coolers are very similar to Yeti but didn't hold ice quite as long as the Yeti cooler and thus I haven't bothered dedicating a full feature to them.
If you want to see the full reviews and head to head comparisions of these coolers vs Yeti coolers I will link up to them below.
12. Patriot Coolers
Their name would imply they are made in the USA but they aren't, these coolers are actually made overseas. They have great ice retention and are only about half a day behind Yeti in terms of ice retention.
13. Orion Coolers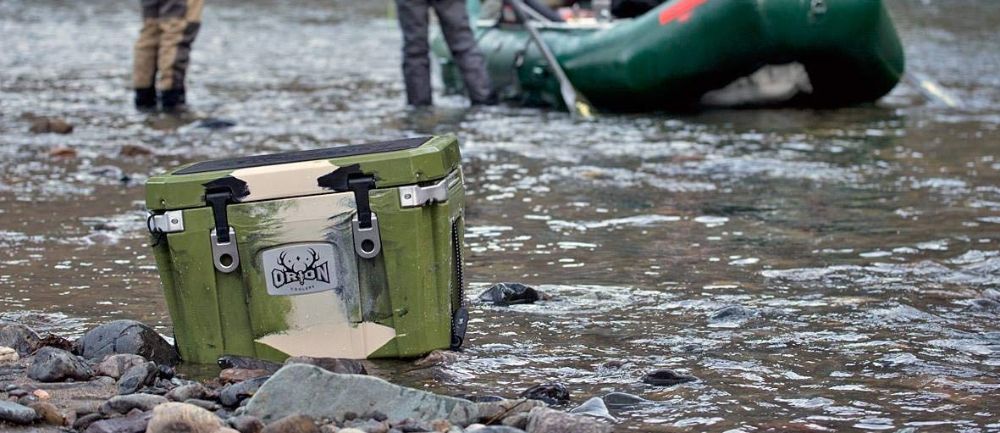 Orion coolers are one of, if not THE, most expensive coolers on the market. They have amazing features, incredible build quality and they are made in the USA.
However, their ice retention is not quite as good as that of Yeti. Still good ice retention, but not as good as I would personally want for this price point.
Read the Orion vs Yeti comparison
14. Engel Coolers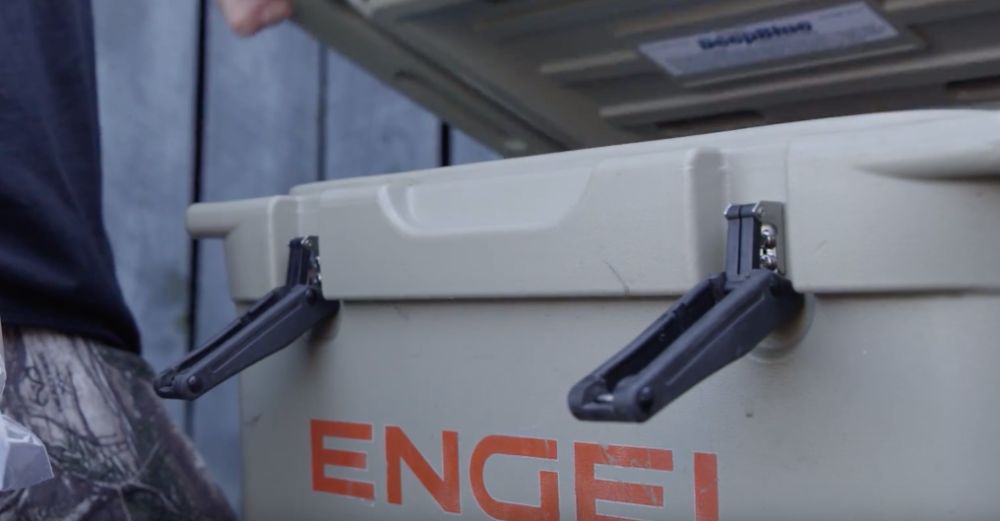 I had high hopes for the ice retention of my Engel cooler when I first bought it, and while it still performed well (it kept ice for about 8 days compared to 10+ days for Yeti) it definitely fell short of the Yeti and the Pelican in my own personal test.
Read the Engel vs Yeti comparison article
However, the Engel HD30 on the other hand is THE BEST soft sided cooler for ice retention and can hold ice just as long as similar sized hard sided coolers. It's insane how good their soft sided cooler is at holding ice compared to other soft sided coolers. See the Engel HD30 vs Yeti Hopper soft sided cooler comparison
15. K2 Summit Coolers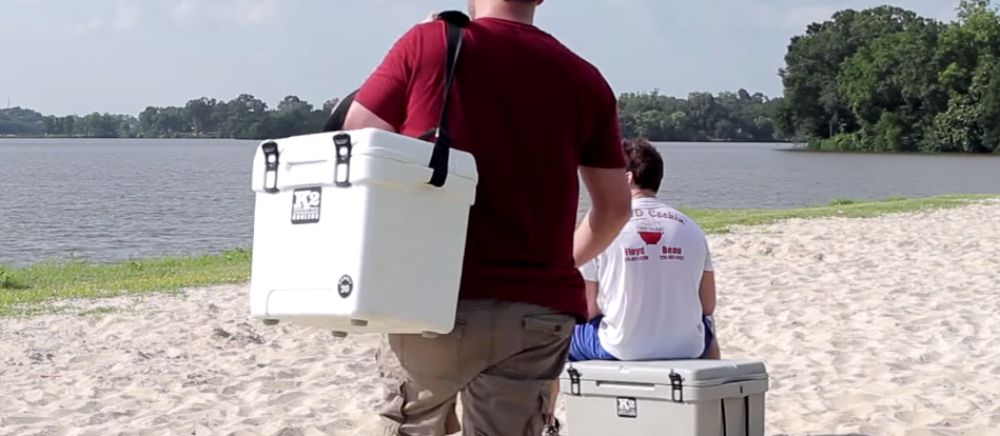 K2 Coolers are another brand of extremely durable roto-molded coolers that keep ice a similar amount of time to the Yeti.
There aren't enough ice tests done on the K2 for me to place it accurately. You may find it performs slightly better than Yeti or maybe slightly worse but it doesn't seem like it's going to be able to compete with the likes of Otterbox or Kong.
Overall a good cooler and offers a discount compared to Yeti coolers so may be worth considering for that reason.
Read the K2 Summit vs Yeti cooler comparison
16. Grizzly Coolers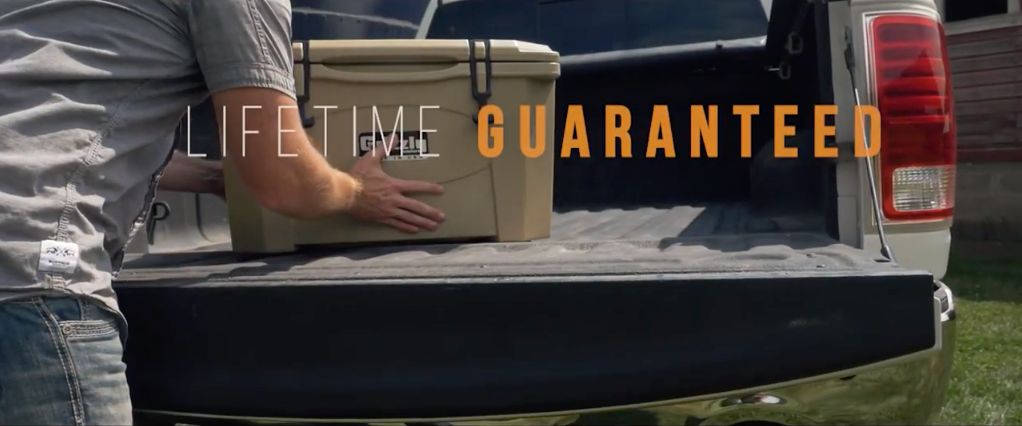 Grizzly coolers are made in the USA and are backed by a lifetime guarantee.
Their smaller 20-Quart sized cooler is one of the best coolers like Yeti Roadie and actually outperformed the Yeti in ice retention tests.
However, the larger sizes don't seem to keep ice as long as other brands. It's still better than a regular cooler but other brands have better ice retention.
17. Kenai Coolers

Kenai coolers are made by Grizzly but are just a cheaper brand. They come in a lot of fun bright colors and have good ice retention
18. Ozark Trail Coolers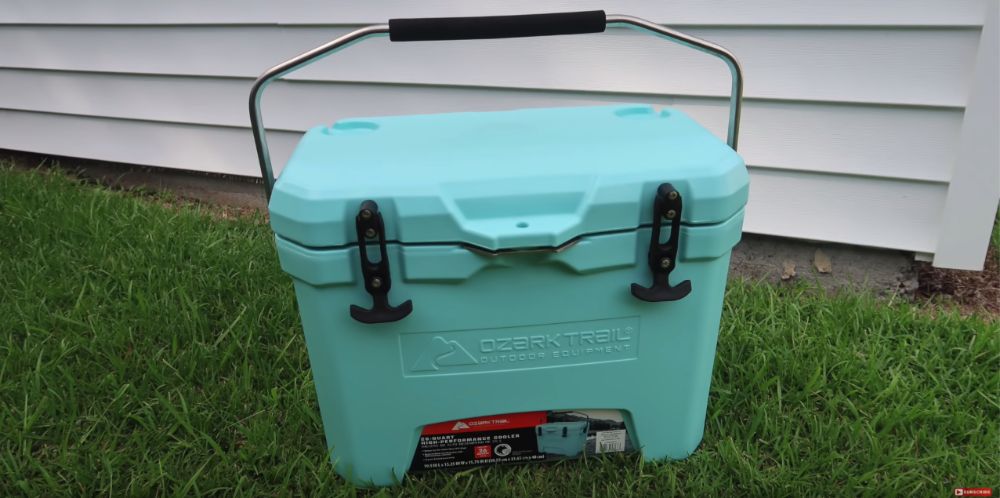 Ozark Trail are THE CHEAPEST roto-molded cooler on the market. However, they are also one of the poorest performing roto-molded coolers on the market.
They still perform better than regular coolers but compared to almost every other roto-molded cooler on the market these coolers don't hold ice as long. Read my Ozark Trail vs Yeti cooler comparison.
I'm not sure why this is and whether or not they use a cheaper insulation that isn't as good and that's how they can offer such a good price but it's definitely a trade off here between price and ice retention.
Really if you want a super affordable cooler like Yeti then you'll want to go with the Lifetime cooler which is a tiny bit cheaper than the Ozark trail but seems to perform better in ice retention tests and has more features. See my Ozark Trail vs Lifetime cooler comparison.
19. SUPER BUDGET OPTION: Coleman Xtreme Coolers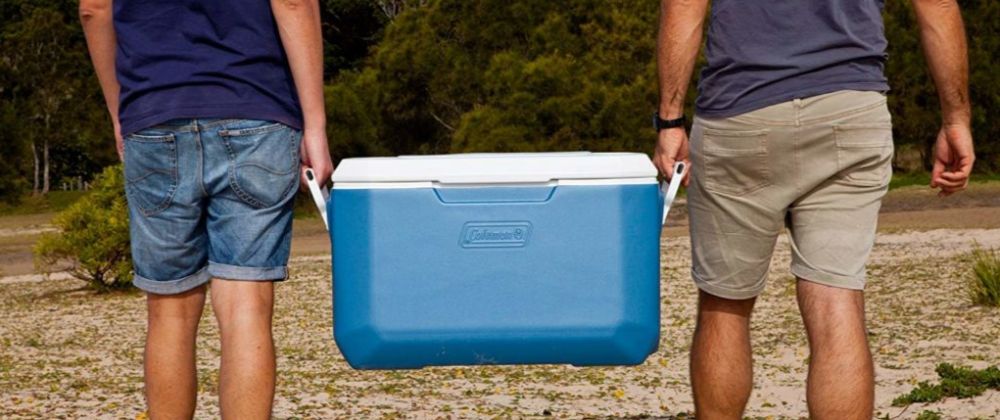 If you're strapped for cash and don't want to spend more than $50 then the Coleman Xtreme is an amazing option and can hold ice for around 3-5 days.
It performs much better than regular coolers and actually beat Yeti in one of my ice tests. However this was in colder weather and the Coleman Xtreme was a larger size.
I personally own one of these coolers and I absolutely love it and am more than happy to recommend it to anyone on a budget.
See just how cheap Coleman Xtreme coolers are at Amazon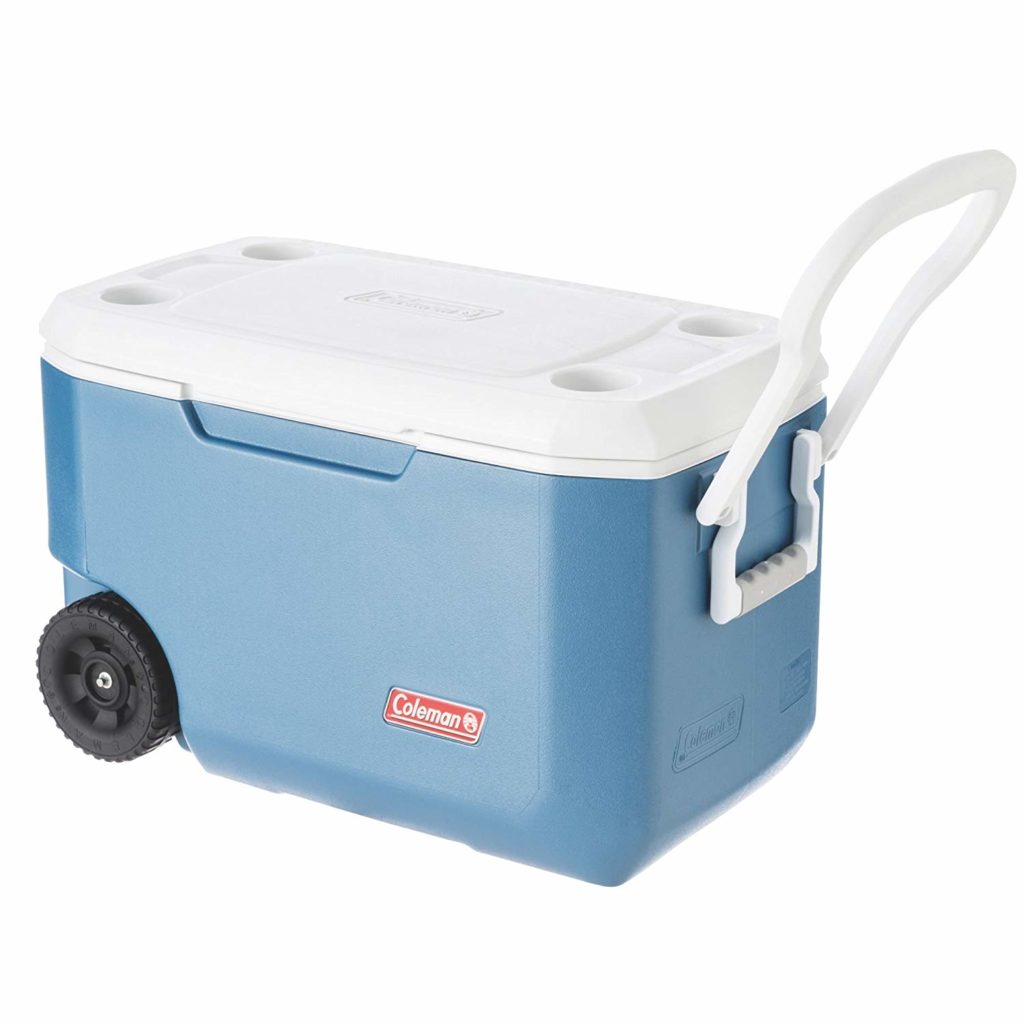 20. Icer Coolers
I had actually never heard of Icer coolers since before researching ice retention for this article.
However, it now seems that Icer coolers have been discontinued. They are no longer sold on Amazon nor are they even sold on their own website.
Another fly-by-night cooler brand that came in, didn't perform super well, and now no longer exists. There are so many of these brands in the market now.
21. Coleman Steel Cooler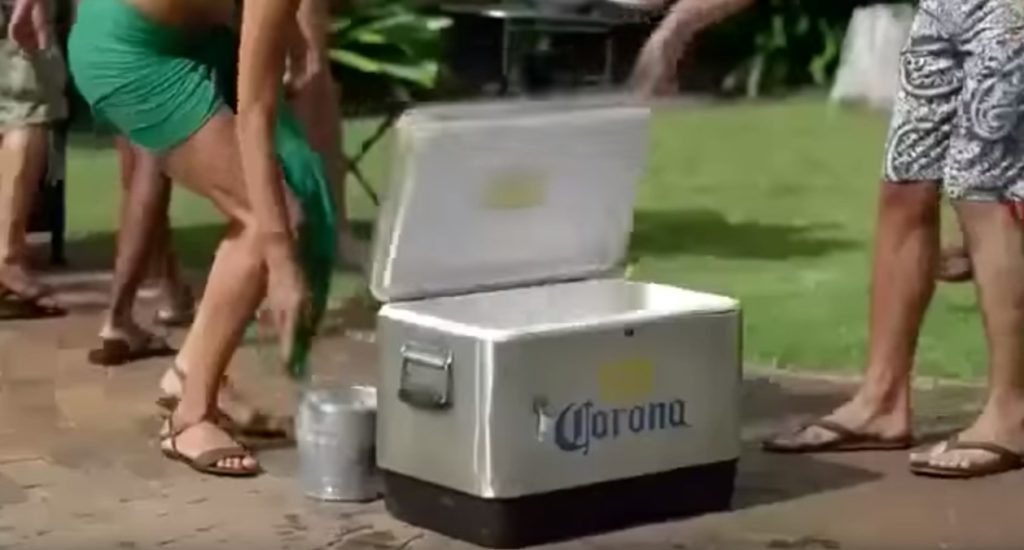 Steel coolers look really awesome and they are more durable than a regular plastic cooler but unfortunately they don't have more insulation and thus don't keep ice much longer than a regular cheap cooler.
I did a full comparison of steel coolers vs regular coolers if you want to learn more about that but basically you're going to pay a fair bit more for these coolers without really getting any better ice retention in return.
22. Coleman Regular Cooler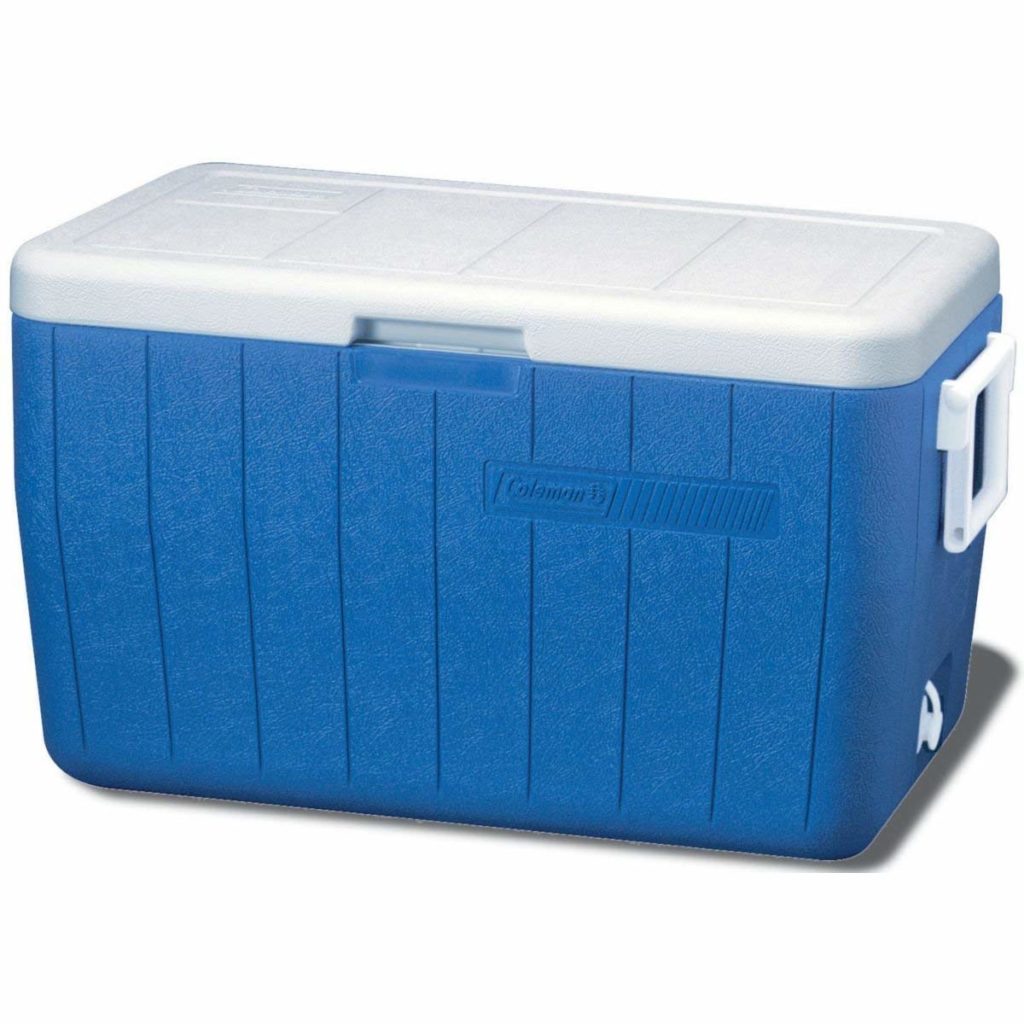 Just your plain old regular cooler. These things have thin insulation and the lids of these coolers actually have ZERO insulation at all (just air).
So it's not very surprising that they don't keep ice very long.
Expect about 1 day of ice retention, maybe a couple of days if you're using a lot of ice and it isn't too hot.
But Yeti coolers and other similar roto-molded coolers are just so much better. Learn about the differences between regular coolers and Yeti coolers.
The Best Soft Cooler For Ice Retention: Engel HD30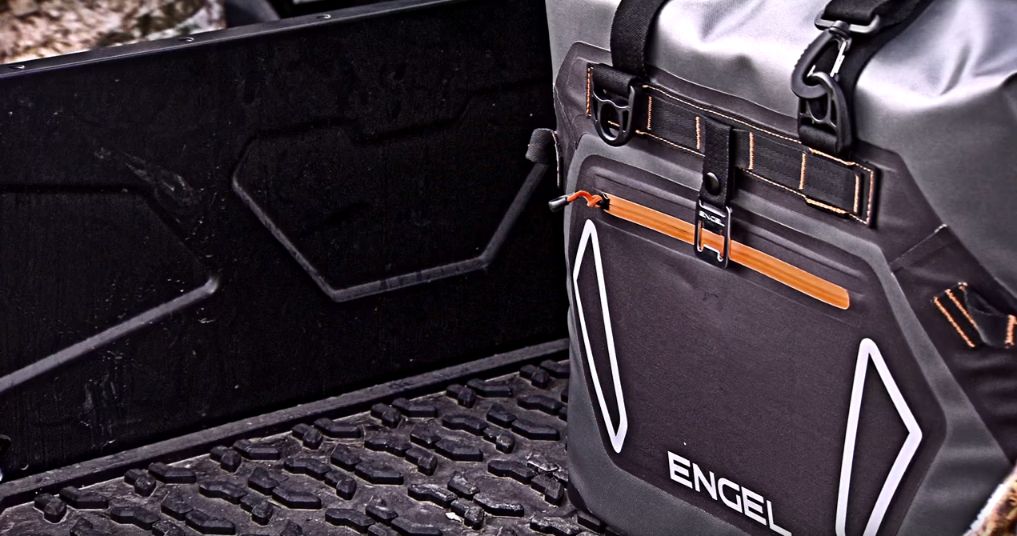 Without a doubt the absolute best-in-class soft sided cooler for holding ice the longest is the Engel HD30.
Ice test after ice test this cooler continues to rank #1 as the best cooler for holding ice.
You're talking 4+ days of ice retention for a soft sided cooler which honestly is absolutely insane.
They do this by using 1 inch thick insulation as well as a patent-pending vacuum technology where you can suck the air out of the insulation making it work similar to how a Hydro Flask works or how a Yeti cup works.
This is also an amazingly built cooler, with top of the line durability and quality.
It also sells for about $100 less than a Yeti soft sided cooler of a comparable size. It offers great quality, insane ice retention and good value for money. I love this cooler and suggest you check it out at Amazon using the link below:
See the latest price of the Engel HD30 at Amazon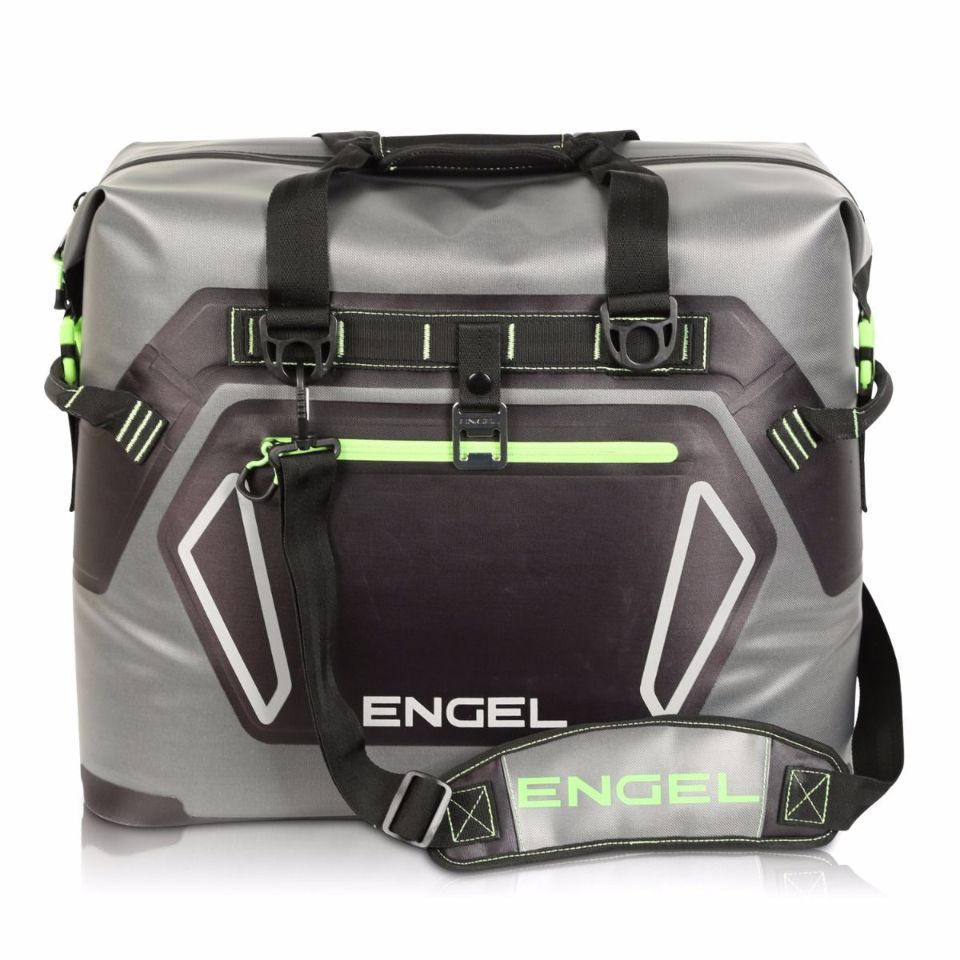 The Other Best Soft Coolers For Ice Retention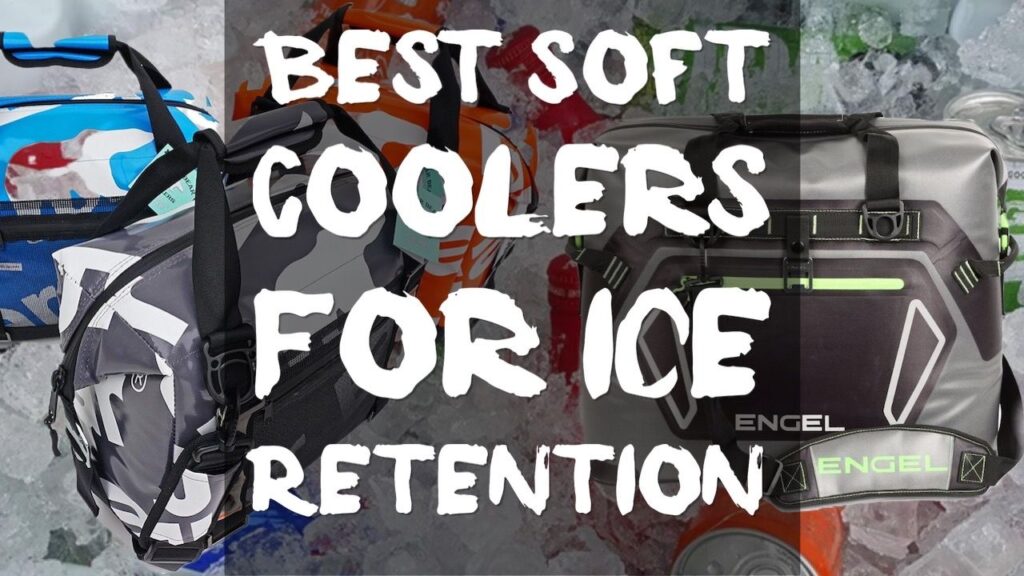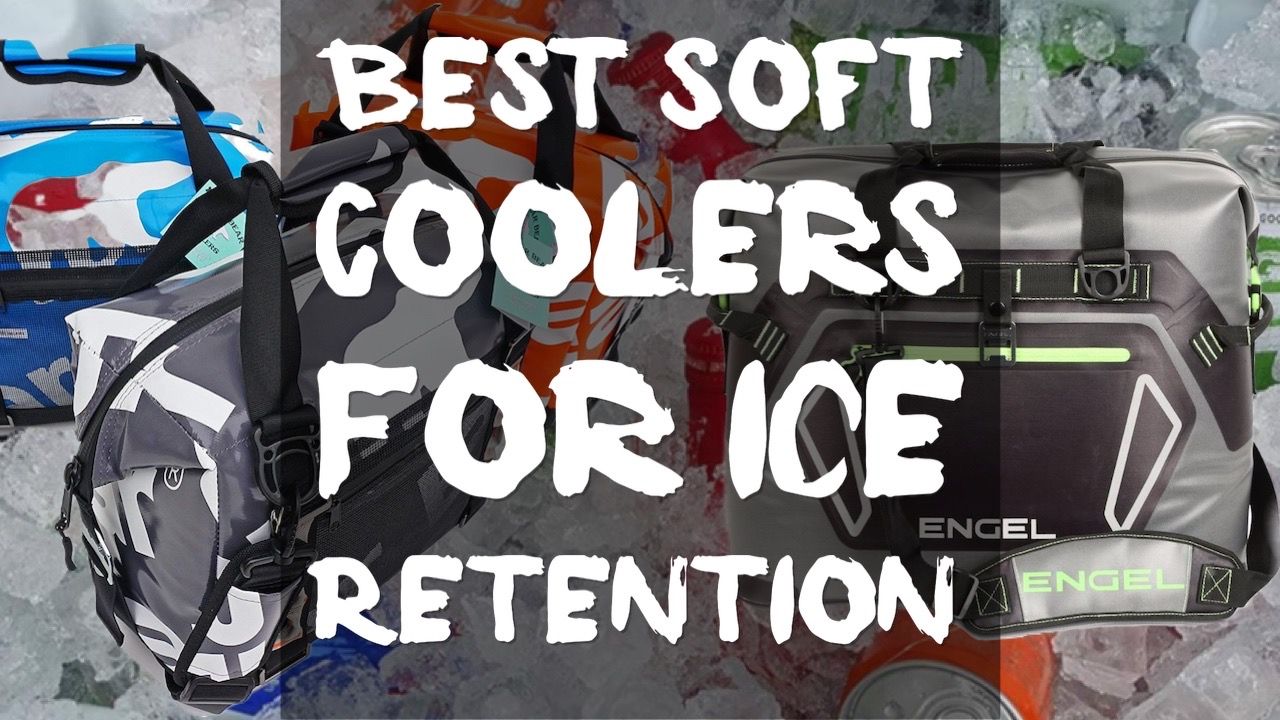 I've previous written a full list of the best soft coolers for ice retention, so check that out for the full details.
But for the short list here are the other best coolers for ice retention:
Resources:
Below is a full list of the resources I used to come to my conclusions on which cooler can hold ice the longest. I've also shared my notes on what coolers keeps ice for how long in each of the videos.
If you want to comb through the data yourself and watch the videos yourself then by all means please do so:
Best Coolers Showdown- Crowning A New Champion(s)
Coolers were pre-chilled for 24 hours then filled to capacity with ice from the same marina. Two beverages (not pre-chilled) placed in each cooler and coolers were opened 3 times per day.
Days were hot 90-100+ degrees
7.0 Days – Icer 45-Quart
7.5 Days: Kenai 45-Quart
7.75 Days: Siberian Grey 45-Quart
7.75 Days: Patriot 45-Quart
8.25 Days: Siberian White 45-Quart
9.0 Days: TechniIce 47-Quart
9.0 Days: Kong Grey 50-Quart
9.0 Days: Orca 58-Quart
10.0 Days: Otterbox 45-Quart
10.0 Days: Kong White 50-Quart
10.0 Days: CustomCoolerStore 69-Quart
20lbs of Ice Regardless of Cooler Size, Yeti, Engel, Pelican, K2, Igloo, Orion, Black Rock, & More
2.0 Days: Siberian 80-Quart
2.5 Days: Pelican 55-Quart Tailgate
3.0 Days: Siberian 40-Quart
3.0 Days: Blackrock 52-Quart
3.0 Days: K2 Summit 50-Quart
3.0 Days: Grizzly 40-Quart Tan
3.0 Days: Orca 58-Quart
3.5 Days: Orion 45-Quart
3.5 Days: Pelican ProGear 45-Quart
3.5 Days: Igloo Sportsman 40-Quart
3.5 Days: Eddy Gear 52-Quart
3.5 Days: Engel 50-Quart
3.5 Days: Grizzly 40-Quart
3.5 Days: Canyon 35-Quart
4 Days: Yeti Tundra 45 (37-Quart)
4.0 Days: Engel 25-Quart
4.0+ Days: Grizzly 20-Quart
Five Day Ice Challenge, Coolers: Yeti, Grizzly, Pelican, Engel, Igloo, Canyon, Siberian, & More
5.0 Days: Grizzly 40-Quart
5+ Days: Yeti 45 (37-Quart)
5+ Days: Igloo Sportsman 40-Quart
5+ Days: Igloo Sportsman 55-Quart
5+ Days: Canyon Outfitter 35-Quart
5+ Days: Engel Deep Blue 50-Quart
5+ Days: Pelican ProGear 45-Quart
5+ Days: Siberian Coolers 85-Quart
My Own Ice Challenge in Winter – 2016
4 Days 2 Hours – Igloo Regular Cooler
6 Days 8 Hours – Kong Cooler 25-Quart
8 Days 12 Hours – Kong Cooler 50-Quart
9 Days – Kong Cooler 70-Quart
10 Days – Kong Cooler 110-Quart
RTIC vs Otterbox vs Kong vs Techniice
4.75 Days: Grey Kong 50-Quart
4.75 Days: RTIC 65-Quart
5.25 Days: White Kong 50-Quart
6.5 Days: TechniIce 63-Quart
6.5 Days: Otterbox 45-Quart
71 Hours – Yeti 65 (57-Quart)
71 Hours – RTIC 65
USA Made Coolers vs Foreign Made Coolers
7 Days: Icer
8 Days: Siberian Granite
Patriot 45-Quart
8.25 Days: Siberian White
Kenai
TechniIce 50-Quart
Orca 58-Quart
Kong Coolers Grey 50-Quart
CustomCoolerStore 69-Quart
Kong Coolers White 50-Quart
Otterbox 45-Quart
10 Days: Pelican ProGear Elite 45-Quart
11: Days: Engel Deep Blue 50-Quart
11 Days: Pelican Elite 50-Quart
Cooler Test | Lifetime 55 vs Ozark Trail 52 vs Yeti 65
After 4 Days amount of ice remaining
Ozark Trail: 6 Lbs 3.3 oz
Yeti 65 (57-Quart): 13 oz
Lifetime 55: 13 Lbs 3 oz
Yeti coolers vs Orion Coolers Ice Test, Who is the Winner?
Temperature after day 12:
Yeti – 48.3F
Orion – 50.0F
Yeti vs Rtic vs Twin Peaks 7 Day Test
Yeti – 6 Days
RTIC – 7 Days
Twin Peaks – 7+ Days
RTIC 45 vs YETI 45 – 10 DAY CHALLENGE!
9 Days – Coleman Xtreme
10 Days – Igloo Maxcold
10+ Days – Yeti
10+ Days – RTIC
Grizzly Coolers Vs Yeti, Who Lasts Longer? Ice Challenge Results, Yeti Tundra 45 Vs Grizzly 40 Q
5.0 Days – Grizzly 40-Quart
5+ Days – Yeti 45 (37-Quart)
Top Performer Showdown: Siberian Alpha Series Vs Techni Ice Signature Series
10.5 Days – TechniIce 64-Quart
9.5 Days – Siberian 65-Quart
OZARK TRAIL vs YETI vs Magellan vs Coleman Xtreme
6 Days: Ozark Trail
Magellan
Coleman Xtreme
Yeti
Yeti just outperformed the Patriot (9+ Days)
Cheap Coolers- Under $100 Best Budget Cooler For Ice Retention
4.5 Days: Latitude 50-Quart
5.5 Days: Coleman 50-Quart
5.5 Days: Coleman 60-Quart
5.5 Days: Latitude 60-Quart
6.0 Days: Island Breeze 60-Quart
6.5 Days: Igloo BMX 25-Quart
6.5 Days: Lifetime 28-Quart
7.0 Days: Igloo BMX 52-Quart
7.5 Days: Igloo MaxCold 62-Quart
7.5+ Days: Igloo Quantum 52-Quart
9.0 Days: Igloo Trailmate
9.0+ Days: Lifetime 77-Quart
Lifetime Coolers Test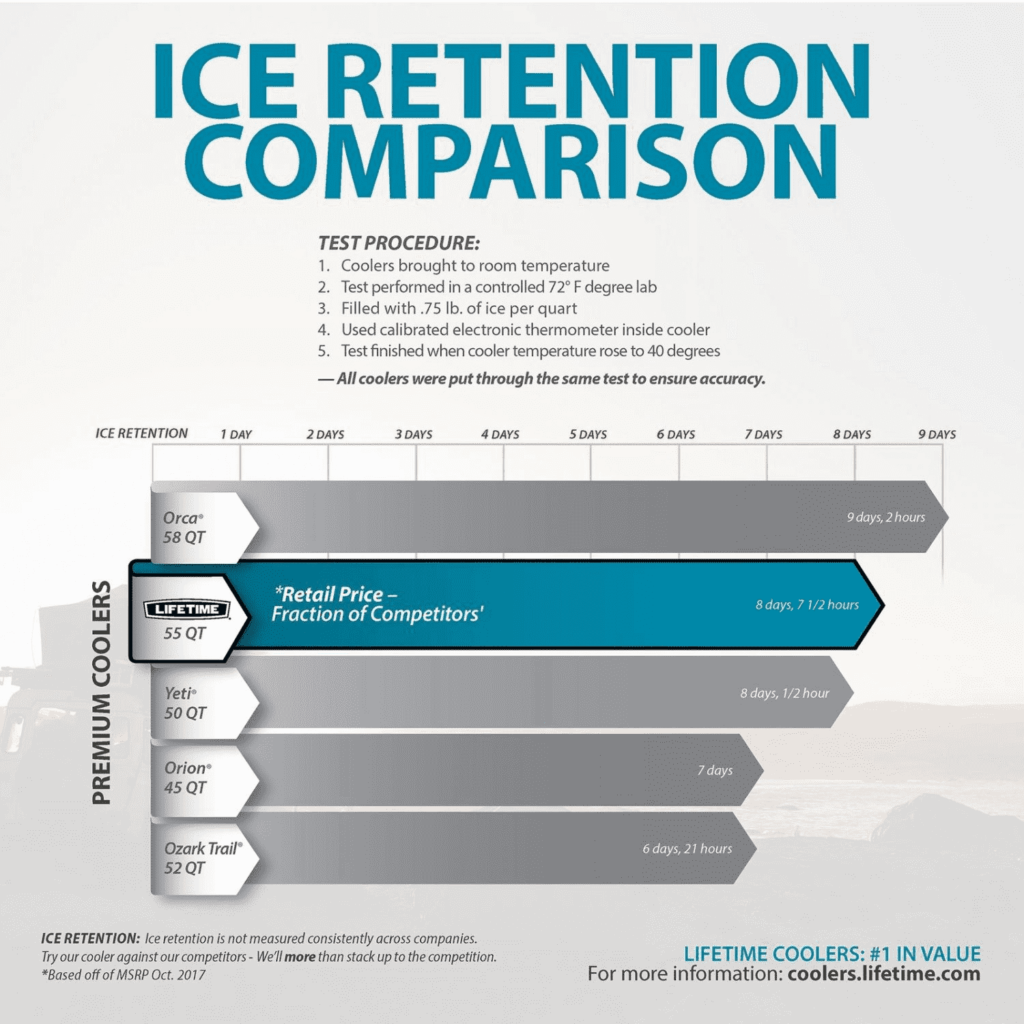 9 Days 2 Hours: Orca 58-Quart
8 Days 7.5 Hours: Lifetime 55-Quart
8.5 Days: Yeti 50-Quart (there is no such size??!!)
7 Days: Orion 45-Quart
6 Days 21 Hours: Ozark Trail 52-Quart