Ozark Trail coolers are WalMart's brand of coolers and they are similar to Yeti but sell for about half as much. When looking at Ozark vs Yeti is it worth spending the extra money for the more premium cooler or are you better off getting WalMart's brand?
The Ozark Trail coolers are about half the price of a Yeti cooler and while they are good cooler for the price they don't hold ice as long, aren't built quite as well and have some common issues like warping in the sunlight. Despite some shortcomings there are stilla . great option for the budget conscious shopper.
In this head-to-head review of the Ozark Trail and the Yeti Tundra I will look at the similarities and differences of each of these coolers to help you decide which cooler is going to be the best for you.
Price – More Than Half The Price of Yeti
A big reason to consider the Ozark Trail coolers is because they are approximately half the price of Yeti coolers of a similar size.
This equates to a saving of over $100 on the smallest 26-Quart size and a saving of a whopping $200+ on the larger 73-Quart size.
Look at the comparison table below to see a direct price comparison between the two brands:
OZARK COOLERS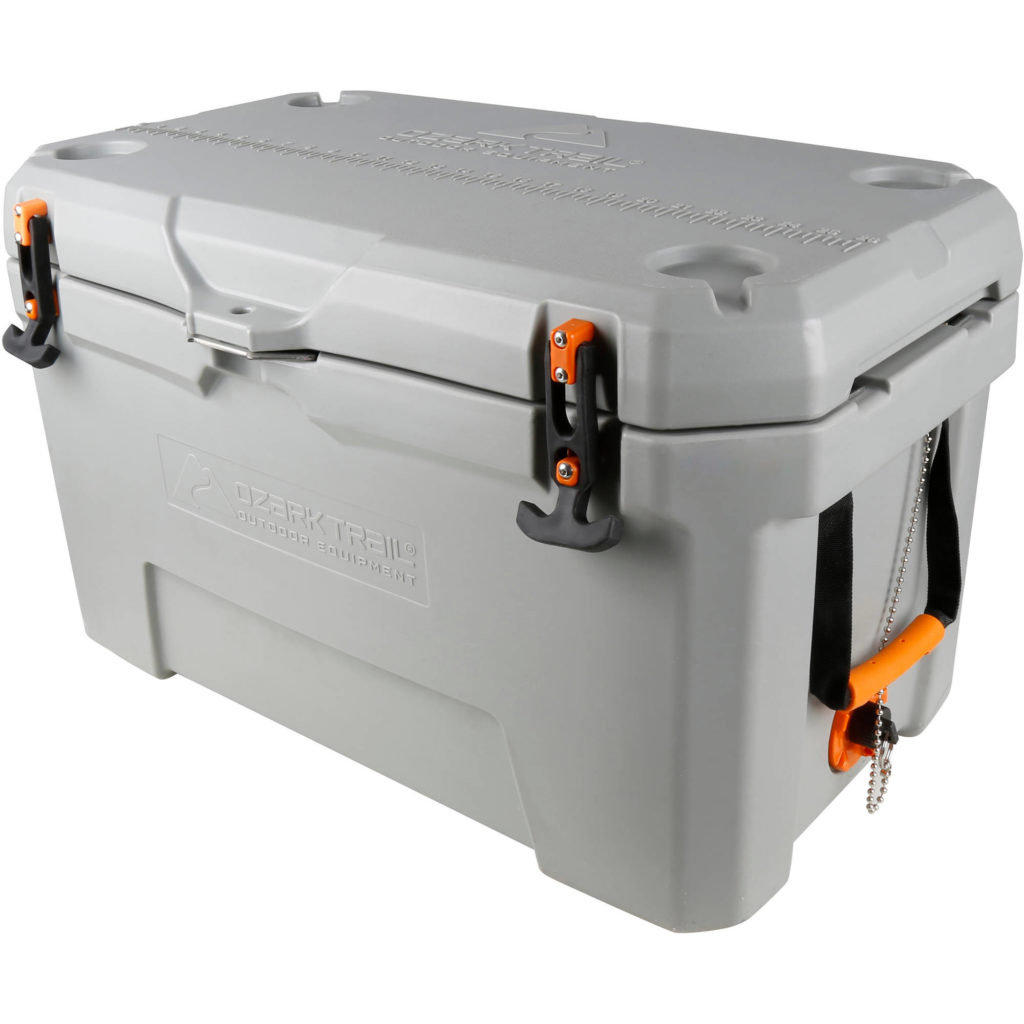 Ozark 26-Quart: $78 RRP (at WalMart.com)
---
Ozark 52-Quart: $137 RRP (on WalMart.com)
---
Ozark 73-Quart: $194 RRP (See on WalMart.com)
---
Ozark 110-Quart: $247 RRP (See on WalMart.com)
YETI COOLERS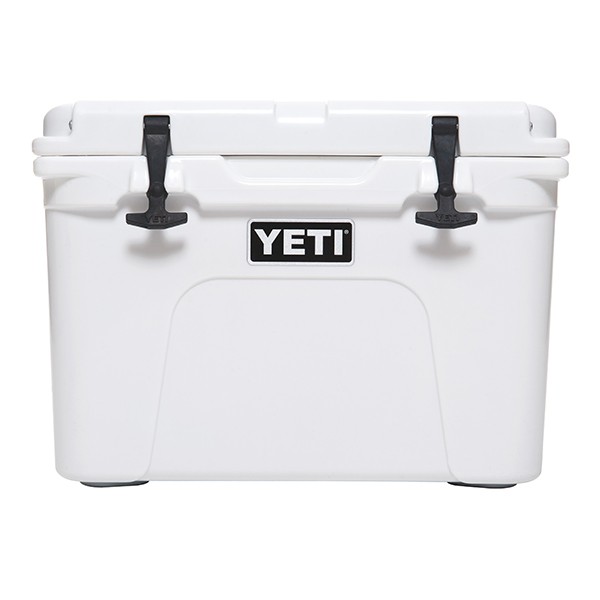 Yeti 35 (28.8-Quart):
---
Yeti 65 (57.2-Quart):
---
Yeti 75 (74.8-Quart):
---
Yeti 110 (96.4-Quart):
So as you can see WalMart's coolers are significantly cheaper than Yeti coolers. Now we need to look at the quality and see whether Ozark coolers are good value for money or if they are just a cheap and crappy imitation brand.
Looking For An Even Cheaper Cooler? Check Out Lifetime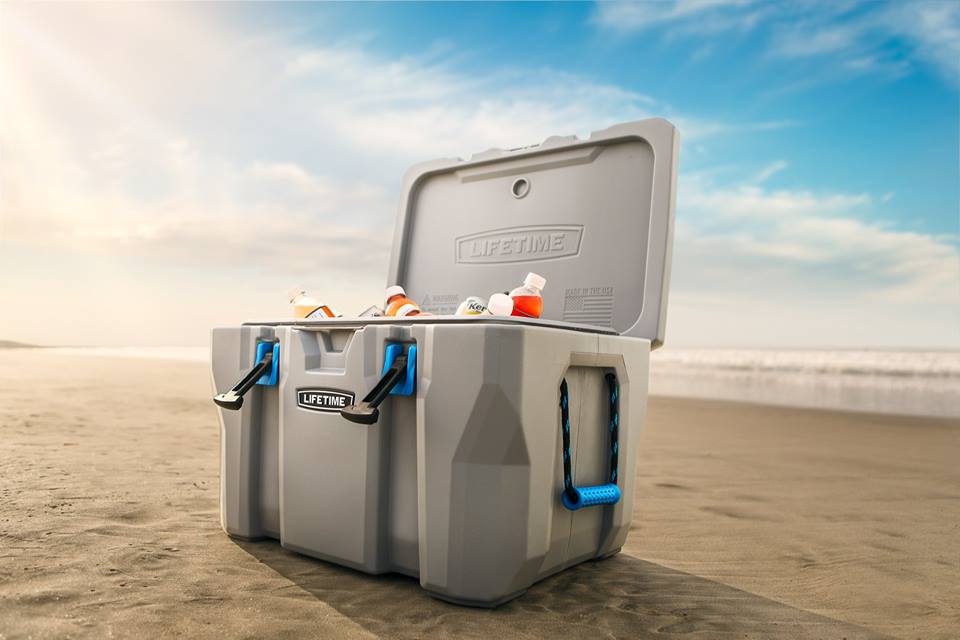 Ozark is one of the cheapest coolers like Yeti on the market but it isn't the cheapest.
There is a new cooler out that is also sold at Walmart and is even cheaper than that Ozark and that is the Lifetime Cooler.
The 55-Quart Lifetime Cooler sells for just $97 at Walmart.
It's not roto-moulded but rather blow moulded, which means it isn't as strong as the Yeti or Ozark, but it is still bear proof, can keep ice for over 5 days and has a lot of the same features that Yeti and Ozark have.
Lifetime 28-Quart: $76.00 (see on Walmart.com)
Lifetime 55-Quart: $97.00 (see on Walmart.com)
Lifetime 77-Quart: $147.00 (see on Walmart.com)
Read my full review of Lifetime Coolers vs Yeti here.
Now back to the review of Ozark vs Yeti coolers.
Ice Retention – Yeti Outperforms The Ozark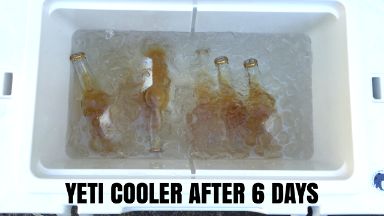 There aren't many direct head-to-head comparisons between the Ozark and the Yeti but the ones that do exist show that the Yeti does outperform the Ozark by around about a couple of days.
While the Ozark claims up to 7 days ice retention, real world examples and tests shows that it is much more likely to keep ice for approximately 4 days.
My own ice test showed my Yeti 45 keeping ice for 10+ days, however this was in great conditions where the cooler was full of ice and kept in the shade all day.
A more reasonable estimate for a Yeti cooler is around about the 6-7 day mark.
Ozark coolers do perform better than a standard Coleman cooler which is exactly what I would expect from a cooler that is half the price of Yeti.
Better ice retention than a cheap cooler, but not as good as the premium brand.
So if superior ice retention is important to you then the Ozark isn't going to be the best cooler for you. You'd be better off with a Yeti or even better off with a cooler like the Kong cooler or the TechniIce cooler that performs the best in ice retention tests.
Who is Ozark Trail?

Ozark Trail is a private-label brand name owned by WalMart.
WalMart has A LOT of private label brand names that they sell in their stores and online. These brands are all lower-priced alternatives to the brand name products.
A lot of WalMart's brands are private label brand, which means they are manufactured by one company but sold under another company's brand.
Ozark Trail is WalMart's brand for their outdoor equipment and gear and they sell everything from coolers to tents to camping furniture and sleeping bags.
See Ozark Trail Coolers on Amazon
Build Construction – Yeti Is Best In Class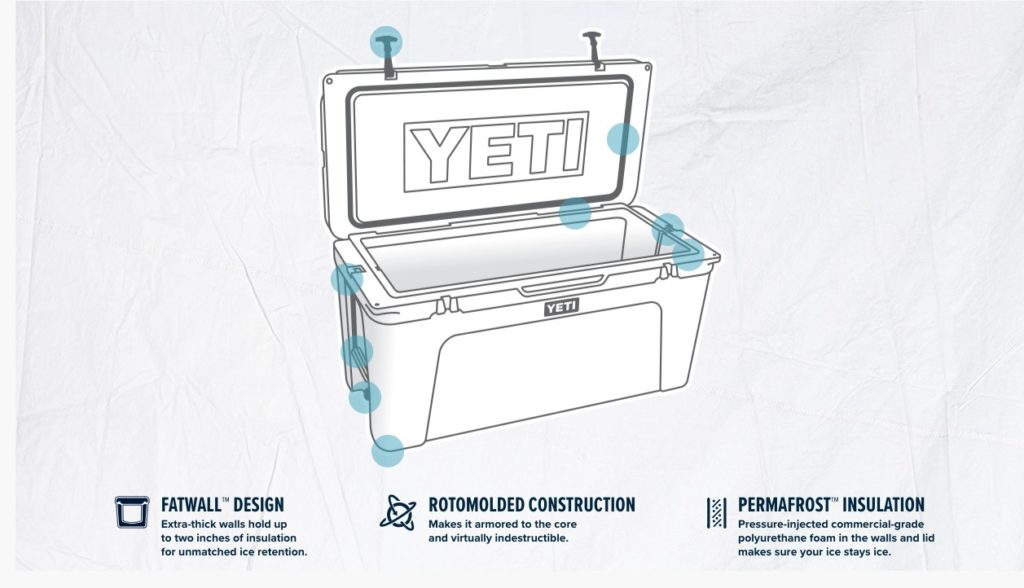 While the Ozark Trail cooler has a solid build construction, overall it looks and feels like a much cheaper product to the Yeti.
Yeti is that it is built for the wild. It is built to perform in the toughest of conditions and to be subject to extreme conditions and still keep going.
Yeti coolers feel premium and it feels like they have a lot of quality assurance to ensure every single Yeti is as close to being free of faults as possible. You can purchase a Yeti with near absolute certainty that you aren't going to have any issues with your cooler.
The Ozark on the other hand, while stronger than a regular cooler, doesn't seem as durable. Some people have shown that it even has the potential to warp when exposed to the heat of direct sunlight.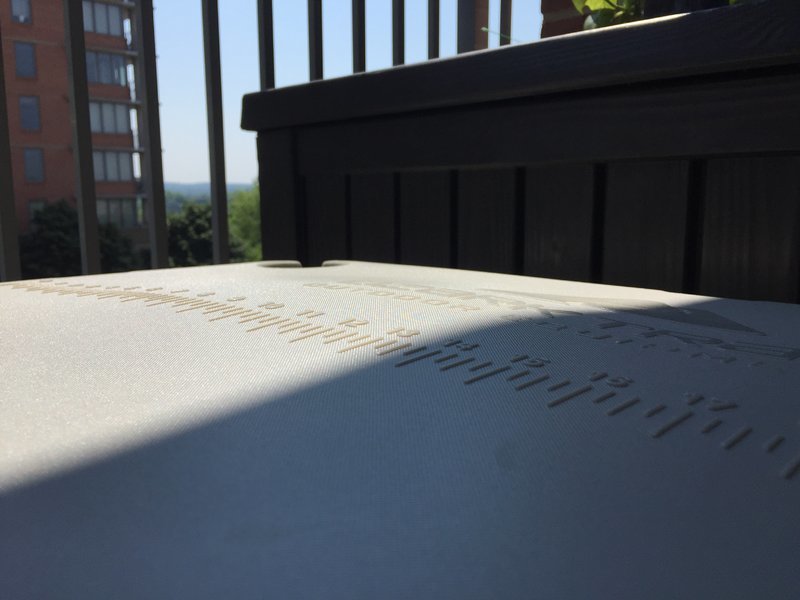 Features – A Few Features Yeti Doesn't Have
The Ozark overall is a pretty similar cooler to Yeti, but does have a few unique features that Yeti coolers don't have.
Cup Holders
This one is a really cooler feature that I wish my Yeti cooler had. In fact very few roto-molded coolers have cup holder at all which I find very frustrating.
The problem with cup holders is that it takes away from the insulation in the lid of the cooler.
Ozark have solved this by adding 4 shallow cup holders to the corners of the lid on the larger sizes, and 2 shallow cup holders in the corners of the smaller size.
Fishing Ruler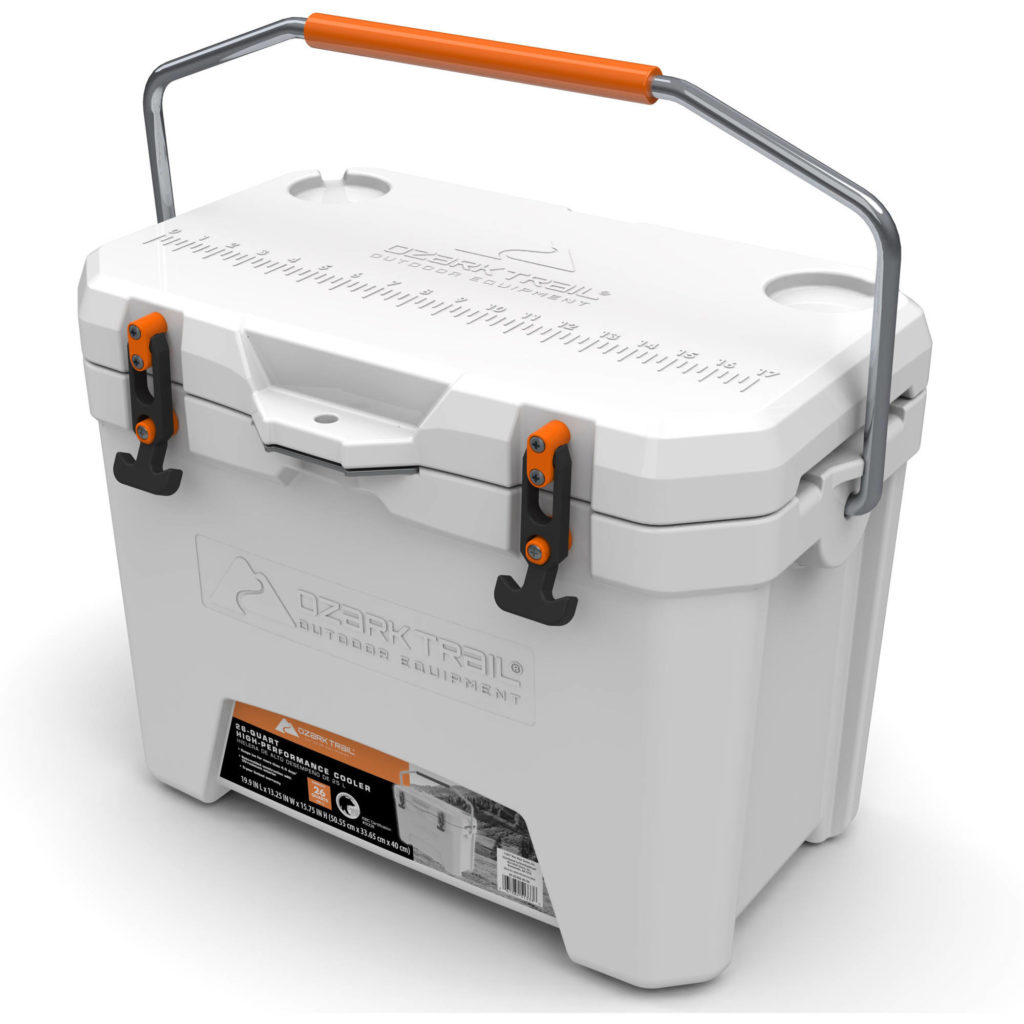 The lid of the Ozark Trail cooler contains a moulded ruler. The ruler has inches only (no cms) and appears on all sizes of the Ozark coolers.
There is no ruler on any of the Yeti coolers.
This ruler is generally used when fishing. It allows you to quickly and easily measure your catch and see whether or not you need to throw it back or can keep it.
Personally I don't have any use for the rule on the lid of the cooler so it isn't something that I'm worried about. But some people may find this valuable.
Fast and Slow Drain Plug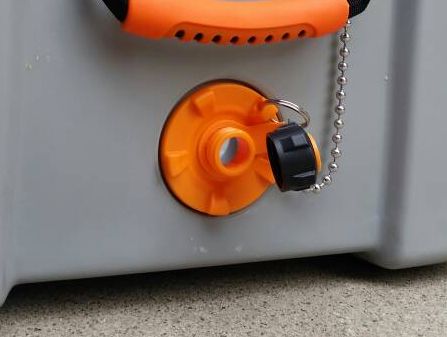 The Ozark has a unique fast and slow drain plug that is also garden hose compatible.
You can unscrew the 1-inch black cap and drain the cooler that way. You can also attach a garden hose to the 1-inch drain plug if you want to drain the water away from your cooler.
You can also unscrew the larger plug and drain your cooler ultra fast. The larger drainage plug is also large enough that you can drain a lot of the ice out of your cooler at the same time.
The drain plug is also completely connected to the cooler meaning you can't lose it. This is one of the problems I had with my Yeti cooler so it's nice to see Ozark thinking about this.
Reversible Anti-Skid/Slide Feet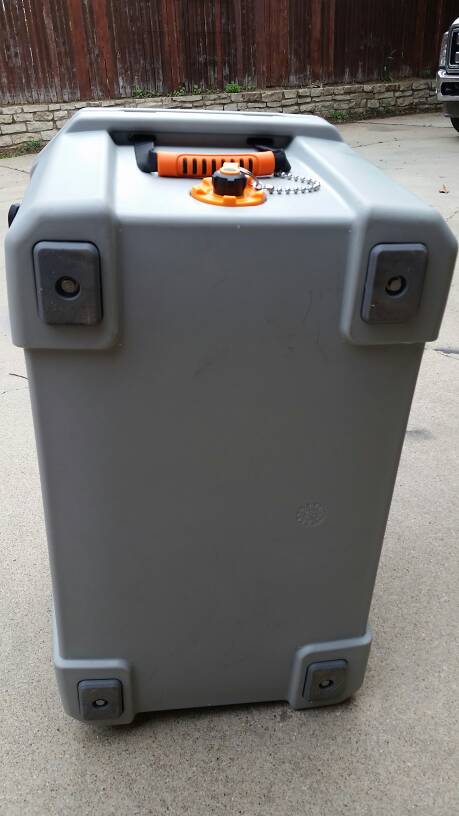 I absolutely love this feature. One of the best features of Yeti is it's non-slip feet. The rubber feet grip to the ground so well you often don't have to worry about tying down the cooler.
Ozark have similar non-slip feet also which are great.
However, sometimes you want to be able to easily slide your cooler around your camp site, caravan or slide it in and out of the back of your truck. The non-slip feet make it really hard to do this.
Ozark have solved this problem by having reversible feet. You can unscrew the non-slip feet, turn them over and screw them back in to have sliding feet.
You can easily flip between the 2, you have to unscrew and screw them in any time you want to change them, but at least you get the flexibility of choice.
Certified Bear Resistant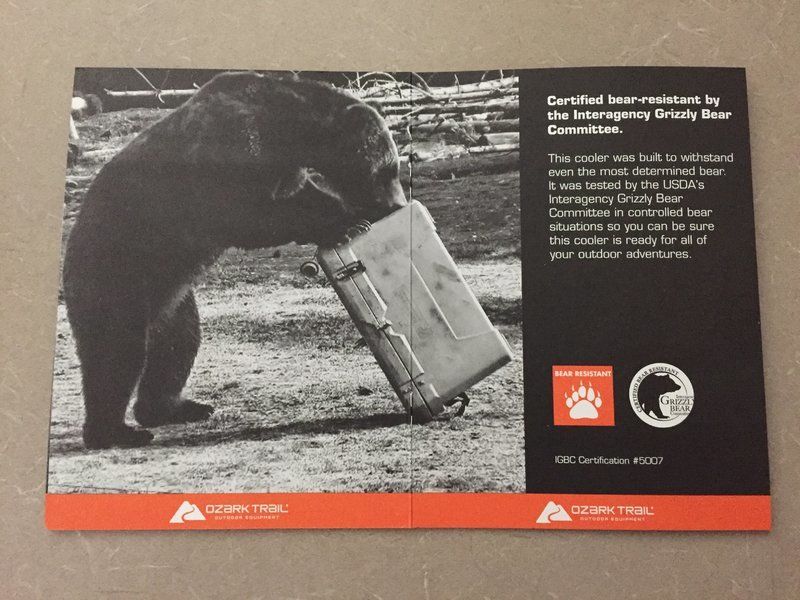 Ozark coolers are certified bear resistant, meaning they have been tested by the IGBC and withstood bear attacks for over 60 minutes without the bears being about to get into the cooler. Yeti coolers have gone through the same testing and Yeti coolers are certified bear resistant also.
It's important to note that you do need to lock the front of the cooler with a padlock in order for it to be bear resistant. This is the same as with the Yeti cooler.
Double Pin Hinge
The Ozark Trail has a strong double pin hinge attaching the lid to the main body of the cooler.
This is much stronger than the flimsy plastic hinges of a regular cooler, but is not as clean looking as the single pin hinge of the Yeti.
Affordable Wheel Kit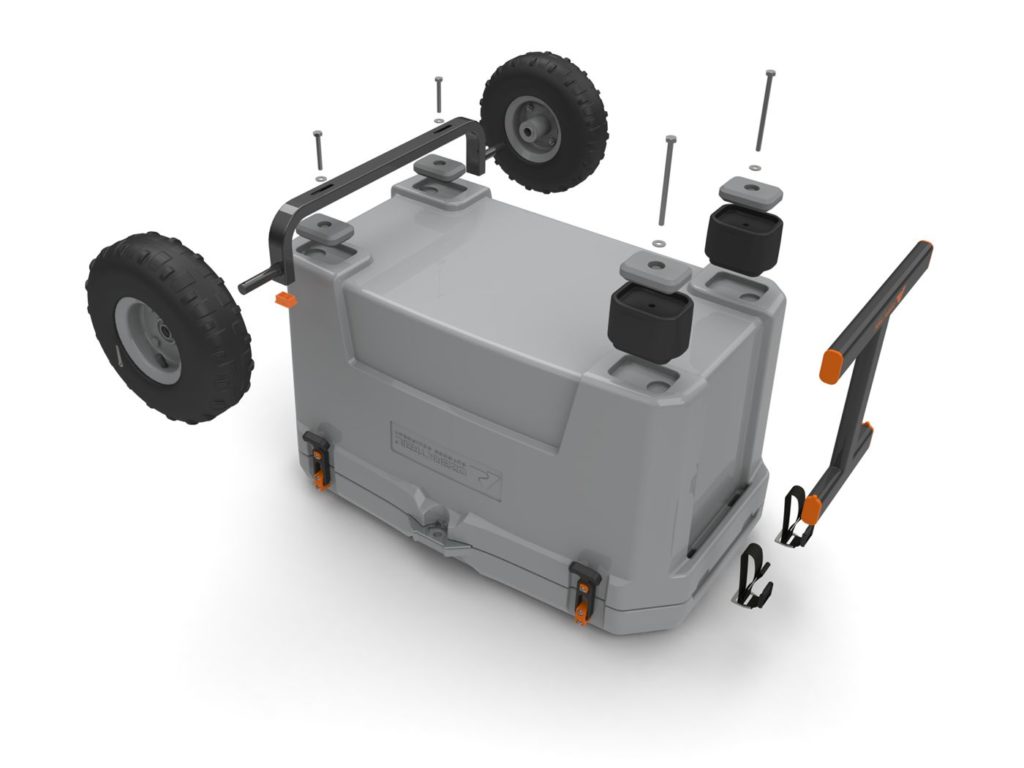 Roto-molded coolers are heavy. With their dense plastic shell and the thick pressure injected insulation they can be quite difficult to carry.
Once you fill them up they become extremely heavy, back breaking even.
Not many roto-molded coolers come with wheels and the ones that do are quite expensive. On my list of wheeled coolers like Yeti you can see that there aren't many good options.
Ozark coolers don't come with wheels but for just under $40 you can buy a wheel kit that is easy to install and use. It's available for the 2 largest sizes of coolers (you don't really need them on the small size) and they are a great addition to the cooler.
See Ozark Trail Wheel Kit (on Walmart.com)
Problems with Ozark Trail Coolers
The Ozark cooler is a much cheaper alternative to the Yeti, saving you hundreds, but it isn't without it's trade offs. There are some problems with the Ozark cooler that you should be aware of before you make your purchase.
Lackluster Ice Retention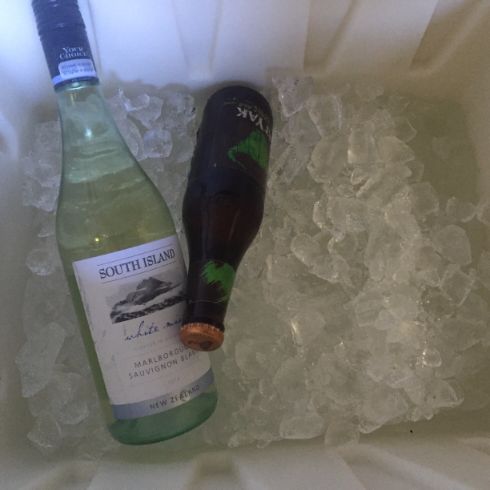 There are a lot of roto-molded coolers on the market that are like Yeti but cheaper and many of them actually have even better ice retention than the Yeti.
Most of these cheaper alternatives don't quite come as close to the Ozark in terms of price (with the exception of the Lifetime cooler maybe).
Regardless, the Ozark cooler just doesn't seem to perform as well as other roto-molded coolers in ice retention tests.
Some Issues With Warping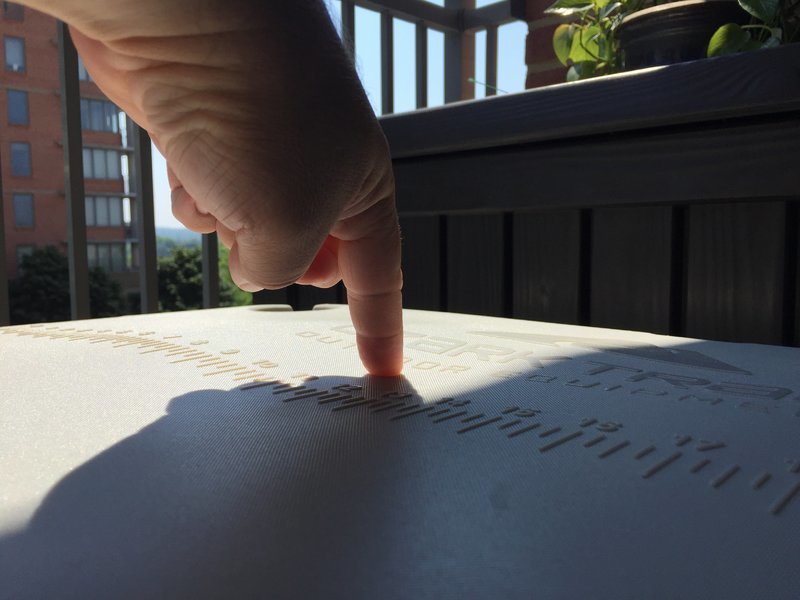 Some customers have shown issues with warping of their coolers when left in the hot sun. This generally only happens on the larger sized coolers and the warping goes away when the cooler is brought back inside.
The warping isn't a widespread issue (I found one report on warping here) and would be covered under warranty so you could always get a replacement cooler for free and hope you don't have the same issue.
The below video also talks about the cooler showing some warping when left out in the sun.
Issues with Gasket Seal
Some people have reported issues with the gasket seal on these coolers and that they can leak water. This forum post shows someone manually fixing this problem with their cooler
Front Lock Sticks Out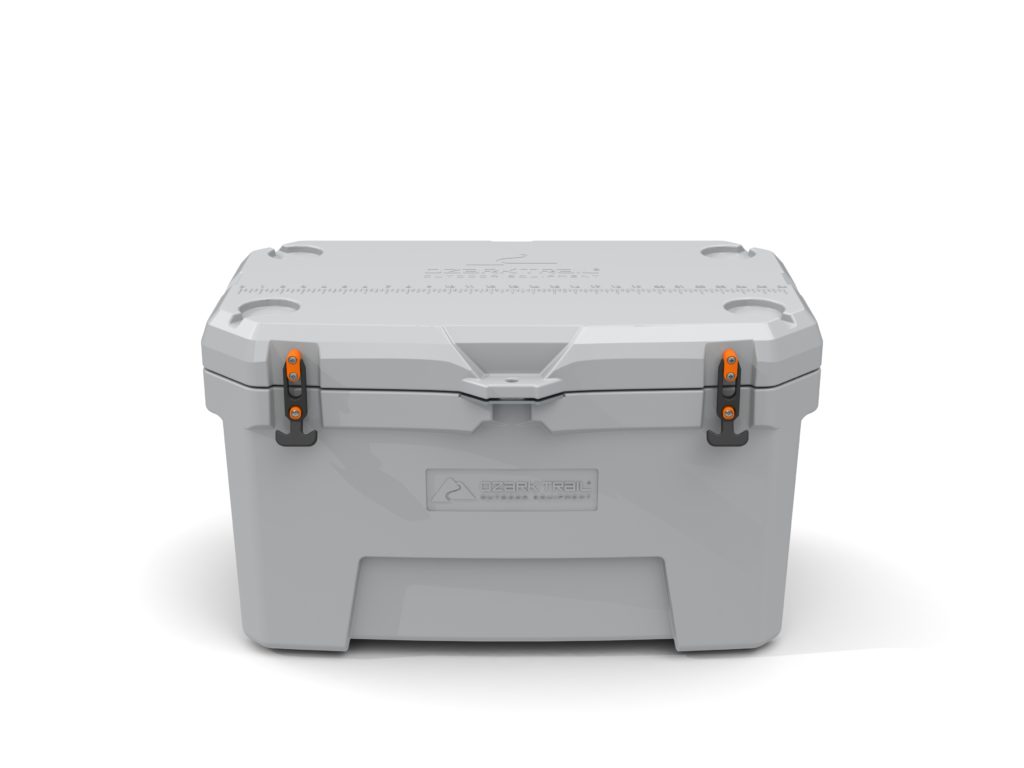 This is a small problem but something to think about. The front lock on the Ozark Trail cooler protrudes out from the cooler.
This is not a big issue until you try and carry it with the front of the cooler facing your body. If you do this then the lock stabs into your body.
This can be avoided by simply carrying the cooler with the back of the cooler up against your body.
No Tie Down Slot
Yeti coolers have tie down slots on the side where you can tie down the cooler to your truck/car/van and still be able to open and close the lid.
The Ozark cooler doesn't have any tie down slots so you can't do this. You would need to tie down the cooler over the lid or tie down the rope handles which is no where near as convenient.
Weight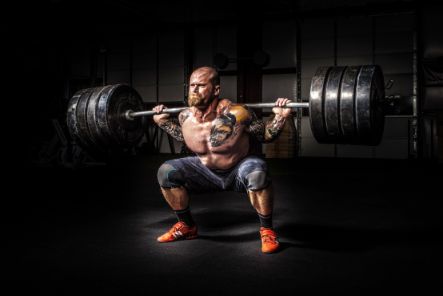 The Ozark trail coolers are quite heavy. The 52-quart version weighs 31.11 lbs when empty.
Now imagine how heavy that will be when completely full of ice, food and beverages.
However, this weight problem occurs in all roto-molded coolers and the Yeti is no different. The Yeti 65 (which is about 57-quart) weighs in at around 29 lbs.
Where Can You Buy Ozark Trail Coolers?
Ozark Trail coolers are WalMart's brand of cooler so naturally they will be sold in WalMart's around the US as well as online. But there are also some other places you can buy them if you want.
Recommended – WalMart.com

Given they are a Walmart brand of cooler the prices at Walmart tend to be the best prices you will find online.
Click the links below to see the current prices on WalMart.com
Ozark 26-Quart: $78 RRP (at WalMart.com)
Ozark 52-Quart: $147 RRP (on WalMart.com)
Ozark 73-Quart: $194 RRP (See on WalMart.com)
Ozark 110-Quart: $247 RRP (See on WalMart.com)
Amazon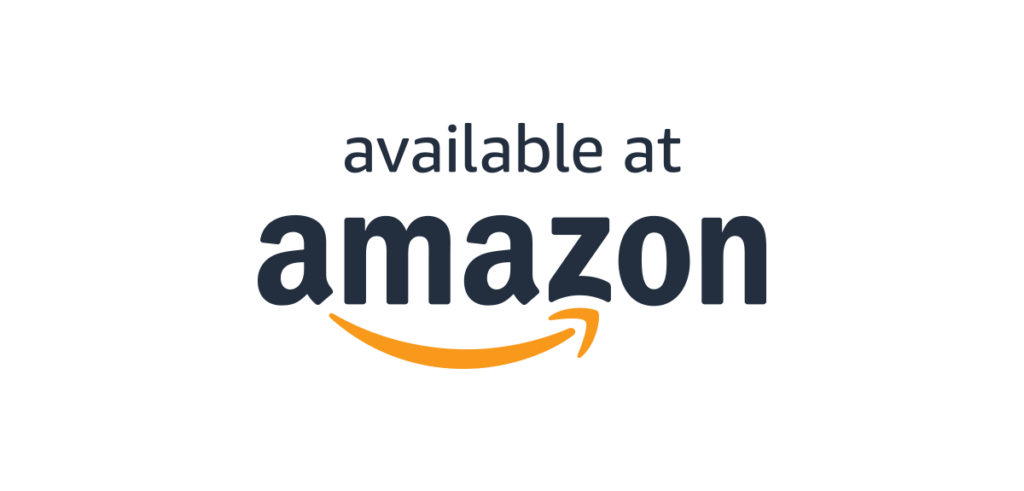 Ozark Trail coolers are also sold on Amazon at different prices to those on Walmart's website. Sometimes you can get a discount and save some money by buying through Amazon and sometime's it's more expensive.
The prices between the two online stores are usually pretty similar though.
The pricing fluctuates on both sites so I can't give you a clear answer as to where is the best place to buy it. You'll have to check for yourself today and compare the two and see which one has the best price at the moment.
You can click any of the links below to see the Ozark range of coolers on Amazon.
Ozark 26-Quart:
Ozark 52-Quart:
Ozark 73-Quart:
Ozark 110-Quart: *not available on Amazon at this time
Your Local WalMart Store
You can also head into your local Walmart store and see what stock they have of the Ozark Trail coolers there.
Heading into store allows you to look at the coolers, feel them, get an idea of sizing and really decide if this is the cooler you want to invest your money into.
Benefits of Ozark over Yeti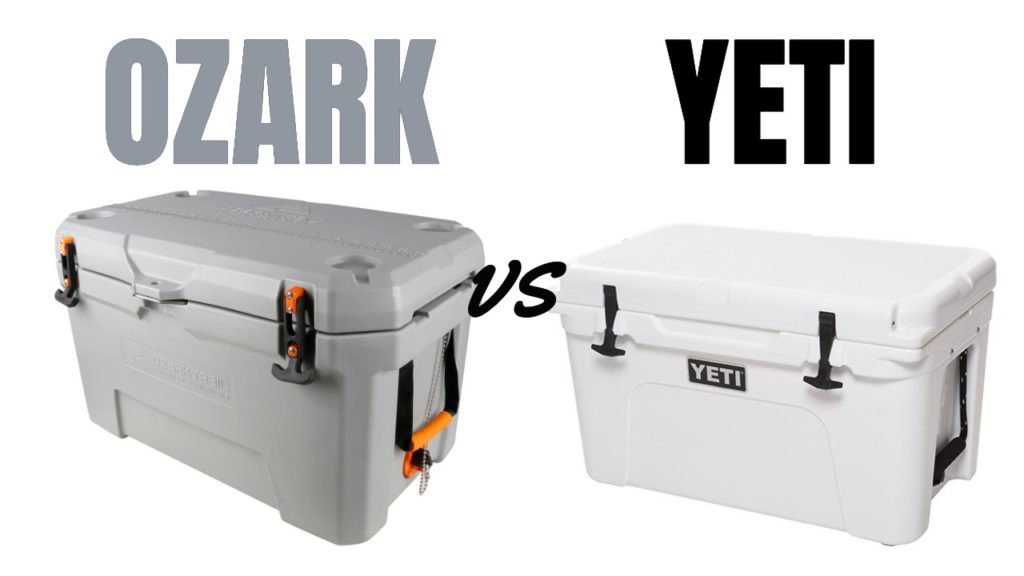 To finish off this head to head comparison of these two coolers I want to look at some of the benefits of Ozark over Yeti and then some of the benefits of Yeti over Ozark to help you decide which features/benefits are most important to you.
Cheaper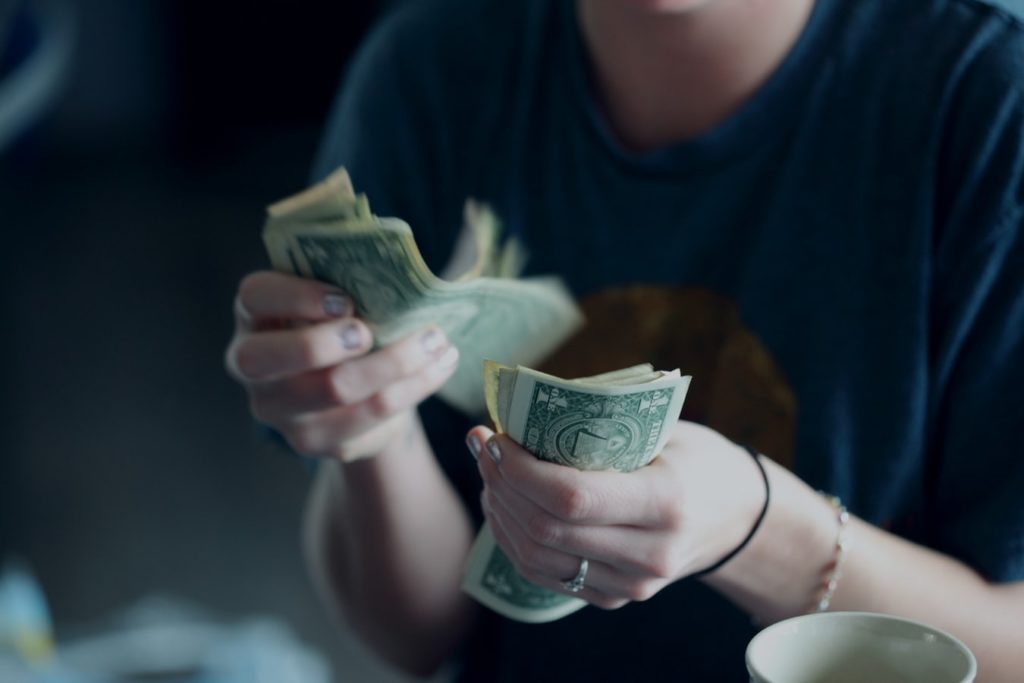 This is the prime reason for choosing an Ozark Trail cooler. They are just so much cheaper than a Yeti cooler of a similar size.
While we all might like to buy a Yeti not all of us can afford it, or justify paying that much when we can get an Ozark which is almost as good but for (in many cases) more than half the price of a Yeti.
Can Purchase At Your Local WalMart
While Yeti coolers have a wide distribution in a lot of specialty stores, Ozark Trail coolers are sold in almost all Walmart stores.
For so many people they are shopping at Walmart anyway, why not just pick up a cooler while you're at it?
This makes purchasing a cooler so much more convenient.
Faster Draining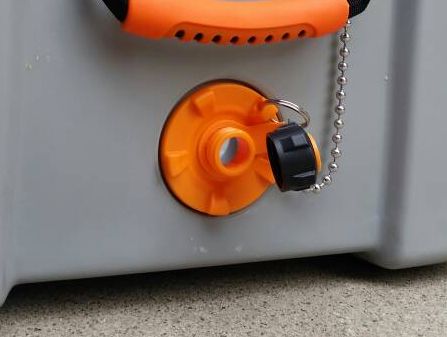 The Yeti only have a 1-inch drain plug but the Ozark has both a 1-inch drain plug as well as a much much larger drain plug for faster draining.
The Ozark drain plug is so large you can even drain out pieces of ice rather than just water.
The drain plug also has a hose attachment thread on it so you can attach a garden hose to it and drain the water away from the cooler. The Yeti doesn't have that option.
Cup Holders
Ozark is one of the only roto-molded coolers on the market with cup holders moulded into the lid. In fact off the top of my head I can't even think of any other coolers that have cup holders in the lid.
Cup holders is something I love about my Coleman Xtreme and it's something the Yeti doesn't have but I wish it did have.
Maybe I should replace my Coleman for an Ozark?
Benefits of Yeti over Ozark
The Yeti is the more expensive of the two coolers and does has some benefits over the Ozark cooler. What we are going to do is look at those benefits and then it is up to you to decide whether or not those benefits are worth the extra cost of the Yeti.
Better Ice Retention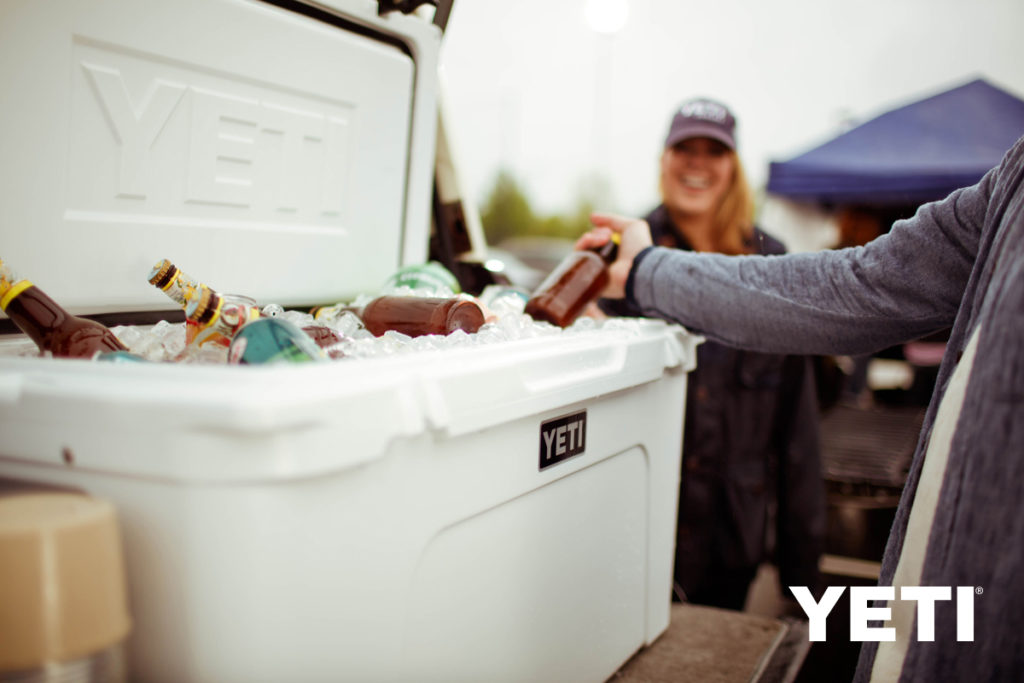 Not many direct head-to-head ice test comparisons have been down between the Yeti and the Ozark (I plan on doing one myself come summer).
From the ice tests that are out there as well as anecdotal evidence from customers, it does seem that Yeti offers better ice retention than the Ozark.
Better Build Quality
Yeti definitely has a better build quality to the Ozark.
Not only does the plastic and the finish look and feel more premium but it is actually more durable and less prone to issues.
The Ozark has issues with warping and some people have issues with the gasket. Yeti rarely if ever has issues with their coolers warping due to the heat of direct sunlight.
With Yeti you can be more confident that you aren't going to have any issues and that your cooler is going to last a lifetime.
Premium Brand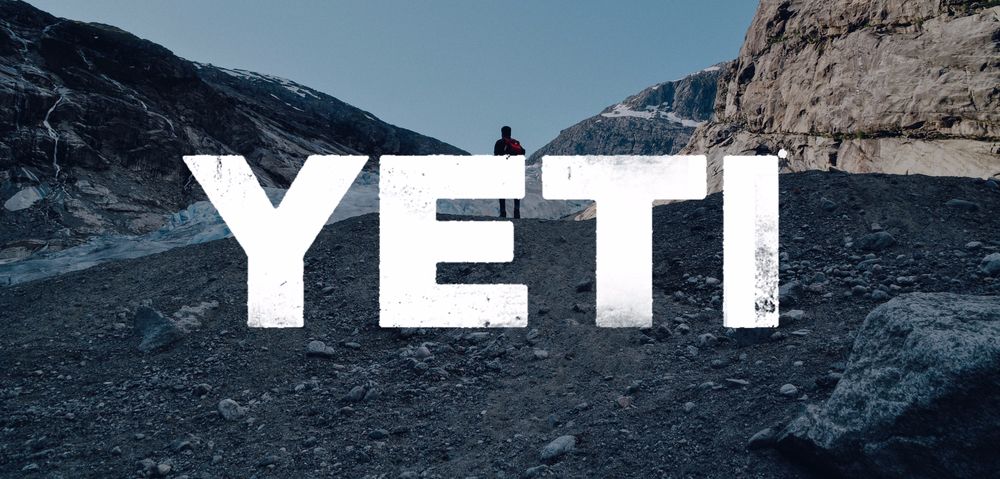 Yeti is THE premium brand in the cooler space. It's gone beyond being just a cooler brand and is now a lifestyle brand and a status symbol.
Owning a Yeti means you are passionate about the outdoors, you are adventurous and wild and it also shows that you buy the best brands.
So while (in my opinion) Yeti isn't the best cooler for the money, it is the most premium brand and sometimes that is worth paying extra for.
People do it with Nike shoes, with Apple phones and with Yeti coolers…and there is nothing wrong with that.
My Recommendation For The Best Value For Money: YETI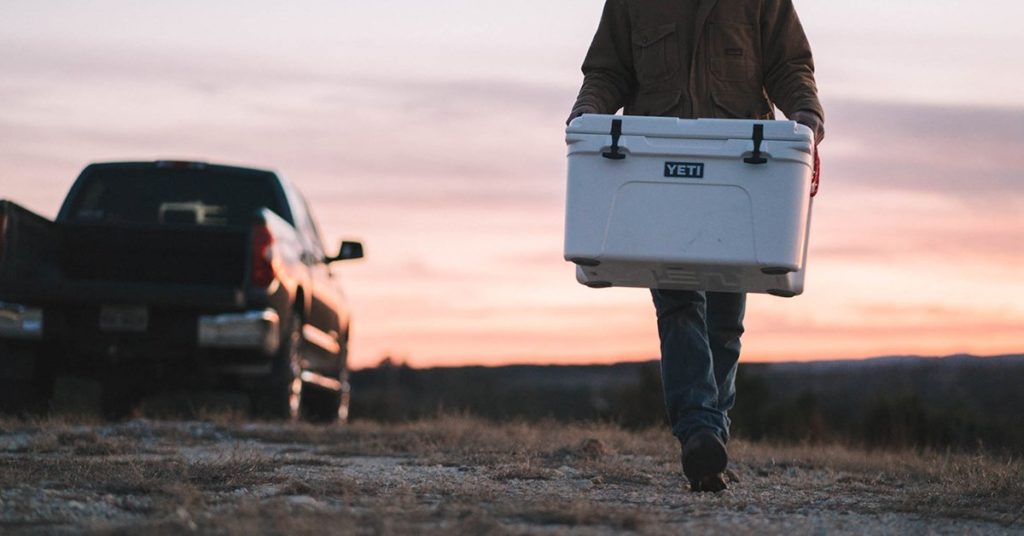 This was actually a really hard one to decide because I like both coolers for different reasons.
I do think that overall the Yeti is a much better cooler with better ice retention and better build quality. It is likely to last much longer and it is less likely to have problems like the warping problem the Ozark coolers seem to have.
However, the Ozark is so much cheaper than the Yeti and is the "good enough" option for those who want something similar to the Yeti but with a much smaller price tag.
The Ozark will do the job and will be good enough for a lot of people in a lot of situations.
Buy Ozark or Yeti Coolers
If you're looking to purchase either an Ozark or Yeti cooler you can do so by clicking my WalMart or Amazon affiliate links in the comparison table below.
OZARK COOLERS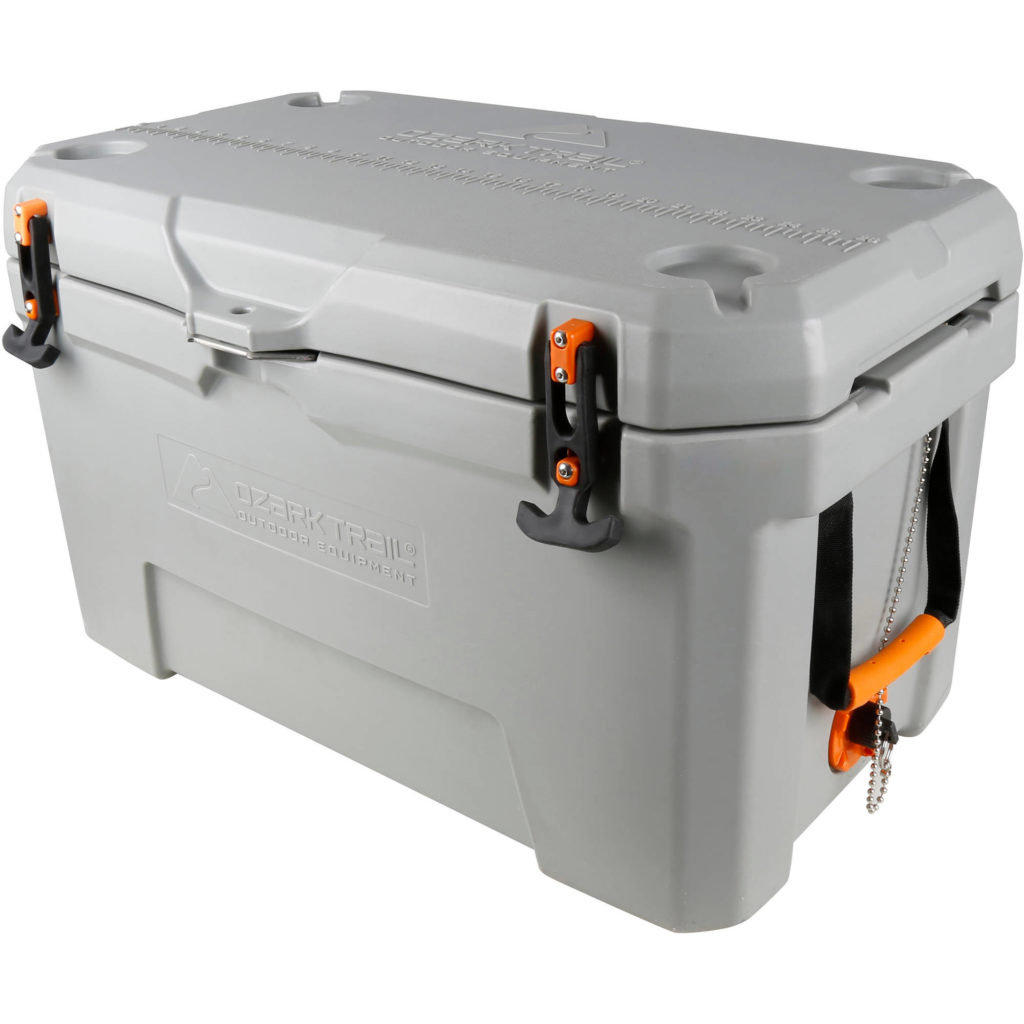 Ozark 26-Quart: $78 RRP (at WalMart.com)
---
Ozark 52-Quart: $137 RRP (on WalMart.com)
---
Ozark 73-Quart: $194 RRP (See on WalMart.com)
---
Ozark 110-Quart: $247 RRP (See on WalMart.com)
YETI COOLERS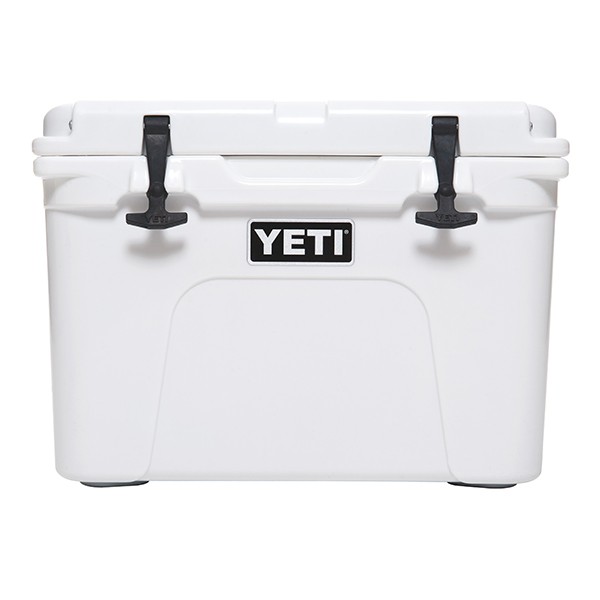 Yeti 35 (28.8-Quart):
---
Yeti 65 (57.2-Quart):
---
Yeti 75 (74.8-Quart):
---
Yeti 110 (96.4-Quart):
Other Recommended Coolers
There are some other coolers on the market that offer similar features and benefits to the Ozark Trail or Yeti coolers that may be more suitable to you.
Lifetime Coolers – Similar to Ozark but cheaper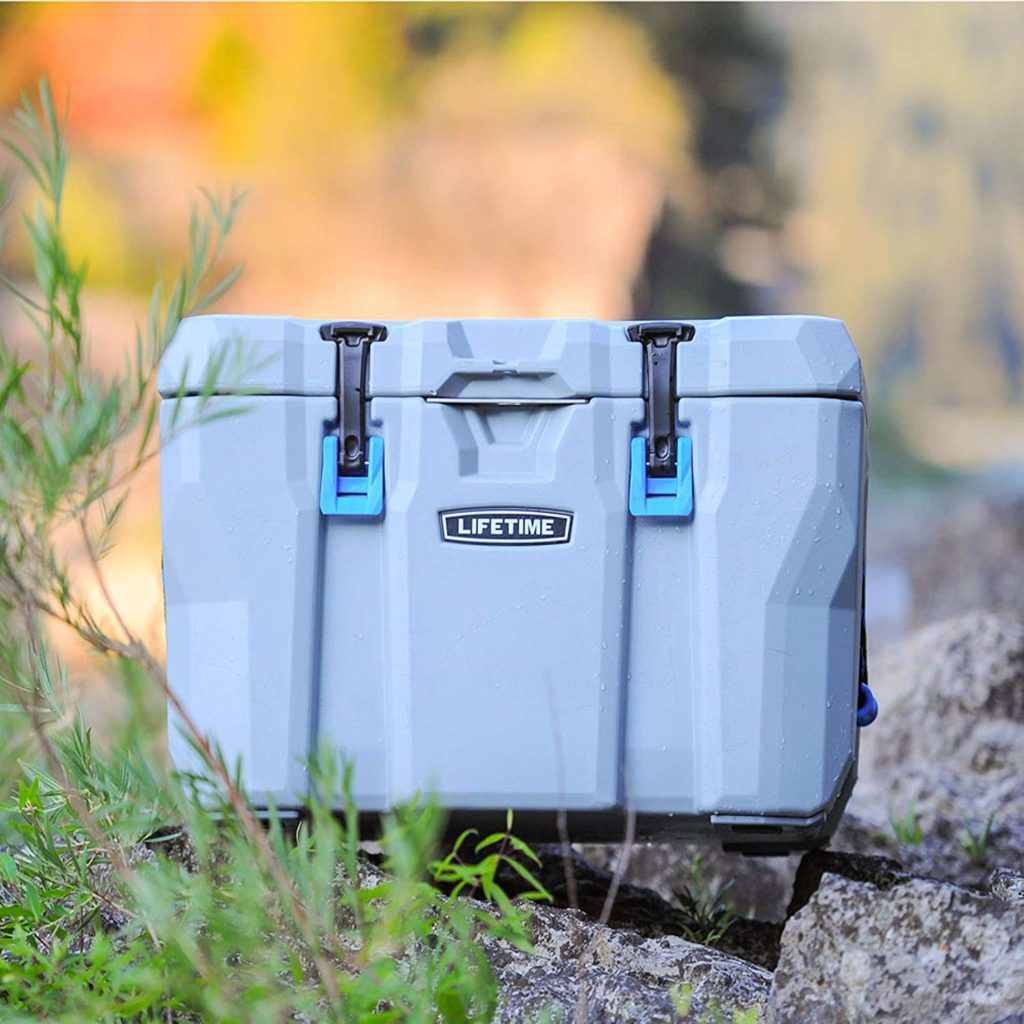 Also sold through Walmart these coolers are very similar to Ozark Trail coolers but for even cheaper.
The Lifetime 55 cooler has an RRP of $129.99 but realistically it is almost always sold for UNDER $100 through WalMart.com. The 28-Quart and the 77-Quart are also cheaper than the similar size Ozark coolers.
Click the links below to see the Lifetime coolers on Walmart.com or read my full review of Lifetime coolers.
Lifetime 28-Quart: ~$76.00 (on Walmart.com)
Lifetime 55-Quart: ~$97.00 (on Walmart.com)
Lifetime 77-Quart: ~$147.00 (on Walmart.com)
Coleman Xtreme – The Budget Pick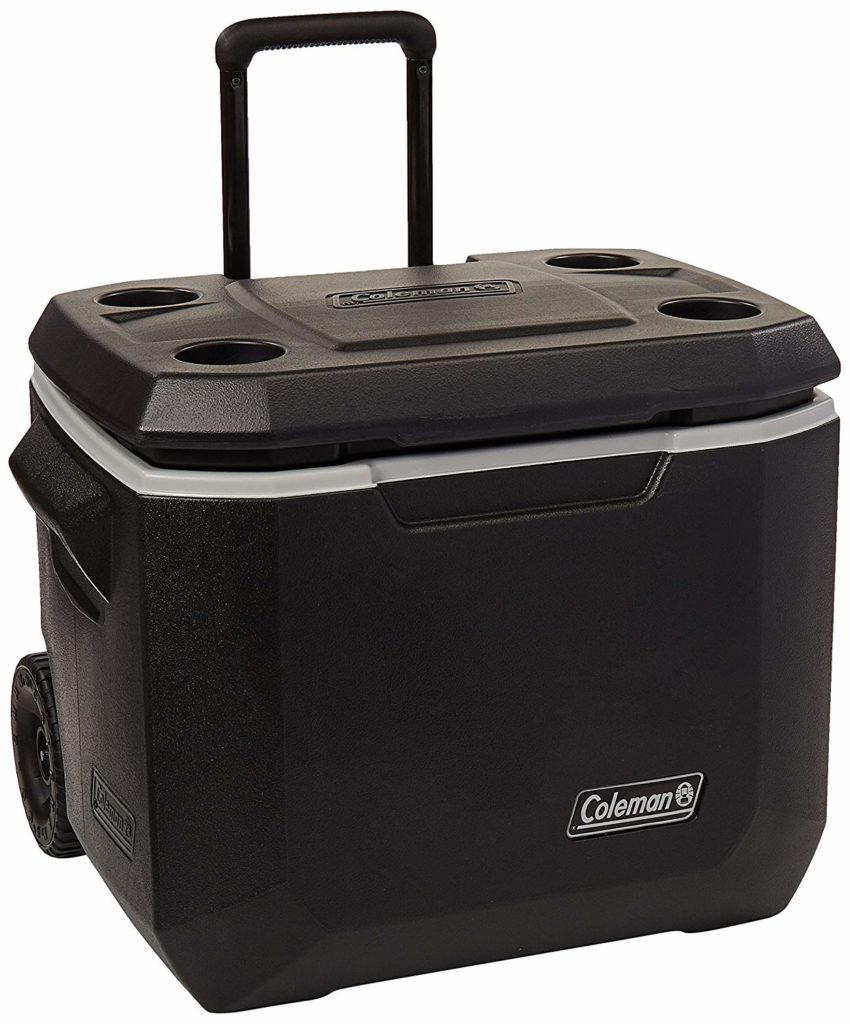 Coleman Xtreme coolers aren't bear proof, don't have rubber latches or non-slip feet or rubber gaskets.
They don't have the fancier additions that the roto-molded coolers have, but they do keep ice for up to 5-Days and they are extremely affordable. You can generally get them for under $50 through Amazon.
You can read my Coleman Xtreme review or you can see the Coleman Xtreme on Amazon by clicking the link below:
Coleman Xtreme Wheeled Cooler:
I hope you enjoyed this comparison of Ozark Trail Coolers vs Yeti and that this has helped make your purchasing decision easier.
Until next time, stay cool!