The Coleman Xtreme promises 5 days of ice retention for a tiny fraction of the cost of a Yeti. But in the Coleman Xtreme vs Yeti debate which cooler is the better value for money?
The Coleman Xtreme is an amazing cooler for under $50. At 8-10 times cheaper than the price of a Yeti it keeps ice almost as long, making it amazing value for money for the budget conscious shopper. Yeti however, has far superior build quality so it will last longer, take more of a beating and is overall a much more premium cooler.
These coolers are so different in their style, features and price range it's hard to compare them and say "This is definitely the best value for money". In this head-to-head review we will look in detail at the differences between the coolers to help you decide which cooler will be best for you.
I personally own both a Coleman Xtreme and a Yeti and they are my 2 favorite coolers in the world. I love them both for different reasons so I'm excited to share this head to head with you.
Price – Coleman Xtreme 8-10x Cheaper Than Yeti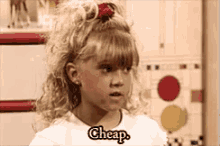 This is the main reason to consider a Coleman Xtreme over the Yeti is the price. They are so much cheaper coming in at under $50, heck even coming in at under $40, compared to a similar sized Yeti being over $300!
That is a huge huge saving.
For many people a Coleman Xtreme will do the job and mean they don't need to spend hundreds of dollars of a roto-moulded cooler.
The comparison table below compares the Coleman Xtreme as well as a regular and steel version to Yeti's in a similar size range. You will see the huge difference in price.
COLEMAN COOLERS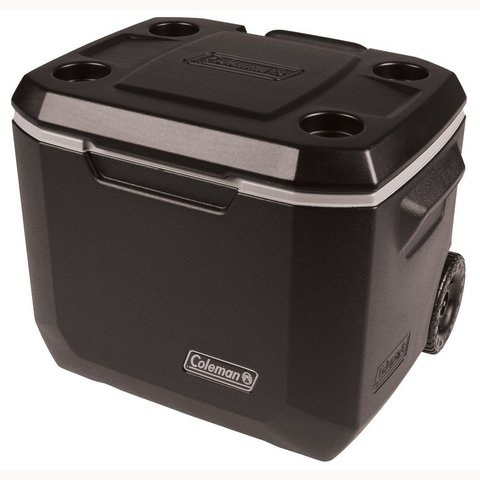 Coleman Xtreme 50 Wheeled:
---
Coleman Xtreme 62 Wheeled:
---
Coleman Xtreme 70-Quart:
---
Coleman Regular (48-Quarts):
---
Coleman Steel (52-Quart):
YETI COOLERS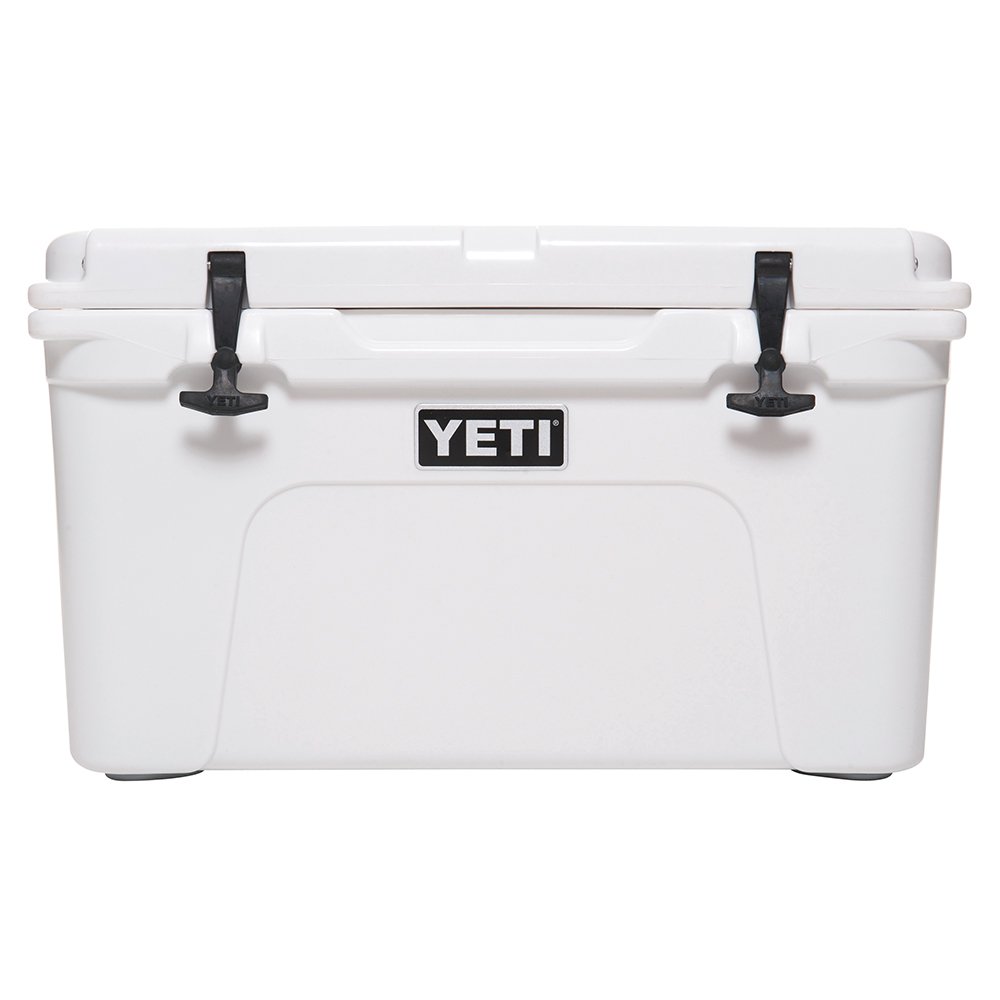 Yeti 45 (37.6-Quart):
---
Yeti 65 (57.2 Quart):
---
Yeti Haul Wheeled (45-Quart):
---
Yeti 75 (74.8-Quart):
---
Yeti 110 (96-Quart):
So as you can see the price is wildly different.
The question now becomes, will the Coleman do the job for me and I can save my money or do I still want to buy a Yeti?
Ice Retention – Can Hold Ice 10+ Days (But Not Usually)
So a while back I did an ice test between the Coleman Xtreme and the Yeti and the Coleman Xtreme actually won the ice test, holding ice more than 10 days!
However, it was cooler weather, the coolers were kept in the shade and the Coleman has more capacity than the Yeti I was testing it against.
This result is rare and when I have used both the Yeti and the Coleman in normal conditions (warmer weather, kept in my hot van or in the sun) the Yeti definitely outperforms the Coleman.
Coleman Ice Retention – 3-6 Days
In regular use and in warmer weather I have found that the Coleman Xtreme can keep ice for about 3-6 days with 3-4 days being normal and 5-6 days being in more optimal conditions where the cooler isn't used as much.
Yeti Ice Retention – 5-7 Days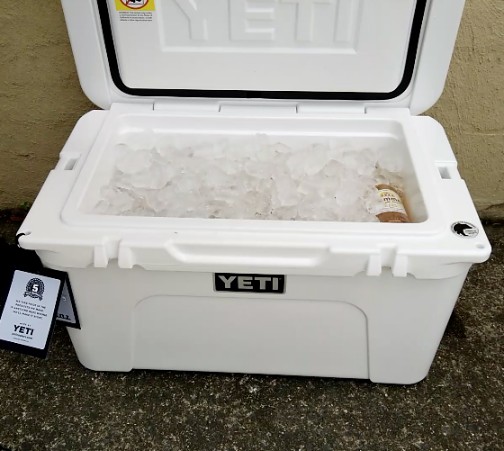 Yeti ice retention when used normally is more around the 5-7 day mark and performs much better when conditions aren't optimal (eg. In warm weather).
In my ice test the Yeti also held ice for over 10 days but ran out of ice on the 11th day.
Again these were great conditions with the cooler filled almost completely with ice and only opened 5 times per day.
The Yeti is just more reliable in it's ice retention, but you do need to pre-chill the Yeti to get the best result otherwise ice can melt faster than usual in your Yeti.
Who is Coleman?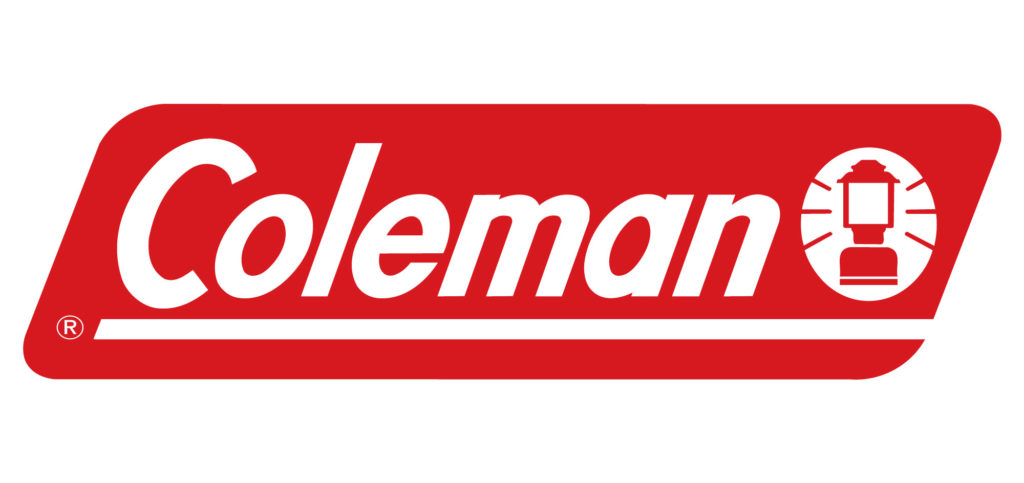 Coleman is a well known household brand, especially when it comes to coolers and camping equipment.
This is because Coleman pioneered the popularity of coolers back in 1954 with their steel belter cooler and then a few years later starting making plastic coolers.
Coleman now make a variety of outdoor products. Everything from coolers to drinkware to furniture to tents and other camping equipment. They are a large a reputable company.
Coleman are one of Yeti's biggest competitors by revenue figures but don't have a successful roto-moulded cooler in the market.
Build Construction – Yeti Is Far Superior, But You Would Expect It To Be
Yeti coolers are built completely different to the Coleman Extreme and as a result are far more robust and have a much higher build quality.
But this is exactly what you would expect from a cooler that is $300+ when compared with a cooler that is under $50 so there is no real surprise there.
Yetis Are Made With Roto-Moulded plastic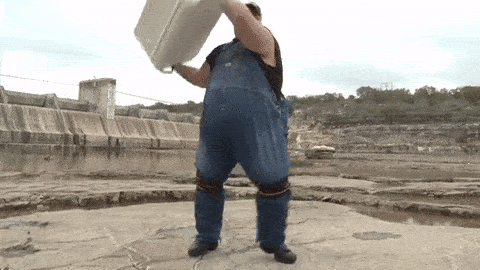 Yeti coolers are made using a manufacturing technique called roto-moulding. This gives yet a super solid and thick structure that is then filled with pressure injected insulation. You can learn all about what Yeti coolers are made of here.
This means you can throw around a Yeti, drop a Yeti, heck even have a bear attack a Yeti and while it may have some exterior scratches or damage (especially from bear claws) the cooler will hold up and will still work.
Coleman's Have Thinner Plastic Making Them More Prone To Breaking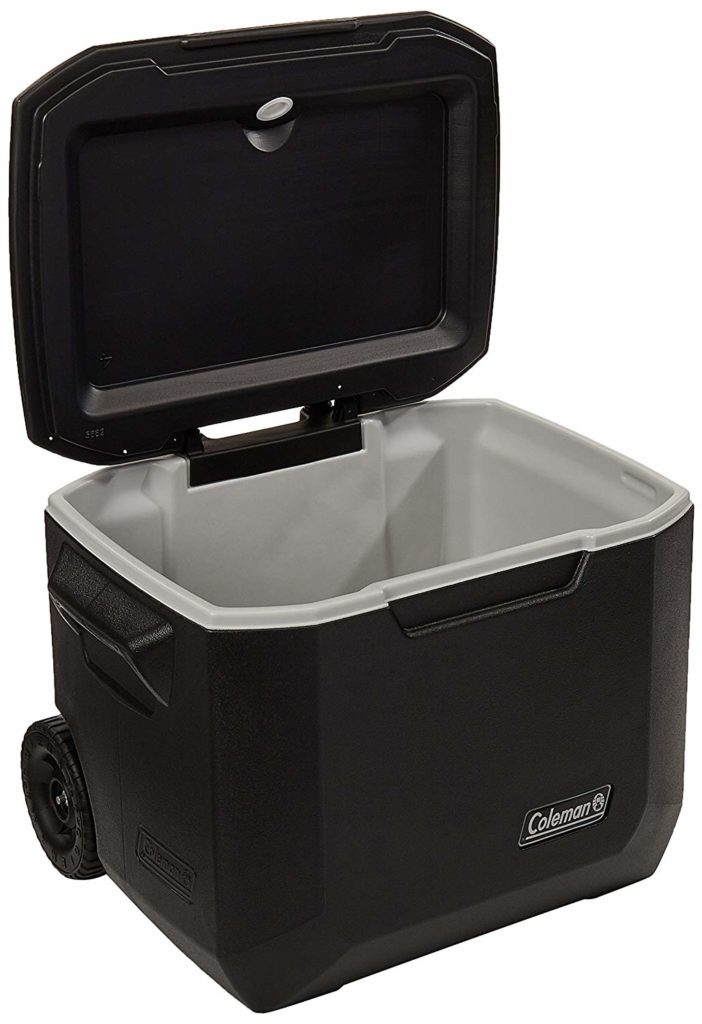 Coleman coolers are still built well and are UV resistant meaning the plastic can hold together for years. My Coleman Xtreme is going on 4 years old now and is still in great condition.
However, the plastic exterior and interior of the Coleman is much thinner than that of the Yeti making it more prone to breaking.
You can still sit and stand on a Coleman and it will hold your weight. You can toss it around a little bit, but you do need to take much more care with your Coleman.
I could confidently drop my Yeti and I wouldn't worry about it breaking. Dropping the Coleman though and it is more likely to snap and break.
Quality of Hinges and Handles Are Much Cheaper In The Coleman
The Yeti has a single pin metal hinge, meaning it has one strong piece of metal that holds the lid to the body of the cooler. It's extremely sturdy and unlikely to break.
The Yeti handles are made of high quality nylon rope and hard rubber meaning they are unlikely to break and will stand the test of time.
Coleman hinges on the other hand and flimsy little plastic hinges that will excessive use or exposure to the sun could break quite easily and need to be replaced.
The handles on the Coleman are plastic and when full I do worry about a handle snapping and the cooler dropping on my foot, but because the pins used to hold the handles in are so small. Luckily this has never happened to me.
Both Coolers Could Last You 10-20 Years But The Yeti Can Take A Beating For 10-20 Years While The Coleman Can't
Both coolers could easily last you 10-20 years, they are built that well.
However, you could use your Yeti cooler regularly for that 10-20 year and not have to care about being careful with it. Throw it around, jump on it, leave it in the sun, have it bumping around the back of your truck, bury it in the dirt, drop it when you're drunk…whatever.
The Coleman will last 10-20 years if you treat it like a baby. Keep it out of the sun where possible to avoid sun damager, use it but don't throw it around, don't drop it or have it bumping around the back of your truck.
Features – Yeti Has Premium Features
It should come as no surprise that the Yeti has a bunch of premium features that the Coleman Xtreme doesn't have. However, the Coleman also has a couple of cool little features that the Yeti doesn't have so we will talk about those too.
Insulation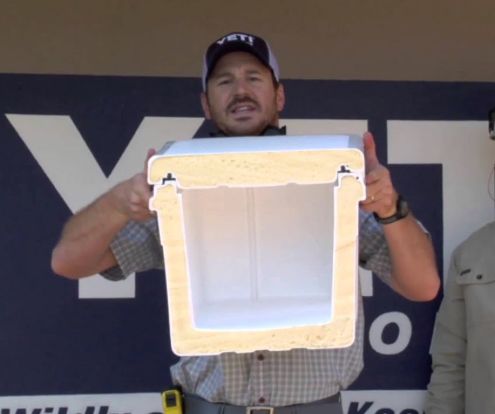 The Yeti has much thicker insulation than the Coleman, having 2-3 inches of insulation in the walls and lid of the cooler with the Coleman having more like 1.5-2 inches of insulation.
So a good 0.5-1.5 inches more of insulation in the Yeti overall plus a thicker plastic shell on the Yeti is what gives the Yeti better ice retention overall when compared to the Coleman.
With less insulation the Coleman gains heat more rapidly leading to your ice melting sooner.
Handles
The Yeti has both moulded in handles as well as hanging nylon rope handles with a firm rubber grip.
The Coleman Xtreme handles are either inbuilt only on the black wheeled version or pull up plastic handles on the other versions.
These plastic handles are held in place by small plastic pins that I do worry would deteriorate over time and eventually snap.
Bear Proof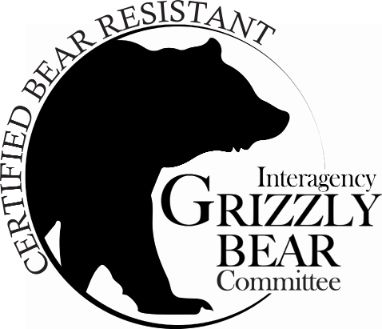 As mentioned previously Yeti coolers are certified bear proof when the front 2 corners are locked with padlocks.
This means no bear can get into the cooler which keeps your contents and your camp ground safer. It also means you can lock your Yeti from theft from other humans if needed, keeping your bar of chocolate safe from the grubby paws of your friends.
Drainage Plug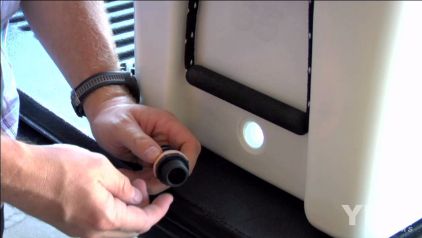 The drainage plug on the Coleman is a little pop off plug, which truthfully makes me worried it could be accidentally knocked spilling water all through my van.
Luckily for me though this has never actually happened and I have had no issues with the drainage plug.
The Yeti drainage plug is a 1 inch screw plug. You can partially unscrew it to drain out the water without taking the whole plug out or you can fully remove it.
Rubber Gasket
The Yeti has a commercial grade rubber gasket on the inside of the lid whereas the Coleman just has a solid plastic lid.
This rubber gasket creates a strong seal on the lid, keeping the cold air in and keeping the warm air out.
This helps improve the ice retention of the Yeti.
Latches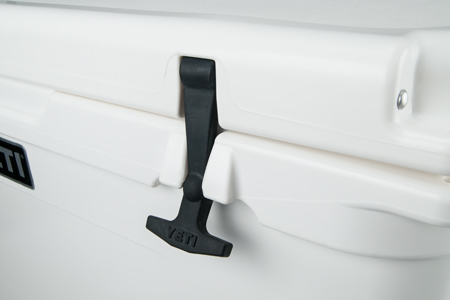 The Yeti has pull down rubber latches to keep the lid shut tight.
This helps keep a better seal on the lid, keeping the warm air out, and also stops the Yeti from leaking or bursting open when it is knocked over.
The Coleman has no latches on the lid and is just held into place with friction from the plastic of the lid connecting with the plastic of the body of the cooler.
Non-Slip Rubber Feet
Yeti has non-slip rubber feet that removes the body of the cooler from the ground, allowing air flow and stopping the cooler absorbing as much heat from the ground.
These non-slip rubber feet also allow you to have your Yeti in the back of your car, truck or (for me) van without it sliding around everywhere when you drive.
The base of Coleman coolers is generally just a flat plastic base. This means the full surface of the base touches the ground and can absorb heat from the ground and it also slides around easily, which can be a positive or a negative depending on the use case.
Wheels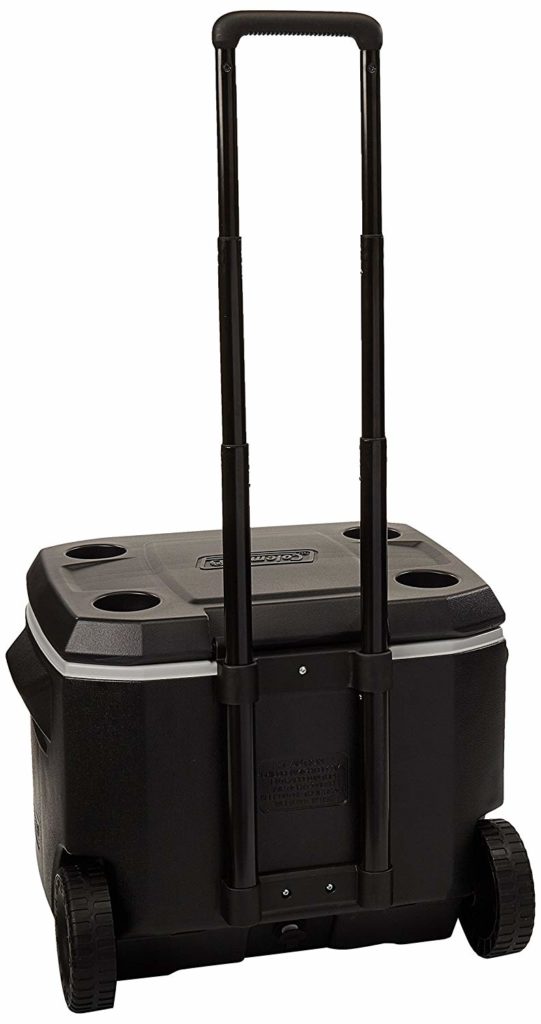 This is one of the key features that Coleman has that Yeti doesn't.
Coleman Xtreme coolers come with thick plastic wheels that makes moving the cooler around when filled to capacity extremely easy.
The black 50-Quart version has a suitcase like handle that pulls out from the middle of the cooler and the larger 62-Quart wheeled version has a side handle.
The wheels also don't make the cooler any more expensive which is really nice.
The majority of Yeti coolers don't have wheels and are quite heavy even when not fully loaded.
If you do decide to purchase a Yeti haul (Yeti's wheeled cooler) then you are going to pay $50-$100 more for the wheeled version than you would pay for a version without wheels.
Problems with Coleman Coolers
Being a cheaper cooler the Coleman does have some problems that you need to consider before purchasing it.
Not watertight
The lid of the cooler has no rubber gaskets and no latches to hold it down. This means if you tip the cooler on the side, or the cooler gets knocked over, then the lid is going to open and the contents of the cooler is going to come out.
Even with the lid held closed when you tip a Coleman cooler to the side water will stream out. You can see me testing this in the video below:
Ice Retention Suffers In Warm Weather or When Not Fully Packed
As seen in my ice test above the Coleman Xtreme does have the potential to hold ice for over 10 days, but this is in very ideal conditions.
During everyday use I found that the Coleman did not hold ice as long as the Yeti. Or if the cooler wasn't completely filled with ice then ice retention suffered substantially.
This is frustrating as I don't always want to spend money on 4 bags of ice to fill my cooler when I old have a few items in there.
Hinges and Handles Likely To Break
The hinges and handles on the Coleman feel cheap. The hinges especially are thin, flimsy pieces of plastic that I can see easily breaking with consistent use and sun exposure.
You can purchase replacements for the hinges and handles if needed, but that just sounds like more effort than it is worth given this cooler is less than $50.
You Need To Be More Careful With It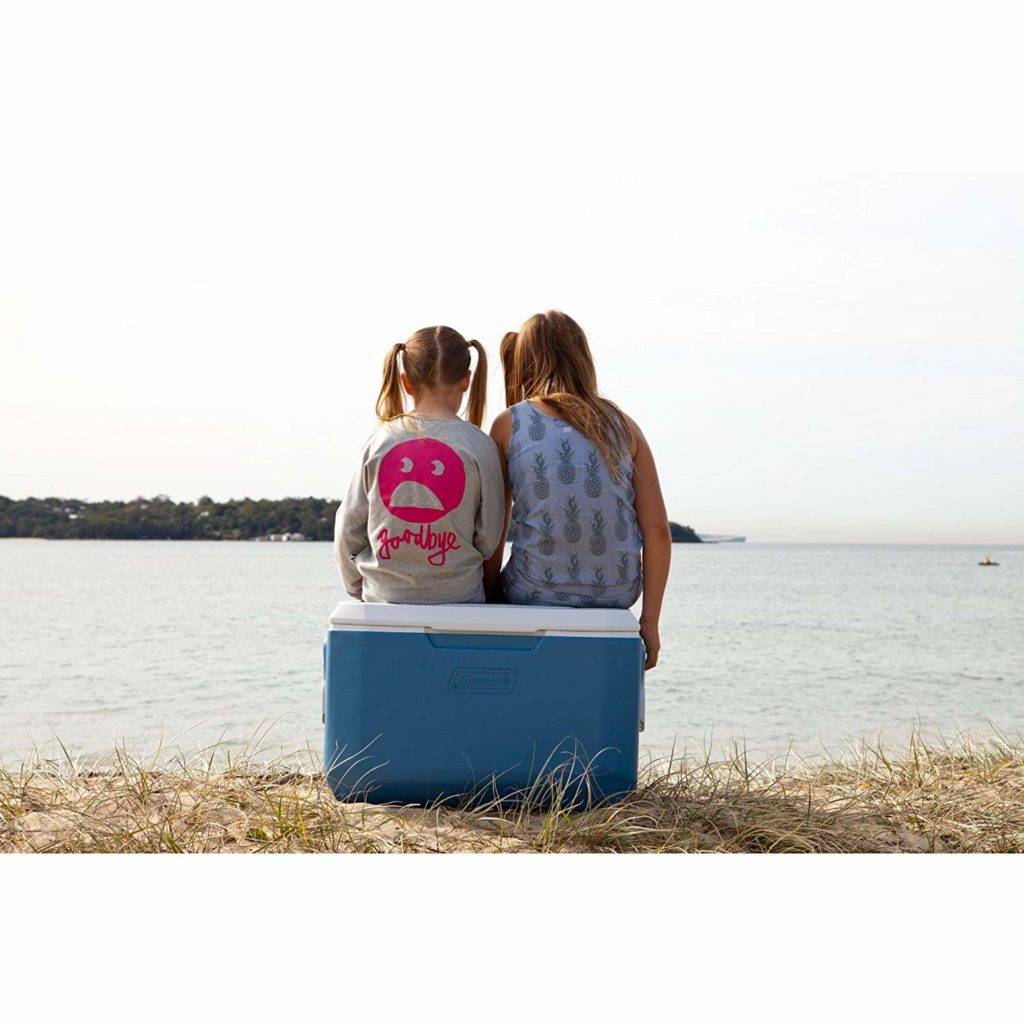 The Coleman is still a tough cooler, but it's not Yeti tough meaning you do need to be more careful with it.
The exterior plastic is a lot thinner than the Yeti, as is the interior plastic, and therefore impacts are more likely to crack the body of the cooler.
You can still sit and stand on it, but you just need to be more careful overall.
Where Can You Buy Coleman Xtreme Coolers?
Coleman Xtreme coolers can be purchased from a variety of places.
Recommended – Amazon
Amazon is probably the easiest place to buy a Coleman Xtreme cooler. It also happens to be the cheapest place to buy the cooler.
You can consistently find the coolers for cheaper on Amazon than you would find them in store or at Coleman's own website.
With free shipping it seems like a no-brainer to purchase the coolers from Amazon, but obviously it is up to you where you buy them from.
If you're interested in seeing more details of the coolers and the latest prices on Amazon then click my affiliate link below:
See Latest Prices For Coleman Xtreme Coolers on Amazon
Coleman's Website
You can also purchase the coolers from Coleman's website.
I have found however that the coolers on the website tend to be more expensive than on Amazon and you sometimes have to pay shipping for them as well.
In Store
Coleman coolers are sold all over the USA and all over the world in both specialty stores as well as larger retail chains.
You could likely head down the road and pick one up from your local store today assuming they stock the Coleman range.
Benefits of Coleman over Yeti
There are actually some major benefits of a Coleman Xtreme coolers over a Yeti cooler that come naturally from the design of this cooler.
Way Cheaper
This is an obvious benefit which we have talked about in great detail already. Coleman coolers are 8-10x cheaper than the Yeti.
For many people it makes sense to only spend $40-$50 and get a cooler that is good enough for the job they need it to do, rather than spending over $300+ on a roto-moulded cooler where they may not need all the crazy features of.
For a while I was living in my campervan with my cooler being my only source of refrigeration. I was also going off grid for a few days at a time and didn't want to run out of ice.
For that reason the Yeti made total sense for me and my family. But now that the campervan is only really used in the school holidays for a few days at a time and we aren't going off grid the Coleman does the job and the Yeti is overkill.
Made in USA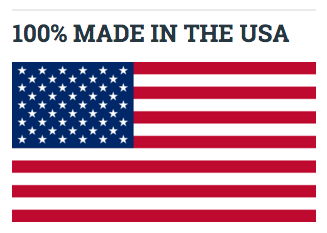 Yeti coolers are made primarily overseas while Coleman coolers are manufactured locally in the Wichita, KS.
Many customers like to purchase products that are manufactured in the USA because it creates more jobs for hard working Americans.
Lighter and Easy To Carry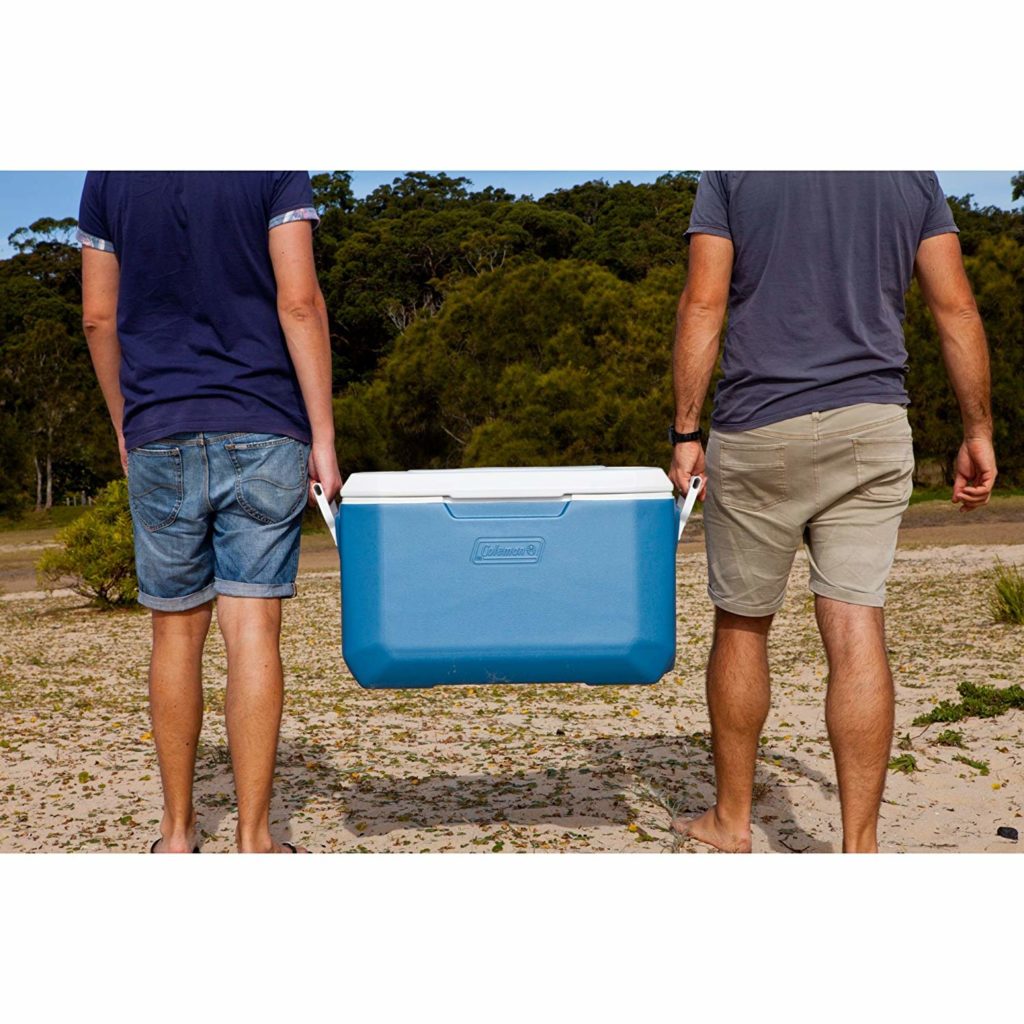 This is a huge benefit of the Coleman coolers. They are just so much lighter and easier to carry around than a Yeti cooler.
For short trips in my van I often find myself taking the Coleman over the Yeti because it is just easier to move around.
Easier to get from my house to the van and easier to move it around at the campsite because it's so much lighter.
The Yeti isn't backbreaking heavy but it's frustratingly heavy, the Coleman is a breeze to carry.
Cup Holders
Having cup holders in the lid of the cooler is also a major benefit of the Coleman.
When driving in my van I have the Coleman next to me and the lid serves as extra cup holders for when I am driving.
Once on site the cup holders are great for the kids to put their cups or bottles in to keep them from spilling. Or I can crack open a beer and use the cup holders to keep my beer upright while I stoke the fire.
Wheels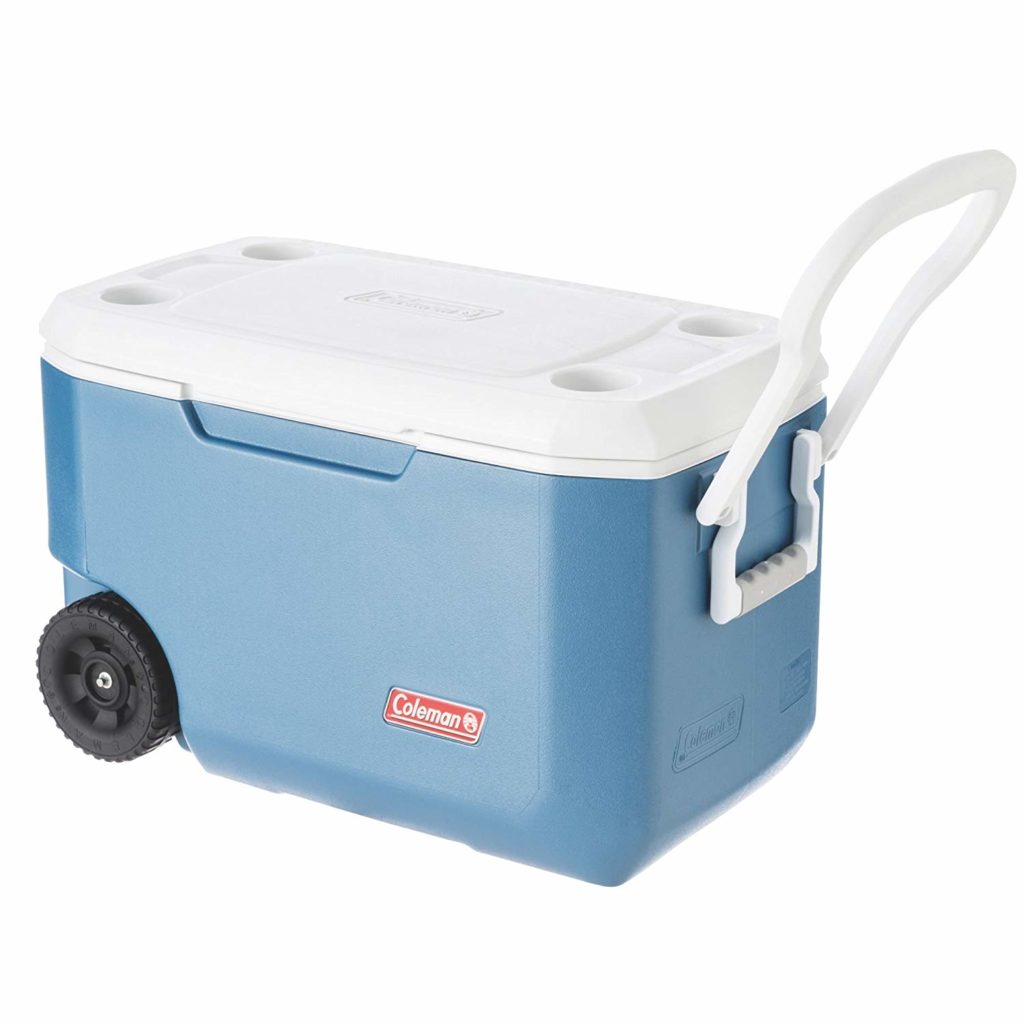 The wheels on the Coleman are a great addition. My Coleman doesn't have wheels but I would love if it did.
It would just more easily allow me to move around the cooler when it is fully loaded without having to worry about hurting my back.
We've talked about this in more detail in the features section above but I love that getting wheels in a cooler doesn't cost significantly more.
Wheeled coolers and cooler without wheels are basically the same price for the Colemans. This is not true for the Yeti coolers.
Benefits of Yeti over Coleman
Being more expensive and better quality the Yeti has many benefits over the Coleman. But here are what I consider to be the key benefits.
Build Quality and Strength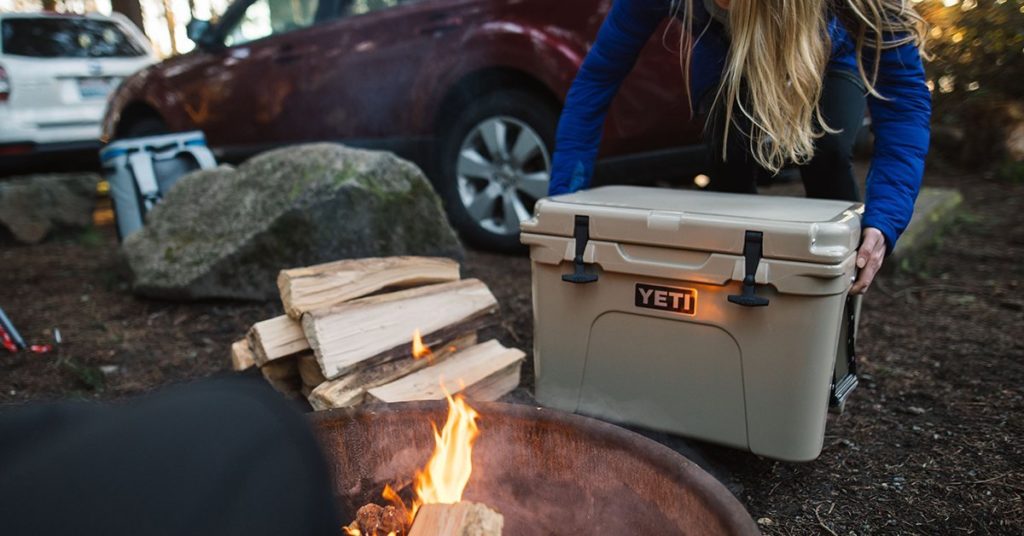 The build quality of the Yeti is far superior to the build quality of the Coleman.
The Yeti can take a beating and you never really have to worry about the Yeti breaking.
It is sturdy enough that we use it as the primary step in and out of our van when we travel. I'm not worried about anyone breaking it even if the kids jump on it or multiple adults are standing or sitting on it at one time.
Ice Retention
The Yeti has superior ice retention when compared to the Coleman Xtreme.
It can keep ice longer meaning you can go off grid for longer periods of time without having to worry about filling up with ice.
The ice retention in the Yeti is also more reliable no matter what the conditions are. So whether it is raining or stinking hot I know I can count on my Yeti to keep ice for 5+ days.
Non-Slip Feet + Tie Downs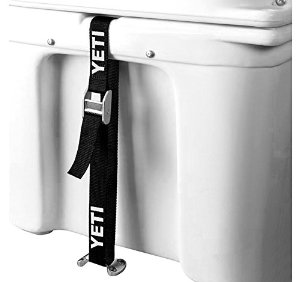 These may seem like a little thing but they are actually extremely valuable.
The non-slip feet on my Yeti means I can throw it in my van and not have to worry about it sliding around in the back and smashing into things.
On the odd occasion where I have to break suddenly and the cooler does slide it slides slowly and doesn't cause damage.
Yeti also has slots for tie down straps if you are going on a more extreme or bumpy ride or need to guarantee your cooler won't move around during the trip.
Branding and Feeling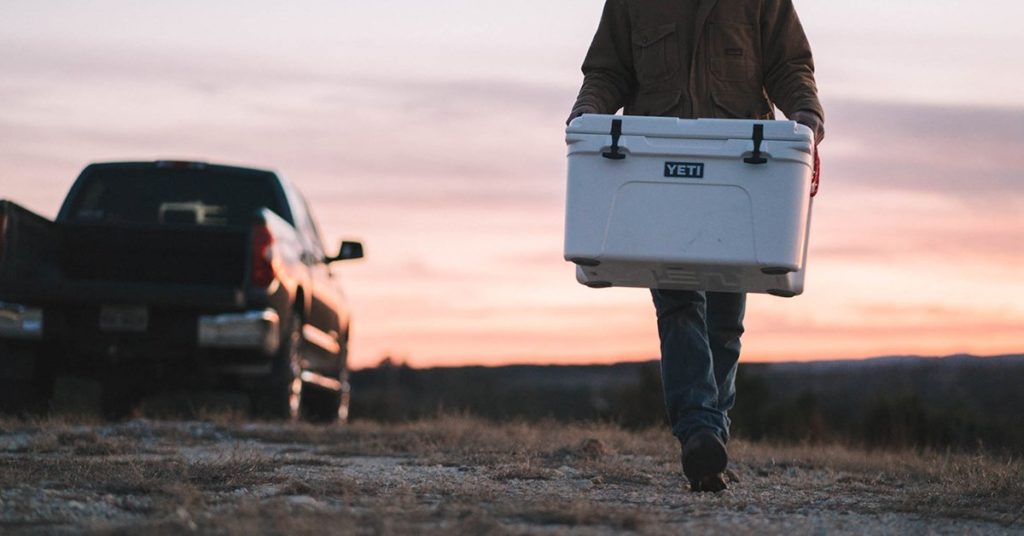 The Coleman Xtreme, while a good cooler, is just a plain old cooler.
The Yeti on the other hand is a status symbol. My Yeti is beautiful and I love it and I am proud to own my Yeti.
My Coleman is great and practically it does what it needs to do, but it doesn't instil pride into me and I don't want to show it off to my friends.
I do however want to show my friends my Yeti. When I do they are suitably impressed with how good the cooler is as well as how expensive the cooler is.
This sounds silly, it's just a cooler after all, but it makes me feel great and that is a benefit you don't get with the Coleman.
My Recommendation For The Best Value For Money: Coleman Xtreme…but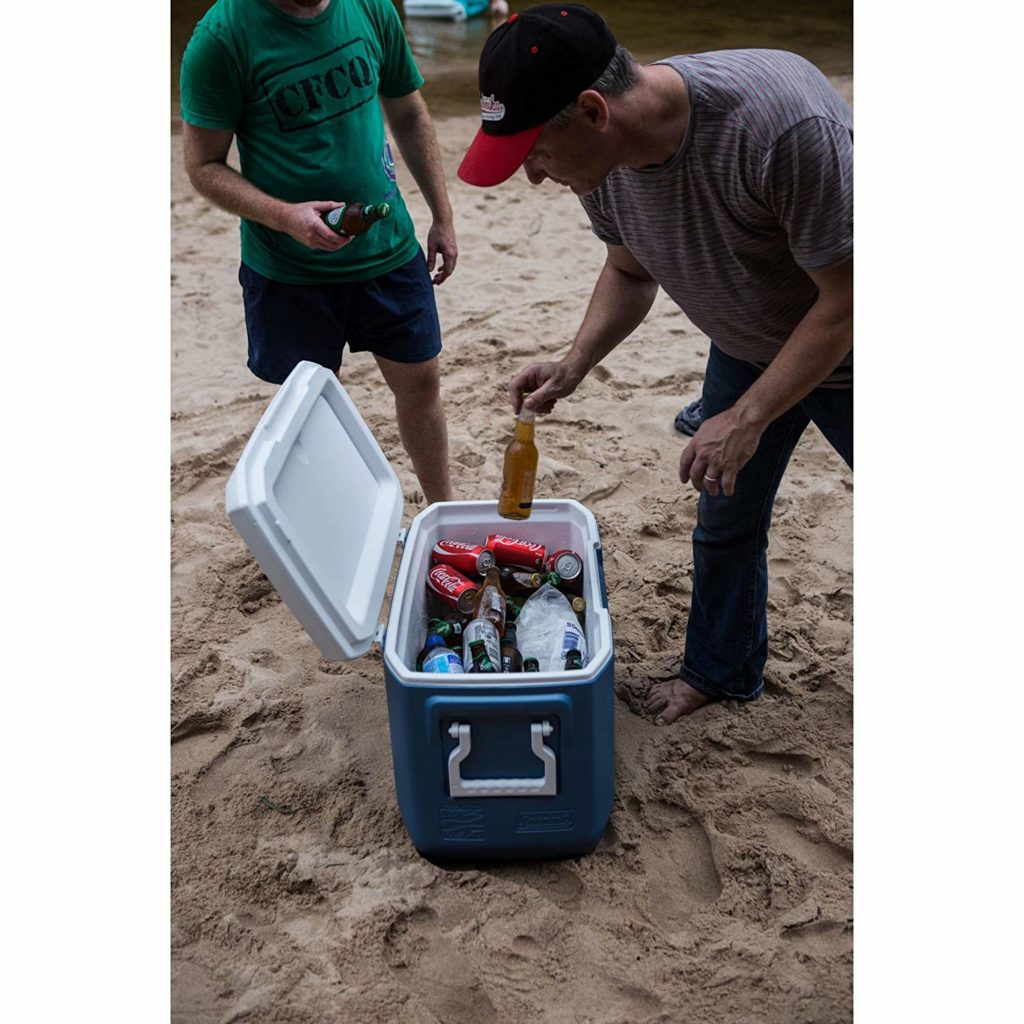 When it comes to best value for money then I have to go with the Coleman Xtreme.
It does the majority of the things the Yeti does and keeps ice for 3-5+ days for a tiny fraction of the price of a Yeti.
Most people don't need their cooler to be bear proof and most people don't need to keep ice for over a week, they can just spend some money and get some more ice from the local store or gas station.
If that's you then the Coleman Xtreme is a great buy. I have owned a lot of coolers in my time and the 2 coolers I have kept for years have been my Coleman Xtreme and my Yeti.
But…
They Yeti is also amazing in it's own way. More expensive yes, but amazing.
A Yeti will last you decades and will survive the most brutal treatment you can give a cooler.
It keeps ice for a ridiculous period of time and it is a status symbol that makes you excited to get outside so you can use it.
For that reason I also believe the Yeti is 100% worth the money.
Ultimately it is up to you which cooler suits you best and which cooler you want to buy.
Buy BRAND or Yeti Coolers
If you're interested in purchasing a Coleman Xtreme or a Yeti cooler then simply click my affiliate links below to go through to Amazon and purchase your ideal cooler.
COLEMAN COOLERS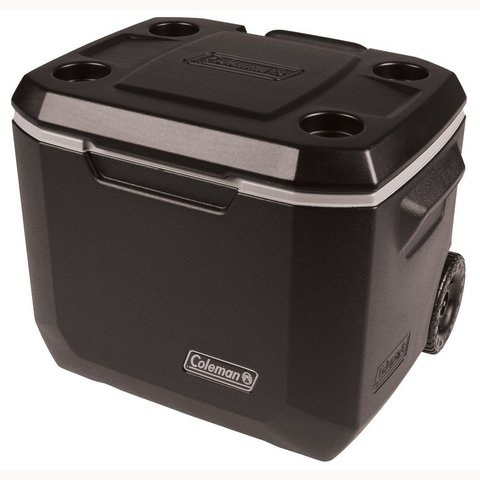 Coleman Xtreme 50-Quart Wheeled:
---
Coleman Xtreme 62-Quart Wheeled:
---
Coleman Xtreme 70-Quart:
---
Coleman Regular Cooler (48-Quarts):
---
Coleman Steel Cooler (52-Quart):
YETI COOLERS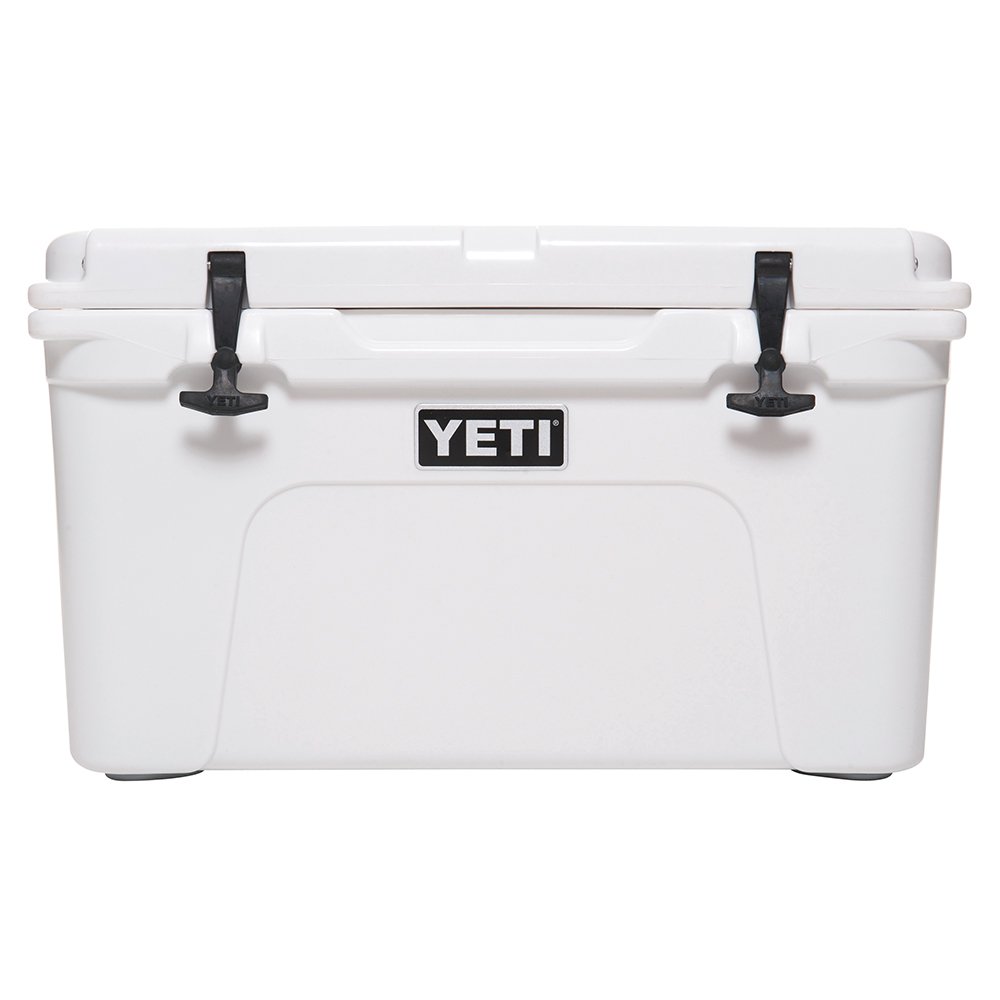 Yeti 45 (37.6-Quart):
---
Yeti 65 (57.2 Quart):
---
Yeti Haul Wheeled (45-Quart):
---
Yeti 75 (74.8-Quart):
---
Yeti 110 (96-Quart):
Other Recommended Coolers
If the Coleman or the Yeti don't feel completely right for you then there are a few other options out there that I recommend considering:
Lifetime Cooler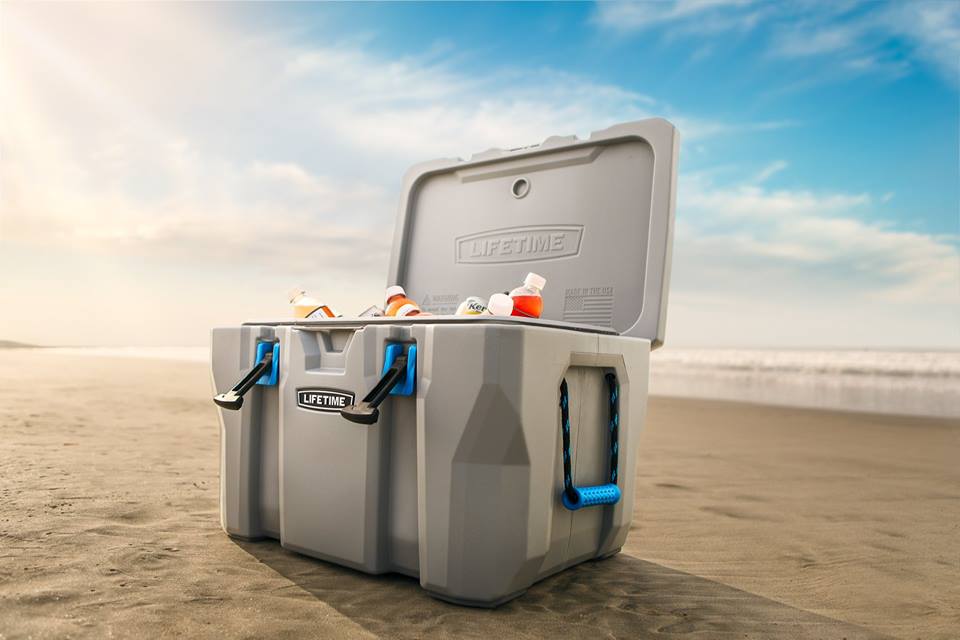 If the Yeti and the Coleman Xtreme got together and had a baby then out would come the Lifetime cooler.
It's build quality is better than that of the Xtreme and has features similar to the Yeti like thick insulation, rubber latches and rope handles.
Only it's much cheaper than the Yeti and is often sold for under $100.
Read my review of the Lifetime Cooler
Kong Cooler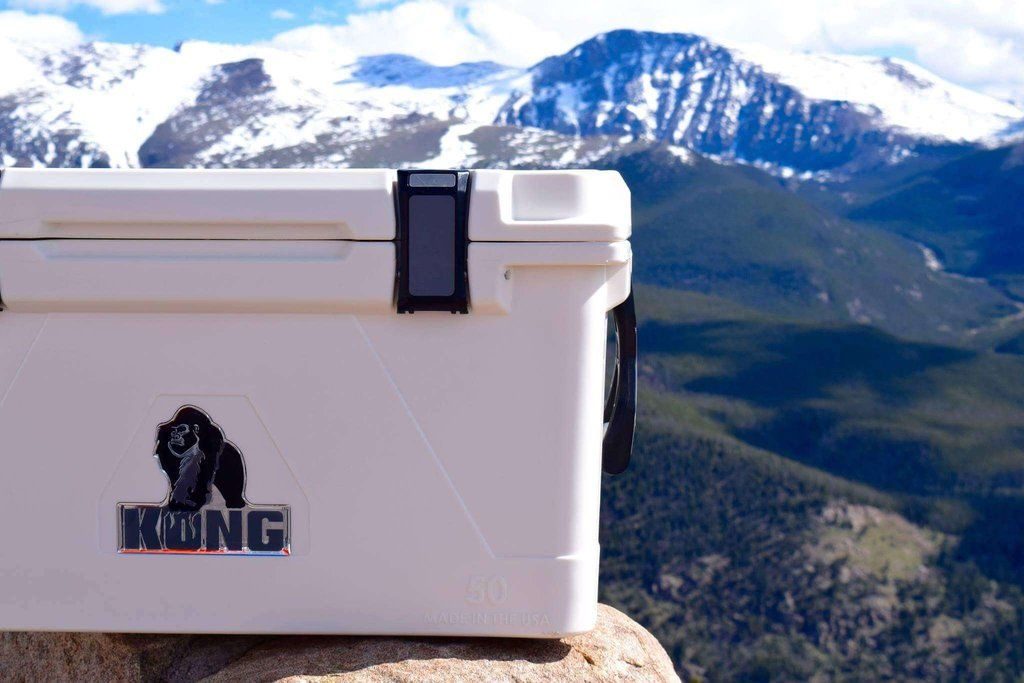 This is currently one of my favourite coolers like Yeti.
It is made in the USA, has arguably the best ice retention of any cooler on the market today and has a great feature where cutting boards can double as side tables on the cooler.
It's an engineering marvel and well worth your consideration.
Ready my review of the Kong Cooler
RTIC Cooler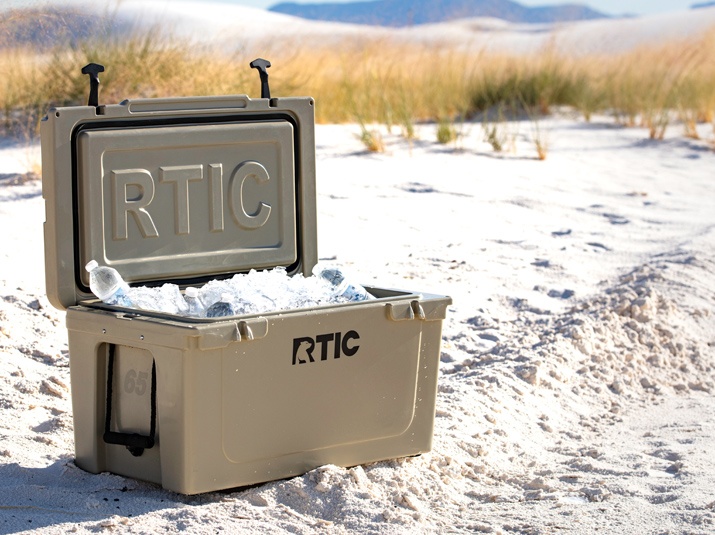 The RTIC Cooler is the closest you can get to a Yeti knockoff cooler for a cheaper price.
They look extremely similar to Yeti in design and have very similar performance in terms of ice retention.
The models are slightly larger than the Yetis, giving you more capacity, and the build quality is similar.