Moosejaw, a subsidiary of Dick's Sporting Goods specializing in outdoor gear, has been selling hiking and camping gear from their online and brick and mortar stores for more than the last three decades.
And over the last few years, they've even started selling their own line of Yeti-inspired roto-molded and soft-sided coolers, in a much more affordable price range.
But how exactly do they stack up when compared to Yeti Coolers?
Yeti and Moosejaw Coolers have a lot in common. Each offer durable, roto-molded hard coolers with 3 to 5 days of ice retention, alongside easier-to-use soft-sided coolers with a very similar build.
The main thing that sets Moosejaw Coolers apart is their lower price point, costing up to 50% less than comparable Yetis. Yeti Coolers, on the other hand, offer a better build quality, more size and color options, and a long track record of making top-quality products.
While I still prefer Yeti Coolers, Moosejaw's Ice Fort hard coolers are a pretty reasonable alternative if you want to save some cash.
I'd just recommend avoiding their soft coolers, at least until they've corrected some of the much too common complaints with their ice retention and durability. 
Color Options:

4-5 standard colors, 10+ heritage colors

Sizes:

24, 35, 45, 65, 75, 85, 105, 110, 125, 160, 210, 250, 350
Best Quality
Color Options:
4-5 standard colors, 10+ heritage colors
Sizes:
24, 35, 45, 65, 75, 85, 105, 110, 125, 160, 210, 250, 350
Price And Value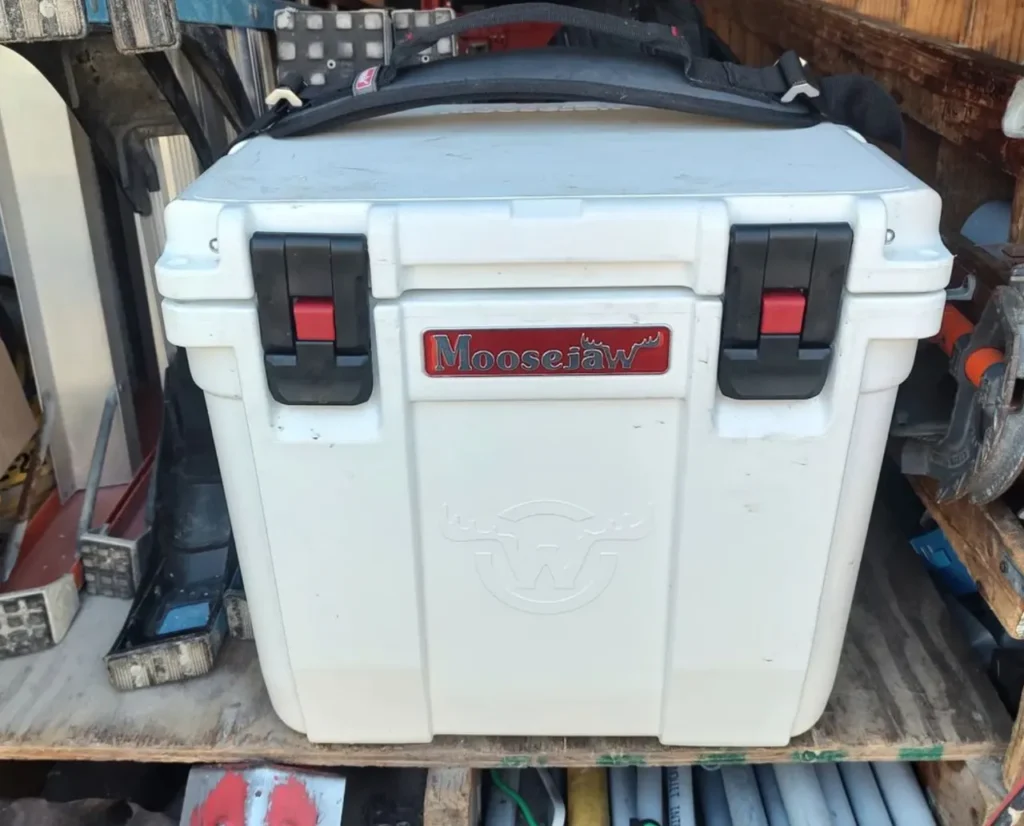 Price is easily the biggest advantage Moosejaw Coolers have over Yeti Coolers — but that really shouldn't come as much of a surprise. Yeti coolers are among the most pricey coolers out there.
But how much should you expect to save?
Moosejaw offers three hard coolers, the 25 quart Ice Fort which retails around $149, the 50 quart Ice Fort around $249, and a wheeled 55 quart Ice Fort around $299.
If you compare those prices to the most comparably sized Yetis (Yeti's cooler names aren't always their size in quarts), the Roadie 24 retails at $250, the Tundra 65 at $375, and the Tundra Haul at $450.
That's between 33% and 40% less when purchased at full retail price.
And making matters better, Moosejaw Coolers can often be found on sale, while Yeti Coolers are pretty much always full price — meaning you can easily find savings upwards of 50% if you're patient enough.
Great Budget Coolers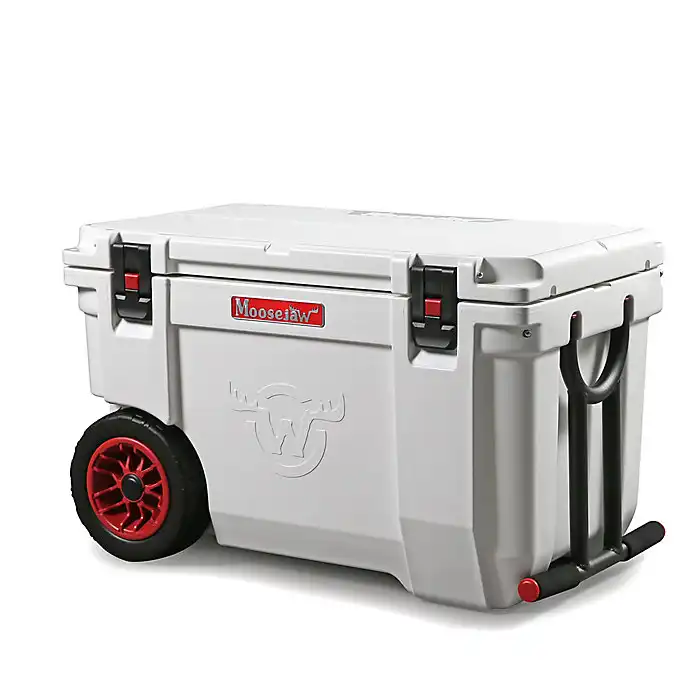 MooseJaw Coolers
High quality roto-molded coolers with a thick exterior shell made from 30% recycled materials. Up to 3.5" of insulation means they can keep ice for 3-5+ days at a time and perform just as well as more expensive cooler brands.
Comes with a built in bottle opener and generous 5 year warranty.
See Latest Price at MooseJaw.com
Moosejaw's soft coolers offer even steeper savings.
They retail at $129 for the 36 can Chilladilla Soft-Sided Cooler and $169 for the 42 can Tote Cooler — both bigger than Yeti's largest soft cooler (still being sold at least), the Yeti Hopper Flip 18, which retails at $300.
Ice Retention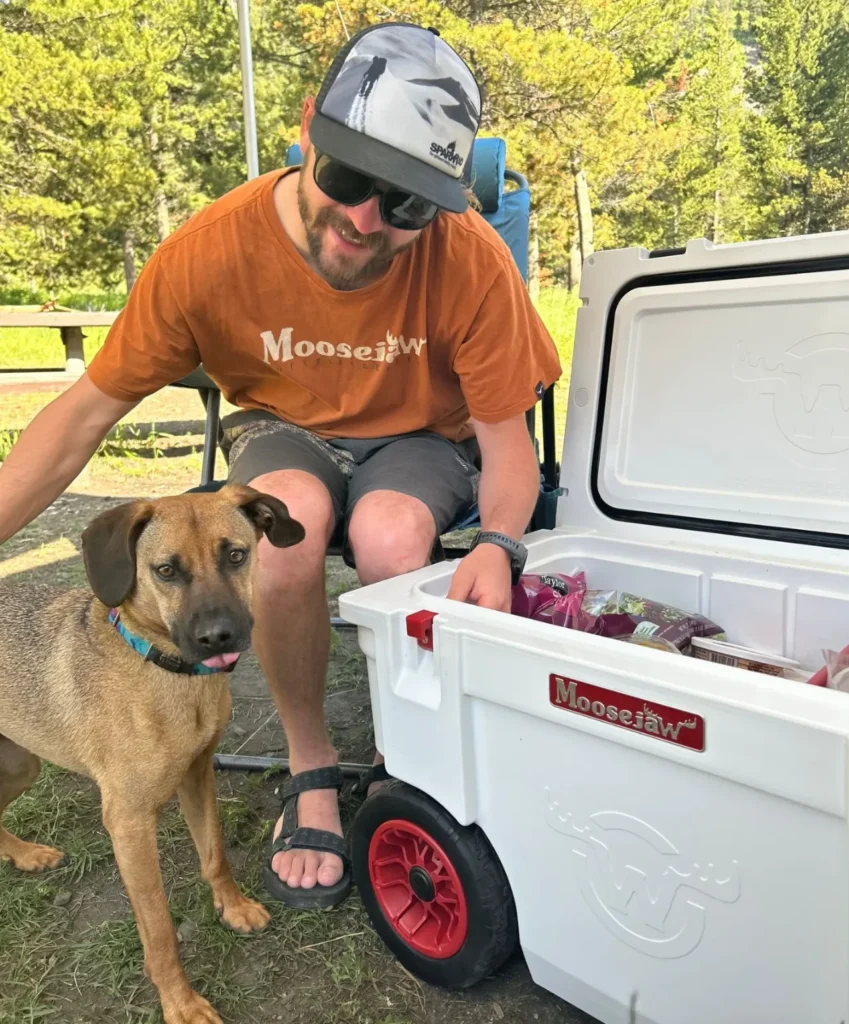 For such budget-friendly options, Moosejaw's hard coolers actually do a pretty great job of keeping ice.
Two (or more) inches of high-performance insulation (up to 3.5 inches in some spots) and a freezer-grade gasket help the 55 quart Ice Fort keep cold for up to five-and-a-half days, the 50 quart for up to five days, and the 25 quart for up to three days — right in line with the ice retention of comparably sized Yeti hard coolers.
In my testing, and from most of the reviews I've read, those estimates seem pretty accurate.
Moosejaw's soft-sided coolers, on the other hand, are a completely different story.
Yeti Hoppers keep ice between one and three days depending on the size of the cooler, which is right about average for premium soft-sided coolers.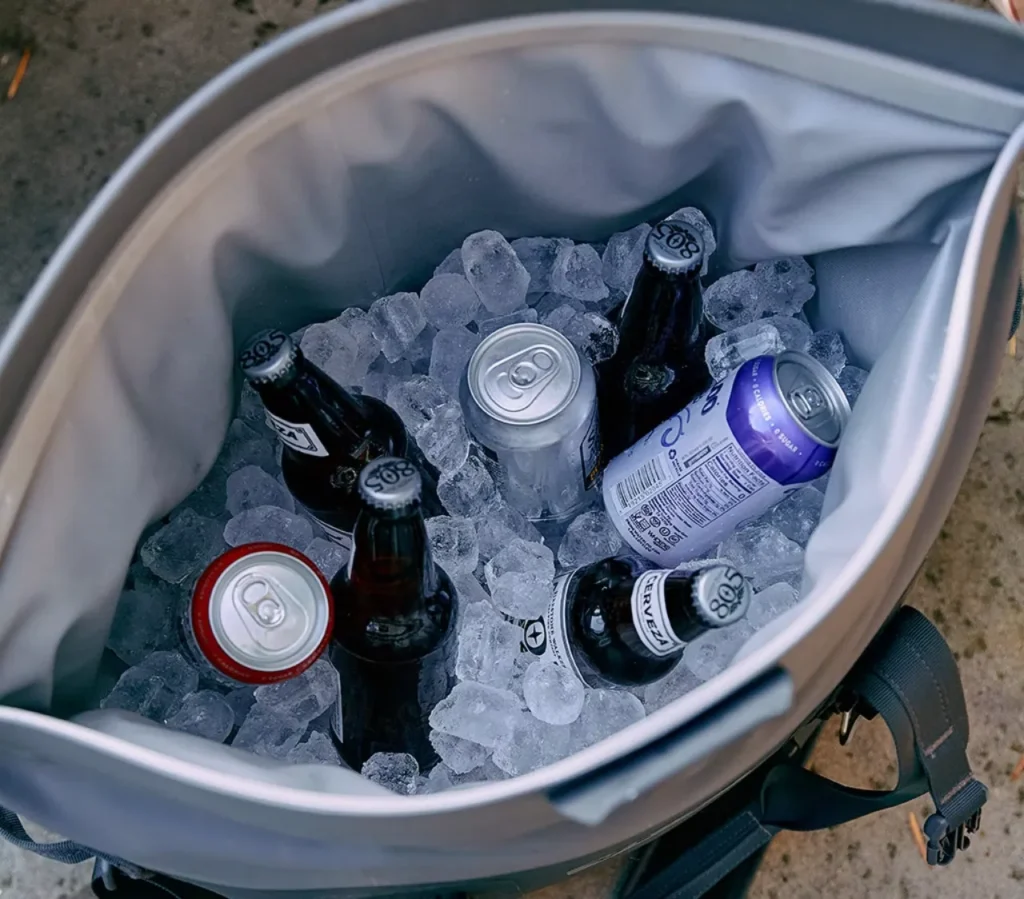 Moosejaw's soft-sided Chilladilla Coolers should keep ice for one to two days according to Moosejaw, but judging by many of the reviews on their site, aren't meeting those expectations.
Tons of Chilladilla owners are reporting ice retention of half a day and sometimes even less. And it's not just one or two complaints, it's most of the reviews.
"I put ice in mine this morning at 6 am but by 1:30 [the] ice is almost completely melted."
"Expensive and holds a 14 lb bag of ice for maybe 4 hours. Loaded at 6:30 am, no ice at 11:30."
"The cooler was in the shade and the ice melted within two hours. Very disappointed."
Part of the issue is likely the lid on the 36 Can Chilladilla being used incorrectly. You have to push down on the lid to remove excess air before snapping it shut. But many similar complaints with the zipper-sealed 42 Can Chilladilla Tote mean there's probably more to it than that.
For now, I'm steering clear of Moosejaw's (relatively new) line of soft-sided coolers, at least until the insulation issues are resolved. I'm sure they'll fix this in future editions of the cooler.
Durability And Build Quality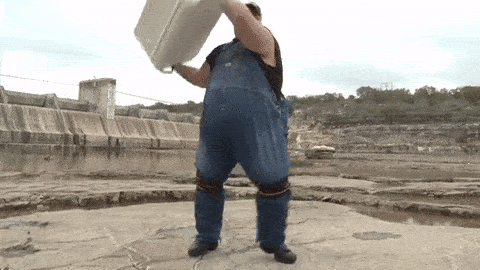 Moosejaw's Ice Fort hard coolers are very similar in build to Yeti's hard coolers, both sharing a rugged one-piece, roto-molded body.
And while I haven't had my Ice Fort for nearly as long as my Tundra, it's held up well so far. A few scratches and scuffs as you might expect, but nothing worrying.
But while I have no real complaints quality-wise, it still lacks that super premium feel that Yetis have. It's tough to explain, but if you've ever owned a Yeti, I'm sure you know what I mean.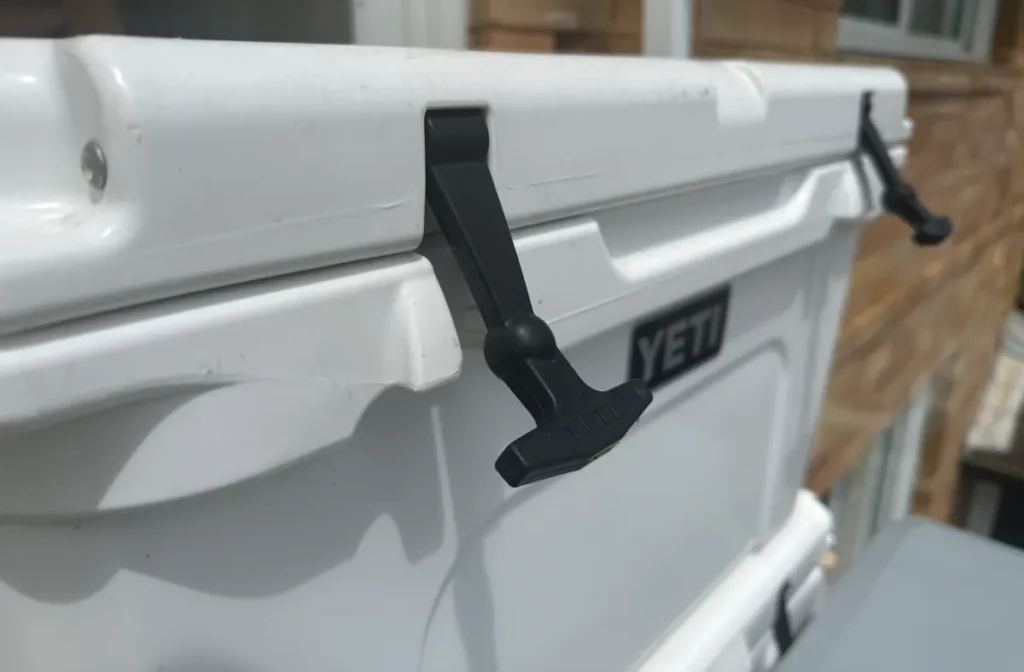 When it comes to soft coolers, Yeti Hoppers are pretty much the industry standard for quality. Aside from a few common complaints, they're solid, dependable, and extremely well-made.
Moosejaw soft coolers, on the other hand, still seem to have some fine tuning needed. Issues with ice retention aside, there are multiple reviews complaining about broken zippers within months or even weeks of purchase.
"I overall loved the bag but the zipper broke within 30 days."
"After 2 months of use [the] zipper has already broken… Will be switching back to Yeti."
Luckily, unlike most other budget-friendly Yeti alternatives, Moosejaw is kind enough to match Yeti's very generous warranty — 5 years for hard coolers and 3 for soft.
So if you happen to run into any issues, at least you're well covered.
Features
Like most coolers inspired by Yetis, there really isn't much to talk about when it comes to features. As usual, the list of similarities outweigh the list of differences by a mile.
Both share a similar build, element-resistant metal parts, an easy-to-use drainage port, heavy-duty rope handles, multiple tie-down slots, a lockable lid, anti-skid feet, and are dry ice compatible.
But to give credit where credit is due, there are a couple of things that Moosejaws offer that Yetis don't, no matter how minor.
A built-in bottle opener is really convenient and one of the things I often wish my Tundra had (though it's not actually all that difficult to add a bottle opener to your Yeti).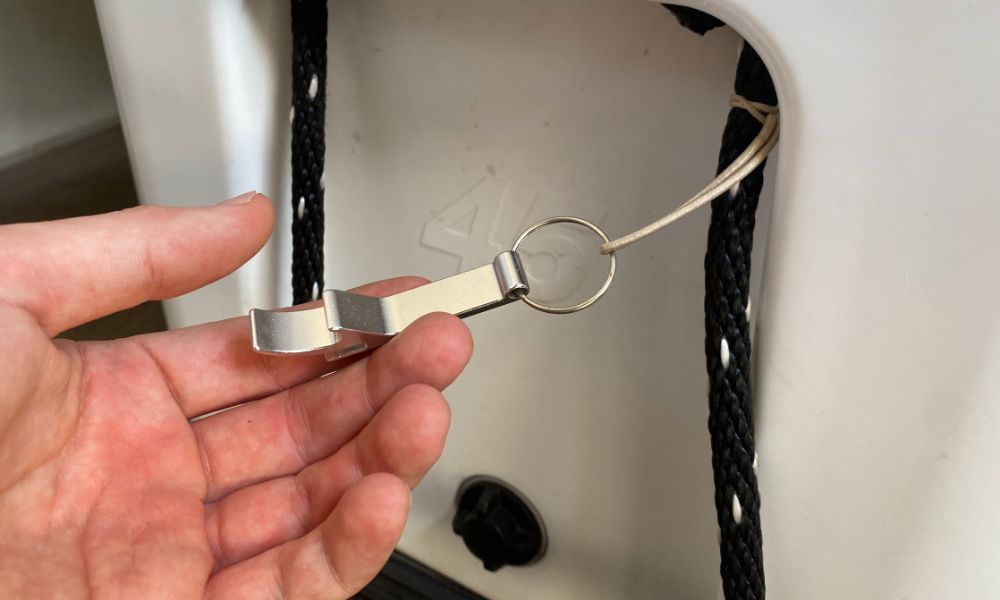 And a ruler molded into the lid to measure your catch is awesome if you're taking your Ice Fort out for a day of fishing.
Sizes, Colors, And Options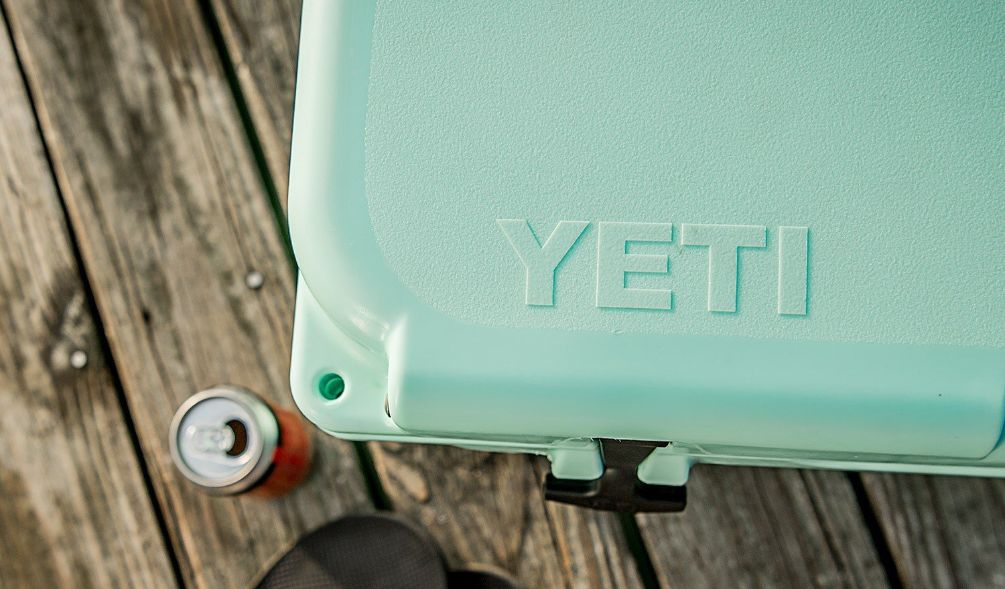 Having a pretty big head start, it's no surprise that Yeti's selection of colors, sizes, and styles is miles ahead of Moosejaw's.
Yeti offers hard coolers in over 10 sizes and soft-sided coolers in 4, compared to Moosejaw's modest 3 and 2.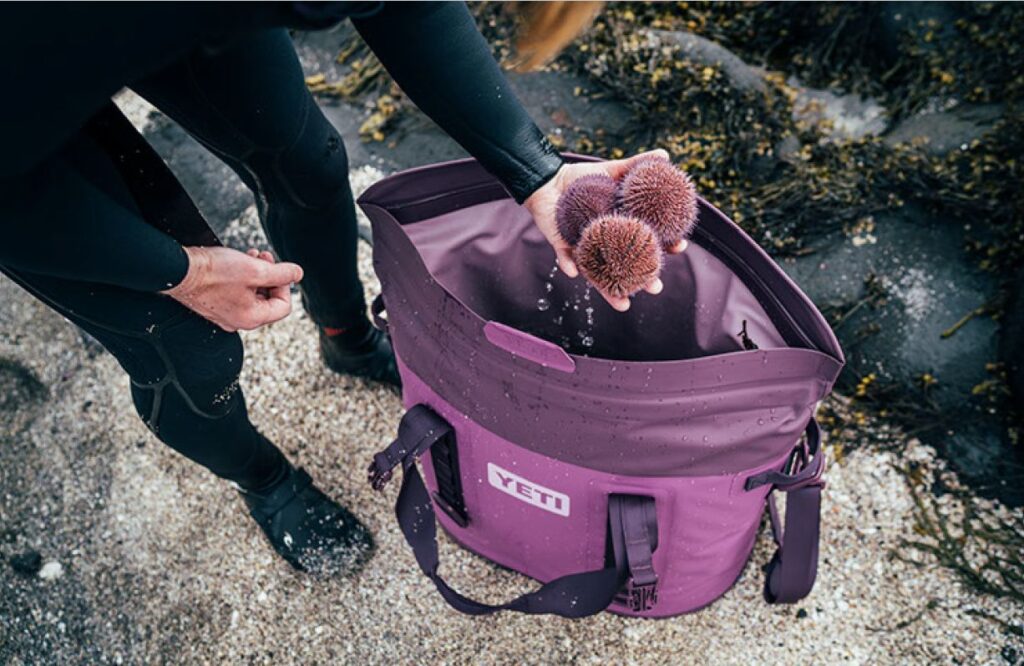 Color-wise there's an even bigger difference. Yeti's coolers are available in well over a dozen colors (granted some of the limited editions can be tough to track down), with Moosejaw's only coming in two — Snow and Galactic Blue.
Hopefully Moosejaw can gain some momentum and expand their offerings, but for now the pickings are pretty slim.
Are Moosejaw Coolers A Good Alternative To Yeti Coolers?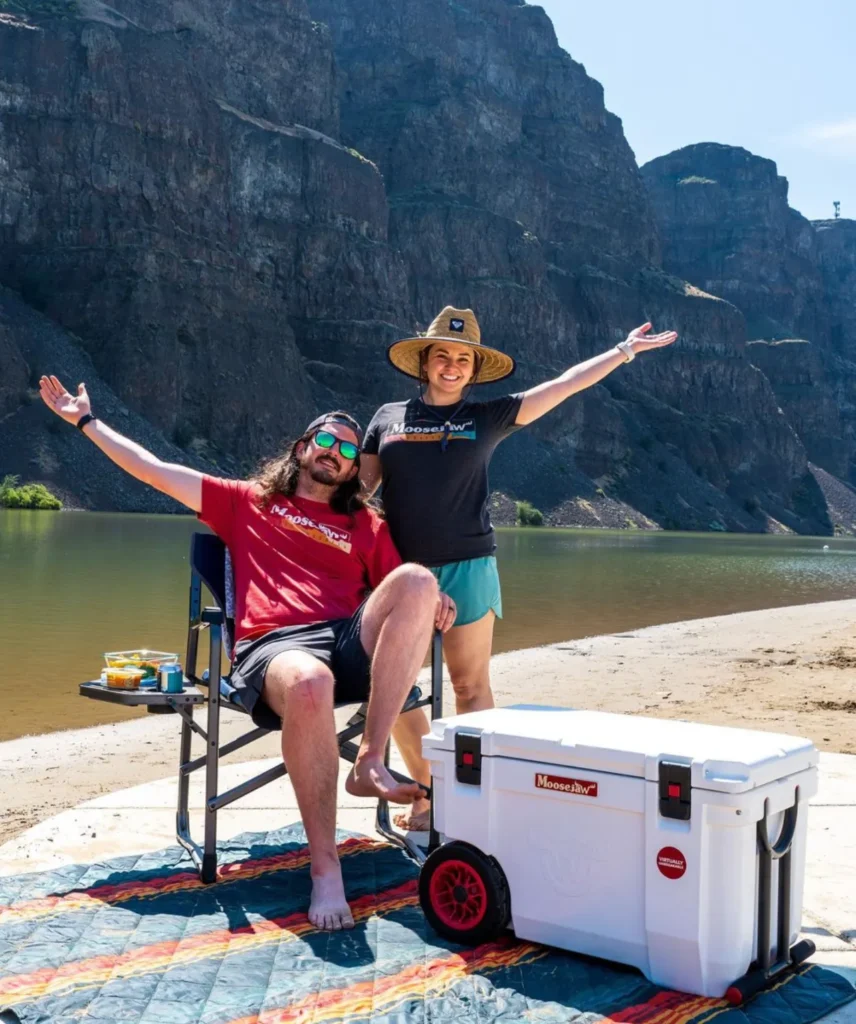 It's no secret that Yetis are about the most expensive coolers on the market, meaning that decent budget-friendly alternatives are in pretty high demand.
But at the end of the day, there's a reason that Yetis have earned such a great reputation — they're amazing coolers, offer top notch customer service, and have a long track record of making quality products.
Still, if you really can't justify dropping a few hundred bucks on a cooler, it's completely understandable.
Moosejaw Ice Forts make a very reasonable alternative for about half the price. The brand is fun and exciting and you'll be very happy with your Moosejaw cooler if you decide to buy one.
I'd just recommend steering clear of their soft-sided coolers. The issues with their zippers and ice retention just aren't worth the headache.
Great Budget Coolers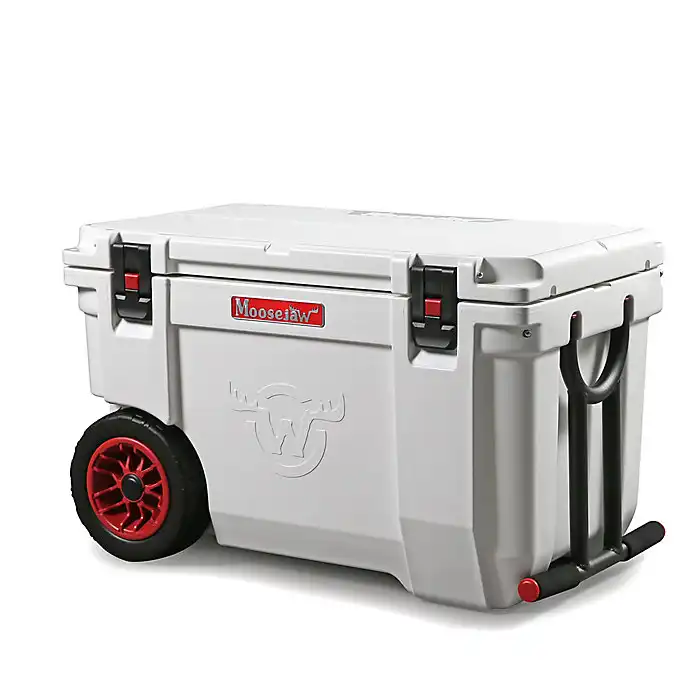 MooseJaw Coolers
High quality roto-molded coolers with a thick exterior shell made from 30% recycled materials. Up to 3.5" of insulation means they can keep ice for 3-5+ days at a time and perform just as well as more expensive cooler brands.
Comes with a built in bottle opener and generous 5 year warranty.
See Latest Price at MooseJaw.com