Most coolers, including Yeti, RTIC, and most of the other popular brands, don't actually include a built-in bottle opener. This used to frustrate me until I added my own to every single one of my coolers. For a couple of dollars each it was 100% worth it.
The good news is, there are plenty of easy ways to add a bottle opener to your cooler:
Use a lock bracket bottle opener that slides into the flange of most hard coolers.
Use a HitchPoint Grid bottle opener with any Yeti soft-sided cooler.
Mount a bottle opener directly to the wall of your roto-molded hard cooler.
Tie a cheap bottle opener to your cooler using some string or paracord.
Get a bottle opener that connects to your hard cooler's T-latch.
Keep a handheld bottle opener in your cooler.
Below are the 6 best ways I've found to add a bottle opener to your cooler, depending on the type of cooler you have. 
1. Use Some String And Any Cheap Bottle Opener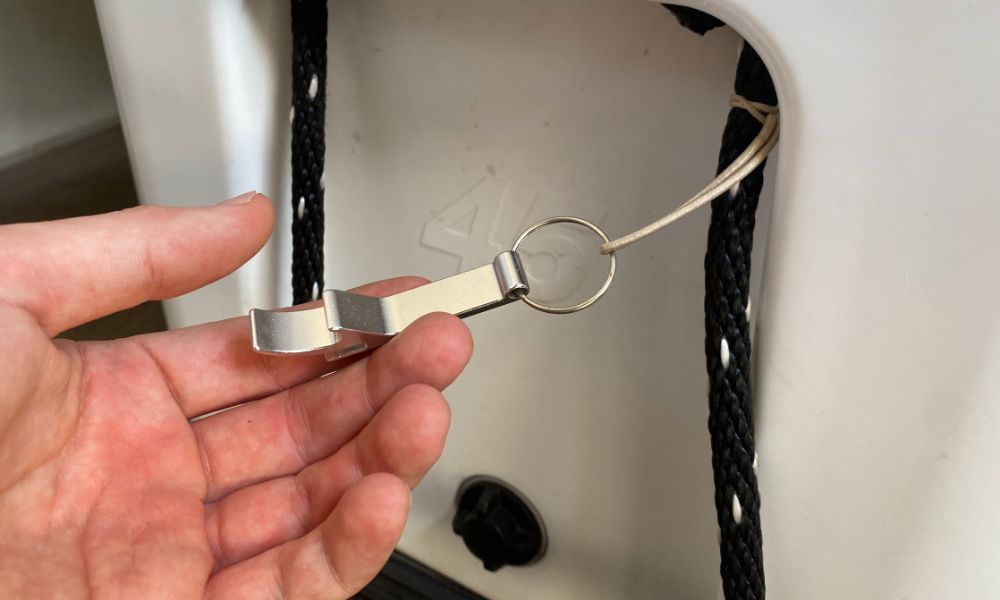 This is honestly the cheapest and easiest method for anyone to add a cheap bottle opener to their cooler. All it takes is a $1-$2 bottle opener and a piece of string or paracord.
Many of the bottle opener options on this list are only compatible with Yeti, RTIC, and other expensive roto-molded coolers.
But if you have a more traditional cooler or just want a quick and easy way to attach a bottle opener to your Yeti, it can be as simple as tying a cheap bottle opener to your cooler with a piece of string or paracord. You can get this pack of 6 bottle openers from Amazon at less that $1 a piece.
You can put one on every cooler you've got and still have spares left over.
It's not fancy, but it's cheap, easy, and works perfectly fine. Plus, you won't really mind if your $1 bottle opener goes missing. 
TIP: I recommend removing the round keychain link and running the string or paracord directly through the bottle opener. The keychain links tend to rust fairly quickly when left outside and can stain your cooler or just make your bottle opener look worse. But the bottle open itself is less likely to rust.
2. Attach A Lock Bracket Bottle Opener To Your Hard Cooler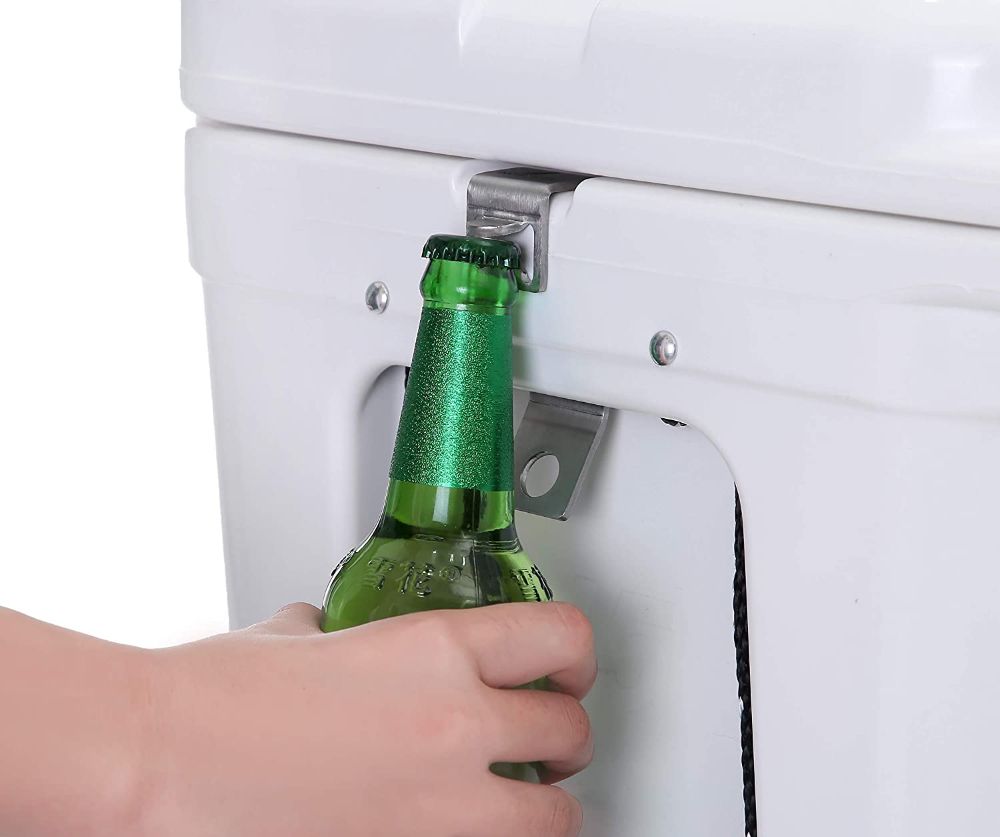 A lot of hard coolers, especially roto-molded coolers like Yeti and RTICs, have small slots on both sides meant for a tie-down kit or lock brackets.
But if you don't really need the slots for either purpose, they can be used for a bottle opener instead.
Lock bracket bottle openers, like this one by Noa Store, simply slide into one of the slots. I personally like and recommend the Noa store bracket as it doubles as a tie down point for your cool and can allow you to lock your Yeti cooler and stop it from being stolen. In fact, it's one of the best Yeti locks out there and works with many brands of cooler like RITC, Orca etc.
They're my go-to for all of my hard coolers because they're so easy to use, quick to install and remove, and don't cause any permanent damage like some other methods.
3. Connect A Bottle Opener To Your Yeti Hopper's HitchPoint Grid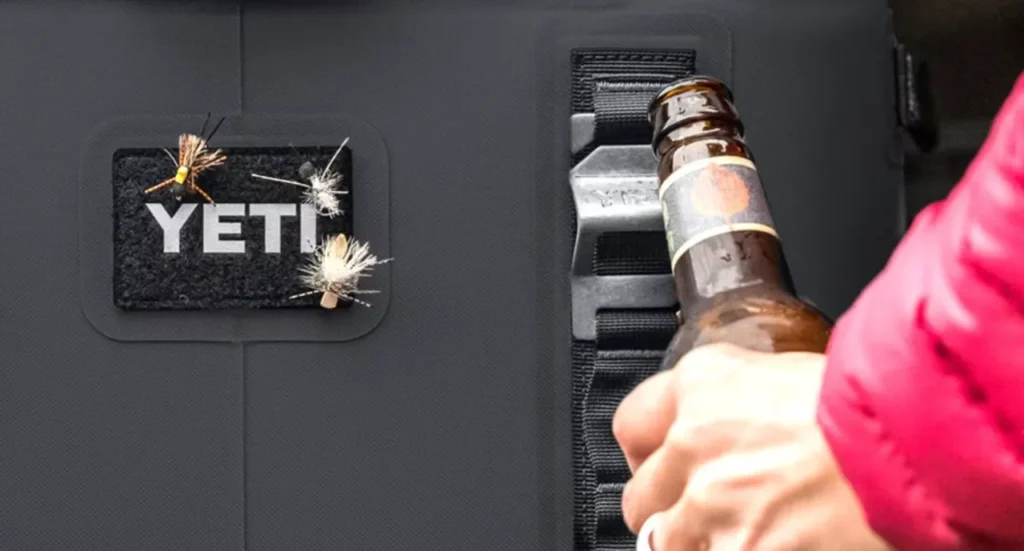 If you have a Yeti soft-sided cooler, those little loops on the front are actually a MOLLE-like system called the HitchPoint Grid — used to attach all kinds of useful accessories right to your cooler (similar to MOLLE, but not actually compatible with most standard MOLLE accessories).
HitchPoint Grid accessories slide or hook right into your cooler's HitchPoint loops, making installing or swapping accessories a breeze.
Whenever I use my Hopper, one of Yeti's HitchPoint bottle openers is the first thing I connect:
The MOLLE Bottle Opener is a basic HitchPoint Grid-compatible stainless steel bottle opener with a low profile so it won't snag on anything as you carry your cooler. 
The MOLLE Zinger, which also connects to a Hopper's HitchPoint Grid, is a simple bottle opener attached to a retractable cord.
While most Yeti accessories work perfectly with RTIC Coolers, HitchPoint accessories are only compatible with Yeti soft coolers. 
4. Mount A Bottle Opener Directly To Your Roto-Molded Hard Cooler
The walls of roto-molded hard coolers are thick and durable enough that you can actually mount a bottle opener directly to them.
While I'm not personally a huge fan of drilling holes in my $500 coolers, I'll admit that it looks pretty slick and works quite well.
Yeti's Cooler-Mounted Bottle Opener is a popular option and pretty reasonably priced for a Yeti product, but any wall-mounted bottle opener should work well enough. Just make sure the screws aren't long enough to pierce the entire wall of your cooler.
You can mount the bottle opener to the front, side, or back of your cooler, with some people even choosing to mount it to the underside of the lid. 
5. Attach A Bottle Opener To Your Cooler's T-Latch
One of my favorite accessories I stumbled across recently is the Rip N Sip Bottle Opener, which connects securely to your cooler's T-Latch, without getting in the way or preventing your lid from closing. 
It works perfectly with any Yeti, RTIC, Igloo, Orca, or nICE hard cooler that uses T-latches to secure the lid and is super quick and easy to install.
If I need to use my cooler's flange slots for a tie-down kit, a Sip N Rip is the perfect alternative to a lock bracket bottle opener. I think I may even be starting to prefer it. 
6. Keep A Handheld Bottle Opener In Your Cooler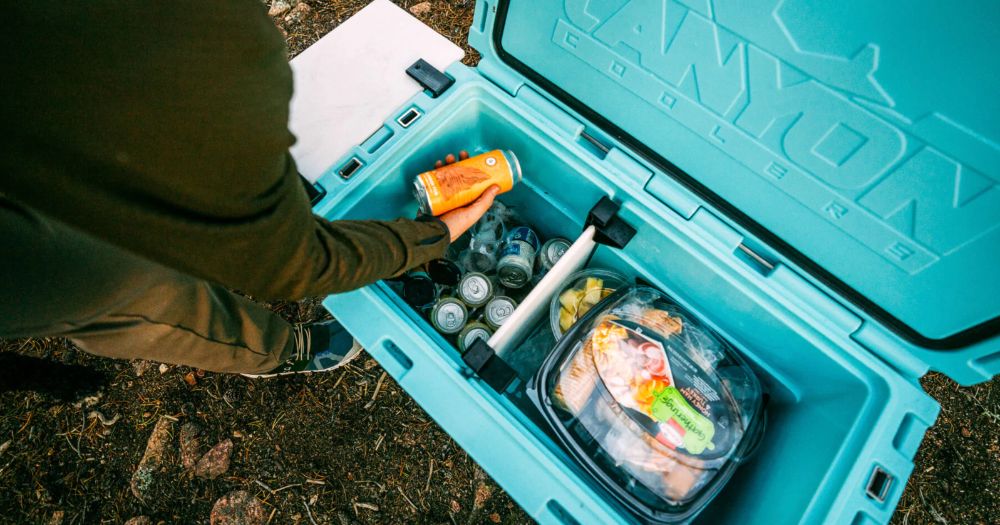 As lazy college kids, we'd always just stick a bottle opener in our cooler right on top of the ice.
So every time we'd open the cooler, we'd grab it, open our bottle, then drop the bottle cap and bottle opener right back inside (and as an added bonus, it also helps make cleanup easier).
After dumping and cleaning the cooler (okay maybe just dumping it), we'd let the bottle opener sit inside until we used the cooler again.
It's simple, but it works. 
Sometimes it can be tricky to find the bottle opener – especially as the ice melts. But it works well enough that everyone can open their beers. Just make sure no one takes it away from the cooler at any point.