Over the last few years, Yeti Coolers have become the new standard for quality hard coolers with ridiculous ice retention. Naturally, other manufacturers have been trying to ride the wave and make similar coolers for a more affordable price.
None is more affordable than Lincoln Outfitter coolers, especially when they have a 50% off sale…which seems to happen extremely regularly.
Lincoln Outfitters, an in-house brand of Rural King Home Stores, are trying to find their corner of the market with some super budget-friendly Yeti clones.
But how do they actually stack up to Yetis?
When comparing Lincoln Outfitters Coolers vs Yeti Coolers, Lincoln clearly took a lot of inspiration from Yeti. They both offer roto-molded hard coolers, with several inches of pressure-injected dense foam insulation, and a nearly identical list of features.
Lincoln Outfitters Coolers have a pretty big edge in terms of price, retailing for about 60% less and often found on sale, but Yeti coolers have an easy edge in terms of ice retention, build quality, warranty, and color and size options.
If you want a cooler that's similar to a Yeti but don't want to drop a few hundred bucks, a Lincoln Outfitters Cooler is a pretty decent option (though not quite my favorite budget Yeti alternative). 
Price And Value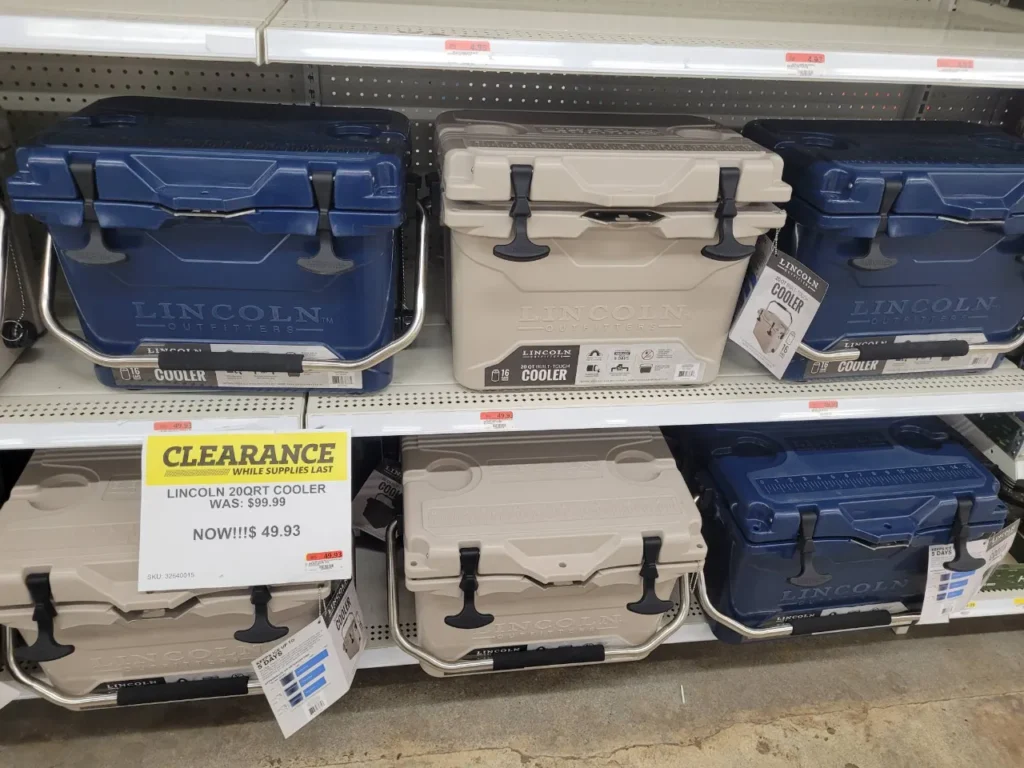 Price is the one area where Lincoln Outfitters Coolers handily beat out Yeti Coolers (and pretty much every other roto-molded hard cooler on the market).
And it isn't even particularly close.
20 quart Lincoln Outfitters Coolers retail for about $100 and 65 quart coolers around $200, but both can often be found on sale fairly often for as much as 50% off. 
That makes the 20 quart less than $50 and the 65 quart for under $100. You can't find any other roto-molded coolers this cheap!
Compare that to the Yeti Roadie 24 that sells for $250 and the Tundra 65 listed at $375 (which are pretty much never on sale), and you can see what a great deal Lincoln Coolers actually are. 
That adds up to a nearly 60% savings (even when you buy a full-priced Lincoln) vs a comparably sized Yeti. And if you happen to find your Lincoln on sale, it's closer to a 75% savings.  
Build Quality And Warranty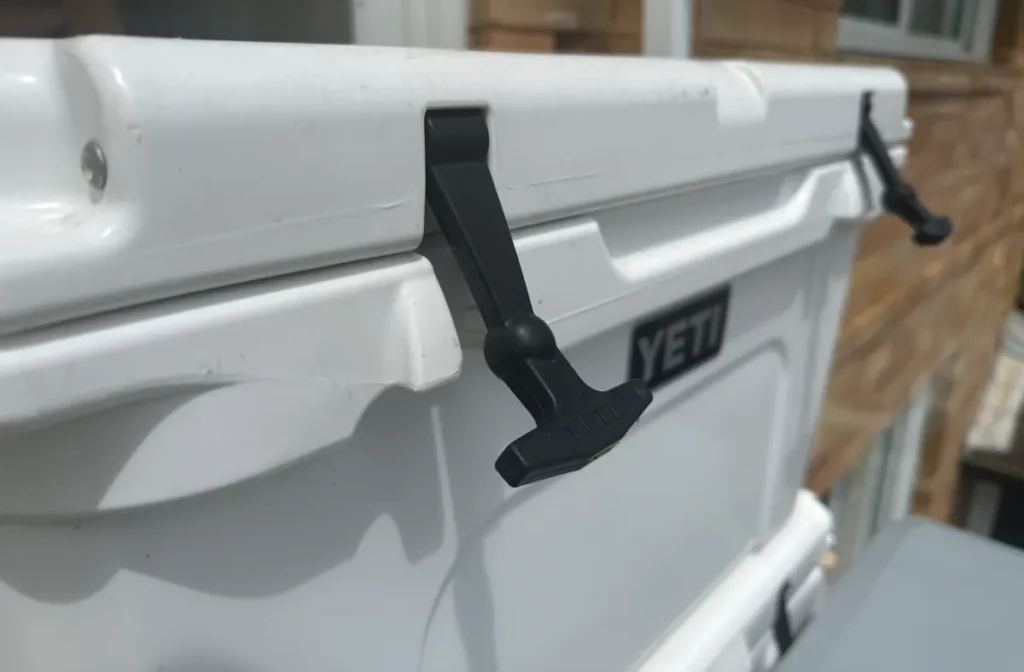 As you may have guessed, Lincoln Outfitters Coolers can't really compete with Yetis in terms of build quality.
Yeti coolers (in my humble opinion) are undoubtably the best coolers on the market in terms of quality control and attention to detail. No cooler really compares in terms of "premium feel". I don't know how Yeti do it, but they are popular for a reason. Their quality is extremely high.
At Lincoln Outfitter's price point, it's a little unfair to expect them to stack up to Yeti in terms of quality.
But something I do look for in cooler brands is consistency of quality. I'm ok if the quality is a bit worse but I at least know what I'm getting.
However, from seeing everyone else's reviews of the Lincoln Outfitter coolers it seems like their quality is a mixed bag.
Some people say the coolers are great quality and work well while others say they don't hold ice well at all.
This could be due to customers not pre-chilling the coolers which can lead to ice melting quickly even in Yeti coolers, but more likely there is some sort of quality control issue and maybe gaps in insulation (though I can't confirm this).
I suggest taking a bright torch with you to Rural King – put it on in the cooler and close the lid and if you see any light shining through the sides DON'T BUY THAT COOLER. This means there are gaps in insulation.
Combined with the reports of inconsistencies in insulation, T-latches falling off quickly, and a not so great 30-day warranty (compared to Yeti's five year warranty), it's probably a good idea to try out your new Lincoln Cooler within the first few weeks to make sure everything's working as intended.
While Lincoln Coolers don't necessarily feel cheap, flimsy, or poorly made. They just don't quite have that same smooth, premium feel of Yetis.
The lid closes tight and opens easily, but there's a little give in the hinge when opened. The roto-molded body feels solid, but not quite as sturdy as some other cooler if owned.
It's the little things like that, that you'd probably only notice if you're used to a much more expensive cooler.
Insulation And Ice Retention
Like Yeti Coolers, Lincoln Outfitters Coolers are pressure injected with several inches of dense foam insulation, so it's natural to expect similar ice retention — but I've been disappointed before by other Yeti knock-offs.
So when I bought my 20 quart Lincoln, I was a bit skeptical that it would actually hold ice for up to the four days as advertised.
But so far, I've been pleasantly surprised.
While I've only taken it out on a couple of long weekends, my Lincoln has kept ice from Friday afternoon up until Monday night both times without issue.
Compare that to the Yeti Roadie 24, which holds ice for 3 to 5 days, and the difference is barely noticeable. So if you get a good Lincoln cooler like I did then ice retention should be pretty good.
The 65 quart Lincoln can keep ice even longer, up to an entire week in the right conditions — also right in line with the Tundra 65.
That being said, while my Lincoln has kept ice about as well as expected, you don't have to dig too far to find Lincoln owners who have had a much different experience.
There are multiple reviews on their site of people complaining that their Lincoln is barely keeping ice for a single day — which is most likely caused by gaps in the insulation and subpar quality control.
If you're shopping in a Rural King store, you can double check your cooler before you buy it, by shining a flashlight through the walls from the inside searching for gaps in the insulation.
If you're shopping online, you can only cross your fingers. Maybe cross your toes as well.
Test your cooler quickly after buying so if you do have issues you can exchange it or get a refund within the 30 days warranty period.
Features And Options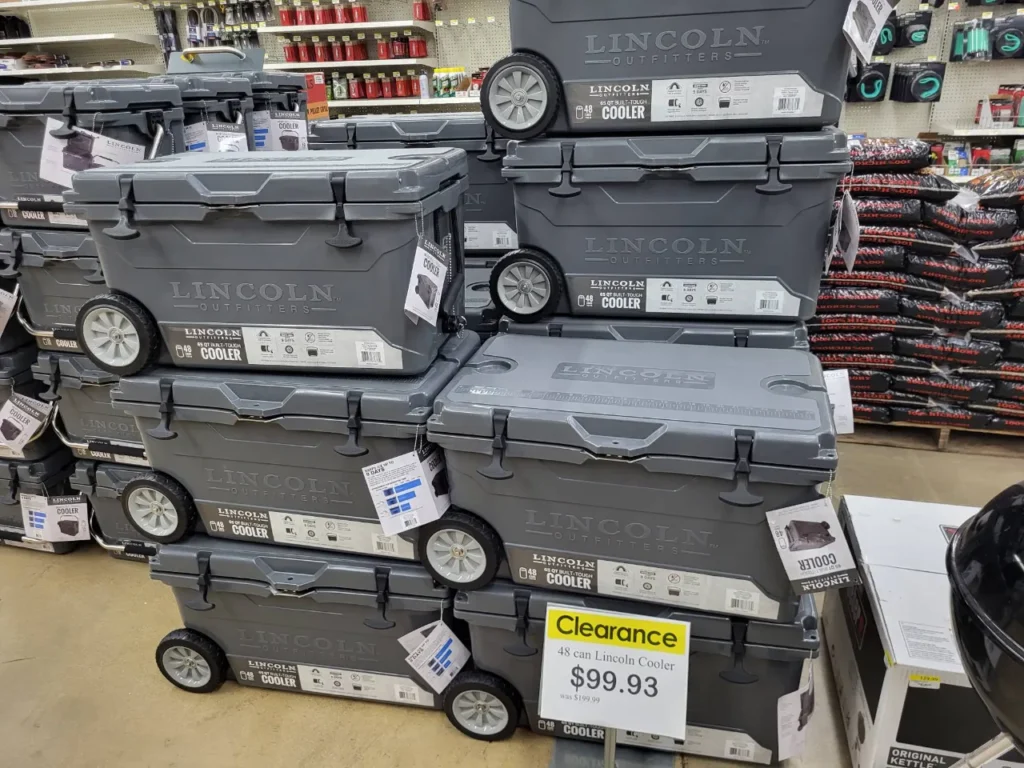 Feature-wise, it's tough to find a cooler much closer to a Yeti than a Lincoln Outfitters Cooler.
They offer the same durable roto-molded build with pressure-injected dense foam insulation, a freezer-grade lid gasket, T-handle latches, tie-down slots, non-slip rubber feet, a lockable lid, and a vortex drain plug.
And, unlike Yetis, also offer a built-in bottle opener and a ruler molded right into the lid.
If you just want a simple 20 quart hard cooler or a 65 quart wheeled cooler in a neutral color, a Lincoln Outfitters Cooler has you covered. 
The problem is, those are really the only two options they offer — at least for now.
Yeti, on the other hand, offer about five times the number of color options and six times the number of size options, and that's not to mention their soft-sided coolers and vacuum-insulated stainless steel coolers.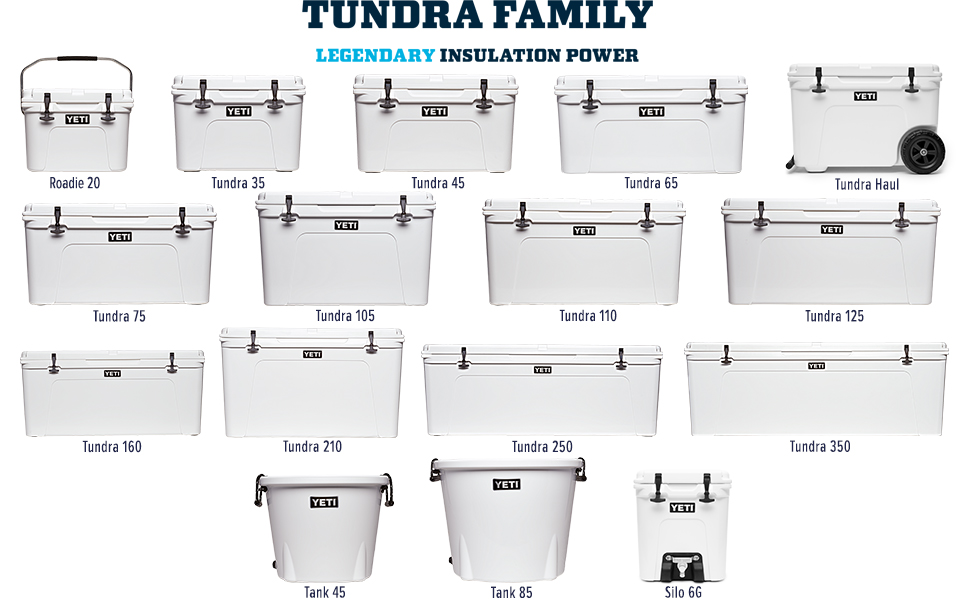 Are Lincoln Outfitters Coolers A Good Alternative To Yeti Coolers?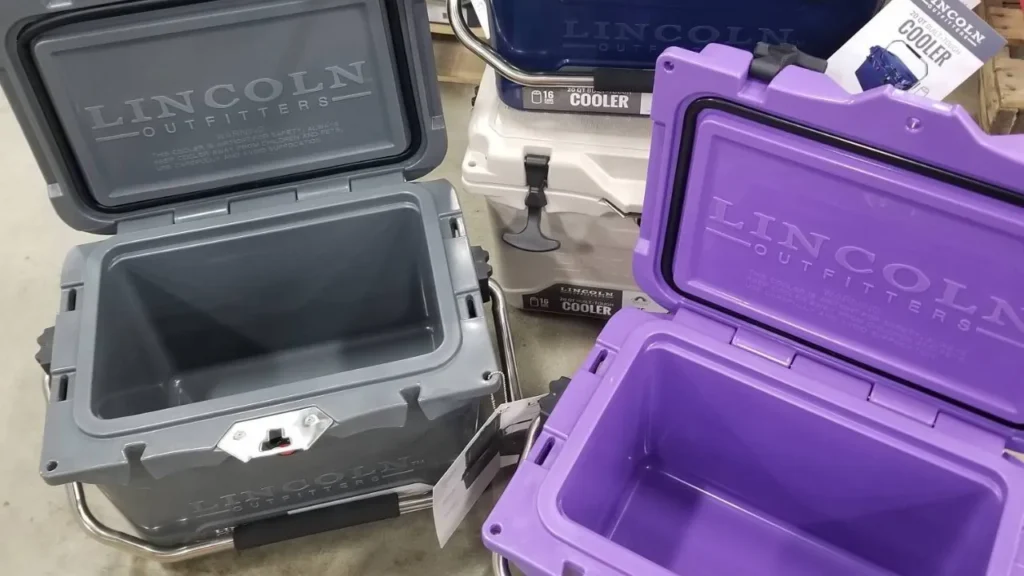 If you want something similar to a Yeti that won't break the bank, a Lincoln Outfitters Cooler is a decent alternative.
Just be aware that they have pretty inconsistent quality control (so you'll want to make sure your cooler isn't a dud during the 30 day warranty period) and can be sort of a pain to get your hands on if you don't live near a Rural King store (my online order was canceled twice without explanation, so I had to make the two hour drive).
Still, if you can swing it, Yeti Coolers are more than worth the cost to me. 
They're better constructed, protected under one of the best warranties on the market, and have really earned their stellar reputation.
My Yeti 45 is still going strong 8 years after buying it and it looks almost brand new other than a few scratches.
Or for another budget-friendly alternative, Lifetime Coolers are in a similar price range to Lincoln Coolers and are, in my opinion, a much better buy (and made in the USA to boot).