Lincoln Outfitters released their line of roto-molded hard coolers back in 2018 and a new line of soft-sided coolers earlier this year. And while they've developed a decent reputation as a solid budget alternative to Yetis, they're far from perfect. 
At the amazing prices they are selling at perfect isn't what I'd expect from these coolers and that's fine. But what exactly are you getting for your money and what are some the biggest problems with Lincoln Outfitters Coolers that you should be aware of?
The biggest problem with Lincoln Outfitters Coolers is that they have inconsistent quality control, which sometimes leads to awful ice retention.
Other common complaints are that they only come with a 30 day warranty, can be hard to find, aren't made in the USA, and have a very limited selection of sizes, styles, colors, and accessories.
Before you drop your hard earned cash on a cooler you probably don't know a whole lot about, it's important to understand the potential downsides.
But at the end of the day, despite the negatives, it's hard to find a decent roto-molded cooler for under $100 — so we can probably forgive a few of the faults. 
If you're on a budget this cooler can still be a good option for you and if you find one with good ice retention then it can potentially last you years all for a fraction of the cost of a Yeti or other big brand name cooler.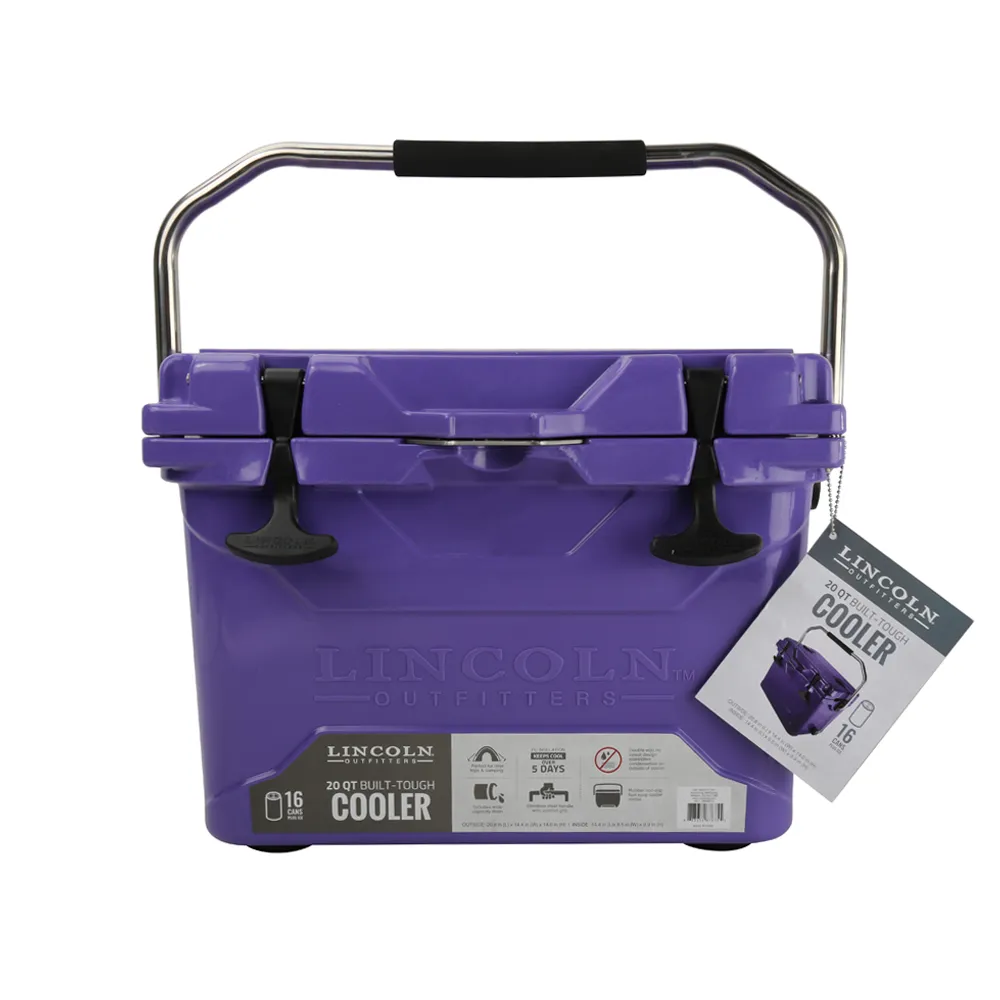 Lincoln Outfitters Cooler (20 Quart)
A high-quality budget roto-molded cooler that doesn't dent or crack easily. Thick insulation allows this cooler to keep ice for 2-5 days at a time. Features rubber non-slip feet, interlocking lid, easy carry handle and vortex drain.
One of the cheapest roto-molded coolers on the market.
See Latest Price at RuralKing
1. Inconsistent Ice Retention
Judging by the reviews on their site, the biggest problem people are having with their Lincoln Outfitters Coolers is ice retention.
"This is my second cooler. [I] thought the first one was defective but… this one won't keep ice [either]. Now I'm stuck with a junk cooler."
"I got this a month ago and it [won't] even hold ice for 24 hours indoors in the AC. Never mind in my car when it's hot outside. Very disappointed."
While I can't speak firsthand on the issue, since mine is keeping ice for about three days as advertised, I suspect that it's likely just a quality control issue — with some coolers passing through production with gaps in the insulation.
Now I'm sure that most Lincoln Coolers aren't having the issue, but it's something to be aware of and something you can test for pretty easily if you have the cooler on hand.
Just bring a bright LED torchlight along with you and close it inside the cooler. If you see any light shining through the walls, DON'T BUY THAT ONE. 
Try to find one without light shining through meaning it's less likely to have gaps in the insulation. Then make sure to pre-chill your cooler before use to get the best ice retention possible and follow these steps to keep ice in your cooler for longer.
If you're buying online, you can only cross your fingers.
2. Poor Quality Control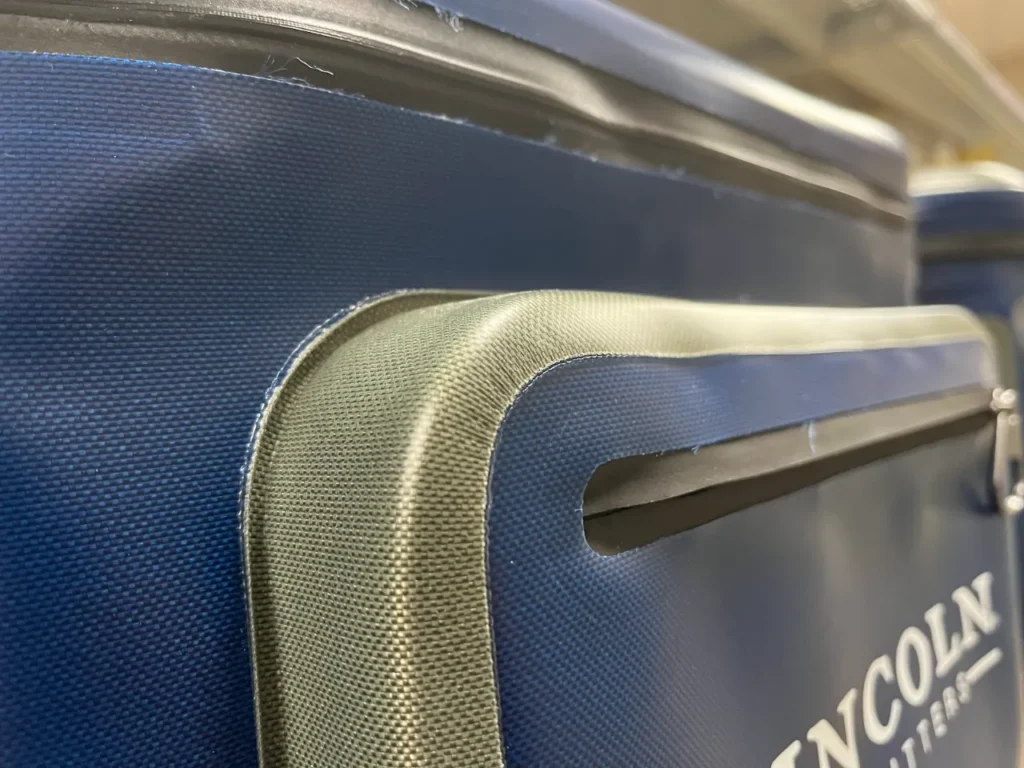 Lincoln's questionable quality control extends beyond their inconsistent ice retention issues.
The lid gasket on mine was peeling off on one corner and had to be glued back into place before use, the soft coolers they had in stock at the Rural King I visited had loose threads hanging off of pretty much every seam, and, while they don't necessarily feel cheap, they just don't have that same premium feel that Yetis, Pelicans, and other high end coolers seem to always have.
But at the end of the day, pretty much any roto-molded cooler that costs less than a hundred bucks is going to have to cut corners somewhere.
You can't really expect Yeti features AND Yeti quality out of a cooler that costs ⅓ the price.
3. Limited Sizes, Colors, And Styles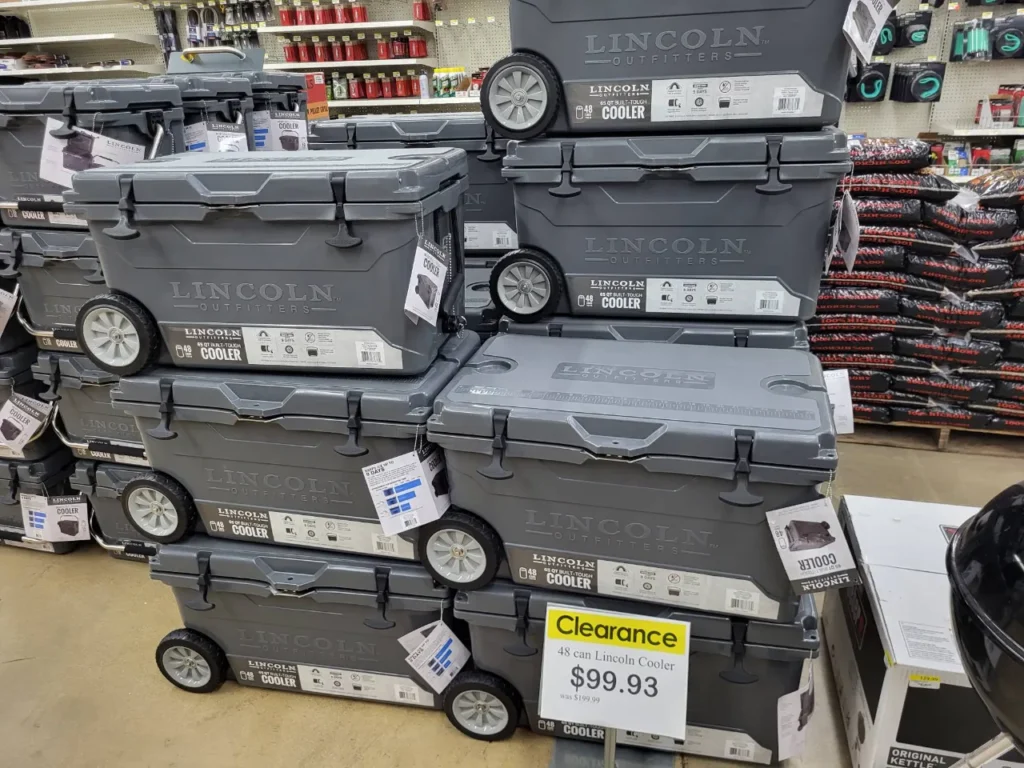 Granted Lincoln Outfitters Coolers are pretty new to market, they're still really quite limited in terms of size, color, and style options.
Their hard coolers come in two sizes, a 20 quart base model in blue, gray or purple and a 50 quart wheeled model in gray or tan.
They did recently release a new line of soft-sided coolers in three sizes  — which is hopefully a sign of things to come. 
4. No Accessory Options
Another issue with Lincoln Outfitters Coolers still being relatively new is that there aren't many accessory options available.
Lincoln doesn't offer any of their own, so you're stuck using universal accessories designed for other roto-molded hard coolers. 
5. Can Be Really Hard To Find
When I saw that I could get a roto-molded cooler on sale for only $50, I was immediately all in.
I hopped on Rural King's site that same night and ordered a 25 Quart Lifetime Outfitters Cooler to test out on my camping trip the following week — only to wake up to an email telling me that my order was canceled the very next morning.
Ok. No big deal.
I'll just drive to a Rural King store. Their site says they're in stock, after all.
Except they weren't.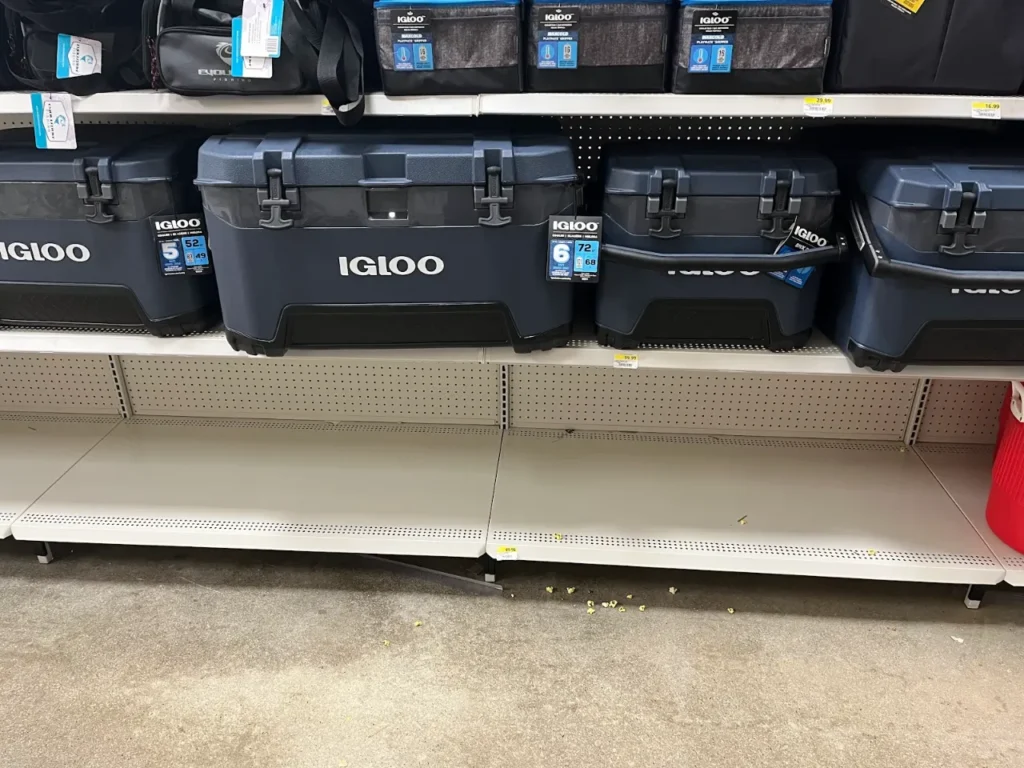 The entire shelf was bare and the employee stocking the next aisle over told me they had been sold out since mid-May.
Yikes.
I was actually able to find one at the next Rural King I visited, but it was the last one on the shelf (so I'm thinking I must have just gotten lucky with a recent return).
Hopefully demand just really exceeded their expectations this year and everything is straightened out heading into next summer.
6. Only Come With A 30 Day Warranty
While the price range of a Lincoln Outfitters Cooler is pretty tempting, especially if you can find one on sale, it's a little offset by their inconsistent production value and how frustrating it can be to actually get your hands on one.
Add on the fact that their coolers only come with a 30 day warranty, and you better be ready to battle test your cooler as soon as it arrives so you don't get stuck with a dud.
By comparison, Yeti offers a much more palatable five year warranty on all of their hard coolers. 
7. Not Made In The USA
While it's not a big deal (or even a consideration) to most, if you prefer products made in the States, a Lincoln Outfitters Cooler isn't for you — Lincoln Coolers are made overseas, in China.
If you're set on a budget-friendly Yeti alternative made in the USA, Lifetime Coolers fall in a pretty similar price range, are surprisingly solid coolers, and are manufactured right in Clearfield, Utah. 
Check out my in depth Lifetime Cooler review to learn more. 
Best Value For Money