I was at a barbecue at a friend's house a few weeks back and happened to notice that our drinks were being kept in a Moosejaw cooler.
I remember Moosejaw from back in college when it was one of the few decent places to buy climbing gear online. But I really had no idea that they made coolers or if it was even the same company. He wasn't sure either, but he did let me know how happy he's been with it throughout the summer.
When I got home, I did a little digging to find out who exactly makes Moosejaw Coolers. And here's what I found out.
Moosejaw Coolers are made by the outdoor recreational sports retailer, Moosejaw Mountaineering and Backcountry Travel, Inc., which as of February 2023 is owned by Dick's Sporting Goods, Inc.
Ownership of Moosejaw has changed hands a number of times over the years, including being owned by WalMart from 2017 to early 2023, but was originally founded way back in 1992 in Madison Heights, MI as a small camping goods store.
It turns out Moosejaw is alive and well after all. In fact, they're probably doing even better now than when they were the only reliable place to grab a U-harness or crampon.
And while Moosejaw is most well known for carrying other premium lines of coolers, like Yeti and Orca, they released their own line of hard and soft-sided coolers in late February 2023.
Check out my deep dive on Moosejaw vs Yeti Coolers to see how exactly they stack up.
Great Budget Coolers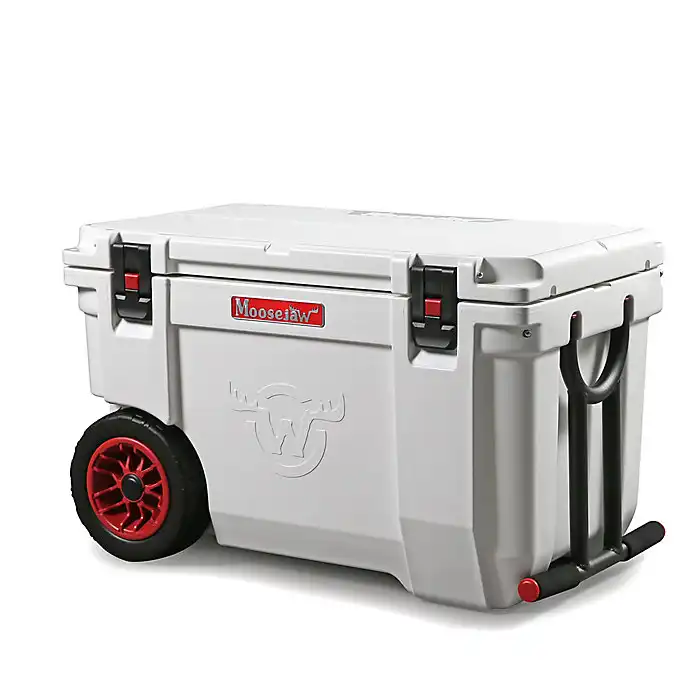 MooseJaw Coolers
High quality roto-molded coolers with a thick exterior shell made from 30% recycled materials. Up to 3.5" of insulation means they can keep ice for 3-5+ days at a time and perform just as well as more expensive cooler brands.
Comes with a built in bottle opener and generous 5 year warranty.
See Latest Price at MooseJaw.com
Moosejaw Coolers Are Made By Moosejaw Mountaineering And Backcountry Travel, Inc.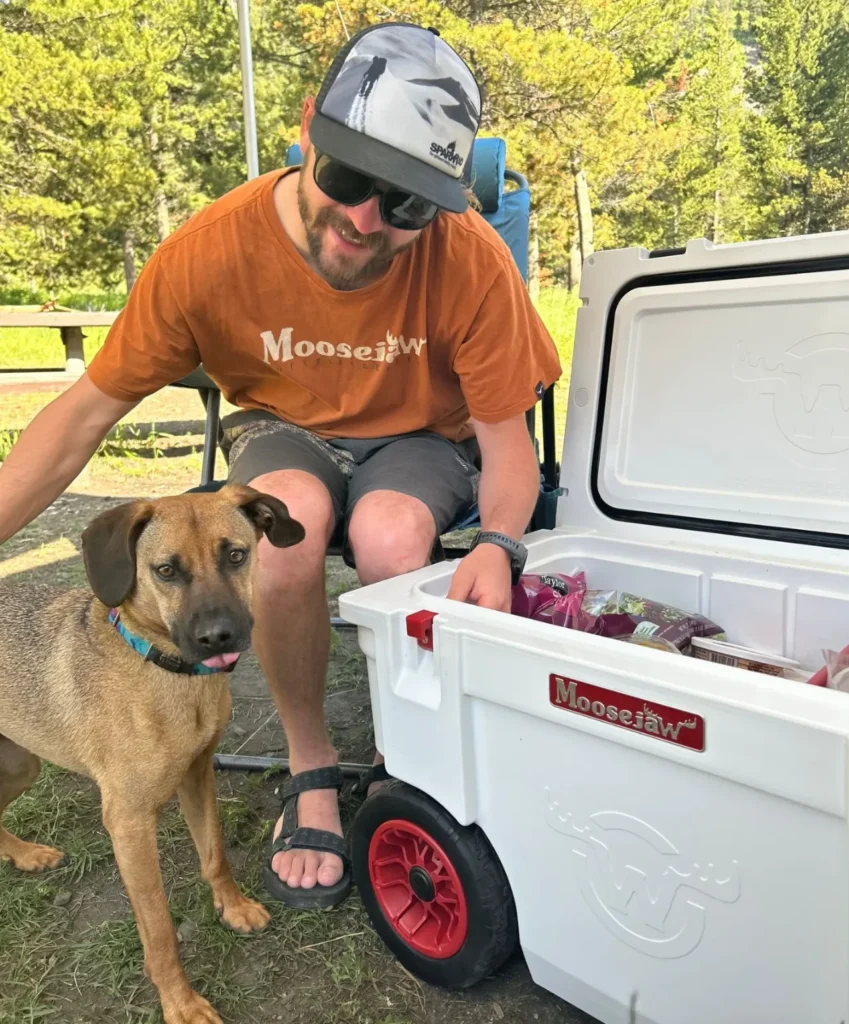 Moosejaw Mountaineering And Backcountry Travel, Inc. started off as a small start-up camping goods store, owned and operated by longtime friends, Robert Wolfe and David Jaffe.
Originally planning to open up shop as wilderness guides, the pair soon realized they could make way more cash selling camping gear instead.
The first Moosejaw opened in Keego Harbor, MI back in 1992 and thanks to "Moosejaw Madness" — their clever and often straight up weird marketing campaigns — have since grown to include a massive online retail shop and 12 physical locations, becoming one of the biggest online retailers of camping, hiking, rock climbing, and snowboarding gear in the US.
This innovative show-your-friends marketing strategy made Moosejaw so popular, in fact, that the pair eventually sold in 2007 to a private equity firm, Parallel Investment Partners. And by 2017 had grown enough to sell again to retail giant, WalMart for $51 million.
Most recently, in early 2023, Moosejaw was again sold — this time to Dick's Sporting Goods for an undisclosed amount.
Are Moosejaw Coolers Made In The USA?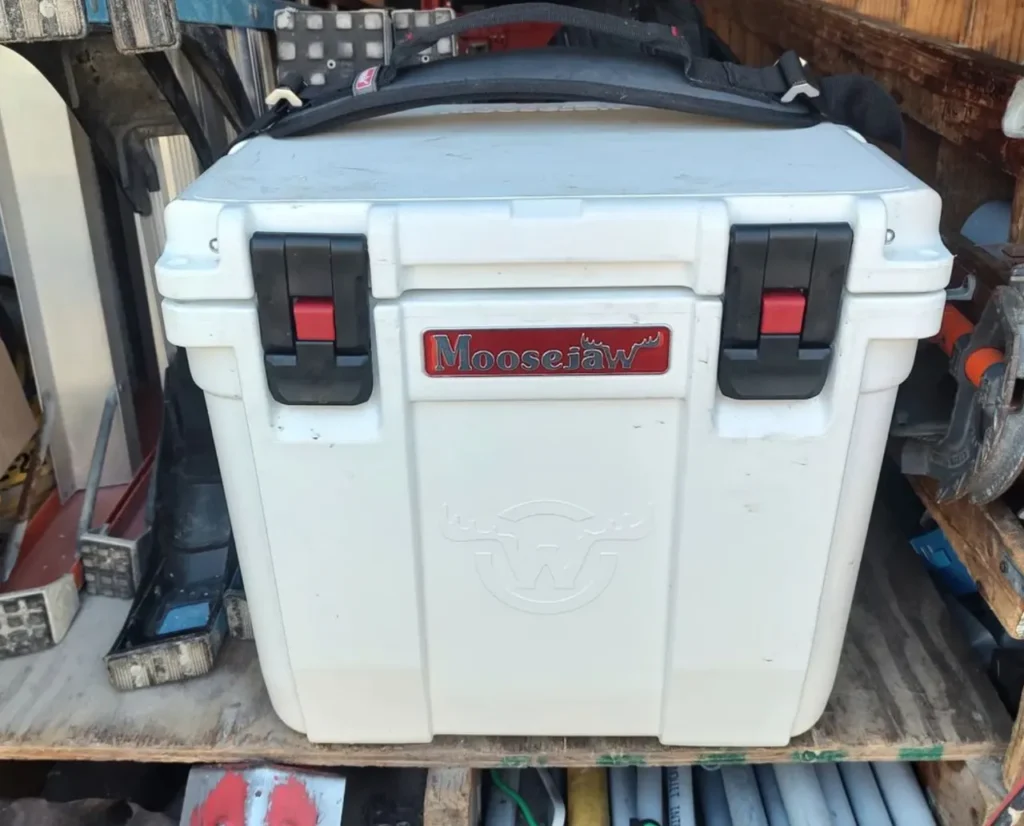 While Moosejaw is a US founded, owned, and operated business, Moosejaw Coolers aren't manufactured here in the States.
And, somewhat more surprisingly, aren't made in China either — they're manufactured at a plant in Cambodia. 
While Moosejaw makes some pretty solid coolers, if you want an American-made cooler, check out my buyer's guide for picking the best coolers made in the USA. 
For the TLDR, Lifetime makes coolers very similar in build and quality to Moosejaw's, that fall into a very similar (and sometimes even cheaper) price range.
I've gotten a lot of use out of my 55 Quart Lifetime Cooler, especially considering that I found it for less than a hundred bucks. 
Best Value For Money