Some of the best quality coolers are made in the USA, offering better quality and longer ice retention. But what are the best USA made coolers and which one should you buy?
Buying coolers made in the USA also helps to keep more jobs locally, supporting American workers.
Below are the 21 best coolers that are made in the USA.
I do a lot of reviews and know my coolers so I've tried my best to order them based on quality, performance and brand but to be honest I would be happy to recommend almost any cooler in this list, which I guess is a testament to how good USA made coolers are.
This article won't got into insane detail about every cooler as that would take days to read, but I'll link up to full reviews where I've done them. I'll also link up to the coolers in Amazon through my affiliate links if you want to see pricing, reviews and all the sizes/colors on offer.
Benefits of Purchasing a US Made Cooler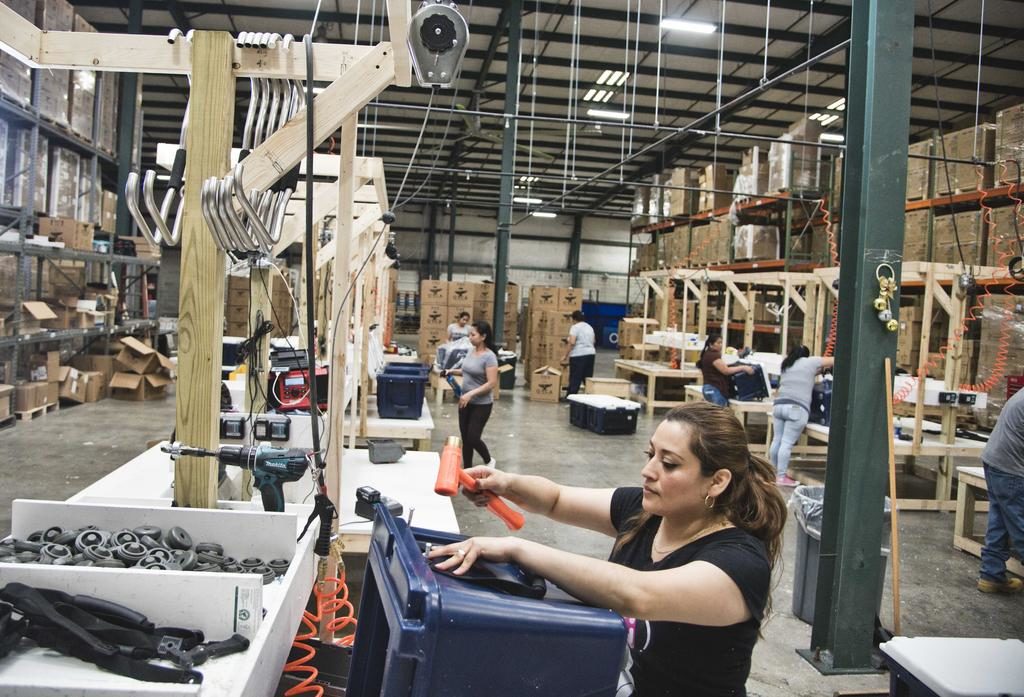 There are a few benefits to buying a cooler that is made in the US compared to buying a cooler overseas
Quality – Whether it is true or not it is assumed that items manufactured in the US are of better quality than those made overseas. This is not always the case but by in large US based companies seem to have better quality control over their products and therefore make better and more reliable products overall.
Patriotism – Some people are loyal to their country and want to buy a cooler made locally for that reason.
Keeping Local Jobs – Buy purchasing a USA made cooler over a cooler made overseas a portion of the money you pay is going towards paying the wages of US workers. This helps keep more jobs in the US and helps the US economy as a whole.
Customization – Buying local means coolers are much more easily customized with sports teams, company logos or even personal messages.
Customer Support – If the cooler company manufactures locally chances are their customer support is based in the US also, allowing you to get better service and get your problems fixed faster.
Downsides of Purchasing a US Made Cooler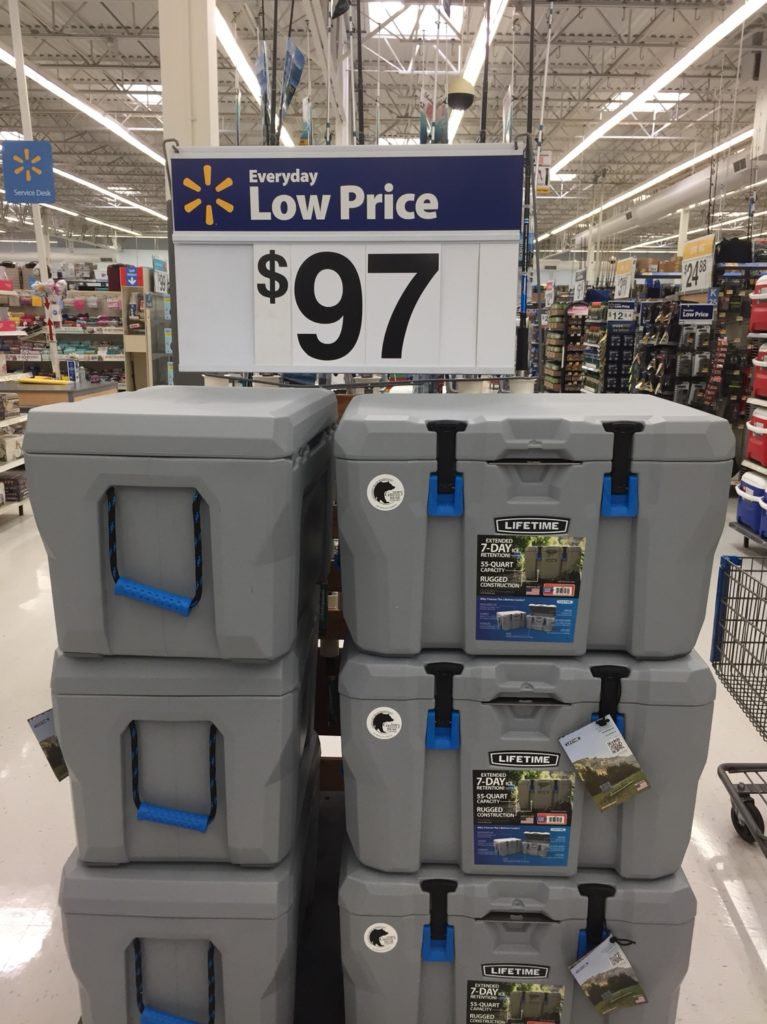 There are a couple of downsides of purchasing a US Made cooler that you should be aware of.
Price – The main downside to purchasing a US made cooler is simply the price. Often coolers made overseas in China, the Phillipines or some other developing nation are cheaper to purchase saving you money.
Brands Available – Not all brands are made in the USA and some of the most popular brands, including the market leader YETI, are actually made overseas. So if you restrict yourself to just USA made coolers you can't choose from brands like Yeti, RTIC, Canyon, Ozark Trail etc.
What About Yeti Coolers? Aren't They Made In The USA?

You'll immediately notice that YETI coolers do NOT appear on this list. That is because the majority of Yeti hard sided coolers are manufactured in the Philippines and Yeti soft sided coolers as well as their tumblers are made in China.
In fact you'll see on some of their products the saying "Designed in Austin, TX Made in China" as you can see in the photo of my Yeti 10oz Rambler tumbler.
I've done a full write up of where Yeti coolers are made if you want more details on that but long story short there are SOME Yeti coolers that are made in the USA, but there is no way of telling which ones are locally made other than to contact Yeti directly and ask them.
Given that most of their coolers are made overseas it's prudent to just assume that any Yeti you buy likely isn't made in the United States of America.
1. ORCA Coolers – BIGGEST BRAND, AMAZING COOLERS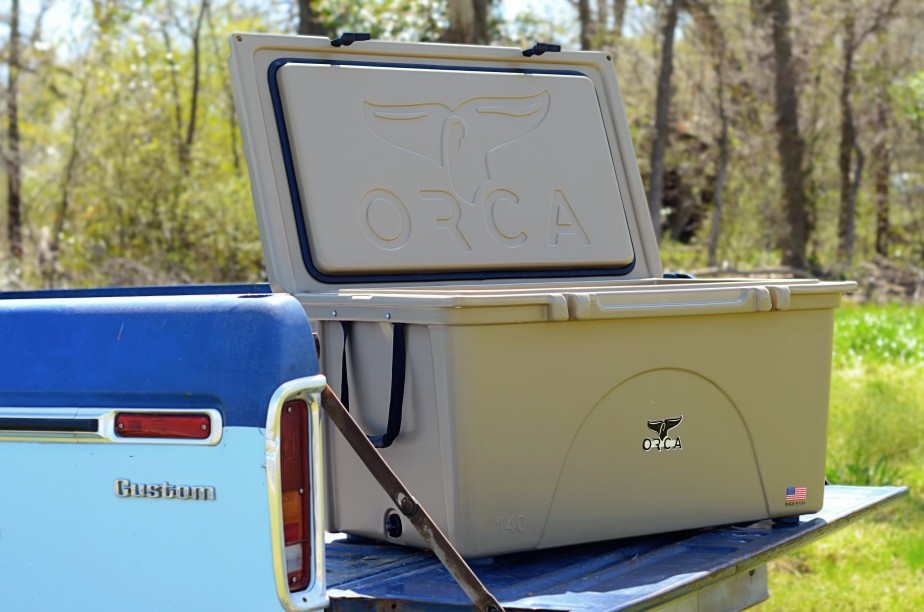 ORCA (standing for Outdoor Recreation Company of America) is one of the most recognised high-end cooler brands and they make extremely high quality coolers that have some of the best ice retention on the market.
Their coolers are completely made and manufactured in the USA in their 2 manufacturing plants – one in Nashville, Tennessee (where the company started) and one in Streetsboro, Ohio.
The company was started in 2012 with the goal of creating a local made cooler that kept ice longer, laster longer and put American workers back to work to build something that was USA made.
See my full Orca Cooler Review
ORCA coolers have some of the best ice retention compared to any other cooler on the market (with Otterbox and Kong coolers being the other two stand outs in ice retention).
ORCA also offer a unique "limited lifetime warranty" on their coolers, covering the cooler from defects not for 5-years like other companies but for the lifetime of the cooler. This shows how much confidence they have in their product and with consistently high reviews on Amazon it seems they have good reason to.
Made In USA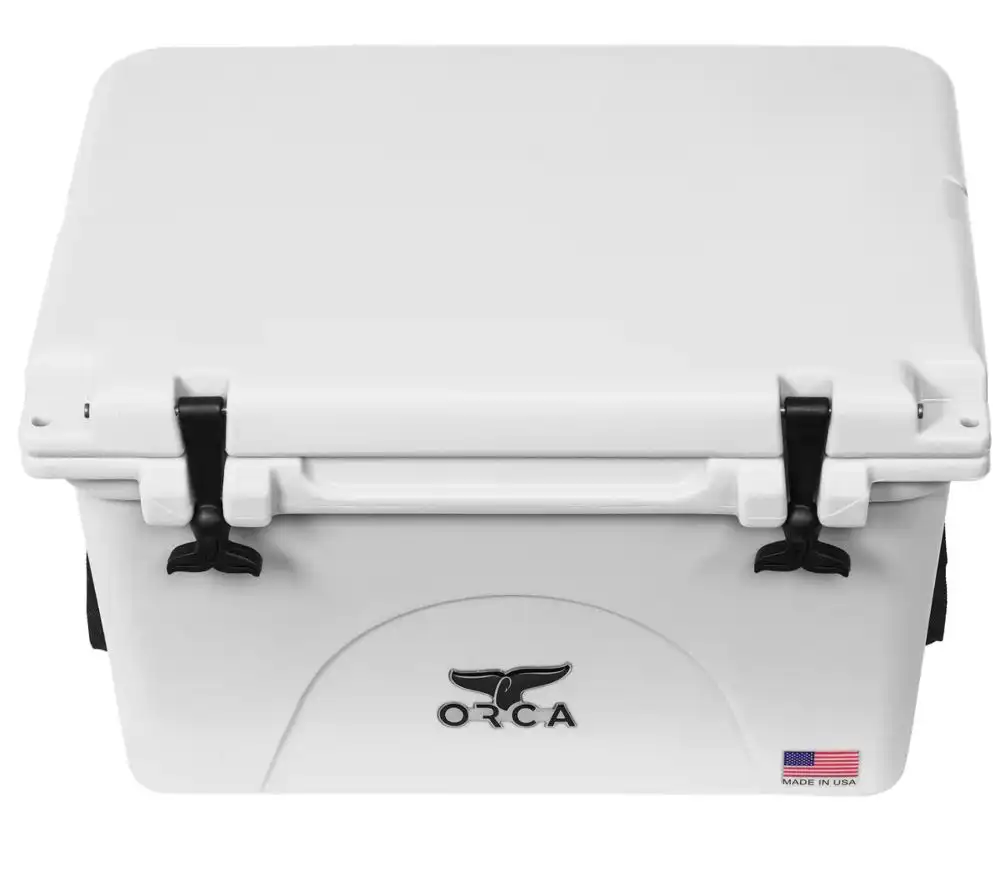 2. Pelican Coolers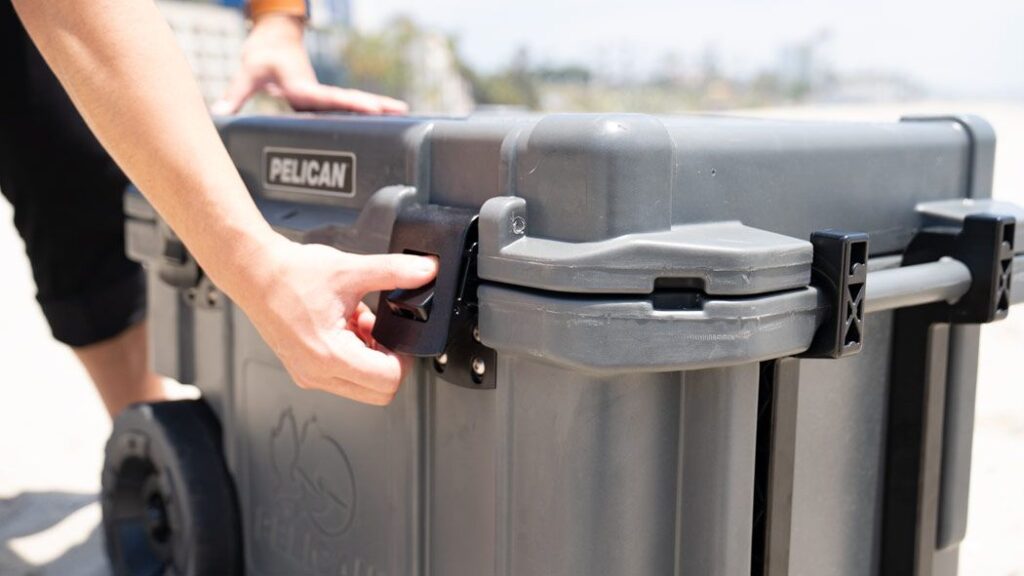 Pelican coolers are one of the original "Made in USA" roto-molded coolers and make a big, bulky and tough roto-molded cooler that has a very unique design.
I've personally owned a Pelican cooler and I loved it. The push and pull metal latches are different to any cooler on the market and the build quality is right up there with the best of the best.
They have good solid ice retention (similar to Yeti) and in my Pelican ice test challenge the Pelican 35 kept ice over 10 days. This was in really good conditions and completely full of ice but in everyday use it could easily keep ice 4-7 days.
The company has a 200,000 square feet headquarters in Torrance, California (just outside of LA) as well as a 2 more US based manufacturing plant in South Deerfield, Massachusetts and Plymouth, Minnesota.
Given that this company is now global they have 6 manufacturing locations with facilities in total – 3 being in the US and 3 being overseas. One in Crottendorf, Germany – one in Leighton Buzzard, UK and one in – Melbourne, Australia. You'll notice none of these manufacturing facilities are in China, Philippines or any other third world nation.
You can't go wrong with these coolers, they are some of the best in the industry. Pelican are well known and respect and all their coolers come with a Lifetime warranty.
Read my full review of Pelican Coolers
See the latest pricing and details of Pelican Coolers at Amazon
3. Lifetime Coolers: BUDGET PICK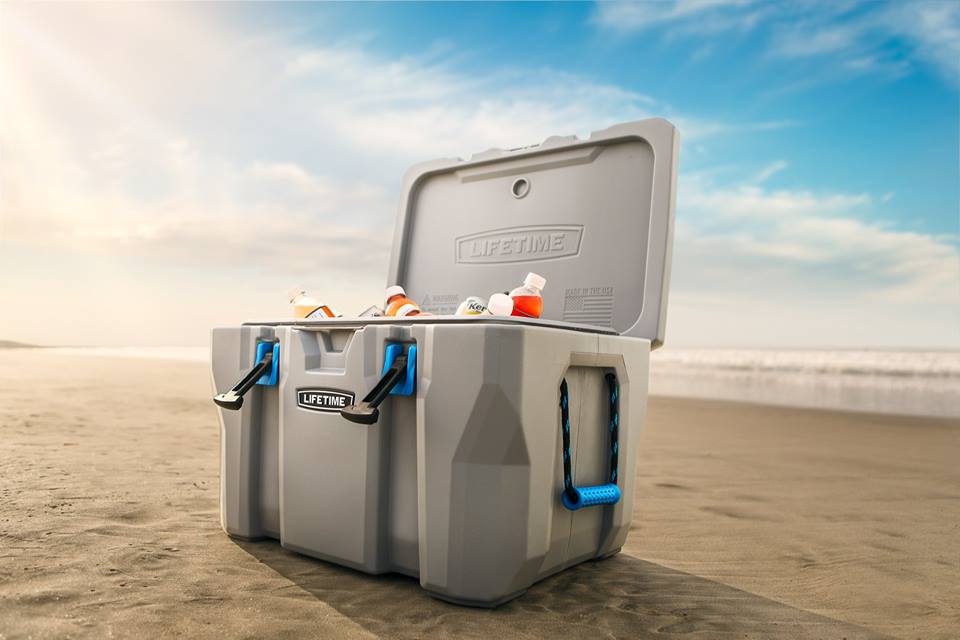 Lifetime coolers are a newer entrant to the cooler game offering a bear proof cooler with a lot of the features other high-end coolers like Yeti, Orca and Pelican have but for a tiny fraction of the price.
Lifetime are able to keep their prices low while continuing to manufacture their products in the US due to the fact that their coolers are blow-molded not roto-molded which is a faster and more cost effective process.
Their coolers are primarily sold through Walmart stores as well as on Amazon and you are able to get a 55-Quart Lifetime cooler for under $100 when they are on sale (which they often are).
These coolers keep ice nearly as long as a Yeti/ORCA and still have features like thick insulation, rubber gasket and latches, non-slip rubber feet, rope handles etc.
The company was founded in 1986 and have a single-point blow molded plastics facility in Clearfield, Utah that occupies a ginormous 2.2 million square feet (200,000 meters squared). They also have manufacturing facitilites in Xiamen, China and Mascot Tennessee.
According to all the marketing materials Lifetime coolers are made in the USA manufacturing plants, not in China.
I love these coolers and can't wait to get my hands on one of them myself and I highly recommend them for the budget conscious shopper who still wants a high-quality cooler with significant ice retention.
See Lifetime coolers pricing and details (at Walmart.com)
4. Kong Coolers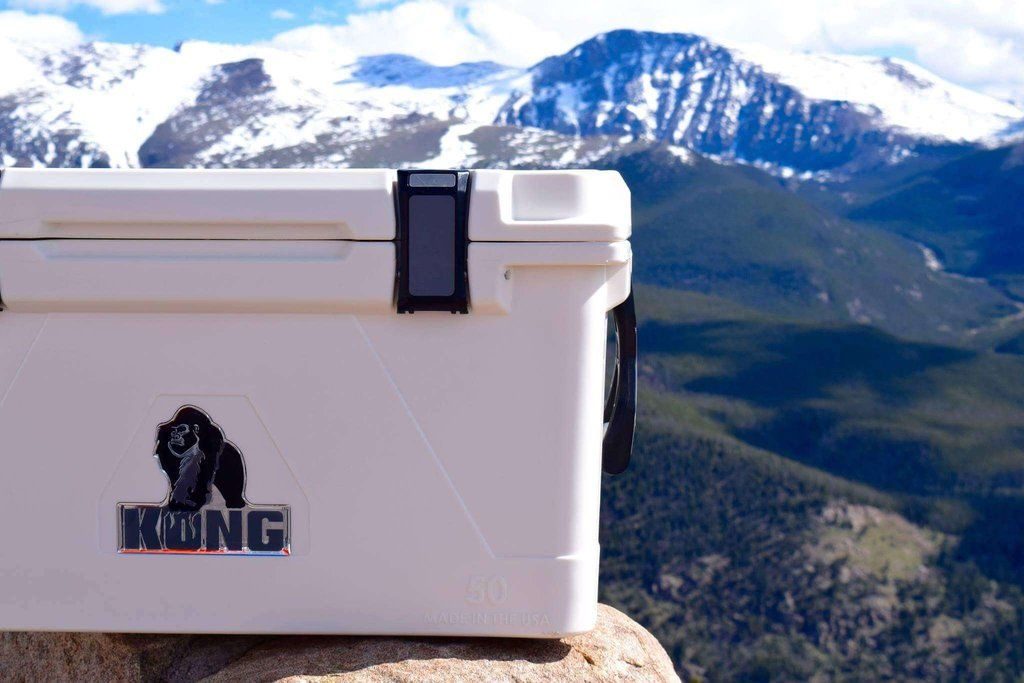 It's likely you haven't heard of Kong coolers before as they are a fairly new American made roto-molded cooler that comes from the parent company Elkhart Plastics, Inc.
But Kong Coolers are making a big splash as their coolers are extremely high quality, have some pretty unique features and have some of the best ice retention performance of any cooler on the market – outperforming the likes of Yeti, Orca and other leading brands.
They are also 100% made in the USA with their parent company having more than 30-years experience in the manufacturing and roto-molding industry.
They aren't the cheapest roto-molded coolers on the market, very few USA made coolers are the cheapest, but in my opinion this new entrant is one of the best roto-molded coolers on the market and well worth your consideration.
Read my full review of Kong Coolers
See the latest pricing and details of Kong Coolers at Amazon
5. RovR Coolers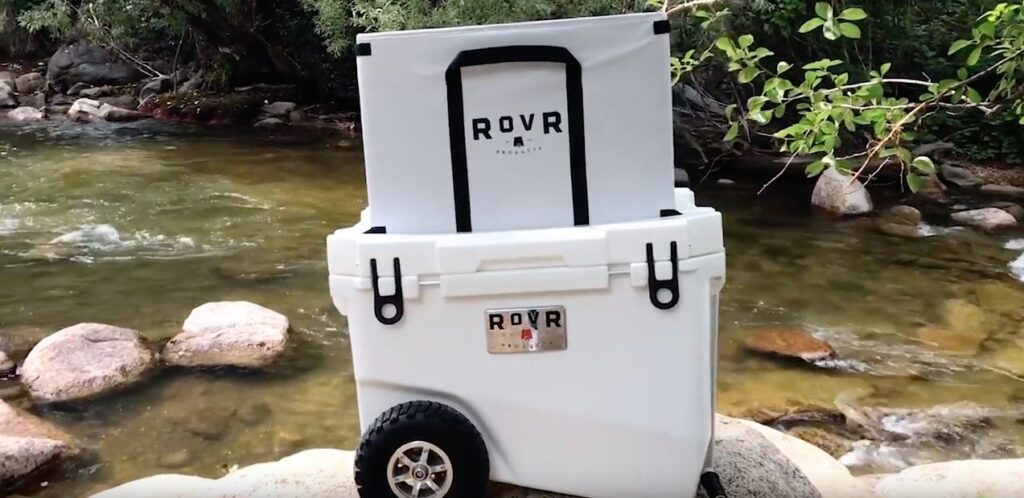 RovR are another new cooler brand that you may have be hearing about for the first time here.
They launched in 2018 with a Kickstart and Indiegogo campaign raising over $500,000 to get their coolers off the ground and their goal is to offer the most feature packed cooler on the market.
And RovR coolers certainly are packed with features.
Strong roto-molded construction that is certified bear proof, up to 10+ days ice retention plus each RovR cooler also has wheels and a strong metal arm for pulling it along.
RovR coolers also come with an internal dry bin to keep items cool and an external wagon bin that makes hauling extra gear super easy.
One thing the RovR cooler has that no other cooler has is a bike attachment. You can connect this cooler to your bike and pull it along behind you.
All of this plus some great accessories like a cutting board/table and dual drink holder this is an amazing cooler with amazing features.
I cannot find exactly where this cooler is manufactured but the company does say it is made in the USA and the company is located in Boulder, Colorado.
See my full RovR Cooler Review
See the latest pricing and details of RovR Coolers at Amazon
6. Grizzly Coolers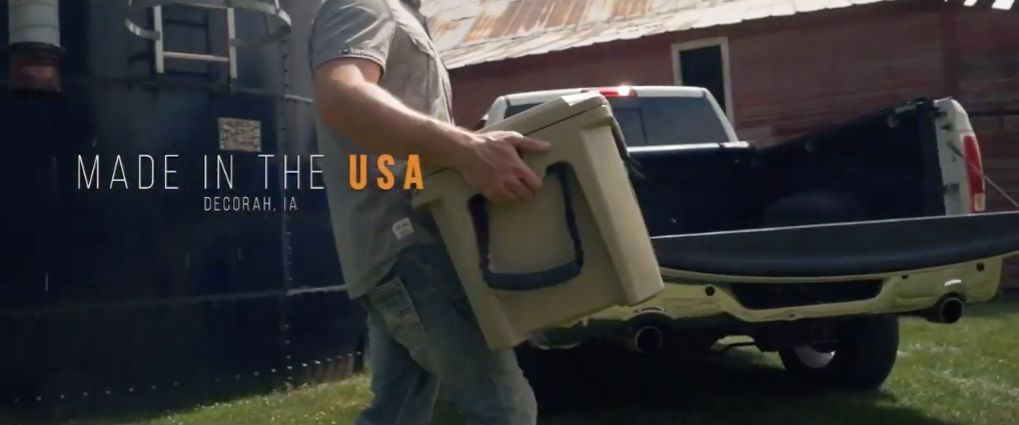 Grizzly coolers are another high-quality cooler brand with coolers that are made in the USA.
Grizzly coolers are designed and manufactured in the small town of Decorah, Iowa, which has a population of around 8,000 people.
Grizzly coolers are certified bear proof and have many of the features that you would expect in a roto-molded cooler. In terms of ice retention they perform well, but they aren't best in class being outperformed by some of the coolers mentioned above.
Grizzly coolers do come with a lifetime warranty so you can purchase your cooler with the full confidence that you'll never have to buy another cooler again.
See the latest pricing and details of Grizzly Coolers at Amazon
7. Otterbox Coolers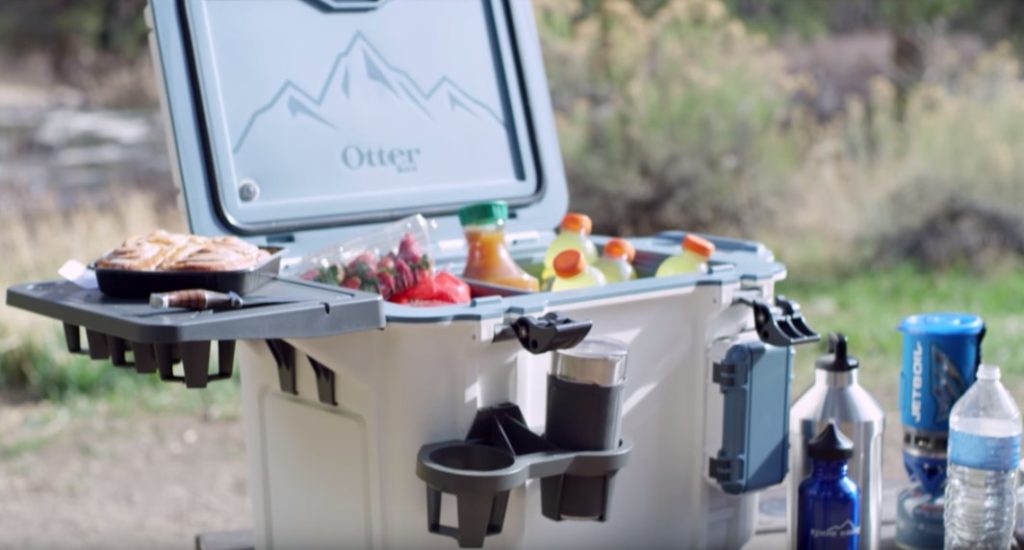 Otterbox is a phone case manufacturer who has recently released their own roto-molded cooler and early tests show it has some of the best ice retention in the industry.
They offer a limited lifetime warranty on their coolers and the coolers come with a dual color design as well as protruding handles similar to that of Pelican coolers.
Otterbox coolers also have a unique rubber latch system which I really like and a good external attachment system for accessories that is more functional than a lot of competing coolers.
Otterbox coolers are almost identical in price to Yeti coolers and other major brands and don't offer any major benefits. So really it comes down to if you like the design and you want the extra ice retention an Otterbox cooler offers.
However, I do love the Otterbox Backpack cooler which is currently one of the best backpack coolers on the market.
See my full Otterbox Cooler Review
See the latest pricing and details of Otterbox Coolers at Amazon
8. Orion Coolers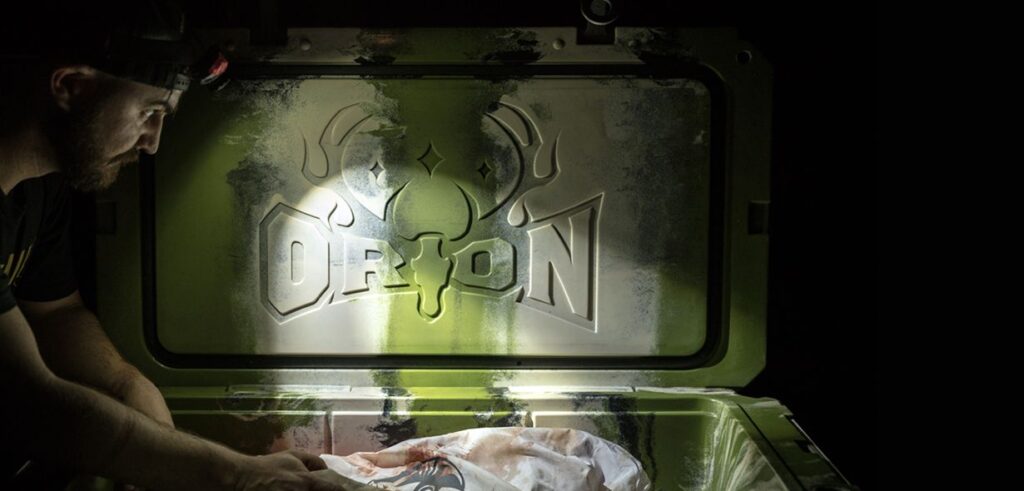 Orion are one of the few coolers that are MORE EXPENSIVE than Yeti coolers but their design is unique and they offer a bunch of features out of the box that other coolers don't offer.
They have a rubber non-slip lid, pull down rubber/metal cam latches, built in bottle openers and it also comes with a dry try plus a torch. There is also a built in metal track on the sides of adding attachments.
No Orion cooler looks exactly the same due to their multi-color roto-molding giving the coolers a mixed-camo look that looks like a real wilderness cooler.
It's not wonder these coolers are some of the best hunting coolers on the market.
Orion coolers are made by Jackson Kayak which was founded in 2003 and is currently located in Sparta, Tennessee near the Caney Fork River. They are market leaders in bother whitewater and kayak fishing products and they know how to make USA based products that can withstand the harshest environments.
See my full Orion Cooler Review
See the latest pricing and details of Orion Coolers at Amazon
9. Igloo Coolers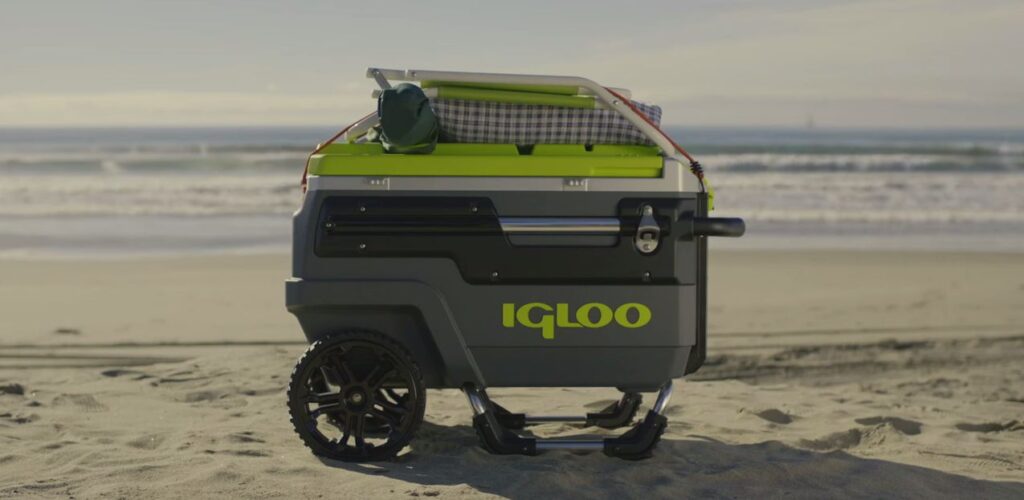 Igloo (along with Coleman) isn't really known as a premium cooler brand. It is more well known for making affordable coolers that you would expect are made overseas.
But they actually manufacture all their coolers in the USA, and have since 1947.
They have a 1.8 million square foot, 3 building facility in Katy, Texas and are the #1 cooler manufacturer in the world.
Check out this video on their manufacturing plant:
Igloo have had mixed success in the roto-molded cooler space. They launched the now-discontinued Yukon, which had positive reviews but must not have sold well enough as well as the Igloo Sportman which I reviewed and found to be of poor quality.
They have recently launched the Igloo Trailmate cooler, and while it's not roto-molded it is an amazing cooler with some pretty innovative features. People are loving this cooler and it's one of the best coolers with wheels on the market.
Read my full review of the Igloo Trailmate Cooler
See the latest pricing and details of Igloo Trailmate Coolers at Amazon
10. Cabela's Coolers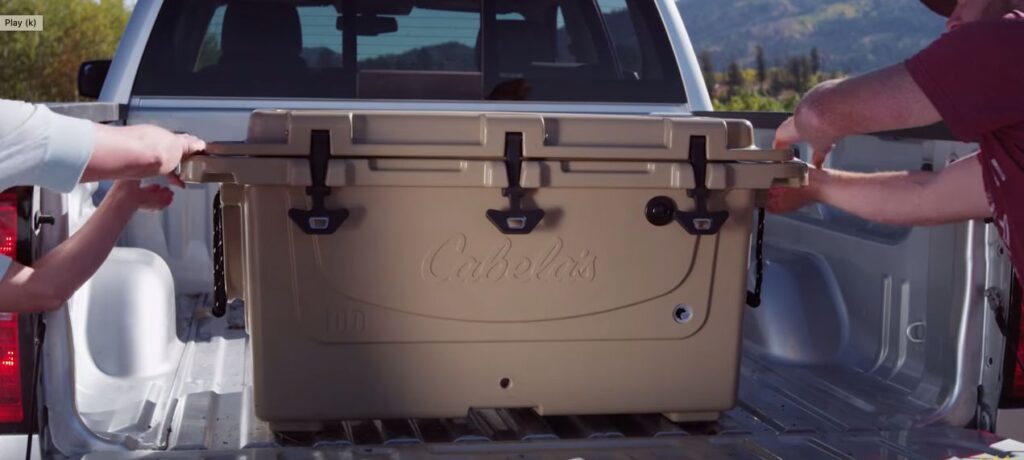 Cabela's is well known as a specialty retailer of outdoor goods, both through direct marketing as well as their stores. But they also manufacture their own coolers in the USA.
They have everything you would expect from a roto-molded cooler. They are bear proof, well made and have non-slip rubber feet, airtight gasket, pull down rubber latches, molded in handles and strong molded in hinge.
They are slightly cheaper than some of the other major brands on the market and have similar ice retention.
See the latest pricing and details of Cabela's Coolers at Amazon
11. Bison Coolers (Previously Brute)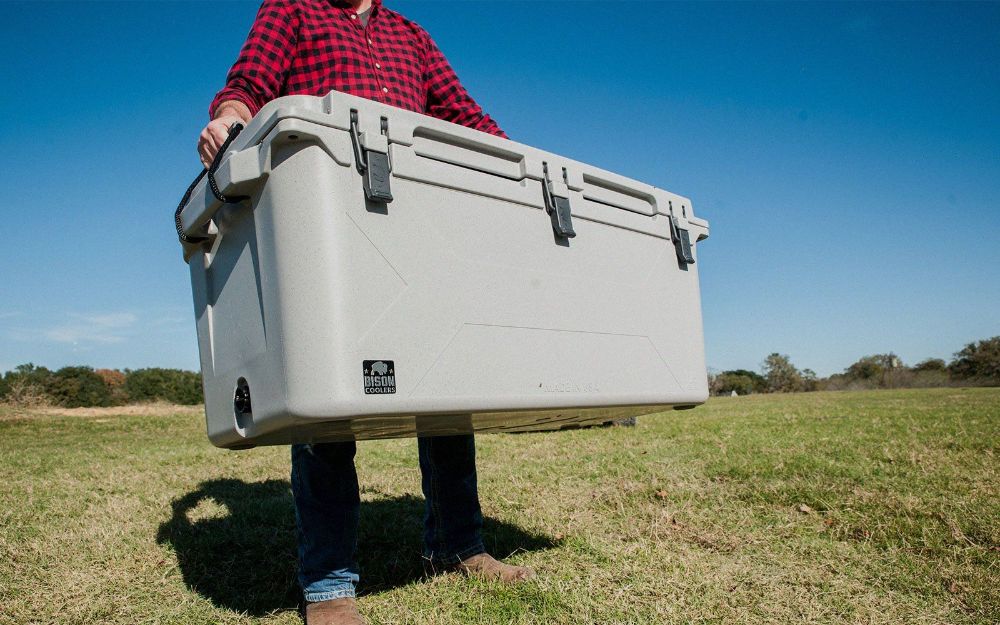 Bison Coolers (previously Brute Coolers) pride themselves on their American craftsmanship and they design and construct their coolers on American soil.
They make both hard and soft sided coolers and their coolers are tough, bear-proof and have good ice retention.
They also offer customization fo their coolers and their hard sided coolers come with a 5-year warranty while their soft sided coolers come with a 2 year warranty.
See the latest pricing and details of Bison Coolers at Amazon
12. Esky (by Coleman) Coolers

In Australia Esky coolers are so popular that people don't call them coolers…they call them Eskys. The "Esky" brand isn't as well know in the states, but Esky coolers by Coleman are actually made in the USA.
The Esky series of coolers is Coleman's take on the roto-molded cooler and have everything you would expect. Superior ice performance, rubber latches and gasket, rope handles and extremely durable.
The cooler also comes with an integrated cutting board and antimicrobial protection that resists doors, mold and mildew on the coolers. They also have a massive 2 inch drain plug for easier faster draining.
See the latest pricing and details of Esky Coolers at Amazon
13. IceHole Coolers

Icehole coolers were one of the first coolers I ever reviewed here on the site. I was interested in them because not only were they proudly made in America but the company was started by veterans and promised to donate a portion of all sales to not-for-profit organisations supporting veterans, their families and their survivors.
I saw this as a company with a cause and I love that the owners took their military experience and created a cooler with that vibe.
They also offer a lifetime warranty on their coolers and have a big focus on quality control making Icehole a cooler you can depend on. Icehole coolers are located in Burnet, Texas.
The features of the Icehole coolers are very similar to the Yeti, Grizzly and other leading brands with nothing to make them really stand out other than their military history. But all in all these seem to be great coolers.
See my full Icehole Cooler Review
See the latest pricing and details of Icehole Coolers at Amazon
14. Kenai Coolers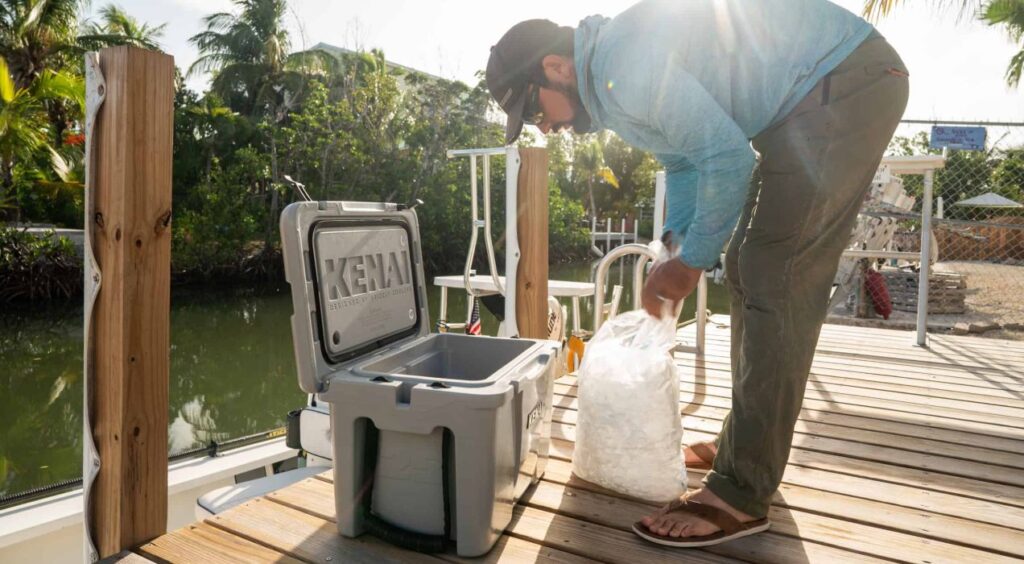 Kenai Coolers are made by the exact same company that makes Grizzly coolers but they are made slightly differently and marketed and sold very differently, but they still come with the same lifetime warranty that Grizzly coolers offer.
Kenai coolers aren't sold through retailers. This allows them to cut out the margins the middle men charge, which can sometimes be as much as 75-100% markup on coolers.
This means Kenai coolers are significantly cheaper than Grizzly coolers and other USA made coolers. A Kenai cooler will save you about $50-$100 compared to a Grizzly of a similar size.
But this also means you can't buy a Kenai from your local store, you'll need to purchase it either through their website or through Amazon (links below):
See the latest pricing and details of Kenai Coolers at Amazon
15. Taiga Coolers (also CAT Coolers)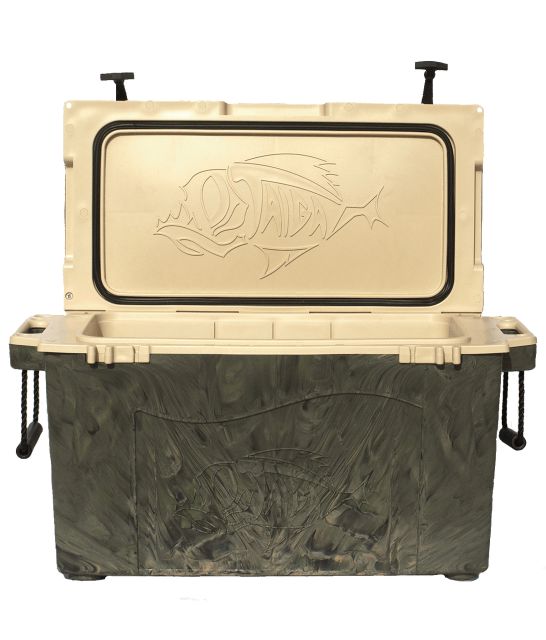 Taiga coolers is a veteran owned business and all Taiga coolers are made in Texas, USA.
You may not have heard of this brand before and it's unclear where Taiga coolers are sold other than through their website or Amazon.
But I do know that Taiga coolers also manufacture coolers for other companies who then go on the white label their coolers.
CAT coolers for example are made by Taiga but then branded with the CAT Machinery brand and sold as a unique cooler.
They make high quality coolers with good ice retention and they also offer a limited lifetime warranty on their coolers and a 60-day money back guarantee.
See the latest pricing and details of Taiga Coolers at Amazon
16. Cordova Coolers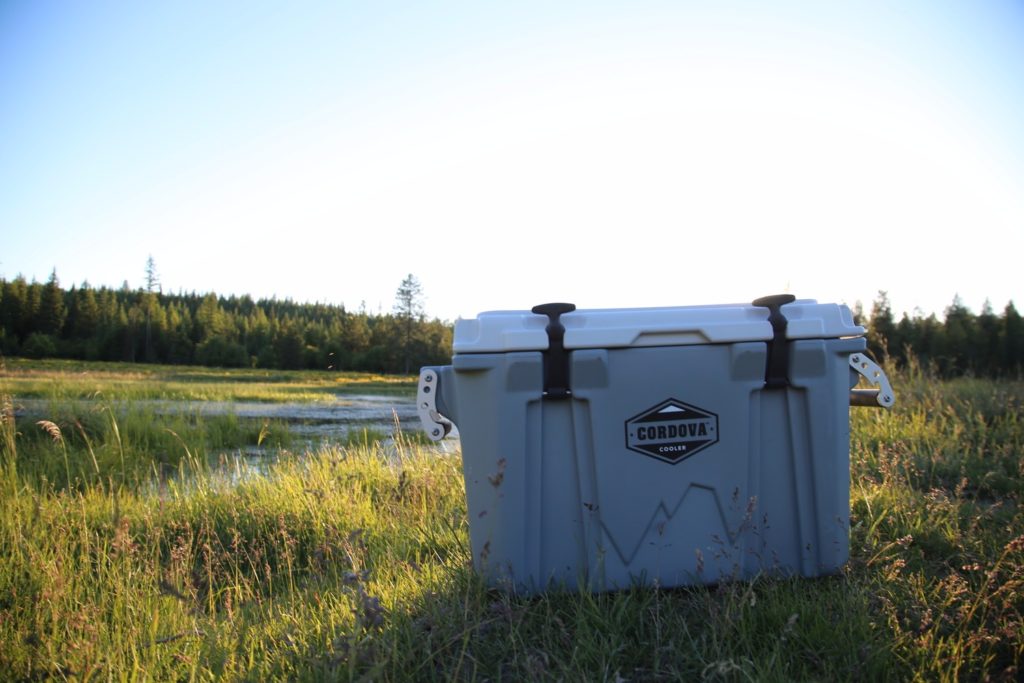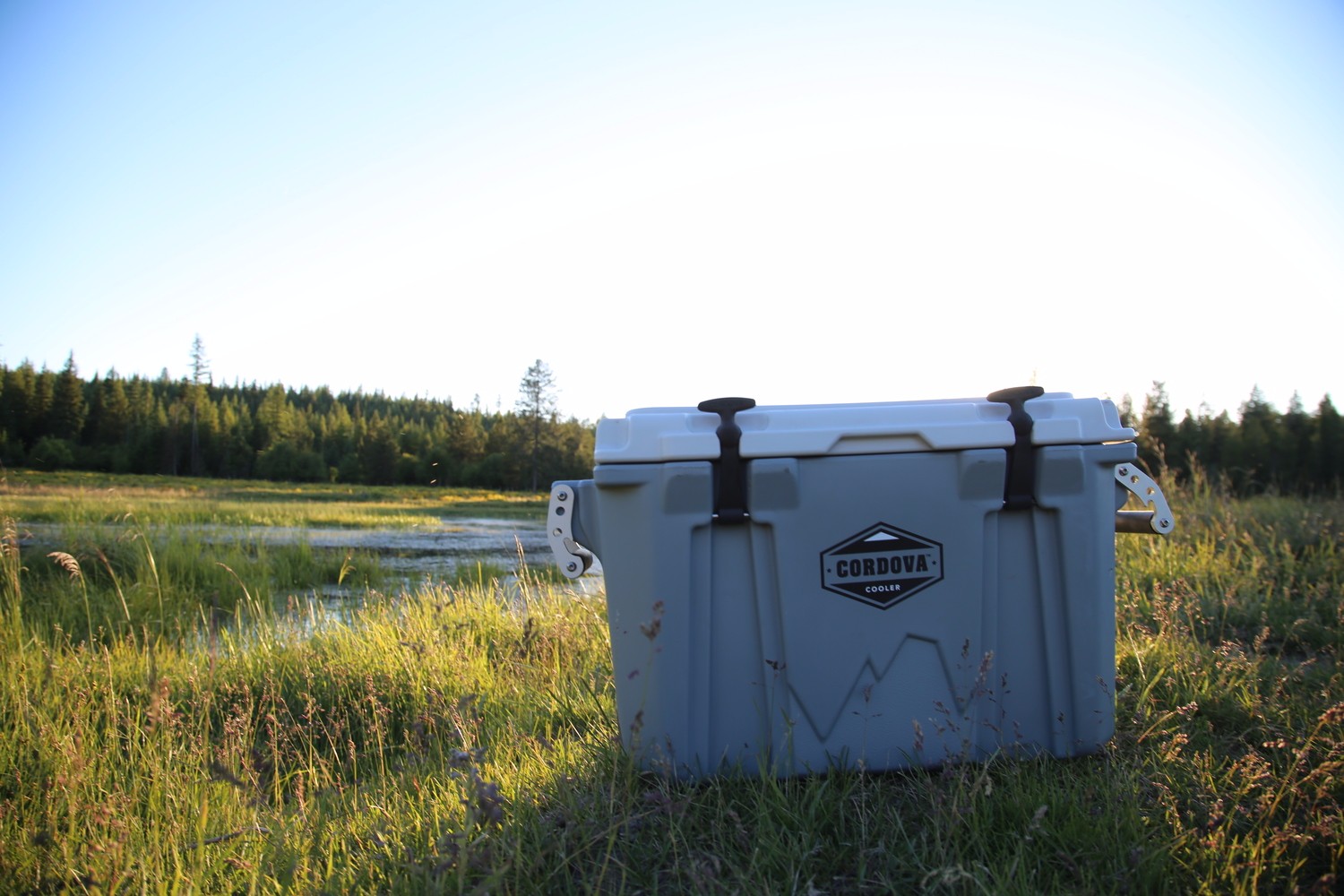 Cordova coolers are a quality American made cooler that is sold for significantly cheaper than other brands.
They started as a bet in 2014 and launched in 2015 with a focus on the boating market. Within a year they were installed in Master Craft boats.
The company relocated to Nampa, Idaho and have a full production line making all of their hard body coolers out of this facility.
The ability to manufacture locally and control the quality has enabled them to lower their price point as well as offer a limited lifetime warranty on all their coolers.
For the price, these are pretty impressive coolers
Read my full Cordova Cooler Review
See the latest pricing and details of Cordova Coolers at Amazon
17. Rubbermaid Coolers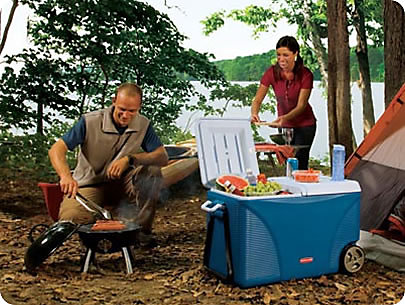 Rubbermaid don't compete in the high-end roto-molded space. Instead they focus on making affordable coolers for the everyday consumer.
They have been around for about 80 years and the company is headquartered in Atlanta, Georgia and has approximately 30,000 employees worldwide.
They make everything from little lunchbox coolers to larger coolers as well as wheeled coolers. They aren't the best coolers in the industry and their ice retention isn't the best but they are simple, easy to use and are made in the USA.
See the latest pricing and details of Rubbermaid Coolers at Amazon
18. ICON Coolers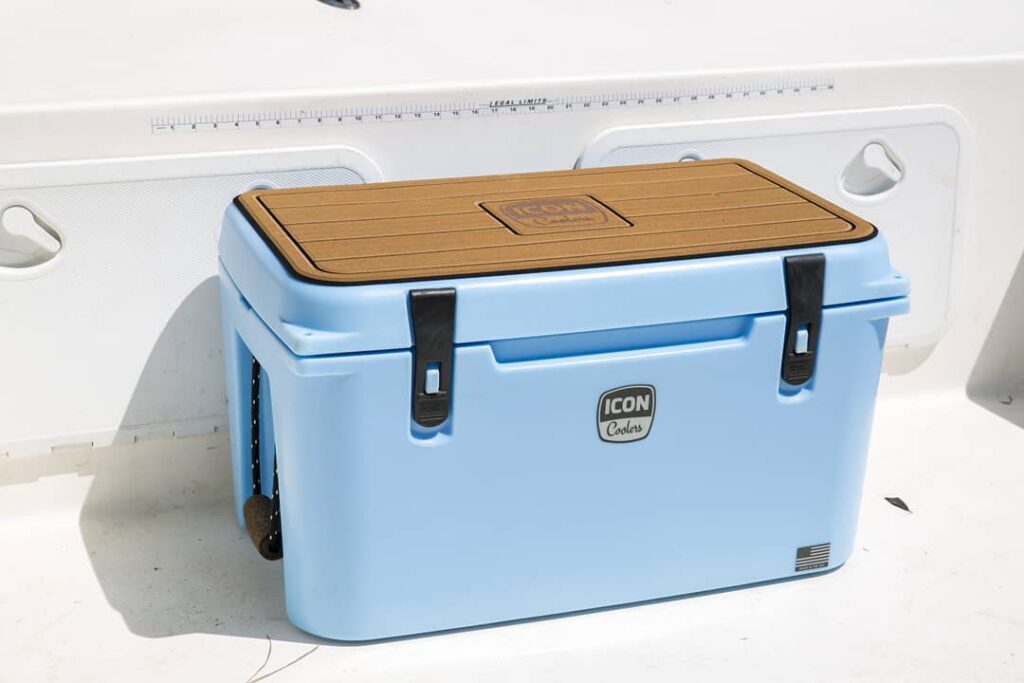 ICON Coolers actually began in 2012 by importing foreign made coolers and whitelabeling them (adding their logo onto them) but they soon realised that if they wanted to compete in their market they would need to deliver American Made value.
So in 2014 they stopped importing coolers and started getting their coolers made from local manufacturers. Today the company designs and sources all of their products from US based manufacturers and they sell a variety of roto-molded and soft sided coolers as well as insulated tumbler cups.
See the latest pricing and details of ICON Coolers at Amazon
19. Frio Coolers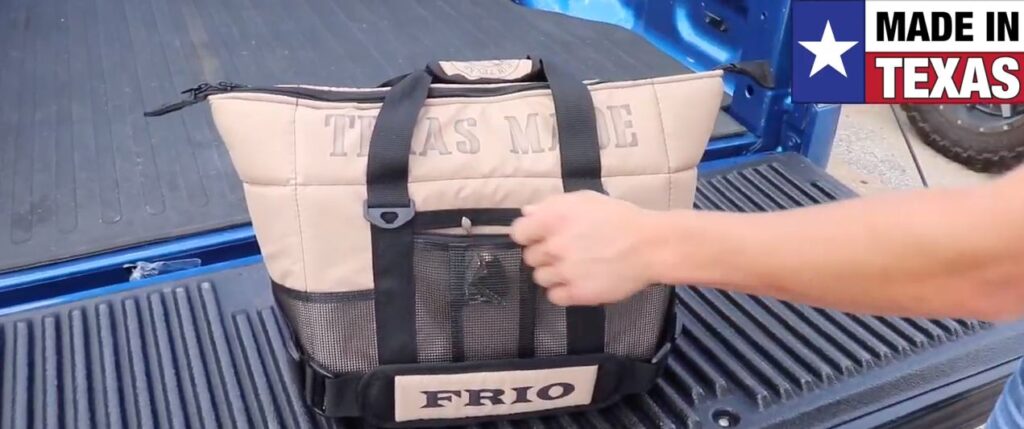 To be completely honest before creating this list I had never heard of Frio coolers before. They aren't available for sale on Amazon and they are available primarily in Texas where their coolers are made.
They make soft sided coolers, retro style coolers, cedar coolers and drink ware all proudly sporting a "Made in Texas" on them.
They design and manufacture all their products in Texas and can add custom logos to just about any of their products.
Learn more about Frio coolers on their website
Major Cooler Brands NOT Made In The USA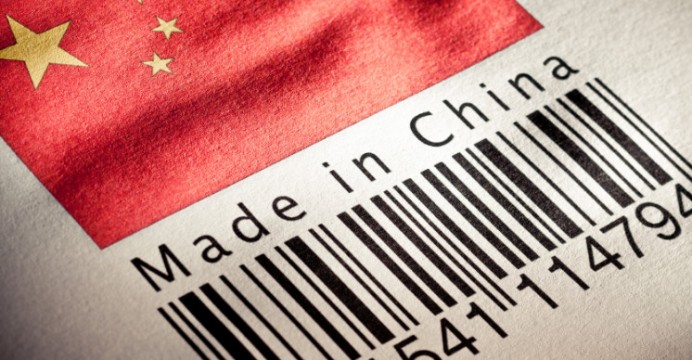 As I mentioned above, the market leading cooler brand YETI is not featured in this article as their coolers are not made in the USA.
Here are some of the major coolers brands that aren't made in the USA. This isn't a full list as there are so many cooler brands out there, but this is a selection of some of the best and well known cooler brands.
YETI Coolres
RTIC Coolers
Engel Coolers
Canyon Coolers
K2 Coolers
Siberian Coolers
Icer Coolers
Techniice Coolers
nICE Coolers
Driftsun Coolers
Patriot Coolers
Custom Cooler Store Coolers
Polar Bear Soft Sided Coolers
IceMule Coolers
FatBoy Coolers
What Other Coolers Are Made In The USA?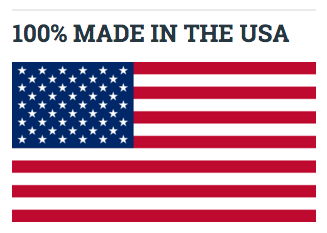 I've done my best in this article to list every major cooler brand that is made and manufactured in the USA, but chances are I've missed a few obscure ones or new brands have come to the market since I wrote this post.
If you know about another USA made cooler please let me know in the comments section down so I can keep the post updated with the best USA made coolers available on this market.
I hope you found this article useful and until next time…stay cool.