The Igloo Trailmate cooler is one of Igloo's best coolers on the market today and there is no other cooler quite like it.
It has a very innovative design featuring large wheels, a pull out side handle and everything for external baskets and compartments to cup holders, interior dry baskets and bottle openers. This cooler not only stands out from the crowd but it performs really well too.
In this Igloo Trailmate cooler review we'll look at the main features of this cooler, what is good about it as well as it's downsides, which will help you decide whether or not this is the cooler for you.
See the latest price and details at Amazon
An Innovative Design: This Thing Looks Like a Mars Rover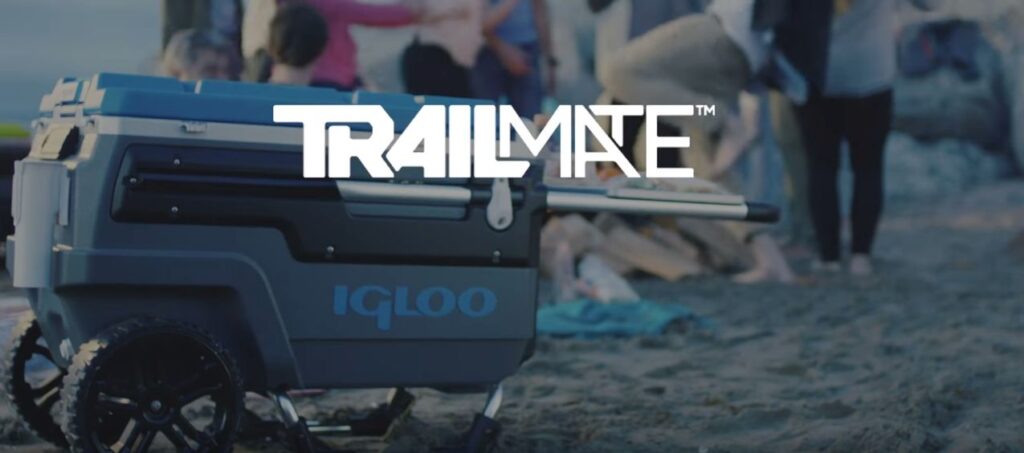 The Igloo Trailmate looks like absolutely no other cooler on the market. It's innovative design really makes it stand out from the pack and is a talking point.
This cooler looks intense and looks interesting. The large wheels and skid pads give it the feel of something akin to the Mars rover.
I really like the look and feel of this cooler and just by looking at it you can see how impressive it is.
There are 4 main colors for the cooler:
Charcoal/Acid Green
Slate Blue/Agama Teal
Canyon Brown/Riverbed Tan
Marine White/Black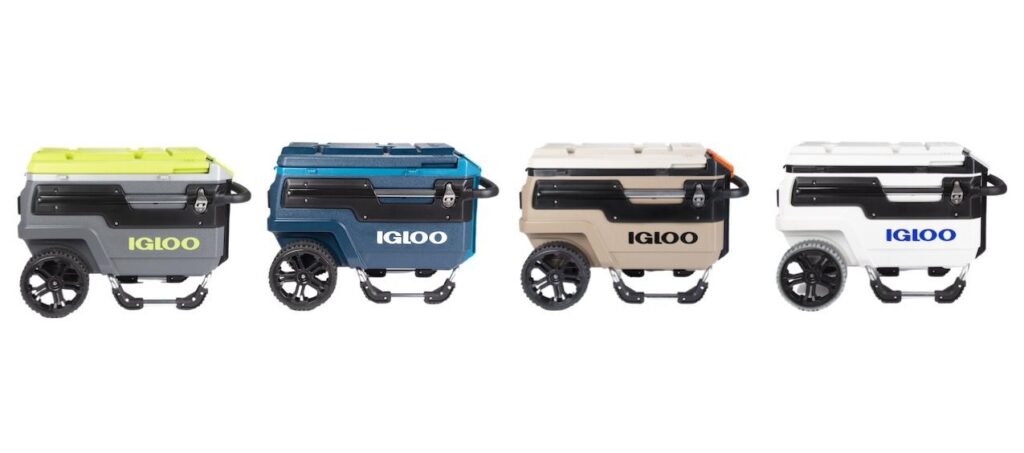 Here are some of the specs of the cooler:
Weight: 34.7 lbs (15.74kgs)
Internal Capacity: 70-Quart (66 Liters)
Exterior Dimensions: 34.59" x 19.7" x 23.61" (87.86 cm x 50.04 cm x 59.97 cm)
This cooler isn't roto-molded like a Yeti cooler, it's blow moulded which means the plastic exterior is a bit thinner and it's not bear proof.
A Middle Priced Cooler
In the age of coolers like Yeti which cost an arm and a leg to purchase the Igloo Trailmate has gone for the middle ground.
It's not a super cheap, super basic cooler like the Coleman Xtreme that might set you back less than $50. But it's also not as expensive as something like a Yeti cooler where a similar size Yeti 75 costs .
Instead Igloo have gone for the middle ground, offering a cooler with a lot of features, but that isn't roto-molded so doesn't cost as much as those coolers.
The closest comparable cooler that has wheels and features similar to the Trailmate would be the roto-molded RovR cooler. But that is nearly twice the price of the Igloo Trailmate.
IGLOO TRAILMATE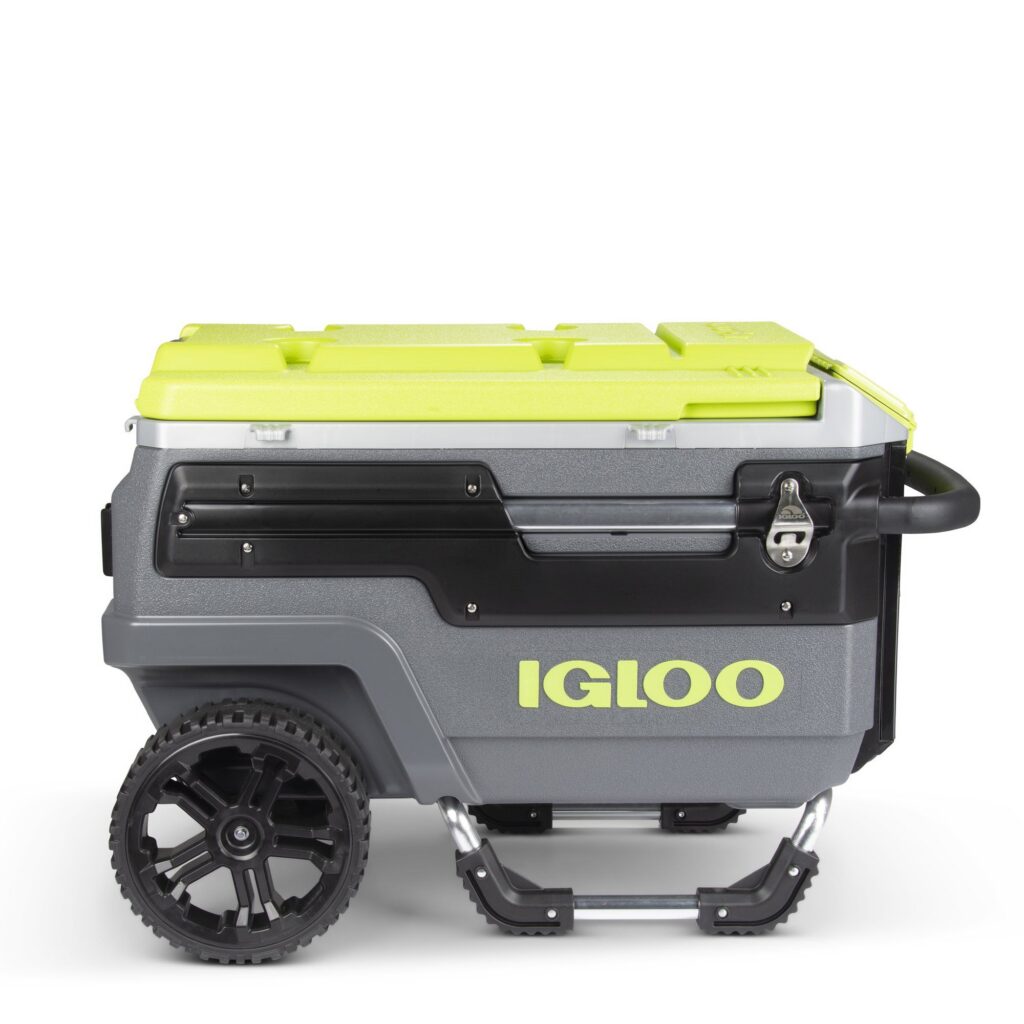 Igloo Trailmate 70-Quart:
ROVR COOLER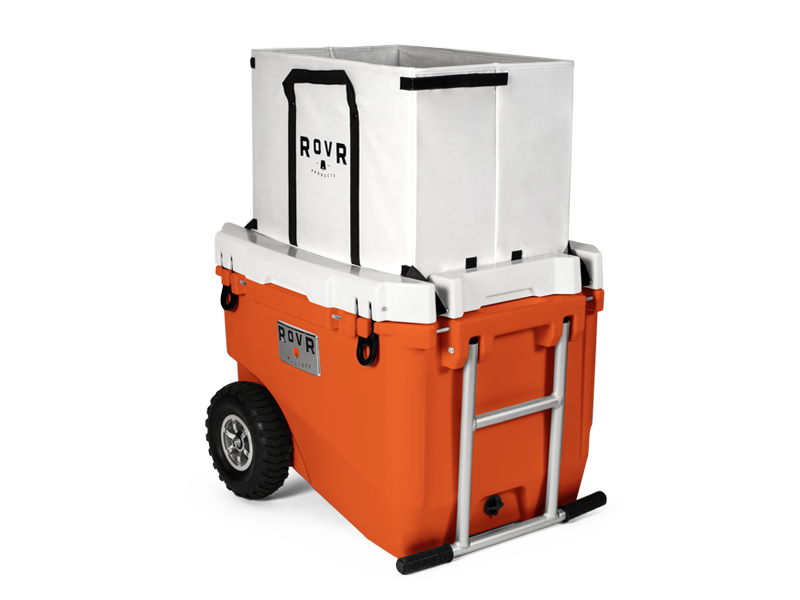 RovR 60-Quart:
4 Days Ice Retention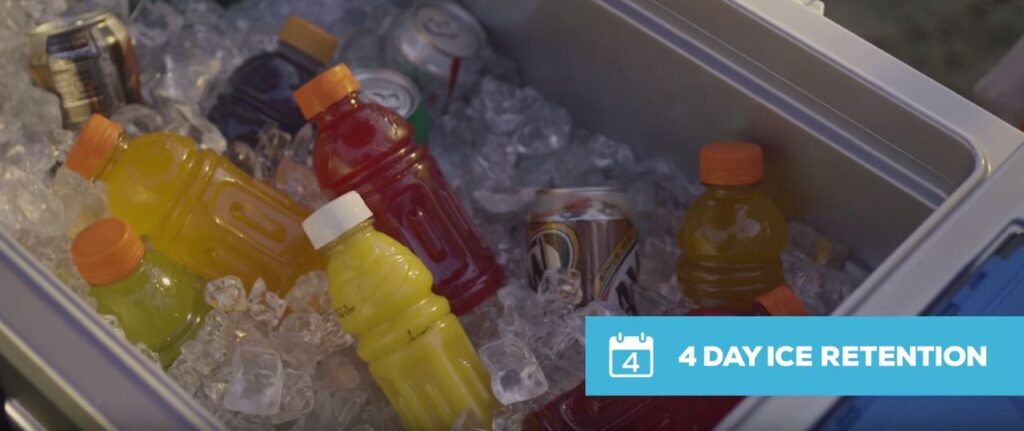 Igloo claims this cooler has 4 days of ice retention and tests in the field have shown that this can actually blow that number out of the water, achieving up to 8 days ice retention.
Being a big cooler helps with ice retention when completely full of ice so that may play a role in it, but regardless 4-8 days ice retention is really good and is up there with some of the roto-molded coolers like Yeti on the market.
So Many Great Features
Really what makes the Igloo Trailmate such a good wheeled cooler is the sheer volume of practical features this cooler has. It's really cool to see a cooler that can do so many things and isn't missing something as simple as a bottle opener or cup holders (see my list of problems with Yeti coolers).
Let's have a look at all of the features of the Igloo Trailmate.
10-Inch All Terrain Wheels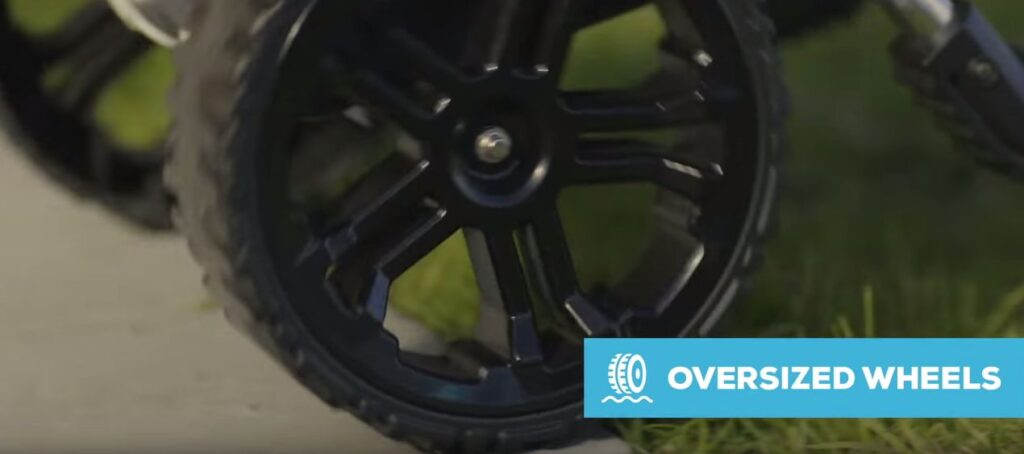 These wheels are absolutely huge and are the biggest wheels I have seen on a cooler.
The wheels have a strong plastic frame and rubber treads that make it easy to pull the cooler on the road/footpath as well as grass, dirt and even across soft sand.
Most of the best beach coolers with wheels still struggle on really soft sand, but the Igloo Trailmate is the exception to the rule and still moves easily over soft sand.
These wheels work exactly how they are meant to and it's great to see some large wheels on a cooler for once.
Aluminium Padded Pull Handle

The aluminium pull handle slides out easily from the cooler and allows you to lift and pull the cooler with ease.
For every 4 lbs of weight in the cooler you are only lifting 1 lb of weight in order to pull this cooler behind you. That means even when completely full you're only lifting a quarter of the weight, which can be done by a single person.
The large pull handle is wide enough for multiple people to use if you need help and it slides away when it's not longer in use, making it easier to store the cooler.
Skid Rails/Rubber Feet
The cooler is raised off the ground by it's wheels as well as the skid rails and non-slip rubber feet.
These keep the cooler firmly in place but also elevating the cooler can increase ice retention. In my article on how to keep ice longer in a cooler I talked about how lifting your cooler up off the ground can create airflow and minimises heat transfer from the hot ground.
Dual Bottle Openers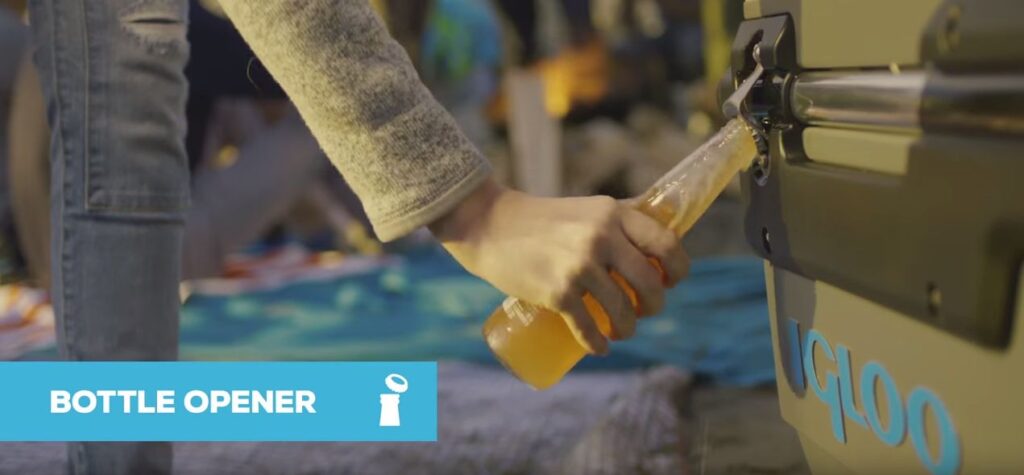 The Trailmate has not one but two bottle openers, one on each side. This is a good little feature and means you'll never have to worry about taking a bottle opener with you.
Bungee Chord Loops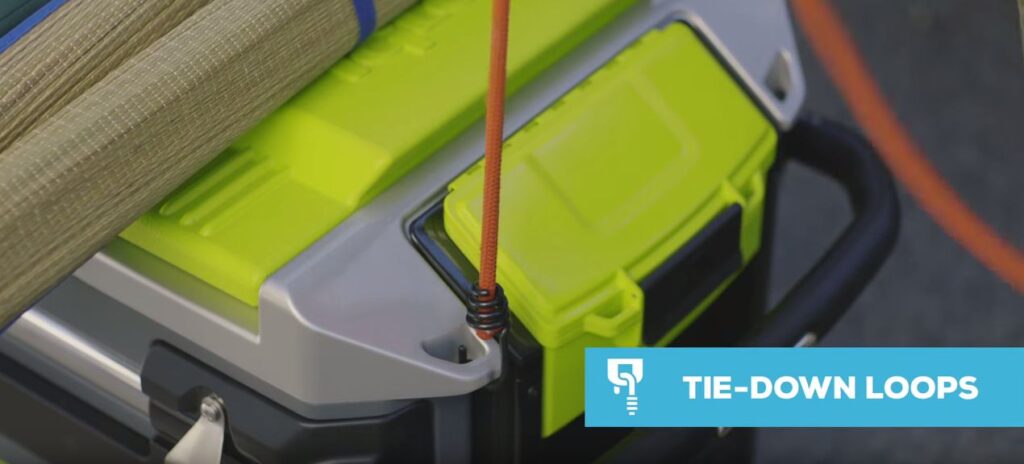 The lid has moulded in bungee chord loops that can be used so you can attach extra items to the lid of your cooler.
The wide lid, when used with bungee chords, is a great way to hold extra gear that you need to take with you.
Instead of carrying it simply strap it onto the Trailmate and pull it along behind you.
4 Cup Holders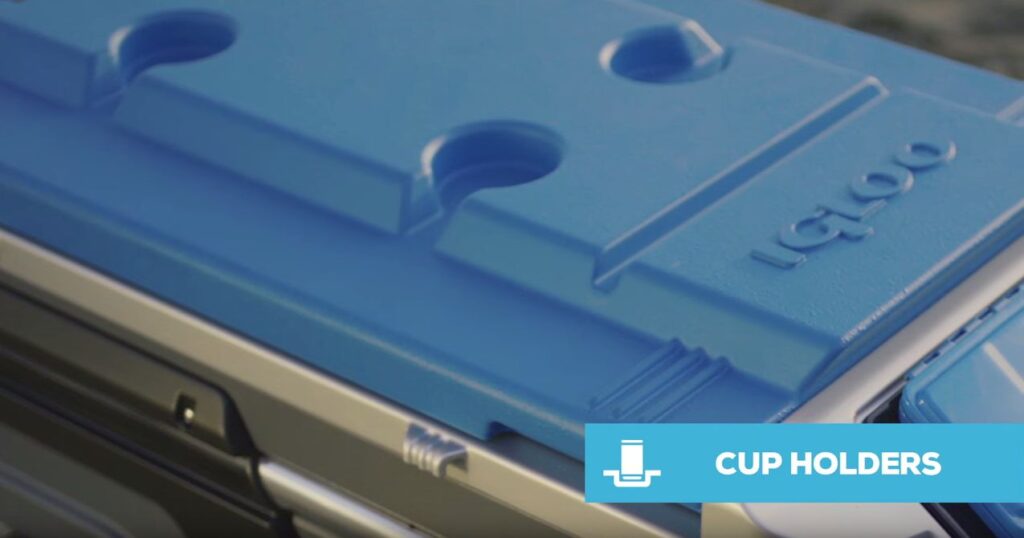 The lid has 4 molded in cup holders which I really like. I hate that my Yeti has no cup holders so I'm really glad Igloo incorporated this feature.
The butlers tray, when setup, has an additional 2 cup holders giving you a total of 6 cups holders on this cooler. I don't know any other cooler that gives you that many cup holders.
Mobile Device Holder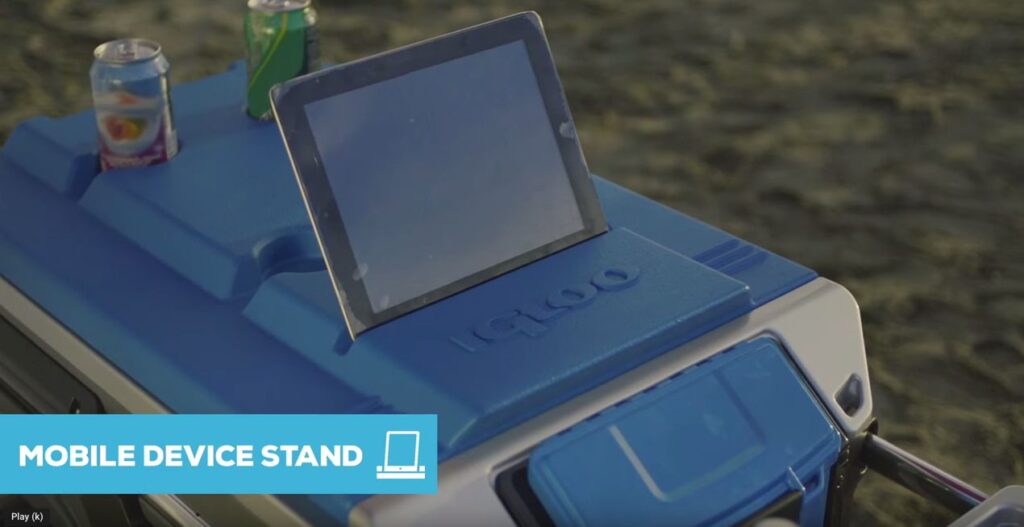 Molded into the lid is also a mobile device holder. Set up your phone or your tablet for your viewing pleasure.
This can be great for when the kids are getting rowdy and you need to put a show on for them so they can chill out.
Detachable Waterproof Dry Item Storage Box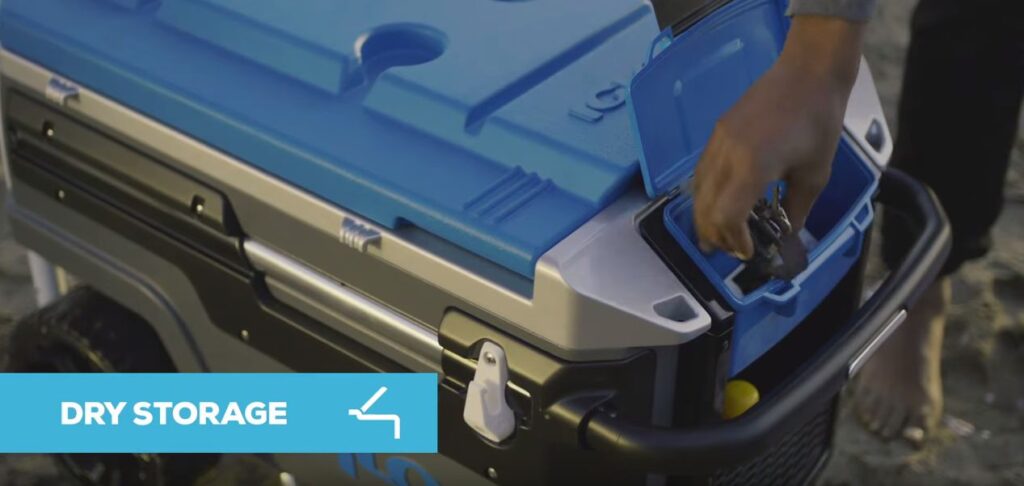 The Trailmate has a little detachable waterproof storage box that clips onto the front of the cooler. This is a great little spot for items like a cell phone, wallet, keys or anything you don't want to get wet.
It can be clipped closed and has seals to keep the water out so rain, hail or shine your items will stay dry.
External Pocket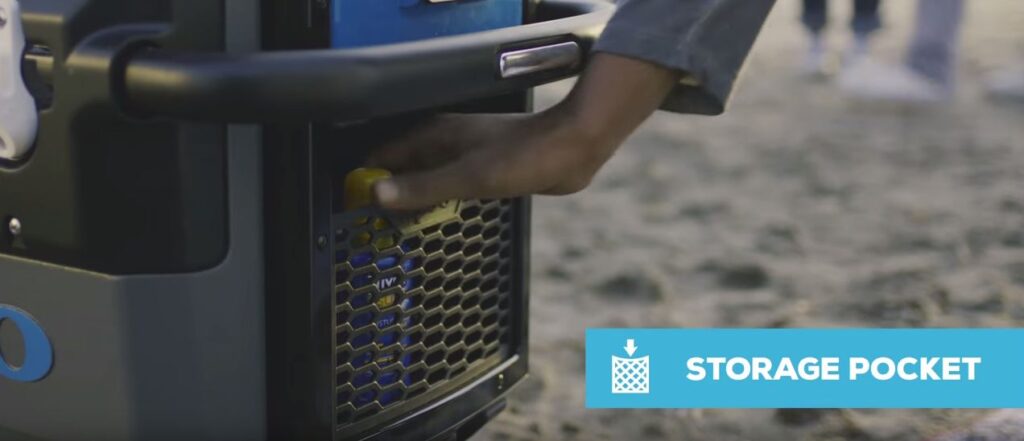 On the front is another external pocket with some flexible mesh at the front. A good spot to store dry items you don't want in your cooler.
Butler Tray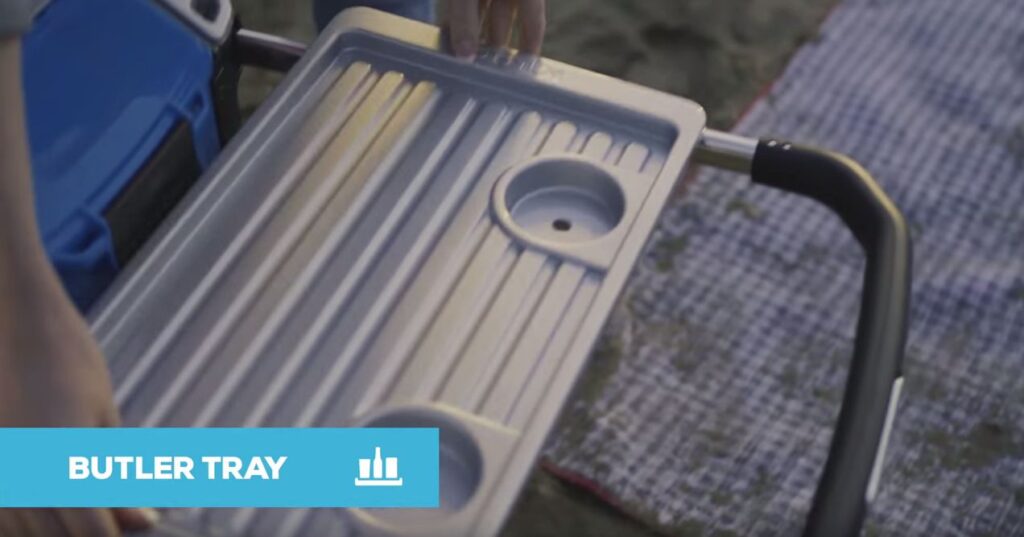 The butler tray is a really nice feature. When you open the lid of this cooler the butler tray is clipped in there.
Simply Rome the tray and it slots perfectly onto the extended aluminium handles giving you 2 more cup holders as well as some table space for food or other items.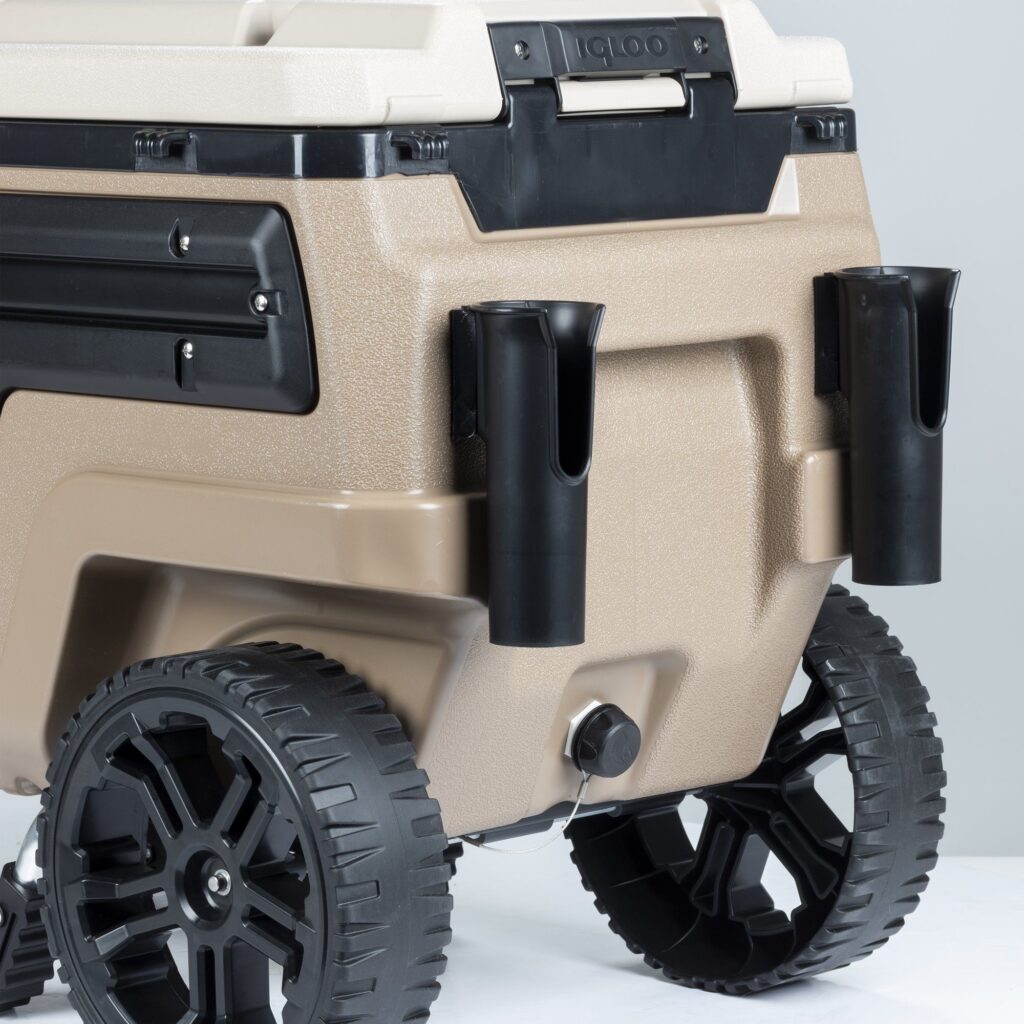 Threaded Drain Plug With Hose Connection
The 1-inch drain plug is threaded meaning you can attach a hose to it and drain your cooler into the garden or anywhere else away from where the cooler is.
Fishing Pole/Umbrella Holders
At the back of the cooler are 2 accessory slots that come with fish rod/umbrella holders.
Put in your fishing rod and wait while you crack open a beer or use your cooler to stabilize your umbrella when you're at the beach or having a picnic.
Dry Food Basket
Each Igloo Trailmate also comes with a dry food basket for the inside of the cooler.
This dry food basket sits just under the lid of the cooler and keeps items away from the ice and water.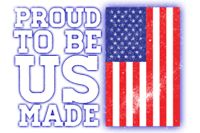 Proudly Made In The USA
One of the great things about Igloo coolers is that they manufacture them locally in the USA.
They have a huge manufacturing plant that makes over 15 million coolers per year and all of the Trailmate coolers come out of this plant.
It's really great to see them employing over 1,000 workers.
The Problems With The Igloo Trailmate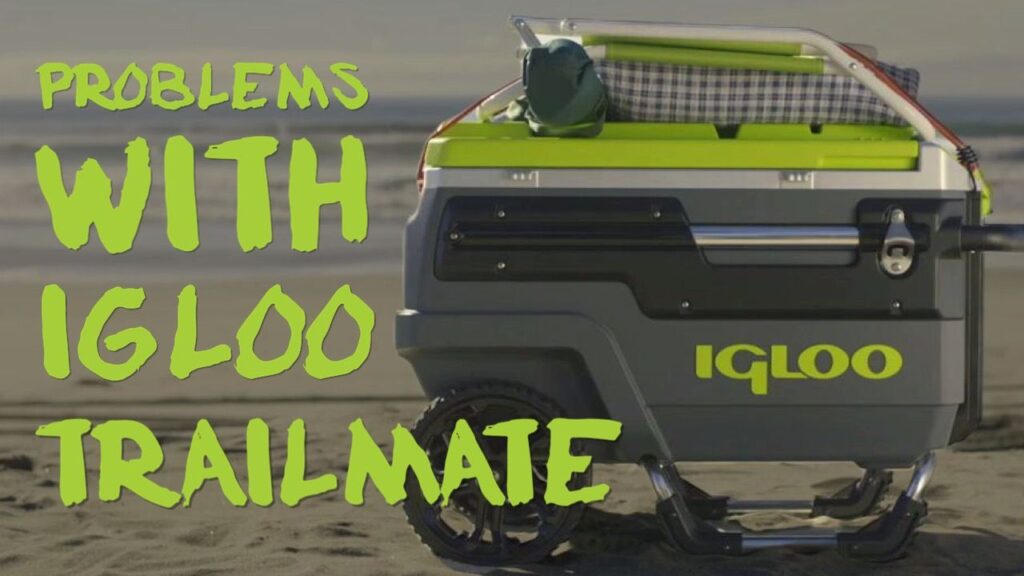 The Igloo Trailmate has some pretty amazing features which we talked about above, but it isn't a perfect cooler (no cooler is).
While none of the below issues are deal breakers in my opinion I want you to be aware of any potential issues with this cooler before you make your purchasing decision.
It's Not Cheap
One thing you'll notice about this cooler is that it isn't cheap. It'll still set you back nearly $300.
This is much cheaper than coolers like Yeti, but it's much more expensive than a cheaper cooler like the Coleman Xtreme. You need to decide if it's worth that money to you.
Some Quality Issues
Some customers have complained with having to replace the hinges on the cooler the longer they own it as well as other customers having quality issues when they purchase their product. The handle getting stuck is another common issue.
People have also reported issues with the wheels and axel breaking.
It's Not Roto-Molded
This cooler is blow-molded, not roto-molded, and so the external plastic isn't as strong as a roto-molded cooler.
This means it isn't as durable and you need to take better care of it as it can break easier.
It's Not Bear Proof or Lockable
The cooler isn't bear proof and there is no way to lock the lid. So if you are trying to keep out animals or thieves there is no way to do it other than to use straps to strap the cooler lid down.
Only a 1 Year Warranty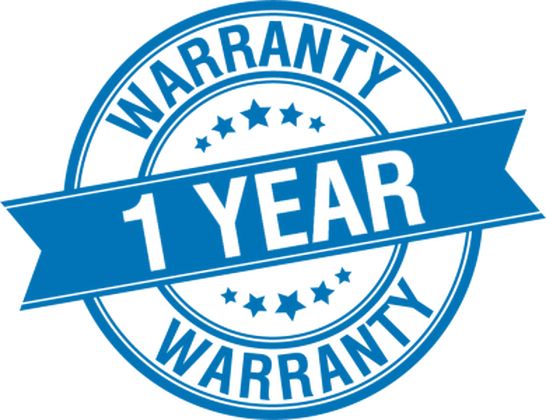 Most high end coolers like Yeti come with either a 5-year warranty or a lifetime warranty.
The Igloo Trailmate only comes with a 1-year warranty. And given that it isn't a durable as a roto-molded cooler this is quite concerning to me.
There are a bunch of other smaller problems with this cooler. I go into full details on my article about the problems with Igloo Trailmate coolers.
My Conclusion: Amazing Features, Decent Quality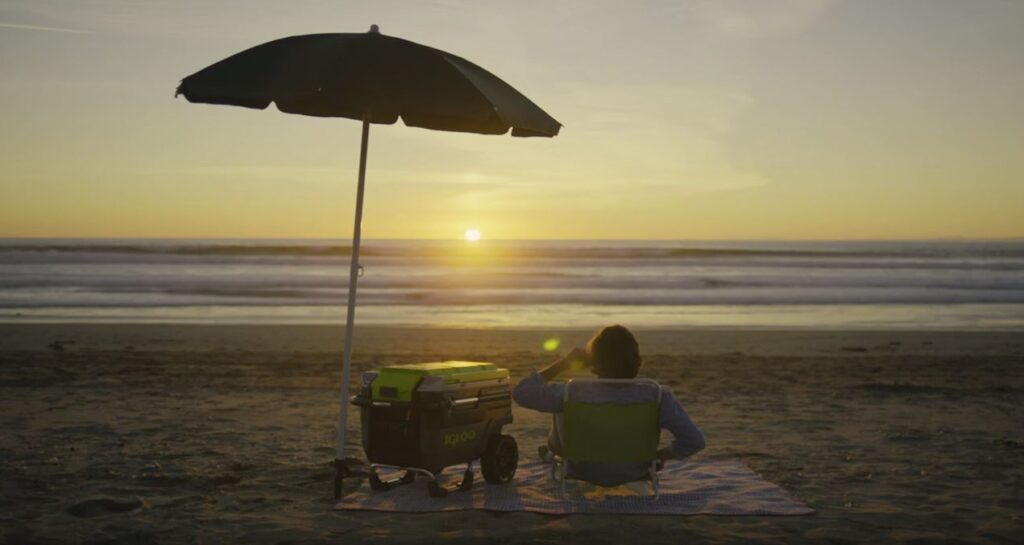 I love the look and feel of this cooler and think it is a really practical cooler that a lot of people will absolutely love.
The big wheels make it perfect for the beach or rough terrain and everything from the cup holders to the dry storage to the bottle openers and butlers tray are really great features.
The durability of this cooler sounds like what you would expect from a blow molded cooler like this one. If I owned it I would want to be more careful with it than I would with a cooler like Yeti.
Ice retention when the cooler is only partially full is also a concern of mine as I think rarely would you be completely filling this cooler with ice. A smaller version would be amazing but unfortunately there are no other sizes.
But all-in-all I think Igloo is onto something here with this cooler and I know for a lot of people this will make the perfect cooler.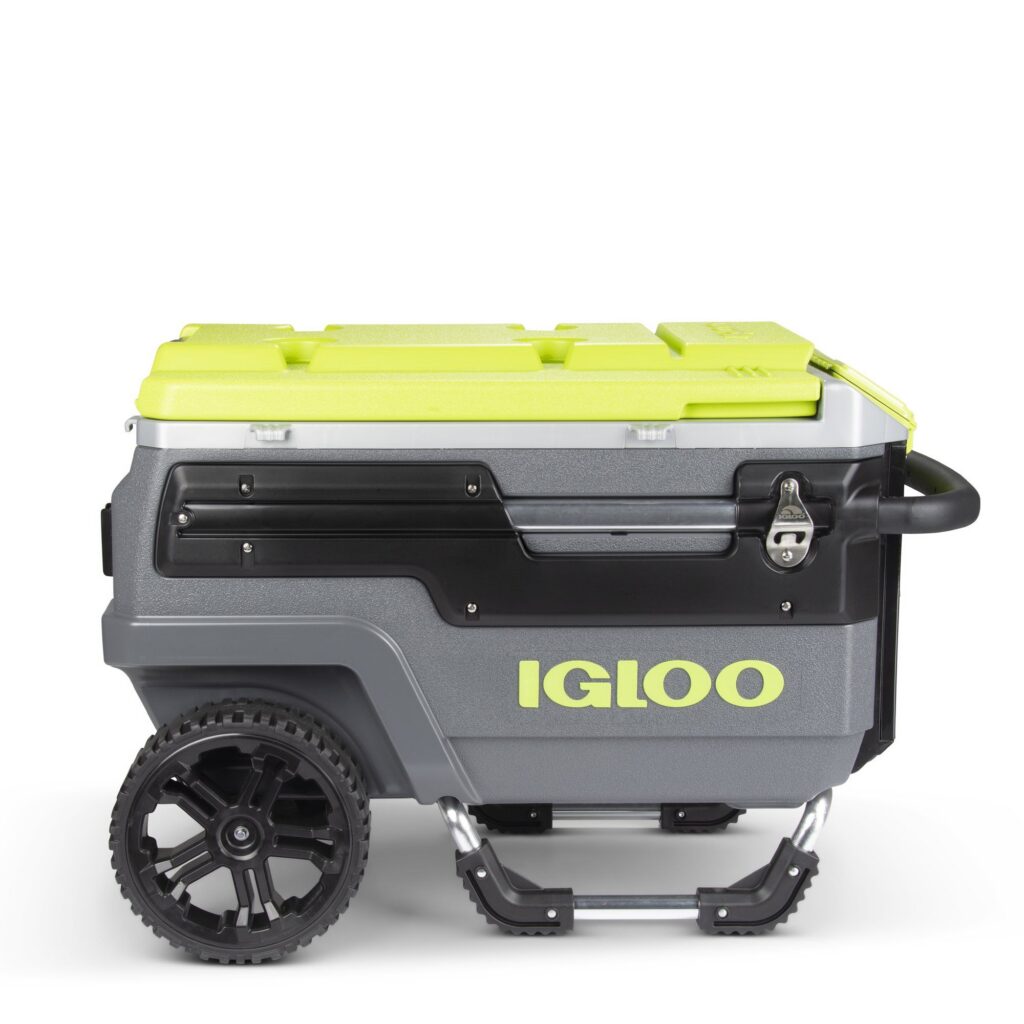 Igloo Trailmate 70-Quart Wheeled Cooler:
Coolers Similar To Igloo TrailMate
For those of you who aren't completely convinced and are looking for something a bit different then below are some of the coolers most similar to the Igloo Trailmate.
Now no cooler is going to be completely similar as the uniqueness of the Trailmate means you can't really match it. But here are some good alternative options.
Coleman Xtreme: BUDGET OPTION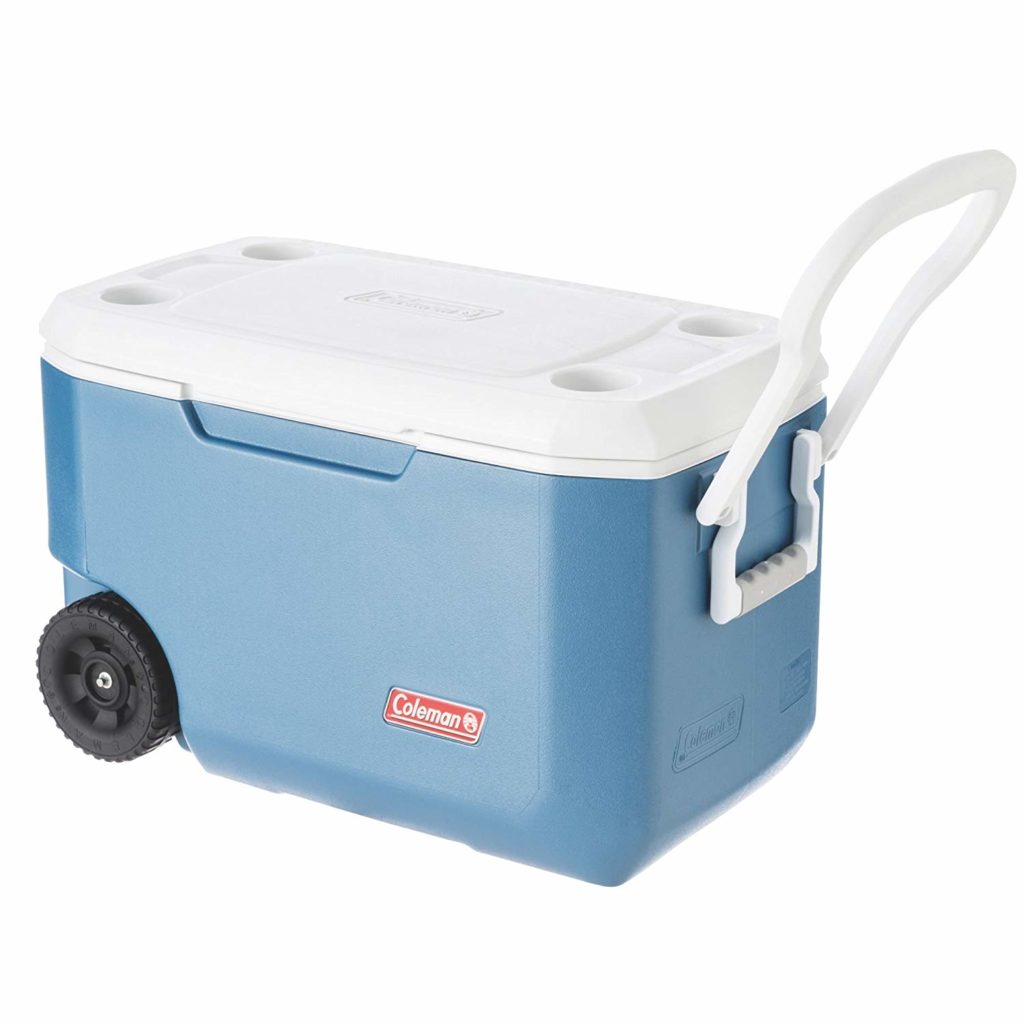 The Coleman Xtreme is the best budget cooler on the market and has great ice retention for it's price.
It has some similar features to the Trailmate – but not quite as many and the features aren't quite as good.
It has wheels but they are smaller and made from plastic. The handle is also less impressive but still works just the same.
It has cup holders in the lid and similar ice retention to the Trailmate. Overall this is just a good cooler for a fraction of the price.
If you don't need all the features of the Igloo then check this out.
Coleman Xtreme 62-Quart Wheeled Cooler:
Coleman Xtreme 100-Quart Wheeled Cooler:
RovR Cooler: FEATURE PACKED AND ROTO-MOLDED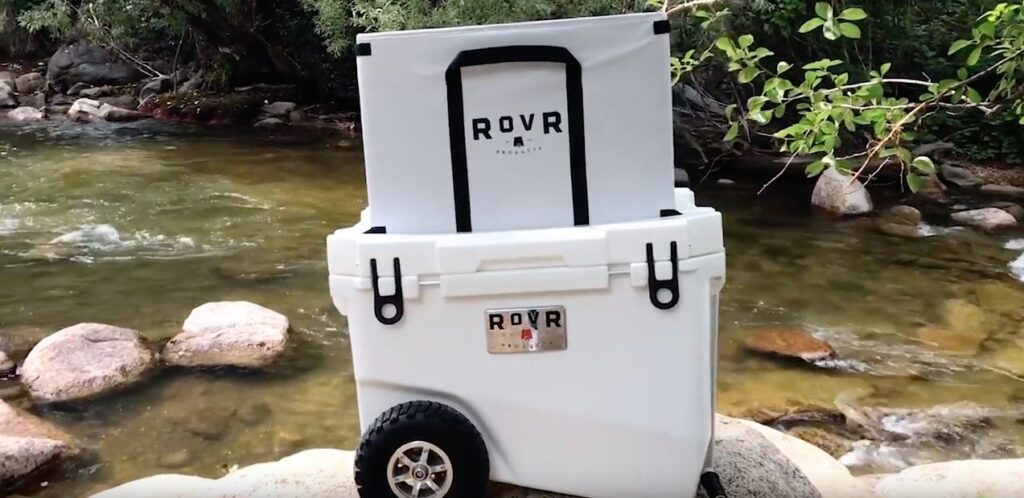 The RovR cooler is probably the closest thing to the Trailmate cooler in terms of what features it offers.
It has a large foldable wagon bin on the lid which can be used to haul extra gear, it has an awesome internal dry storage bin for keeping food and other items you want cool but don't want to get wet.
It has big, strong, inflatable 9-inch wheels so is good on rough terrain and a strong metal handle that pulls up from the side and doesn't seem to have the retracting problems the Trailmate has.
It's ice retention is great, it's roto-molded and extremely durable, is made in the USA and is backed by a 5-year warranty.
Yeh…there's are reason I ranked this as one of the top wheeled coolers on the market today
RovR 45-Quart Wheeled Cooler:
RovR 60-Quart Wheeled Cooler:
Yeti Tundra Haul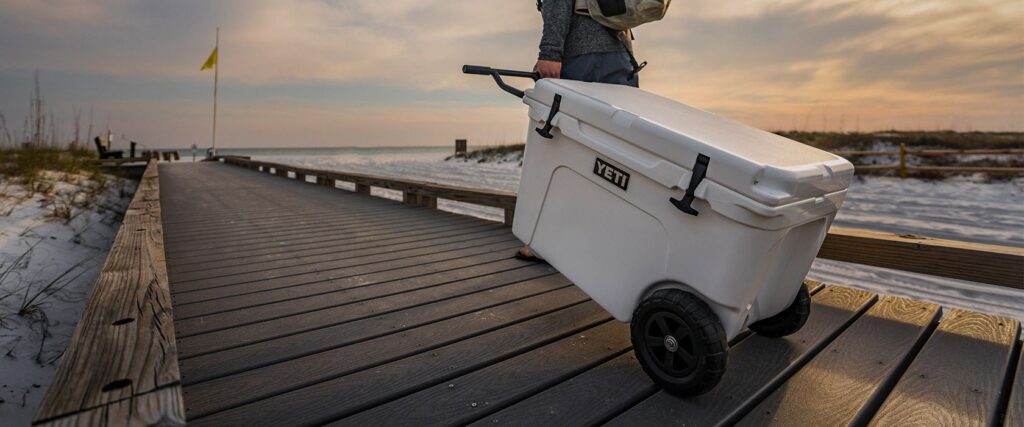 If you know anything about coolers then you'll have heard of Yeti. They pioneered the roto-molded cooler industry and make some of the highest quality coolers on the market.
There is something about Yeti coolers that just makes them feel more premium than other cooler and the brand recognition means friends and family members will know how good you're cooler is.
The Yeti Tundra Haul is their version of a wheeled cooler. While it lacks the large feature set of the Trailmate (it's basically just a box on wheels) it makes up for it in quality.
The solid rubber wheels make moving on rough terrain easy and you never have to worry about them deflating. The strong metal pull arm is also high quality as is the entire cooler.
It's bear-proof and has ice retention of 5-10 days.
Yeti Tundra Haul 65-Quart Wheeled Cooler:
See More Wheeled Coolers
If you want to see more of the best wheeled coolers then check out my article on coolers like Yeti with wheels.