There are a lot of coolers like Yeti but cheaper that you should consider when looking to purchase a new high-end cooler. Many are actually better than Yeti coolers in a variety of different ways.
Some coolers, like the TechniIce, are better in terms of ice retention and can hold ice significantly longer. Other coolers have more color options or features that Yeti is lacking. Others still are simply like Yeti but are a fraction of the price.
This ultimate guide will help you choose the cooler that is best suited to your needs, whether that be a Yeti or a cooler that is similar but more affordable.
Jump ahead:
In this article, I'll show you the 11 best coolers on the market that are like Yeti but cheaper.
Should you consider a cheaper cooler than YETI?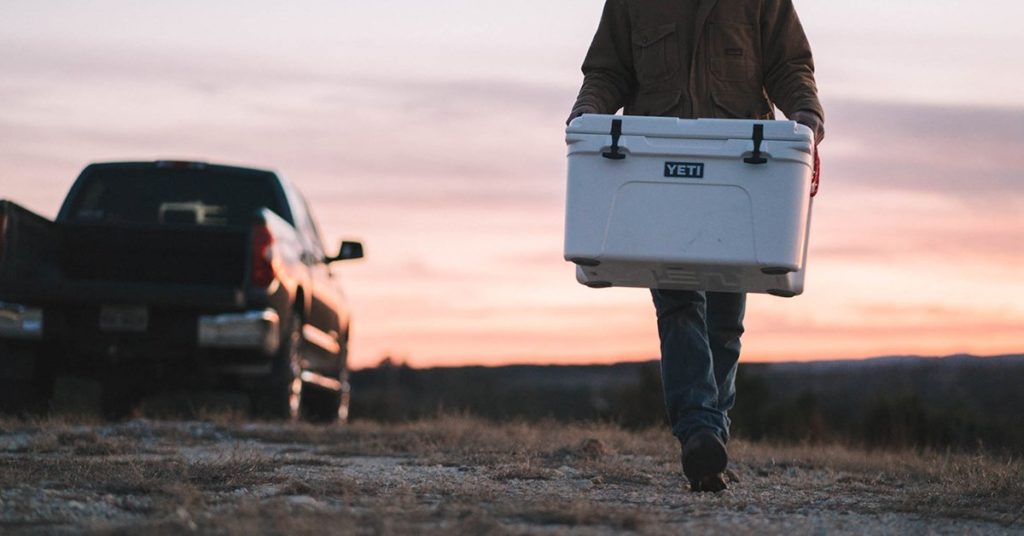 There is no doubt that Yeti coolers are pretty awesome. Bear proof, built to last and can keep ice for 7+ days (I tested it). But Yeti coolers don't come cheap and cost hundreds of dollars to purchase.
So it makes sense that before you rush out and buy a brand new Yeti you have a look around and consider other options that are like Yeti but that won't break the bank.
Yeti pioneered the high-end cooler market when they introduced their roto-moulded coolers back in 2006.
They used this early entry to establish a dominant brand and to grow their distribution by partnering with thousands of local stores, while avoiding discount retailers like Costco and Wallmart.
However, it's been a long time since 2006 and there are now a wide range of copycat alternatives to choose from.
While Yeti coolers have stayed relatively the same over the years, each new cooler brand has tried to innovate to either make their coolers better by improving upon Yeti's original design or by manufacturing a similar cooler at a cheaper price.
With a few exceptions, which we will still share with you because you'll probably want to see what a more expensive cooler looks like, almost all of these newer cooler brands offer their products at a discounted price compared to the Yeti.
So yes, you should consider a cheaper cooler than Yeti because Yeti isn't the only brand making strong, durable roto-moulded coolers with incredible ice retention.
Plus depending on your specific needs some of the coolers I share with you may actually be better suited to you, regardless of price. So have a look through these coolers and decide for yourself, do you want a Yeti or are you happy with something else?
Please note: The majority of the links in this articles are affiliate links through to Amazon. If you click these links and purchase from Amazon I get a small commission which helps keeps this site running…so thanks and good luck!
Coolers Better Than Yeti But Cheaper
I have listed these coolers in the order I recommend, with the first cooler being my favorite choice and the last cooler being my least favorite choice.
The top 4 brands of Yeti knockoff coolers that have been shown in multiple cases to outperform Yeti in terms of ice retention.
These coolers are all cheaper than Yeti coolers yet they managed to hold ice even better than the Yeti. Plus some of them have some pretty cool features.
When looking at the price for these coolers I have compared them all to the Yeti 45 (37-Quart) cooler which has an RRP of $349.99.
My #1 Recommend: Pelican ProGear Elite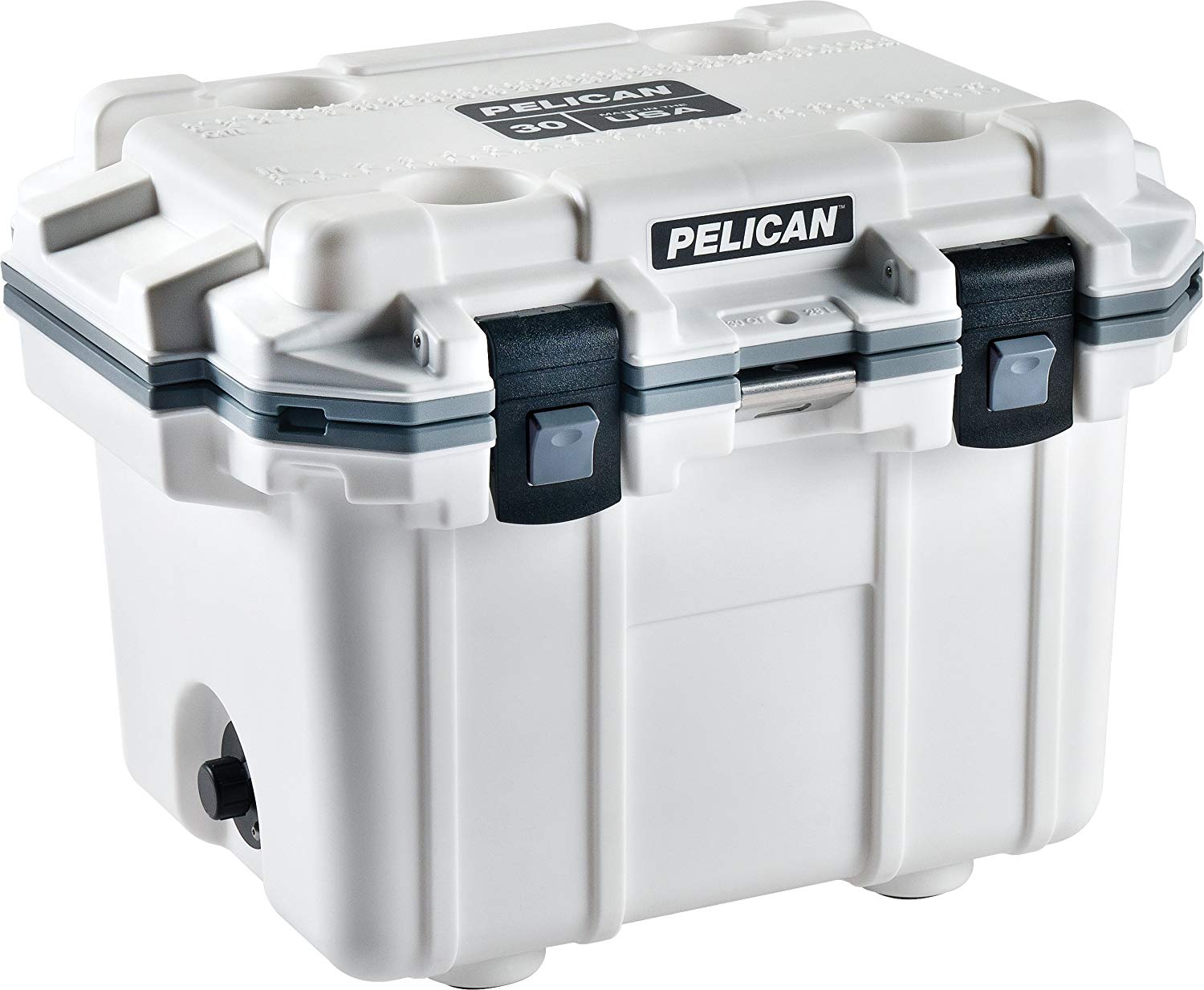 35-Quart RRP $239.99 (save $110)
The Pelican ProGear Elite cooler is my #1 pick for the best cooler that is like Yeti but cheaper. It's one of the most affordable of all the Yeti alternatives and it outperforms the Yeti in terms of ice retention.
I absolutely love this cooler because of its added features that are better than any other cooler on the market.
Handles – The handles on the Pelican are great. There is both molded handles if you are carrying by yourself and thick, tough fold out handles for carrying with a friend. These handles feel great to use and are much sturdier than the rope handles found on the Yeti.
Latches – The latch system on the Pelican is leagues ahead of any other cooler. Press the latches in and they click and lock into place. Easily undo them by pressing the red button and lifting up. Easy for anyone to do, even young children, but also REALLY robust. So much so that these are even bear resistant without any padlocks (all other coolers need padlocks to be bear proof).
The Pelican also has slightly better ice retention than the more expensive Yeti and it is one of the best-priced coolers on the market.
This was the first ever cooler I purchased and I couldn't be happier with it. Highly recommended.
See the latest price on Pelican ProGear Elite coolers
Best Budget Cooler (Under $50): Coleman Xtreme 50-Quart Wheeled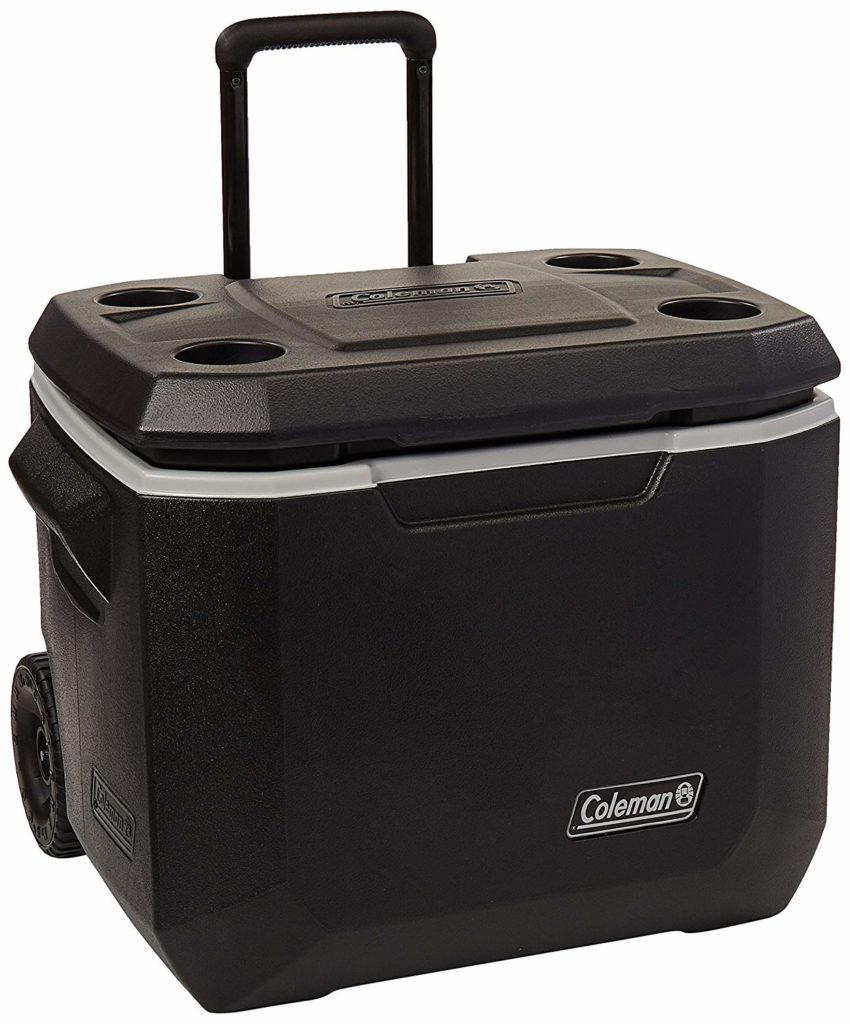 How do you like the sound of a cooler that can keep ice almost as long as a Yeti, but it's over $300 cheaper? In fact it's under $50, which is about the price of your regular plastic cooler.
The Coleman Xtreme is an amazing cooler for the price range. It can keep ice 3-5 days and even keep ice up to 10 days (it actually does I tested it).
It lacks the build quality as well as many features of the Yeti.
It isn't roto-moulded
It doesn't have non-slip feet
No pull down handles
No commercial grade gasket
Unlikely to be watertight when tipped over
Not bearproof
But what it lacks in features it makes up in value for money.
Second to my Yeti my Coleman Xtreme is my next favourite cooler. It's big, it's light, it has cup holders and it does the job I need it to do for shorter trips that are less extreme and where ice retention doesn't matter as much.
It feels stronger than a regular cooler. You can definitely sit or stand on this thing and the 50-quart model comes with wheels. Getting a wheel kit for a Yeti will cost you upwards of $100. For $50 the Coleman Xtreme comes with built in thick plastic wheels and a pull up suitcase style handle.
This makes the cooler easy to move around when you're by yourself which is an awesome feature.
If you want a cooler with great ice retention that is nice and light and easy to move around due to it's wheels then the Coleman Xtreme is definitely the #1 budget cooler that is (kind of) like Yeti.
Coleman Xtreme Wheeled 50-Quart:
Coleman Xtreme 52-Quart:
BEST ICE RETENTION: TechniIce Cooler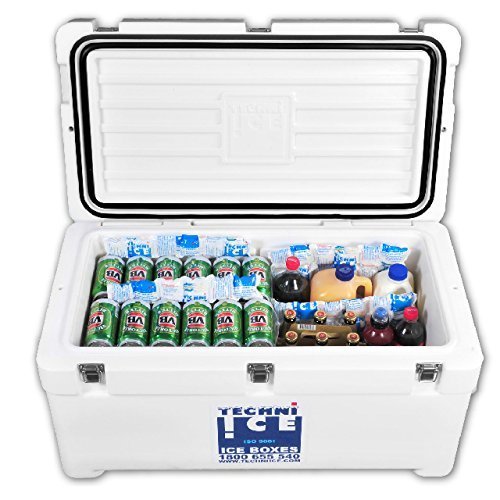 The TechniIce is a surprising pick but it is undoubtably the best cooler on the market for ice retention. It outperforms all other similar sized coolers, and even larger coolers, in ice retention tests.
Why Does The TechniIce Have Such Good Ice Retention?
This cooler takes ice retention to a new level in a couple of ways.
Double Gasket – It is the only cooler I know of that has a double gasket. So there is not 1 but 2 commercial grade rubber gaskets around the lid of this cooler. This helps keep the cold air in and the warm air out better than any other cooler on the market.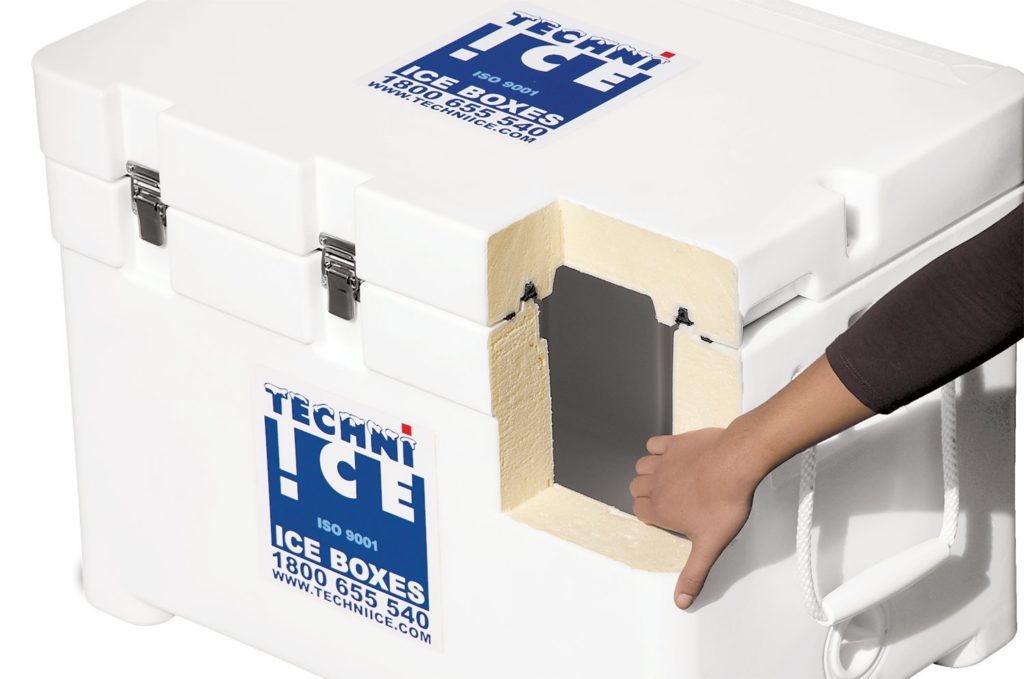 Thicker Insulation – Most coolers have approximately 2 inches of insulations in the walls and 2.5-3 inches of insulation in the lid. The walls of the TechniIce are 2.8 inches thick, 40% thicker than most coolers similar to Yeti.
Insulated Bung Plug – Heat rises, and cold falls. The plug in most coolers is a weakness in the insulation. The TechniIce fixes this by insulating their 2 inch drainage plug.
Elevation Feet – The feet of the TechniIce cooler raise the cooler up higher than comparable models. This means it is less likely to absorb heat from the hot ground and also greats more airflow underneath.
All up these features combine to give the TechniIce the best ice retention in the entire industry.
TechniIce 47-Quart:
TechniIce 63-Quart:
TechniIce 132-Quart:
Best Made in USA Cooler: Orca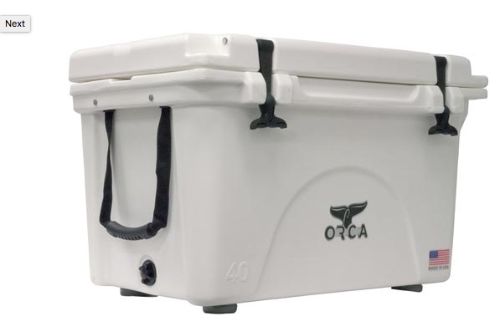 40-Quart RRP $349.99 (save $0)
The Orca cooler is a great cooler that outperforms the Yeti in terms of ice retention, in fact it rates as the best cooler for ice protection of any other cooler. However, there is still some debate over whether the Engel performs equal to the Orca.
The Orca has a great look which is very similar to the Yeti. It's main downfall is it's price compared to the rest of the top 5 coolers.
While the Canyon, Pelican, Siberian and Engel all retail around the $250 mark the Orca retails for around $100 more at $350. However, you can usually get a $10-$20 discount when you buy on Amazon. This makes it only $10-$20 cheaper than the Yeti Tundra 45 (37-Quart).
I think this is a great cooler and you won't be disappointed if you purchase it. I do believe you get more bang for your buck with other coolers, however, if "made in America" means a lot to you then you can't go wrong with Orca.
If you're interested in learning more about this cooler check out my indepth comparison of the Orca cooler vs Yeti.
Or check out the latest price on Pelican ProGear Elite coolers
Cooler Most Similar To Yeti: RTIC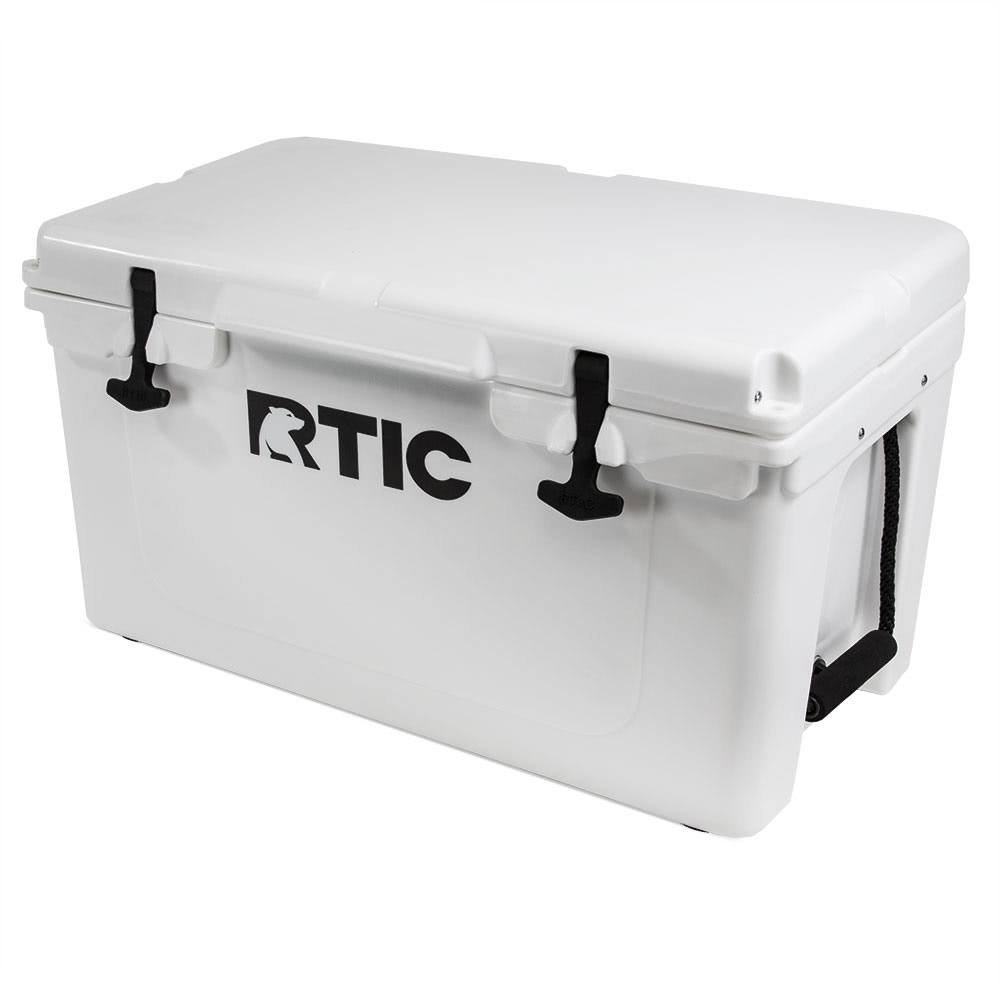 RTIC coolers are by far the cooler most similar to Yeti in almost all design aspects. In fact when they were launched their entire marketing campaign was designed around comparing themselves to the Yeti cooler.
This ultimately led to a lawsuit where RTIC was forced to redesign their coolers, but even post redesign the coolers still look just like a Yeti. It's really only the logo and some minor design features that it away as an imitation cooler.
RTIC's slogan is "Overbuilt, Not Overpriced" and their coolers are significantly cheaper than Yeti's, saving over $100 on the most popular 45-Quart cooler and even more on larger coolers.
But it doesn't seem to scrimp on quality. Multiple ice retention tests have shown RTIC to either be on par with the Yeti or to actually outperform it and Amazon reviews are consistently high, with hundreds of reviews to read through, many of which come from people who have previously owned a Yeti or other cooler and speak very highly of the RTIC.

The Major Difference Between RTIC and Yeti – Size
Apart from the price and slight design differences the only major difference between the RTIC and the Yeti is the size of the coolers. This is because the actual capacities of Yeti coolers is smaller than the numbers would make you believe.
A Yeti 45 is actually 37.6-Quart while an RTIC 45 is 45-Quart.
So not only are you saving hundreds of dollars by going with an RTIC but you're also getting a larger cooler than the Yeti for that cheaper price.
RTIC 20-Quart:
RTIC 45-Quart:
RTIC 65-Quart:
Best Wheeled Alternative: Kysek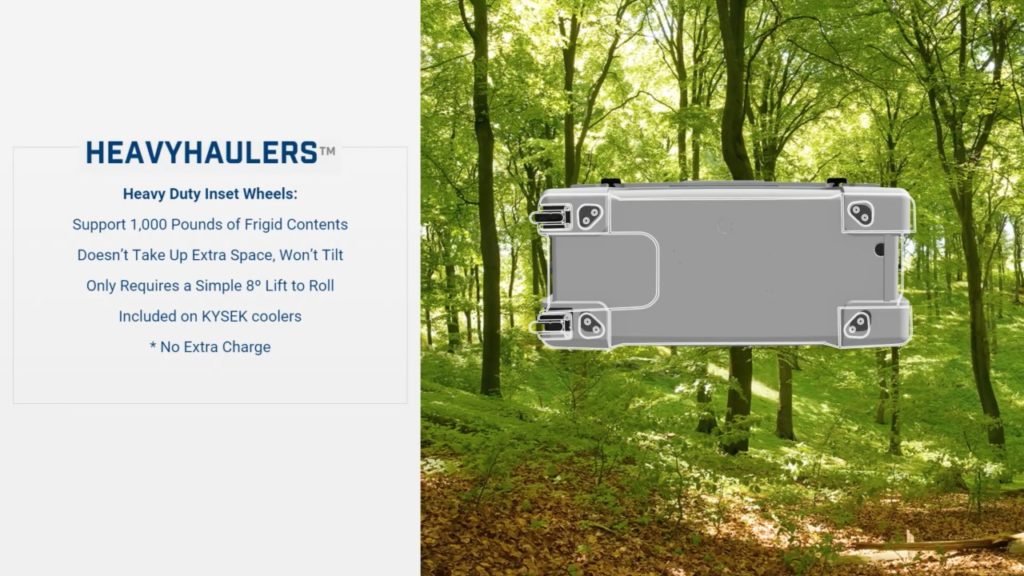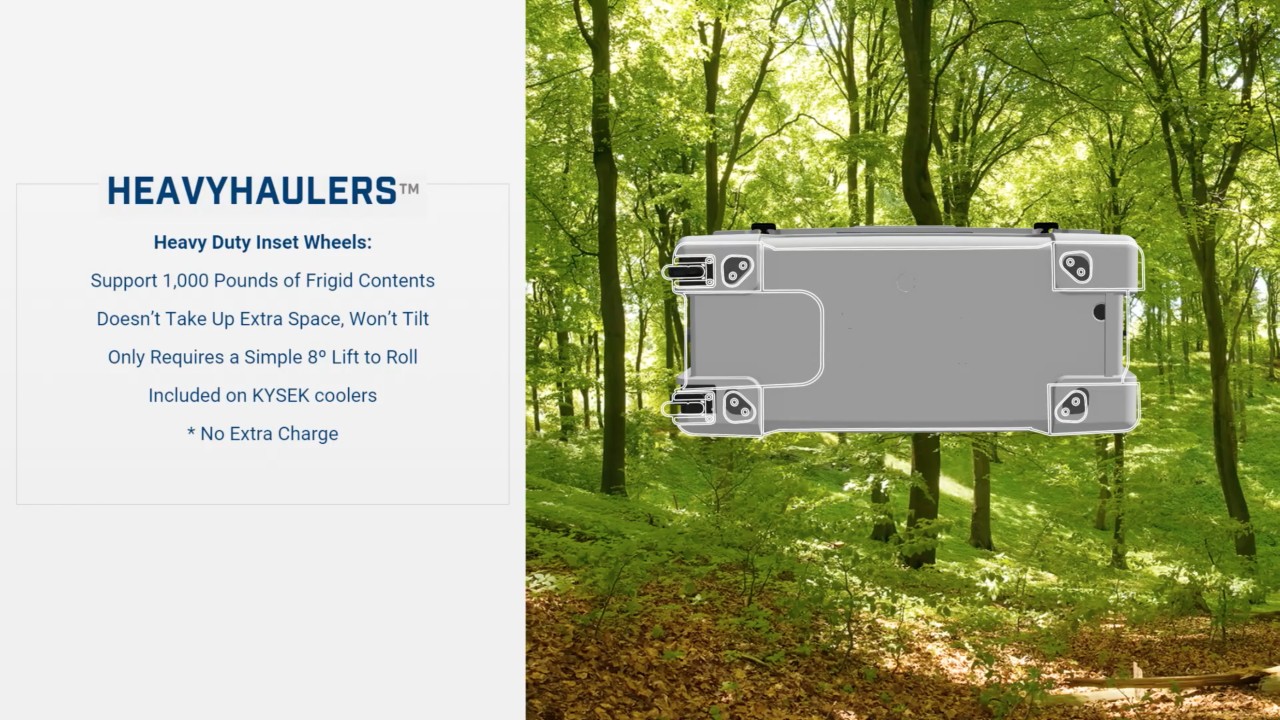 One of the downsides of Yeti and most other roto-moulded coolers is that they are heavy when empty and extremely heavily when fully loaded. This makes them extremely hard to move around.
You can purchase wheel kits to add onto your cooler but these generally cost over $100, which defeats the purpose of trying to save money on a cooler only to spend it on a wheel kit.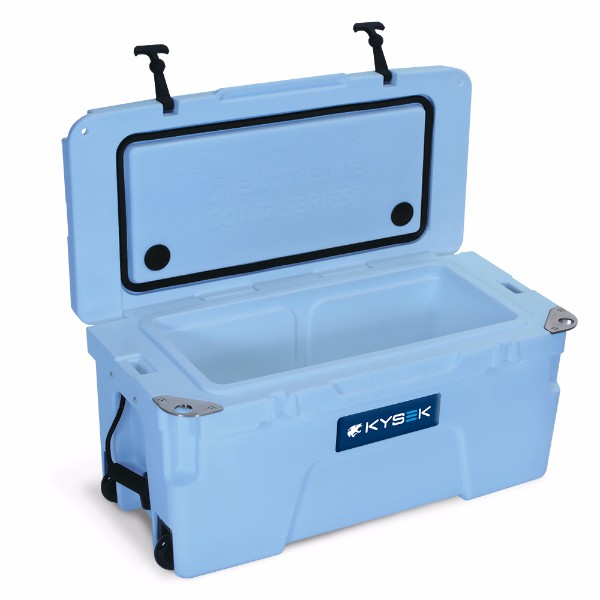 However, Kysek Coolers have gone ahead and developed a cooler that has "Heavyhauler" inbuilt wheels.
These wheels can support up to 1,000 pounds of weight, they don't take up extra space as they are inbuilt into the cooler itself and they don't make the cooler tip.
The cooler still has non-slip feet just like the Yeti, so when upright the wheels don't touch the ground. But once tilted the wheels engage and the non-slip feet are off the ground, allowing you to move the cooler more easily.
I did a full review of Kysek coolers and in short I happily recommend Kysek over Yeti for anyone looking for a cooler with wheels.
Similar ice retention, similar design with rope handles and pull down latches and all at a price slightly cheaper than a Yeti cooler.
Check out the Amazon listings below for more photos + customer reviews of this cooler:
Kysek 35 Liter (Wheeled):
Other Wheeled Cooler: Pelican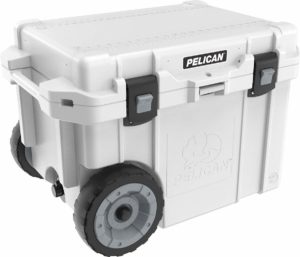 Pelican also make a wheeled cooler in the 45-Quart size. This cooler is deliciously tanky like all Pelican coolers and comes with super thick and rugged wheels which are very different to the small wheels of the Kysek.
I love this cooler and love the wheels, the only problem I have with it is the price. It's just so much more expensive than the same size Pelican without wheels and it's more expensive than the Yeti.
Pelican 45-Quart (Wheeled):
Yeti Wheeled Cooler – Tundra Haul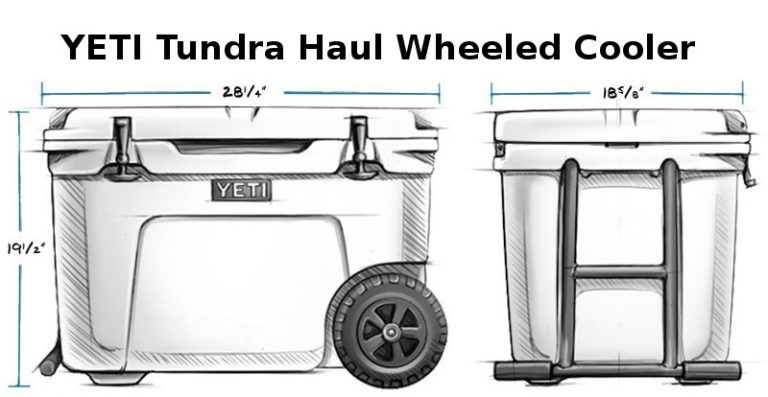 Yeti make one wheeled cooler called the Tundra Haul. It's 55-Quart and it's a great cooler and is very similar to all other Yeti coolers but has wheels, a pull up handle instead of rope handles and it is more expensive than a regular Yeti
Yeti Tundra Haul:
More Expensive Than Yeti: Orion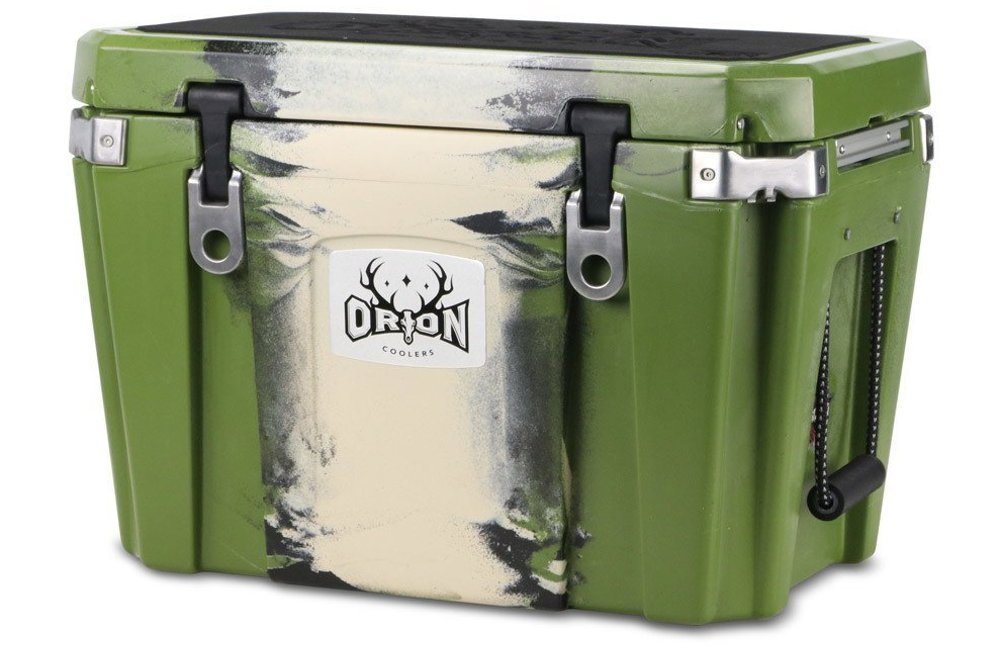 Believe it or not but there are actually coolers out there that are MORE expensive than Yeti. There aren't many, as most brands try to compete on price, but there are a couple.
Of those brands Orion stands out as one of the best, packing more features into their cooler than almost any other brand.
Extra features Orion has includes:
Non-slip standing pad
Thicker insulation than Yeti
Recessed gear tracks
Bottle openers
Motorcycle quality handle grips
Recessed cam operated latches
Base locking feature
Every cooler's color design is completely unique
Made in the USA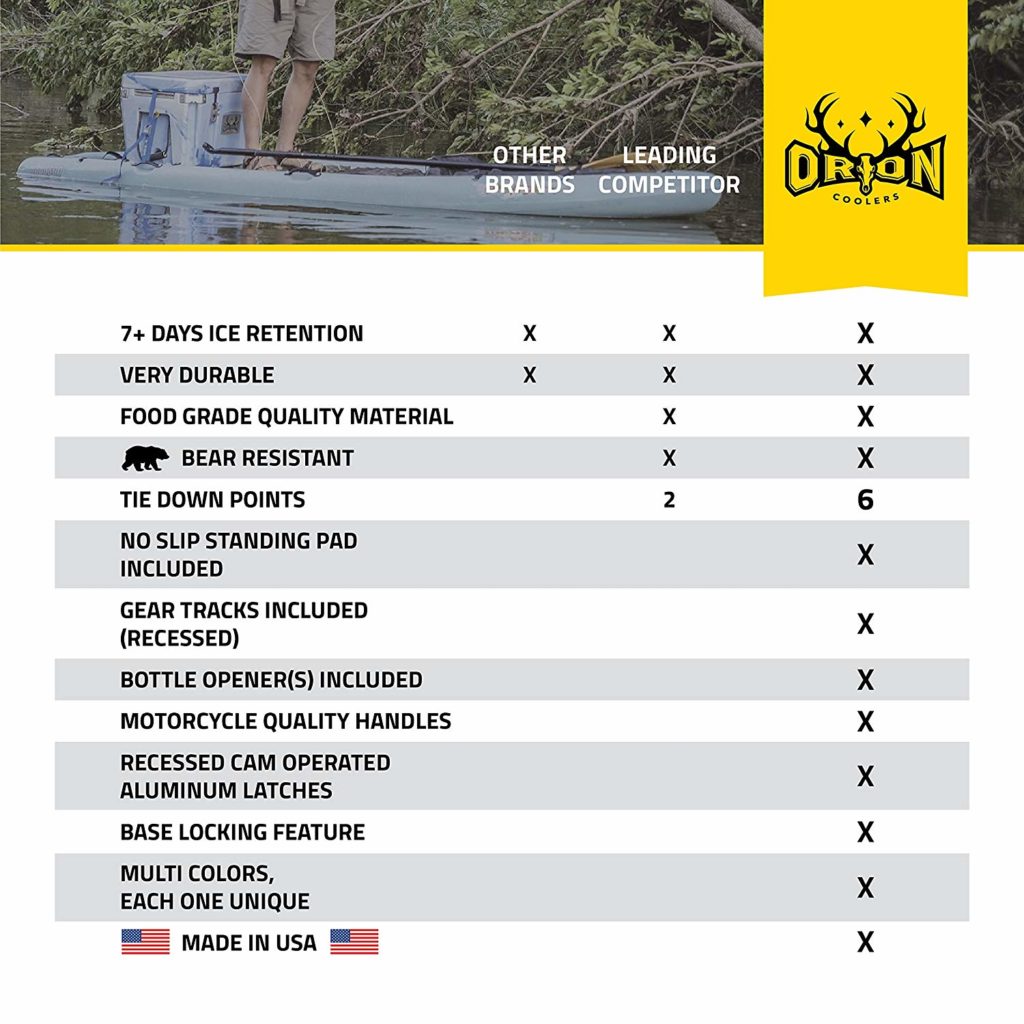 Completely Unique Colors
Orion coolers are all 100% completely unqiue. While the mixture of colors is the same the exact way the colors comes out depends on random chance through the roto-moulding production. So your Orion cooler will be completely yours which is a pretty cooler feature.
Made in the USA
Orion coolers are completely manufactured in the USA, keeping profits and job local. Many Yeti coolers are manufactured offshore in the Philippines or in China.
If you've got the money and you love the cooler then the Orion is a great alternative to the Yeti.
Orion 25-Quart:
Orion 45-Quart:
Orion 65-Quart:
Other Hard Coolers Like Yeti But Cheaper
There are a lot of coolers out there that are like Yeti. I tried to feature the "best-in-class" coolers above so if a particular feature is most important to you then you can easily find that cooler.
But there are a lot of other great coolers on the market worth considering as well. While I can't list absolutely every cooler available below are a list of the more reputable brands in the industry that make good products and are likely going to be around for years to come.
Engel Deep Blue Cooler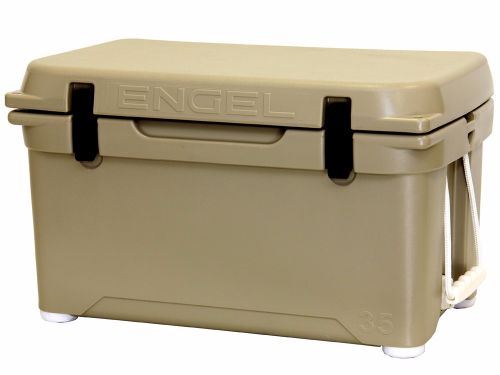 35-Quart RRP $269.99 (save $80)

The Engel DeepBlue Cooler has earned it's placing as one of the best coolers due to its incredible ice retention, proving to be slightly better than the Pelican which claimed the #1 spot.
This cooler will likely keep ice an extra 2 days or more when compared to the Yeti. Given that the main reason these coolers are so expensive is because of their premium ice retention the Engel gets my top rating.
When compared to the Yeti is it very similar in terms of specs. It is slightly narrower and taller than the Yeti but has similar insulation.
It's not as feature rich as the Pelican mentioned above, but some people will prefer the more streamlined design compared to the Pelican that has features that jut out from the basic rectangle. The Engel is also lighter than the Pelican, so for those wanting something that isn't as demanding to carry you can't go wrong with the Pelican.
The latches are similar to that of the Canyon cooler which are easier to use than the T-Rex latches of the Yeti, and the nylon rope handle has finger grooves in it, which can be slightly more comfortable.
All in all an incredible cooler and well deserving of a top placing. It is hard to go wrong with an Engel.
See the latest price on Pelican ProGear Elite coolers
Canyon Cooler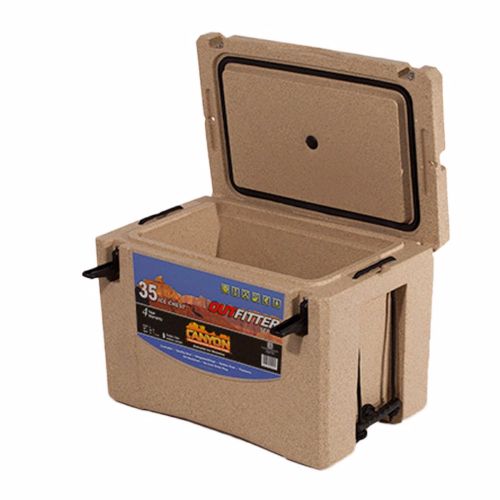 35-Quart RRP $239.99 (save $110)

The Canyon Outfitter cooler is better than the Yeti for a variety of reasons:
Thickest Insulation Of Any Cooler – The Yeti (as well as almost all coolers) have a maximum wall thickness of 2 inches and a lid thickness of 3 inches. The Canyon has a wall thickness of 2.75 inches and a lid thickness of 3 inches, that's a lot more insulation!
Best Ice Retention Of Any Cooler – The extra insulation of the Canyon means extra ice retention. Where the Yeti comfortably gets 4-5 days of ice retention (up to 7 days max) the Canyon comfortably gets 6-8 days of ice retention (up to 12 days or more max).
It's just as tough as the Yeti and is also certified bear proof and the price of the Canyon is one of (if not) the most competitive with over a $100 saving between the Canyon 35-Quart and the Yeti 37-Quart (Yeti 45).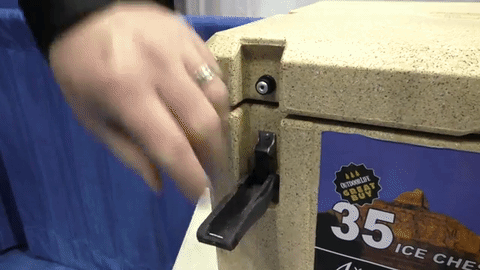 The rope handles are basically the same with Yeti's handles being rubber and Canyon's being plastic, but the Canyon latches are easier to use, especially in cold weather.
Lastly the Canyon has a lifetime warranty while the Yeti only has a 5-Year warranty.
All in all the Canyon is an amazing cooler and if you are going to buy any cooler that is like the Yeti but cheaper, I'de recommend you go for the Canyon Outfitter.
Click here to see my full write up on Canyon vs Yeti
Coolers Like Yeti But Cheaper
The following coolers have similar ice retention to the Yeti coolers but do not outperform the Yeti in terms of ice retention, while coolers 1-4 outperformed the Yeti.
These are all decent coolers at a fraction of the price and you'll likely still be very happy with your purchase.
Siberian Cooler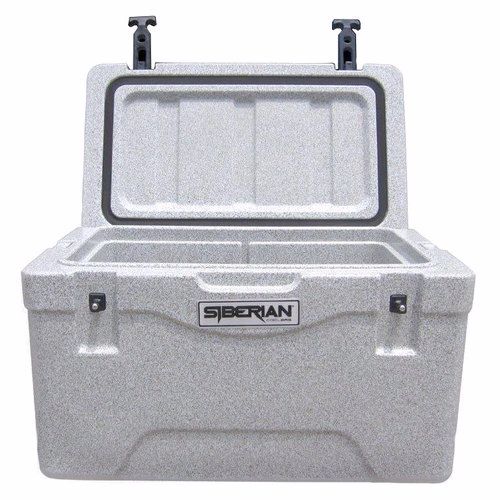 40-Quart RRP $249.00 (save $100)

The Siberian cooler used to be the best bang for buck cooler with the 40-Quart retailing at under $200. However, prices have recently risen and the Siberian is now in line with most of the other coolers like Yeti but cheaper.
Regardless of the price rise, this is a great cooler. It outperforms the Yeti in terms of ice retention and has everything you expect from a cooler.
It has rope handles like the Yeti but also has recessed carry grip handles which can make solo carrying a lot easier.
The lid contains 4 moulded cup holders which is a great feature as your drinks won't slide off if you're on a slope or on a boat.
It comes with a lifetime warranty and is manufactured offshore. Overall a great cooler that I am happy to recommend as a cooler that is better than the Yeti.
K2 Coolers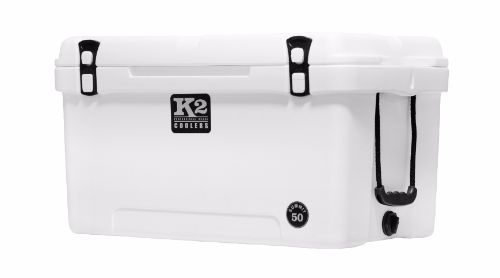 50-Quart RRP $309.00 (save $40)

The K2 Summit series of coolers are my favourite in the range of coolers that perform similarly to the Yeti. An all round great cooler that will hold ice for 5-6 days.
The rubber on the rope handles have a moulded grip and the drain plug is a great feature. With just a partial turn you can drain the cooler so you don't have to worry about losing the drain plug.
If any of the top 5 coolers don't interest you for whatever reason then definitely have a look at the K2 coolers. There is also a 30-Quart version that sells for $249.00 if the 50-Quart is too large for you.
Grizzly Coolers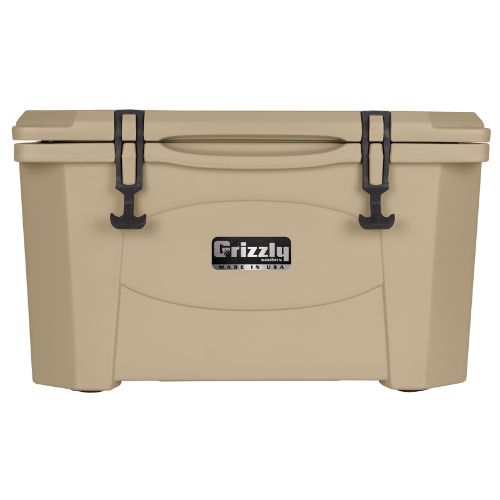 40-Quart RRP $339.99 (save $10)

Grizzly coolers are one of the other major brand name coolers on the market, however I can't understand why.
The Grizzly cooler basically does everything the Yeti does however it falls slightly behind the Yeti in terms of ice retention with the Yeti getting an extra 1-2 days of ice retention when compared to the Grizzly.
In saying that there are a lot of great customer reviews of the Grizzly and the people who buy them seem to love them. Also Amazon (see affiliate link under the image) often has them on sale so you can pick them up for much cheaper than the Yetis which are basically never discounted.
Igloo Sportsman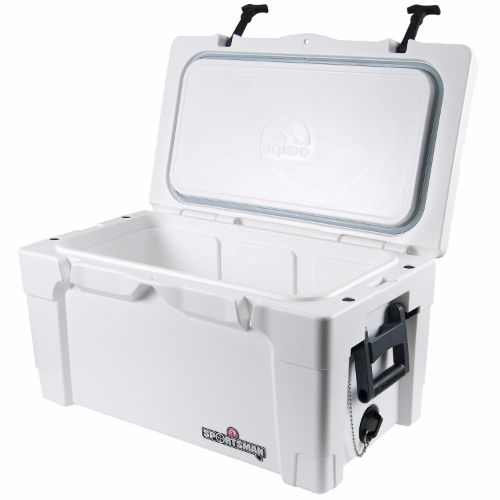 55-Quart RRP $259.99 (save $90)

The Igloo Sportman cooler has comparable ice retention performance to the Yeti 65 (52-Quart) but is significantly cheaper. The Yeti 65 retails for $399.99 so that's a saving of $140 if you go with the Igloo.
Noticeable differences between the Sportmans and the Yeti is that the Sportman has oversized latches making it easier to close. It also has more robust fold up handles as well as an attached 2 inch drain plug.
I have heard stories about poor customer service from Igloo and customers having difficulty getting parts which does concern me, I have also seen mixd reviews about this product which doesn't instill confidence for someone looking to pay over $200 on a cooler.
Overall it's a nice cooler and well priced for what you get.
Icehole Coolers
Icehole coolers have similar specs to what you would expect from any roto-moulded cooler. 2 inches of insulation, roto-moulded tough exterior, non-skid feet and commercial grade gasket.
The thing that makes Icehole coolers truely unique is their dedication to making their product entirely within the USA. While other companies (Yeti included) claim to make their products in the USA, a closer look will find the majority of the product is made overseas.
With Icehole everything from the roto-moulded exterior to the insulation to even the rope used for the handles is manufactured and put together in the USA. You don't get more American than Icehole.
Click here for my full write up on Icehole Coolers vs Yeti
Bison (Brute) Cooler
Bison coolers (previously called Brute coolers) are USA made and claim to have premium durability compared to other coolers like Yeti, Engel and K2…though how they back this up I have no idea.
I do like the oversized inbuilt carry handles and a cool feature is that it has drain plugs on both sides of the cooler, so you don't have to worry about which side the drain plug is on before draining. A nice little touch to make life a little bit easier.
Bison coolers also have an integrated ruler on the top and are customisable with stickers. It's a good cooler, but didn't blow me away in terms of ice retention.
Yukon Cooler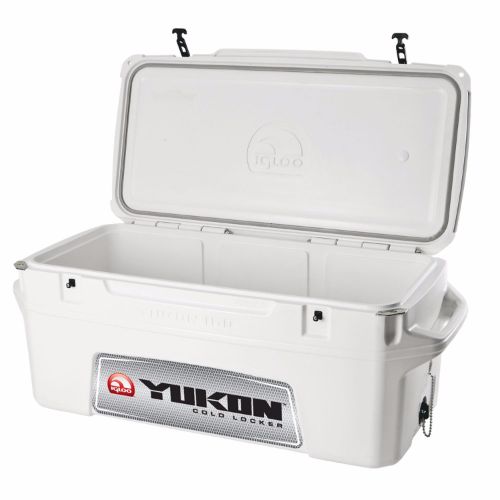 50-Quart RRP $279.99 (save $70)

The Igloo Yukon cooler has some features that the Yeti doesn't have, such as an integrated ruler in the lid, attached drain plug and reversible feet making them either skid or non-skid feet. However, it also lacks the single pin hinge and simplistic design of the Yeti cooler.
With a 5-year warranty and similar insulation to the Yeti this is a good alternative to the Yeti and is very affordable for the 50-Quart size.
Best Small Coolers Like Yeti Roadie But Cheaper
Yeti makes one small 20-Quart cooler called the Roadie that has a fold up metal handle as opposed to the side rope handles of the Tundra series.
This is a great little cooler but again is quite expensive. There are many other options out there with better ice retention than the Yeti hopper that also happen to cost less.
For a price comparison here is the cost of a Yeti Roadie 20-Quart cooler:
Nash Sub-Z 20-Quart With Chair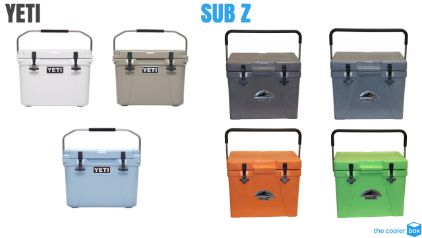 The Nash Sub Z cooler is by far the cheapest cooler with similar specs to the Yeti Roadie. It comes it at around HALF THE PRICE of a Yeti and also has the added features of a soft seat chair with back support.
I did a full write up on the Sub Z vs Yeti Roadie if you want to read more.
Size – The Sub Z has a 23-Quart capacity while the Yeti has a 22-Quart capacity
Ice Retention – Both coolers have a similar amount of insulation and many users show the Sub Z keeping ice over 3 days, which is on par with that of the Roadie.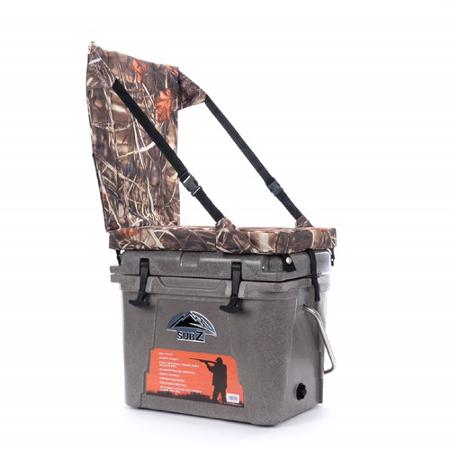 Seat – What really sets the Sub Z apart from other smaller coolers is the included padded seat with back support. No other coolers come with this and I love this feature. To buy a similar cushion for the roadie will cost you a further $99 but it basically comes free with the Sub Z.
Design – Design is similar with the pull up metal handle as well as the rubber latches. The Sub Z definitely looks cheaper than the Yeti with it's design looking more boxy. All Yeti coolers have a premium feel to them that is hard to explain in text or show in photos.
Color Options – The Sub Z has 5 color options while the Yeti only has 3.
The Sub Z is my #1 recommended small cooler that is similar to the Yeti Roadie only about half the price. Check it out on Amazon and purchase yours using my affiliate links below:
Sub Z 20-Quart With Chair:
Sub Z 20-Quart (Just The Cooler):
RTIC 20-Quart
K2 Summit 20-Quart
Grizzly 20-Quart
Best Soft Coolers Like Yeti But Cheaper
Best Backpack Coolers Like Yeti BackFlip
Best Round Coolers Like Yeti Tank
Best Tumblers Like Yeti But Cheaper
Why You Should (Maybe) Buy A Yeti Over A Cheaper Cooler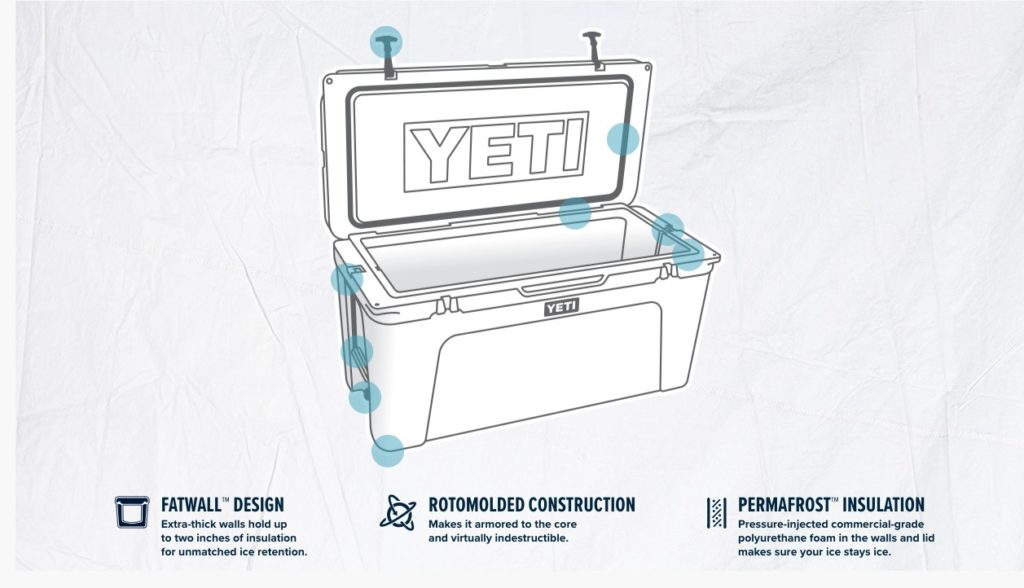 Before jumping in and buying one of the coolers mentioned above it is important to consider the benefits of buying a Yeti cooler and whether or not Yeti is actually going to be the best cooler for you.
Yeti Has Created A Cult-Brand
When you're buying a Yeti you're getting more than just a cooler, you're buying into a lifestyle. Sure there are likely shoes out there better than Nike or phones better than Apple or Samsung.
But you buy these brand names because you know they are quality, they usually stand for something bigger than themselves and they provide you with a feeling. Nike shoes pump you up to perform better, Apple products make you feel more creative.
In the same way Yeti have created a cult brand in the outdoor space. Yeti coolers make you feel more adventurous.
While other brands focus on features and price, Yeti focuses on making life awesome. Check out the below advertising video for Yeti. It's more of a documentary than an advertisement.
Yeti's Quality is Top of the Line
It's hard to depict in photos or explain but when I compared Yeti coolers in person, to some of the top competing brands like Pelican and Engel, the Yeti stood out as a premium product.
I don't know how to explain it other than the finish on the plastic felt more expensive and the shade of white felt premium while the shade of white of the Engel and Pelican looked cheaper.
Their branding on the cooler is great and overall the cooler just feels like a premium product.
Tried and True with Thousands of Reviews
Yeti has been around since 2008 so their products have been tried and tested for over a decade.
I have seen other cooler manufacturers come and go, but Yeti is still here.
There are thousands of reviews of their products on Amazon, and thousands of happy customers.
No they aren't perfect and there are some bad reviews, but you know that the odds are in your favour because of the sheer volume of people that have bought, tested and reviewed this product.
Yeti's Missing Features Are Often Easily Purchased For Cheap
Most of the above coolers are very similar to Yeti with small alternations. Different handles, added features like bottle openers or a fishing rule on the lid. Little 'nice to haves' that Yeti is lacking.
But you can gain a lot of these features very affordably. As an example I tied a $2 bottle opener to the side of my Yeti with a little bit of rope. I now have a bottle opener whenever I need it. You could add your own fishing rule by making marks on the lid with either a permanent marker or engraver.
So while the extra features can be awesome, it's worth weighing up whether or not they actually make the cooler worth buying over a tried and true brand like the Yeti.