Yeti coolers have model numbers that differ from their size. A Yeti 35 is actually only 29-Quart, a Yeti 45 is only 37-Quart…and so on.
Here is a full list of the Yeti cooler actual capacities in Quarts, Gallons and Litres.
This list will help you know exactly what you re buying, and will help you make a better comparison between Yeti and other cheaper brands of roto-moulded coolers.
Why The Confusion Around Yeti Quart Capacities?
Yeti uses deceptive marketing by using model numbers that seem to describe the quart capacity of their coolers but actually don't.
Here on their website Yeti actively talk about exterior and interior dimensions as well as how many cans of beer a cooler can hold, but for some reason they omit the actual quart capacity of their coolers.
Did you know a Yeti 45 only holds 37-Quart?
Many customers have gone out and bought a Yeti assuming it was a particular capacity only to find that it was much smaller than expected.
Where Yeti pull their magical model number names from I don't know. But here is a list of the capacities of almost all the Yeti coolers so you know exactly what you're getting.
Yeti Cooler Capacities
How Can I Confirm These Yeti Cooler Capacities
Yeti don't share quart capacity sizes anywhere on their website, to the frustration of myself and many other customers.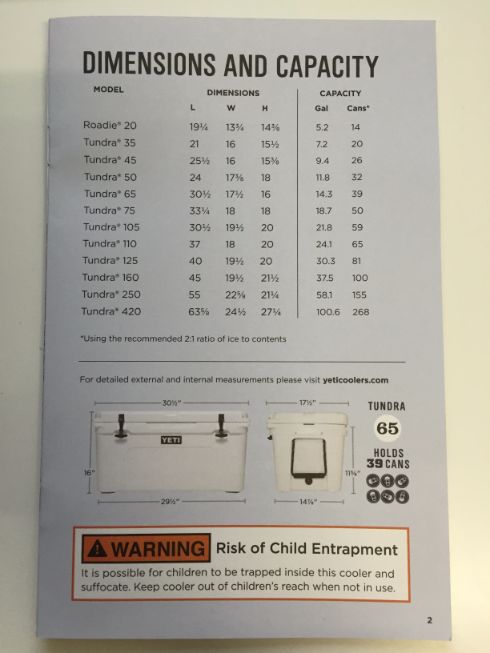 However, I recently bought a Yeti 45 and when it arrived it came with a Yeti owners manual. Inside this owner's manual was a list of almost all of the Yeti models with their exact capacities.
I have attached the image (click it to enlarge) so you can see for yourself. They also have an online brochure which contains the same dimensions – click here to view that [6.6mb].
Yeti clearly know the capacity of their coolers, however choose not to share this with potential customers. I assume this is to make it harder for competing companies, as well as savvy customers, to make direct comparisons between Yeti's sizes and the sizes of coolers similar to Yeti.
Do All Coolers Hide Their Real Capacity?
No, in fact most brands model numbers are also their Quart capacity. So far the only other brand I have found that has model numbers that doesn't match up with their capacity is Engel, who's model numbers and quart capacities are all over the shop.
Check out my list of coolers like Yeti but cheaper to see some of the best coolers you can buy, for a fraction of the cost of a Yeti.
Or check out my Ultimate Cooler Comparison Guide to see the capacity and dimensions of almost every cooler on the market.
Until next time,
Stay Cool!