When it comes to high-end coolers Yeti is a well-known brand but could Icehole be a better option?
Here is our Icehole coolers vs showdown.
The coolers are similarly priced with similar features but Icehole is exclusively in the USA while Yeti are manufactured overseas and in the USA.
Yeti has the strongest brand name in the industry, but Icehole is as American as they come. So which is the best cooler?
[adinserter block="1″]
Introduction to Icehole Coolers
Icehole is a company that has been around for over 35 years according to their website. They are a family owned business that have been supplying the military with products and accessories.
They have taken their passion for rough and tough products and entered the high-end cooler market.
They currently have 3 models of coolers (35-quart, 60-quart and 100-quart) available in a multitude of colors.
Their coolers are roto-moulded construction with very similar features to the Yeti. Similar but slightly different latch system, 1-inch unattached drain plug, 2 inches of polyurethane insulation, tough non-slip rubber feet and a freezer quality gasket.
The thing that really makes Icehole coolers stand out to me when comparing it against the Yeti are their promise to using all American made parts and manufacturing completely in America. They also donate a portion of their proceeds to non-profits dedicated to helping US veterans and their families.
What Makes Yeti Coolers So Special?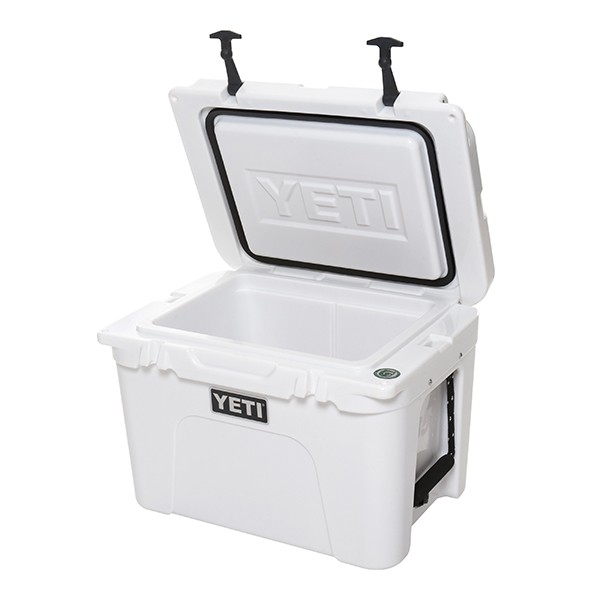 [yasr_overall_rating]
Instantly off the bat, the Yeti coolers have a lot going for them. The brand was the first to create a high-end cooler and thus have dominated the market.
They are a well known and respected brand in the cooler space and there have been a ton of rigorous reviews to prove how good the Yeti's are. Icehole don't have the name and thus it is more difficult to find out from other people's experience how good their coolers actually are.
Yeti also has the benefit of having a wide range of coolers (everything for 20-quart to upwards of 160-quart) and large distribution all around the country as well as online.
While Yeti coolers don't give you the best bang for buck when it comes to high-end coolers (that award goes to the ) they are great coolers and they have a recognizable brand name that has stood the test of time.
Price and Range
One of the first things people want to know when comparing 2 coolers is the price and what sizes are available. So how does the price of the Icehole coolers compare to the price of the Yeti coolers?

| | | |
| --- | --- | --- |
| Size | Icehole | Yeti |
| 20 | – | $317.51 |
| 35 | $399.00 | $412.00 |
| 45 | – | $484.90 |
| 60 | $469.00 | – |
| 65 | – | $469.00 |
| 100 | $559.00 | – |
| 125 | – | $757.00 |
| 160 | – | $867.18 |
You can see from the table here that the price difference is actually quite small. The Yeti 35-quart model is slightly more expensive than the Icehole.
However, when comparing the Icehole 60-quart to the Yeti 65-quart, we found them to be both the same price.
The Yeti has a much larger range of sizes available which will be important to some people who want a specific size or who need something larger than the 100-quart cooler that Icehole make.
When comparing the Yeti to something like the Pelican or the Engel price points are vastly different with over $100 between them. However with the Icehole I don't see a huge difference in price.
Colors
Yeti coolers come in 3 colors – white, desert tan and ice blue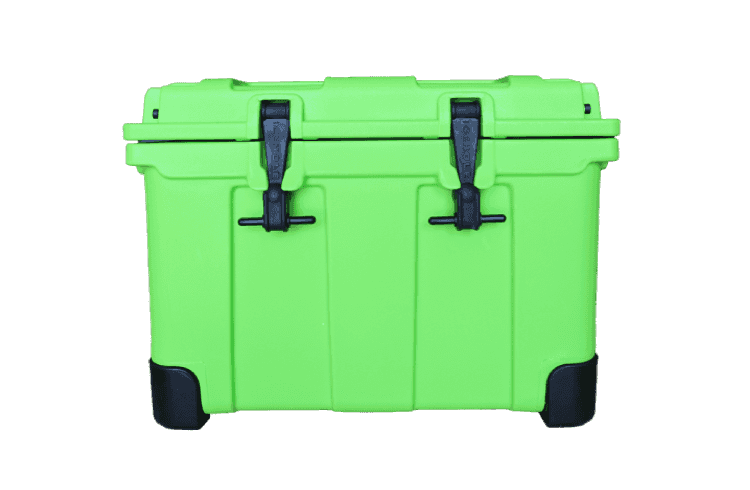 Ichole coolers come in a whopping 8 distinct colors – Glacier White, Moab, Safety Orange, Coyote Tan, Tactical Green, Volt (a birght green), A&M Maroon and UT Orange.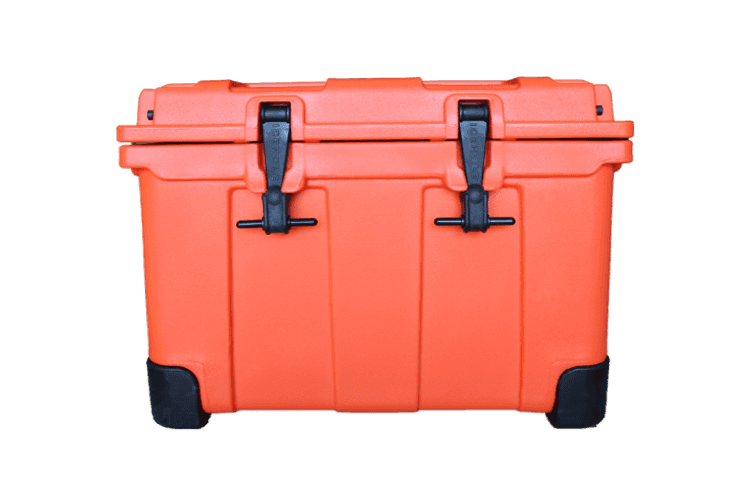 Icehole coolers come in much more fun and exciting colors. If you want something different to everyone else then Icehole is going to be the best option for you.
Specs and Features
The specs and features of both products diverge very little.
Roto-moulded construction
Very similar latch system
A 1-inch drain plug
Rope handles with a hard plastic cylinder
Tough non-slip rubber feet
Freeze grade gasket
The below image is from Icehole Coolers' website.

They both also have holes in the corners to use padlocks. This keeps your items safe from thiefs and bears although only Yeti are certified bear proof.
Availability and Distribution
Yeti coolers are available all over the country and available in a lot of online stores including on Amazon.
The Icehole coolers have much more limited distribution with most of their distribution being in shops throughout Texas. They have very little distribution in other states, however you can buy a cooler directly from their website.
Build Quality and Manufacturing
Here is where the brands start to diverge.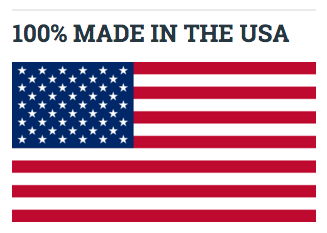 Icehole is proudly American and claims that all their parts are sourced locally and their products are all manufactured in America. It is part of their philosophy and is unlikely to change.
Here's what they say on their website
What do we mean by "100% American Made?" Just what it says. From ICEHOLE Cooler bodies, to the hinge pins, to the handles and ropes, everything that goes into an ICEHOLE® High-Performance Cooler has been made by hard-working Americans. It's more than a marketing strategy or a philosophy, it is the very core of our business.
Yeti coolers on the other hand, source their parts from all over the world but claim "some" of their coolers are made in the US. They have such wide distribution it's nearly impossible to discover where to buy the American made coolers (or to confirm they even exist)
However, Yeti coolers have been more thoroughly tested by the cooler community. Campers, Fishers, Tailgaters and loads of average people have bought and tested these coolers. There are even ice test videos available for the Yeti coolers. Unfortunately I can't say the same for Icehole.
Icehole Coolers vs Yeti Coolers Conclusion
It's actually really hard to pick a winner over Icehole and Yeti coolers because they are just so similar.
Yeti has a large range of sizes but Icehole have a larger range of colors. Yeti has been tested by thousands of people but Icehole are made completely in the US while Yeti isn't.
In saying that here are my recommendations:
You Should Buy An Icehole Cooler If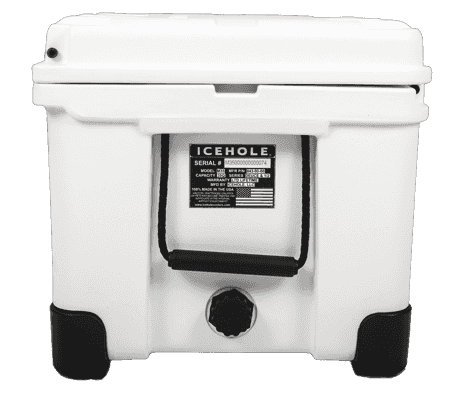 You want to support jobs and veterans in America. Not only is the manufacturing of the coolers done in America but all parts from the ropes to the rubber feet are also sourced from American made companies. Thus supporting jobs in America.
They also donate a portion of their earnings to non-profit companies that support Veterans and their families.
You can't get much more American than Icehole.
Plus you should also buy an Icehole cooler if you want more flexibility in the color your choose. They have some pretty fun colors which I absolutely love.
You Should Buy A Yeti Cooler If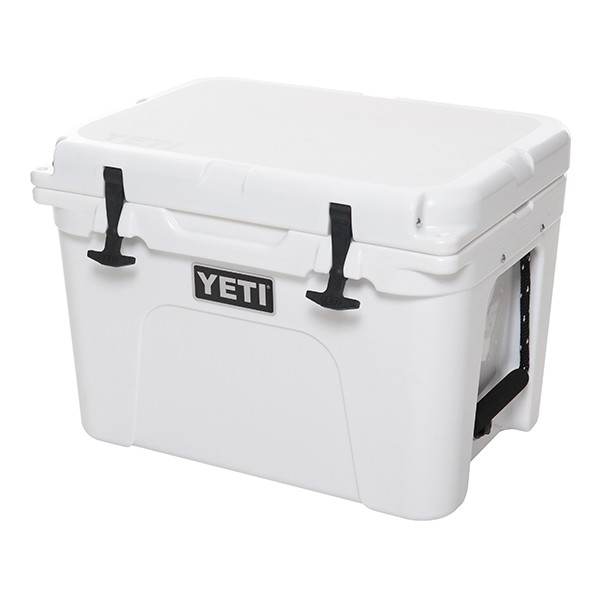 [yasr_overall_rating]
You want a cooler that you know without a doubt is going to be a good cooler. So many people have bought them you know you are going to get a good product.
You should also buy a Yeti cooler if purchasing convenience is important to you. You can buy this cooler from a variety of local stores all over the country and they are available on Amazon as well (often at a discount).
You should also buy Yeti if brand matters to you, and hey this is a serious thing. Some people want to invest in a proven brand name and impress their friends. I respect that, I own apple everything and while I don't own a Luis Vuitton bag I know the value of how the brand of a product influences how much you enjoy it. If this is you definitely get the Yeti.
If It Was Me What Would I Choose?
If I was only ever going to buy one cooler truthfully I would probably go for the Yeti. They have been around for longer, are more popular and it's more likely that in 5-years when I need a replacement part they will still be here. I can't confidently say that for Icehole and their coolers.
If I was to see an ice test online where Icehole outperformed Yeti then I would jump ship for sure and buy an Icehole because of their commitment to quality over profits.