When I first got my Stanley H2.0 Flowstate Tumbler, I filled it up the very next morning, stuck it in my gym bag, and hit the road.
Unfortunately, when I arrived at the climbing gym I realized my mistake — a puddle of ice cold water had leaked out of my Stanley, through my bag, and onto my passenger seat.
Whoops.
But was something wrong with my Stanley Cup or are they not actually leak-proof?
Stanley's new Quencher H2.0 Flowstate Tumblers aren't completely leak-proof, but you still shouldn't have much of an issue during normal use. A silicone guard around the straw helps prevent splashing and does a pretty reliable job of preventing big spills. Just keep in mind, you'll still have some leakage if you overturn your Stanley Cup or try to carry it in a bag.
The original Stanley Adventure Quenchers don't have a splash guard or any other way to prevent leaks, spills, or splashes.
But if you still have one, the good news is that Stanley's new Flowstate Lids are perfectly compatible with Adventure Quenchers — so you can upgrade for only about ten bucks. 
New Stanley Cups Are Leak-Resistant, But Not Leak-Proof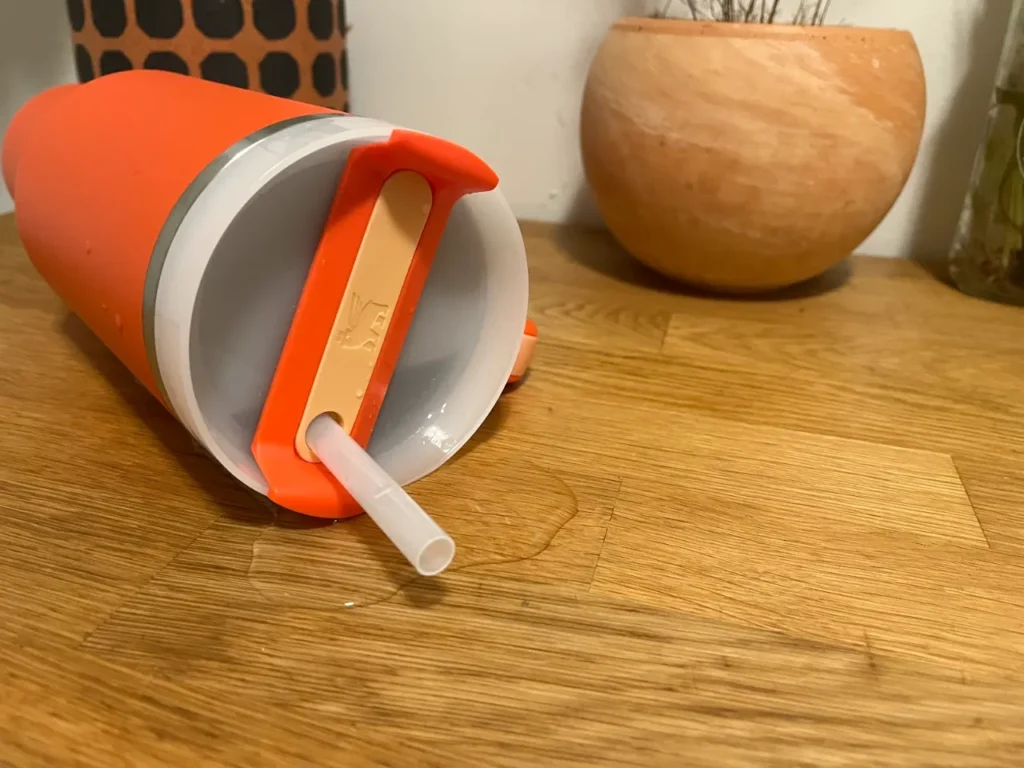 Unlike the original Adventure Quenchers, the new and improved H2.0 Flowstate Tumblers are "spill-proof" and "splash-resistant" — but still not fully leak-proof.
A silicone splash guard in the straw hole helps prevent water from splashing out while you're walking or driving and helps slow down the amount of water that will leak out from your straw hole if you accidentally knock your Stanley over.
But it certainly doesn't mean that you're okay to carry your Stanley Cup in a bag or sling — unless you're okay getting a bit wet.
If you're wondering if the amount of leakage from your Stanley Cup is normal, check out my complete guide on why Stanley Cups leak and how to fix it to learn more. 
The Original Stanley Adventure Quenchers Are Known For Leaking
The original Stanley Cups, the Adventure Quenchers (which were the ones that first went viral and sold out pretty much everywhere nationwide), are pretty notorious for leaking.
If you find any complaints online about Stanley Cups leaking during normal use, it's more than likely that it's an OG Adventure Quencher to blame, and not a new Flowstate Tumbler.
The problem with the Adventure Quencher was that the straw holes in their lids were just exactly that.
Holes.
No guard, no stopper. Nothing at all to prevent water from leaking out. And leaking out fast.
This meant that carrying a full Adventure Quencher at a brisk pace meant water sloshing out of your lid. Or that knocking your Adventure Quencher over meant water pouring out rapidly until you could pick it back up.
But luckily, if you still have an Adventure Quencher, most Stanley Cup lid replacements are fully cross-compatible — including Stanley's own H2.0 Flowstate lids. 
At least you know you won't need to replace your whole tumbler to fix its issues with leaking.