Having a cooler with wheels makes moving around a heavy and bulky cooler so much easier. It saves your back and often means you can move a heavy cooler by yourself without needing help.
There are a huge range of coolers on the market. I've looked through all of them to compile a shortlist of the 12 best wheeled coolers on the market today.
Some of these coolers are high-end roto-molded coolers (like the Yeti Tundra Haul) that can keep ice for 5+ days. These coolers are expensive, but well worth the cost to those that can afford it.
Other coolers on this list are for the more budget conscious shoppers and still offer great value for money.
What you won't see on this list is generic wheeled coolers that you can buy from any local Walmart or hardware store. That's because these coolers (while cheap) are rarely any good. This is a list of the best coolers with wheels after all, so I wanted to share with you the best of the best.
#1: Yeti Tundra Haul – BEST COOLER WITH WHEELS

If you know anything about coolers then chance are you've heard of Yeti. They pioneered the roto-molded cooler back in 2006 and continue to make extremely high-quality coolers.
They have also gone on to become a lifestyle brand akin to that of Nike.
I have personally owned many coolers in my time (I review a lot of them) and none of the coolers can quite compare to Yeti in terms of how premium they feel.
The Yeti Tundra Haul is built with the same quality and has all the features you would expect in a Yeti but with a few extra features: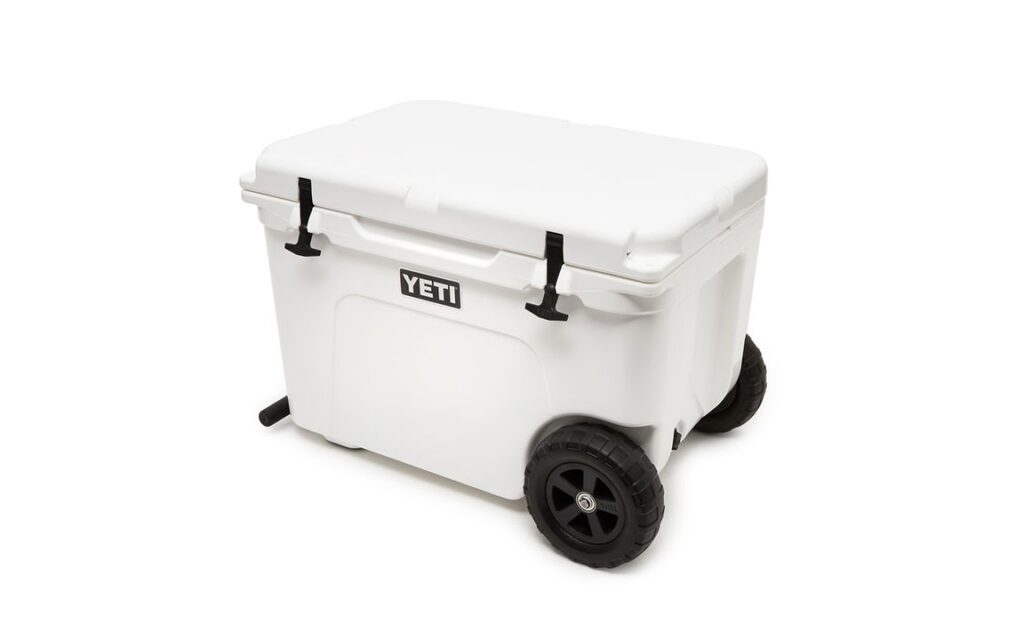 Never Flat Wheels
The Yeti Tundra Haul has 2 large wheels that are made from a single piece tyre that you don't have to inflate. This means they will never puncture and will last you years.
The wheels are a good size. Big enough and tough enough to go on rough terrain or even on the beach, but not so big that they take up excessive amounts of room.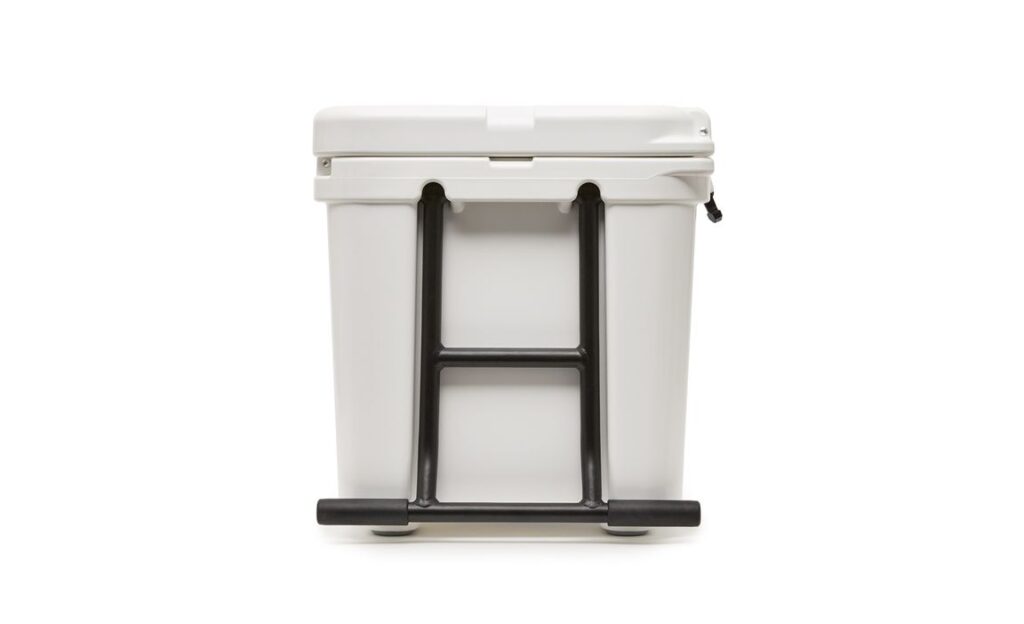 Strong Arm Handle
Instead of having the rope handles like the other Yeti coolers have the Tundra Haul has a "Strong Arm Handle" that folds out from the side.
The grips for the handle are out wide allowing you to pull your cooler without having to worry about it clipping your feet. It also allows for easy pulling with a friend.
The arm is made from welded aluminium and has comfortable grips so it won't hurt your hand.
It also has moulded in handles on the side of the cooler so if you want to lift it you can.
To see the latest prices, colors and other customer reviews for the Yeti Tundra Haul click on the Amazon price link below:
Yeti Tundra Haul 65-Quart Wheeled Cooler:
#2. RovR Wheeled Cooler – RUNNER UP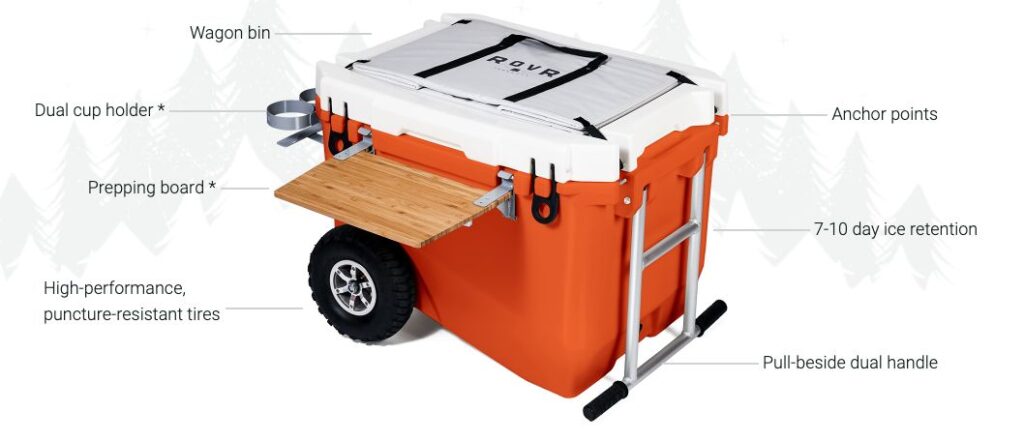 The RovR wheeled cooler is a super unique cooler that is both extremely well made, and packs a whole bunch of features you won't find in any other cooler. See my full RovR cooler review here.
This cooler is build like a tank and is certified bear proof and built to take a beating. It also has great ice retention that is similar to that of the Yeti Tundra Haul mentioned above.
9-Inch Tyres – The RovR has massive 9-inch tyres that are puncture resistant with aluminium hubs for strength and durability. The fact that these wheels are inflatable makes this cooler slightly easier to pull along than the Yeti.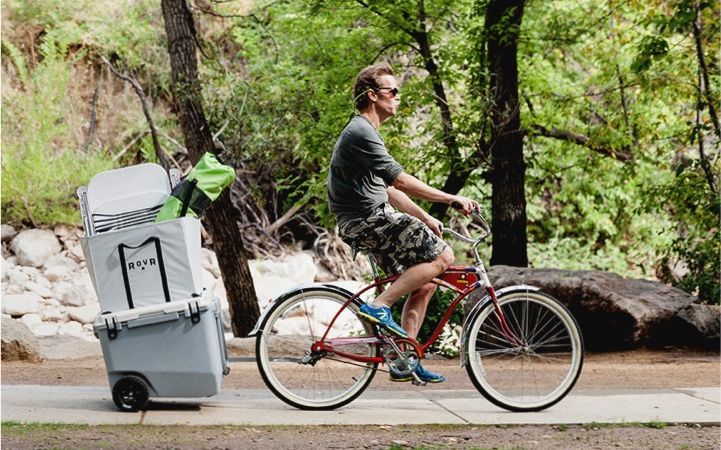 Bike Trailer Attachment – You won't find this on any other cooler. The RovR has the ability to add a bike trailer attachment to it. You can attach this cooler to your bike and pull it behind you, allowing you to take your cooler much further than any other brand.
Removable Box Compartment – The RovR also comes with a removable compartment on the lid that can be flat packed when not in use or opened up to carry extra gear. This compartment is also completely removable if you want to take it off and carry it with you.
Dry Box and Accessories – The dry box is the RovR is better than any I have seen. It sits inside the cooler and gives you multiple compartments where you can keep items cool but also keep them dry.
It comes in 2 sizes, 45-quart and 60-quart and is well worth checking out.
To see more details of these coolers click the price link below:
RovR 45-Quart Wheeled Cooler:
RovR 60-Quart Wheeled Cooler:
#3. Ozark Trail – BUDGET PICK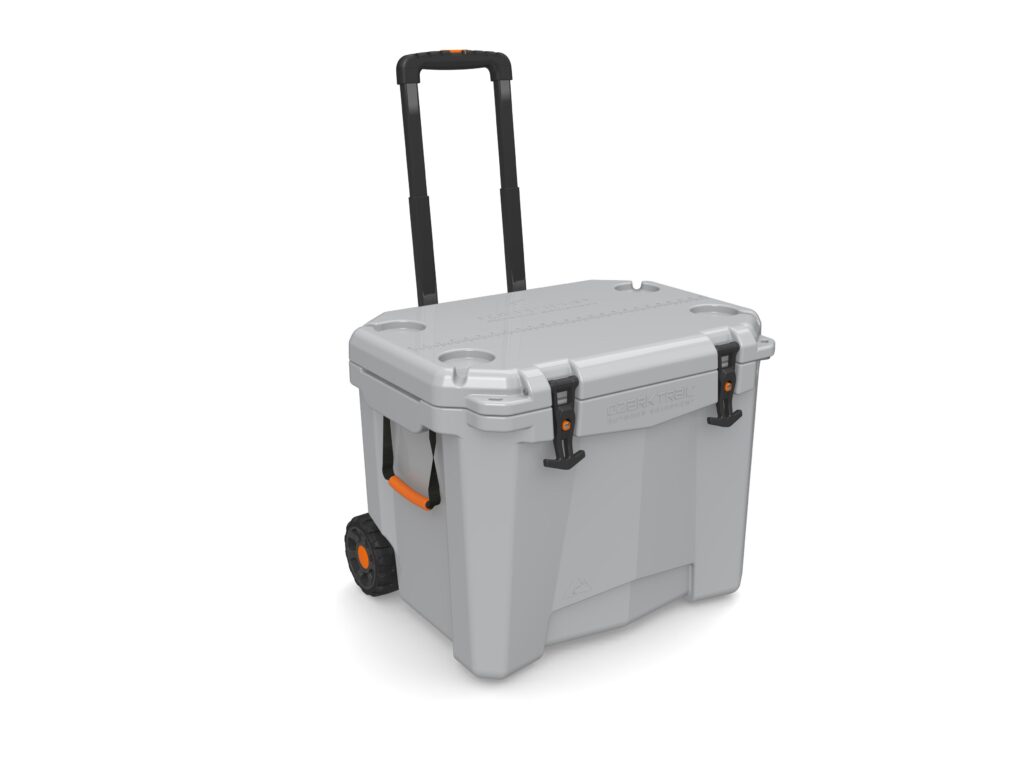 Ozark Trail is Walmart's brand of cooler and is one of the cheapest high-end roto-molded coolers on the market at the moment, selling for a steep discount when compared to Yeti and other brands.
The 60-Quart Ozark Trail is similar in size to the Yeti Tundra Haul but is only while the Yeti 65 (57-Quart) sells for nearly twice as much – around .
Ozark Trails aren't as good as Yeti in either build construction or ice retention, they are a much cheaper brand after all, but they still hold up very well and keep ice for 4+ days.
They are made from a roto-molded construction, they are completely certified bear proof and they come with a suitcase style pull up handle which makes rolling the cooler a breeze.
The cooler also features moulded in cup holders, which very few roto-molded coolers have. I really like this feature and find it super handy.
If you're in the market for a good durable wheeled cooler but don't want to break the bank on a Yeti or RovR (or other premium brand) then this is a good option.
To see more details of these coolers click the price link below:
Ozark Trail 60-Quart Wheeled:
Make Any Ozark Trail Cooler a Wheeled Cooler For Just $40!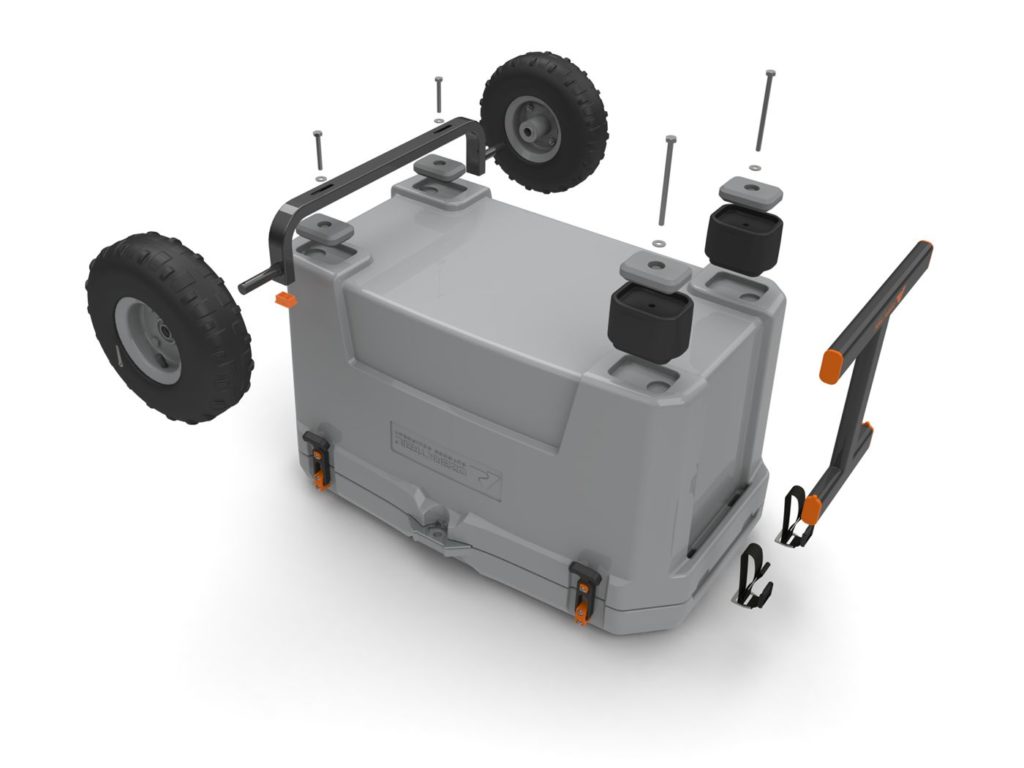 Ozark Trail coolers also come in 52-Quart and 73-Quart sizes without wheels (see my Ozark Trail cooler review), but Walmart sell an affordable wheel kit which allows you to convert the coolers into wheeled coolers quite simply.
This kit is only around $40 so it won't break the bank.
All up this makes a wheeled Ozark 52-Quart cooler approximately $160-$180 and the 77-Quart approximately $220. The Yeti Tundra Haul, which has a capacity around 65-Quart sells for around $400.
If you're interested in getting the Ozark Trail cooler plus wheel kit I'll link up to it using my affiliate link below:
See Ozark Trail 52-Quart Cooler (on Walmart.com)
See Ozark Trail 73-Quart Cooler (on Walmart.com)
See Ozark Trail Wheel Kit (on Walmart.com)
#4. Pelican Wheeled Cooler – High Quality, Multiple Options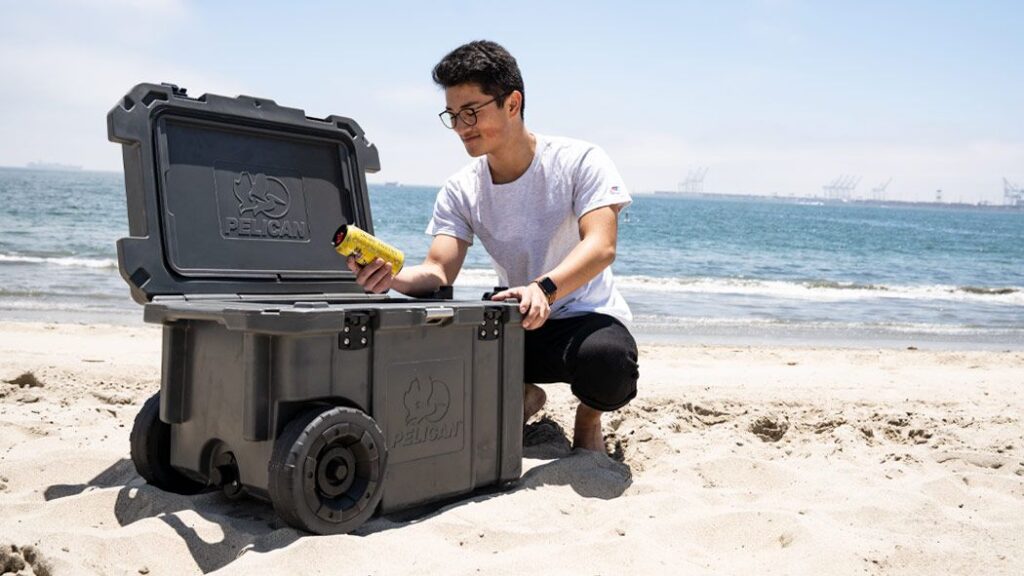 Pelican coolers are super beefy alternatives to Yeti and I love how different the style is. These coolers just scream strength! They look so beefy and I love it.
They were one of the first to make a high-end wheeled cooler and it continues to be one of the best wheeled coolers on the market.
It easily matches up to Yeti in terms of ice retention and the construction quality is just as strong as Yeti.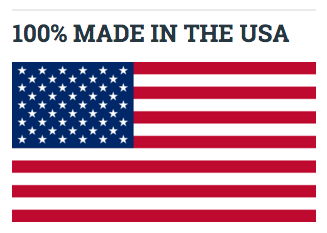 A big thing that Pelican coolers have over other wheeled coolers like Yeti is that Pelican coolers are completely made in the USA
The Pelican coolers with wheels come in 3 sizes – 45-Quart, 55-Quart and 80-Quart, with the 55-Quart being a special "Tailgate" model which has dual lids.
All Pelican coolers are roto-molded construction, certified bear proof and have a fishing ruler on the lid which measures both inches and cms. They also have a unique pull and pull latch system which is so satisfying.
The larger sizes also have moulded in cup holders which again is a favorite feature of mine.
The 45 and 80 Quart Coolers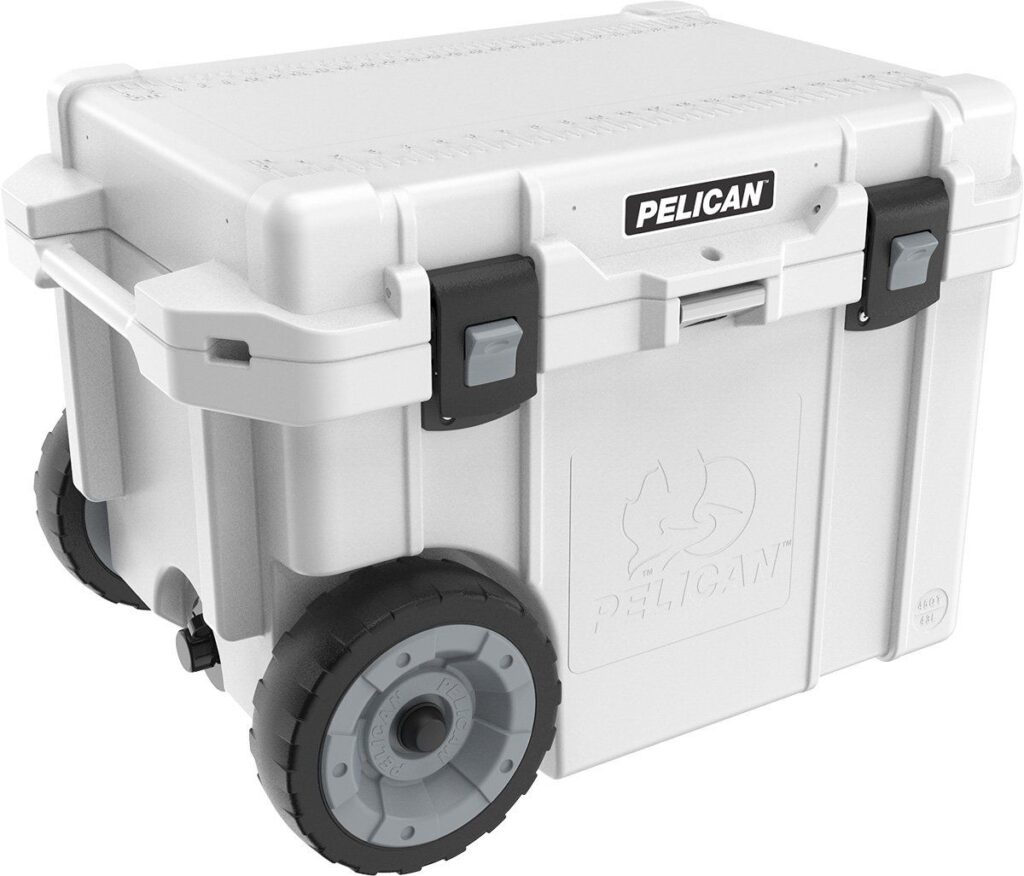 Both the 45-Quart and 80-Quart sizes have wheels on the shorter side and a strong pull up handle that is strong and easy to pull along. It is positioned in the center of the cooler which is different to Yeti/RovR where the handles are offset so you can walk beside the cooler as you pull it along.
To see more details of these coolers click the price link below:
Pelican Elite Wheeled 45-Quart:
Pelican Elite Wheeled 80-Quart:
The 55 Quart Tailgater Edition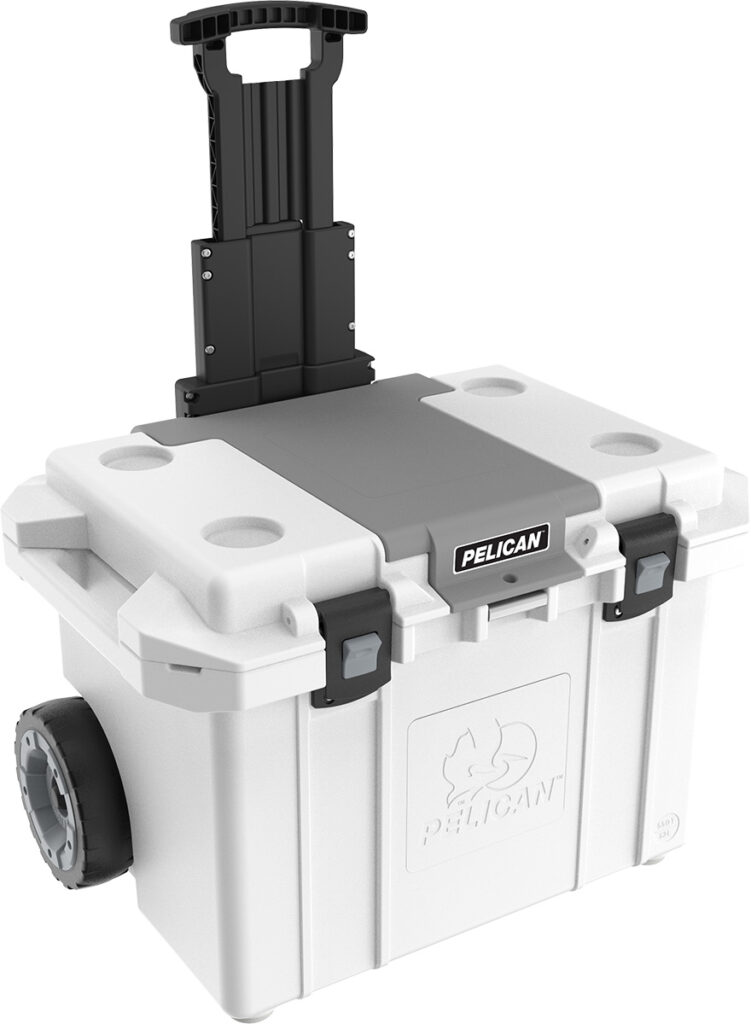 Pelican also have a very unique 55-Quart "Tailgater" cooler that is a little bit different from the other two coolers.
It has the wheels on the back of the cooler, rather than on the side, and it has a suitcase style pull up handle that comes out from the back of the cooler.
The lid also has a secondary opening in the centre that gives you easier access into the cooler.
This does negatively affect ice retention though so you need to decide if the extra convenience is worth it.
To see more details of these coolers click the price link below:
Pelican Elite Tailgater 55-Quart Wheeled:
#5. Igloo Trailmate

The Trailmate is a really awesome looking cooler and is so unique and innovative I just had to feature it.
It's not roto-molded but it packs a tonne of features that other coolers don't have and will definitely be the wheeled cooler of choice for a lot of people because of these features as well as it's 4+ days ice retention. See my full Igloo Trailmate review.
It's got some of the biggest wheels I've ever seen on a cooler – this thing reminds me of a mars rover of something. It'll travel find on sand, dirt, road and basically any sort of terrain.
The handle slides out from the side but is sturdy and easy to use and slides away when you're not using it. It also has the following features:
Removable fishing rod holders
Dry good basket for keeping items off the ice
Two inbuilt bottle openers
Built in carry handles
Cup holders recessed into the lid
2 dry storage compartments on the outside of the cooler (one is waterproof)
Removable cutting tray/divider that turns into a "butler tray"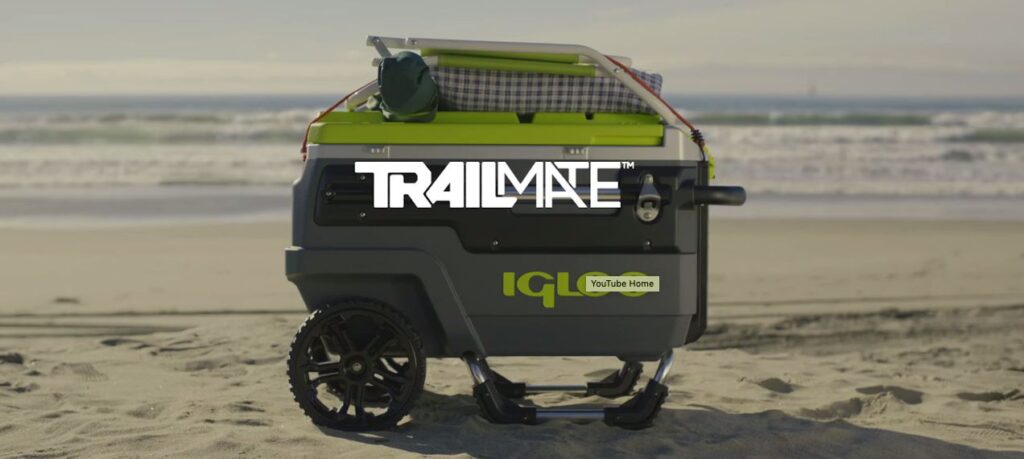 To see more details of these coolers click the price link below:
Igloo Trailmate 70-Quart Wheeled Cooler:
#6. Coleman Extreme Wheeled – SUPER BUDGET PICK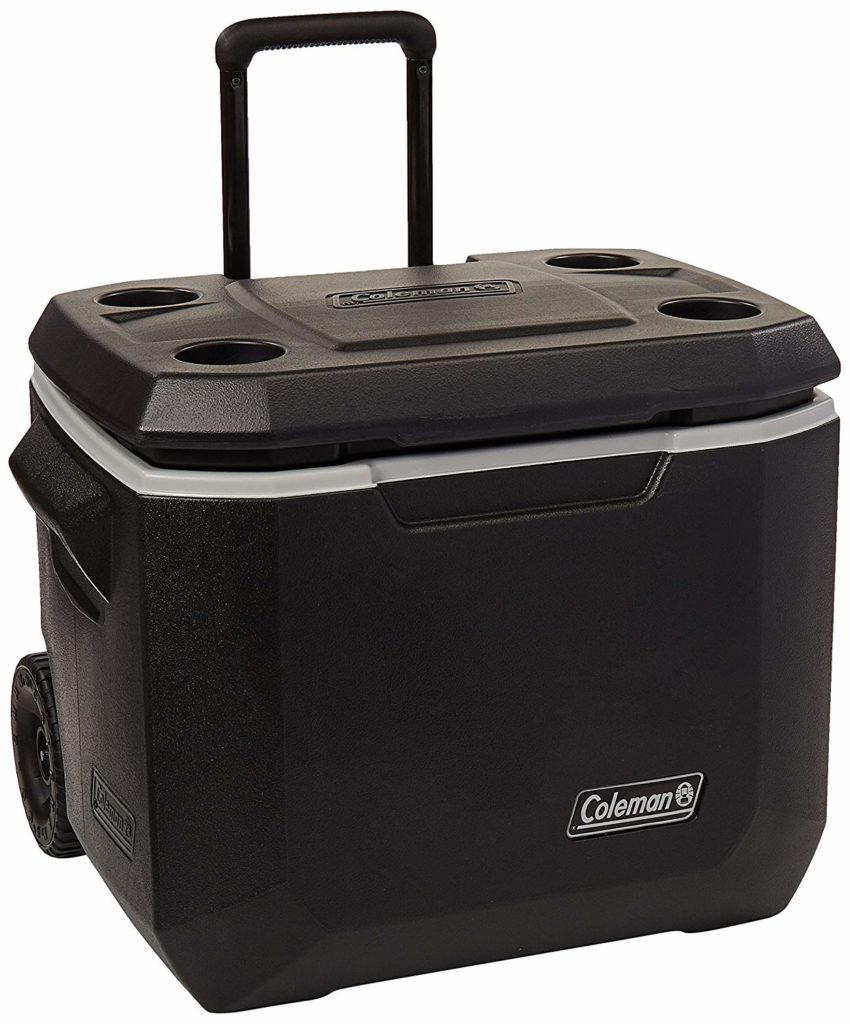 I personally own a Coleman Xtreme an absolutely love it.
While this cooler is extremely cheap, it isn't extremely crappy like other cheap coolers.
It has more insulation than a regular cooler and can keep ice for 5+ days in good conditions.
This is hands down the best cooler for those on a tight budget, it just happens to also have wheels making it even more awesome for it's price.
It generally sells for under $50 and sometimes even under $40 so provides amazing bang for buck value.
It doesn't have the fancy features of coolers like Yeti, RovR or the Trailmate. It isn't roto-molded, it isn't bear proof, it won't massage your back for you and call your mum once a month. It's just a simple cooler, but it works. See my Coleman Xtreme vs Yeti comparison.
It comes in 3 sizes – 50-Quart, 62-Quart and 100-Quart.
The 50-Quart has a suitcase style pull up handle and the larger sizes have a strong plastic fold out handle on the side for pulling the cooler along.
If you're on a budget then I cannot recommend this cooler more highly.
To see more details of these coolers click the price link below:
Coleman Xtreme 50-Quart Wheeled Cooler:
Coleman Xtreme 62-Quart Wheeled Cooler:
Coleman Xtreme 100-Quart Wheeled Cooler:
#7: Coolest Cooler – Amazing Features

The Coolest Cooler is a super unique wheeled cooler that is basically the highest-tech cooler out there. It has everything from a blender, to LED lights to a bluetooth speaker and phone charger.
It's got built in cup holders on the outside and inside of the cooler and the lid opens from the middle with one side giving you a spot to store your blender and cup while the other side stores plates and a cutting knife.
It also has a bungee chord that allows you to use the top of the cooler to carry other stuff with you and it has wide rubber tyres that are good for travelling over hard surfaces, but tend to struggle a bit on the sand due to their small size.
This cooler doesn't have a focus on ice retention so you won't get a week worth of ice retention like you would with a Yeti, but it's a perfect cooler for a day at the beach or a picnic or BBQ.
Overall this cooler is amazing and deserves the title of the "Coolest Cooler"
To see more details of these coolers click the price link below:
Coolest Cooler Wheeled Cooler:
#8. Canyon Cooler Mule – Bungee Rope To Help You Carry Almost Anything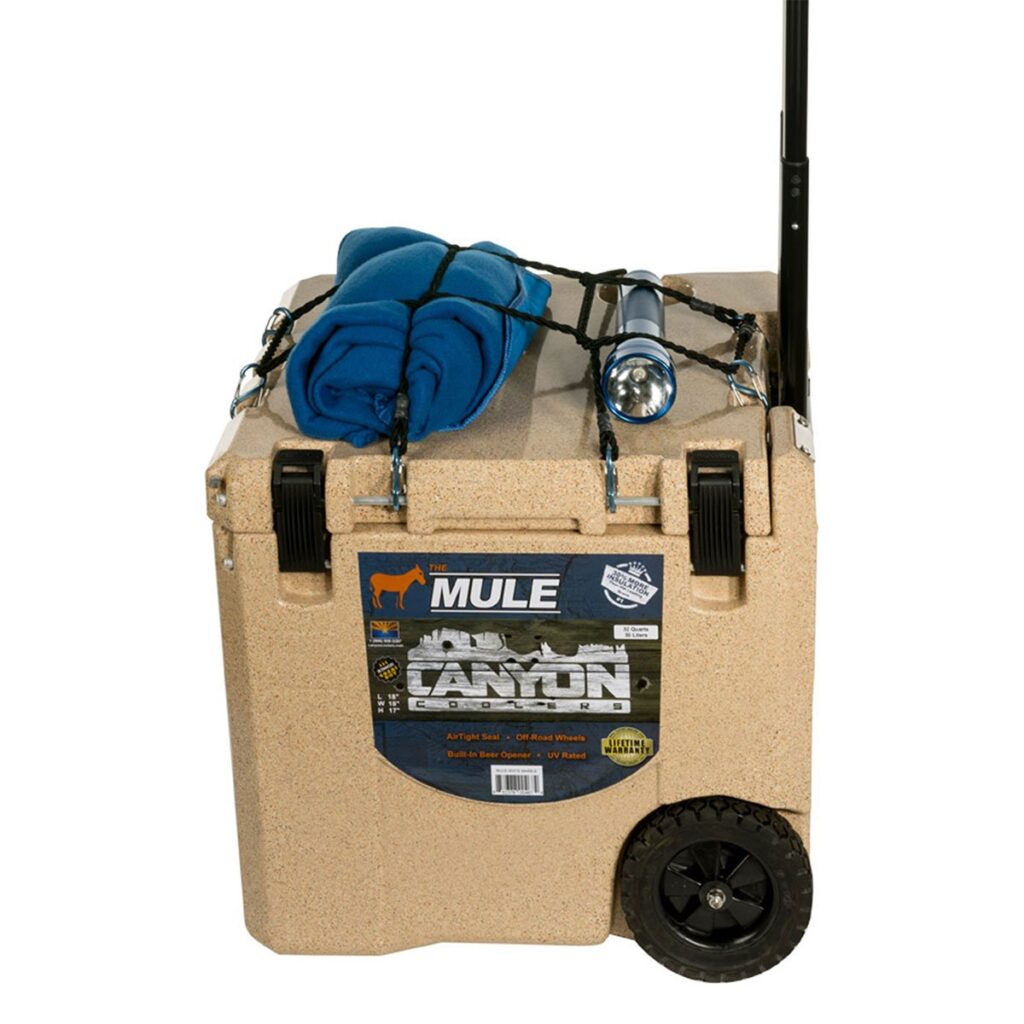 The Canyon Mule is a unique little cooler.
It's roto-molded like a lot of the other coolers in this list but it has a much smaller capacity than the other coolers I've featured – with an internal capacity of 30-Quart.
The standout feature of this cooler is the multiple tie down points on the lid and the bungee netting that it comes with.
This is where it gets the name "Mule" as it can easily be used to carry a lot of different items on top of the cooler.
It has a pull up, suitcase style handle like the Coleman Xtreme and this cooler is made in the USA with Canyon's manufacturing plant being in Alabama.
I've always like Canyon Coolers and I really like this cooler too. It's airtight and certified bear proof and if you're looking for a smaller wheeled cooler that can still keep ice for days then this is a great option.
To see more details of these coolers click the price link below:
Canyon Mule 30-Quart Wheeled Cooler:
#9. Kysek – Inbuilt Hidden Wheels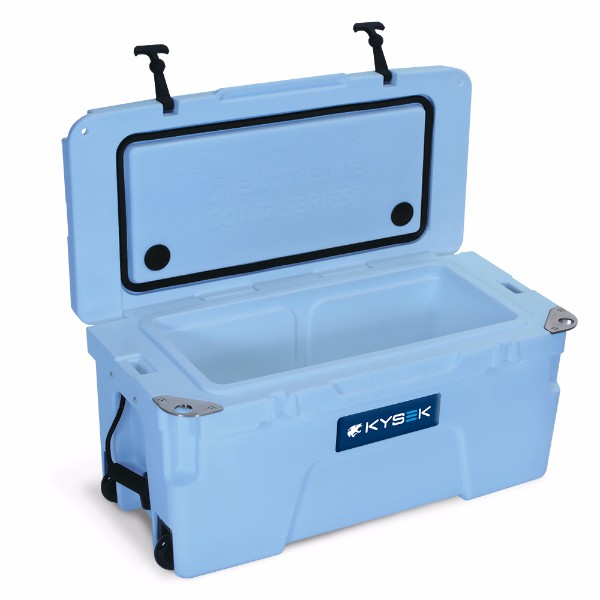 Most coolers have thick chunky wheels that stick out the side and are big enough to go on rough terrain.
These wheels, while great, take up a lot of room and often are only used on hard surfaces.
Kysek has created a cooler that looks and works just like a regular roto-molded cooler, only it has inset wheels that are tucked away.
The wheels are strong, they call them "Heavy Haulers" and they can handle up to 1,000 pounds of weight. They are too small to work on sand or rough terrain but for everyday use they are extremely practical.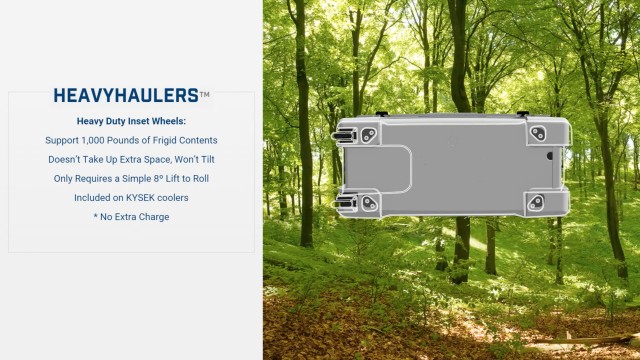 To engage the wheels just pull on the rope handle to tile to cooler up and it instantly becomes a wheeled cooler ready to be pull along.
Kysek coolers are more affordable than a lot of other coolers featured in this list of the best coolers with wheels, but still has just as good ice retention, quality construction and certified bear proof.
If you're interested in a Kysek coolers then click my Amazon affiliate link below to see the latest prices and other customer reviews:
Kysek 35-Liter Wheeled Cooler:
Kysek 50-Liter Wheeled Cooler:
Kysek 75-Liter Wheeled Cooler:
Kysek 100-Liter Wheeled Cooler:
Kysek 150-Liter Wheeled Cooler:
#10. Milee Wheeled Cooler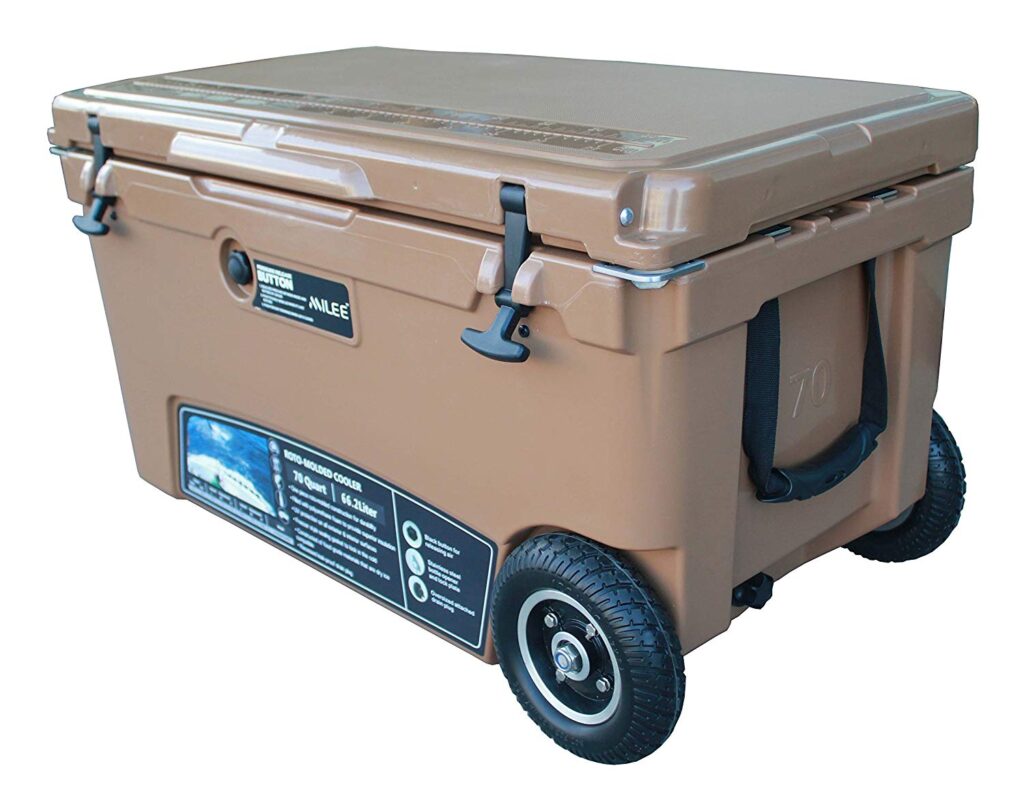 Now we are starting to get into the area of more generic roto-molded wheeled coolers.
These coolers are still great and are cheaper than a cooler like Yeti, but the quality isn't as good and they tend to have more customer complaints and issues than brand name coolers.
Milee is one of these coolers and it is basically a "white labeled" cooler which a bunch of different companies sell just using different branding. You can see it here on Alibaba.
Most customers speak highly of Milee in the reviews and also talk highly about the customer service team, so this is one of the better white labeled coolers. Milee do a lot of advertising on Amazon and are slowly becoming more well known.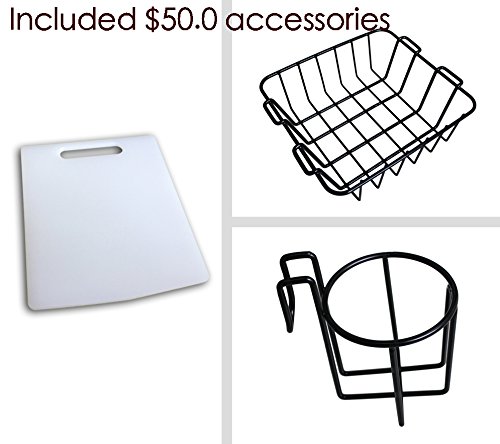 The Milee brand also comes will a free cutting board/divider, dry goods rack and a cup holder. So you get a bit of extra value for money that you don't get with a branded cooler like Yeti.
The cooler also has built in bottle openers, inflatable wheels and a pressure release value that can be pressed to make opening the cooler easier.
To see more details of these coolers click the price link below:
Milee 70-Quart Wheeled Cooler:
#11. Driftsun 70-Quart Wheeled Cooler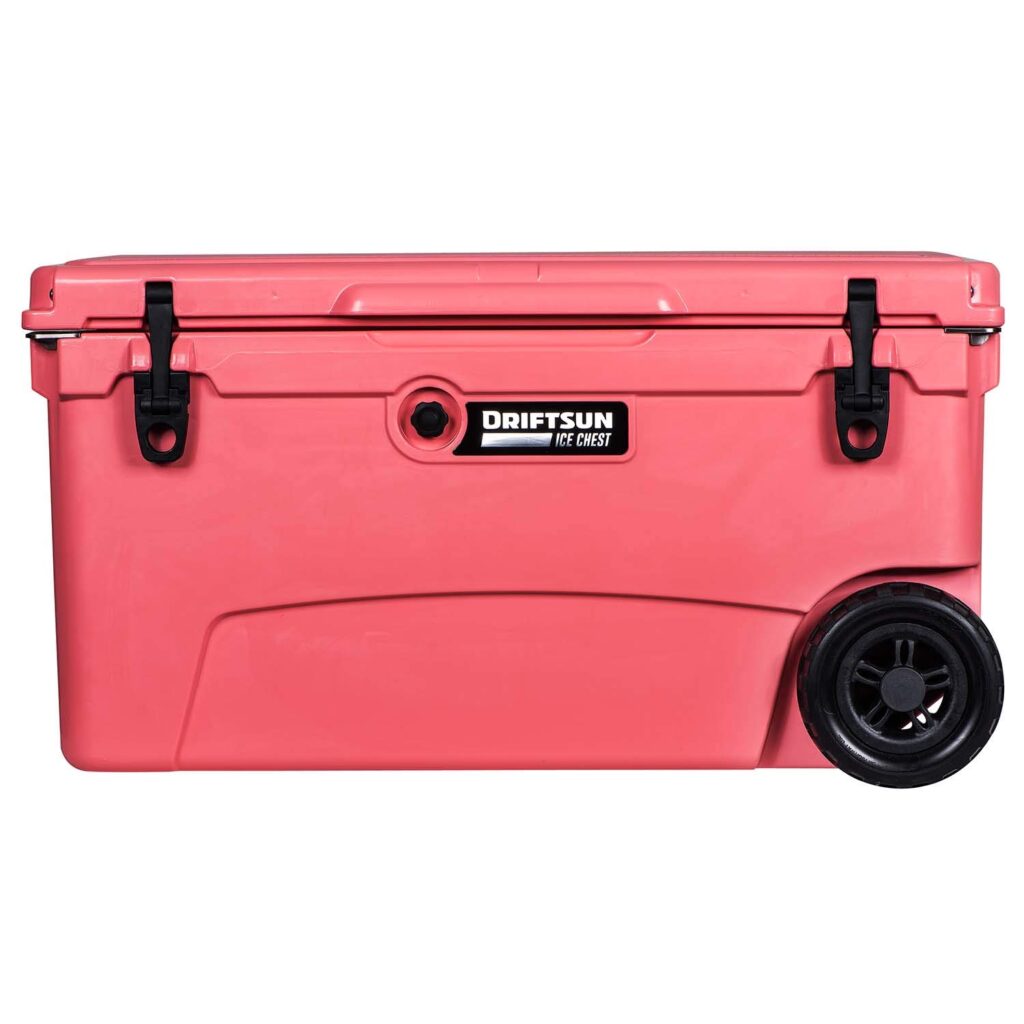 Driftsun is another generic cooler brand that is mostly just sold through Amazon and no-where else that I am aware of. I did a full writeup of Driftsun vs Yeti if you want to check it out.
The 70-Quart model has wheels and SHOCK HORROR you'll notice that it looks exactly the same as the Milee 70-Quart Cooler only it has slightly different wheels.
I would assume this cooler is coming from the same manufacturer.
The Driftsun does have slightly different latches, a fishing rule and 2 built in bottle openers.
To see more details of these coolers click the price link below:
Driftsun 70-Quart Wheeled Cooler:
#12. nICE Coolers – Interchangeable Wheels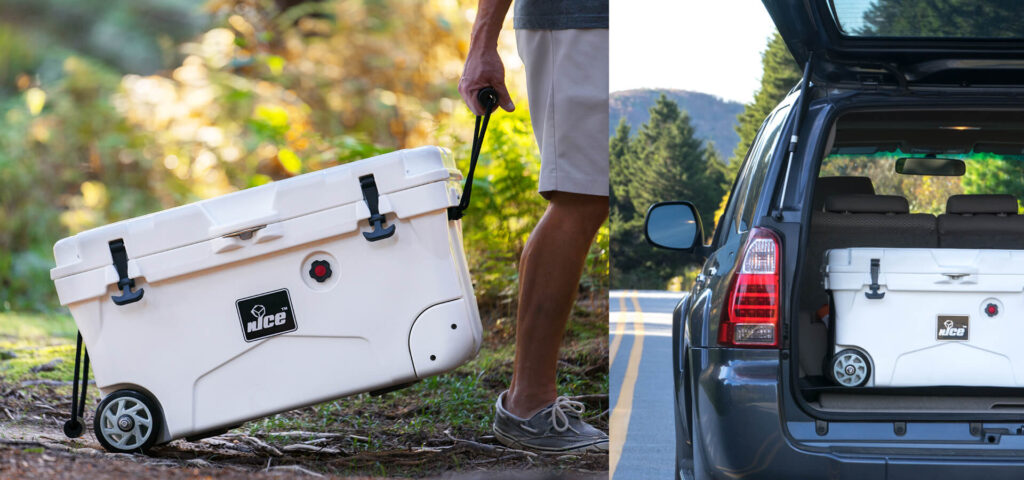 nICE Coolers are the last on the list and again are another generic alternative to Yeti. See my nICE vs Yeti comparison.
The thing that makes this cooler stand out is the fact that it has interchangeable wheels.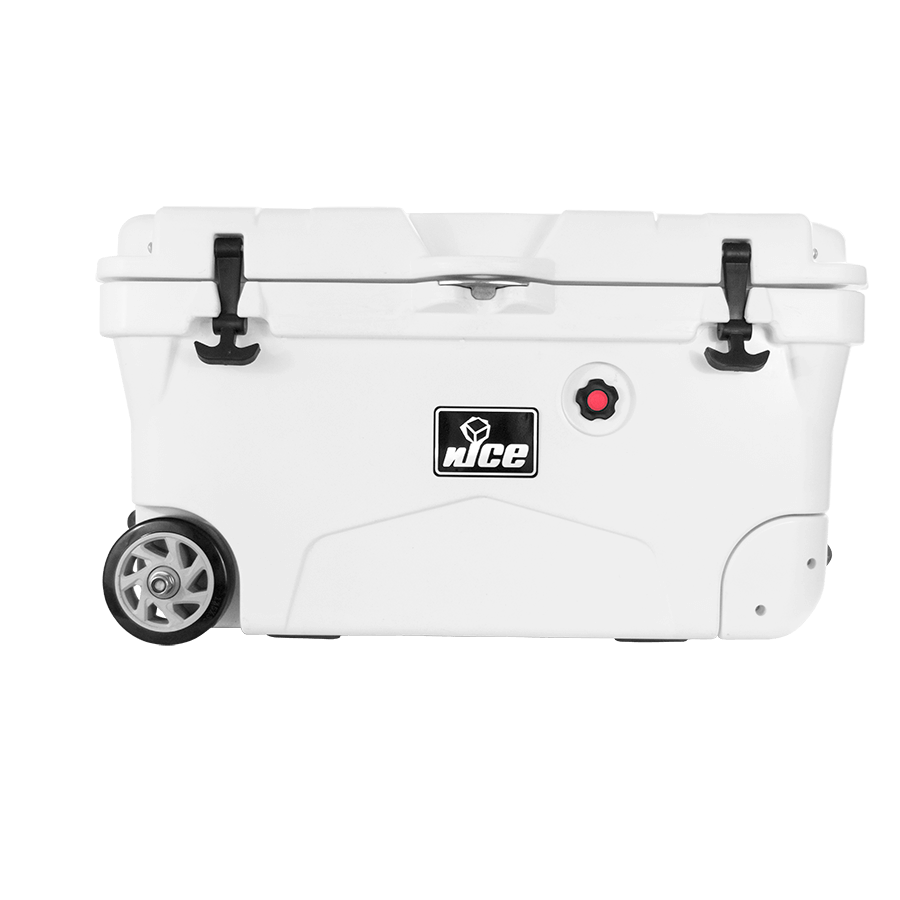 You can just use the smaller default wheels it comes with or you can swap them out for larger multi-terrain wheels or for inflatable beach wheels
They have one of the largest wheeled coolers on the market with a 110-Quart size and at Walmart you can even find some that are larger than that.
The build quality isn't as good as Yeti/RovR/Pelican, nor is the ice retention, but they do sell for a fraction of the price so that is kind of expected.
To see more details of these coolers click the price link below:
nICE Wheeled Coolers: See details at Amazon