The RovR RollR Cooler is one of (if not the) best wheeled cooler on the market at the moment. In this RovR cooler review we'll look in detail at the RovR and what makes it so unique and then you can decide whether or not this is the cooler for you.
The RovR Cooler is a feature packed wheeled cooler. It is bear-proof, roto-molded, can keep ice for 10+ days and comes with 9-inch inflatable wheels and a strong metal carry handle.
It also comes with an internal dry storage bin for keeping items cooler and dry as well as an external wagon bin for carrying gear.
If that doesn't make this cooler unique enough add in the fact that this is the one and only cooler you can attach to your bike. Plus it's backed with a 5 year warranty.
Similar Price To Leading Brands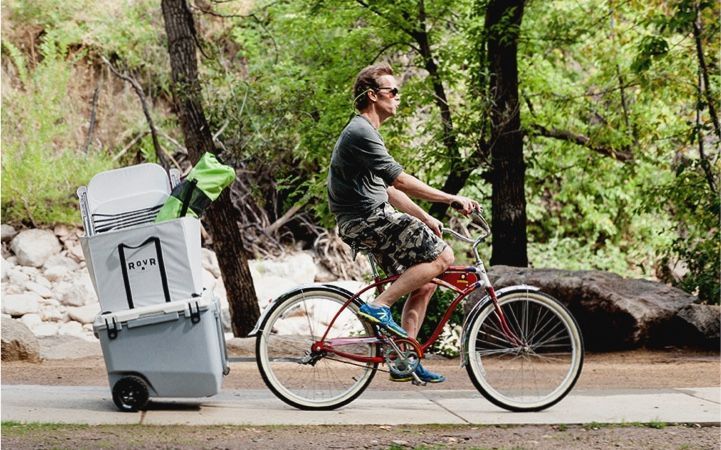 The RovR cooler is a high-end cooler that is packed with features other coolers simply don't have. As a result it doesn't come cheap.
However, it is priced competitively compared to the leading brands of coolers (like Yeti, Pelican, Orca etc) with pricing matching up almost perfectly to similar sized Yeti coolers, some of which don't even have wheels.
In the price comparison below you can see the price of the RovR cooler compared to Orca, Yeti and Pelican coolers of a similar size.
RovR COOLERS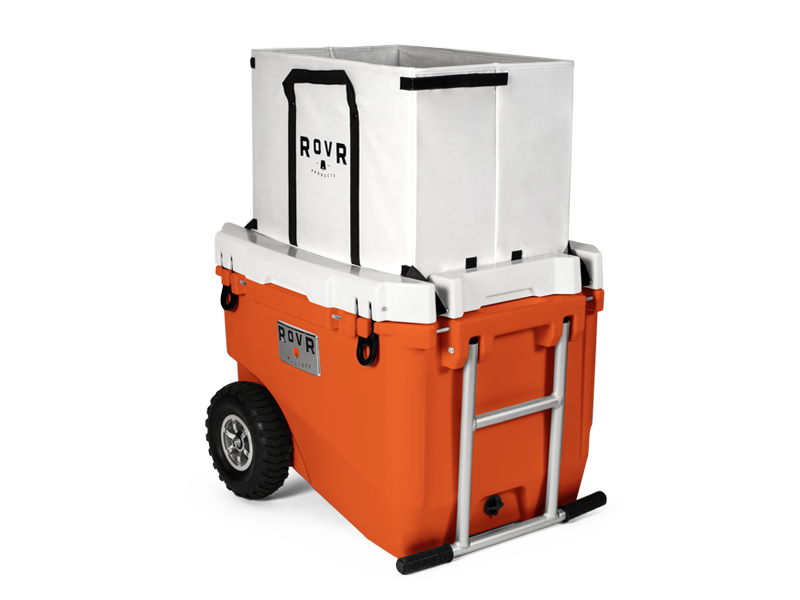 RovR 45-Quart:
---
RovR 60-Quart:
---
RovR 80-Quart:
YETI COOLERS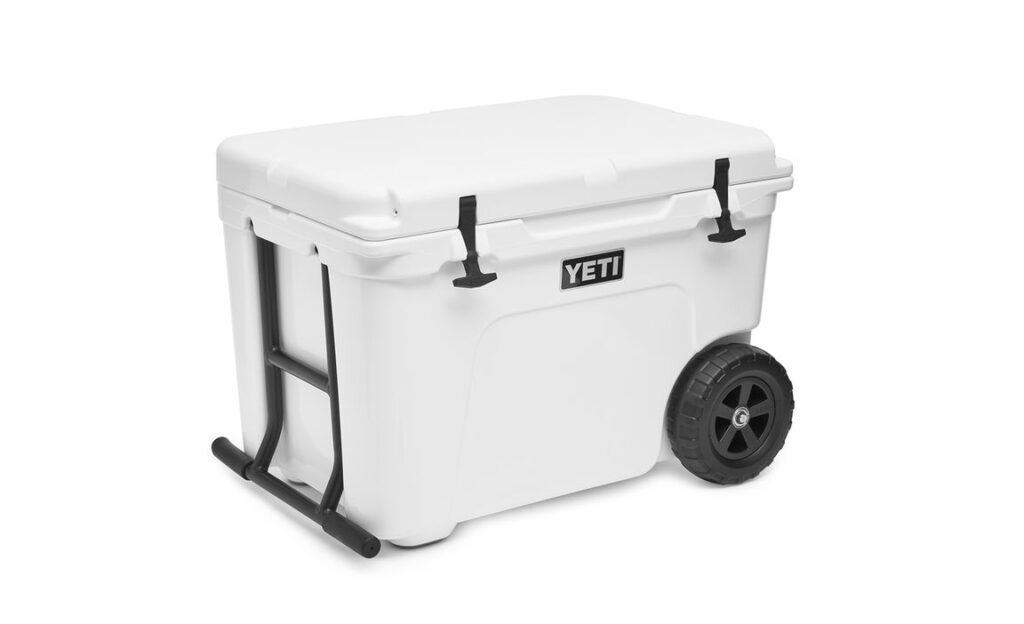 Orca 40-Quart:
---
Yeti Tundra Haul (65-Quart):
---
Pelican 80-Quart:
So as you can see, while RovR coolers aren't as cheap as something like a Coleman Xtreme wheeled cooler, they aren't more expensive than other similar quality roto-molded coolers.
So now let's look at the features of this cooler and whether or not it stacks up to the competition and is worth your hard earned money.
RovR Wheels + Metal Handle – Move Your Cooler Anywhere Easily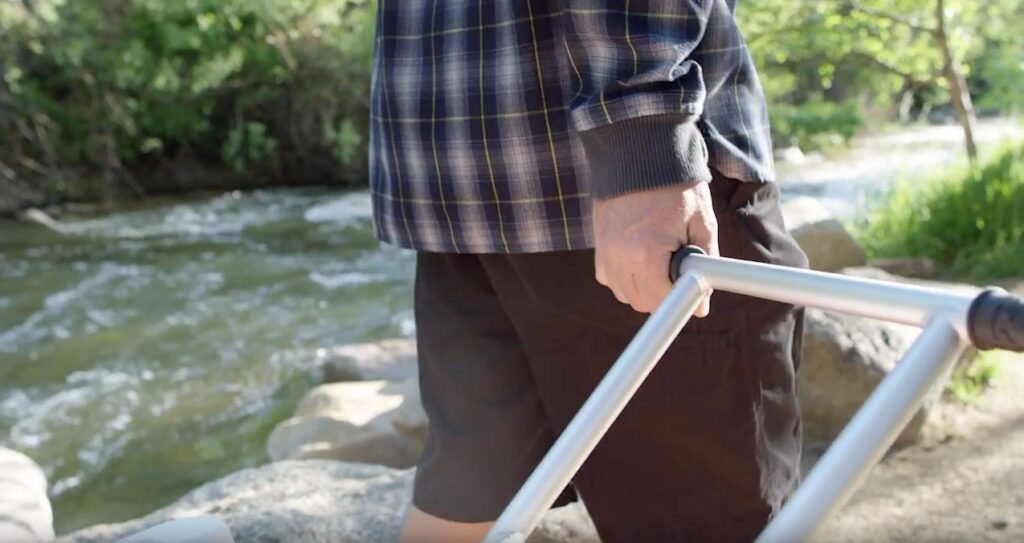 Roto-molded coolers are heavy even when completely empty. As soon as you fill them up with ice, drinks and food they become back-breakingly heavy and hard to move.
Adding wheels to the cooler makes it simple and easy to move your cooler anywhere by yourself, or even pull it with a friend to make moving it even easier.
The RovR cooler has big 9-inch inflatable tyres that are big enough to move easily over most terrain. Roads and flat surfaces are easy, so is dirt and hard sand, it does however struggle a little on really soft sand.
It has a large metal pull out arm with options for both a central or a wide grip.
The wide grip allows you to pull the cooler along side you, meaning it is less likely to clip you on the back of the ankles.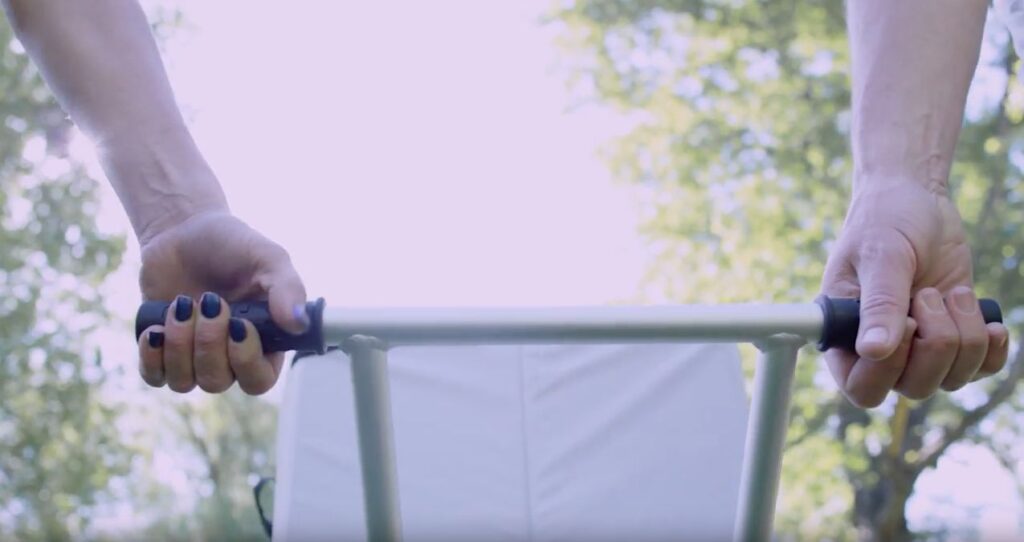 The wide handle grips also means it's extremely easy to have two people pull the cooler at the same time.
The smaller size, the 45-Quart, is a little bit different and has a suitcase style pull up central handle.
The way the cooler is designed with it's wheels and strong fold up arm, for every 4 pounds of weight the cooler has, you're effectively only lifting 1 pound of weight (or 25%). This makes lifting and moving the cooler achievable even if you're not a gym junkie.
Bike Attachment – Pull Your Cooler Anywhere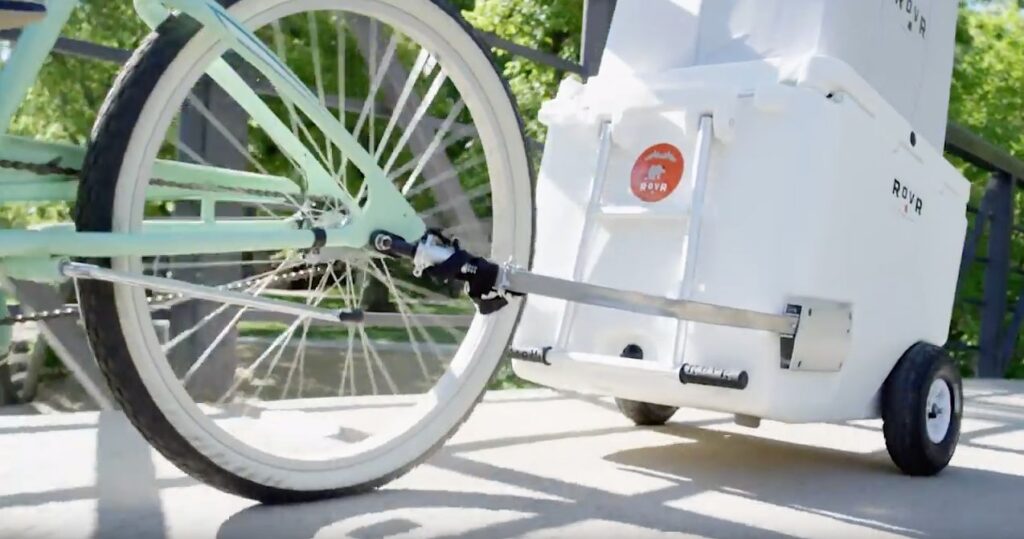 What makes the RovR cooler truly unique and remarkable is that it is the only cooler on the market with a bike attachment. You can attach your cooler to your bike and pull it along behind you as you ride.
This is a really cool feature that I can see being extremely useful to some people. It allows you to take your cooler longer distances without the need for a car.
You do need to pay extra for the BikR Kit.- which costs around $50-$60 – but it is a worthy investment if you think you might use something like this.
Then when your RovR is empty because you don't need cool beverages it can double as a storage trailer for your bike that you can fill with whatever dry goods you need to.
Because the RovR is waterproof and lockable you can keep your items completely safe and dry.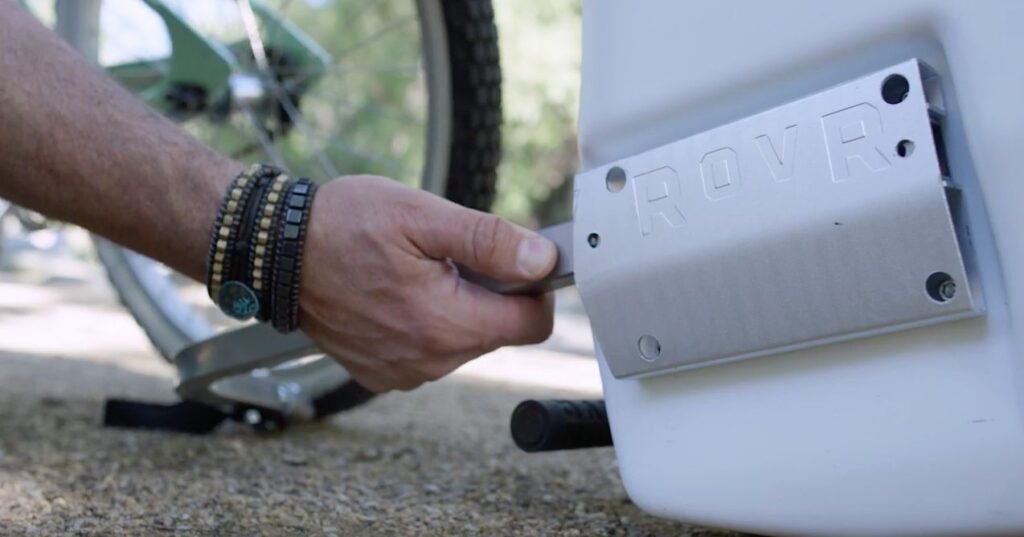 This bike attachment kit has been put through some rigorous testing but mountain bike riders and can easily travel over rough terrain and even go over jumps with ease.
RovR BikR Kit:
10+ Days Ice Retention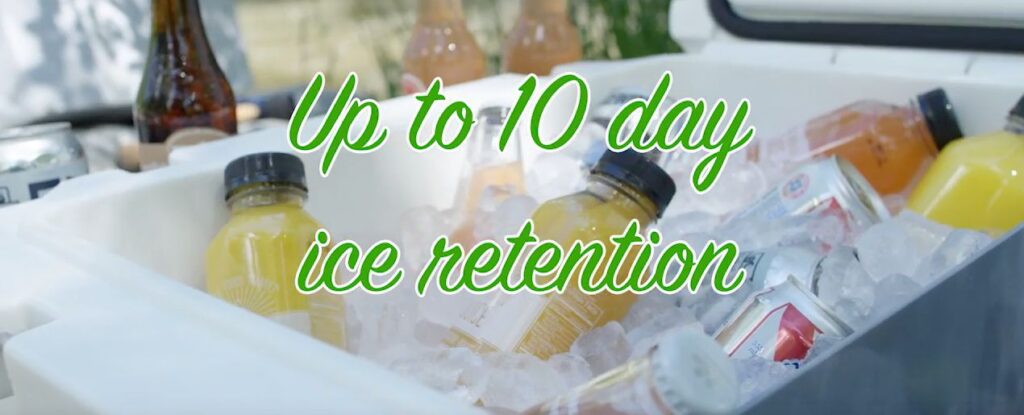 RovR claim that their cooler gives 10+ days ice retention, and while this may be true technically you're unlikely to get this sort of ice retention with everyday use.
I did a 10-day ice test challenge on my Yeti 45 and showed that when completely filled with ice and kept in the shade it could keep ice over 10 days.
However, I also lived in a van with that same Yeti and when using it normal and having food and drinks in your cooler 3-5 days ice retention is a more reasonable estimate.
For the larger 80-Quart RovR cooler you might get 5-7 days ice retention with regular use.
This is still on par with other roto-molded coolers and way better than cheaper run-of-the-mill coolers that can only hold ice for a single day (if that).
I couldn't find the specs anywhere on exactly how thick the insulation in the RovR is, but by looking at it it looks very similar to something like Yeti or Pelican coolers and so it make sense that it would keep ice just as long.
Be sure to pre-chill your cooler and takes these steps to keep ice longer in your cooler if you want to get the maximum ice retention.
Roto-Molded and Bear Proof Construction
RovR coolers are a similar price to high quality brands like Yeti and it shows. The build construction of these coolers is extremely high and right up there with the best of the best in terms of quality.
To me there is always going to be something about Yeti where the plastic just feels more premium, but RovR haven't cut corners like other cheaper coolers. They have created a premium product, and it shows.
RovR coolers are roto-molded, meaning they are made from extremely thick plastic making them incredibly tough.
They are thick as well, with 2-3 inches of pressure injected foam insulation in the walls and the lid of the cooler.
The RovR is so tough that it is certified bear proof. This means that (when padlocked) a bear will be unable to get into the cooler, meaning it'll be more likely to move on from your campsite.
This is great for people camping or hunting in the back country where grizzly or brown bears are around.
5 Year Warranty
The RovR is backed by a 5-year limited warranty as well as a satisfaction guarantee.
If there is a problem with your cooler within the first 5 years then RovR will replace or repair it free of charge.
It's important to note that this doesn't cover natural wear and tear of the cooler, nor does it cover you breaking the cooler by accident or by pushing it too far past it's limits.
The warranty also doesn't cover accessories, just the cooler itself.
External Wagon Bin – Take Your Gear With You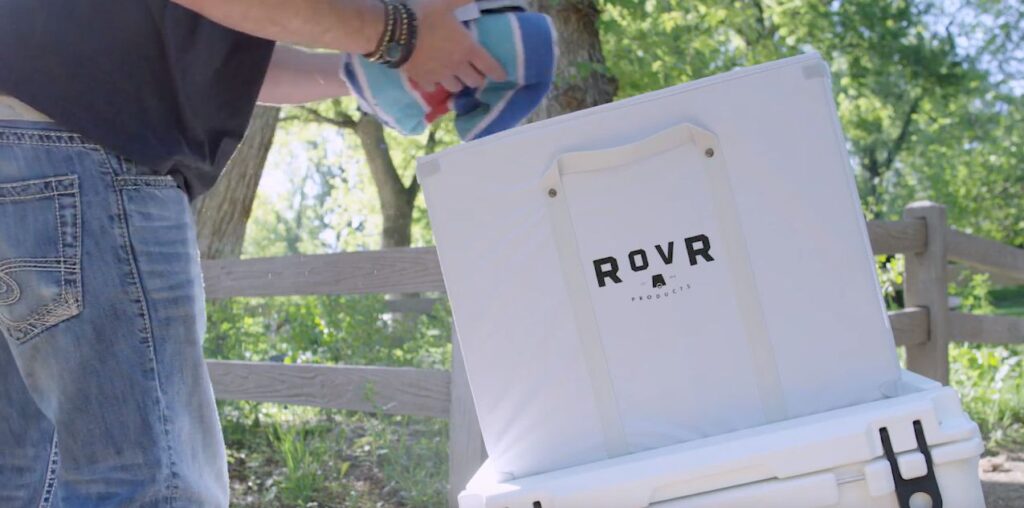 This is another great feature that I haven't seen on any other cooler.
The "External Wagon Bin" is a fancy word for a foldable box that fits onto the lid of the cooler. It kind of reminds me of the fabric boxes you buy from IKEA, only bigger and with a different brand.
The box completely folds down when you're not using it and it attaches to the lid of the RovR with Velcro straps. This then provides a bit of extra padding to turn the cooler into a more comfortable seat when you're not using it to store stuff.
Then when you need to haul gear you can unfold it and it will pop up into a large box that can fit a significant amount of gear.
Because the RovR has wheels and can be pulled or towed behind a bike, this extra storage bin allows you to more easily carry so much stuff. It's like a mini wheelbarrow or buggy, so practical.
The wagon bin box also completely detaches from the cooler so you can then take your items wherever you want them do and reattach it when you want to.
Internal Storage Bin – Keep You Food Cool AND Dry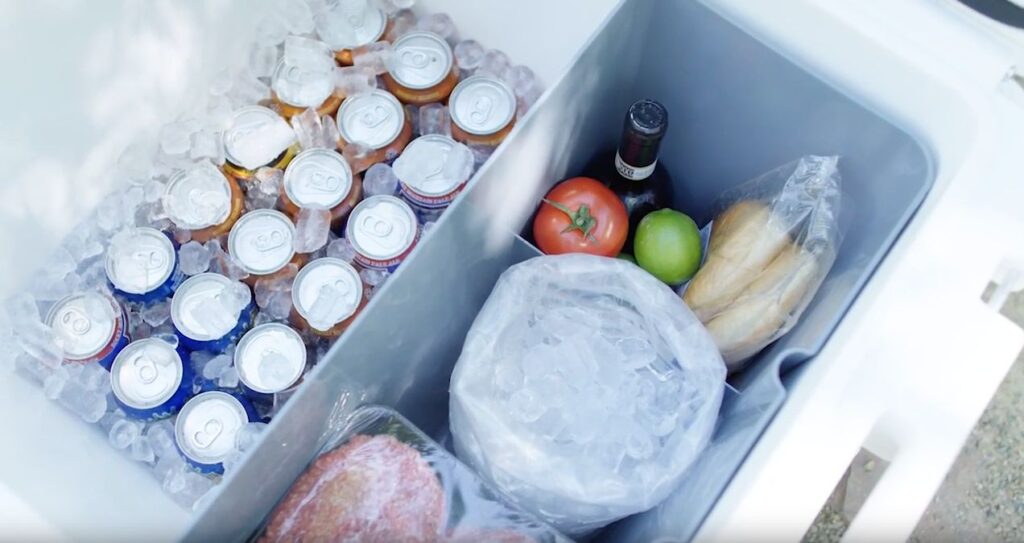 The RovR has taken the idea of a dry basket to a whole new level.
Rather than a simple metal grated basket that sits on the top of your cooler this is a compartmentalized plastic insert that slots perfectly into the deepest end of the cooler.
This internal dry bin comes standard with every RovR cooler so you don't have to worry about paying extra to get it.
The dry bin is the full height of the cooler, meaning even if you fill your cooler to the top water and ice won't be able to spill over wetting your dry items.
It has 3 smaller compartments down the bottom which you can use to better organise items and then the top is just an open single compartment so you can fit larger items you need to keep dry.
No more soggy sandwiches or hamburger meat juice mixing with your ice making a disgusting slush of who knows what!
Accessorize And Be The Life Of The Party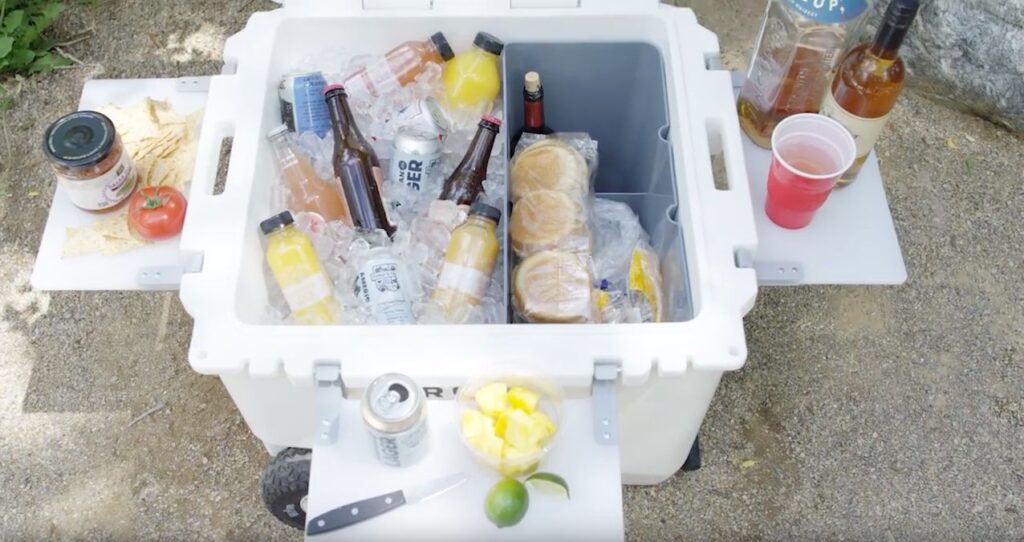 RovR's goal is to be the most feature rich cooler and to do this they have some pretty good accessories to go with their cooler.
All these accessories are able to be added to the body of the cooler in an unobtrusive way where you can still open the lid of the cooler and access the inside even when these accessories are attached.
It's important to note that these accessories are sold separately to the cooler itself.
Prepping Board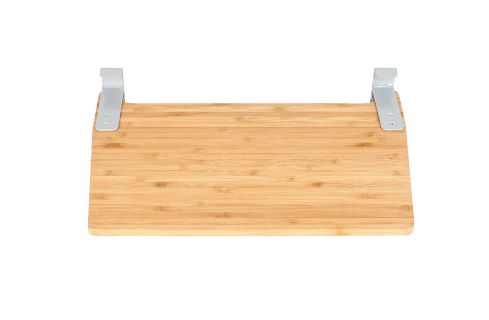 The RovR Prepping board clicks easily into place and provides you with a wide cutting surface for preparing food or drinks.
The butting board stays firmly in place and it's made of natural bamboo with powder coated steel bracket.
RovR Prepping Board:
Dual Cup Holders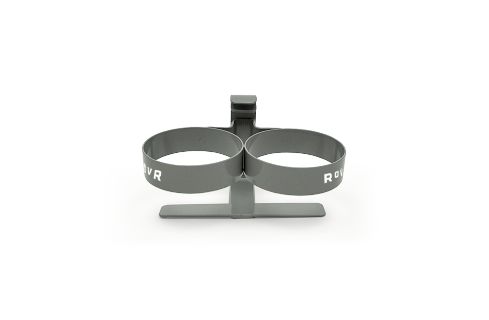 The dual cup holders connect in the same way to the prepping board and provide you an easy way to turn your cooler into an outdoor drink station.
I wish I had this when I was living in the van with my kids. A place to put their drink/water bottles (as well as my coffee or beer) would have been super handy.
RovR Dual Cup Holders:
Stash Bag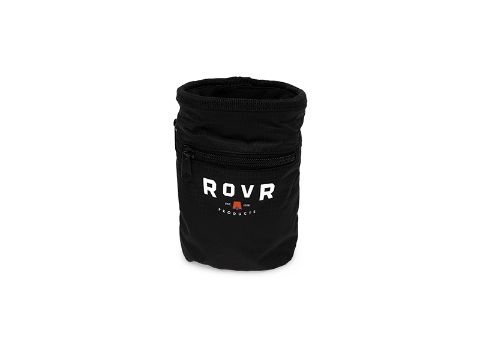 The stash bag can be used as a drink holder but it's also super handy for throwing in things like keys, wallets, money or other useful items like a lighter or some utensils.
Basically throw anything you want in these for easy storage. It has one main compartment and a smaller zipped compartment.
RovR Stash Bag:
Umbrella/Fishing Rod Holder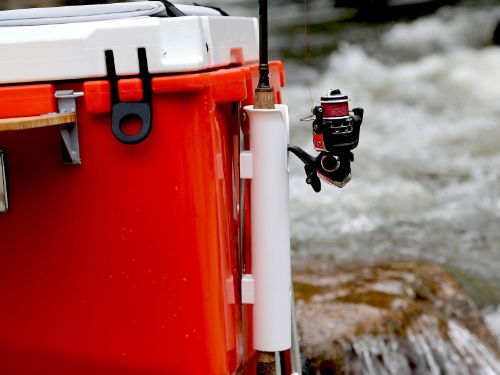 If you're wanting to use your RovR cooler for fishing then the rod holder can be a great accessory for you.
It can also double as an umbrella holder if you're spending a day at the beach or having a picnic and want to create some shade.
RovR Umbrella/Rod Holder:
Other Features You'd Expect In a Roto-Molded Cooler
The RovR also contains all the main features you would expect from a roto-molded cooler.
Thick Insulation
The RovR cooler has 2-3 inches of pressure injected foam (similar to the what Yeti coolers are made of) and this helps to keep ice longer in the cooler.
Regular coolers tend to have less than an inch of insulation in the sides and the lid's are actually completely empty offering little to no insulation at all.
Rubber Gasket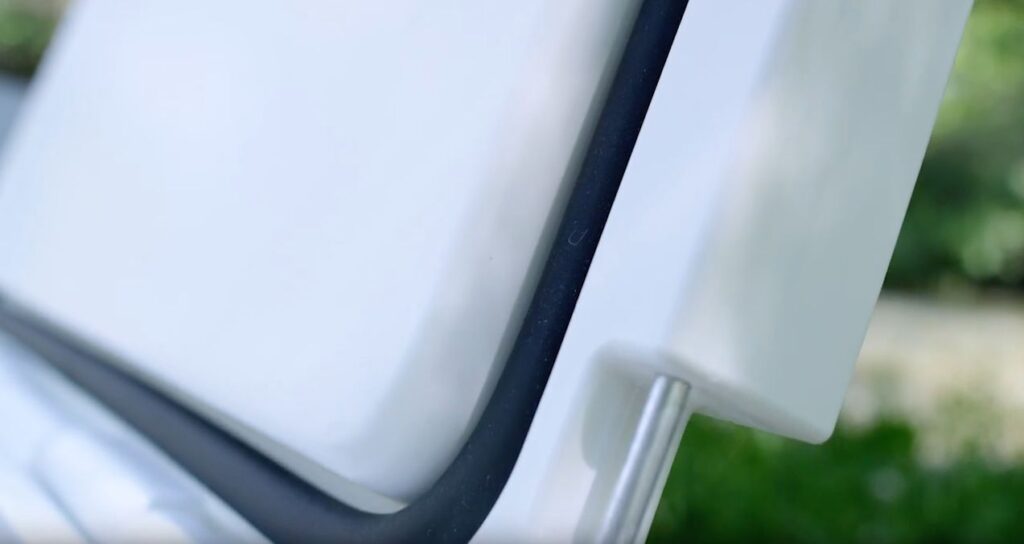 The lid of the RovR cooler has a commercial grade rubber gasket inside it.
When the lid is closed and latches pulled into place this creates an airtight seal, keeping the cold air in and the warm air out.
This helps the cooler to retain ice longer as it keeps more heat out.
Rubber Latches

The RovR cooler has pull down rubber latches similar to a lot of other roto-molded coolers but just a slightly different design.
Rather than have a T handle design like the Yeti it has a large hole that you can put your fingers in to pull down the latches and lock the lid in place.
They aren't hard for adults to use, but little kids may struggled to open these latches.
Strong Single Pin Hinge
The RovR has one solid stainless steel hinge that runs the full length of the cooler, connecting the lid and the main body.
These hinges are extremely strong and can handle a lot of weight. They are also extremely unlikely to break or wear out over time.
1-Inch Drain Plug
The RovR has a 1-inch drain plug that can be partially unscrewed to drain the water without removing the plug or full removed if you want to drain the cooler faster.
The drain plug isn't connected to the cooler so you do need to be careful you don't lose it.
…and yes I am one of those people who lost their drainage plug when emptying and cleaning their cooler. It made my cooler useless for a month until I found it again in the random spot I put it.
Non-Slip Feet
On the opposite side to the tyres this cooler has rubber non-slip feet. This helps it stay in place and not slide (or roll) around when you're driving.
Recessed Handles
There are recessed handles on the side of the cooler that you can grab onto when you're lifting the cooler in and out of the car or if you need to carry it for some reason.
Tie Down Points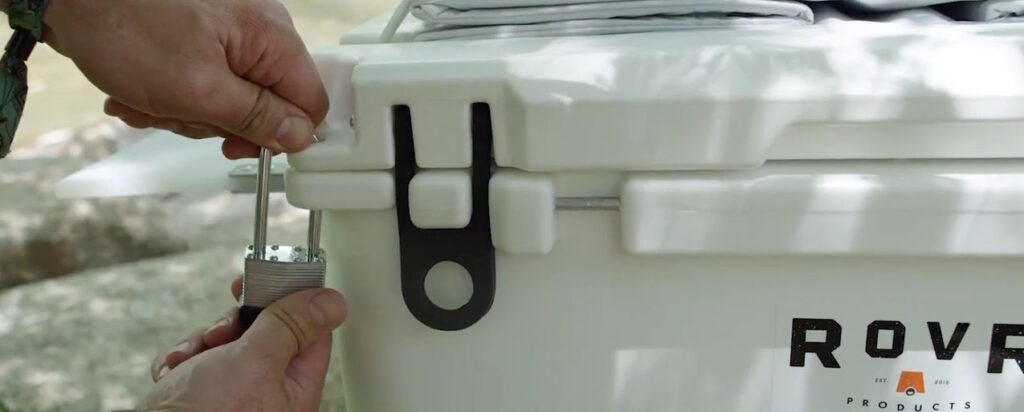 The external clips that allow you to connect accessories to your cooler also double as tie down point for the cooler.
You can tie the cooler down in your car, truck, van or boat and be confident that it isn't going to go anywhere.
RovR don't sell any branded tie down straps so you'll need to buy a generic pair or another brand.
Cooler Tie Down Straps:
Who Is RovR Coolers?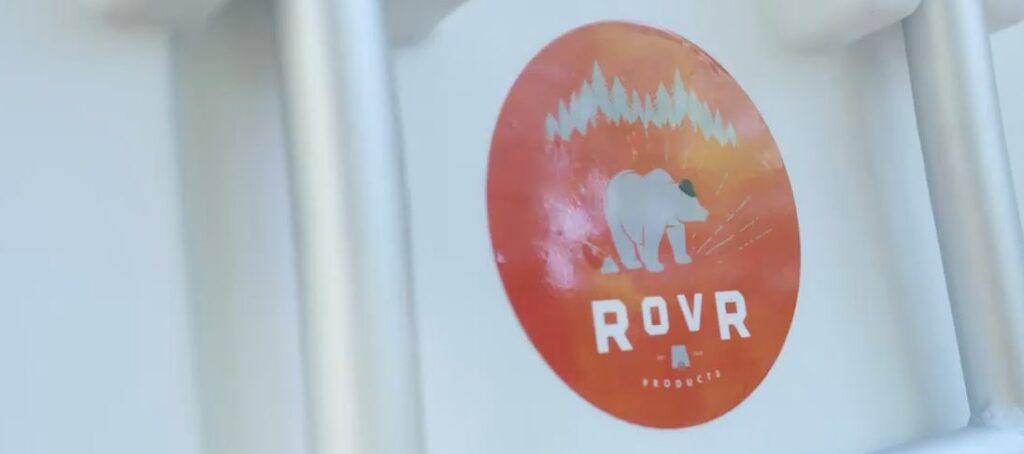 RovR Coolers haven't been around for very long. They launched in September 2017 on Kickstarter and Indiegogo and raised over $500,000 to get their coolers into production.
Customers first got their hands on these feature-asked rolling coolers in 2018.
Originally only the 60-Quart cooler was available but RovR then quickly launched a 45-Quart and 80-Quart version.
Their goals is to bring the most feature packed cooler to the market and to help people enjoy the great outdoors more.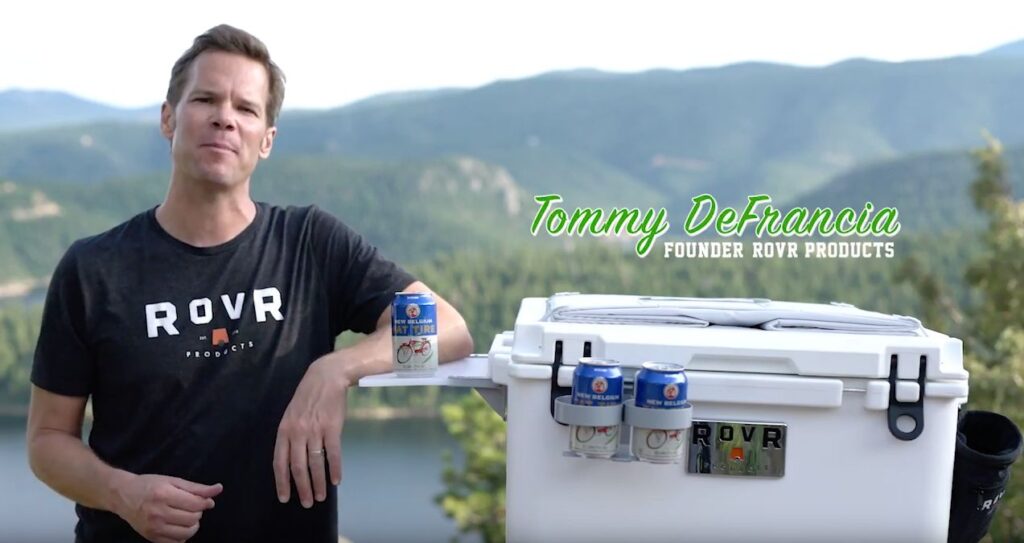 RovR was founded by Tommy Defrancia who was fed up with current cooler that were hard to move around and didn't have the features he wanted.
RovR is located in Boulder, Colorado and sells it's coolers all across the US mainland.
Problems with RovR Coolers
No cooler is completely perfect and despite it's quality construction and many features there are some problems with RovR coolers that you should be aware of.
None of these problems are deal breakers in my opinion, but I do want you to be fully educated before making your purchasing decision.
Internal Dry Storage Bin Floats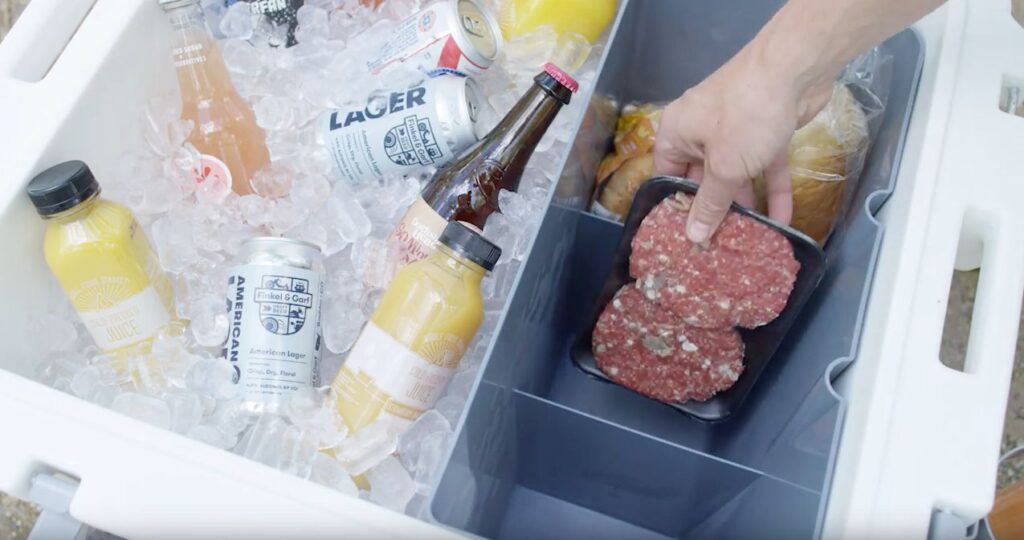 The internal storage bin sits at the bottom most part of the cooler and thus as the ice melts water naturally flows under the storage bin making it float.
RovR have added a velcro attachment to keep the storage bin in place to solve this problem, but it can be a hassle if you don't connect it properly.
External Wagon Bin Can Be Unstable
The external wagon bin is connected to the lid with 4 velcro straps…when fully folded.
To unfold you need to release 2 of the velcro straps meaning the wagon is only held on by 2 straps on one side. This can make it prone to being unstable and tipping over.
It Weighs A Lot
Roto-molded coolers as a whole weigh a lot because of the thick plastic outer shell as well as how much insulation is in them. When you fill them up they start to get really heavy.
The wheels are great for moving the cooler around but often you need to lift it in and out of a car which, when full, is a 2 person job.
Wheels Are Too Small For Soft Sand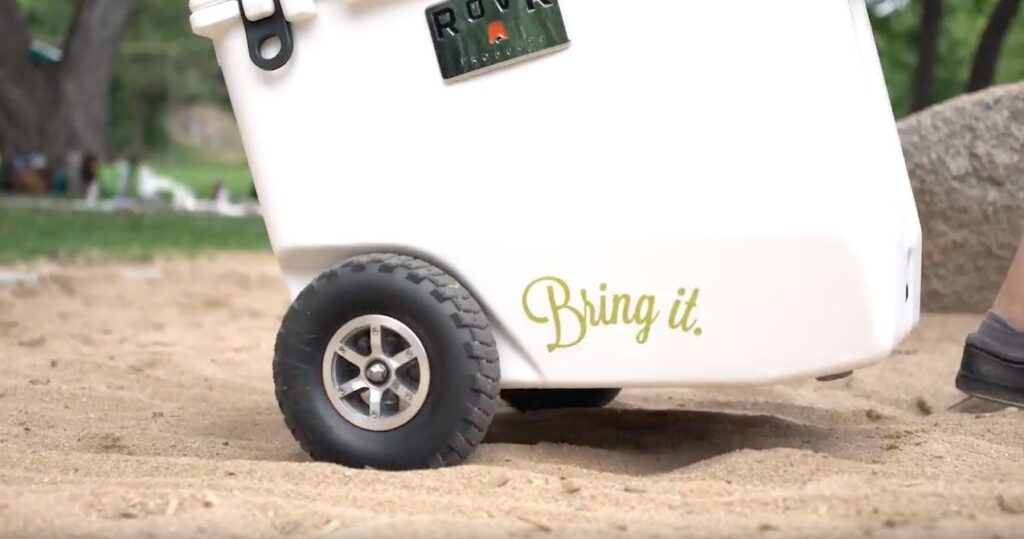 The inflatable wheels are great for the road and are also really good for most terrain, even if it's bumpy.
Hard sand it does fine on too, but soft sand can be a punish. The wheels are a bit too small and can sink into the sand leaving you dragging you're cooler along.
Strong Plastic Smell
Some customers have complained about the RovR coolers having a strong plastic smell when you first buy them.
This is very normal and has happened with most coolers I have purchased, but apparently the RovR plastic smell hangs around longer than most.
I don't know how valid this report is, but something to consider.
Where Can You Buy RovR Coolers?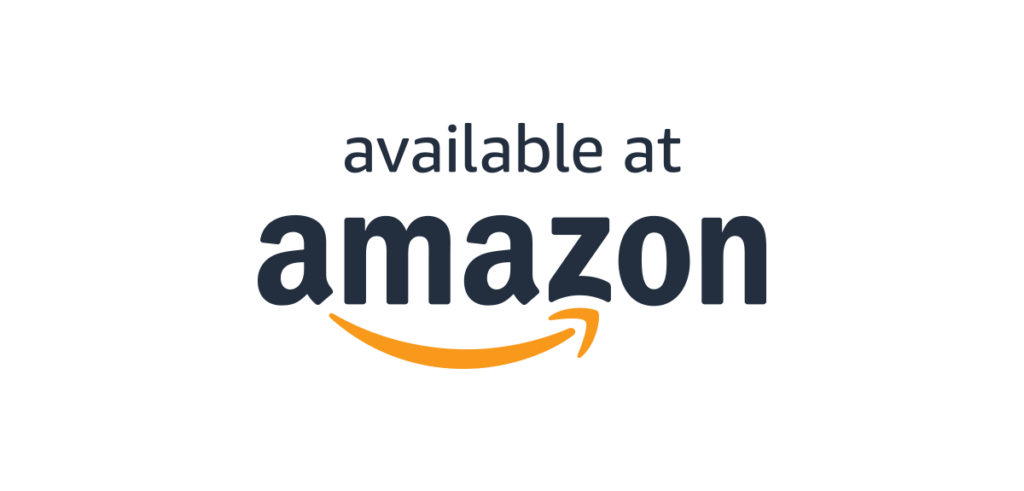 RovR coolers are sold through their website and through a select number of stores across the US. They don't have a wide reaching distribution as of yet.
They are still a fairly new cooler company and over time I'm sure more and more stores will start to stock them as they really are pretty great coolers.
Overall the easiest place to buy RovR coolers is through Amazon.
To see the current price of these coolers on Amazon please click the affiliate links below:
RovR RollR 45-Quart Wheeled Cooler (see details at Amazon)
RovR RollR 60-Quart Wheeled Cooler (see details at Amazon)
RovR RollR 80-Quart Wheeled Cooler (see details at Amazon)
Other Coolers Similar To RovR
RovR is a great cooler but it may not fit your budget or you may want to explore other wheeled cooler options before making your purchasing decision.
You can see my full list of the best coolers with wheels (RovR is ranked #2) or there are a few coolers below that I recommend you check out.
Yeti Tundra Haul: PREMIUM QUALITY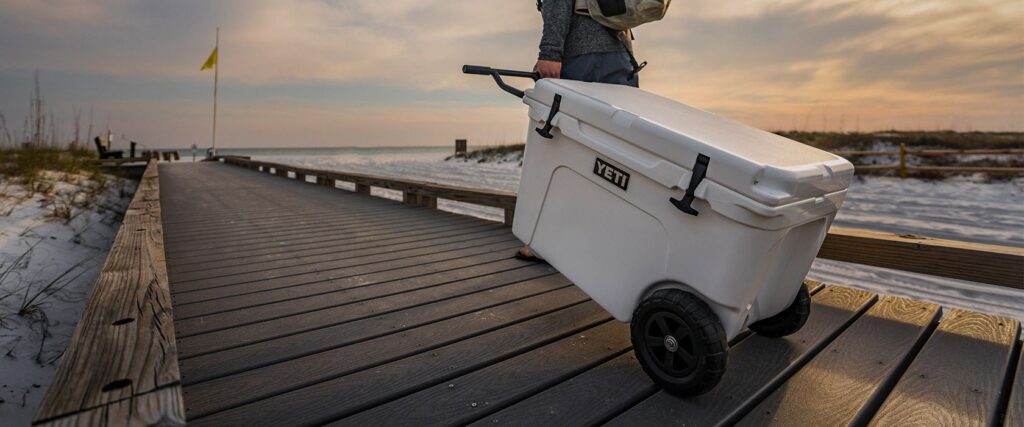 Yeti continues to make some of the best quality coolers on the market. They have great ice retention and there is something about them that just feels premium.
The Yeti Tundra Haul is their version of the wheeled cooler and it is extremely similar to RovR but will a few less features.
It has big solid rubber wheels, a pull up metal arm just like RovR and is also roto-molded and bear proof. It doesn't come with the internal or external storage bins but it is THE BRAND in coolers, so it has the brand factor going for it.
Yeti Tundra Haul 65-Quart Wheeled Cooler:
Ozark Trail Wheeled Cooler: BUDGET PICK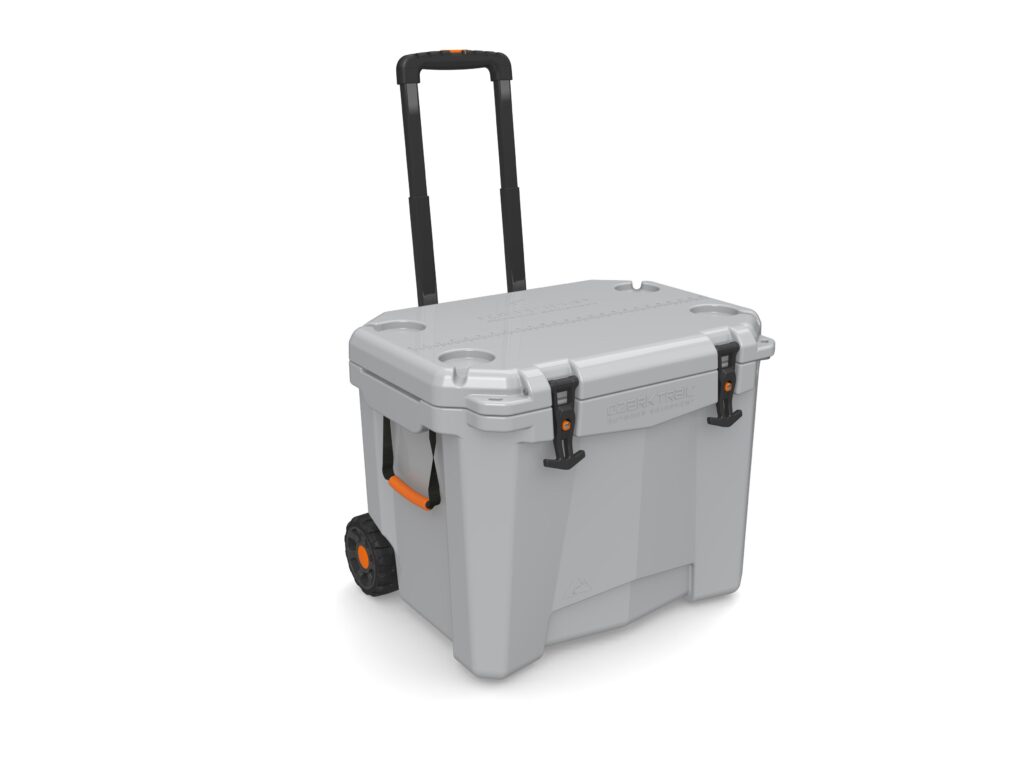 Ozark Trail is Walmart's brand of cooler and they make some of the most affordable roto-molded coolers on the market.
They have a 6-Quart wheeled version that has a suitcase style handle like the RovR 45.
It has molded in cup holders on the lid and rope handles on the side.
The build quality and ice retention isn't as good as Yeti or RovR, but it's still good and given it's about half the price you would kind of expect that.
Ozark Trail 60-Quart Wheeled Cooler:
Igloo Trailmate: PACKED WITH FEATURES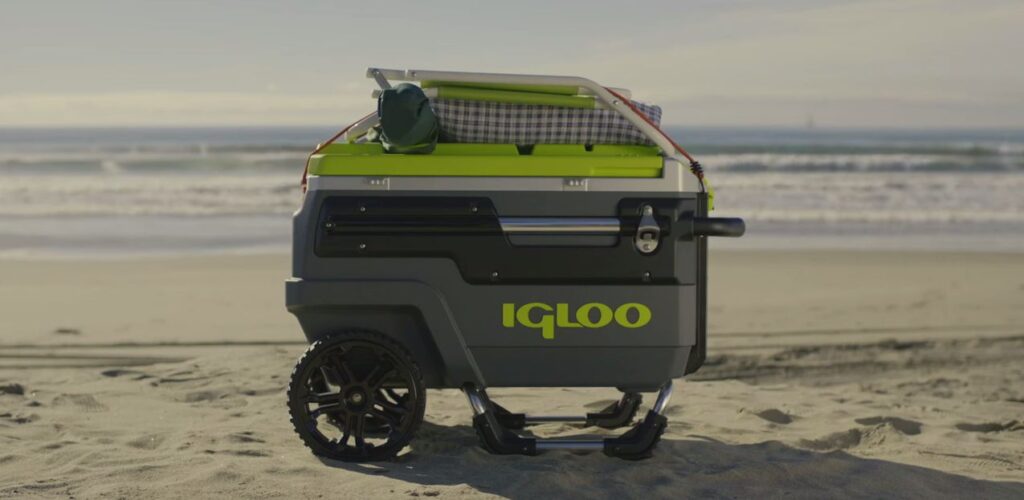 The Igloo Trailmate 70-Quart cooler is a very unique cooler.
It has some of the biggest wheels of any cooler on the market, making moving on soft sand a breeze.
It is packed with features like bottle openers, dry storage pockets, rod holders, cup holder and a butler tray.
It's not roto-molded, nor is it bear proof but it has good ice retention and is built well.
Igloo Trailmate 70-Quart Wheeled Cooler: