Yeti coolers are great but they are extremely heavy. Most Yeti coolers don't have wheels and the Yeti Haul, which has wheels, is extremely expensive.
Here are 10 coolers like Yeti but with wheels so you don't have to break your back carrying them. The good news is most of them are significantly cheaper than Yeti so you won't have to break your bank on them either.
Considering how many Yeti imitators there are, there are actually very few high-quality coolers with wheels.
Each of these wheeled coolers is similar to Yeti in some aspects, but many have additional features that Yeti doesn't have.
Also, many of these coolers are cheaper than a similar sized Yeti without wheels.
I will provide links to purchase or see more details of each of the coolers throughout these articles. These links are affiliate links so if you do purchase through these links thank you.
The Cooler We'll Be Comparing To: Yeti Tundra Haul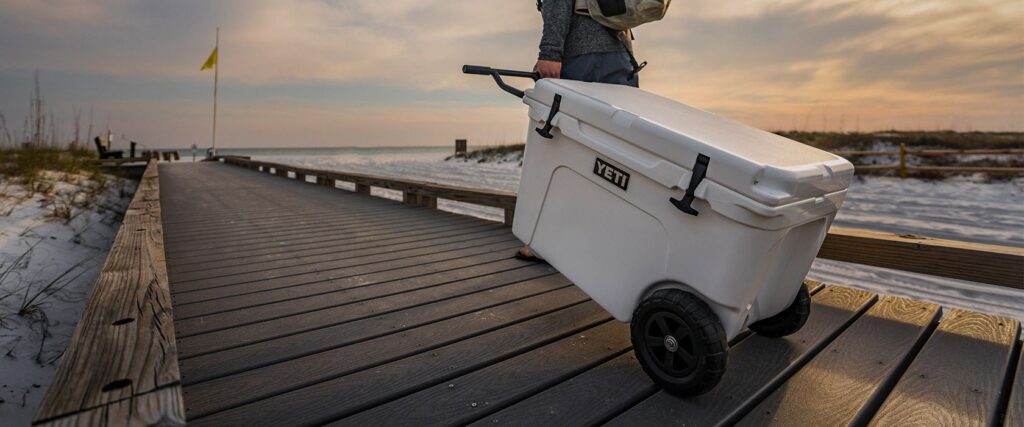 Yeti actually does sell one cooler that has wheels. It's called the Yeti Tundra Haul and it comes in just one size – Yeti Tundra Haul 65, which is roughly 65-quarts in capacity.
It is roto-molded and made similar to other Yeti coolers with a few exceptions: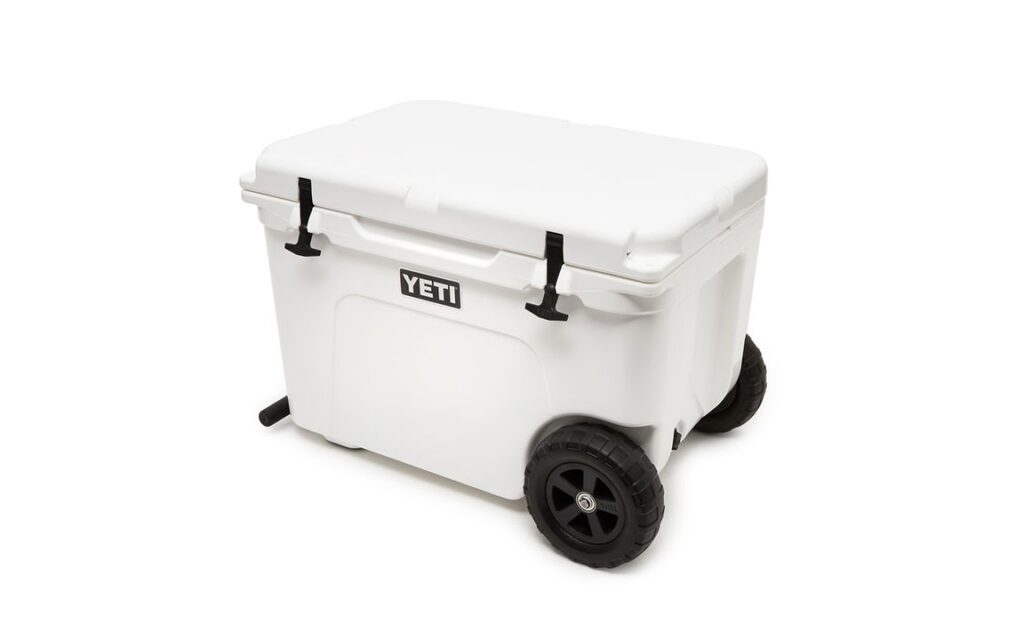 Never Flat Wheels
The Tundra haul has big and bulky wheels made from a single-piece tyre that is both impact and puncture resistant.
The wheels are big enough and strong enough to pull a full loaded Yeti over bumpy and difficult terrain.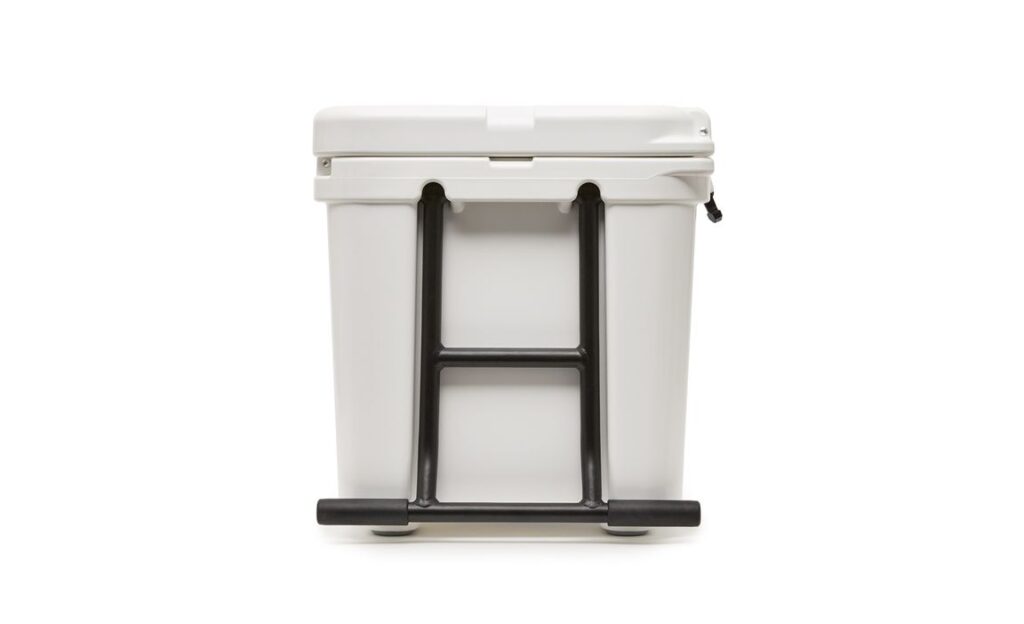 Strong Arm Handle
Instead of the standard nylon rope handles this cooler has a single strong arm handle that folds up from the side.
This is a welded aluminium arm with a wide carry arm and comfortable grips.
You can pull with one hand, pull backwards with two hands or grab a friend and each of you pull it together.
There are still moulded in handles for carrying this cooler with one or two people.
Price: One Of The Most Expensive Wheeled Coolers On The Market
The Yeti Tundra Haul is one of the most expensive wheeled coolers on the market.
A lot of the coolers below offer a similar cooler with wheels, but for a fraction of the price.
To see the latest prices, colors and other customer reviews for the Yeti Tundra Haul click on the Amazon price link below:
Yeti Tundra Haul 65-Quart Wheeled Cooler:
1. Pelican Wheeled Cooler – High Quality, Multiple Options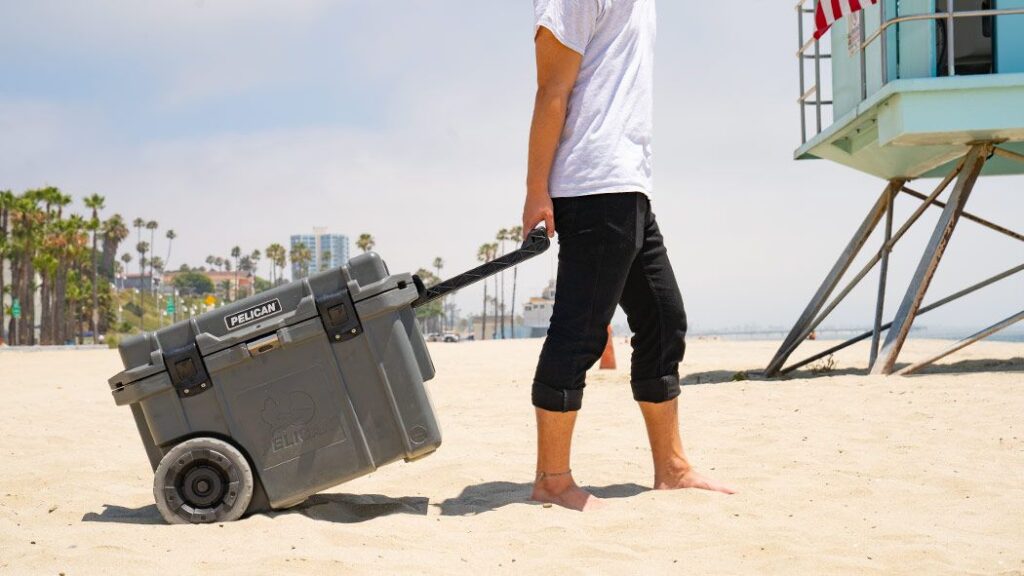 Pelican was one of, if not THE, first companies to make a roto-molded cooler with wheels, and they also happen to make one of the best wheeled roto-molded coolers as well with quality on par with that of Yeti and similar (if not better) ice retention.
This press release announces their wheeled cooler back in March of 2015 over 3 years earlier than Yeti released their Tundra Haul.
They have since redesigned their coolers and made them even better and much lighter and it now their wheeled versions comes in 3 sizes – 45-Quart, 55-Quart and 80-Quart.
All Pelican coolers are a strong roto-molded construction, are bear proof and have a fishing ruler moulded into the lid.
What makes the Pelican stand out from the rest of the lineup is the beefy design, this thing just looks tough! It has strong moulded handles that stick out the side, a built in bottle opener on the front and it's push/pull latches are unique and extremely satisfying to use.
Ice retention is very similar to that of a Yeti and all Pelican coolers are made in the USA (Yeti coolers aren't made in the USA).
The 45 and 80 Quart Coolers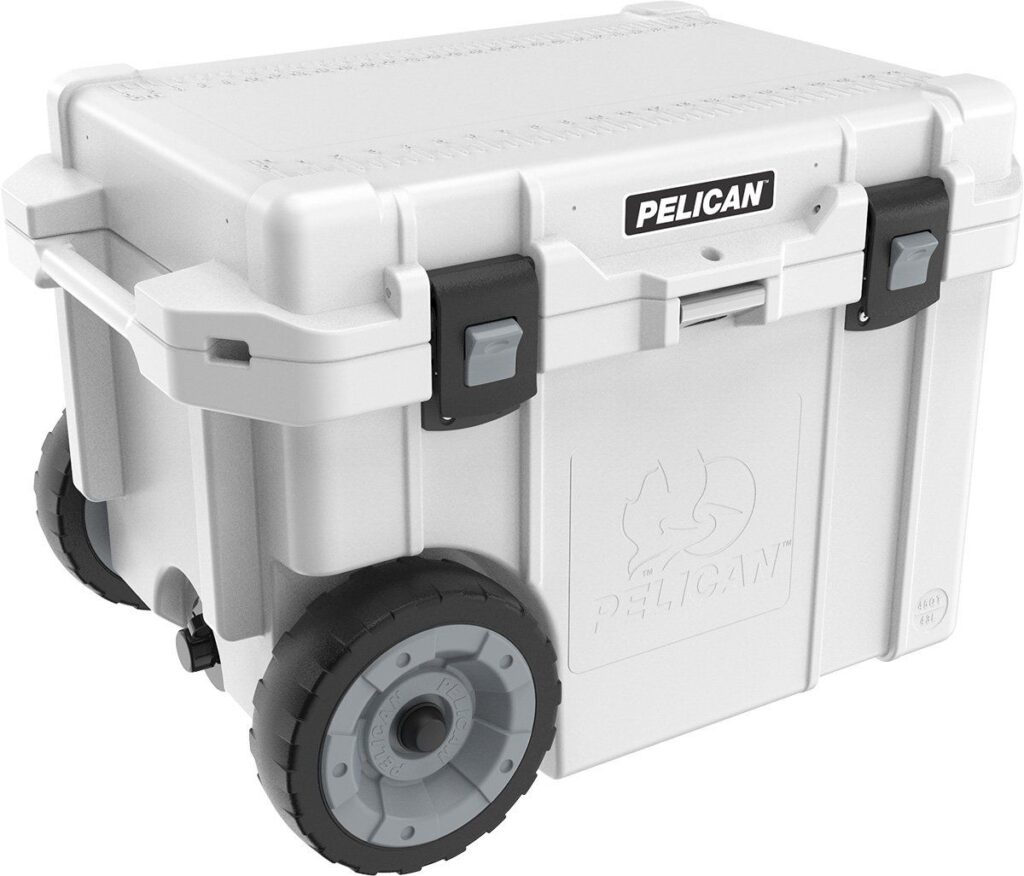 The 45 and 80 Quart coolers have wheels on the side and a strong pull up handle that is sturdy and easy to pull along.
To see more details of these coolers click the price link below:
Pelican Elite Wheeled 45-Quart:
Pelican Elite Wheeled 80-Quart:
The 55 Quart Tailgater Edition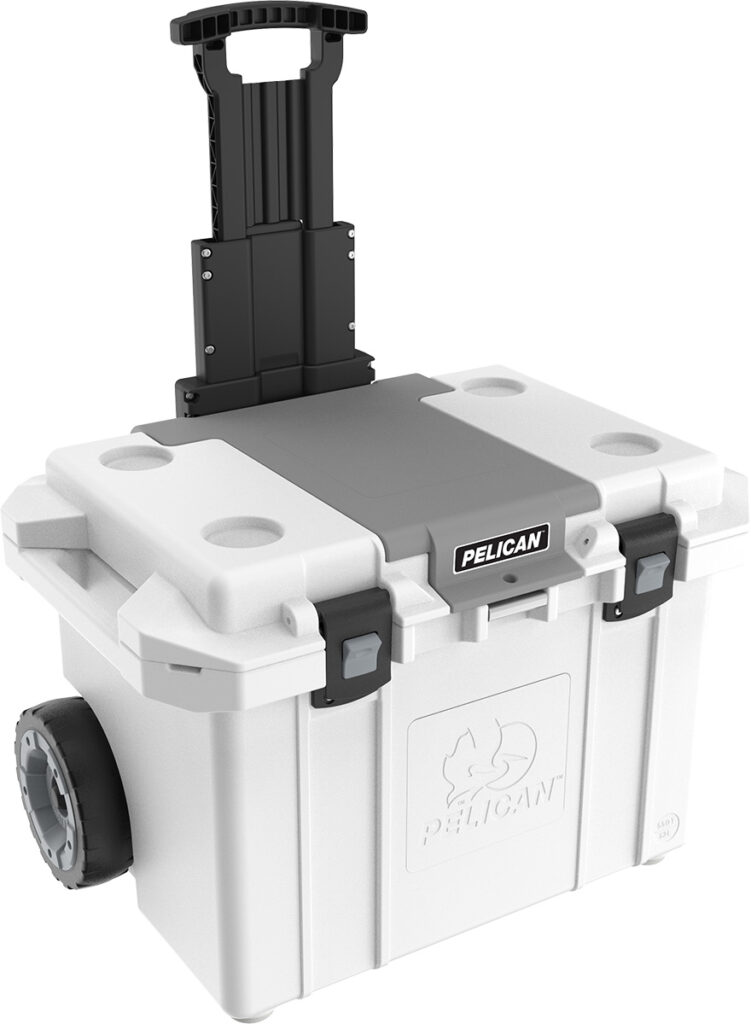 Pelican also have a unique 55-Quart Tailgater Cooler that has some extra features the 45 and 80 Quart coolers don't have.
Rather than having the wheels on the side it has them on the back of the cooler, and rather than the pull up handle it has a sturdy suitcase style handle that extended up from the back of the cooler.
The lid of the cooler has a secondary opening in the middle where you can quickly access the contents of the cooler without having to open the full lid of this cooler.
While this is great for an afternoon tailgate event, it does negatively affect the ice retention of the cooler.
I personally prefer the suitcase style handle and the extra opening at the top is a cool feature. You just need to decide if losing that bit of ice retention is worth is for you.
To see more details of these coolers click the price link below:
Pelican Elite Tailgater 55-Quart Wheeled:
2. Budget Pick: Ozark Trail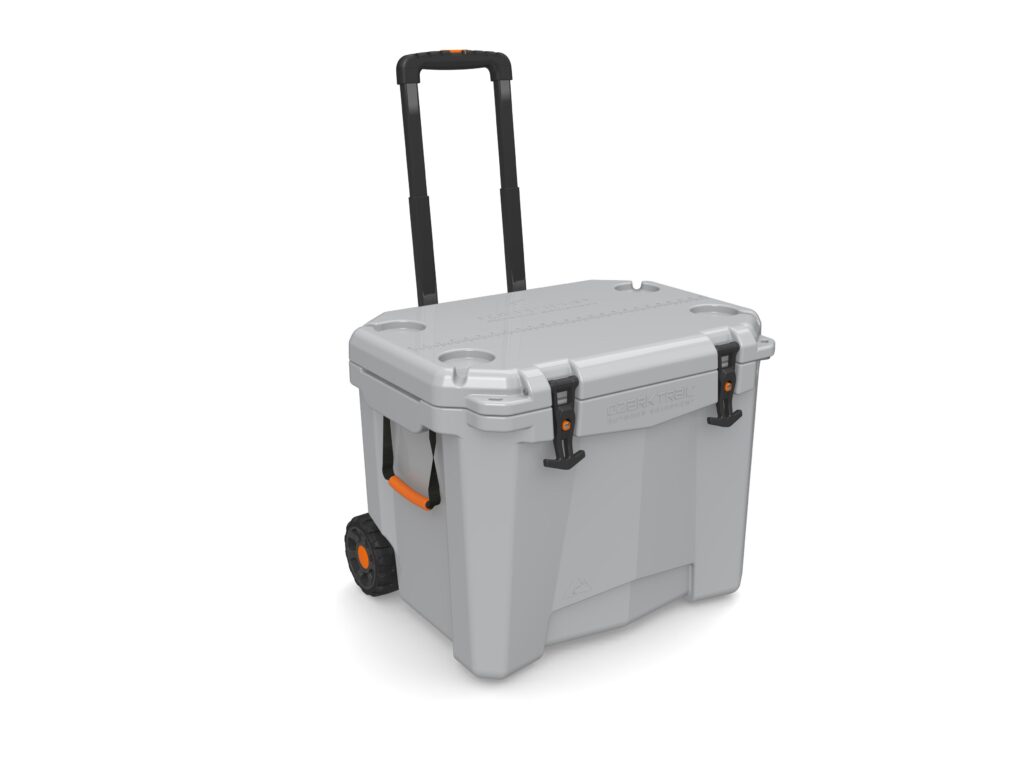 The Ozark Trail is Walmart's cooler brand and they are available for a tiny fraction of the price of a Yeti cooler.
The 60-Quart Ozark Trail with wheels sells for around depending on what sale is on and if you buy it from Amazon or Walmart. The Yeti 65 (57-Quart) sells for nearly twice as much – around .
Ozark Trails are a durable roto-moulded construction, certified bear proof and come with moulded in cup holder, a fishing ruler and reversible anti-skid/slide feet.
The build construction isn't as good as Yeti coolers and the finish isn't as nice, they also don't keep ice quite as long. But give they are less than half the cost of a Yeti, they are still great value for money.
To see more details of these coolers click the price link below:
Ozark Trail 60-Quart Wheeled:
Make Any Ozark Trail Cooler a Wheeled Cooler For Just $40!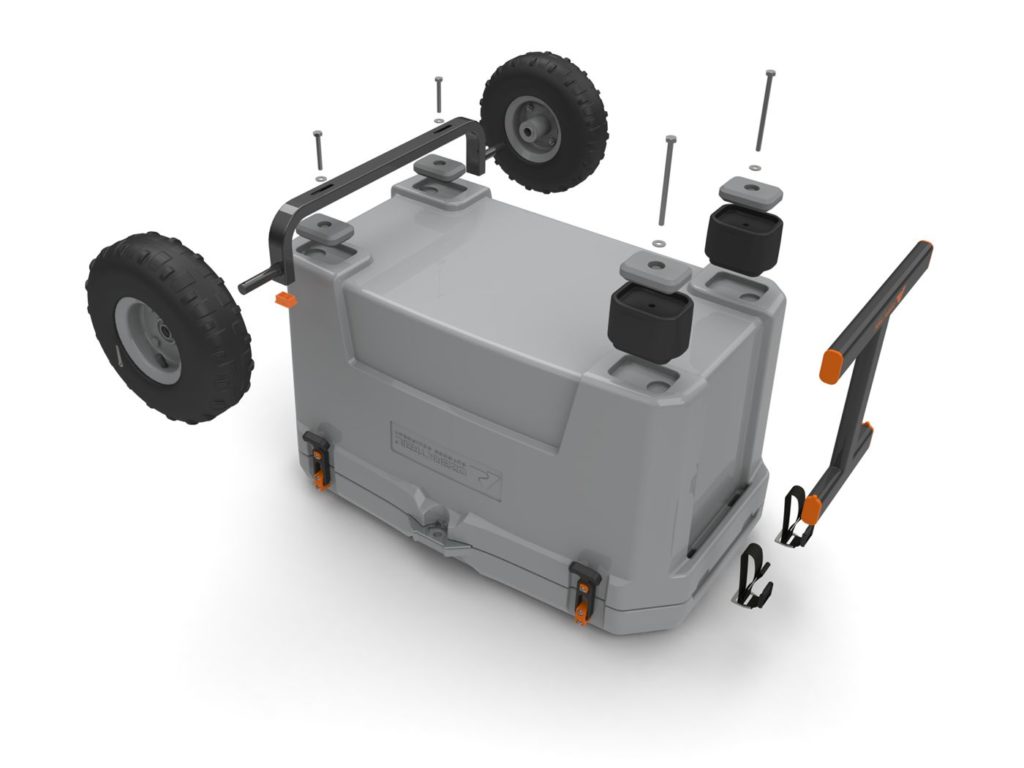 Walmart also sell an affordable wheel kit designed especially for the Ozark coolers that don't come with wheels by default, meaning almost their entire range you can turn into a wheeled cooler.
For around $40 this kit will convert your standard Ozark Trail cooler into a wheeled cooler. It'll add 2 wheels to the side and a pull up side handle similar to Yeti's handle.
This wheeled kit works on both the 52-Quart and 77-Quart Ozark Trail coolers.
All up this makes a wheeled Ozark 52-Quart cooler approximately $160-$180 and the 77-Quart approximately $220. The Yeti Tundra Haul, which has a capacity around 65-Quart sells for around $400.
If you're interested in getting the Ozark Trail cooler plus wheel kit I'll link up to it using my affiliate link below:
See Ozark Trail 52-Quart Cooler (on Walmart.com)
See Ozark Trail 73-Quart Cooler (on Walmart.com)
See Ozark Trail Wheel Kit (on Walmart.com)
3. RovR Wheeled Cooler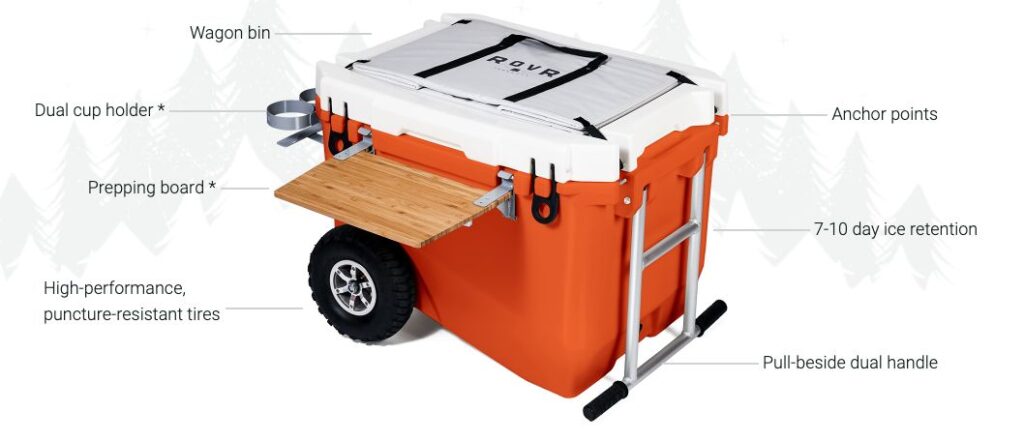 The RovR Wheeled cooler is a beast of a cooler. Certified bear proof and built tough these coolers are packed with some pretty unique and cooler features you won't find on any other cooler.
Ice retention on the cooler is great, on par with Yeti if not slightly better ice retention.
It has enormous 9-inch tyres that are puncture resistant and on aluminium hubs and are great for flat roads or even rough off-road terrain.
This cooler also has the option to add a bike trailer attachment to it, which is a one-of-a-kind feature you won't find on any other cooler.
They have a separate removable compartment that can keep items dry and you can add all sort of accessories like cup holder and a cutting board that doubles as a tray.
The top compartment is also amazing and is a storage bin that folds flat, so if you want to carry extra gear then you easily can. It also separates from the top if you want to carry it separately.
It comes in 2 sizes, 45-quart and 60-quart and is well worth checking out.
To see more details of these coolers click the price link below:
RovR 45-Quart Wheeled Cooler:
RovR 60-Quart Wheeled Cooler:
4. Igloo Trailmate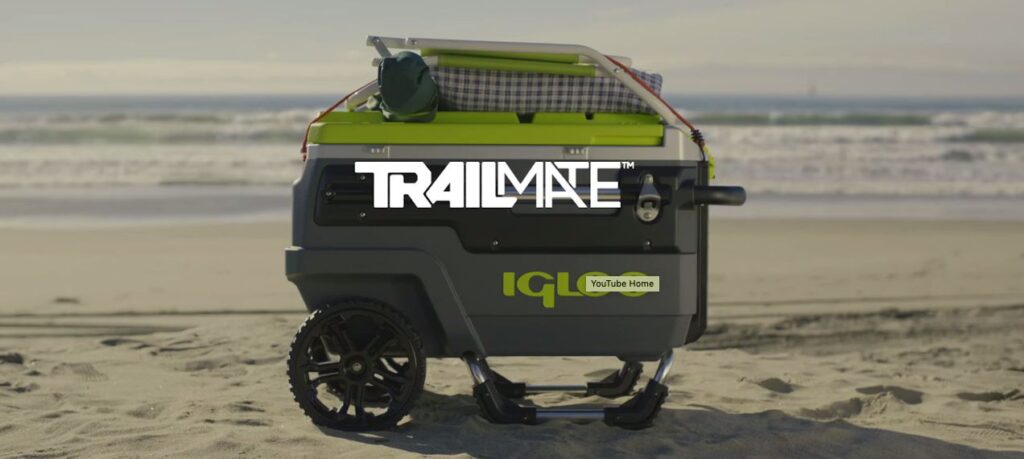 It's nice to see a cooler company come out with something innovative and different and Igloo have certainly done that with their 70-Quart Trailmate cooler.
This thing reminds me of the mars rover or something and it's ice retention is amazing.
The wheels on this thing are massive and these are the biggest wheels on a cooler I have ever seen. This handles dirt and sand and gravel and basically any rough terrain with a breeze.
The handle slides way out making wheeling it a breeze and it is packed with some really cool features:
Bottle opener on both the front and back
Dry goods basket
Removable fishing rod holders
Integrated carry handles for easy carrying
Moulded in cup holders in the lid
2 dry storage compartment at the front of the cooler
Removable cutting tray/drink tray that fits into the handles of the cooler
This cooler isn't roto-molded like the Yeti cooler so it won't be as tough and it also isn't bear proof, but overall it's a great cooler and much more affordable than the Yeti.
To see more details of these coolers click the price link below:
Igloo Trailmate 70-Quart Wheeled Cooler:
5. Kysek – Inbuilt Hidden Wheels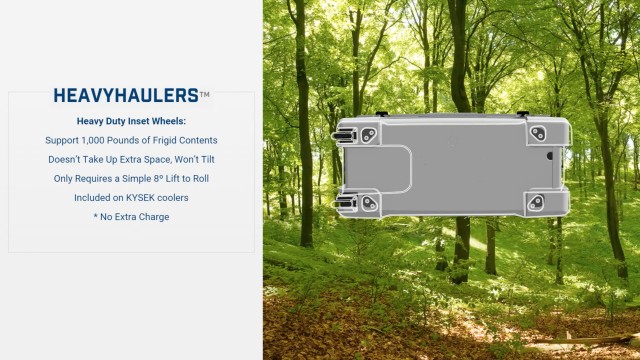 The Kysek created a really unique way of adding wheels to a roto-molded cooler and in my opinion this is a really great feature and I'm surprised no other cooler company has followed suit.
Rather than releasing a cooler which giant bulky wheels they released a cooler that looks and works like a standard roto-moulded cooler with non-slip feet and rope handles, but they added inset wheels on the side.
They call them "Heavy Haulers" and they can handle up to 1,000 pounds of weight without taking up any extra space.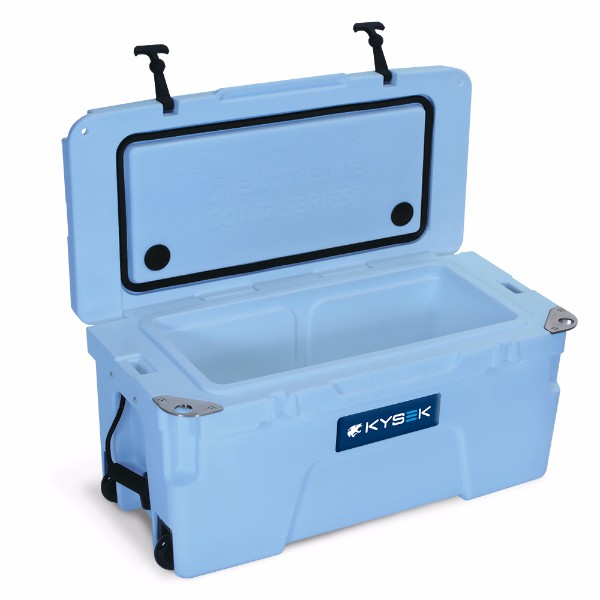 Simply use the rope handle to tilt up your Kysek cooler and instantly it becomes a wheeled cooler.
These wheels are on the 35, 50, 75, 100 and 150-Quart models and Kysek coolers are cheaper than Yeti coolers, but have similar (if not better) ice retention when tested side by side.
The wheels aren't as wide as other models on this list so taking your Kysek long distances over rough terrain or trying to roll it on the beach won't go so well. But for moving it short distances it's great.
If you're interested in a Kysek coolers then click my Amazon affiliate link below to see the latest prices and other customer reviews:
Kysek 35-Liter Wheeled Cooler:
Kysek 50-Liter Wheeled Cooler:
Kysek 75-Liter Wheeled Cooler:
Kysek 100-Liter Wheeled Cooler:
Kysek 150-Liter Wheeled Cooler:
6. Canyon Cooler Mule – Bungee Rope To Help You Carry Almost Anything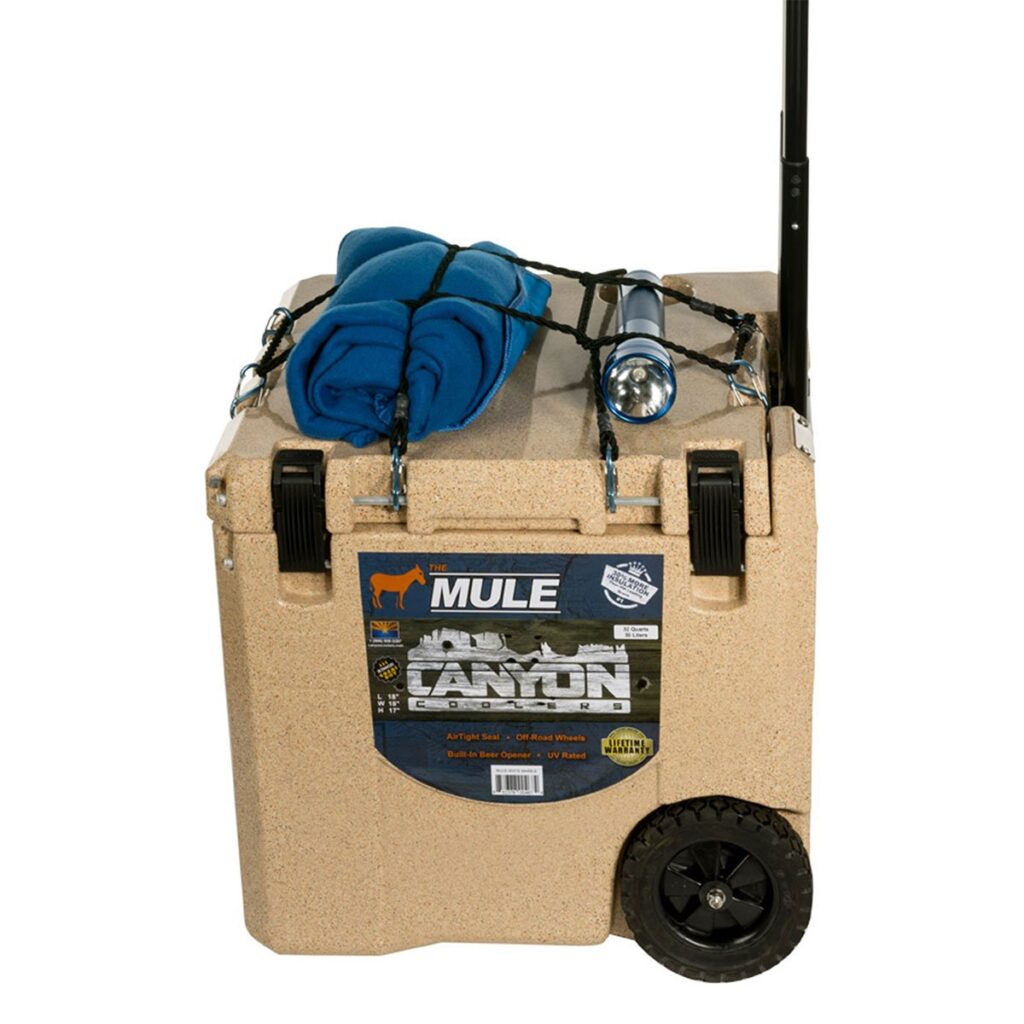 I've always been a big fan of Canyon Coolers (see my comparison of Canyon to Yeti) and the Mule is a unique wheeled cooler.
It's smaller than most other wheeled coolers in this lineup with a capacity of 30-Quarts and it's standout feature is that it has multiple tie down points on the lid of the cooler and comes with a bungee netting on the top of the cooler so you can secure your extras.
With the pull up suitcase style handle you are able to load up this cooler with ice and your favourite beverages and then load up the lid of the cooler with any extras you need to take with you and use the cooler just like a mule.
Canyon coolers are shipped out of their manufacturing plant in Alabama, the coolers have an airtight seal and are certified bear proof.
If you're interested in a Canyon Mule then you can see the latest prices and customer reviews by clicking my Amazon affiliate link below:
Canyon Mule 30-Quart Wheeled Cooler:
7. SUPER BUDGET Under $50: Coleman Extreme Wheeled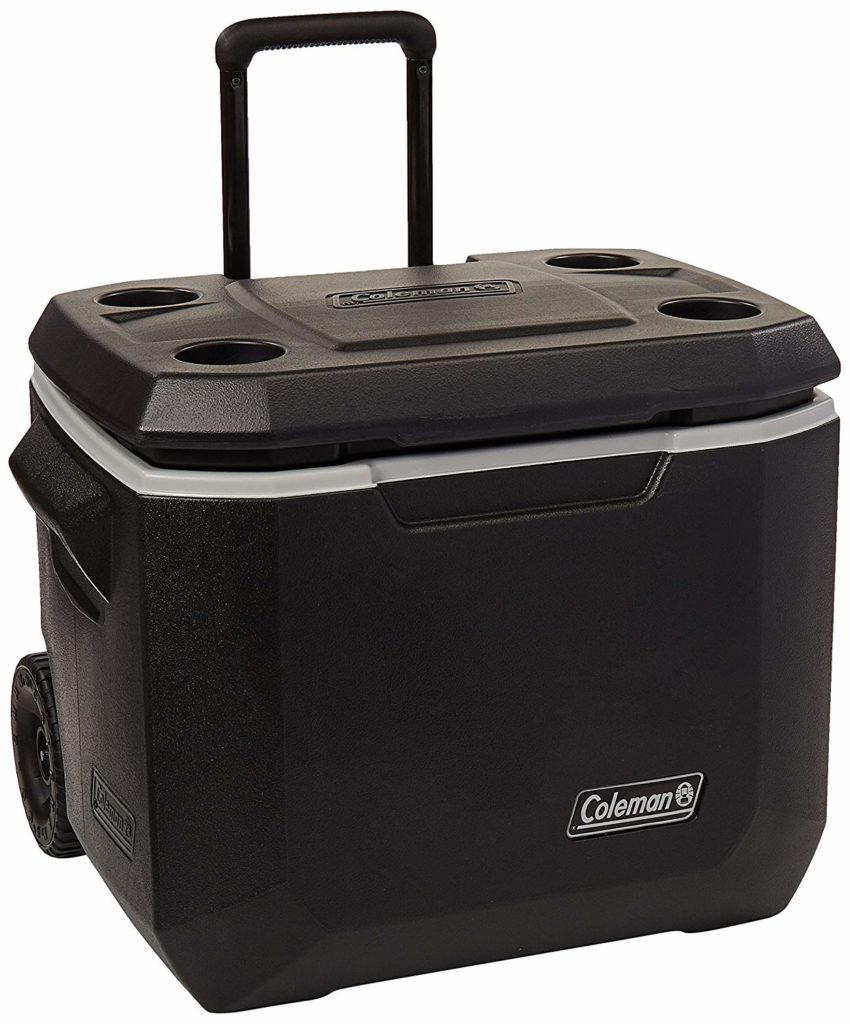 Ok this cooler isn't exactly like Yeti, in fact it has more in common with a traditional cooler than a Yeti cooler but I wanted to include it because it is (in my humble opinion) the best cooler out there for those with a very tight budget.
It generally sells for under $50 and sometimes even under $40 and can keep ice for up to 5-days.
It's not roto-molded, nor is it bear proof and it doesn't have rubber latches or a commercial grade gasket. It's a pretty simple cooler but it works.
There are 3 different sizes. A 50-Quart size with a suitcase style handle or the larger 62-Quart and 100-Quart sizes with a large fold out handle on the side for pulling it along.
If you're on a super tight budget then I highly recommend these coolers. I have a Coleman Xtreme 52-Quart (no wheels) cooler and I absolutely love it.
To see more details of these coolers click the price link below:
Coleman Xtreme 50-Quart Wheeled Cooler:
Coleman Xtreme 62-Quart Wheeled Cooler:
Coleman Xtreme 100-Quart Wheeled Cooler:
8. Milee Wheeled Cooler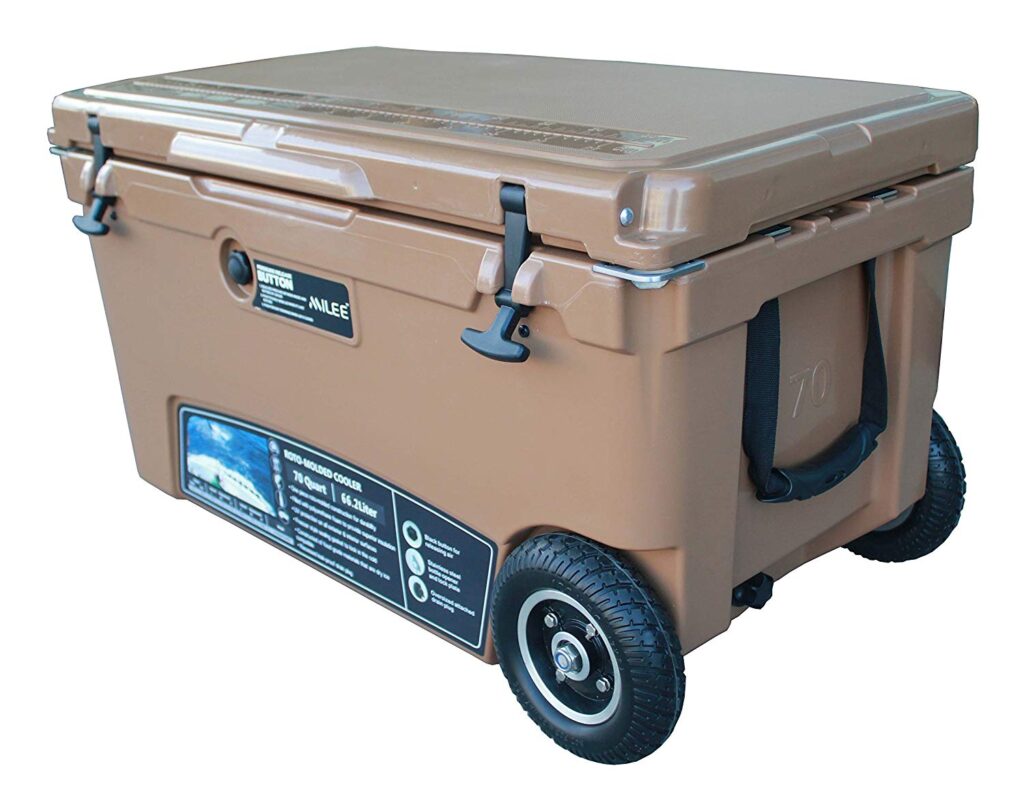 Not to be confused with Miele (the high-end washing machine brand) Milee coolers are exclusively sold through Amazon. I couldn't even find a brand website for this cooler.
But from reading through all the customer reviews most people speak really highly about this cooler, and customers that did have issues spoke pretty highly about the customer service team as they were able to get their problems fixed pretty quickly.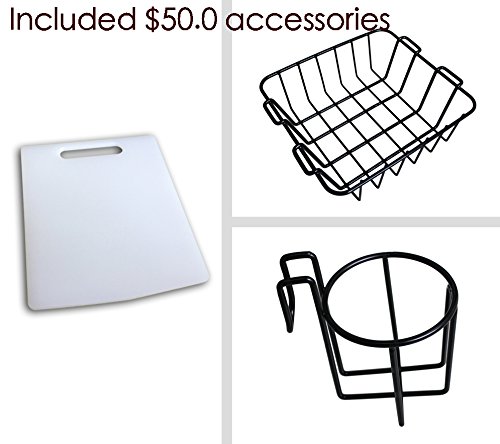 It's a good size cooler with a roto-molded construction and comes with all the similar features that a Yeti cooler has plus some extras.
It has a pressure relief valve, built in bottle openers, wheels (obviously) and also comes with a free dry basket, cutting board/divider and cup holder attachment.
This cooler certain ticks a lot of boxes and the positive reviews are a great sign that this company is doing something right.
To see more details of these coolers click the price link below:
Milee 70-Quart Wheeled Cooler:
9. Driftsun 70-Quart Wheeled Cooler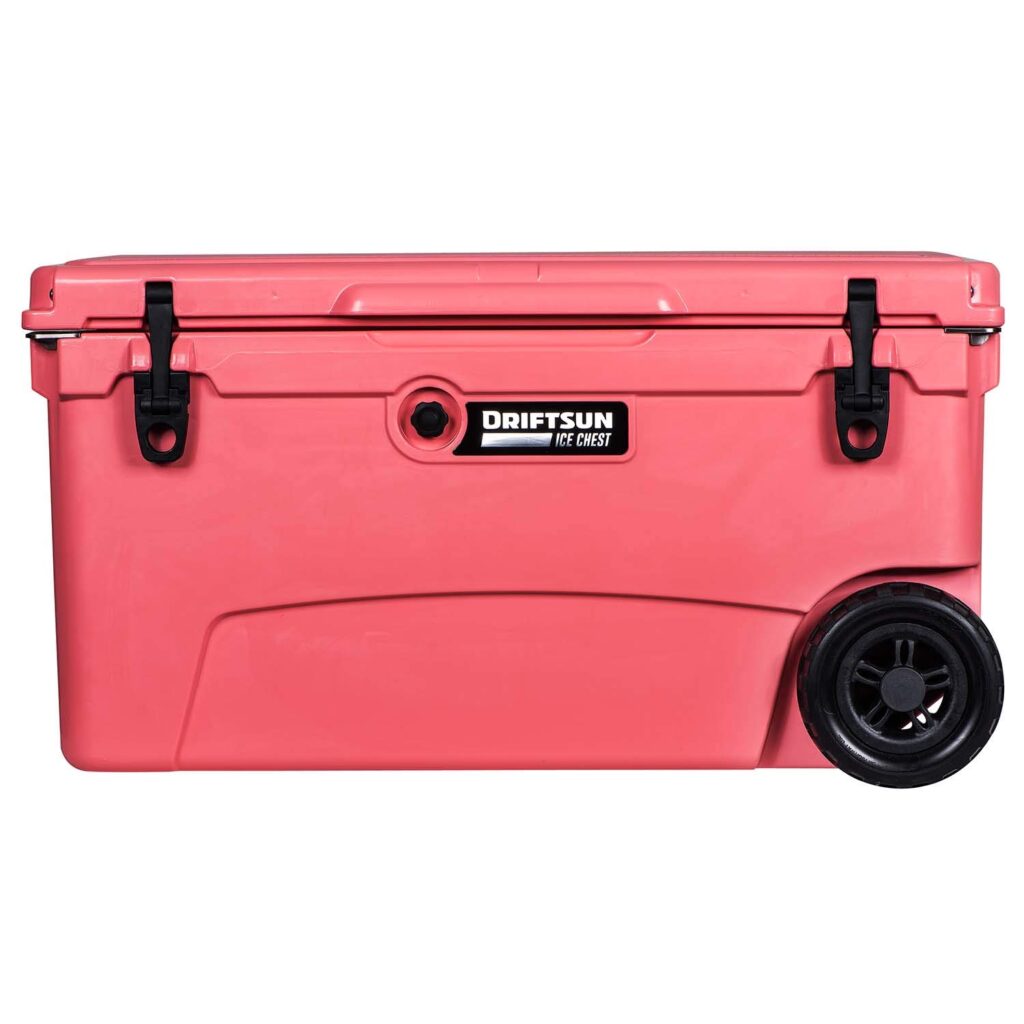 Driftsun is another generic cooler brand that is mostly just sold through Amazon as a cheaper alternative to Yeti coolers. I did a full writeup of Driftsun vs Yeti if you want to check it out.
They sell one size (the 70-Quart) with wheels and the rest are sold without wheels.
Overall the cooler is extremely similar to Yeti, with almost identical features.
The Driftsun does have slightly different latches, a fishing rule and 2 built in bottle openers.
To see more details of these coolers click the price link below:
Driftsun 70-Quart Wheeled Cooler:
10. nICE Coolers – Interchangeable Wheels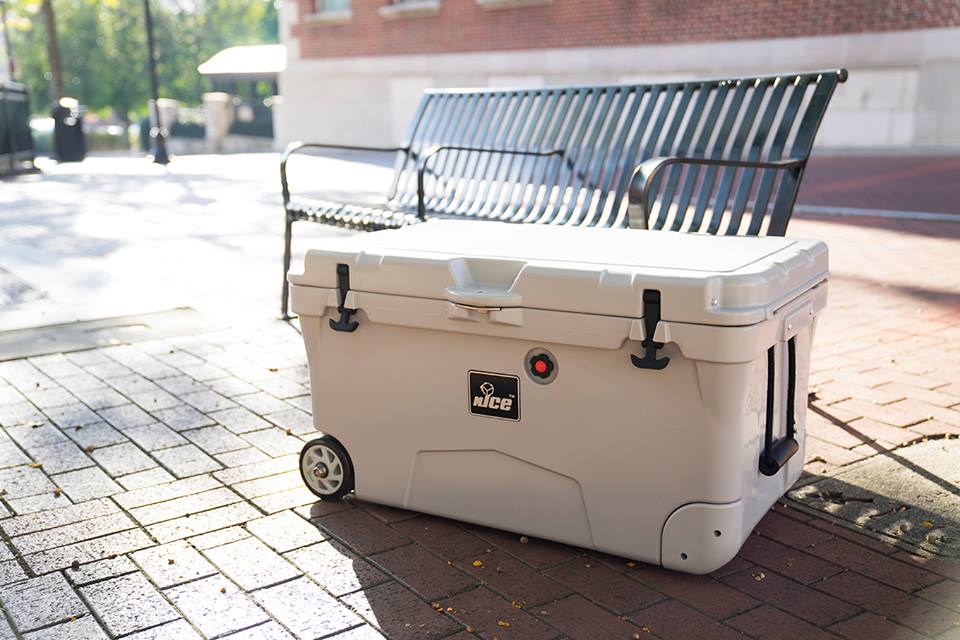 nICE Coolers are another wheeled alternative to Yeti and the key feature they have that no other wheeled cooler on this list has is that they have interchangeable wheels.
You can quickly and easily swap out the smaller default wheels for a larger all-terrain wheel or an even larger inflatable beach wheel that works perfectly on sand.
They also offer one of the larger wheeled coolers with their 110-Quart size and on Amazon you can even find sizes larger than that!
They are also one of the cheapest wheeled roto-molded coolers with a similar price to that of Ozark Trail (#2 on this list). The built quality isn't quite as good as Yeti, nor is the ice retention, but you're getting a cooler for approximately half the cost so that is to be expected.
To see more details of these coolers click the price link below:
nICE Wheeled Coolers: See details at Amazon
Honorable Mentions
I felt the below wheeled coolers weren't quite there to make the top 10 but they deserved an honourable mention.
Coolest Cooler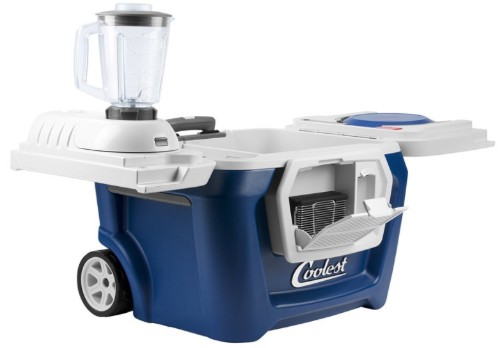 I left this one out not because it isn't a great cooler (it is) but because it is really nothing like Yeti.
It's an expensive cooler but instead of focusing on durability and ice retention it focuses on features like a built in blender, phone charger, speaker, led lights and a dual fold lid featuring cutting trays and plates.
It's a really great wheeled cooler but VERY different to Yeti so thus wasn't included in the top 10.
To see more details of these coolers click the price link below:
Coolest Cooler Wheeled Cooler:
Nash Sub Z 48 With Wheel Kit
Sub Z make an epic small cooler that is my favorite alternative to the Yeti Roadie and is super affordable.
They also make a larger 48-Quart cooler that doesn't have wheels by default but there is a wheel kit you can buy to add wheels to the cooler.
To see more details of these coolers click the price link below:
Nash Sub Z 45-Quart Wheeled Cooler: See details at Sub Z's Website
Unhonorable Mentions
After looking at the coolers below I discovered that many of them are copies of each other, meaning they must be from the same manufacturer which I found fascinating. You can see them for sale on Alibaba here.
Vibe Element 70-Quart Cooler
The Vibe Element 70-Quart Cooler was going to be featured in the top 10 list, but at the time of writing it was unavailable.
This cooler seems to be identical in design to the Milee 70-Quart cooler just with different wheels which makes me think it comes from the exact same manufacturer.
Vibe Element 70-Quart Cooler:
Chillmate 70-Quart Cooler With Wheels
Another one with an identical build to the Milee 70-Quart cooler just under a different brand name.
Ok when writing this I didn't realise that so many cooler brands are just the exact same cooler in a different color with a different label on it.
Chillco Cooler – Australian Brand
OMG another one! Only this time this cooler is exactly the same as the nICE cooer only with a different brand and sold in Australia.