Whether you're going with family or friends, taking a cooler to the beach can make a great day ever better. Cracking open a cold drink, sharing around ice blocks and keep watermelon or any other food cold and free from sand means you can stay longer and enjoy your time more.
Having a cooler with wheels is perfect for the beach as it allows you to easily pull your cooler (and gear) from the car to the beach without having to carry it all by hand or without having to do multiple trips.
So what are the best beach coolers for a day swimming in the waves and sun baking in the sand?
Living near the beach and taking my kids there weekly I have a pretty good idea of what makes a good beach cooler, I've also reviewed almost every cooler out there so I know what all the options are.
What Makes a Good Wheeled Beach Cooler?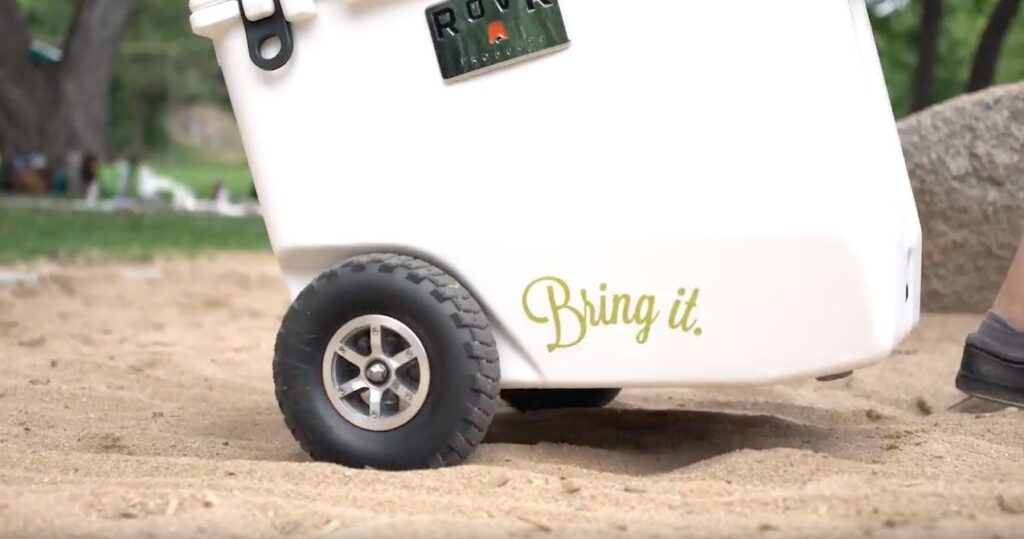 You can't just throw wheels on a cooler and call it a great cooler for the beach.
The beach brings with it difficulties and requirements you don't have at picnic or BBQ. Here are some of the things that make a good wheeled beach cooler.
Big wheels that don't get ruined by the sand – Sand is hard to pull heavy coolers across. Big wheels that can move on sand are a must. Small wheels (like those on the Kysek cooler) don't work on sand and even worse, the sand gets in the bearing and the wheels seize up and stop working.
Enough room to fit all your stuff – A small lunchbox cooler can be great for a day at work, but for a whole family at the beach it just isn't big enough. Sometimes size does matter.
Good ice retention – You'll usually go to the beach on hot day and the cooler will be in direct sunlight. It needs to have good enough ice retention to keep your items cold for hours – if not all day.
Cup holder and/or surface to serve food – No one wants sand in their food or on their drinks so having cup holders and a place to serve food is very helpful.
Ability to haul other gear – Towels, chairs, umbrellas, surf boards, floaties…there are often so many things to carry down to the beach with a you. A cooler that can also help you haul gear really comes in handy.
Keep your stuff safe – Beaches can be home to thieves. Being able to lock your cooler allows you to put valuables like your phone and wallet in there and while the thieves can still pick up your cooler and run that's much more obvious.
The 10 Best Beach Coolers With Wheels
Below I've ranked the 10 best beach coolers with wheels from the one I recommend the highest, through to the ones I recommend the least.
However, in saying that many of these coolers are extremely different. Offering different features of appealing to different budgets.
Really #1 through to #7 are all so unique that personal preference and price point will likely make your decision for you more that one cooler being significantly better than the other.
I hope this list helps you find the best cooler for you.
1. Igloo Trailmate: BIG WHEELS, LOT OF FEATURES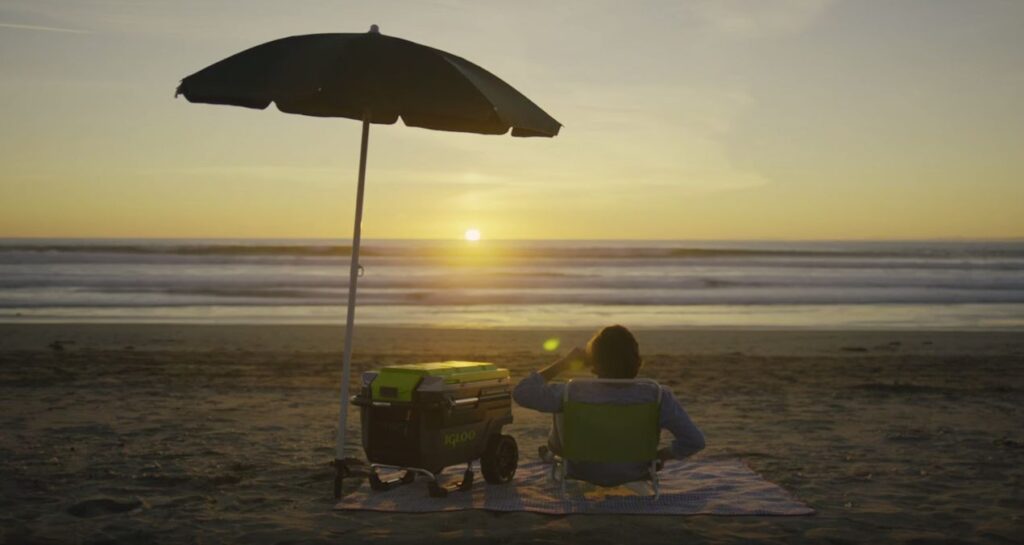 This cooler basically ticks every single box when it comes to a beach cooler.
Large Wheels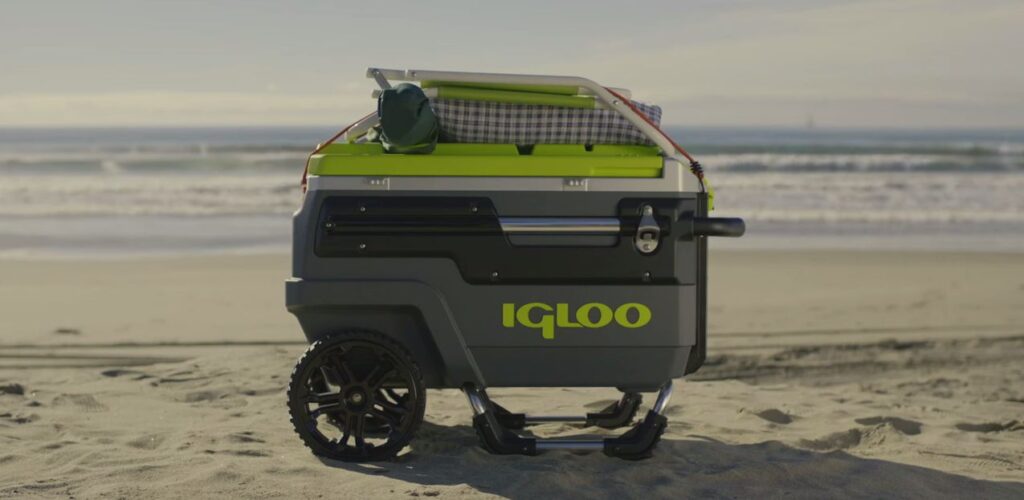 It has extremely large wheels making it one of the only coolers on here that is easy to pull across extremely soft sand.
The large wheels and metal legs also means the cooler is raised up out of the sand so your food and drinks are less likely to get sandy.
Good Capacity and Ice Retention
It has a 70-quart capacity which is more than enough space for a full family spending a day at the beach and gives you ample room for ice, drinks and food.
It has great ice retention as well as a dry goods basket so you can keep items cold but stop them from getting wet.
Extra Storage
On the outside of the cooler is a basket as well as an external compartment for storing items you don't want in the cooler. The cooler also has tie down points so you can attach gear to the top of this cooler using bungee chords.
Cup Holders Plus Prepping Area

The lid has 4 cup holders plus inside the lid is also a tray that forms a "butlers table" on the pull out handle, giving you even more cup holders and a place to prep and serve food while still having access to the cooler.
The pull out handle makes this cooler a breeze to pull along and built in bottle openers on the side are a handy features for opening your cold sodas or beers on that warm day at the beach.
All For An Affordable Price
All in all this has all the features you want in a beach cooler and doesn't have the hefty price of a fully roto-molded coolers like the Yeti or Pelican and that's why I rank the Igloo Trailmate as the best beach cooler of all time.
It's almost like this thing was designed specifically for the beach.
Read my full Igloo Trailmate Review
To see more details of these coolers click the price link below:
Igloo Trailmate 70-Quart Wheeled Cooler:
2. RovR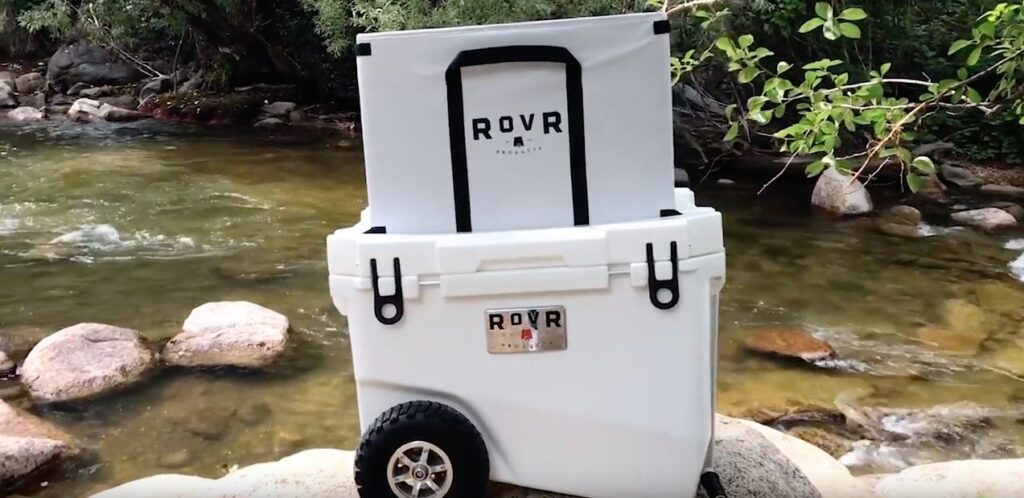 The RovR cooler make a great beach cooler due to it's incredible ice retention, durable roto-molded construction, large inflatable wheels with metal handle and it's many MANY features (including the big external wagon bin).
The team at RovR set out to make the most featured packed cooler on the market and they have really done a great job. See my full RovR cooler review
Big Wheels and Easy To Pull Handle
The RovR has large 9 inch tyres which are good for everything except the softest of sand. The large metal handle has offset hand grips so you can pull the cooler without it hitting the back or your legs, or so you can pull it easily with a friend.
External Wagon Bin
I haven't seen any other cooler have this feature. The RovR has a fold out storage bin that sits on the lid of the cooler and can be used to haul everything from your beach towels to sunscreen to dry food or anything else you need for your day at the beach.
The wagon bin folds down and creates a comfortable seat when not in use or can be completely removed so you can easy carry your stuff or pack it in your car.
Internal Storage Bin
The internal storage bin compartment is bigger and more practical than any other dry rack. It is the full height of the cooler so no water or sand will get in there allowing to keep your food dry and separate but still cold.
Bike Attachment
Want to ride your bike to the beach? The RovR has a bike attachment that lets you quickly attach/detach your cooler from your bike. No car queried.
Other Accessories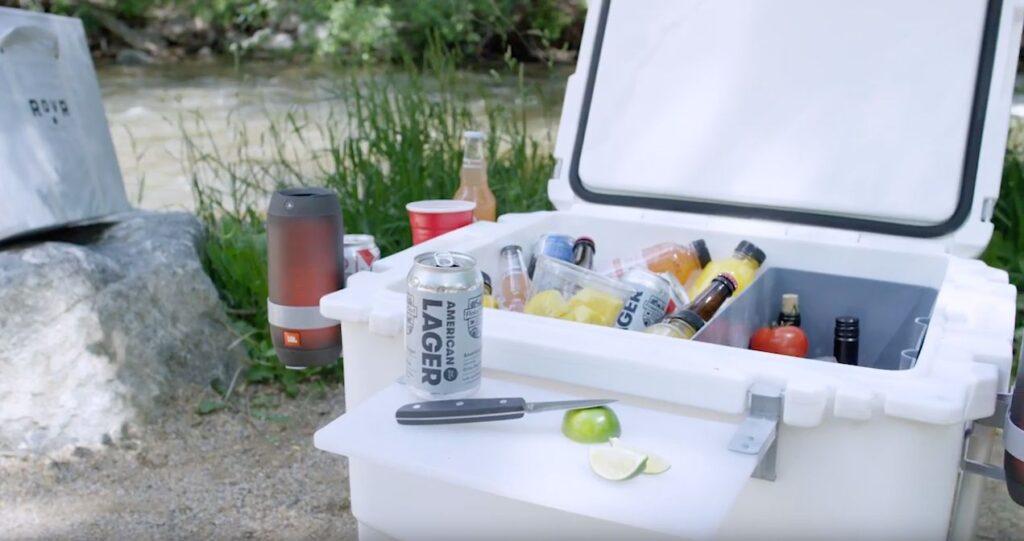 The RovR also has cup holders as well as cutting boards that double as tables giving you more prep space. These are sold separately though.
The RovR is an amazing beach cooler and is similar in price to other roto-molded coolers like Yeti, but just have way more features.
To see more details of these coolers click the price link below:
RovR 45-Quart Wheeled Cooler:
RovR 60-Quart Wheeled Cooler:
3. Coleman Xtreme 62: BUDGET PICK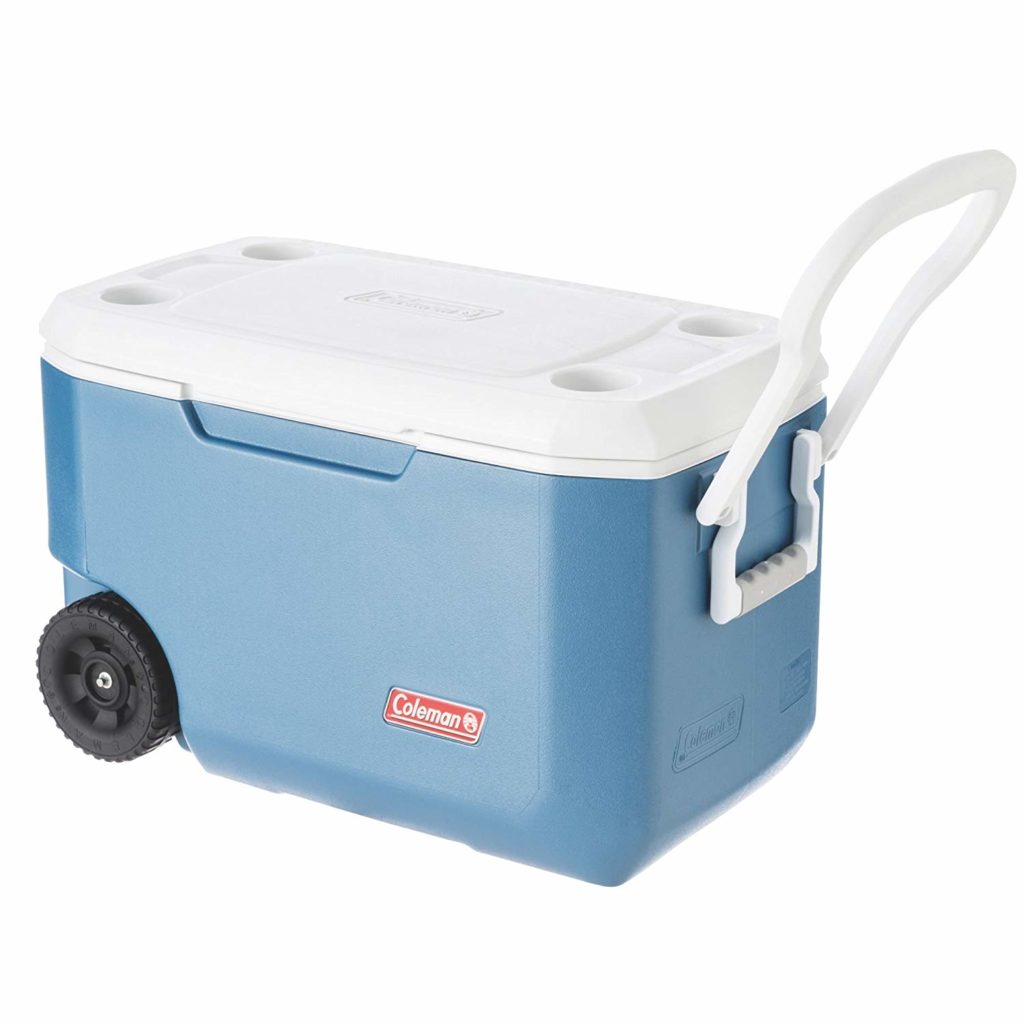 Looking for a beach cooler that doesn't break the bank? The Coleman Xtreme is the perfect option for that.
It's got big thick plastic wheels and a large lift up plastic handle that makes it surprisingly good at pull along on the sand.
The 62-Quart size is large enough to fit all your stuff but it also has a nice long shape which gives you a good amount of preparation surface on the lid for preparing and serving food without it getting sandy.
The lid also has 4 cup holder to store your drinks and it can store ice for days, meaning you're not going to run out of ice and have warm drinks halfway through your beach day.
The cooler is basic and doesn't have any of the fancy features like the RovR or the Igloo Trailmate, but it's also at an incredibly cheap price. See my full Coleman Xtreme review.
So if you're not going to the beach multiple times a week (like I am in summer) then this is a great basic cooler for the sometimes beach goer.
To see more details of the Coleman Xtreme click the price link below:
Coleman Xtreme 62-Quart Wheeled Cooler:
Coleman Xtreme 100-Quart Wheeled Cooler:
4. Yeti Tundra Haul

Yeti make extremely high quality coolers. I personally own a Yeti 45 and I absolutely love it. Something about these coolers just feel premium.
The Yeti Tundra Haul is their wheeled cooler version and it has everything you would come to expect from a Yeti.
Beautiful construction, great ice retention and it has big bulk never flat wheels that handle most types of sand really well.
It's lockable, has a dry tray for keeping your sandwiches or other food out of the ice/water and has a strong pull up metal arm with offset handles that make for easy pulling by yourself or with a friend.
One of the major benefits of this cooler is the Yeti brand itself. Yeti has become a lifestyle brand and will be well recognized by your friends, family or anyone who happens to be on the beach.
These are great reliable coolers.
To see more details of these coolers click the price link below:
Yeti Tundra Haul 65-Quart Wheeled Cooler:
5. Coolest Cooler: THE PARTY PICK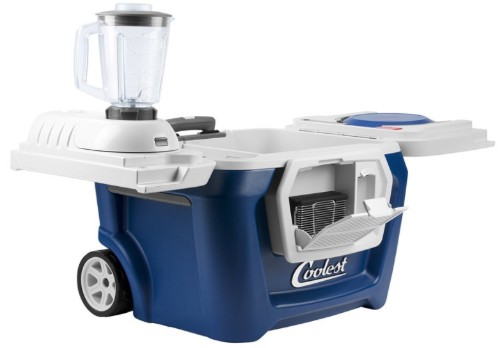 The Coolest Cooler launched with a splash in 2014/15 when in launched on Kickstart and raised a whopping $13 million in crowdfunding to help get the cooler made.
This cooler allows you to bring the party with you.
The cooler is packed with features you wouldn't find in any normal cooler:
Blender – This cooler has a built in blender, allowing you to make cocktails or mocktails on the beach
Bluetooth Speaker – The cooler comes with a portable bluetooth speaker that can live inside the cooler or be removed.
Bottle Opener – It has a built in bottle opener
Cup Holders – The lid comes with 4 built in cup holders
Plates and Knife – Inside the lid are 4 plates and a ceramic knife, perfect for lunch at the beach
Cutting Board/Divider – The cooler comes with a cutting board that doubles as a divider, allowing you to separate sections of the cooler
Wide Wheels – While the wheels are small they are much wider than normal wheels making them great for harder sand.
Tie Down Bungee – Strap all sort of outdoor gear to the top of cooler with the built in bungee chord.
This cooler comes in multiple super fun colors and is the life of any beach party
To see more details of these coolers click the price link below:
Coolest Cooler Wheeled Cooler:
6. Canyon Mule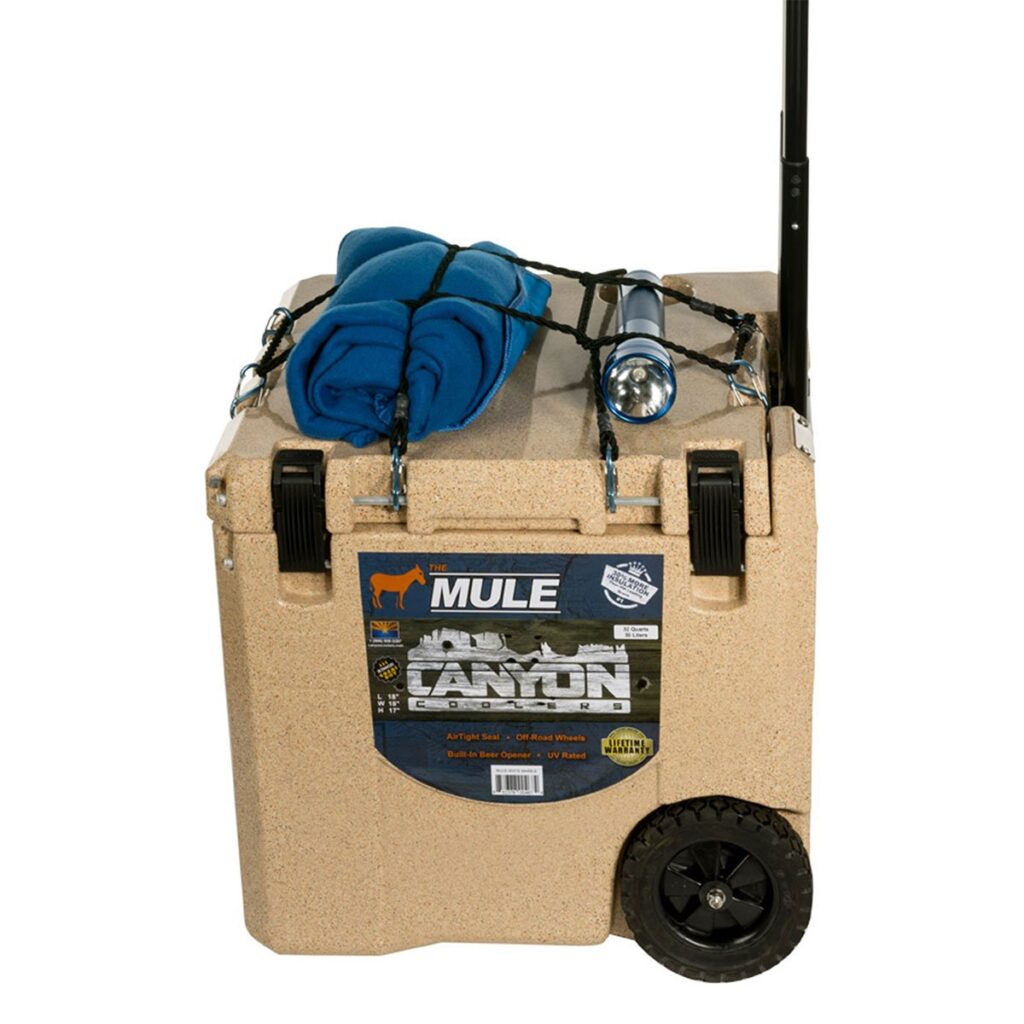 I'm a big fan of Canyon Coolers as they are a super friendly company who make great coolers and really care about their customers. They offer the best lifetime warranty of any cooler out there and their Canyon Mule is a great little beach cooler.
It's a small cooler – just 30-Quart capacity – but big enough for a day at the beach with the family or with your friends.
It also comes with this unique bungee netting that makes hauling stuff really easy. I guess it's called the Mule for a reason.
The wheels are a big smaller than I would like to see on a beach cooler but given that it is a smaller cooler this still works fine. You may need to carry it over the really soft sand though.
A great little cooler that is roto-molded and can keep ice for days.
To see more details of these coolers click the price link below:
Canyon Mule 30-Quart Wheeled Cooler:
7. Ozark Trail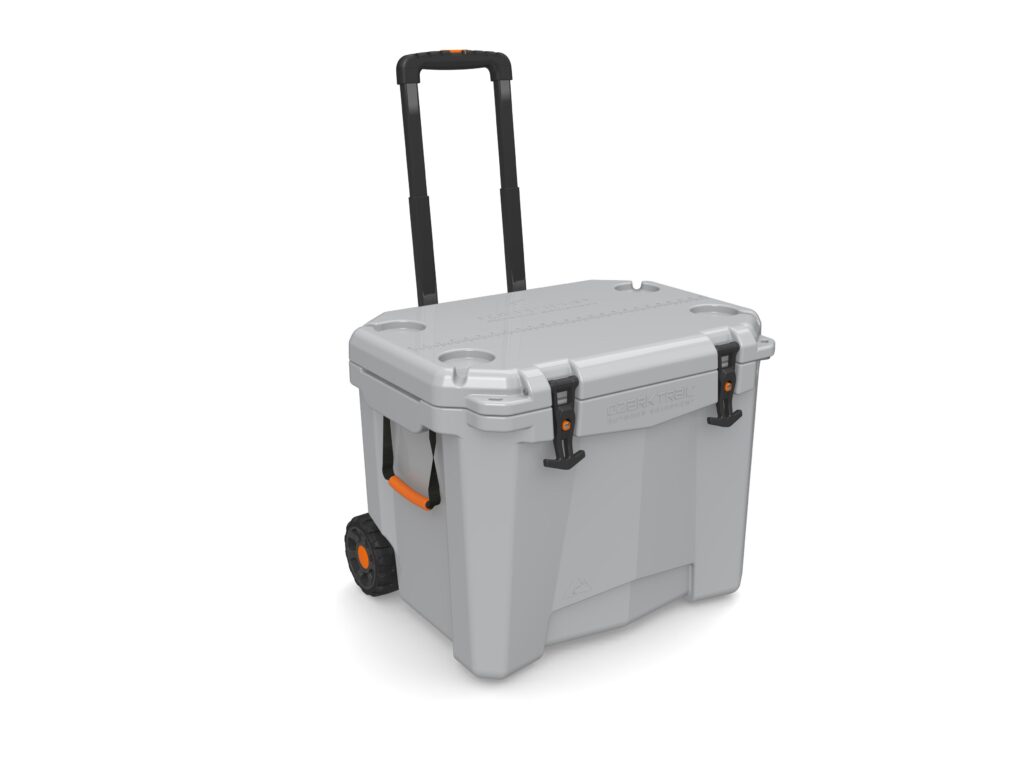 Ozark Trail is Walmart's brand of cooler and their 60-Quart wheeled version is one of the cheapest and best roto-molded coolers with wheels.
It has all the features you would expect from a roto-molded cooler plus it has 4 moulded in cup holders in the lid, allowing you to easily store your drinks.
Ice retention isn't as good as Yeti or Pelican but it's better than something like a Coleman Xtreme.
It's also bear proof and lockable and has thick wheels that make it easy to pull behind you.
See my full Ozark Trail vs Yeti cooler comparison
To see more details of these coolers click the price link below:
Ozark Trail 60-Quart Wheeled:
8. Pelican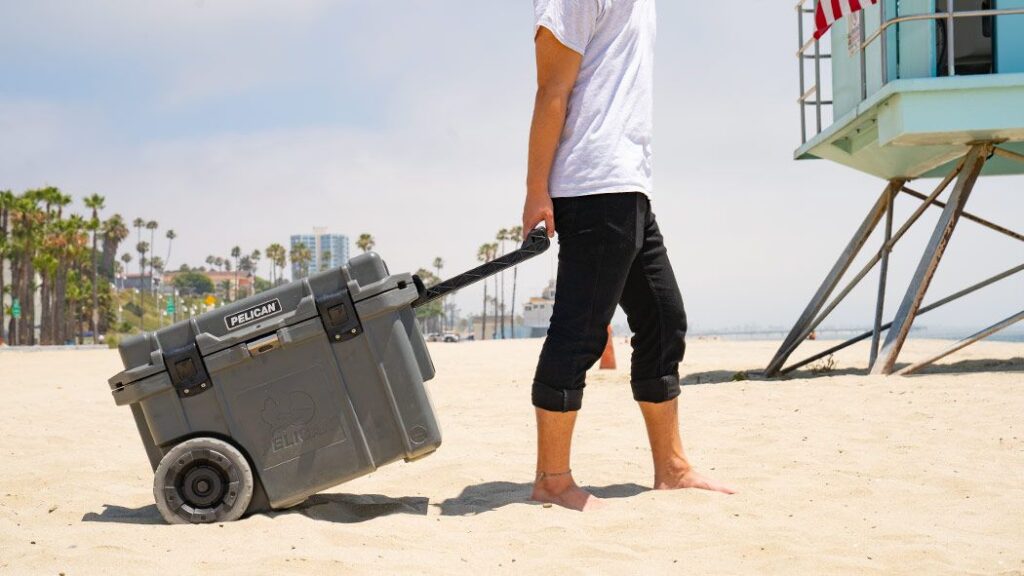 Pelican coolers make extremely high-quality coolers and their wheeled versions are great.
I love the design of these coolers, they look like an absolute tank and they perform like one too.
Their ice retention is similar to that of Yeti coolers and they have a strong plastic pull up handle and big rubber wheels that make it easier to pull at the beach than most other wheeled coolers.
The push and pull metal latches are easy to use and the larger sizes have molded in cup holders.
They also have a built in fishing ruler for those who are looking at fishing on the beach. These coolers are made in the USA and backed by a limited lifetime warranty.
To see more details of these coolers click the price link below:
Pelican Elite Wheeled 45-Quart:
Pelican Elite Wheeled 80-Quart:
9. nICE Cooler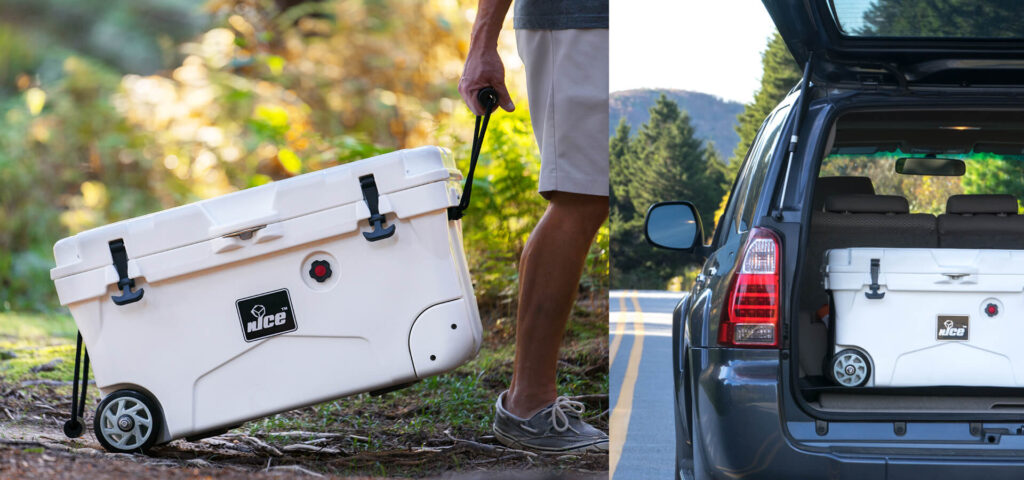 nICE Coolers are a fairly generic roto-molded cooler brand, but one their their coolers do offer that no other cooler company does is inflatable beach wheels.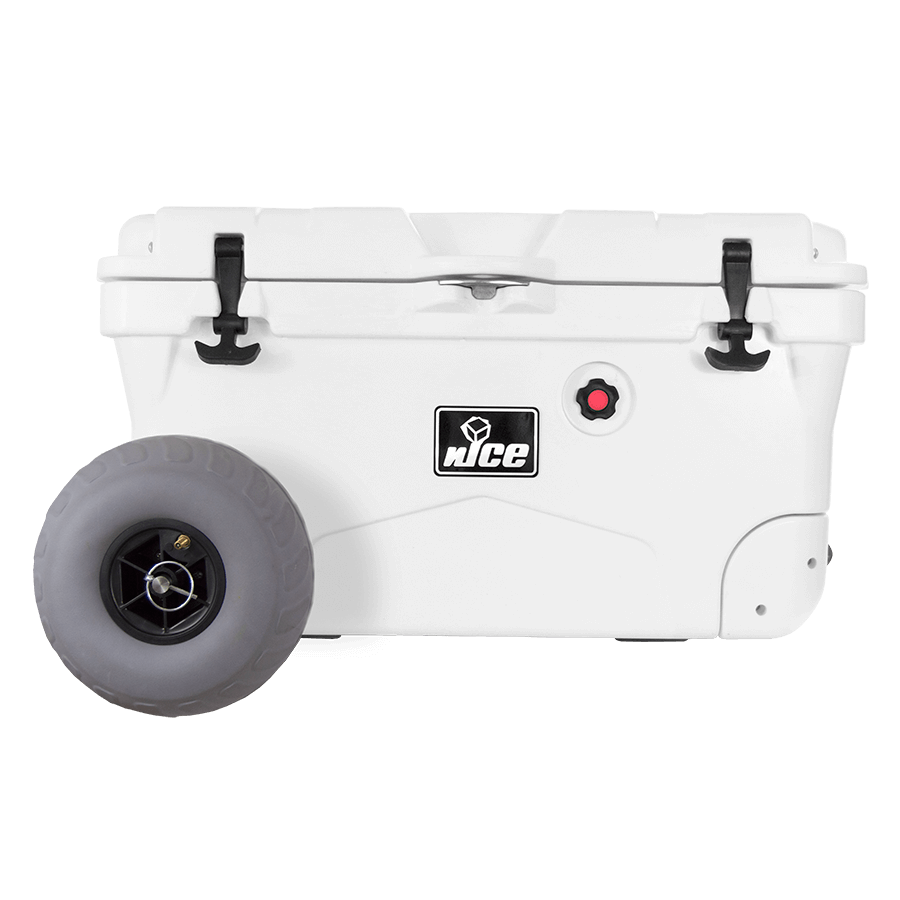 These a big, bulky wheels designed especially to be used on the beach. This puts nICE up there with the Igloo Trailmate as one of the easiest coolers to pull across the sand.
It has built in cup holders as well as a measuring ruler on the lid for those of you fishing at the beach and the built in bottle opener is a handy addition.
If you're looking for an extra large beach cooler then they have sizes as large as 110-Quart or more.
It's not the best cooler on the market in terms of build quality but it is one of the cheaper roto-molded coolers on the market so it won't cost you as much as a RovR or Yeti or Pelican.
Read my full nICE cooler review here
To see more details of these coolers click the price link below:
nICE Wheeled Coolers: See details at Amazon
10. Rubbermaid Home Wheeled Cooler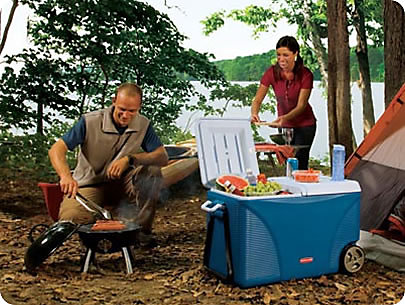 The Rubbermaid Home Wheeled cooler is similar to the Coleman Xtreme, but with worse ice retention.
This is a cheap cooler that will keep ice long enough for a day at the beach but not much longer.
It's got a pull up suitcase style handle and thin plastic wheels which are great for getting from the car to the beach, but you'll likely need to carry it over soft sand.
I do really like the hinged split lid that allows you to open half of the lid and access the cooler while having drinks sitting on the other half of the lid and not being spilled.
It's a decent quality affordable cooler.
To see more details of these coolers click the price link below:
Rubbermaid Home 45-Quart Wheeled Cooler:
Rubbermaid Home 75-Quart Wheeled Cooler:
Other Wheeled Coolers For The Beach
Those are the 10 best beach coolers with wheels but if you're looking for a couple of more options consider the below coolers.
Driftsun Cooler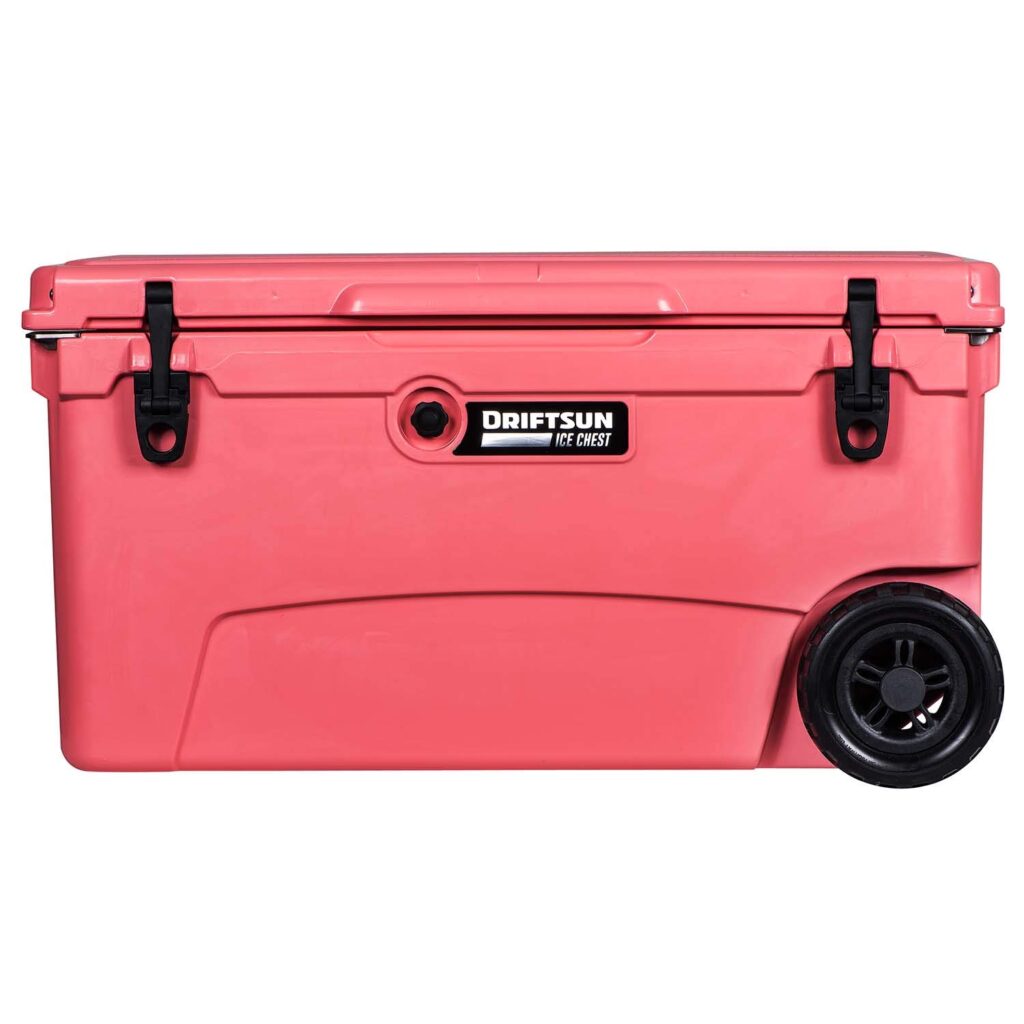 Driftsun is a fairly generic roto-molded cooler but they come with good size wheels and are sold cheaper than other roto-molded wheeled coolers.
This can be a good option if you want a large roto-molded cooler with wheels.
See my full Driftsun vs Yeti comparison article
To see more details of these coolers click the price link below:
Driftsun 70-Quart Wheeled Cooler:
Kysek Coolers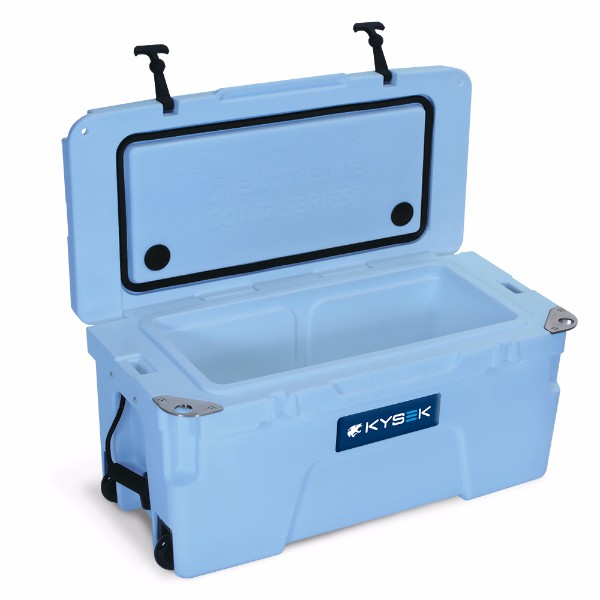 Kysek coolers have inset wheels that are almost completely hidden from view.
These wheels are great for pulling along the ground from the car, but are much too small and too thin for pulling across sand.
Still it's a good all-round wheeled cooler.
Kysek 35-Liter Wheeled Cooler:
Kysek 50-Liter Wheeled Cooler:
Milee Coolers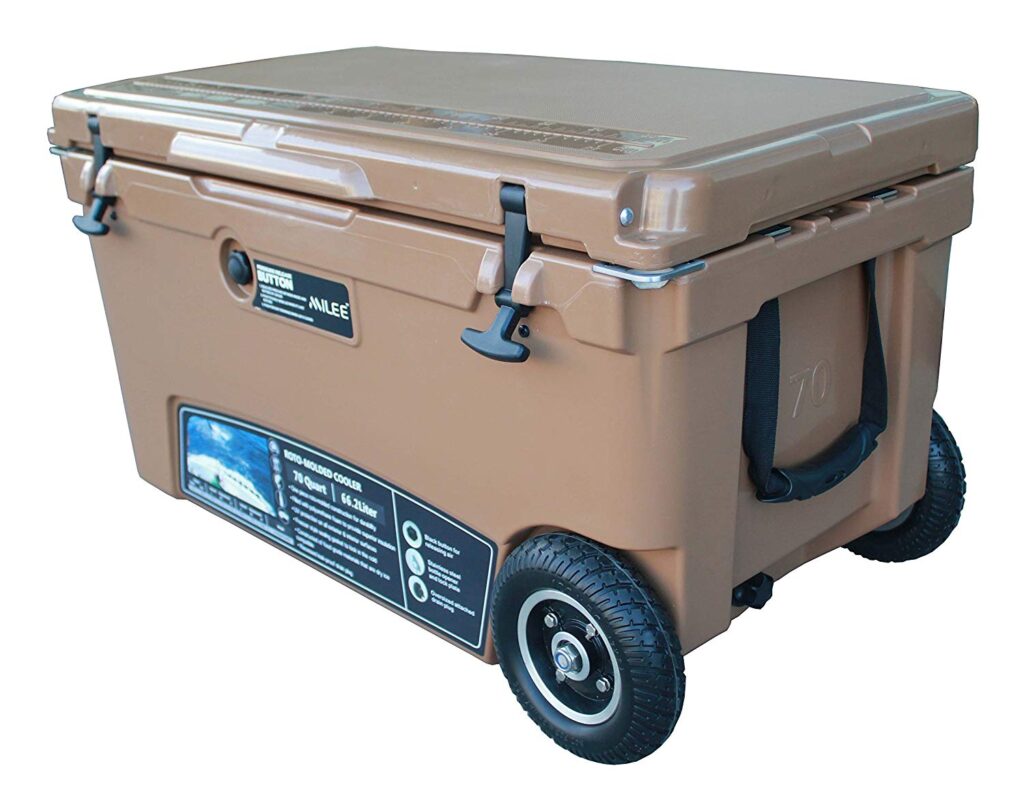 Milee coolers are similar to Driftsun, but a cheaper roto-molded wheeled cooler.
Actually I think the Milee cooler is identical to the Driftsun and likely comes from the same manufacture but is just sold under a different brand.
Milee 70-Quart Wheeled Cooler: