If you're going to spend your money on an expensive high-end roto-molded cooler you want to make sure that it is going to last you a lifetime.
The last thing you want is your cooler breaking after a few years, not being covered by warranty and you have to fork out hundreds of dollars to buy a new one.
While my Yeti 45 cooler is going on 4 years now and still works great, it only has a 5 year warranty and if it breaks after that I'm going to have to buy myself a new one.
The following 10 coolers offer a lifetime warranty on their roto-molded coolers.
This means if you have any issues with these coolers, heck even 20-30 years in to owning your cooler, it will still be covered under warranty and the company will fix or replace your cooler free of charge.
What Is Covered Under a Limited Lifetime Warranty?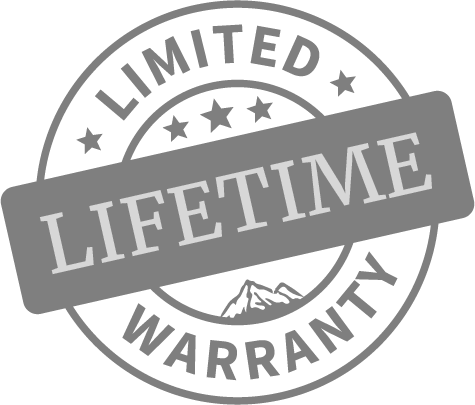 Every cooler warranty is slightly different and you need to read through the warranty information of each cooler to understand exactly what is and isn't covered.
But most of them are fairly similar and so to give you a general idea of what is covered I've created a short list below:
Manufacturing Defects
This is the main thing the limited lifetime warranty will cover. Defects in material or workmanship under normal use.
Some companies like ORCA cover everything from the main cooler body/lid to the rope handles, rubber latches and non-slip feet. Other companies only cover the main cooler construction for it's lifetime and the rope handles, latches etc have a warranty that expires.
What Isn't Covered Under a Limited Lifetime Warranty?
You warranty generally doesn't cover:
If the product is used for commercial use
If the product is damaged through abuse, misuse or neglect
If the product is damaged in an accident
If the product was unreasonably used for a purpose it wasn't intended for
If the product has been repaired or altered in any way
If the product is damaged due to an act of nature (earthquake, fire, tornado etc)
If the product is purchase as a blemished cooler or "factory seconds"
Warranties also generally don't cover normal wear and tear of the product – including slight dents, slight warping, scratches, discolouration, fading, nonsticking graphics or wear to skid pads.
How To Claim a Lifetime Warranty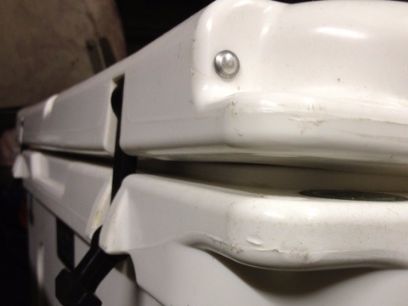 In order to claim your lifetime warranty you must provide proof of purchase of your product, often from an "Authorized Dealer" in order to obtain warranty service.
It's hard to work out if your dealer is "authorised" or not unless you ask them directly. But generally speaking a retail store that sells the product as well as reputable websites like Walmart and Amazon are highly likely to be authorised dealers.
Websites like Ebay or Craigslist on the other hand may not be.
If you have your proof of purchase then claiming your warranty generally requires contacting the company that manufacturers your product via phone or email.
They may then ask for photos or descriptions of the issue and then ask you to ship the product back to them to be repaired or replaced.
Most companies will pay for shipping on defective products, but some companies may require you to pay the shipping in order to get a replacement.
The 10 Best Coolers With a Lifetime Warranty
There are a lot of different cooler companies out there making everything from high-end roto-molded coolers to cheaper lunchtime coolers.
Below are the 10 best coolers that offer a limited lifetime warranty.
You'll quickly notice that all these coolers are roto-molded coolers and extremely durable. You don't see Igloo or Rubbermaid offering lifetime warranties as their products aren't durable enough.
You'll also notice that the majority of these coolers are made in the USA. Maybe that's because USA made coolers tend to have better quality standards and so are less likely to break. See my full list of the best coolers made in the USA.
1. Canyon Coolers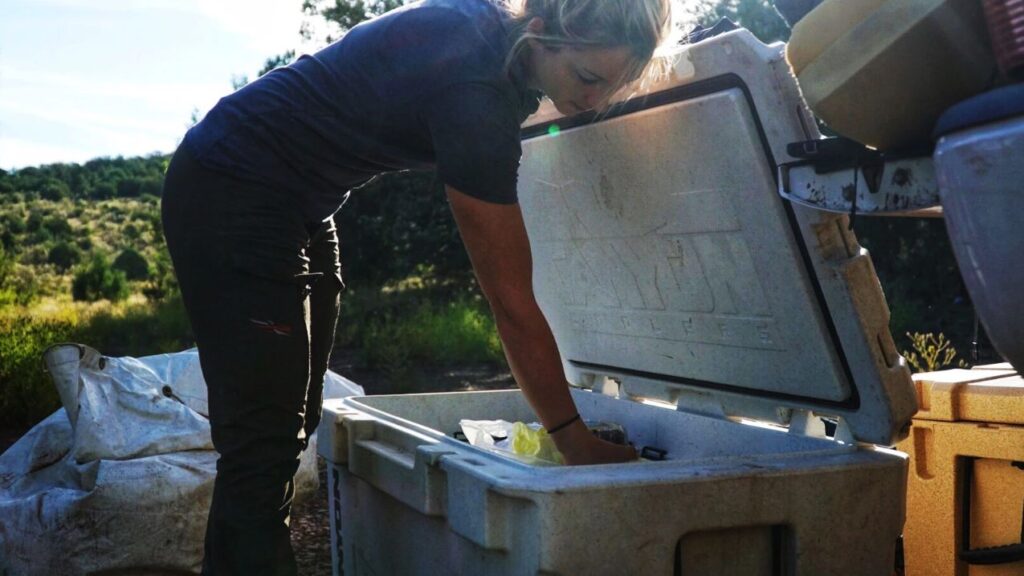 Canyon cooler have THE BEST lifetime warranty out there of any cooler…ever.
They have an UNLIMITED lifetime warranty. Check out this statement from their warranty page:
We will repair or replace your Canyon product in the event it becomes damaged or defective – at no cost to you. If we cannot repair your product, we will replace it with a new product of equal or better physical condition.
We don't care what happened, how it happened, who's fault it was, or where or when you bought your Canyon Cooler. As long as you have the cooler, we promise to take care of you.
Unlimited Lifetime Warranty
Fully transferable
No warranty card to complete
No product registration requirements
No need to keep the receipt
The only thing our Warranty does not cover is loss, theft, deliberate damage, or normal cosmetic damage that does not negatively affect the performance of the product.
Canyon coolers are a smaller cooler brand based out of Flagstaff, Arizona and they are one of the few coolers on this list that aren't completely made in the USA.
But despite that their coolers are extremely high quality and perform just as well as most leading brands when it comes to ice retention and durability.
I've always loved Canyon coolers and would happily recommend them.
Read my full Canyon Cooler Review
See the latest prices and details for Canyon coolers at Amazon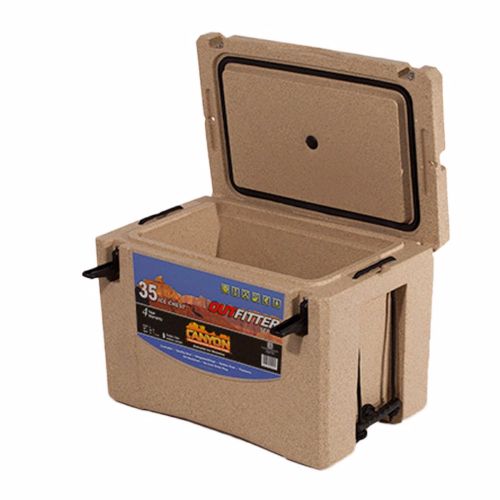 2. Kong Coolers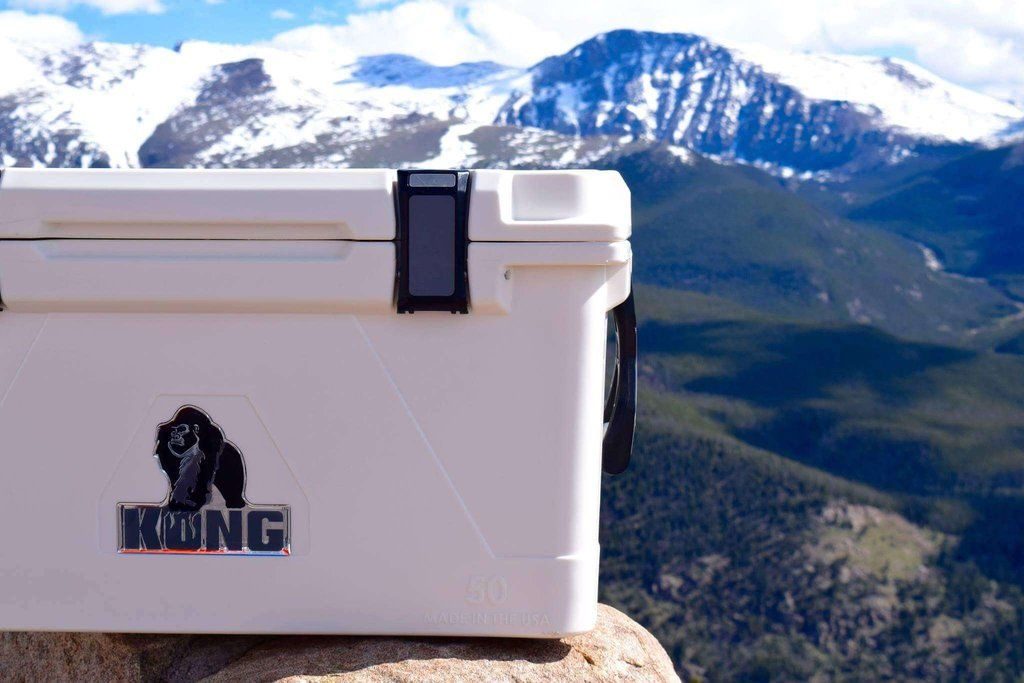 Kong coolers are a new American made cooler that are taking the market by storm with solid build quality and cool features like the Kong Kicker which turns the handles into tables/cutting boards.
But something that makes this cooler stand out above the rest is it's superior ice retention. It has been shown to keep ice longer than almost any other cooler, outperforming the best of the best.
So if you want the longest ice retention possible and a lifetime warranty then Kong is a great choice.
Kong offers a limited lifetime warranty (see their warranty page) which applies to the original owner of the product and guards against defects in manufacturing.
The warranty only covers the main body and lid of the cooler and the latches and handles only have a 5-year warranty.
Read my full Kong Cooler Review
See the latest prices and details for Kong Coolers at Amazon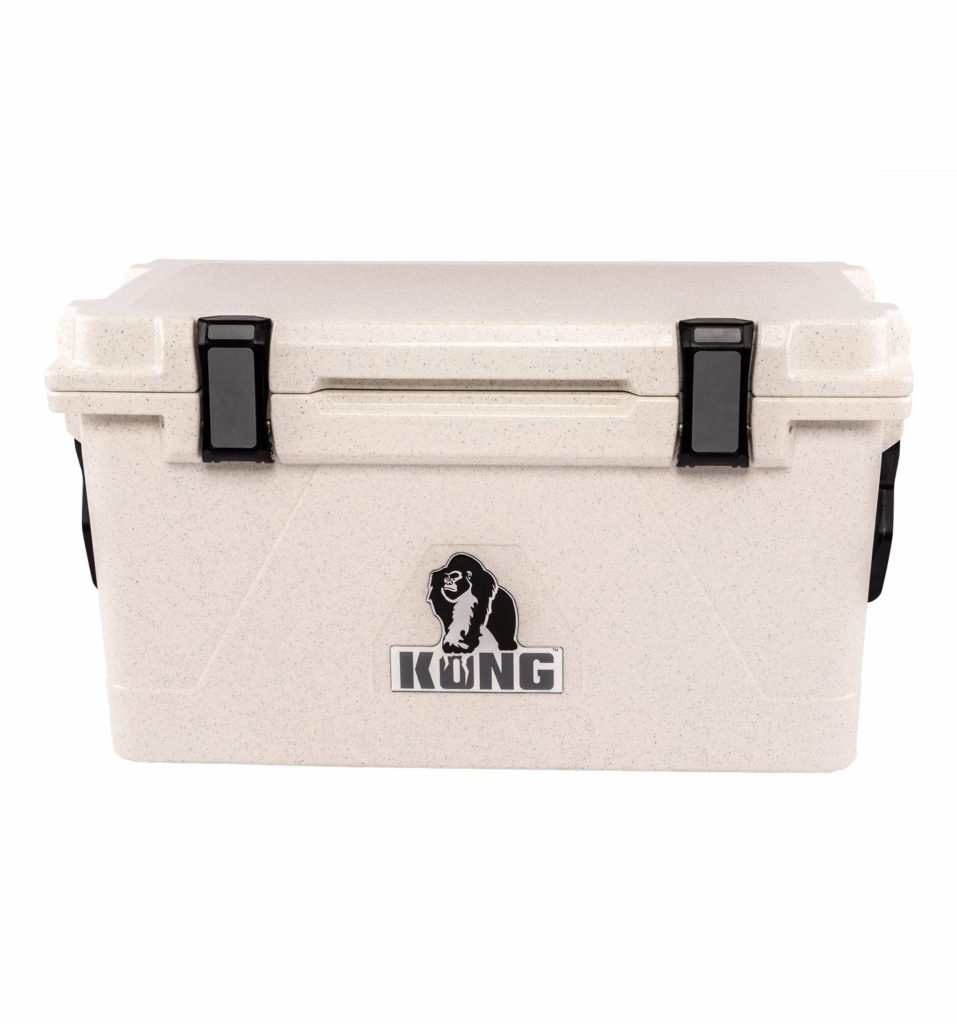 3. ORCA Coolers
Made In USA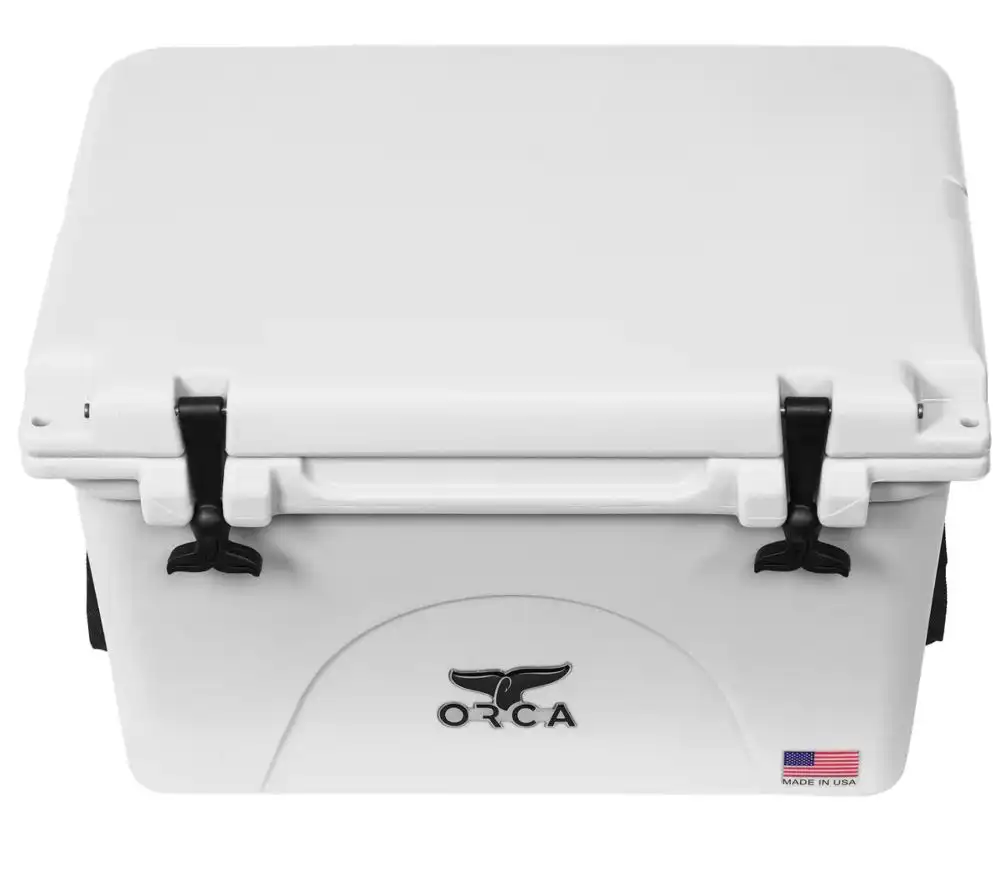 ORCA coolers are some of the best made coolers on the market and are 100% made in the USA and backed by a limited lifetime warranty. See ORCA Warranty information
Their coolers constantly outperform other competing coolers in ice retention tests and their coolers are durable, certified bear proof and look great.
ORCA started from humble beginnings and have grown to be one of Yeti's largest competitors. They have licensing deals for the NCAA, NFL, NHL as well as the MLB – meaning you can get you favorite team's logo on your cooler or chaser cup.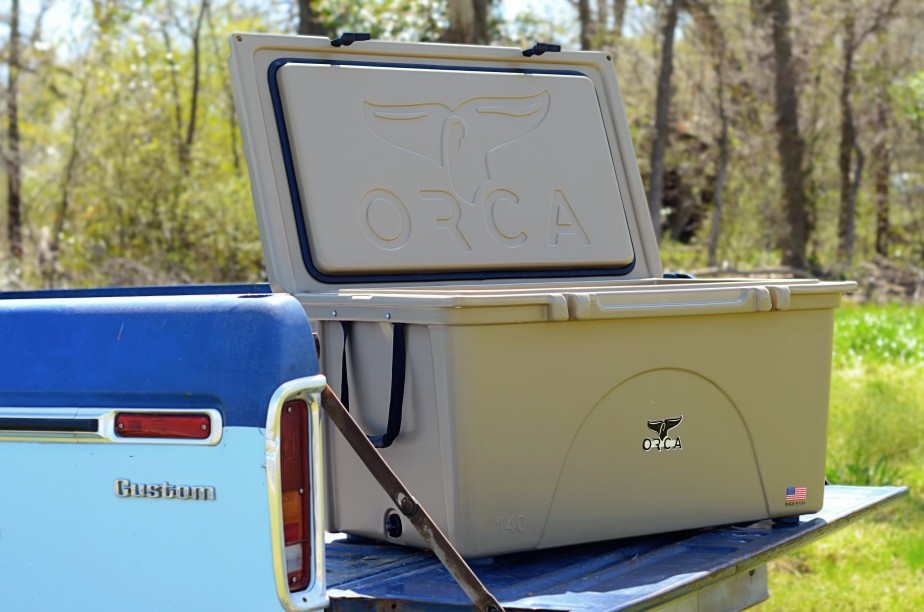 Orca coolers are highly rated on Amazon and their lifetime warranty shows how much confidence they have in their product. One of the problems with Orca coolers though is their customer service.
Canyon coolers will honor any warranty no matter where you bought the cooler from or if it's changed hands. For Orca coolers this isn't the case and some customers have reported difficulties dealing with Orca's customer service to get issues repaired.
They aren't the cheapest cooler on the market, but they are definitely one of the best.\
Read my full review of Orca coolers
See the latest prices of Orca Coolers at OrcaCoolers.com
(or compare to the latest price of Orca Coolers at Amazon)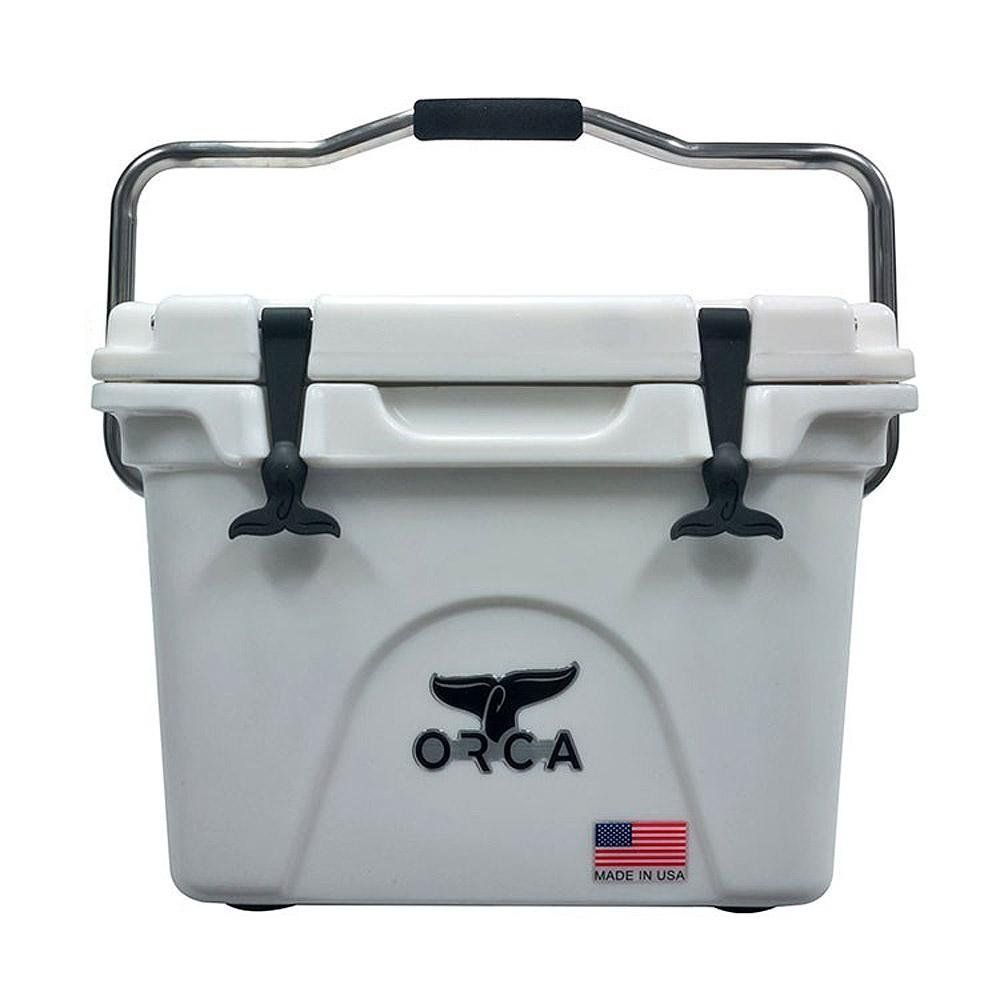 4. Pelican Coolers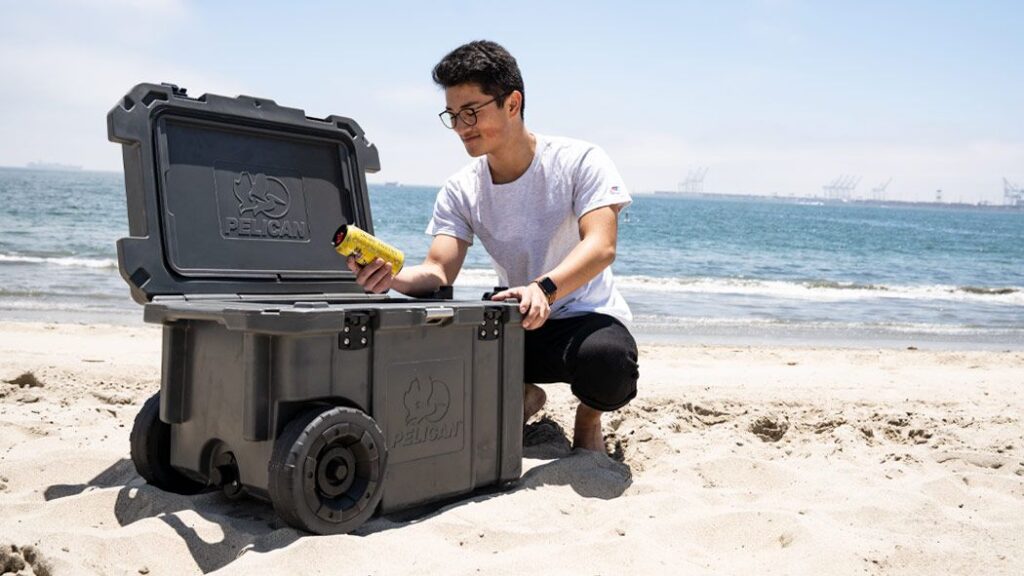 Pelican coolers are one of the original Yeti competitors and they make big, bulky and tough roto-molded coolers.
I really like Pelican's unique design with it's protruding handles, metal latches and beefy feel.
I've personally owned a Pelican cooler and I really liked it. It has good solid ice retention and my Pelican ice test showed that it can keep ice for over a week.
Pelican coolers come with a "Guarantee of Excellence" (see details) and they offer a limited lifetime warranty on their coolers protecting you against breakage or defects in workmanship for the lifetime of the original purchaser.
The warranty doesn't cover wheels, rubber feet, drain plug, gasket or cooler accessories which only have a 90-day warranty and Pelican requires you to pay for the warranty freight costs.
See my full Pelican Cooler Review
See the latest prices and details for Pelican Coolers at Amazon
5. Kenai Coolers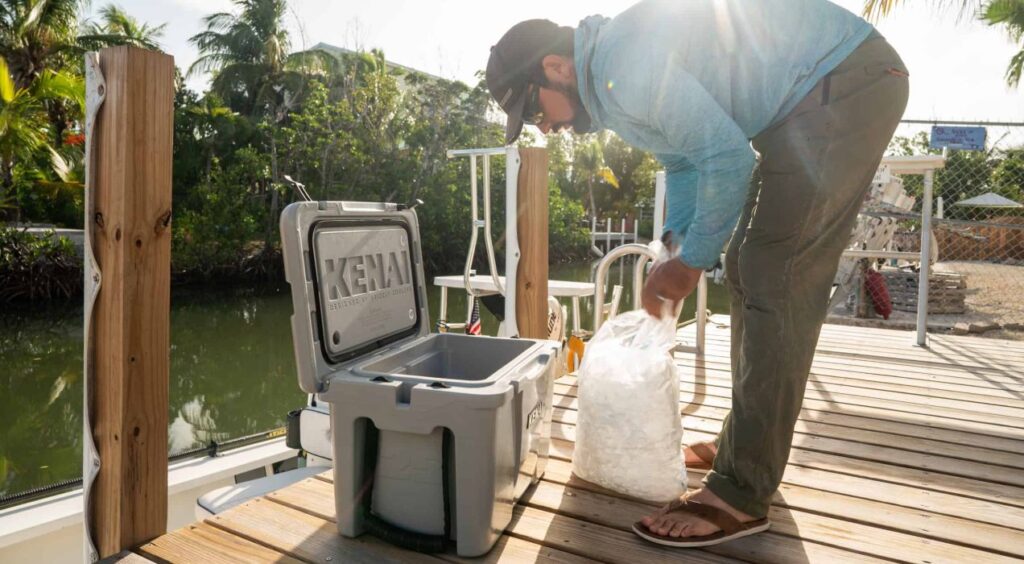 Kenai coolers are made by the exact same company as Grizzly coolers. Their construction and look is slightly different to Grizzly but they are still high-quality roto-molded coolers with good ice retention.
The reason I put Kenai above Grizzly (which also has a lifetime warranty) is that Kenai coolers are sold direct to consumers and the company passes on the savings to the customers.
This means you can get a cooler with a lifetime warranty (see details) that is made in the USA for a fraction of the cost of other coolers. A Kenai cooler will be $50-$100 cheaper than a Grizzly cooler of a similar size.
Kenai offer a lifetime guarantee to the original purchaser of the cooler. You must have proof of purchase in order to obtain your warranty and they also require you to pay for the freight to return your product to them.
See the latest prices and details for Kenai Coolers at Amazon
6. Grizzly Coolers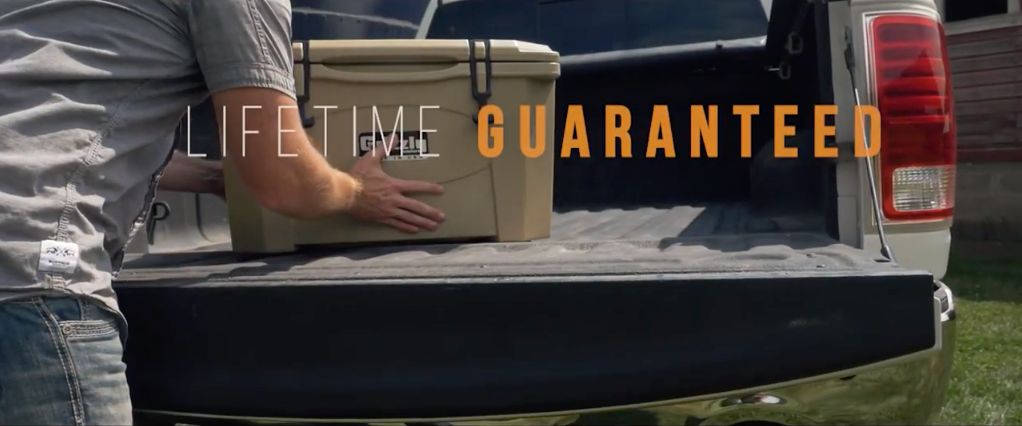 Grizzly coolers are high quality coolers that are made in the USA. They have similar ice retention and features when compared to the major brands.
Their lifetime warranty is the same as Kenai, which makes sense given they are the same company.
They offer a lifetime guarantee to the original purchaser of the cooler and you must have your original proof of purchase in order to obtain the warranty.
This warranty is not valid if the product or components have been:
(1) used commercially
(2) damaged through abuse, misuse or neglect
(3) damaged in an accident
(4) unreasonably used or used for any purpose for which it was not intended
(5) repaired or altered in any way from it's original configuration
(6) damaged due to any act of nature
See the latest prices and details for Grizzly Coolers at Amazon
7. Taiga Coolers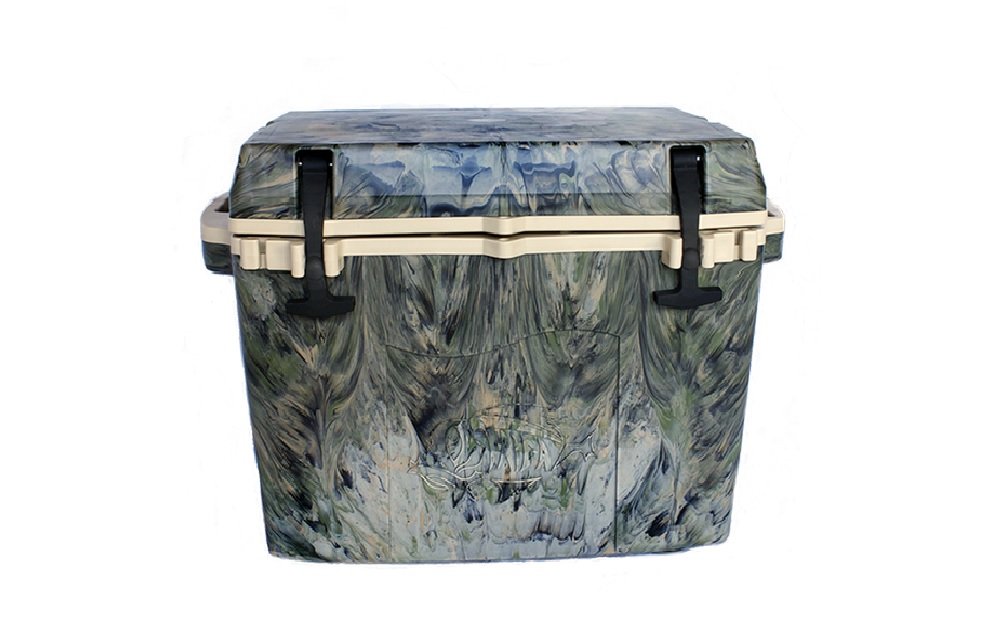 Taiga coolers are a veteran owned business that makes all of their coolers in Texas, USA.
I'm actually not quite clear where the coolers are sold other than through their website and through Amazon.
But I do know they manufacture coolers for other companies who then white label them and sell them under their own brand. CAT Coolers are an example of this.
Taiga make high quality coolers with good ice retention and they provide a limited lifetime warranty to the original owner of the cooler. See warranty details
See the latest prices and details for Taiga Coolers at Amazon
8. Icehole Coolers

Icehole coolers are a cooler with a story. They are proudly made in America but they also have a passion for helping veterans.
The company was started by veterans and a portion of all sales is donated to not-for-profit organisations supporting veterans, their families and their survivors.
They have a big focus on quality control, making a cooler that you can depend on. The coolers have similar features to other brands and are made in Burnet, Texas.
Given the size of the company there aren't a great deal of product reviews or ice tests/comparisons online and they don't sell on Amazon.
They have a lifetime warranty (see details) BUT you must register your cooler within 30 days otherwise your warranty is invalid and returns must be prepaid by the customer.
To me this seems unreasonable. What if you pay hundreds of dollars but simply forget to register it but still have your receipt?
I had them higher up the list until I discovered this fact. But assuming you do register it in time then yes, you can get a lifetime warranty.
See the latest prices and details for Icehole Coolers at their website
9. Cordova Coolers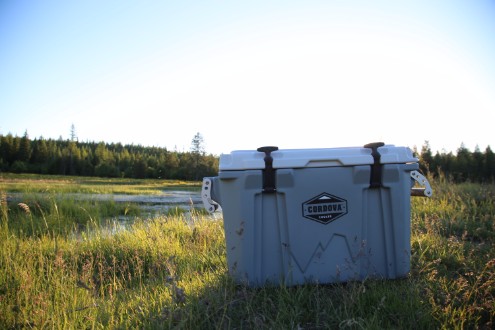 Cordova coolers are quality USA made coolers that are sold for much cheaper than most other USA made coolers.
They have all the major features of other roto-molded coolers with rubber latches, rubber gaskets etc but they also have eco-friendly insulating foam – allowing customers to make a more environmentally friendly choice.
Cordova also has a carry handle unlike any other cooler on the market. They are made from aluminium and come with built in bottle openers which is a cooler feature.
Like Icehole they have a limited lifetime warranty ONLY IF you register your cooler within 30 days of purchase through their website. See warranty details
See the latest prices and details for Cordova Coolers at Amazon
Other Coolers With Lifetime Warranties
Here are some other smaller cooler companies that also offer lifetime warranties. These companies aren't as well known or reputable and their coolers may simply be white labeled coolers imported from overseas, so I question if they will be around long enough to provide you with a lifetime warranty.
10. Mammoth Coolers
Mammoth make smaller roto-molded coolers (between 15-30 quarts) that have thick insulation, rubber gasket and latches and a padding metal handle that makes their smaller coolers easy to carry with one hand.
Their lifetime warranty (see details) is for the lifetime of the original owner.
Their Amazon reviews aren't the best, with many customers complaining about poor ice retention and construction and also complaining about poor customer service.
11. Hooked Coolers
To be completely honest I had not heard of Hooked Coolers before creating this list of the top coolers with a lifetime warranty.
Looking at them they simply look like generic whitelabeled coolers that are imported from overseas and then shipped directly to customers from their warehouse in Florida.
They have a limited lifetime warranty to the original purchaser of the product, as long as you have proof of purchase. See warranty details.
However, given how small and how new this company is, and how it appears they don't manufacture their own coolers, I worry whether or not they will be around for a lifetime to follow up on that warranty.
Yeti Coolers Do NOT Offer A Lifetime Warranty

You likely noticed on this list that the biggest roto-molded cooler brand of all – Yeti Coolers – does not have a lifetime warranty on any of their coolers.
Yeti coolers offers a limited 5-year warranty on their hard sided coolers and a limited 3-year warranty on their soft sided coolers.
Despite this, Yeti coolers are still one of the best coolers out there you can buy with the most well known brand and superb quality and construction.
See the latest prices and details for Yeti Coolers at Amazon