Orca Coolers are some of the best coolers available, offering a cooler with a lifetime warranty that is made in the USA – plus it has some of the best ice retention of any cooler in the market.
However, no cooler is perfect and there are some minor problems with Orca Coolers that you should be aware of before purchasing.
Given that Orca coolers are quite expensive I believe it's important to understand any issues they may have – even if they are small.
None of the problems in this list are deal breakers (in my opinion) but I always like to go into a big purchase knowing the good and the bad before I buy.
1. They Are Expensive
The biggest issue a lot of people are going to have with the Orca Coolers is that they are one of the most expensive coolers on the market.
The cost of an Orca cooler is basically identical to that of Yeti coolers and there are very few coolers that are more expensive than Orca.
When at the end of the day a cooler's job is to keep ice cold and there are more affordable brands of coolers like RTIC and Lifetime coolers (see my Lifetime vs Yeti comparison) for those on a budget it might make sense to go with a more affordable brand.
You need to work out whether or not the extra cost of buying an Orca cooler is worth it to you.
Orca coolers feature extremely high on the following lists:
For the record, the reason Orca coolers are so expensive is they are one of the highest performing coolers on the market. Plus they are made locally in the USA so you're supporting local manufacturing.
Made In USA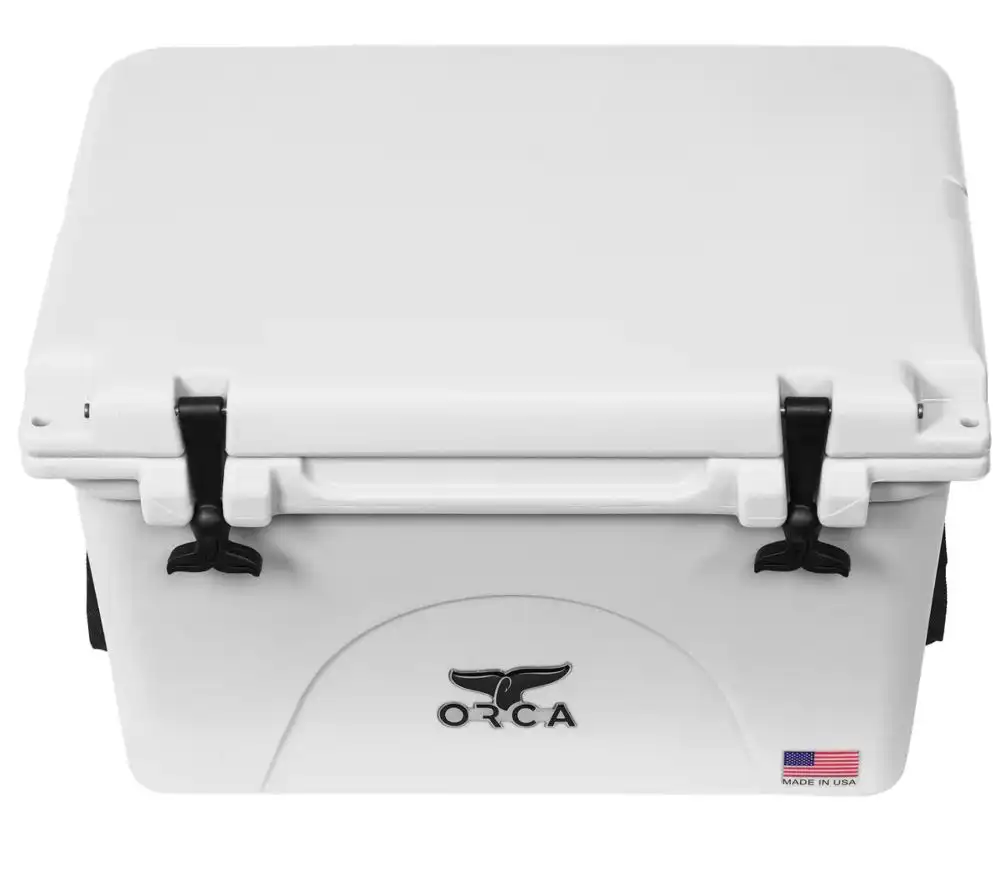 2. Limited Sizes
Orca have a decent range of sizes when it comes to their coolers. At the moment their coolers come in 7 sizes ranging from 20-Quart up to 140-Quart.
Compare that to Yeti coolers who have twice as many sizes – and that's before you start adding in Yeti's other products like the Silo Water Cooler and the Yeti Tank Drink Buckets. Plus Yeti has a huge variety of soft coolers too, whereas Orca really lacks in this department.
These sizes should suit most people but for those looking for larger coolers they are unfortunately out of luck. You'll have to check out list of the best Giant coolers to find something big enough for you.
Orca coolers come in the following quart sizes:
Made in USA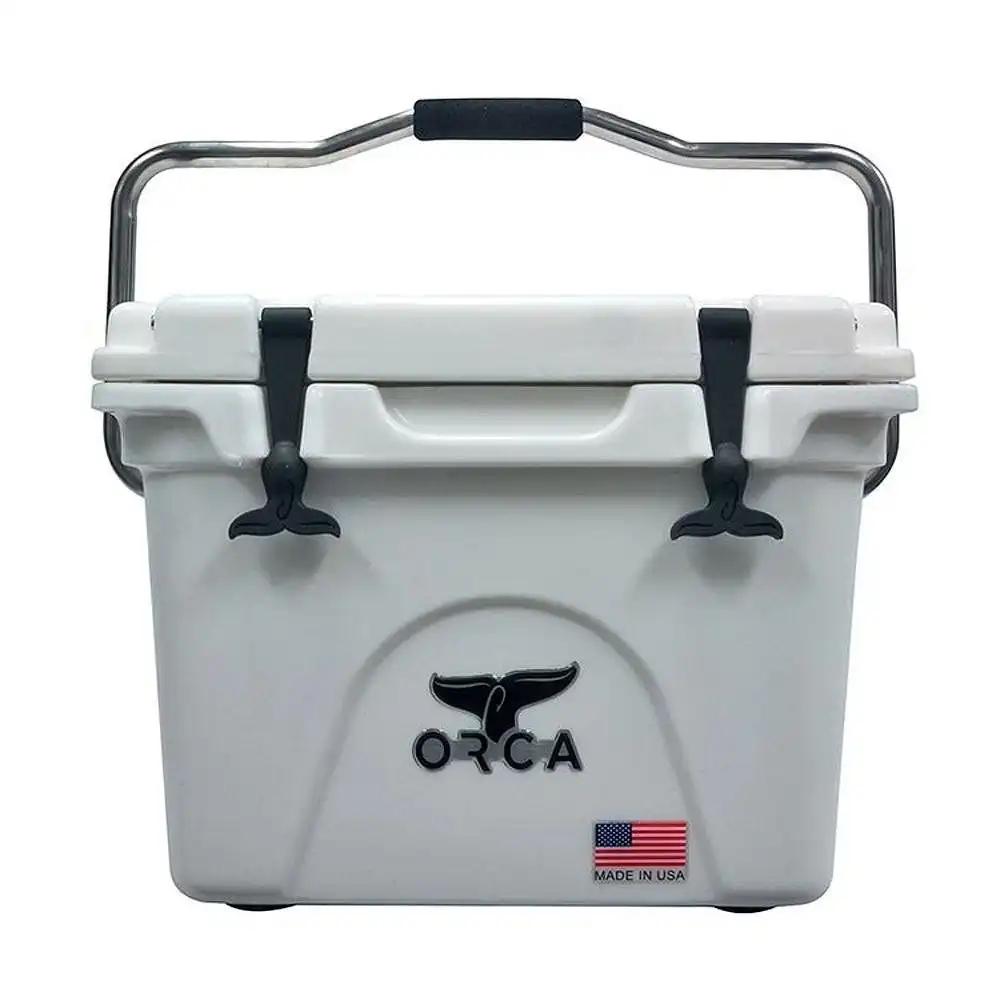 3. They Are Heavy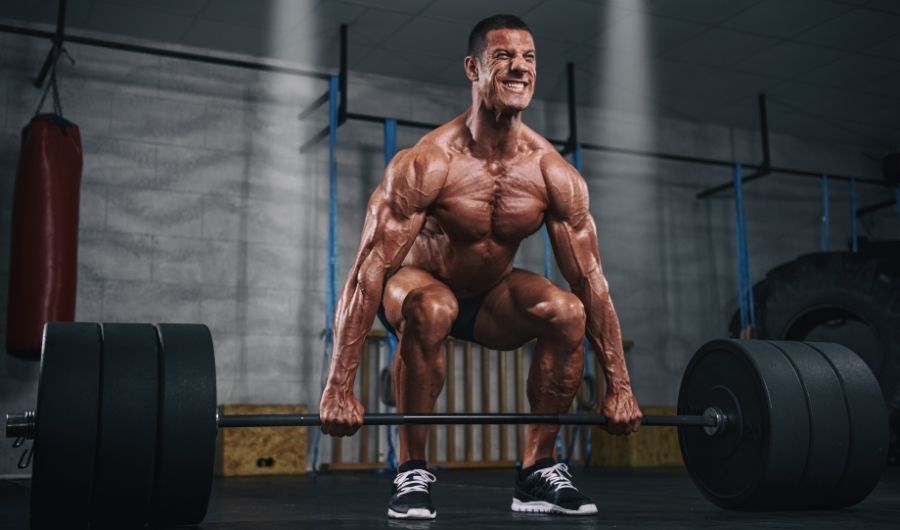 This problem isn't unique to Orca but is an issue with all roto-molded coolers. However, Orca coolers do seem to be a bit heavier than most other cooler brands.
In order to hold ice for such a long period of time they need to use thick insulation and high-quality polyurethane insulation which is heavy.
Orca coolers have 2-3 inches of insulation in the sides and the lid. Compare this to something like the Coleman Xtreme which only has around 1.5 inches of insulation in the body and no insulation in the lid and all this insulation really adds weight to the cooler.
For example, the Orca 40-Quart cooler weighs 30 lbs (13.6kg) WHEN EMPTY!!!
Compare this to the Yeti 45 (which is 37-Quart) and that weighs in at 23 lbs.
The Lifetime 77-Quart cooler (which is one of the best and most affordable high performance coolers) weights 29.95 lbs (13.6kg).
Once you add in all your ice and drinks and food Orca coolers become extremely heavy and most Orca coolers need 2 or more people to carry them when full.
4. No Wheeled Version
For those who cannot (or don't want to) lift and carry an extremely heavy cooler having a cooler on wheels is a good option.
Unfortunately, Orca does not have any versions of their coolers that have wheels.
If you're looking for a wheeled Orca cooler then you're out of luck. You'll have to choose from this list of the best wheeled coolers.
5. Only Really Sold In The USA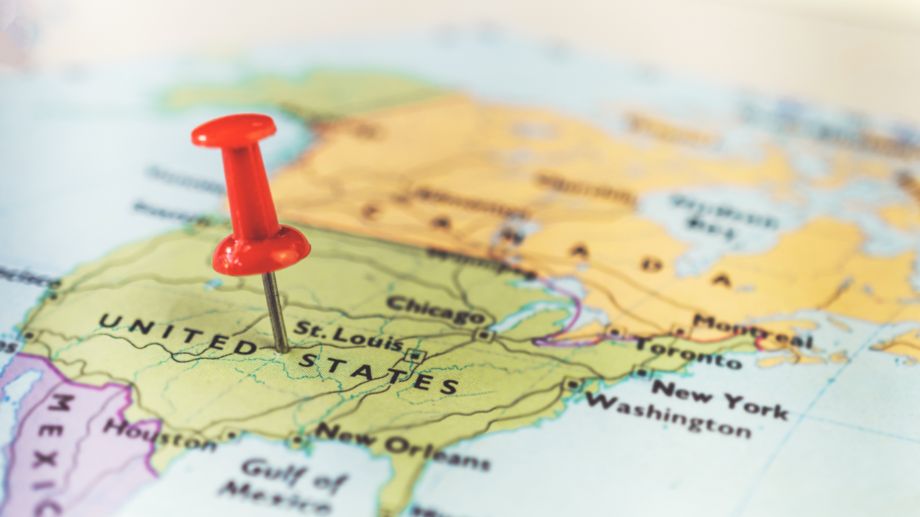 For those living outside the US, getting your hands on an Orca cooler is extremely difficult.
Unless you want to pay $600-800+ on an international Amazon site or pay hundreds of dollars in shipping it just isn't feasible for international customers to purchase an Orca cooler.
If you live on mainland USA this isn't a problem for you, but for people living outside the states this extra cost makes then cooler not worth it.
The Orca might be a better buy than a Yeti at a similar price point. But are you willing to pay DOUBLE what a Yeti costs if you live internationally?
6. Customer Service Doesn't Seem To Be Amazing
While Orca does offer a lifetime warranty on their coolers it seems that this only extends to coolers purchased directly through Orca and not through sites like Amazon – where a lot of people will buy their Orca coolers.
There are a variety of complaints on BBB.org where people talk about their difficulties dealing with Orca customers support.
Being promised replacements that never come, having to jump through hoops just to get a warranty claim realized and in some cases Orca not honoring the warranty and blaming the customer for damages where it doesn't seem to be the customers fault.
Hard to tell if these are just cranky customers or not but doesn't sound like customer service is amazing to work with.
Canyon coolers arguably have the best warranty out there. They have an UNLIMITED lifetime warranty. Check out this statement from their warranty page.
We will repair or replace your Canyon product in the event it becomes damaged or defective – at no cost to you. If we cannot repair your product, we will replace it with a new product of equal or better physical condition.
We don't care what happened, how it happened, who's fault it was, or where or when you bought your Canyon Cooler. As long as you have the cooler, we promise to take care of you.
…
The only thing our Warranty does not cover is loss, theft, deliberate damage, or normal cosmetic damage that does not negatively affect the performance of the product.
I wish more cooler companies were like Canyon!
7. You Need To Pre-Chill Your Orca Cooler For It To Work Properly
Again this isn't an issue specific to Orca coolers as a brand but pretty much all roto-molded coolers.
The thick insulation, while it can be great at stopping heat getting into your cooler, can also absorb a lot of heat if left in a hot place like in the sun or a hot garage.
Placing ice in a hot cooler will cause the ice to melt more quickly than it should. This is because the heat from inside the insulation is being transferred into your ice and melting it.
My Dad has this problem when he borrowed my Yeti cooler. The cheap Coleman cooler kept ice longer than the Yeti cooler – but that's because he left the coolers baking in the sun in his car for 3 days before loading them up with ice.
To fix this problem you just need to pre-chill your cooler prior to using it. To do this fill it up the night before using it with some sacrificial ice to bring the cooler down to temperature.
Then discard this ice and fill it up as you normally would.
Are These Problems Deal Breakers?
Like all coolers and all cooler companies Orca Coolers aren't perfect – no cooler is.
However, Orca coolers has less issues than most cooler companies and so I don't think any of the above issues are deal breakers for most people.
The only exception may be international people who can't get their hands on an Orca cooler except for an extremely high price.
What do you think? Are any of these problems deal breakers to you?
Orca Has Less Problems Than Most Coolers – It's One Of The Best Coolers On The Market
While I listed a few problems with the Orca Cooler here it's important to note that Orca coolers have a lot less issues than other coolers.
Ozark Trail coolers have many more quality problems when compared to Orca and, in my honest opinion, Orca coolers are better than Yeti Coolers in everything except brand. They rank #1 on my list of coolers that are better than Yeti.
Orca coolers are:
Made in the USA
Made to a very high quality standard
Backed by a limited lifetime warranty
One of the best coolers for ice retention
Have all the features of a Yeti cooler
Made In USA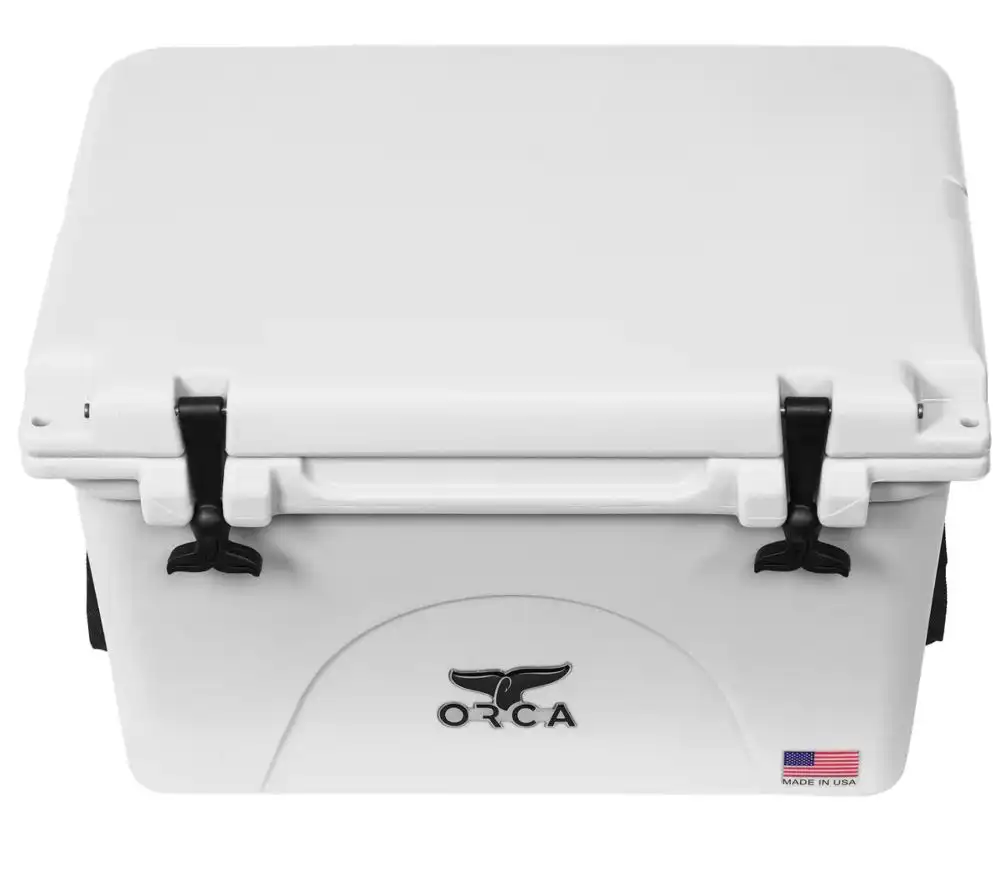 High Quality Coolers Similar To Orca
If Orca isn't the cooler for you then there are a bunch of other great options out there. No cooler is perfect and these brands have their own problems too – but they may suit you better.
Kong Coolers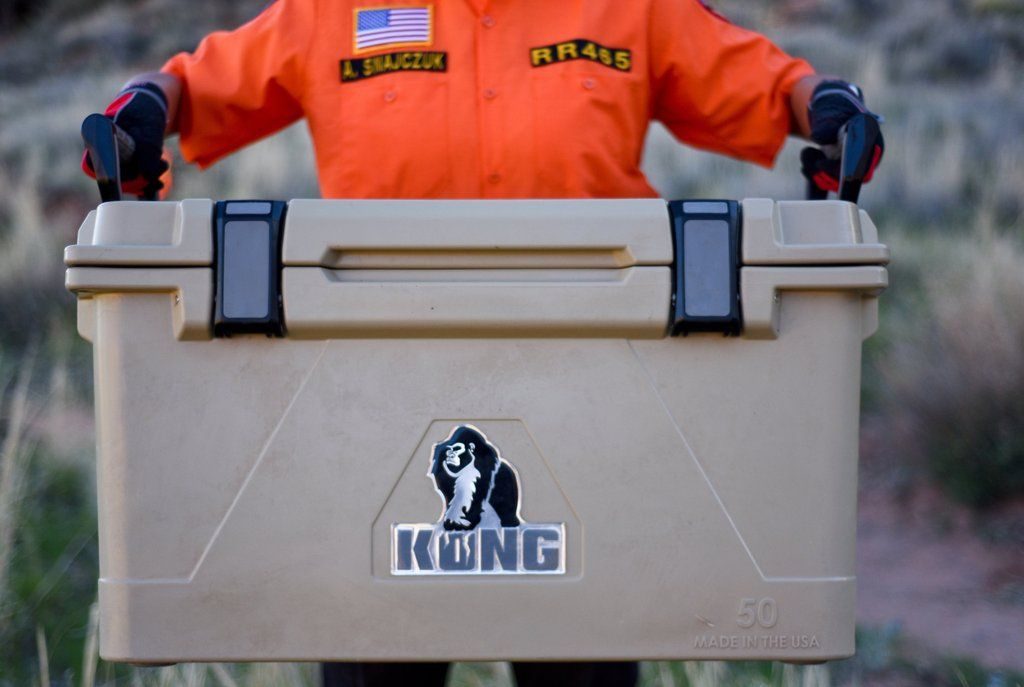 I would say Kong Coolers are the most similar to Orca coolers in performance and features.
Kong coolers are:
One of the best ice retention of any cooler – even slightly better than Orca
Made in the USA but a reputable company
Backed with a limited lifetime warranty
They are really well made coolers and have a variety of accessories that other coolers don't have.
They are a newer brand to the market but have been selling really well and people seem to absolutely love them. I've done a full Kong vs Yeti cooler comparison if you want more information or you can see the latest price of Kong Coolers below:
See the latest price of Kong Coolers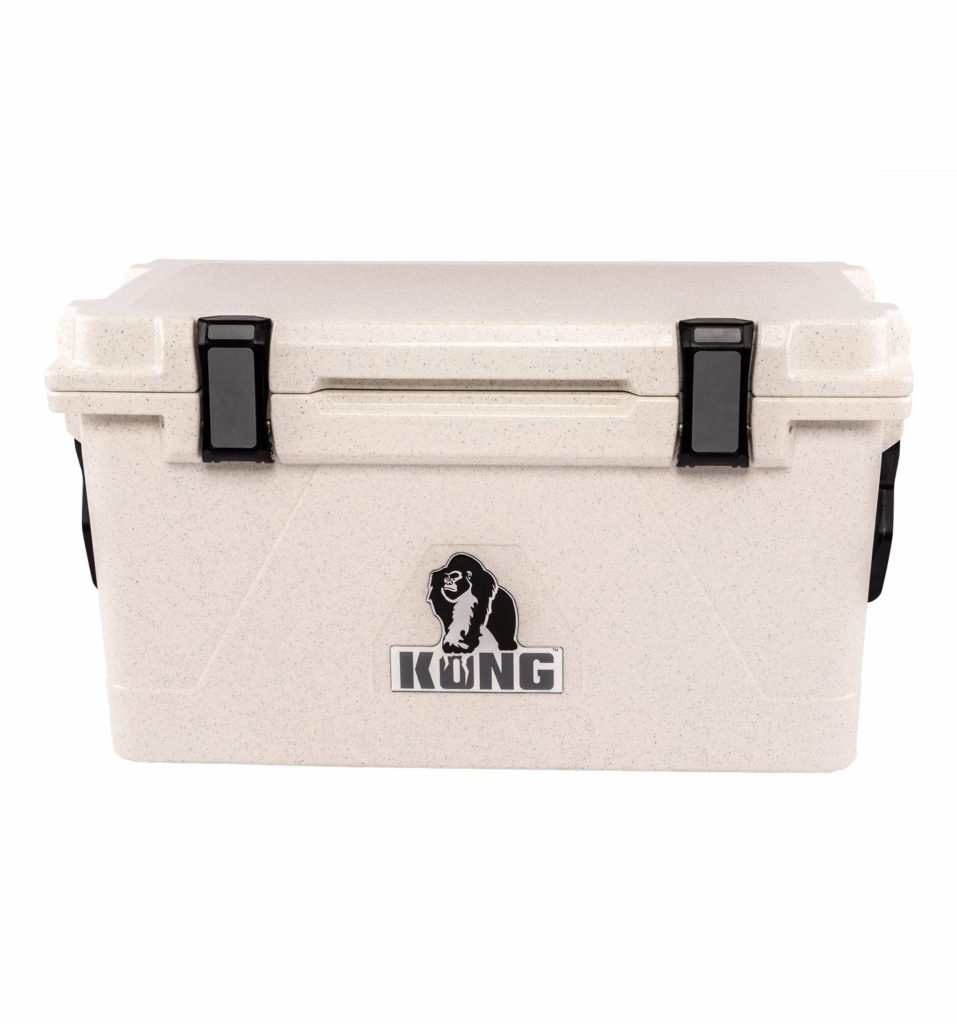 Yeti Coolers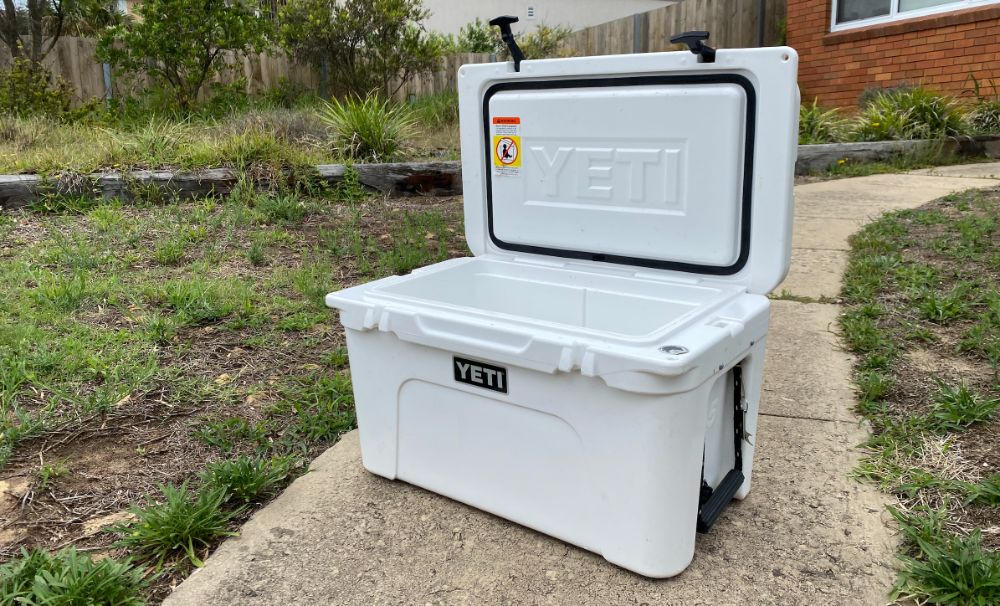 The original and still one of the best. Yeti Coolers are the pioneers of high-end roto-molded coolers and they are the biggest and best cooler brand with the widest range of products.
While Yeti started in 2006-2008, Orca didn't come onto the scene until 2012 – taking a lot of inspiration from Yeti in the design of their coolers.
Yeti coolers have an extremely high manufacturing quality, they are a brand that stands out and the performance of these coolers is nearly as good as that of Orca coolers. They also have wide international distribution making it easier for people all over the world to get their hands on a Yeti cooler.
I've owned my own Yeti cooler since 2016 and it is still going just as strong today as it did all those years ago.
See the latest price of Yeti coolers at Yeti.com
(or compare to price of Yeti coolers at Amazon)