The Yeti Tank is an overpowered ice bucket that keeps ice longer than any other ice bucket and also stops the sweating and pooling of water that you would get with a non-insulated ice bucket. It comes in 2 sizes the 45 and 85 which are 40 Liters and 78 Liters respectively.
In this Yeti Tank review we'll look into detail at the features and uses of the Yeti Tank to help you decide if this is a product you want to invest in, or if something else may be better suited to you.
It Is Worth The Large Price Tag?

The Yeti Tank isn't a cheap ice bucket, in fact it's likely the most expensive ice bucket on the market.
A quick look on Amazon showed similar sized steel drink buckets to only cost around $15-$30 while a Yeti Tank costs around $200-$250 depending on the size.
Below you can see the price of the Yeti tank compared to similar sized generic ice buckets.
YETI TANK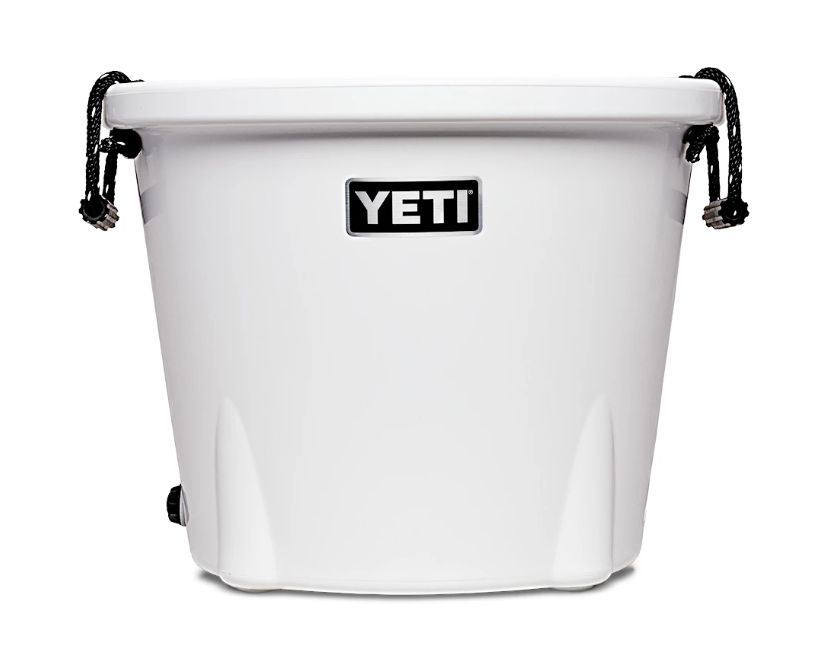 Yeti Tank 45:
---
Yeti Tank 85:
OTHER ICE BUCKETS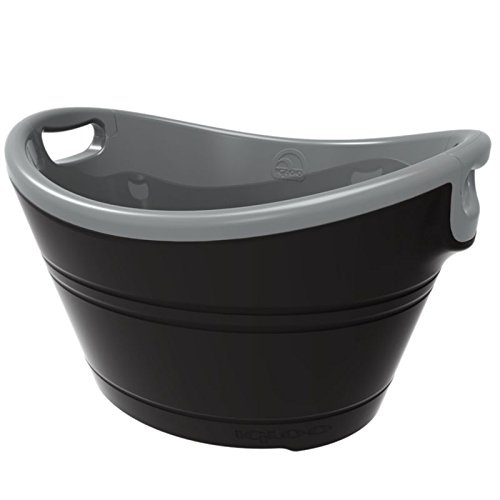 Igloo Party Bucket:
---
Lifetime 55-Quart: $97.00 (see on Wallmart.com)
---
Ozark 73-Quart:
---
Canyon 125-Quart:
So we can see that Yeti Tank's aren't cheap drinks buckets, but we already knew that. Yeti are known for making expensive products, but amazing products well worth their expensive price tags.
They Yeti Tank is so much more than a standard ice bucket and it is so much better and more durable that yes I do believe it is worth the hefty price tag it commands. But only for some people.
In the rest of this review we'll look at the features of this cooler and help you decide whether or not this is worth it for you.
So Durable It Will Last Years (Maybe Even a Lifetime)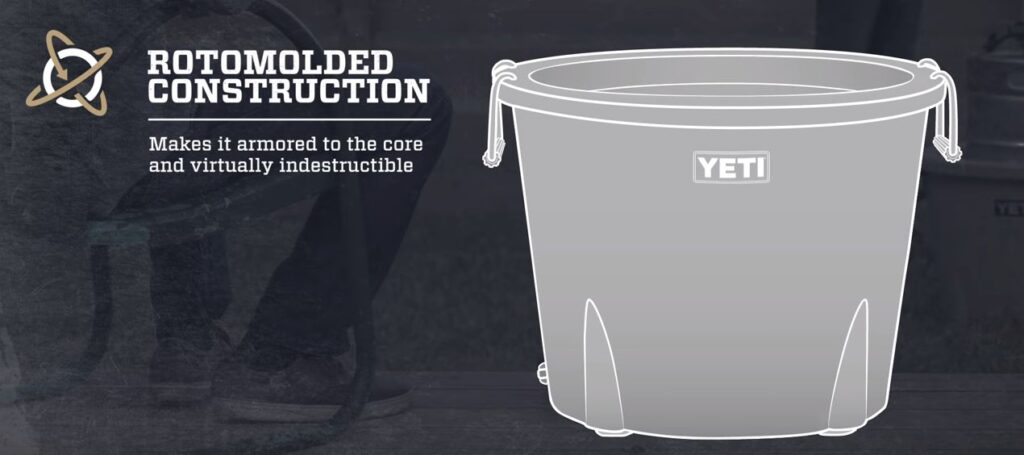 The Yeti Tank is made using the same roto-molding process that Yeti uses for it's Tundra Coolers.
This is the same method used to make kayaks and it creates an extremely strong plastic shell for the Tank.
This shell is then filled with pressure injected foam which then hardens making the cooler even stronger.
The Tank is so strong and durable that you can throw it, drop it, sit on it, stand on it and even drive over it and it is highly unlikely to break.
It will likely last you years and maybe even your lifetime before you need to replace it. Yeti products are just built that well.
Heavily Insulated and Keep Ice For Days

This isn't designed to be used like a regular cooler and keep ice for a week, but Yeti have fully loaded it with insulation anyway.
Where a regular ice bucket would hold ice for a few hours or maybe a day at best the Yeti Tank can actually keep ice for multiple days.
There haven't been any ice tests done to test how long this can keep ice but it is mainly designed for 1 day events like a party or BBQ and it will easily outlast the day.
With the optional lid I would expect ice to stay in here somewhere around 2-4 days without any issues, even in warmer weather.
Big Enough To Fit Loads of Drinks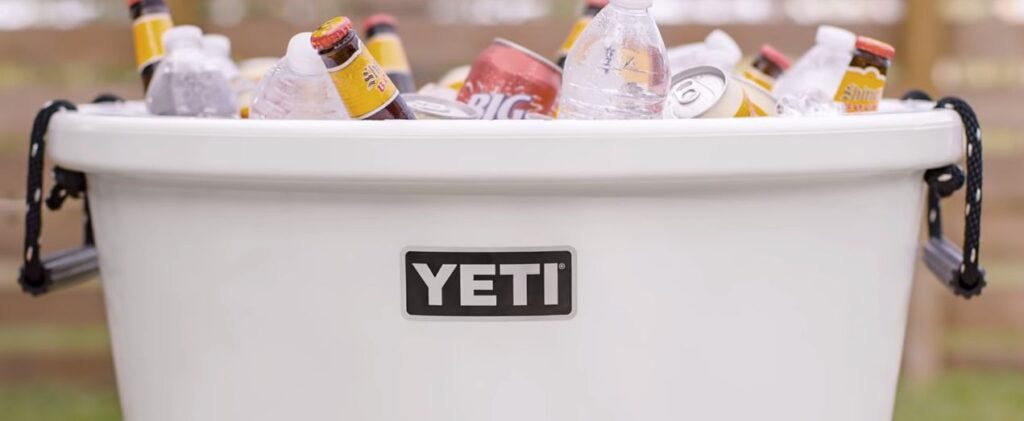 The Yeti Tank comes in two different sizes and both are big enough to fit a large amount of drinks.
The Tank 45 have a capacity of 40 liters and can fit over 50 cans plus ice and the Tank 85 is approximately 78 liters and can fit over 100 cans plus ice.
These things are large and designed to hold lots of beverages. There is more than enough room for all your drinks plus ice.
It also has a wide opening at the top making it easy to see in and making it easy to grab beverages.
No Sweat Design – No Puddles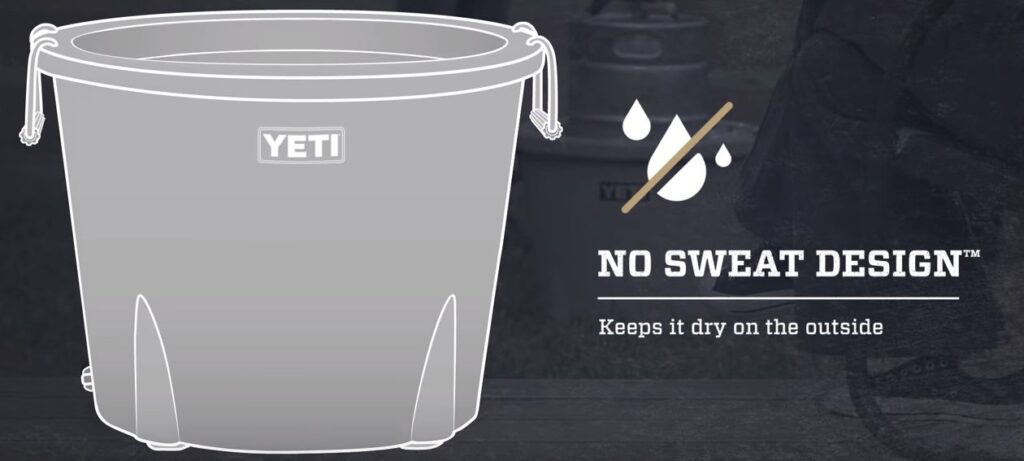 One of the big problems with other drink buckets like the steel ones is that the exterior of them sweats and gathers water due to condensation.
This then drips down and pools onto the floor. This can leave major puddles and if your party is happening inside then you need to deal with this mess.
Because the Yeti Tank is made from plastic and is so insulation the exterior doesn't get cold like the steel buckets do and thus no condensation forms.
This means that you won't get drips, you won't get puddles and so you can easily have this inside, in the kitchen, on the back deck, in your garage or wherever you want without having to worry about water damaging anything (unless of course your tipsy friends spill something).
Quick and Easy Draining

When the day is done and you need to drain the cooler, or you've had ice melt and you want to remove the water then you can do this easily using the drainage plug located at the bottom of the tank.
It's the same design as the Yeti coolers. It's a 1-inch drain plug and you can partially unscrew it and it will drain all the water out or you can completely remove it for faster draining.
4 Non-Slip Rubber Feet (Non Marking)

Another great feature of the Tank is that it has 4 non-slip rubber feet which work really well not only to make sure the cooler doesn't move but also to make sure the bucket doesn't scratch the floor.
Metal ice buckets can easily scratch wooden floor or decks if they are pull around or even if they are bumped through use, so it's nice to know with the Tank that you won't have these problems.
Dual Nylon/Rubber Rope Handles

The Yeti Tank has two army grade nylon rope handles on the sides that pull up and have a ribbed rubber handle on them.
This makes it easy and comfortable to carry for a single person or for two people when it is filled with ice and drinks.
Optional Lid – Doubles As Cutting Board and Seat

If you're going to spend the money on buying the Tank you'll likely want to grab the optional lid which goes for about $40-$50.
The lid doesn't have a gasket and it fits in pretty loosely but it is a really handy lid.
There is a cut out handle and it is really easy to take off and put back on for when you or your guests want to grab drinks.
It also doubles as a cutting board or a table if you need to prep or serve food a drinks. Who doesn't love cutting some lime to put in their beer?
And it is strong enough that you can use it as a seat as well.
Spots For Attachments
It has 2 standard Yeti attachment slots on the sides so you can attach accessories like a bottle opener, cup holder or even fishing rod holder and these can also double as tie down straps if you want to tie the Yeti Tank down on your boat or in your truck to make sure it doesn't move around.
5-Year Warranty But It Should Last You A Lifetime

The Yeti Tank comes with the same 5-Year warranty that Yeti coolers come with. So if you have any issues with your Yeti Tank in the first 5 years then let Yeti know and they'll organise a replacements or help you fix the problem.
But honestly, this cooler is so well built that it is likely going to last you decades if not your entire lifetime.
Compatible With Dry Ice
I'm not sure if/when anyone would want to use dry ice in the Yeti Tank, but if you ever did want to do it it's good to know that it is dry ice compatible.
Where To Buy The Yeti Tank
Yeti Tanks are available in most stores that sell Yeti coolers. Yeti has a huge distribution all over the USA and is quickly spreading across the world.
Some stores may not stock the Yeti Tank as it's likely not as popular as the coolers and tumblers but if they have Yeti products they can usually order it in for you.
You can also get the Yeti Tank's from Yeti's website or you can order them from Amazon. You'll usually get free shipping also from Amazon which is a nice feature.
See latest price and details for Yeti Tank 45 at Amazon
See latest price and details for Yeti Tank 85 at Amazon
Yeti Tank vs Yeti Tundra Coolers

You may want to think about whether or not you would prefer the Yeti Tank or if you would prefer a Yeti cooler instead.
The Yeti Tank is cheaper than Yeti coolers by a fair amount. A similar sized Yeti Tundra 45 will cost roughly $100 more than the Yeti Tank 45 and the Yeti Tundra 75 will cost roughly $200 more than the Yeti Tank 85.
So the Tank is a good cheaper option. The only issue with the tank is that it really isn't trying to be a cooler, it is a drinks bucket.
It doesn't have a solid lid or rubber gaskets and isn't watertight. It doesn't keep ice as long as a regular Yeti cooler either.
However, it is easier for guests to grab drinks and the lid of the Yeti Tundra coolers is quite heavy and can easily fall onto and hurt children's hands if you aren't careful – making them less than ideal for a party.
For me I go camping more than I have BBQs or parties and so the regular cooler makes more sense for me and I can still use it at parties if I need to. For other people they may be doing more BBQs and not really have use for a regular cooler for the Tank is the perfect option for them.
See Yeti Tundra Coolers at Amazon
Problems With The Yeti Tank
The Yeti tank isn't perfect and while I don't see any of these problems as deal breakers for why you shouldn't buy it I do feel it's important to know what the issues are before you spend your money on it.
No Lid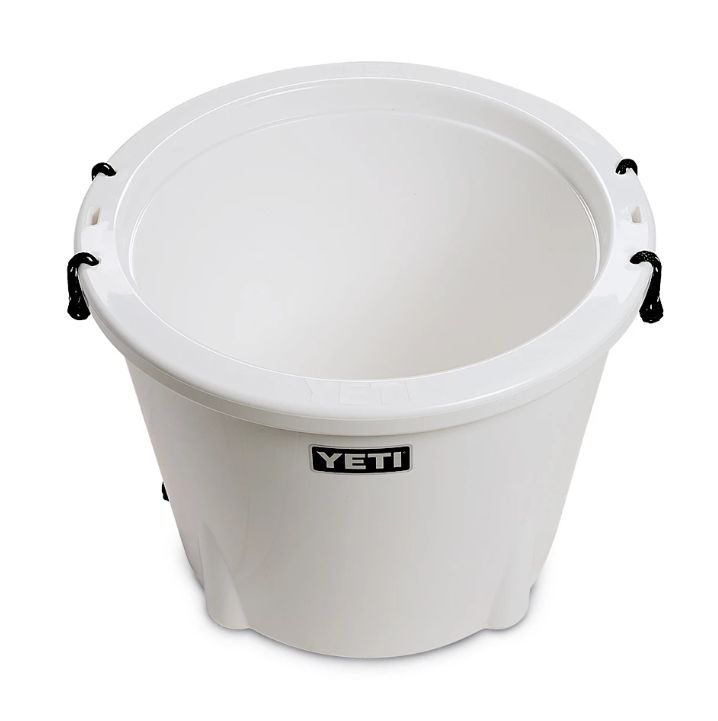 By default the Yeti Tank doesn't come with a lid. It's just an open ice bucket.
The lid you need to purchase separately and while I think it's worth it it is important to know that the lid loosely drops into place on the cooler, it doesn't fit in with a gasket and so it isn't water tight and will easily fall off if the cooler is knocked over.
See latest price for Yeti Tank Lid at Amazon
Doesn't Keep Ice As Long As Regular Yeti Coolers
The Yeti Tank doesn't keep ice as long as a regular Yeti for a few reasons.
There is less insulation, there is no insulating lid and there is no freezer grade gasket or rubber latches to pull the lid on tight.
While a Yeti cooler can keep ice for up to a week, you should only expect the Yeti Tank to keep ice for 2-4 days. Still really good for an ice bucket.
Expensive
The Yeti Tank isn't a cheap ice bucket, in fact it's the most expensive ice bucket on the market. You can see the current prices below, click the affiliate price links to see more details at Amazon.
Yeti Tank 45:
Yeti Tank 85:
Heavy
Even when empty the Yeti Tank is pretty heavy with the 45 weighing 13 lbs when empty and the 85 weighs 20 lbs when empty…not exactly light.
When you fill them up they then become extremely heavy depending on how much you fill them.
The nylon rope and rubber handles do make it easier to carry but you'll likely need a friend to help you carry it if it is full of ice and drinks.
Cheaper Alternatives To The Yeti Tank
If you're not sure you want to spend a couple of hundred dollars on the Yeti tank then what cheaper alternative are there that you can purchase instead.
There aren't really a lot of alternatives to the Yeti Tank, but there are a few options out there that you should be aware of.
Kula Cooler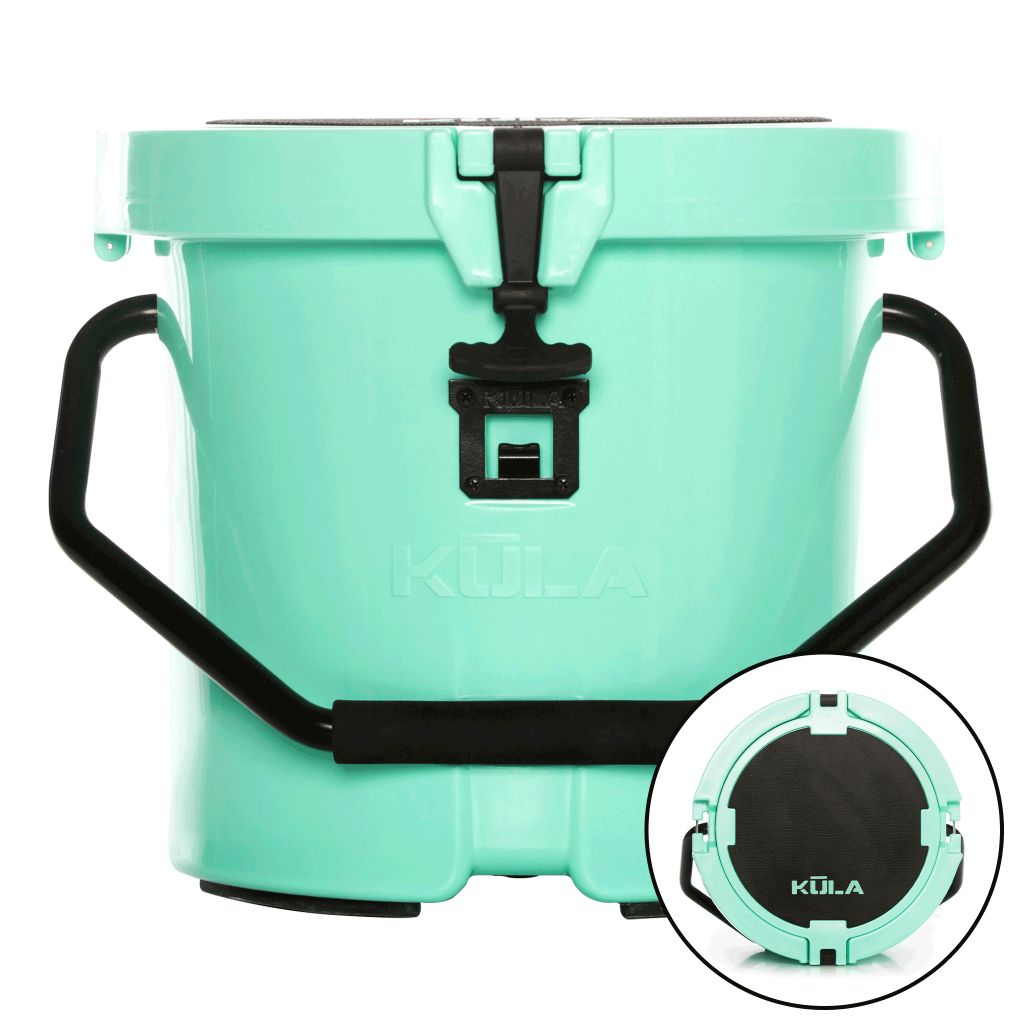 The Kula Cooler is really the only roto-molded cooler kind of similar to the Yeti Tank.
But they have very different uses. The Yeti Tank is large and the largest size Kula is half the size of the Yeti Tank 45.
The Kula is actually more like a Yeti Roadie cooler, only it's round instead of square.
But it is a nice cooler bucket and it's a similar price to the Yeti Tank and keeps ice for just as long if not longer so may be worth a look at.
Kula Cooler 5 Gallon:
Cheap Steel Buckets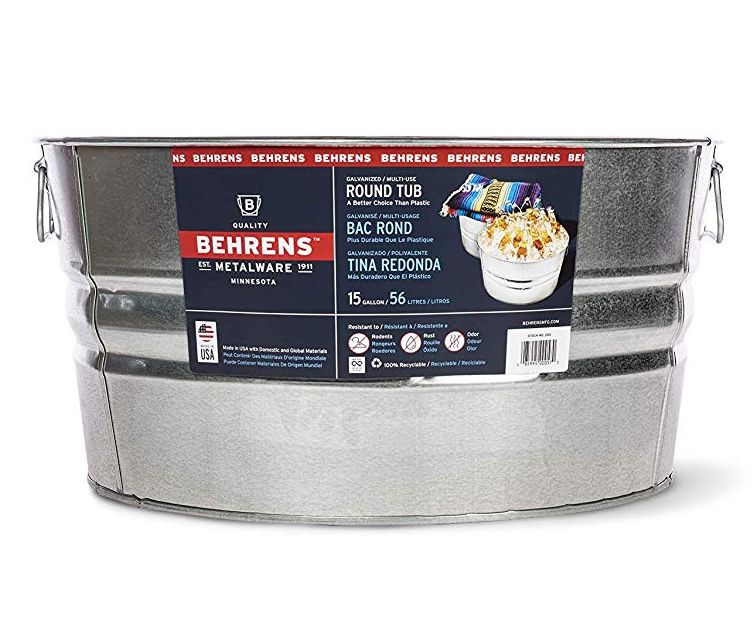 If you don't want to get a Yeti Tank you can always just go for the traditional steel bucket.
The benefit of these is that you can purchase them in larger sizes and even get ones larger than the Tank 85.
The downside is that there is no insulation so ice will struggle to last a full day and they sweat and will leak water all over your floor.
Still, they are much more affordable so if you're not going to be using it often then it might be a better buy for you.
Creativeware 8.5 Gal Drinks Tub:
Behrens 15 Gallon Steel Tub:
Igloo Insulated Party Bucket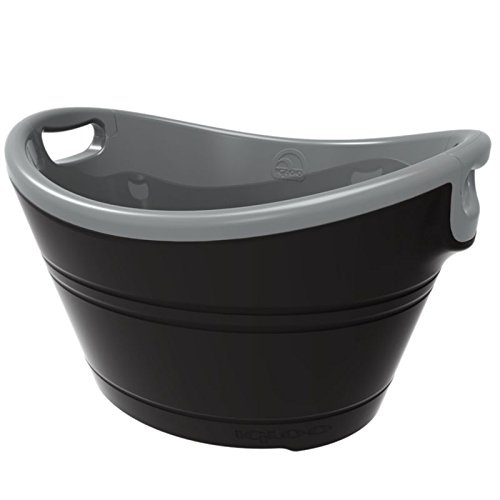 The only other insulated drinks bucket I could find was the Igloo 20-Quart party bucket.
Again this is half the size of the smallest Yeti tank so you're not going to be able to fit as much in there, but it is insulated and should keep ice for a day and shouldn't sweat.
It isn't as strong as the Yeti Tank but it has good solid side carry handles as well as a drain plug on the bottom.
It's plastic and easy to clean and comes in way cheaper than the Yeti.
Igloo Party Bucket 20-Quart:
Who Should Buy The Yeti Tank?

I hope now you've got a good idea as to whether or not the Yeti Tank will suit you and your needs.
I think this is a great product and I do think it is worth the money if you can afford it and if you're going to get use out of it.
The Yeti Tank is good for someone who loves having parties or BBQs or someone who loves going to them and bring their own drinks.
If you're looking for an ice bucket that won't sweat all over the floor so you can use it inside then this is going to be one of the best options for you.
Overall this is solid product with an extremely high rating on Amazon, so customers seem to absolutely love it.
If you want to read more about it or see the latest pricing click my affiliate links below to see the Yeti Tank on Amazon
YETI TANK 45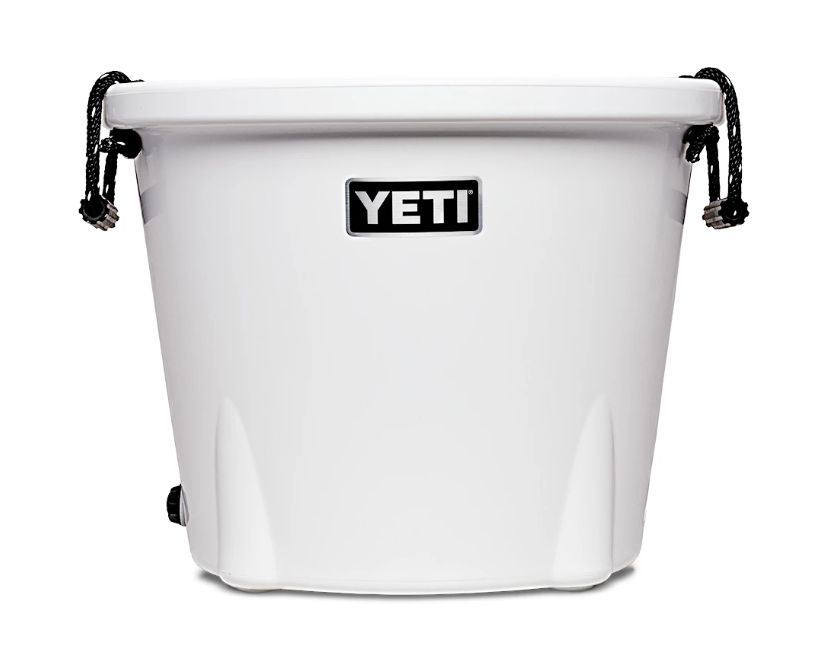 Yeti Tank 45:
YETI TANK 85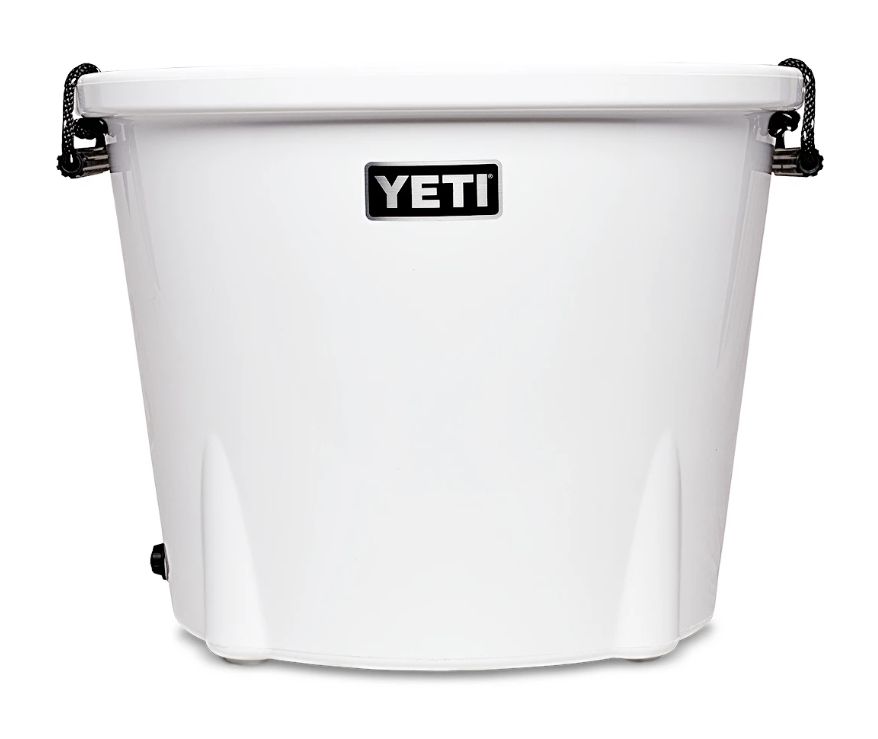 Yeti Tank 85: