Ozark Trail coolers are Walmart's brand of coolers and they are some of the most affordable roto-molded coolers on the market, offering great value for money. But they aren't perfect and there are some problems with Ozark Trail coolers that you should be aware of before purchasing.
Given how affordable these coolers are compared to other roto-molded coolers like Yeti, none of these problems are deal breakers in my opinion. But it is still good to know about issues that may arise so you know exactly what you're getting.
1. Warping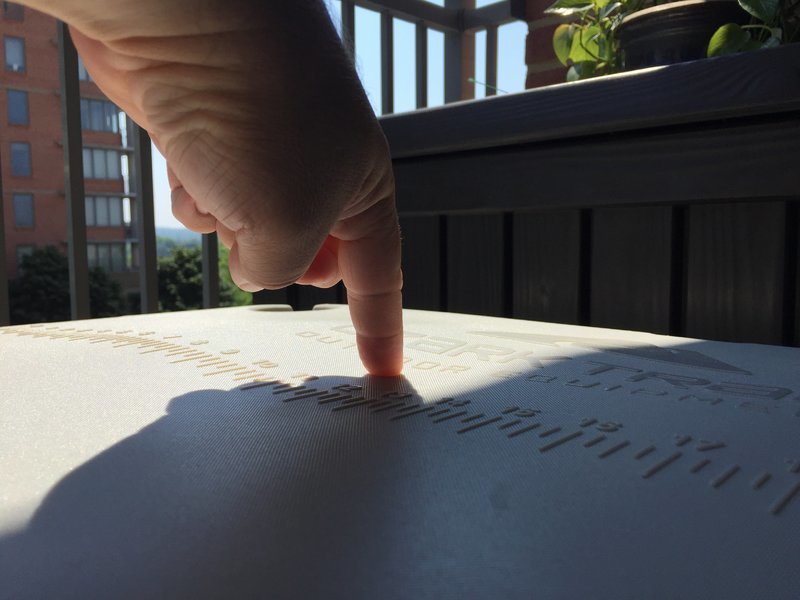 Some customers have experienced Ozark Trail coolers warping when left in the sun. More specifically the lid of the cooler seems to warp unnaturally.
While it also seems like the cooler goes back to it's originally shape when brought back inside this is a big potential issue and could lead to the cooler lid not aligning properly and ice retention could suffer as a result.
Constant warping back and forth may also cause permanent long term damage to the cooler.
Ozark Trail coolers do come with a 5-Year warranty so if you have this issue then Walmart should replace your cooler for you free of charge, and then hopefully your next cooler doesn't have the same issue.
This issue seems more prevalent in the larger sizes, but can happen on the smaller sized cooler also.
2. Limited Sizes
There are currently 5 different sizes of Ozark Trail cooler
26-Quart
52-Quart
73-Quart
110-Quart
60-Quart Wheeled
While this is a decent range it is a much smaller range than a cooler brand like Yeti which has multiple different sizes.
My Yeti 45 (37-Quart) is my favorite sized Yeti because it's big enough to hold food and beverages for me and my family, but smaller enough that it's easy to transport and that I can move it small distances by myself even when its completely full.
Ozark Trail don't have any coolers around the 40-Quart range. For that you would need to look at the RTIC 45-Quart Cooler.
3. Ice Retention is OK But Not The Best
The Ozark Trail has really mixed opinions when it comes to ice retention.
Some customers report it working great and easily keep ice for 4+ days while other customers talk about it losing almost all it's ice with just 24 hours.
There are very few head-to-head comparison tests between the Ozark Trail and other coolers like Yeti, so it's hard to tell exactly where it stacks up in terms of ice retention. But from what I can see it's one of the lower performing roto-molded coolers when it comes to ice retention.
The below test done by Lifetime coolers shows how the Ozark keeps ice a decent period of time, but doesn't keep up with coolers like Yeti, Lifetime or Orca.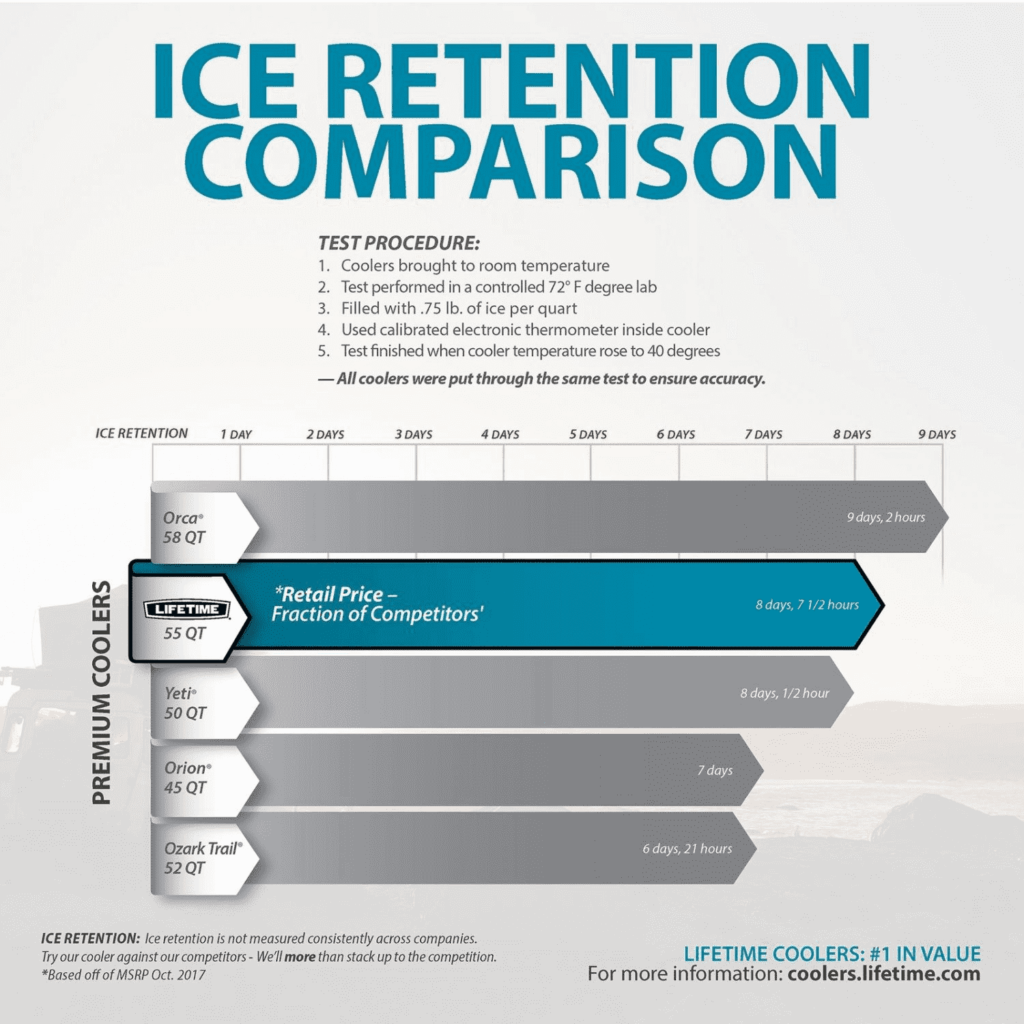 I did a full review of Ozark Trail vs Lifetime coolers as well as Ozark Trail vs Yeti coolers and talk more about ice retention in those reviews if that's something you're interested in.
4. It's Heavy
This is true of the Ozark Trail but it's also true of all roto-molded coolers. Even when completely empty these things are heavy.
The 52-Quart version weighs 31.1 lbs when it's empty and the 73-Quart versions weights even more at 35.3 lbs. Imagine how heavy it would be when full.
Because they are made with thick roto-molded plastic and then filled with 2-3 inches of pressure injected insulation in the walls and lid of the cooler the weight really starts to add up.
They aren't the heaviest coolers on the market. The old Pelican coolers were some of the heaviest coolers with the old 35-Quart weighing in at around 33 lbs. But they have since been redesigned to be lighter and more in line with other coolers.
5. No Drain Plug on 26-Quart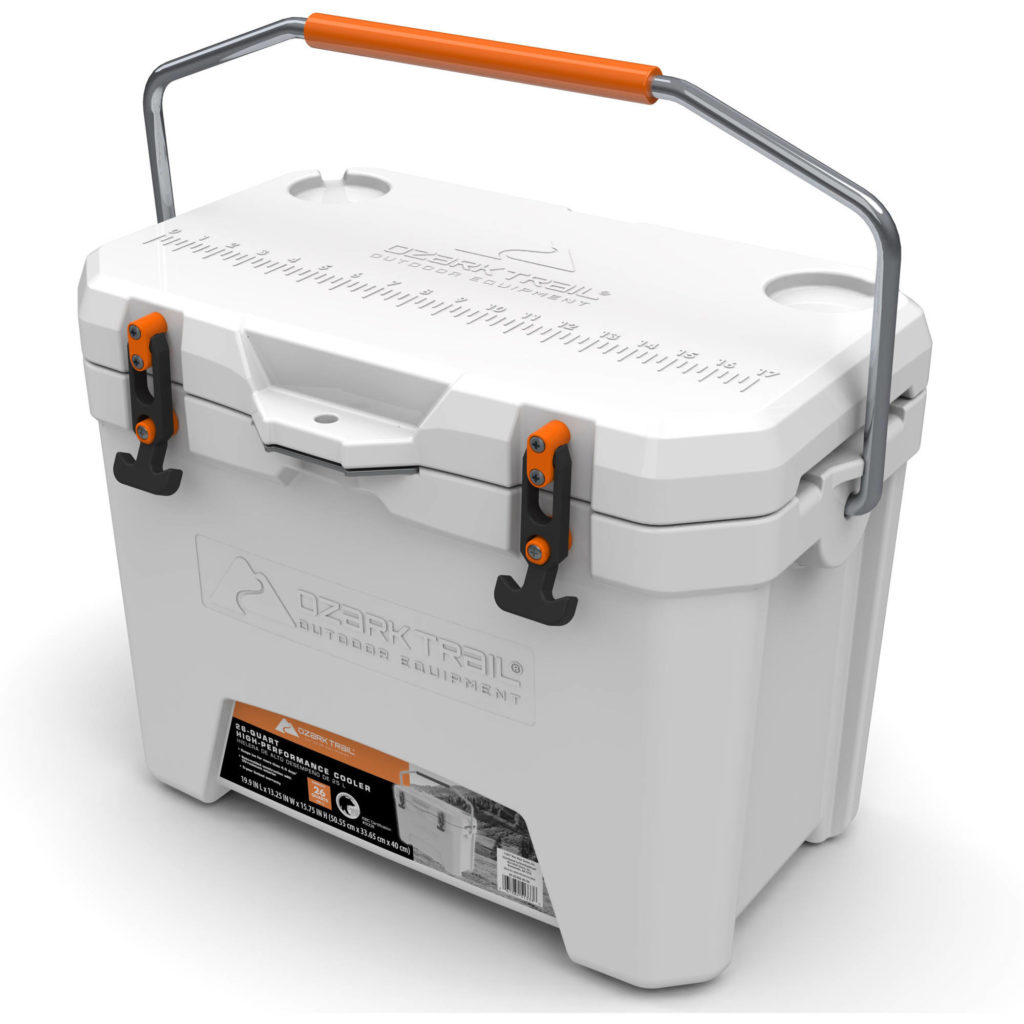 The 26-Quart version doesn't have any drain plug at all, meaning the only way to empty the cooler is to tip it upside down.
This can be extremely frustrating when you are a couple of days into your trip and you want to empty out some of the water but you still have items in your cooler.
You effectively need to manually empty your cooler (which can be very cold on the hands) then empty out the water before putting your items back it.
It also makes it difficult to empty out the water but to keep the remaining ice in the cooler.
This is a fairly big design flaw and I know the Lifetime 28-Quart has the same issue but the Yeti Roadie 20 (21-Quart) does have a drainage plug.
I have no idea why they didn't add this in and I really wish they did.
6. Price Constantly Fluctuating
As I mentioned earlier Ozark Trail coolers are some of, if not THE, cheapest roto-molded coolers on the market.
However, given that it's Walmart and they are a big box retailer they are often changing their prices. Occasionally selling them for full price, but more often than not selling them for some sort of discount.
Obviously if you want you want to buy them for a discount, but it's hard to know exactly when this will be.
This isn't a huge issue as the prices are always cheap, but it's sad when you buy your cooler only to have it go on sale the next day.
Add to this this fact that sometimes the cooler can be cheaper on Amazon than it is on Walmart's own website.
It's always worth checking the coolers on both Walmart's site and on Amazon before purchasing so you can buy from the site that has the best price.
I'll link up to the different Ozark Trail coolers on Walmart and Amazon using my affiliate links below if you want to check today's prices.
Ozark Trail 26-Quart Cooler
See Ozark Trail 26-Quart (on Walmart)
See Ozark Trail 26-Quart (on Amazon)
Ozark Trail 52-Quart Cooler
See Ozark Trail 52-Quart (on Walmart)
See Ozark Trail 52-Quart (on Amazon)
Ozark Trail 73-Quart Cooler
See Ozark Trail 73-Quart (on Walmart)
See Ozark Trail 73-Quart (on Amazon)
Ozark Trail 110-Quart Cooler
See Ozark Trail 110-Quart (on Walmart)
The Ozark Trail 110-Quart is not available on Amazon at the moment
Ozark Trail 60-Quart Wheeled Cooler
See Ozark Trail 60-Quart Wheeled (on Walmart)
See Ozark Trail 60-Quart Wheeled (on Amazon)
7. They Can Be Difficult To Find

Another issue people have had is that these coolers go in and out of stock frequently.
They will come into store and because they are such a great price when compared to Yeti and other similar coolers they will quickly fly off the shelves and then be out of stock again.
It's also impossible to know when a new shipment is coming in so you can run down to your local Walmart and grab one before everyone else does.
Walmart's online store tends to have more consistent stock levels and Amazon seems to always have them in stock, but at fluctuating prices.
These Problems Aren't Deal Breakers
As I said at the start of this article, I don't see any of these problems as deal breakers or reasons you shouldn't buy an Ozark Trail cooler.
The coolers are less than half the price of Yeti coolers, so I fully expect them to not be perfect. But for their price they perform pretty well are are overall pretty great coolers.
I just wanted to make you aware of common issues so you can make an educated decision.
Coolers Similar To Ozark Trail
If, after reading this, you want to steer away from Ozark Trail coolers altogether then they are a few different cooler brands that are quite similar but still cheaper than Yeti.
Lifetime Coolers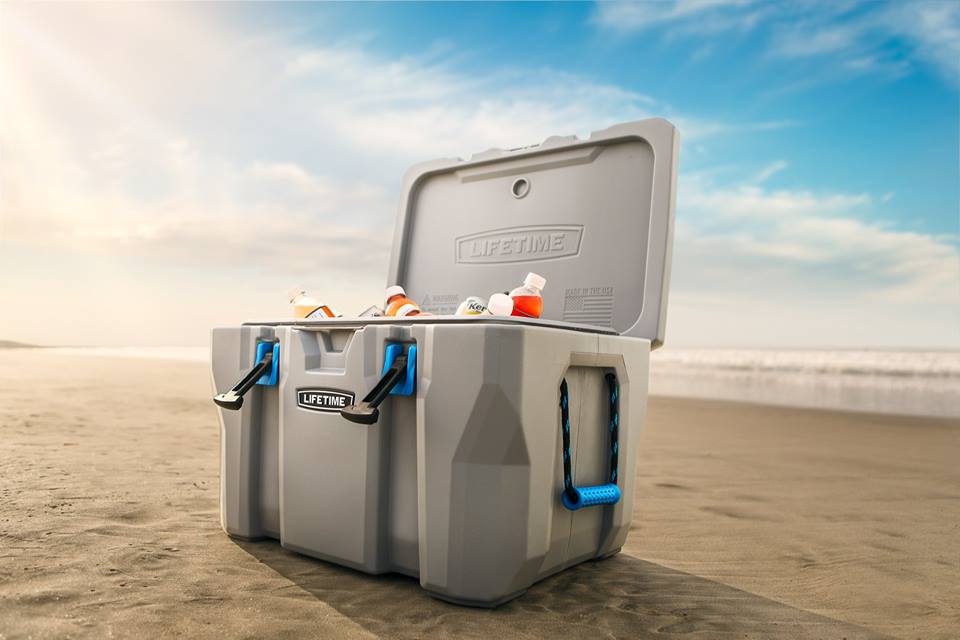 Lifetime coolers are made in the USA and are extremely similar to Ozark Trail coolers in most aspects, including their low price.
In fact, at the time of writing this Lifetime coolers are even cheaper than Ozark Trail coolers with the 55-Quart selling for under $100.
They are also made locally in the USA.
I really like these coolers as they offer great value but they don't break the bank.
See Lifetime Coolers (on Walmart.com)
See my Lifetime Coolers vs Ozark Trail Coolers Review
RTIC Coolers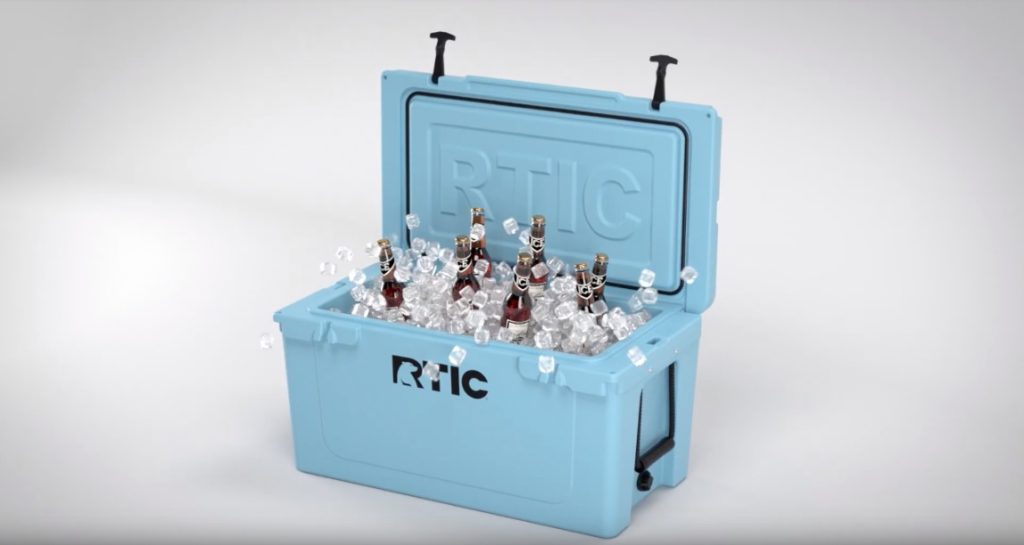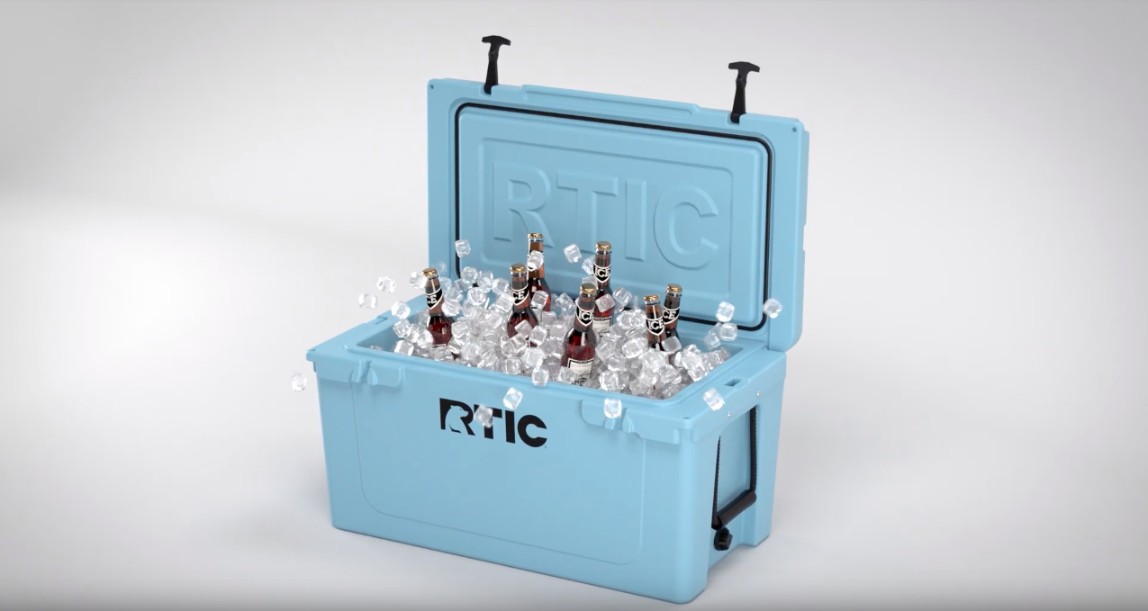 RTIC coolers are the coolers most similar to Yeti but for a cheaper price.
Their slogan is "Overbuilt, Not Overpriced" and while they are dearer than Ozark coolers they are better coolers in my opinion.
The style is better, build quality is better, they have better ice retention and more choice. If your budget can stretch a bit they are worth checking out.