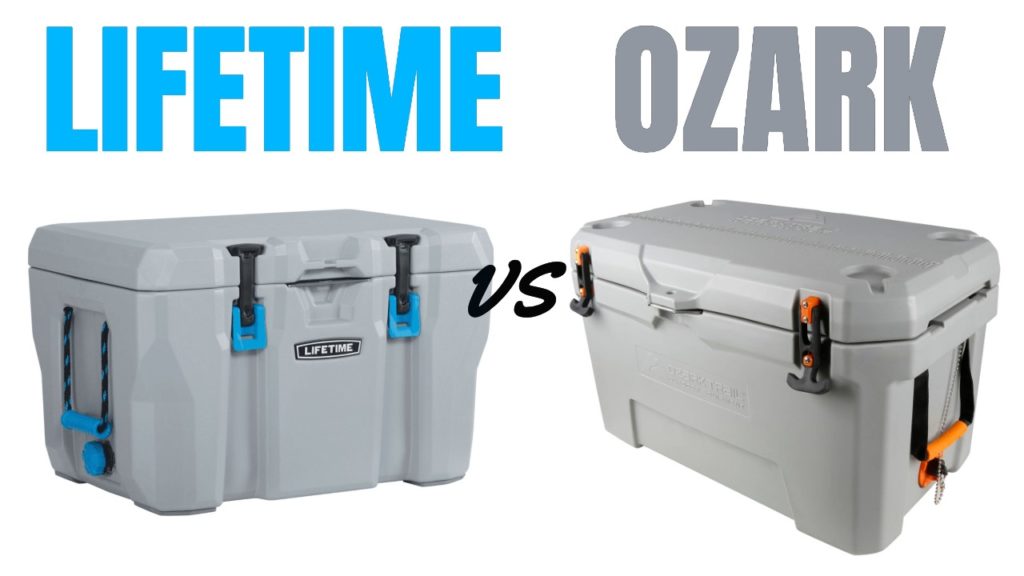 Lifetime Coolers and Ozark Trail coolers are two of the most affordable premium coolers on the market. Both are sold at Walmart for a great price but which cooler is better value for money?
Lifetime coolers are cheaper than Ozark Trail coolers due to the fact they are often on sale. But Ozark Trail coolers are roto-molded making them stronger than Lifetime coolers which are blow moulded. Both have similar ice retention, similar features and have some problems. Ultimately it comes down to personal preference which cooler is better suited to you. But for me, I prefer Lifetime coolers.
In this article we'll look in-depth at the similarities and differences between the Lifetime coolers and the Ozark Trail coolers and help you decide which cooler you should invest your money into (if any).
Price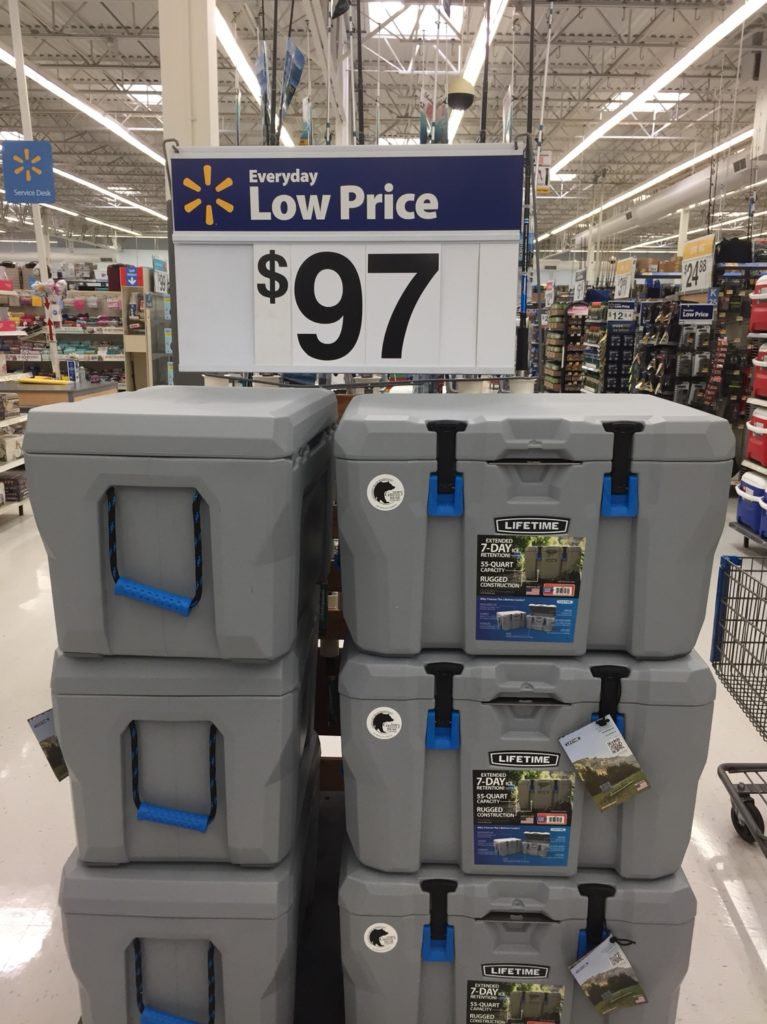 These coolers are almost exactly the same in pricing, however Lifetime coolers seem to be constantly on sale at Walmart making them cheaper than Ozark Trail coolers.
The smaller 28-Quart size are extremely similar in price but the discount make the Lifetime 55 under $100 and the Lifetime 77 is a little bit cheaper than the Ozark Trail.
Again this all depends on Walmarts current price for these items which changes on a regular basic. Just a couple of days ago Lifetime 77-Quart coolers were on sale and now they aren't.
Ozark Trail coolers are also sometimes cheaper on Amazon than they are on Walmart's own website.
I link up to each cooler and it's size capacity on both Walmart and Amazon so you can check this prices and compare them yourself.
LIFETIME COOLERS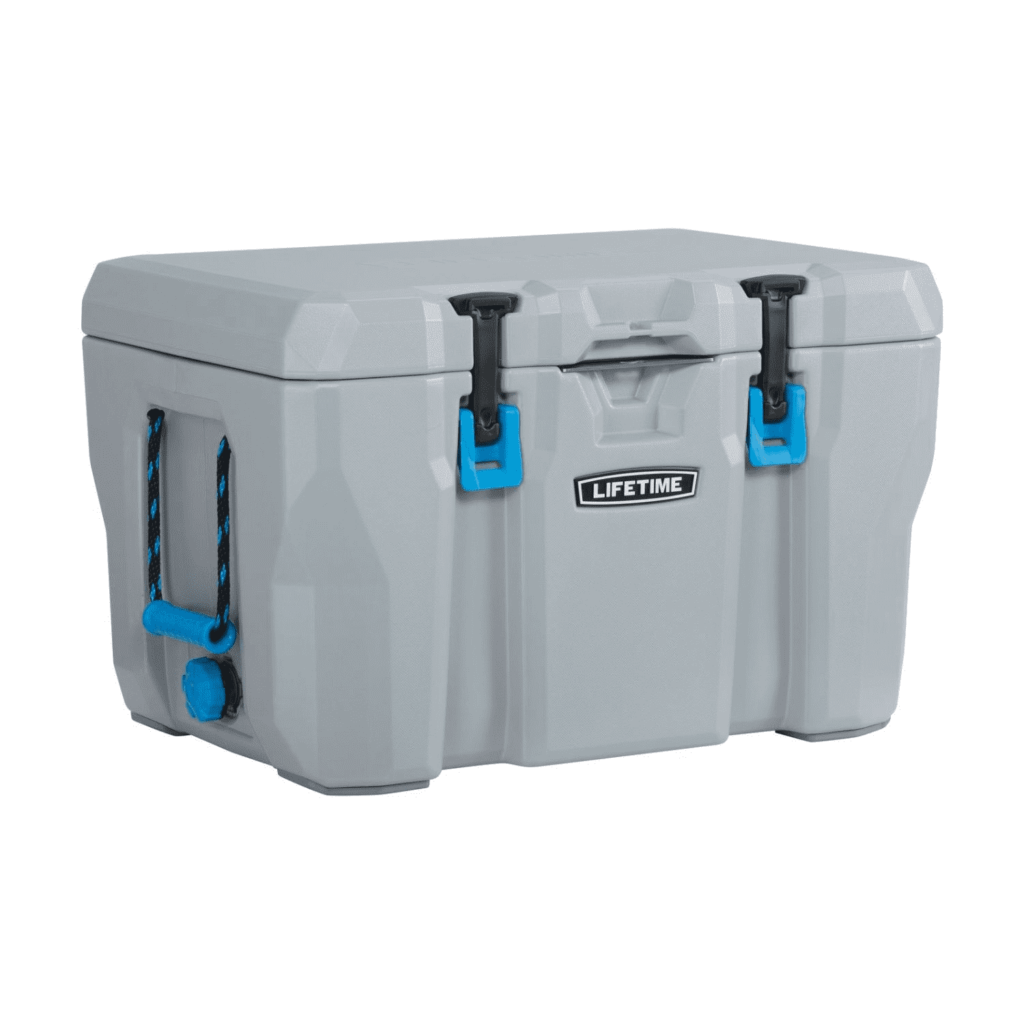 Lifetime 28-Quart: $76.00 (see on Wallmart.com)
Lifetime 28-Quart:
---
Lifetime 55-Quart: $97.00 (see on Wallmart.com)
Lifetime 55-Quart (2 Pack):
---
Lifetime 77-Quart: $147.00 (see on Wallmart.com)
Lifetime 77-Quart:
OZARK COOLERS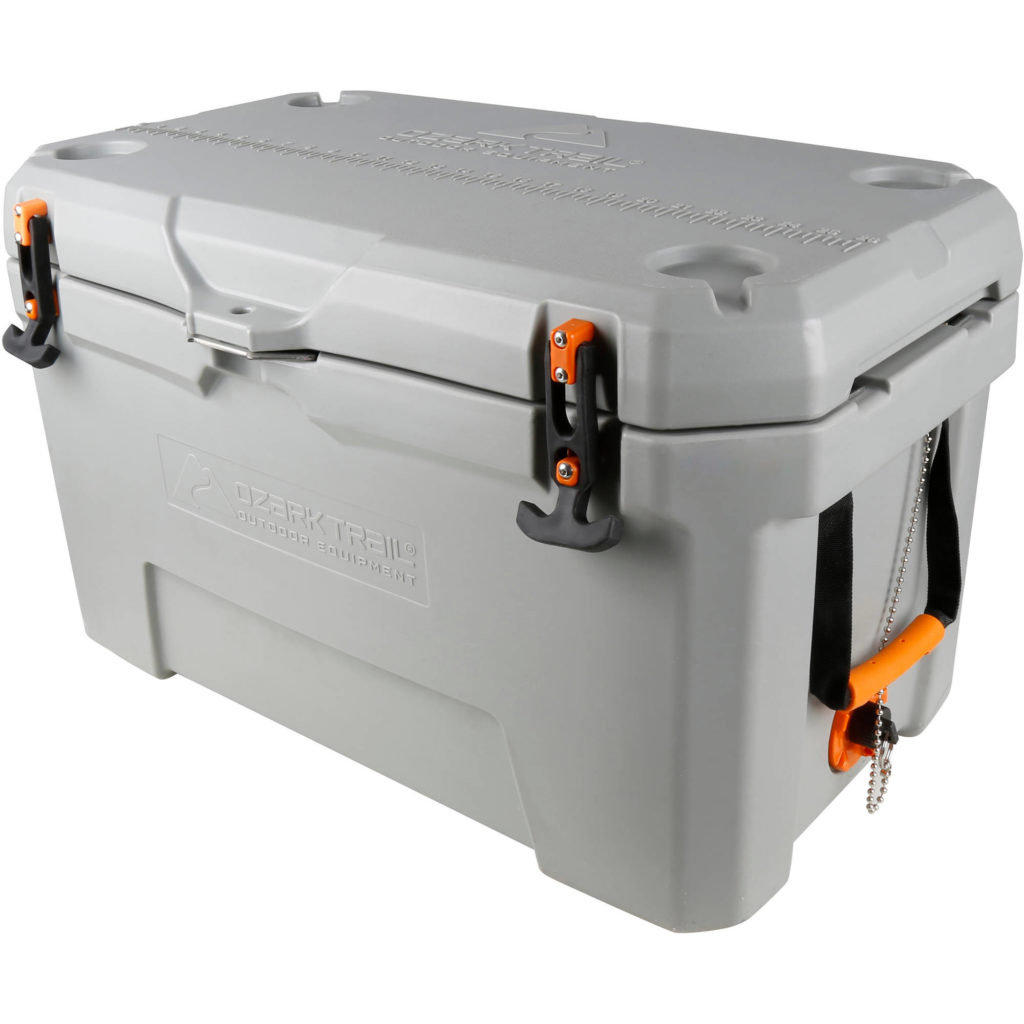 Ozark 26-Quart: $86 RRP (at WalMart.com)
Ozark 26-Quart:
---
Ozark 52-Quart: $137 RRP (on WalMart.com)
Ozark 52-Quart:
---
Ozark 73-Quart: $194 RRP (See on WalMart.com)
Ozark 73-Quart:
---
Ozark 110-Quart: $247 RRP (See on WalMart.com)
Ice Retention
There have been no direct head-to-head ice retention comparisons between the Lifetime and the Ozark Trail cooler.
But people have done ice retention tests on each of them separately and it does seem that the Lifetime coolers slightly outperform the Ozark Trail coolers.
The below graphic shows a test run by Lifetime themselves comparing the ice retention of their 55-Quart cooler to that of the Ozark Trail 52-Quart cooler.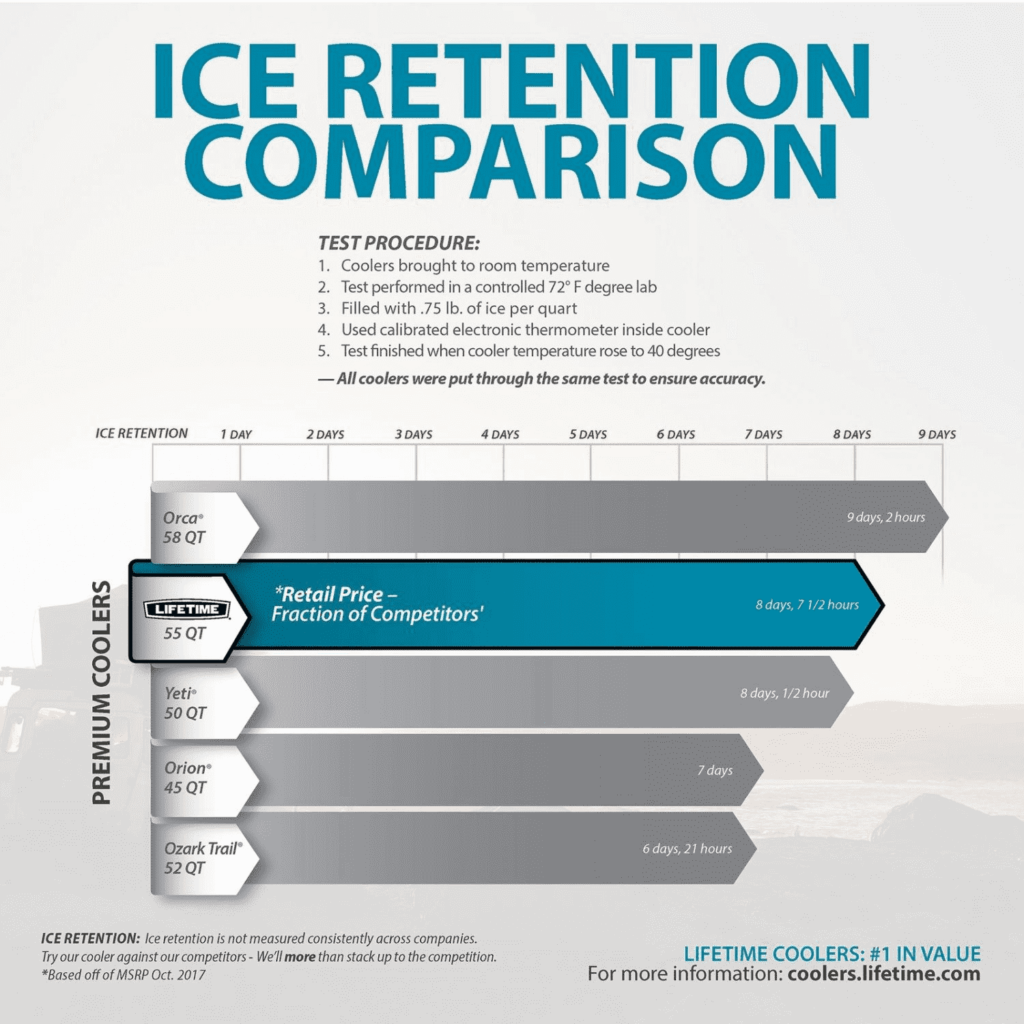 They claimed that Ozark Trail only held ice 6 days, 21 hours while the Lifetime cooler held ice 8 days, 7.5 hours.
This test is slightly skewed because it's run by Lifetime so could be biased. But also a Lifetime 55-Quart cooler actually has a capacity of over 60-Quart so there could have been much more ice in the Lifetime compared to the Ozark, skewing the results.
Regardless other tests that people have done as well as customer reviews and reports seem to point towards the fact that Lifetime will keep ice slightly long than Ozark coolers.
Build Construction
Ozark Trail coolers are tougher than Lifetime coolers because they are roto-molded whereas Lifetime coolers are blow-molded.
What this means is that Ozark Trail coolers have a thicker plastic shell, making them more durable and harder to break. Lifetime coolers are still ultra strong (they are even bear proof) but not quite as strong as Ozark.
In the below image you can see during the bear test that the bear was able to rip a significant hole in the size of the cooler. This likely wouldn't happen with a roto-molded cooler.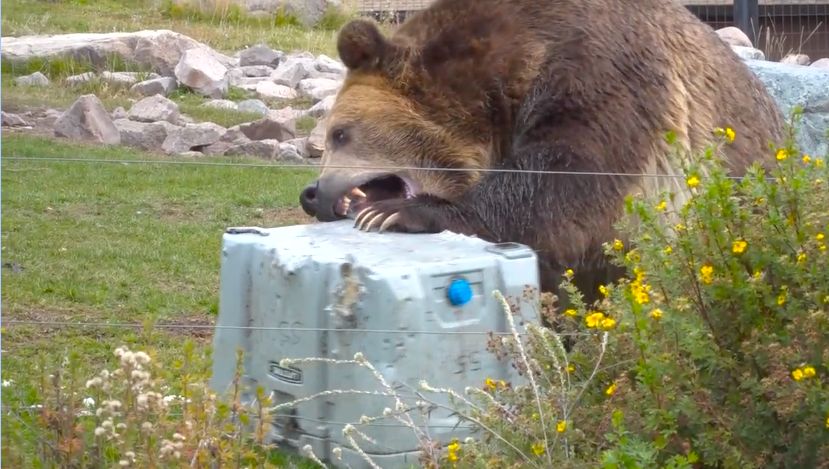 Lifetime coolers are still more than tough enough to handle almost anything you throw at them. So while Ozark Trail are likely slightly tougher, it isn't by much.
Ozark coolers also seem to have a problem that some customers have reporter where they can actually warp when left in the sun. This is a pretty big flaw and covered by warranty but it does make me wonder about their overall construction quality.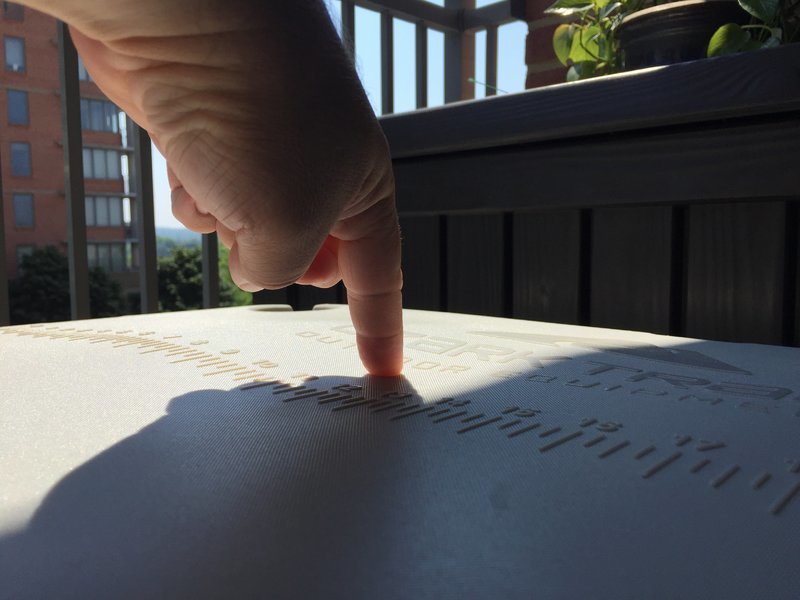 Features In Common
Both of these coolers are very similar to each other in their features with just a few minor differences. If you look at them side-by-side they look very similar to each other.
So first I'll outline some of the good features they both have and then we'll look more closely at the differences between them.
2-3 Inches of Insulation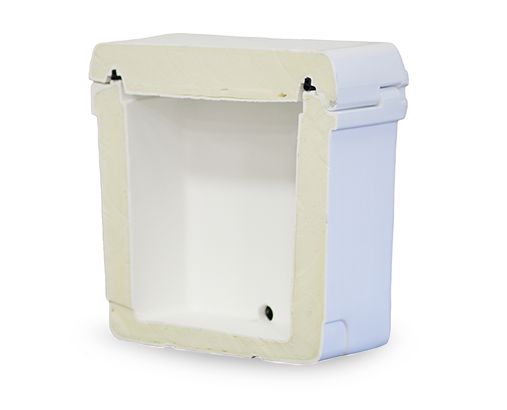 Both coolers have around 2 inches of insulation in the walls of the cooler and around 2-3 inches of insulation in the lid of the cooler. This is what allows them to keep ice so much longer than a regular cooler.
Rubber Gasket
The lid of these coolers has a rubber gasket that runs around the lid. This helps to keep the warm air out of the cooler and the cold air in the cooler. These coolers aren't air tight or completely leak proof though.
Rope Handles With Plastic Grips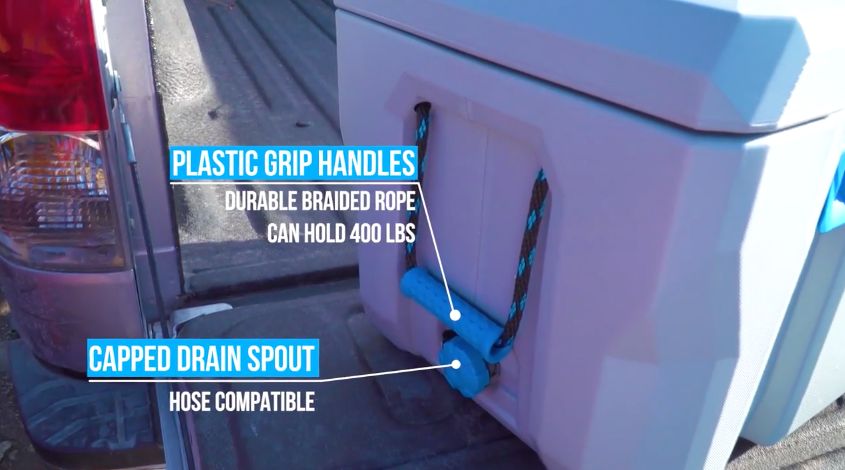 Both coolers have similar style rope handles with plastic grips for carrying as well as moulded in handles in the side. The smaller sizes in each brand have a pull up metal handle with rubber grip for easy one handed carrying.
Certified Bear Proof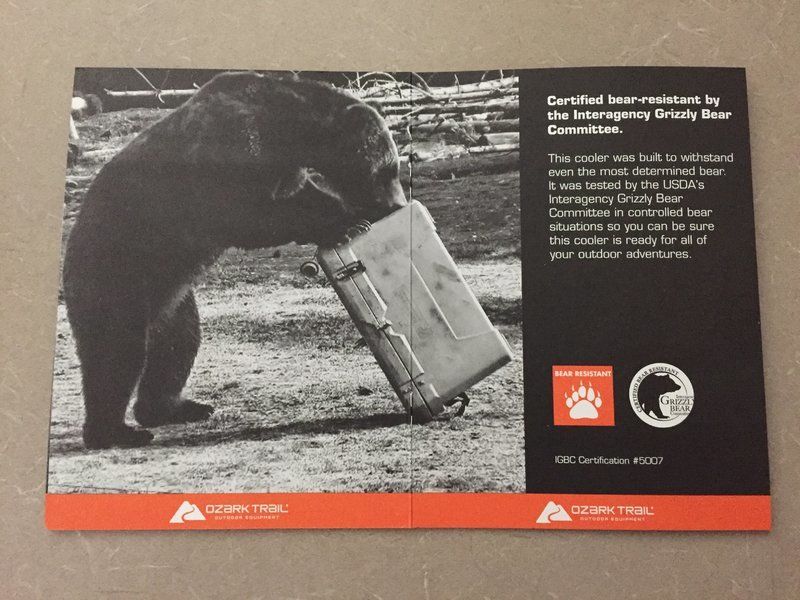 Both of these coolers are certified bear proof if locked at the front with a padlock. This means bears won't be able to get into these cooler when you're out camping.
Built In Bottle Opener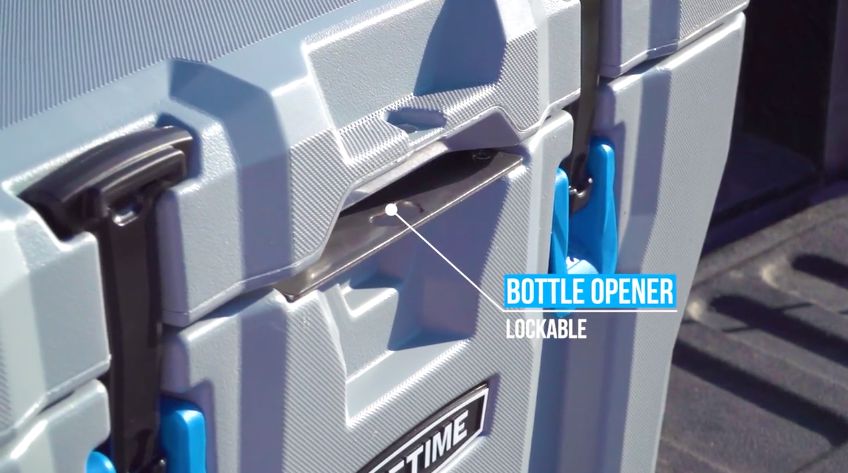 This is a small feature but a really valuable one in my opinion. The front lock on both of these coolers doubles as a bottle opener. So you need have to worry about having a bottle opener handy and you'll always have one with these coolers.
Hose-Compatible Drain Plug
Both coolers have a hose compatible drain plug. This means you can attach a hose to the cooler and drain it away from your camp site without having to move it. I really like this feature.
Similar Sizes
Both coolers offer a similar range of sizes.
Lifetime have a 28-Quart, 55-Quart and 77-Quart.
Ozark have a 26-Quart, 52-Quart and 73-Quart. Ozark also have a 110-Quart sizes as a 60-Quart wheeled version.
Similar Warranty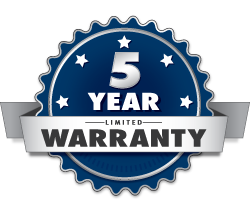 Both coolers have a 5-year limited warranty. This covers you against any defects the cooler may have.
If you have an issue within the 5 years then simply let the manufacturer know and they should send you a new cooler.
These warranties don't cover normal weather and tear or you breaking your cooler by accident doing something it wasn't meant to do.
Differentiating Features
There are a few features that set these coolers apart from each other. Most of these features are minor, but given how similar these coolers are you might prefer a particular feature and that may make your decision easier.
Rubber Latches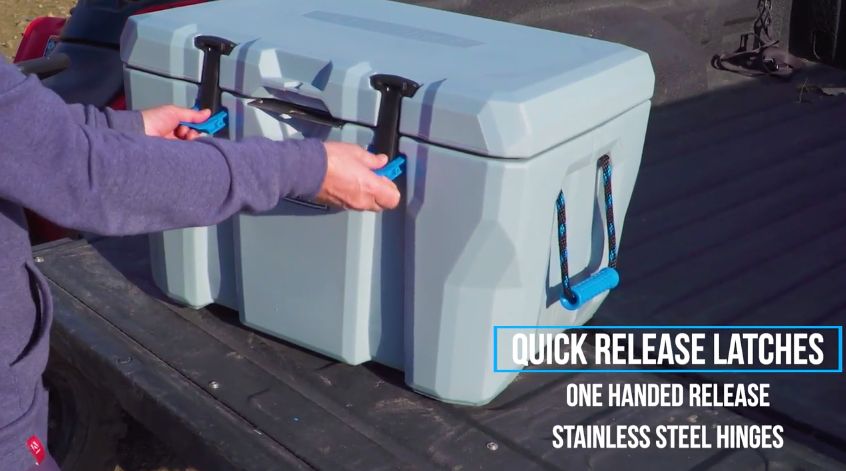 Both coolers have pull down rubber latches, but they work in different ways.
Ozark's latches pull down onto a pin on the body of the cooler and lock into place that way.
Lifetime's latches us a cam latch system which I really like and find easier to use.
Cup Holders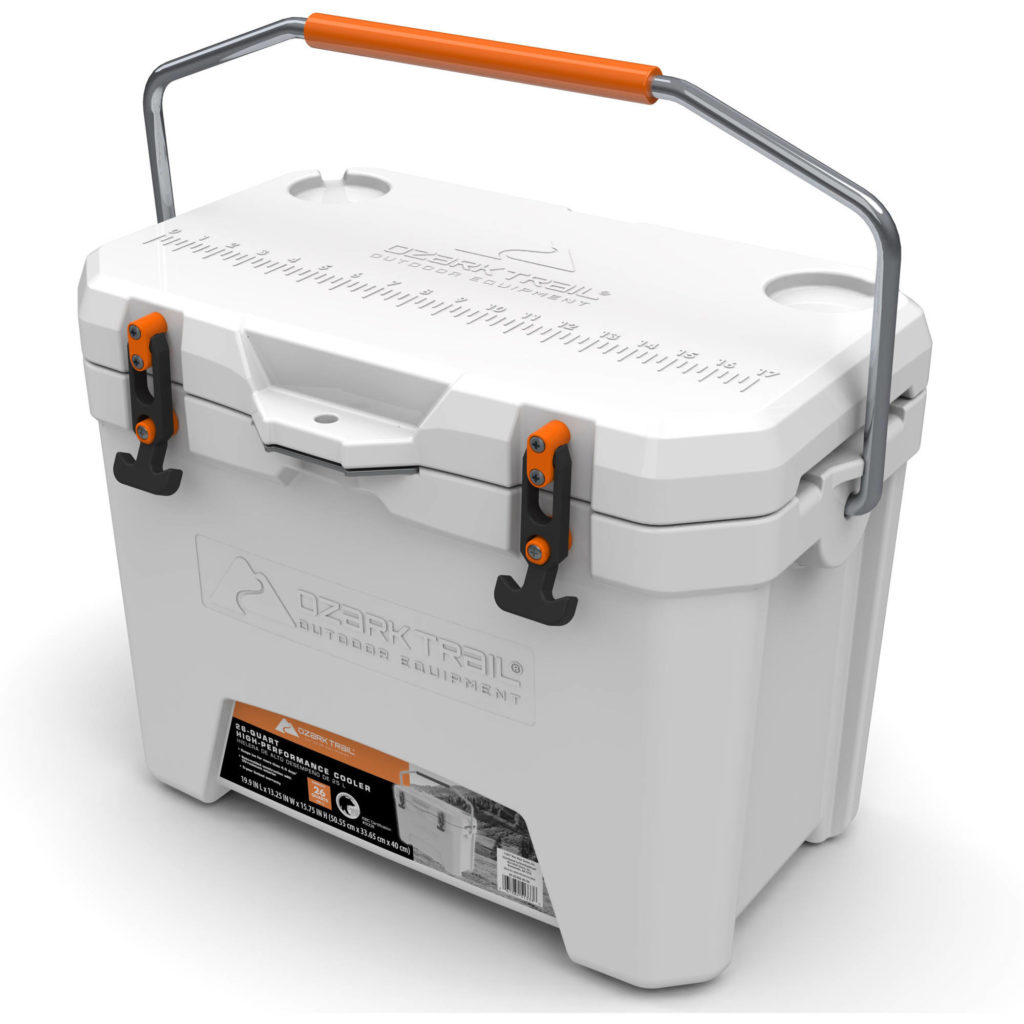 Ozark trail coolers have shallow cup holders moulded into the lid.
Not having cup holders is one of my biggest annoyances with my Yeti cooler and Lifetime don't have any cup holders.
In fact I believe Ozark Trail is the only roto-molded cooler to have cup holders in the lid. A very nice feature indeed.
Lid Ruler
Ozark coolers also have a measuring ruler molded into the lid of the cooler.
This rule is mainly used by people fishing so they can quickly and easily measure their catch. A nice little add-on.
Colors
Ozark Trail coolers come in 2 colors – a dark grey with black and orange accents or a white color with black and orange accents.
Lifetime coolers only come in one color – a grey color with black and blue accents.
Anti-Skid/Slide Feet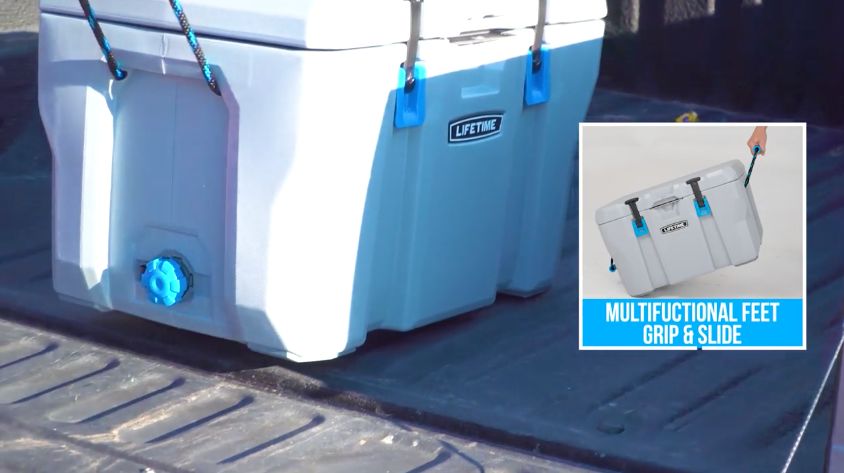 Both coolers have feet that can be both anti-skid as well as easy slide feet.
Lifetime does this all in one. When kept horizontal the anti-skid feet are engaged and the cooler will be non-slip. When tilted, by lifting up one side, the part of the feet that is non-slip is lifted off the ground and you can easily slide the cooler.
With the Ozark Trail they have reversible non-slip/slide feet. You need to manually unscrew the feet, turn them over and screw them back in. So it's not something you can change quickly, but you do get to decide what type of feet you want.
Lifetime Coolers Are Made In The USA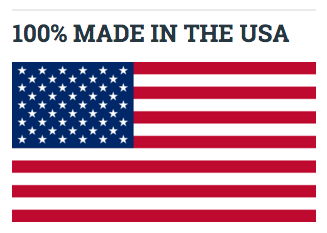 A big positive for a lot of people will be that Lifetime coolers are made locally in the USA.
The company was started in 1986 and has now grown to employ over 3,000 people worldwide. They have giant manufacturing plants in multiple states in the USA – one in Utah and one in Tennessee.
Ozark coolers on the other hand are made overseas in China.
So if you're looking for a cooler that is made in the USA then you'll want to go for the Lifetime cooler.
How do Lifetime do this and still offer their cooler at such an affordable price? I think it has to do with the fact that Lifetime coolers are blow-molded (not roto-molded) which is a cheaper manufacturing process.
Problems with Lifetime Coolers
I've done a full write up on the problems with Lifetime coolers but I will highlight some of the key issues you should be aware of here also.
The main issues are that they aren't as strong as other roto-molded coolers, they aren't leak proof and the gasket is often loose.
They also have limited sizes, no wheeled version and only come in one color. But given how affordable these coolers are none of these issues are deal breakers in my opinion.
Problems with Ozark Trail Coolers
I've also done a full write up on the problems with Ozark Trail coolers but I will highlight some of the key issues here also.
The biggest issues are that some customers experience warping when the cooler is left out in the sun. This warping subsides when brought back into the shade but is still concerning.
The Ozark Trail also doesn't have the best ice retention when compared to other roto-molded coolers on the market. There are mixed reviews from customers, with some saying it performed great while others saying ice melted really quickly. Make sure you always use these tips to keep ice longer in your cooler.
What Cooler Do I Recommend?…Whichever One Is Cheapest
These coolers are seriously so similar in so many ways that it's nearly impossible for me to say "I recommend this cooler".
At the end of the day the reason for buying one of these coolers instead of a Yeti, or some other coolers like Yeti but cheaper, is because of the price.
Lifetime and Ozark are the two cheapest premium coolers on the market and for that reason I would recommend purchasing the cooler that is cheapest when you are looking to buy.
Sometimes that will be Lifetime when it's on sale and sometimes that will be Ozark Trail.
Both perform extremely similar and you will likely be equally happy with either purchase.
The only reason I see to pick one cooler over the other is that the Ozark Trail is roto-molded and thus tougher plus it has cup holders. Or the Lifetime cooler has the slip/slide feet and keeps ice slightly longer.
I'll leave the decision up to you.
The Best Places To Buy Ozark Trail and Lifetime Coolers
Ozark Trail and Lifetime coolers often go on sale so it makes sense to try and buy these coolers for the best price possible. On sale you can save anywhere from $10-$50 on these coolers and recently the Lifetime 55 cooler has been selling for under $100 at Walmart.
Walmart and Amazon
Both coolers are sold primarily through Walmart and can be purchased in store (if stock is available) or can be purchased online through Walmart.com.
However, they are also sold through Amazon as well and prices are constantly changing on both websites.
So I can't say "Walmart is always cheaper" or "Amazon is always cheaper" as it does change from time to time.
If you're interested in either of these coolers you can use the links below to check the prices on both sites and then purchase it from the place with the best price.
LIFETIME COOLERS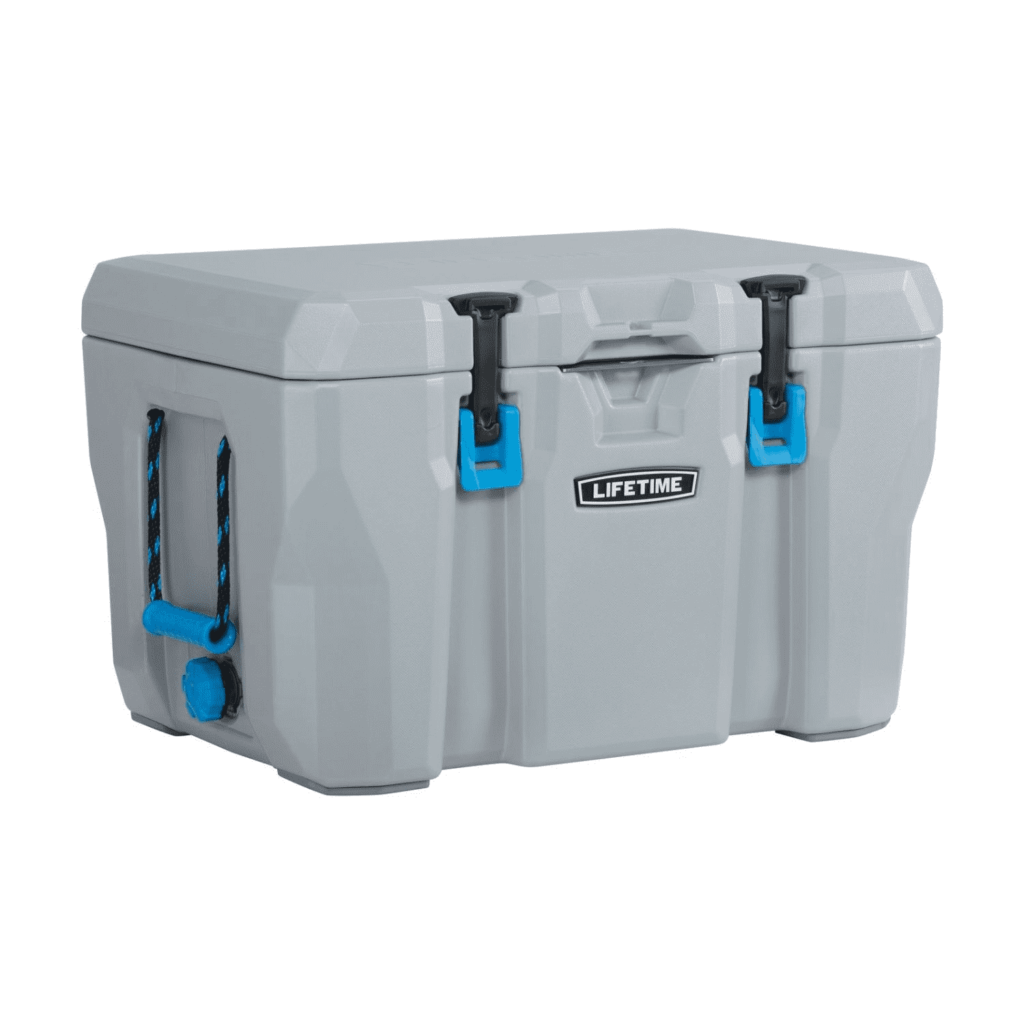 Lifetime 28-Quart: $76.00 (see on Wallmart.com)
Lifetime 28-Quart:
---
Lifetime 55-Quart: $97.00 (see on Wallmart.com)
Lifetime 55-Quart (2 Pack):
---
Lifetime 77-Quart: $147.00 (see on Wallmart.com)
Lifetime 77-Quart:
OZARK COOLERS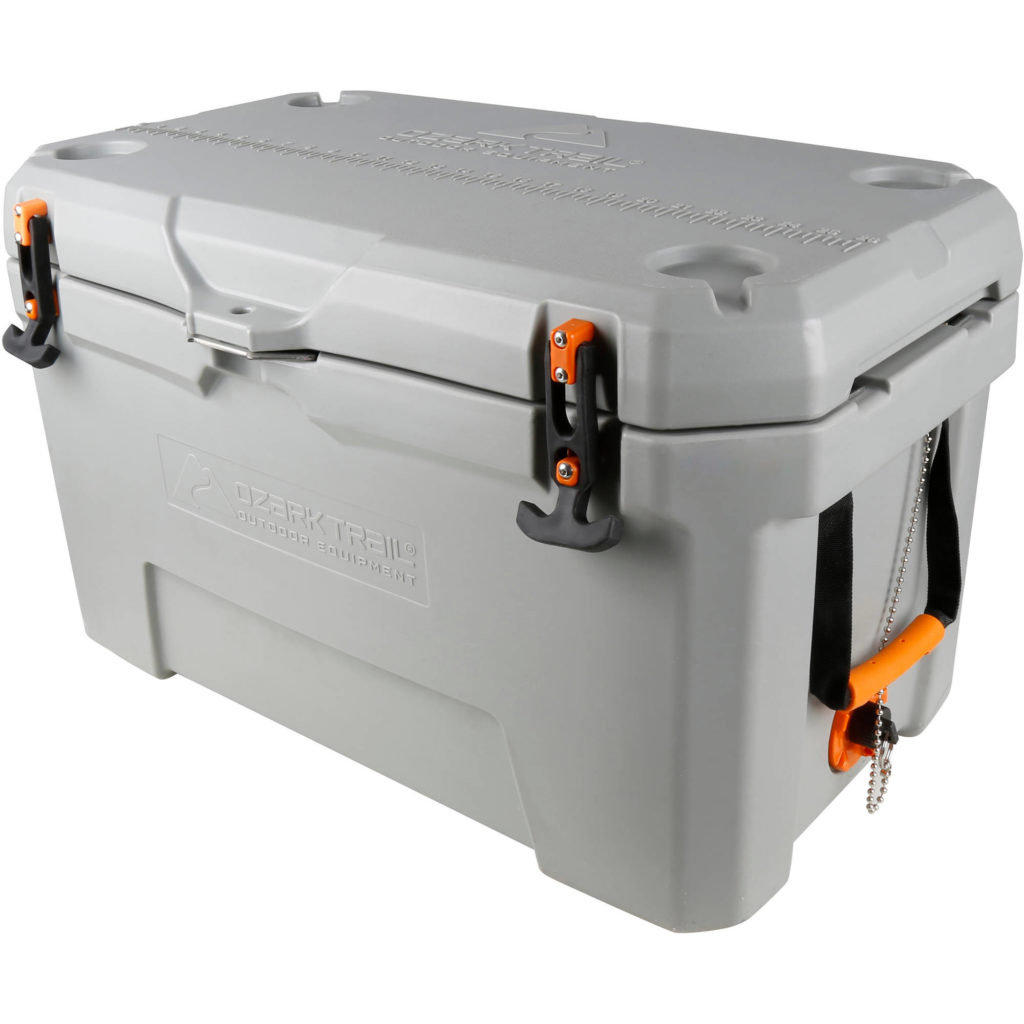 Ozark 26-Quart: $86 RRP (at WalMart.com)
Ozark 26-Quart:
---
Ozark 52-Quart: $137 RRP (on WalMart.com)
Ozark 52-Quart:
---
Ozark 73-Quart: $194 RRP (See on WalMart.com)
Ozark 73-Quart:
---
Ozark 110-Quart: $247 RRP (See on WalMart.com)
You can also purchase Lifetime coolers directly from Lifetime.com, but I am yet to see them on sale here.
Other Coolers Similar To Lifetime or Ozark Trail
There are a bunch of coolers similar to Ozark Trail and Lifetime, but there isn't really anything else that is that affordable that I would feel confident recommending.
For The Smaller Size – Nash Sub Z Cooler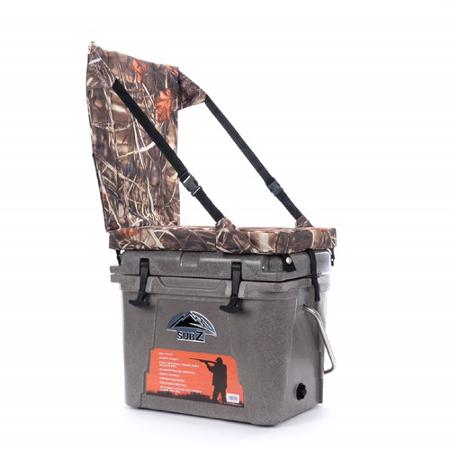 For the smaller sized cooler you could look at a Nash Sub Z cooler. It is slightly more expensive than Lifetime or Ozark but it does come with a seat cushion that also provides back support.
Ice retention is really good on this cooler and this in one of the cheapest, and one of my favorite small hard sided coolers.
See Nash Sub Z Cooler (on Amazon)
Even More Budget – Coleman Xtreme 5-Day Cooler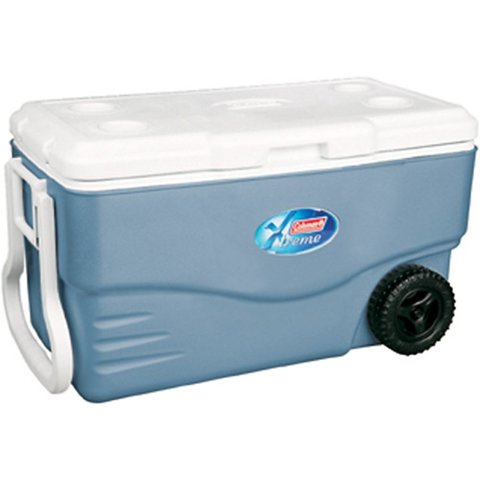 If you want something even more affordable then I suggest the Coleman Xtreme 5-Day cooler.
It isn't roto-molded and lacks a lot of the features of the Lifetime and Ozark like the gasket, rubber latches, non-slip feet and bear proofing. But overall it performs really well as a cool and can keep ice for up to 5 days.
It's also less than half the price so if you really want to save some money this might be the perfect cooler that does what you need it to without breaking the bank.
See Coleman Xtreme 50-Quart Wheeled Cooler (on Amazon)
Read my Coleman Xtreme Cooler Review
More Expensive But Nicer – RTIC Coolers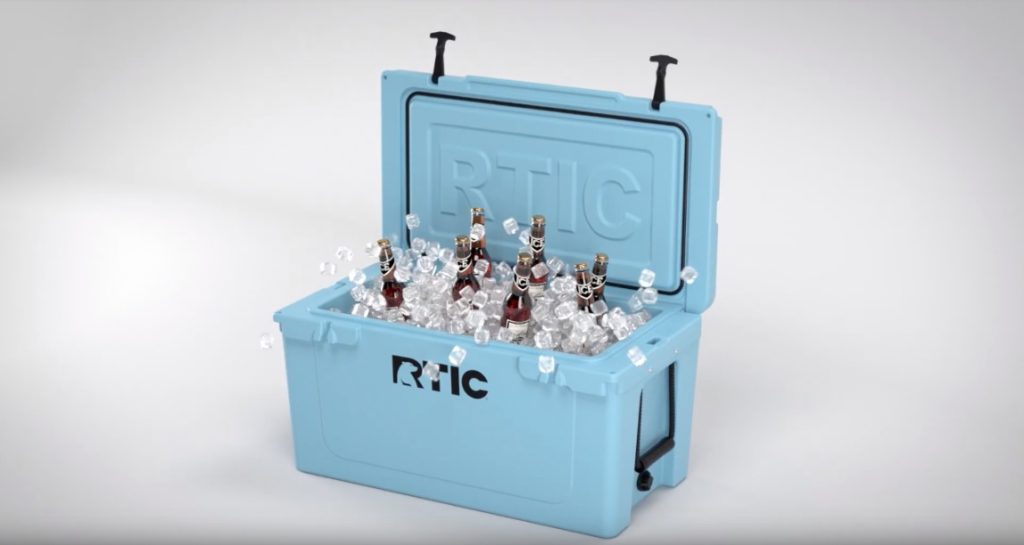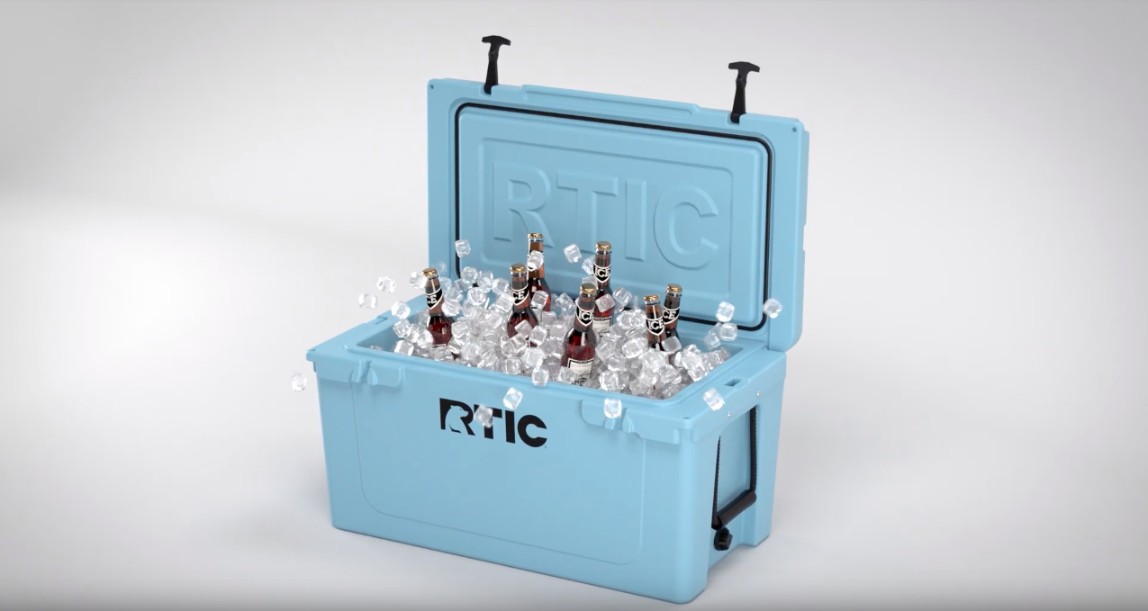 If you want something a little bit nicer than the Lifetime or Ozark but don't want to spend as much as you would on a Yeti then I would suggest an RTIC.
They are more affordable than Yeti but basically look nearly identical and perform almost as well. They make really great coolers that I feel confident recommending.
They aren't as affordable, but in my opinion they are better coolers.