There are a lot of great expensive cooler brands out there that offer premium coolers for a premium price.
But which of these expensive cooler brands is the best of the best?
If money isn't an issue for you which cooler should you consider buying and which cooler is the most premium one on the market?
I own more coolers than I care to mention and I've reviewed almost all the different coolers on the market. A few different brands stand out above the rest over and over again for one reason or another.
There are a lot of great expensive cooler brands. Kong Coolers offers the best performance, Yeti Coolers are the best known brand and have a premium finish and RovR Coolers have the most extra add-on features.
There Are Lots of Great Expensive Coolers Brands

One of the cool things about reviewing so many coolers is you start to see the little nuances of what makes each cooler different from the rest.
Some coolers are just cheaper "me too" versions of Yeti that aren't quite as good, but a lot of brands have added something to the category.
No one cooler is "the best" when it comes to being the ultimate expensive high-end cooler.
Each cooler is unique with slight differences. While these differences aren't huge what it means is that different coolers out there are best suited to different people and different situations.
This means you get to look at multiple coolers and decide which cooler best suits you.
You might want ultimate performance, or the biggest brand name, or a cooler that is made in the USA or maybe you want one that is good for you budget or super masculine (or feminine).
All of the coolers in this list are great coolers and they are all high-quality high end coolers. You could choose any cooler in this list and be completely happy with your purchase.
What I encourage you to do is to look through this list and choose the cooler that best stands out to you and best suits you.
1. Kong Coolers: Best Performance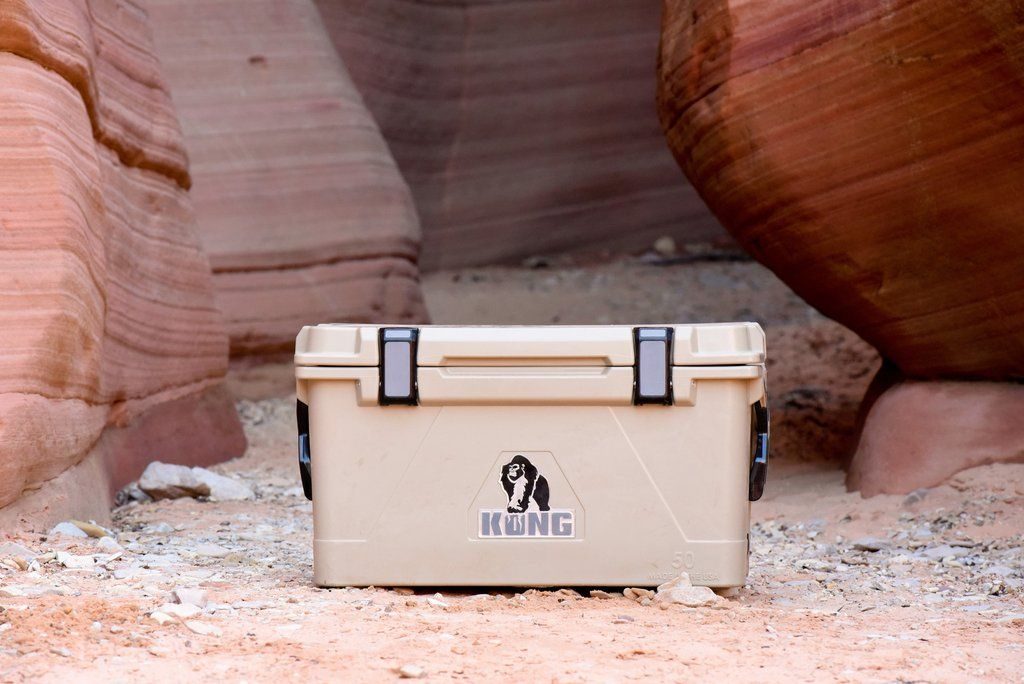 If you're looking for the best cooler for ice retention then it is the Kong Cooler that seems to outperform every other cooler on the market.
The Kong Cooler can hold ice for 10-14+ days depending on the size of the cooler, the outside temperature as well as how much ice you use. It is the best cooler for ice retention and it hands down performs better than the Yeti which is the most popular brand. See Kong Cooler vs Yeti for more details.
Not only does the Kong Cooler excel in performance but it's also extremely high quality, made in the USA and is backed by a lifetime warranty.
It features high quality add ons like the Kong Kicker which allows you to turn the strong side handles into a side table for extra cutting space as well as the Kong Krush Guard which stops little fingers getting hurt if the lid accidentally closes.
The lid also props up at a 45º angle for easy access even when the cooler is flush against a wall, saving you space and making accessing your cooler while it's packed so much easier.
Overall this is a great cooler that I highly recommend. It's a high-end cooler and has a high-end price but in my opinion it's well worth it.
See the latest price of Kong Coolers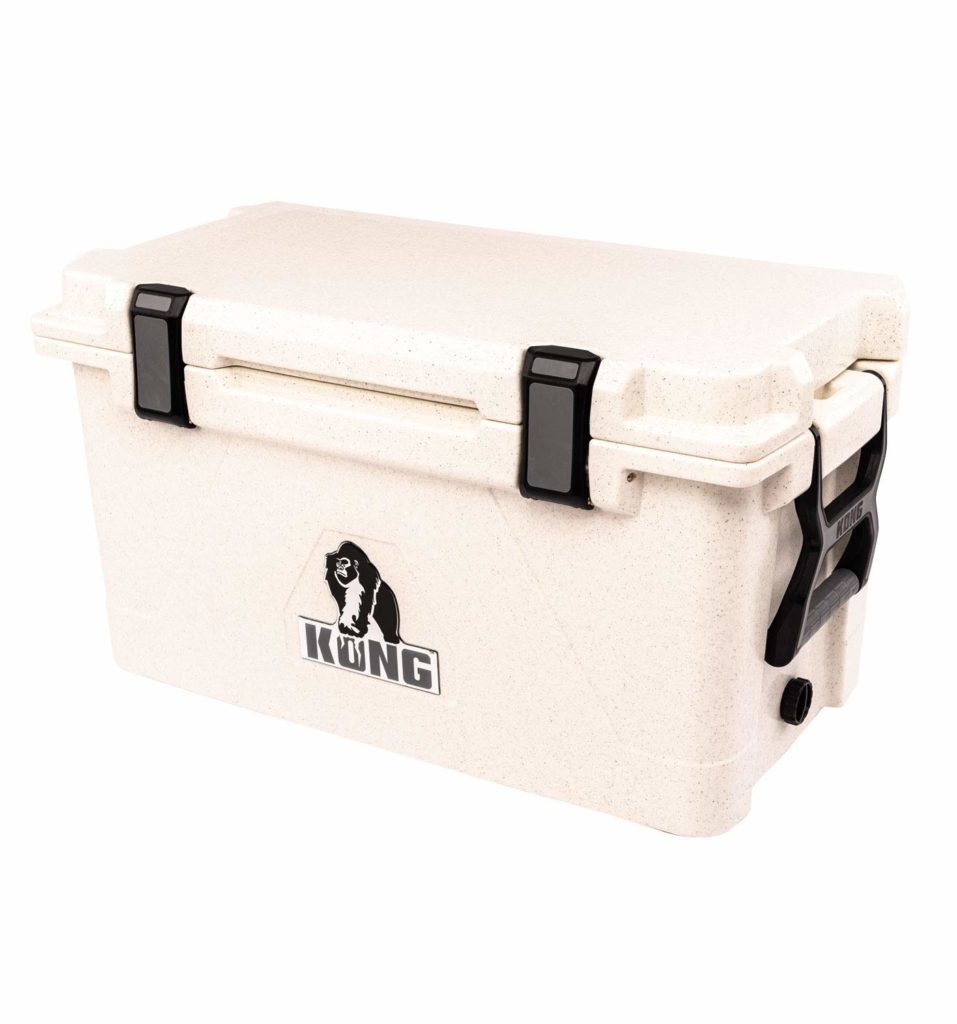 2. Yeti Coolers: Biggest Brand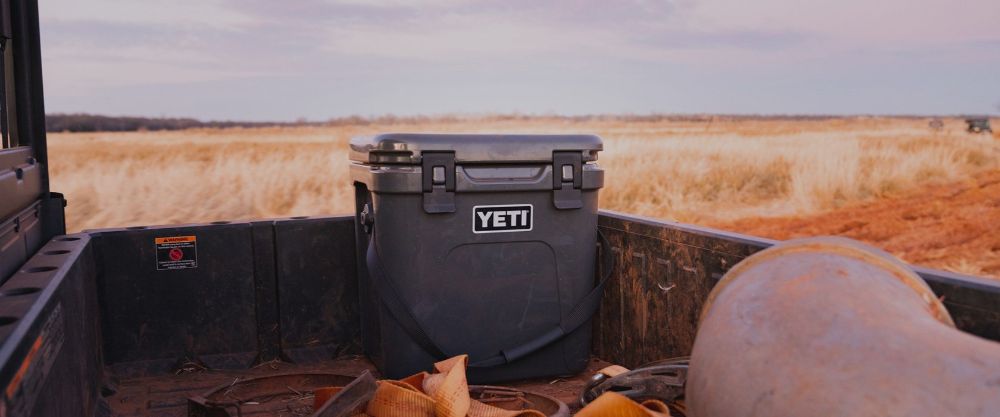 If you're looking at expensive coolers I'm almost 100% sure you've heard of Yeti before and chances are you're actually reading through this list to see what else is out there that compares to the Yeti.
I've done many lists of the best Yeti alternatives as well as the cheapest coolers like Yeti but when it comes down to it, at the end of the day, Yeti coolers are still one of the best coolers on the market.
It's hard to explain in an article but they have a premium finish on their coolers like no other. While all the coolers in this list are expensive and great quality Yeti coolers FEEL expensive and FEEL extremely high quality.
Their coolers seem to have no seams or molding errors, the colors feel premium, the design is minimalistic and stylish, the branding is on point. Even down to the performance, Yeti coolers perform great and are super durable.
While I always hesitate to make Yeti one of my top recommends I can't help it. These coolers are actually just really good.
I've owned mine for 5+ years now and it's still powered one working just as well as the day I bought it
Yeti also continue to innovate in so many different product categories. Everything from soft coolers to dry storage boxes to 5 gallon buckets and even dog beds. Everything they make is high-quality and redefines a category.

Recently they release the Yeti V Series cooler which uses the same vacuum insulation that their tumblers and bottles use but now in a cooler.
The V Series cooler can apparently hold ice for 50% longer than a regular Yeti cooler, which is a huge jump in performance. It's super expensive and actually the most expensive hard cooler when you look at a per quart basis. But it's a great product.
Yeti also has the most well known and respected brands in the cooler space. When you're buying a Yeti you know you're buying quality. Backed by a 5-year warranty and tens of thousands of positive reviews you can't go wrong with a Yeti.
See the latest price of Yeti coolers at Yeti.com
(or compare to price of Yeti coolers at Amazon)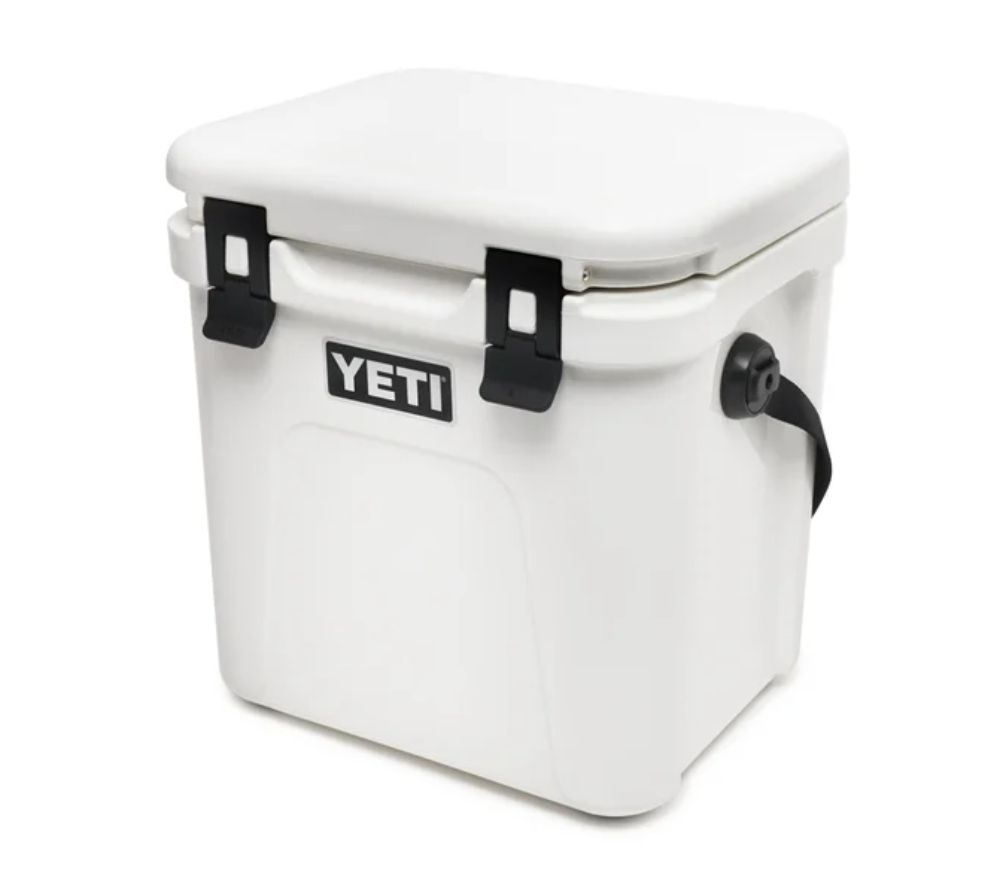 4. ORCA Coolers: Made in USA
Made In USA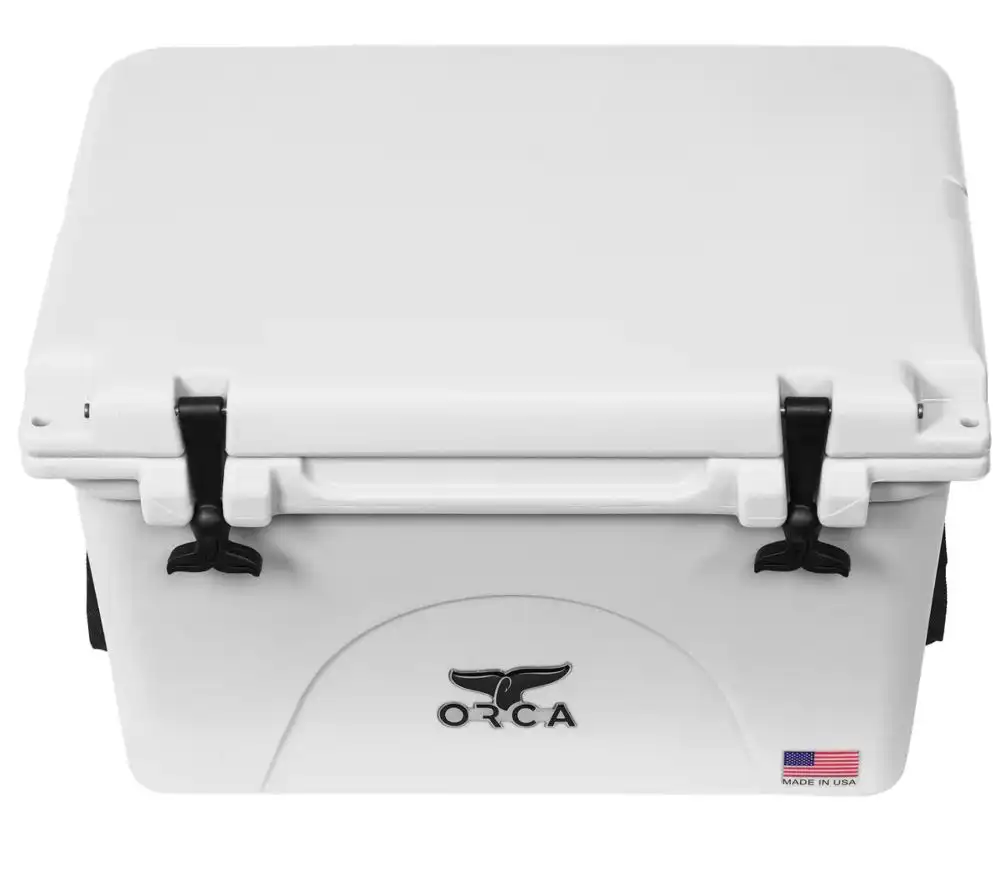 Orca coolers are one of the best cooler brands out there, full stop.
Their quality and premium feel is right up there with Yeti and Orion and their ice retention is one of the best in the industry. They outperform Yeti and are only slightly behind Kong in terms of ice retention.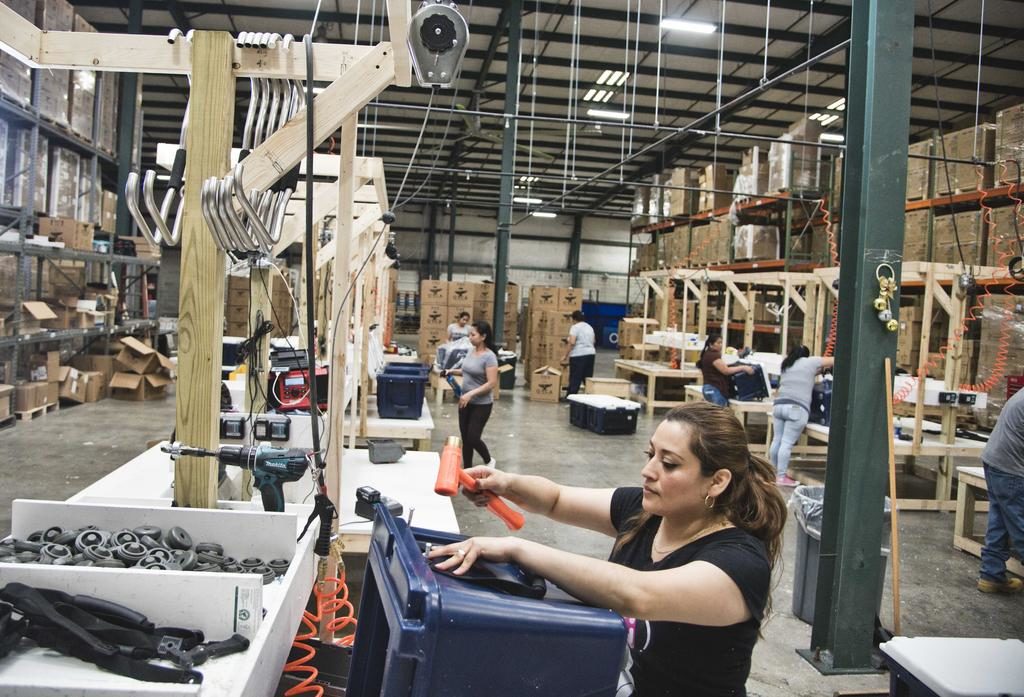 Their coolers are made in the USA, keeping local workers employed, and their coolers are backed by a lifetime warranty.
These coolers stand out to me as one of the best all round coolers on the market.
See the latest prices of Orca Coolers at OrcaCoolers.com
(or compare to the latest price of Orca Coolers at Amazon)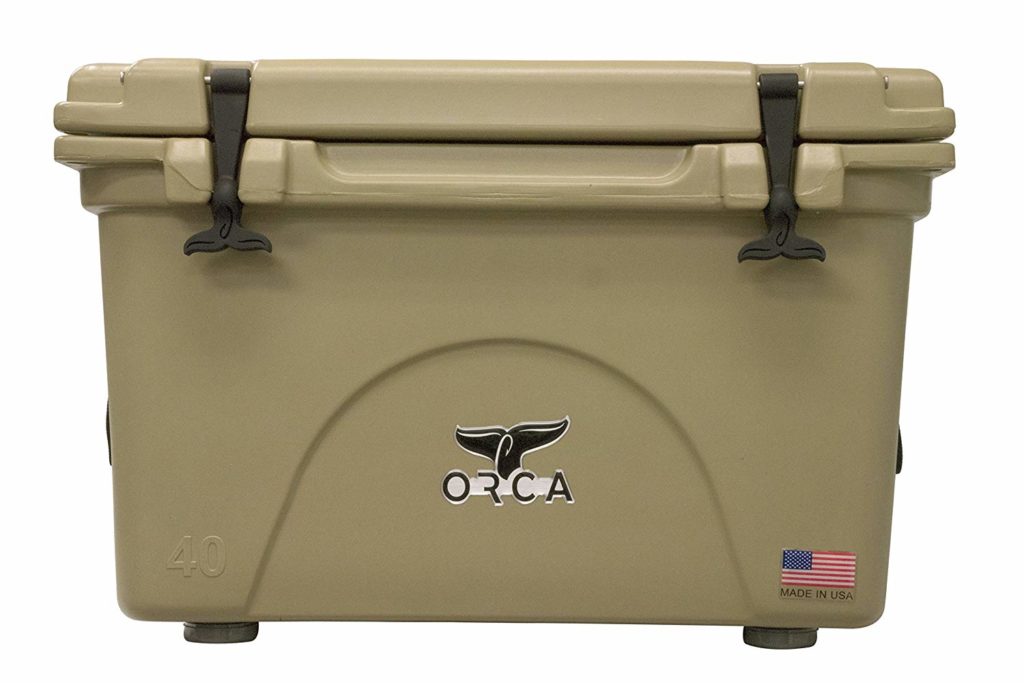 4. Orion Coolers: Premium Masculine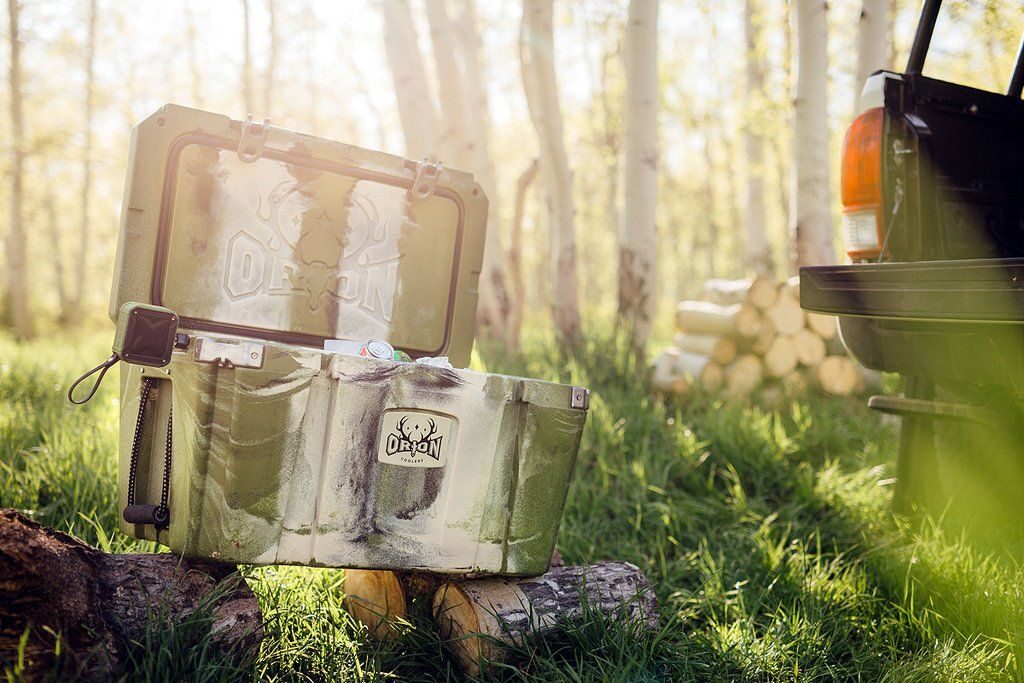 Orion coolers take the cake both as one of the most premium expensive coolers (right up there with Yeti) but also the most masculine cooler on the market.
They are more rugged and over engineered than any other cooler on the market and their camo style and way they are made means no two Orion coolers look exactly the same.
Rather than just having rubber latches they have rubber and metal cam latches, they have badass bottle openers/bear locks in the corners and side tracks to make it easy to add accessories like side tables or cup holders.
They have tough motorcycle handle grips and the lid has a grip that makes it more comfortable to stand and sit on.
Ice retention in these coolers is similar to Yeti but not quite as good but overall they are still amazing coolers.
See the latest price of Orion coolers at Amazon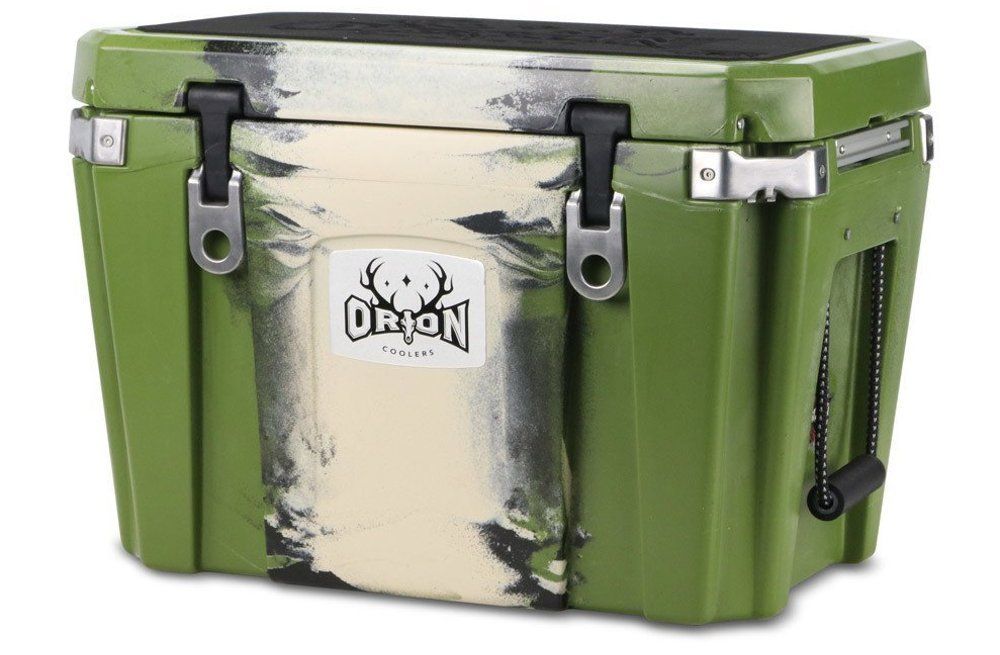 5. ROVR Coolers: Feature Rich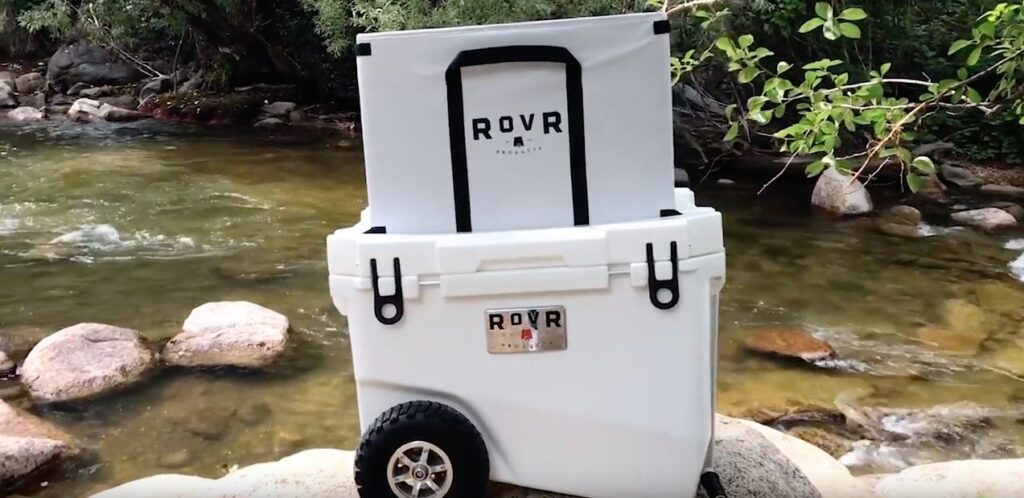 With so many brands of coolers on the market it takes a lot for a new cooler company to stand out from the pack. But RovR coolers, which started with a KickStarter campaign, have managed to offer a cooler with features like no other. It's one of the best coolers on wheels (in my humble opinion).
For starters it's got everything you would expect in an expensive high-end cooler.
It's roto-molded and durable af. It keeps ice just as long as a Yeti cooler would and it's got the rubber latches, freezer grade gasket and non-slip feet.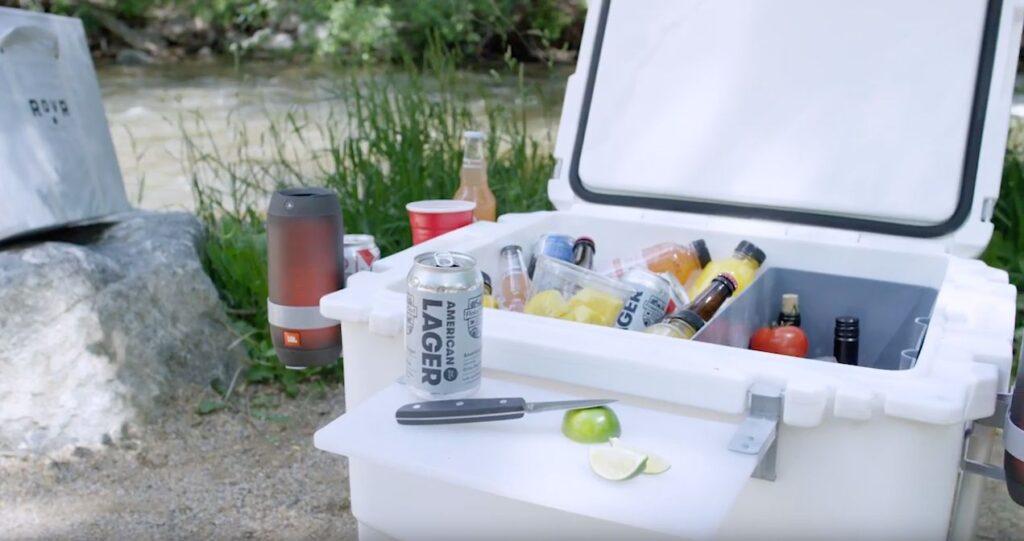 But then it goes a step further and adds so much value with all it's features:
Large durable rubber wheels for easy transport
Internal storage bin to divide dry food and keep things organized
Top storage bin for carrying extra gear that doubles as a comfy seat
Bike attachment so you can pull your cooler behind your bike.
Side table cutting board attachments for extra prep space.
The RovR is the perfect cooler for someone who wants a cooler like Yeti but with loads of extra features.
See the latest price of RovR coolers at RovRProducts.com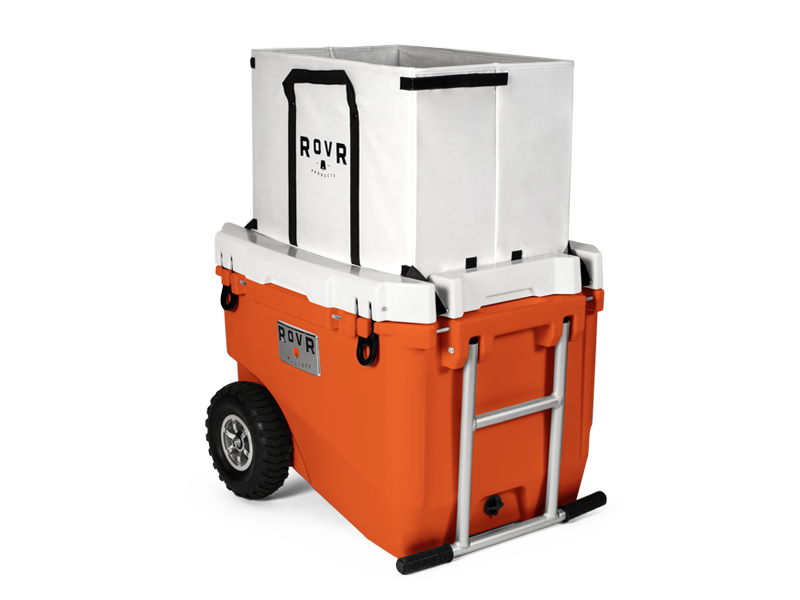 6. Pelican Coolers: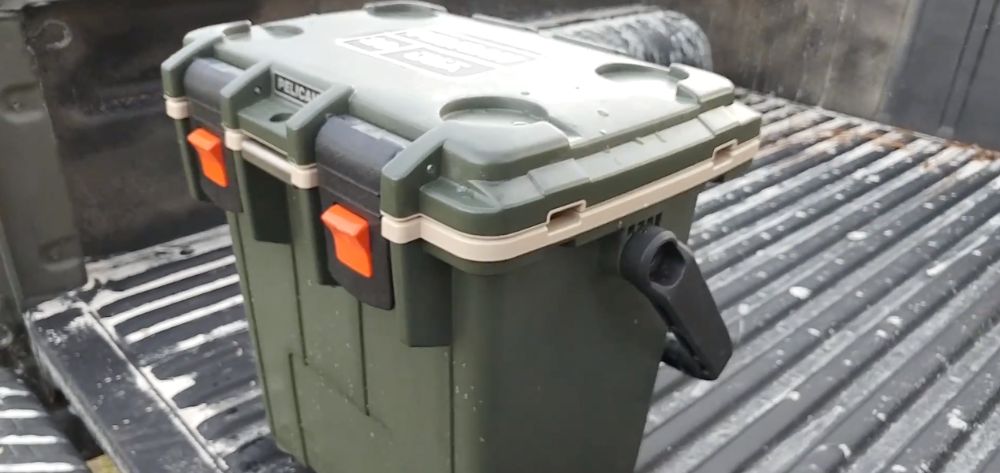 Pelican coolers were one of the first competitors to Yeti when they launched their top of the line Pelican Elite coolers.
They have since improved upon their original design making their new coolers more lightweight and better looking.
Their coolers are made in the USA, backed by a lifetime warranty and feature things like a ruler molded into the lid as well as cup holders.
The metal latches are so satisfying to open and close but I wished they pulled down on the lid tighter than they do.
Ice retention is great and very similar to Yeti and their big bulky design and wide handles that stick out to the side make them look like a force to be reckoned with.
See the latest price of Pelican coolers at Amazon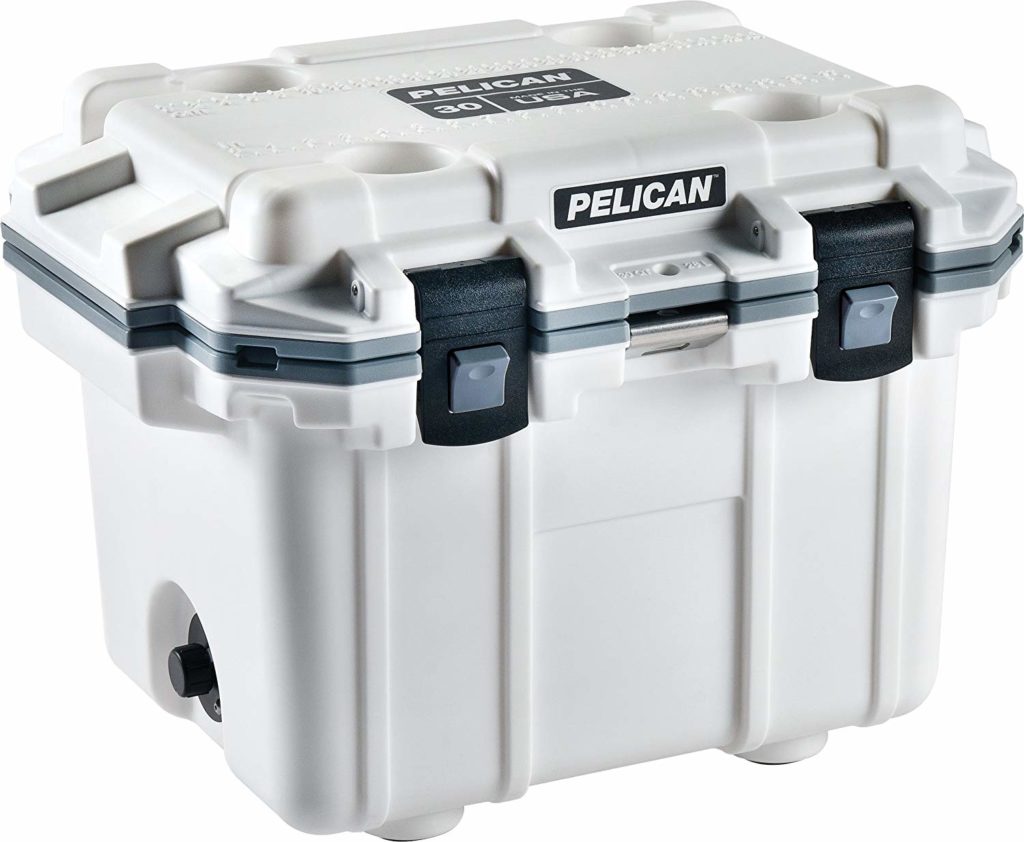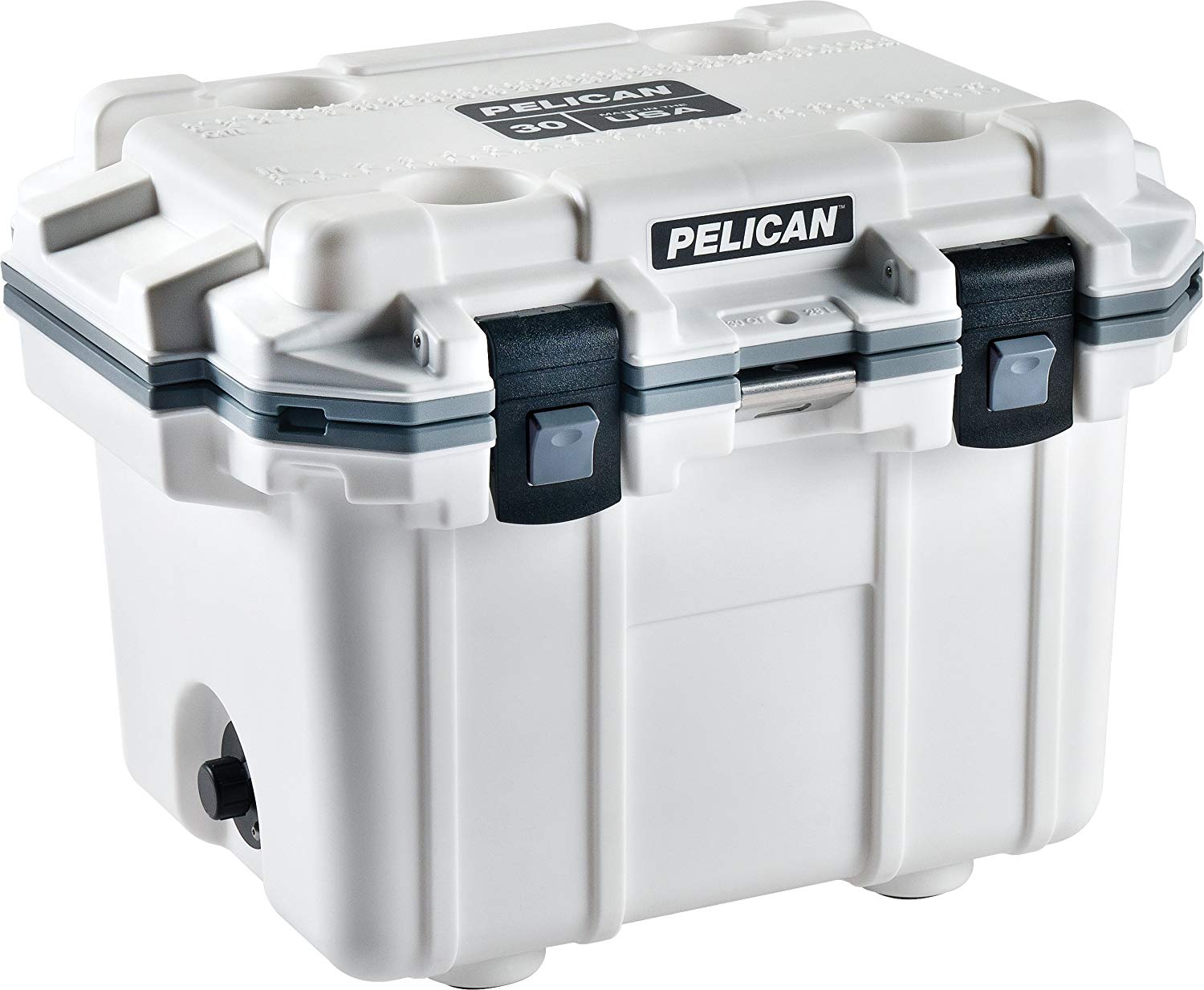 7. RTIC Coolers: Most Like Yeti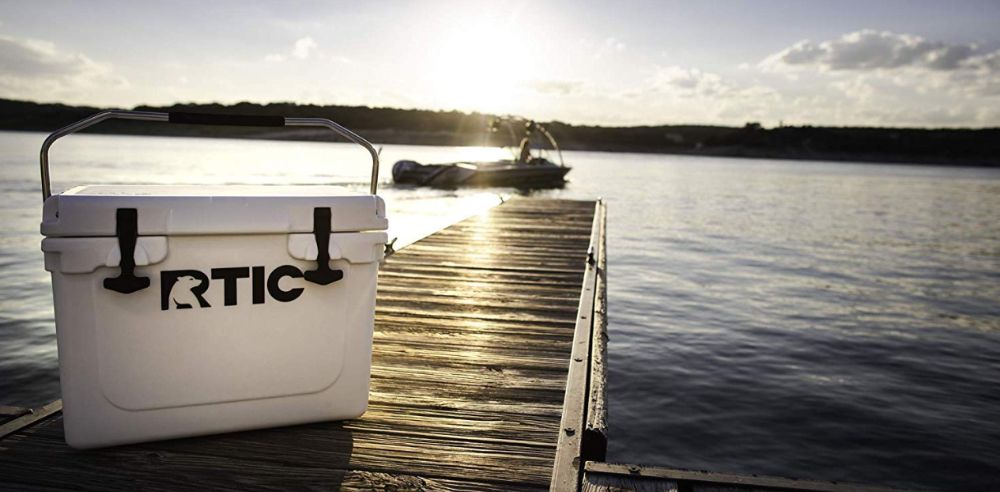 If you're looking for an expensive cooler brand which is the most similar to Yeti (but hopefully save you a couple of bucks) then the RTIC is going to be your cooler of choice.
These coolers were seen to be so similar to Yeti that Yeti sued RTIC and won, forcing them to redesign their products.
However, even after the redesign RTIC coolers still have a strong resemblance to Yeti coolers.
Over the years RTIC have built their own cult-like following with people who absolutely love their products.
Their coolers are great, hold ice extremely well and you'll save a bit of money compared to Yeti or other expensive coolers on this list.
See the latest price of RTIC Coolers at RTICOutdoors.com
(or compare to price of RTIC Coolers at Amazon)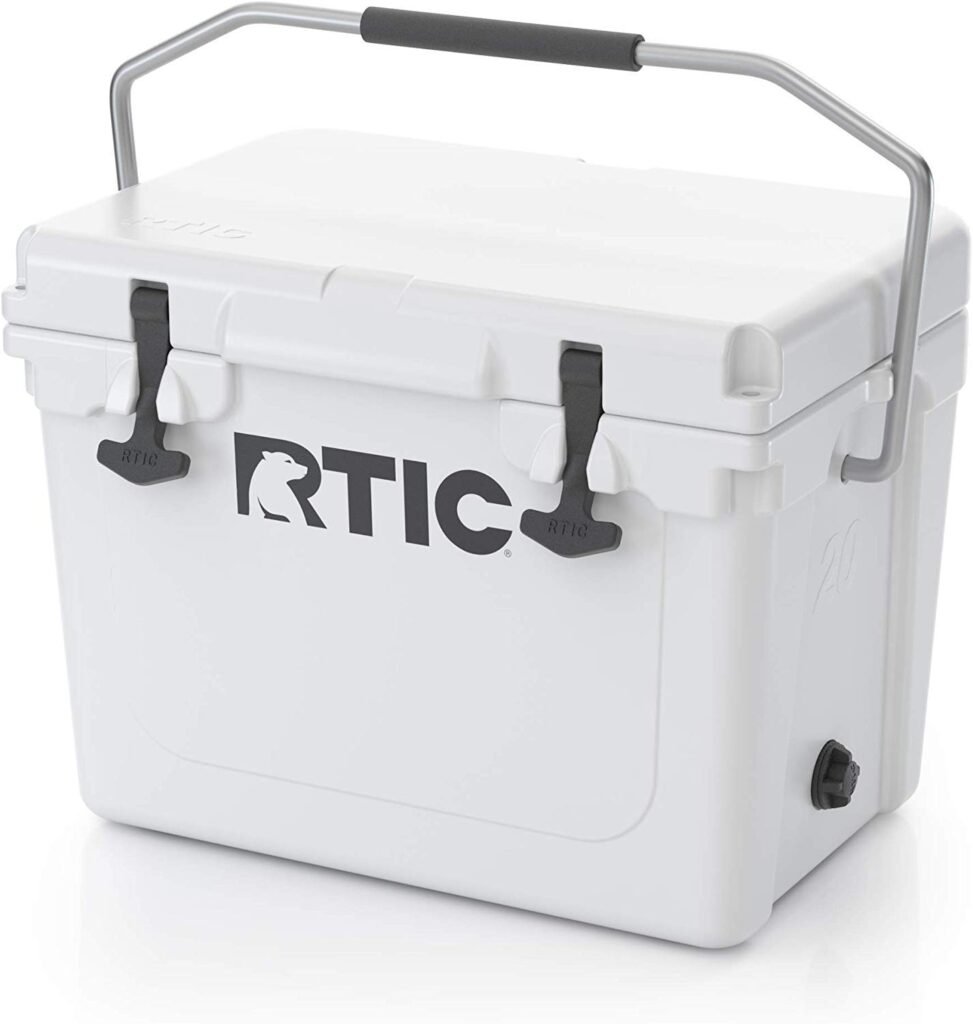 8. Kula Coolers: Best Round Coolers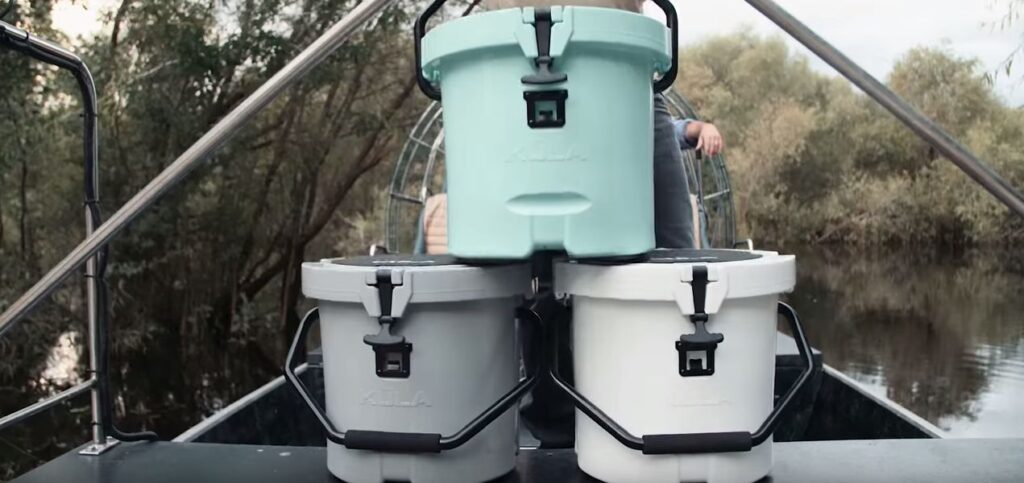 Kula Coolers were an interesting discovery for me. With most coolers out there being square/rectangular Kula have gone round.
They are the best round cooler on the market and they offer all the high-end features of a regular cooler but in a round form factor.
This is loved by Stand Up Paddle-boarders as the round design fits great on their boasts and the material on the lid makes the Kula double as a comfortable seat.
They hold ice great and come in a 5-Gallon size or a 2.5-Gallon size which also has a drink spout.
See the latest prices of Kula Coolers at Amazon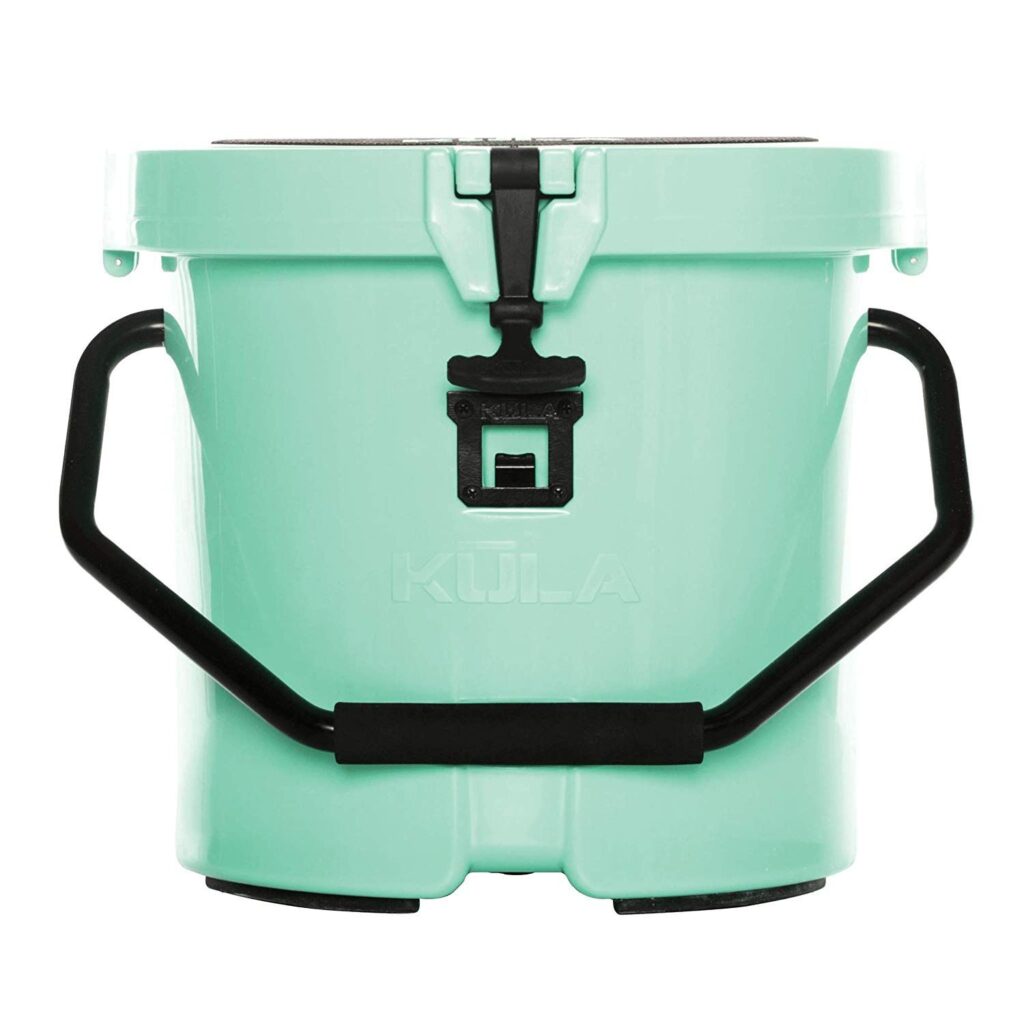 9. Engel Coolers: Best Soft Coolers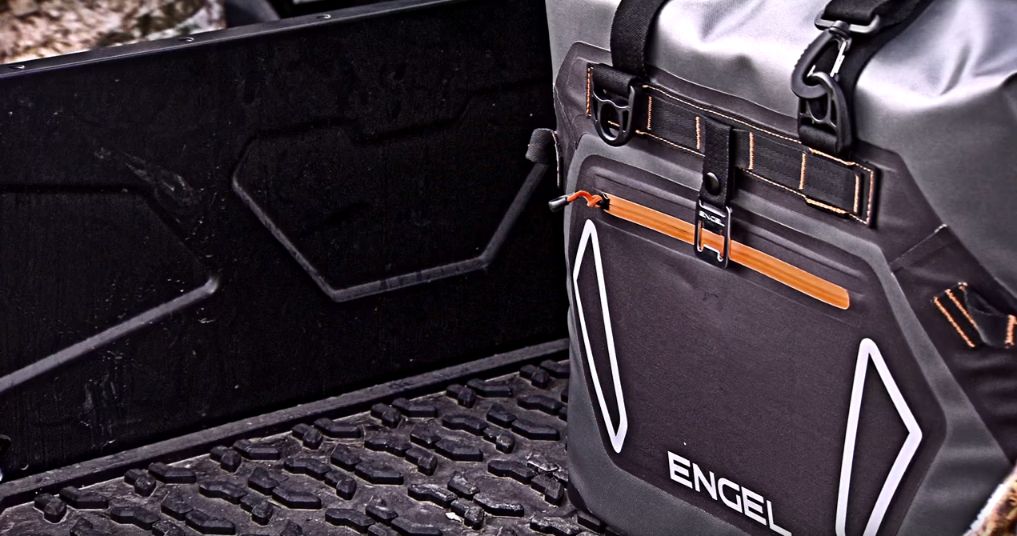 When it comes to soft-sided coolers no one makes a cooler quite as good as the Engel HD30.
This soft sided cooler uses the most durable fabric possible (just like Yeti coolers) but sells for around $100 less than a Yeti of a similar size.
But where this cooler really shines is in ice retention. The Engel HD30 has patent-pending vacuum technology that allows you to use your vacuum cleaner to suck air out of the insulation increasing the cooler's ability to keep ice cold.
In fact the HD30 is the best soft cooler for ice retention and is able to hold ice for 3-4.5+ days. That's longer than hard sided coolers of a similar size!
This soft sided cooler has killer performance and offers great value for money.
See the latest price of the Engel HD30 at Amazon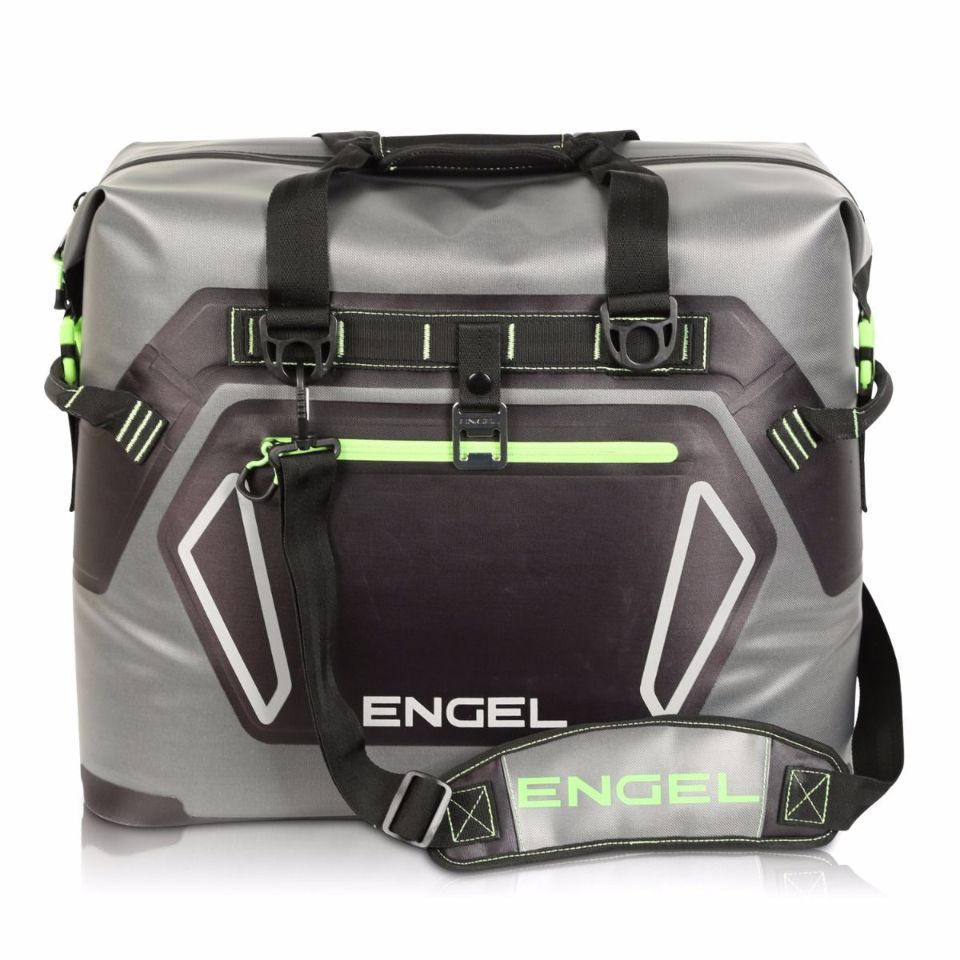 10. Lifetime Coolers: Value For Money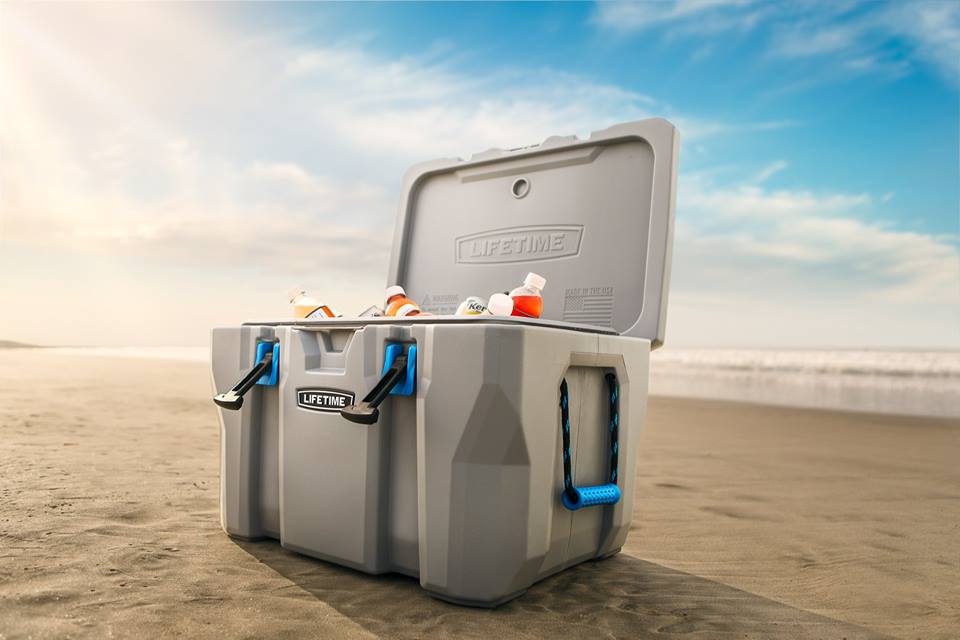 If you're looking for a high-end expensive cooler that isn't so expensive then the Lifetime cooler offers the best value for money of any cooler on the market.
It is high performance and features similar ice retention to the Yeti cooler as well as similar features like rubber latches, rubber gasket, nylon rope handles and is even bear proof.
However, it sells for a tiny fraction of the cost. Where a Yeti starts at around $200 and goes up from there (a Yeti 65 sells for around $350 at the time of writing) the smaller sized 28-Quart and 55-Quart Lifetime often sell for under $100!
The value here is absolutely insane. Oh and did I mention these coolers are even made in the USA? These are incredible value for money and I love these coolers.
See just how cheap Lifetime coolers are at Walmart
(or compare to price of Lifetime coolers at Amazon)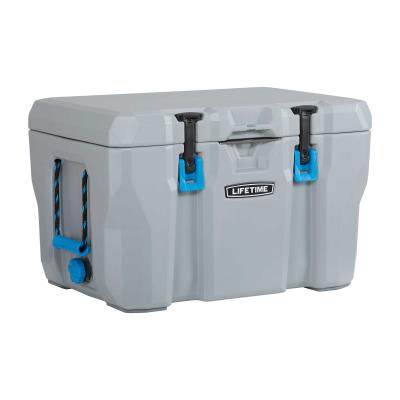 11. Icey-Tek Cooler (Commercial)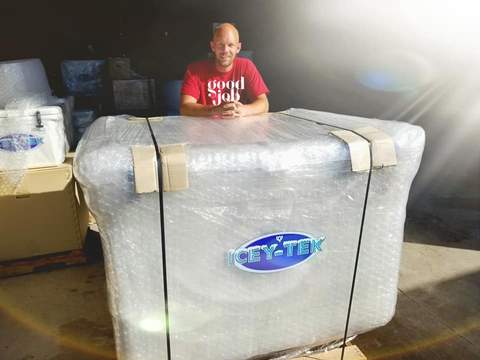 If you're looking for a big commercial cooler for fishing or hunting the Icey-Tek are likely the brand for you.
Their coolers range in size from small all the way up to the massive Icey-Tek 1100 which is around 1,200 Quart in capacity and sells for a whopping $2,749.99 making it the most expensive cooler in the world.
See the latest price of Icey Tek coolers