Yeti have just released their 3rd generation of their Hopper soft sided cooler and there have been some great improvements which customers have been asking for for years.
The Yeti Hopper M30 is the same great cooler as the original Hoppers but now features a magnetic opening which gives you 50% more opening space for easy packing of your cooler and means there are no zippers, which customers have had issues with in the past. It also has 20% longer ice retention plus the same DryHide shell, shoulder and carry straps. Leak proof and abrasion resistant this cooler sets the standard in soft-sided coolers.
In this Yeti Hopper M30 review we'll go in detail into the new features of this cooler that are improvements on the older models and we'll also look at all the other features that are the same across ranges, but important to be aware of.
After reading this review you'll have a better idea as to whether or not this cooler suits your need and if you'll want to upgrade or buy your first one.
The Main Feature: The Wider Magnetic Opening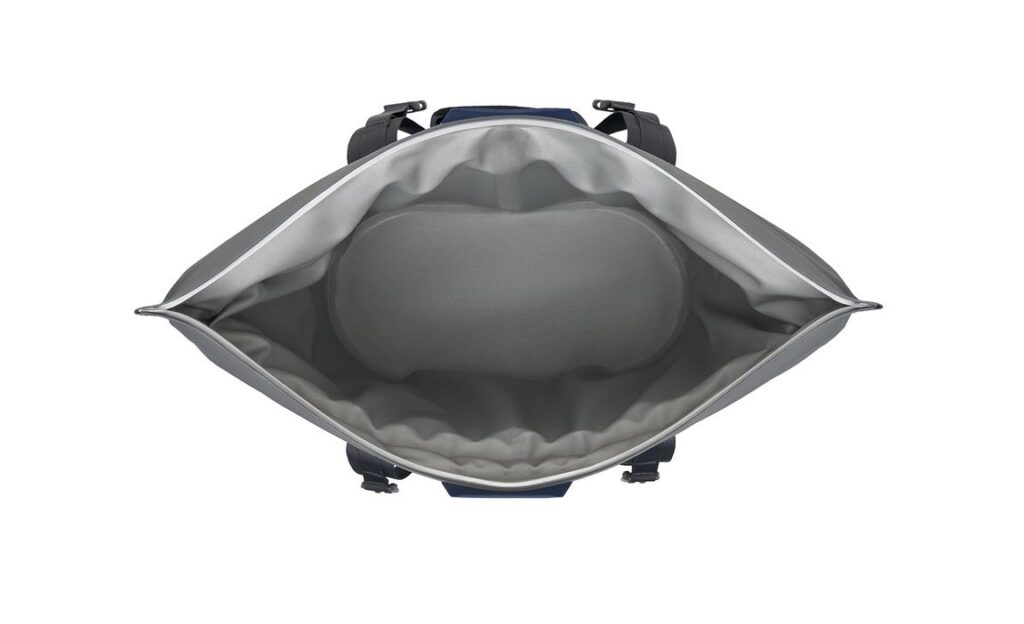 This is the main change to the cooler and the most significant one. One of the problems with the older models was the zipper being hard to open, breaking and having a small opening in the top making it hard to access your cooler.
This magnetic closure system fixes all of these issues.
It removes the zipper altogether and makes opening and closing the cooler so much easier.
It also allows for a design where the lid of the cooler opens 50% wider than previous models. This allows you to easily see all the items in your cooler and to easily pack your cooler or access your items.
When closed the top of the cooler folds down slightly and is held in place with 2 plastic clasps. The means the cooler is still completely leak proof and you don't have to worry about spillages.
I haven't done any stress tests on this, and the product is so new that I haven't seen any customers complaining about this cooler leaking.
20% Longer Ice Retention

The new design of this cooler actually allowed Yeti to fit more insulation into the cooler. The closed cell insulating foam they use in the walls of this cooler now comes further up towards the opening of the cooler.
Yeti claim that is has improved the ice retention of the cooler by approximately 20% which is a nice little bump.
This cooler can be expected to keep ice for around 1-3 days depending on how much ice you put in it and how you use it.
Price – The Same Price As The Older Model
Yeti have released this new and improved cooler for the same price as their older coolers. It retails for approximately $300 and pricing with Yeti products tends to be consistent across the shops it is sold in as well as online.
It's great that Yeti are offering this for the same price as the older models. You're getting a better cooler with better ice retention for exactly the same price.
Something that does happen when these new coolers are released is that the older models are discounted for a time while they still out of stock.
So I'll link up the the M30 as well as the older models on Amazon below and you can see if there is a price difference and decide which cooler you want.
Yeti Hopper M30 (Released 2019):
Yeti Hopper Two (Released 2017):
Yeti Hopper Original (Released 2014):
Cheaper Alternative – RTIC Soft Pack 30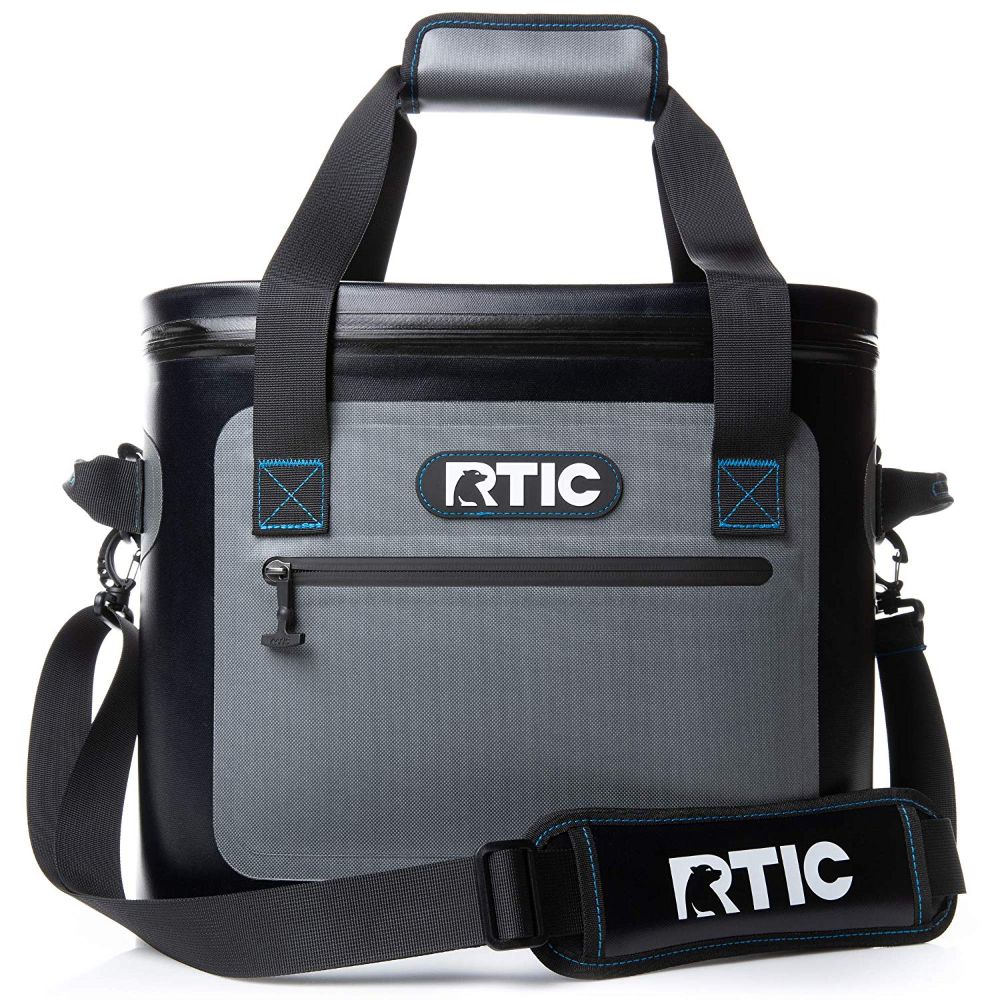 The $300 price tag might be a little too much for some people to handle.
For those who still want something premium, but not as expensive then the RTIC Softpack 30 is a good alternative.
It's closer to the $100 mark and should keep ice just as long. It's a rectangular shape, so it's different to the Yeti but it's still a great soft sided cooler that is just as durable and should keep ice just as long
RTIC Soft Pack 30:
New Seasonal Color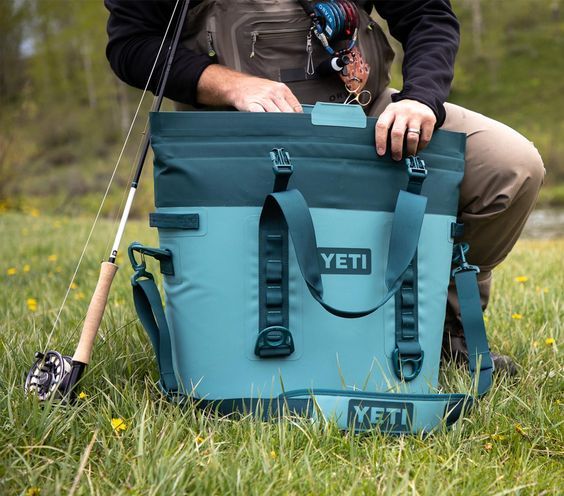 Along with the new features Yeti have also introduced a new color to their lineup – River Green.
I'm usually not a big fan of green but I really like this color scheme and Yeti have done a great job with it.
It is a seasonal color so it won't be available forever. So grab it while you can.
See Yeti Hopper M30 in River Green at Amazon
This Cooler Packs Some Amazing Features
We've covered most of what makes the new generation different to the older generation of Yeti Hopper soft sided coolers.
I want to take some time now to look at the features of the cooler that are similar across all models, but still something you should be aware of before investing your money into the cooler.
30-Quart Capacity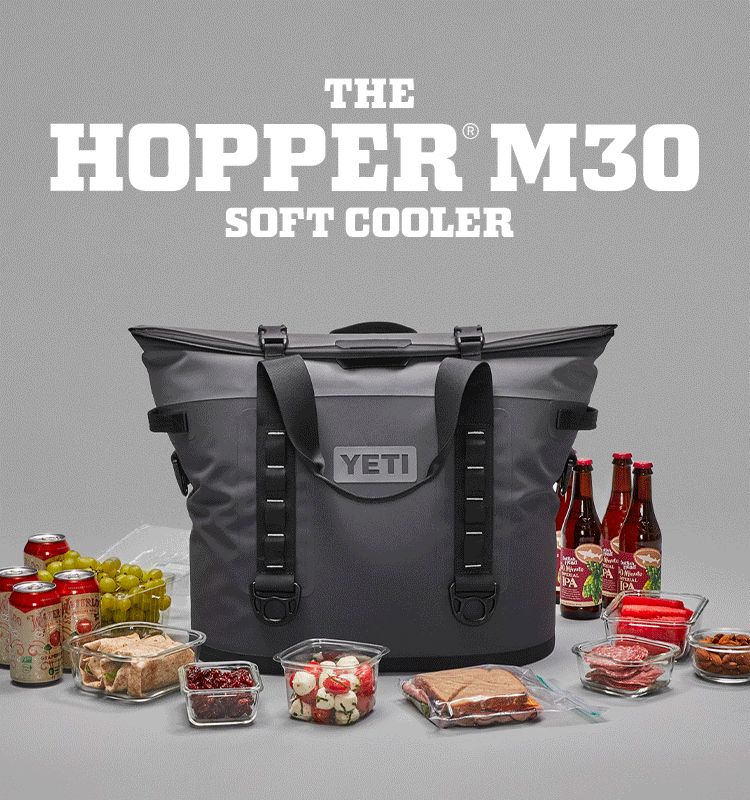 The Hopper M30 has a capacity of approximately 30-Quart which is larger than their Roadie hard sided cooler.
From what I can see the M30 is not being released in a smaller or larger size like the original models were. There is no M20 or no M40.
This is a good sized soft sided cooler and can fit more beer than you can carry. It's a great size for a family road trip or a weekend away for a single person or couple.
DryHide Shell
The Hopper M30 has Yeti's DryHide shell which is water resistant and built to last for years.
It's made with 840-denier nylon that is TPU laminated. This means not only is the fabric water resistant but it's also abrasion and puncture resistant.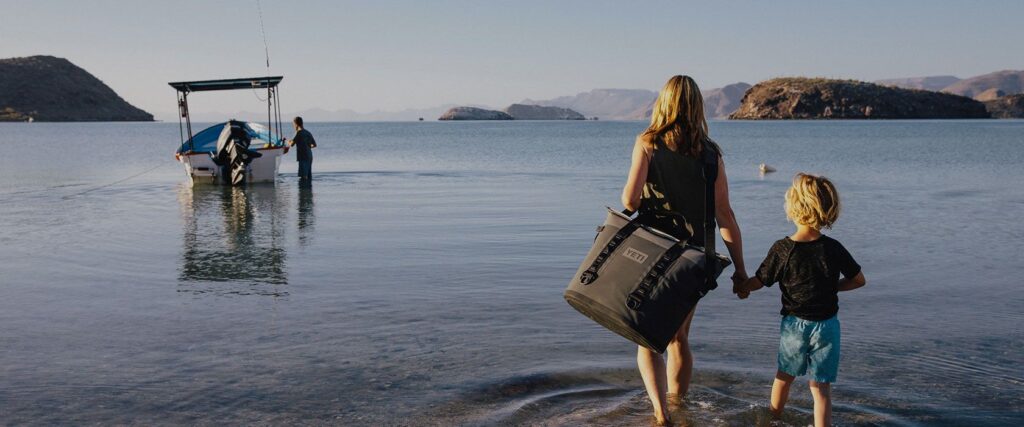 Yeti have used RF welding to minimise the seams, making this cooler leak proof all around.
You can use and abuse this cooler and it'll take the beating and keep going.
Anti-Microbial Liner
The inside of the cooler uses an anti-microbial material which makes it harder for mould to grow.
It's also food safe material so you can throw in items like apples or other fruit and veg and they will be fine to eat. It also means that in a pinch you can eat the ice out of the cooler if you want to.
Over The Shoulder Strap

This cooler gets heavy when it completely full so it comes with an over the shoulder strap to make it easier to carry those long distances.
I personally prefer the backpack strap of the Yeti BackFlip 24 for carrying longer distances, but the shoulder strap is great for carrying your cooler from the car to a BBQ or for carrying it to a picnic, down to the beach or to a game.
More Handles Than You Have Hands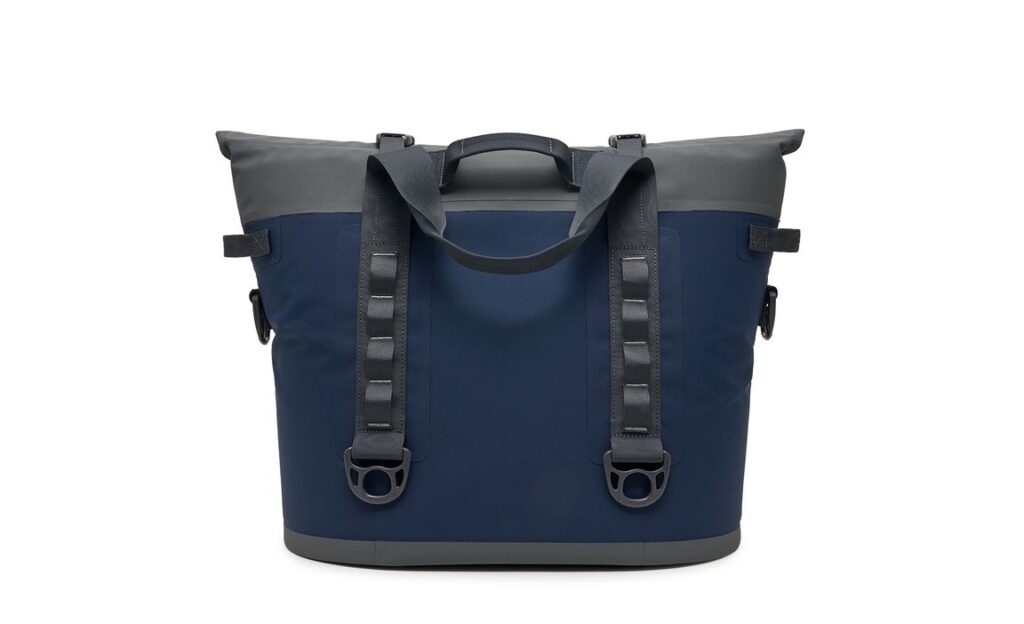 This cooler comes with a plethora of handles. It's got 2 longer carry handles that fold up for easy carrying. It also has 2 side handles for side carrying when the cooler is heavy.
It also has a single handle attached to the main body of the cooler to allow you to quickly pick it up and go.
Honestly, I think the amount of handles is overkill, but they are there if you need them.
Wide Base For Easy Loading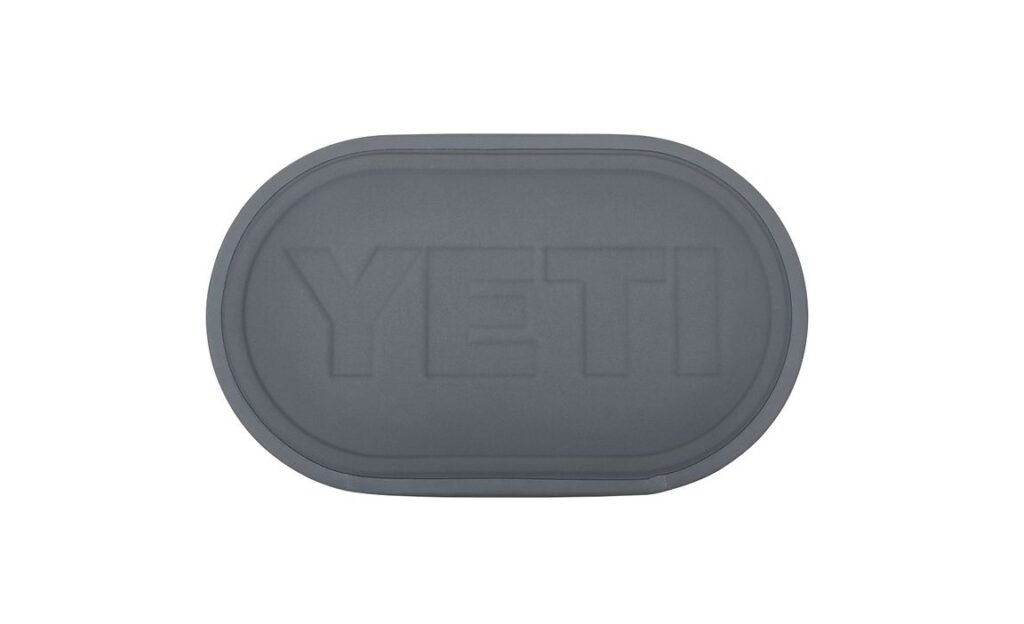 The M30 has a wide base with an embossed YETI logo on there which means this cooler is always going to stand upright and won't fall over when you're loading it or trying to get stuff out of it.
Tie Down Points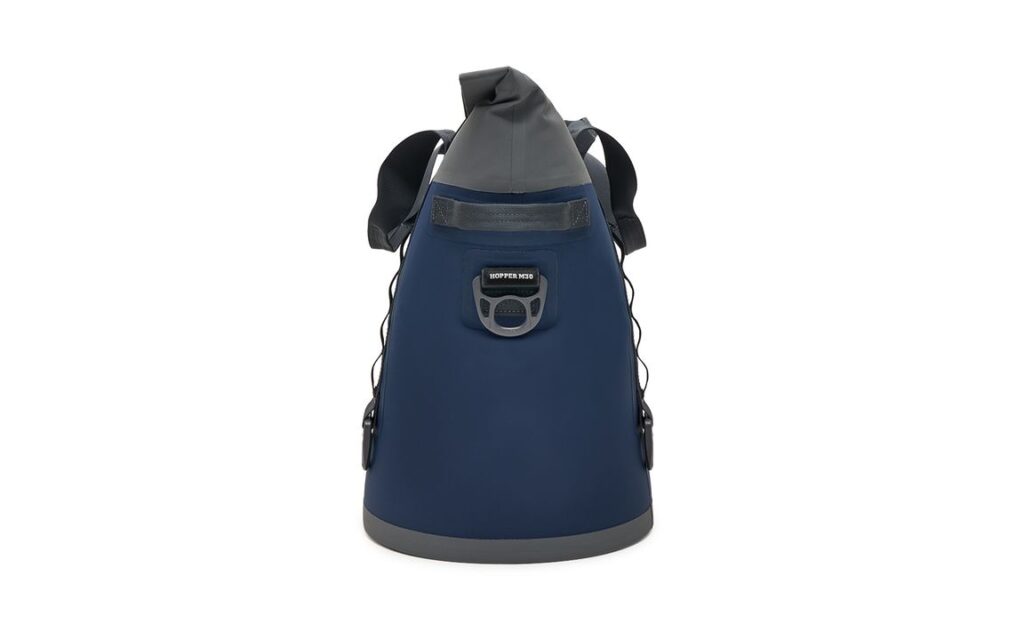 The cooler has tie down points near the base that allow you to tie in down in your car or in your truck so that it won't fall over or move around while you're driving.
It doesn't have the non-slip feet that the Yeti hard sided coolers have so it can move around much easier and the tall shape of it makes it much more likely to fall over with sudden breaking or turning a sharp corner.
While the lid is meant to be leak proof I personally would prefer not to test this in my car or my van so the tie down points help to keep the cooler stable.
3-Year Warranty
Like all other Yeti soft sided coolers the Hopper M30 comes with a 3-year limited warranty.
This warranty covers manufacturing defects and issues with the product. If you have an issue simply get in contact with Yeti and they will either fix your cooler for you or arrange to have it replaced.
The biggest failure point on the old model of Hopper coolers was the zipper and this made me nervous because after 3 years if the zipper broke you would have to pay to have it fixed or pay to buy a brand new cooler.
With the magnetic top this is much less likely to break and I am more confident with the 3-year warranty.
The Problems With The Yeti Hopper M30
The Yeti Hopper M30 is a great innovative product by Yeti and fixed a lot of the problems previous models had.
I've done a full write up of the problems with Yeti soft sided coolers but I'll highlight a few problems with the M30 that you should be aware of before buying.
1. Very Hard To Keep Open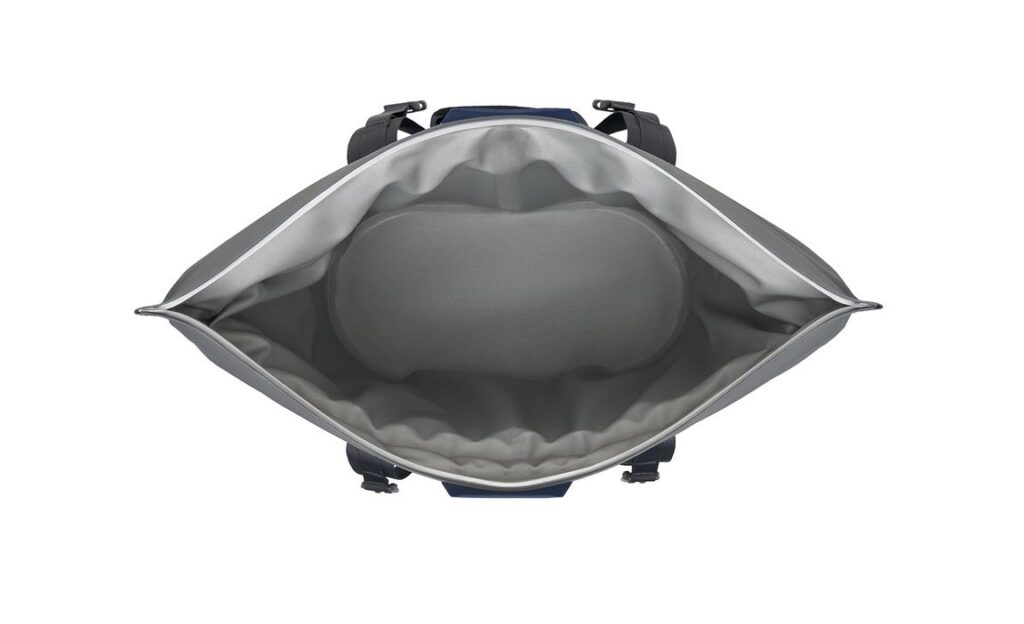 There have been an influx of negative customer reviews about the magnetic opening. The consensus is all generally the same, yes the magnetic opening is better than the zipper EXCEPT for the fact that it won't stay open.
This makes loading and unloading the cooler by yourself extremely difficult and even accessing items in the cooler hard as the lid with close shut around your arm while you're trying to get something.
So no, this cooler is far from perfect in it's current design and some customers have even gone and designed items to keep the cooler open. One customer used PVC pipe cut to size with stoppers on the end so he could keep the cooler open when he wanted.
He even spray painted it and added on a Yeti logo to make it look like a Yeti product.
2. Very Heavy When Full
When completely full this cooler can weigh over 60 lbs and be incredibly heavy to carry.
Most of the time you're not going to fill it up completely, but if you do be prepared to carry something extremely heavy. You may need to use the two side handles and get a friend to help you rather than carry it yourself.
3. No Backpack Straps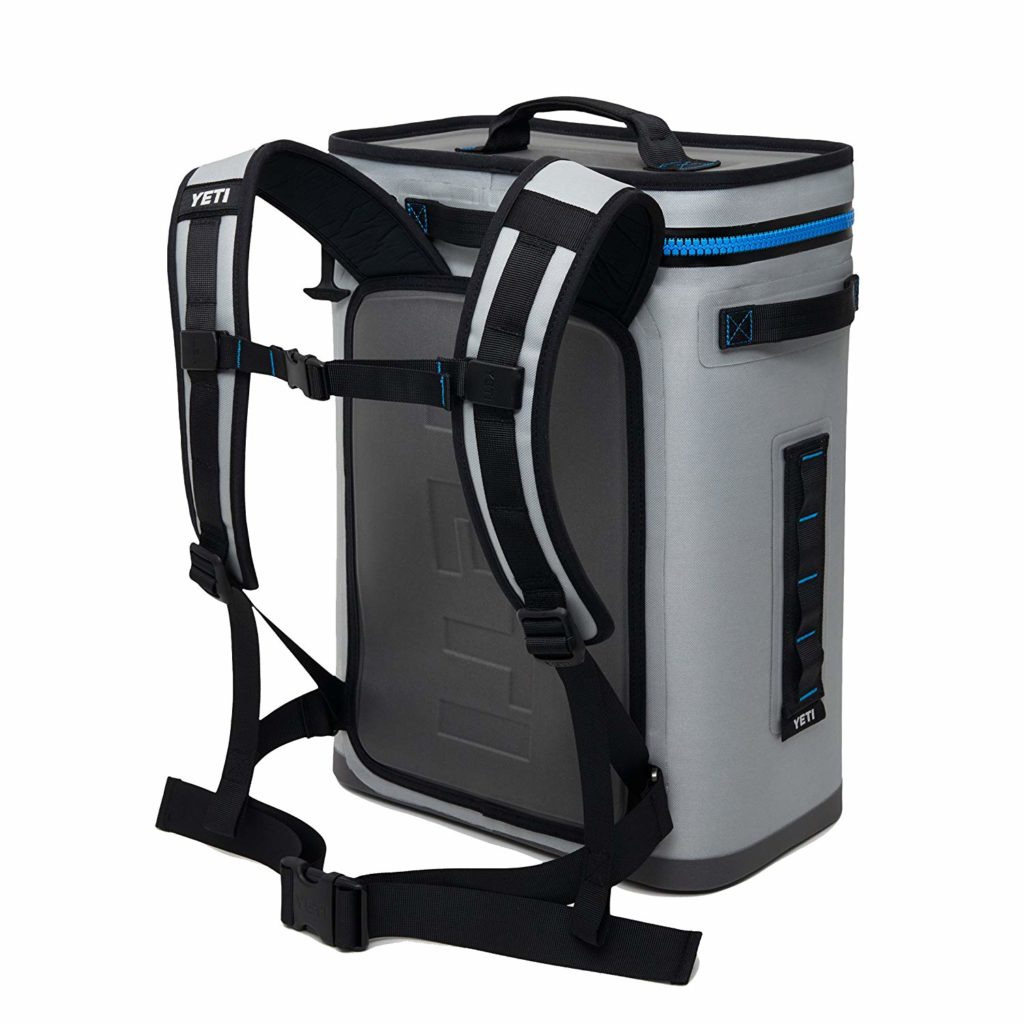 There is only a shoulder strap on this cooler and no backpack straps. Other coolers like the Otterbox Trooper LT30 (see my review) offer the flexibility of a shoulder strap or backpack straps, but that's not the case with this product.
It has a shoulder strap, and 5 different handles but no backpack straps. If you want a Yeti backpack cooler then you're going to have to go with the Yeti BackFlip 24 (read my full review of that cooler)
4. Only One Size
The original series of Hopper coolers had a Hopper 20, Hopper 30 and Hopper 40 so you could pick the size that best suited you.
With the Hopper M30 there is only one size, the 30. If you want a smaller size then you'll need to buy an older model or buy one of the flip series of coolers.
5. Hard To Dry Out
The magnetic closure system does give you a larger opening which makes it much easier to clean the cooler, but it means the cooler always wants to close itself.
Those magnets are drawn to each other which means it's hard to leave your cooler open to dry it out.
The solution to this is to put the cooler on the side, open up the lid and then put something large in the lid to keep it propped open so the cooler can dry.
6. No External Pockets or Accessories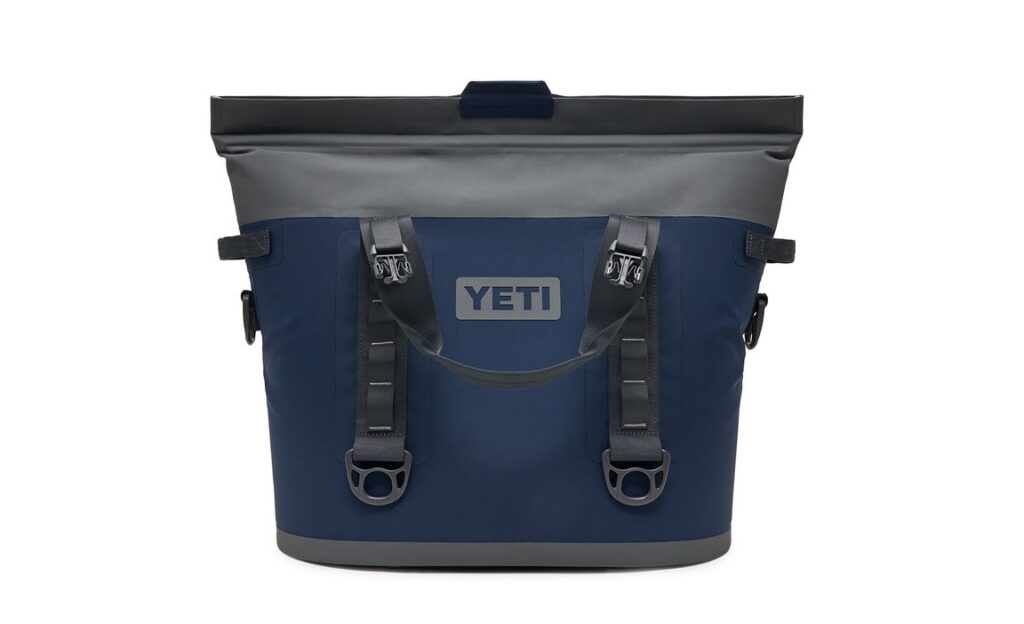 This frustrates me so much about the Yeti soft sided coolers in general and the M30 has the same issue, there are absolutely no exterior pockets of any kind on this cooler.
There is the HitchPoint Grid that allows you to connect a Yeti SideKick Dry pocket, but this pocket will set you back a further $50 to what you already paid on the cooler.
The cheaper RTIC soft sided coolers each have an external pocket and I really like this feature.
Is The Yeti Hopper M30 Worth The Money? In My Opinion…Yes

In my opinion the Yeti Hopper M30 is a really well designed and high performing soft sided cooler.
I love the redesign with the magnetic opening so much better than the zippers on the old models and I also love that it can keep ice even longer than the original models.
If it's within your budget and you can see yourself using it and you want to buy it then I would say go for it. It's a great cooler that will last you years.
If it's a bit out of your price range then that is fine. Go ahead and click here to see the RTIC soft sided coolers.
Where To Buy A Yeti Hopper M30 Cooler
The Yeti Hopper M30 is a fairly new product from Yeti but you should be able to pick it up anywhere Yeti products are sold.
You can also purchase them online from Yeti's website or you can get them from Amazon with free shipping.
To see the latest price on Yeti Hopper M30's on Amazon click my affiliate link below:
See The Latest Price For The Yeti Hopper M30
See The Discounted Price For The Yeti Hopper Two