As a man your cooler is a source of pride and joy. Not only does it keep your precious beers safe and cold but it allows you to bring the party with you wherever you go. Whether it be a backyard bbq, day at the beach of a week long hunting or fishing trip your cooler will be a big part of making your next adventure better.
This may sound extreme but I have found that having a good masculine cooler gives me pride as a man, compared to an ugly crappy cooler that you can buy from your local hardware store.
There are a lot of different cooler options out there these days, some which can keep ice for over a week, others which are bear proof as well as your more basic and budget cooler options.
If you're a man who wants to keep his food and drinks cold in style and show off your gear in front of the boys then here are 10 of the best masculine coolers on the market.
Looking for a lady? Click here for the best coolers for women
These coolers are all robust, can take a beating and keep your beers or favorite beverage ice cold for days.
1. Orion Coolers: The Ultimate Mens Cooler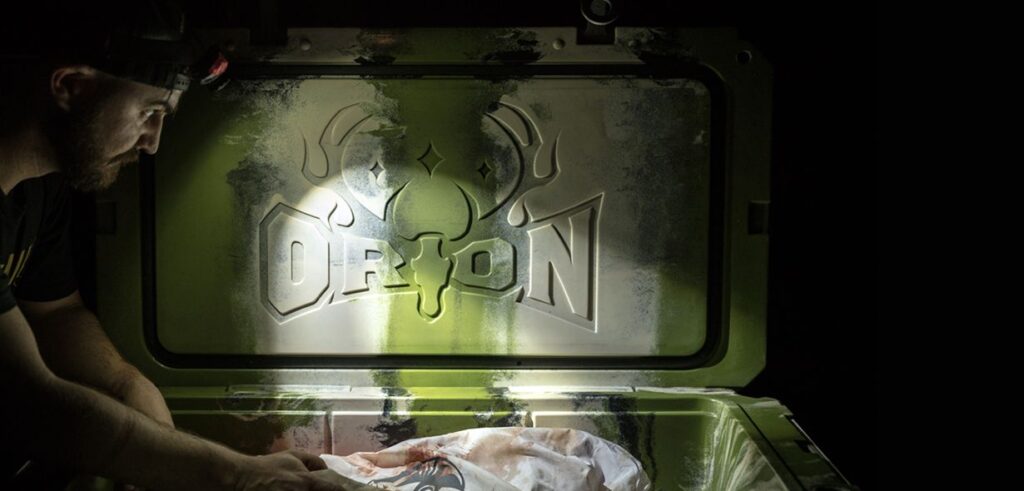 Orion coolers are the ultimate in masculine coolers. They are more rugged and over-engineered than any other cooler on the market and their style makes them look like they belong on the back of a truck filled with this year's catch of Elk or Deer.
Right from the first impression the camo color design of these coolers is awesome. Due to the roto-molding process every Orion cooler is completely unique as the colors mix and match to make a unique camo design.
Rather than just having rubber latches like Yeti and other coolers Orion coolers have rubber and steel cam latches which are stronger and more durable – plus they look badass.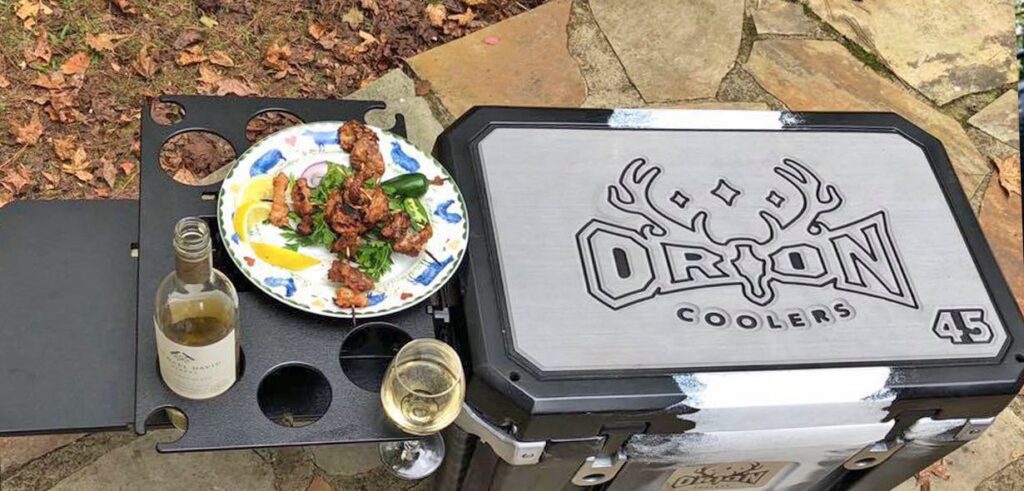 The corner locks are also made of steel and double as bottle openers. The sides have tracks where you can easily add a variety of accessories like cup holders, rob holders etc and the cooler is completely bear proof.
Orion coolers also have motorcycle grip handles and a standing pad on the top of the cooler which gives you more grip when standing on it and more comfort when sitting on it.
I've reviewed almost ever cooler brand out there and nothing really stands out to me as the ultimate men's cooler other than the Orion. They are also made locally in the USA so you're helping keep more jobs in America. Click here for my full Orion Cooler review.
They come in multiple size and color options and you can purchase directly from Orion or online through Amazon: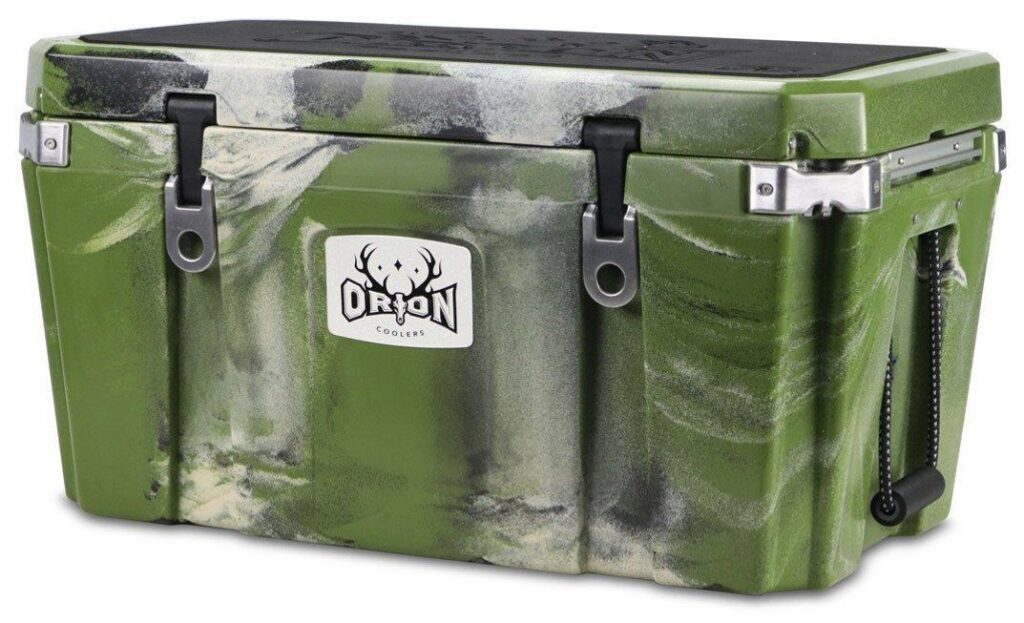 See the latest prices of Orion Coolers at Amazon
2. Pelican Coolers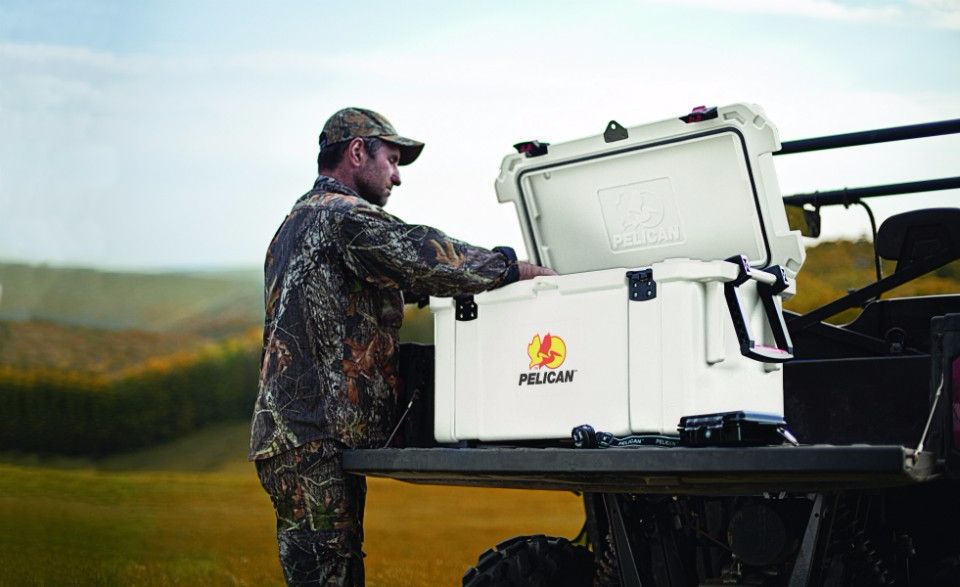 Runner up is the Pelican cooler which is one of the beefiest, bulkiest coolers out there.
What really makes Pelican stand out to me when compared to other coolers on this list is the masculine design and the molded in side handles with stick out.
The Pelican is about as slim as an elephant and it looks like a total tank of a cooler.
It's cheaper than the Orion and Yeti coolers (#1 and #3 on this list) and it has comparable ice retention, performing slightly better than Yeti. Click here to read my full comparison of Pelican coolers vs Yeti.
It has metal latches which click shut are are easy and satisfying to open and the lid has cup holders and a fishing ruler.
It's roto-molded, bear proof and has all the features you would expect from a high end cooler. A really great masculine option.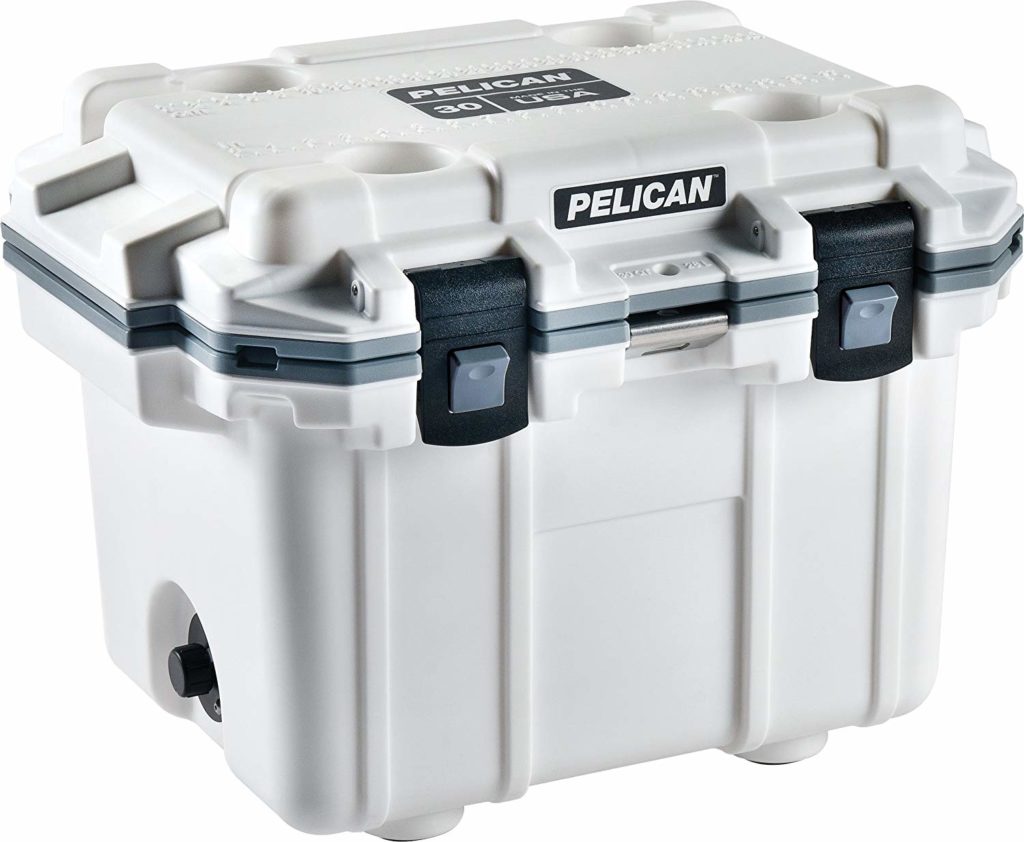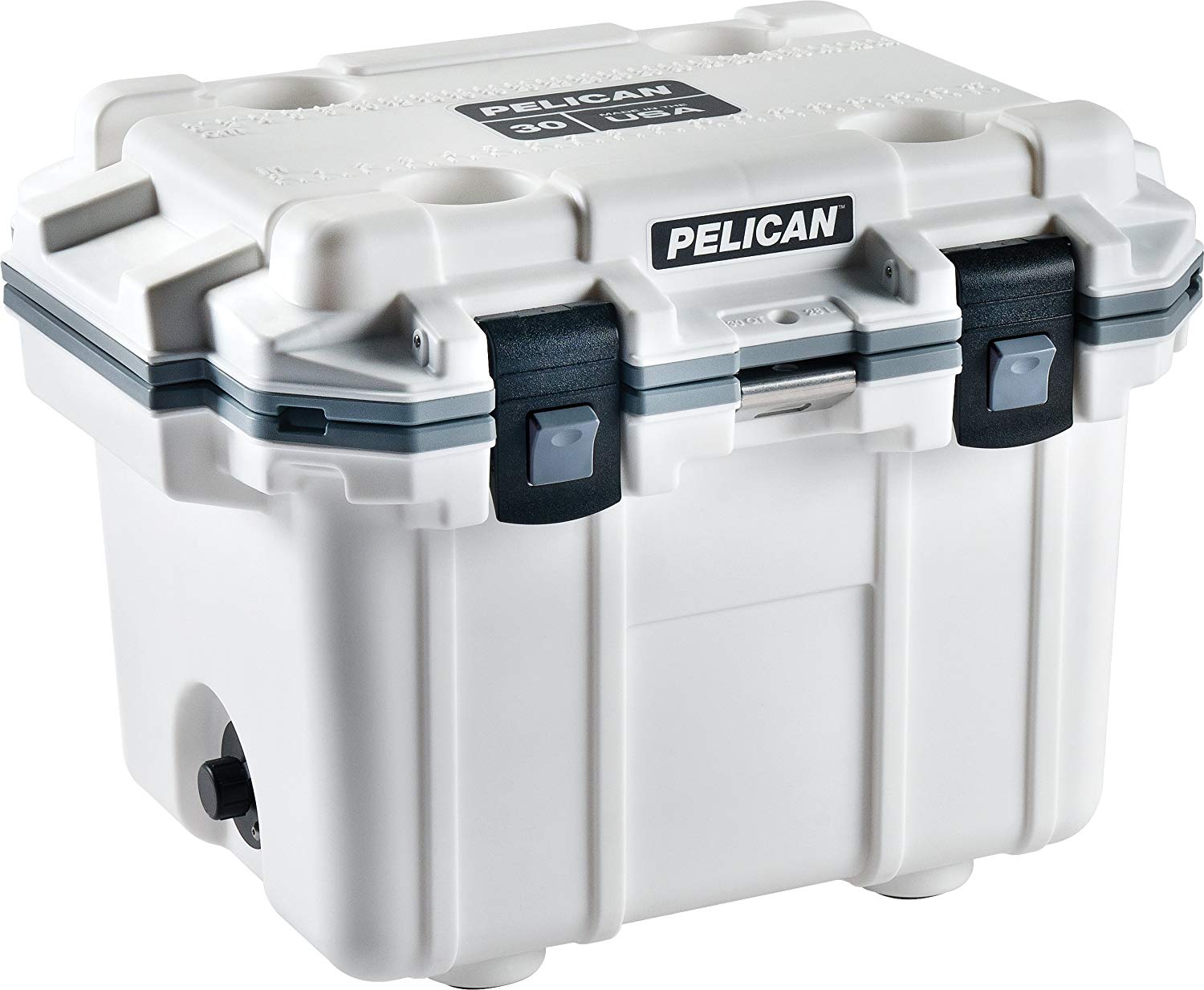 See the latest prices of Pelican coolers at Amazon
3. Yeti Coolers

Yeti coolers are the leading brand in roto-molded coolers and for good reason, they are one of the highest quality coolers out there.
These coolers are loved by hunters, fishers and all types of outdoorsman. If you love the outdoors then you'll love a Yeti.
I personally own a Yeti and absolutely love it.
The brand recognition and the fact that Yeti are known for their quality means this is a cooler you can show off to your buddies and they are likely to be impressed.
Yeti also has the widest range of sizes available making one of the best cooler options for hunting because you can get the exact size you need for whatever your hunting. See my list of the best coolers for Elk or the best coolers for deer.
They have multiple different color options – from white to tan to charcoal to seafoam green. So whatever you're into you can get the Yeti that suits your vibe so you can display your masculinity.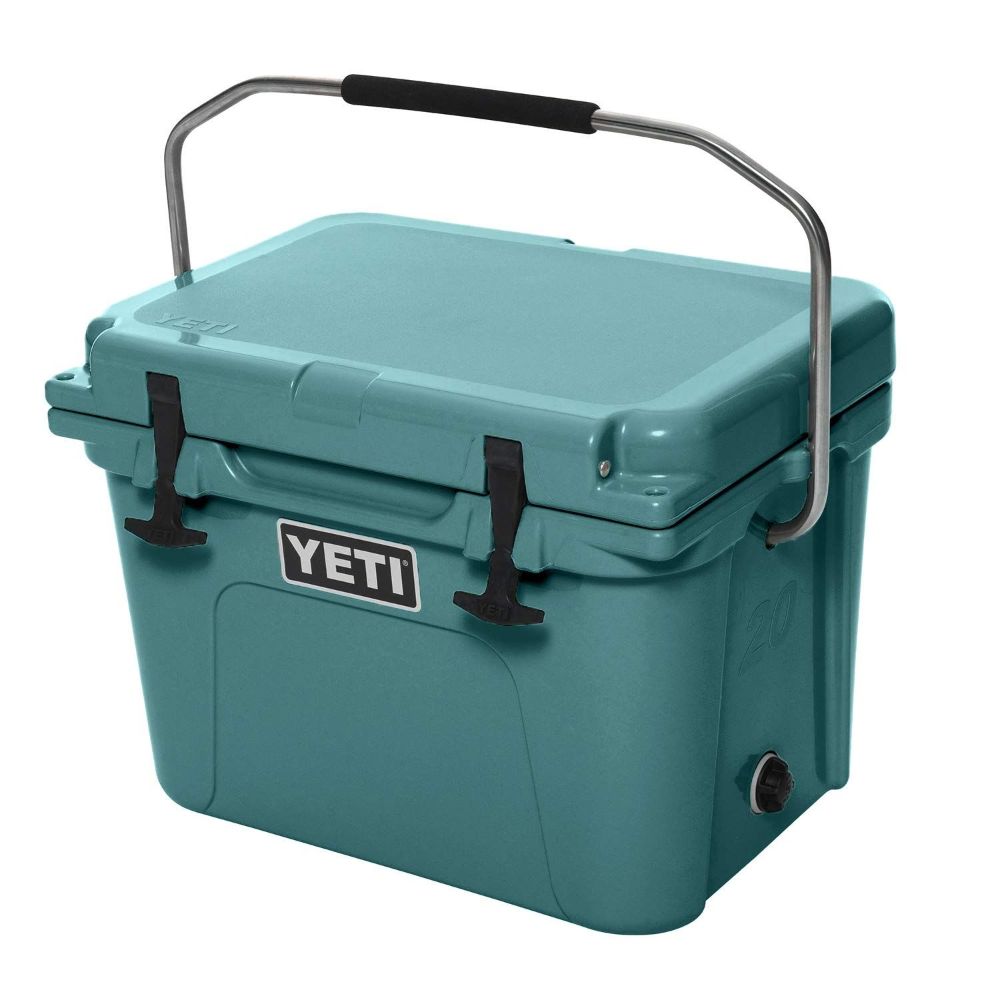 See all Yeti cooler options at Amazon
4. Otterbox Coolers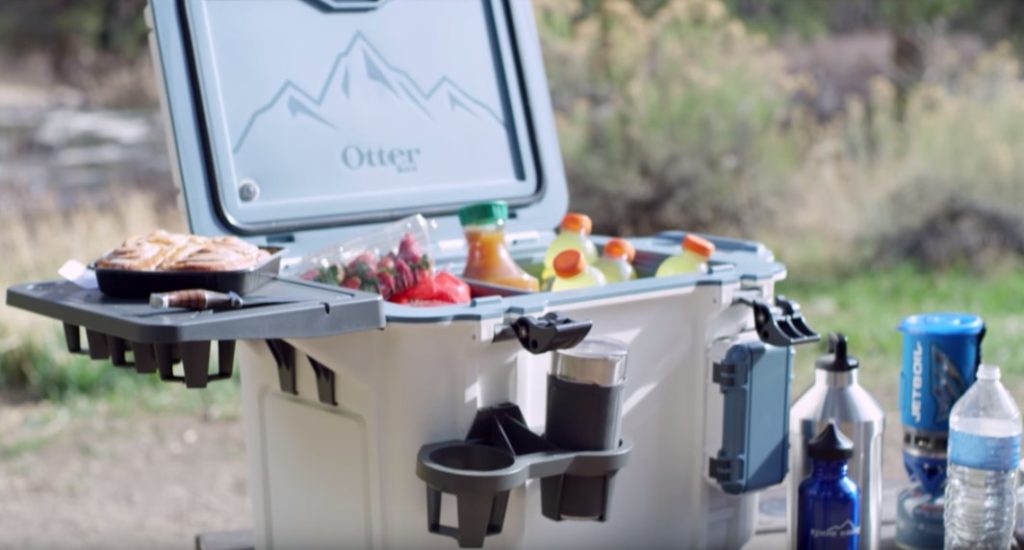 Otterbox are known for making high performing phone cases but they recently entered the cooler market and their cooler is actually realy really good.
It's made in the USA and has some of the best ice retention in the industry – outperforming coolers like Yeti and Orca. Click here to read my full Otterbox vs Yeti cooler comparison.
It's design is similar to that of the Pelican with a two-tone design and large protruding handles out the side.
It has a unique system for attaching things like cup holder, bottle openers and other accessories to your cooler.
If you're looking for a cooler that is going to outperform the ice retention of even the best competitors out there then Otterbox is definitely a cooler to consider.
It's also backed by a limited lifetime guarantee so you can purchase this cooler with confidence.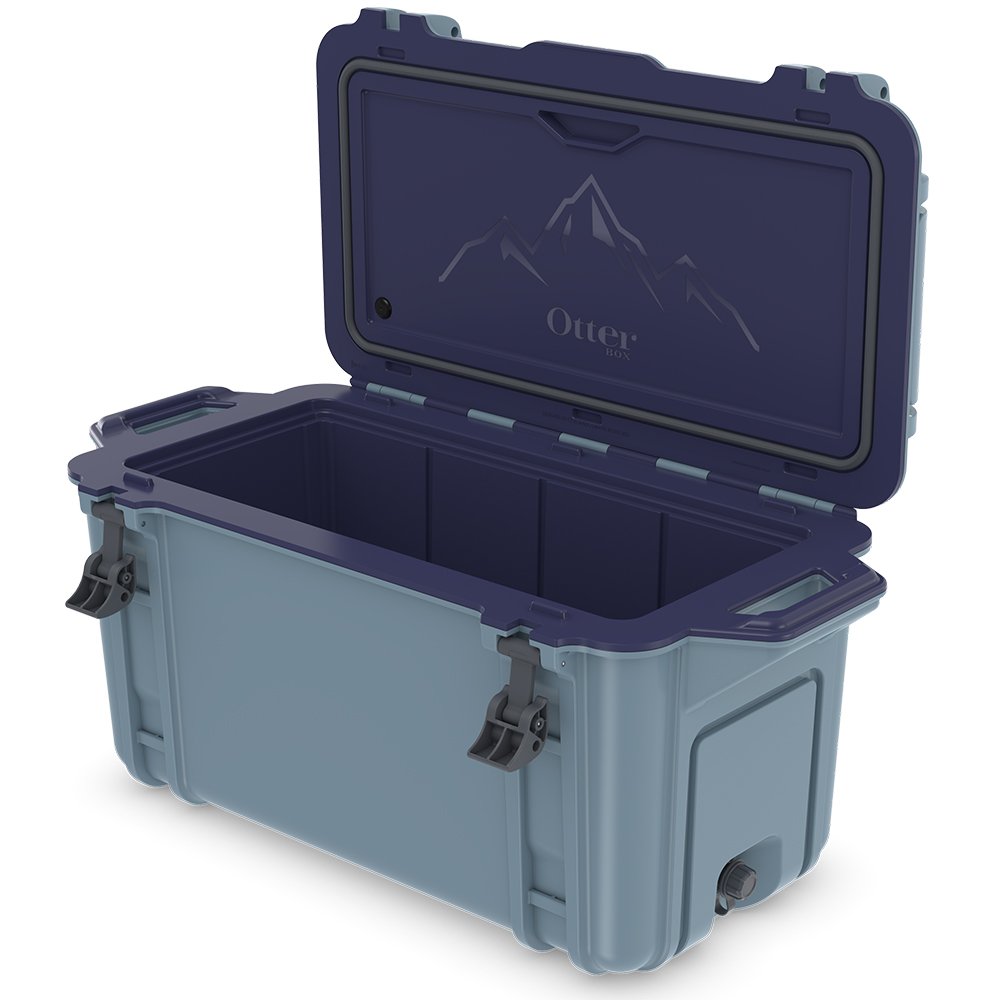 See the latest prices of Otterbox Coolers at Amazon
5. Lifetime Coolers – Value For Money Man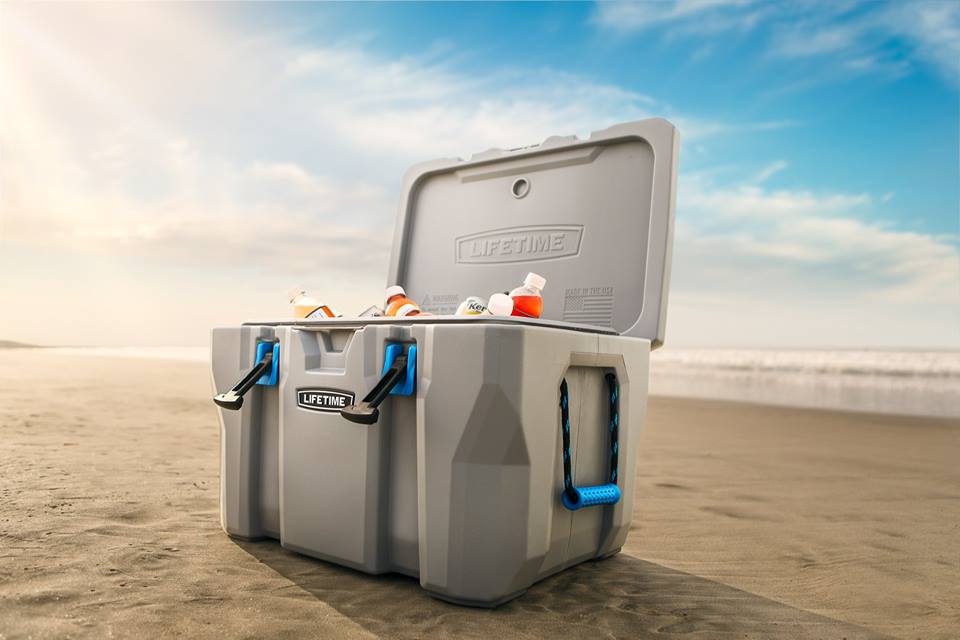 Lifetime coolers are your bear-proof value for money option offering all the features of more expensive roto-molded coolers for a tiny fraction of the price.
I'm actually shocked at how affordable Lifetime coolers are given the features they offer.
Ice retention that is similar to other high-end coolers, freezer grade rubber gasket and rubber cam latches to keep the lid on tight.
The non-slip rubber feet also have an easy-slide feature if you life the cooler up slightly.
The cooler has a masculine grey/blue color scheme and comes in 3 different sizes – 28-Quart, 55-Quart and 77-Quart.
These coolers are actually made in the USA and feature a 5-year warranty just like Yeti. See my full Lifetime vs Yeti cooler comparison.
I'm legitimately shocked that they can offer this cooler with these features for this price.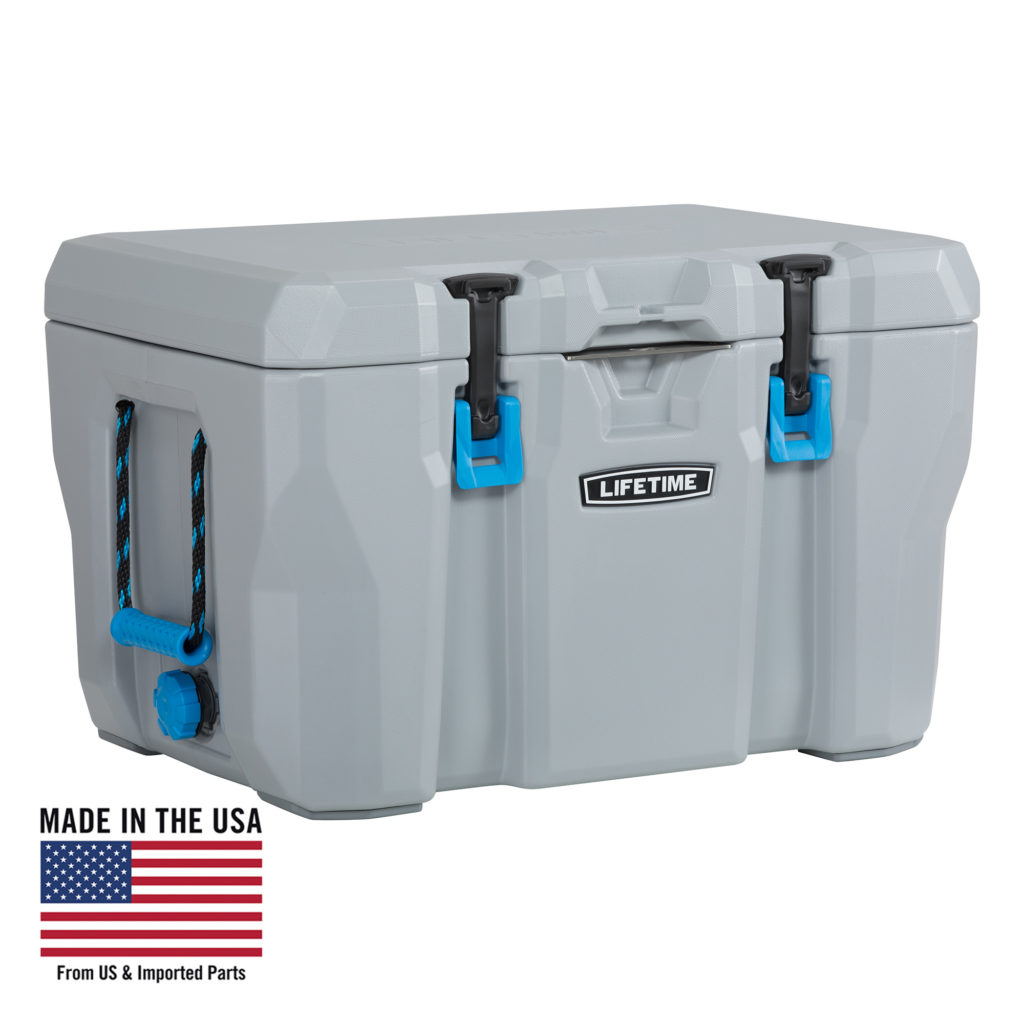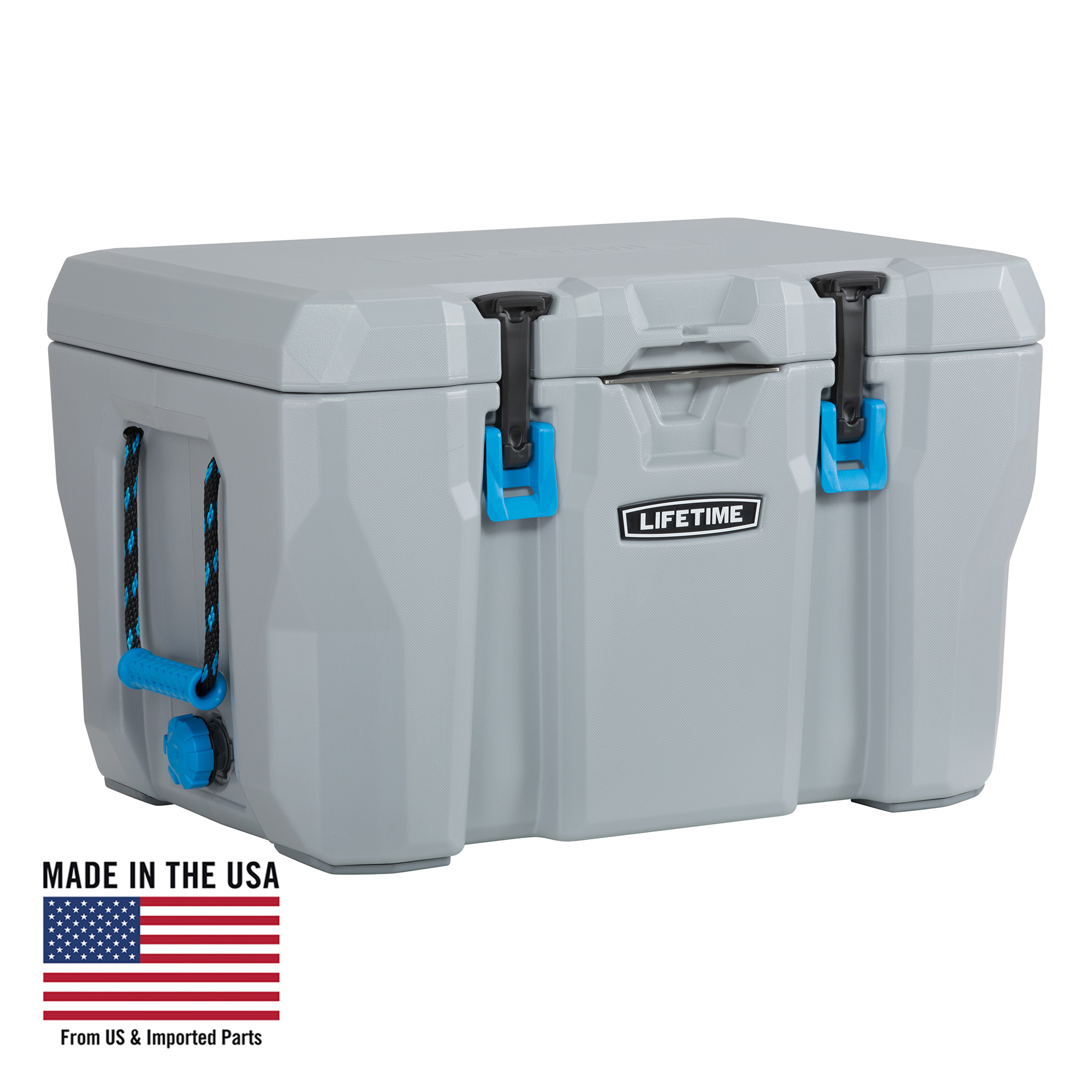 See the shocking price of Lifetime coolers at Walmart.com
6. Kong Coolers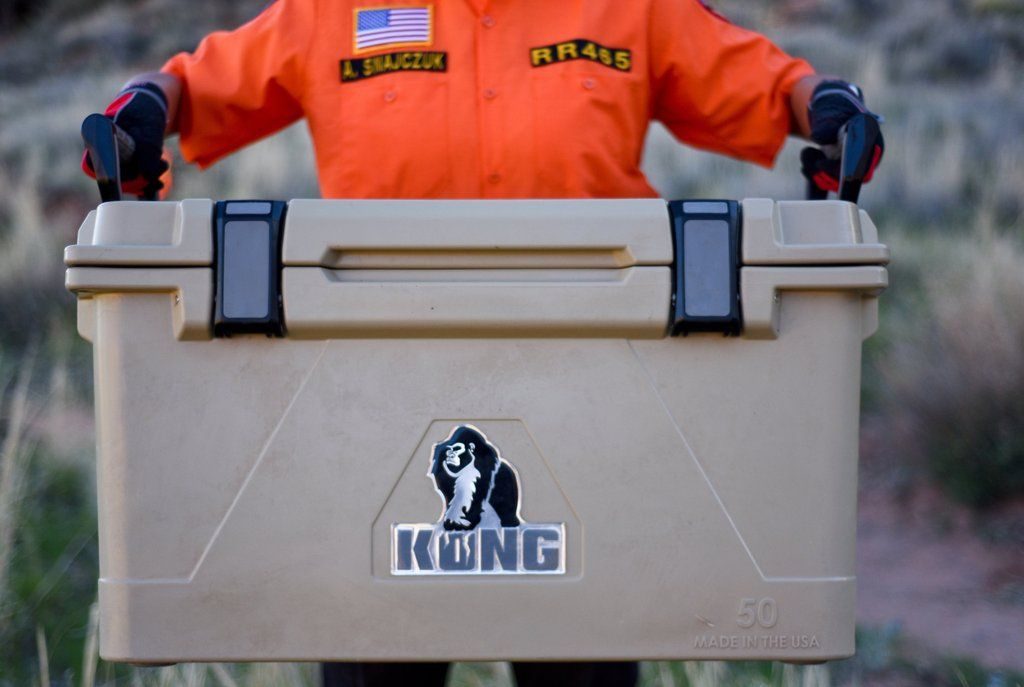 Kong is another USA-made cooler that was recently released and has shown extremely good performance in ice retention tests.
The design isn't too different to the Yeti with the major difference being the plastic latches as well as the strong plastic handles on the side (compared to Yeti's rope handles). See my full Kong vs Yeti cooler comparison to see which cooler is better (you'll be surprised).
The Kong cooler side handles can also double as a side table when you use the Kong Kicker (extra accessory) and cutting board. This gives you more space to prep your food or to serve food and drinks. It's a really practical option which I like a lot.
Kong offer a lifetime warranty and the coolers actually sell for a fair bit cheaper than Yeti or Orion coolers.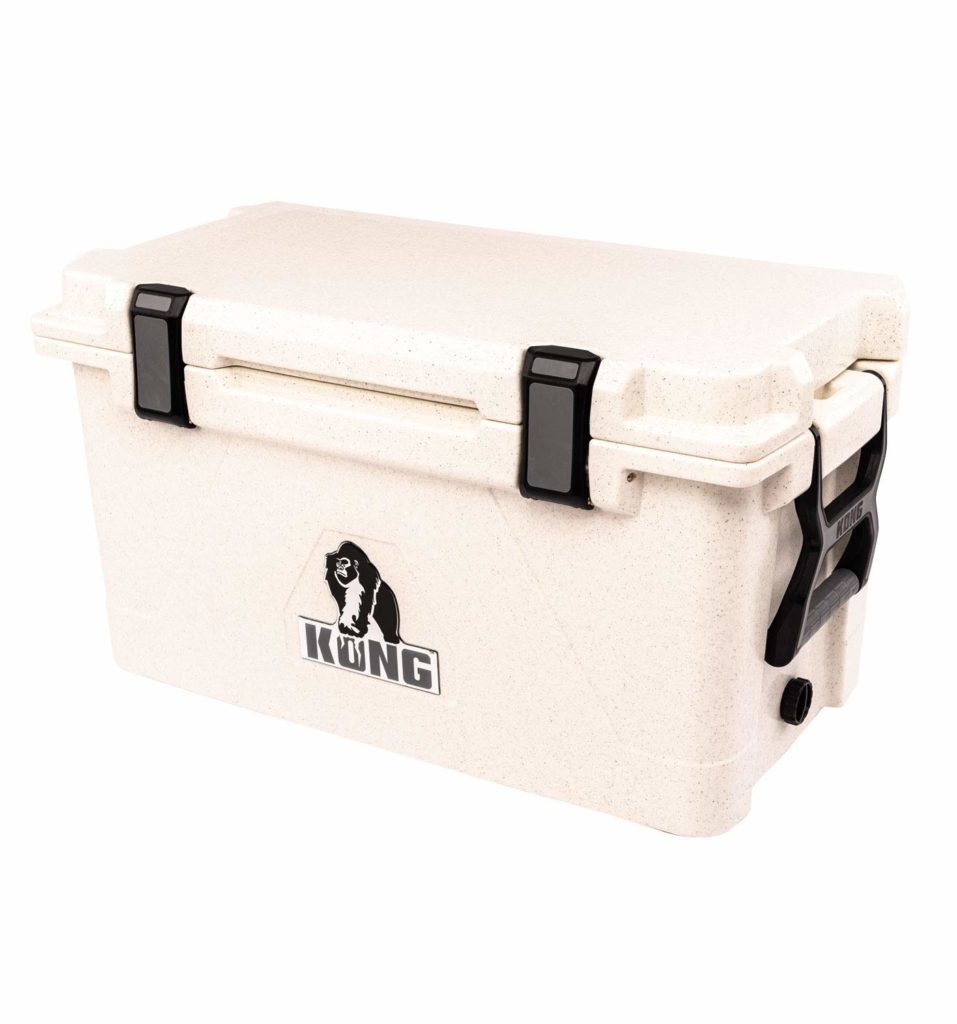 See latest prices of Kong coolers at Amazon
7. Igloo Trailmate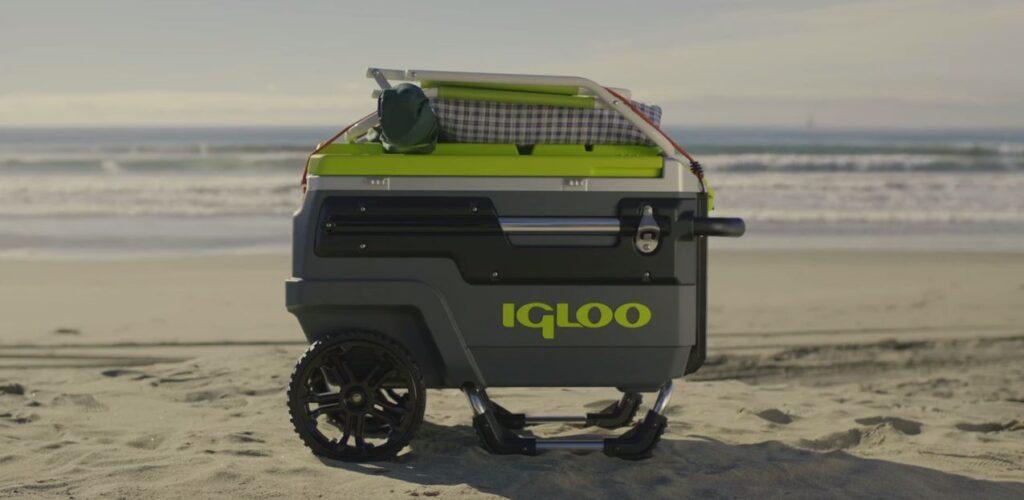 The Igloo Trailmate is a feature rich beefy cooler with the biggest wheels I have ever seen on a cooler.
If you're underwhelmed by the Orion, Yeti or other coolers we have mentioned and their lack of features then the Igloo Trailmate is going to impress you.
It's got a pull out handle, 4 cup holders in the lid, butler tray and chapping board. It's also got dual bottle openers, an external storage compartment and even a waterproof dry box for keeping items like your phone and wallet safe. Click here to see my full Igloo Trailmate review.
This is the best beach cooler out there. It's not roto-molded and the ice retention isn't quite as good as the coolers mentioned above. But it still performs really well especially when completely full.
It's made in the USA and is the mid-tier in terms of pricing. Not cheap but not crazy expensive either.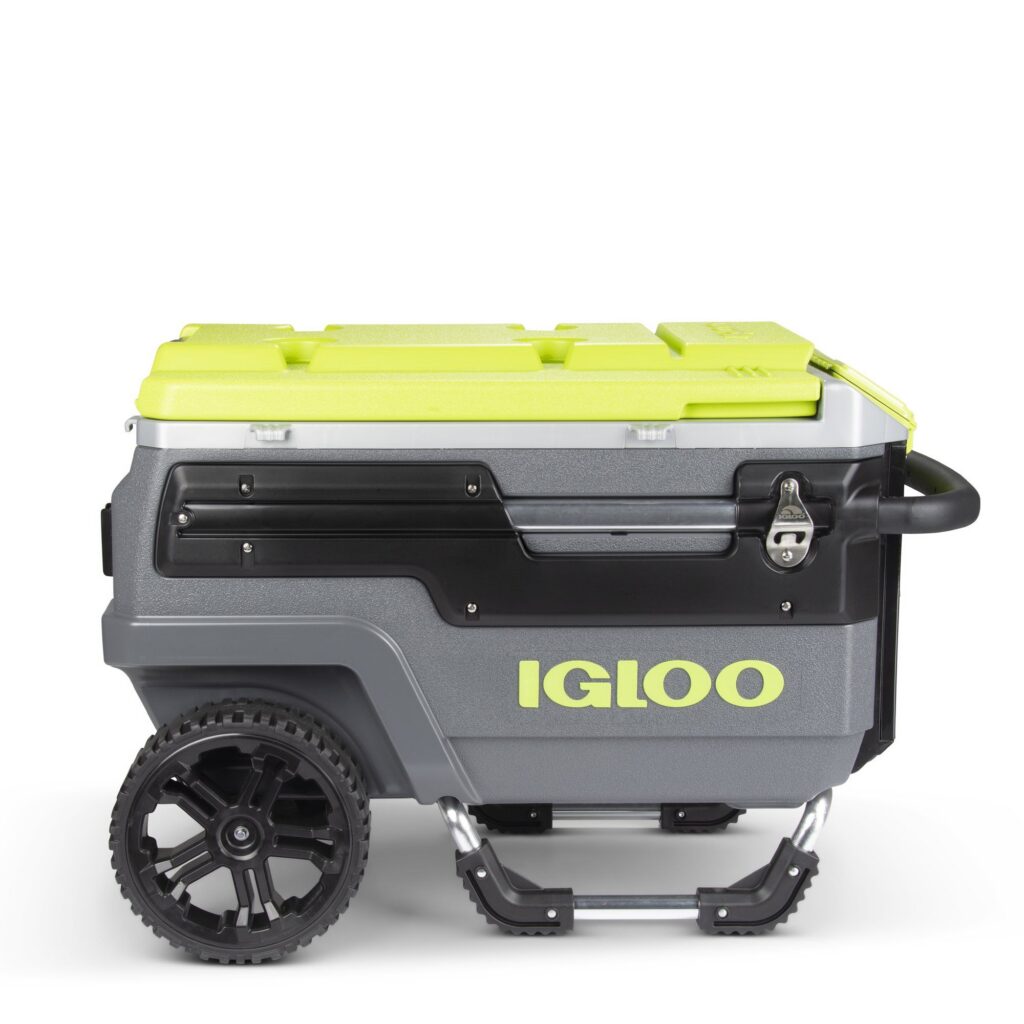 See the latest price of Igloo Trailmate coolers at Amazon
8. Coleman Xtreme: Man on a Budget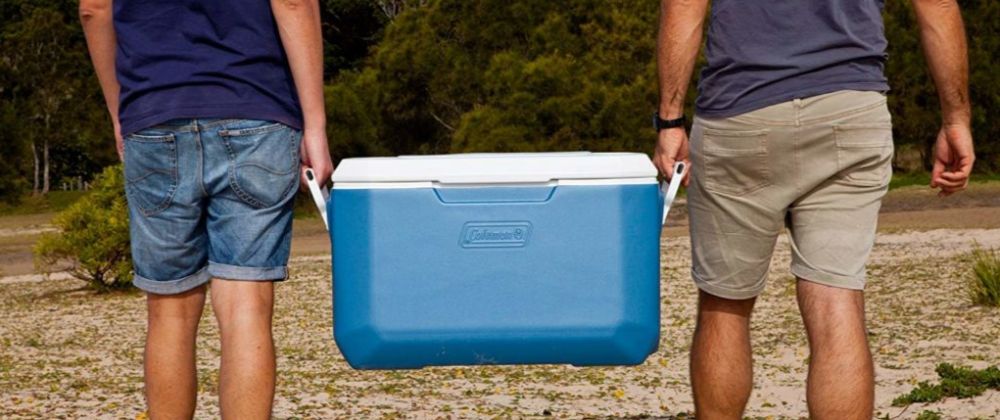 If you're on a tight budget and want something that is affordable but still works great the the Coleman Xtreme is the best budget cooler for men.
It comes in multiple sizes and you can choose whether you want one with wheels or without. Click here to read my full write up and review of the Coleman Xtreme cooler.
The lid has cup holders and it can hold ice for up to 5-days. It's much lighter to carry than the roto-molded coolers mentioned above and it's also much lighter on your pocket – generally selling for less than $50 for the smaller 50-Quart size.
For how good this cooler is I'm surprised they don't charge more. It's definitely better than your average cooler but sells for a similar price.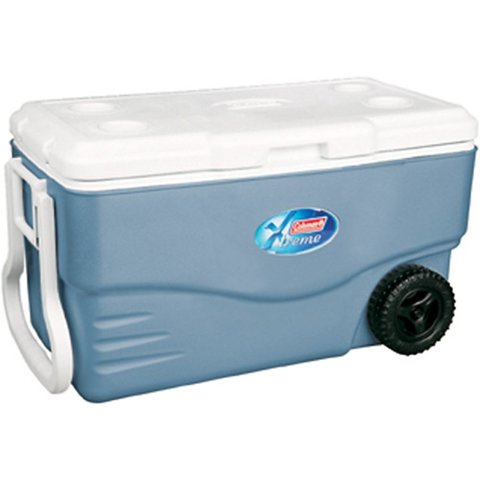 See just how cheap the Coleman Xtreme is at Amazon
9. Nash Sub Z: Personal Cooler With a Seat
What man doesn't move cracking open a beer and sitting on his trusty cooler to drink it?
The Nash Sub Z cooler is a small and portable 22-Quart cooler that also comes with a cushioned seat and back rest. Read my full Nash Sub Z cooler review.
You can choose between a dark masculine color or there are a few bright and bold colors if you want to go that way.
Even with the seat the Sub Z is cheaper than other small sized roto-molded coolers on the market.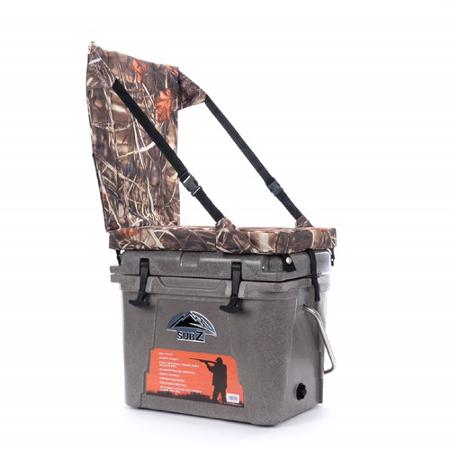 See the latest price of the Sub Z cooler at Amazon
10. Corona Steel Cooler: For The Cool Dude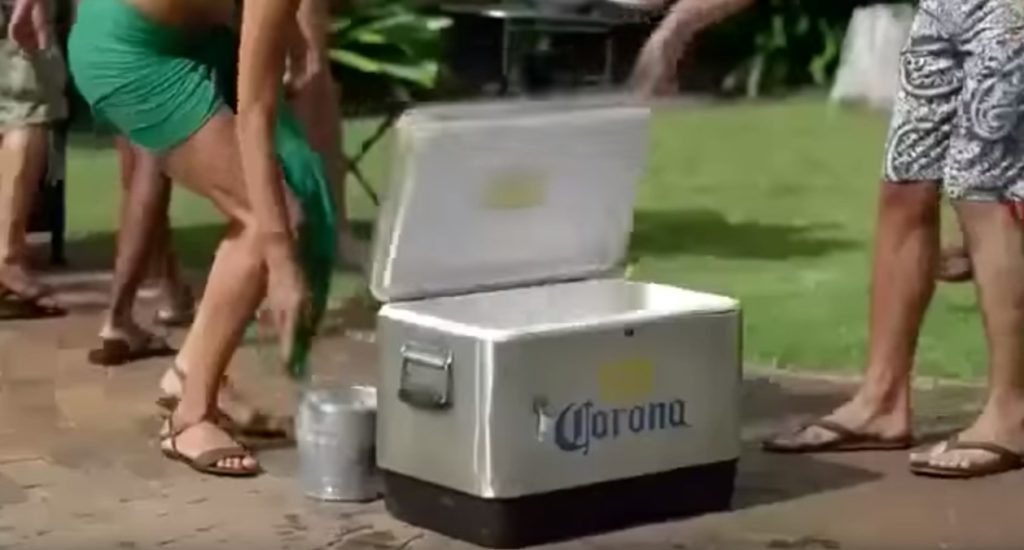 The Corona steel cooler is funky and cooler and has such a chill vibe about it that is perfect for a surfer guy or any male who doesn't take life too seriously and likes to have fun.
It's more robust that something like the Coleman Xtreme and it can handle a lot more abuse. See my comparison of steel coolers vs regular coolers and which type is better.
It's not as strong as a roto-molded cooler like the Orion or Yeti and it also won't keep ice as long as these coolers either. It has ice retention similar to a regular cooler but it looks way better.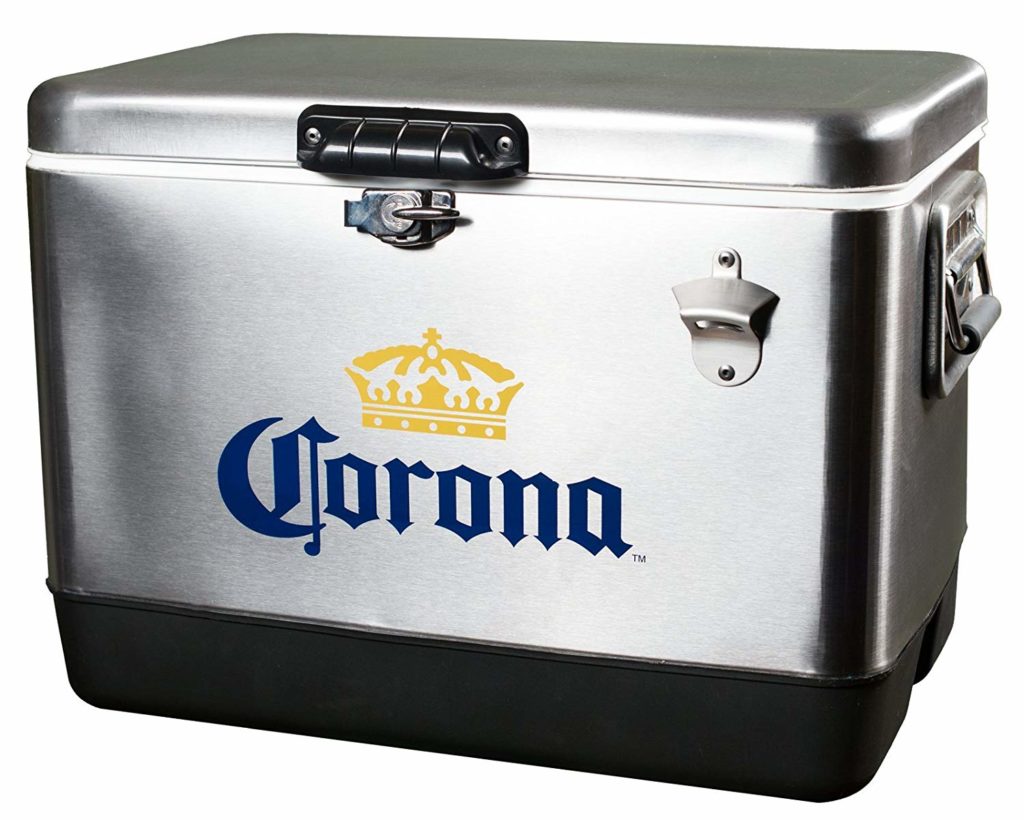 See the latest price of Corona coolers at Amazon
What Cooler Do You Think Is The Most Masculine?
There are a lot of great coolers out there for all different types of men.
For me personally I own a Yeti cooler as well as a Coleman Xtreme and I love them both for very different reasons.
Having a good cooler gives me pride as a man and for me it was a worthwhile investment getting a good cooler that I was proud to own and show off to my friends.
I wish you the best of luck finding your perfect cooler and I hope you feel pride for your cooler the way I do for mine. It makes me feel like more of a man.
Check Out The Best Coolers For Girls/Women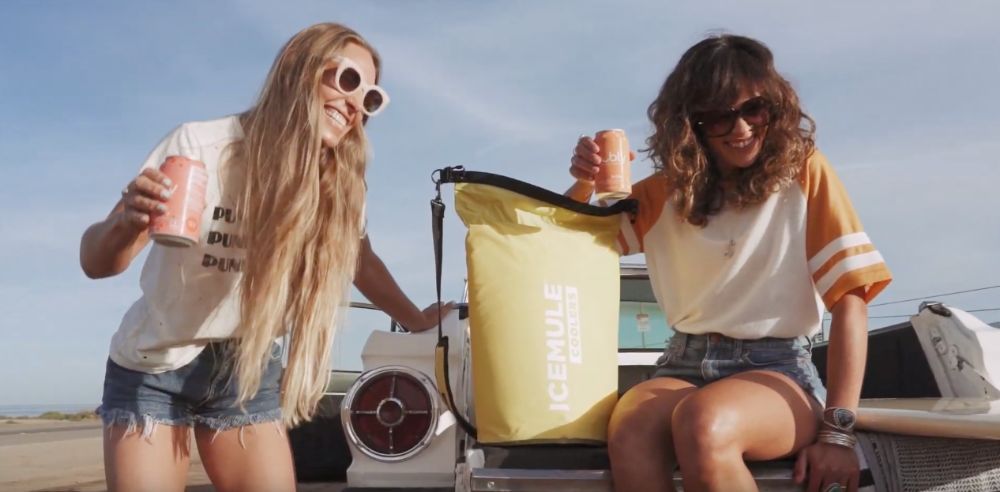 If masculine coolers isn't your vibe or if you're hunting for the best cooler for a girl or woman then click here to see my list of the best coolers for women or click here to see the list of the best pink coolers.