Since Yeti launched it's successful Boomer Dog bowl it continues to expand its options of premium pet products and the Yeti Tailhead Dog bed is a superior dog bed perfect for an active pooch.
The Yeti Tailhead Dog Bed is a durable and versatile dog bed featuring a home base with cushiony side rails and removable mattress for in the car, at camp or on the road. It features a waterproof base and easy to clean fabric. It's an expensive dog bed, but definitely worth it if you've got the money
In this Yeti Trailhead Dog Bed Review we'll look in detail at the build quality, comfort level and features of this product to help you decide if it's worth spending the money on or if a cheaper alternative better suits your needs.
Let's Talk About Price

Let's start by talking about price as I know this is something that will be on everyone's mind.
Yeti is known for making expensive products, but also extremely high quality products and this dog bed definitely falls into that category.
At $300 it is one of the most expensive dog beds out there but, as we'll discuss, it's is a durable and high quality bed that has versatility and features that other dog beds just don't have.
For some people this will be an unreasonable price, but for those with an outdoors lifestyle who want the best for their pup this can definitely be a worthwhile investment.
Sure you can buy cheaper beds for $50 or less, but they aren't going to be anywhere near as comfortable and they aren't going to last anywhere near as long.
To see the current price of the Trailhead Dog Bed click the amazon or Yeti link below:
See the Trailhead Dog Bed (on Amazon)
See the Trailhead Dog Bed (on Yeti.com)
Two-In-One Setup For Versatility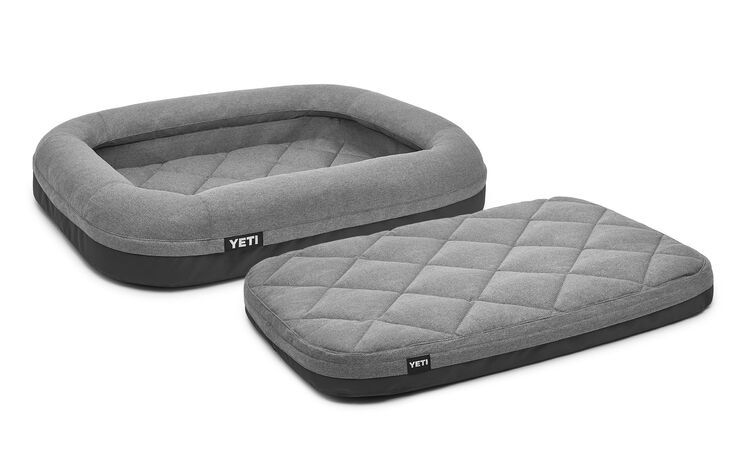 One of the unique features the Trailhead has that other dog beds don't have is the two-in-one setup.
The Home Base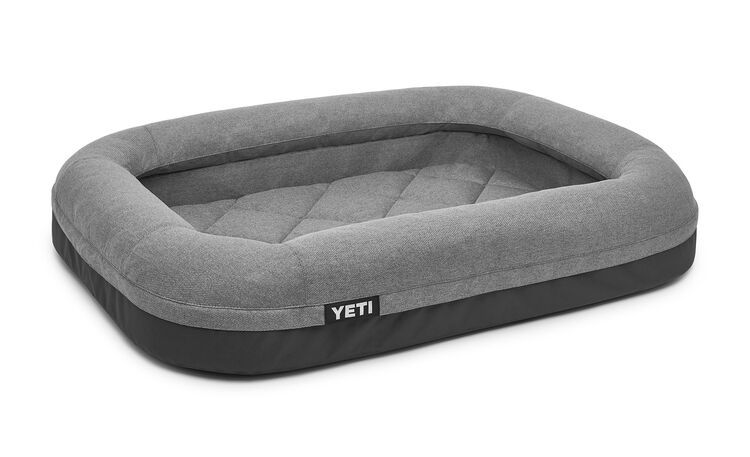 There is an ultra comfy stay at home setup with puffy and cushiony rails that allows your dog to rest their chin up a little higher and get extremely comfortable and relaxed.
This "home base" (as Yeti are calling it) is designed to stay at home and be an everyday bed for your dog.
Removable Travel Pad

The inner mattress of the bed detaches from the home base and can be taken on the road to provide a portable resting spot for your dog.
It's a good size for a dog's kennell/cage or could be used as a bed when staying at a hotel or when off camping or could also be used in the back of your car or your truck for comfort on those longer drives.
Suitable For Small to Medium Dogs

The Trailhead measures 39.75 inches long by 29.1 inches wide for the home base and 32.3 inches by 22 inches for the removable travel pad.
It weighs 10.3 lbs when your pooch isn't lying in it and with the EVA-molded base it can handle the weight of bigger dogs.
The size means this bed is going to be best for smaller to medium dogs up to about the 70 pound range. Large dogs may have trouble fitting in the bed and may especially have trouble fitting on the travel pad.
With time Yeti may release more sizes (they did that with the Boomer Dog Bowl) but for now there is just the one size.
Comfortable AF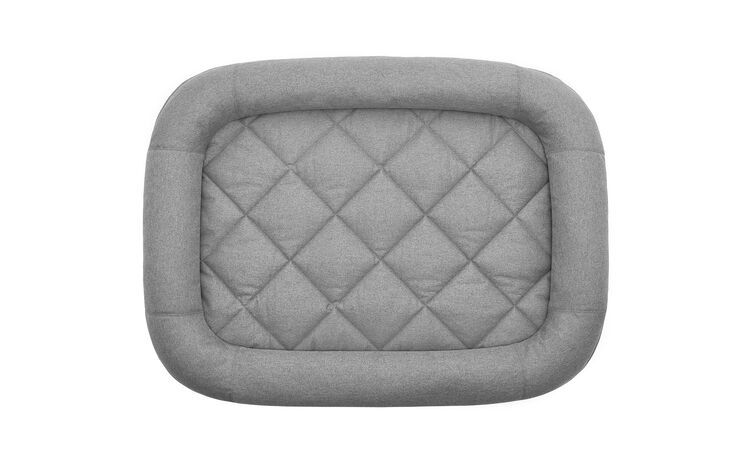 This dog bed is made to be ultra comfortable and no expense has been spare on the mattress.
It uses a high-density foam in the core to deliver comfort and support and the core is sandwiched on the top and bottom by lighter-weight foam that adds extra cushion and comfort.
The material is durable, thick but also soft and comfortable for your dog to lie on. Yeti has definitely thought about comfort and dogs seem to love it.
It also have an EVA-molded base to provide extra padding and support for even the larger dogs.
Easy To Clean Materials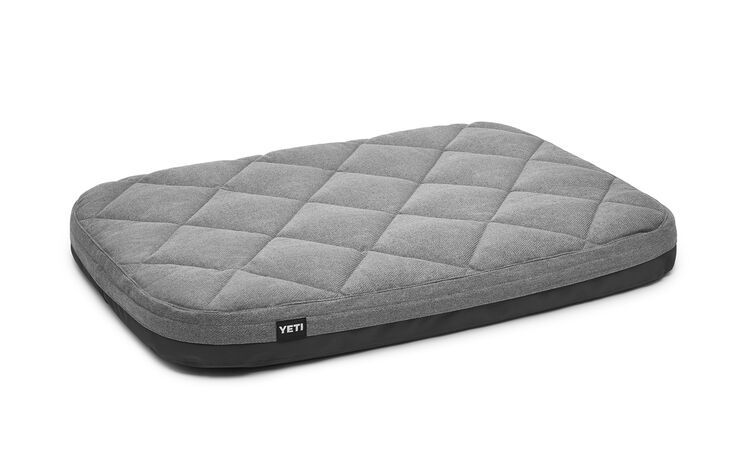 I couldn't find the exact material used to make the soft top of the Trailhead and I do wonder if it's the same material as the Yeti Lowlands Blanket which is waterproof and resistant to pet hair.
At this stage the product is so now I'm not exactly sure but Yeti do state that it is made from easy to clean materials.
The cover, at least for the inner cushion, has a zipper and can be removed for easy machine washing. So even if your dog gets it muddy you can easily clean take it off, clean it and then pop it back on.
Ultra Durable
There are cheaper dog beds out there, but why buy a dog bed that is only going to last you a week before it's ruined when you can buy an ultra durable Yeti dog bed and have it last you a lifetime?
Waterproof Bottom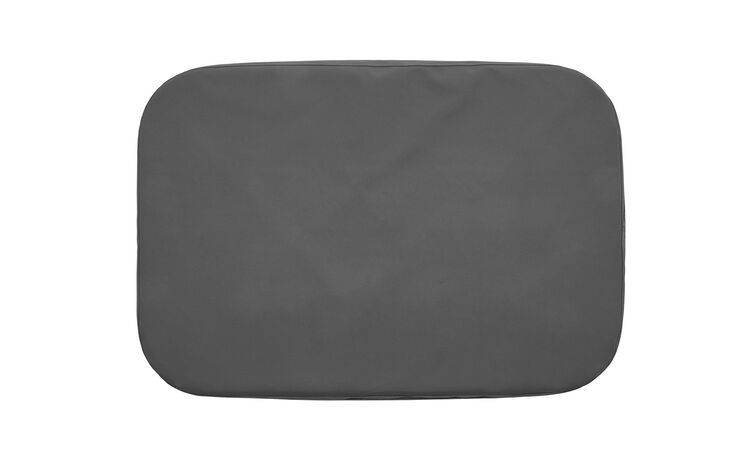 The bottom of the home base as well as the bottom of the travel pad is made from completely waterproof material.
This means that you can put it on the grass or on the wet ground and not have to worry about the moisture seeping through into the foam and fabric of the bed. Allowing your dog to stay dry and comfortable even if it's been raining for a few days and the ground is soaked.
This also stops water seeping through the bottom if you have a wet dog in your car for instance you can lay this down for them and it will protect your car seats from getting wet.
Problems With The Trailhead Dog Bed
The Trailhead is a great dog bed but it isn't perfect. It's important to know some of the problems with it before you buy it.
1. Price
The obvious thing that will hold back a lot of people from buying this bed is simply the price, it's an expensive bed.
$300 is a lot of coin to spend on a dog bed and there are some much more affordable options out there. Now these options may not be as good but for many people they will be good enough and get the job done.
2. No Color or Size Options
Currently the Trailhead comes in just one color (grey) and only comes in a single size. So if people don't like this particular color or if they want a larger or smaller bed then they are out of luck.
It's highly likely that, if this product is successful, Yeti will come out with at least more color options if not more size options. But for now we are stuck with just the one option.
3. Must Buy As One Unit
You must buy both the home base and the travel mattress as a single unit, you cannot buy them individually. I don't expect this to change in the future either, you either buy them both or you don't buy any.
As you can see there are only minor problems with this product. Yeti products are always well made and so there are no glaring issues or obvious defaults that would make me advise you not to purchase this product.
My Opinion: A Great Option For Outdoor Enthusiasts Who Want The Best For Their Dog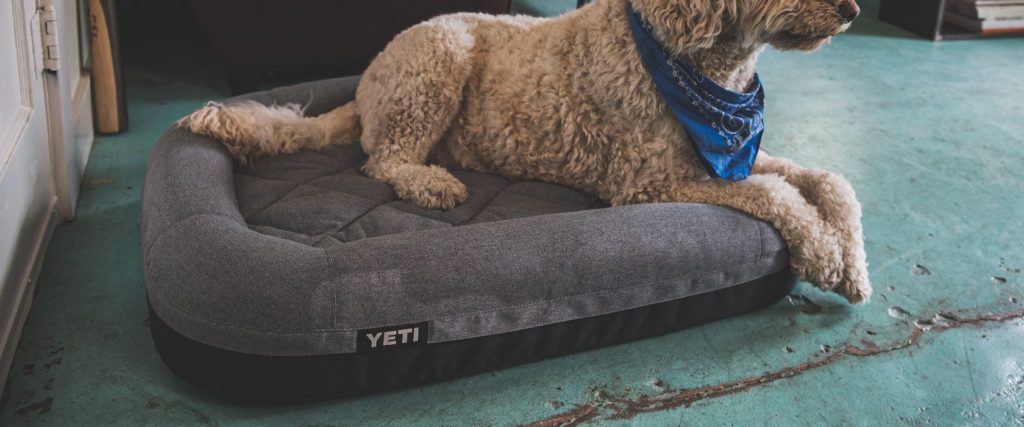 In my opinion the Trailhead is a high quality dog bed that would suit someone who is an outdoor enthusiast and likes to take their canine pal with them camping, hunting, hiking or on other outdoor adventures.
This product would be great to have the home base for lazy days at home but then grab the travel mattress and go anywhere in the field.
The waterproof base and easy to clean material makes it perfect for a pet who likes to get dirty and muddy.
For someone who just has an inside dog who doesn't go out on adventures then this bed may be overkill.
Where Can You Buy a Yeti TrailHead Dog Bed?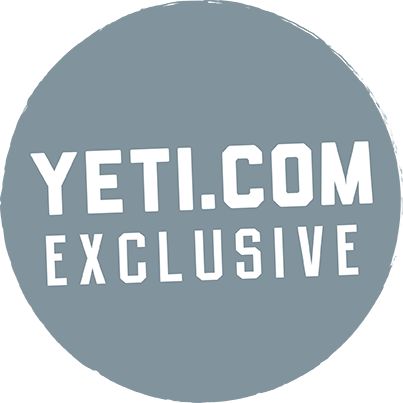 Currently the Trailhead is a Yeti.com exclusive product but I fully expect it to start popping up in stores and on Amazon in the near future as stock become more widely available and the product proves to be successful, which I have no doubt it will.
See The Yeti TailHead Dog Bed (on Yeti.com)
See The Yeti TailHead Dog Bed (on Amazon)
Other Dog Products By Yeti
This dog bed is an extension of a growing line of pet products made by Yeti. Below are some of the other pet friendly products they sell.
Yeti Boomer Dog Bowl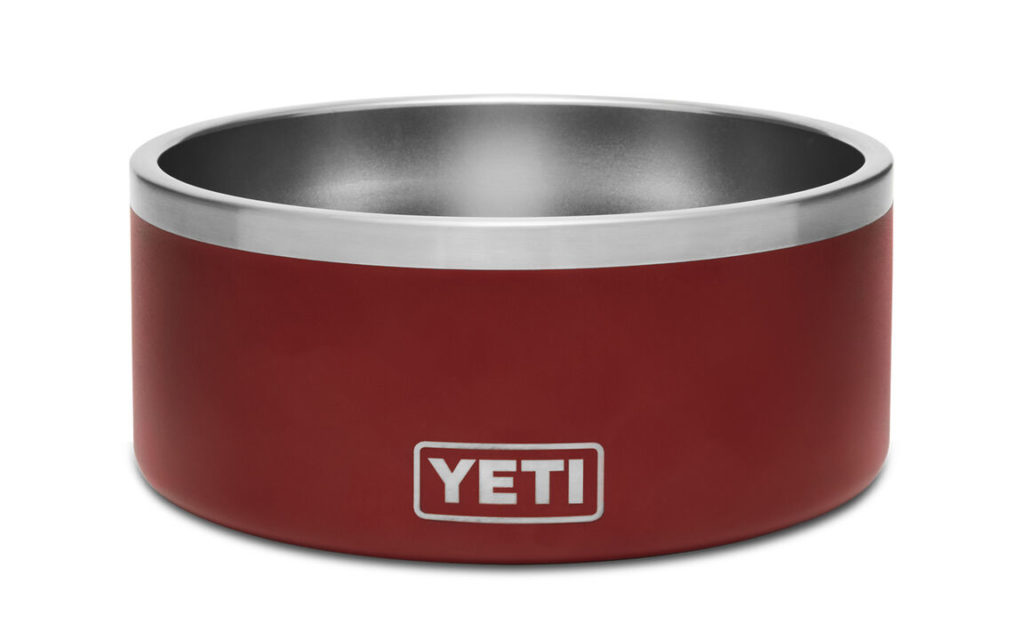 The Yeti Boomer is a double walled stainless steel dog bowl that is puncture resistant and rust proof.
It has a non-slip base so it doesn't move around and it is made to be rugged and durable. This bowl will last your dog a lifetime.
See my review of the Yeti Boomer Dog Bowl
See the latest price for the Yeti Boomer Dog Bowl (on Amazon)
Yeti Lowlands Blanket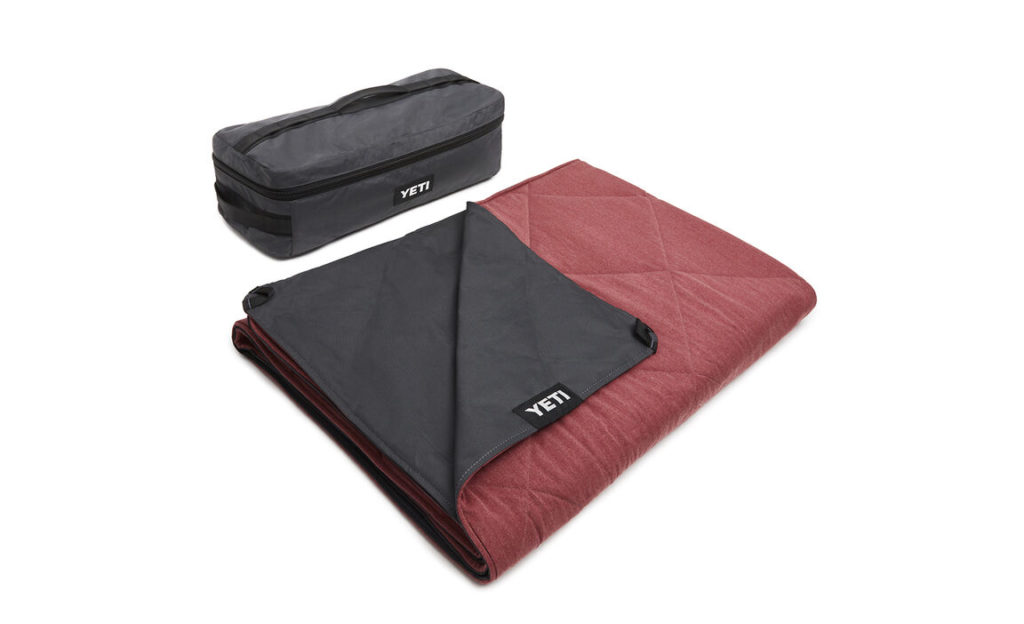 The lowlands blanket is a comfortable and large blanket that is both soft and waterproof.
It's resistant to pet hair and easy to wash and the waterproof fabric makes it perfect for use with wet or muddy dogs in the car. Throw it over a seat and off you go.
Also great for family picnics or taking to the ball game. Comes in two different colors and is machine washable.
See my review of the Yeti Lowlands Blanket
See the latest price for the Yeti Lowlands Blanket (on Amazon)