The Yeti LoadOut Bucket is 3x thicker than a regular 5-gallon bucket, almost indestructible and has a stronger and more comfortable handle. The strong plastic lid with gasket, plastic caddy and external utility belt are all great additions, but at an extra cost.
This bucket is so much better than a regular 5-gallon bucket that yes, it is worth the extra money and in this Yeti LoadOut Bucket review we'll talk about what makes it worth buying.
We will go into detail about the different features of this bucket so you can decide if it's worth your hard earned cash and we'll also look at some of the problems with this bucket and some other alternatives out there.
After reading this article you'll know exactly whether or not this bucket is worth buying for you, or if you're better off buying something else.
Why Pay $40 For a Yeti Bucket When You Can Spend Under $10?

That is the question on a lot of people's minds. Why spend so much more on…a bucket?!
But have a think about the pain points of traditional 5-gallon buckets.
The handles are thin and flimsy and prone to breaking. The grip on the handles is tiny so when the bucket is full it digs into your hands and hurts to carry.
The plastic is thin and can easily break and the way they are molded there is nowhere good to carry them on the sides. The plastic digs into your hands.
As we look over the different features of the Yeti bucket you start to see why it's worth spending a little bit extra money to get a bucket that is a lot better.
Below you can see a price comparison between the Yet Bucket and a couple of other buckets on the market, some cheap and some premium.
YETI BUCKET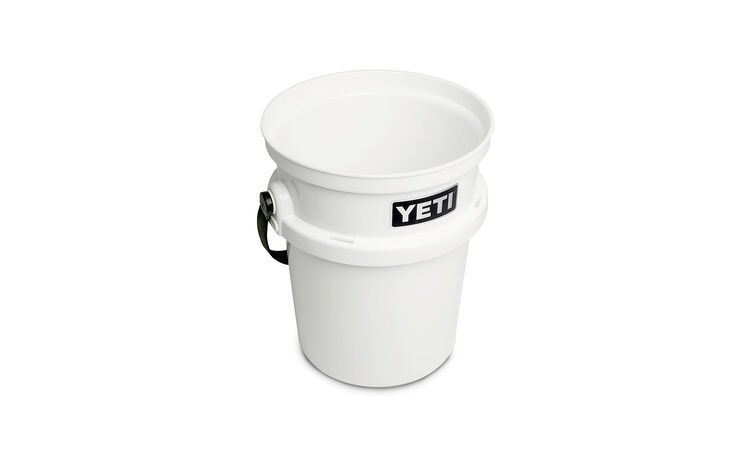 Yeti LoadOut Bucket:
---
Yeti LoadOut Lid:
---
Yeti LoadOut Caddy:
---
LoadOut Utility Belt:
OTHER BUCKETS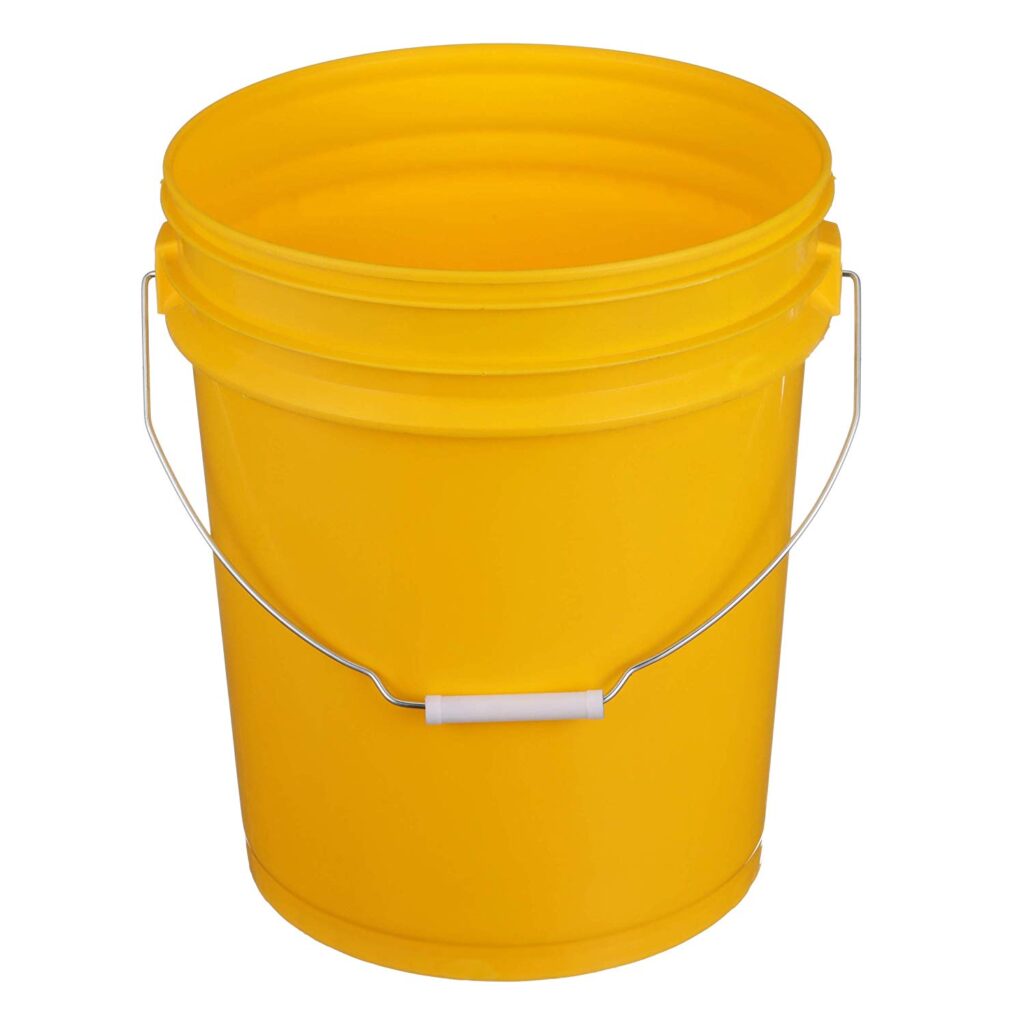 Cheap Generic Bucket:
---
Shurhold Deluxe Bucket:
---
Huck Performance Bucket:
OverEngineered: Thicker and More Durable Than a Regular Bucket
The Yeti LoadOut Bucket is made 3 times thicker than a regular bucket making it significantly stronger.
It's made from High Density Polyethelene, which is the same plastic that the nearly indestructible Yeti coolers are made from.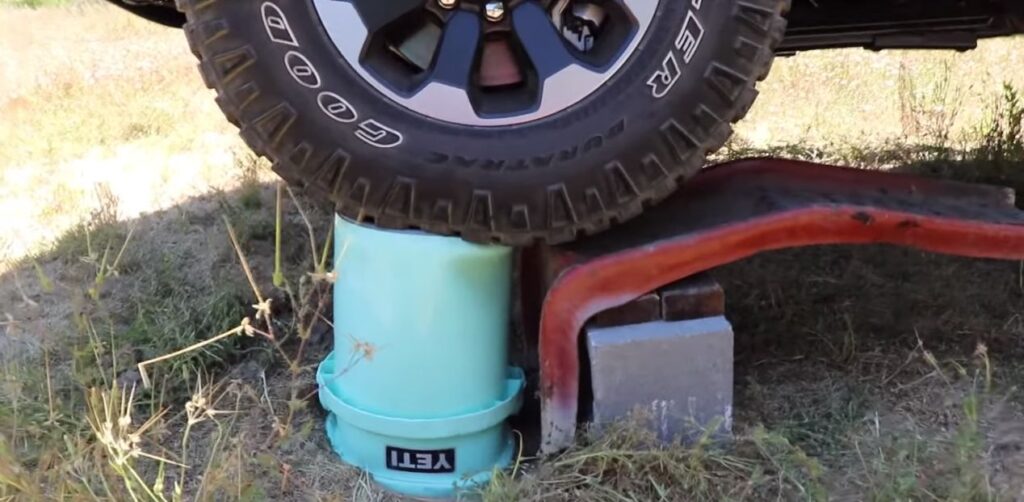 It's strong enough to hold a truck, but chances are you're not going to do that.
What the thickness gets you is a bucket that isn't going to break easily. You can throw it around, use and abuse it and even drop it when it completely full and be confident that it's not going to break.
This bucket is so unlikely to break that it'll likely last you years.
So you may spend more on a Yeti bucket now, but it'll save you buying a new bucket every 6 months and so can actually save you money in the long run.
A Handle That Won't Break or Hurt Your Hands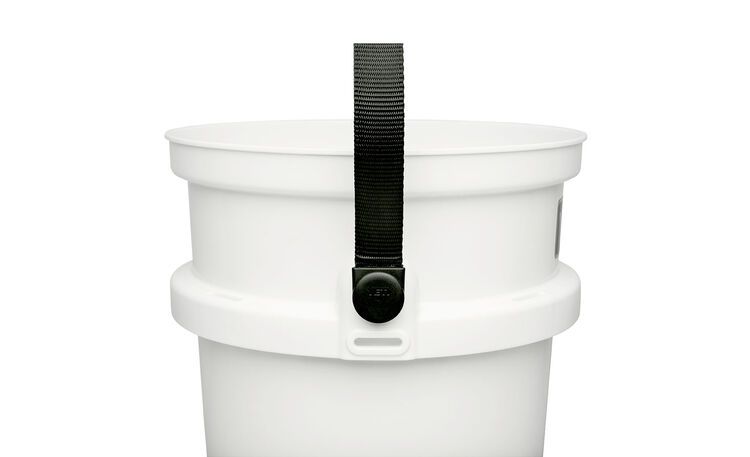 Yeti have moved away from the traditional thin metal handle with thin plastic grip that traditional buckets have and have instead included a strong canvas handle that is super strong, but also much more comfortable.
Stronger Than You Need
The canvas handle can handle (pun intended) up to 350 lbs of weight without breaking. Chances are you aren't going to be putting this much weight in your Yeti Bucket, but it's nice to know it'll be able to handle anything you throw in there.
More Comfortable Grip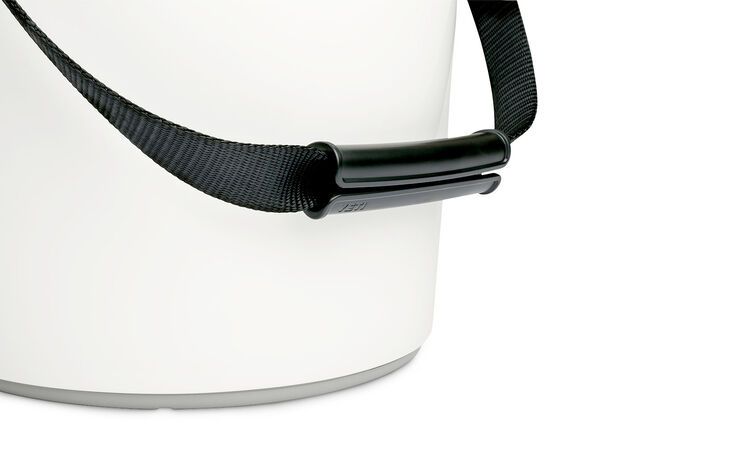 The Yeti Bucket has a larger plastic grip point that makes it easier and more comfortable to carry your bucket. No more red lines in your hands from the bucket digging into your fingers.
Tucks Away
Another benefit of the canvas handle is that you can place the handle in the bucket when travelling so it doesn't take up extra space on the side.
Won't Move, Won't Scratch: Non-Slip Rubber Base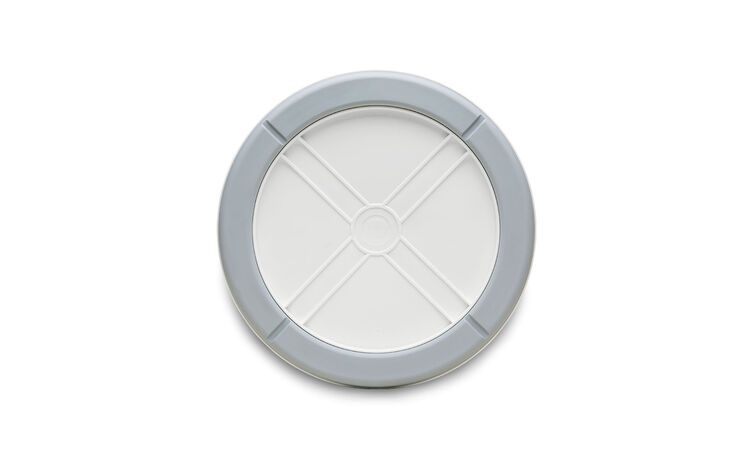 Yeti has a complete non-slip rubber ring on the base of the bucket. This is the same non-slip and non-marking rubber that is used on the Yeti coolers and I can attest to how good this rubber is.
Cheaper coolers will slide easily in your car, truck or boat which can spill contents everywhere. But also when they slide the plastic often scratches the surface the bucket is on.
The non-slip feet of the Yeti means if it does slide (which is rare) it won't slide very far or very fast. It also means that it's not going to scratch the surface you put your bucket on.
This means you can put your Yeti bucket anywhere, even the dining room table, and not worry about it scratching.
LipGrip Handle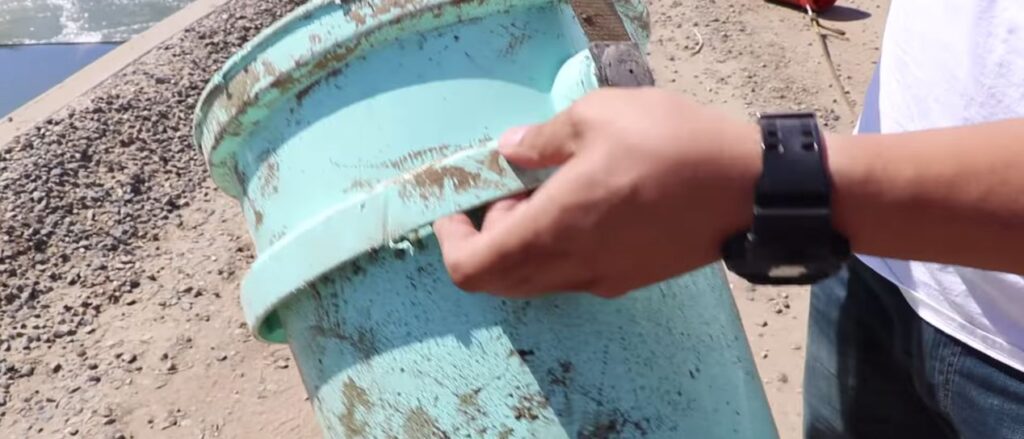 Something that is an understated bonus about the Yeti is the LipGrip handle.
If your bucket gets too heavy for a one handed carry using the strap then the LipGrip handle allows you to grab the sides comfortably without the plastic digging into your skin.
I really rate this feature and it is hardly talked about. But once you use it you won't want to go back to another bucket.
Food Safe
The Yeti LoadOut Bucket is food safe and BPA free so you're able to use it for any food products.
Tie Down Slots
There are two slots on the side of the Yeti LoadOut that you can use to tie it down so it won't move around at all.
You can use your own straps or Yeti sell a tie down kit that works with the LoadOut Bucket as well as other Yeti products like the LoadOut GoBox and Yeti Coolers.
Add Yeti Accessories
The tie down slots also double as a slot to place Yeti accessories like their cup holders, fishing rod holders and other accessory items.
The Additional Accessories Are Very Useful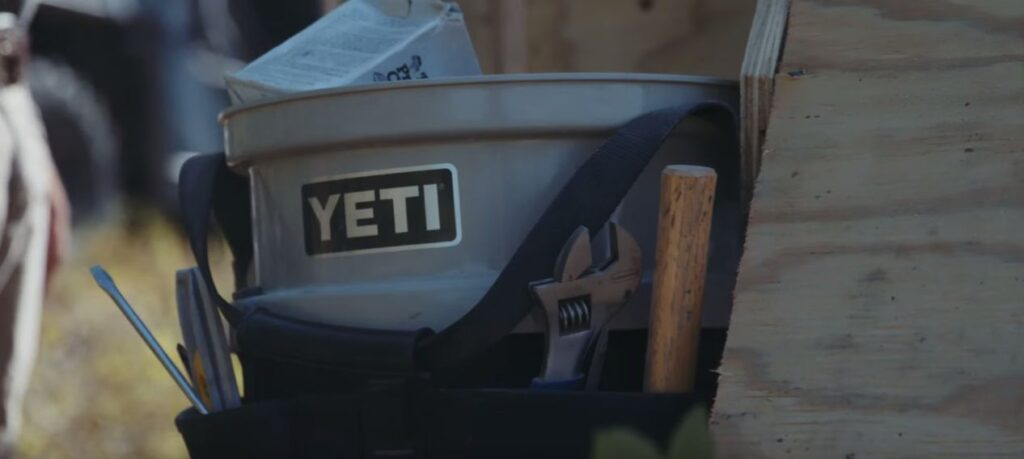 You can buy just the Yeti Bucket by itself for $40 and you're going to get something that is much better than an ordinary bucket. But for an extra cost the accessories that Yeti has for the LoadOut Bucket are hard to resist.
These accessories are sold separately, or Yeti sells them in bundles with the buckets (but with no saving on price).
Sure it would great to own all of these accessories but you need to weigh up if the extra cost is worth it for you.
Lid Seals Tight: Plus Supports Up to 300 Lbs

Yeti sells a clear reinforced lid with a gasket to keep it secured into place and to make it spill proof if you're driving around with your bucket full of water.
Clear – It's a clear lid, so you can easily see everything that inside your bucket without having to take the lid off.
Can Hold Up To 300 Lbs – The lid is reinforced with a hexagonal pattern that allows it to hold up to 300 Lbs of weight. This design also resists cracking even on extremely hot or cold days.

Dry Glide Gasket – The DryGlide gasket helps to keep the lid firmly on your bucket, but combined with the 4 finger release tab and the small hole in the lid to let air in you won't need to pry off this lid with a crowbar. It comes off quite easily.
The LoadOut Bucket Lid is built tough enough to handle whatever you throw at it and it's designed to be durable enough to last as long as your bucket does.

Yeti LoadOut Bucket Lid:
Stay Organised: Lift Out Caddy

The LoadOut Caddy is designed with 3 compartments (1 half and 2 quarters) so you can organise your stuff easily.
Sits Nicely On The Top Of Your Bucket – It has a top lip that means it sits on the top of the bucket allowing you to easily reach your smaller items.
Slide Down Handle – The handle slides down out of the way when your caddy is in your bucket, but easily slides up so you can lift your caddy out and carry it wherever it needs to go.
Built Tough – The caddy is built tough (like all Yeti products are) and is resistant to cracks and breaks meaning you can throw it around or drop it without having to worry about it splitting or cracking.
Yeti LoadOut Caddy:
Easily Access Everything You Need: Utility Belt Helps You Stay Organised

The LoadOut Utility Belt is the most expensive accessory to come with the LoadOut Bucket and it actually cost just as much as the bucket itself.
It's great for storing tools or other items on the outside of your bucket where you can easily access them.
Easy Add, Easy Remove – It fits on easily to the outside of your bucket and is held in place with strong velcro straps that run through the middle of the bucket.
Built To Last – The utility belt is designed to take a beating and be used a lot.
Quad Pockets – There are 4 main exterior pockets that are quite firm and thus will hold items quite well. Some of these pockets have extra dividers for even better storage.
Molle Webbing – Yeti's Hitchpoint Grid webbing is also able to fit and MOLLE accessory so if you already own MOLLE products you can add them to your bucket to make it even more practical.
Yeti LoadOut Utility Belt:
Backed By a 5-Year Warranty

The LoadOut Bucket is backed by Yeti's 5-Year limited warranty.
If something happens to your bucket and it breaks due to a manufacturing default then Yeti will replace it or restore it free of charge.
This doesn't cover you breaking the bucket, either accidentally or on purpose. But it's good to know that if there is an issue with the product you are covered for years.
Comes in Multiple Colors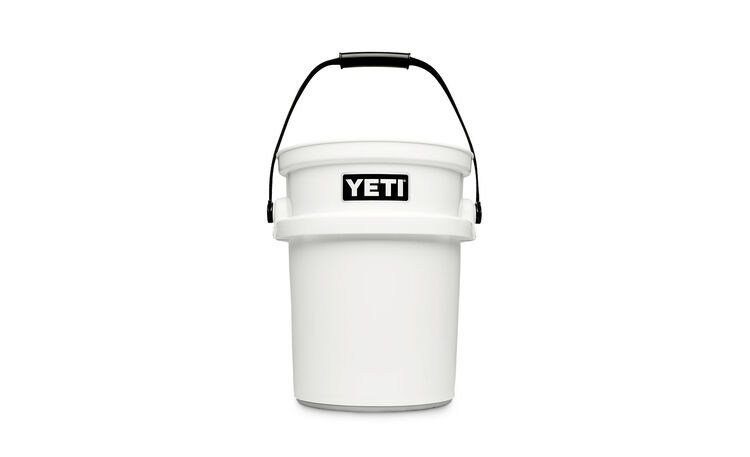 The LoadOut Bucket comes in 4 different colors so you can choose the one that best suits your styles (or best matches your Yeti Cooler).
Yeti also releases limited edition colors and from time to time will have even more color options available for their buckets.
You could pick up a River Green, Reef Blue or maybe even Pink bucket if you get it at the right time of year. To see what's available now click my Amazon affiliate link below:
See all LoadOut Bucket Color Options at Amazon
Problems with The Yeti LoadOut Bucket
In this review I've been pretty positive about the Yeti Bucket, probably overly positive if I'm honest. Clearly I am biased and love this product.
But with that said it's definitely not perfect and there are some problems with it that you should be aware of before you buy it.
1. It's Heavy

Because it's 3 times thicker than a regular 5-gallon bucket that also means it's heavier too, making it more difficult to carry.
By it's the bucket weighs 5.8 lbs (2.6 kgs) whereas a cheap 5-gallon bucket will only weigh approximately 1 lbs (0.45kgs).
If you add the accessories like the lid, caddy and utility belt then it is going to get heavier again.
2. The Accessories are Expensive
While the bucket isn't too expensive once you start adding the accessories it ends up becoming a bucket that costs over $100.
So it's very important to choose your accessories wisely, or maybe buy them one at a time so it doesn't cost you $100 right off the bat.
3. It's Not Insulated
The LoadOut Bucket doesn't have any insulation like the Yeti coolers do so it's not very good at all at keeping ice.
The thick plastic does help a little bit compared to a regular bucket, and the gasket lid helps a bit too, but you're not going to get anywhere near the ice retention of a regular Yeti cooler.
You can always add something like the Dakine Party Bucket Insulation to turn your LoadOut into a cooler, but again that will come at an extra cost.
4. It's Not as Strong as a Cooler
While it's way stronger than a regular 5-gallon bucket it's still not quite as strong as a cooler.
Yeti coolers have 2 layers of thick plastic (the inside and outside of the shell) as well as pressure injected insulation that sets hard adding extra strength.
But it takes a lot to break the Yeti Bucket, like shooting it with a can or driving a truck over it.
Price Combinations
There are 8 different combinations and ways to make up your Yeti bucket. The least expensive is obviously the bucket by itself and the most expensive is the bucket with all 3 accessories.
Bucket By Itself:
Lid:
Caddy:
Utility Belt:
Alternatives To The Yeti LoadOut Bucket
Yeti isn't the only premium 5-Gallon bucket option out there and there are other competitors in the market offering something better than your cheap standard option
Huck Performance Bucket: The Most Expensive Bucket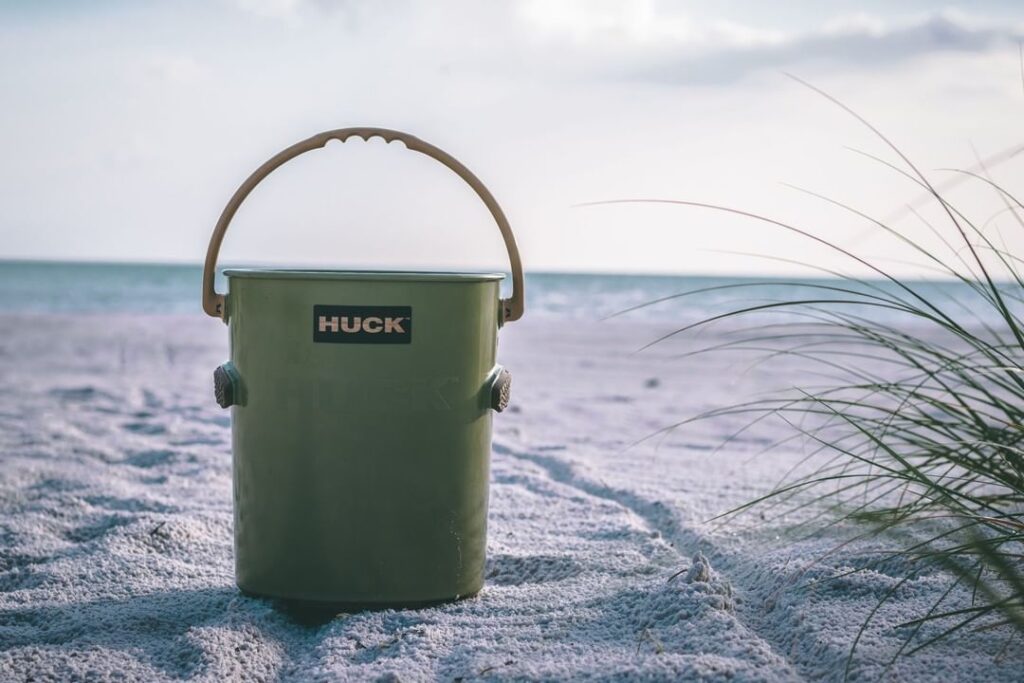 If you thought $40 was a lot to pay then the Huck Performance Bucket is going to give you a shock!
At over $100 this is the most premium bucket on the market and has come cool features to boot.
It's made from SpryTech plastic, which is a unique blend of polymers and is tested to hold up to 600 lbs of weight. It is thicker than a normal bucket, has non slip feet as well as finger moulded handles for extra comfort.
It won't stick together when stacked as has two grippy side handles for easy carrying.
Huck Performance 5-Gallon Bucket:
Shurhold Bucket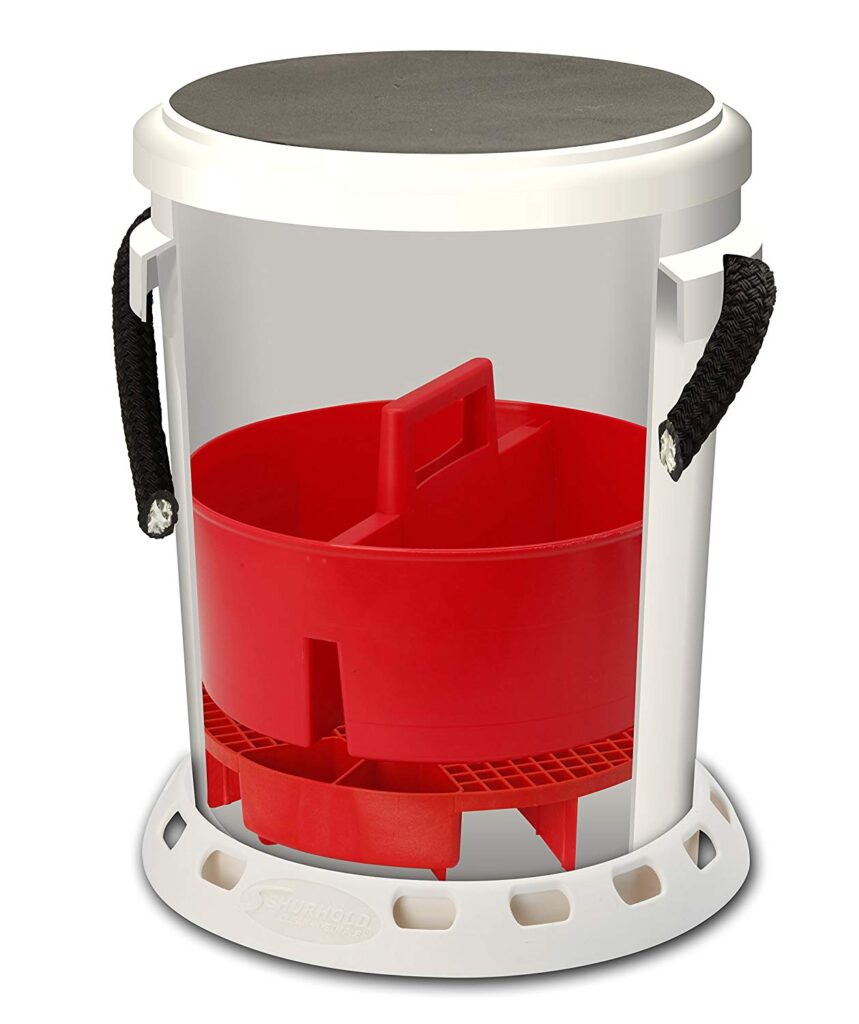 The Shurhold Bucket is a pretty standard 5-gallon bucket but instead of the flimsy metal handle it has a thick and strong 3/4 inch nylon rope handle that won't rust or break.
You can buy just the bucket for approximately half the price of a Yeti or they have some really cool accessories for their bucket.
Bucket Base: Soft and pliable plastic that grips to the ground and keeps the bucket in place.
Bucket Seat Lid: A click on lid to secure your items but that is cushioned for comfortable sitting.
Perforated Caddy: Caddy that slides to the bottom of the bucket and helps you stay organised.
Bucket Grate: Goes in the bottom of the bucket to keep items out of the dirt. Also has a measuring cup so you know how much soap to use.
Shurhold Bucket:
Shurhold Bucket + All Accessories:
Yeti Tank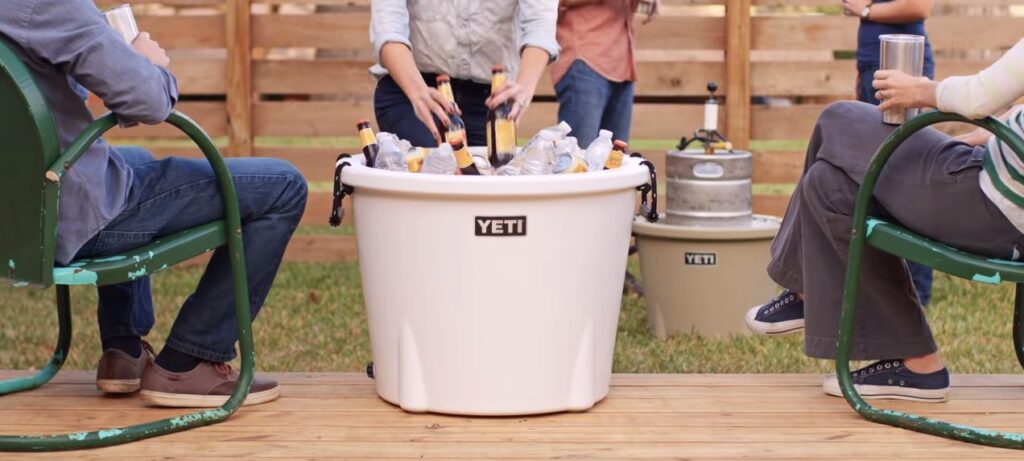 Not exactly a 5-gallon bucket but the Yeti Tank is a drink cooler that is round like the LoadOut Bucket but has thick insulation to keep ice longer.
The LoadOut Bucket isn't a cooler as it doesn't have insulation but the Yeti Tank will keep ice for days and it won't sweat and drip water everywhere like a traditional drink bucket.
Click here to read my full Yeti Tank review
Yeti Tank 45:
Yeti Tank 85:
The Last Bucket You Will Ever Buy

The Yeti LoadOut Bucket is arguably the best 5-gallon bucket currently on the market. It's more expensive than a regular 5-gallon bucket but it's also a lot better for the reasons mentioned above.
If you want to see more customer reviews of the Yeti LoadOut Bucket or buy one yourself then Amazon has hundreds of customer reviews (they constantly rate it highly) and they have all the different color options available.
To see the customer reviews, latest prices or to buy a LoadOut Bucket yourself click my affiliate link below:
Click here to see the latest price for the Yeti LoadOut Bucket at Amazon