The Dakine Party Bucket is an innovative product that allows you to turn any standard 5-gallon bucket into a cooler plus drinks caddy. It's got some pretty interesting and practical features and it comes at quite an affordable price.
See the latest price for the Dakine Party Bucket at Amazon
Turn Your 5-Gallon Bucket Into A Cooler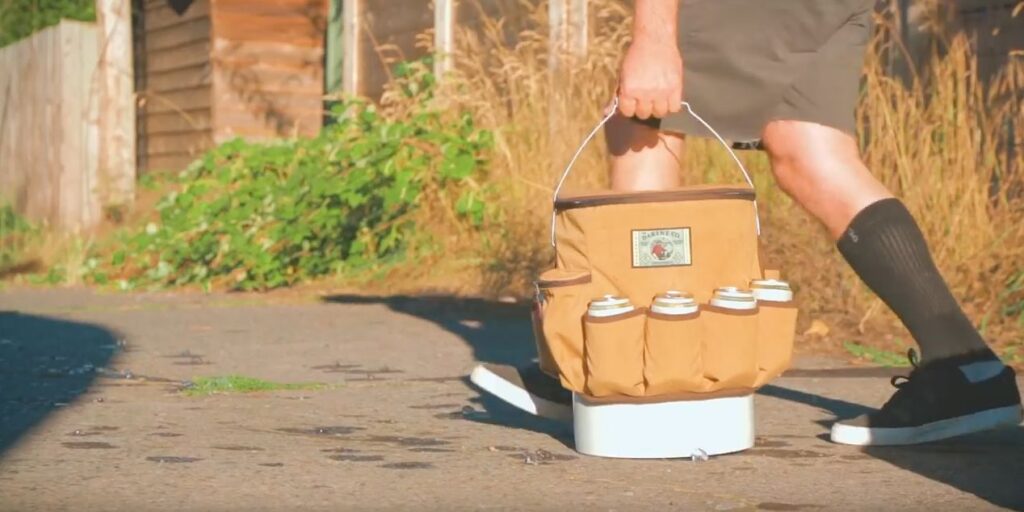 The idea behind the Dakine Party Bucket is simple – turn any 5-gallon bucket into a cooler and practical drink carrier.
The Dakine simply slides into your bucket and fits perfectly inside and is held in place by it's shape as well as the items you put in it.
The main compartment is insulated allowing you to keep ice longer, keep your drinks colder longer and it also has the added benefit that it stops the exterior of the bucket from sweating as much so water won't drip on the floor.
The insulation isn't extremely thick and the performance will be nowhere near as good as a fully insulated round cooler like the KULA (see Kula review) but it should keep ice for most of the day.
Perfect for a backyard party, BBQ, picnic or day at the beach or on the boat.
An Affordable Price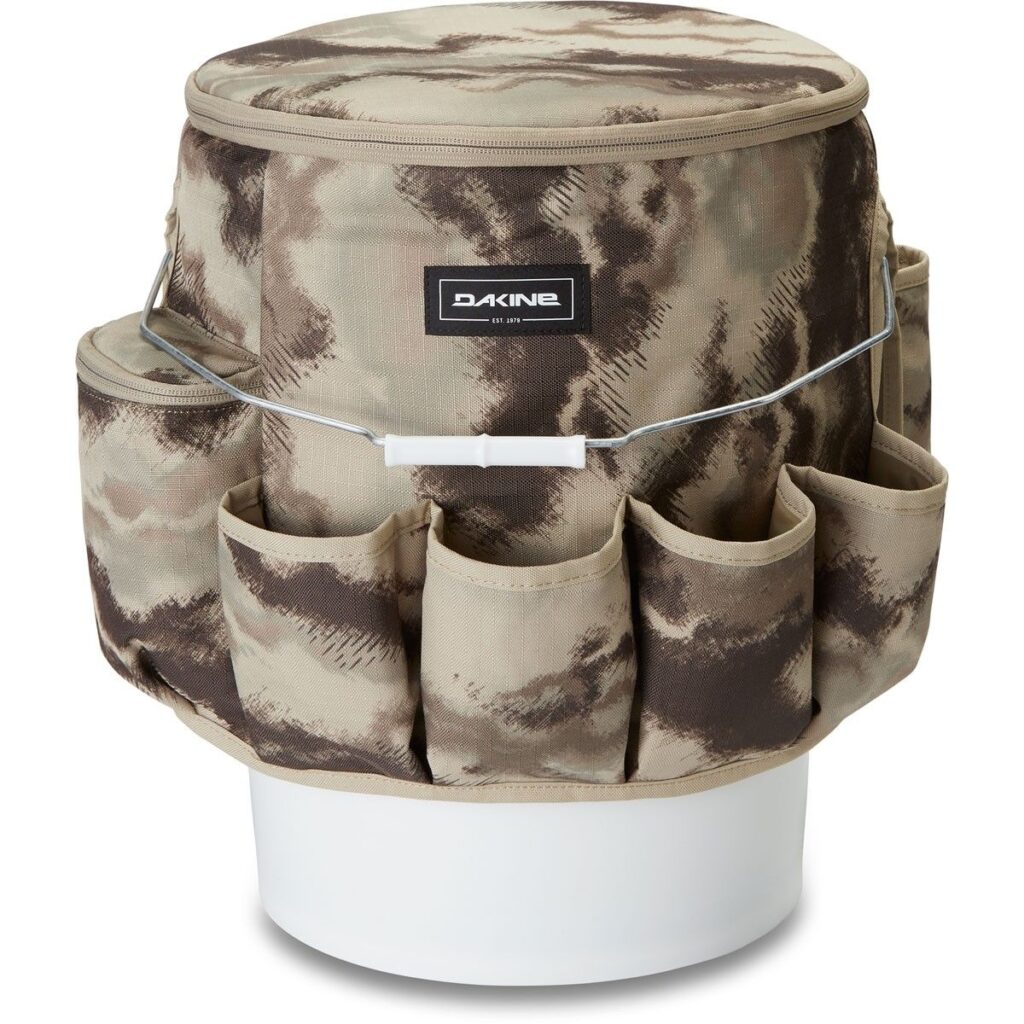 The Party Bucket isn't something that is going to break the bank and given all the features offered it sells for quite an affordable price.
The manufacturers website sells it for around $40-$60 but I have found that, depending on the style, some options on Amazon can run as low are around $25.
Most color options are in the $40-$50 range so assuming you've already got a 5-Gallon bucket it's not a great deal of money to spend for what you get.
To see the latest price and details click my Amazon affiliate links below:
Dakine Party Bucket Camo:
Dakine Party Bucket Palm:
Dakine Party Bucket Pink:
See other color options at Amazon
You would also need to buy your own 5-gallon bucket if you don't have one already but they are quite affordable on Amazon. You could get a cheap generic one or you could get the slightly more expensive but much better Yeti Loadout Bucket.
Pricing for generic buckets and Yeti buckets can be seen below at Amazon:
Generic 5-Gallon Bucket:
Yeti LoadOut 5-Gallon Bucket:
Zip Top Lid

The lid of the party bucket can be completely zipped closed.
This helps to keep ice longer as it's not exposed to the outside air and it also makes it less likely to leak or splash as you carry it.
The Zipper isn't waterproof like the zipper on the Yeti BackFlip or similar soft sided coolers so it won't keep all water out, but it will keep most water from wetting you when carrying your bucket.
Top Pocket For Dry Food Storage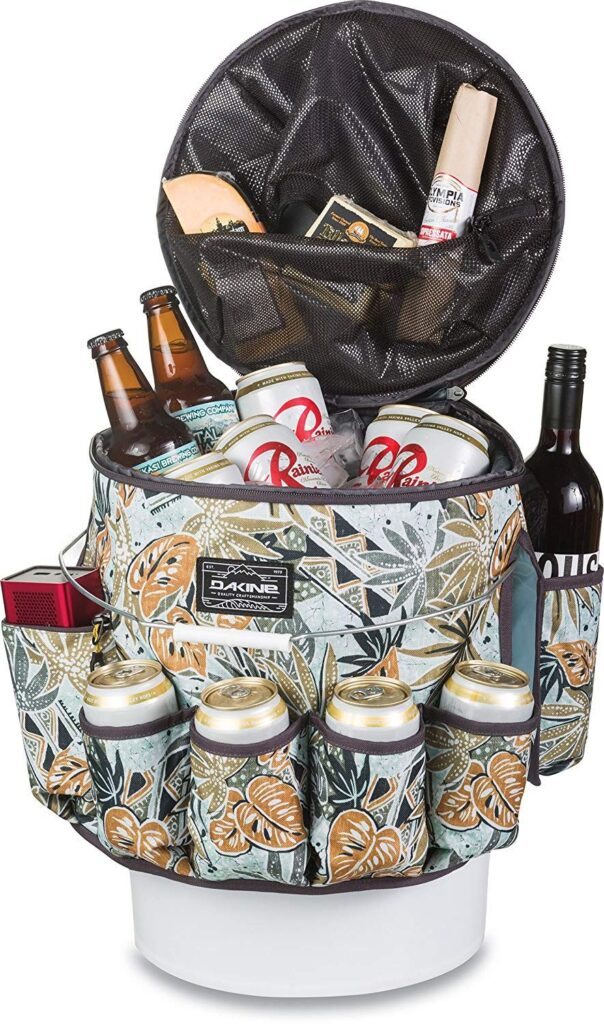 On the underside of the top lid is a mesh storage pouch perfect for storage food and items you want to keep cool but that you don't want to get wet.
The pouch keeps the items elevated away from the ice/water and is easily accessible simply by opening the lid.
10 Drink External Caddy
The exterior of the Party Bucket has 10 different storage pouches for drinks or other items.
It has 8 koozies for your cans or bottles of beer as well as a larger insulated wine bottle holder.
There is also a separate zipper pocket on the side that you can use for items like you cell phone, wallet, keys or any other loose items or it can also double as a second wine bottle holder.
Built In Bottle Opener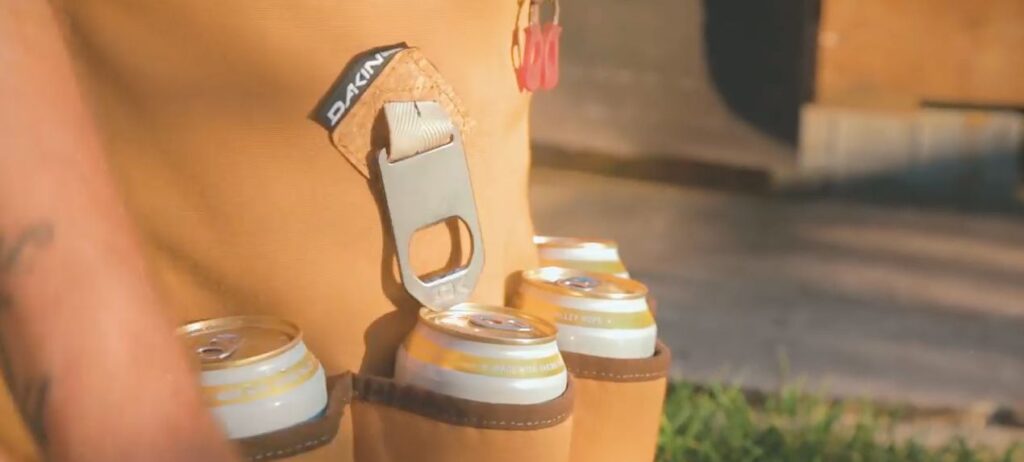 There is a built in bottle opener attached to the side of the Party Bucket so you never have to go hunting for a bottle opener again as you'll always have one with you.
Easy Drain Mesh Bottom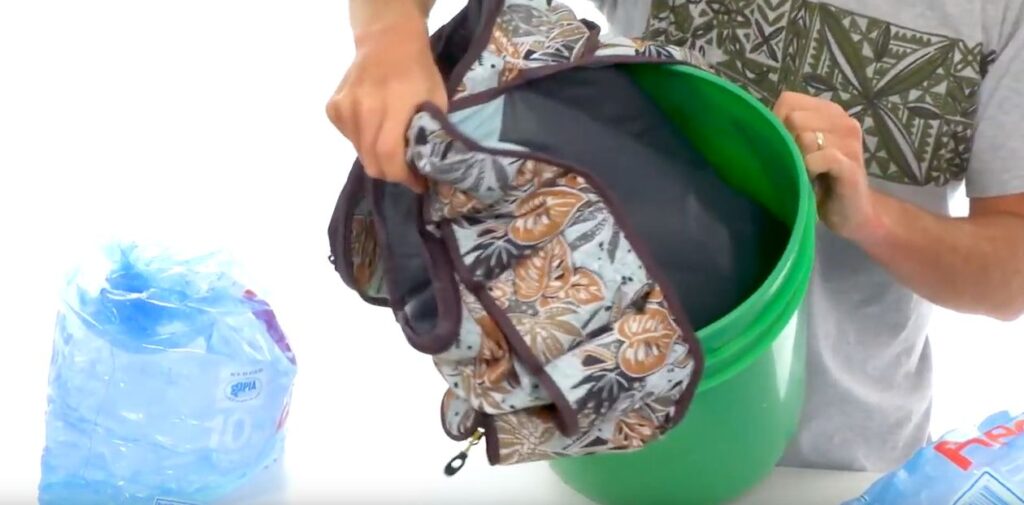 The bottom of the party bucket is made of mesh. This allows water to drain out the bottom as you lift the party bucket material off your 5-gallon bucket.
You can then use the 5-gallon bucket to empty the water but all your items will still be left inside the Dakine.
This bottom mesh also makes it easier to dry out when you've finished using it as water won't pool inside keeping it wet.
So Many Different Color Options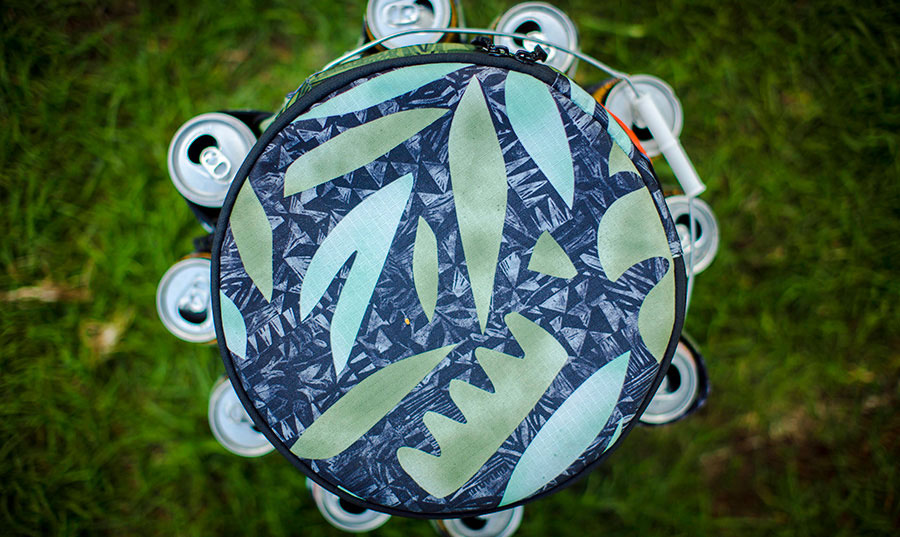 There are many many different cooler options – everything from a simple black or green color to other fancy blue or pink palm tree patterns.
Whatever your style or vibe you can find a pattern to suit you.
Easy Storage When Not In Use
One of the downsides of owning a dedicated cooler is that it can only really be used for one thing and when not in use it is big and bulky to pack away.
The Dakine Party Bucket can be folded and put away for easy storage and then you can use your 5-gallon bucket for work, fishing, storage or whatever you want.
Limited Lifetime Warranty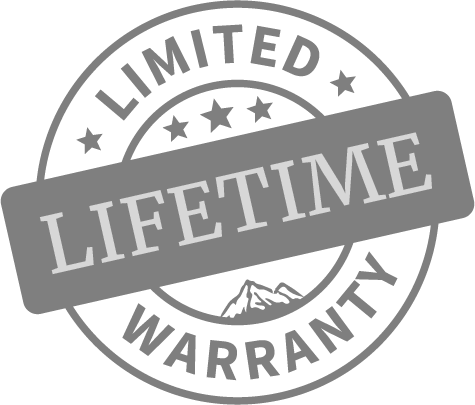 Surprisingly the party bucket comes with a limited lifetime warranty. For such an affordable item and especially an item that is made of material and not roto-molded plastic this is a nice add on to give you the security of your purchase.
Combine It With A Yeti LoadOut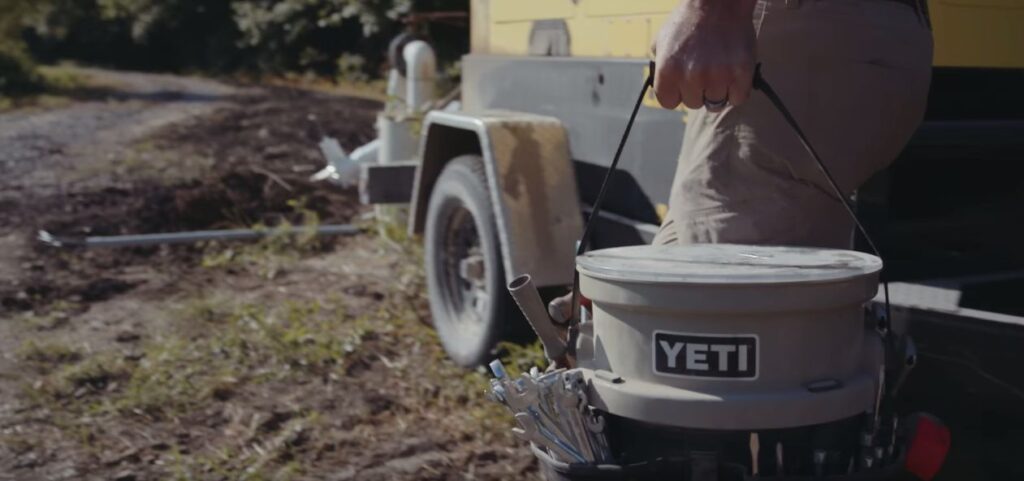 The Yeti LoadOut Bucket is arguably the best 5-Gallon bucket on the market and unlike other Yeti products it's not going to break the bank. See my Yeti LoadOut Bucket Review.
The LoadOut Bucket isn't insulated at all so while it's a great product it's not very good at keeping ice like other Yeti products.
If you add the Dakine Party Bucket you can then use your Yeti bucket as a cooler. It's not going to last anywhere near as long as the Yeti Tank or the other best round coolers, but it should give you about half a day's ice retention.
See the latest price of Yeti LoadOut Bucket on Amazon
Who Should Buy a Dakine Party Bucket?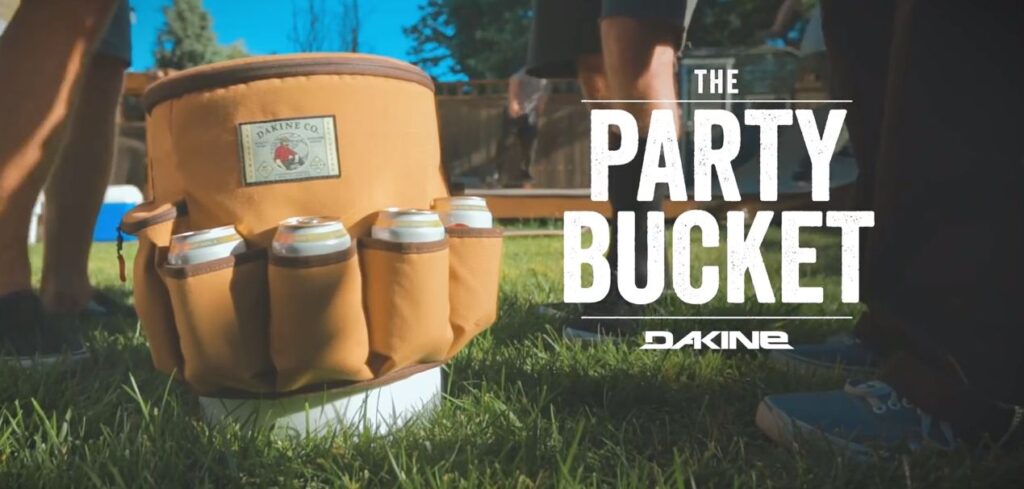 The Dakine party bucket isn't for everyone and it isn't the perfect cooler solution.
If you're someone who already had a 5-gallon bucket and want to use it to keep drinks cold then this is a good affordable option to make use of that.
It could also suit someone who wants a cooler for a party or the beach but one that has a lot of storage options.
The exterior pouches of the Party Bucket can be used to storage cans of drink but they can also be used to store other items.
It's also good for people who don't need a dedicated cooler because they won't use it enough. This will pack away when not in use and then can easily come out and convert your bucket into a cooler when you need it.
This cooler isn't for you if you're looking for maximum ice retention. The insulation is thin and it will likely only keep ice for a maximum of 1 day.
Where To Buy The Dakine Party Bucket
You can purchase the Dakine Party Bucket from the manufacturer's website but it only comes in a single color from what I can see.
It would also be available in stores selling other Dakine bags, clothing and other products.
Probably the easiest and cheapest place to buy the Party Bucket though is from Amazon.
Dakine Party Bucket Camo: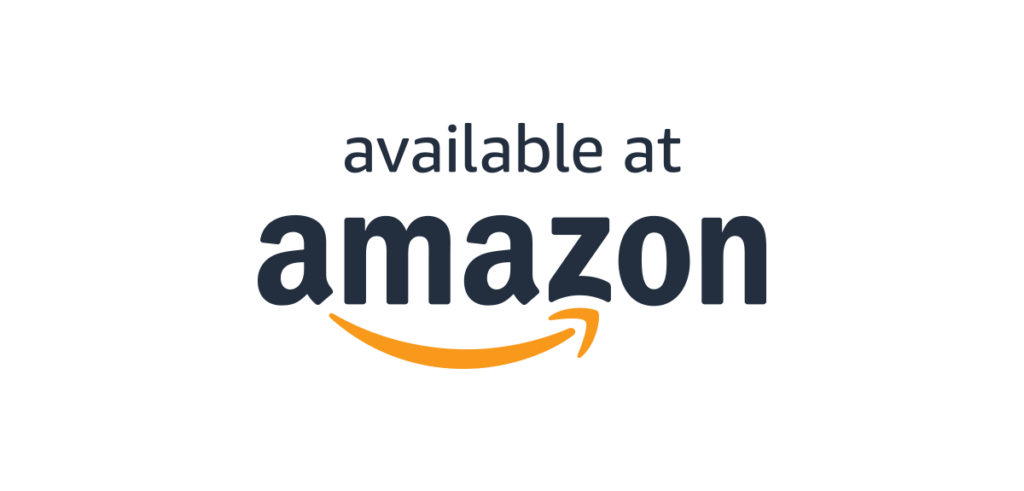 From my research Amazon has the cheapest prices and the most color options. Make sure you look through the difference color options as some colors are quite a bit cheaper than other colors.
To see the latest price of the Dakine Party Bucket on Amazon simply click my affiliate link below.
See latest price for Dakine Party Bucket on Amazon
KULA: Another Round Cooler Option

If you're looking for something a bit more substantial than the Dakine then KULA have a 5-gallon cooler bucket that is roto-molded and fully insulated.
It can keep ice for approximately 3 days, has a freezer grade gasket, pull down rubber latch and even a padded seat for comfort.
It also has a drainage plug, non-slip feet and a strong metal handle with a cushion grip.
The 2.5-Gallon version also comes with a built in tap so you can use it as a drinks dispenser.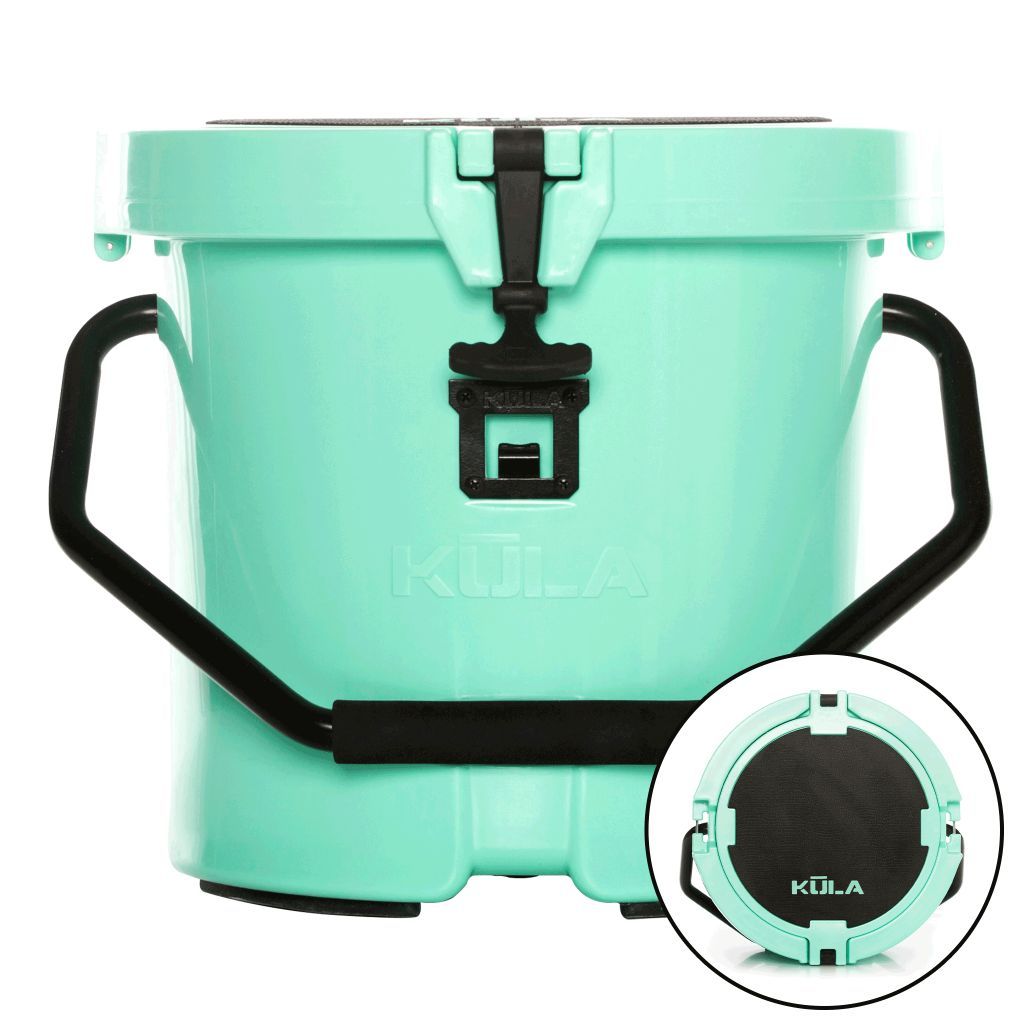 This is one of the best round coolers out there and well worth a look.
Kula 5-Gallon:
Kula 2.5-Gallon: