The Yeti LoadOut GoBox 30 is a brand new dry box from Yeti that is great for storing your gear and keeping it organised and it's built to last. But is it worth the hefty price tag?
The Yeti LoadOut GoBox is expensive, but worth it if you can afford it. It is waterproof, dustproof, extremely durable and it stores a surprising amount of gear. The pack attic lid organiser plus caddy and diving tray make it easy to keep everything organized. It's time to throw away your cheap plastic containers because the GoBox is so much better.
Yeti LoadOut GoBox 30L:
In this Yeti LoadOut GoBox Review we'll look in detail at the GoBox, it's features, it's build quality, how much you can fit in there and if it's worth your hard earned money or if you'd be better off with another solution.
Better Than Expected At Storing Gear

The GoBox is designed for storing gear and if you're going to be spending some serious money on this product you need to make sure that it stores gear well.
The feedback I keep hearing about the Yeti GoBox is that it is better than expected at storing gear and that it can handle more gear than you realise just by looking at it.
Large and Versatile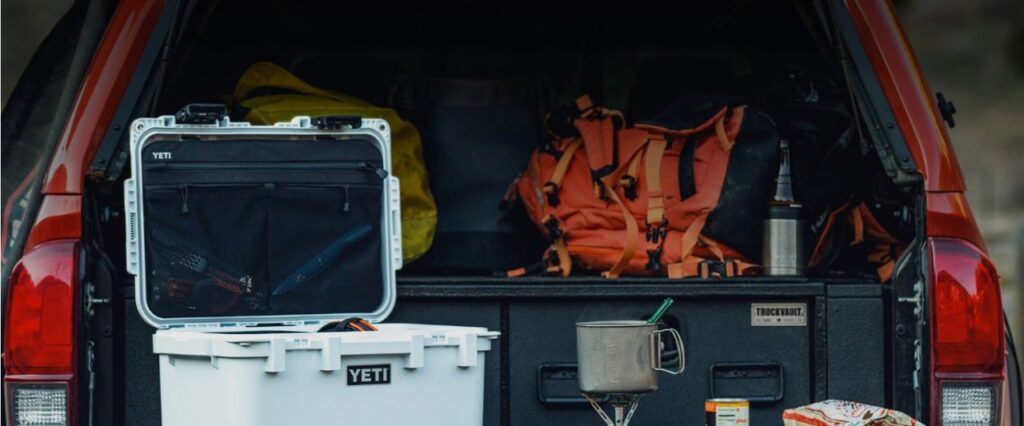 The GoBox is proving to be an extremely versatile storage box and people are finding it useful for storing so many different things.
Fishers are finding in useful for organising their tackles and everything they need with the changing seasons and differing gear.
All types of hunters use it for storing shells, gun oil, gun maintenance kits and gloves. Rock climbers are using it for storing ropes and carabiners and everyone seems to also store snacks in there too.
The 30 Liter capacity is more than enough for most people to find useful. It seems like an underwhelming amount of storage when you look at it online but this thing just swallows equipment and often you'll find it has even more storage space than you need.
Pack Attic Lid Organiser Gives You 3 Storages Pockets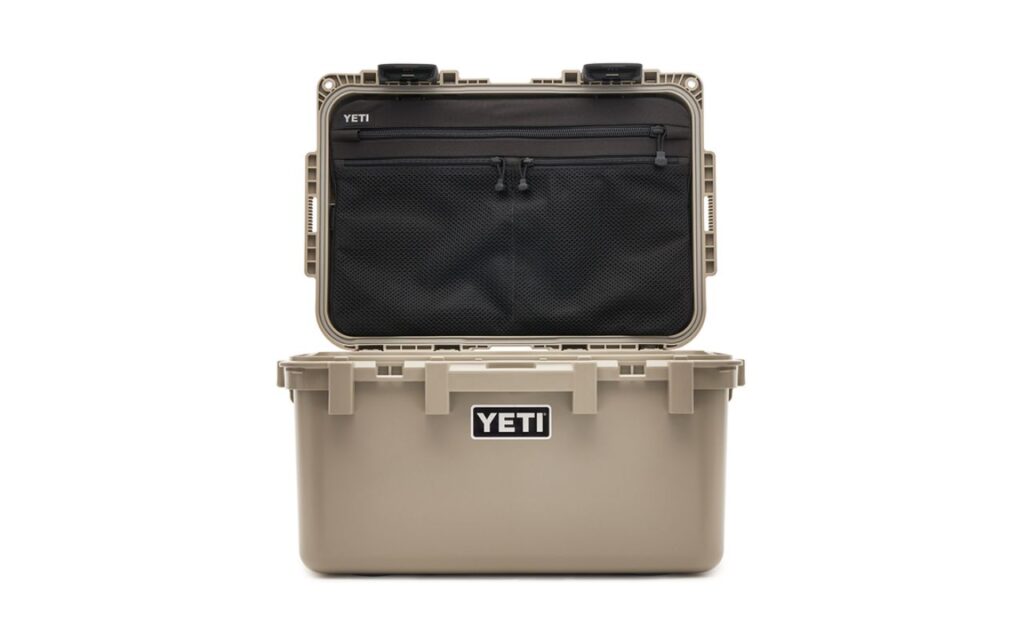 When you open the lid of the GoBox you have what Yeti are calling a Pack Attic. There are 3 mesh pockets for storing different items.
You have two smaller and see through mesh pockets at the front and you have a larger mesh pocket at the back.
The entire pack attic is velcroed onto the lid so if you did want to remove it then you can. But this thing is so useful chances are you'll never want to take it out.
Storage Caddy Perfect For Smaller Items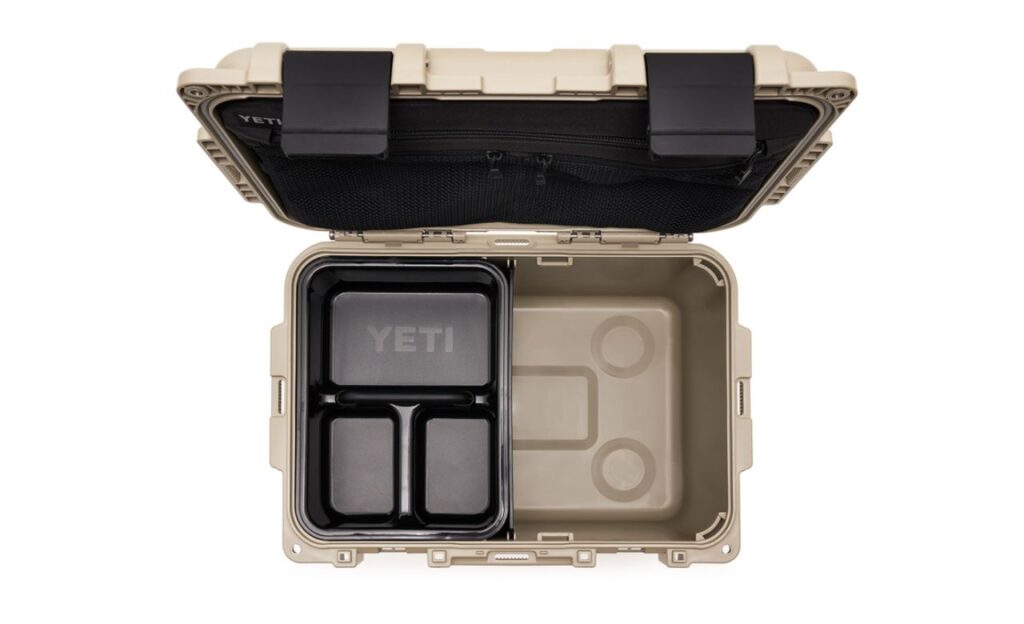 The smaller items (that you usually have to dig for at the bottom of your box) can now go in the storage caddy.
The storage caddy is designed so it cradles into the top of your GoBox so you can still store items underneath it.
People use it to store lot of different smaller items from tackles to snacks to gun oil and it's even perfectly sized to fit a Yeti 10oz Lowball cup.
Divider Allows You To Keep Things Separate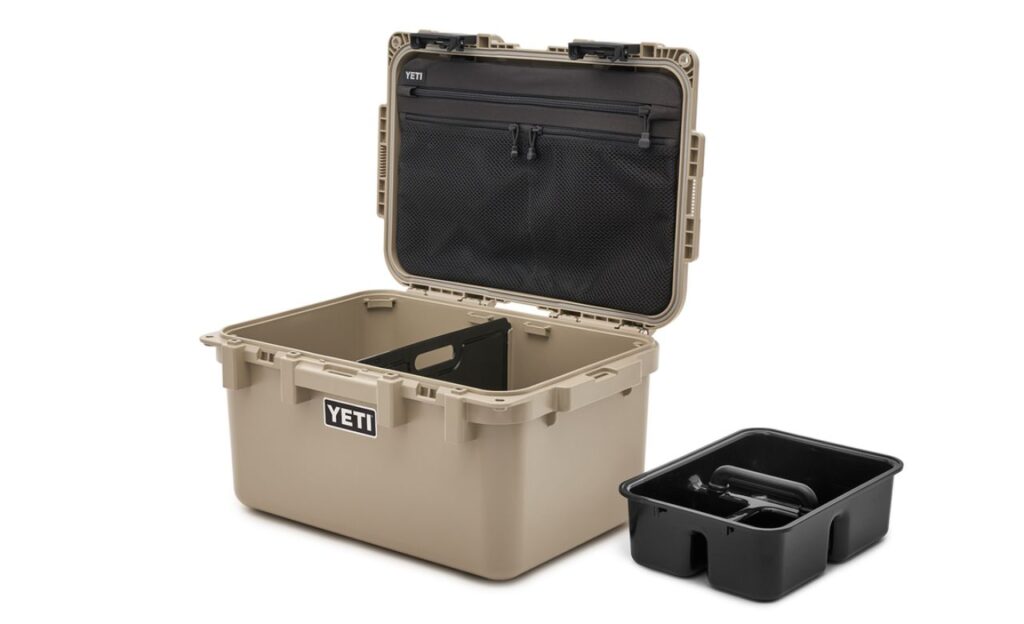 The divider cuts the main compartment in half allowing you to have even more organisation.
It is removable if you need to store larger items and it also doubles as a cutting board if you need to do any food prep.
Crazy Good At Keeping Things Organised
While none of these features are completely revolutionary, having them all combined makes a surprisingly useful storage box.
Once you start using the GoBox you'll wonder how you survived without it and chances are you'll want to buy a second one (though you might not be able to afford it).
Built Tough, Won't Break, Lasts a Lifetime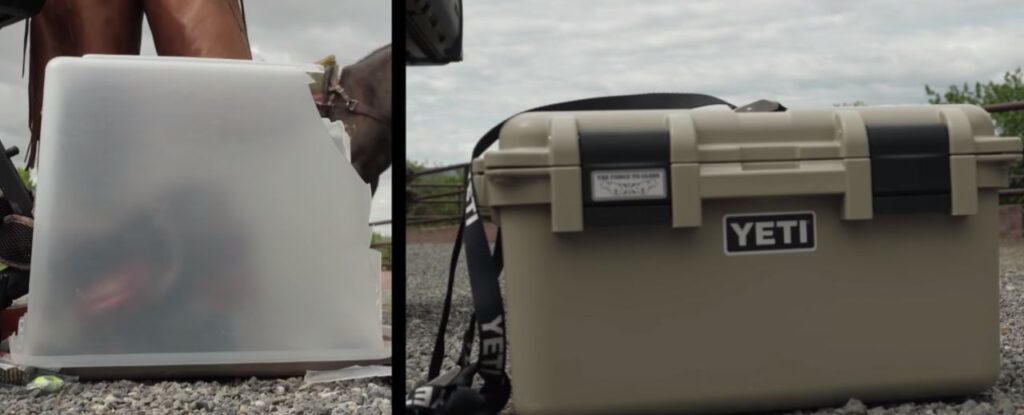 The GoBox is built using the same roto-molded plastic that a Yeti cooler is made out of.
This is the same plastic they use to make things like kayaks and it's built so tough that it won't break and will last you a lifetime.
Traditional plastic storage boxes are fine for storing things but they can easily break if you drop them or if you stack too many things on top of them and you definitely cannot stand on them.
Nearly Unbreakable
The GoBox can handle anything you throw at it and it'll bounce back and won't break. You'll literally need to take to this with an axe or a sledgehammer if you want a chance of breaking it.
While other storage boxes may be cheaper than this one of the major benefits of the GoBox, along with all Yeti products, is that you'll only have to buy this once and it'll likely last you your entire lifetime. You won't have to buy a new one because it broke.
So even though on the surface they may seem expensive, because you never have to update them they do offer great value for money.
Water Proof and Dust Proof

The GoBox has an internal rubber gasket that makes it waterproof and dust proof.
So if it falls off a boat or you drop it in the river or if you're out in the rain all your gear inside is going to be completely safe.
Lock Down Latches – Easy Open, Slam Closed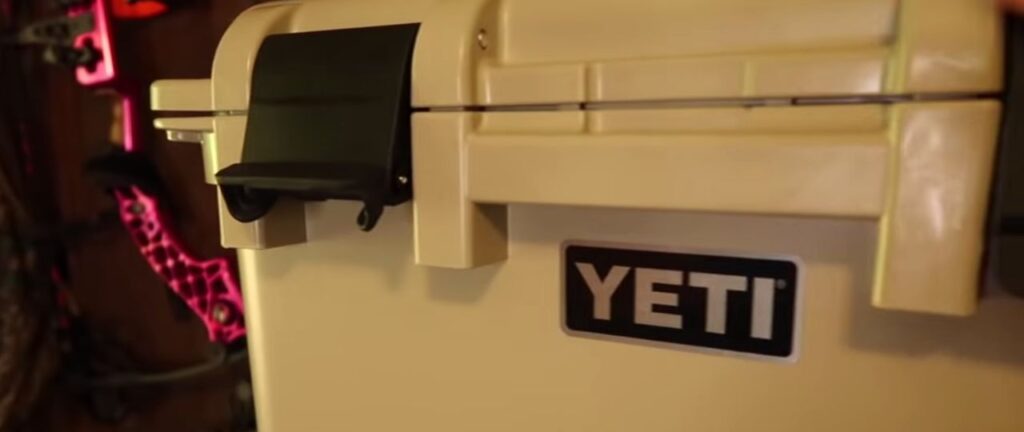 The plastic latches provide a firm grip for the lid so it's never going to pop open by itself and spill items all through your car or the back of your truck.
The latches are pretty easy to pop open when you need to access your GoBox and to close them just give them a decent whack and they click into place.
It's actually quite satisfying to hit them closed and feel them click into place.
Built In Side Handles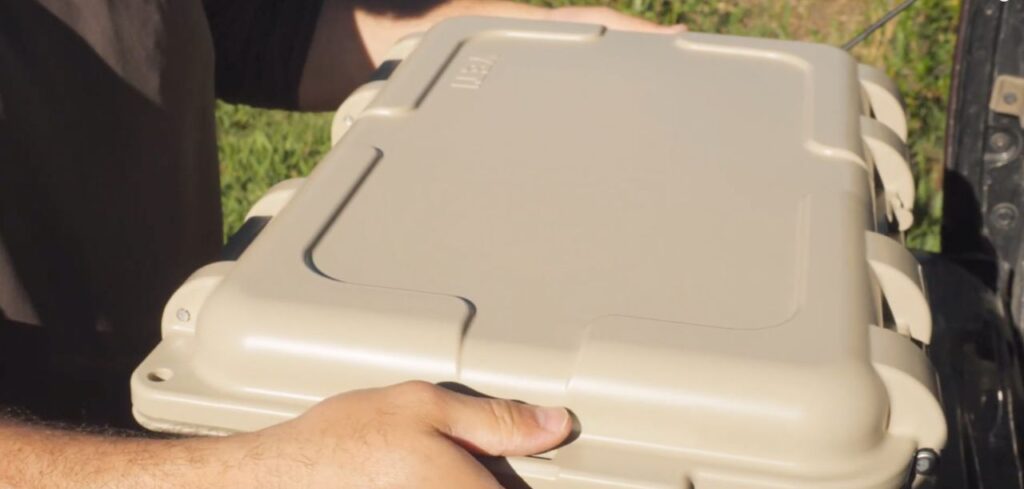 The GoBox has built in side handles that make it easy to carry. Because the handles are molded into the main body of the cooler you don't have to worry about them ever breaking.
Having a rotating center padded stainless steel handle like the Yeti Roadie would have been good as you could have been able to carry this one handed, but unfortunately that isn't an option.
Non-Slip Rubber Feet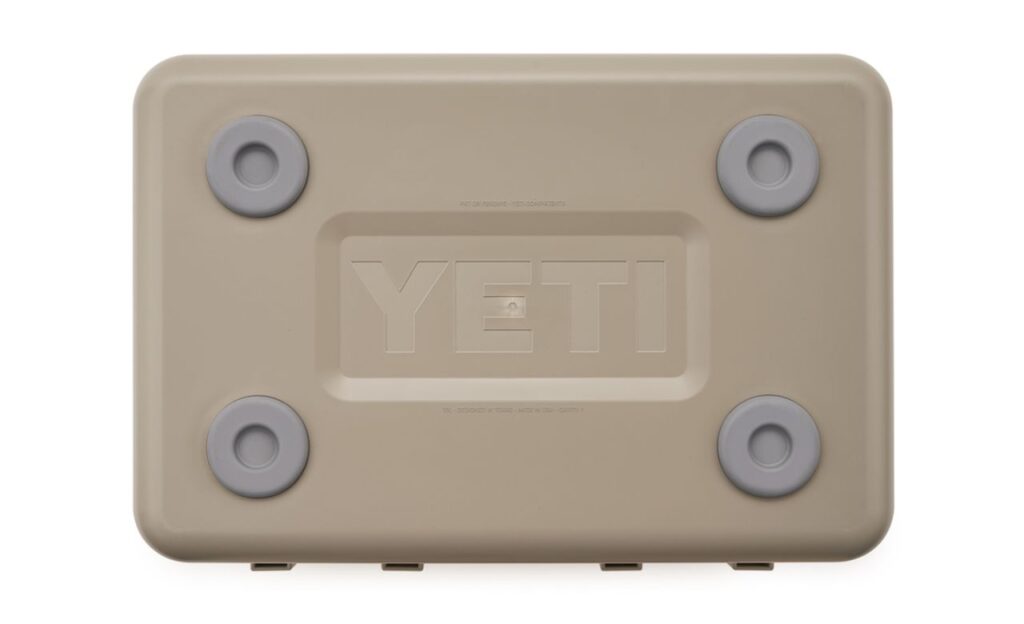 Just like the Yeti coolers the GoBox has non-slip and non-marking rubber feet that make the box really hard to slide along the ground.
This means it's not going to go banging around the back of your car or truck while turning corners and you can put it on the deck of your boat without having to worry about it sliding off with the smallest slant.
Neverfail Hinge System
The lid is attached to the main body of the GoBox with Yeti's Neverfail hinge system.
This hinge is molded directly into the body/lid of the cooler which are then connected to each other with stainless steel rods. This makes them super strong and means they aren't prone to breaking nor are they prone to sun damage.
Lockable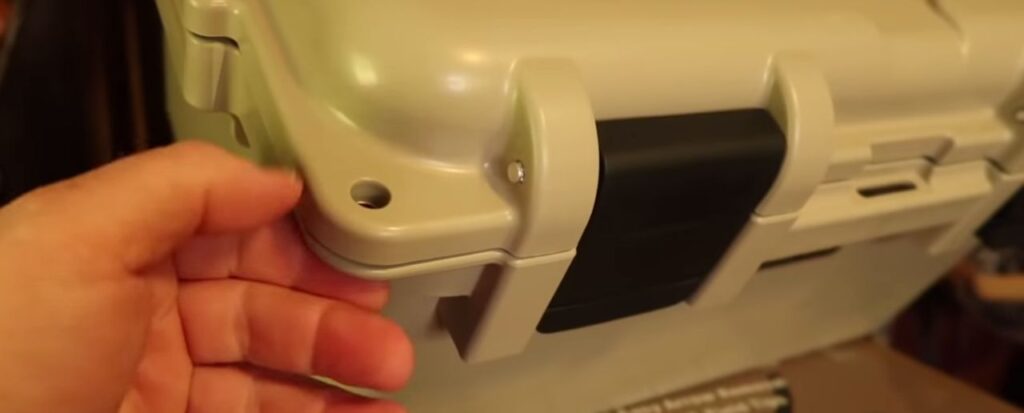 The GoBox is completely lockable. The two front corners have holes in them where you can use a padlock to lock down the lid some no one can pinch your gear.
Combine this with tie down slots that can run through the main body of the cooler but not the lid and its possible to fully secure your LoadOut GoBox and make it almost unsealable.
Tie Down Latches

The GoBox has tie down latches on the side so you can strap it down but still be able to open the lid or it has grooves in the lid so you can strap it down tight in such a way that no one can get inside the lid.
Stackable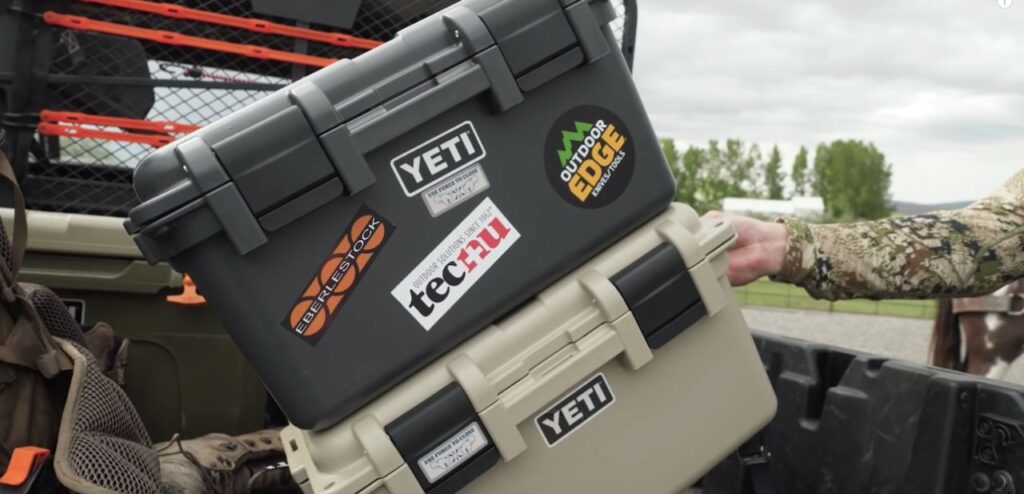 If you decide that these are so good at storing gear that you want to own two or more of them then they are designed to neatly stack on top of each other.
5 Year Warranty

The Yeti GoBox is backed by a 5-year limited warranty that covers you against any manufacturer defects. This is the same warranty that is offered on Yeti hard sided coolers.
But it is highly likely that your GoBox will outlive this warranty as Yeti build their products tough and they build them to last.
Premium Quality For a Premium Price
Like all other Yeti products the LoadOut GoBox doesn't come cheap. Yeti is known for making premium products for a premium price and this product is no exception.
Below you can see the price of the GoBox at Amazon: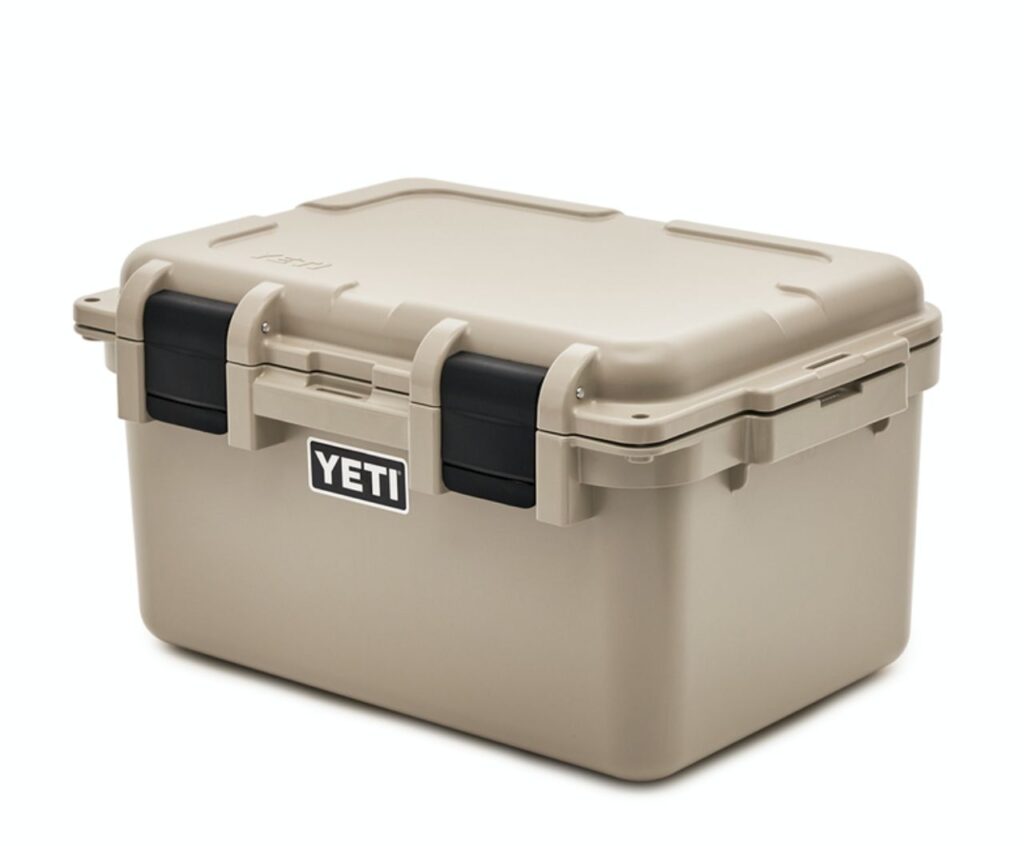 Yeti LoadOut GoBox 30L:
Yes this is much more expensive than a cheap plastic tub, but it's also made so much better, is way more practical and will last you longer.
This is a similar price to the Yeti 35 cooler or the Hopper Flip 12.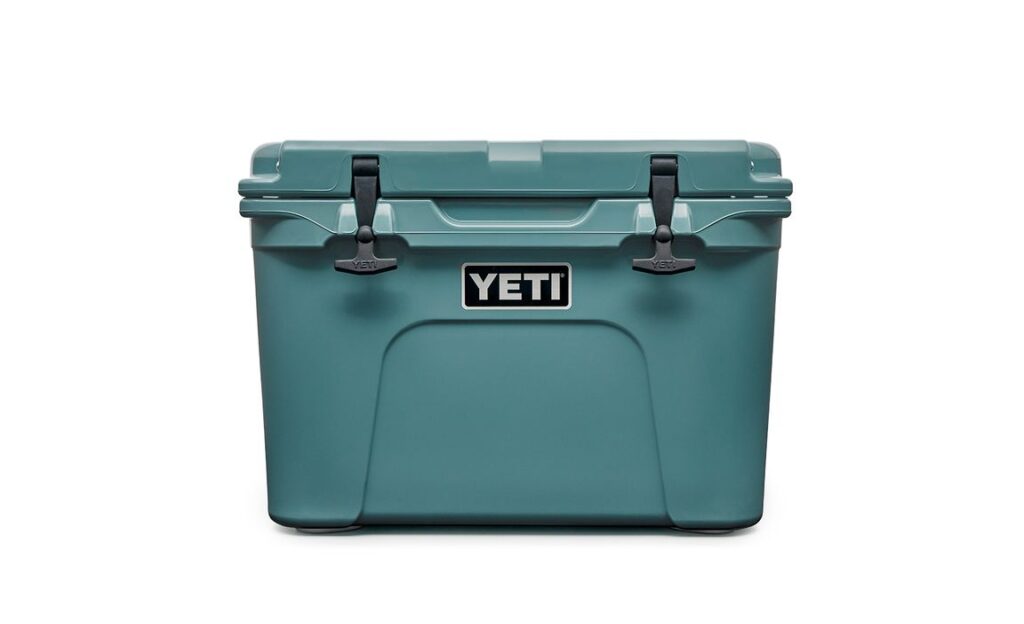 Yeti Tundra 35 Cooler:
Yeti Hopper Flip 12 Soft Cooler:
Not everyone will be able to afford the GoBox and that's completely fine. If you can't then maybe this product isn't for you and one of the cheaper options mentioned below would suit your needs better.
Comes In 3 Colors

The Yeti LoadOut GoBox comes in 3 different colors – white, desert tan and charcoal.
My personal favorite is the charcoal color, which I think looks badass. I'll link up to each color below so you can see more photos of them on Amazon:
Yeti LoadOut GoBox White (at Amazon)
Yeti LoadOut GoBox Tan (at Amazon)
Yeti LoadOut GoBox Charcoal (at Amazon)
Problems With The Yeti LoadOut GoBox
No product is perfect as the LoadOut GoBox is no exception to this. While I don't feel any of these issues are deal breakers I do think it's important to be aware of the problems with the GoBox before you spend your hard earned money on it.
1. Only One Size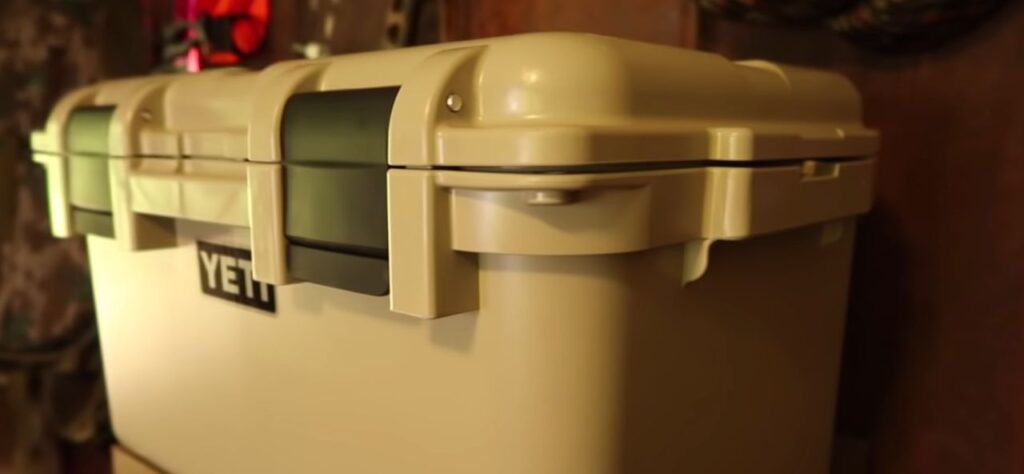 The first issue is the fact that the GoBox only comes in a single size – the 30 liter size.
While this is a good size and makes it quite versatile I can imagine that there are customers out there who would love something a bit bigger to store more gear or to store larger gear and this size just won't be enough.
I wouldn't be surprised if Yeti release some larger sizes, and maybe even some smaller sizes, in the near future as the GoBox has already proven to be one of the most popular Yeti products.
2. No Center Carry Handle
There are two molded in handles on the side of the GoBox, but this means you require 2 hands to carry it.
It would be great if it had a metal handle like the Yeti Roadie that swung up so you can carry it with one hand, freeing up your other hand to carry gear that doesn't fit in the box.
3. Expensive
The GoBox isn't cheap and at over $200 it is going to be out of a lot of people's price range.
While many of us would love something like this to store all our gear in, not all of us can justify the price tag – especially given it's not insulated like a Yeti cooler.
4. It's Not Insulated
Unlike the Yeti Tundra coolers the GoBox doesn't have any insulation. So while it's made of the same roto-molded plastic and while it's waterproof, it won't actually hold ice for very long.
So if you're after a cooler that can hold ice and sometimes be used for gear then getting a Yeti Tundra cooler is a better option for you.
5. Not Certified Bear Proof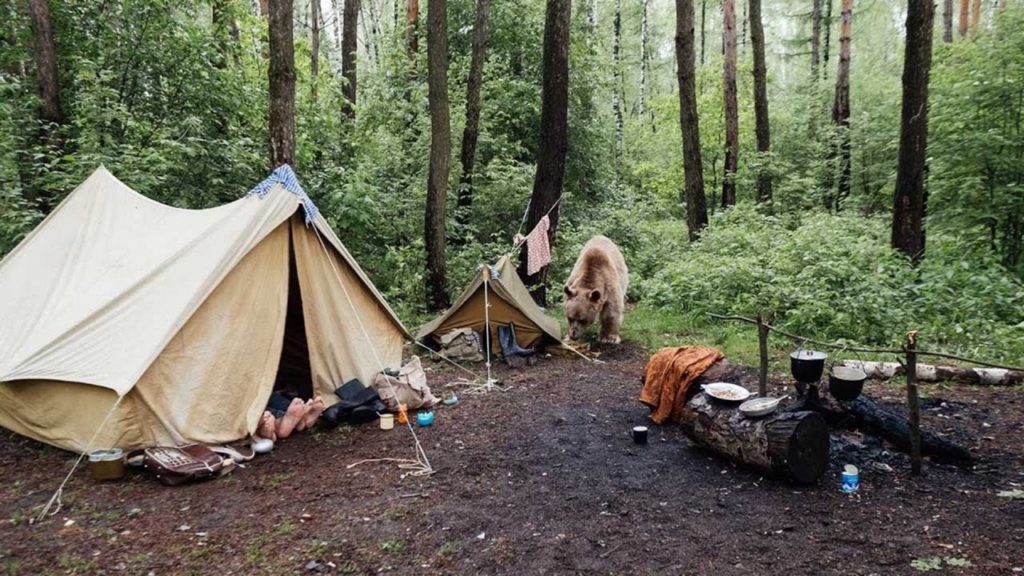 It's highly likely that this product is completely bear proof when locked at both front corners. It's built thick and tough and a bear will struggle to break through that plastic.
Heck, even without it being locked it's likely going to be bear proof.
However, it hasn't gone through the bear proof testing that Yeti coolers go through to be certified as bear proof – so you can't be 100% sure.
As I said these problems above are more minor problems and I don't seem them as deal breakers but it is good to have as much information as possible before purchasing.
Products Similar To The Yeti Loadout GoBox
Yeti pioneered the roto-molded cooler but they didn't pioneer the tough storage box and there are a lot of different companies that they are competing with.
However, I cannot find and products quiet like the Yeti GoBox.
Most tough boxes are designed with foam to keep gear protected and shock proof. But an organizational tough box like the GoBox with a caddy, divider and mesh pockets I couldn't find anywhere.
Below are some products similar to the Yeti LoadOut GoBox that you may want to consider.
1. Pelican Cases
If you've ever travelled with camera equipment then chances are you've heard about Pelican Cases.
These tough, shock proof cases with foam interior, or other organising options. They are virtually indestructible and have similar latches to the Yeti are are also dust proof.
These are the closest comparison I could find to the Yeti GoBox and they come in many different shapes and sizes with varying features.
2. Tough Tool Boxes (DeWalt)
Probably the items that actually come closest to the Yeti GoBox in terms of features is actually a large toolbox.
Large tool boxes are often sold in similar sizes to the GoBox, has a lid you can latch down and they often come with a tool caddy that sits on the top on the box.
They also have a gasket helping them to be dust proof and are sometimes even water proof.
The DeWalt Tough System Case in the XL size is similar to the Yeti GoBox in size, but it doesn't have the mesh pockets and isn't quite as durable. But it's much more affordable.
3. Monoprice Roto-Molded Case
Monoprice is another brand that makes shock proof and dust proof cases similar to Pelican.
They come with foam interior for keeping items safe and they come in many different shapes and sizes.
4. Standard Plastic Tub
On the cheap end of the spectrum is just your standard clear plastic storage tube. These range from about $10-$40 for a similar capacity to the Yeti GoBox.
Obviously the benefit of this product is the price. It's extremely cheap and won't cost nearly as much as the GoBox.
It's also see through so you can quickly see what's inside without having to open the box.
The downside is that they are easy to break. Dropping them, stacking too much on top of them or sitting on them is basically guaranteed to break them.
They also don't have different storage compartments so things can get mixed up easily and be difficult to find.
They won't last you a lifetime like the Yeti GoBox will, but they are cheap and can be easily replaced.
What The Best Place To Buy The Yeti GoBox?

The Yeti GoBox is available from anywhere Yeti coolers are sold.
They are a newer product and they are quite popular so most stores should sell them, or if they don't they should be able to order them in for you.
Yeti also sell them directly through their website or you can purchase them through Amazon and get free shipping.
It's up to you where you buy them from. Below are my Amazon affiliate links for the GoBox so if you buy through the links I get a small commission. Thank you if you do as it helps me keep creating awesome review content like this article 🙂
See the latest prices for the Yeti GoBox at Amazon