Most coolers are the same rectangular shape, but there are a few coolers out there breaking the mould and offering round coolers of a variety of different reasons.
Some of these round coolers aim to rethink the 5-gallon bucket, which is so common in fishing and other industries, while others are perfect for holding drinks at a party or to be used as a drinks dispenser.
Here are the best round coolers currently on the market.
To be honest, this list basically contains all the round coolers on the market worth mentioning as there aren't that many. The top of the list are the best ones, the bottom of the list aren't really that great but may suit your needs.
For each of the coolers I'll link up to their product listing on Amazon using my affiliate link, so if you want to buy one or check it out I greatly appreciate that.
1. KULA Cooler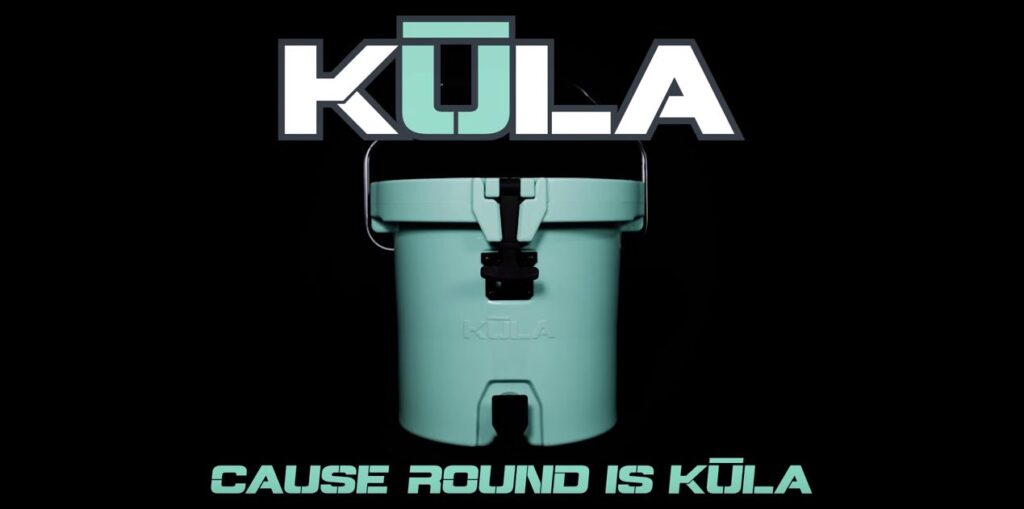 The KULA Cooler is easily the best round cooler on the market, because it has all the features you would expect from a high-end cooler, only it's round.
It's roto-molded construction, has 1-1.5 inches of insulation and can keep ice for 3+ days.
It's also packed with some pretty cooler features:
Comfortable Grippy Lid – The KULA lid has an inbuilt Alligator Trak Pad that is great both to provide grip if you're standing or casting off the cooler or to provide a little bit of extra padding if you're using the cooler as a seat.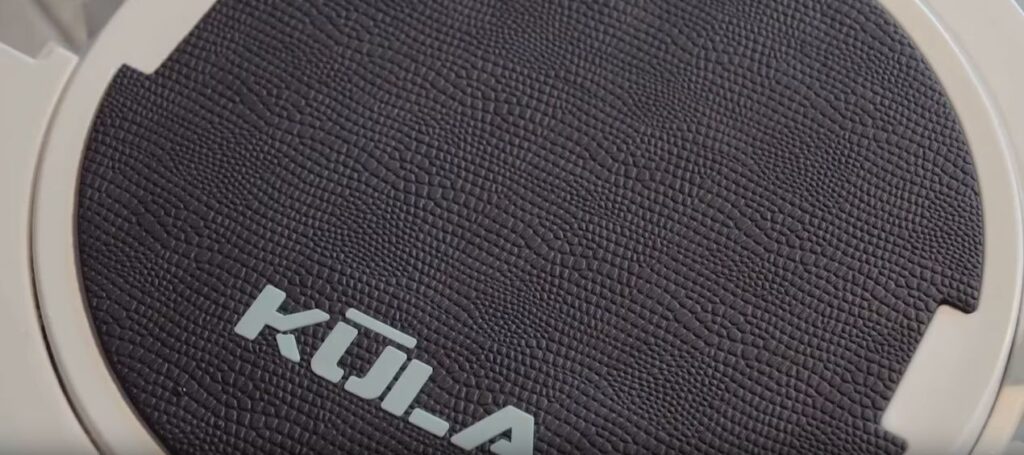 Freezer Grade Gasket + Rubber Latch – The insulated lid contains a freezer grade gasket that runs around the full length of the lid as well as a pull down rubber latch to keep the lid tight to the body of the cooler when closed. The keeps the warm air out and improves ice retention.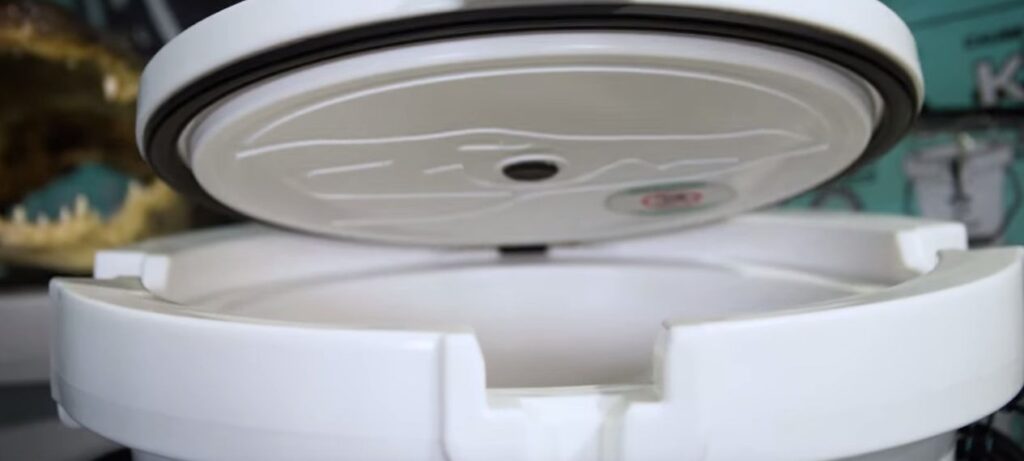 Non-Slip Feet – The bottom of the KULA has large non-slip feet so your cooler won't slide around in your truck or on your boat. These are also non-marking feet so you don't need to worry about scratching or staining the floor.
Built In Bottle Opener – The front of the KULA has a built in bottle opener, which is a nice feature.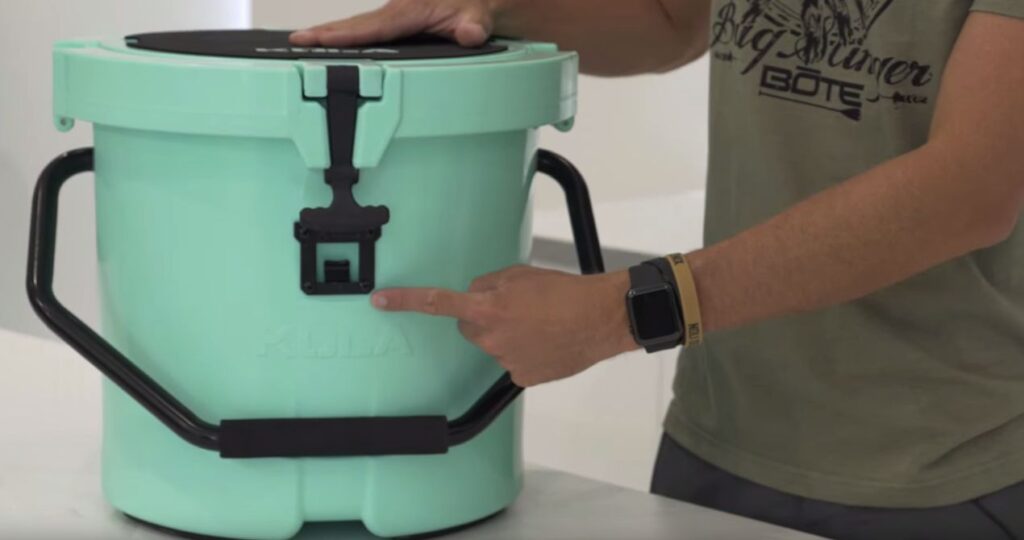 Tie Down Points – Tie down points on the side of the KULA allow you to strap it down to your board, boat or truck so that it won't move around at all and you can be secure in knowing it isn't going anywhere.
Stainless Steel Padded Handle – The strong stainless steel padded handles rotates up from the side for easy carrying and rotates down out of the way so you can easily access the contents of the cooler.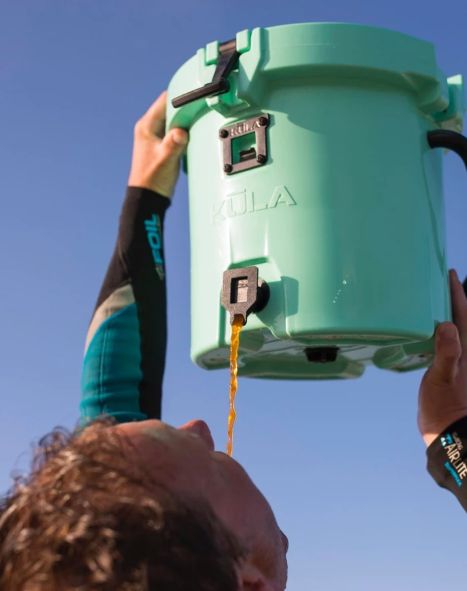 Built In Tap – The 2.5-Gallon version has a built in tap so you can use it either as a cooler or as a drink dispenser that will keep drinks cold for days.
This cooler is up there with coolers like Yeti and is really the only high-end round cooler on the market.
So if you're after a high quality round cooler then definitely consider the KULA.
To see the latest prices as well as customer reviews for the KULA click the price links below:
Kula 5-Gallon:
Kula 2.5-Gallon:
Alternatively, click here to read my full KULA cooler review
2. Yeti Tank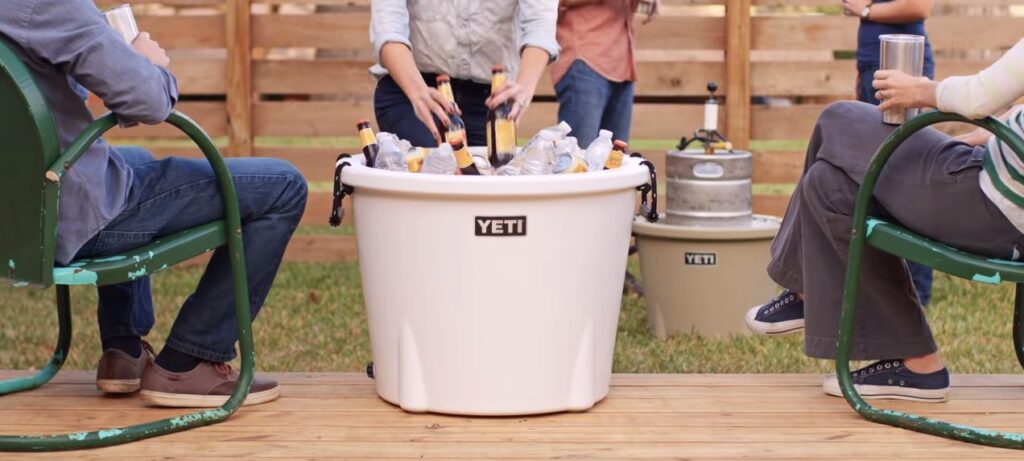 The Yeti Tank is another amazing round cooler that is made from super durable roto-molded plastic and is heavily insulated.
It can keep ice for 2-3 days and it's big size makes it ideal for parties and barbecues.
What makes this cooler stand out is the size. It comes in 2 sizes the Tank 45, which has a capacity of 40 liters, and the Tank 85, which has a capacity of 78 litres.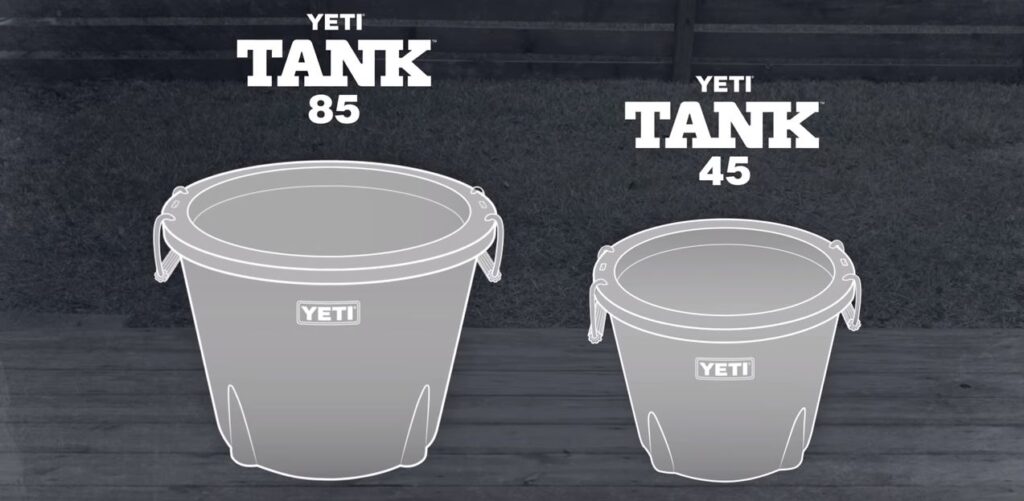 There aren't any other round coolers on the market that are this large. The only comparable option are stainless steel tubs that aren't insulated and sweat a lot, leaving a big puddle on the ground.
The Tank also has non-slip rubber feet, a drainage plug and nylon rope handles for easy carrying.
There is an optional lid that doubles as a cutting board and is strong enough to be used as a seat.

The downside of the Yeti Tank is that it's not a "cooler" per say and lacks some of the features of other coolers. It doesn't have the freezer grade gasket, insulated lid or pull down rubber latches.
You can't really use it like you would use a regular cooler for camping or hunting on fishing because you can't seal it up properly.
But as a drinks tub, there is nothing that really competes with it.
To see the latest prices as well as customer reviews for the Yeti Tank click the price links below:
Yeti Tank 45:
Yeti Tank 85:
Want to learn more about the Yeti Tank? Click here to read my full Yeti Tank cooler review.
3. Ozark Trail Round Cooler: Best Value For Money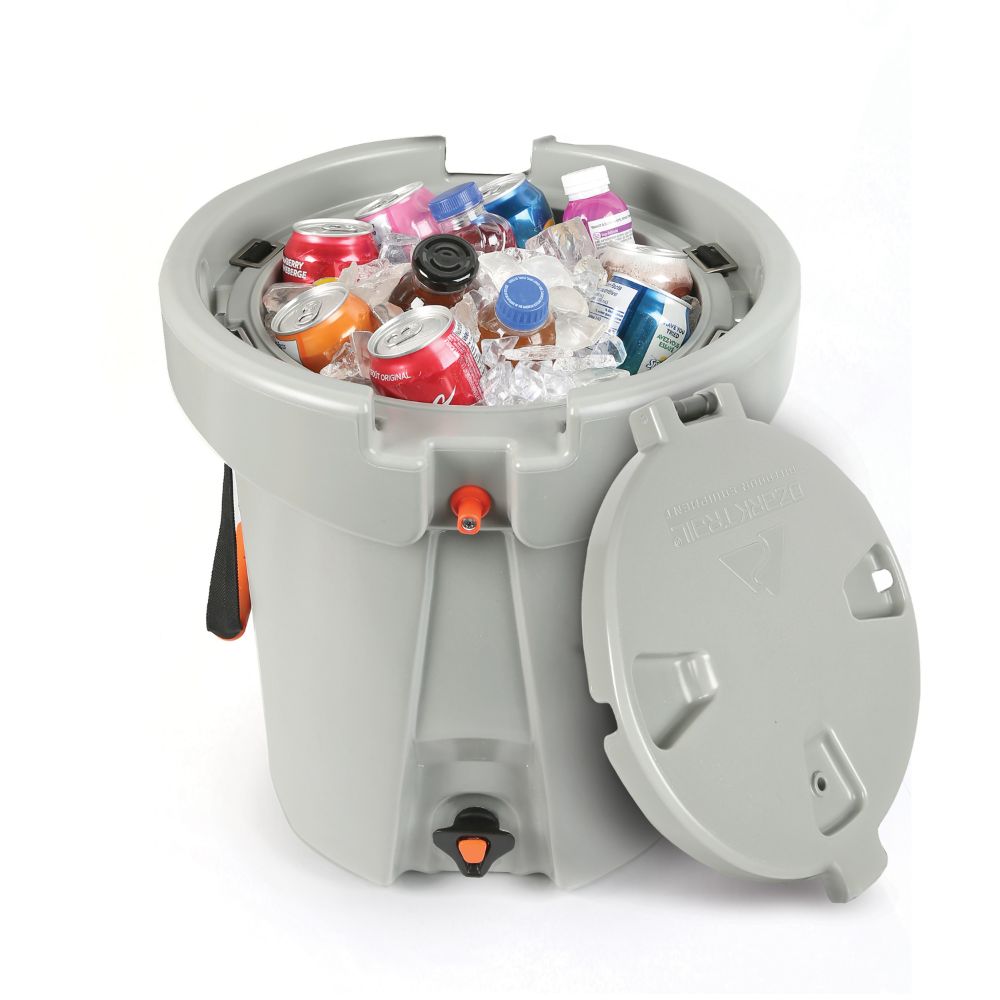 The Ozark Trail Round Cooler is arguably the best value for money cooler on this list and also one of the best water jugs on the market. At under $100 it's so much cheaper than the Yeti Tank or the KULA but is almost as good.
This is Walmart's brand of cooler and it is one of, if not the, cheapest roto-molded coolers you can find. It also happens to be round and have a spigot so it can act as a drink dispenser.
It is made of strong roto-molded plastic making it extremely durable and hard to break. It is also packed with 1-1.5 inches of insulation in the walls and 1-2 inches of insulation in the lid meaning it can keep ice for 2-4 days.
The hinged lid has a rubber gasket as well as a pull down rubber latch to keep the lid on tight and to stop water spilling out the top.
The lid can also be completely removed so you can use this as a drinks tub at parties or BBQs just like the Yeti Tank (only smaller).
It has strong nylon rope and plastic handles for easy carrying and the spigot is recessed into the body of the cooler to help protect it from being bumped or broken.
This is a great value-for-money cooler or water jug and while it's not quite as high quality as the Yeti or the KULA it comes pretty close and it won't cost you an arm and a leg.
Click here to see the latest price of the Ozark Trail Round Cooler at Walmart.com
Read my full review of the Ozark Trail round cooler
4. Cordova Hydro Jug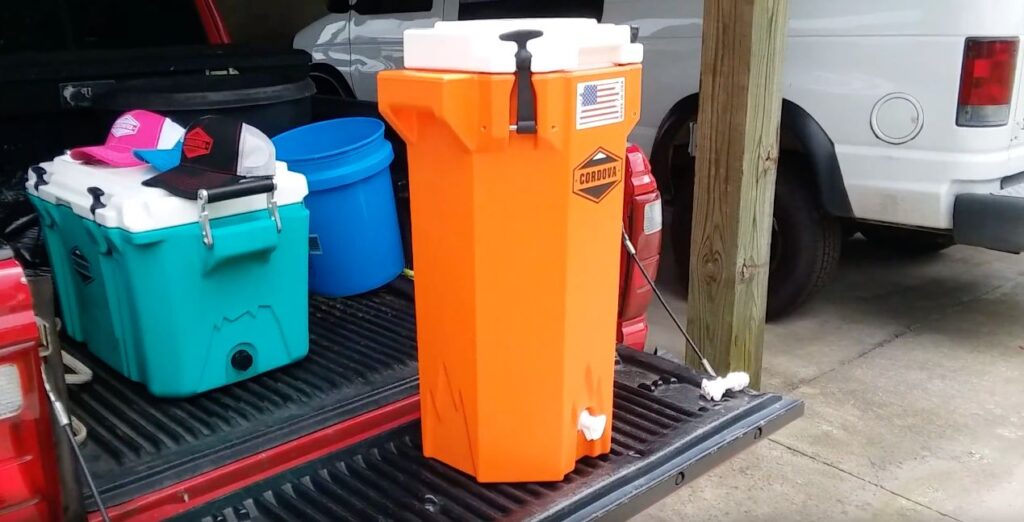 Proudly made in the USA this tough roto-molded and heavily insulated water jug will keep ice cold for 4 times longer than a regular water jug.
It's got a unique octagonal design (so technically it's not round but it's close enough) and comes in two different colors and 2 different sizes.
The lid is fully insulated and it has 2 pull up rubber latches to keep the lid firmly in place, keeping ice longer and avoiding spillages.
The spout works well and makes dispensing drinks easy. It's got 2 strong folded handles
It's tall size makes it impractical to use as a regular cooler, so this is more a heavily insulated drink dispenser. Read my full Cordova Hydro Jug review.
Hydro Jug 3.5-Gallon:
Hydro Jug 5-Gallon:
5. GoPlus Camping Cooler 13-Quart: Affordable Option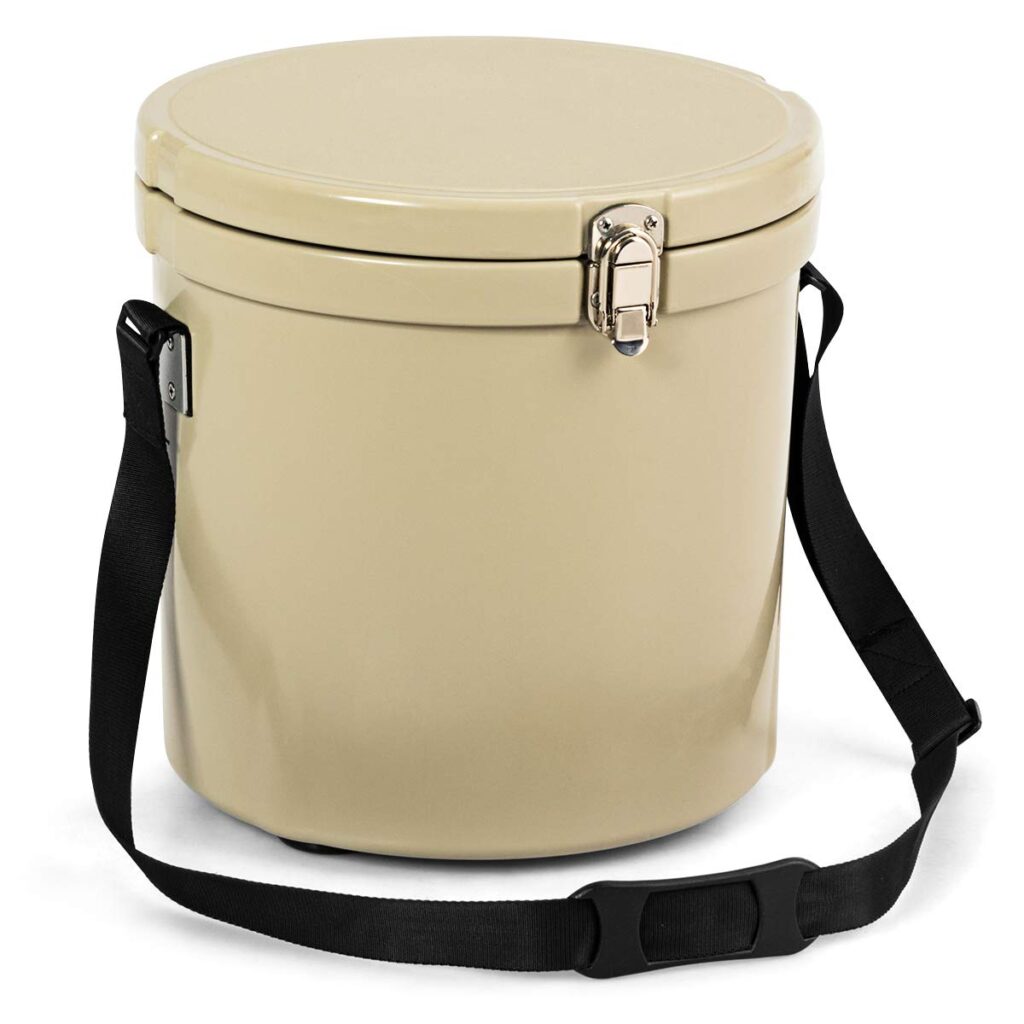 The GoPlus Camping cooler is an affordable portable round cooler that is strong and durable with all the features you would expect from this type of cooler.
It's heavily insulated with approximately 1-inch of insulation and is made from a strong roto-molded construction.
It has a anti-leak rubber gasket and stainless steel latch to keep the lid firmly held down so the cooler doesn't spill.
It has non-slip and non-marking rubber feat and for carrying it has an adjustable shoulder strap.
It only comes in the one small size and its an unknown brand so there is some risk with purchasing this cooler compared to the brands above.
But if you want to save some money it's a really good cooler for the low price and much more durable than some of the coolers mentioned below:
GoPlus Camping Cooler 13-Quart:
6. Igloo 20-Quart Party Bucket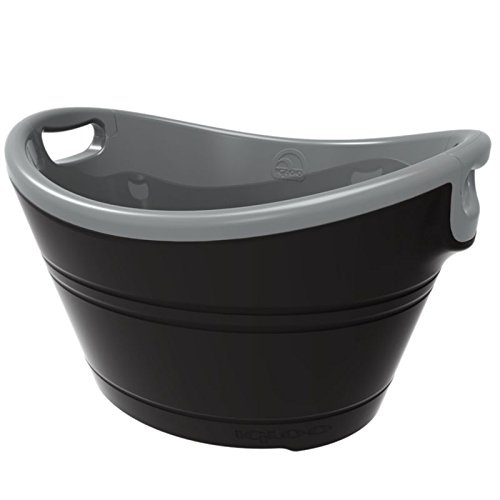 The Igloo Party Bucket is the only round drinks bucket I could find (other than the Yeti Tank) that is actually insulated.
So if you're looking for a drinks bucket that won't form condensation and sweat water all over the floor then this is a great option.
It's nowhere near as expensive as the Yeti Tank. It's not as durable but it ultimately does the same job.
It's also got hundreds of customer reviews and has quite a high rating. So for the price it's worth a look. To see the latest price and customer reviews click the Amazon price link below:
Igloo Party Bucket:
7. Dakine Party Bucket – Turn a Bucket Into a Cooler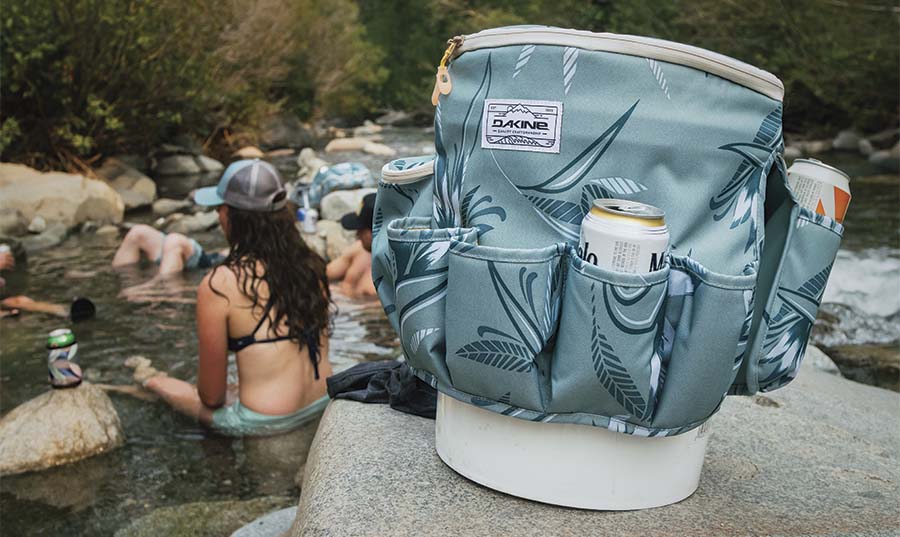 The Dakine Party Bucket is a unique type of round cooler. It's like an insulated sleeve that you can place over any cheap 5-gallon bucket and turn it into a day cooler.
It fit's perfectly inside a 5-gallon bucket and provides not only insulation to keep ice longer but it's also equipped with external pockets and even an internal dry pocket.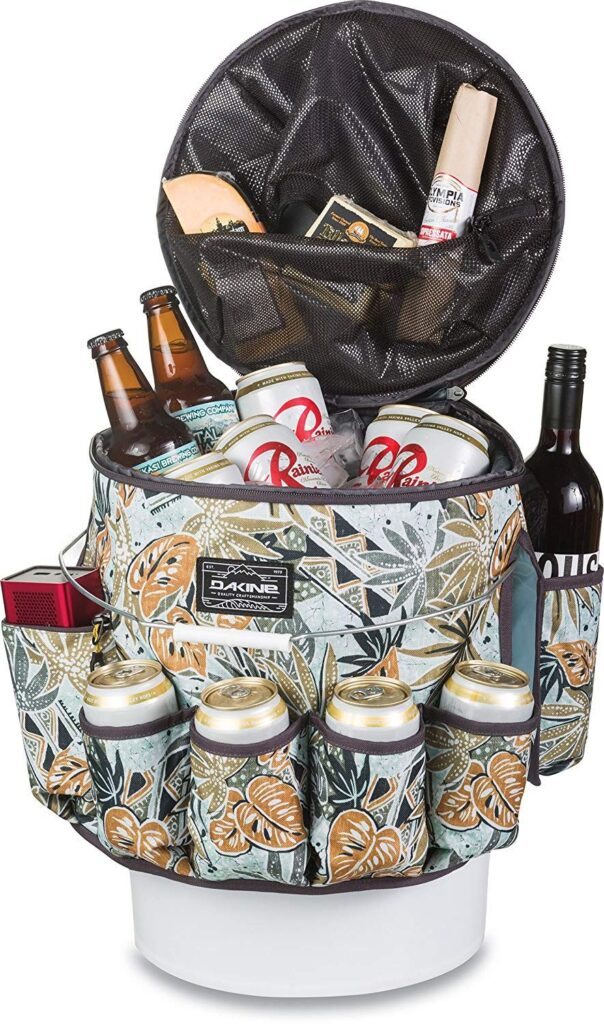 It has 8 can/bottle holder pockets, 1 larger wine bottle holder and 1 zipper pocket that can also double as a wine holder.
It has a zipper lid and while it isn't 100% waterproof it does help to stop the sloshing and spilling of water. Inside the top lid is a dry storage pocket to keep anything you wish to keep cool but not get wet.
When paired with the Yeti Loadout Bucket this can make a pretty cool and useful cooler for an affordable price. It's also backed by a lifetime guarantee and has good customer reviews.
Click here to read my full Dakine Party Bucket review
The downside of this option is that it doesn't keep ice as long as a purpose built cooler would. It's really only going to hold ice for a few hours, but it's great for a day at the beach or a backyard party.
Prices vary depending on what pattern you choose with some patterns being cheaper than others. I'll link up to 2 patterns below but make sure you check the different options on Amazon as you could save yourself $20-$30.
Dakine Party Bucket Camo:
Dakine Party Bucket Palm:
Yeti LoadOut 5-Gallon Bucket:
8. IceMule Backpack Cooler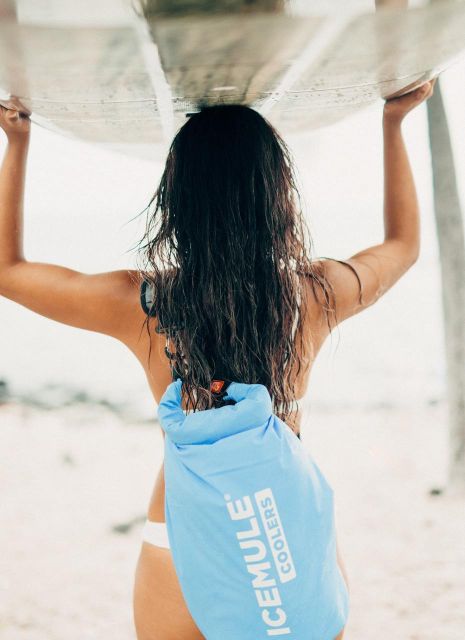 The IceMule Classic and the IceMule Pro are some of the best backpack coolers on the market offering a durable product with good ice retention for an affordable price.
Ranging from 10 liters up to 20 liters these backpack coolers are a great way to keep your hands free allowing you to go further than you could with a regular cooler you had to manually carry.
They can keep ice for 1-2 days and they strap comfortable onto your back. The Classic version has a single strap while the pro version has more traditional backpack straps.
It is waterproof and the roll down design of the top is watertight meaning to water is going to spill down your back as your go on you hike or whatever adventure you embark on.
They also roll up small when not in use so are super easy to store. These are definitely the most portable round cooler in this list.
IceMule Classic Backpack Cooler:
IceMule Pro Backpack Cooler:
9. Igloo Sport Roller Beverage Cooler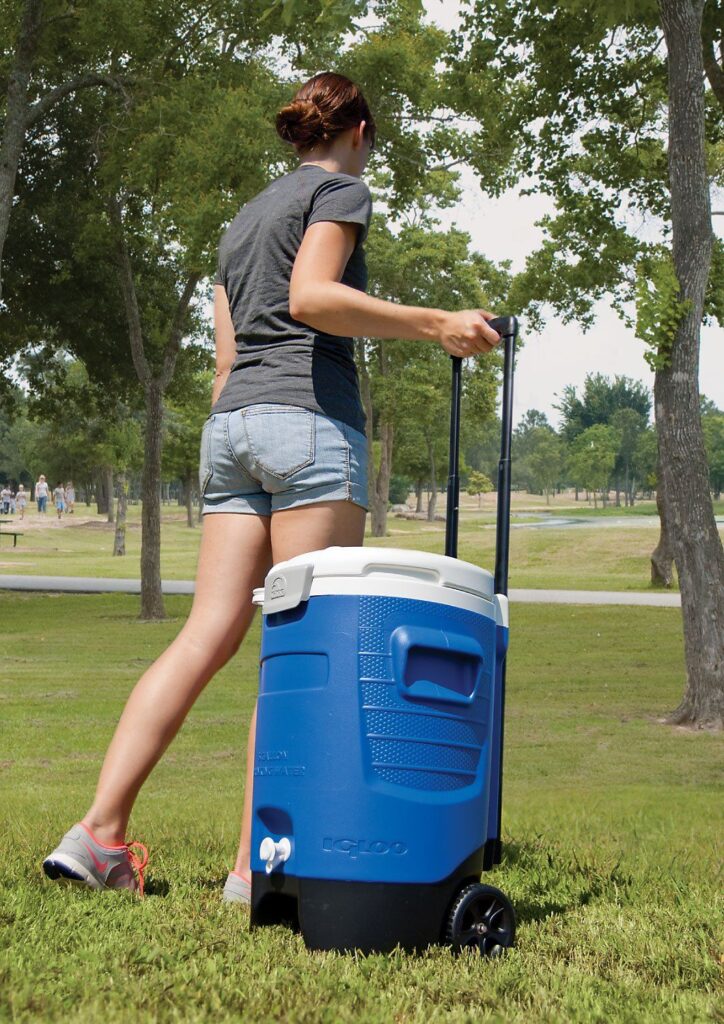 The Igloo Sport Roller Beverage Cooler is a super affordable wheeled drink dispenser and one of the best budget water jugs.
It comes in a 5-Gallon (20-Quart) size and it's the only water jug on wheels. It's insulated and should keep water ice cold for most of the day.
It has molded in handles for carrying and wide plastic wheels and a suitcase style retractable handle for moving it around.
The wheels work well enough on hard ground but when it comes to soft grass, dirt and gravel it really struggles.
Also, despite having a gasket and cam latch for the lid it still leaks water out through the top so you can't really fill it up completely and then move it around or you'll spill a lot of drink on the floor.
The recessed spigot is decent and I like that it is raised high enough off the ground that you can use it even if you don't have a table to put it on.
This is my favorite budget drink dispenser and while not perfect, for the price I think it's a good product.
Click here to read my full Igloo Sport Roller Beverage Cooler review
Depending on what day it is and what discounts each online store is offering you may be better buying from one of the other.
To compare the latest prices of the Sport Roller Beverage Cooler on Amazon and Walmart simply click my affiliate links below (will open in a new tab).
See the latest price at Amazon
See the latest price at Walmart
10. Coleman Party Circle Cooler/Igloo Insulated Party Pail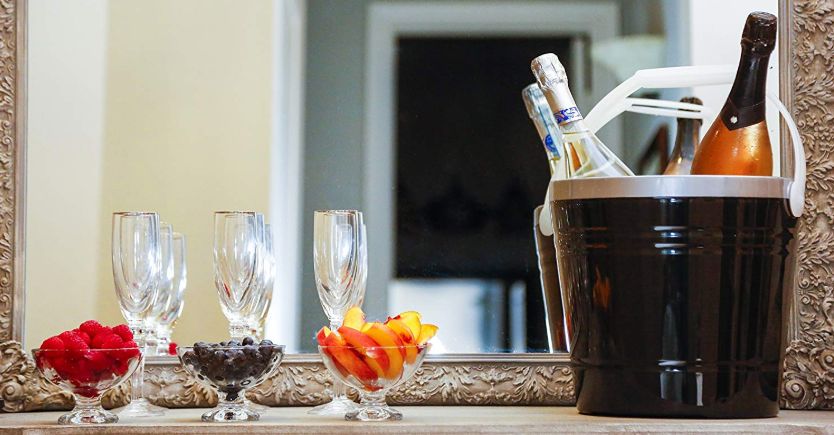 These two coolers are quite similar and cheap enough in price that I have classed them together.
While the look and design is different they serve the same purpose and that is to be a small drinks bucket for a couple of wines or a 6 pack of beer.
They are insulated and so they won't sweat all over the dinner table as you're trying to have a romantic date and the will keep ice cold for a few hours. Long enough to finish a couple of bottles and they still be ice cold.
Igloo Insulated Party Pail:
Coleman Party Circle Cooler:
11. Stanley Adventure Water Jug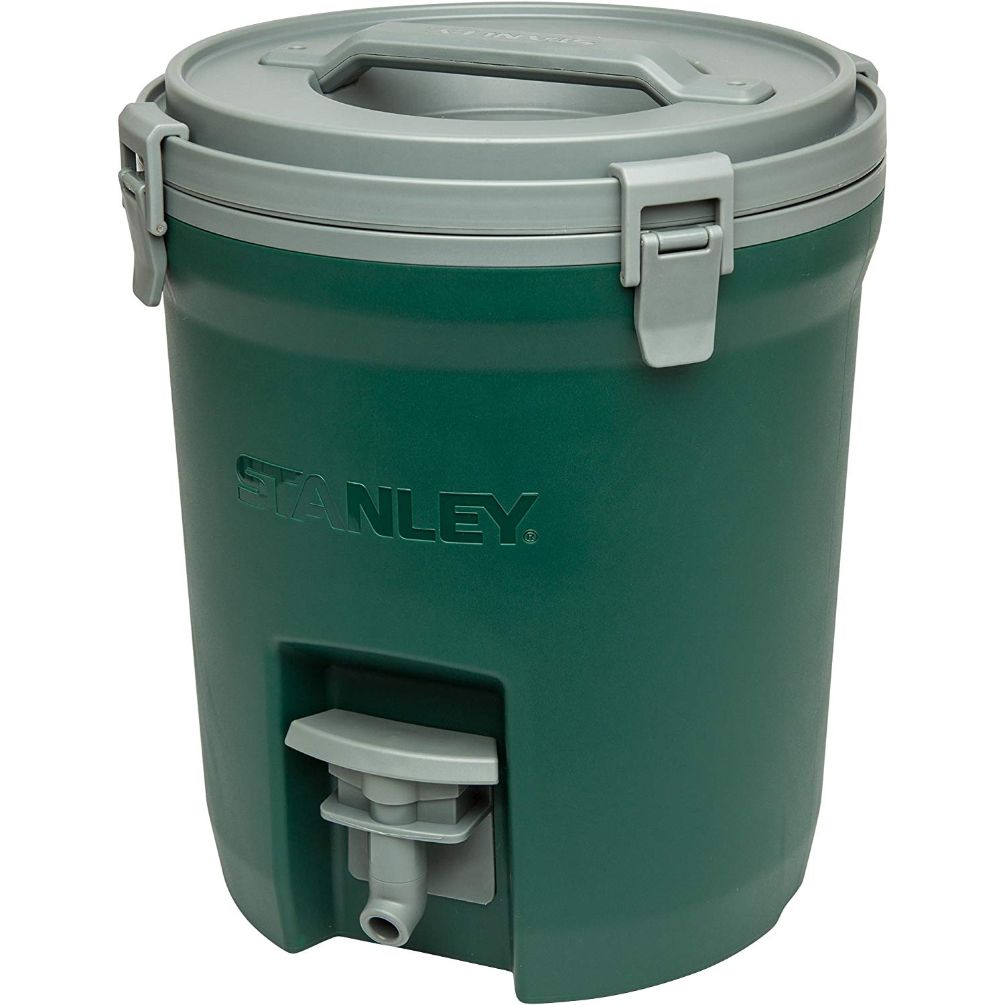 This little water jug has really surprised in how good it is and the only reason I haven't ranked it higher is because it only comes in such small sizes that it doesn't really act as a cooler and really only serves as a water jug.
It comes in a 1-gallon and 2-gallon size and I love it's sturdy construction and it's leak proof design.
The lid has 4 clips that pull it down tight and you really can tip this completely upside down and you never have to worry about it leaking.
There is also an air release valve in the lid and the spigot pours quite quickly. It can also hold ice for a couple of days – longer than cheap insulated coolers but not quite as long as the roto-molded ones.
All up this is a surprising cooler and is much better than you would expect for the price point.
Stanley Adventure 1-Gallon:
Stanley Adventure 2-Gallon:
12. Igloo Seat Top Beverage Jug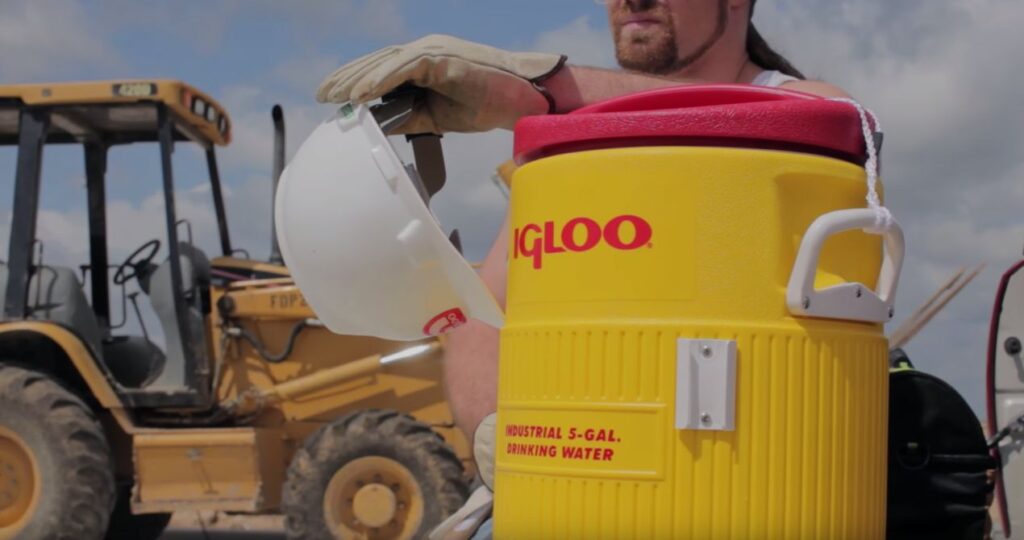 The Igloo Seat Top Jug is a staple at worksites as well as sporting games. Or if not the Igloo then the very similar Rubbermaid or Coleman, which are all basically the same.
It's a basic insulated water jug that comes in 3 sizes – 3, 5 and 10 gallon – and will keep water ice cold for most of the day.
These are great affordable options for keeping people hydrated at their work place, at a sporting event or even to fill up with that special punch your mum makes at your backyard party.
Click here to read my full Igloo Seat Top Beverage Jug review
Depending on the day and the deals available it may be cheaper to buy this water jug from Amazon or Walmart.
Or if you want to see the latest prices and reviews for this product click my affiliate links below:
See the latest price of the Igloo Seat Top Jug at Amazon
See the latest price of the Igloo Seat Top Jug at Walmart.com
BONUS: Giantex 27-Quart Ice Chest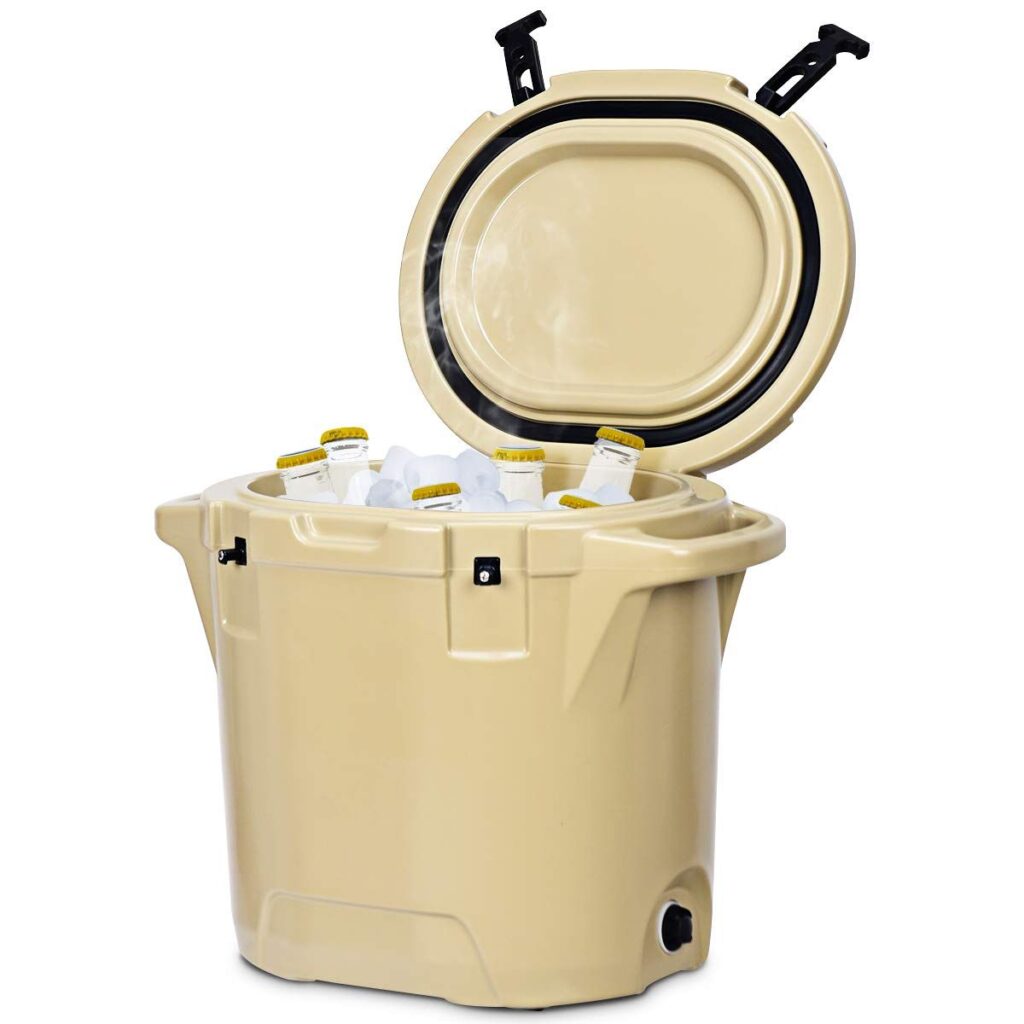 Sometimes when writing reviews like this new products pop onto your radar at the last minute and that is exactly what happened with this cooler.
I've never heard of Giantex before and truthfully looking at their coolers it appears to me they are simply white-labeled roto-molded coolers that have been imported.
Giantex sell everything from furniture to washing machines to…well I guess coolers.
This cooler is more of an oval shape than completely round and it doesn't stand out to me as anything extremely special.
It's a bit larger than something like the KULA or even the Ozark Trail, so if you're after a slightly larger round cooler then maybe this will suit.
It's got a rubber gasket, pull down rubber latches, non-slip rubber feet and strong molded handles. It's tough and heavily insulated.
Giantex 27-Quart Oval Cooler:
Which Round Cooler Is Best For You?
Ultimately it's up to you which round cooler in this list best suits your needs and to be truthful with you there aren't many round coolers worth mentioning outside of this list.
I wish you the absolute best in finding your perfect round cooler and I hope this list of the best round coolers on the market has helped make your decision easier.
If you don't have your heart set on round then there are many more (and better) rectangular coolers to look at. Start by reading this article on coolers better than Yeti.