The Igloo Sport Roller Beverage Cooler takes what customers love about the Seat Top Jug and improve upon it by adding in wheels, a hinged lid with cam latch and stronger molded in handles.
This is a good affordable water jug and is more practical than the other cheap options out there as it is much easier to transport and doesn't even need to be lifted onto a table in order to be used.
In this Igloo Sport Roller Beverage Cooler review we'll be looking at the build quality and the features of this cooler so you can decide whether this water jug will suit you or if you'd be better off buying a different product.
Price: The Best Cheap Water Jug
The Igloo Sport Roller Beverage Cooler is the best budget water jug on the market and sells for the same price as inferior models which have less or worse features.
It is like a new and improved model of the Igloo Seat Top Jug and fixes a lot of the problems that it had but yet it sells for the same price.
Below you can see the Sport Roller pricing compared to other budget beverage dispensers as well as some premium options.
SPORT ROLLER JUG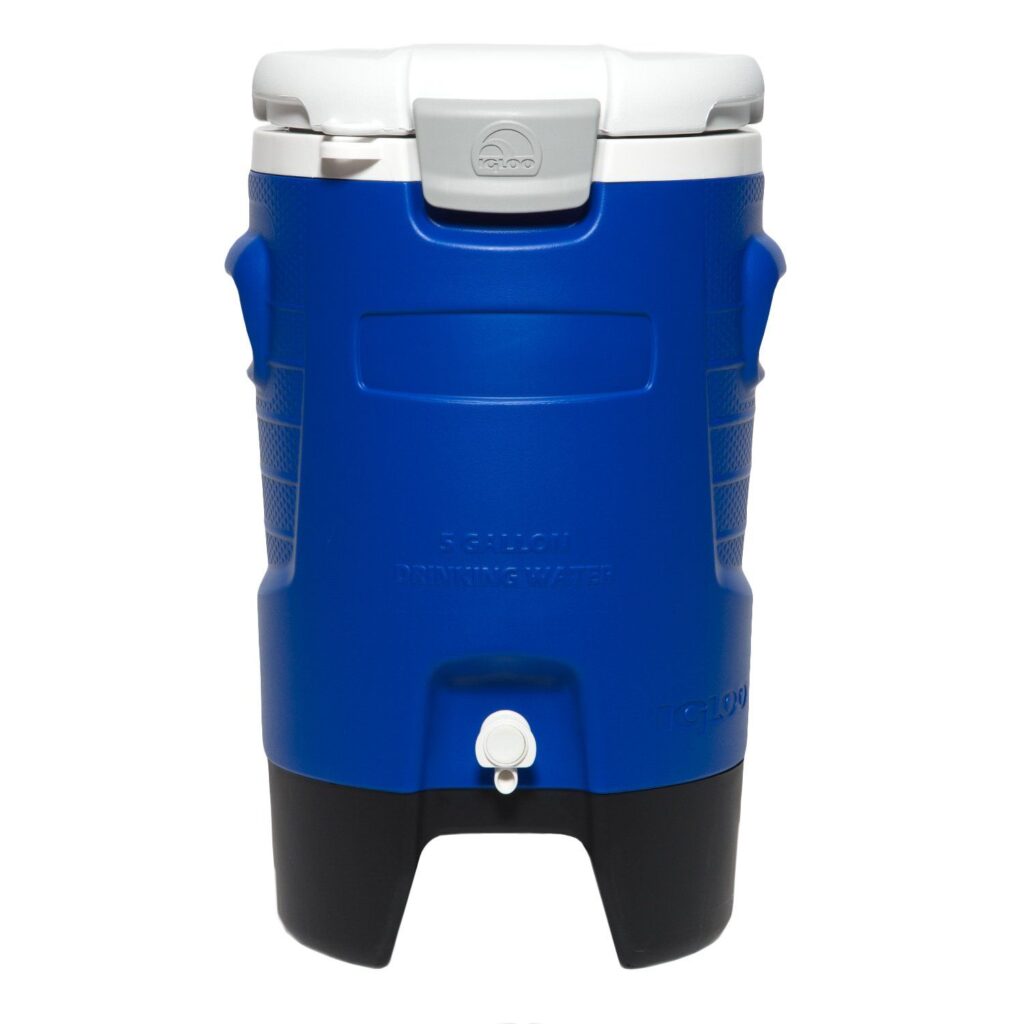 Igloo Sport Roller:
OTHER JUGS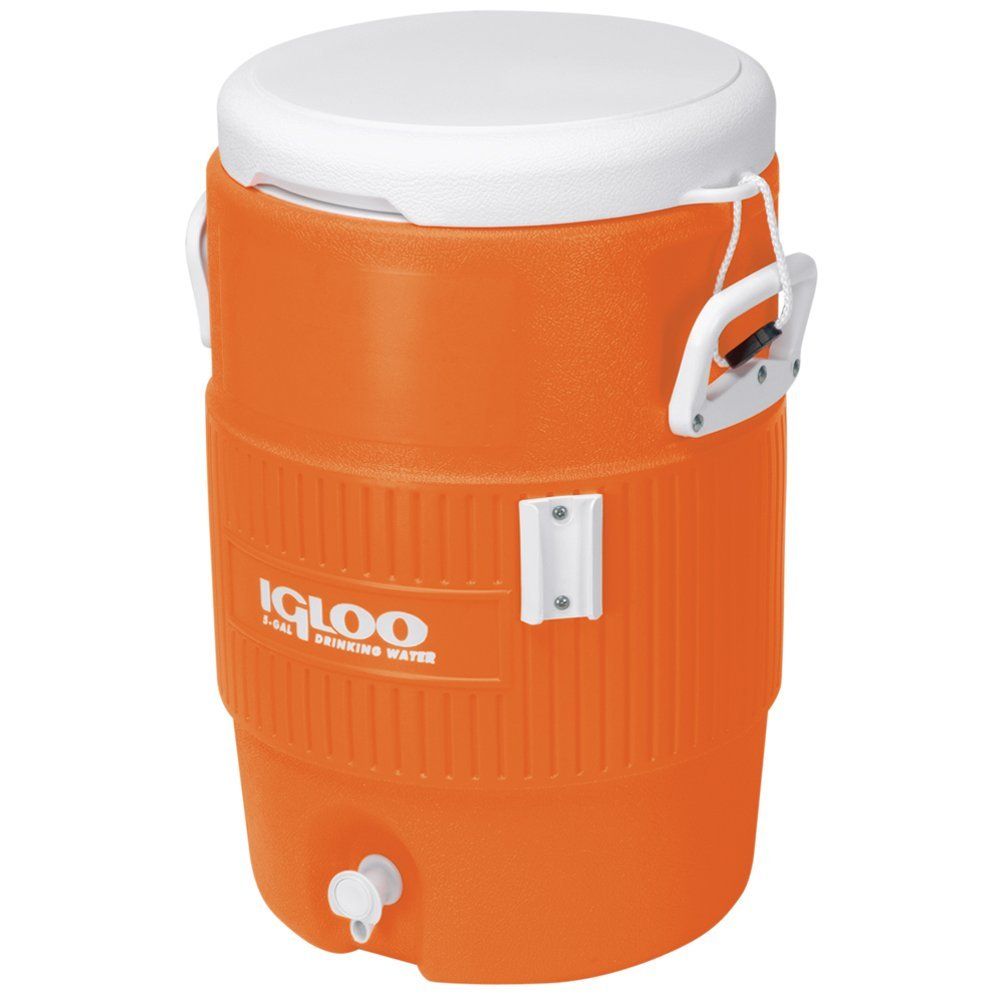 Seat Top Jug 5-Gallon:
---
Rubbermaid 5-Gallon:
---
Yeti Silo 6-Gallon:
---
Ozark Trail Jug: $78.00 (see at Walmart.com)
As you can see the Sport Roller cooler is an extremely affordable option.
So now I want to look at if this cooler is any good or is it just a cheap, crappy and unreliable water jug that isn't worth your money.
The Only Water Jug/Drink Dispenser With Wheels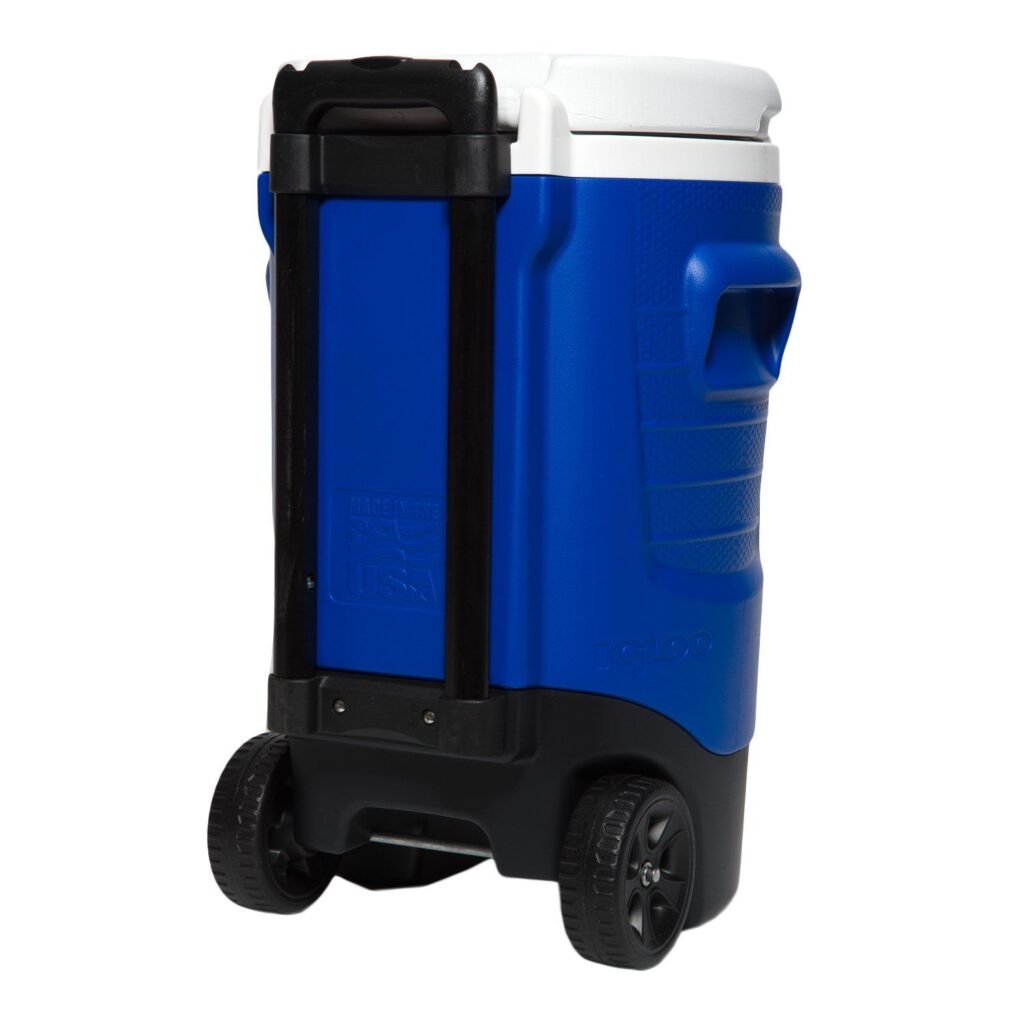 As far as I can find this is the only water jug on the market that comes with wheels. Every other model just simply has handles and has to be carried.
The Sport Roller comes with wide inset plastic wheels that don't make up much extra space and a telescopic suitcase-style handle that pulls up for transporting and folds down when not in use.
Will Keep Drinks Cold Most of The Day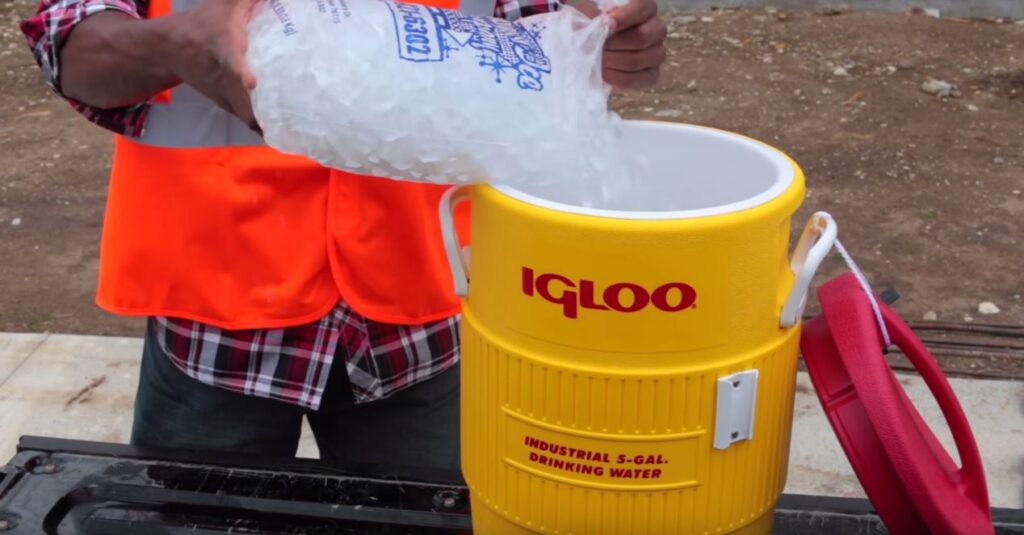 The Sports Roller is an insulated beverage dispenser, which helps it to keep ice longer than a glass or stainless steel water jug that isn't insulated.
The insulation isn't as thick as roto-molded water jugs like the KULA Cooler (see KULA cooler review) or the Yeti Silo and so it won't keep ice for days like they will. But it will keep ice for most of the day.
For best results I suggest you fill up this cooler with already pre-chilled water and as much ice as possible. If you fill it up with room temperature water then most of your ice will melt simply bringing down the temperature of the water.
Follow these steps to keep ice longer in your cooler and it should keep cold water for most of the day. Long enough for a full work day at a job site or for a few hours at a sports game or family picnic.
Build Construction is OK, But Not Super Durable
This cooler is blow molded so the construction is ok and it's fairly durable with regular use, but it isn't as rugged as a roto-molded cooler and will break if it is dropped or mistreated.
It's fine to be thrown in the back of your car or truck and to be bumped around a bit, it just can't take a serious beating and if you happen to drop it when it's full of water chances are it will crack or break.
Over time the cooler will get sun damaged but with the strong molded in handles are strong and this cooler should last you years before it is too damaged to use.
Recessed Raised Spigot For Easy Pouring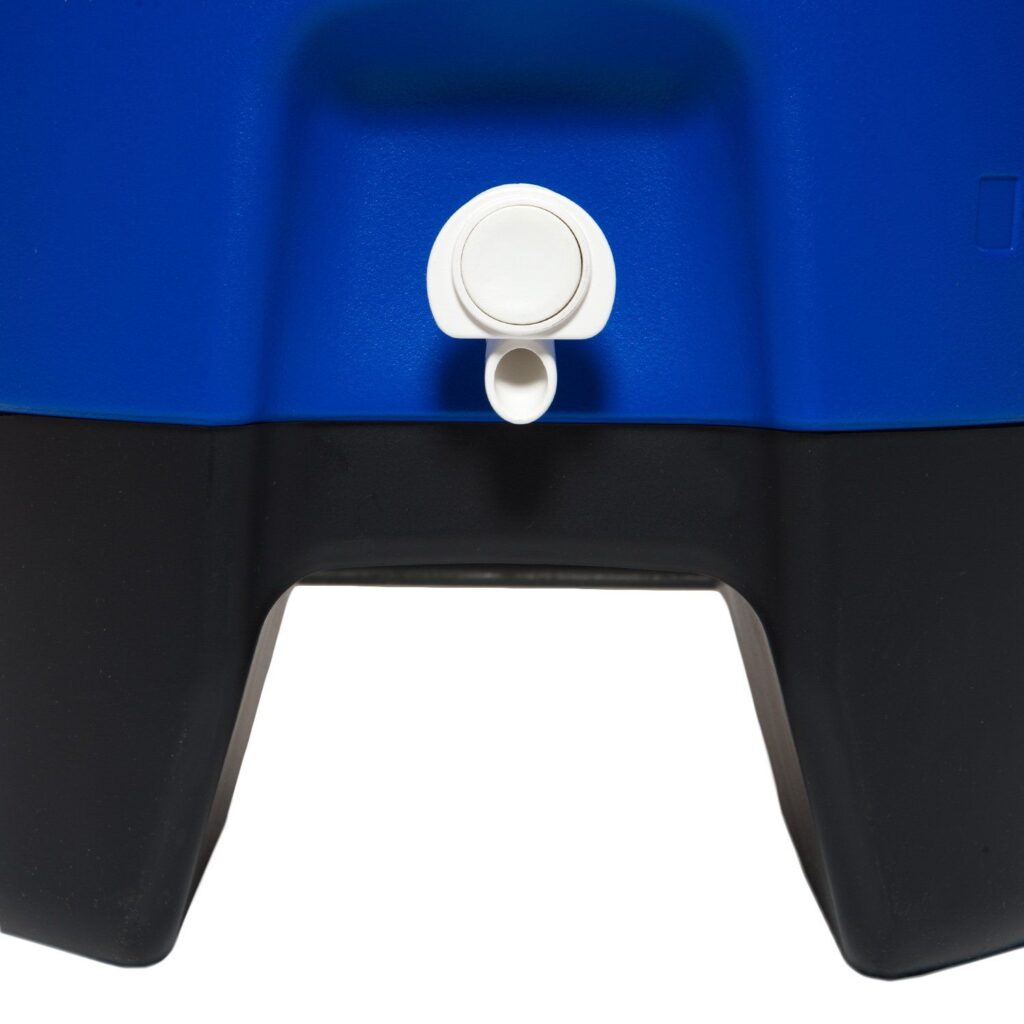 The Sports Roller Beverage Cooler has a raised spigot that is high enough off the ground that you don't have to put it on a table to use it.
The tap is angled outwards so the water pours away from the cooler making it easy to fill up your cup or water bottle.
The spigot is also recessed slightly into the body of the cooler to make it less likely to get bumped and break.
Molded In Carry Handles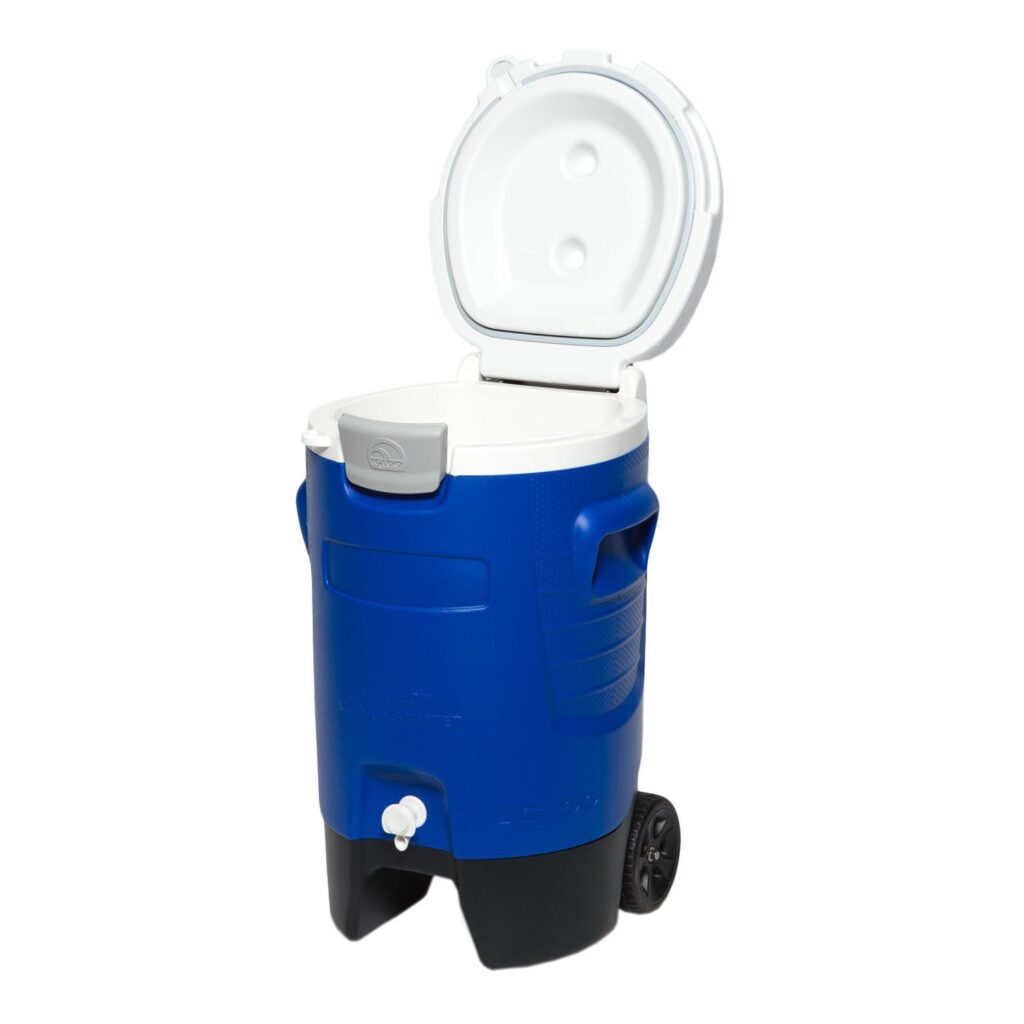 One of the problems with other models is that the screwed on plastic handles either break or cause so much strain to the body of the cooler that carrying them can crack the cooler.
The Sports Roller has handles that are molded into the cooler making them much stronger than the screwed on handles.
Given this cooler has wheels you are also likely going to spend less time carrying it so there will be less stress placed on the handles protecting the cooler further.
Hinged Lid with Gasket and Cam Latch
One of the problems with the Seat Top Jug is that the lid isn't attached to the cooler and can blow away, fall off or get lost.
The Sports Roller has a hinge lid so it won't fall off or get lost.
The lid also has a rubber gasket around it and a plastic cam latch to keep the lid on.
It does seem that the gasket and cam latch don't quite work well enough to stop the cooler from spilling when completely full and tipped over. So it's not water proof but does prevent spilling a bit better than the Seat Top Jug.
Problems With The Sport Roller Beverage Jug
The Sports Roller Beverage Jug is a budget drink dispenser and therefore it isn't going to be perfect and will come with some trade offs and issues that you should be aware of before buying it.
The Lid Isn't Leak Proof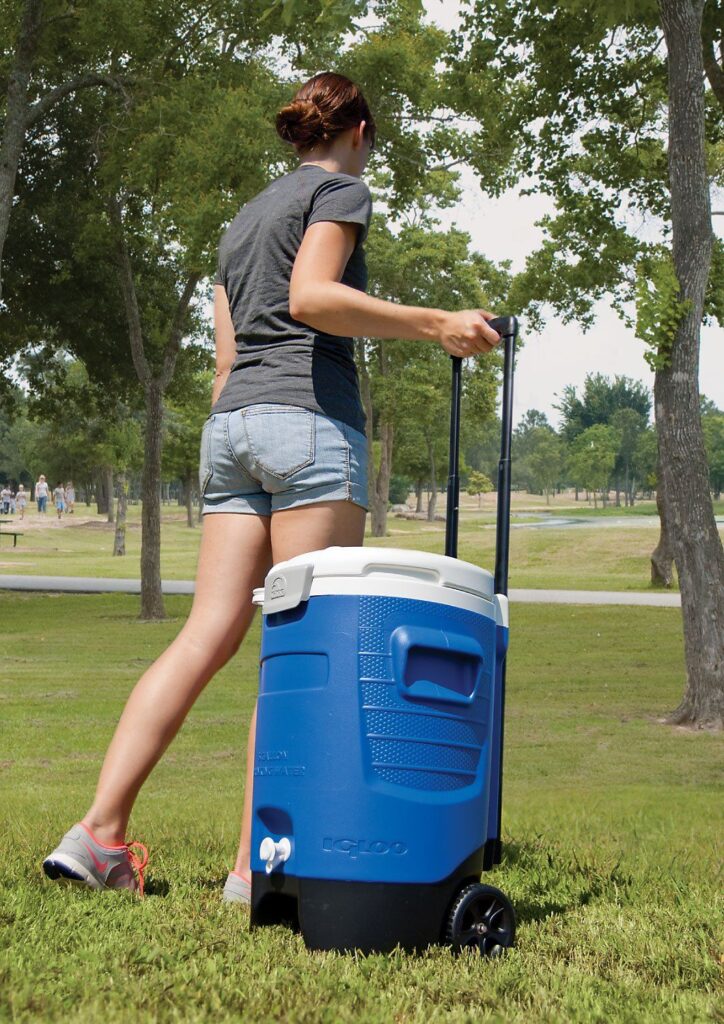 A lot of customers expect the lid of this cooler to be leak proof. This makes sense, you want to be able to fill up your cooler and then roll it to wherever it's needed.
Unfortunately this isn't the case. The gasket is cheap and often falls off and the cam latch doesn't hold the lid extremely firmly to the cooler.
If this cooler is full and you tip it over water will leak out quickly.
Spigot Can Break Easily
The spigot is always the weakest part of these water jugs are the most likely item to break.
Customers have reported it being stuck in the on position, constantly leaking water as well as breaking so that only a tiny trickle of water comes out at a time.
You can get replacements from Igloo under warranty or you can purchase them separately if needed.
Wheels Don't Work Well On Soft Ground
The wheels are great on smooth concrete and ok on rough concrete, but once you start trying to roll it on soft grass or gravel it basically stops working and you'll need to carry the cooler.
Where To Buy The Igloo Sport Roller Beverage Jug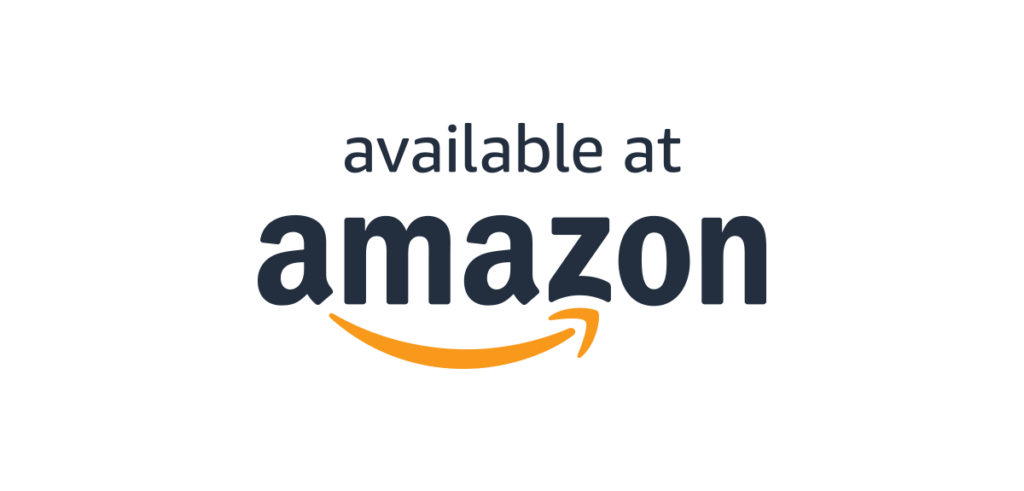 Igloo products are sold all over the US and also have large distribution worldwide. This isn't the most popular of their products so it may be difficult to find but if a store stocks Igloo coolers then chances are you can ask them to order it in.
But probable the best 2 places to buy this water jug from is either Amazon or Walmart, both of which often sell it at a discount and you can often get free shipping on top of that.
Depending on what day it is and what discounts each online store is offering you may be better buying from one of the other.
To compare the latest prices of the Sport Roller Beverage Cooler on Amazon and Walmart simply click my affiliate links below (will open in a new tab).
See the latest price at Amazon
See the latest price at Walmart
Alternatives To The Igloo Seat Top Jug
If the Igloo Sport Roller isn't the water jug for you and you're looking for something different then there are some other decent options out there.
You could go another budget option like the Igloo Seat Top Jug or you may want to opt for a more durable and overall better product like the Yeti Silo or the Ozark Trail Round Cooler.
Igloo Seat Top Jug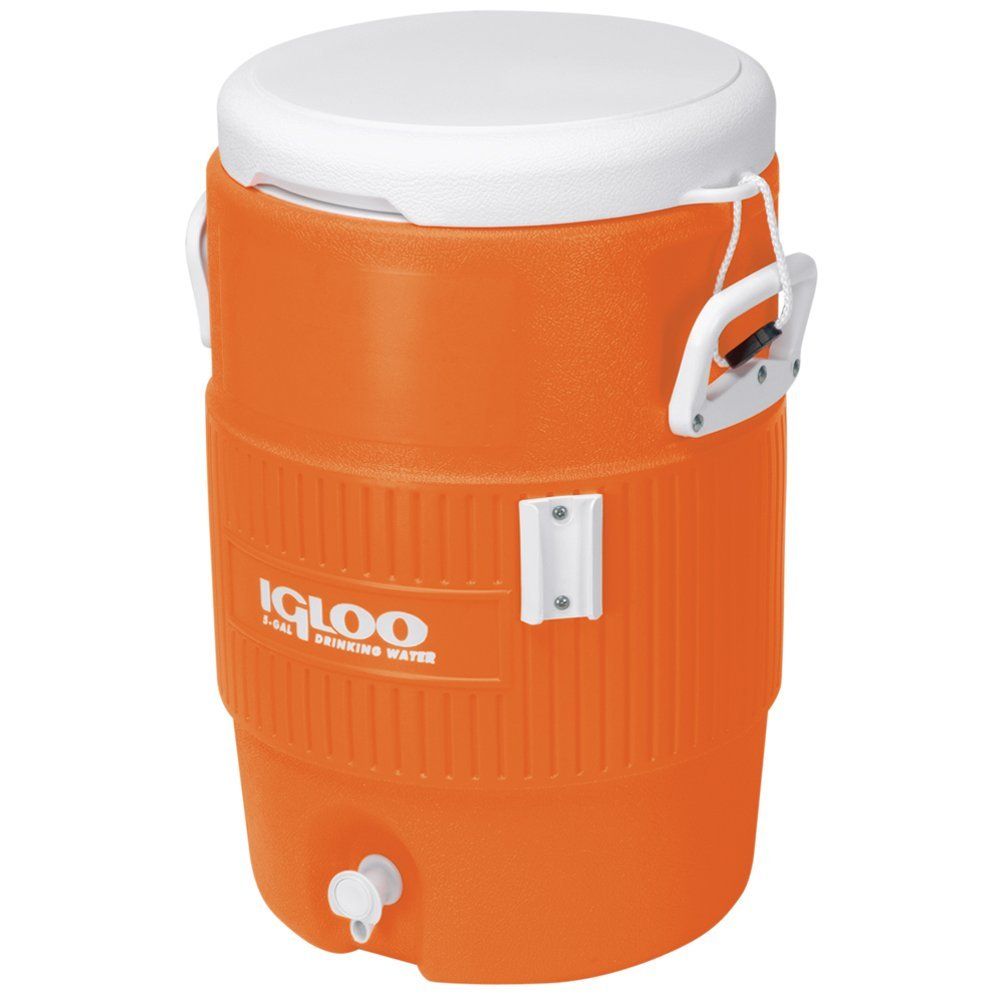 The Igloo Seat Top Jug is an iconic water jug/beverage cooler and is quite similar to the Sport Roller but with simpler features.
It doesn't come with wheels and the lid just presses on and doesn't have a hinge, gasket or cam latch.
It has the same spigot and has screw on plastic handles for carrying it.
It does come in multiple sizes so if you're looking for a smaller or larger water jug these may suit you.
Read my full Igloo Seat Top Beverage Jug Review
Seat Top Jug 5-Gallon:
Seat Top Jug 10-Gallon:
Seat Top Jug 3-Gallon:
Yeti Silo 6G: The Premium Option

If you're looking for the absolute best water jug that money can buy then the Yeti Silo 6G is what you're looking for.
Strong roto-molded construction with thick insulating walls this thing will keep water ice cold for days and it's strong and durable enough to last a lifetime.
The spigot is fast pour allowing people to pour their drinks quickly and it's got protective plastic and metal around it so the spigot won't get damaged.
The non-slip rubber feet mean it won't move around and also won't scratch or mark your table or floor.
This product is basically indestructible and there is no better water jug out there.
Read my full Yeti Silo 6G Review
Yeti Silo 6-Gallon:
Ozark Trail Round Cooler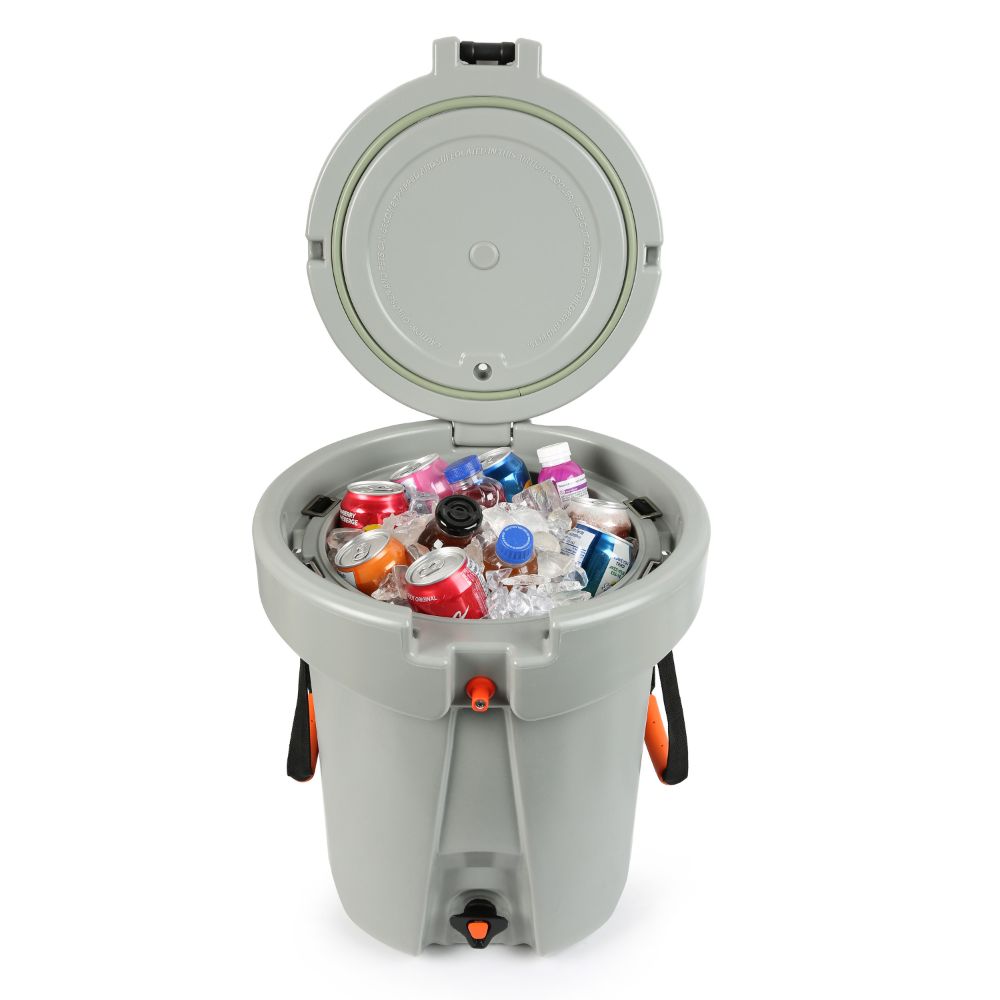 Ozark Trail is Walmart's brand of cooler and the 5-gallon round cooler has a spigot and can be used either as a cooler or as a drink dispenser.
It is heavily insulated and can keep water ice cold for 2-3 days.
The lid has a rubber gasket and pull down rubber latch to make it spill proof and the lid is detachable so you can use it as a party drinks tub if you want to.
A much better option than the Igloo and a much cheaper price than the Yeti this is a great water jug for the price.
Read my full Ozark Trail Round Cooler Review
Ozark Trail Jug: $78.00 (see at Walmart.com)