The Ozark Trail round cooler/water jug is a heavily insulated drink dispenser that can keep ice and water cold for days so you, your sports team or your employees can always have a cold drink handy.
The 5-Gallon round Ozark Trail cooler is made from a durable roto-molded construction and is heavily insulated with a removable lid and spigot tap for drinks. It can be used as a drink dispenser or as a cooler or party tub.
In this review of the Ozark Trail 20-Quart round cooler we will look at the features of this cooler/water jug in detail so you can see whether or not it's right for you.
Price: The Cheapest Roto-Molded Water Jug On The Market
There are a few roto-molded water jugs on the market that offer similar features and durability to the Ozark Trail, but the Ozark Trail is the most affordable option.
The Yeti Silo 6-Gallon water cooler is approximately 3 times the price! Plus other less known brands are all more expensive also.
It's not as cheap as something like the Igloo Seat Top Water Jug, but it's also much better than that jug and will last much longer.
Below you can see a comparison of the Ozark trail water jug compared to other roto-molded jugs so you can see the price difference.
OZARK TRAIL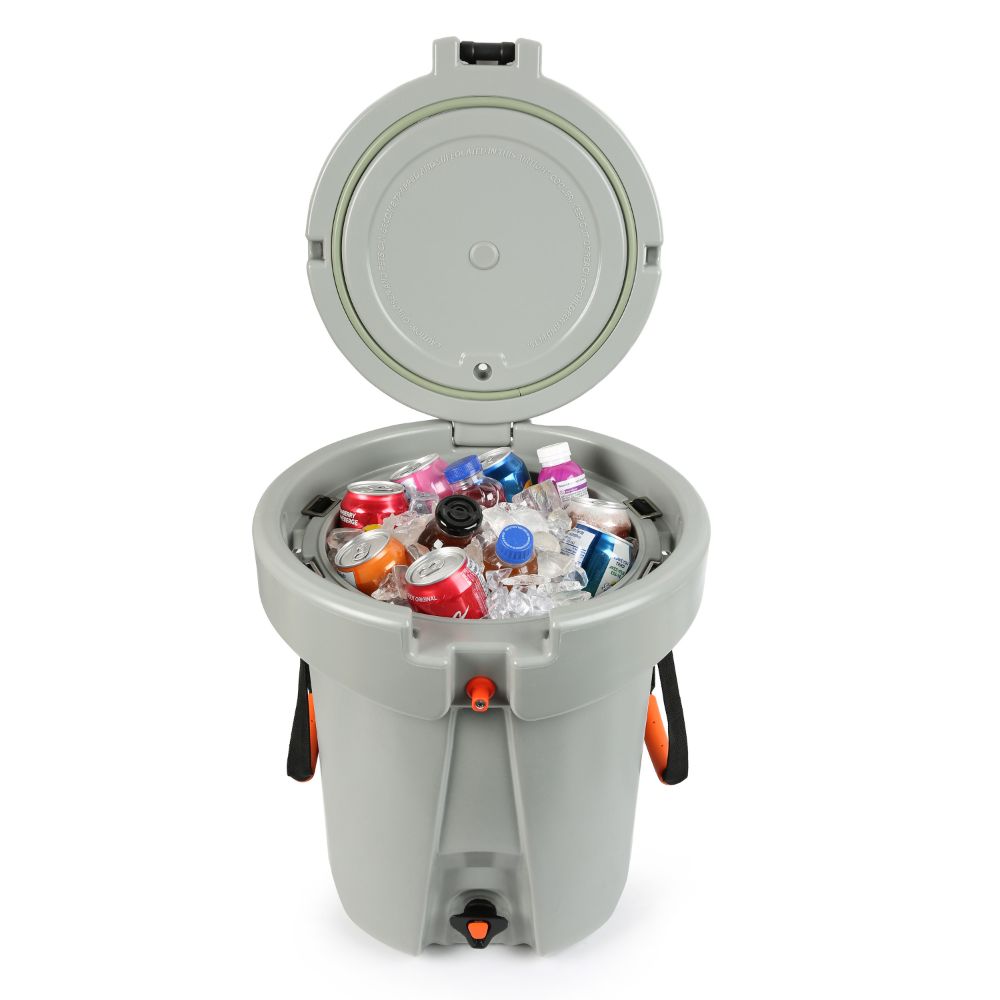 Ozark Trail Jug: $78.00 (see at Walmart.com)
OTHER JUGS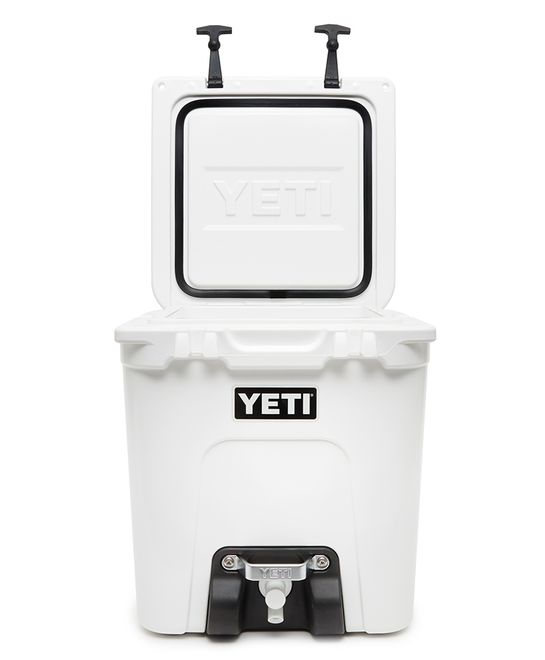 Yeti Silo 6-Gallon:
---
KULA 2.5-Gallon:
---
Hydro Jug 5-Gallon:
Keeps Iced Water For 2+ Days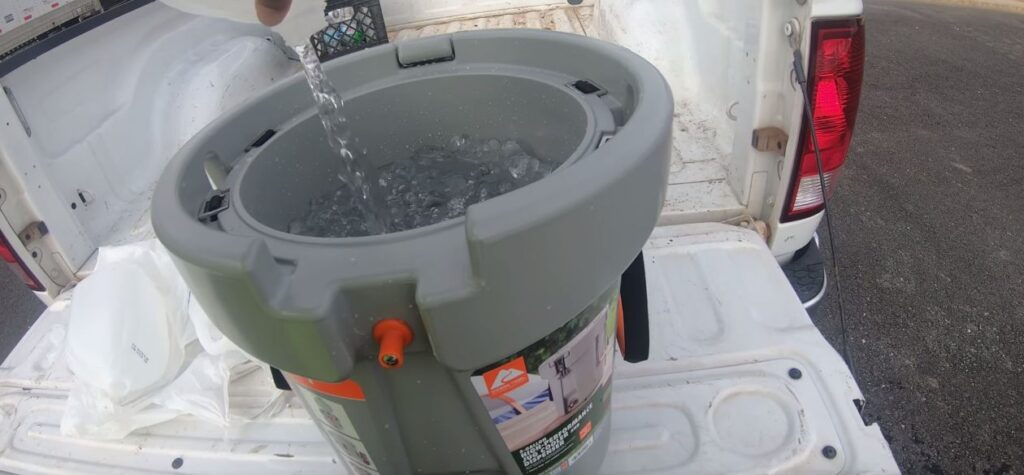 The Ozark Trail water jug is made from roto-molded plastic and then filled with 1-2 inches of pressure injected foam in the sides, base and the lid.
This thick insulation helps the cooler to keep iced drinks for longer than your average water jug.
Whereas an average water jug will keep drinks cool for a few hours, the Ozark Trail will keep drinks cooler for 2-3 days.
The below video shows someone who did their own iced water test and indeed it did keep ice for over 2 days.
By pre-chilling the cooler or by using these tips to keep ice longer in a cooler then it could maybe even hold ice longer than 3 days.
Built To Last For Years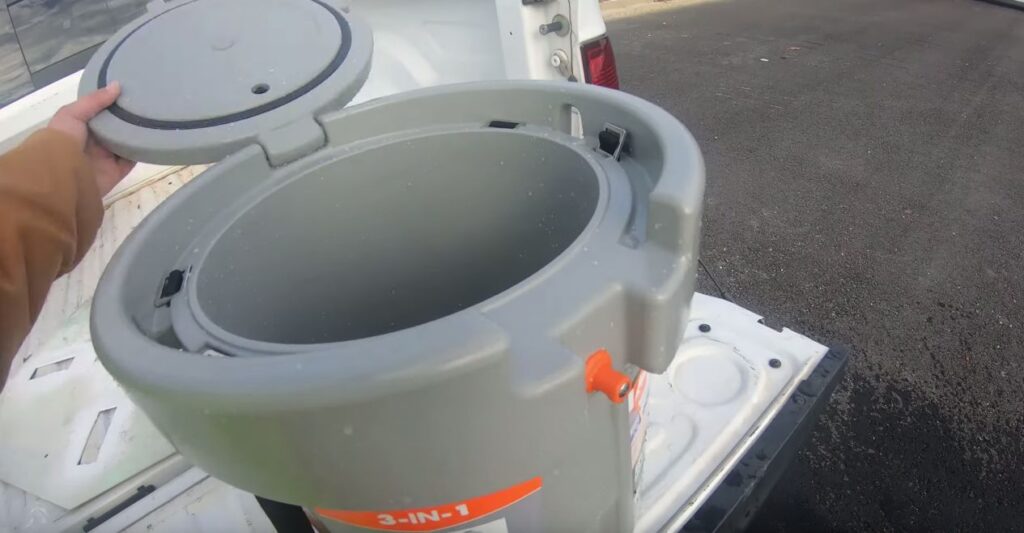 Roto-molded coolers are known for their strength and durability. Ozark Trail coolers are so strong that they are certified bear proof and while this round version isn't lockable, thus isn't bear proof, it's made from the same durable materials.
The roto-molded plastic is extremely thick and hard to break, it's the same stuff they make kayaks out off. Plus the pressure injected insulation sets hard and adds extra strength to the cooler.
Other cheaper versions are made with thinner blow-molded plastic which more easily cracks and breaks, especially if you drop the cooler.
This product is backed by a 5-year limited warranty, but it'll likely last much much longer than that.
Recessed Spigot Tap Is Less Likely To Break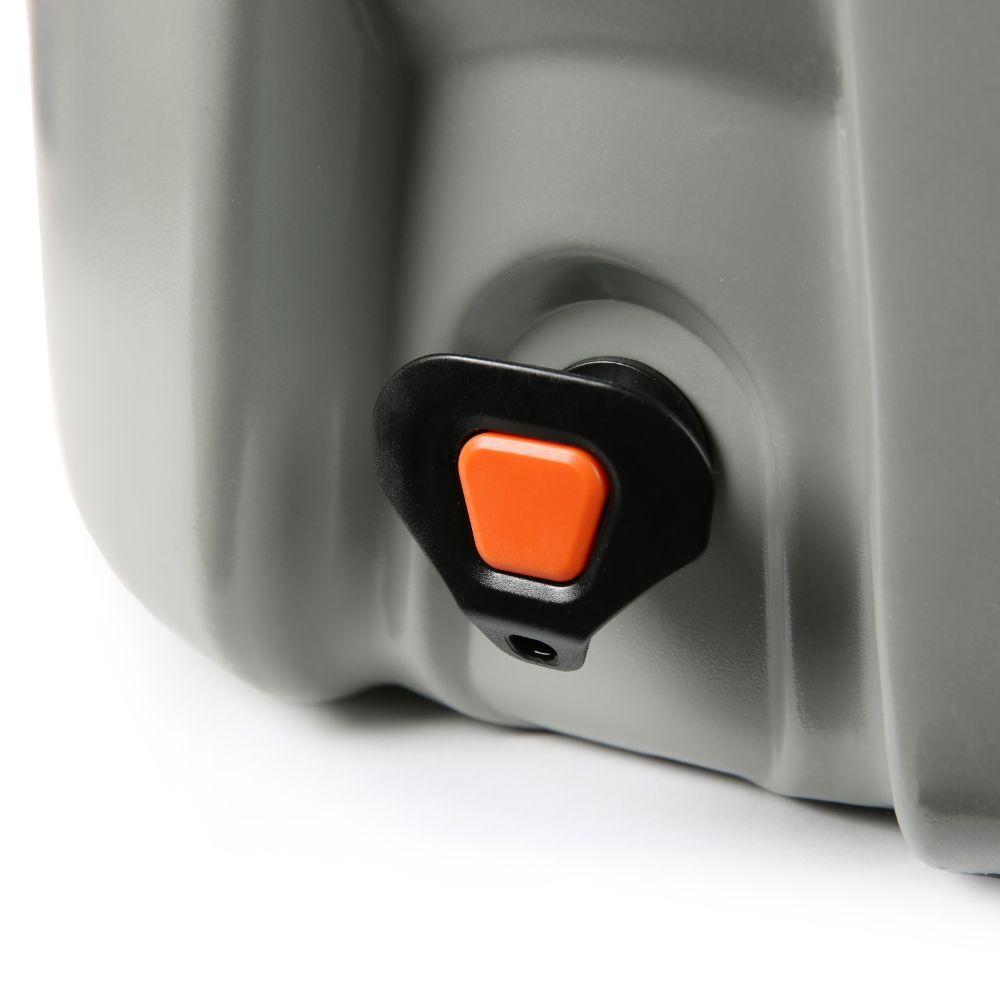 This round cooler comes with a push tap/spigot so you can easily use it as a drink dispenser.
The tap is recessed into the cooler and doesn't stick out which helps protect it from bumps or being broken off in storage or transport.
It isn't as heavily protected as the Yeti Silo spigot, but it is recessed and protected enough that it is highly unlikely to break with regular use.
Rubber Latch + Gasket Make It Spill Resistant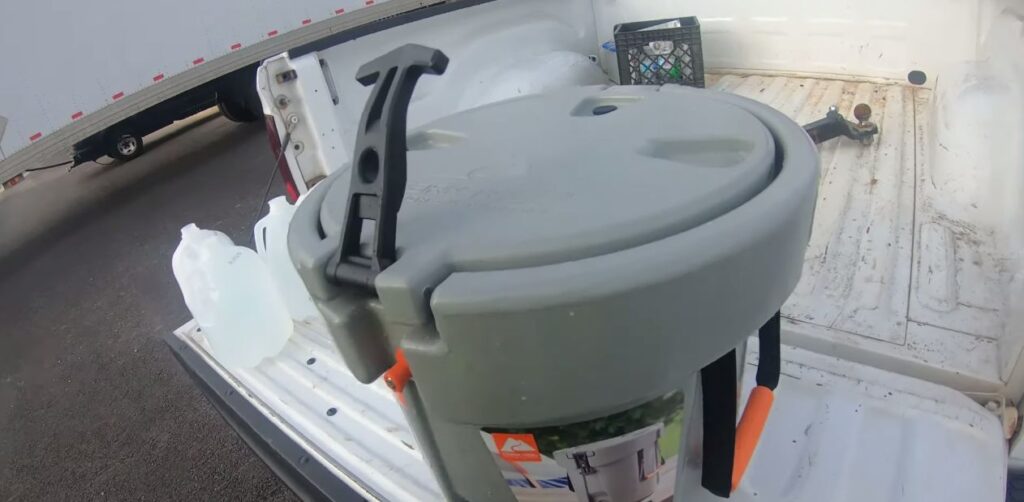 Just like other the other Ozark Trail cooler this round water jug comes with a freezer grade rubber gasket as well as a pull down rubber latch.
When the lid os closed you pull the rubber latch down in place over the pin and the tension keeps the lid held firmly to the cooler.
This adds to the ice retention but also makes the cooler leak proof. If it was to get knocked over it wouldn't spill water everywhere.
Turn It Into a Party Bucket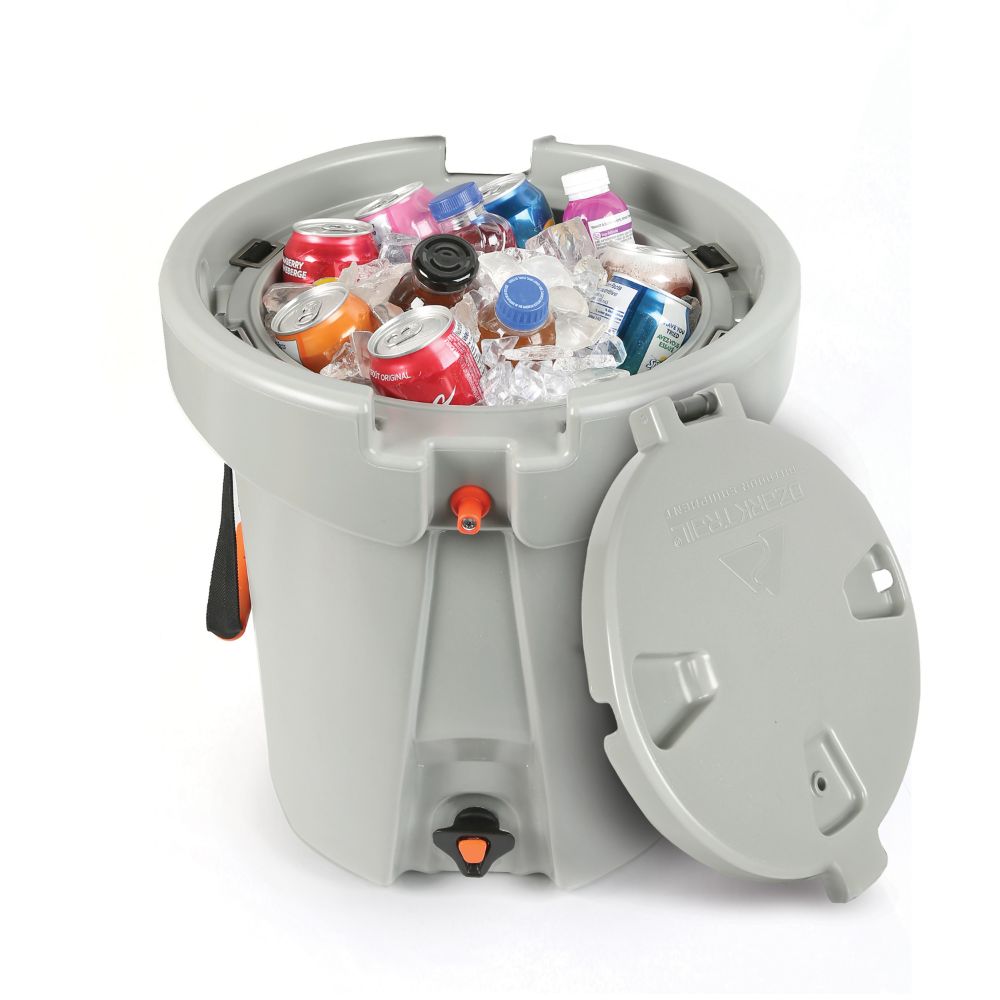 The lid has an easy to remove hinge which allows you to completely remove the lid if required and turn the cooler into a party bucket.
Fill it up with drinks and ice at a party and it will keep drinks cold all day for you and your guests to enjoy and because it has so much insulation it won't sweat and drip water all over the floor.
Strong Rope Handles For Easy Carrying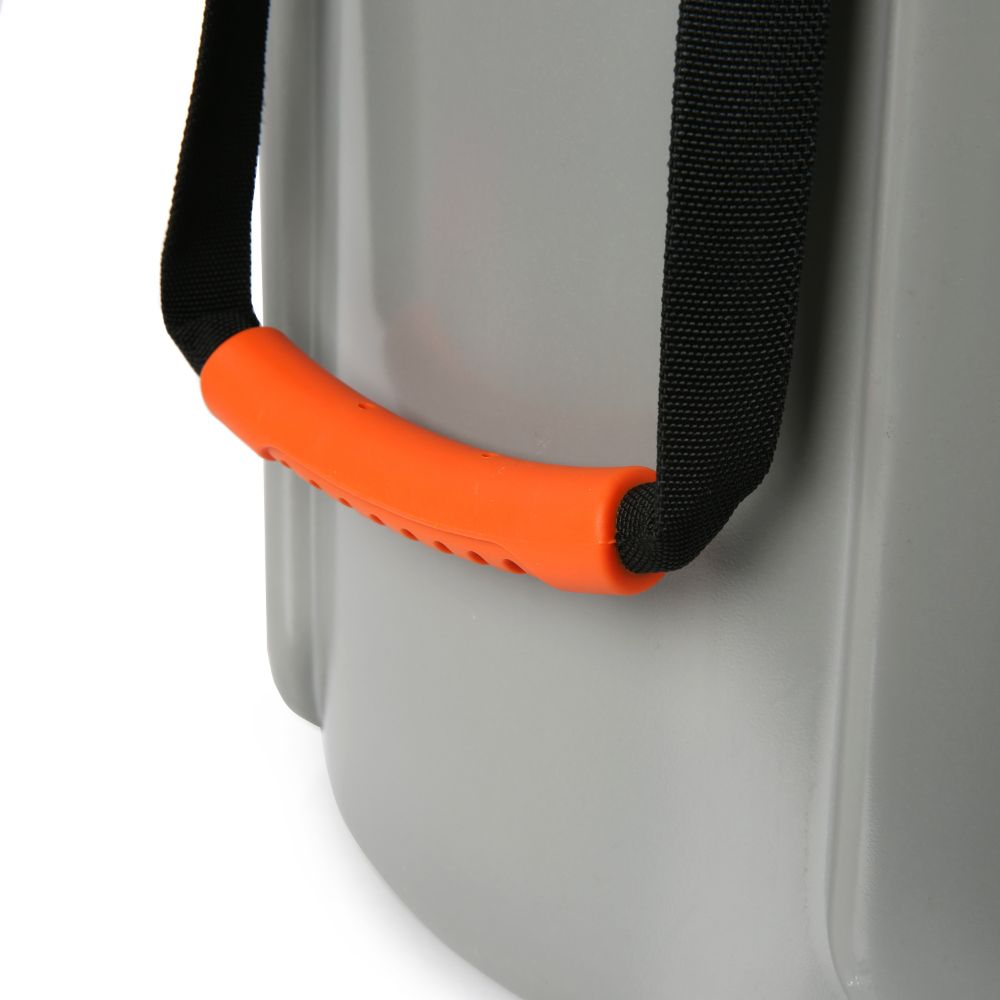 This round cooler comes with 2 nylon rope handles with comfortable plastic grips for easy carrying.
The handles are strong and can easily hold the weight of a completely filled water jug without you ever have to worry about them breaking and they aren't made from brittle plastic so they won't get sun damaged over time.
They hang out of the way when not in use.
Doubles As A Handy Seat
The tap is high enough off the ground that you can put this cooler on the ground and have it double as a chair for you without the spigot getting dirty.
Being a round cooler it makes a good seat, but there is no cushion on the lid like the KULA cooler has, so it's not the most comfortable stool in the world, but it's good enough.
Who Is This Cooler Right For?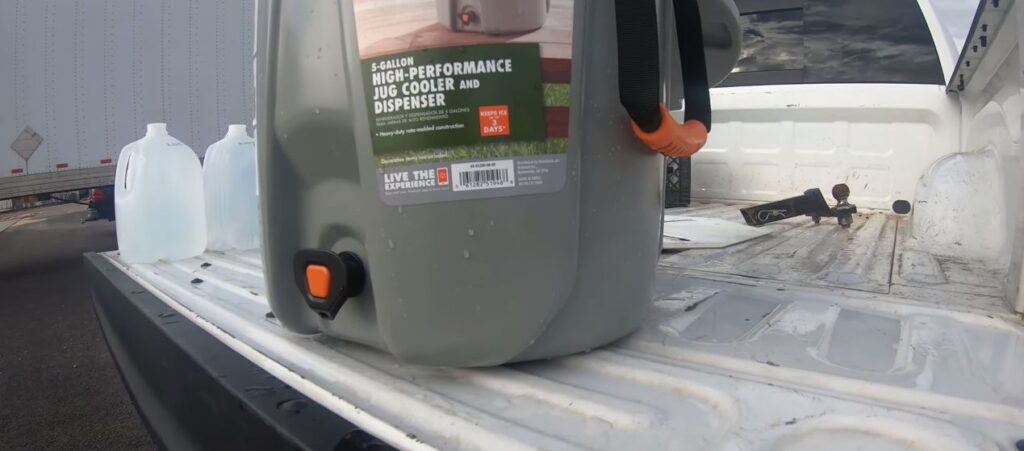 The Ozark Trail Round Cooler is good for someone who is looking for a drink dispenser that is going to be more durable and keep ice longer than a cheap Igloo or Rubbermaid one.
This may be an employer providing drinks for employees on a job site or at a conference or it may be someone in charge of providing drinks for a sports team.
I also know some workers like to have it in their truck so they can fill up their water bottle throughout the day and always have access to cold water.
It would also be great for someone who wants a drink dispenser sometimes and wants a small portable cooler other times as this can technically do both.
Problems With The Ozark Trail Round Cooler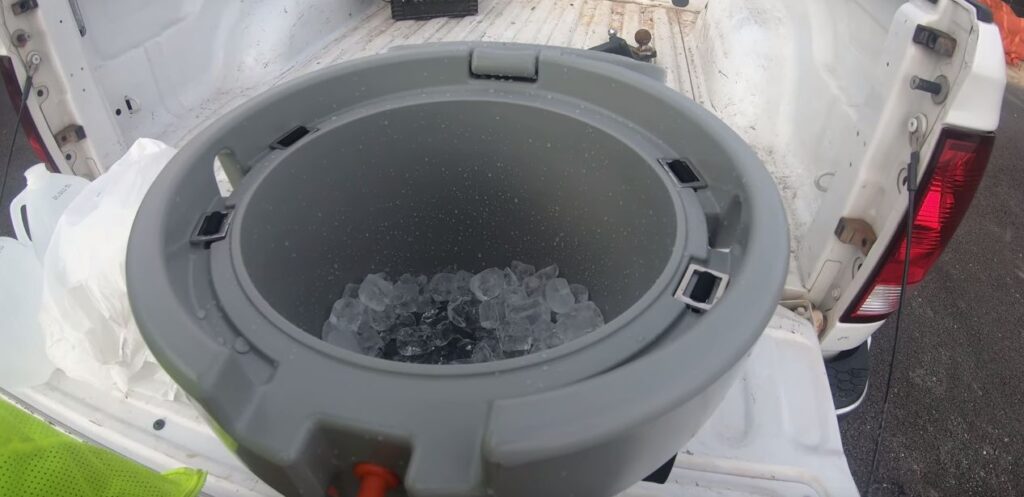 No cooler is perfect and while this cooler is great it isn't perfect and you should be aware of some of the issues before buying it.
Not as heavily insulated as the regular coolers – The round coolers tend to have less insulation when compared to the square coolers which means they don't keep ice as long.
Side handles mean it's hard to carry this one handed – Some other round coolers have a rotating metal handle that makes it easy to carry with one hand. The design of these handles means you have to use 2 hands to carry it.
Spigot can break – While it's recessed into the cooler to provide some protection it's not fully protected and can easily break. Customers have reported it takes up to 2 weeks to get a replacement part.
Doesn't hold ice if you don't use it properly – Just like any roto-molded cooler it needs to be prechilled or it won't hold ice long.
Not as good quality as Yeti – The Yeti Silo is better quality in it's construction and you're less likely to have any issues with it. However, the Yeti Silo is way more expensive.
None of these issues with the Ozark Trail 20-Quart Round cooler are deal breakers in my mind. I still think it's a great cooler for the money.
Where To Buy The Ozark Trail Round Cooler

The Ozark Trail 20-Quart water jug/drink dispenser is less common than the other Ozark Trail coolers and thus is available in less places.
You can find it either in your local Walmart store if they happen to stock it (not all Walmarts do).
But the easiest place to get it is to simply buy it from Walmart online.
To see the latest price of this cooler click my Walmart affiliate link below:
See latest price of Ozark Trail 20-Quart Round Cooler (at Walmart.com)
Alternative To The Ozark Trail Water Jug
The Ozark Trail Water Jug might not exactly suit your needs. Maybe you're after something better, something cheaper or maybe a regular square cooler would suit your needs better.
BETTER: Yeti Silo 6-Gallon Water Jug

The Yeti Silo 6-Gallon Water Jug is bigger, stronger, more heavily insulated and overall a higher-quality cooler.
It has protection around the spigot to ensure that it is extremely unlikely to break and it has 2-3 inches of insulation allowing it to keep ice and cold drinks longer than the Ozark Trail.
It has a seriously fast flow rate and can be dropped or thrown around without fear of breaking it.
It comes with a 5-year warranty but it'll likely last you much longer.
See my full Yeti Silo Water Cooler review
Yeti Silo 6-Gallon:
CHEAPER: Igloo Seat Top Water Jug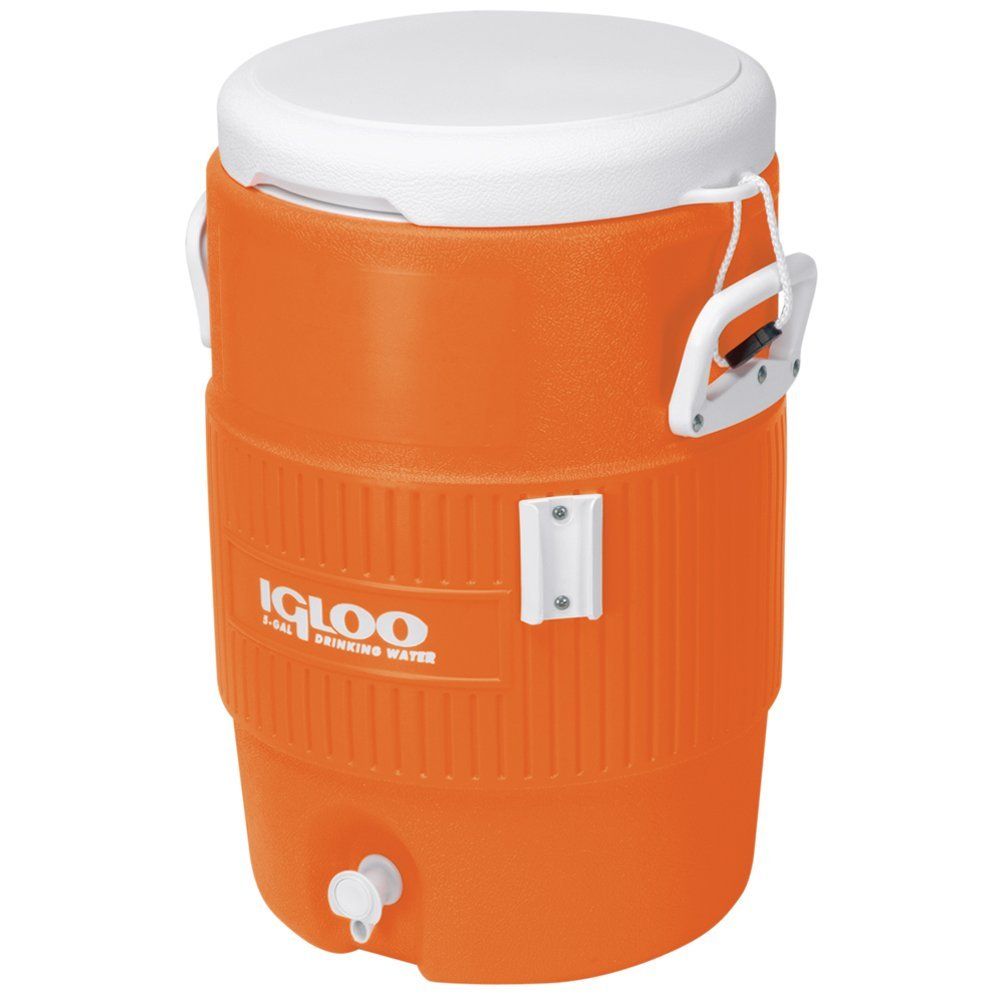 If the Ozark Trail seems a little bit on the expensive side to you and you aren't going to get enough use out of it then a cheaper alternative is the Igloo Seat Top Water Jug.
It holds 5-Gallons and will keep drinks cold for most of the day (around 4 hours or so).
It's not as strong and it's not as heavily insulated but it's cheap and it does the trick.
Igloo Water Jug 5-Gallon:
COOLER: Ozark Trail Other Coolers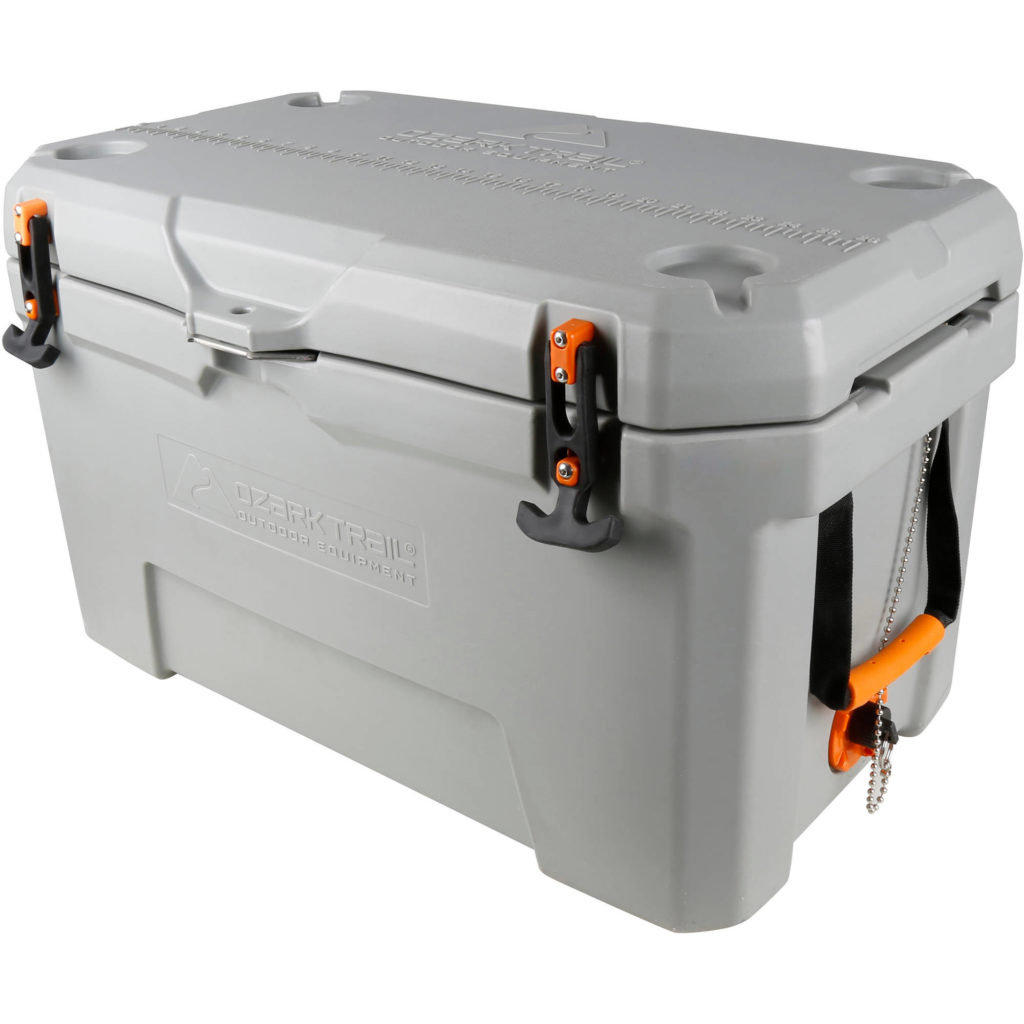 Ozark Trail have a full line of regular coolers that comes in 4 different sizes (one of which has wheels for easy transport).
The coolers are the cheapest roto-molded coolers on the market and can keep ice for 3-5+ days.
They are more than half the price of a similar sized Yeti cooler and they come with a built in fishing ruler, molded in bottle openers and are certified bear proof.
See my Ozark Trail vs Yeti comparison article
See the latest price of Ozark Trail Coolers (at Walmart.com)