The Igloo Seat Top Beverage Jug is a great insulated budget drink dispenser that will keep your drinks cold for most of the day and is good for use at work sites or sports games to keep everyone hydrated.
In this Igloo Seat Top Jug review we'll look at the build construction, features and problems with this product so you can decide if this product is right for you or if something else will be better for you.
Price: The Cheapest Water Jug On The Market
The major draw card of this water jug is that it's generally the cheapest one on the market, meaning it won't cost you an arm and a leg in order to purchase it (unlike the Yeti Silo which is almost $300).
The 5-Gallon option is the most popular and it will only set you back around $30-$50 depending on where you buy it from.
Igloo also have other size options which are all very affordable.
Below you can see a comparison between Igloo and other similar brands like Rubbermaid as well as more expensive roto-molded options like Yeti.
SEAT TOP JUG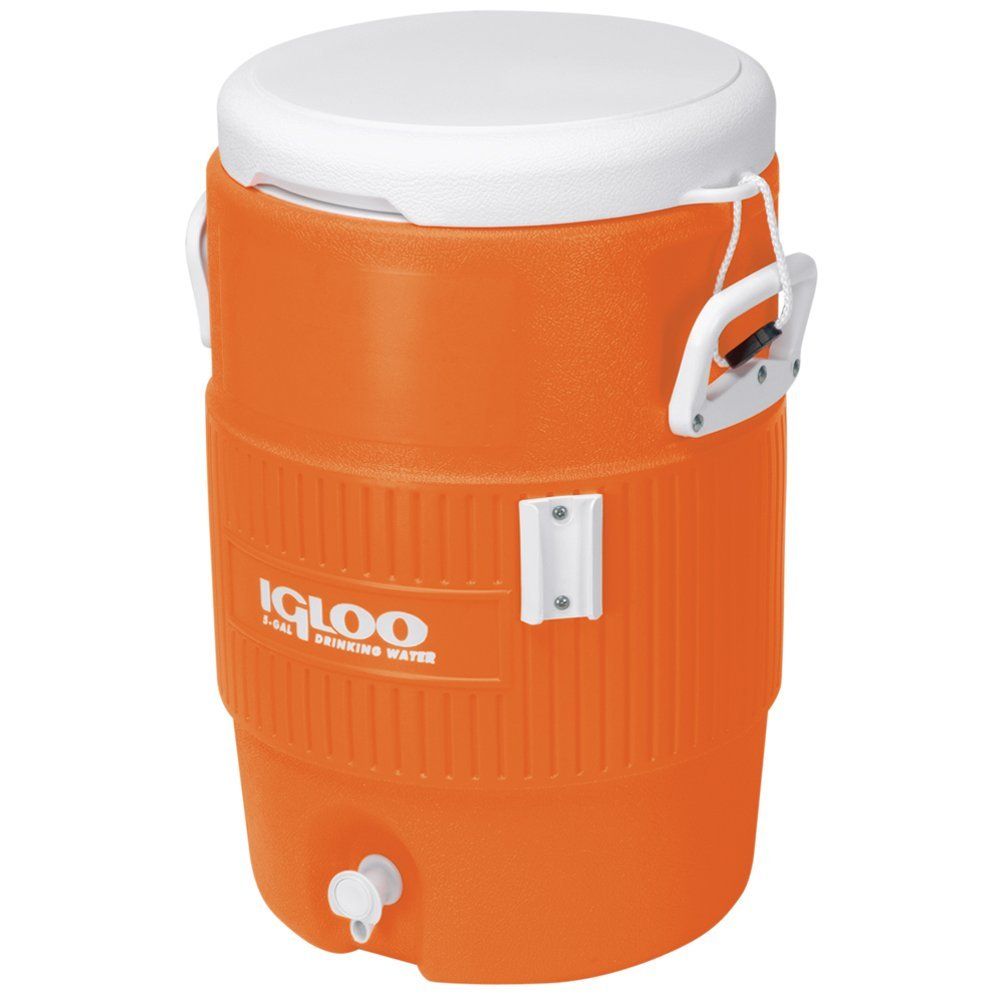 Seat Top Jug 5-Gallon:
---
Seat Top Jug 10-Gallon:
---
Seat Top Jug 3-Gallon:
OTHER JUGS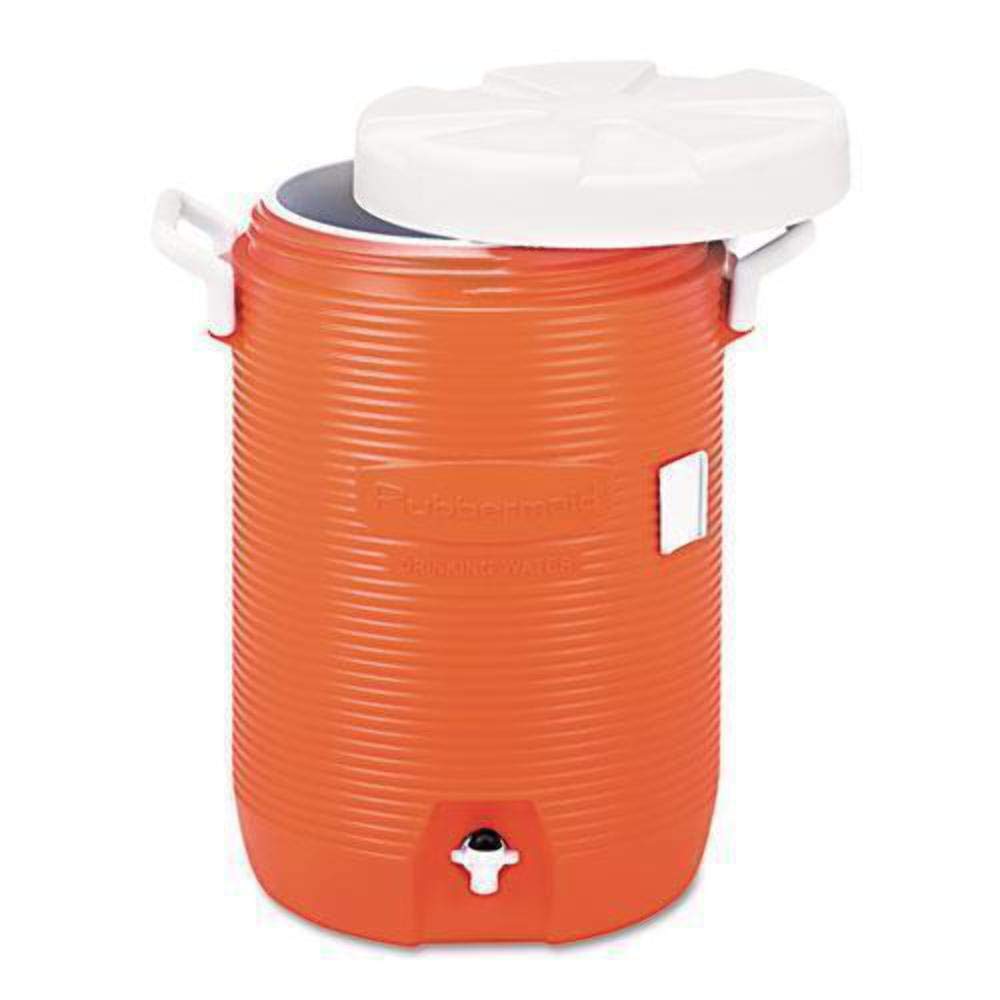 Igloo Sport Roller:
---
Rubbermaid 5-Gallon:
---
Yeti Silo 6-Gallon:
---
Ozark Trail Jug: $78.00 (see at Walmart.com)
As you can see the Igloo Seat Top is an extremely affordable option. But is it any good or is it just a cheap crappy water jug that you'll regret buying?
Will Keep Drinks Cold Most of The Day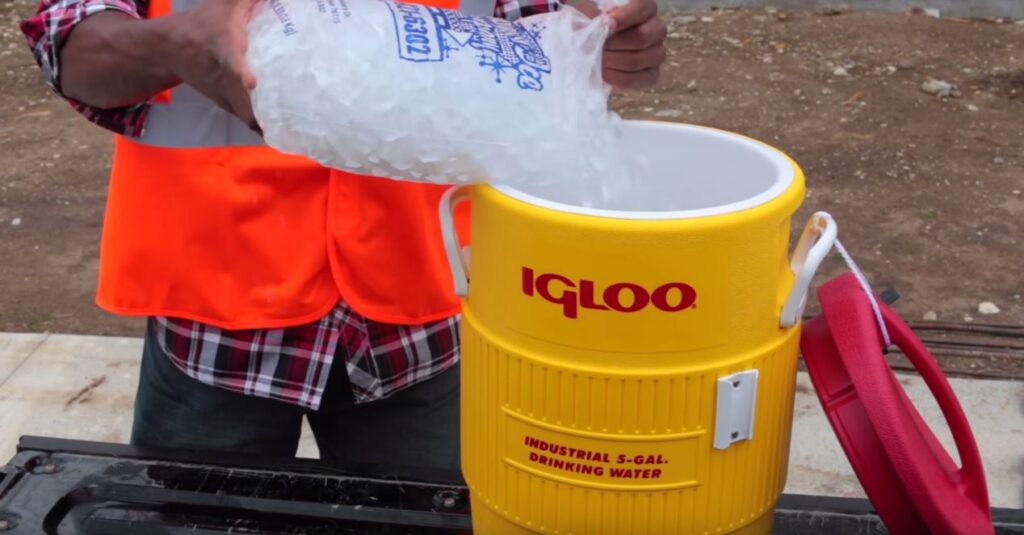 The Igloo Seat Top is an insulated water jug, which helps it to keep ice longer than a glass or stainless steel water jug that isn't insulated.
It doesn't have as much insulation as the roto-molded water jugs so it won't keep ice as long as them.
If you filled up the Igloo Seat Top completely with ice then you can expect that ice to last anywhere from 1-3 days depending on how warm it is.
However, if you use it as most people will and fill it up mostly with tap water (not prechilled) and maybe 1-2 bags of ice then you can expect it too keep drinks cold for around 4 or so hours.
Build Construction is OK, But Not Super Durable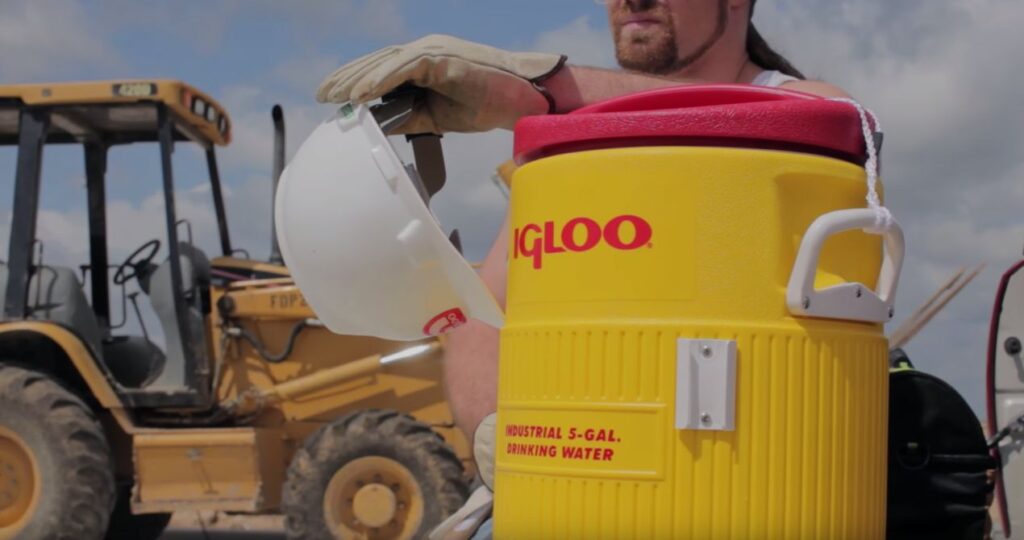 The build construction on this cooler is ok, but not super durable.
It's fine to be thrown in the back of a truck, to be bumped around or even dropped when empty but it's can't take a serious beating like roto-molded coolers can.
If you happen to drop this cooler when it's full of water then you can expect it to break, or at least for the outer shell to crack. Also over time sun damage will wear away at the plastic making it more brittle and prone to cracking as well as color fading.
The spigot is the weakest point of the whole cooler so you need to be careful not to damage it when transporting it or using it.
Recessed Angled Spigot For Easy Pouring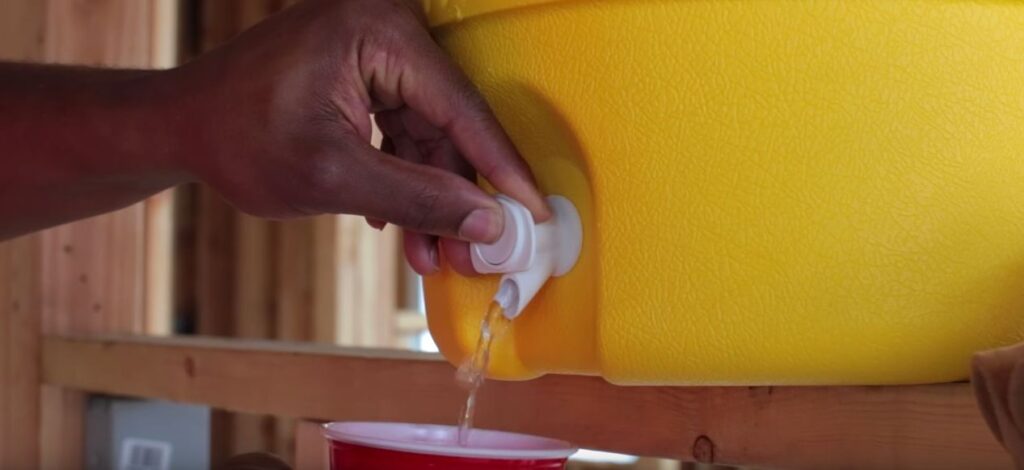 The Seat Top Jug has a recessed spigot to provide it with some protection from being bumped and broken and the tap is angled so that it pours outwards away from the cooler.
This makes it easy for people to fill up their cups or drink bottles and means you don't need to have it quite as close to the edge of the table for use.
Plastic Carry Handles

There are two plastic handles on the sides of this cooler that point upwards and slightly out from the cooler allowing you to get your hands in there for a good grip.
They aren't the most comfortable handles in the world and they can break, especially with sun damage, but for the most part they do their job well.
Push Down Lid – Attaches With String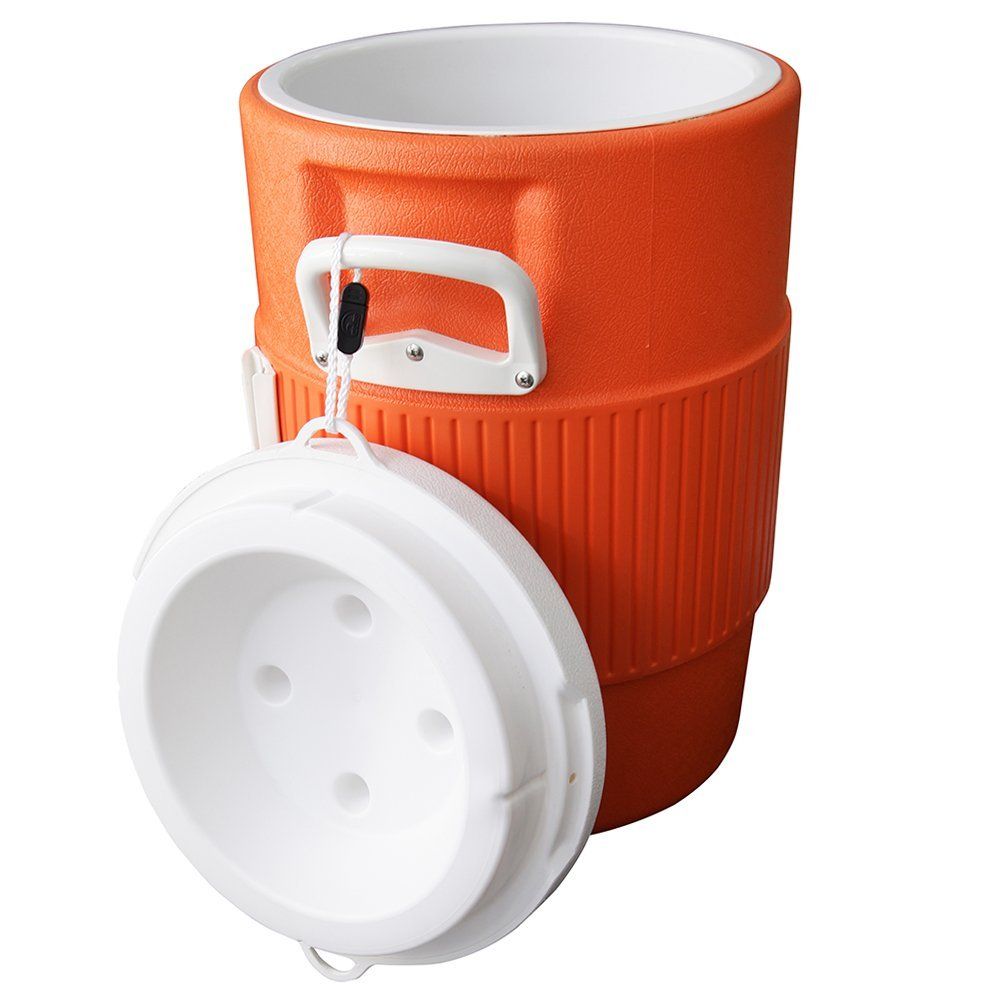 The lid of the Igloo Seat Top attaches to the main body of the cooler with friction and pressure.
Simply push down the lid and it clicks into place and is held in place by the friction of the plastic.
This works fairly well but lids have been known to become loose and blow away or simply fall off easily.
The lid does have a loop that allows you to attach it to the cooler by tying string around one of the carry handles. Not exactly an elegant solution but it seems to work.
Problems With The Igloo Seat Top Beverage Jug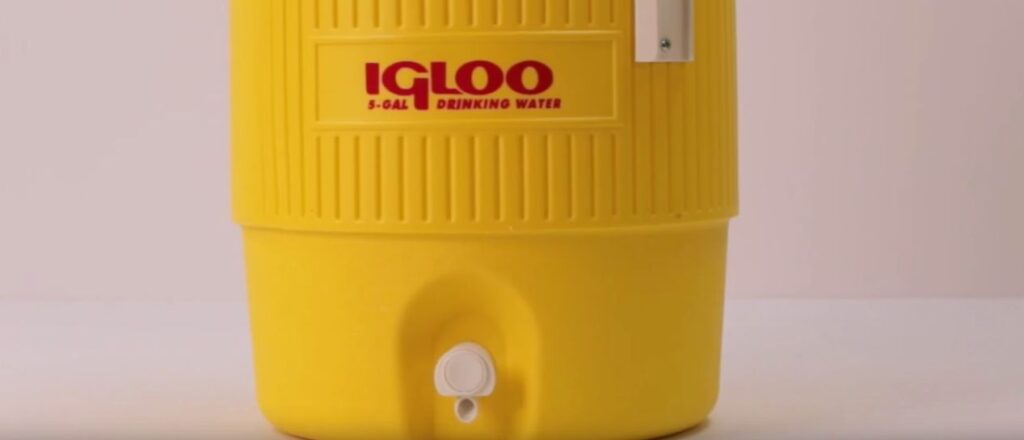 The Igloo Seat Top Beverage Jug is a budget water cooler/drink dispenser and thus it comes with a set of trade offs and issues because it is so affordable.
It's not going to last as long as the Yeti Silo that costs $300.
While none of these issues are deal breakers it's important to know the limitations of what you are buying.
Spigot Can Break Easily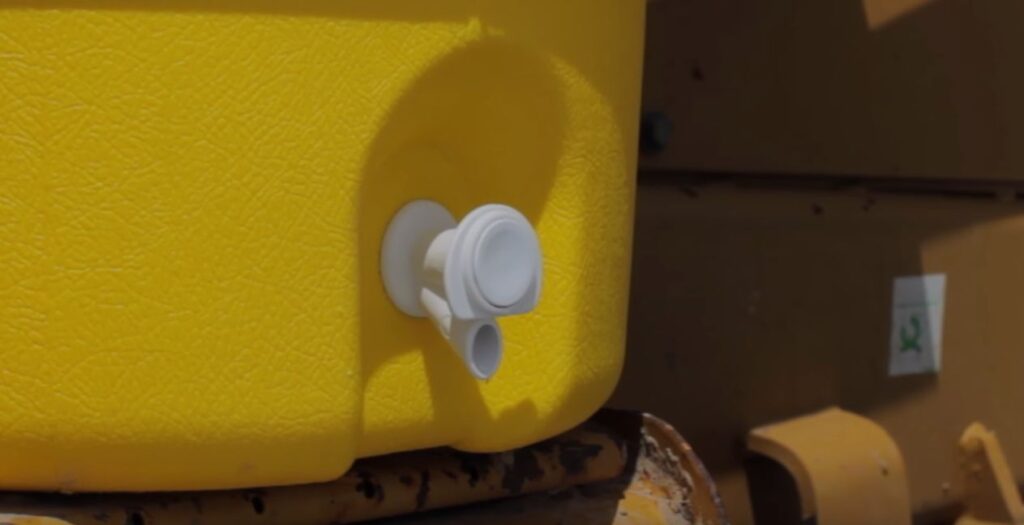 The spigot is the weakest part of the cooler and is the most common thing to break. There are a few common issues with it.
Firstly, it can break by being bumped and can be broken off. Alternatively people have had issues with the spigot being stuck in the on position, constantly draining water or stuck in the off position or only letting water out extremely slowly.
Spills When Transporting
Because the lid doesn't have a rubber gasket or anything to hold it down it means when you are transporting it and it is full of water that sloshing water will come out of the lid and go all over you.
You'll need to transport this carefully or fill it up at your destination which isn't ideal.
Won't Keep Ice Long
It keeps ice a decent amount of time, especially if you pre-chill the water before putting it in the cooler. But it doesn't work nearly as good as the more expensive brands.
Great for a day on the sports field, at a party or at a work site but not great it you want it too keep ice longer than a day.
Will Get Sun Damaged
Over time the sun will damage the plastic and make it more brittle and prone to cracking.
Where To Buy The Igloo Seat Top Jug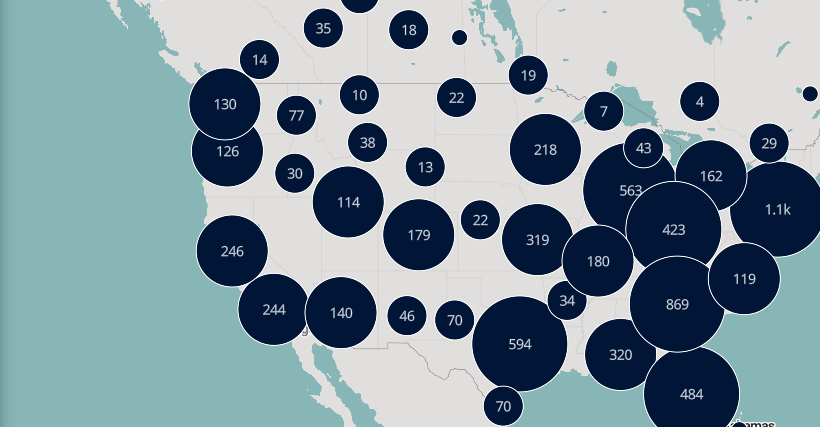 Igloo products are sold all over the US and all over the world. They have a wide distribution and the Seat Top Jug is a fairly popular product.
You should be able to buy it in most sporting goods stores and hardware stores and if they stock Igloo products then chances are you can order it in.
But the best 2 places to buy it from are likely going to be either Amazon or Walmart.
Both often have it on sales and you can get free shipping on this product in many cases.
Depending on the day and depending on what discounts they are offering one site may be cheaper than another.
To compare the latest prices of the Seat Top Water Jug on Amazon and Walmart simply click my affiliate links below (will open in a new tab).
See the latest price at Amazon
See the latest price at Walmart
Alternatives To The Igloo Seat Top Jug
If the Igloo Seat Top Jug doesn't seem like the right drink dispenser for you then there are some other options out there.
You may be after a more premium option like the Yeti Silo or the Ozark Trail Water Jug or maybe a different budget option would be best for you.
Igloo Sport Roller Beverage Cooler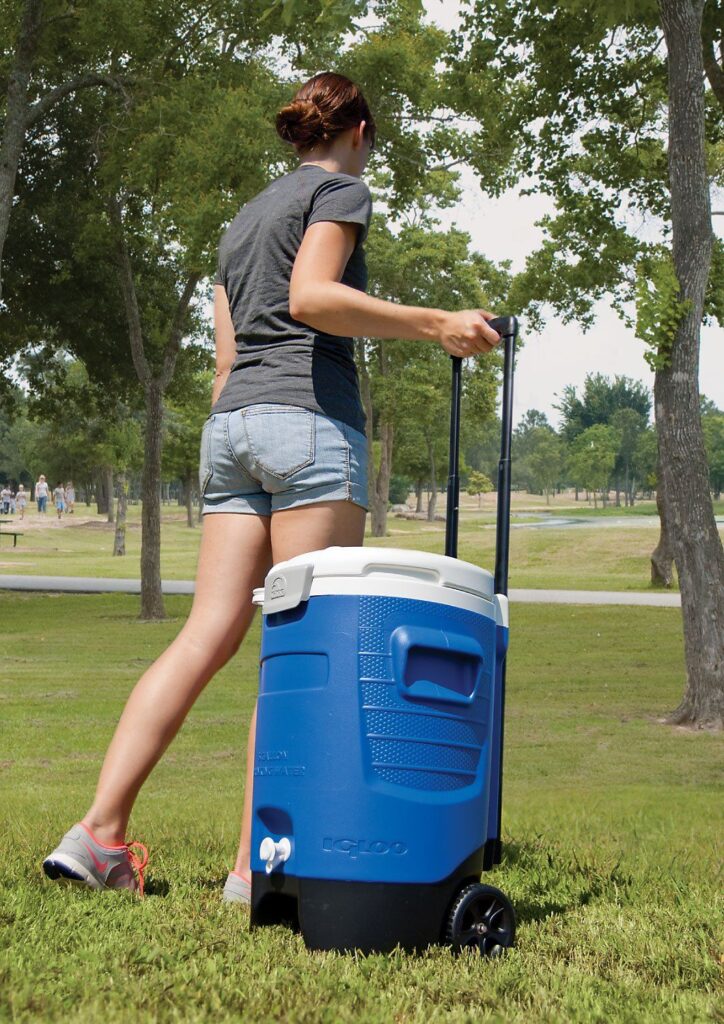 The Igloo Sport Roller Beverage Cooler is like the new and improved version of the Seat Top Jug and it sells for a similar price.
It has wheels and a suitcase style pull up handle that makes transporting a full jug much easier.
It also has a rubber gasket and a cam latch on the lid to firmly hold the lid in place and to stop water spilling everywhere as you move it.
The spigot is recessed to provide some protection and raised high enough off the ground that you can use it without even needing to place it on a table.
The molded in handles are also stronger than the Seat Top handles and less likely to break. All around this seems like a better budget cooler.
Read my full Igloo Sport Roller Beverage Cooler review
Igloo Sport Roller Beverage Cooler:
Rubbermaid 5-Gallon Water Cooler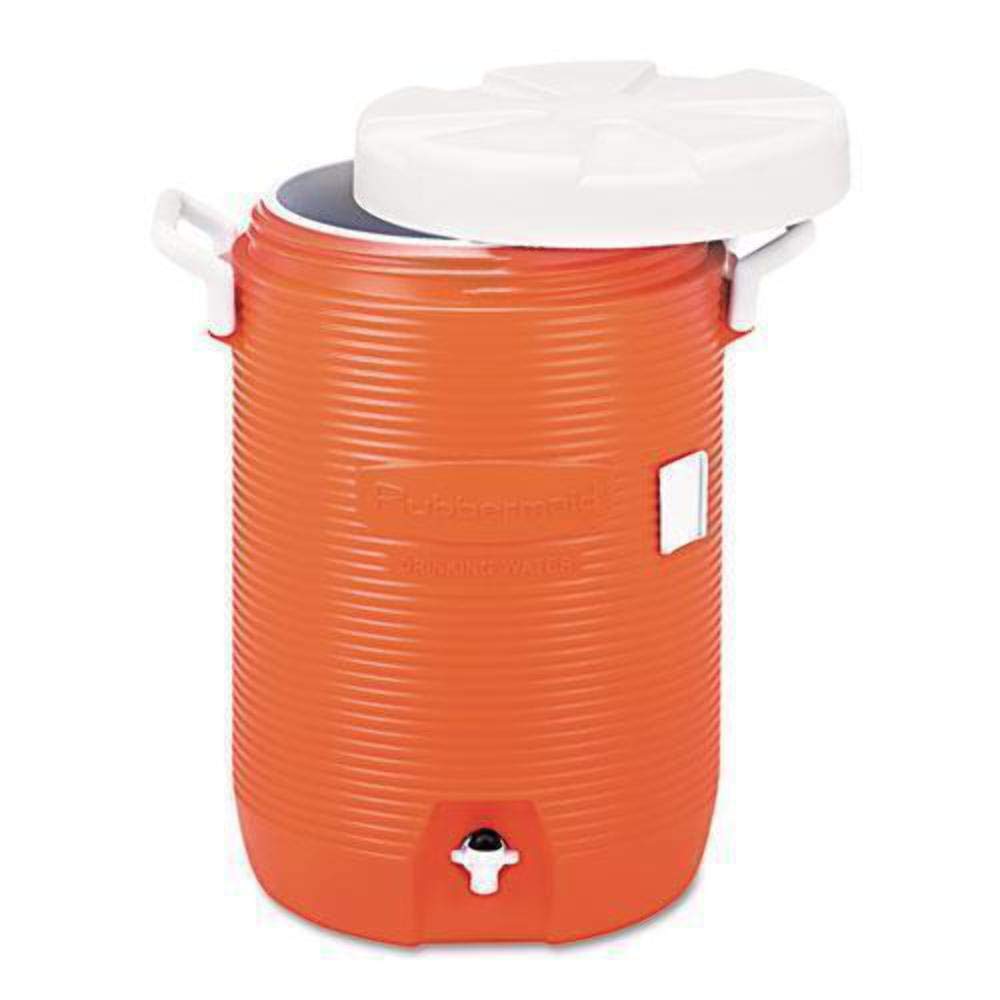 The Rubbermaid 5-Gallon water cooler is extremely similar to the Igloo Seat Top in price, features and build quality.
The major differences between the two are that Rubbermaid has a screw top lid which is less likely to blow off.
It also has slightly different plastic handles and the spigot has a push button on top rather than on the front. Otherwise they are extremely similar products.
Rubbermaid 5-Gallon Water Cooler:
Yeti Silo 6G: The Premium Option

If you're looking for a premium water jug then the Yeti Silo 6G is the best absolutely best water jug on the market.
It's it roto-molded and virtually indestructible. The fast flow spigot makes pouring quick and easy and it is protected by plastic and metal bumpers so it won't break.
It is heavily insulated and can keep ice for days and the non-slip rubber feet mean it won't slide around or mark your floor/table.
This is a great product. It's much more expensive than the Seat Top Jug, but it's also much better.
Read my full Yeti Silo 6G Review
Yeti Silo 6-Gallon: