The Cordova Hydro Jug is a heavily insulated water jug/drink dispenser that can keep drinks cold for over 24 hours, so you'll never have to worry about warm water or gatorade again.
Great for sports teams or even for conferences or employees luncheons the Hydro Jug is built tough and works great.
Keeps Drinks Cold For Over 24 Hours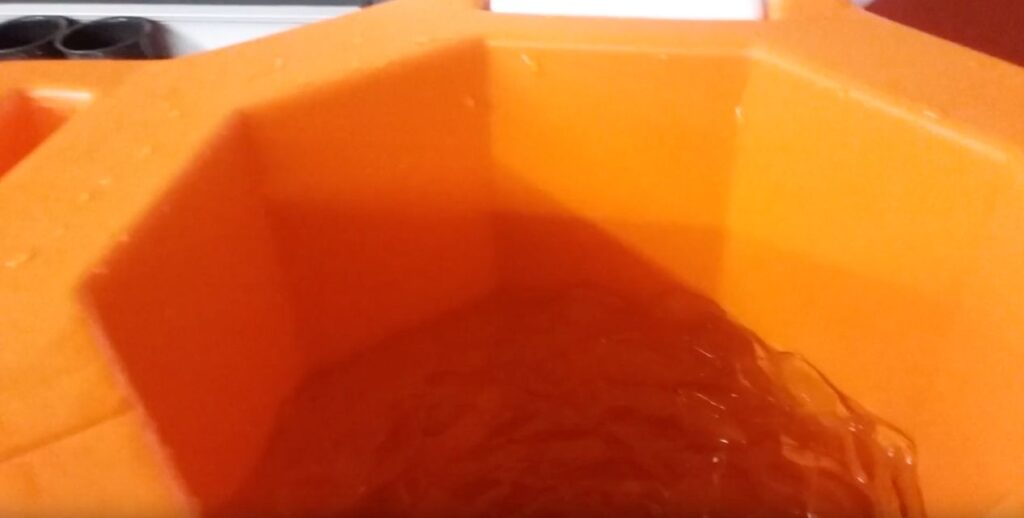 On a hot day a regular drink dispenser might be lucky to keep ice and drinks cold for 3-4 hours, the Hydro Jug massively improves that due to it's roto-molded construction and thick insulation.
There are 2 inches of insulation in the walls and in the lid of this cooler, meaning that even on the hottest days out in the scorching sun this thing will keep ice cool.
Built To Last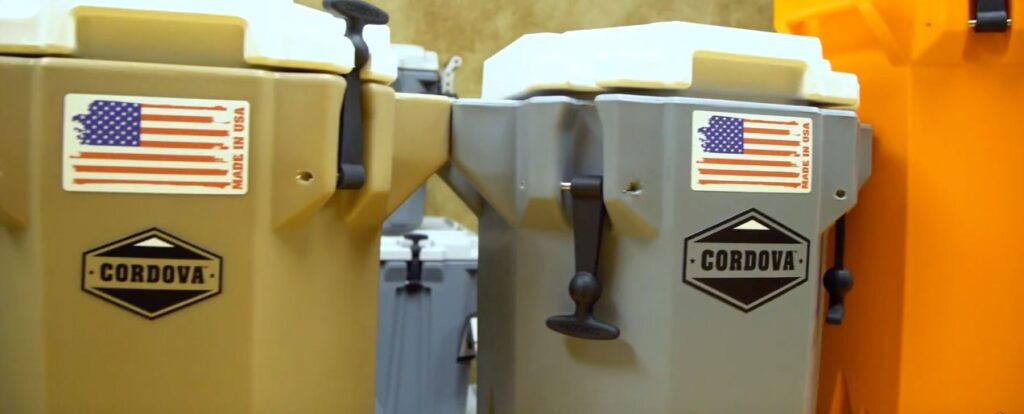 The Hydro Jug is made with roto-molded plastic which is much thicker and stronger than traditional blow-molded water jugs that are easily broken if they are dropped.
With this drink dispenser you can drop it, throw it and have it bump around in the back of your truck and it's going to hold up just fine.
It's made from the same material that the Cordova coolers (see review are made from. They coolers are bear proof, which gives you an idea of how tough this plastic is.
While the Hydro Jug isn't bear proof it's made from the same material so it's just as tough and Cordova coolers are backed by a limited lifetime warranty so you can invest in this product knowing that it's going to last you a very very long time.
Not Too Expensive
The Hydro Jug isn't the cheapest water jug on the market, that would be something like the Igloo Seat Top Beverage Jug, but it isn't as expensive as other roto-molded drinks dispensers like the Yeti Silo.
Below you can see the price of the Cordova Hydro Jug compared to other similar roto-molded jugs.
HYDRO JUG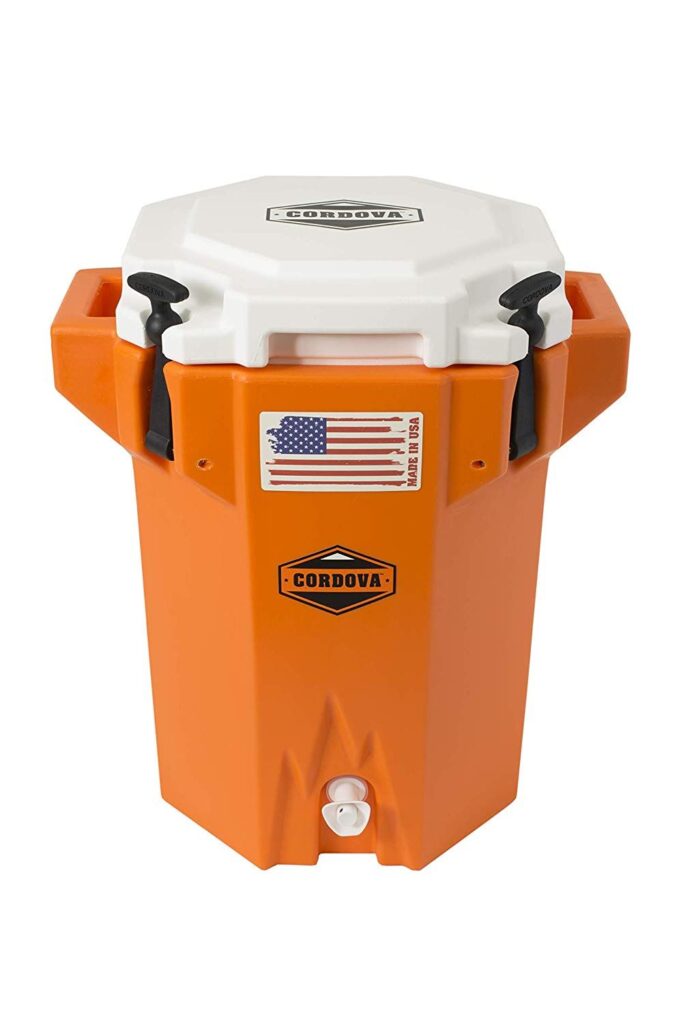 Hydro Jug 3.5-Gallon:
---
Hydro Jug 5-Gallon:
OTHER JUGS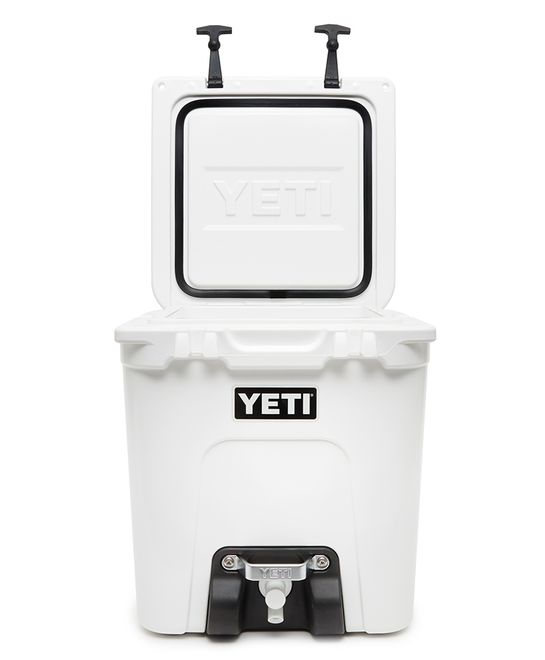 Yeti Silo 6-Gallon:
---
KULA 2.5-Gallon:
---
Ozark Trail Jug: $78.00 (see at Walmart.com)
Pull Up Rubber Latches Keep The Lid on Tight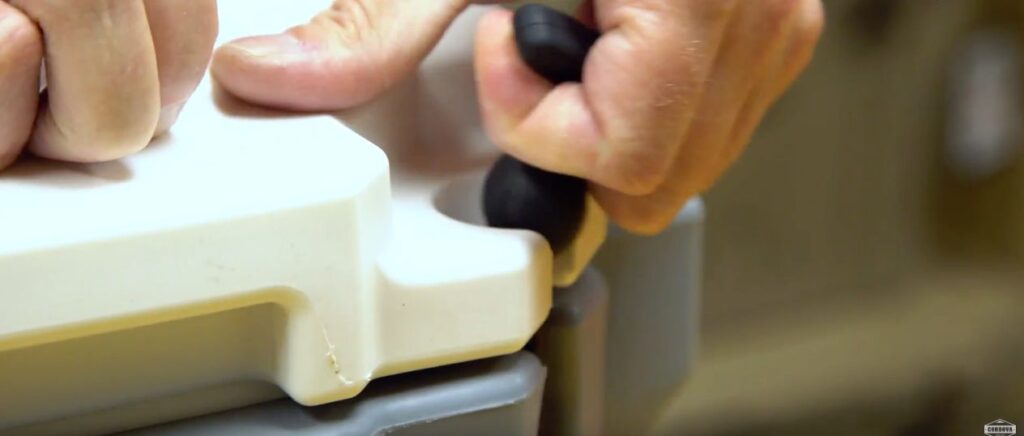 Just like Yeti coolers this jug has rubber latches that hold the lid on tight, helping keep ice longer as well as stopping spilling and stopping the lid from blowing away.
The rubber latches pull up from the body of the cooler and the tension keeps the lid in place.
There is no rubber gasket on this cooler and I presume that is to let a little bit of air in so that the water can flow easily out of the tap.
Hinged Lid So You'll Never Lose It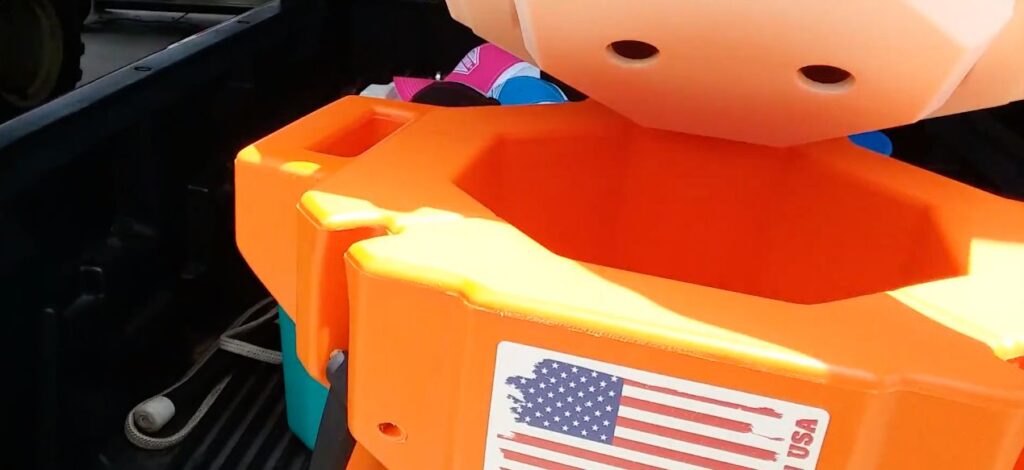 Rather than a removable lid like the cheaper water jugs the Cordova has a hinged lid.
This means the lid will never blow away and get stepped on and you'll never lose it.
The hinge is strong and should last as long as the cooler does.
Super Strong Handles
The handles on this bad boy are thick and are a part of the cooler mold. Also made with the same roto-molded plastic they are thick and strong and aren't going to break, even when the cooler is completely full and even if they get knocked.
You can carry this drink dispenser without having to worry about a handle breaking and the entire thing falling on your foot and spilling drink everywhere.
Fast Flow Spout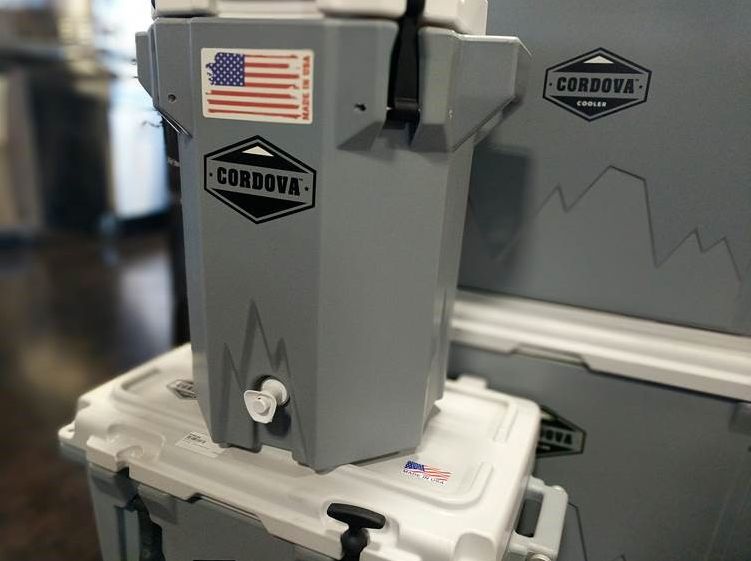 The Hydro Jug has a built in spout for easy pouring. This spout is very practical and easy to use.
The only downside I see is that the spout has no protection so it could break if bumped or stored incorrectly. The Yeti Silo has protection around it's spout to avoid these issues.
2 Sizes – 3.5 + 5 Gallon
There are 2 different sizes available depending on how much water or drink you need to store.
There is a smaller 3.5-Gallon (15-Quart) or a slightly larger 5-Gallon (20-Quart) size available.
They vary slightly in price but it's not that much more to get the bigger one.
HYDRO JUG 3.5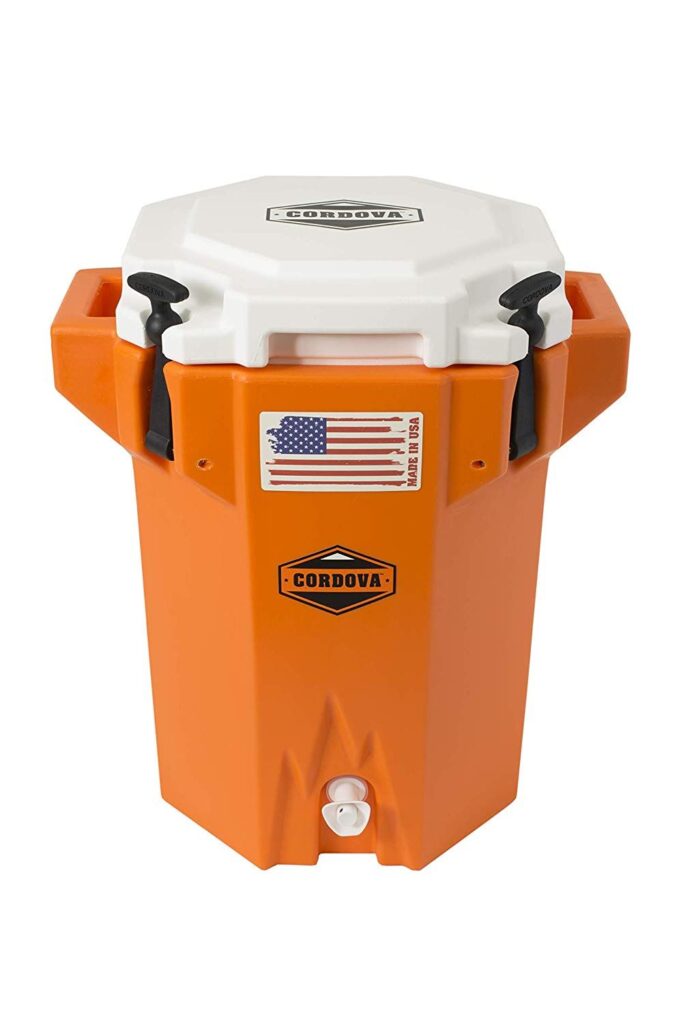 Hydro Jug 3.5-Gallon:
HYDRO JUG 5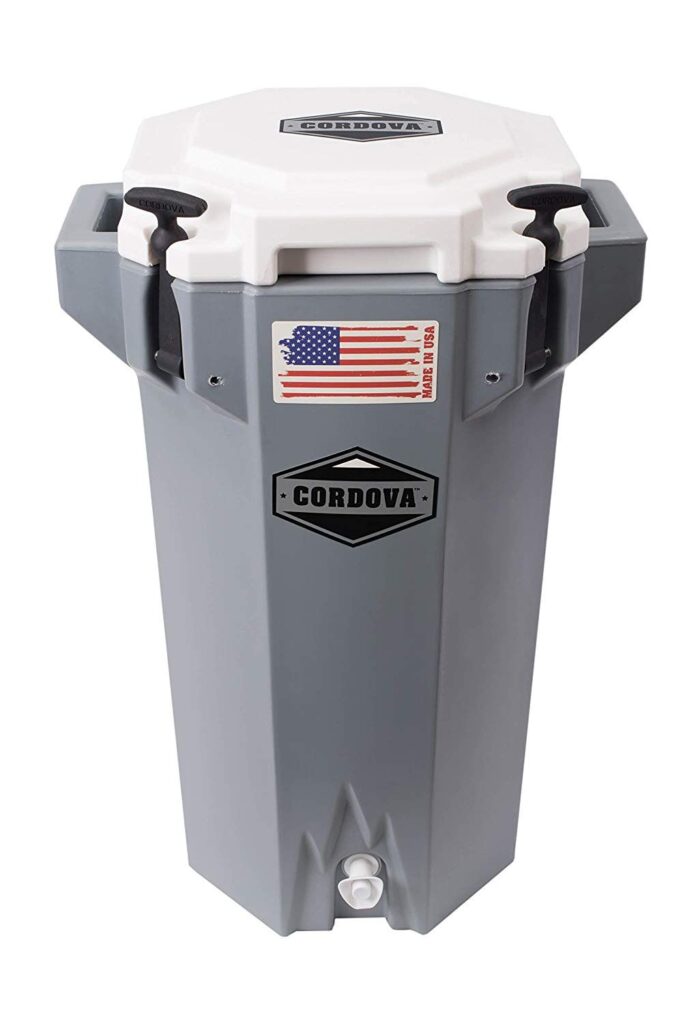 Hydro Jug 5-Gallon:
Proudly Made In The USA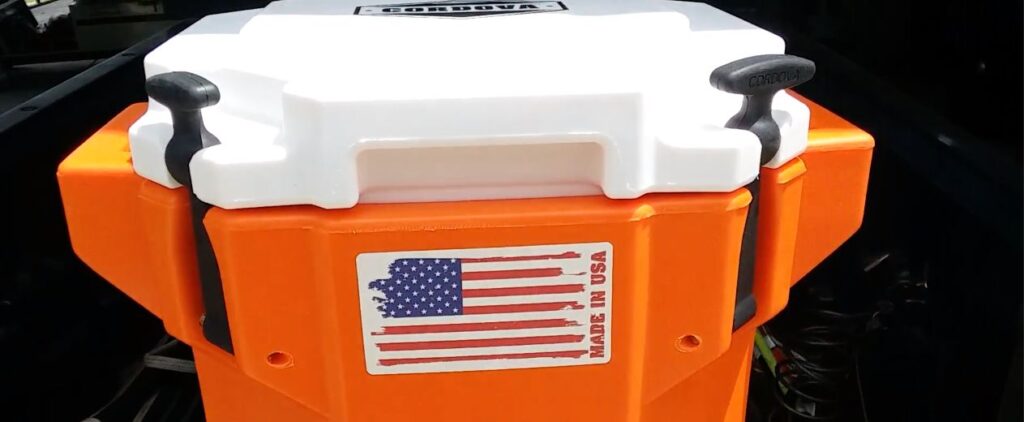 One of the things that sets this cooler apart from it's competitors is that it is proudly made locally in the USA.
This allows Cordova to more closely monitor the quality of their products and ensure they maintain a high standard.
It also helps to keep more profits and jobs in the country.
Who Is This Cooler Right For?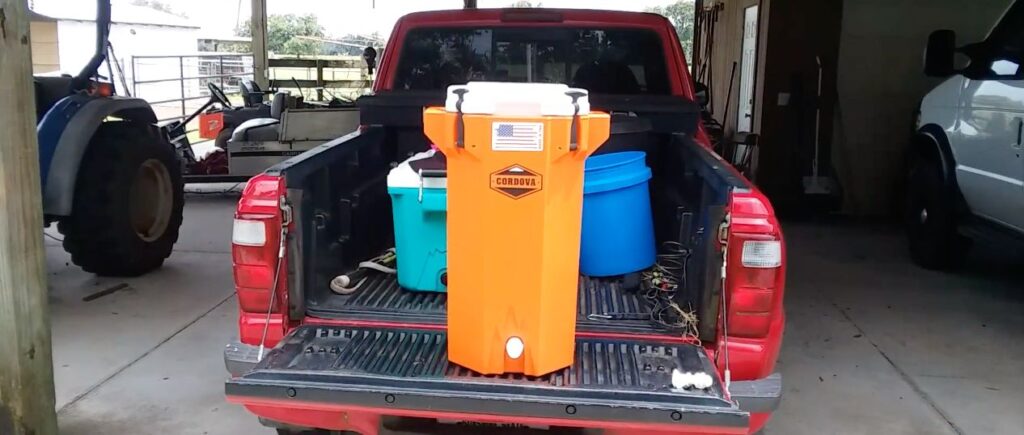 This cooler is great for someone looking for a water jug/drink dispenser that can keep drinks cooler for much longer than a standard and cheaper option would.
This could suit a sports team who wants to have cold drinks all day long for their team, especially if you are playing out in the hot sun.
It could also suit businesses who want to provide cold water to their customers or employees. The Hydro Jug could be refilled daily and you would never have to worry about condensation/sweating nor the water becoming warm.
Where To Buy The Cordova Hydro Jug
Cordova coolers are sold in a bunch of locations across the US, with most being in major cities.
Their store locator is a great tool for finding a store near you.
Alternatively you can buy this cooler through their website or you can purchase it on Amazon.
Amazon has both sizes and all the available colors, plus you'll find you get free shipping with them also.
Click my affiliate links below to see the Hydro Jug on Amazon:
Hydro Jug 3.5-Gallon:
Hydro Jug 5-Gallon:
Alternatives To The Cordova Hydro Jug
If the Cordova Hydro Jug doesn't seem quite right for you there are a few alternatives that may be better suited to you. I've done a full writeup on the best round coolers if you want to see all the options, but here are a select few you may want to look into.
Yeti Silo 6G

The Yeti Silo is a great drink dispenser and is probably the best one out there.
It has a square shape which helps to maximise volume whilst minimising how much space it takes up.
It has a quick flow spout and the tap is protected so even if your drop or bump the cooler the tap is unlikely to break. I don't think any other drink dispensary have this feature.
The downside of the Yeti is that it is made offshore (learn more) and it's quite expensive.
But if you're after the best of the best then the Yeti Silo 6G is a great option.
Yeti Silo 6-Gallon:
KULA Cooler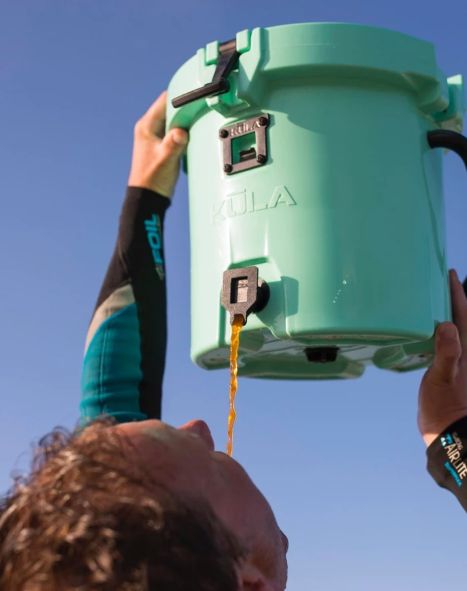 KULA Cooler is a roto-molded cooler with thick insulation like the Cordova and the 2.5-Gallon (10-Quart) size has a tap attached to it.
This is a smaller option than the Cordova and it also don't come cheap.
But it does have some great features like the rotating stainless steel cushioned handle, drainage spout, alligator trak lid that provides grip for standing on and comfort for sitting on.
It's a great round cooler and worth considering.
KULA 2.5-Gallon:
Ozark Trail Round Cooler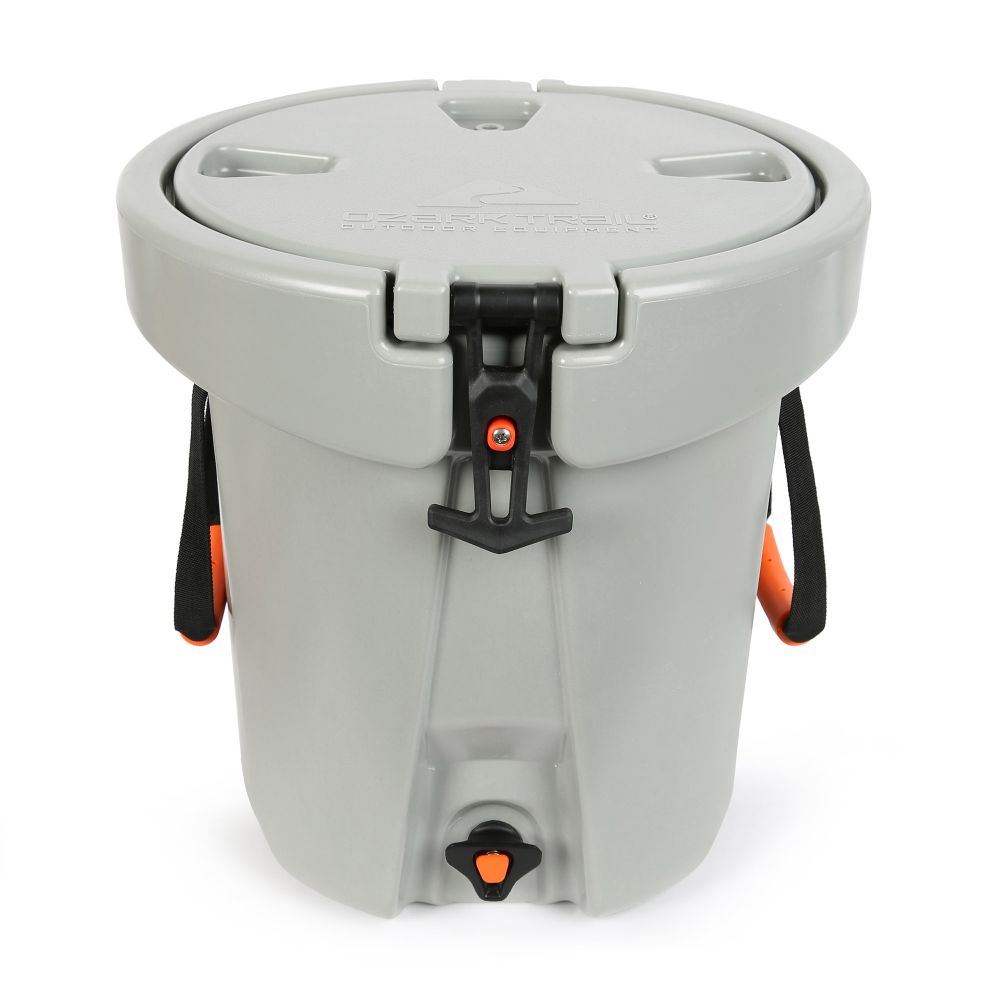 If you're looking for a more affordable drink dispenser but you still want something that is a bit tougher than your cheaper options the the Ozark Trail Round Cooler is a good option.
It's much cheaper than the Yeti or the KULA and I believe it's even more affordable than the Cordova.
It is roto-molded and durable, has thick insulation and similar features to the KULA. It can keep ice for 2-3 days and has a tap at the bottom. It comes in a 5-Gallon (20-Quart) size.
The issue with these is finding stock of them so you can buy one. It's something you may need to purchase online.
To see the latest price and if any are available simply click my affiliate link below.