Yeti coolers are amazing and can hold ice for up to a week, but they are also extremely expensive. What do you do if you want a cooler like Yeti but you're on a tight budget and don't have a lot of money to spend?
A lot of the alternative brands to Yeti save you a little bit of money, maybe $50 or $100, but they are still quite expensive and cost hundreds of dollars for a cooler.
In this article I want to share the absolute cheapest Yeti cooler alternatives and I'm going to rank them from the cheapest to the more expensive while making sure none of these coolers go over $150.
While there are loads and loads of brand options in this price range there are a few decent options to choose from that will give you the majority of features of a Yeti for a tiny fraction of the price. Some of these coolers can even hold ice for longer than a Yeti cooler.
Features Important In a Cheap Yeti Cooler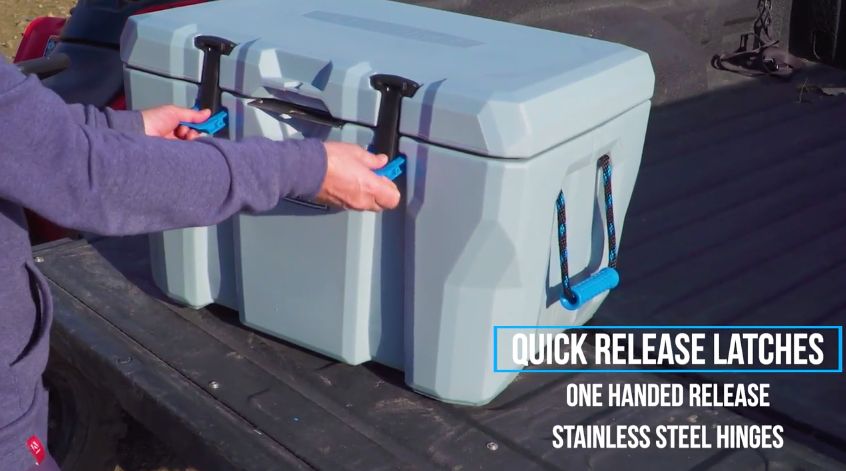 For a cooler to make this list it needed to have a lot of the high-end features you would expect from a Yeti cooler.
I don't want to go and list coolers that are $30-$50 but can only hold ice for less than a day and are nothing like Yeti.
So for a cooler to make this list it needed to have most of, if not all of, these features:
Long Ice Retention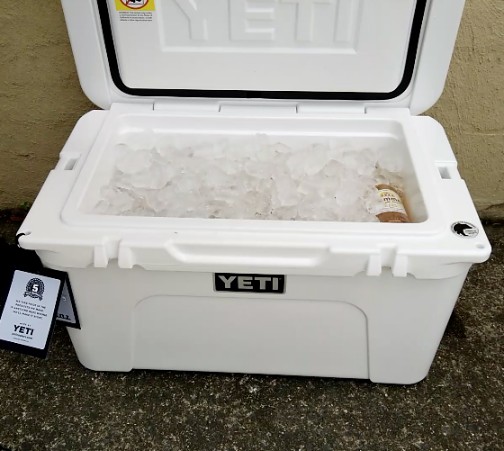 One of the things that has made Yeti coolers so desirable and so useful is the fact that it can hold ice so much longer than a regular cooler.
While a regular cooler might hold ice for 1 day or maybe a maximum of 2 days in cooler weather a Yeti cooler can cold ice for 4-7 days and sometimes even longer than a week!
This means less money spent in ice and less trips to the store or gas station to fill up on ice.
Extreme Durability (Ideally Roto-Molded)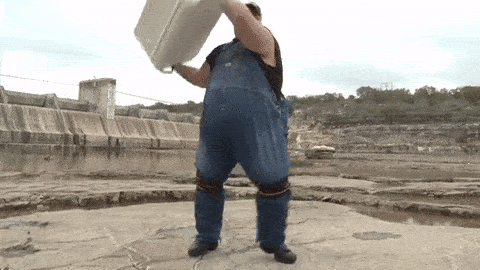 Yeti coolers are made with a thick roto-molded plastic that makes them ultra strong and durable and able to handle a beating as well as easily take your weight so you can sit or stand on them.
Regular coolers are blow-molded and build with much thinner plastic that is pieced together and so aren't as strong or durable
Good Build Quality
Yeti has exceptional build quality and there are a bunch of alternatives out there that aren't very good quality.
These are the ones that break easily, don't hold ice like they should and have terrible Amazon reviews. We want to avoid those coolers because no one wants to buy a dud.
Reputable Brand

Every year it seems there are a few new cooler brands coming to market selling the same imported white labeled coolers from China.
These are brands just giving it a go by importing generic low cost coolers and slapping a logo on it.
Having had reviewed coolers for 4+ years now I know most of these brands come and go and so I don't want to include them on this list.
Bear Resistance
Yeti coolers are certified bear proof and so ideally we want these cheap coolers to also be bear proof.
Rubber Latches and Freezer Grade Gasket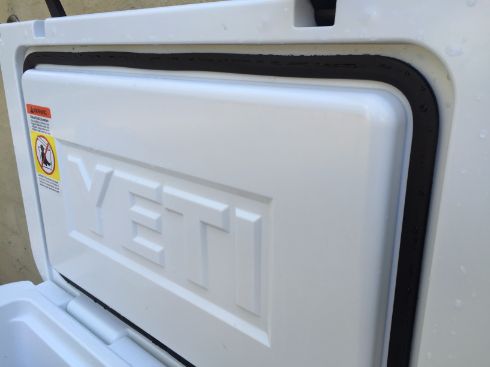 Rubber latches help to hold the lid firmly in place and the freezer grade gasket helps to lock in the cold air and keep out the warm air. This increases ice retention and also helps to make the cooler leak proof.
Rope Handles or Similar
Yeti has cooler and strong Nylon rope handles for easy carrying. We want these coolers to have something similar, not flimsy plastic handles.
Non-Slip Feet
Yeti coolers also feature non-slip feet that allow it to sit firmly in place in your car or truck and not slide around.
Many times I've had to brake firmly in my van and my Yeti cooler has just stayed in place. I didn't even need to tie it down.
1. BUDGET PICK: Igloo BMX Coolers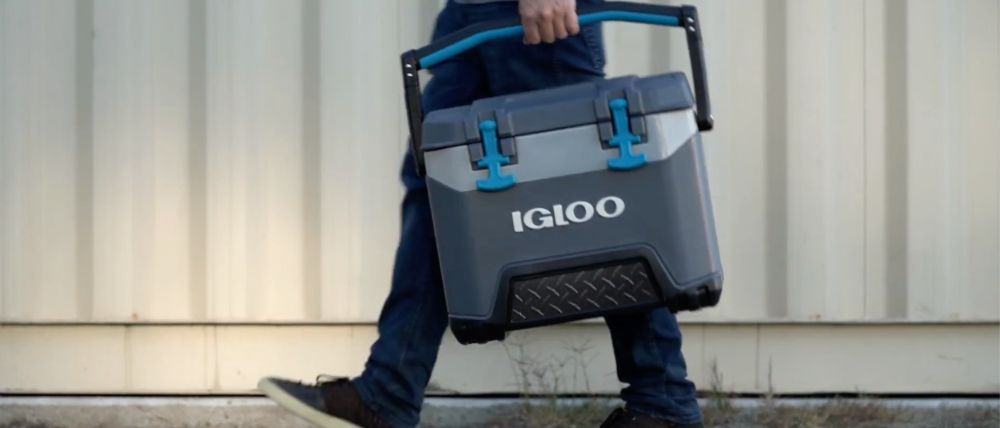 Igloo BMX 25-Quart:
I hesitated as to whether or not I should include this one. It lacks some of the features of the Yeti and it isn't as roto-molded or as durable.
However it does have a lot of the important features that people want in a high-end cooler.
It has thick insulation and good ice retention, pull down rubber latches, thick and tough plastic handles as well as tie down points and a built in ruler.
It doesn't have the non-slip feet and the hinges aren't as durable as the Yeti single hinge but overall this is a decent cheaper alternative.
See the latest prices on Igloo BMX Coolers at Amazon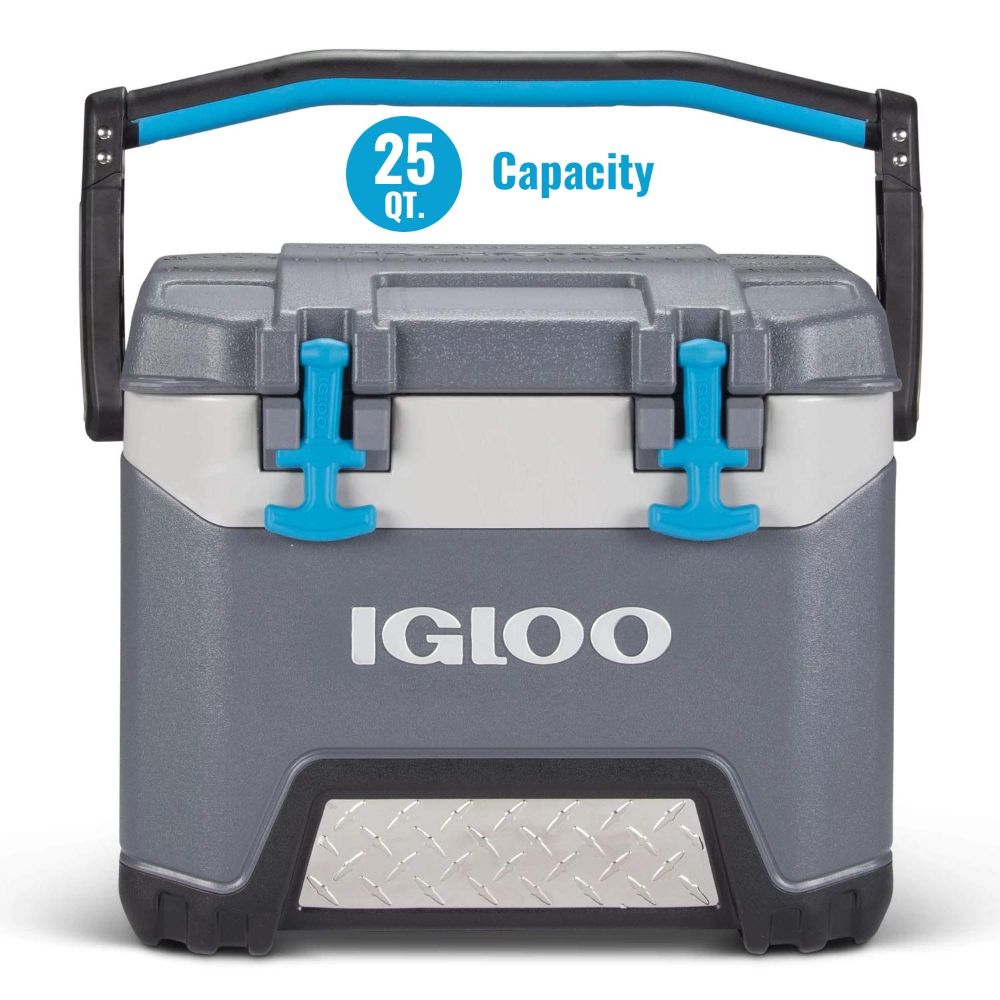 PROS:
Super affordable
2-4 days ice retention
Most features the Yeti has
CONS:
Not roto-molded so durability isn't as good
Hinges and handles not as durable
Ice retention isn't as good as Yeti
No non-slip feet or bear proofing
2. BEST VALUE: Lifetime Coolers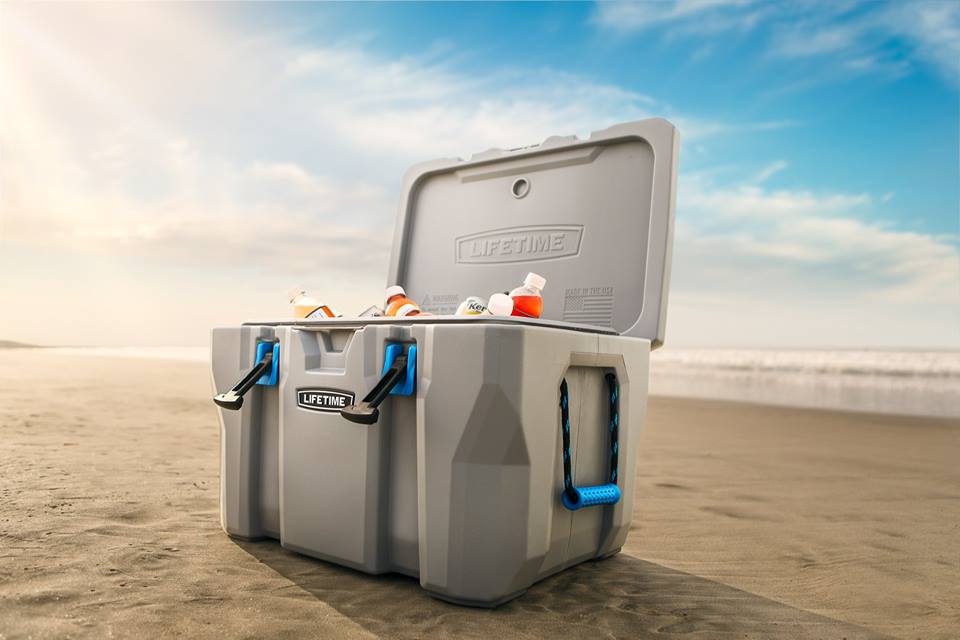 Lifetime 28-Quart: ~$78.00
When I first discovered Lifetime coolers I was super sceptical. How can a cooler that is made in the USA perform so well and be so ridiculously cheap?
It has almost all the features of Yeti, just as good if not better ice retention, it's bear proof, looks great and most of the sizes sell for under $100.
After doing my research into Lifetime coolers I discovered that the company is actually legit and has been around since 1986 and are a major blow-molded plastics manufacturer.
This cooler is blow-molded, not roto-molded, which is much more cost effective. Yet they are still able to be durable, strong and bear proof.
Overall the quality isn't as good as Yeti, but the quality is better than what you would expect for the price point. Read the full Lifetime vs Yeti cooler comparison if you want more details.
I am still pleasantly surprised by this product and it continues to get mostly good reviews on Amazon. The product isn't perfect, but for the price I think it offers great value.
See just how cheap Lifetime coolers are at Walmart.com
See the prices of Lifetime coolers at Amazon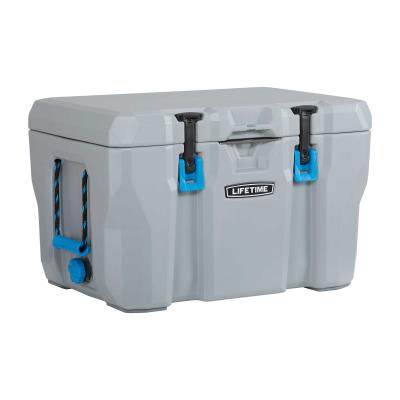 PROS:
Great value for money
Made in the USA
Similar ice retention to Yeti
Has similiar features to the Yeti
CONS:
Not quite as durable as the Yeti
Blow-molded, not roto-molded
Only comes in 1 color
3. Ozark Trail Coolers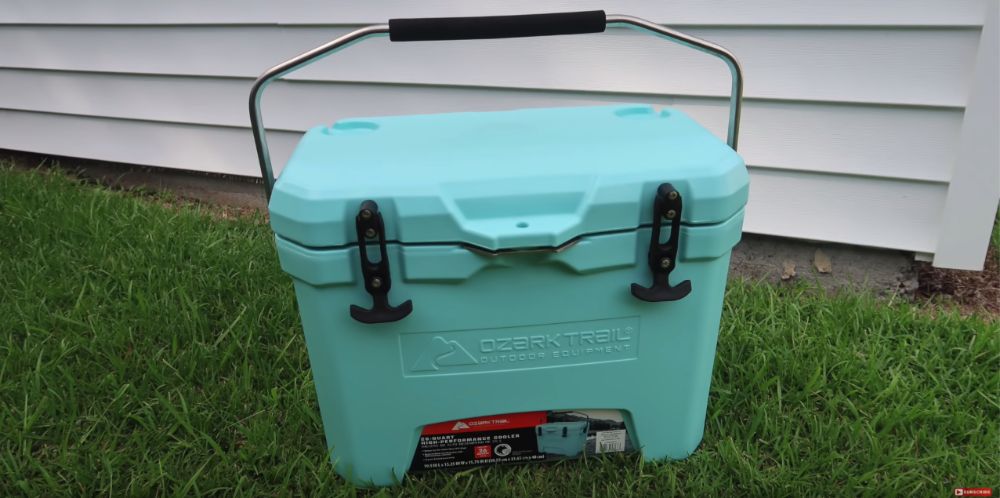 Ozark Trail 26-Quart: ~$86.00
Ozark Trail coolers are Walmart's brand of cooler and they are the cheapest roto-molded coolers on the market.
They are slightly more expensive than Lifetime coolers, but only by a little bit, but the big difference is that they are roto-molded which means they are a bit tougher and more durable.
They have molded cup holders in the lid which is a really great feature as well as a fishing ruler molded into the lid.
They only come in one color and their ice retention is worse than Yeti by a fair amount. Still better than a regular cooler but not as good as Lifetime or Yeti. Read the full Ozark Trail vs Yeti cooler comparison for more details.
If 2-4 days ice retention is enough for you and you like this cooler then go ahead and get it.
See the latest prices of Ozark Trail coolers at Amazon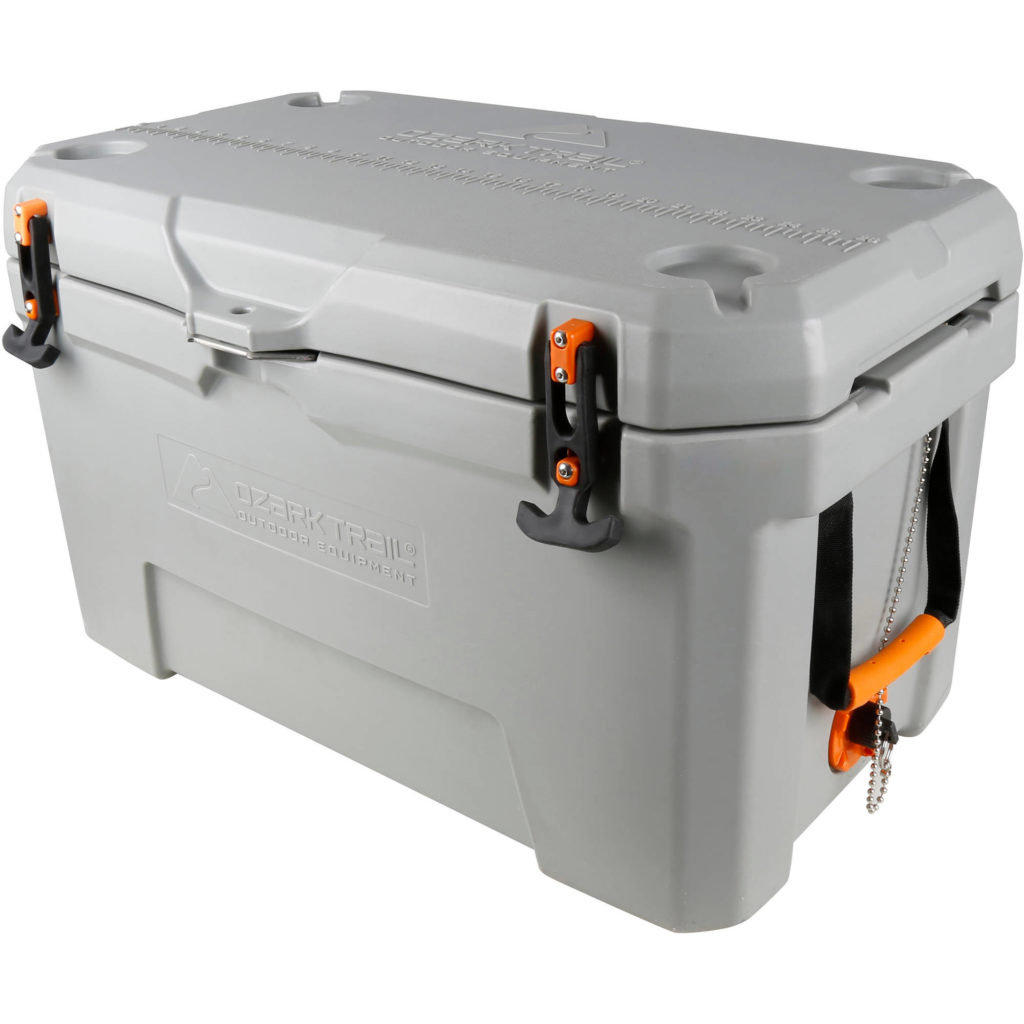 PROS:
Less than half the price of a Yeti
Roto-molded and durable with similar features to Yeti
Built in ruler and cup holders in the lid
CONS:
Ice retention isn't as good as Yeti
Overall built quality isn't as good
Only comes in 1 color
Comes with no warranty
4. Canyon Coolers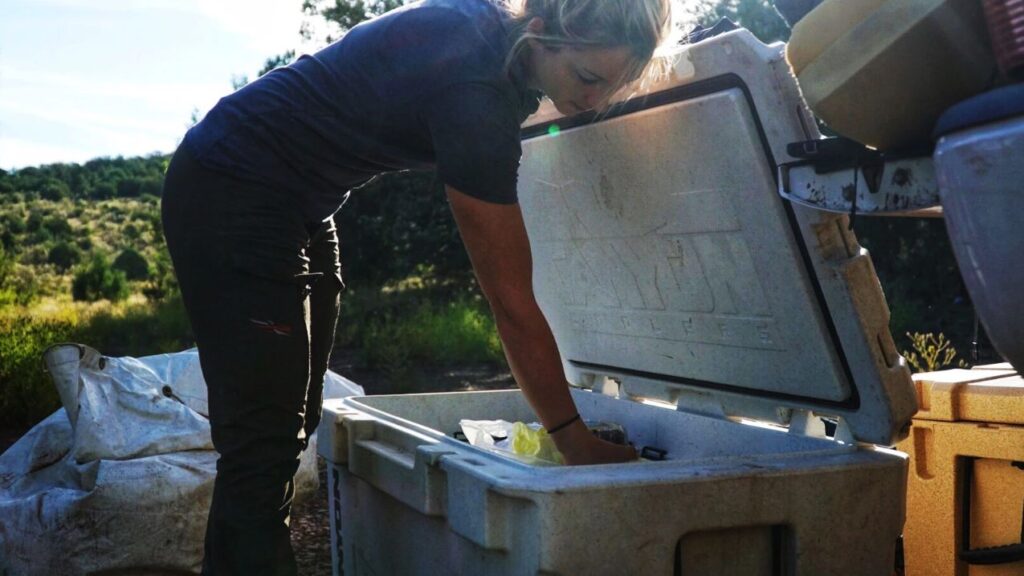 Canyon Outfitter 20-Quart:
Canyon coolers are a great little company that have the best lifetime warranty of any cooler company.
Their coolers start at really affordable prices with their smallest size currently selling for around $100 or even less.
Their ice retention is really good and actually performs a tiny bit better than Yeti and they feature a similar build quality and similar features.
I've always been a fan of these coolers and the way they approach customer service. They also have some innovative designs like the Canyon Mule that has wheels and a bungee net for storing extra gear.
But their baseline models are also just good solid, quality coolers that keep ice for a long time.
See the latest price of Canyon Coolers at Amazon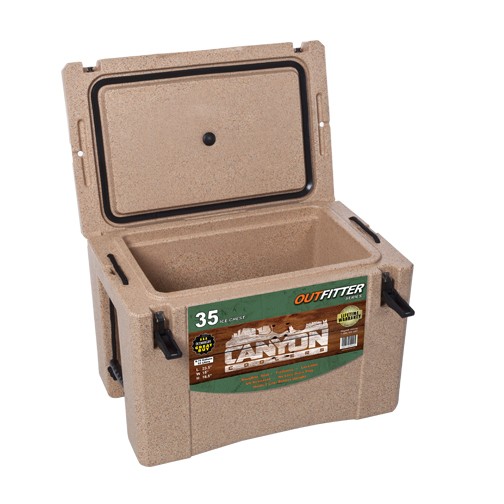 PROS:
Plastic cam latches are easy to use
Best lifetime warranty of any cooler
Great ice retention and durability
CONS:
Not made in the USA
Limited color options available
5. Pelican Elite 20-Quart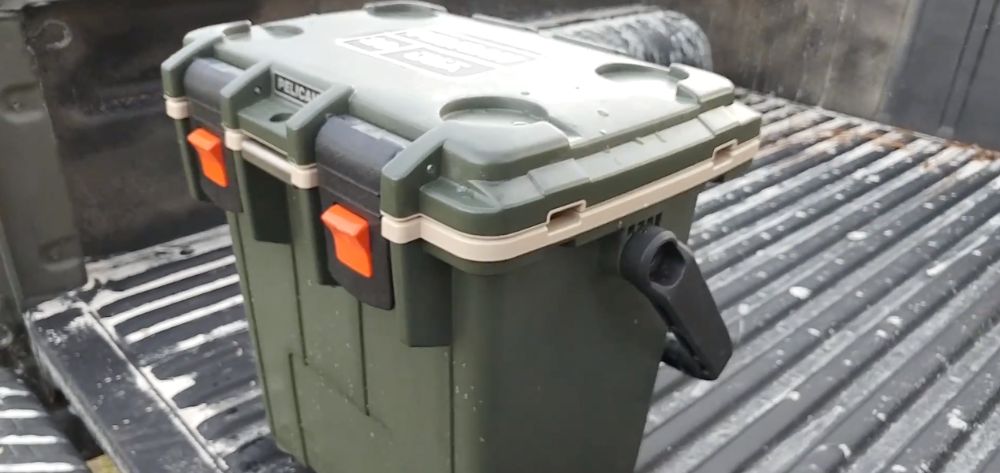 Pelican Elite 20-Quart:
Coming in at just under our budget is the Pelican Elite 20-Quart is an outstandingly built cooler.
The company is known for creating high-quality products that are made locally in the USA and this cooler is no exception to that.
It's tall shape means it doesn't take up a lot of room in your car, truck or van and it has built in cup holders in the lid and super strong metal push/pull latches.
It's certified bear proof, has tie down points, non-slip feet and a strong plastic handle.
Pelican also make larger coolers and are one of the best coolers for ice retention, however these larger coolers are more than the $150 pricepoint I set for this post.
This little beauty can hold ice for 2-3 days and is a great personal cooler. It's built just as tough as Yeti and will last you years.
Get the Pelican Elite 20-Quart cooler at Amazon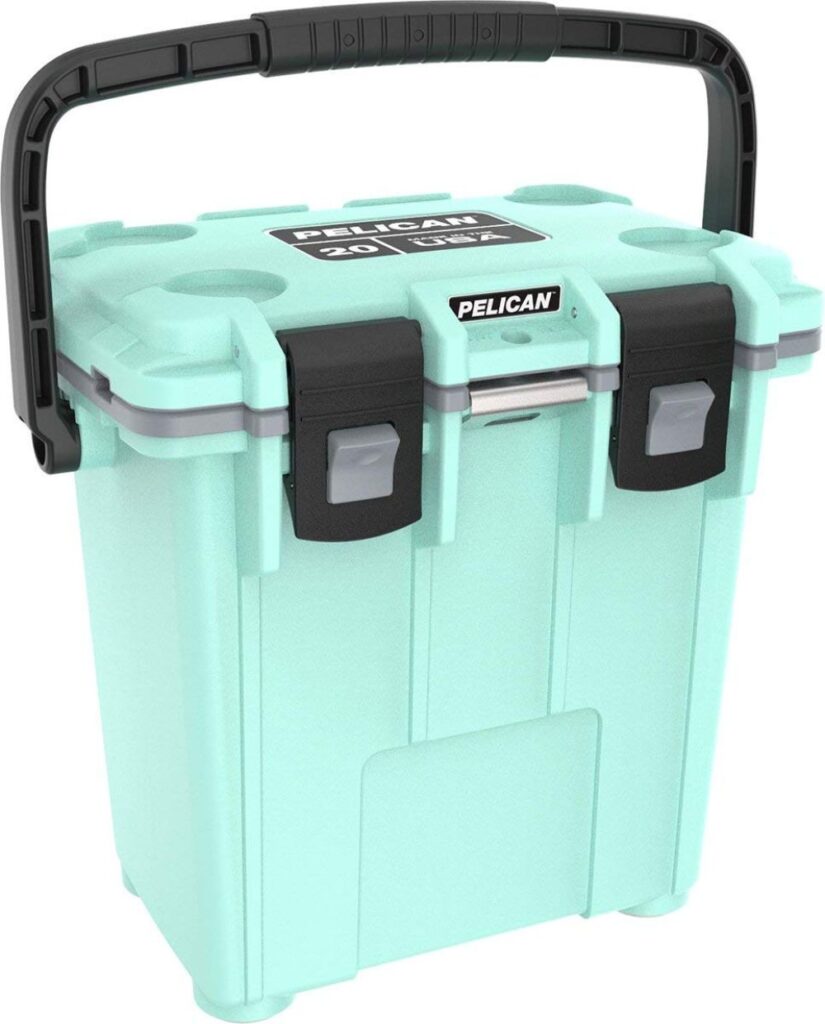 PROS:
Tall and thin means it takes up less room
Made in the USA
Extremely high-quality and built to last
Similar features and ice retention to the Yeti
Cup holders built into the lid
CONS:
Tall profile can make it harder to access the inside of your cooler
Latches don't pull down the lid tight making it more likely to leak
6. Kenai 25-Quart

Kenai 25-Quart:
Kenai is another cooler brand that is made locally in the USA and they are a spinoff brand of the more expensive Grizzly cooler company.
They aren't exactly the same as Grizzly and some of their features are a bit more budget but they are still a solidly built roto-molded cooler.
They come in a variety of bright colors and have good ice retention.
Get the Kenai 25-Quart Cooler at Amazon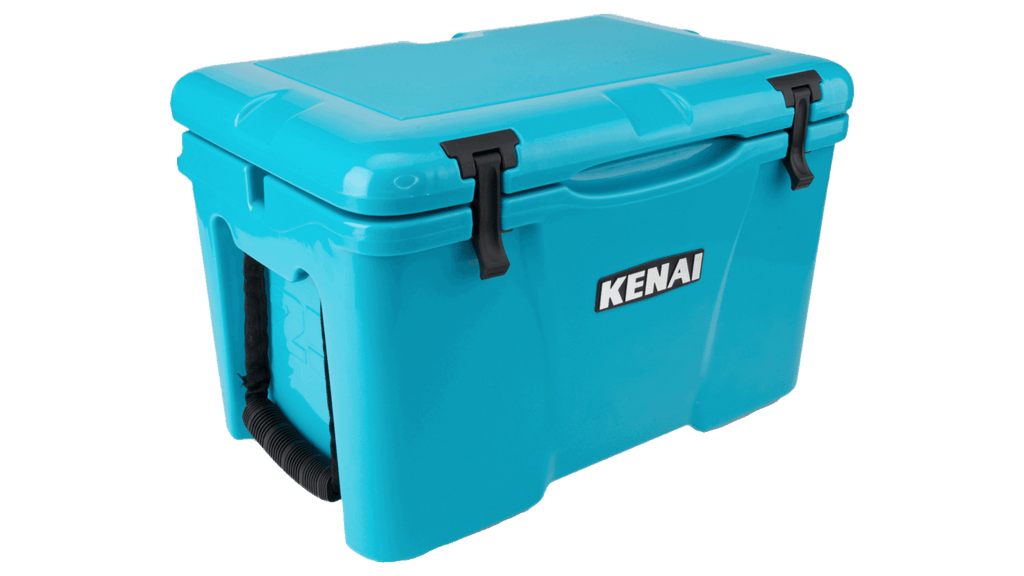 PROS:
Made in the USA
Similar price and features to Yeti Roadie
Has a drainage plug
CONS:
Not padded metal handle, so you must carry with 2 hands
Rubber latches aren't as nice to use as Yeti ones
7. Engel 25-Quart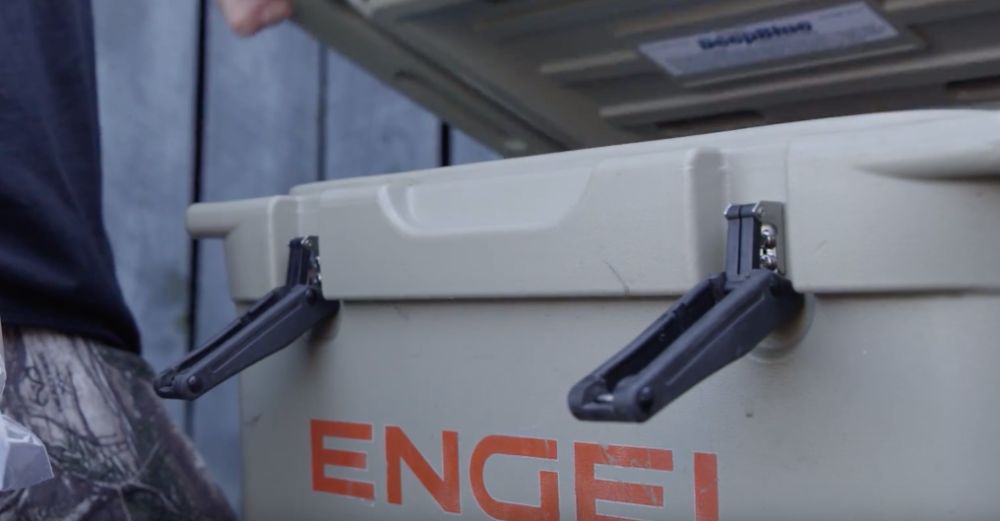 Engel 25-Quart:
Engel is another reliable brand and their 25-Quart cooler comes in just under our budget.
Just like the Yeti it is roto-molded, has thick insulation and nylon rope handles.
I used to own a larger Engel cooler and overall it's a well built cooler. Not quite as premium or nice as the Yeti but it held ice well and was super durable.
I love that it has built in bottle openers in the latches. I think that's a great feature all coolers should have.
Get the Engel 25-Quart Cooler at Amazon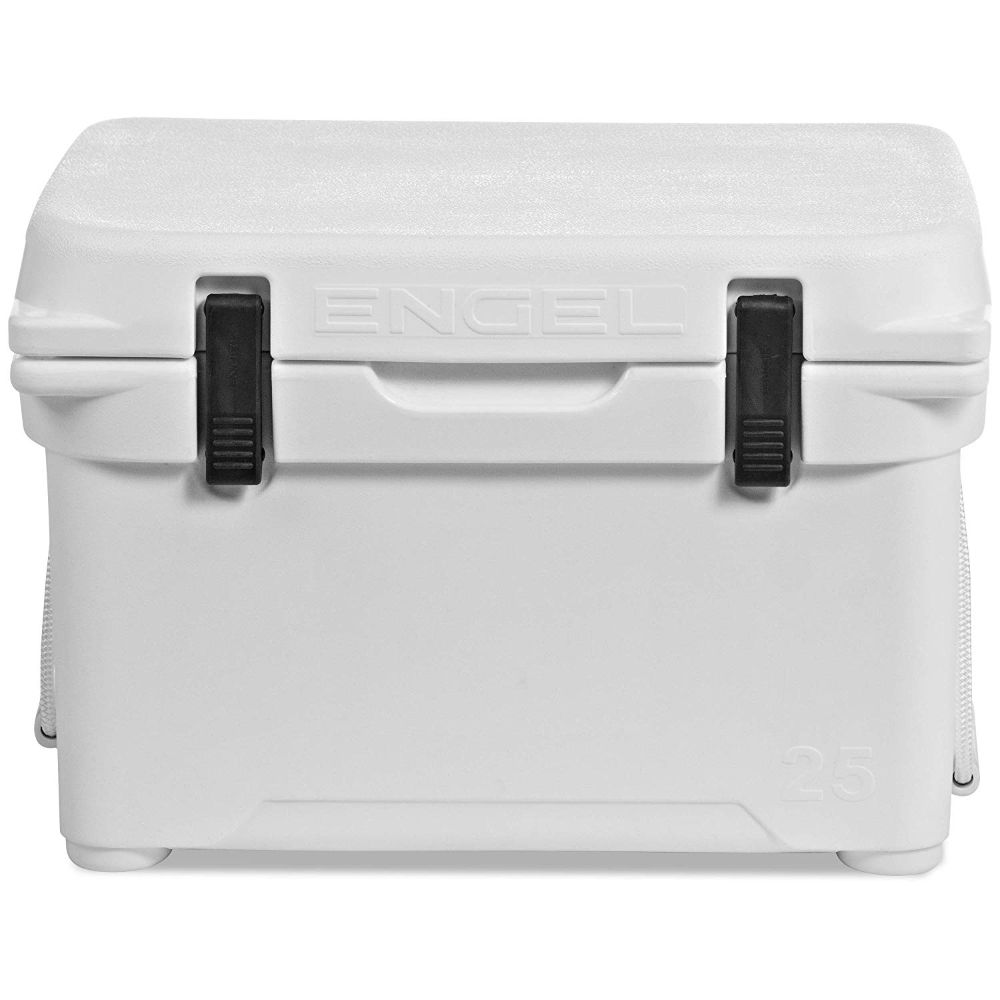 PROS:
Well known and reliable brand
Similar ice retention to Yeti
Cam latches are easy to use
Built in bottle opener
CONS:
Side handles mean you have to carry it with 2 hands
Colors are all pretty standard and boring
Nothing about this cooler stands out or wows me
Best Cheap Coolers Not Quite Like Yeti
The below coolers are good budget coolers and worth considering but they lack a lot of the features I think they would need to classify them as "like a Yeti".
They aren't roto-molded, not bearproof, don't have rubber gaskets or latches or non-slip feet.
They are just better than your average cooler and if you're on a super tight budget then worth considering.
Coleman Xtreme
Coleman Xtreme 50-Quart:
I personally own a Coleman Xtreme and love it. It's lightweight, has cup holder and still manages to keep ice for 3+ days.
There is nothing fancy or special about it but it's cheap and does the job and has good ice retention. You can get it with wheels or without depending on what you prefer
See the latest prices of Coleman Xtreme coolers at Amazon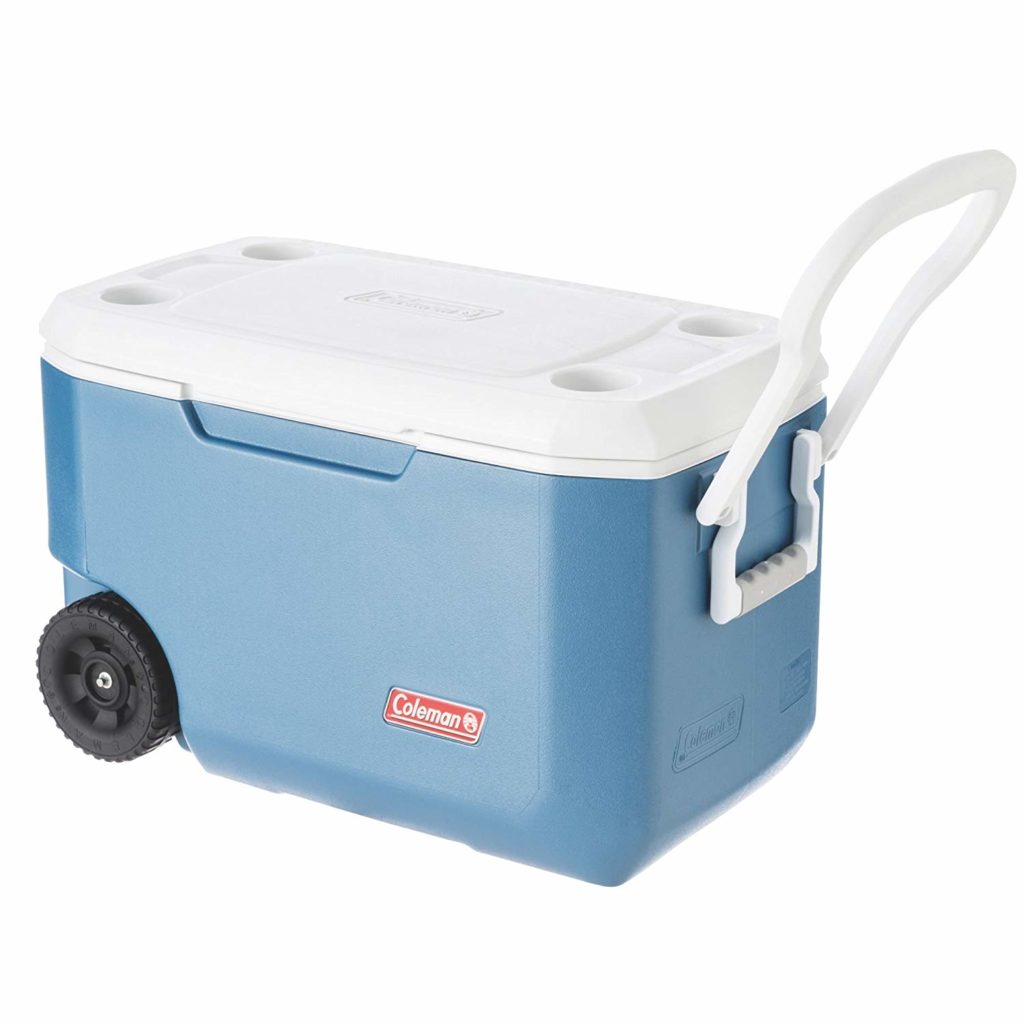 Igloo MaxCold
Igloo MaxCold 50-Quart:
The Igloo MaxCold is a beefed up version of a regular cooler with thicker insulation, thicker handles and a more durable design.
It doesn't have cup holders like the Coleman Xtreme does but it's still a decent cooler for a budget price.
See the latest price of Igloo MaxCold 50 at Amazon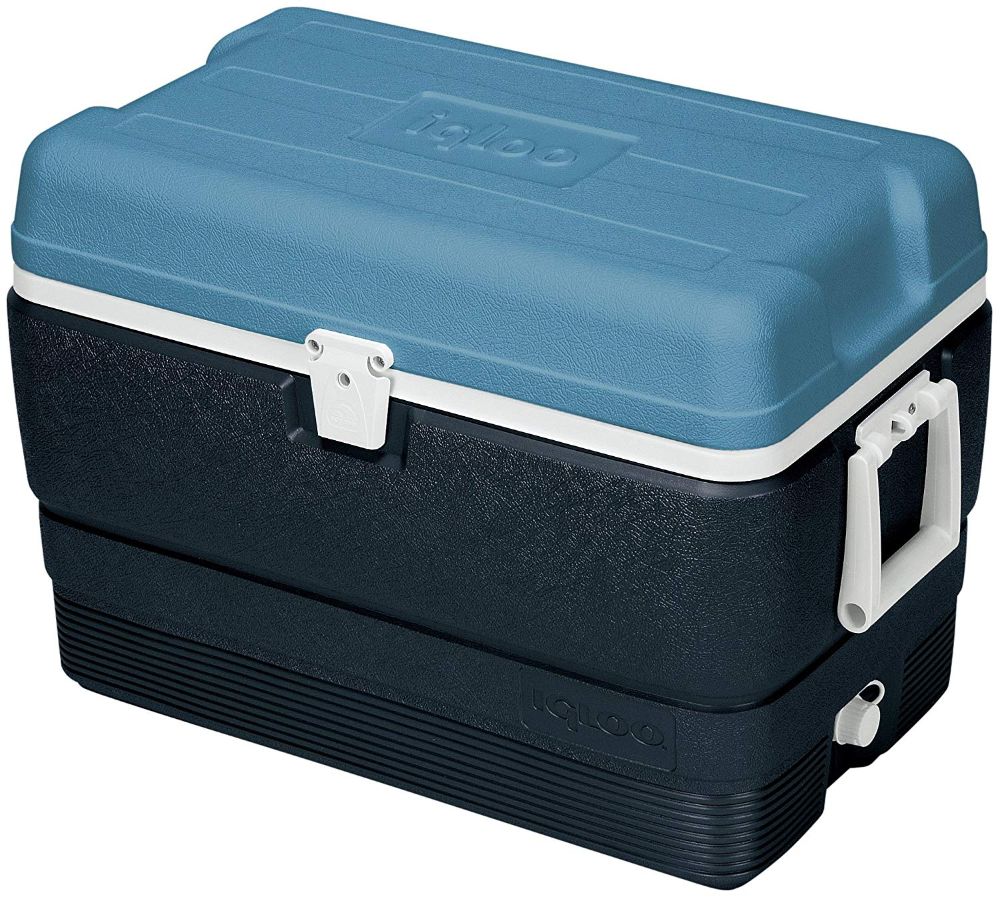 Coolers That Didn't Make This List
There are a bunch of coolers that are cheaper than Yeti but not extremely cheap and not under $150. Those coolers didn't make the list but if you want to see them below is a shortlist or you can read about all the best coolers like Yeti but cheaper.
RTIC Coolers
Orion Coolers
K2 Coolers
ORCA Coolers
Siberian Coolers
Grizzly Coolers
TechniIce Coolers
Kula Coolers
Otterbox Coolers
Kong Coolers
…and more
Cheapest Soft Coolers Like Yeti Hopper
If you're looking for the cheapest soft coolers like the Yeti Hopper then I suggest checking out my detailed article on the best soft coolers under $100.
I've also done detailed reviews on all these coolers so I'll link to them below:
Choose The Yeti Alternative That Best Suits You
Above I've listed quite a few different Yeti alternatives each with their pros and cons.
Ultimately what cooler is best for you comes down to your personal needs and preferences as well as your budget.
I hope this list of the cheapest coolers like Yeti has been helpful to you in finding your perfect cooler that won't cost you much money.
Best of luck and stay cool!