Polar bear coolers are a high-quality cheaper alternative to other high-end soft sided coolers on the market. They are extremely durable and have good ice retention but sell for a fraction of the price of more expensive brands like Yeti.
In this Polar bear cooler review we'll be looking at the different coolers that Polar Bear sells and going into detail about their features, benefits, build quality, sizes and colors and even look at the negatives of these coolers.
After reading this review you'll know basically everything you need to know about these coolers so you can decide whether or not they are right for you, or if you'd be better off with a different cooler.
See the latest prices of Polar Bear coolers at Amazon
The Different Coolers Polar Bear Offers
Polar Bear coolers actually make multiple types of soft-sided coolers. Some are more expensive with more features and keep ice longer, while others are cheaper and don't keep ice as long.
Depending on your budget as well as what you'll be using the cooler for will determine which type of Polar Bear cooler is best for you.
Polar Bear have had up to 5 different types of coolers in the past but they have recently narrowed this down to just 2 types of coolers and they have rebranded them as "Original" and "Deluxe" with Original being cheaper and Deluxe being more expensive and holding ice longer.
Below you can see a breakdown of the major differences between the two coolers:
Polar Bear Original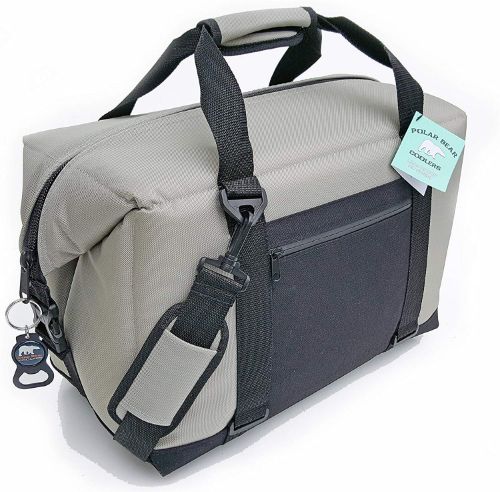 Sizes: 6-can, 12-can, 24-can, 48-can + backpack
Exterior: 1000D Nylon
Ice Retention: 24+ Hours
Insulation: Open cell foam
Price Range: $40-$150
Zipper: YKK10
Polar Bear "Deluxe"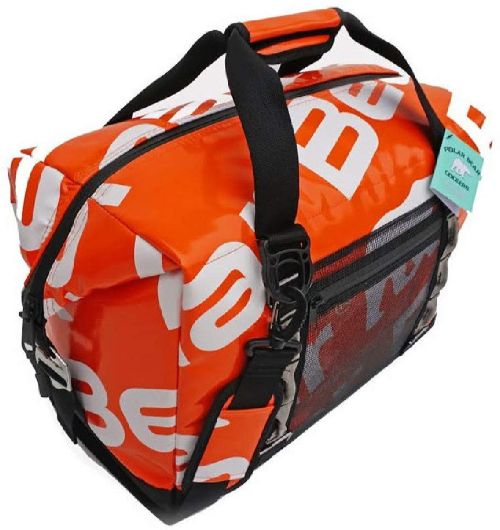 Sizes: 12-can, 24-can, 48-can + backpack
Exterior: Heavy Duty Tarpaulin
Ice Retention: 3+ Days
Insulation: Closed cell foam
Price Range: $130-$230
Zipper: YKK10 Slpashproof
The 3 major differences in these two cooler types are:
The outside – The Deluxe is completely waterproof while the Original isn't
The zipper – The Deluxe has a leak proof zipper while the Original just has a regular heavy-duty zipper
The ice retention – The Deluxe can keep ice 2-4 days whereas the Original only keeps ice for about 1 day
The ice retention – The Original can only keep ice about 1 day while the Deluxe can keep ice for 2-4 days.
So if you're looking for a cheaper cooler you'll want to go with the Original and if you're looking for a more expensive cooler that can compete with the likes of the Yeti Hopper then you'll want to go with the Deluxe version.
Polar Bear Duffel vs Backpack Cooler
Polar Bear coolers come in 2 main form factors – the duffel and the backpack cooler.
The duffel cooler is lower and wider with two carry handles that connect together with velcro for single hand carrying. They also come with a detachable shoulder strap for hands free carrying.
The Backpack version is thinner and taller but otherwise has a very similar design with the same top zipper, carry handles and leak proof design.
Ice Retention: Up To 4 Days Ice Retention!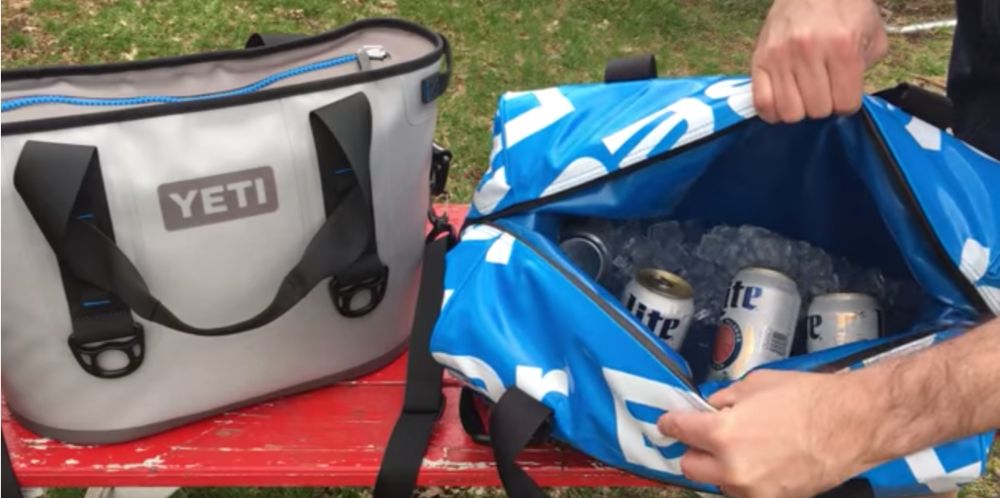 Something that really impressed me about the Polar Bear, and something that makes it (in my opinion) one of the best soft sided coolers on the market is that it can hold ice for up to 4 days!
The Deluxe version uses a patent-pending closed cell insulation that is 1 inch thick around the entirety of the cooler. This, combined with the leak proof zipper, helps to keep the heat out of the cooler and hold the ice for up to 4 full days.
4 days is an insanely long time for a cooler to keep ice and that is up there with the hard-sided roto-molded coolers.
This also means that Polar Bear coolers outperform Yeti coolers in ice retention tests. So if keeping ice as long as possible is a priority for you then these coolers are definitely worth considering.
The only soft cooler to really outperform the Polar Bear Deluxe coolers is the Engel HD30. The Engel HD30 has thick insulation as well as vacuum seal technology that I haven't seen in any other cooler. Click here to see just how long the Engel HD30 keeps ice, you'll be shocked!
24-Hours For The Original Version
While the Deluxe version has insanely good ice retention the Polar Bear Original coolers use a different type of insulation and less of it.
They use an open cell insulation which is more affordable, but it doesn't keep ice as long.
For the Original coolers you can expect to keep ice for 0.5-1 days and in some cases a little over a day. These coolers are more designed for day trips or outings where you need to keep ice cold for a few hours, not necessarily a few days.
Premium Cooler For a Non-So-Premium Price
One of the best things about the Polar Bear, and one of the main reason so many people are buying them (they have over 1,000 reviews on Amazon), is because they are so affordably priced for a high-quality cooler.
The Deluxe coolers are almost half the price of the Yeti Hopper range of coolers and the Original coolers are even cheaper.
Now these aren't bottom-of-the-barrel cheap coolers selling for $10. They are in the medium price range where they are expensive enough to be high-quality but cheap enough that they won't cost you an arm and a leg.
Below you can see the prices of both the Original Polar Bear coolers as well as the Deluxe version:
Polar Bear Original Coolers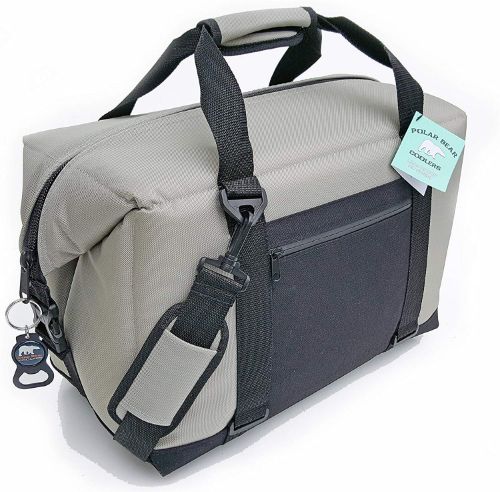 Polar Bear Original 6-Pack:
---
Polar Bear Original 12-Pack:
---
Polar Bear Original 24-Pack:
---
Polar Bear Original 48-Pack:
---
Polar Bear Original Backpack:
Polar Bear Deluxe Coolers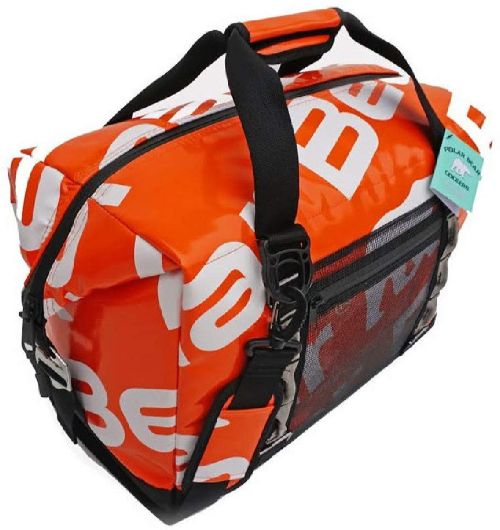 Polar Bear Deluxe 12-Pack:
---
Polar Bear Deluxe 24-Pack:
---
Polar Bear Deluxe 48-Pack:
---
Polar Bear Deluxe Backpack:
Build Quality and Durability
Polar Bear coolers are high-quality durable coolers that aren't going to break easily and will likely last you years. They are backed by a 3-year warranty but made to last even longer than this.
Original Cooler Build Quality
Let's start by looking at the build quality and features of the Original Polar Bear coolers.
Heavy-Duty Nylon Exterior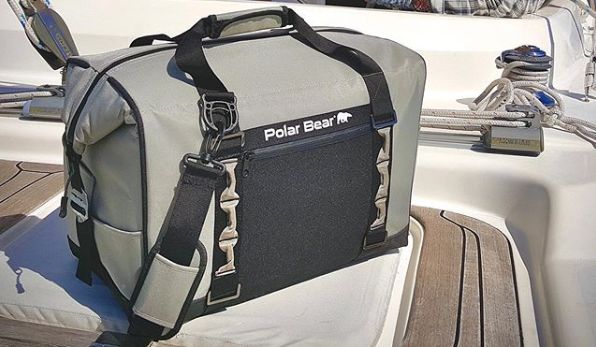 The Original cheaper nylon cooler has an exterior that is made from 1000 Cordura Nylon that is scratch and tear resistant.
This is a very strong and high-quality nylon that is unlikely to break with regular use.
Strong YKK #10 Zipper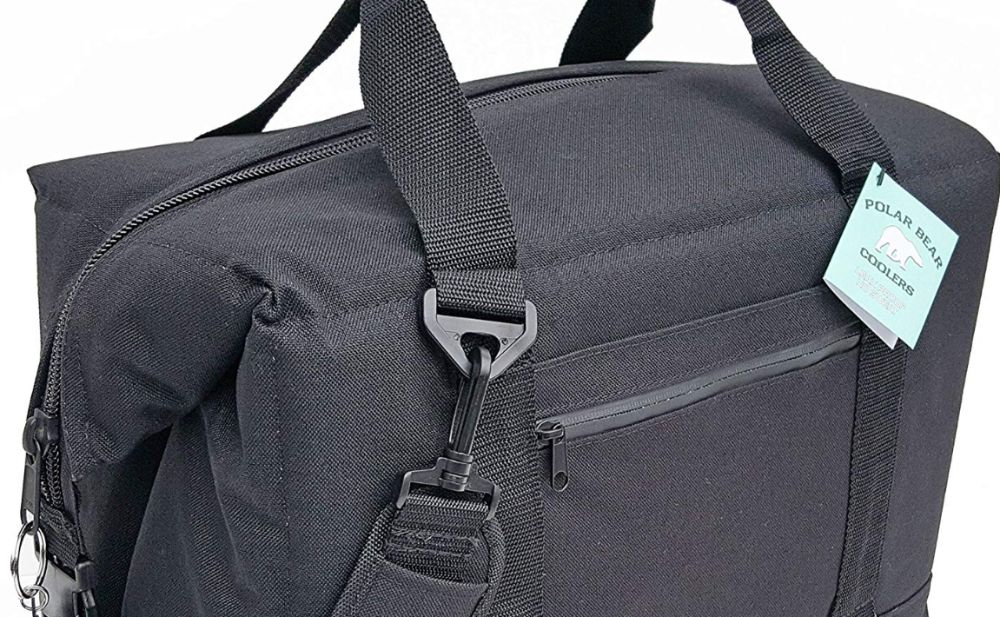 Polar Bear coolers feature a heavy-duty YKK #10 zipper that you can be confident will open and close every single time without fail.
This is a very durable and reliable zipper. Given that many other coolers have problems with the zipper it's good to see Polar Bear having a high-quality zipper.
It's important to note that this zipper is NOT waterproof. Water will leak out of it.
1 Inch Of Open Cell Foam Insulation
The Polar Bear Original coolers use 1 inch of open cell insulation foam. This foam isn't as good as the foam in the Deluxe version or the foam in other high-end coolers like Yeti and Engel.
This insulation gives the original coolers ice retention of approximately 1 day in 100 degree heat. Not the best, but fine if you only plan to use it for an afternoon or day out and about and don't need more than 1 day's ice retention.
Reinforced Base
The base of the Polar Bear coolers are reinforced and made from a thicker, stronger material than then rest of the cooler.
The base receives the most wear and tear so this ensures it won't break even with consistent use.
Deluxe Cooler Build Quality
The Deluxe cooler has the same form factor as the Original nylon coolers but they use higher quality products to provide water proofing and extra ice retention.
Waterproof Tarpaulin Exterior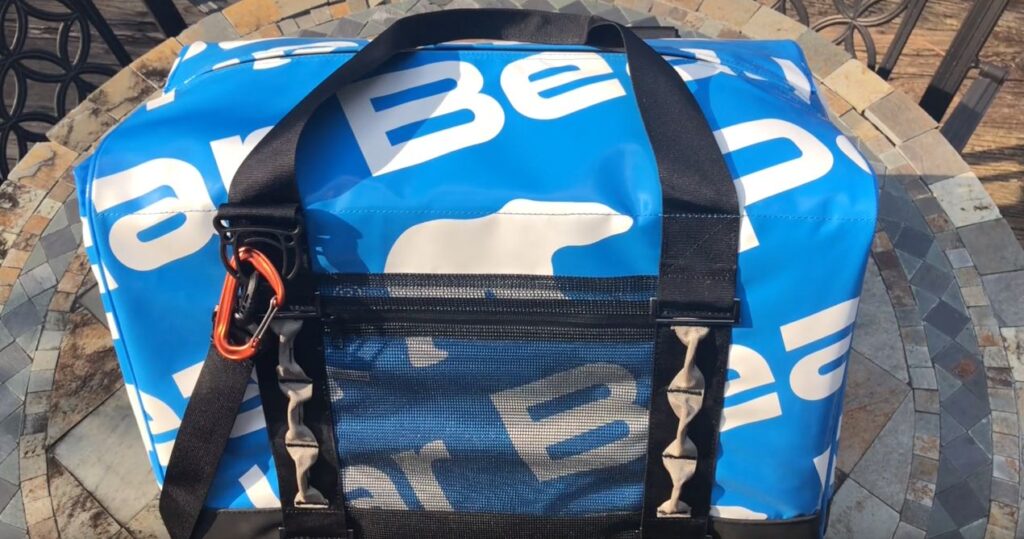 The exterior of the Deluxe version uses a waterproof heavy-duty tarpaulin material that will keep all water out.
This cooler is so water proof that it will float. You can throw it in the river and water won't get through the exterior.
Splash Proof YKK #10 Zipper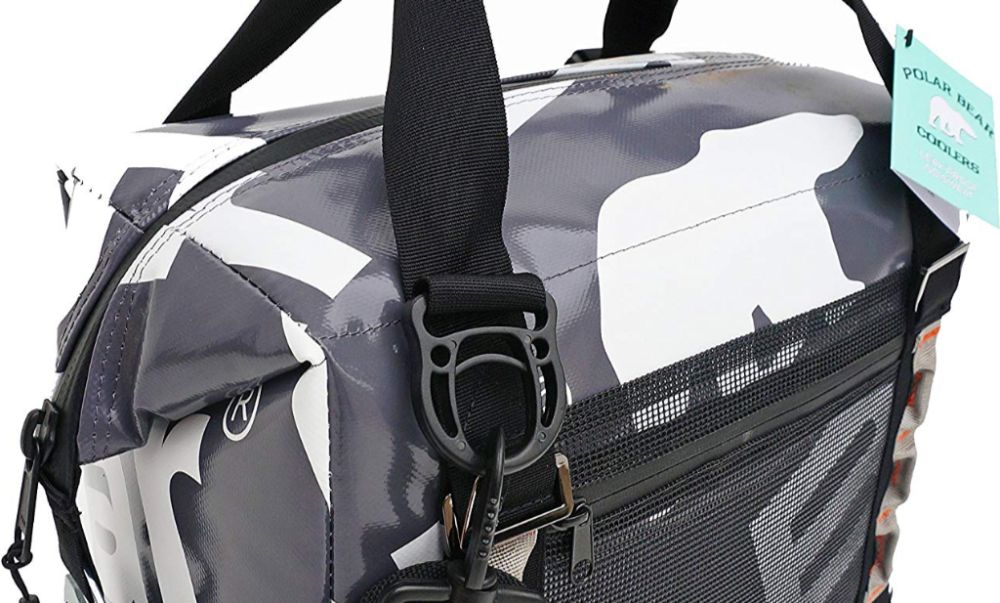 The Deluxe still uses high-quality YKK #10 zippers, however this cooler features the Splashproof YKK #10 zippers which keeps water out and makes the cool leak proof.
Some customers have reported that it isn't 100% waterproof and that a small amount of water can leak out even when closed. But it's a lot less than the Original which has no splash proofing.
1 Inch of Closed Cell Foam Insulation
The Deluxe cooler uses 1 inch of closed cell foam insulation which works much much better than the open cell foam of the original nylon coolers.
This is the same type of foam that Yeti and other high-end soft sided coolers use. Polar Bear even have a patent-pending on their insulation.
I'm unsure what makes their insulation different to other brands but obviously it seems to work really well given it can hold ice for up to 4 days!
Reinforced Base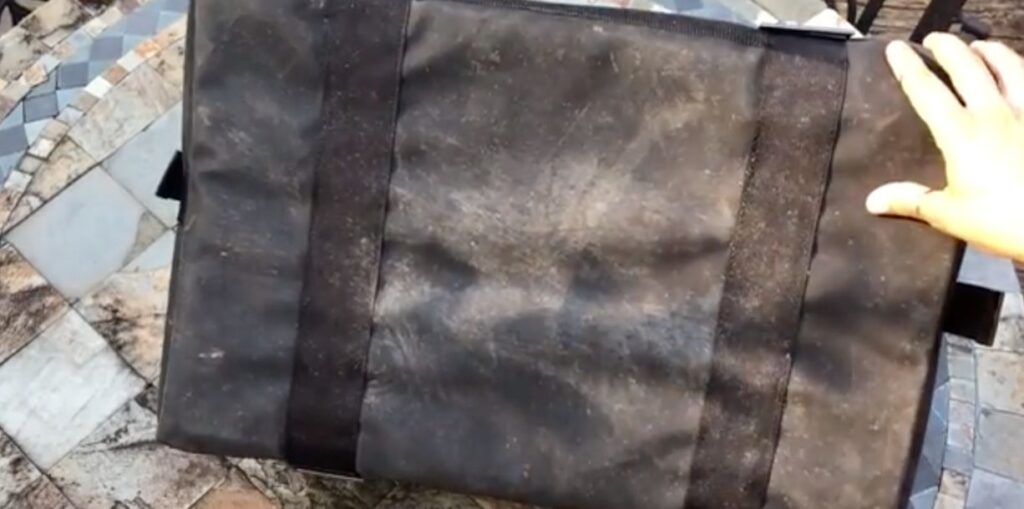 The Deluxe Polar Bear cooler also has a reinforced base for extra strength and durability. This means you can put down your cooler anywhere and not have to worry about it tearing or getting punctured.
Other Features Of Polar Bear Coolers
Both versions of the Polar Bear coolers come with the following features:
Exterior Pockets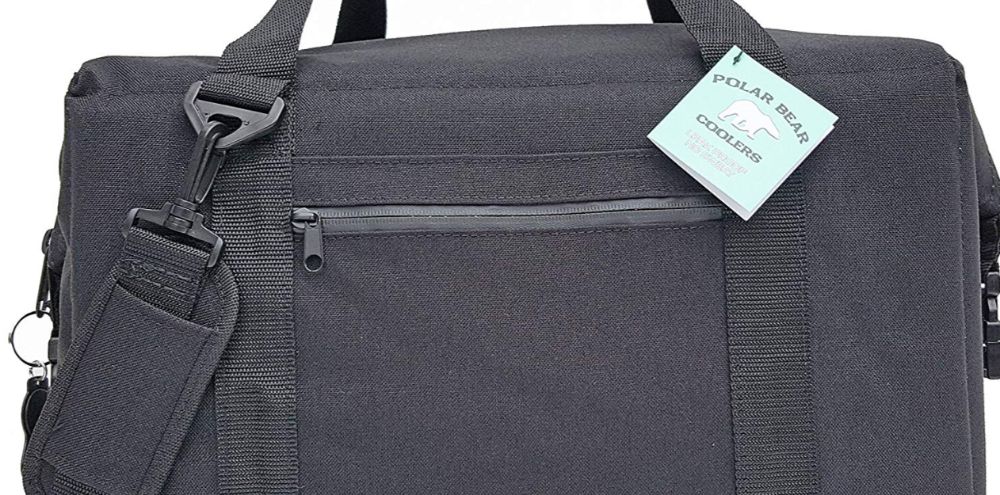 Polar Bear coolers come with an exterior pocket for holding small items you don't want getting wet in the main body of your cooler.
Some versions have a solid pocket like the image above while other versions use a mesh exterior pocket when you can see what's inside.
The zippers on the pockets are not weatherproof.
Detachable Shoulder Strap (or Backpack Straps)
All coolers come with either a detachable shoulder strap or backpack straps for the backpack version.
The shoulder strap is strong and padded for comfortable hands free carrying.
Food Grade Inner Liner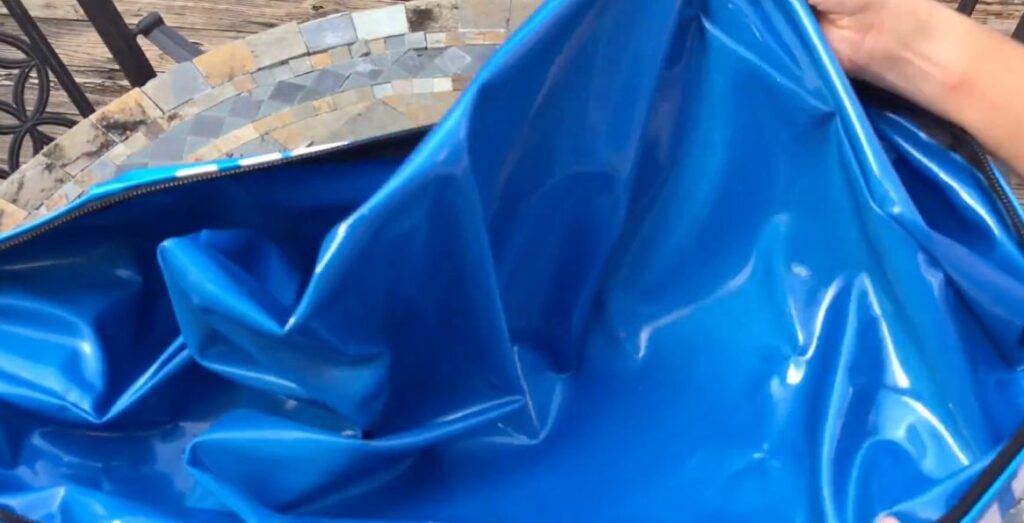 The liner used in Polar Bear coolers is FDA approved food safe. So you can place food directly in this cooler and not have to worry about any toxins from the plastic.
The liner is also loose so you can pull it out for easier cleaning and drying.
Built In Bottle Openers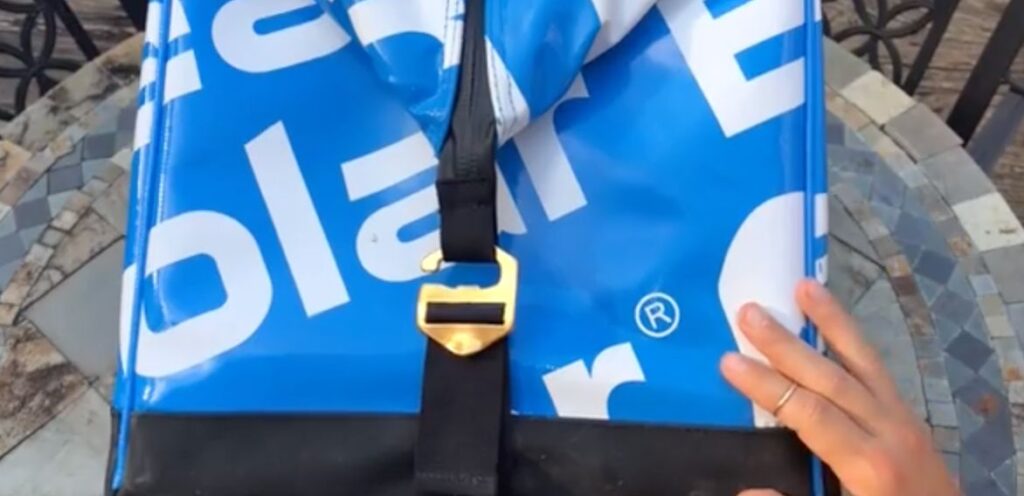 The clips that are used to hold down the sides of the zippers and to keep the cooler nice and tight when you are travelling also double as bottle openers so you never have to hunt for a bottle opener again
Daisy Chain Loops and Tie Down Points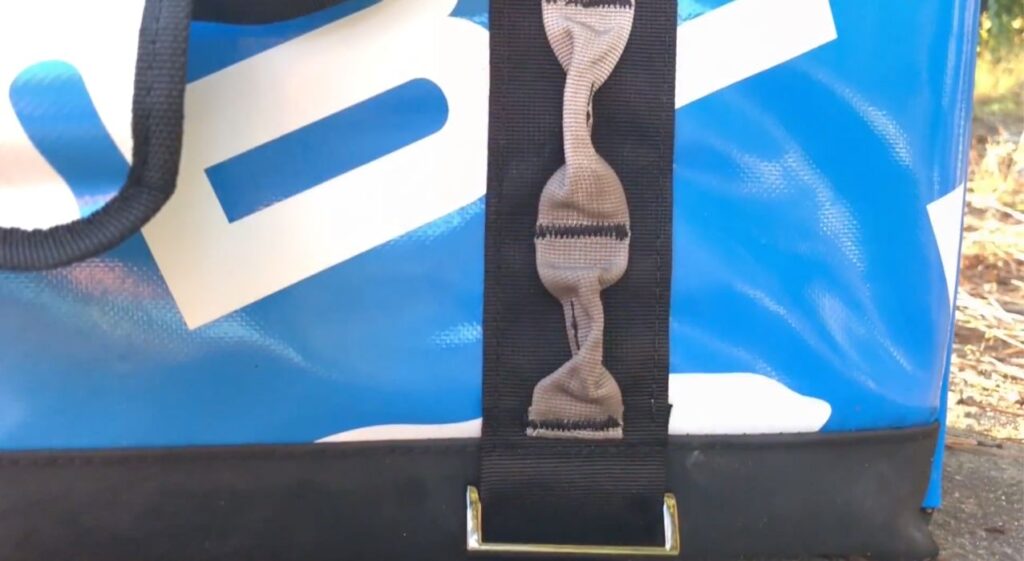 Polar Bear coolers have daisy chain loops on both sides of their cooler for connecting carabiners and other items and they also feature tie down loops so you can strap your cooler down so it won't move around or tip over.
Multiple Color Options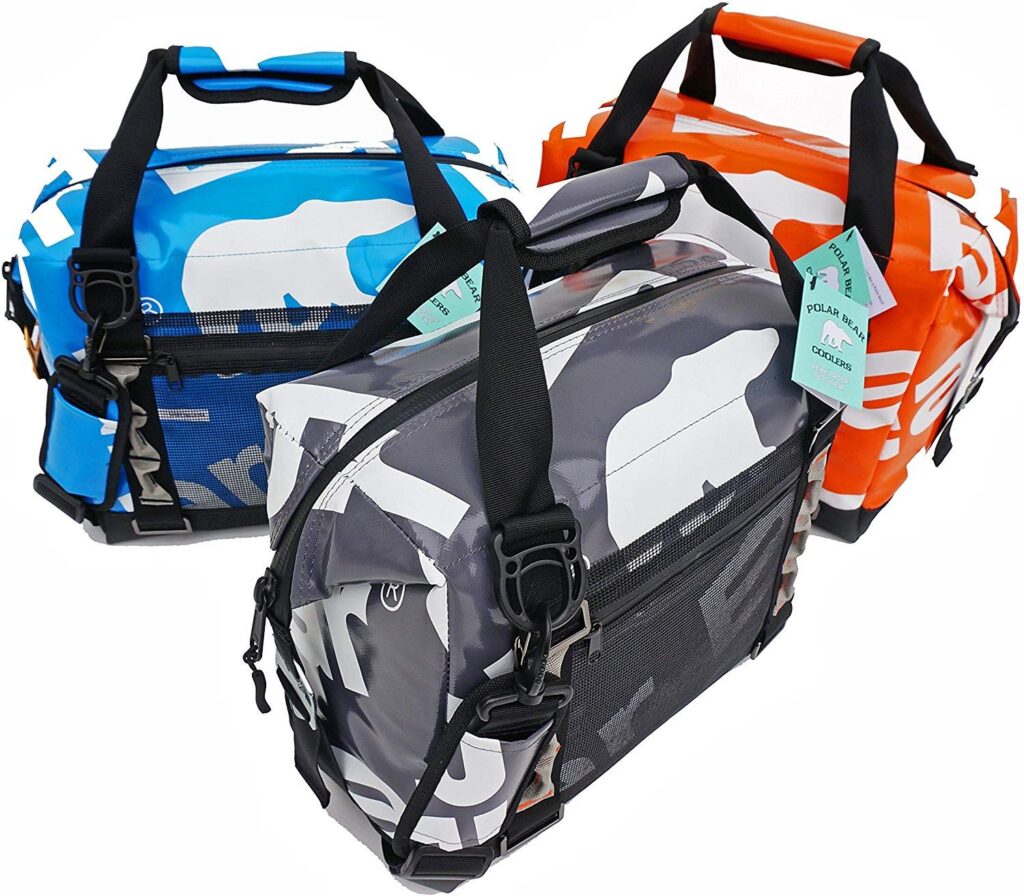 Polar Bear coolers come in multiple different color options.
The Original nylon exterior coolers come in just single colors which in my opinion is a much cleaner look. There are lots of different colors to choose from – click here to see all the nylon color options at Amazon.
The Deluxe waterproof coolers come in much brighter colors (seen above) that also have the words "Polar Bear" in large writing across them. I'm not a huge fan of this design but some people might love it – click here to see all the deluxe color options at Amazon
3-Year Warranty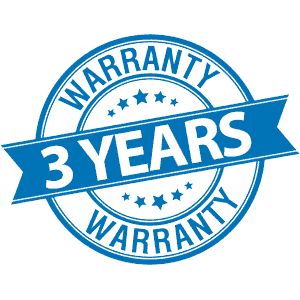 Polar Bear coolers are backed by a 3-year limited warranty.
If something happens to your cooler within the first 3 years then Polar Bear will replace or repair your cooler free of charge.
Maybe the liner breaks or you have issues with the zipper. Simply get in contact with Polar Bear and they'll sort it out for you.
Ease Of Use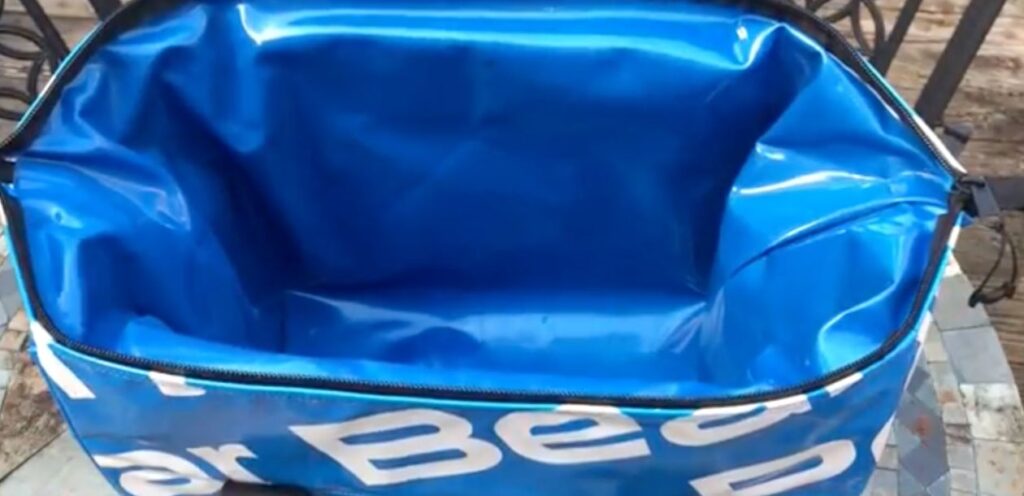 One thing that makes the Polar Bear stand out from some other soft sided coolers is it's ease of use.
I really like the zipper design. It has a single long zipper that is easy to open and close but the top is designed that when the zipper is undone the cooler folds out giving you wide access to the cooler.
Other coolers achieve this with a flip top lid or a magnetic opening like the Yeti M30, but these also have their downsides.
I really like the ease of use of this cooler.
Other Coolers Worth Considering
Maybe you're reading this Polar Bear cooler review and you've decided that the Polar Bear cooler might not be for you. Or maybe you just want to look at the competition before making your final decision.
While the Polar Bear is a great cooler there are a lot of really good soft sided coolers out there. I've reviewed almost all of them and here are some of the coolers that come most highly recommended from me.
Engel HD30 Cooler: Even Better Ice Retention
When it comes to soft-sided cooler ice retention nothing can quite match the Engel HD30. This cooler uses thick insulation and vacuum seal technology to achieve ice retention far superior than any other cooler.
It'll outperform the Polar Bear and it'll also outperform the Yeti Hopper coolers by a larger margin. Click here to see just how much Engel coolers beat Yeti coolers by when it comes to holding ice.
The Engel is also approximately $100 cheaper than the Yeti Hopper coolers so it offers value for money just like the Polar Bear. Well worth considering.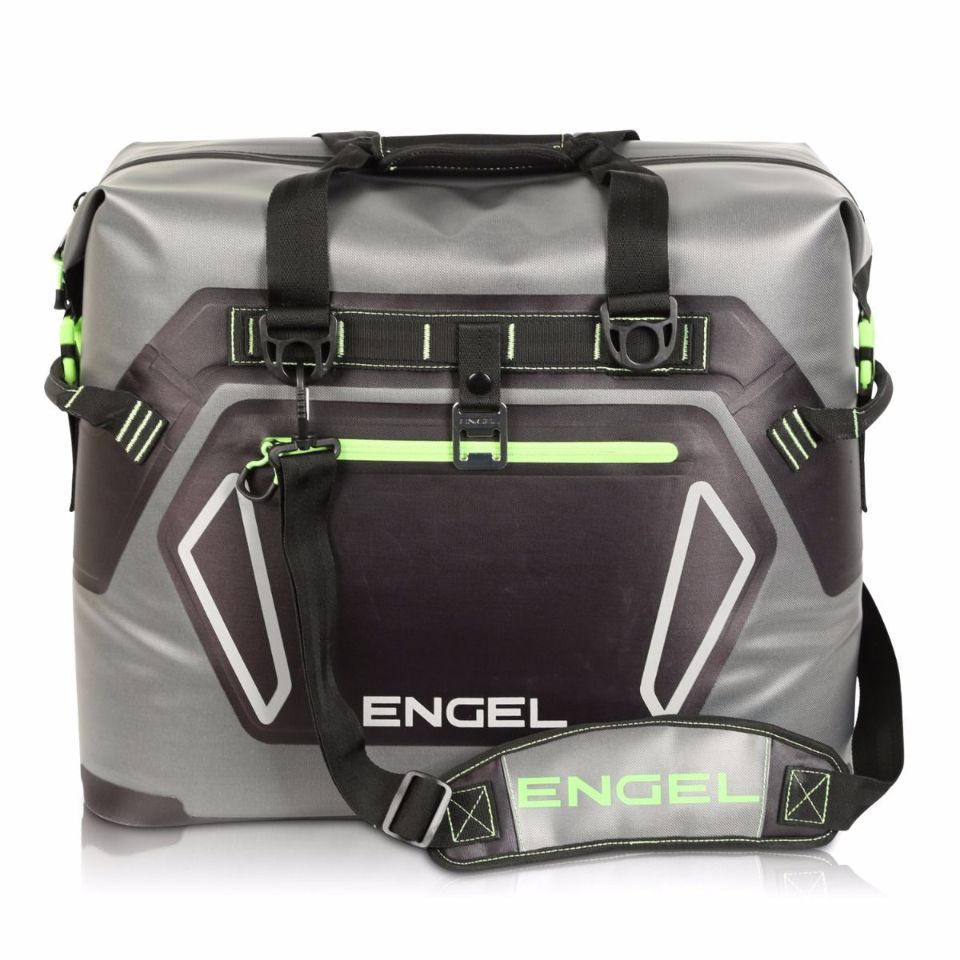 See the latest price of Engel HD30 coolers at Amazon
Yeti Hopper Cooler: Most Popular Brand
Yeti are the biggest brand name in coolers and in the last decade have quickly become a very desirable lifestyle brand.
They also make really amazing coolers and the Yeti Hopper line of coolers are some of the most beautifully designed and high-quality coolers on the market.
They cost more than Polar Bear and don't keep ice as long but they still come highly recommended. Click here to read my full Polar Bear vs Yeti Hopper soft sided cooler review.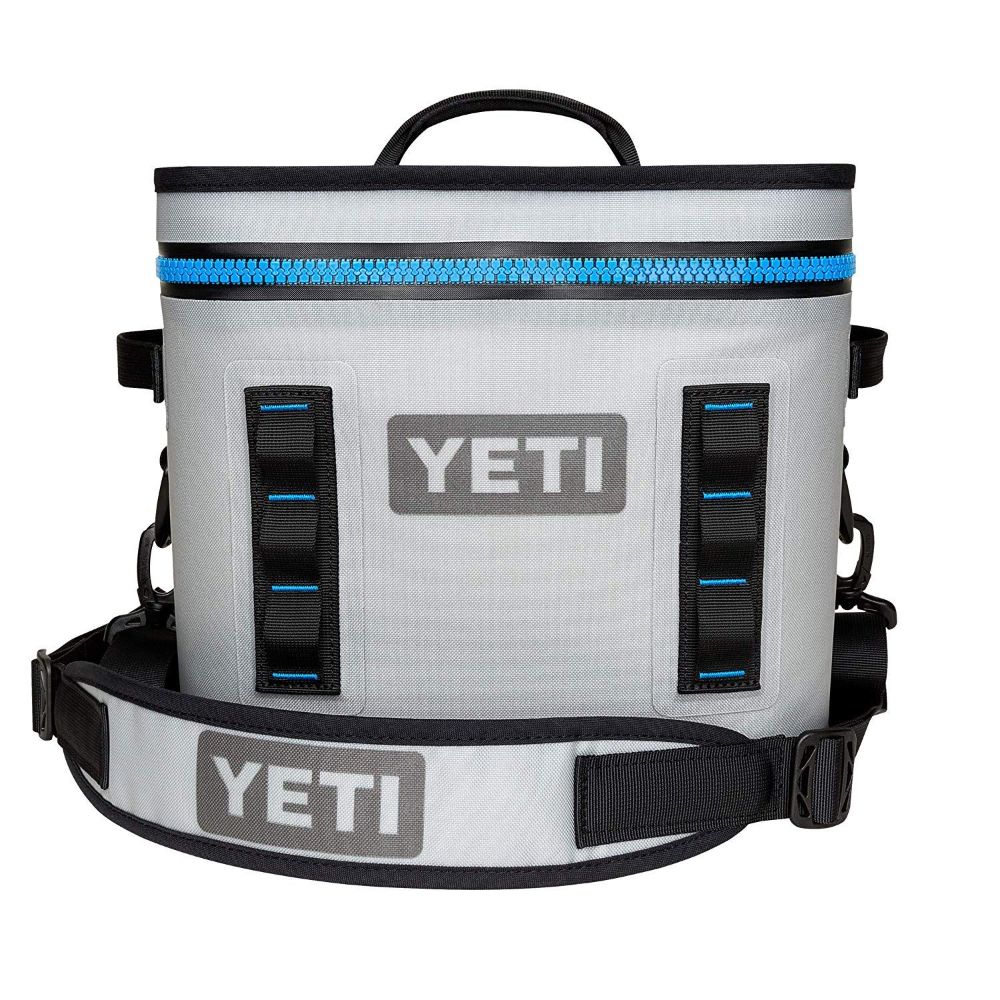 See the latest price of all Yeti soft coolers at Amazon
Grizzly Coolers: Great Value For Money
Grizzly cooler, in my humble opinion, are one of the best value for money coolers on the market.
They can hold ice for 2-3 days, are extremely durable and have multiple external pockets which make it really practical to use. Read my full Grizzly Drifter soft cooler review and why I think this cooler is so great.
Like the Original Polar Bear coolers the zipper on the Grizzly is not waterproof, but this is it's only major downside. If you can get past that then I would definitely look into this cooler. I absolutely love it.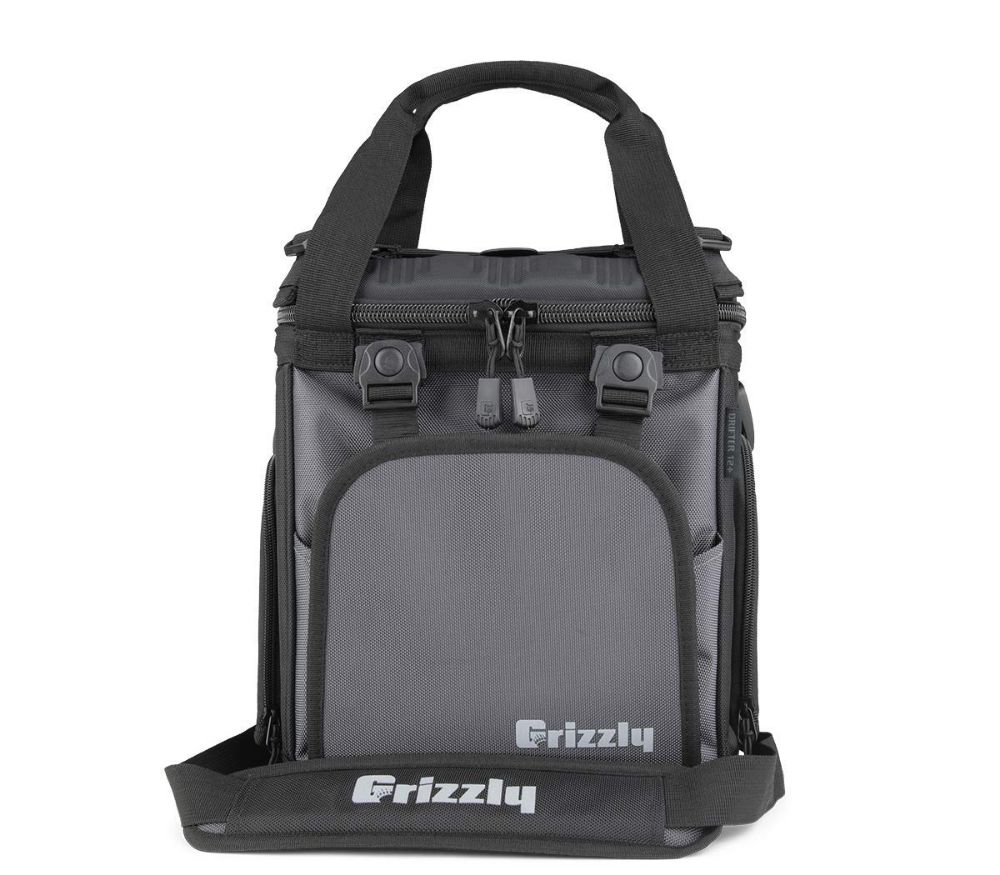 See just how cheap Grizzly coolers are at Amazon…you'll be surprised
Should You Buy a Polar Bear Cooler And Which One Should You Get?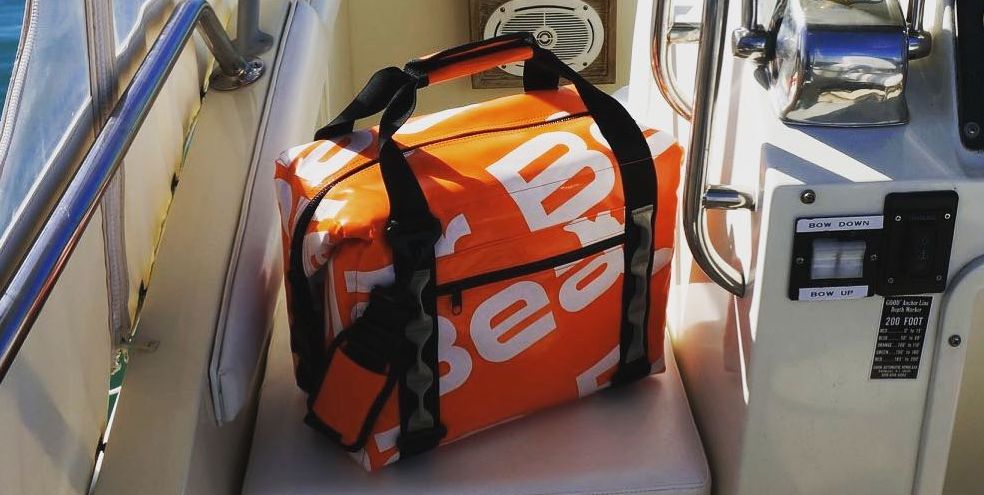 You've read the review – you've seen the ice retention, durability and features of the Polar Bear cooler. So should you buy a Polar Bear cooler and which one should you buy?
Ultimately whether or not this cooler is right for you will come down to what you value, what you will be using the cooler for and what your budget is.
Does this cooler do what you need it to do at the price point you're willing to pay?
Would I personally buy this cooler? Probably not
But that just comes down to my personal preference of not loving the print on the waterproof cooler. If I could get a waterproof one in black then 100% I would definitely buy one. Hopefully Polar Bear release one of those soon.
Would I recommend this cooler to someone thinking about buying it? Absolutely.
It's high quality, has some of the best ice retention in the industry and offers great value for money.
With it's 3-year warranty and value for money price I don't think you can really go wrong with this cooler.
If you're interested in buying a Polar Bear cooler or want to see more details on pricing and customer reviews then simply click my Amazon affiliate links to see the coolers at Amazon below.
Amazon often has cheap prices on these coolers as well as free shipping to a lot of areas. So it's well worth a look. Click the links below to check them out.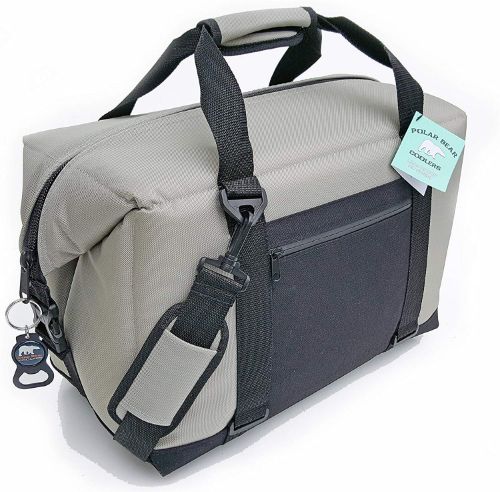 See latest price for Polar Bear Original coolers at Amazon