In this Bison SoftPak cooler review I want to have a look at some of the features of this soft sided cooler and look at its build quality as well as the pros and cons of this cooler so you can decide whether or not this cooler is right for you.
I wanted to see whether or not Bison coolers were any good and how they compared to other soft sided coolers. Does this cooler offer good value for money given it's a USA made cooler? Is it worth considering or should you go with another brand?
Bison SoftPak coolers are super tough and durable soft sided coolers that can hold ice for over 24 hours in 120 degree heat and are one of the few soft sided coolers made in the USA. They sell for a fraction of the cost of competing brands like Yeti and come in a 12 and 24 can size.
See the latest price of Bison SoftPak coolers at Amazon
100% Made In The USA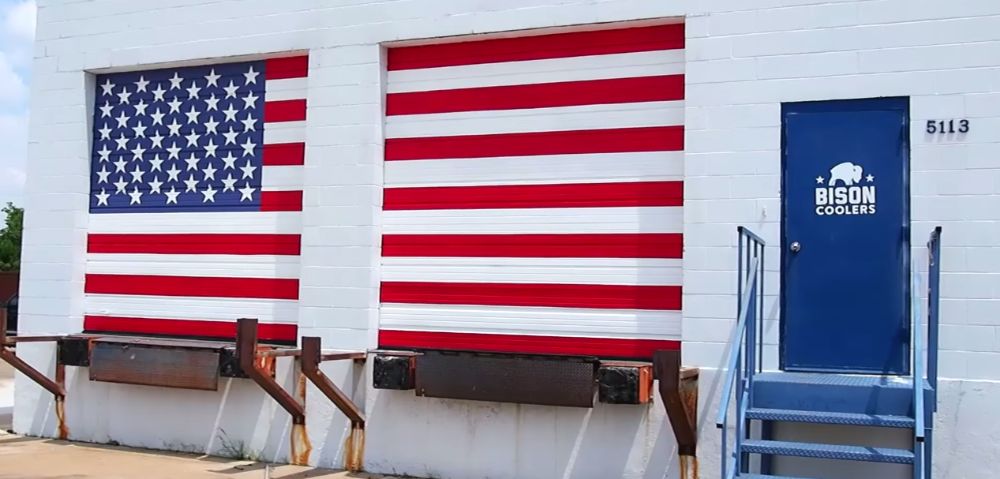 The big drawcard of Bison SoftPak coolers is that they are one of very few soft sided coolers that are completely made in the USA.
Most cooler companies make their soft sided coolers overseas. Big brands like Yeti and RTIC all manufacture their products in places like China and even other companies who make their hard sided coolers in the USA have opted to make their soft sided coolers overseas.
This makes Bison really unique because they do their best to source all local materials and then make all their products in the USA, keeping as many jobs in the country as possible.
They are a small family run operation and for people who want something that is specifically made in the USA then this is one of the only high-end soft sided coolers you can buy.
The only other one I know about is a cooler by a company called Frio. Click here to read my list of the 19 best USA made coolers and see where Bison and Frio rank on the list.
Competitive Pricing
Another reason to consider a Bison SoftPak cooler is the price. They are very competitively priced compared to other brands like Yeti.
Bison coolers come in 2 main sizes – 12 can and 24 can – and could save you a lot of money.
You can save over $100 by purchasing a Bison cooler so for the budget conscious shopper then this could save you a lot of money.
Below you can see a comparison between Bison coolers and some other major brands of soft sided coolers:
You can also click the price links (my affiliate links) to see the products on Amazon and confirm the pricing, as I found different colors have different prices and some are cheaper than other.
Bison Coolers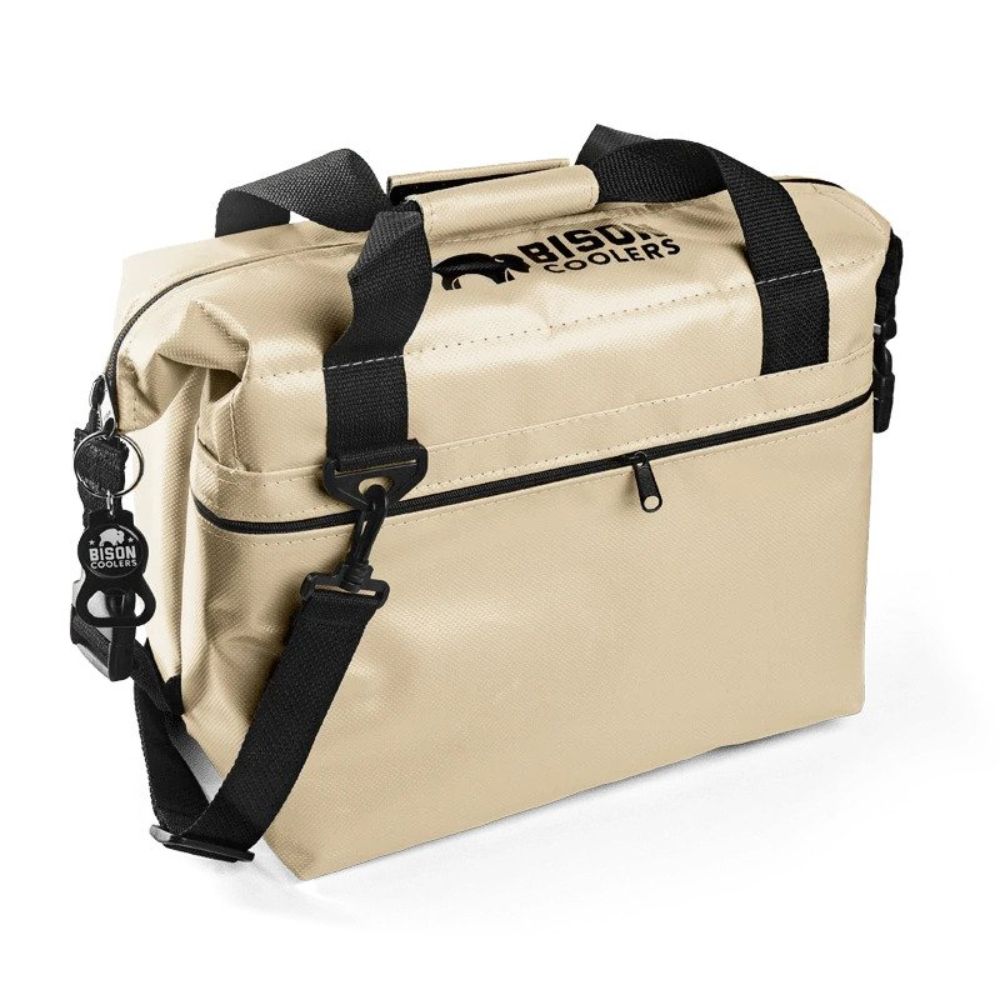 Bison SoftPak 12-Can:
---
Bison SoftPak 24-Can:
Other Coolers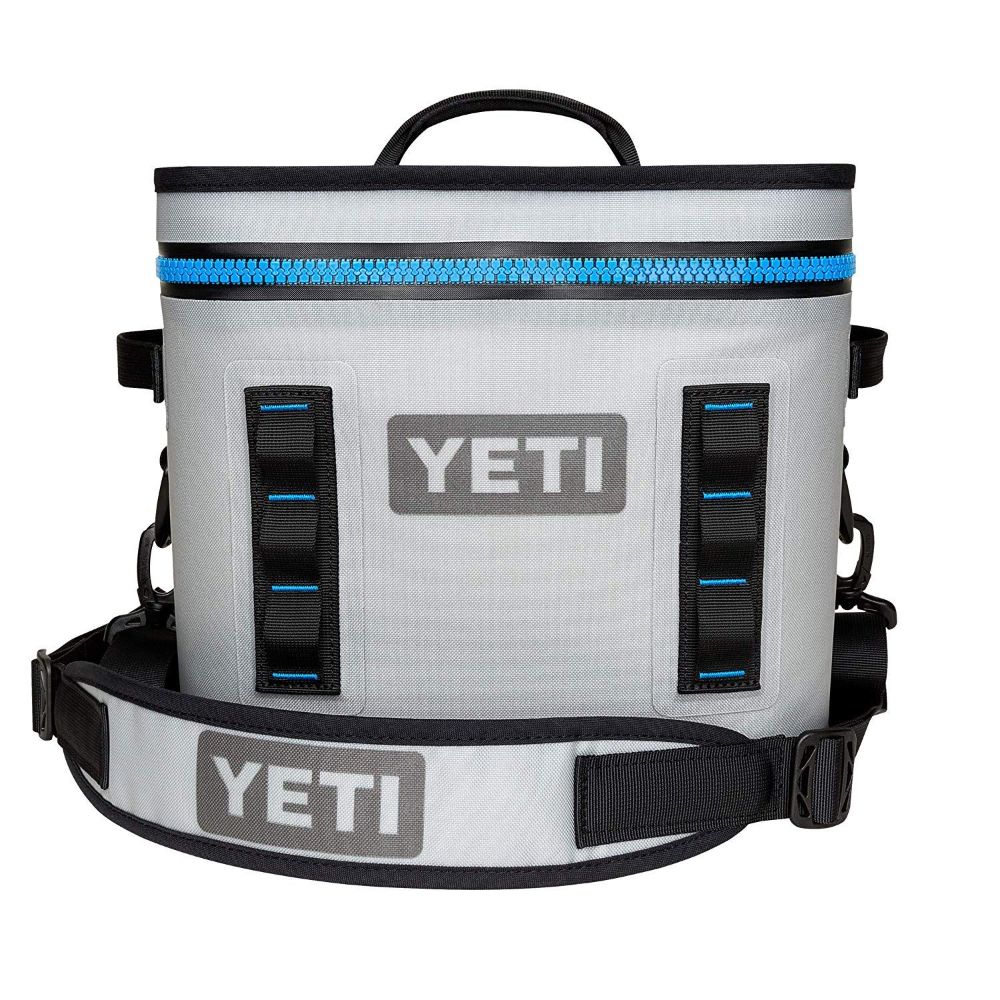 RTIC Soft Pack 8:
---
Grizzly Drifter 12:
---
Polar Bear Deluxe 24-Pack:
---
Engel HD30:
---
Yeti Hopper Flip 18:
As you can see Bison is more affordable than brands like Yeti and Engel but is not quite as affordable as brands like Grizzly and RTIC.
However Grizzly and RTIC don't make their coolers in the USA while Bison does.
24+ Hours Ice Retention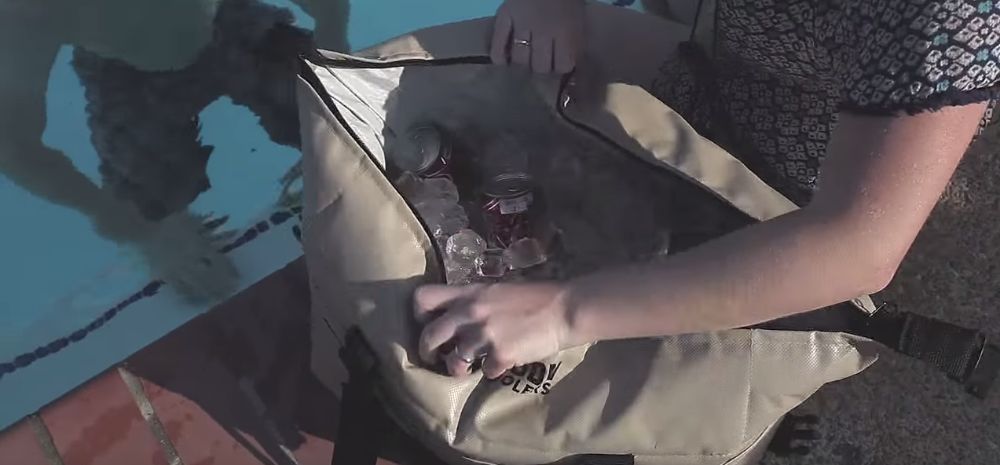 Bison coolers are capable of keeping ice for over a day in 120 degree heat.
Unfortunately I've been unable to find any ice tests where people have compared the performance of a Bison cooler to any other brand of cooler. I was actually unable to find any ice tests of this cooler at all.
I guess this is because it's not as popular as some other coolers on the market so maybe that is why there are no ice tests out
Looking at customer reviews it looks like that 24 hours is an understatement and that this cooler can likely hold ice for much longer.
Customers are talking about getting 2 days of ice retention using just ice packs, or getting a full day's worth of ice retention only partially filling the cooler and using just 1-2 ice bricks rather than a 2:1 ice ratio like a lot of companies recommend.
Nearly An Inch of Insulation

Bison do state that their coolers are "twice as insulated as most coolers" and that they have nearly an inch of insulation.
I'm not sure if this means 0.75 inches (that is how much insulation Yeti has) or if they mean a different figure, it isn't quite clear.
I'm also not exactly sure what type of insulation Bison coolers have as they don't talk about that either.
Regardless it seems you should get at least a day of ice retention. Possibly more like 1-2 days of ice retention in regular temperatures using a good amount of ice.
Waterproof Tough Vinyl Exterior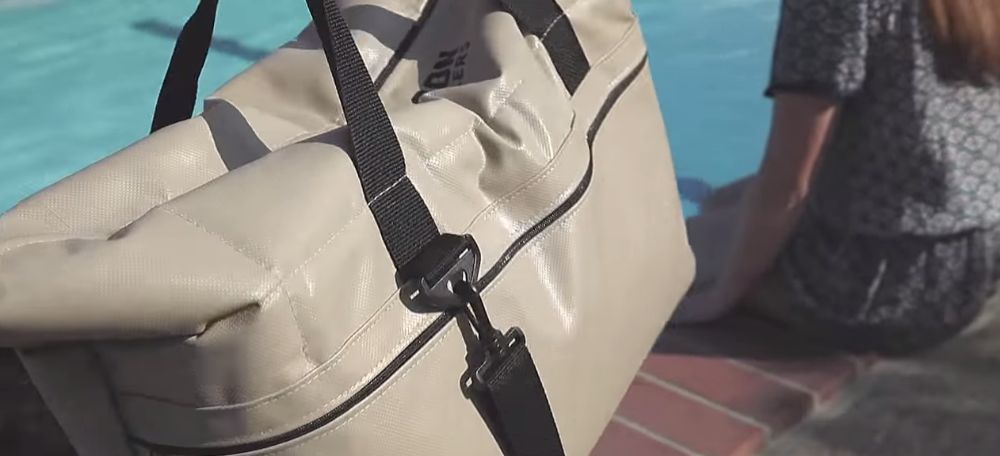 The exterior of the Bison cooler is made from 1,000 denier vinyl which is heavy-duty and rated as tear resistant up to 375 pounds.
The exterior is also UV protected so it won't fade in the sunlight.
I did notice the exterior was mainly stitched together whereas other coolers like Yeti use RF welding which is stronger and makes the cooler less likely to break.
The bottom of this cooler doesn't seem to be reinforced and this is a vulnerability with some customers complaining of leaks after using the cooler a lot.
Wide Open Lid – NOT A Waterproof Zipper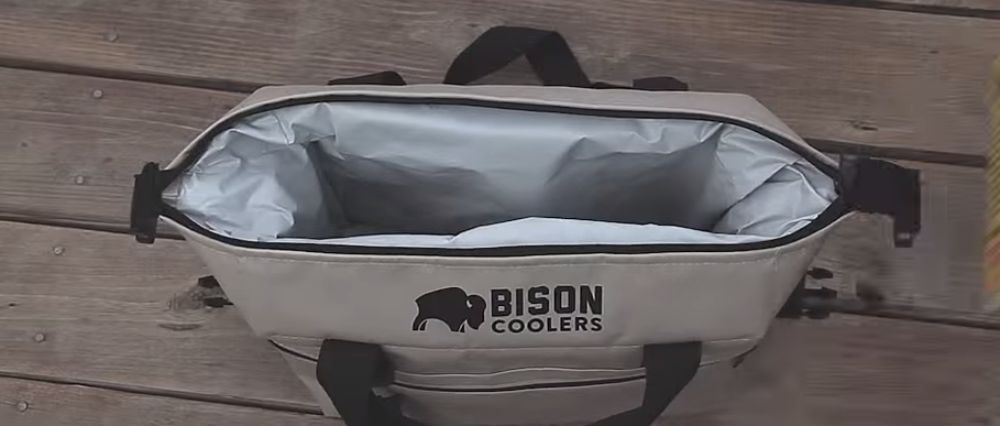 The top zipper of the Bison cooler is a YKK zipper which means it's very heavy duty and unlikely to break. It should last you years without any trouble.
The top of the cooler overhangs a little allowing the top to open wide giving you easy access to the inside of your cooler for loading it up or getting out your favorite beverage.
It's a very simple zipper to use and the wide opening top makes it really easy to get whatever you need out of your cooler.
Unfortunately the zipper is NOT waterproof. If you tip this cooler on it's side or if the cooler gets knocked over it will leak water out through the zipper.
Wide Exterior Pocket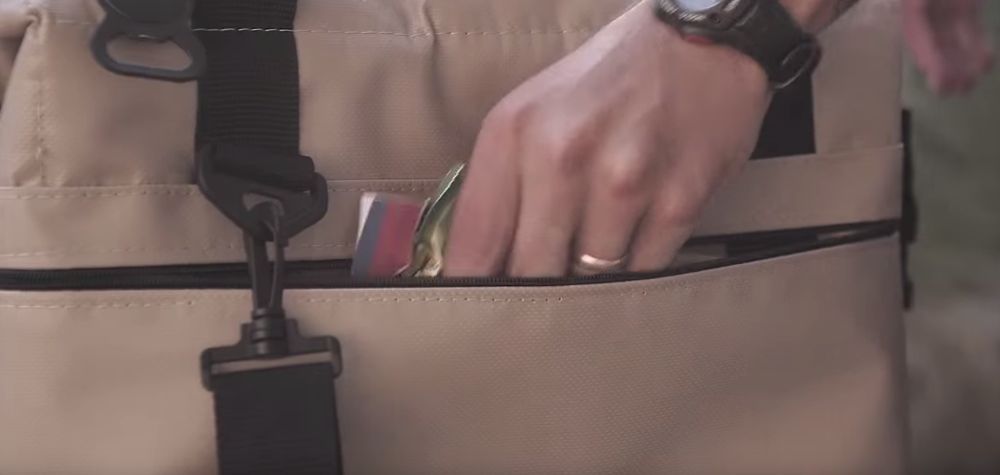 The Bison SoftPak coolers have a large exterior pocket that extends the full width of the cooler.
Great for carrying items you want to keep dry and don't want in the main body of your cooler.
Detachable Shoulder Strap + Carry Handles
The Bison SoftPak comes with a detachable padded shoulder strap for hands free carrying.
It also has 2 carry handles that fold up and velcro together above the cooler for single hand carrying.
4 Interesting Colors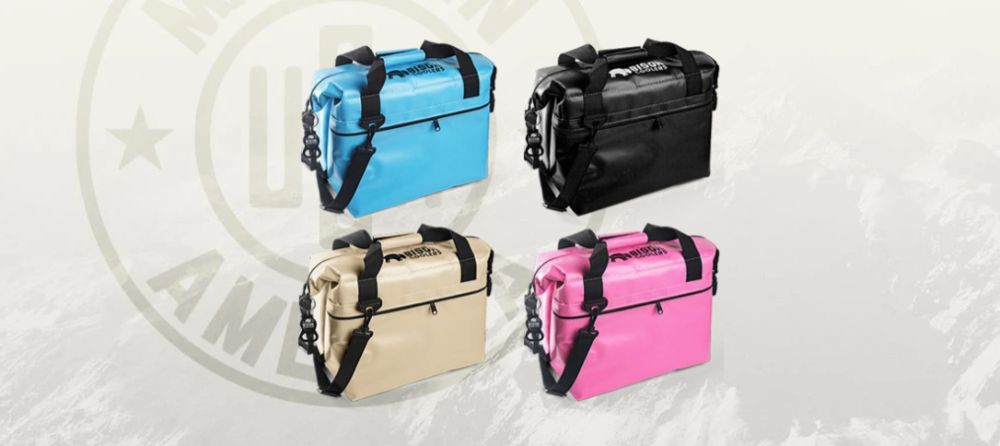 You can get your SoftPak in 4 different colors:
The blue and pink are bright colors that I can see people either loving or hating. My favorite color option is the black.
Click here to see all color options for Bison SoftPak coolers at Amazon
Free Bottle Opener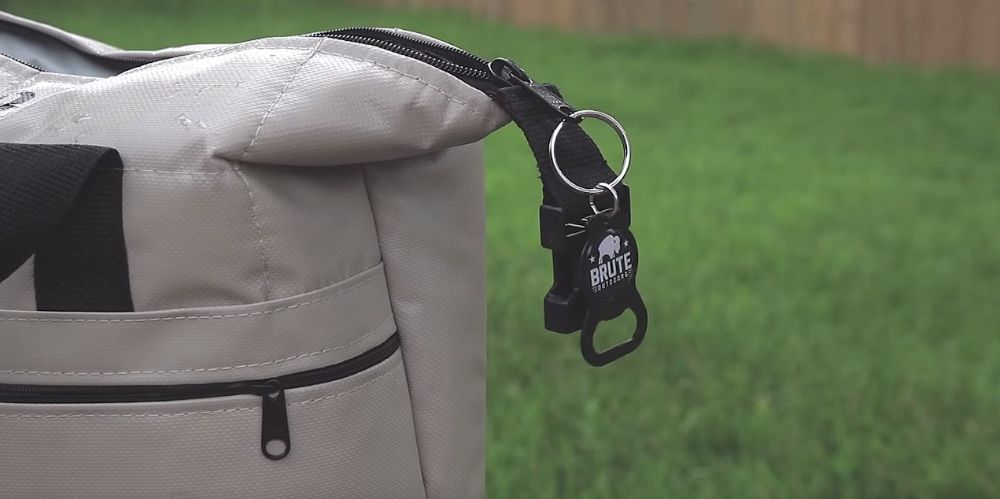 Molle Webbing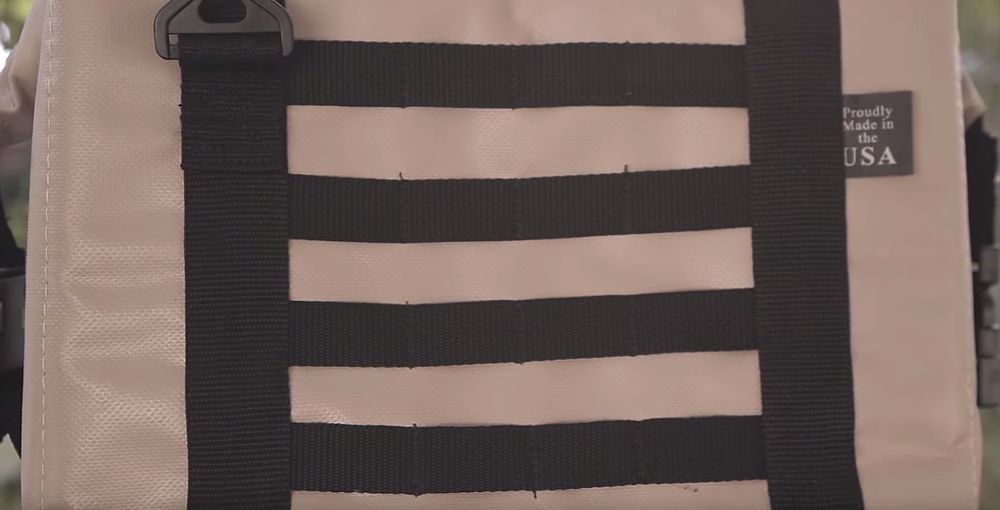 30-Day Trial and 2-Year Warranty
These coolers are backed by a 30-day trial. If you don't love it then you can send it back in the first 30 days and get a full refund.
If you do love it and decide to keep it then it comes with a 2-year warranty in case an issues come up.
Problems With The Bison Soft Pack Cooler
No cooler is perfect and the Bison is no exception to this rule. It does have some downsides that you should be aware of before you decide to buy one.
Base is NOT Reinforced
The base of this cooler is made from the same fabric as the sides and top.
It has some minor reinforcement but given the base of the cooler gets the most wear and tear this is a vulnerability and some customers have complained that the cooler leaks through the base after a lot of usage.
No Backpack Coolers
Many other cooler companies have backpack cooler options. Bison only has the duffel style coolers and doesn't have a backpack.
Ice Retention Isn't The Greatest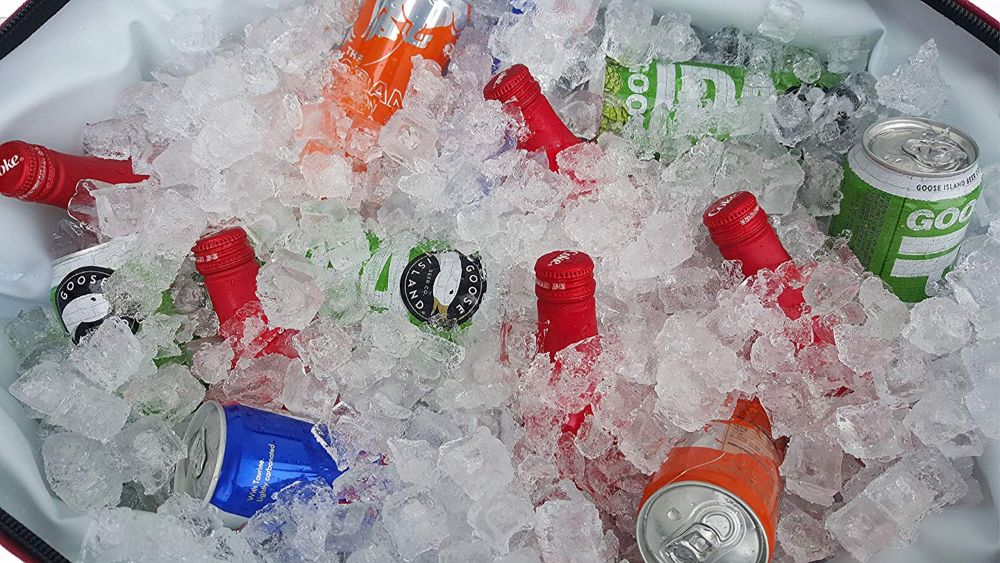 The ice retention on this cooler isn't the best. While 24+ hours is decent there are soft sided coolers out there that can keep ice for 3-4+ days. The Engel HD30 and the Polar Bear Deluxe coolers are the two best coolers for ice retention.
The Polar Bear is an affordable alternative to Yeti and retails for a similar price to Bison coolers. Read my Polar Bear Deluxe cooler review.
The Engel HD30 is the absolute best cooler at keeping ice. It's so good that it competes with hard sided coolers of a similar size which is CRAZY! Click here to read my Engel HD30 review and see just how long this cooler can hold ice.
Zipper is Not Leakproof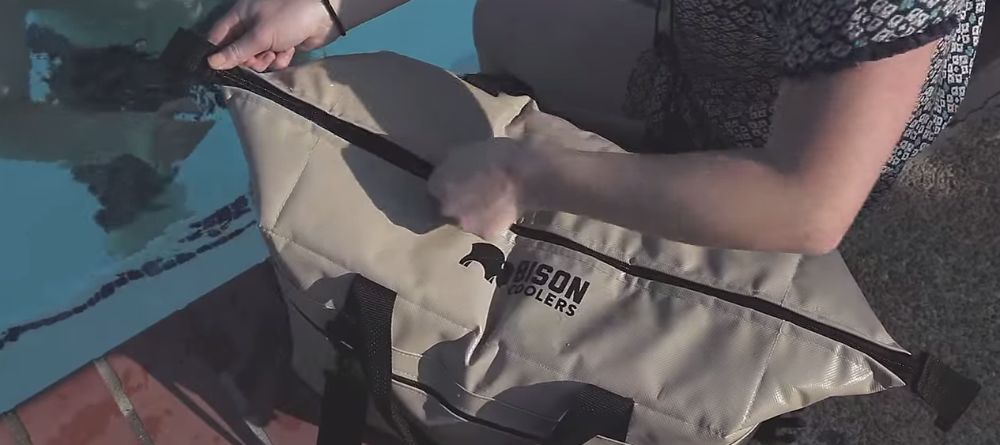 The zipper on this cooler is a YKK zipper and is heavy-duty and durable but it is NOT waterproof.
Water can spill out of the zipper if your cooler tips over or if water inside the cooler sploshes around while you're carrying it or while travelling.
Alternatives To Bison SoftPaks
If you're not sure if Bison coolers are right for you then there are a bunch of other soft sided coolers out there worth considering.
I've reviewed almost every soft sided cooler and highly recommend the following soft sided coolers.
Polar Bear Coolers: Most Similar In Design
The Polar Bear Deluxe coolers have a very similar design to Bison coolers with the duffel bag shape and waterproof exterior.
However, Polar Bear coolers can hold ice longer than Bison coolers and they also have a weatherproof zipper. Polar Bear coolers even outperform Yeti coolers when it comes to ice retention. Click here to read my Polar Bear vs Yeti soft cooler comparison.
If you want an affordable cooler with great durability and ice retention this is a great cooler.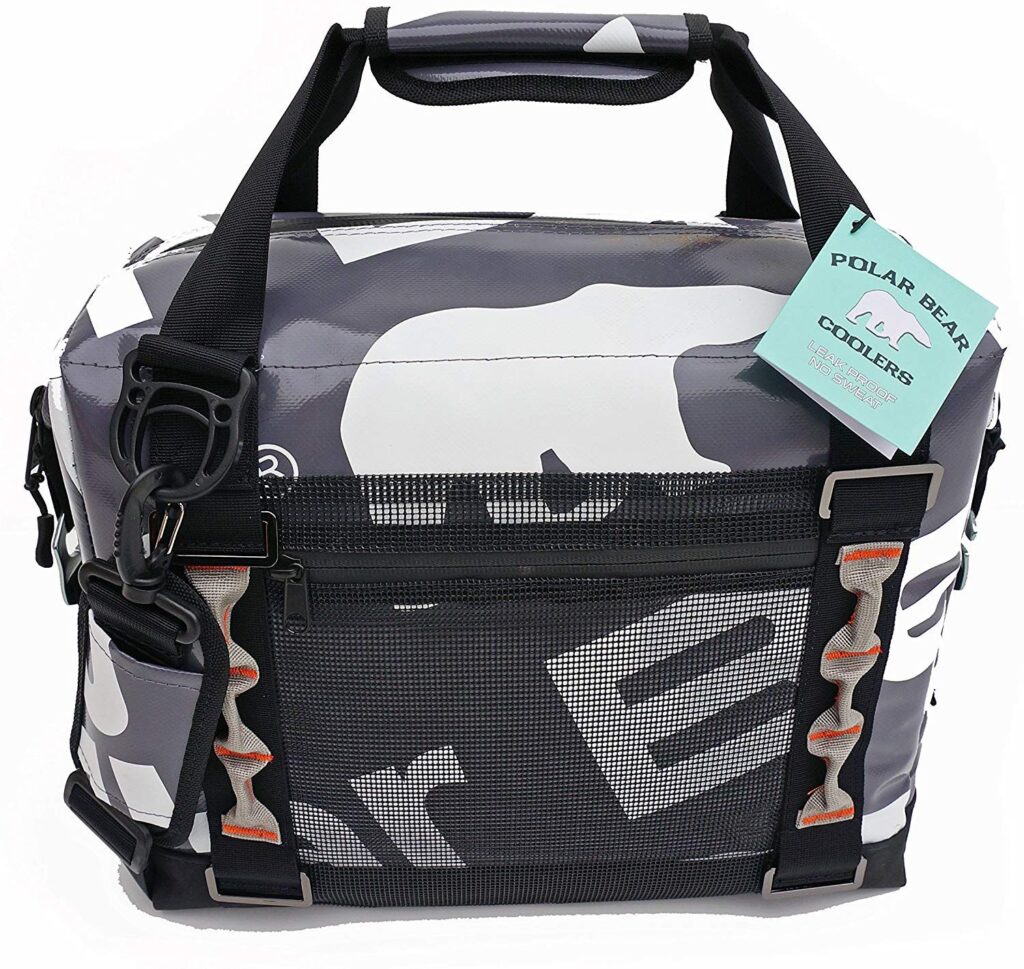 See the latest price of Polar Bear coolers at Amazon
Yeti Coolers: The Biggest Brand
Yeti coolers are the biggest brand in coolers and for good reason.
Their soft-sided Hopper coolers are some of the most durable coolers on the market and can hold ice for 2-3 days.
They are expensive but they are good and while they are backed by a 3-year warranty they are so strong and well made that I would expect them to outlast this easily.
The zipper on the Yeti coolers is completely waterproof and there are 3 different styles and 5 different sizes to choose from.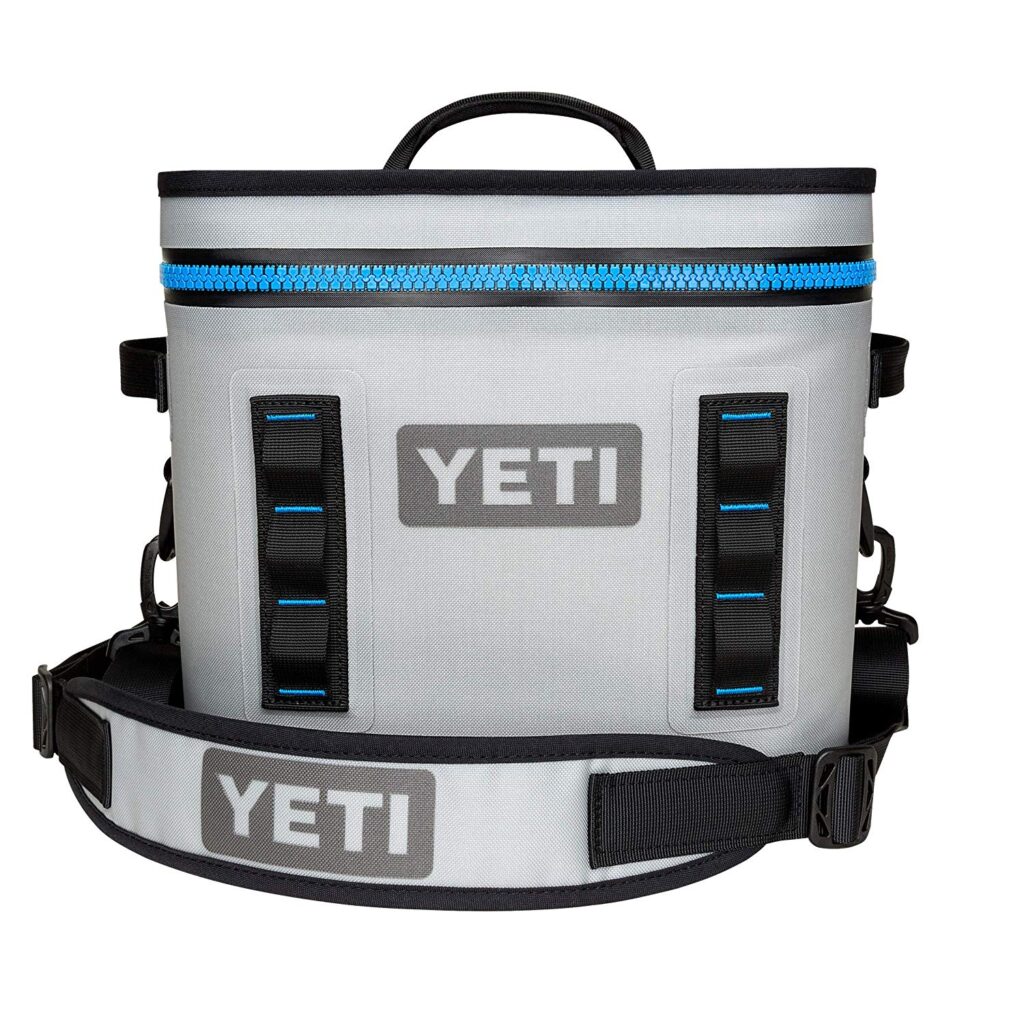 See the latest prices of Yeti soft coolers at Amazon
Engel HD30: Best Ice Retention
If you're looking for a soft sided cooler that has the absolute best ice retention possible then you can't go wrong with the Engel HD30.
It consistently outperforms other coolers in ice retention tests and is made from the same durable fabric as Yeti, so it's super tough. See which cooler is better the Engel HD30 or the Yeti Hopper.
Engel HD30 coolers are a bit more expensive than Bison coolers but they offer a good saving when compared to Yeti.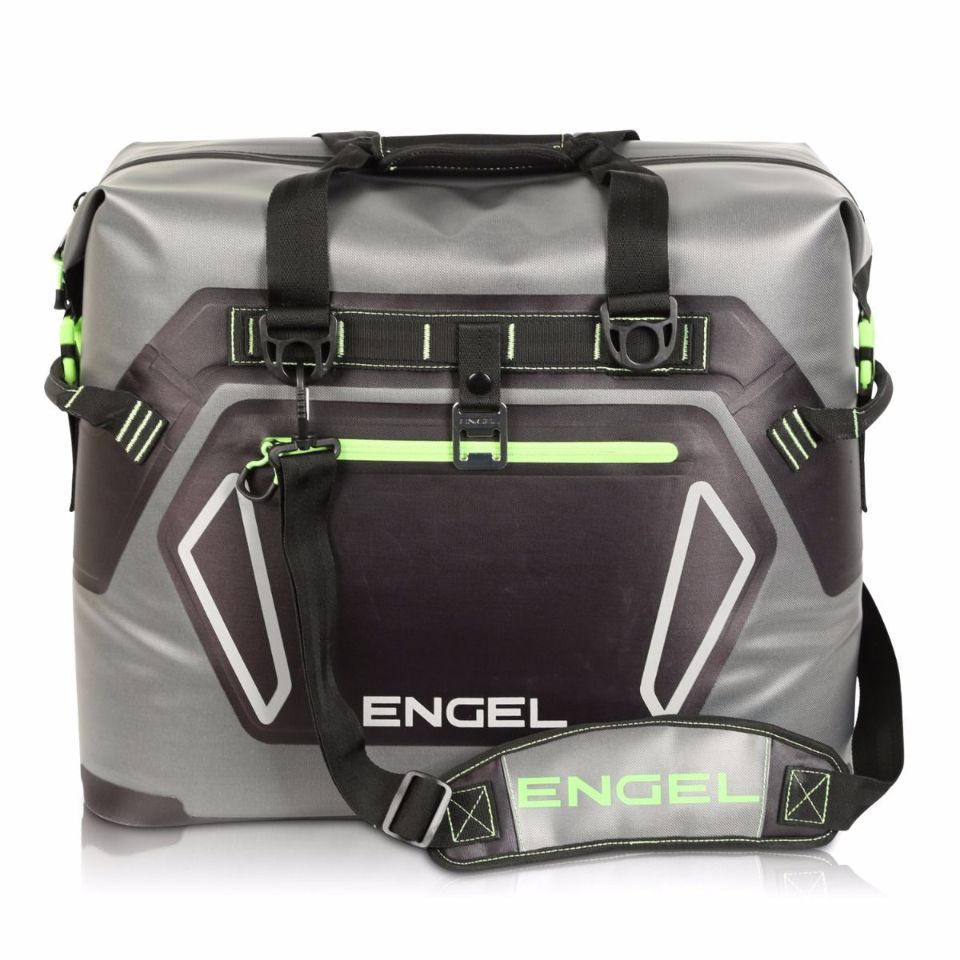 See the latest prices of Engel HD30 coolers at Amazon
Should You Buy a Bison SoftPak Cooler?
Bison SoftPak coolers are decent coolers for a decent price. They are tough and durable and can hold ice for a full day even in extremely warm temperatures.
It's not the best cooler in terms of ice retention performance or durability, but it does offer a decent price discount when compared to big brands like Yeti.
If you are looking for a soft sided cooler that is made in the USA then the Bison cooler is going to be the best cooler for you.
I can't think of any better soft-sided cooler made in the USA, and I've reviewed A LOT of soft sided coolers.
If you want to grab yourself a Bison cooler or want to see the latest prices then click my Amazon affiliate links below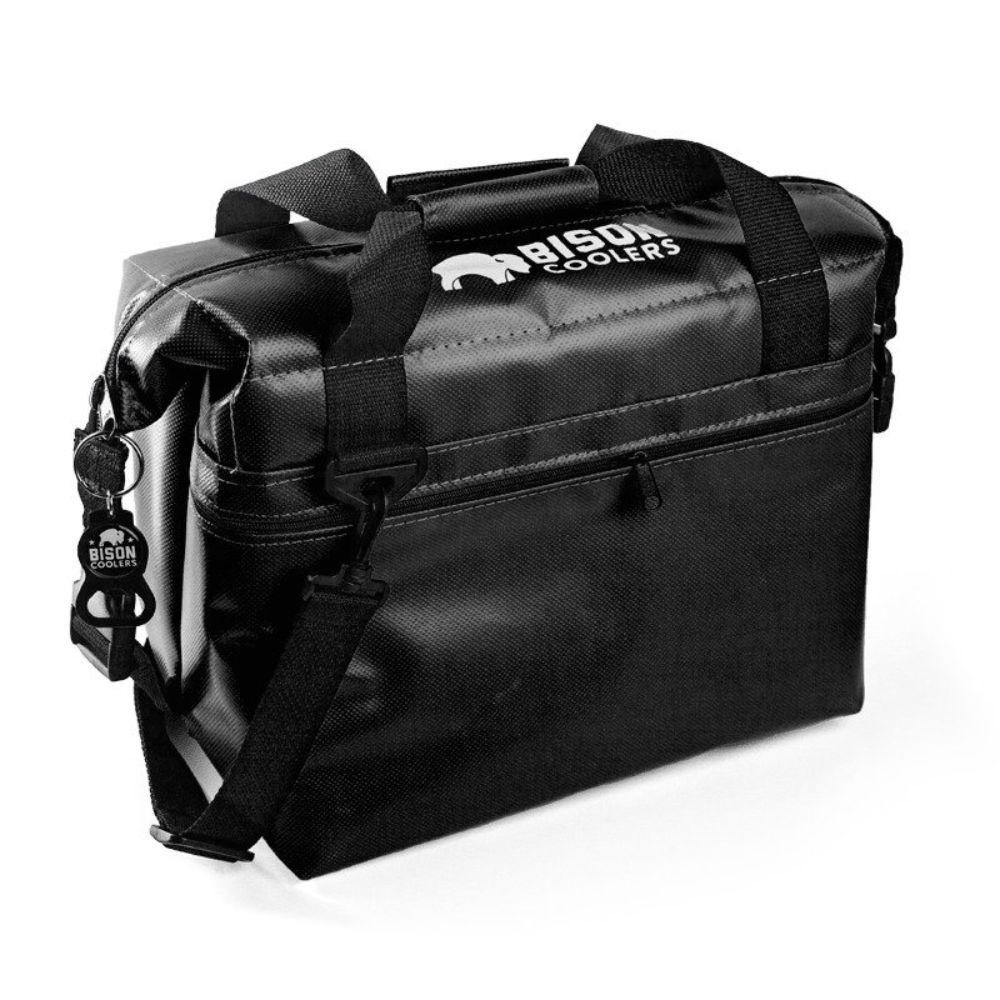 See the latest price for Bison SoftPak 12-can cooler at Amazon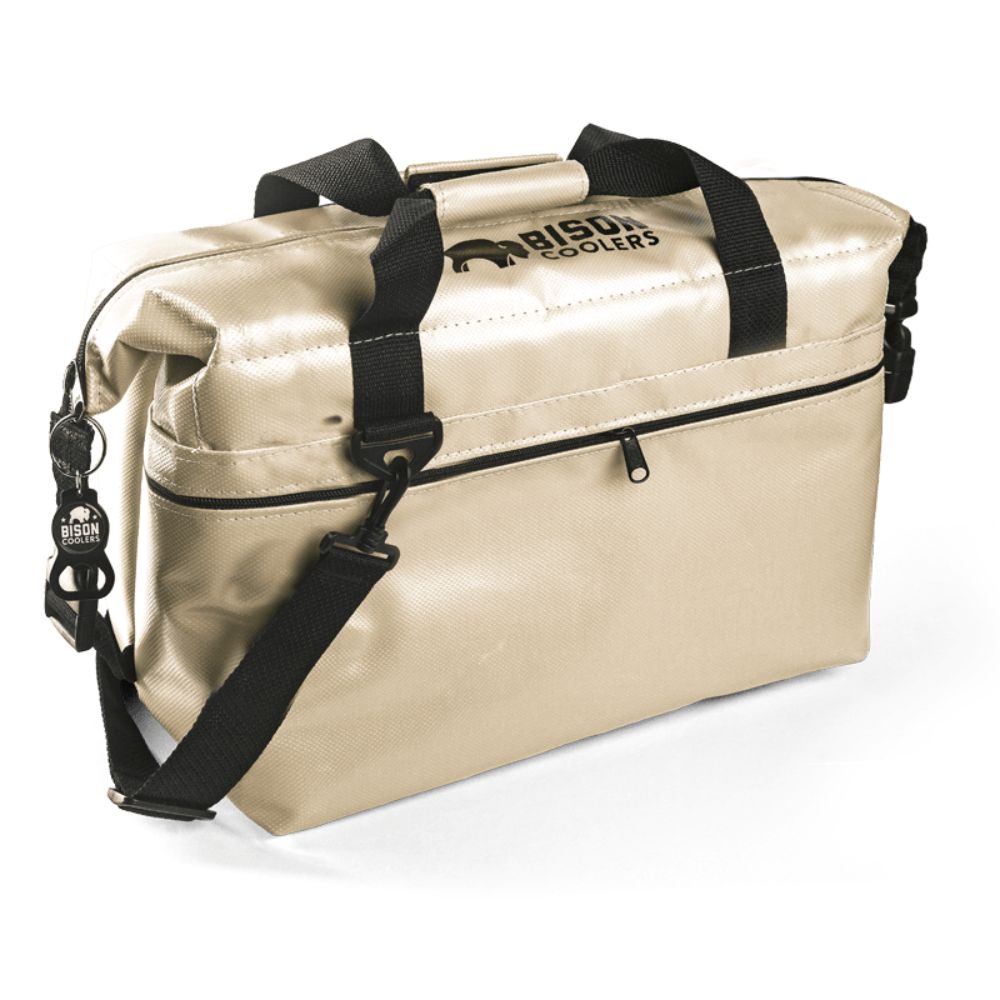 See the latest price for Bison SoftPak 24-can cooler at Amazon