The Grizzly Drifter soft coolers are one of the best value for money soft sided coolers on the market. They offer 2-3 days ice retention, a heavy duty ballistic polyester exterior, a waterproof inner lining and multiple external pockets all for a tiny fraction of the cost of other soft sided coolers.
The only major downside of the Grizzly Drifter coolers is the fact that that top zipper is not waterproof, meaning water can leak out of your cooler when it is tipped over or when water is sloshing around when driving or walking.
In this Grizzly Drifter soft cooler review we'll look in detail at these coolers and look into the pros and cons of the cooler. What it does better than other coolers as well as what it lacks.
We'll look in detail at the pricing as well as the features. By the end of this review you should have a good idea as to whether or not you want to buy this cooler.
See the latest price of Grizzly soft coolers at Amazon
Grizzly Soft Coolers Are So Much Cheaper Than Competitors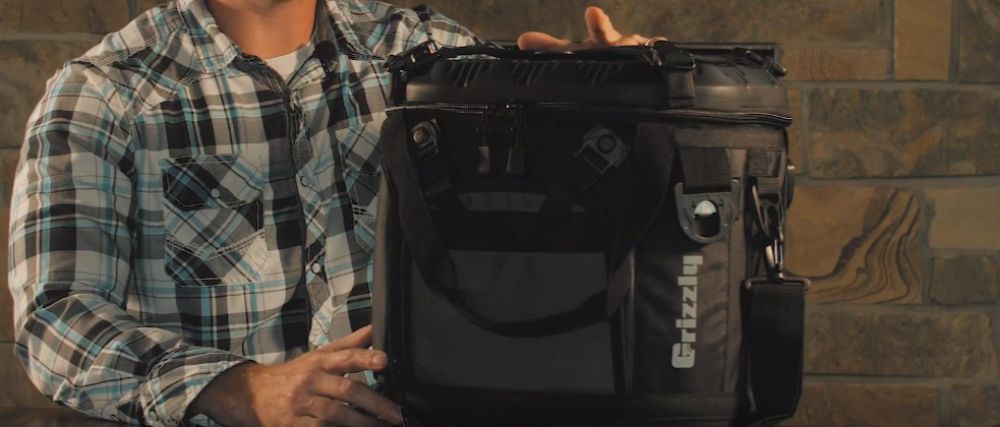 One of the major reasons you should consider a Grizzly soft sided cooler is that they are a high-end cooler without the high-end price.
In fact, Grizzly coolers are less than half the price of major competitor Yeti coolers.
This means you can buy 2 Grizzly coolers for the same price as a single Yeti Hopper cooler…and still have some money left over. Yeti does have some benefits over Grizzly but whether or not it warrants the much higher price tag will depend of what you want out of your cooler.
Click here to see the full comparison between Grizzly and Yeti soft coolers as well as which cooler I recommend you buy
Price Comparison: Grizzly Drifter vs Other Soft Coolers
Below you can see a price comparison between the Grizzly Drifter line of coolers and some of the other major brands like Yeti, Engel, Pelican and Ozark trail
You can also click the price links (my affiliate links) to see the products on Amazon and confirm the pricing, as I found different colors can have different prices and some colors are cheaper than other.
Grizzly Drifter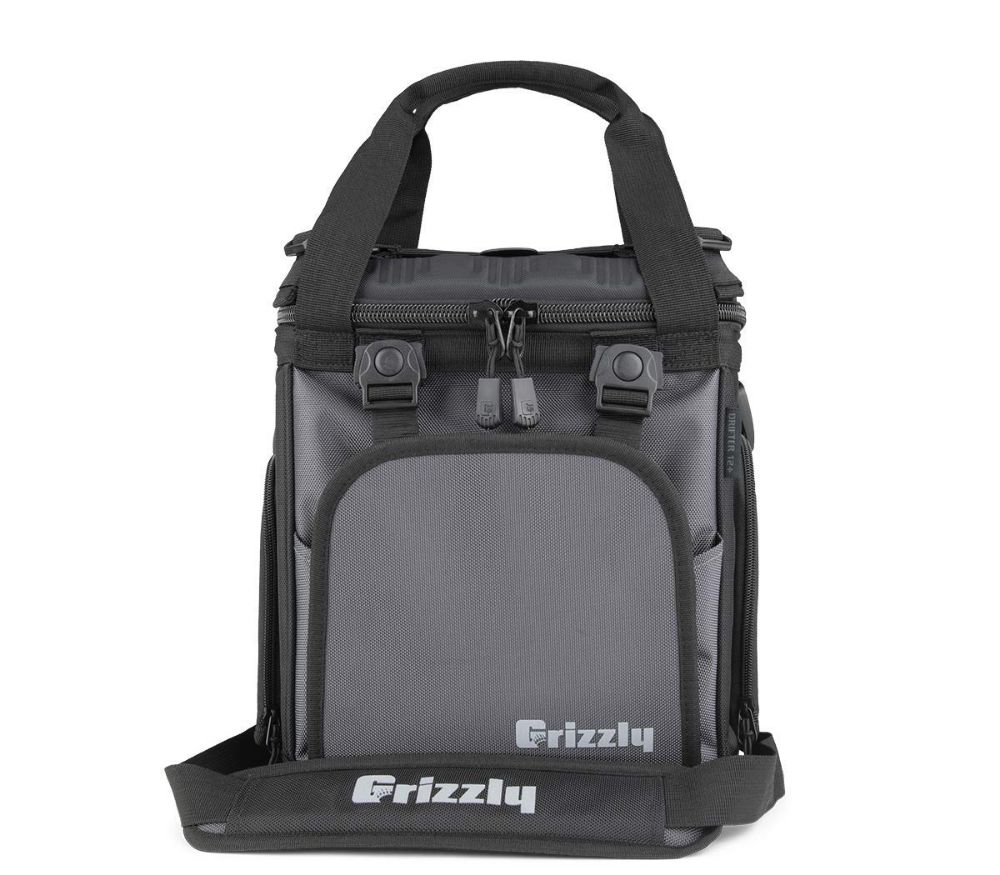 Grizzly Drifter 12:
---
Grizzly Drifter 12+:
---
Grizzly Drifter 20:
Other Coolers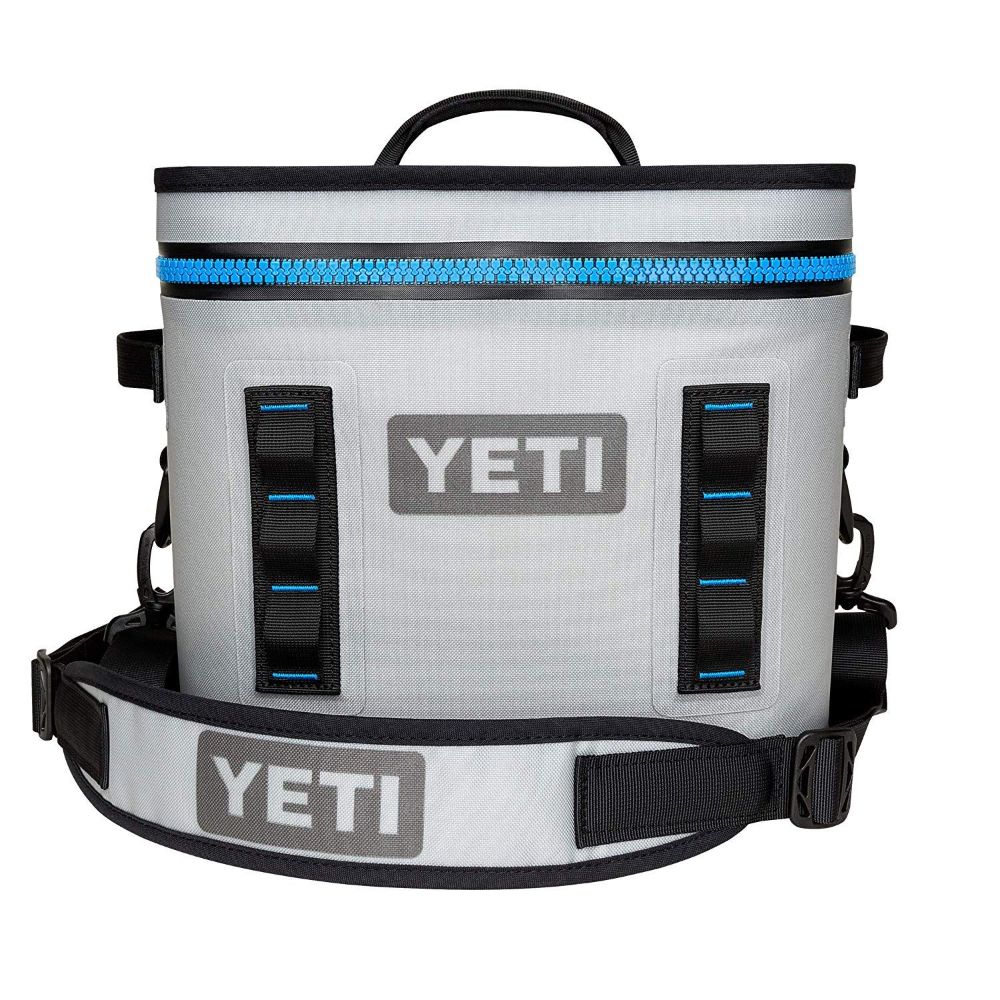 RTIC Soft Pack 8:
---
HydroFlask 24L Tote:
---
Yeti Hopper Flip 18:
---
Ozark Trail 30-Can Soft Cooler:
---
Engel HD30:
As you can see the Grizzly Drifter isn't the cheapest cooler on the market, that goes to Ozark Trail, but it is very affordable when compared to brands like Yeti, Hydro Flask and Engel.
I've been pretty open about the poor quality of the Ozark Trail soft coolers so I like the price range Grizzly coolers are in.
They are expensive enough that you know you're getting a high-quality product that will last you a while, but cheap enough to be affordable and not cost you and arm and a leg like the Yeti coolers.
It's in the good middle range. There are some minor sacrifices made with the cooler (mainly just the non-waterproof zipper) but otherwise it's a really well built cooler for the price.
2-3 Days Ice Retention: Surprisingly Good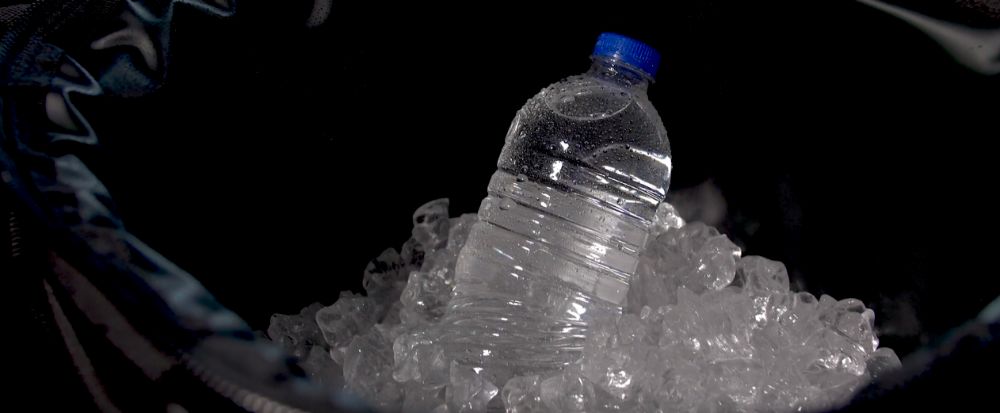 The Grizzly Drifter coolers are packed with 1.5 inches of EVA foam in the walls, base and lid. This gives it 2-3 days of ice retention depending on how much ice you use and how hot the outside temperatures are.
Comparing this to other coolers it is basically identical in ice retention to the Yeti Hopper soft sided coolers as well as the Pelican soft coolers. It's better than the Ozark Trail and a bit worse than the RTIC Soft Packs and Engel HD30.
So it's ice retention is actually really quite good and exactly what you would expect from a high-end soft sided cooler.
Tough and Durable With a 2-Year Warranty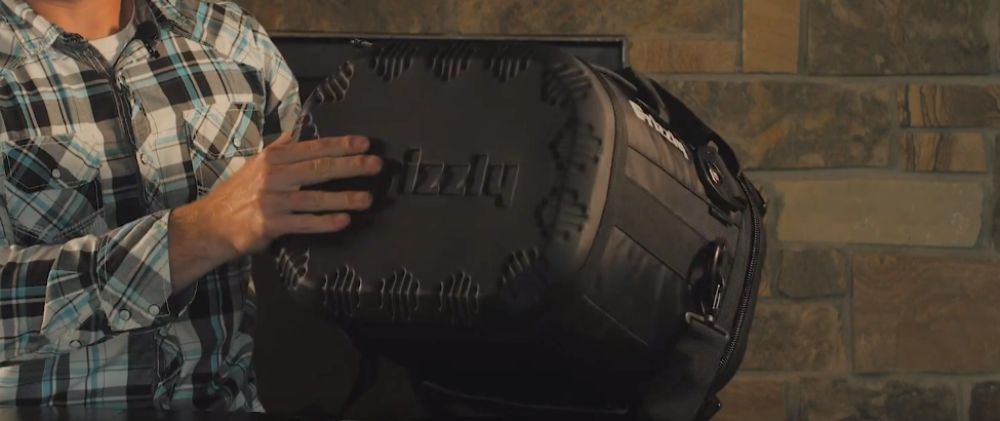 The exterior of these coolers is made with waterproof ballistic polyester that is puncture and tear resistant and backed by a 2-year warranty.
The base and the lid is reinforced and made from a much thicker material.
This is the part of the cooler that is going to need to handle the most wear and tear. With the thick base you can put your cooler down almost anywhere and not have to worry about it breaking or getting a hole in it from a rock or a stick.
External Pockets and Other Features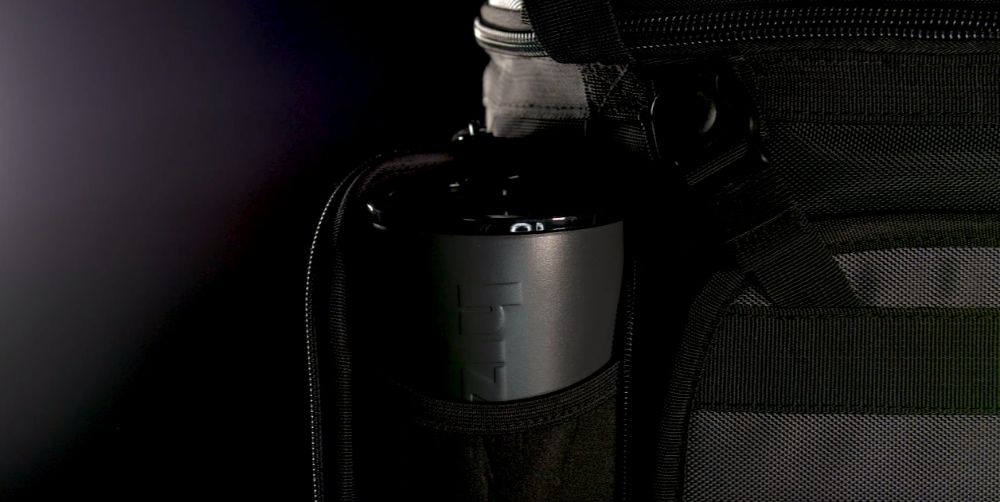 One of the best things about the Grizzly soft coolers when you compare them to other coolers is just how much external storage space they have.
The Yeti Hopper has no external pockets whatsoever. Other brands like Pelican, RTIC and Hydro Flask have just small pockets that are quite tight and hard to fit things into.
The Grizzly on the other hand comes with multiple storage options.
Expandable Front Pouch – The Drifter 12+ and Drifter 20 both have expandable front pouches with clasps that allow you to fit larger items. The Drifter 12 doesn't have this
Water Bottle Holders – All versions have a water bottle holder
Zipper Pockets – All sizes have 2 zipper pockets with the 12+ and 20 having them on the side and back and the 12 having it on the front and back
Lid canopy – The 12+ and 20 have a stretchy lid canopy that allows you to slide items under it and hold them into place so you can carry even more stuff.
Heavy-Duty Zipper: NOT Waterproof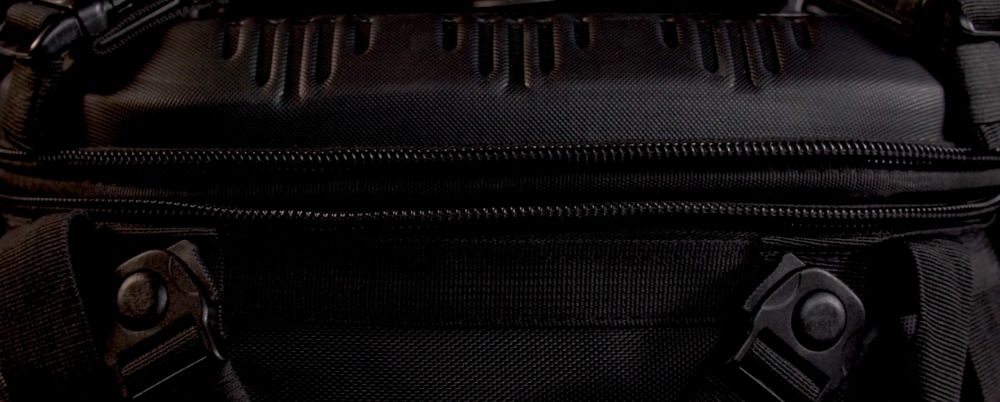 The Grizzly Drifters come with a heavy-duty zipper and wide open lid that makes the cooler easy to open and easy to load and access your items inside.
The major downside of these coolers is that the lid isn't waterproof. It WILL leak when tipped over and it will also leak when water is sloshing around when you're driving or walking. So this is something to consider.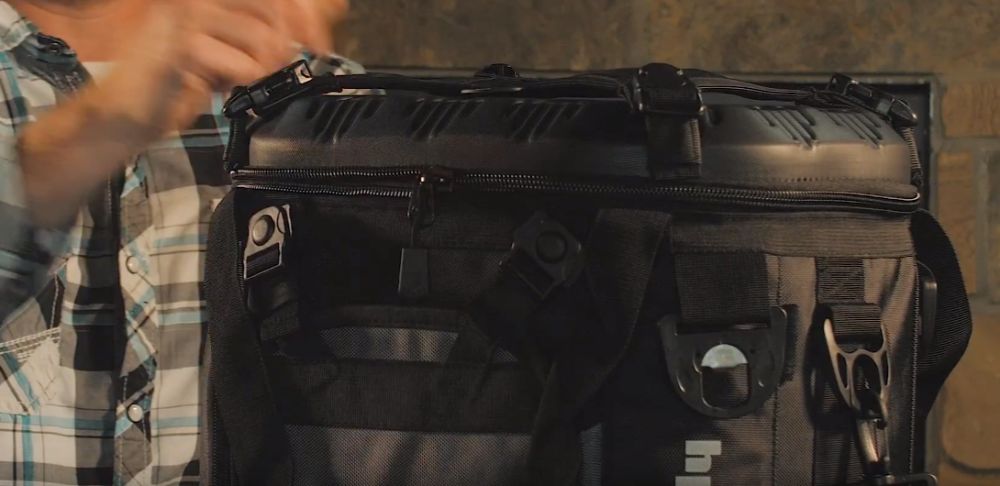 The plus side to this is that the zipper is easier to open and close when compared to the waterproof zippers of the Yeti or other brands. The zipper also doesn't require lubricant and is less likely the break.
The Drifter 12 with it's top zipper and clam shell style opening isn't as user friendly as the 12+ and 20 with their rectangular lids. So I definitely would recommend the 12+ and 20 over the 12.
See the latest price of the Grizzly Drifter 12+ at Amazon
See the latest price of the Grizzly Drifter 20 at Amazon
Multiple Color Options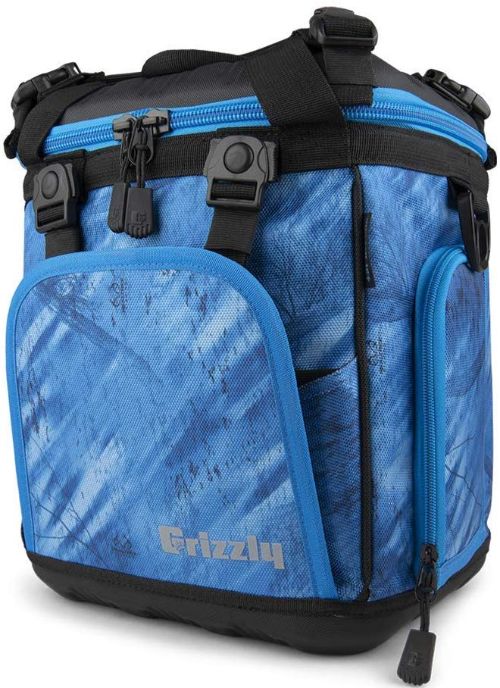 There are multiple color options available for these coolers. My favorite is the gunmetal black color as I just think it has a very minimalistic design which is my style.
There is also 5 other colors:
Moss/Cyan
OD Green/Orange
Real Tree Edge
Real Tree Fishing Blue
Real Tree Timber
Click here to explore the different colors and patterns available at Amazon
Built In Bottle Opener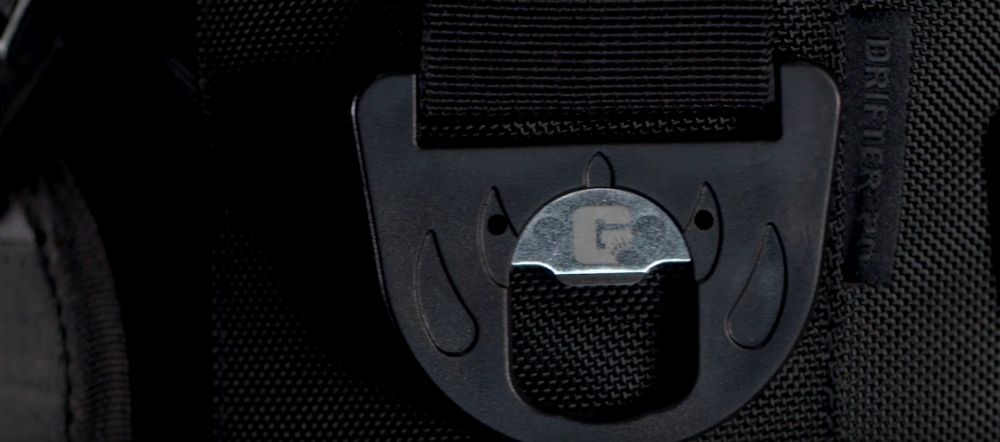 This is just a little add on, but one that I really like. The Grizzly comes with an attached bottle opener on the outside of the cooler.
Owning a Yeti hard sided cooler (that doesn't come with a bottle opener) it was really annoying not having one close by and always having to hunt for it. Having one on the side like the Grizzly Drifter has is just really practical.
It's a small thing, but I like the touch.
Shoulder Strap and Carry Handles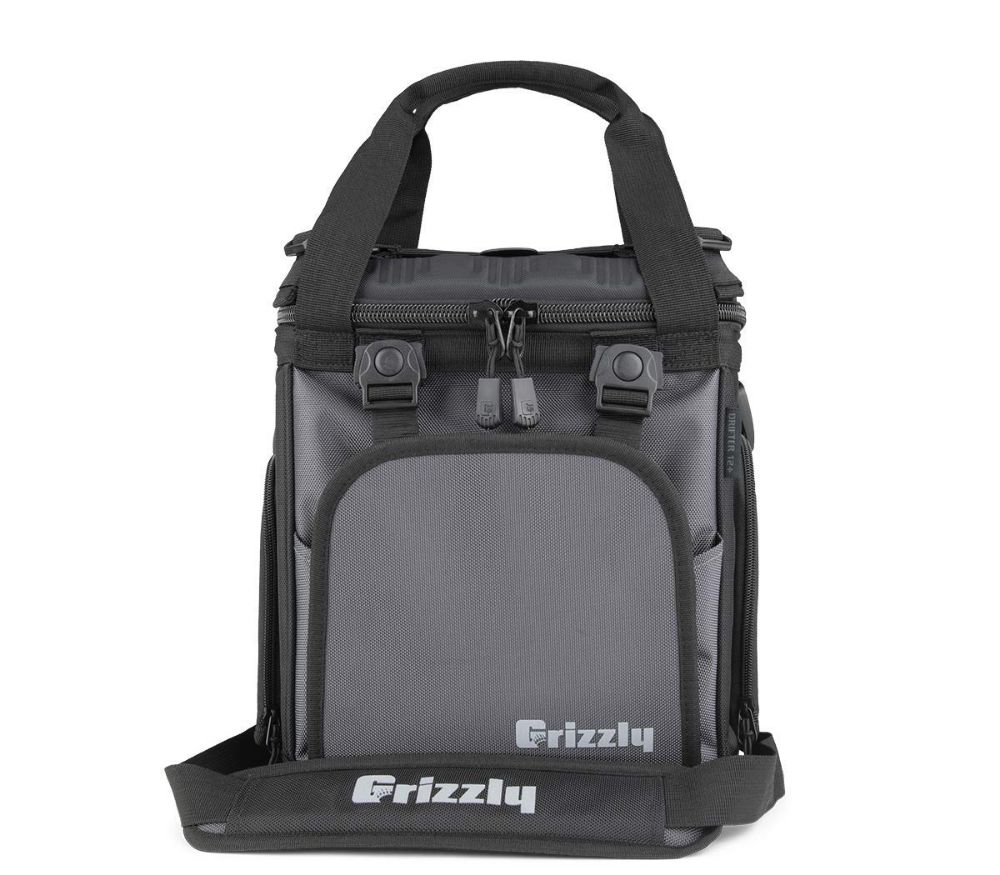 These coolers comes with a detachable shoulder strap so you can carry it whilst keeping your hands free.
It also has two straps on the side that come up and meet in the middle for single hand carrying or can be kept at the sided for 2 handed carrying or carrying with a friend.
Tie Down Points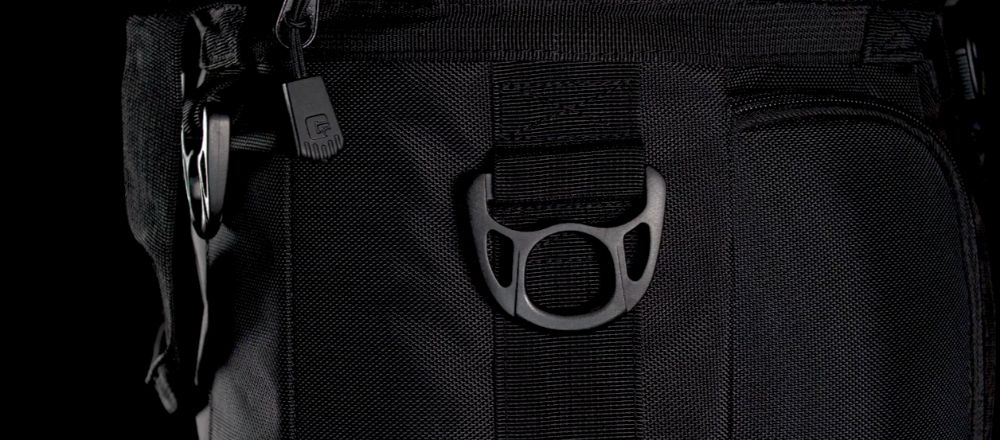 There are tie down points on the cooler so you can strap it down to your car, truck, van, boat, kayak or whatever and it won't go anywhere.
Waterproof Bag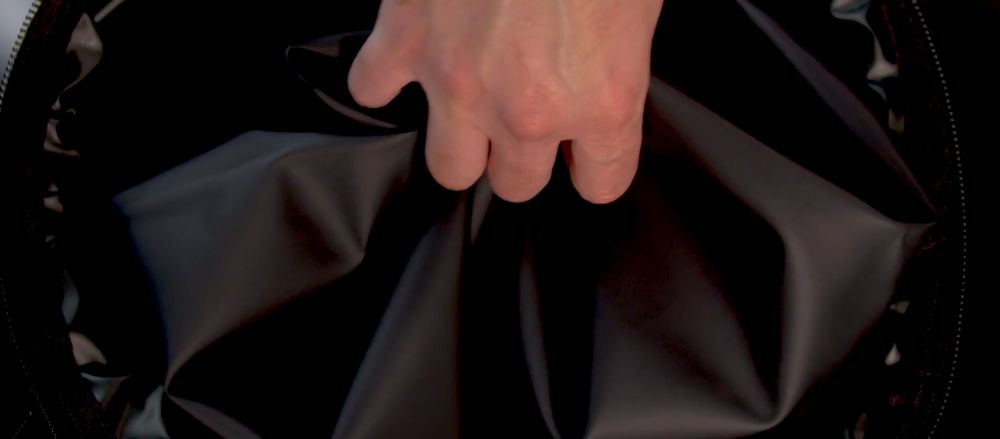 The Drifter 20 comes with a separate completely waterproof bag that you can use to keep items completely dry.
You can put it in the main compartment of the cooler to keep items cold but dry or you can even fill this up with ice so the rest of the cooler stays dry and you don't have to worry about it leaking.
It's completely removable too so you can take it with you or take it out when you're not using it.
Food Grade Inner Lining
In inner lining of the cooler is FDA-approved food grade material. This means it's not going to leech any nasty toxins into your food.
Other Soft Sided Cooler Alternatives
When looking at a cooler and whether or not you want to buy it I think it's important to consider the competition and the other options that are out there.
The Grizzly is an amazing cooler and offers great value for money but it isn't a perfect cooler and it might not suit your needs perfectly.
Below are some alternatives that you may want to consider. Each of these soft sided coolers I have reviewed and so I'm only including ones I would actually recommend.
RTIC Soft Pack: Similar Price and Quality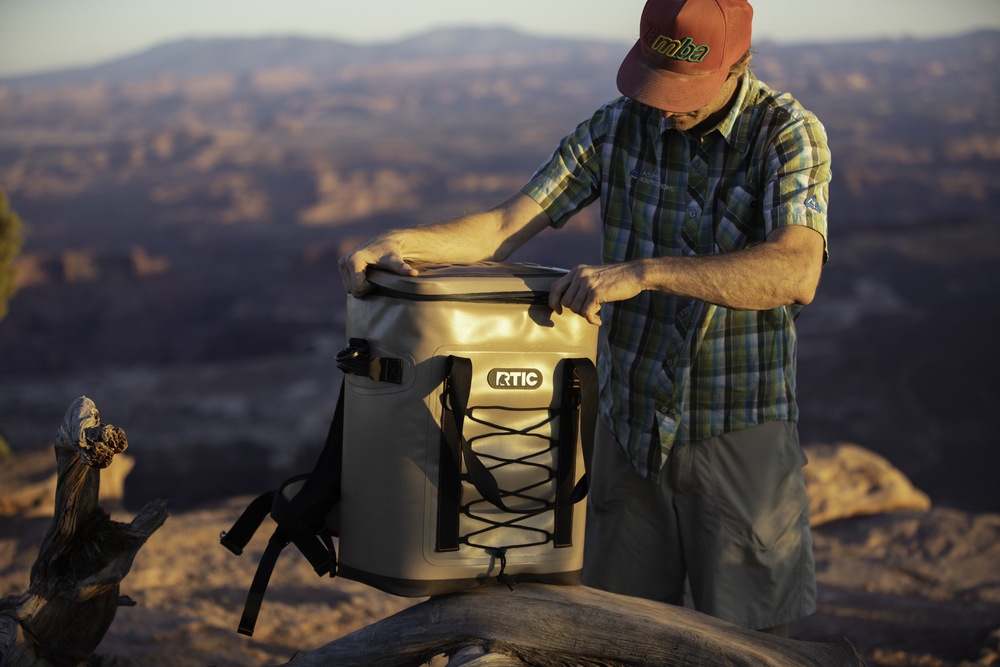 RTIC Soft Pack coolers are quite similar to the Grizzly when it comes to price.
The RTIC does have a waterproof zipper, which Grizzly is lacking. So if that's important to you then this is going to be a good budget option to consider.
RTIC coolers will also keep ice longer than the Grizzly, however the Grizzly has a slightly better build quality and is backed by a longer warranty so it should last a bit longer than the RTIC.
There are pros and cons to each of these and depending on what features you value most should determine which one you buy.
Read my full RTIC Soft Pack cooler review to learn more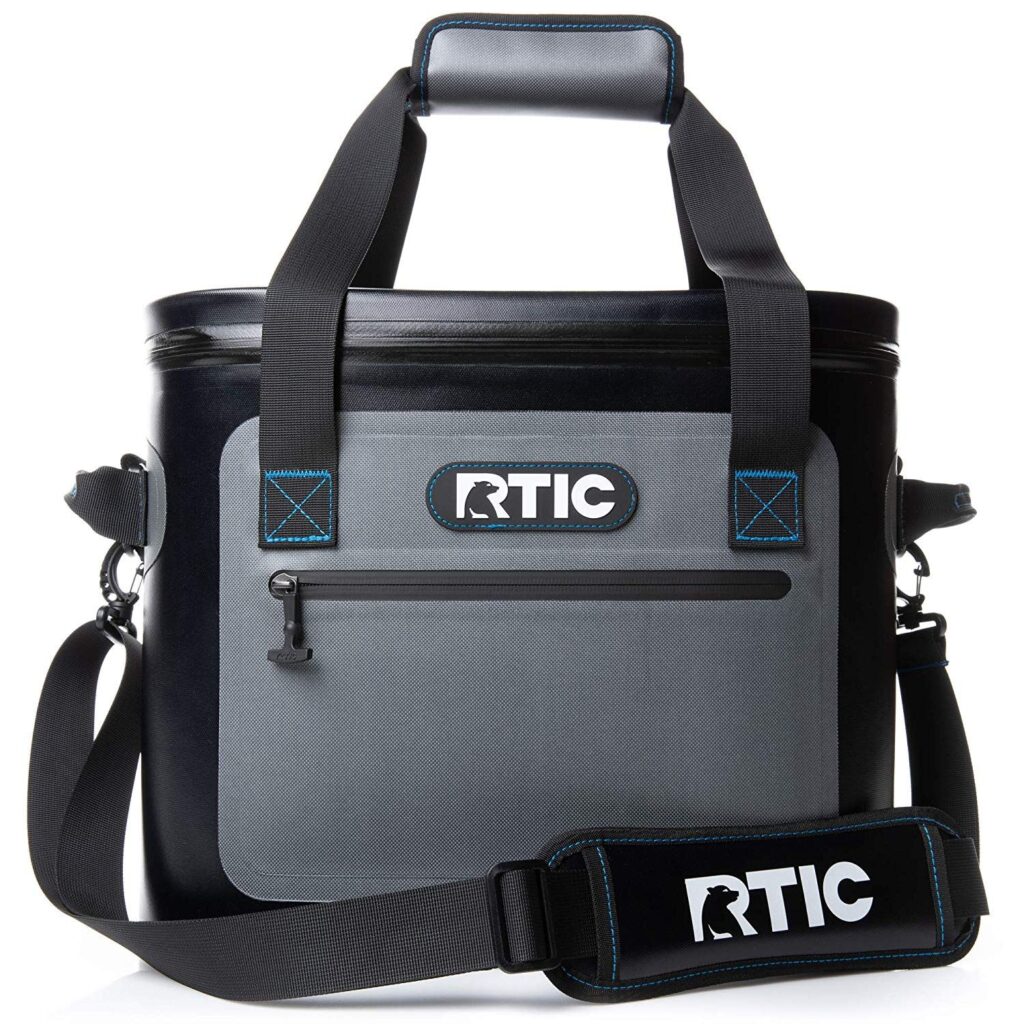 See latest price of RTIC Soft Pack coolers at Amazon
Yeti Hopper Flip: Biggest Brand

This list wouldn't be complete without me including the Yeti Hopper Flip coolers in here.
Yeti is the biggest brand but they also make some of the highest quality products of any cooler out there.
The Hopper Flip coolers are completely waterproof and are more durable than the Grizzly coolers. They do come with a major price premium compared to Grizzly though.
If money isn't an issue then go with Yeti as it's a better cooler
See my Grizzly Drifter vs Yeti Hopper full comparison and which cooler I recommend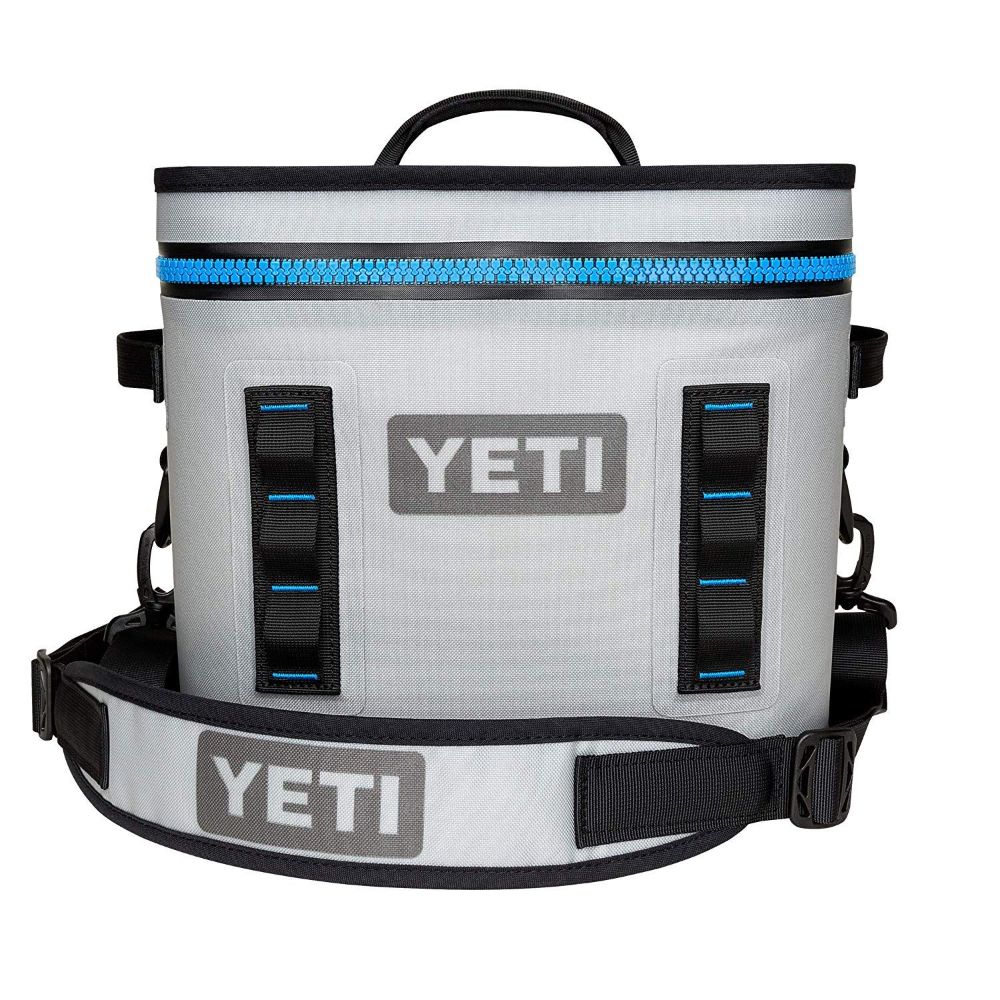 See latest price of Yeti Hopper Flip coolers at Amazon
Engel HD30: Best Ice Retention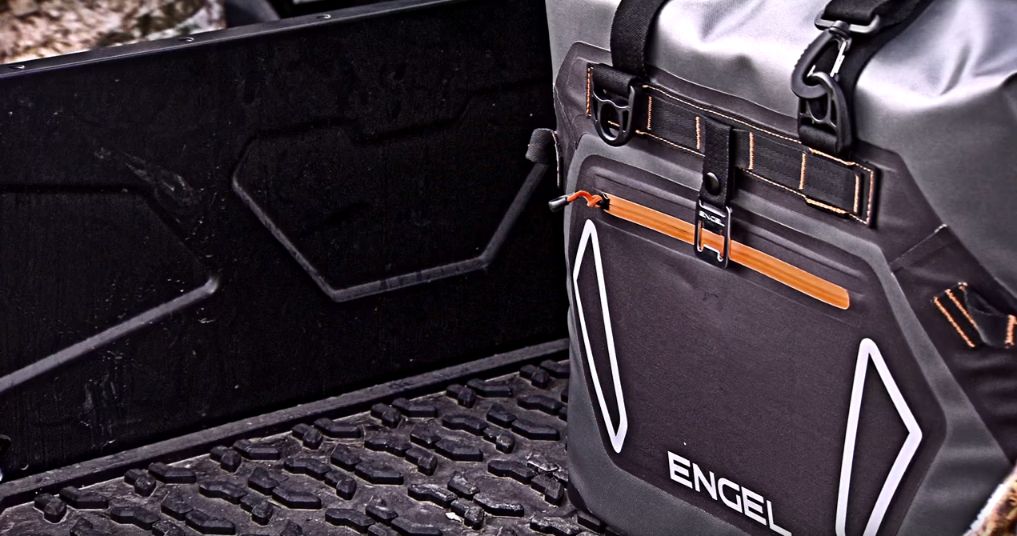 When it comes to best ice retention performance in a soft sided cooler nothing beats the Engel HD30.
This baby can keep ice for 4.5+ days! That's up there with hard sided coolers. This is amazing performance.
It's ultra-durable and built with the same types of materials as the Yeti Hopper coolers so it's really tough and should last you a long time.
It's also waterproof and sells for about $100 less than the Yeti. Well worth a look if ice retention is important to you.
See my full Engel HD30 review and details on ice retention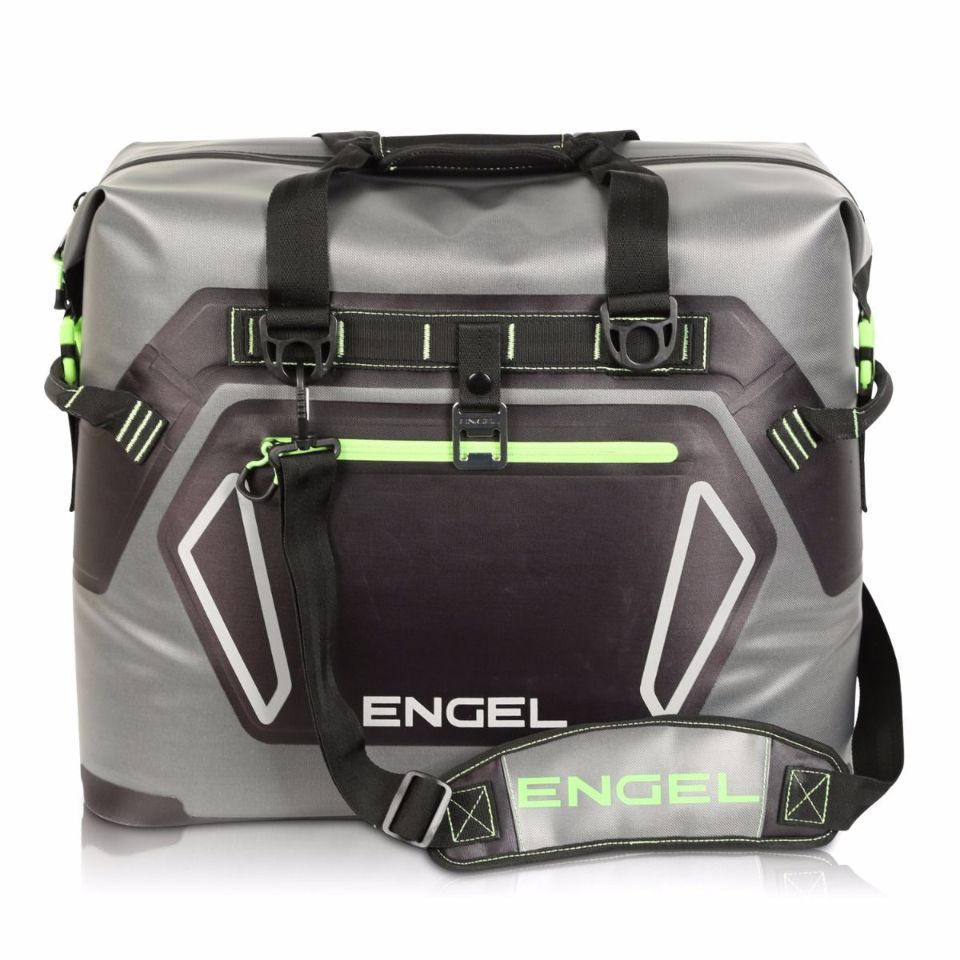 See latest price of Engel HD30 at Amazon
Should You Buy a Grizzly Drifter Soft Sided Cooler?

I want to just write "yes" and then be done with it. But obviously it is going to come down to personal choice.
Does the Grizzly offer great value for money? Absolutely!
Is the Grizzly high-quality and durable? You betcha!
Is the Grizzly good at holding ice? Definitely!
Is the Grizzly the right soft sided cooler for you? That depends
Ultimately it's going to come down to your person preference, your budget and what features you value.
While there are some soft sided coolers I would recommend you stay away from the Grizzly isn't one of them. It's a high-quality cooler for a good price and if you like it I would say get it.
If you want to see the latest prices of the Grizzly Drifter coolers or the Yeti Hopper coolers then simply click my affiliate links below to be taken to Amazon where you can see latest pricing as well as customer reviews.