There are a lot of really good budget coolers out there that are high-quality but won't break the bank.
There are coolers under $100 that can hold ice for days at a time and coolers durable enough to last you years. Some of them even come with a lifetime warranty.
While a budget of $100 doesn't give you access to every cooler on the market – high end coolers like most Yeti, Pelican and Engel coolers will be too expensive – there are still some really great brands and good options under this price point.
In this article I want to highlight my picks for the best soft coolers under $100.
These Soft Coolers Actually Are The Best Under $100
While I don't own every cooler on this list I have done indepth reviews on almost every single one of them and also done head-to-head comparisons comparing them to Yeti and other brands.
You can see my full list of the best soft sided coolers like Yeti but cheaper if you want to see even more coolers.
I know these coolers inside and out. I know how long they hold ice, I know what they are made of and how durable they are, I've read through all the customer reviews.
I've done all the research so you don't have to.
Ultimately which cooler is the best for you will come down to budget and preference.
None of the coolers in this list are perfect and each of them has their pros and cons as well as trade offs that had to be made to make them so affordable.
So have a look through this list and then choose the one that you think is right for you.
1. Grizzly Drifter Soft Cooler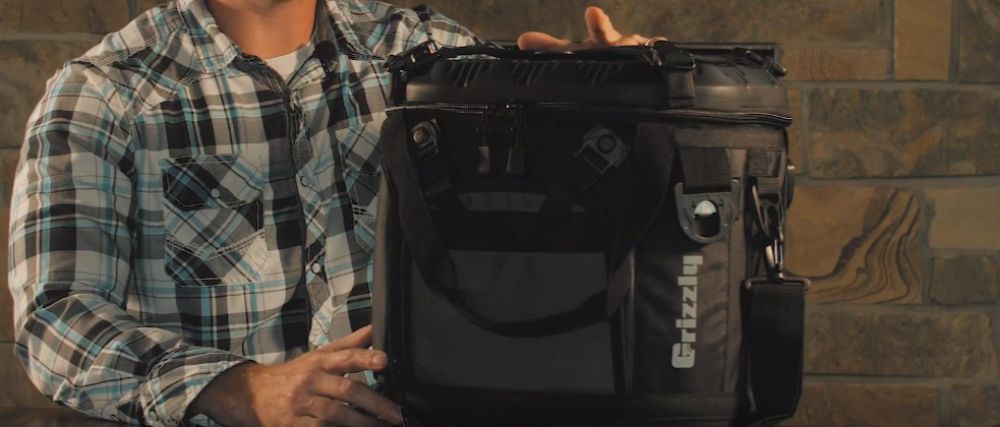 The Grizzly Drifter soft coolers have long been my best "value for money" cooler pick compared to any soft sided cooler on the market, including the expensive ones.
This cooler does almost everything you want a high quality soft sided cooler to do:
Holds Ice For Days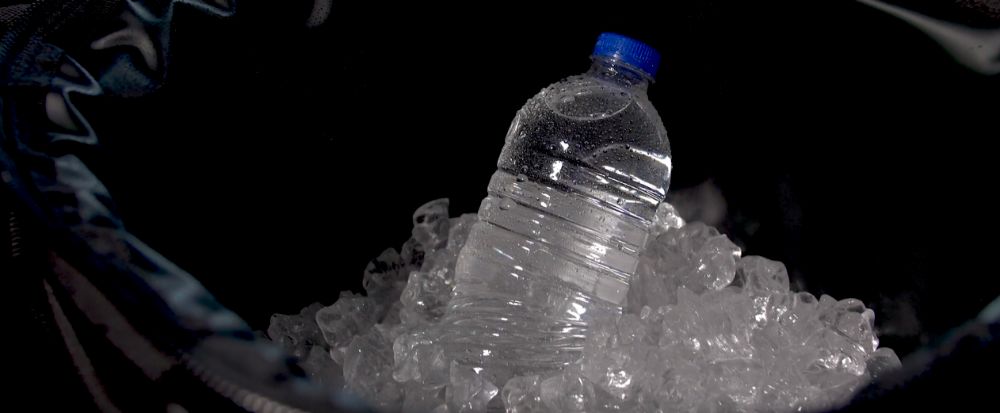 The Grizzly Drifter coolers have really good ice retention and are one of the best soft coolers for ice retention, beating out a bunch of more expensive brands like Yeti and Pelican.
They are packed with thick closed cell insulation in the walls, base and lid of the cooler that help it to keep ice frozen for days.
In ice tests vs Yeti it performed extremely similar and actually slightly outperformed Yeti by just a little bit. See the full Grizzly Drifter vs Yeti Hopper comparison here to see which cooler is better.
But given this is less than half the price of a Yeti this is a pretty amazing feat.
Is Extremely Durable

Grizzly Drifter coolers are made from heavy duty ballistic nylon that is durable and tear resistant.
It's one of the more durable coolers on this list and one that should last you multiple years without it breaking, tearing or wearing out.
Practical Pockets and Features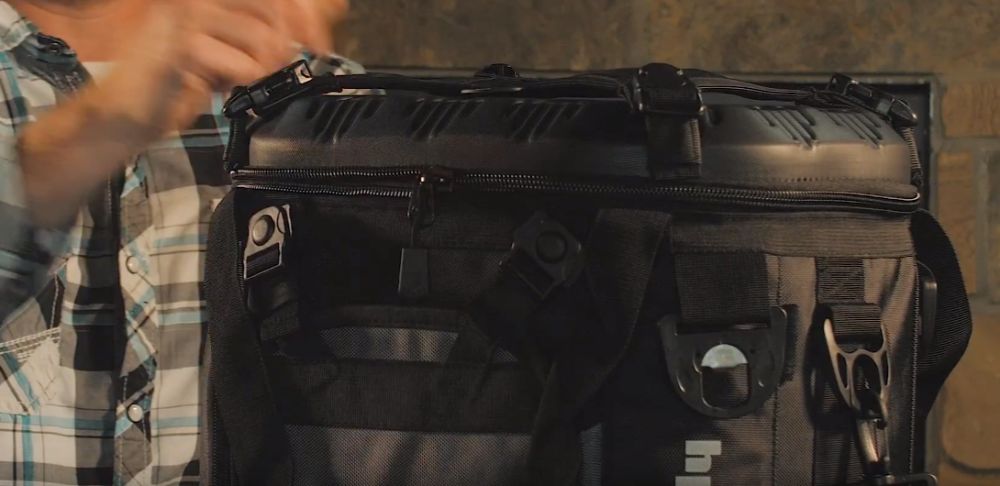 The Drifter is also packed with high-end features that you would expect in a more expensive cooler but not necessarily in a cooler of this price.
Built in bottle opener – There is a bottle opener built into the outside of the cooler.
Shoulder straps and carry handles – The Drifter comes with both a comfortable shoulder strap as well as side carry handles
Reinforced base – The base of this cooler is extra strong and thick to handle the wear and tear of being placed on the ground over and over and over.
Tie down points – There are tie down points so you can strap the cooler into place.
Waterproof bag – The larger size Grizzly Drifter 20 comes with a waterproof bag for use inside the cooler to keep items dry or to put ice in and to ensure it doesn't leak. A good work around given the zipper isn't leak proof.
Read the full Grizzly Drifter review to learn more about it's performance and features.
The Zipper Is Heavy-Duty but NOT Waterproof
When comparing the Grizzly Drifter to other brands of high-end soft sided coolers one of the major downfalls of this cooler is that the zipper, while heavy duty, is not waterproof.
So if the cooler gets tipped on it's side then water will leak out of this cooler.
This is a bigger problem when comparing the cooler to higher priced coolers but in this list of coolers under $100 only a couple of them are actually waterproof so it's not as big of a downside.
Great Value For Money
Overall I believe this cooler offers great value for money. It has a good combination of ice retention, durability and features all at an affordable price.
To see the latest prices of Grizzly coolers simply click the link below: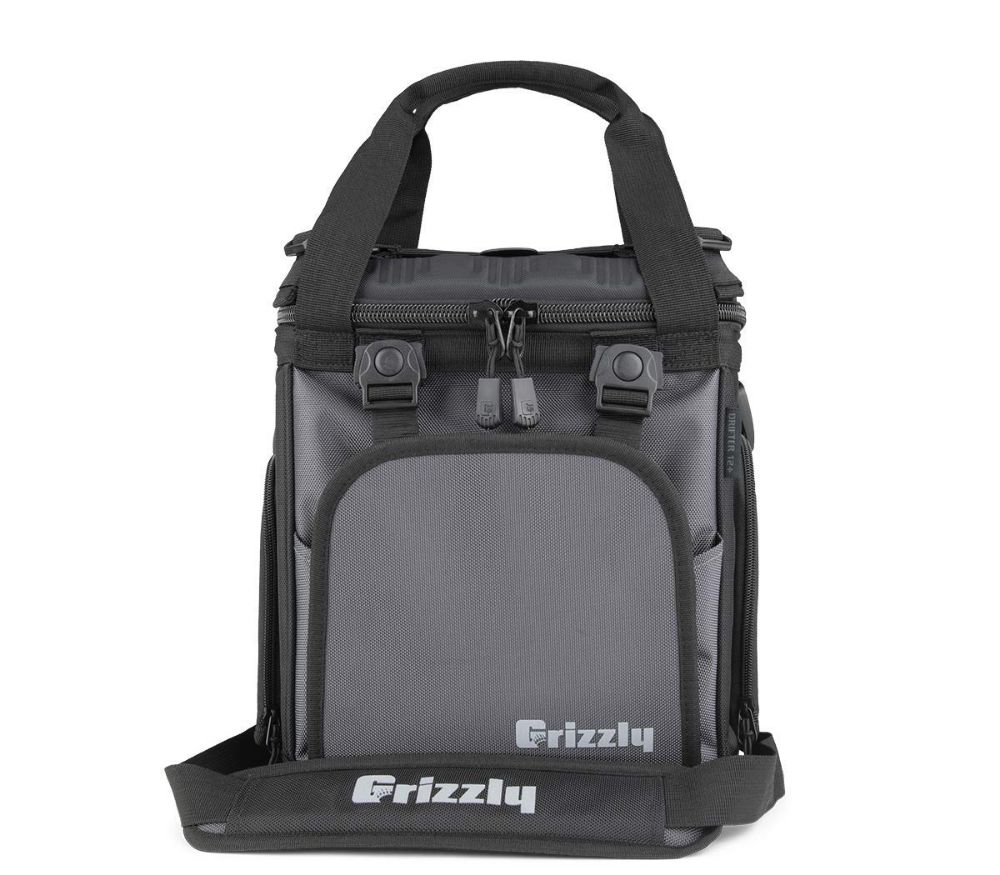 See how affordable Grizzly Drifter coolers are at Amazon
2. RTIC Soft Pak Cooler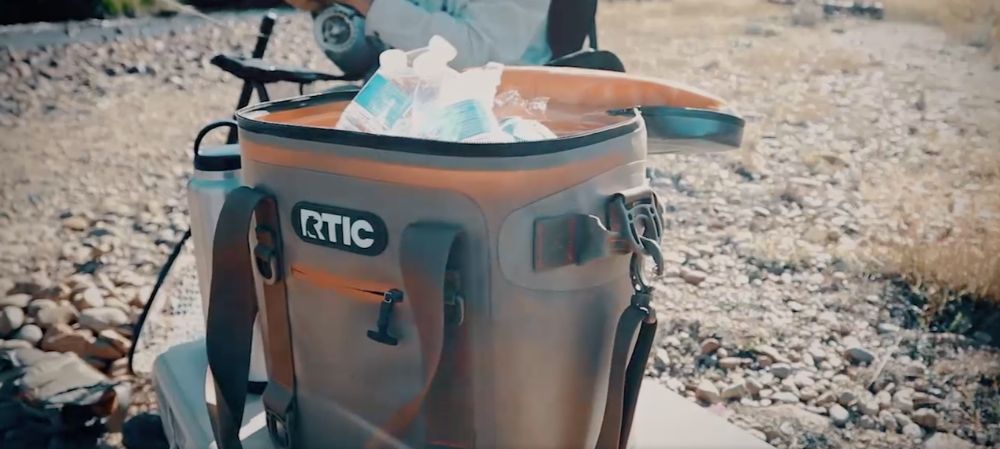 RTIC Soft Pak coolers are waterproof, durable and can keep ice for a full 3 days and sometimes even longer.
They are RTIC's answer to the Yeti Hopper and they have managed to pack in more insulation than Yeti as well an external pocket for a fraction of the price of the Yeti. Click here to see the full RTIC Soft Pak vs Yeti Hopper soft cooler comparison.
They can hold ice for 2-3+ days and the zipper is 100% waterproof meaning no water is ever going to leak out and wet yourself or your car.
The exterior is made from tough waterproof vinyl and it comes with a small external zipper pocket which is large enough to store an item like your phone.
This is the best cooler for ice retention under $100 and is on par with Grizzly in terms of value for money. In fact it may be better value for money as they are even cheaper than Grizzly coolers.
To see the latest price of RTIC coolers plus read other customer reviews click the link below: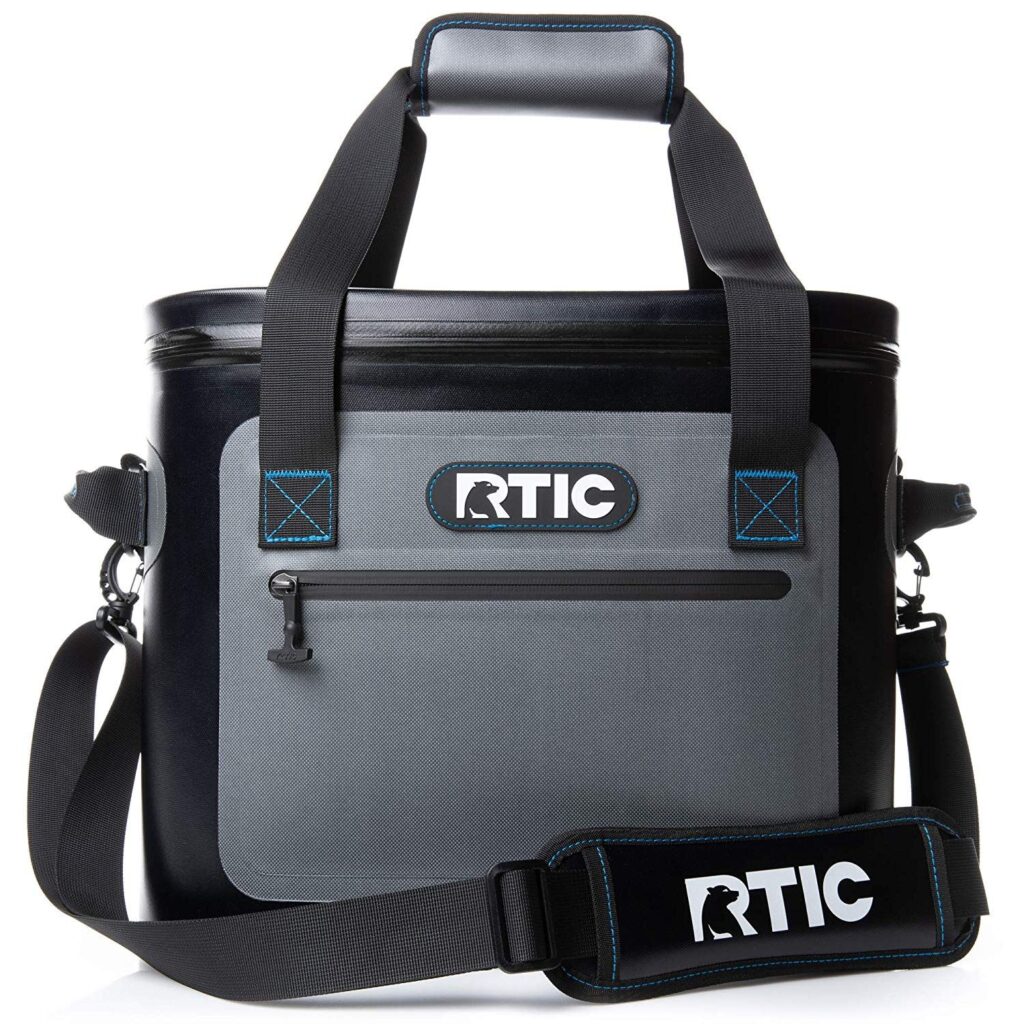 See just how cheap RTIC Soft Pak coolers are at Amazon
3. AO Coolers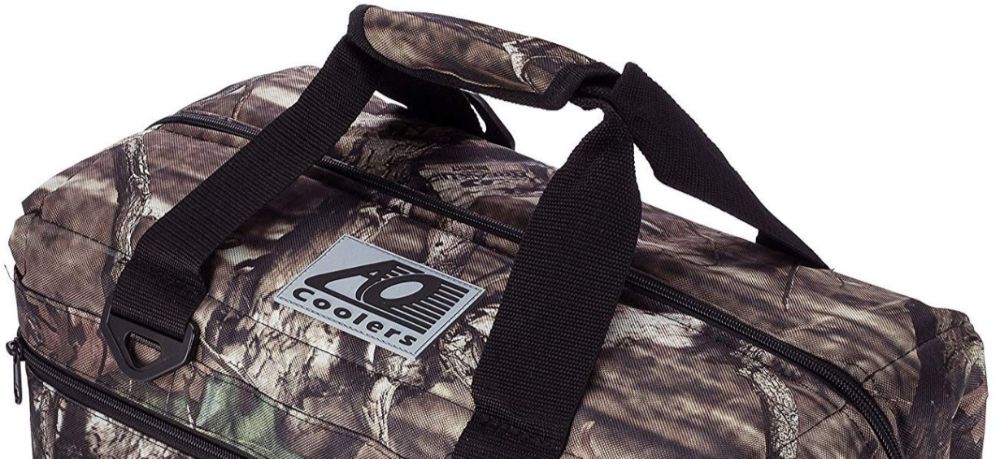 AO Coolers have been making soft sided coolers for more than 25 years and their coolers are remarkably durable for their price point.
The zipper and inner lining comes with a lifetime warranty and the exterior is made of durable nylon.
While this cooler isn't waterproof the zipper is a YKK #10 zipper which is rust proof and unlikely to break.
These coolers come in multiple sizes and colors and can keep ice for over 24 hours in 100 degree heat. Click here to read my full AO Cooler review and see my indepth thoughts on this cooler as well as it's pros and cons and if it's worth buying.
I often rate these as the best budget coolers as they have a good combination of ice retention and durability for a really small price.
To see how affordable they are click the link below: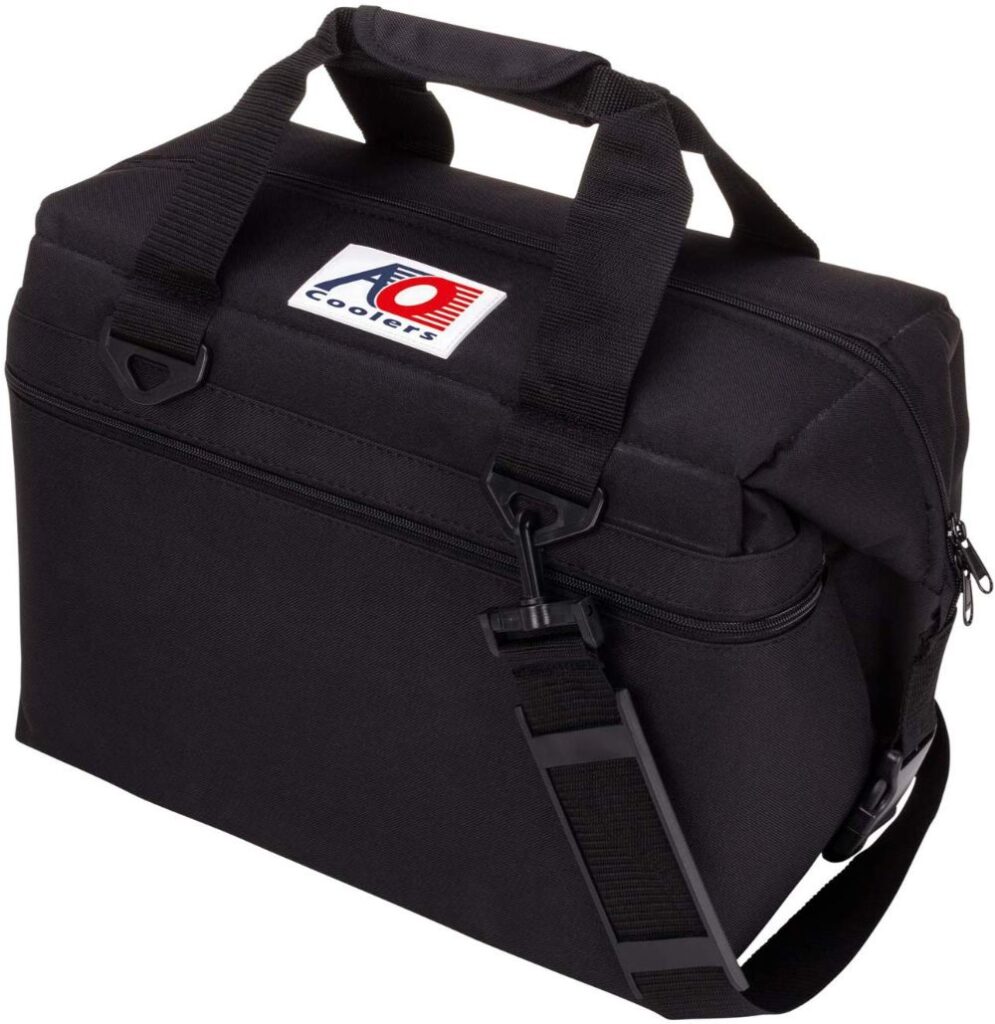 See the super affordable prices of AO Coolers at Amazon
4. IceMule Classic Coolers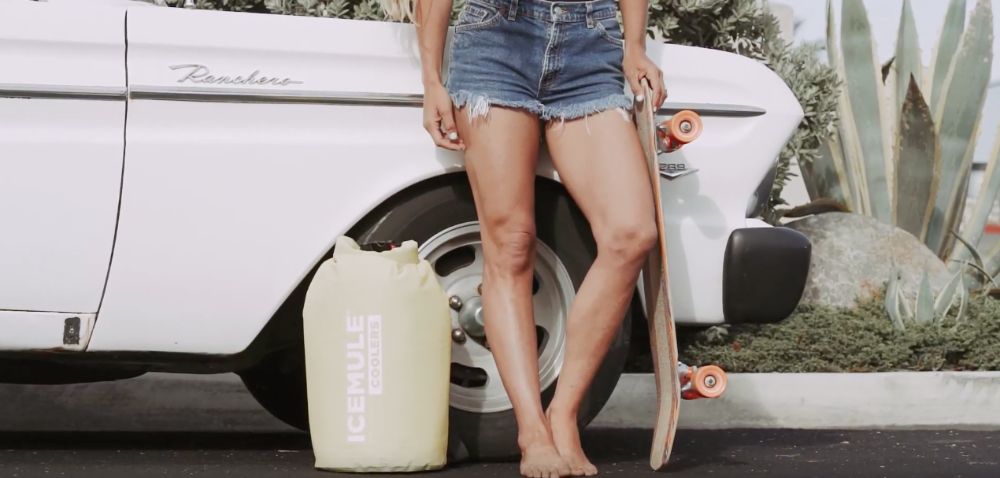 IceMule Classic coolers were one of the first high-end soft sided coolers to come out.
They offer a leak proof cooler with a roll-down design and a shoulder sling for easy carrying.
They are super lightweight and can hold ice for 1-1.5 days.
They don't have the best ice retention compared to coolers like RTIC and Grizzly, but they are much more comfortable to wear and they come in more fun colors.
The exterior is waterproof so the cooler will float and can be placed in water or left out in the rain without any problems. The base is reinforced for more durability and the roll down design keeps water from leaking out meaning you stay dry.
These are a great portable affordable option. To see the size and color options along with the latest prices click the link below: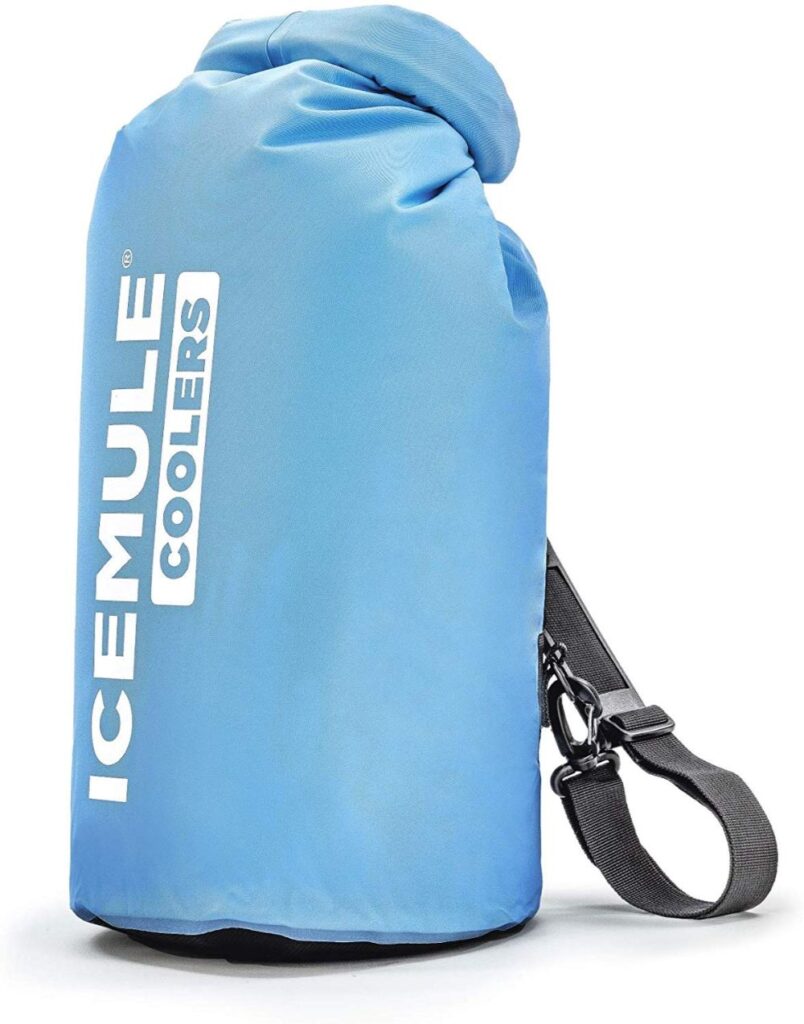 See the affordable prices of IceMule Classic coolers at Amazon
5. Yeti DayTrip

This is the only Yeti cooler under $100 as their other soft sided coolers start at around the $200 mark.
The DayTrip is a small and portable lunch bag, but don't underestimate this product as it can actually hold ice for up to 24 hours or even longer.
It's big enough to hold a 6 pack of beer plus an ice pack and it's filled with Coldcell Flex insulation that keeps the cold in, but also makes the lunch bag very flexible.
It can be packed down small when not in use and has an adjustable grid so you can alter its size based on how full it is.
Like all Yeti products this cooler is made from heavy duty waterproof materials that are designed to last you years. It comes with a 3-year limited warranty but if you take care of it then it should last you a lot longer.
It's not a cheap lunch bag, but if you've got the money it's well worth it. Click here to read my full detailed Yeti DayTrip lunch bag review.
To see the latest prices as well as different color options of the Yeti DayTrip click the link below: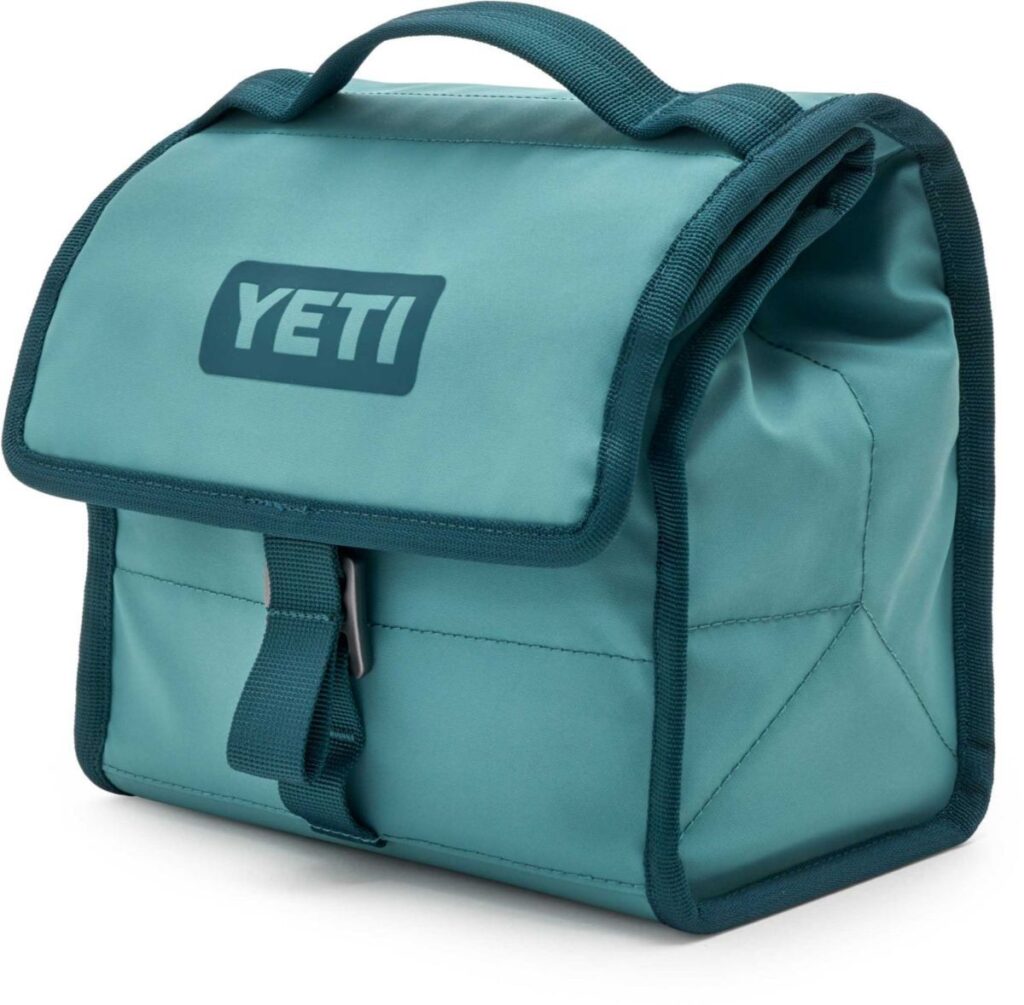 See the latest price of the Yeti DayTrip at Amazon
6. Bison SoftPak Cooler: Made in USA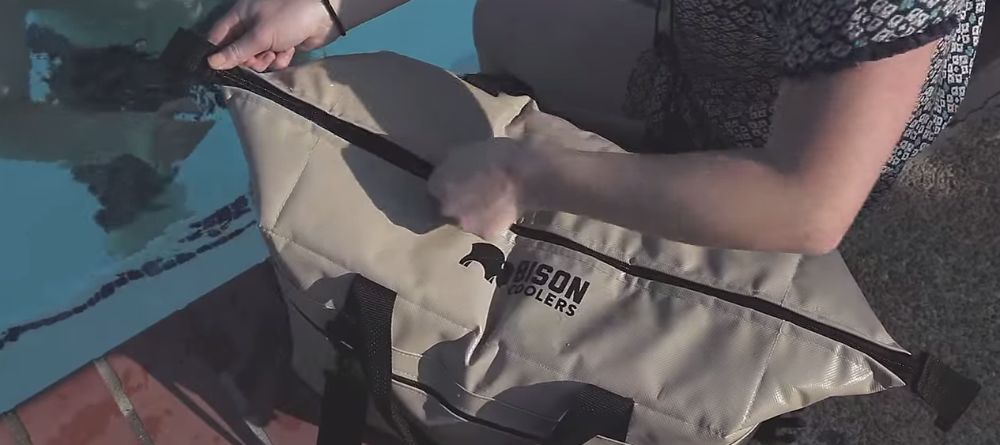 The Bison SoftPak is a heavy duty cooler that is made locally in the USA – read my full Bison soft cooler review.
It's made from a thick vinyl exterior that is puncture and tear resistant and has enough insulation that it can hold ice for over 24 hours in 120 degree heat.
It comes in 2 different sizes (12-can and 24-can) and starts at just under $100.
It has a detachable shoulder strap, free bottle opener and a large external pocket.
If you want a cooler that is made in the USA then this cooler offers good performance and durability for a good price.
To see the latest prices of Bison Coolers at Amazon click the link below: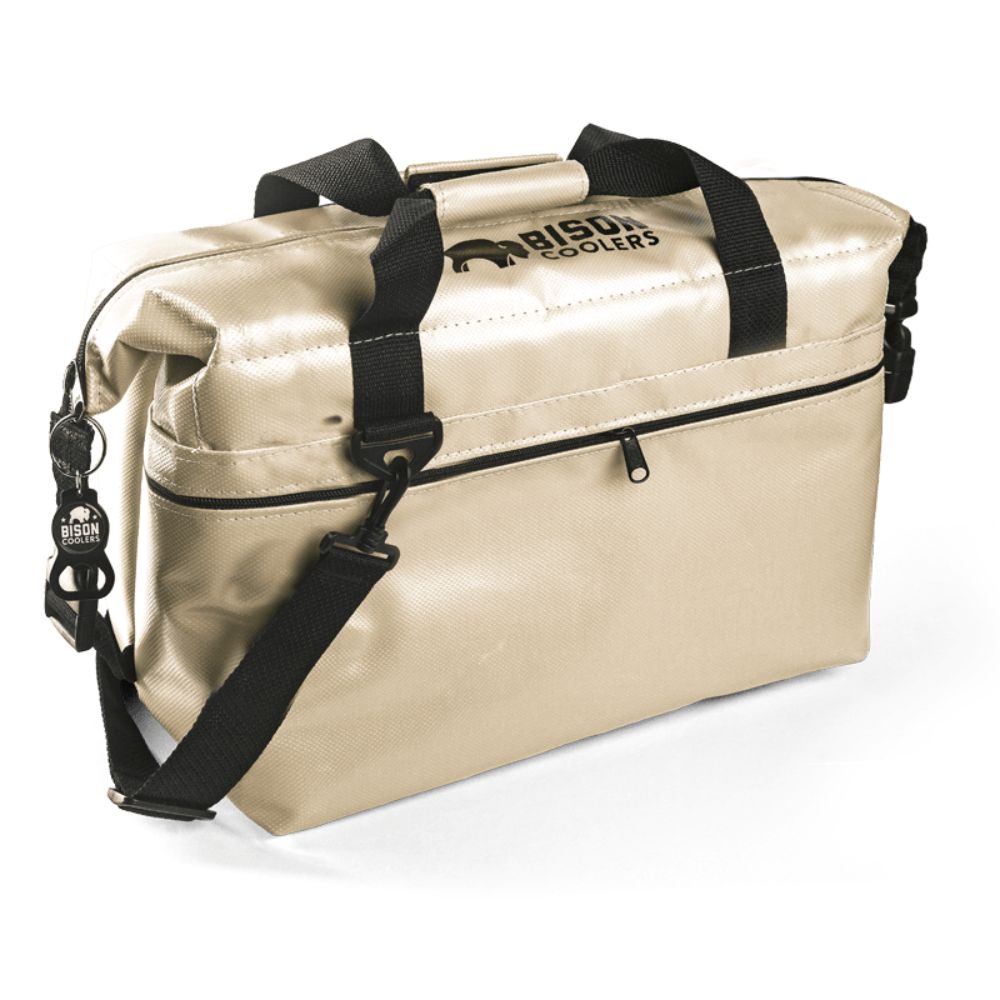 See the latest prices of Bison Softpak Coolers at Amazon
7. Polar Bear Original Coolers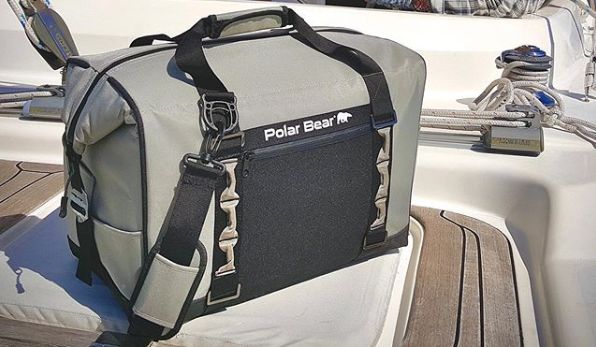 The Polar Bear Original nylon line of coolers are another great cooler under $100.
The outer shell is made from 1000 denier luggage grade nylon and all seams are double hemmed and anchor stitched for extra strength.
It has a heavy duty YKK #10 zipper that allows the top of the cooler to open wide for easy loading and access.
It also features a large exterior pocket, detachable shoulder strap and carry handles.
The 6-pack and 12-pack sizes are both under $100.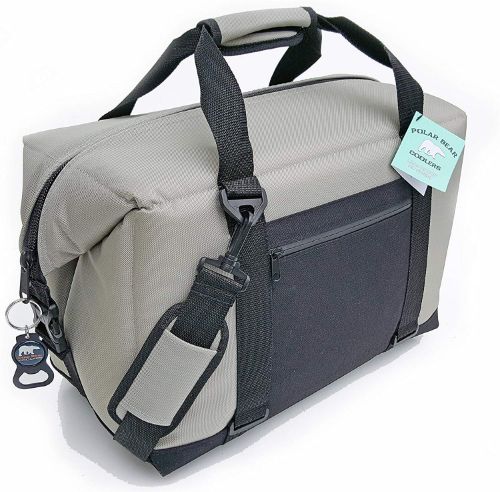 See the latest prices and color options for Polar Bear coolers at Amazon
8. RTIC Day Cooler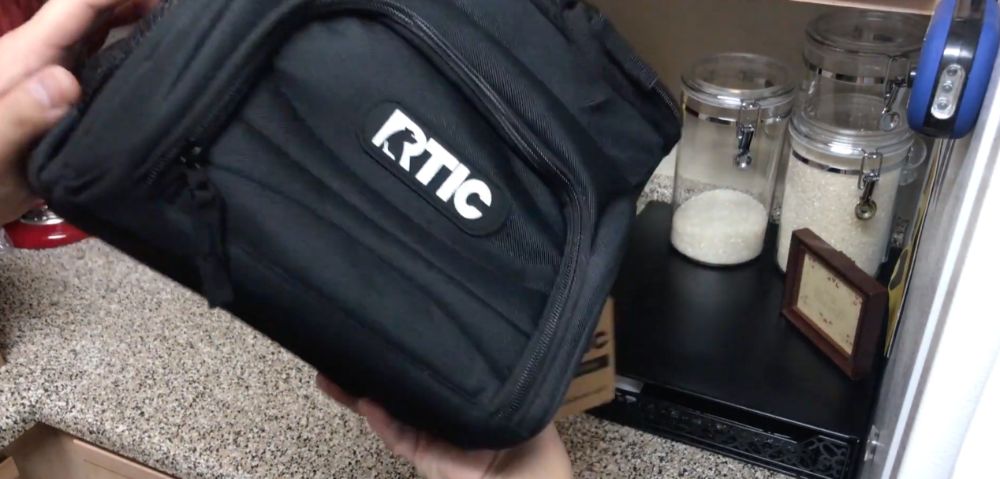 RTIC Day coolers are a more basic and cheaper line of coolers than their heavily insulated and waterproof Soft Pak coolers mentioned above.
The Day Coolers are designed to carry your lunch and can keep ice for most of the day.
They have a thick nylon exterior and soft antimicrobial interior lining that is food safe and also resists odor and mold.
It comes with an easy to carry shoulder strap as well as front pockets for storing items you want to keep dry.
The larger sizes also come with side mesh pockets as well as side handles to make carrying the cooler easier.
Most of the sizes are under $50 at Amazon and if you're just looking for something to keep your lunch cold each day then this is a great product.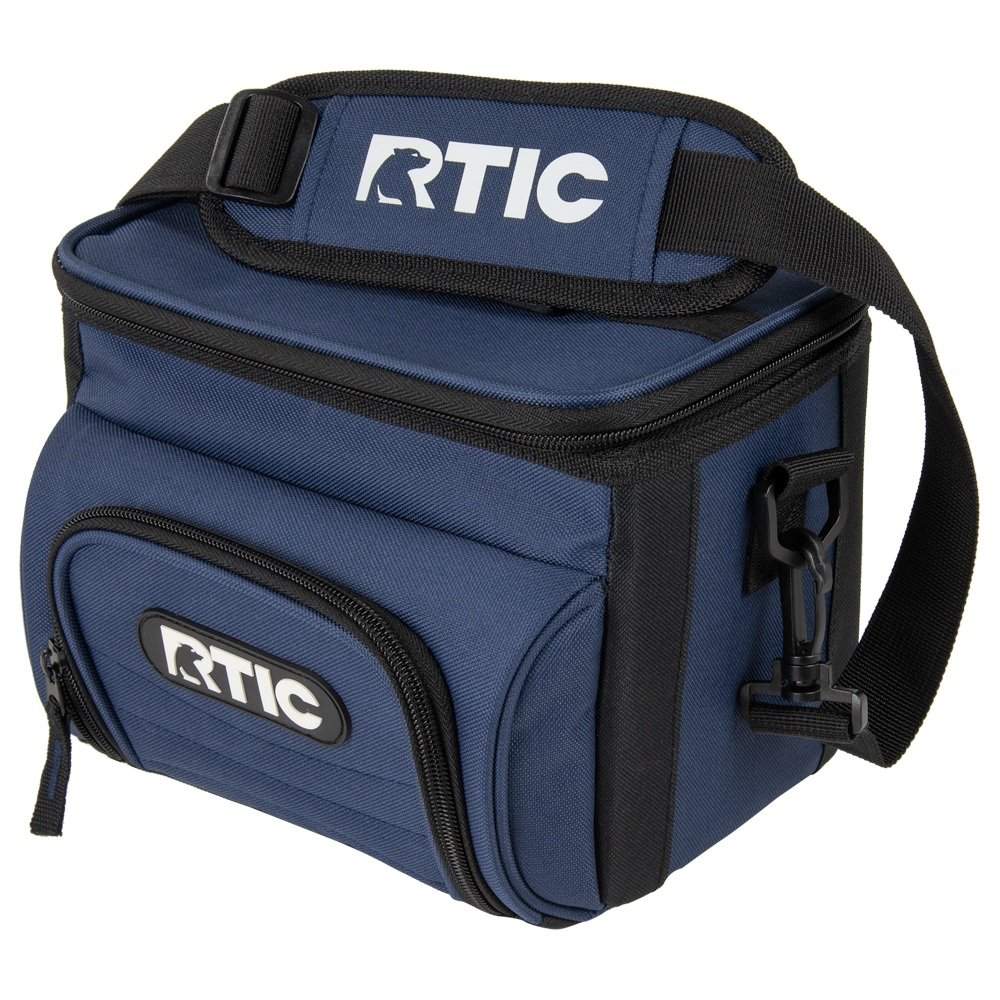 See the latest prices of RTIC Day Coolers at Amazon
9. Ozark Trail Soft Coolers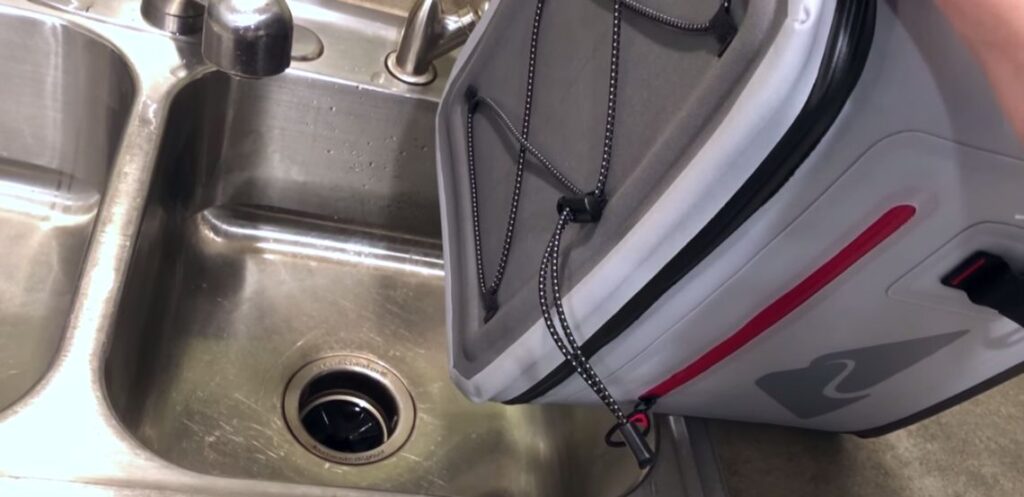 Ozark Trail coolers offer the features you would expect in a cooler like Yeti for a tiny fraction of the price.
This cooler has a waterproof zipper, waterproof exterior, external pocket, bungee strap, removable should strap, carry handles and thick insulation all for the price of a regular cheap soft sided cooler.
The Ozark Trail soft sided coolers have so much insulation they can hold ice for up to 2 days.
The downside with these coolers is that the quality is a bit hit and miss. Some people's Ozark Trail coolers last them years while others have complained about the zipper breaking or inner lining breaking or seams coming apart.
So it's cheap, but it does come with some risk. If you're going to be using your soft cooler a lot I would personally probably avoid this one because of durability concerns, but if you're using it infrequently then you should be fine and it'll give you great value for money. Click here to read my full Ozark Trail vs Yeti Hopper soft cooler comparison.
To see just how affordable they are (it's actually ridiculous) click the link below to see them at Walmart.com: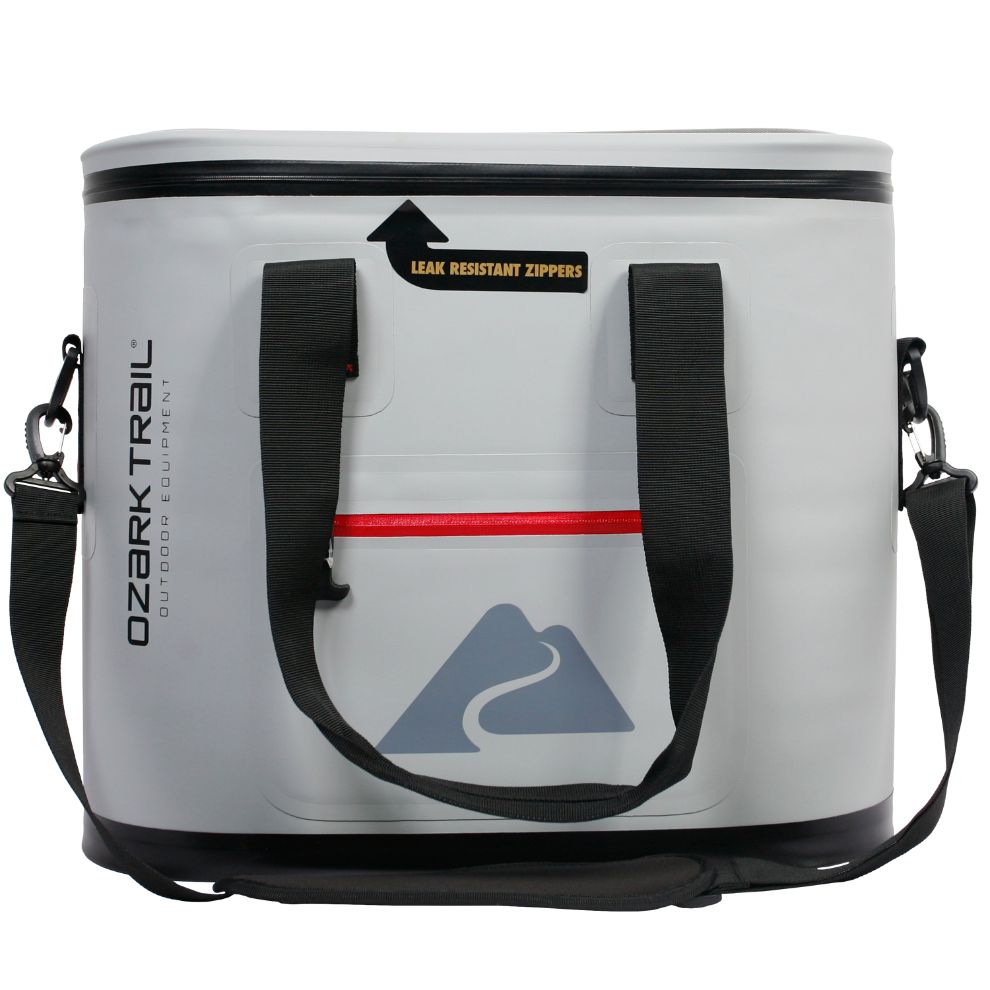 See the latest prices of Ozark Trail coolers at Walmart – they are super cheap
10. Titan Deep Freeze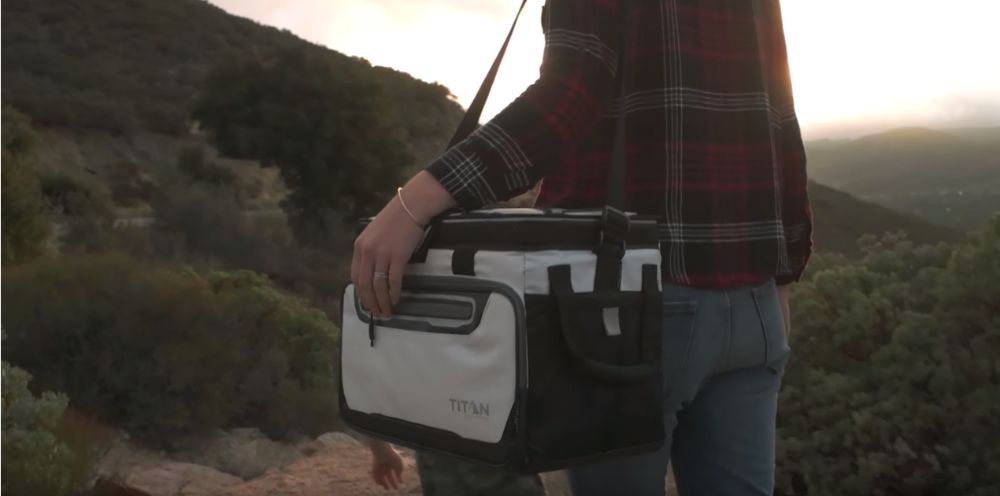 The Titan Deep Freeze is a zipperless soft sided cooler that has a thin plastic container inside that ensures it is completely leakproof when standing up.
For the cheap price that it is you only get thin insulation so it doesn't hold ice for days like some of the coolers on this list. But you should get 3-6 hours and even up to 12 hours ice retention from this cooler.
It has a shoulder strap, multiple external pockets and a zipperless opening that makes it easy to open and close to access your cooler. No fiddling around with a zipper.
This is a super practical affordable cooler for anyone on a really tight budget. Click my affiliate link below to see the prices of the different sizes at Amazon: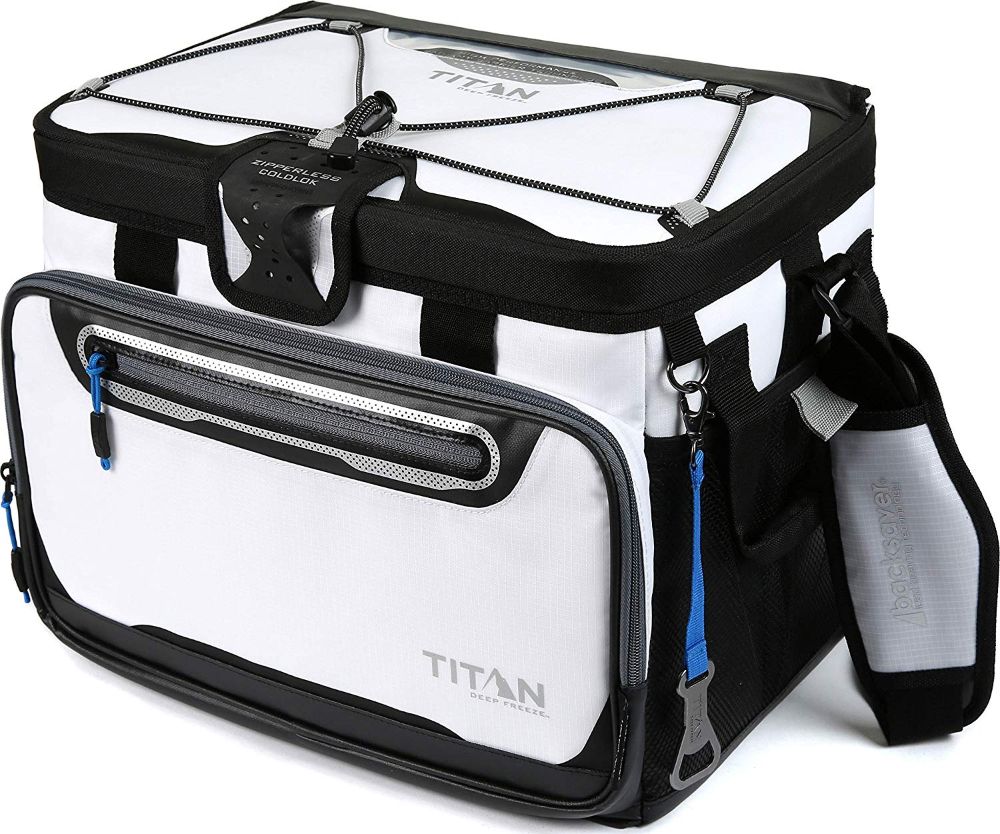 See just how cheap Titan Deep Freeze coolers are at Amazon…wow
11. Coleman Soft Cooler
There is not much special about the Coleman Soft Cooler other than the price and the fact that it has a hard innner liner. It's the cheapest cooler on this list starting at around $20, and sometimes even less when it's on sale.
It's not waterproof as water can leak out of the zipper and it doesn't have very thick insulation. But the hard inner liner does make it leak proof when it's standing up – see my full list of the best soft coolers with hard liners.
It'll keep ice for a few hours or keep your lunch cold for most of the day (assuming you don't leave it in the hot sun or in a hot car).
It's exactly what you would expect from a cooler around this price. Decent quality but not great and will need to be replaced within a year of solid use.
Still, it's cheap and won't cost you much and may be enough for some people. To see just how cheap it is click the link below: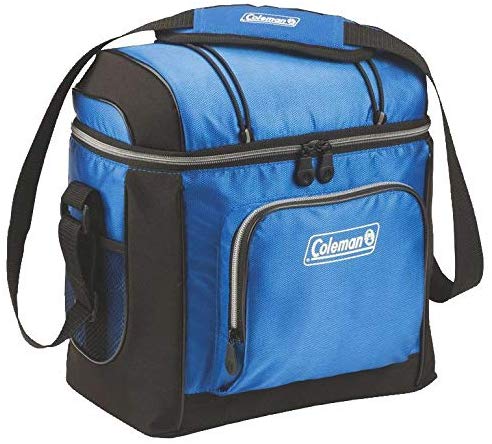 See the latest prices of Coleman Soft Coolers at Amazon
Which Budget Soft Cooler Will You Buy?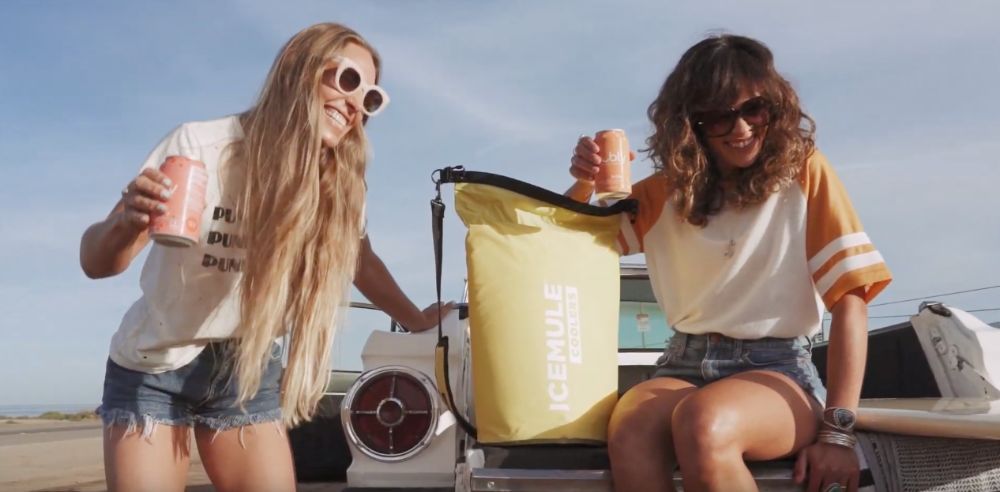 There are quite a few different options for soft sided coolers under $100. My 2 favorites are the Grizzly Drifter and the RTIC SoftPak, which I ranked #1 and #2.
I also love the Yeti DayTrip cooler for people who want something super high quality and they only need something small.
For an ultra cheap version I would probably personally go with the RTIC Day Cooler as RTIC make really good gear. While these aren't as durable as their other products they are pretty good for the price.
Ultimately which budget soft sided cooler you choose comes down to your needs, what you'll be using the cooler for and what you want to spend on a cooler.
If $100 is too much for you then go ahead and check out my list of the best soft sided coolers under $50.
Or if you're happy to spend a little bit more than $100 then check out my full list of the best soft sided coolers on the market like Yeti.