Coolers these days seem to be getting more and more expensive as time goes on. But what is THE most expensive cooler you can buy?
I did a bunch of research to find out the most expensive cooler overall as well as what coolers are most expensive per Quart.
The most expensive cooler is the Icey-Tek 1100 which costs $2,749.99. The Yeti 350 costs $1,299.99 but it's the Yeti Roadie 8 that is the most expensive per quart capacity. At $199.99 it costs a whopping $25.00/quart compared to just $3.00/quart for the Icey-Tek.
Below is a table of some of the most expensive coolers out there overall as well as by quart.
Most Expensive Coolers
Most Expensive Coolers Per Quart
Interesting Findings
When searching the most expensive cooler I really didn't know what I would find.
I definitely expected Yeti to have the most expensive cooler on the market but I didn't realize that there are commercial coolers on the market much larger than anything Yeti sells.
In hindsight this seems obvious. Of course there would be large fishing boats that need huge coolers in order to keep everything cold.
In fact, I'd be willing to guess there would be an even more expensive cooler out there than the Icey-Tek one I found.
Large Coolers Are More Expensive But Cheaper Per Quart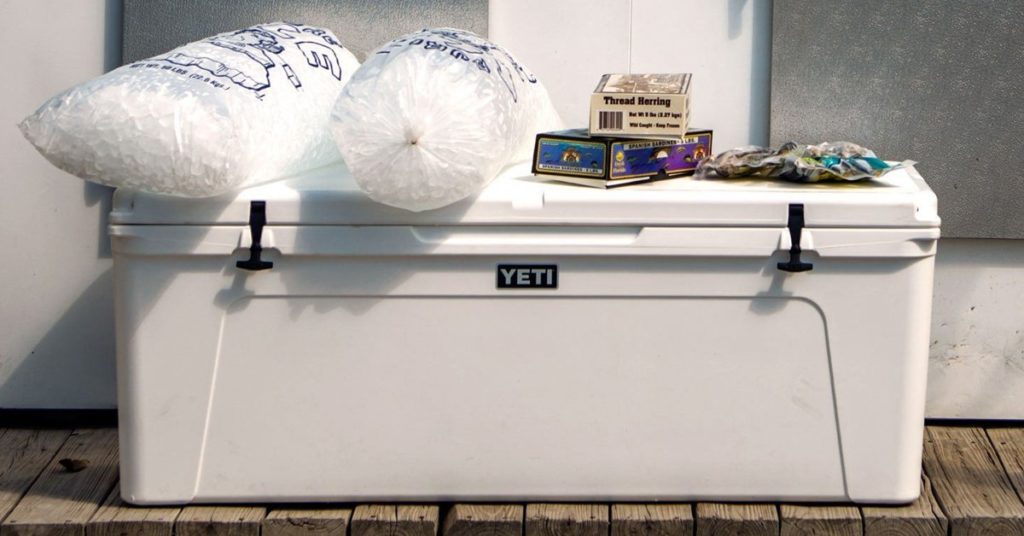 It's no big shock that large coolers are more expensive than smaller coolers.
A 350-Quart cooler should obviously cost more than a 35-Quart cooler. They use more materials, are larger and more expensive to store and ship.
It makes sense that bigger coolers cost more. But what was interesting is how much cheaper bigger coolers are per quart of capacity when compared to smaller coolers.
A Yeti 350 costs around $4.11/Quart, whereas a Yeti Roadie which is 13x times smaller in capacity to the Yeti 350 costs $8.33/Quart.
Soft Sided Coolers Are The Most Expensive

Another interesting discovery is how expensive soft sided coolers are per quart capacity compared to hard sided coolers.
The Yeti Hopper Flip 8 came in as the most expensive cooler per quart at a whopping $25.00/Quart. The Yeti Hopper M30 is cheaper but is still $10.00/Quart which is more expensive than almost all the hard sided coolers.
Soft sided coolers are smaller and their ice retention performance isn't as good as hard sided coolers but it takes more effort to make them.
Hard sided coolers are made from roto-molded or blow-molded plastic which are then injected with foam.
Soft sided coolers are made from nylon or vinyl which needs to be sewn or RF-welded together. It's more time intensive to make and the materials are likely more expensive too.
Most Expensive Cooler: Icey Tek 1100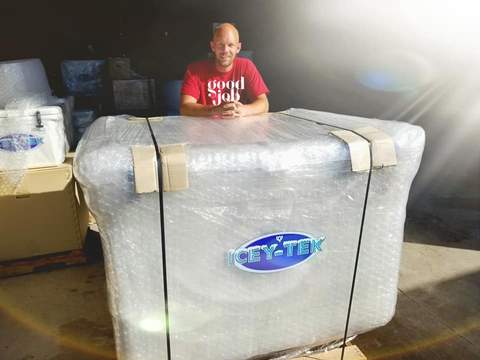 If you're looking for the most expensive cooler on the market then the massive Icey-Tek 1100 comes in at a whopping $2749.99.
At around 1200-Quart in capacity this is not your camping ice chest. It literally has integrated bottom skids so you can lift it with a forklift!
It is a huge 60 inches (1.52m) long and nearly 40 inches (1m) high. Good luck trying to lift this by yourself. When it's empty is weighs 175 lbs! That's actually more than me!
This cooler is designed for commercial fishing and other industrial use. It's for big businesses who need a REALLY BIG cooler.
You can't actually buy this cooler and get it delivered to a residential address, Icey-Tek won't do it. You have to have a commercial address and you have to have a loading dock.
It comes in any color you want….as long as it's white. It's UV resistant, food safe and dry ice compatible.
See the latest price of the Icey-Tek 1100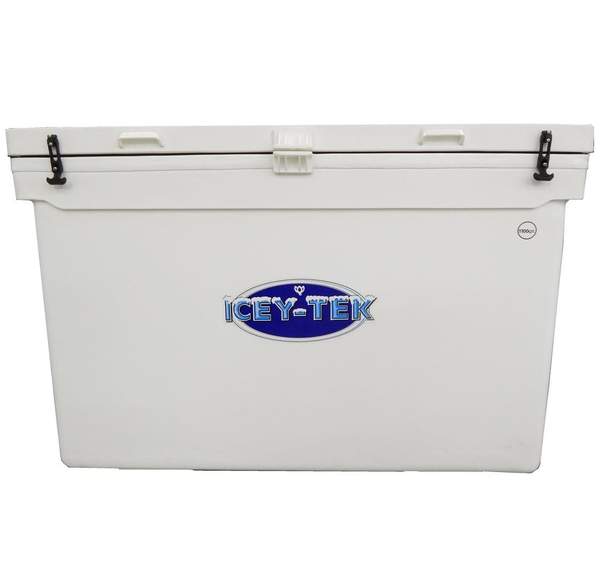 Technically Icey-Tek have multiple sizes of large coolers so they would actually rank for #1 all the way through to #4 if I was to list out all of the most expensive coolers I could find.
But I wanted to feature the next most expensive cooler from a different brand and that's the Yeti.
Runner Up: Yeti 350
The Yeti 350 is Yeti's biggest cooler and at over 300-Quart in capacity it's big enough to fit a person!
A bunch of people on instagram call this one "the coffin box" as it's about that size. Check out the cool picture below where it looks like it's being used as an ice bath on a hot day haha.
The Yeti 350 is designed for big catches. Whether that be a big day of fishing or you're using this as a big cooler for Elk hunting the Yeti 350 is big enough and long enough to fit your Elk quarters or the largest deep ocean catch.
See the latest price of the Yeti 350 at Yeti.com
(or compare to price of the Yeti 350 at Amazon)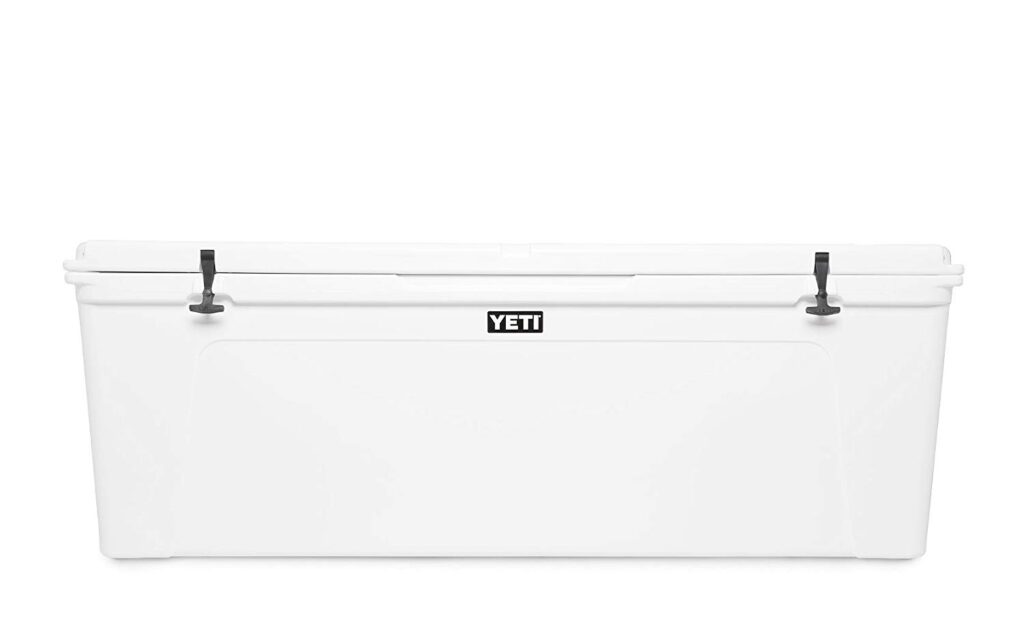 Most Expensive Cooler Per Quart: Yeti Hopper Flip 8

When it comes to the most expensive coolers the Yeti Hopper Flip 8 takes the cake as the most expensive cooler per quart on the market.
At just 8 quart in capacity and coming it at $199.99 RRP this works out to a whopping $25.00 per quart that you're paying for this cooler.
The smaller Yeti hard sided cooler (the Yeti Roadie) is the same price but has 3x the capacity. This makes it only $8.33/quart.
But there are a lot of benefits to getting a soft sided cooler vs a hard sided cooler. I cover these in detail in my Yeti Hopper Flip vs Yeti Roadie article.
Basically they aren lightweight, way more portable, completely leak proof and can still hold ice for days at a time.
See the latest price of the Yeti Hopper Flip 8 at Yeti.com
(or compare to price of Yeti Hopper Flip 8 at Amazon)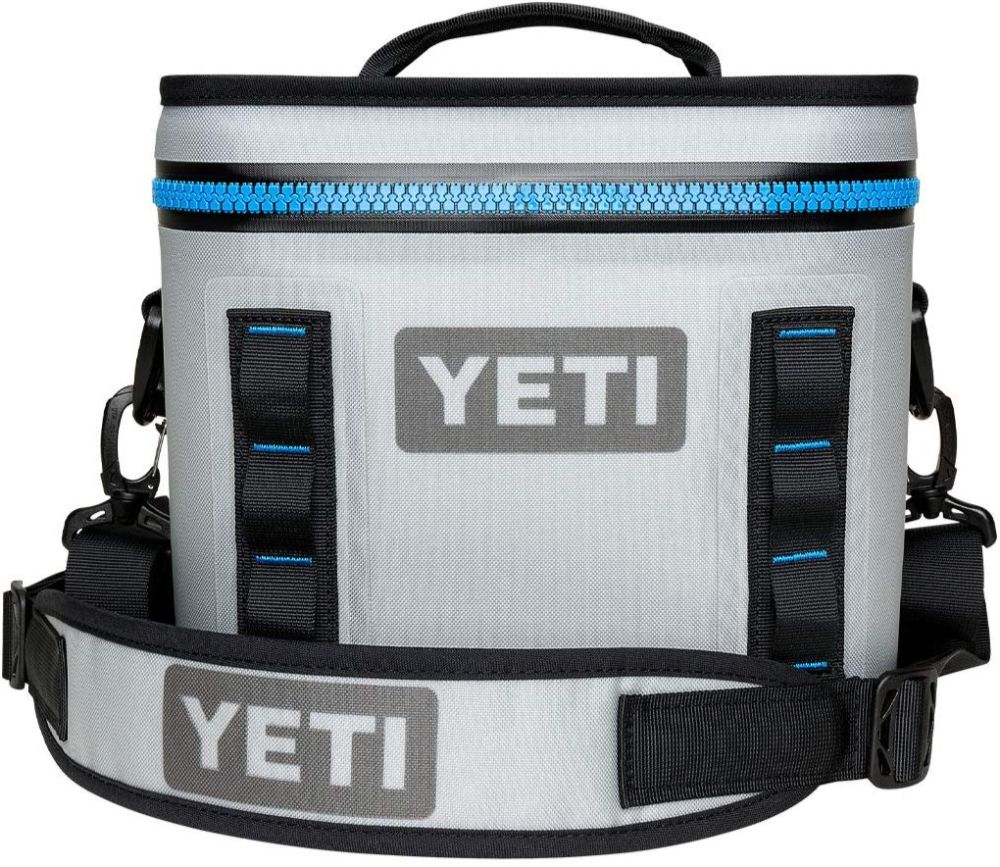 Most Expensive Hard Cooler Per Quart: Yeti V Series

Yeti recently launched the "Yeti V Series" which is a stainless steel cooler that combines the vacuum insulation technology used in Yeti's tumblers and bottles as well as the polyurethane insulation used in Yeti coolers.
This cooler claims a 50% boost in ice retention compared to regular Yeti coolers. If this is true it would make it the best cooler for ice retention on the market.
Selling for a whopping $800 for a small 46-Quart cooler this is hands down the most expensive hard sided cooler per quart on the market. It comes in at $17.39/quart.
The closest most expensive competitor is the Orion 25 which is one of the most expensive small hard sided coolers on the market. But even this was under $10.00/quart so doesn't even come close to the Yeti V Series.
But this cooler looks amazing and if the ice retention is as good as it says I can see this cooler being an amazing status symbol as well as offering amazing performance.
See the latest price of the Yeti V Series at Yeti.com
(or compared to the price of the Yeti V Series at Amazon)