Yeti have done it again, taken a product category that hasn't seen innovation in years and created a product so much better that it warrants the high price tag Yeti commands.
The Yeti Silo is Yeti's take on a water jug/drink dispenser and it is by far the best of it's kind, outranking all of the best water jugs in ice retention, build quality and design. But despite being a quality product is this water jug actually worth the hefty price tag?
In this Yeti Silo water cooler review we'll look in detail about the features and quality of the Yeti Silo to help you determine whether this product suits your needs or if you are better off with a more affordable option.
Price: The Most Expensive Water Cooler Available

There is no hiding that the Yeti Silo is an expensive water jug, coming in at nearly $300 it is 10 times as expensive as the Igloo Seat Top Water Cooler (click here to see it's price at Amazon – affiliate link) that sells for around $30.
It's also much more expensive than other roto-molded water jugs on the market that have similar features to the Yeti Silo.
Below you can see a price comparison between the Silo and other similar roto-molded drink dispensers that I have reviewed.
YETI SILO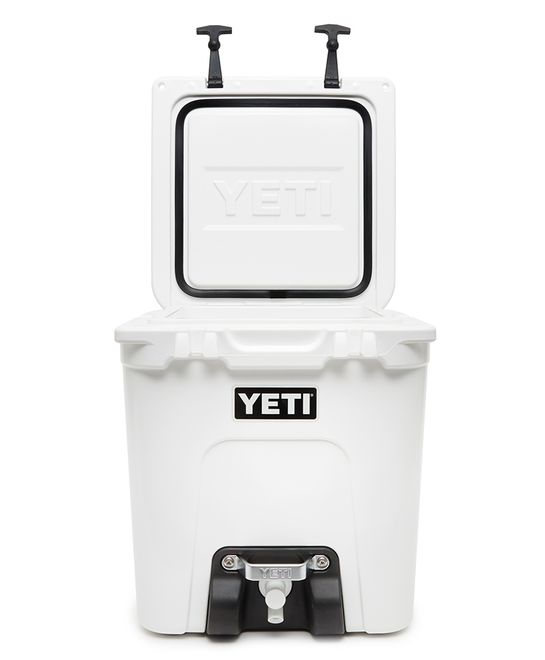 Yeti Silo 6-Gallon:
OTHER JUGS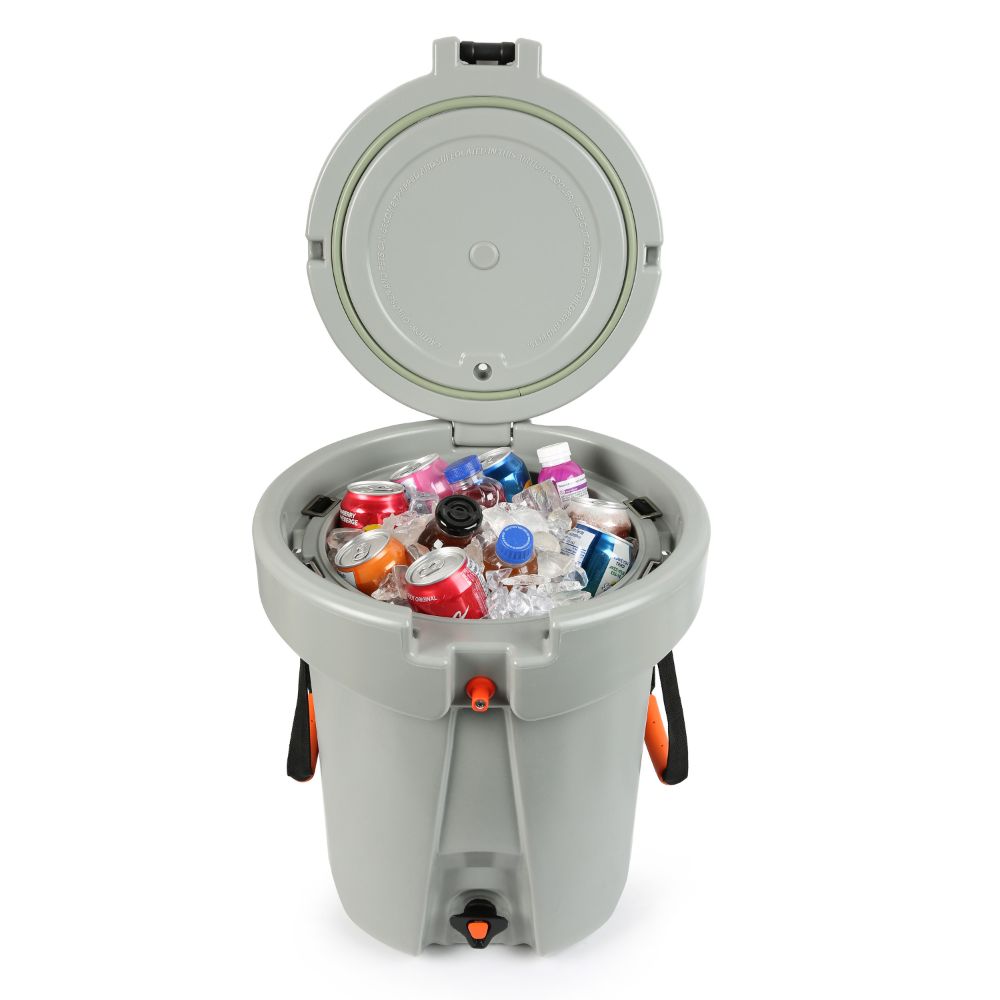 Ozark Trail Jug: $78.00 (see at Walmart.com)
---
KULA 2.5-Gallon:
---
Cordova Hydro Jug 5-Gallon:
As you can see the Yeti is 2-4 times more expensive even when compared to other roto-molded drink dispensers.
So now let's have a look at the features and build quality of this cooler so you can determine if it's worth the extra money.
Ice Retention: Keeps Ice For 4+ Days

The Yeti Silo has the same thick insulation that you'll find in other Yeti hard coolers. This means the cooler has 1.5-2 inches of insulation in the walls and base and 2-3 inches of insulation in the lid.
I personally did a 10 day ice test on my Yeti 45, which isn't too much bigger than the Silo, and it managed to keep ice for 10+ days.
In this case the cooler was completely filled with ice which isn't normal, but it shows you how good these coolers can be at keeping things cold.
The Silo is no exception to this and can keep ice for extremely long periods of time.
For best results you want to pre-chill the Silo and fill it up with ice and already chilled water as room temperature water will make the ice melt faster. For maximum ice retention don't open the lid at all unless you need to or use these extra tips for keeping ice longer.
No other water coolers on the market have quite as much insulation in them as the Yeti Silo and this is the main thing that allows the Silo to keep ice longer than any other drink cooler.
Build Quality: Nothing Beats a Yeti

When it comes to build quality this thing is an absolute beast and is almost unbreakable.
Yeti coolers are made from a roto-molded plastic (learn why Yeti coolers are so tough) which is the same plastic used to make kayaks.
This provides Yeti coolers with a super strong plastic shell which is then filled up with pressure injected foam, which then sets to make the cooler even stronger.
Yeti have done some pretty serious tests on their coolers and most of their coolers are certified bear proof, showing how tough they are.
A Premium Finish
Something that is really difficult to show in reviews like this, and even in video reviews, is just how premium the finish is on the Yeti coolers.
I have owned a lot of coolers in my time and have reviewed many also and I am yet to come across a cooler that feels as premium as the Yeti.
The white plastic looks and feels nicer than other white plastic coolers and the cooler is free from blemishes, whereas some other coolers come with blemishes.
It really feels like a more premium product than other coolers like the Ozark Trail Round Cooler or other brands.
Fast Flow Spigot – No More Waiting In Line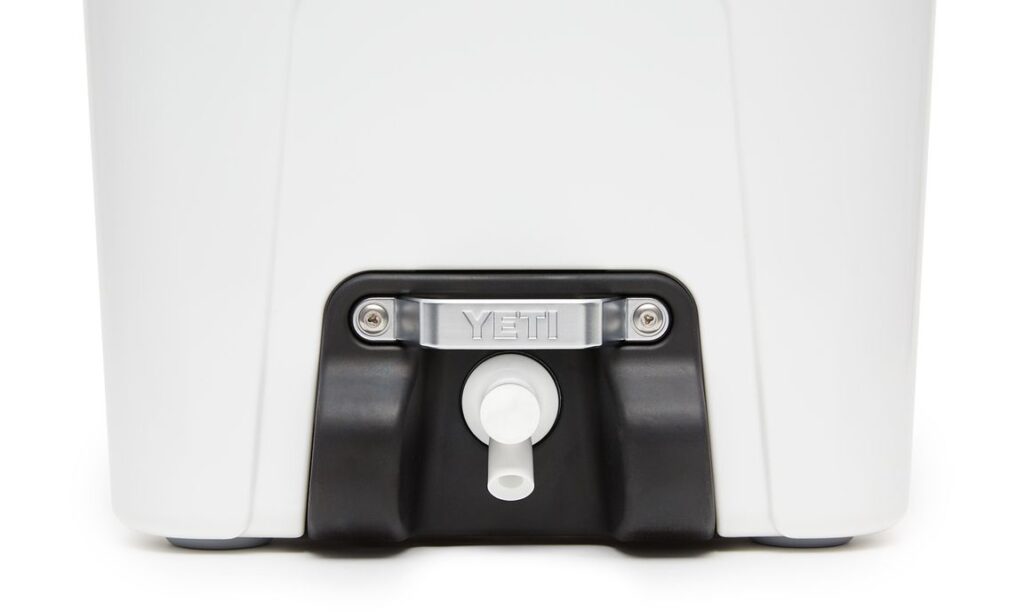 A problem some other water jugs have is that the spigot pour water out really slowly.
Given these water jugs are generally used in community settings, either at a job site or at a sports ground or picnic, this can mean people are waiting in line in order to get their turn to pour a drink.
The tap on the Yeti Silo pours water quickly and it doesn't take long to fill even something as big as a 1-liter water bottle.
The spigot is the weakest point of any drink dispenser and is often the first thing to break. It's one of my biggest complaints with other water jugs.
The spigot on the Yeti Silo is protected from being bumped or broken by large plastic bumpers on the side and a metal handle above it.
This means when moving it, storing it or even dropping it the tap should be protected and shouldn't break.
See the latest price of the Yeti Silo at Amazon
Shape: Square Takes Up Less Space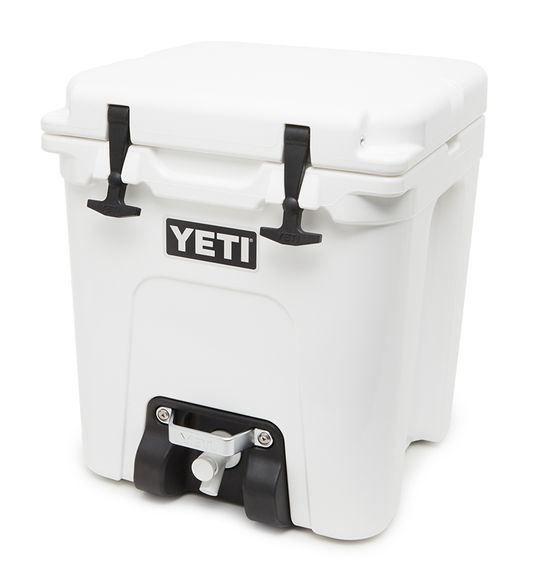 Most of the cheaper and older style water coolers are round and even many of the newer roto-molded ones are round also.
I've researched it and looked around and I can't find any logical reason for this other than it may be cheaper to produce round water jugs and that the cheaper water jugs are strong when round compared to square.
But square seems to make more sense. It takes up less room for the internal volume that you get which makes it easier to store, stack and transport and it also means it's wider and therefore less likely to tip over.
The Yeti Silo is one of the very few square drink dispensers and it just makes complete sense to me.
Size: 6-Gallons Of Cooling Power
The 6G in the "Yeti Silo 6G" stands for 6-Gallons – which is 22-Quarts.
This is slightly larger than most other water jugs, which are 5-Gallons and makes it a bit bigger than the Yeti Roadie.
It takes up more room than a cheaper drink dispenser because of its extra gallon capacity as well as the thickness of the insulation.
The Yeti Silo measures 15.6 x 18 x 15.5 inches on the outside and weights 16.5 lbs when empty.
Other Features Worth Mentioning
There are a few other features this water cooler has that I feel are worth mentioning.
Protected Spigot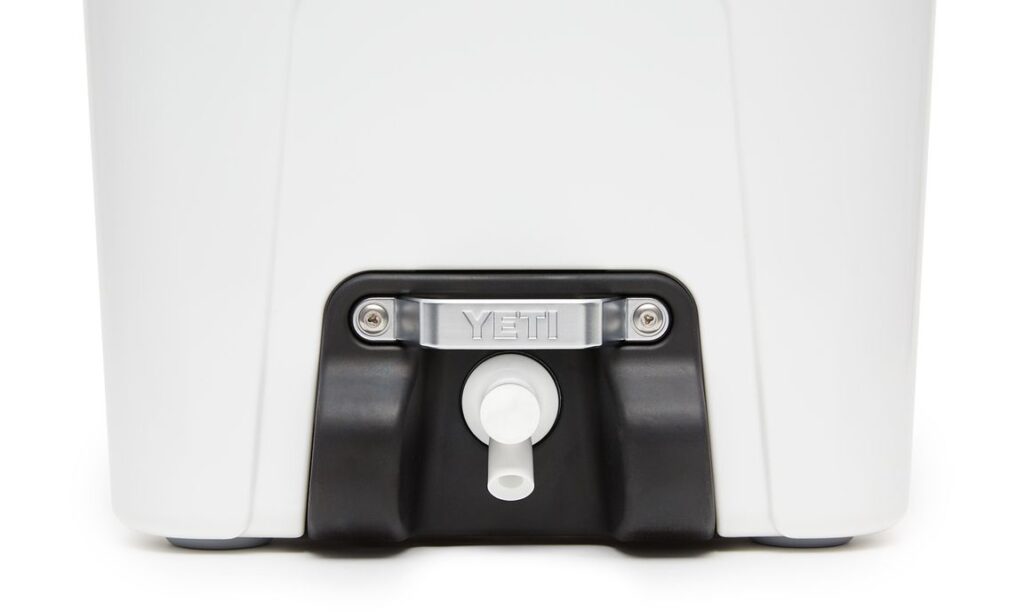 As we talked about above the spigot (the tap) of this cooler is heavily protected from bumps and knocks.
It has two thick plastic protective bumpers on the side as well as a metal handle above it.
So even if you store it awkwardly, if it gets caught on something or if you completely drop it onto the spigot it is still unlikely to break.
Steadysteel Handle
The steadysteel handle acts both as protection for the spigot as well as a handle to hold onto to make sure the cooler doesn't slide backward and off the table as you push on the tap to pour your drink.
Molded In Side Handles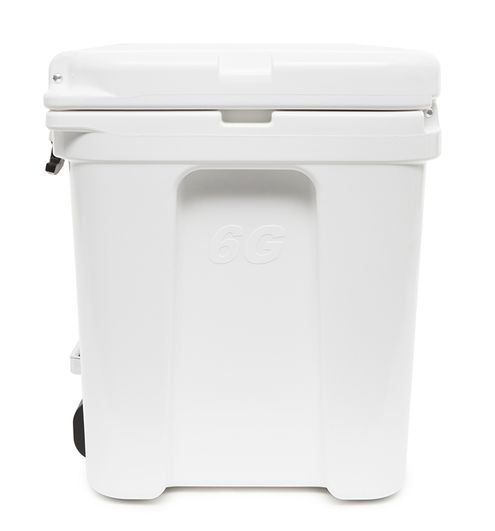 There are moulded in side handles to make carrying the Silo easy. It doesn't come with the nylon rope handles that other Yeti coolers have.
Freezer Grade Gasket
Around the lid of the Silo is a freezer grade gasket. This helps to create a tight seal between the lid and the body of the cooler keeping the warm air out and the cold air in.
This add to ice retention but also makes the cooler leak proof so if it gets knocked over it won't spill water everywhere.
Pull Down Rubber Latches
The strong pull down rubber latches hold the lid tight to the body of the cooler.
Neverfail Hinge
The Yeti Silo has a strong molded hinge with steel pins to make it basically unbreakable. You will never lose the lid of have it blow off because it'll always be firmly attached to the cooler.
Non-Slip Rubber Feat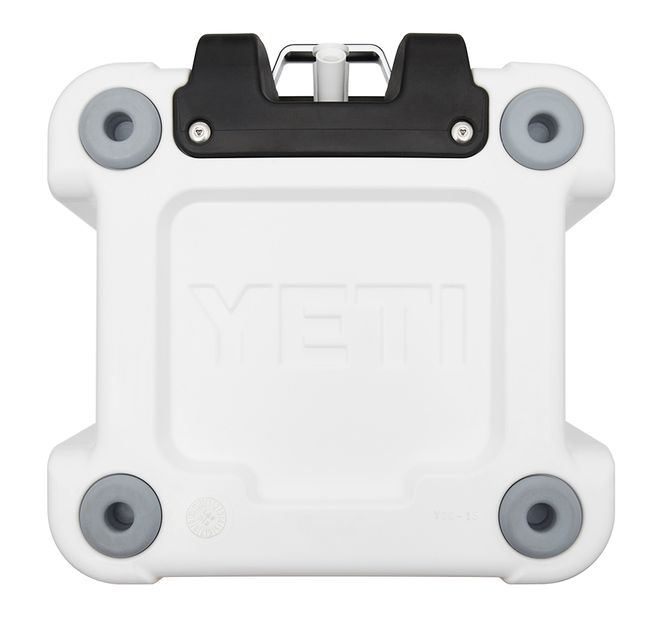 The bottom of the Silo has non-slip rubber feet which make it extremely difficult to slide the cooler or have it move at all without lifting it.
The rubber feet are also non-marking and non-scratching so you can be confident that neither your table nor your floor will get damaged by this water cooler.
Doubles As A Seat
The Yeti Silo is super strong and the spigot is raised high enough from the ground that if needed you can use this as a stool/seat.
It's a good height to sit on and watch the game and then can be lifted up onto a table or another cooler to provide refreshments for everyone when needed.
Can Also Be Used As A Regular Cooler

One of the things I really like about the Yeti Silo is the fact that it has all the features a regular Yeti cooler has, it's just a slightly taller shape.
This means that you could use it as a drink dispenser when at work or at a game and then in your own personal time you could use it just like you would use any other Yeti cooler.
It's a similar price to the Yeti 45, which is bigger at around 37-Quart, but you do get the extra feature of the water spout.
Yeti Silo 6-Gallon (22-Quart):
Yeti 45 Cooler (37-Quart):
Problems With The Yeti Silo
I would hope for the price that the Yeti Silo 6G would be the perfect drink dispenser in every single way, but unfortunately it isn't.
Like every cooler the Silo has it's problems, issues and downsides that you should take into account before buying it.
None of these problems are big problems as Yeti makes great products, but it's important that you're aware of them.
The Spigot Won't Lock Open
The tap uses a push button in order to work and you need to be constantly pushing the button in order for water to come out.
When filling up drink bottles or cups this isn't really an issue, the only time it causes a problem is if you want to use the tap to wash your hands.
Because you can't lock it into the on position it makes it harder to wash your hands.
It's Big and Only Comes In One Size
6-Gallons isn't huge, but it's not a small water jug either. Some people might not need to store this much water and would instead prefer something smaller like a 2-3 gallon jug, or maybe even something bigger to service more people.
But unfortunately there is only one size of the Yeti Silo so if you want something smaller or larger you'd need to buy a different brand.
For a smaller cooler I suggest the KULA 2.5-Gallon Water Jug – read my full Kula Cooler Review.
For a larger cooler there are no good high-end options and you would need to go with something like the 10 Gallon Igloo Seat Top Jug instead.
It's Heavy
Weighing 16.5 lbs when empty this cooler isn't exactly light and easy to carry around.
It's Expensive
This is the most glaring problem with the cooler, it just costs so much more than any other water jug on the market.
Don't get me wrong, it's a great water jug, but given you can buy an Ozark Trail Water Jug which is similar in size and features but is one third of the price it makes it harder to justify buying a Yeti.
No Rope Handles
Unlike other Yeti coolers the Silo doesn't have the nylon/rubber rope handles for carrying it.
Because of it's thinner taller design I don't think this is a big issue and it's a smaller cooler and fairly easy to carry with the moulded in handles.
Other Coolers Similar To The Yeti Silo 6G
If the Yeti Silo isn't ideal for you, either because it's too expensive or you would just prefer something else then there are some other good alternatives out there.
Some offer different features and most of them are much cheaper than the Yeti Silo. Here are some similar coolers that I would suggest.
Ozark Trail Round Cooler – 5 Gallon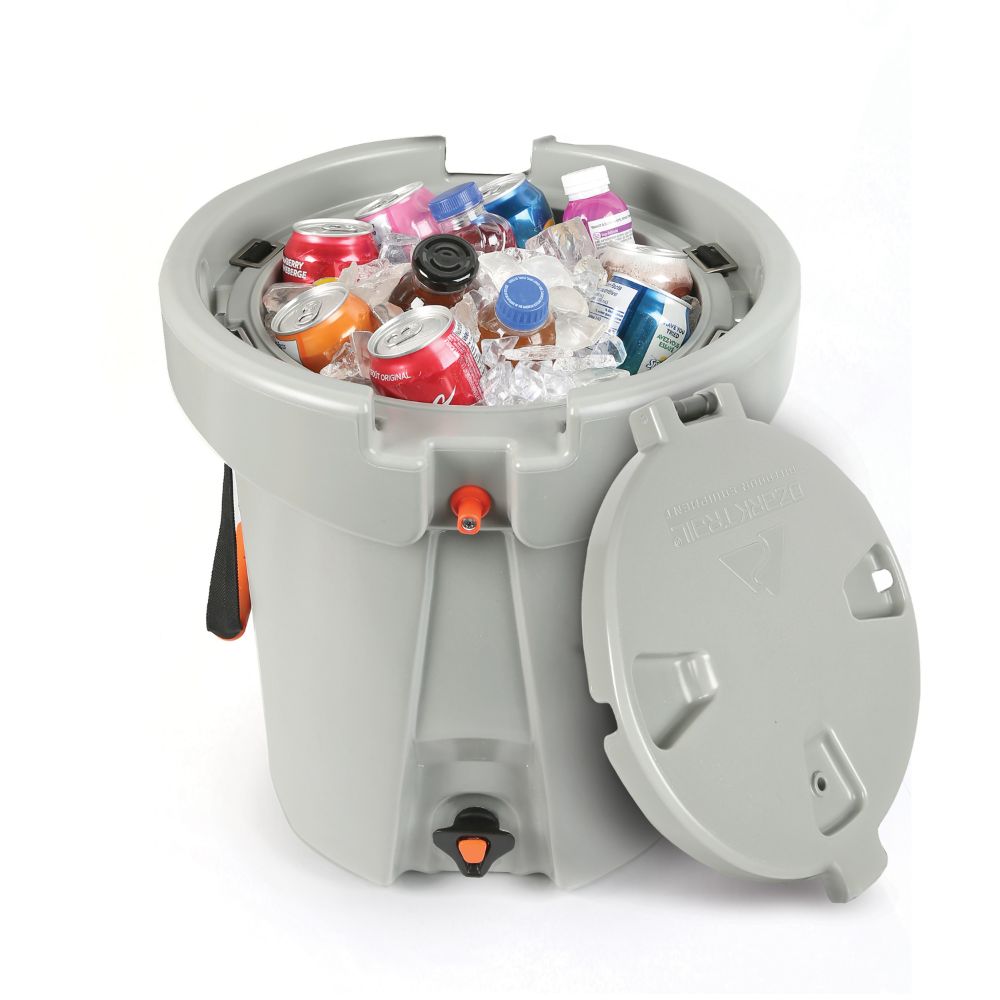 Ozark Trail is Walmart's brand of cooler and their round 5-Gallon water jug is the cheapest roto-molded water jug on the market.
It keeps ice for 2-3 days and is built to last. The spigot isn't as protected at the Yeti but it is recessed so shouldn't break off easily.
The insulated lid has a rubber gasket and pull down rubber latch and it has rope handles that make it easy to carry.
Overall it's a great water jug for the price so if you're looking to save a bit of money compared to the Yeti Silo then this is a good option.
Read my full Ozark Trail Water Jug Review
See latest price of Ozark Trail Water Jug at Walmart.com
KULA Cooler 2.5 Gallon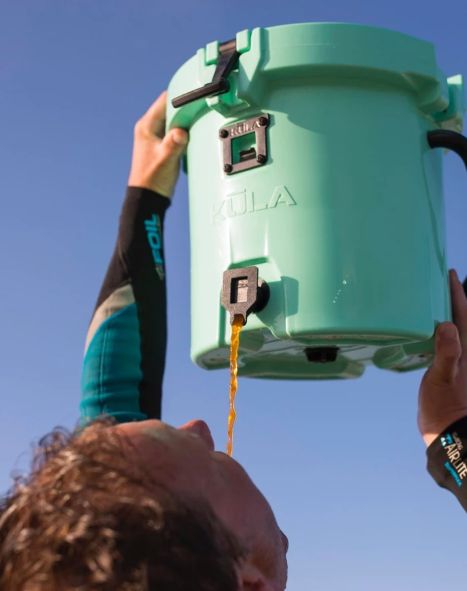 If you're looking for something a big smaller then the 2.5-Gallon water jug/cooler from KULA is amazing quality and comes with a tap.
The rotating padded stainless steel arm makes carrying the cooler really easy and you can also attach a shoulder strap to it.
It is roto-molded and durable and has a rubber gasket and pull down rubber latches so it's leak proof. I love this little cooler and it's a great option for someone looking for a personal water jug.
Read my full KULA vs Yeti comparison guide
KULA Water Jug 2.5-Gallon:
Igloo Seat Top Jug: BUDGET OPTION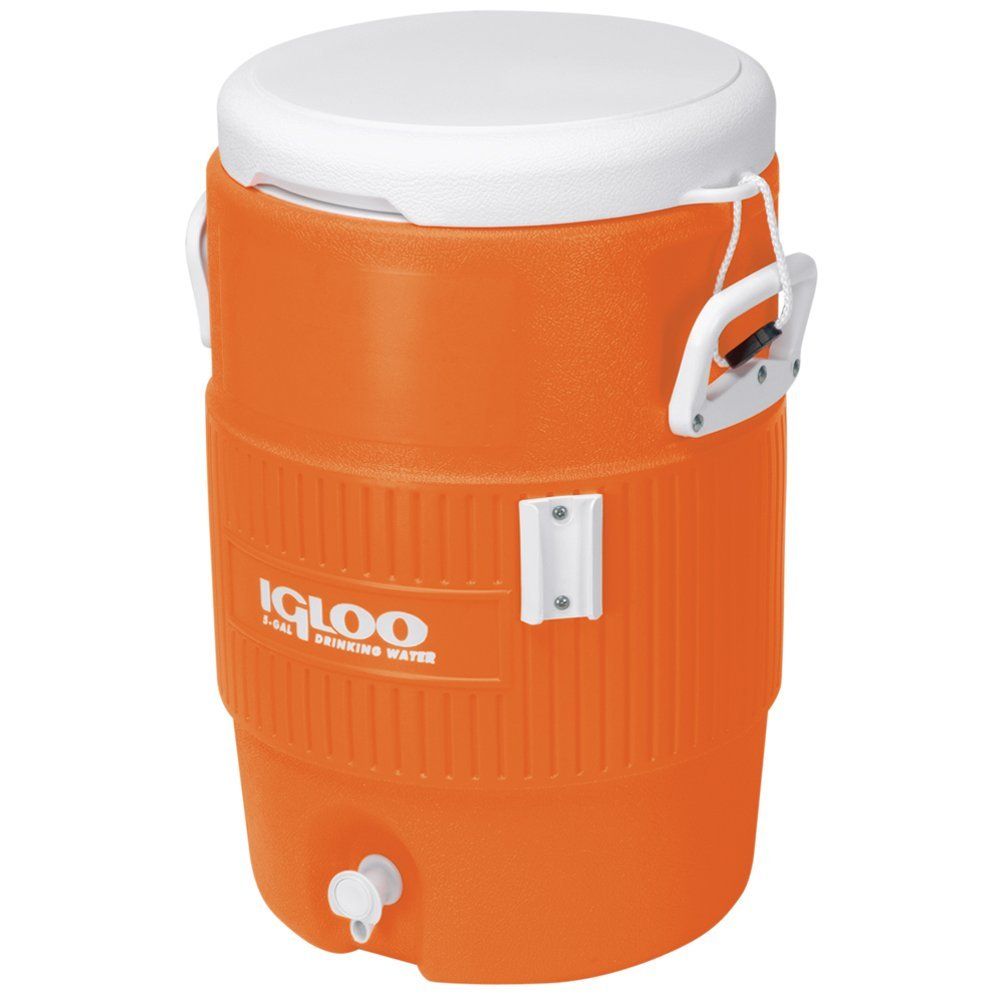 If you're just looking for the cheapest water jug/drink dispenser out there then the Igloo Seat Top Jug is one of the cheapest options.
It's not as durable as the Yeti, and it's not nearly as well insulated or well built.
It'll keep drinks cooler for most of the day, but it definitely won't last days like the Yeti Silo will.
You also need to be more careful with it as it breaks way easier than the Yeti. But if you're just after something cheap it's a decent option and it comes in multiple different sizes.
Igloo Seat Top Jug 5-Gallon:
Igloo Seat Top Jug 10-Gallon:
Where To Buy The Yeti Silo 6G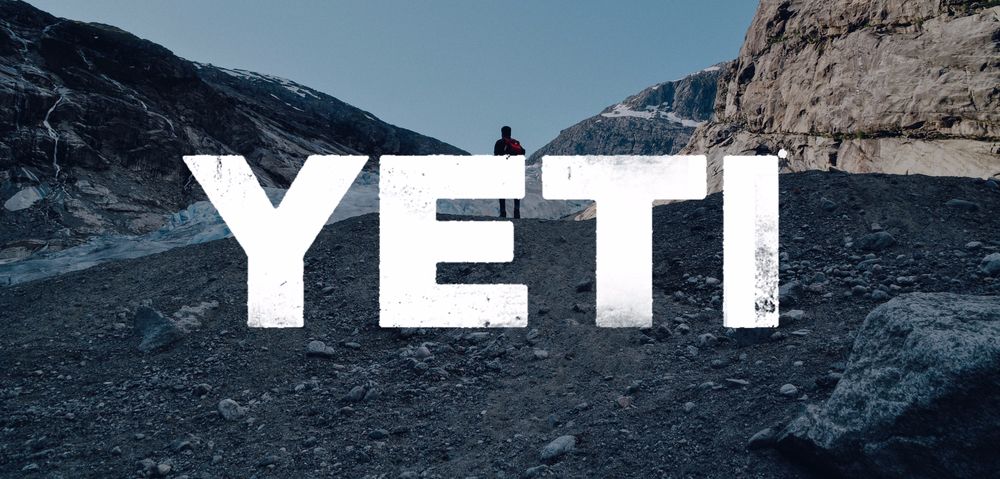 The Yeti Silo 6G can be purchased from anywhere Yeti coolers are sold, though it's not as popular as the regular coolers so you may need to order it in.
You can also purchase it directly from Yeti's website or you can purchase them directly from Amazon, with free shipping.
To see the latest price on Amazon simply click my affiliate link below: