Giant coolers over 200-Quarts are great for commercial use, large groups or long hunting trips. I've checked out the best giant coolers on the market so you can find the right cooler for your budget.
Whether you're after a long term cooler that will keep ice for weeks or a short term cheaper cooler that will be just enough for a party of sporting event we've got you covered.
Here's the 10 best giant coolers on the market right now:
1. Grizzly 400 -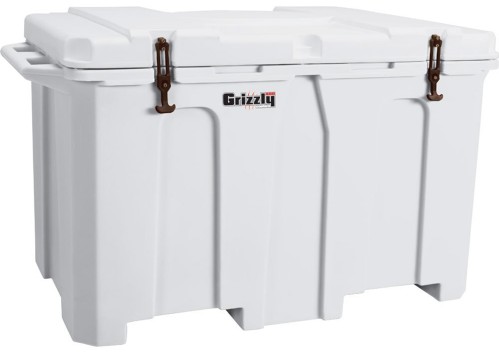 The Grizzly 400 is the best of the best in large coolers. Coming in at a whopping 400-Quart capacity this is one of the biggest coolers on the market.
It has a roto-moulded plastic exterior making it extremely tough and with 2+ inches of insulation this thing will keep ice for weeks, not days. This thing will literally pay for itself in the money you'll save on ice.
Grizzly are a very reputable brand for making really high quality coolers made right in the USA. It'll handle anything you throw at it being completely bear proof and with a lifetime warranty you can rest assured knowing if anything goes wrong Grizzly will make it right.
The only thing that competes with this cooler in size and ice retention is the Icey-Tek 600-Quart and 450-Quart coolers. But Grizzly are a much more reputable brand, the cooler looks way nicer and it's cheaper than the comparable 450-Quart Icey-Tek.
Basically if you're after a giant cooler with superb ice retention you can't go wrong with the Grizzly 400. There is also a 165-Quart option available for those looking for a smaller cooler
Specs:
54 1/2 inches wide, 30 3/4 inches deep, 32 inches high
90 lbs empty
400-Quart capacity
Moulded in hinge for strength
2 inch drain plug for quick and complete draining
Rubber latches to keep the lid tight
Non-slip and non-marking rubber feet
Moulded in heavy duty handles with 4 hand holds
Foam rubber gasket keeps the cool air in and hot air out
Certified bear proof
Lifetime warranty
Made in the USA
BUY IT NOW: -
2. Pelican ProGear Elite 250-Quart -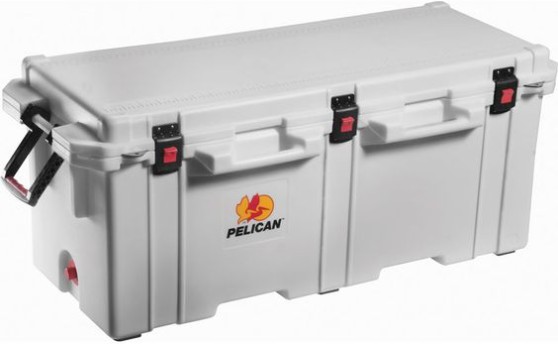 As tough as they come the Pelican 250 is built like a tank and it performs just as well.
My smaller Pelican 35-Quart kept ice for over 10 days when I did my Pelican ice test and with a whopping 250-Quart capacity this Pelican will keep ice even longer.
I love that this giant cooler has 6 handles so it can be carried even when completely full, assuming you have enough people to help you.
Not as cost effective as the Grizzly but it does have some unique features with it's fold up handles, threaded drain plug that can attach a hose and the press and pull latches are so simple and easy to you.
Given how easy the latches are to use with gloves on this cooler would be great for those in colder climates.
BUY IT NOW: -
3. Yeti 250 -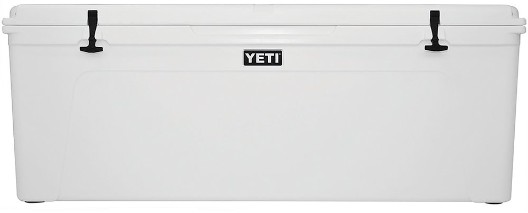 Yeti are the creators of the roto-moulded cooler and their 250 model does not disappoint.
Yeti make the best looking and highest-spec coolers on the market. The roto-moulded exterior is made with a superior plastic finish and the attention to detail is unmatched by any other company on the market.
They are the iPhones of the cooler world with simplicity and quality design making their products so popular.
With a 232-Quart capacity there is loads of room for your gear and your ice. Bear proof and dry-ice compatible these coolers are great.
I own a Yeti 45 and absolutely love it. My wife love's it too because she thinks it's the sexiest cooler on the market.
So if you want the best known brand in the industry and the sexiest cooler you'll want a Yeti.
BUY IT NOW: -
4. BUDGET PICK – Coleman 200-Quart XP H20 Marine Cooler -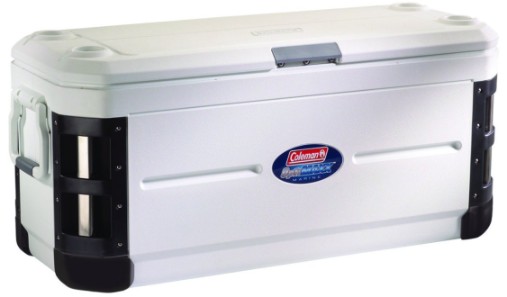 Coming in at #4 is the Coleman 200-Quart XP H20 Marine cooler. At under $300 this cooler is great value for it's size.
With more insulation that an el-cheapo cooler this bad boy can keep ice for up to 7 days. This is ok, but nothing compared to your Grizzly or Pelican that'll likely keep ice at least twice as long.
The cup holders on the lid are an extremely useful feature for those boating or camping as it means you aren't going to lose your beer all over the ground.
Flip up handles on the side make carrying easy but with only 2 handles you'll struggle to move this when it's full.
All around a great option for those who have a tighter budget and want the size but don't need the extreme ice retention of the more expensive coolers.
BUY IT NOW: -
5. Icey-Tek 600 $1,399.00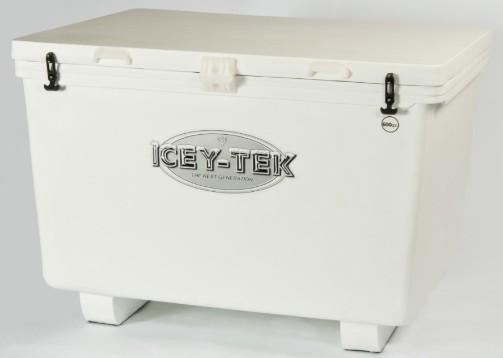 Icey-tek make the big kahuna's of the cooler box world. Coming in at a whopping 600-quart capacity it doesn't get much bigger than this.
Wait…omg…yes it does! Icey-Tek even make a 760-quart cooler for $1,499
These coolers are roto-moulded and contain pressure injected insulation just like your Grizzly/Yeti coolers. This means they can easily keep ice 12 days+ and maybe even longer depending on your usage and the outside temperature.
I haven't heard a lot about Icey-Tek the brand so I can't really vouch for the quality and I'de like to see a bit more than a 2 year warranty on a cooler over $1,000. For that reason I've had to down rate their durability.
If you need a super duper extra large giant cooler and the 400-quart capacity of the Grizzly isn't enough then you've basically got little choice but to go with Icey-Tek.
6. Engel 320 -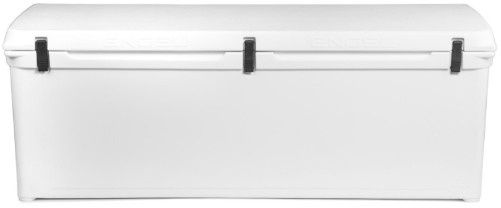 Engel make a range of quality coolers and are well know of their electric coolers. Their roto-moulded coolers are good quality coolers, but I have found they aren't as good as other roto-moulded coolers.
It performed worse than the Yeti and Pelican in my 10 day ice test but still kept ice a respectable 8 days. The plastic finish isn't as nice as the Yeti but I do absolutely love that the clasps that hold the lid down also double as bottle openers. A great little feature to have wherever you are.
The Engel is bear proof, roto-moulded and extremely durable and has white non-slip rubber feet which work great. The 320 size is unique and some might prefer the long rectangle shape to the cubed shape of something like the Grizzly.
BUY IT NOW: -
7. Yukon 250 -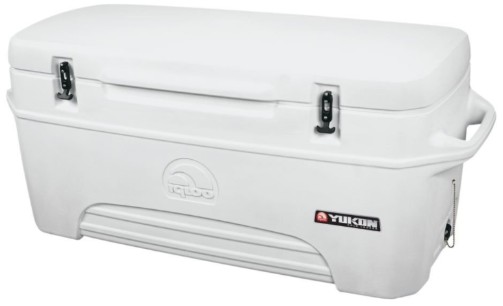 The Yukon was one of the most surprising coolers I have ever reviewed. After seeing the issues the Igloo Sportsman had I expected very little from the Yukon, but it surprised me by being a really great cooler.
The 250-quart version is no exception.
With 3 inches of insulation in the walls and lid this will have some of the best ice retention you can ask for in a cooler. Wide grip handles will allow up to 4 people to help you carry this cooler and the large attached drain plug makes for fast emptying of your cooler.
The Igloo Yukon is actually one of the highest rated coolers on the market up there with Grizzly, Yeti and Orca.
BUY IT NOW: -
I ran out of coolers over 200-Quart that are worth ranking so for the final 2 coolers we'll look at coolers around the 150-Quart mark. Still very large coolers but not as giant as the ones we have mentioned above.
8. Orca 140 -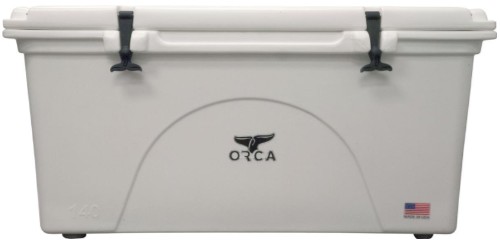 This Orca 140 cooler was my pick for the best large cooler as they are extremely high quality like the Yeti and are completely made in the US using American sourced parts.
They have all the bells and whistles you expect from a roto-moulded cooler with the addition of extra insulation, a exterior pouch at the back for dry items and they come with a lifetime warranty.
Orca recently dropped their prices too making them one of the most affordable roto-moulded coolers on the market.
If you don't need a giant cooler and 140-Quart is enough for your needs then get an Orca. You'll love it.
BUY IT NOW: -
9. CHEAPEST OPTION – Igloo Quick and Cool 150 -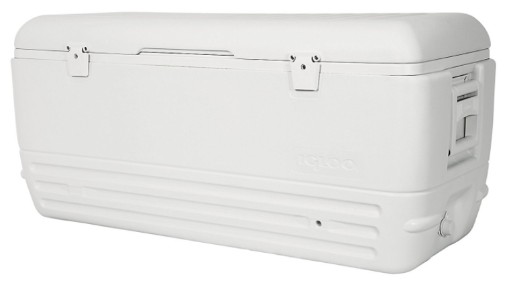 If you're after cheap then the Igloo Quick and Cool 150 is the pick for you. A huge 150-Quart capacity this is great for shorter trips, parties or sporting events where you only really need to keep your items cool for 2 days max.
The hinges are made of plastic and will break over time due to sun exposure destroying their quality. But they are cheap and easy to replace if this ever happens.
Lack of a rubber gasket plus the fact that the insulation is much thinner and poorer quality means you won't get the ice retention that you see in the roto-moulded coolers.
But hey it's well under $100 and a perfect option for someone who just needs a basic large cooler.
BUY IT NOW: -
10. Igloo Super Tough STX Cooler -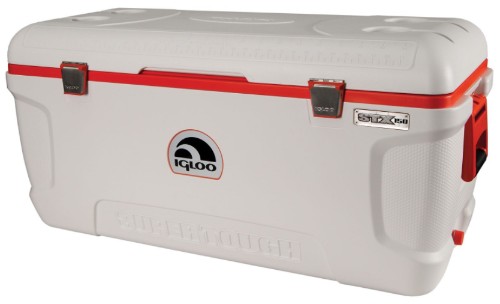 The Super Tough is like the Quick and Cool made better. Stainless steel latches instead of plastic ones, stronger handles with a softer grip and overall better durability.
Insulation is likely slightly better in this one but it still isn't going to perform up the the standards of a roto-moulded cooler.
4 inbuilt cup holders are a great feature for camping and boating and the moulded in ruler is great for measuring your latest catch.
This is decently priced with a 3 year warranty and great for those who don't want to pay an arm a leg for a cooler but also don't want the cheapest cooler on the market. It's a good happy-medium in terms of value for money.
BUY IT NOW: -