There are a lots of different big coolers out there but what are the absolute best large coolers for groups or even commercial use?
People need large quantity coolers for a variety of reasons. You might be on a hunting trip wanting to store your game meat or you could be coaching your local sports team and want a cooler to store all the drinks for your players.
The great news is there are a lot of big ice chests on the market now that whatever your budget/needs you should be able to find a cooler that'll do the trick.
I've done the hard work of finding and narrowing down the best large coolers, so simply look through the list and choose the one that suits you best.
I've focused on coolers around 100-Quart in capacity as these are generally the largest coolers people generally want. For extreme size or commercial use check out my review of the best extra large coolers as they range from 200-400+ Quart capacity.
| Best Large Cooler | Budget Pick | Runner Up |
| --- | --- | --- |
| Orca 140 | Coleman 100 Xtreme | Yeti Tundra 160 |
| | | |
| Size: 140-Quart | Size: 100-Quart | Size: ~140-Quart |
| Price: | Price: | Price: |
Best Large Cooler
Made in USA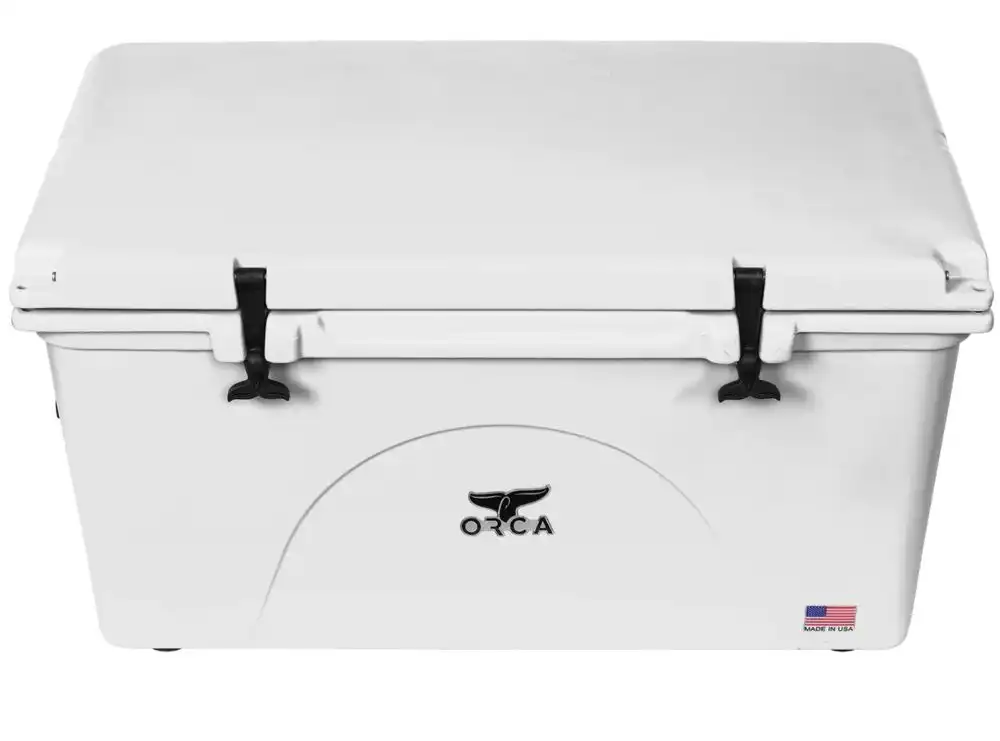 Orca are currently my favorite cooler brand on the market and the Orca 140 is, in my opinion, the best large cooler on the market at the moment.
It's made with roto-moulded plastic making it almost indestructible, it's got 3+ inches of insulation all around meaning it can literally keep ice for weeks and it's got a lifetime warranty that is completely unmatched by any other cooler manufacturer.
Plus, it's way cheaper than it's competitors. Clocking it at under $200 less than the similar Yeti 165 and also a bit cheaper than my other recommend the Canyon 103, which is smaller than the Orca.
But the thing that really makes Orca stand out from it's competitors is that it is completely made in the USA using US sourced components. While other companies are manufacturing overseas Orca are choosing to manufacture locally leading to a great quality product that creates local jobs.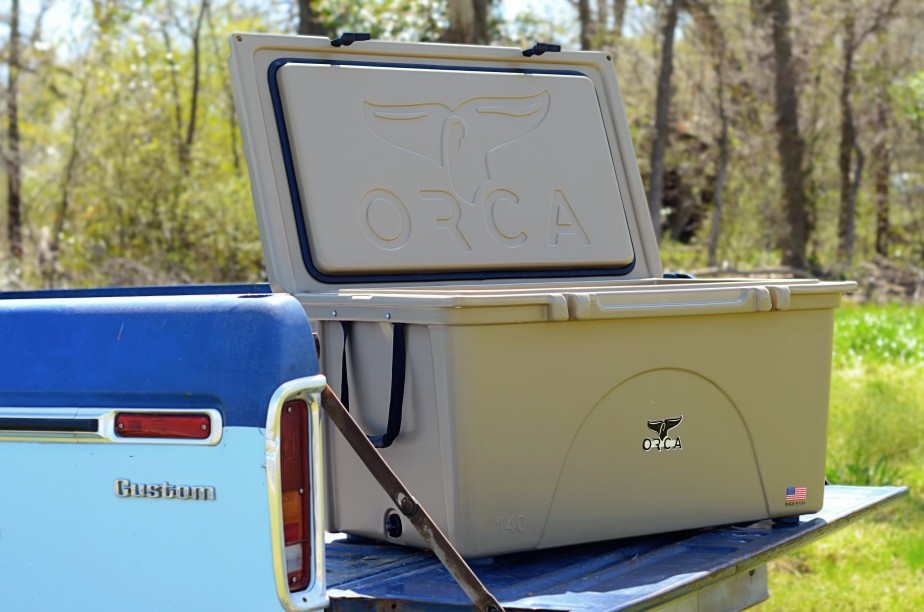 It also comes packed with the following features:
140-Quart Capacity – The massive 140-Quart capacity is huge enough to store over 200 cans. Easily enough for your game meat, team's drinks or even you're families food for the week.
Roto-moulded exterior – Orca's are made tough with their roto-moulded plastic. They are strong enough endure an incredible beating.
Bear-proof – Add a padlock to the corners and this is certified bear proof. No grizzly is going to get into your food any time soon.
3 inches of insulation – The massive 3 inches of insulation in the walls and lid make this one of the most heavily insulated coolers on the market. That's the main reason ice can last so long in an Orca compared to another cooler.
Commercial grade gasket – The commercial grade rubber gasket around the lid keeps the cold in and keeps the heat out, again helping ice last longer.
Tough rubber latches – The whale-tail rubber latches keep the lid on tight and keep the cold in.
Non-slip rubber feet – Non-slip rubber feet keep your cooler in place even in the back of your truck or on a boat. Won't leave marks either.
Exterior pouch – Something very few coolers come with. The external pouch is handy for storing dry items.
See the latest price of the Orca 140-Quart Cooler at OrcaCoolers.com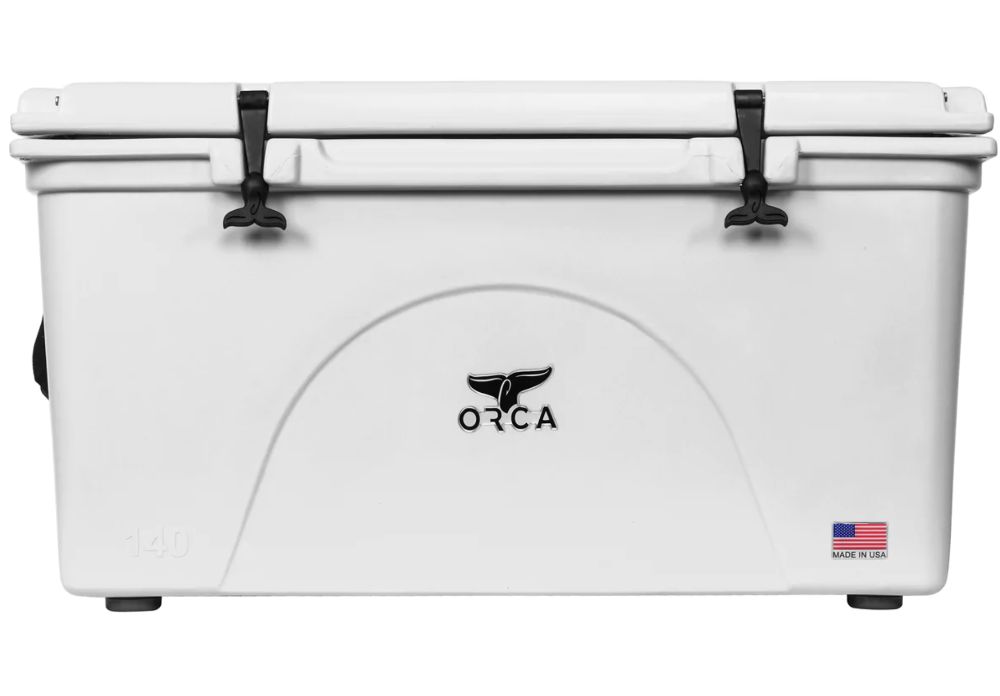 It's not hard to see why the Orca 140 is my pick for the best large cooler you can buy.
Best Large Budget Cooler
Some people won't want to spend the $399 it costs to buy your Orca 140 and instead want a large cooler that is still good, but a bit cheaper. The following pick I have for you comes in at under $100 and is the best large cooler for those on a budget.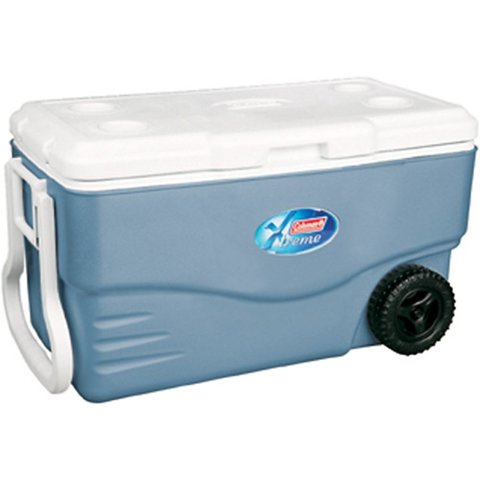 The Coleman Xtreme 100-Quart is hands down the best big budget cooler on the market. It's ice retention rivals that of the most expensive coolers on the market – see my Coleman ice test where it held ice 10+ days!
It also comes in at under $100 which is perfect for the budget conscious buyer.
While not as robust as the roto-moulded coolers it comes with everything a family or sports team will need.
100-Quart capacity – Meaning you can hold up to 160 cans, more than enough space for everyone on your team or all the family's food.
Wheels and carry handle – With a cooler this big you ideally don't want to have to carry it, especially when it's full! The wheels and carry handle make it possible for even a single person to move it.
Strong enough to sit on – Easily strong enough for not 1 but 2 people to sit on this is a great extra chair or even a step if you need it.
4 cup holders – The 4 cup holders are actually way more useful than you would think. Great place to store drink but also anything from spare change to your keys and wallet also. It's a great feature not many large coolers have.
Current Price (click to buy):
Other Big Coolers Worth Considering
There are a lot of great large coolers out there worth looking at. Here are my top 3 picks if the Orca or the Coleman don't suit your needs.
Yeti Tundra 160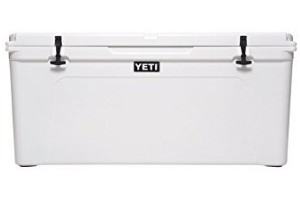 The Yeti 160 is a great cooler. It is similar to the Orca in almost every way, given the Orca basically took all their design ideas from the Yeti.
Yeti are the pioneers of the roto-moulded cooler and are the go-to brand when it comes to these expensive coolers.
I personally have a smaller Yeti that I use in my campervan and I absolutely love it and my wife votes that the Yeti is the most beautiful of all the coolers.
When buying the Yeti no one will ever second guess your decision. You'll get great ice retention and a brand that people recognize and admire.
Current price (click to buy):
Canyon Cooler Prospector 103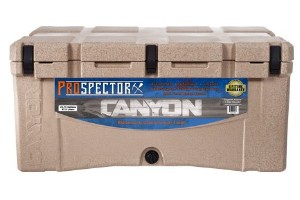 Canyon rival Orca for the most insulation in their coolers and their new Prospector series of coolers are awesome.
Only slightly more expensive than the Orca 140 the Prospector 103 comes with recessed cam latches which are easier to use than the rubber latches and also has not 1 but 2 recessed drainage plugs so you can always drain your cooler no matter where you store it.
Canyon coolers also come with a lifetime warranty and have some of the best ice retention in the industry due to the extra insulation they have.
Overall a great cooler from a great American company.
Current price (click to buy):
Pelican 95QT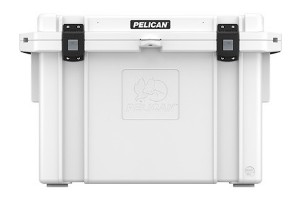 The Pelican looks like a tank because it is a tank. Tough roto-moulded exterior with a dual handle system this is a great cooler.
The press and pull latches are extremely easy to use and make opening your cooler with gloves on a breeze.
Comes with everything else you'de expect in a cooler like this. Tie-downs, non-skid rubber feed, lock hasps and also comes with a threaded drainage plug you can connect to a hose as well as measurements on the lid so you can measure your catch.
Pelican used to be a lot more affordable but now their coolers seem to be priced similar to the Yeti.
Current price (click to buy):