What are the top rated coolers on the market today? I show you the best coolers on the market as rated by previous customers so you can choose the right ice chest for you.
By looking at the ratings customers of these products leave we can work out which coolers have the most happy customers and which coolers look and sound great but may not live up to expectations.
Why Customer Ratings Are Important
In most of my articles (like this one) I rate coolers based on price, ice retention, quality and features.
However, sometimes just looking at specs, company propaganda and ice retention tests fall short of telling you the truth about a cooler.
Customer reviews, on the other hand, are an amazing source of information and are great for helping us choose the best cooler to spend our money on.In this
In this article, I am going to show you what the top rated coolers are and share some customer reviews with you.
NOTE: In this page I am talking about the high-end roto-moulded coolers like Yeti.
Top Rated Coolers
Below I will list the top rated coolers in decending order. That means the first cooler I list is the one with the highest rating and most reviews
WINNER

Orca –

4.7

Stars (45 Reviews)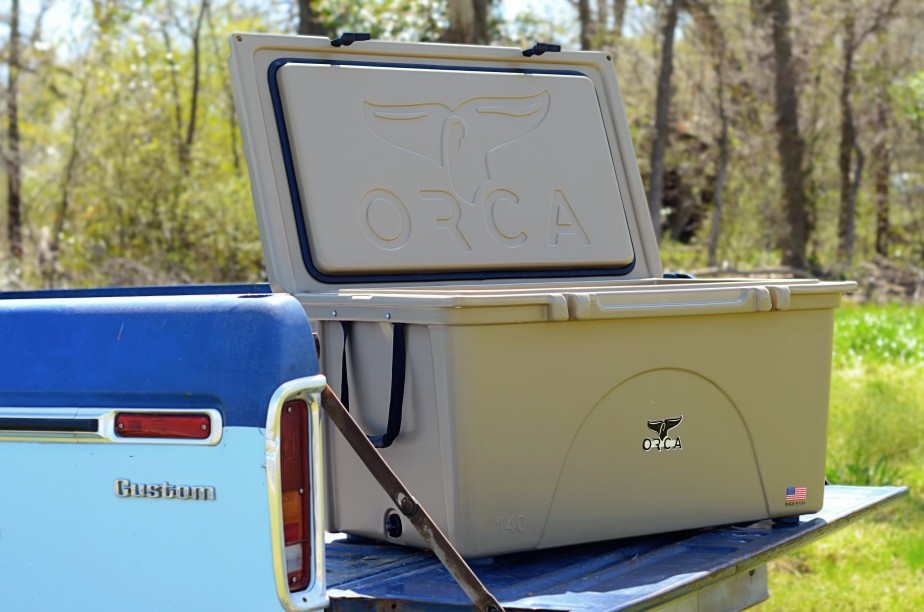 The Orca cooler is one of the highest performing coolers in terms of ice retention and it is proudly made in America (not offshore) so I'm not surprised that it claimed the #1 spot for highest rated cooler.
The Orca isn't the cheapest coolers on the market, in fact it is priced equally to the Yeti, which is one of the most expensive coolers. However, it seems you get what you pay for because the Orca is loved by its customers with an amazing 4.7/5 rating overall.
Positive Review Example
The cooler was a gift from my kids to my husband. It does everything the manufacture claims. We love that its American made and has a lifetime warranty. Plus we had a choice of colors. Its a great size for carrying meat for camping weekends and tough enough to use as the everyday drink cooler on a farm truck. We love people and use things so I wont say we love it. However its great and we are glad we chose Orca.
5 STARS
Critical Review Example
I bought this cooler because it's locally made. I also own a Yeti. The overall quality of the cooler is comparable to a Yeti. They also seam to perform similar. My gripe is with the handle. If you pull the cooler handle to one side it pops out of the set hole very easily. Which then puts scratches in the cooler. For a $230 cooler I'd expect that to be better. Cooler also arrived with the storage net ripped. I contacted Orca's warranty department and they immediately sent a new one.
3 STARS
If you're interested in learning more about this cooler check out my indepth comparison of the Orca vs Yeti
Made In USA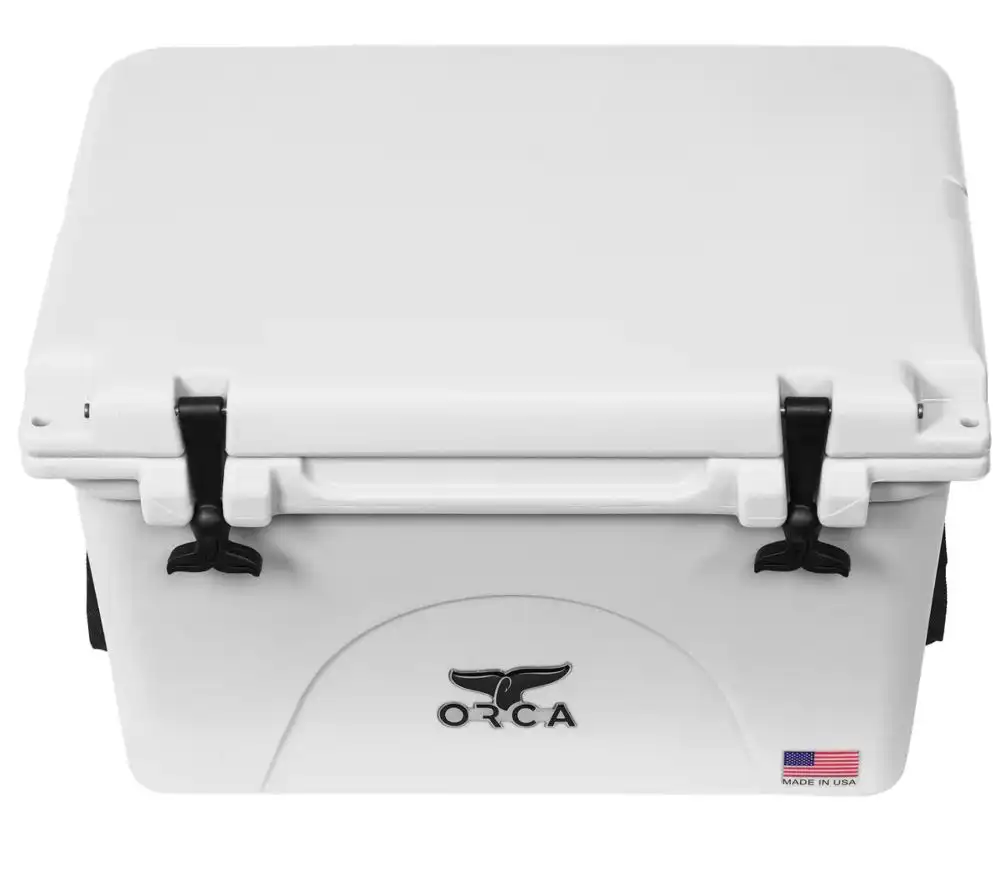 ALSO GREAT

Grizzly Cooler –

4.7

Stars (44 reviews)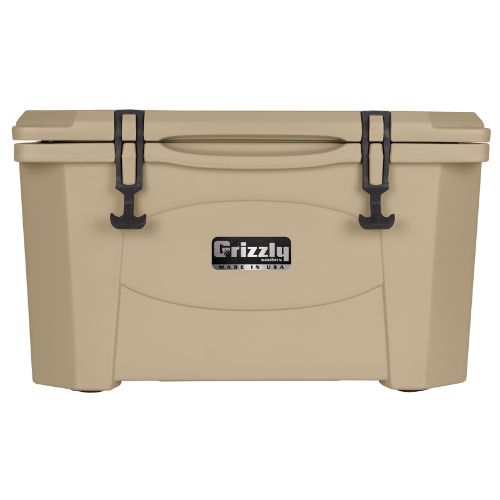 The Grizzly cooler is also a great cooler made in the USA. This rating surprised me because in the ice retention tests I have seen the Grizzly underperformed almost all other roto-moulded coolers.
It still keeps ice cooler for 4-5 days, but just not as long as some other coolers that keep ice 6-10 days and not as good as the Yeti, which has become the standard to test all coolers against.
Yeti you can't argue with the customers and without a doubt Grizzly cooler customers LOVE their coolers.
Positive Review Example
Love this color, Spent around a month trying to decide if I wanted A Yeti, Grizzly, or other brand. Very glad I went with Grizzly. Holds ice very good. Can't go wrong with this cooler
5
Negative Review Example
Waste of $$$$. It does not keep ice for more than 1 day. I have even pre-cooled the chest with frozen milk jug. My pelican box is hands down better that this cooler. An igloo is cheaper and will hold ice for the same amount of time. 2 thumbs down
1 STAR
MOST POPULAR

Yeti –

4.6

Stars (498 reviews)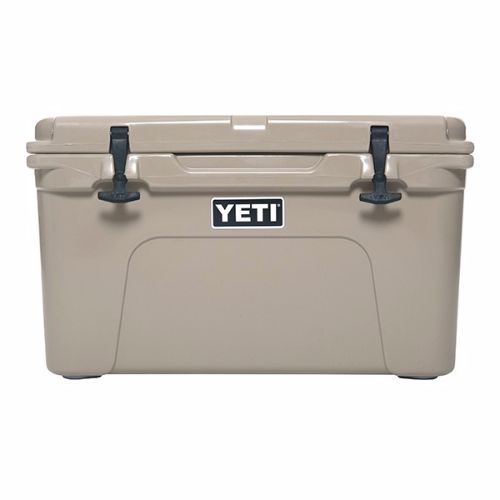 The Yeti is the cooler by which all other coolers are measured. Yeti created the first ever roto-moulded cooler and have a famous brand name for a reason.
Their coolers are rough, tough, durable and keep ice cold for a very long time. With the most reviews of any cooler on the market and an overall rating of 4.6 this is a very impressive cooler and customers are obviously happy with it.
Positive Review Example
You get what you pay for here, and what you get is a cooler that when properly cooled beforehand will keep things frozen for days. No joke. This is the real deal. Don't ever buy another cheap cooler again, save your pennies and buy this one instead. My husband leaves it in a hot car during the day and his lunch and drinks stay completely cold. Awesome.
5 STARS
Negative Review Example
Junk got the tundra 65 for Christmas use it for work one night hardly open the thing maybe open it 5 time and next day nothing but water tried calling yeti no answer left a message and no call back so look into the orca they actually give back from on proceeds
1 STAR
4. Igloo Yukon Cooler –
4.6

Stars (46 Reviews)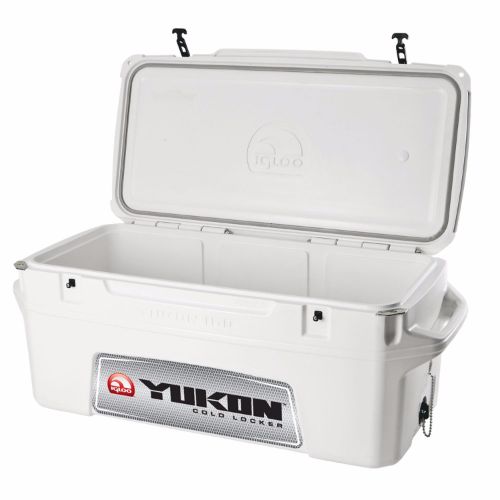 Wow, I did not foresee Igloo making one of the highest rated coolers on the market. I expected this to be a sub-par roto-moulded cooler but if customer satisfaction is anything to go off this is a great cooler for a fraction of the price of a Yeti.
Positive Review Example
This cooler is everything as advertised and more. Very impressed with the performance and durability of this cooler. I packed it with ice and beverages to see how long it would hold ice, going on 9 days so far. It hasn't been that warm out which I know is a factor, but I'm still impressed.
5 STARS
Negative Review Example
Have used it twice will not hold ice the temperature was 70 degrees in the shade and by that evening the ice was just about melted not worth the money drain plug leaks too! Love the handles and latches on it!
1 STAR
5. Pelican ProGear Elite –
4.5

Stars (318 Reviews)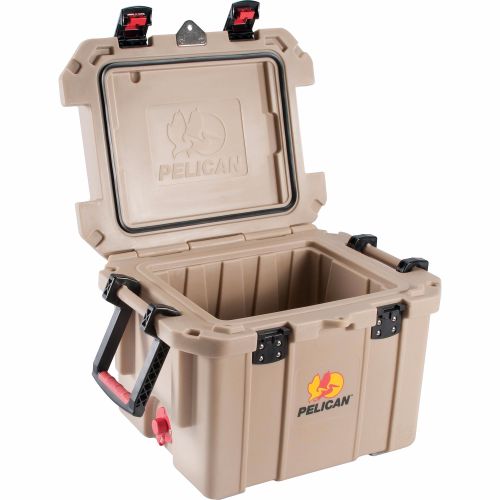 The Pelican ProGear Elite is the most feature-rich cooler with strong fold out handles, integrated ruler, strong metal latches and a drainage plug with a hose attachment.
The Pelican is known to be one of the best coolers on the market and with hundred of positive customer ratings I would definitely feel comfortable buying one of these coolers.
Positive Review Example
I can say after a year of use, my yeti is going on eBay. If you use a cooler constantly like we do, you'll love this. We hit the lake and camp/boat religiously every weekend. This thing is either in front of my camper in the hot sunlight or in the back of my black truck in direct sunlight. This thing holds the ice and it's tough. I've used it as a small ladder, dropped it out of the truck ect. You can't tear this up. The quality is better than yeti, lifetime warranty vs a 5 year at a lower cost. Nita a no brainer. Now, if you use a cooler once or twice a year at the ball game it probably isn't worth the price but if you're in the outdoors often you won't be disappointed. This will pay for itself in ice and durability. I even went and bought a 20qt that fits perfectly in the boat. My yeti has been in the closet since I bought this and will soon be sold.
5 STARS
Negative Review Example
I've used this a dozen times and haven't found it to be this magical cooler that you'd expect for the price. I would say on average my 50 dollar coolers keep ice just as well as this and weigh less. It is sturdy, but expected more out of this product and company. I have multiple pelican gun cases that are great, but this fell short of expectations.
2 STARS
6. Engel –
4.5

Stars (198 Reviews)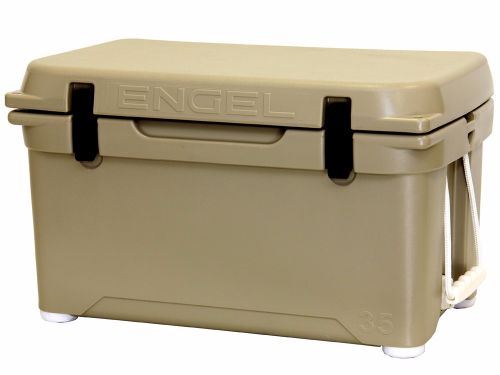 Engel is one of 5 coolers that tends to outperform Yeti in terms of ice retention (the others are Canyon, Pelican, Siberian and Orca) so I'm not surprised to see this cooler with such a respectable rating.
Positive Review Example
serves its purpose and so far has done very well. I've held ice in there for a week or more. You need to get a bag of ice to sacrifice and lower the internal temp before trying to store something for a long time. I quartered a deer and placed in the cooler and it held the heat from the meat until I could get more ice. If you're using it for hunting or a long fishing trip be sure to use a bag to acclimate the cooler first
5 STARS
Negative Review Example
*** BUYER BEWARE *** Do not buy the Engel Deep Blue cooler. These coolers are poorly constructed. When I received my cooler the lid was warped and latches did not latch the lid tightly. These coolers are constructed in Thailand. I had to pay $38.00 to ship the cooler back to the vendor and the vendor will not reimburse me for the shipment cost.
1 STAR
7. K2 Cooler –
4.5

Stars (10 Reviews)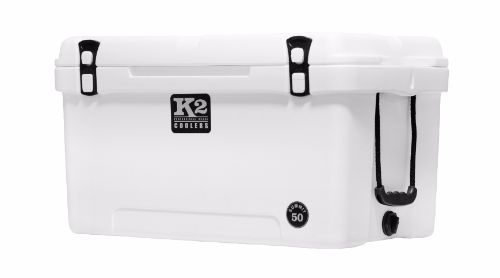 K2 coolers aren't as well known as Yeti or Pelican but they are loved by their customers. A great alternative to the Yeti at a fraction of the price.
Positive Review Example
I love this cooler, ice stays cold, before I go out I keep this cooler in my deep freeze, yeti is buying a brand, k2 is buying quality at a great price, for my cooler needs this one exceeds them, had an issue with Amazon shipping, k2 company pulled through, I will definitely be buying at least one more cooler in the near future. I like the green color, great size for the boat. Ps. (Make one cooler that says "unauthorized opening can result in death") I'd buy it!
5 STARS
Negative Review Example
This is a well built cooler that should last a long time however the ice retention is really no better that the Coleman Xtreme cooler (which I own and this replaced). My Pelican 65 cooler outperforms this cooler by far, but I needed a cooler with the dimensions the K50 had as it fit in my boat well. I normally pack my cooler for 2-3 days with drinks. This cooler in the AZ desert heat can get 2 maybe 3 days with a towel over it to absorb some of the sun, this includes prechilling the cooler and drinks, where my Pelican can make 5 days no problem.
3 STARS
BUDGET PICK

Sub Z Cooler –

4

Stars (32 Reviews)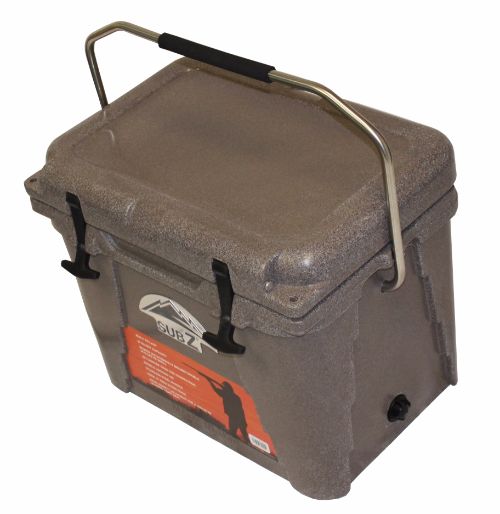 Before creating this article I hadn't even heard of Sub Z coolers. These are ridiculously affordable coolers and can also come with a seat attachment for just $30 more.
Positive Review Example
Gave my son Brad this cooler for Christmas. Couldn't afford a Yeti but this cooler is very comparable at a lower price. 8lb bag of ice kept as ice for 3-4 days. Room for drinks and sandwiches for 4 while at the dirt track. Cooler is heavy when loaded. Anything larger would require 2 people to carry. Exterior is solid and easy to clean.
5 STARS
Negative Review Example
This thing holds ice much better than any department store cooler. I have a Yeti cooler and it's nearly as good, performance-wise. But the quality isn't nearly as good as it should be. The lid will not stay in the open position, it just falls shut as soon as you let it go. The lid does not seal properly and one side wall is deformed. So half the cost of yeti, and half the quality.
3 STARS
9. Canyon –
4

Stars (14 Reviews)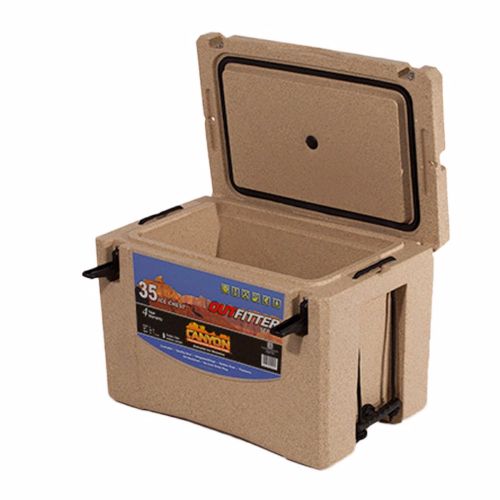 I was surprised Canyon got such a low rating compared to other coolers as I have previously rated it the best camping cooler on that market because of it's extra insulation and premium ice retention.
With over 14 reviews it's hard to make a final call about the rating this cooler will settle on in the future but from the reviews I have read the positive reviews aren't as passionate as other brands like Yeti, Grizzly or Orca and the negative reviews make me doubt my initial impressions of this cooler. More research to be done on this one.
Positive Review Example
We chose the canyon cooler based on price and comparable reviews to other high end coolers. After using it on a month long Baja road trip adventure I can confidently say we made a good choice. We were in and out of the cooler every day and went through about one bag of ice every 5-7 days. Testing shows the Yeti to perform slightly better but it seems negligible considering the price difference. We like the long rope handles for straight arm carrying and straight outside walls for packing around it in the car. Construction is robust and I don't see why we wouldn't have this cooler for decades. Time to give away our old igloo cooler.
5 STARS
Negative Review Example
Purchased this cooler after much deliberation. It's nice and does it's job well….BUT…I'm not wowed by it's performance.
3 STARS
Highly Rated Coolers But Not Enough Reviews
10. Igloo Sportsman –

5

Stars (1 Review)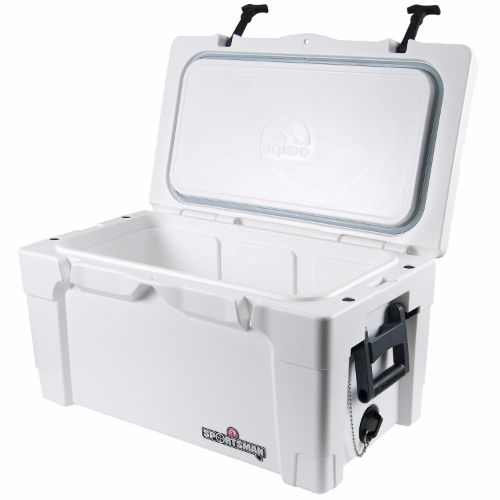 Another roto-moulded cooler from Igloo the Sportsman has a 5 star rating on Amazon, but unfortunately there are only 4 reviews which isn't really enough to go off.
The Igloo Yukon is one of the highest rated coolers so hopefully the Igloo Sportmans are just as good.
Positive Review Example
Great product, purchased at sam's for the same price. Main reason I bought from sam's is the quality issues. Meaning they had eight and only one had perfect seal and no cosmetic blemishes. Cooler worked as advertised, ice was good for all weekend at the lake with continuous opening and closing in sun, still had some ice after the weekend. Amazon has great return policy, at the same time feel better inspecting product before buying (save hassle of mailing back). Sam's also has yeti coolers and those were all perfect (noticed no quality issue though they weigh more, assuming denser insulation). If I could afford the yeti would purchase from Amazon as they seem to have no quality issue.
5 STARS
11. Siberian Cooler –

5

Stars (1 Review)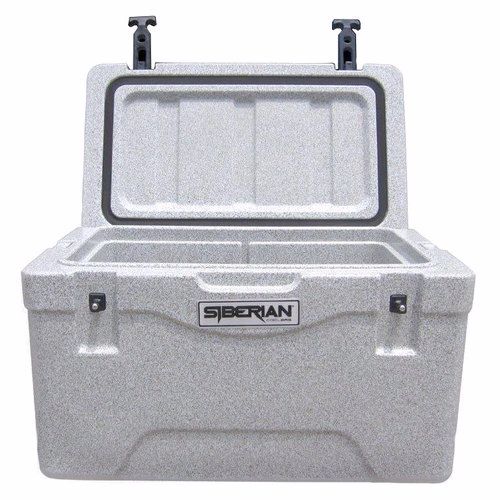 Siberian coolers have better ice retention than Yeti coolers at a fraction of the price. The coolers look great and have a similar feature set to Yeti coolers.
With only one rating it's hard to say whether or not this cooler deserves it's 5 star rating, but hey, at least it doesn't have a 1 star rating.
Positive Review Example
Does the job as any other molded high end cooler would do. 5 days of ice. No complaints
5 STARS
Lowest Rated Coolers
The following coolers had the lowest rating of any roto-moulded cooler. Please take the following ratings with a grain of salt as these coolers are far less popular than other brands and thus have very few reviews.
12. Dometic Cooler –

3

Stars (2 Reviews)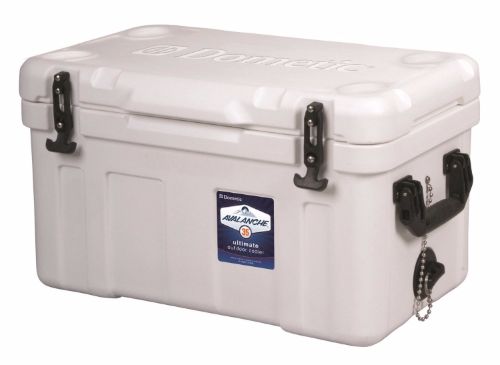 With only 2 reviews (one 5 star and one 1 star) it's hard to say this is a fair rating for the Dometic cooler.
Dometic usually make electric coolers and while I like the cup holders in the lid the handles look like they weren't thought out for carrying a heavy cooler by yourself.
Positive Review Example
I was not disappointed with this purchase. Keeps everything cold, looking forward to using it a lot this summer 🙂
5 STARS
Negative Review Example
Don't waste your money. I have a cheap igloo cooler that keeps ice longer. Put a 2 liter bottle froze solid and did not last 24 hrs.
13. Mammoth Titan Cooler –

3

Stars (1 Review)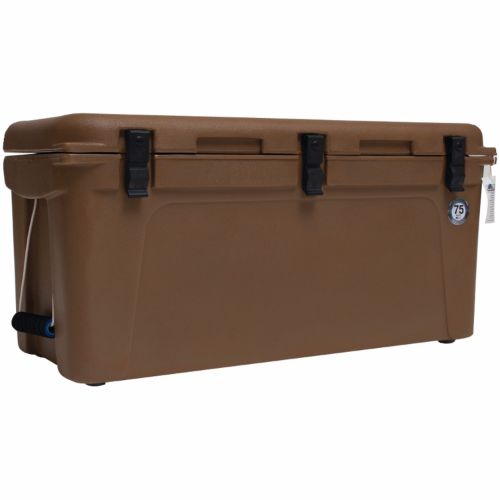 With just 1 review it's again hard to say that this is an honest rating for Mammoth.
I love the name Mammoth and the size of these coolers live up to that name. However, just by looking at these coolers I do feel them look a bit too generic for my liking.
With a name with Mammoth you expect something bold, unfortunately all we get is a plain brown box.
The Review
Pretty good, size and shape perfect! Is not holding ice as long as promised, but still better than ordinary coolers.
3 STARS
Unrated Coolers
The following coolers don't have a star rating at the moment so it's impossible to comment on what customers have said about it.
| | | |
| --- | --- | --- |
| 14. Black Rock Cooler | 15. Icebin Cooler | 16. Magellan Cooler |
| | | |
| | | |
Final Thoughts And Recommendations
Of the 16 coolers mentioned above 7 of them received a customer satifaction rating of 4.5 stars or higher.
If you've got the money to spend and want to get a premium brand then I would suggest the Orca Cooler as it's made in America (Yeti generally isn't anymore) and ranks in the top 3 in terms of ice retention. I don't think you can go wrong with the Orca. .
If you're looking to save $100 or so then my next recommendation would be the Pelican ProGear Elite. This cooler is the heaviest but it also packs the most features. In my opinion, it's the most badass cooler to impress your friends with and also ranks in my top 5 coolers for ice retention which means it will hold ice for a really long time. .