As one of the best-performing coolers with the thickest insulation, a lifetime warranty and a great price the is the best camping cooler on the market.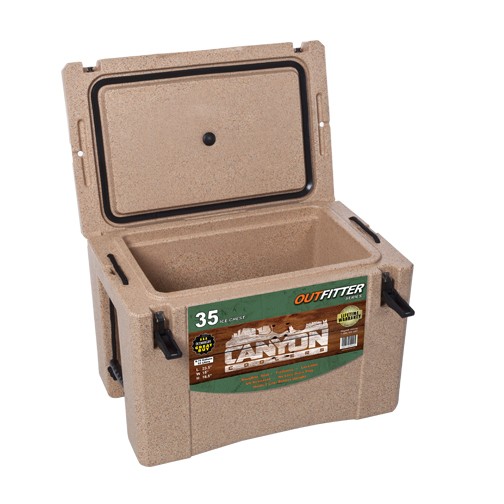 [yasr_overall_rating]
There are a lot of great coolers out there and it was difficult to choose the best option specifically for the camper, but the Canyon Outfitter is worthy of this title.
It has the thickest insulation of all coolers giving it arguably the best ice retention, which is important when you are off the grid for days at a time. In fact, this cooler boasts 6-18 days of ice retention (it'll easily do 8 days) where competitors like the Yeti will likely get you a maximum of 6-7 days.
It is rough and tough and built to be beaten up. This thing is covered in the same plastic they use to make Kayaks and is packed with high-density pressure injected polyurethane foam. You can drive trucks over this thing or drop it off a cliff and it'll survive.
It's one of the lightest coolers at 22 lbs for the 35-quart making transporting this thing a lot easier than other coolers like the Pelican which is over 10 lbs heavier. It has rope handles AND recessed handles for easy carrying by yourself or with a buddy.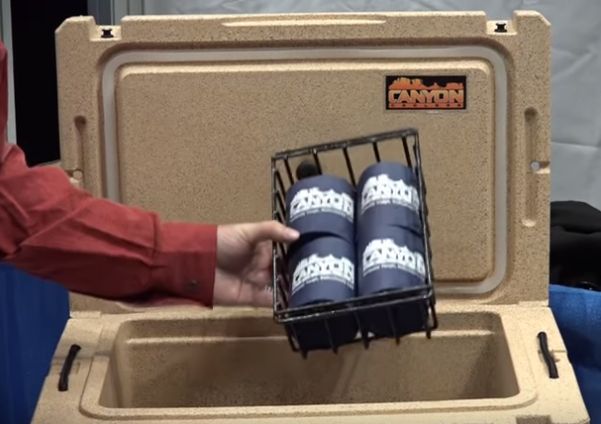 It can be fitted out with awesome accessories like rod holders, cup holders, seats and even a bottle opener.
The price of the Canyon Coolers beat the similar sized Yeti Cooler by over $100 and even beat the Pelican ProGear Elite by $20. This cooler really is the best bang for your buck.
The last thing that really tipped the scale for me was the fact that they are made in the USA (in Flagstaff, Arizona) and their customer support is local and great. They also have lots of replacement parts for cheap if something ever needs fixing.
We will go through all of the above mentioned in more detail but all in all, this is the most practical, well built and most effective US made cooler on the market.
Suggested Sizes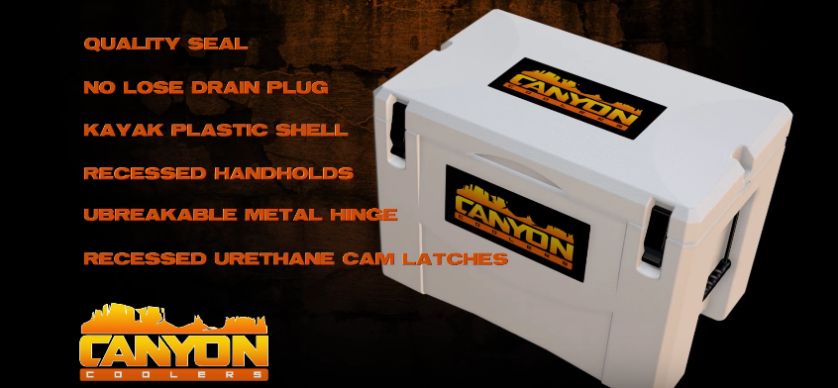 We suggest you grab either the Outfitter 35 (35-Quart) as the best pick as it has the thickest insulation and the best ice retention of the Canyon range.
If you need a larger size, then the Outfitter 50/55 (54-Quart) is still easy to manage and has extra room for camping families or for those where the 35 just won't cut it.
Also Good: Pelican ProGear Elite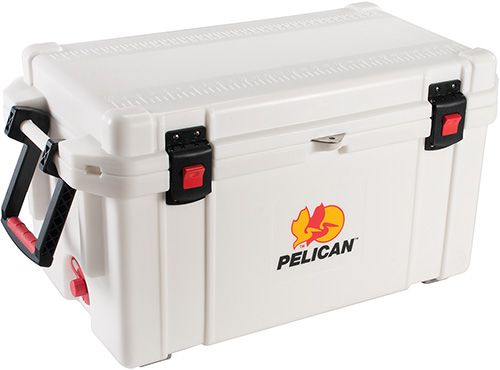 The Pelican ProGear Elite came in a close second to the Canyon Outfitter and is also a great cooler. With similar ice retention to the Canyon and awesome features like their stainless steel clasps, rulers on the lid and strong fold up plastic handles the Pelican is also a great pick.
It's a little more expensive than the Canyon and does have some issues such as a cheap looking plastic drain plug that has a tendency to break and also condensate and drip a lot of water. It's also extremely heavy as coolers go with the 35-quart weighing a whopping 32.28 lbs compared to the 22 lbs Canyon.
It's a great cooler with a strong brand name and if the Canyon isn't for you then the Pelican is your next best option.
What Makes The Canyon OutFitter The Best Camping Cooler?
Picking the best of the best cooler for campers was tricky. There are a lot of great coolers out there from the Yeti Tundra to the less known Siberian and they all have great features and strong ice retention.
It was a combination of 'best-in-category' performances as well as some major flaws with models closest in performance that led me to choose the little know Canyon as the best camping cooler on the market.
Ice Retention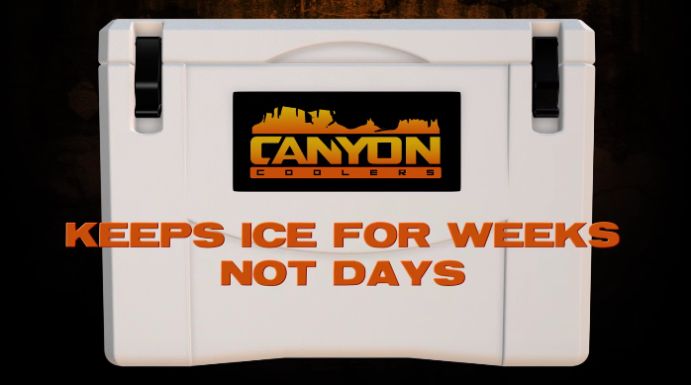 For me and many other campers this (next to toughness) is the most important factor in what makes a great cooler a great cooler. How long can it keep ice for?
If you want to go off the grid then having a cooler that only keeps ice for 1-2 days means you either need to stay close to a local shop/garage that sells ice or you have to go without refrigerated items. This means warm beer! NOOOOOO!
The reference point for ice retention tends to be the Yeti cooler, which is the best-known brand. The Yeti cooler tends to hold ice for 5 days just fine and can hold ice up to 7 days.
The Canyon far outperforms the Yeti with the ability to easily hold ice for at least 6 days and in ideal conditions up to 18 days!
Check out the video below to see 8 days ice retention in the Canyon cooler and this is without using these tips on how to keep ice longer in a cooler.
The Canyon has the thickest insulation in the industry. It has 2.75 inch thick back and side walls, 2.65 inch thick front walls and a 3 inch thick lid. Most of the high-end coolers (eg. Yeti, Pelican + Siberian) have 2 inch thick walls which means there is less insulation to keep your ice cool.
So if ice retention is important to you (and it should be) then you are unlikely to find a better performer than the Canyon. The Pelican and Siberian coolers performed similarly in terms of ice retention and are also a good choice.
Toughness
If there is one thing a cooler needs to be when you go camping is tough. It's going to have stuff packed on top of it in the car, it's going to be sitting in the dirt, it's going to be sat on, it's probably even going to go on our fishing trips or be taken out on the 4×4 track.
A good camping cooler needs to be able to take a beating in it's stride. The last thing you want is a broken and leaky cooler when you are days from the closest store.
I'm not going to lie, all the roto-moulded coolers are tough. There are multiple videos of people driving trucks over these things or submitting them to one form of abuse or another.
The Canyon, Yeti and Pelican are all certified bear proof which is important for people camping in areas where Yogi the bear might turn up. Siberian coolers are NOT certified bear proof which is a major strike against them in the toughness category.
Take a look at a bear trying to break into a 125-quart Canyon cooler. Please note your cooler must be locked on both sides in order to be bear proof.
The Sandstone color of the Canyon has been said by many to be the best option as the white coolers (in all brands) tend to get dirty quite quickly whereas the Sandstone keeps its color and doesn't look dirty.
Price
Price is obviously a strong consideration. Most shoppers want to get the best bang for their buck and don't want to pay more than they have to.
The Yeti Tundra 45 (37-quart) retails for $349.99 and is one of the most expensive coolers on the market. The Canyon on the other hand retails for $239.99 for their 35-quart cooler which is over $100 cheaper than the Yeti. The Pelican ProGear Elite retails for a very similar price, slightly more expensive in most stores and slightly less expensive in some stores.
The Pelican ProGear Elite retails for a very similar price with a RRP of $259.99 and the Siberian 40-Quart is slightly less expensive with an RRP of $229.
The $100+ difference between the Yeti is a huge consideration but the $10-$20 difference between the Canyon/Pelican/Siberian is hardly a consideration at all. If you're going to be spending around $200 on a cooler it's worth the extra $20 to get the right one.
NOTE: You are unlikely to get discounts on Canyon Coolers as they are distributed through dealers and aren't sold to large discount chains.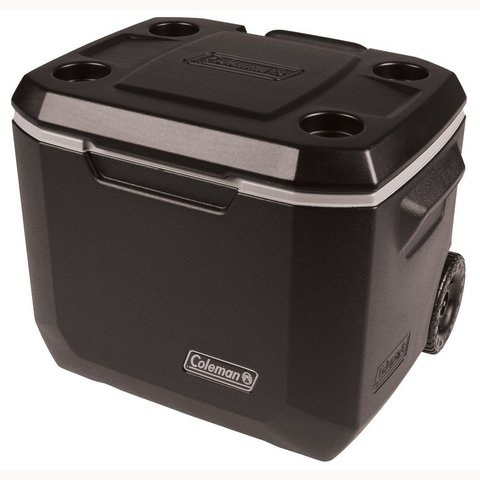 The Budget Pick
If you want to go REALLY cheap the Coleman Xtreme will hold ice for up to 5 days (realistically 2-3 days) for only $57 or so for a 50-quart cooler.
Warranty
Canyon Coolers used to come with a 4-year warranty but they have recently upgraded this and you now get a lifetime limited warranty with any Canyon Cooler you buy.
This puts them ahead of the famous Yeti Coolers who only offer a 5-Year warranty and puts them on par with other coolers like the Pelican that also offer a lifetime warranty.
Weight
There is a fine balancing act with the weight of a cooler. You don't want your cooler to be too light or it likely won't have enough insulation and won't keep ice for as long as possible.
But you also don't want your cooler to be too heavy because it becomes impractical to move it around and lift it in and out of your car/truck.
The Yeti 45 (our standard to measure things by) weighs 23 lbs the Canyon 35 weighs 22 lbs. How they pack in more insulation, keep it tough but make it lighter I have no idea. Maybe it has something to do with them using tough Kayak plastic for the exterior.
The Pelican on the other hand weighs an unwieldy 32 lbs which makes it significantly harder to carry around. Basically only buy a Pelican if you don't care about your back.
| | |
| --- | --- |
| Cooler | Weight |
| Canyon 35 | 22 lbs |
| Yeti 45 (37-Quart) | 23 lbs |
| Pelican 35 | 32 lbs |
Handles
The handles of the Canyon are Nylon rope with plastic handles. Very similar to the Yeti however the rope is longer and there is also recessed handles which can be useful when carrying the cooler by yourself.
The Pelican has the best handles in the industry with recessed handles as well as fold up strong plastic/rubber handles that make carrying your cooler with 2 people much more stable.
However, given the extra 10 lbs of weight in the Pelican this is really a trade off. In my opinion the inferior rope handles are the lesser of 2 evils than being forced to carry around an extra 10 lbs of weight. Especially given the Canyon also has the recessed handles as an alterative option as well.
Features and Add-Ons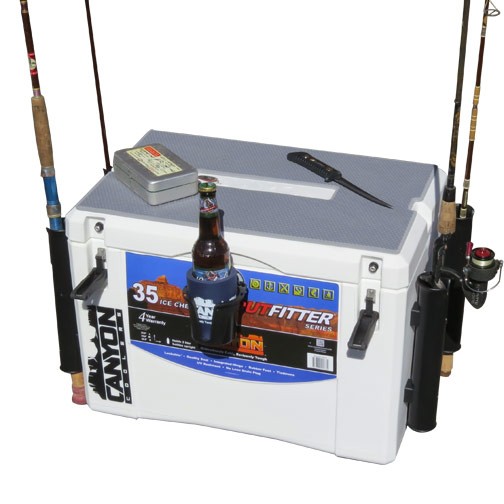 One of the most important jobs a cooler performs around the campsite is that of either a seat or a coffee table.
You can buy accessories like seats, cup holders, rod holster and bottle openers for most high-end roto moulded coolers. What makes Canyon stand out in this department is the affordability of their accessories.
A rod holster from Yeti will cost you $39.95. From Canyon…$8.99.
A seat for the Yeti 45 will cost you $129.99. From Canyon…$89.99.
So if you're the type of person who wants to deck out your cooler and turn it into the Robocooler 3,000 then it's going to be much cheaper to do it with a Canyon cooler than with any other brand.
Sizes and Look
Canyon doesn't have the biggest range in the industry but they do have a decent variety of options so you should be able to find a size that meets your needs.
They have a 22-quart, 35-quart, 54-quart, 74-quart, 126-quart all the way up to a 746-quart cooler for commercial fishing.
The Canyon comes in 3 colors – Sandstone, White and Aqua Marine – with Sandstone being the most popular color as it doesn't show the wear and tear as much as the other colors. This means it will stay looking great for longer.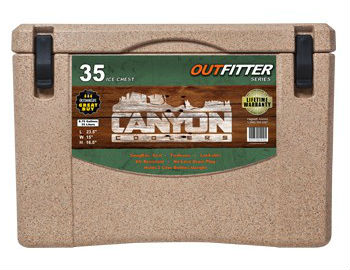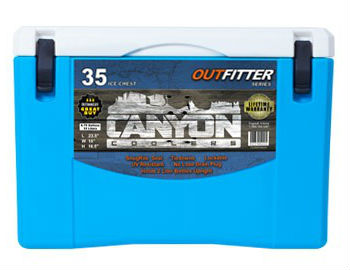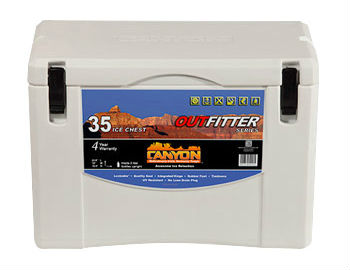 Latches
Having a latch on your cooler is an important aspect of keeping your cooler cold for longer. The latch acts to keep the seal between the lid and the base as airtight as possible.
Most coolers have somethign similar to the Yeti's T-Rex latch system. It's a rubber latch that you pull down and then it locks in with the elastic force of the rubber.
Canyon's latch system is different. It has a cam latch system where you pull the latch up above the pin (attached to the lid) and pulling down. This is slightly easier to use than the rubber latches and is easy to use even when you are wearing gloves.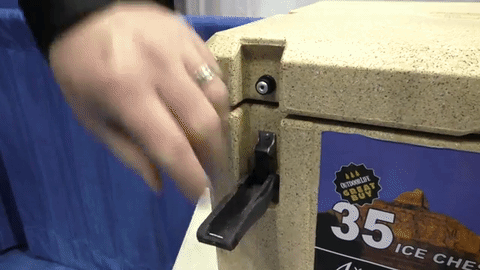 The Pelican has arguably the best latch system of all the coolers out there with stainless steel wide press and pull latches. To close simply push the latch and it will click into place. To open press the button and pull the latch up. These are great latches but they have been known to get sticky and not work as well around sand and dirt so this doesn't make them ideal for camping.
While Canyon's latch system isn't groundbreaking, I do believe it is slightly better than the rubber latch systems of the majority of other roto-moulded coolers.
The thing that is great about the latch system on the Canyon is that it is completely recessed. This means it isn't going to get caught on anything or you aren't going to bump into it or hurt yourself on it. This is a nice little feature that you won't find in many other coolers.
Drain Plug
The Canyon has a 1-inch drain plug the protrudes out from the cooler. It is a no-lose drain cap which means it doesn't come completely off. This is a nice feature as drain caps are often getting lost.
Water still flows nicely out of the plug with the cap causing little interferance.
Made Overseas
Canyon Coolers are located in Flagstaff, Arizona. The plastic shell is made in Thailand but the foam insulation is made in Alabama and the seal is made in New Jersey.
Yeti coolers are made in the USA and Philippines as are Engel Coolers. Siberian coolers are also completely manufactured offshore.
Here is a Slideshare about the Canyon company so you can see for yourself.
So really when it comes down to it, it seems that almost all high-end coolers are manufactured in part overseas. So Canyon doesn't win out there, it's basically on par with all the other coolers.
Customer Support and Parts
The customer support for Canyon Coolers is located in the USA and many customers have actually talked about how good their support is compared to competitive brands.
If something on your cooler breaks (that isn't covered under your lifetime warranty) then you can purchase replacement parts at an extremely affordable price. If something went wrong where you couldn't replace the parts then a call to customer service should hopefully get you a fast resolution.
Flaws But Not Deal Breakers
The Canyon isn't a perfect cooler by any stretch of the imagination and it does have some flaws I want to let you know about.
Rope Handles Are Plastic – The handle attached to the Nylon rope is a solid piece of plastic. When compared to the rubber handles or Yeti and other brands this looks cheaper and makes for slightly harder carrying.
No Wheels – Some brands (like the Pelican) have wheels which made them easier to transport. Other brands like the Yeti have wheels you can buy separately. Unfortunately there seems to be no wheel options for the Canyon.
No Front Lock – The Yeti and Pelican have a space on the front to put a lock. This keeps people from stealing whatever is inside your cooler. The Canyon has 2 corner locks which can achieve the same task, however you'll need 2 padlocks instead of one.
The Competition
Yeti Tundra 45 – With a 37-Quart capacity and the most valuable brand name in the industry I can understand why Outdoor Gear Labs said this was the best camping cooler. Yeti coolers have been out since 2006 and have stood the test of time, but their performance on ice challenges compared to the new and more affordable models on the market left me asking "Are they really worth an extra $100-$200?"…the answer I came to was no.
Pelican ProGear Elite – Originally when I wrote this article I had the Pelican listed as the best camping cooler on the market. With a similar price and ice retention and some better features (handles, bottle opener, ruler on lid) than the Canyon it seemed to obvious pick. However some major flaws (drain is cheap and condensates and leaks on the floor, it's extremely heavy) made me change my mind. If you don't like the Canyon then I definitely suggest the Pelican.
Siberian – Siberian isn't well known but it a great cooler. It is cheaper than most other high-end roto-moulded coolers and beats the Canyon by about $20. However, it isn't bear proof as is completely manufactured overseas.
Engel DeepBlue Series – While this is a great cooler with better ice retention that the Grizzly and the Yeti nothing about the Engel really stands out to me. But at the same (or similar) price to the Canyon, it's worth a look.
Grizzly – The Grizzly is often compared to the Yeti as a cheaper alternative high-end cooler. In our research we found the Grizzly didn't live up to the ice retention performance of other coolers and thus we wouldn't recommend it.
Coleman Xtreme – The Coleman Xtreme is a great cooler for the tightass person who can't comprehend spending over $100 on a cooler. Granted not all of us see the value in a high-end cooler. So if you want to save some money this will hold ice about half as long (or less) but is also a lot cheaper.
In Conclusion
So in conclusion there are a lot of reasons we believe the Canyon 35 is the best camping cooler on the market.
Superior insulation and ice retention, build to last, a great price, affordable accessories, bear proof and so much more.