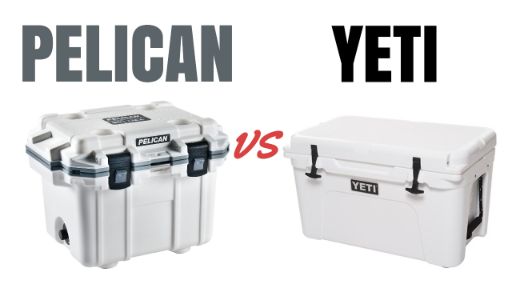 When comparing Pelican coolers vs Yeti you are looking at the two most popular roto-moulded coolers in the world (and for good reason).
In this review we'll go in-depth into what makes these coolers so good as well as how they are different.
After reading this review you'll know exactly which cooler will be the better buy for you?
Will it be the Pelican or the Yeti? Read on to find out.
Brief Overview of Pelican Coolers vs Yeti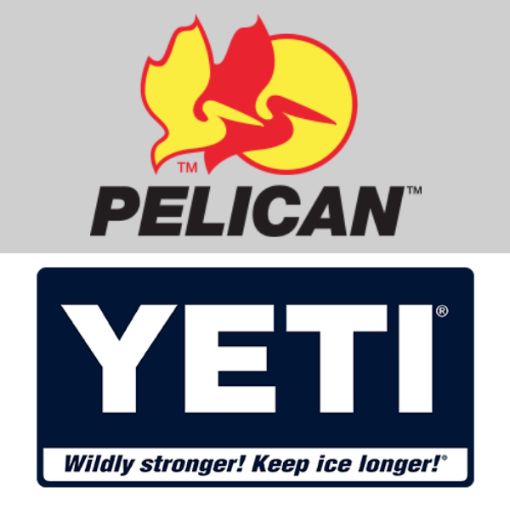 This article will get super detailed in a second, but if you're short on time here's the brief overview:
Yeti and Pelican both make extremely durable roto-moulded coolers that keep ice 5+ days (10 days in my personal ice test).
Pelican coolers hold ice slightly longer than Yeti (approximately 2% longer) and are around $50-$100 cheaper for comparable sizes.
Yeti coolers have a chic, slim-lined design with a high quality gloss plastic finish that looks better than any other cooler on the market in terms of premium quality finish.
Pelican coolers look like a tank with protruding handles, oversized latches and and all around "rough and tough" feel.
Pelican's latches are much nicer and easier to use than the Yeti and they are bear proof without a lock (bears can get into the Yeti if it isn't padlocked).
Older Pelican models (we'll look at the full range in this article) weigh a full 10 lbs more than a Yeti of a similar size. The newer Pelican models are of a similar weight.
I'll leave my final opinion for the end of this article after we have looked at each cooler in details, but basically, when it comes to Pelican vs Yeti, both coolers are great with the Yeti being more expensive and having a more premium finish and the Pelican being slightly cheaper and feeling (without being sexist) like a "Man's man cooler".
Quick Comparison
Pelican Cooler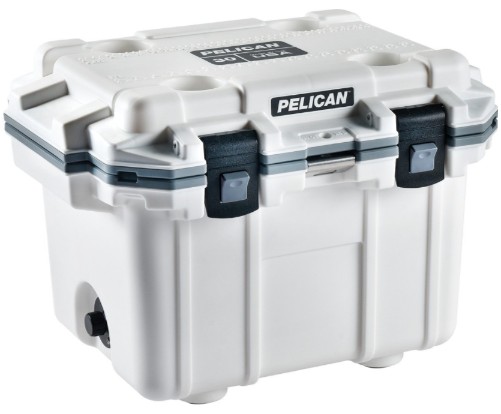 Price: See latest price at Amazon
Sizes: 20 Quart – 250 Quart
Ice Retention: 4-10+ Days
Durability: Extremely durable
Colors: Lots of color choices
Features:
Fold Up Plastic Handles
Rubber Non Slip Feet
Commercial Grade Gasket
Pull and Pull Latches
1 Inch Drain Plug (attached)
Single Pin Hinge
Lifetime Limited Warranty
Bear Proof (without locks)
Moulded In Side Handles
Measurements on Lid
Yeti Cooler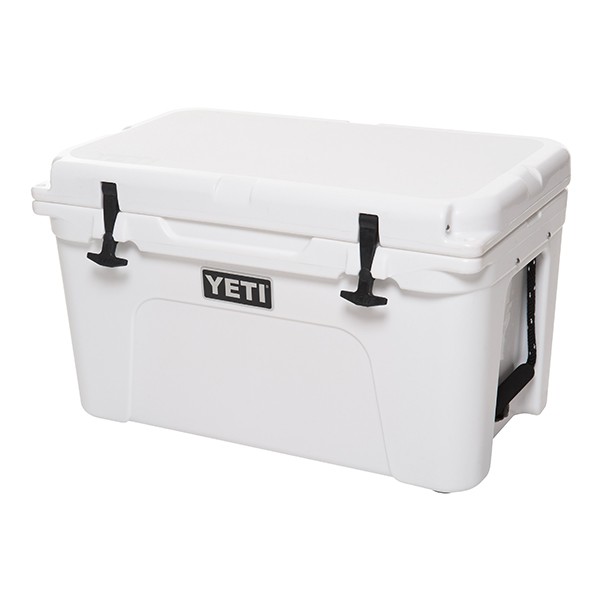 Price: See latest price at Yeti.com
(or compare to price at Amazon)
Sizes: 24-300+ Quart
Ice Retention: 4-10+ Days
Durability: Extremely durable
Colors: Lots of color choices
Features:
Nylon Rope Handles
Rubber Non Slip Feet
Commercial Grade Gasket
Pull Down Rubber Latches
1 Inch Drain Plug
Single Pin Hinge
5-Year Warranty
Bear Proof (with locks)
Ice Retention and Performance

Before we get into the price differences of the coolers I first want to talk about ice retention performance.
It isn't worth saving money on a cooler if the cooler doesn't perform as well.
Let's have a look at the performance of these two coolers to determine which is better.
One of the main reasons roto-moulded coolers like Yeti and Pelican are so expensive is because they can keep ice way longer than a regular cooler. We are talking 5-10 days instead of 1-2 days.
So before purchasing it's important that we check the ice retention performance of each cooler.
Ice Test Results
I recently did a side-by-side ice test – see image – of a Yeti Tundra 45 (37-Quart) vs a Pelican ProGear Elite 35 (35-Quart).
I pre-chilled each of the coolers and packed them full of ice and a 6 pack of my favorite beer. I then opened the coolers 5 times a day and documented the results.
The Pelican outperformed the Yeti, but only just.
In good conditions (70 degree days, kept in the shade) the Yeti held ice 10 days 4 days while the Pelican held ice for 10 days and 8 hours.
4 hours better performance in a 240+ hours ice test isn't a lot, but it is interesting to note the Yeti started with 2-Quarts' more ice than the Pelican giving it a slight advantage. Given these results it's safe to say the Pelican outperforms the Yeti, albeit slightly.
Many other ice tests have also been done and they consistently show the Pelican cooler performing either equal with, or slightly better than the Yeti.
Insulation
The Pelican's better performance is likely down to it's slightly thicker insulation.
The Yeti has 2 inch thick walls and approximately 2.5 inch thick lid.
The Pelican on the other hand has 2.5 inch thick walls and a 3 inch thick lid.
If premium ice retention is your #1 priority then the Pelican is going to be the best choice for you. But for most people I think these coolers are close enough in ice retention that this won't be a deciding factor.
Price
Price is going to be a major deciding factor on which cooler you end up buying.
Most people want to get the best bang for their buck and if you're going to be spending $300+ on a cooler you want to make sure you buy the right one and don't overpay.
Like most people, I don't want to pay too much if I can get a better cooler for cheaper. So let's have a look at which cooler offers the better deal.
Pelican Coolers Are Less Expensive Than Yeti, But Only Just
See the latest price of Pelican coolers at Amazon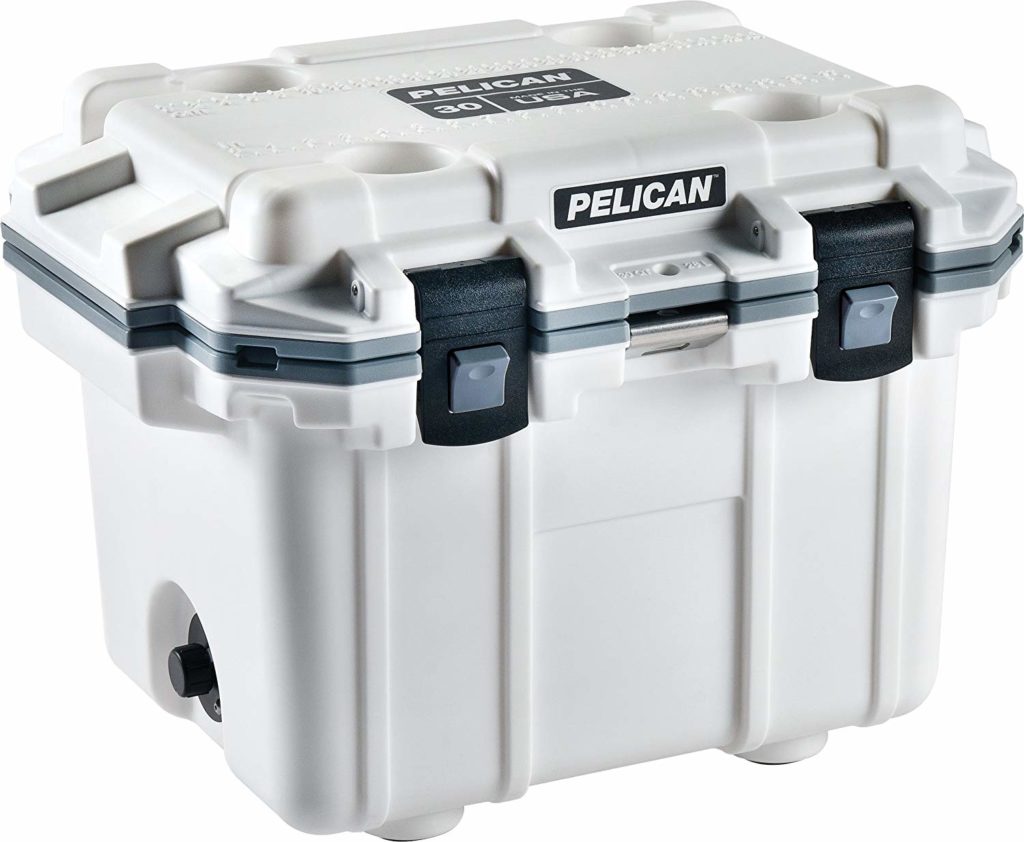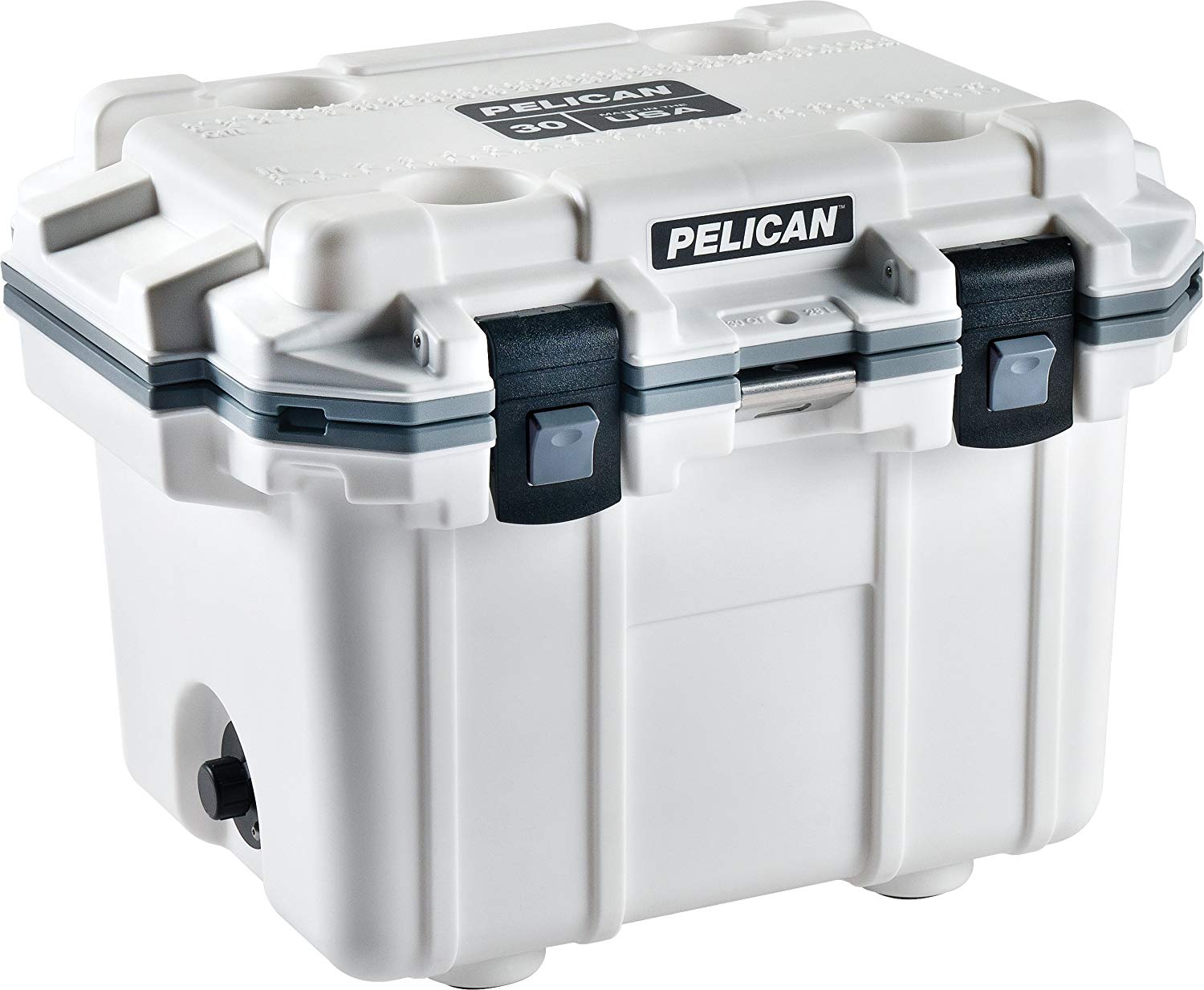 Pelican coolers used to offer a huge saving compared to Yeti coolers. We are talking $100+, which is huge.
However, in August 2016 they raised their prices and are now only slightly cheaper than Yeti. As you can see from the pricing chart most models are around $50 cheaper than Yeti, with the 20QT model being strangely more expensive.
Also, while Yeti coolers are basically never on sale there are often opportunities to grab a Pelican cooler for a discounted price.
A quick search for Pelican coolers on Amazon can often bring up discounted products. As I am writing this I can see the Pelican 35 is $40 less on Amazon and the Pelican 45 (in white only) has a $50 discount compared to it's regular pricing.
If you buy your Pelican at the right time, from the right place (generally I use Amazon to find the best price), then it is possible to save a full $100 by buying a Pelican cooler instead of a Yeti cooler.
When comparing prices of Pelican coolers vs Yeti coolers the Pelican cooler is the best priced cooler, and if you are looking to save some money then the Pelican is a great option.
Design and Feel
This is where I feel the two products really differentiate from each other.
Yeti Design: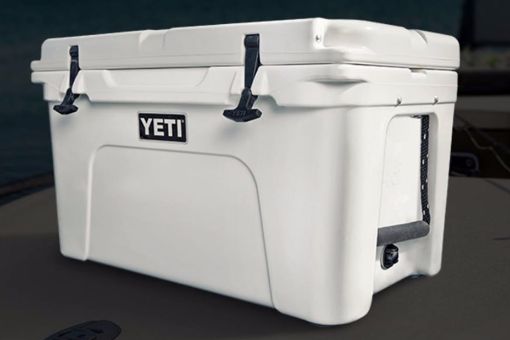 The Yeti cooler is a really well designed cooler. It has a slim lined and minimalist feel to it with very few protruding elements.
The plastic is a high quality gloss which, according to my wife who has an eye for such things, looks REALLY NICE.
I call the Yeti the iPhone of the cooler world because it looks like a high end designer product. It's hard to pinpoint why exactly the design is so good, but it definitely feels like a premium cooler with a great design.
Pelican Design: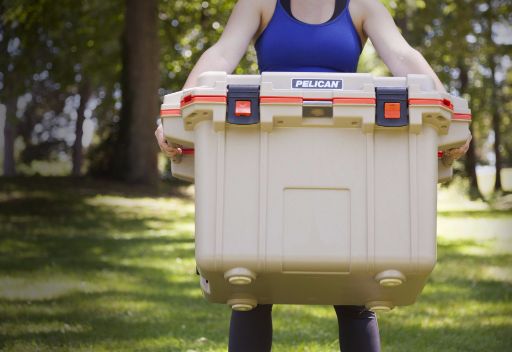 The Pelican is about as slim lined as an Elephant. It has a large protruding rim with handles that stick out on the sides. The latches look oversided and the hard lines and lack of curves on this cooler make it look really tough.
The best word to describe this cooler is "Beefy".
It feels rough and tough and has a masculine feel to it that you don't get from any other cooler. The plastic isn't as nice as the Yeti and as a result the Pelican has a "cheaper" feel to it even though it is just a robust.
If the Yeti is a sophisticated iPhone, the Pelican is a monster truck.
Sizes and Capacities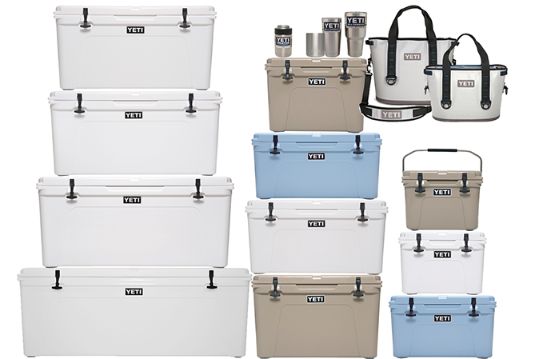 Both the Yeti and the Pelican have a wide range of cooler sizes available, starting at 20-Quart and working their way up from there.
NOTE: It's really important to note that Yeti model names do NOT represent the internal capacities of their coolers. Yeti are misleading in their naming of their coolers. Check our full list of Yeti cooler capacities to ensure you know exactly what you are getting.
Pelican on the other hand have model sizes that directly relate to the internal capacity of their coolers with little variation.
Yeti has a larger range of cooler sizes, and their range extends higher up than the Pelican with their top size being the 420 Model vs the Pelican's 250-Quart model.
When it comes to Sizes Yeti also has a variety of other cooler options that Pelican doesn't have.
They have a soft cooler range (called the Hopper) that comes in 4 sizes and they have a round cooler (called the Tank) that comes in 2 sizes.
Features
Most coolers like Yeti but cheaper have features that are simply a copy of Yeti's. What I like about the Pelican cooler is that a lot of their features are unique and they aren't just a carbon copy of the Yeti.
Roto-Moulded Construction and Durability

Both of these coolers are uni-body roto-moulded construction. What this means is that the main body of the cooler is construction from a single piece of roto-moulded plastic that is the same thickness all the way around.
This makes the coolers extremely strong and robust, allowing them to withstand bear attacks, drops from speeding cars and almost anything else you can throw at them.
The strength and durability of these coolers is difficult to test as you need to completely destroy the coolers to see which is better.
In the video below Gear Testathon put these 2 coolers through fire tests, drop tests and even shotgun tests, and both held up equally well. So both of these coolers are made to last.
Latches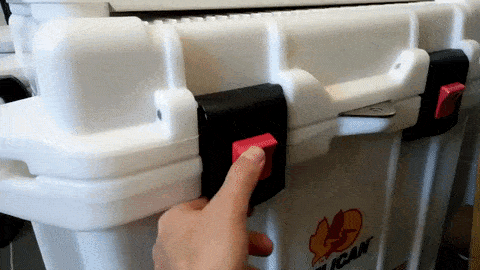 The latches on the Pelican are superior to the Yeti in multiple ways.
Ease of use – Firstly the push and pull latches of the Pelican are so easy to use my 4-year old can open the cooler with 1 hand. You won't find these latches on any other cooler, they are unique to Pelican.
The pull down rubber latches on the Yeti are easy enough for an adult, but nowhere near as easy and delightful as the Pelican.
Durability – Rubber, even the tough rubber used on Yeti latches, wears over time especially when exposed to sunlight. The bolted in latches of the Pelican are likely to outlast the rubber latches of the Yeti
Satisfaction – There is something really satisfying about pushing the Pelican cooler latches into place and hearing that solid "click" as the mechanism engages. You just don't get that with the Yeti.
Handles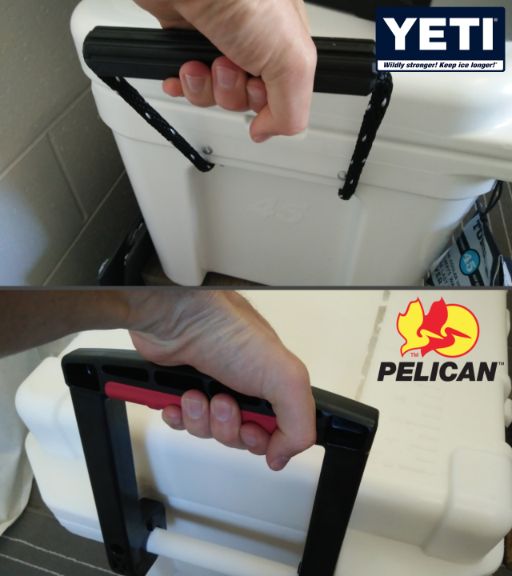 Yeti coolers have nylon rope handles with rubber hand grips that work fine. They sway a bit when carrying, which when the cooler is full loaded can make carrying a little more difficult.
Yeti also has moulded in handles, but these are partly filled with the knots in the rope handles meaning you can only fit a few fingers in there, your hand doesn't fit comfortably.
Pelican coolers have really nice and strong pull up handles which make carrying much easier. They pull up above the cooler meaning you don't have to lean as far down to pick up your cooler.
Pelican also has moulded in side handles that stick out from the cooler and are really easy to grab.
Pelican's handles are an improvement on Yeti's however the weight of the older Pelican models (being 10 lbs heavier than a Yeti of a similar size) makes them harder to carry overall.
Bear Proofing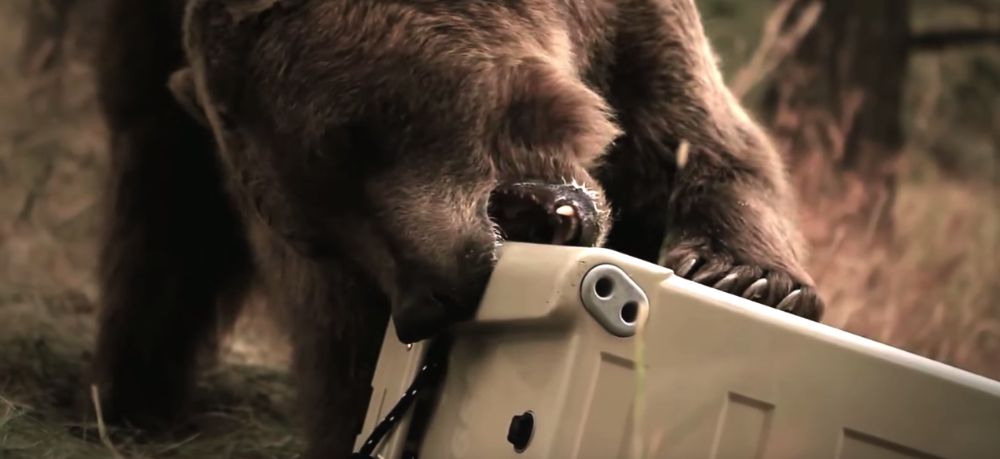 Both coolers are certified bear resistant and have been tested against real bears.
Both coolers technically require locks in order to be bear resistant. The Yeti requires 2 locks in each of the front corners and the Pelican requires 1 lock in the center at the front.
However this popular mechanics article showed that Pelican coolers can be bear resistant without a lock, while bears can use their teeth to open the rubber latches of a Yeti cooler.
So, while both are bear proof it's nice to know if you forget to lock your Pelican and a bear happens to come along the chance of that bear getting into your stuff (and hanging around to see what else is available) is slim to none.
Measuring Tape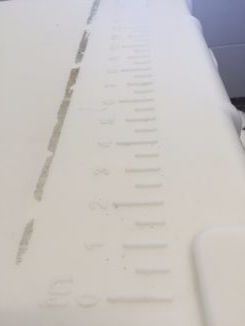 A cool feature that the Pelican has that the Yeti doesn't is a measuring tape built right into the lid of the cooler.
This makes a whole lot of sense. Fisherman love to use these coolers and to be quickly able to measure your catch on the lid of your cooler is a great feature.
For people camping, canoeing or using it for other purposes I can't see if having a great deal of use.
But hey it's there if you need it – in both inches and cms.
Drainage Plug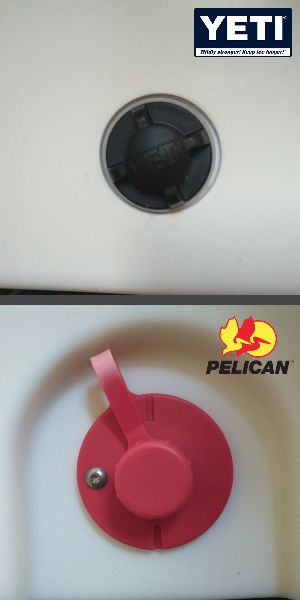 You wouldn't think the drainage plug would be worth mentioning, but it is quite different on these two coolers so it's worth touching on.
The Yeti has a 1 inch drain plug that is detachable. It's made so you can do a partial turn and empty your cooler without taking the plug out, or you can take it our completely. If you do just be careful you don't lose it! (trust me it happens easier than you think).
The Pelican has an attached 1 inch drain plug that doubles as a garden hose connector. If you wanted to drain your cooler away from it's location I can see this as being potentially useful, but not many people will do this.
Personally I actually prefer the Yeti drain plug with it's partial turn mechanism and something about the Pelican drain plug feels a big cheap to me. It's a small thing and neither is a deal breaker so it's not worth dwelling on.
Color Options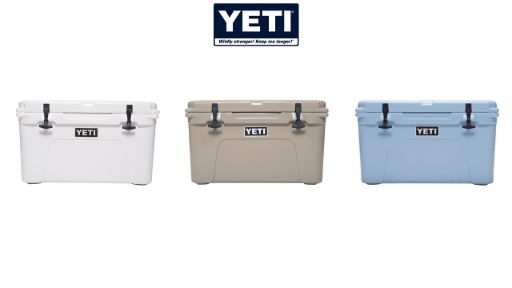 The Yeti comes in multiple colors – White, Desert Tan and Charcoal are their main colors. These colors are all really nice with the white being my favorite. However, Yeti often releases limited editions colors so there are actually often so many colors to choose from. See the full range of Yeti cooler colors.
As previously mentioned the Yeti coolers all have a premium glossy plastic that looks AMAZING! When you open the box and see if for the first time it really looks like a premium cooler, and for $300+ you want it to look good.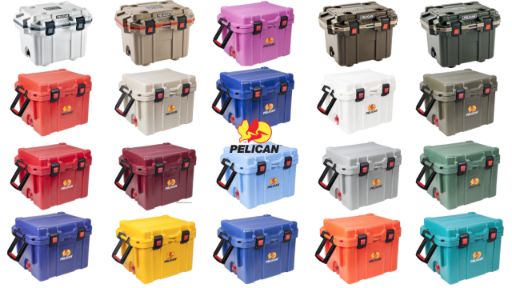 The Pelican comes in a multitude of colors. The original model comes in up to 16 colors (Maroon, Light Blue, Outdoor Tan, Marine White, Grey, Dark Blue, Aqua, Orange, Red, Blaze Orange, Forest Green, Deep Purple, OD Green, Dark Yellow, Midnight and Purple) and the newer models comes in 4 dual color combos (white/grey, tan/orange, OD green/Tan, Brown/Tan).
The Pelican, with its wide variety of colors, really gives you the opportunity to express yourself. You could go with the basic white or tan and it'll still look great…or you can go crazy and get the bright orange, yellow or the purple cooler and make yourself stand out.
The plastic isn't as glossy as the Yeti and thus doesn't look as "premium", but don't get me wrong it is still super high quality.
Other Features

Other features worth noting, but don't really vary from brand to brand are:
Gasket – Both Yeti and Pelican have a commercial grade rubber gasket to keep the cold air in and the hot air out. Both generally have a small gap where the ends of the gasket meet each other, meaning neither of these coolers will be 100% airtight.
Non-slip Feet – Both the Yeti and the Pelican have strong non-slip rubber feet. This means whether you are putting these coolers in the back of your truck or using them to cast off while fishing they aren't going to slide around.
Single pin hinge – Both coolers utilise a single pin hinge, where a singular bolt spans the full length of the hinge. This makes the hinge mechanism SUPER STRONG and unlikely to ever break.
Locks – The Yeti has 2 locking points on the front corners and the Pelican has a single locking point in the center. The Pelican's locking point sticks out as a triangle and makes carrying the cooler with the front against you impractical (though this is only with the older models)
Tie Down Points – Both coolers have tie down points. Yeti has two on it's shorter sides and Pelican has 4, one in each corner. Yeti's double as a place to add additional accessories which I will talk about now.
Accessories
Sometimes you might want to deck out your cooler with some accessories to make it just a little bit better than it already is.
While the Yeti has a decent range of accessories the Pelican's accessory lineup is severly lacking.
The Pelican offers just 3 accessories. A dry basket (for a whopping $50+) a soft seat and a tie down kit.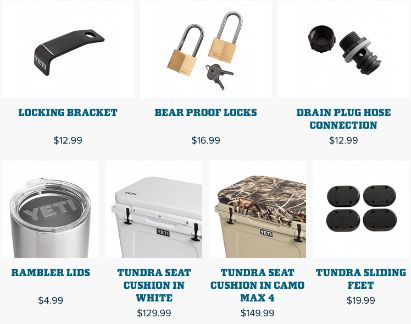 The Yeti on the other hand offers way more in terms of personalisation. We are talking dividers, bottle openers, soft seat, seadeck (non slip lid), beverage holders, multiple tie down sets, locks, garden hose plug, sliding feet and a dry basket for only $9.99.
Oh and did I mention Yeti's come with a free dry basket while the Pelican doesn't?
When it comes to accessorising your cooler the Yeti has a lot of options. If you want to accessorise your Pelican you'll have to do it with aftermarket products.
Manufacturing Locations
In short (see the longer article) Yeti primarily manufactures their coolers overseas (in the Phillipines) with some coolers being made locally in order to keep up with demand. It is possible to ensure a US made Yeti, but you are required to call the company in order to do so.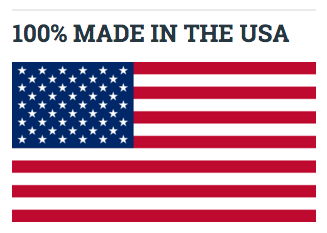 Pelican coolers are completely made in the USA, which is displayed proudly on a sticker on the front of each cooler. In fact, they are one of the best coolers made in the USA.
At the end of the day I'm not too fussed about manufacturing location, but if you are then this may play a role in which cooler you decide to buy.
Warranty
On the surface the Pelican cooler's warranty looks better than Yeti's. A "lifetime warranty" for the Pelican vs a 5-Year warrant for the Yeti.
But when you dig a little closer you'll find both warranties have their pros and cons.

Pelican's lifetime warranty covers the main body of the cooler for life, which is great. But they only give you a 90-day warranty on parts like the gasket, rubber feet and latches which are more likely to break.
Add to this no obvious way to source parts if these were to break after the 90-day window and the lifetime warranty kind of looks a bit useless. What good is a warranty on the body of the cooler if other parts break and you can't fix them?

The Yeti on the other hand has a 5-Year warranty, but this covers everything from the cooler to the latches and the gasket. After 5-Years your warranty will be up and you have to hope your cooler doesn't break after that.
The great thing about Yeti is that their distribution is huge and parts are much easier to come by if the do infact break.
So looking more closely I would feel more comfortable with the Yeti's 5-Year warranty covering anything and everything instead of the Pelican's limited lifetime warranty.
Yeti vs Pelican Cooler Problems
No cooler is made perfect and the Yeti and Pelican are no exception to this. While I've written full articles on the problems with Yeti and problems with Pelican I will summarize quickly here.
Problems with Yeti Coolers
The main problem with the Yeti cooler is the price. They are the most expensive roto-moulded cooler on the market (with the exception of a couple of hardly known brands). Many people question whether it's worth paying extra for the Yeti branding.
Yeti coolers don't have the best ice retention in the industry, the drain spout can be easily lost and the T-Rex latches can be hard and annoying to use.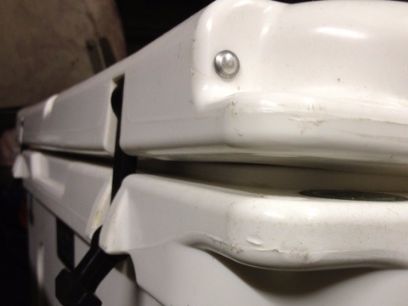 Some customers have also experienced warping and there are mixed reviews on the quality of their customer service with some saying Yeti are generous and helpful and others feeling belittled and ripped off.
Yeti also only have a 5 year warranty compared to the lifetime warranties of other coolers.
All in all Yeti's problems are small and no single problem is a deal breaker. Overall they are great coolers.
Problems With Pelican Coolers
Most of the problems with Pelican coolers relate to the original model. Some of these problems have been fixed on newer models.
Condensation – The drainage spout is known to condensate a lot for some people, causing puddles on the floor which can be annoying.
Stabbing – The front lock stabs you in the stomach if you try to carry your cooler with the front against your body. This can be solved by carrying it the other way round or by purchasing a newer cooler where the lock doesn't protrude anymore.
Not Leak Proof – The latches don't apply downward pressure on the lid and have some give. This means if you accidentally knock the cooler over it will spill water everywhere.
Only 90-Day Warranty On Some Parts – The last major problem (apart from occasional product defects which are covered under warranty) is that the "lifetime warranty" only applies to the body of the cooler itself. The latches, feet, gasket ect are only covered under a 90-day warranty which is a terrible warranty for a cooler this expensive.
Pelican Coolers vs Yeti Conclusion
Two great coolers, but which is going to be the better buy?
Each cooler has their pros and cons meaning neither is undoubably better than the other. In saying that, I don't want to leave you hanging so I'm going to give you my honest opinion about which cooler I like better (in which situations) and why.
My Preferred Cooler: Yeti Tundra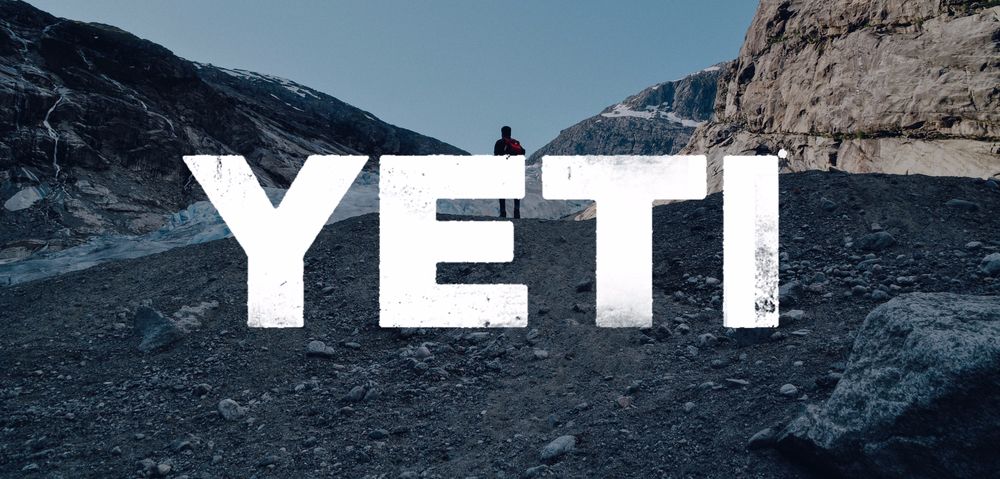 When comparing Pelican coolers vs Yeti my preferred cooler is the Yeti for a couple of reasons.
The ice retention in the Pelican is better, but it is only marginally better. The Yeti performs really well in ice tests and I am happy with it compared to other coolers that are similar.
I'm luckily in the situation where I can afford the extra $50-$100 to buy a Yeti over a Pelican so the difference in price isn't really an issue for me.
The real reason I prefer the Yeti is the fact that it is less bulky than the Pelican (taking up less room in my campervan) and the design looks nicer which makes the wife happy. Seeing as I'm spending hundreds of our hard earned money on a cooler she has to be pleased with it also.
The Yeti is also significantly lighter than Pelican. I'm a skinny guy who is actually a computer nerd at heart, so the lighter weight just makes carrying the cooler around so much easier.
I 100% prefer the Pelican's latches and handles. My kids can't even open the Yeti which is a pain, but they can easily open the Pelican.
In a perfect world my Yeti would have pelican latches and have slightly thicker insulation like the Pelican, but you can't have everything.
Why You Should Buy A Pelican Cooler Instead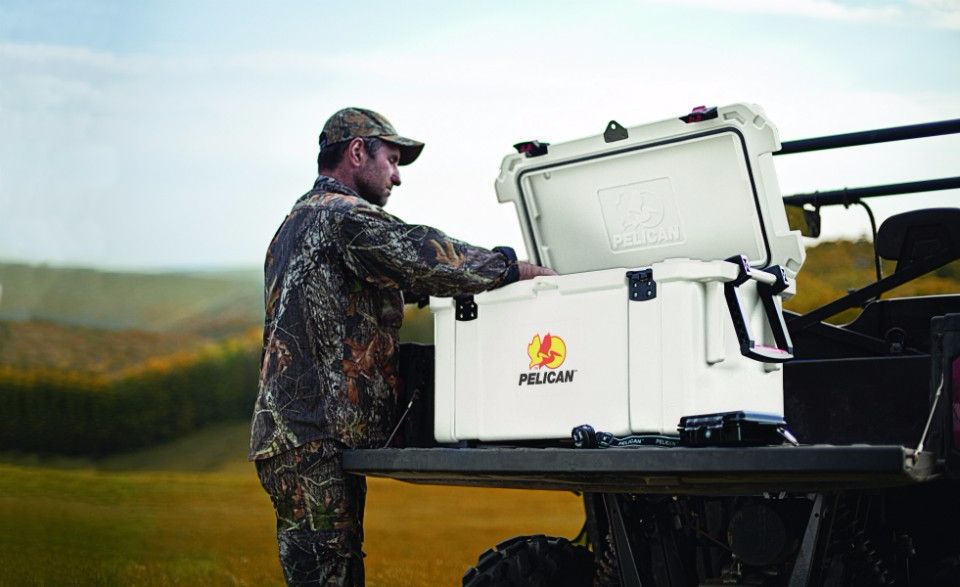 Ok I said I preferred the Yeti cooler over the Pelican, but if my life was different I would likely make a different decision.
The Pelican cooler is cheaper (saving you $50-$100) so that suits people who have a tight budget.
The Pelican cooler keeps ice longer and frankly it looks badass. If I was a single guy, or a man's man (of which I am neither) I would love to own a Pelican. Owning a Pelican cooler is like a personal display of masculinity and would be sure to impress your friends.
In Summary
So in summary, both coolers are comparable with each having pros and cons. The Pelican is cheaper, holds ice longer and has awesome latches.
The Yeti is lighter with a more streamlined and premium design and keeps ice almost as long.
Both coolers are great, it's now up to you to decide which cooler is best for you.
Click the links below to choose for yourself (my affiliate link, thanks). Pelican vs Yeti…which one will you choose?
Pelican Cooler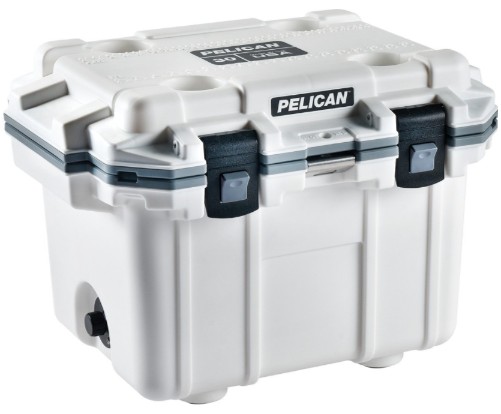 Price: See latest price at Amazon
Sizes: 20 Quart – 250 Quart
Ice Retention: 1-2 Days
Ice Retention: 4-10+ Days
Durability: Extremely durable
Colors: Lots of color choices
Features:
Fold Up Plastic Handles
Rubber Non Slip Feet
Commercial Grade Gasket
Pull and Pull Latches
1 Inch Drain Plug (attached)
Single Pin Hinge
Lifetime Limited Warranty
Bear Proof (without locks)
Moulded In Side Handles
Measurements on Lid
Yeti Cooler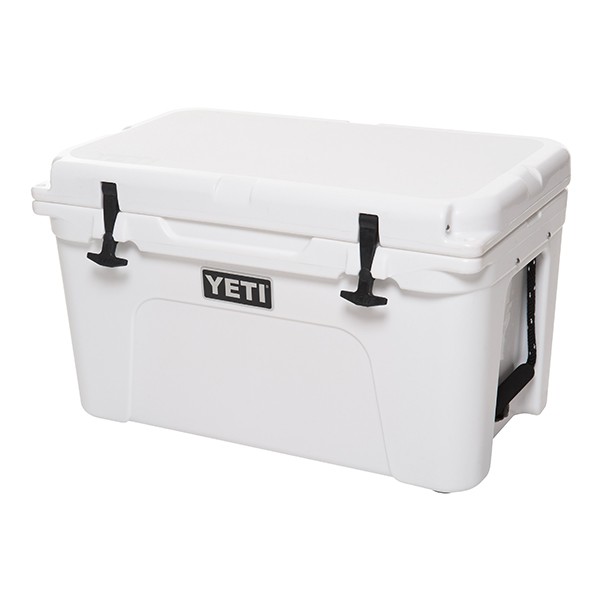 Price: See latest price at Yeti.com
(or compare to price at Amazon)
Capacity: 24-300+ Quart
Ice Retention: 4-10+ Days
Durability: Extremely durable
Colors: Lots of color choices
Features:
Nylon Rope Handles
Rubber Non Slip Feet
Commercial Grade Gasket
Pull Down Rubber Latches
1 Inch Drain Plug
Single Pin Hinge
5-Year Warranty
Bear Proof (with locks)
Ice Retention and Performance
Thanks for reading, and until next time, stay cool!