Yeti coolers come in 2 main colors – white and desert tan, but they also have multiple limited release/seasonal colors like Seafoam, River Green, Charcoal and even Pink.
Ice Blue used to be a standard Yeti color but it was discontinued in 2019 in favor of Seafoam Green which seems to be a new standard color alongside white and tan.
Please note: Links used in this article are affiliate links. If you purchase a product through this link we earn a small commission. Thanks for your support.
Below is a list of all Yeti color options that are available.
1. White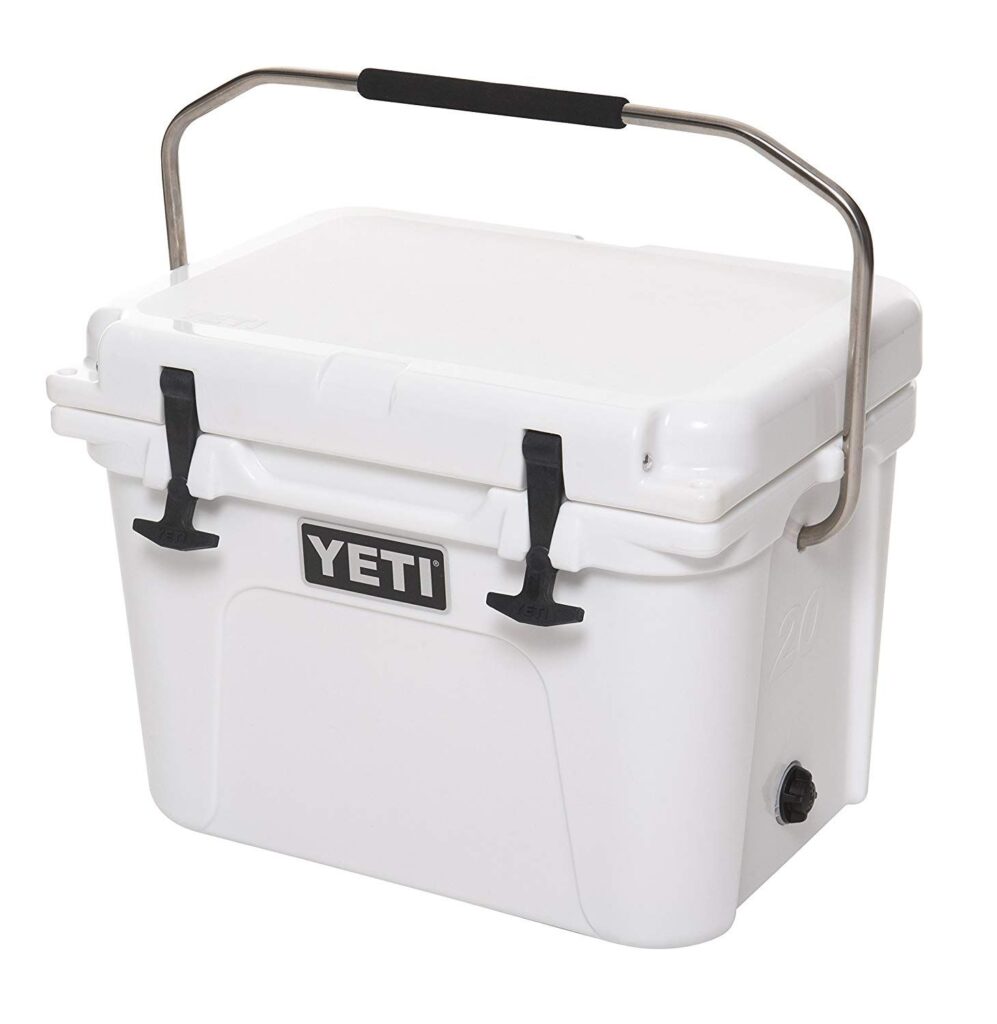 Yeti's plain white was their first color and is an established color that is sold all year around. Go into any store that stocks Yeti and chances are you're going to find a white cooler in stock.
White is also the best color for ice retention as it reflects the most light/heat and thus will keep ice slightly longer than dark colored Yeti's like the Charcoal.
I personally own a white Yeti and love it. It's hard to explain but the white of the Yeti cooler feels like a more premium white than other coolers. It just looks better and feels nicer. It's a great color and one of their best in my opinion, but obviously not a super expressive color.
These coolers are popular among fishers and campers as well as families and people living the #vanlife.
See White Yeti Coolers at Amazon
2. Desert Tan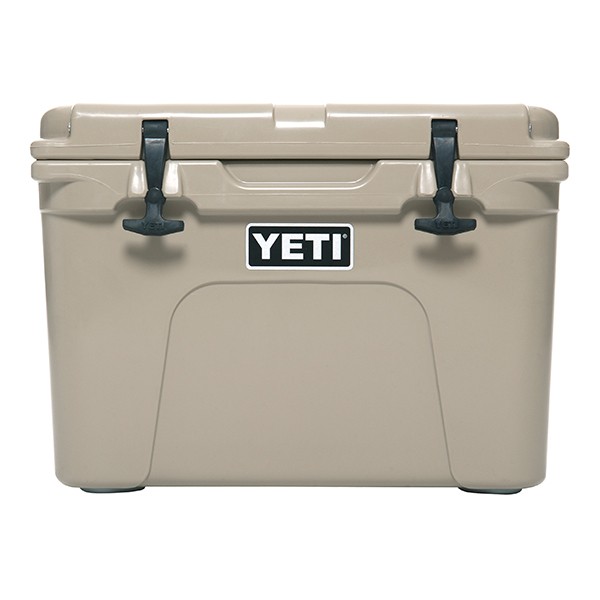 Desert Tan is another color that is sold all year round. Popular amongst hunters as it blends into the environment more and doesn't stand out as much.
See Desert Tan Yeti Coolers at Amazon
3. Ice Blue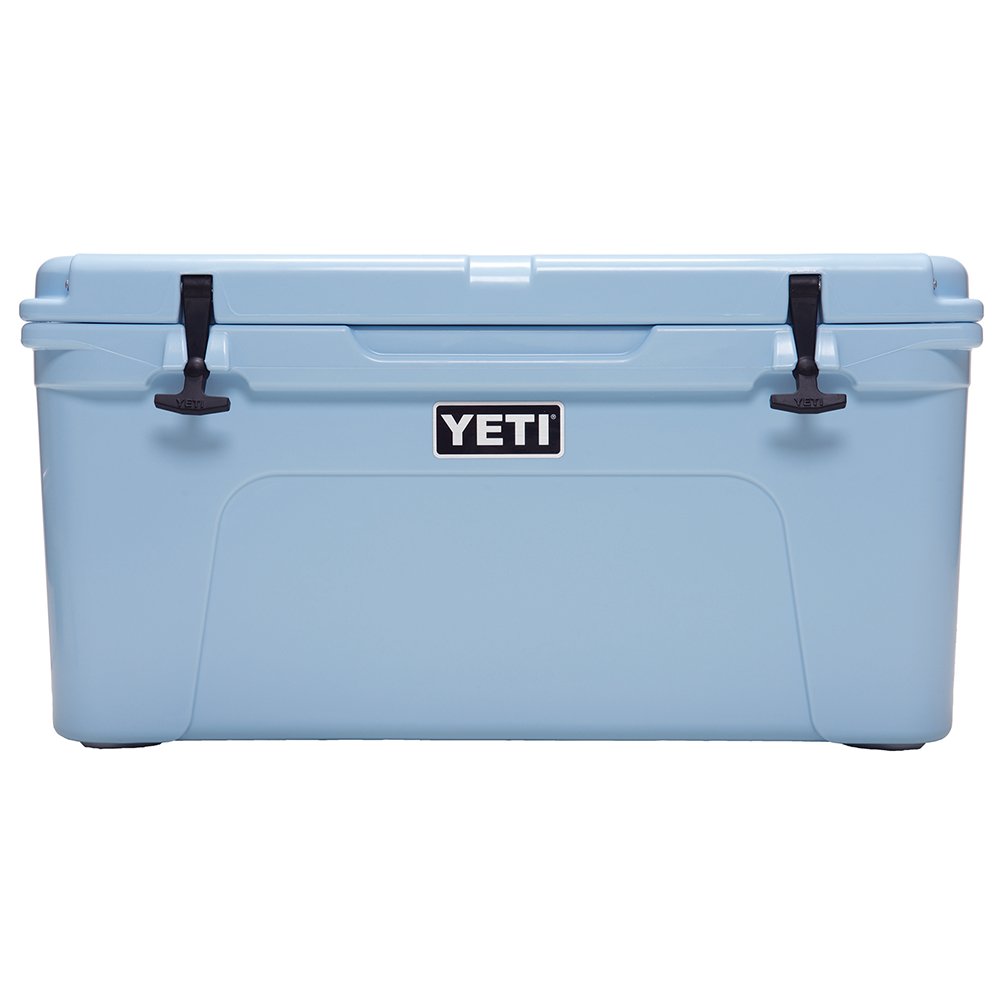 Ice Blue was Yeti's first color option other than the tradition white/tan. They released it in July 2013 as their market began to grow exponentially.
I personally love this color. It's a chilled out blue which is very different from the brighter "Reef Blue" that you'll see below.
I would have chosen this color for my cooler except my wife's favorite color was white and she told me "there was no way I'm having a blue cooler in my van".
Sadly this color was discontinued in 2019 but there is still stock available on Amazon if you love this color as much as I do.
See Ice Blue Yeti Coolers at Amazon
4. Seafoam

In January 2017, Yeti announced the release of limited edition Seafood coolers. However, this color went on to become so popular that they can kept it around and it continues to sell even today.
Seafoam is popular among stand up paddle boarders and fishers, which is why the round KULA cooler was first released in this color.
5. Charcoal

Charcoal was a limited edition color that Yeti sold in the past and it returned in a big way in October 2019 for the hard sided coolers.
The soft sided Yeti Hopper, Hopper Flips, BackFlips and the new Hopper M30 have always had a charcoal option which is my favorite soft sided cooler option. But now charcoal is available for hard sided coolers also.
See Charcoal Coolers at Amazon
6. River Green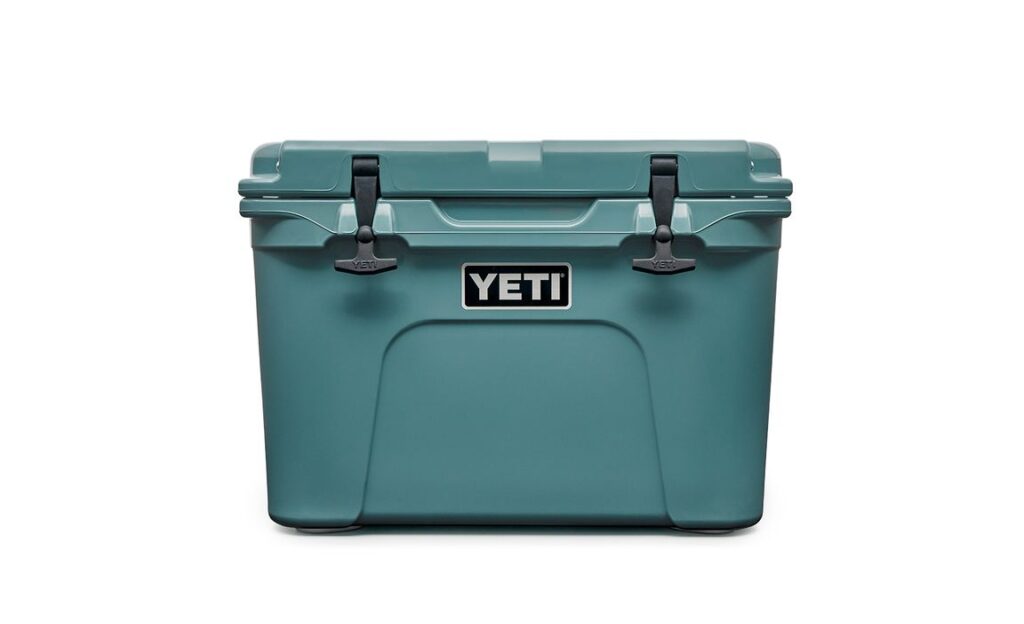 Fall 2019 saw the introduction of River Green to Yeti's range of hard and soft sided coolers.
This color was inspired by the mineral rich soil you find in West Texas, Oklahoma and the Australian Outback.
Personally as an Australian I always think of the Australian Outback as red dusty dry sand, but hey River Green looks cool too.
See River Green Coolers at Amazon
7. Pink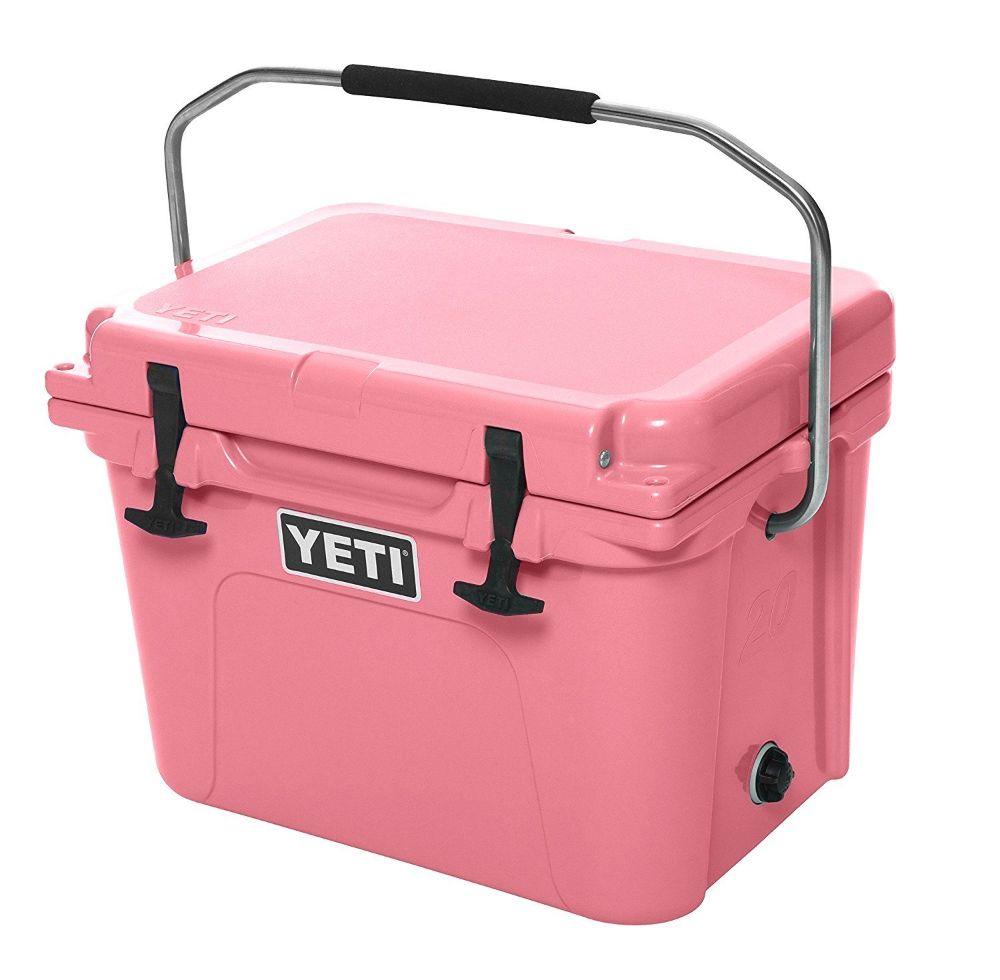 Now this is a color for people who want to show some flair or for people who want a cooler that is a little more feminine.
In August 2014 Yeti first released Pink coolers to support National Breast Cancer Awareness Month in October.
It's a nice soft pink and it looks really nice. It is no longer sold on their website but there is still pink coolers available on Amazon for the Yeti Roadie and the Yeti 35.
See Pink Yeti Coolers at Amazon
Will Yeti Bring Back Pink?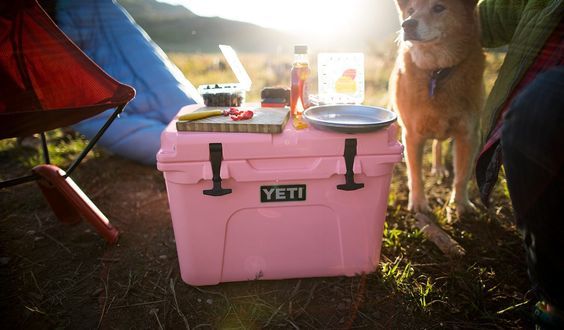 There is no word from Yeti as to whether or not they will ever bring back the Pink coolers. My thoughts are that they likely will support breast cancer awareness again at some point in the future and with such a recent focus on new limited edition colors I don't see why pink wouldn't have a limited edition release at some point in the future.
Whether they just do it for the tumblers/bottles or if they do it for the hard sided coolers I don't know.
As for release date, Yeti keep things tight under wraps so there is no announcement of Pink coolers hitting the shelves anytime soon.
Again, you can still get pink Yeti Roadies and Yeti 35's over at Amazon.
See Pink Yeti Coolers at Amazon
8. Coral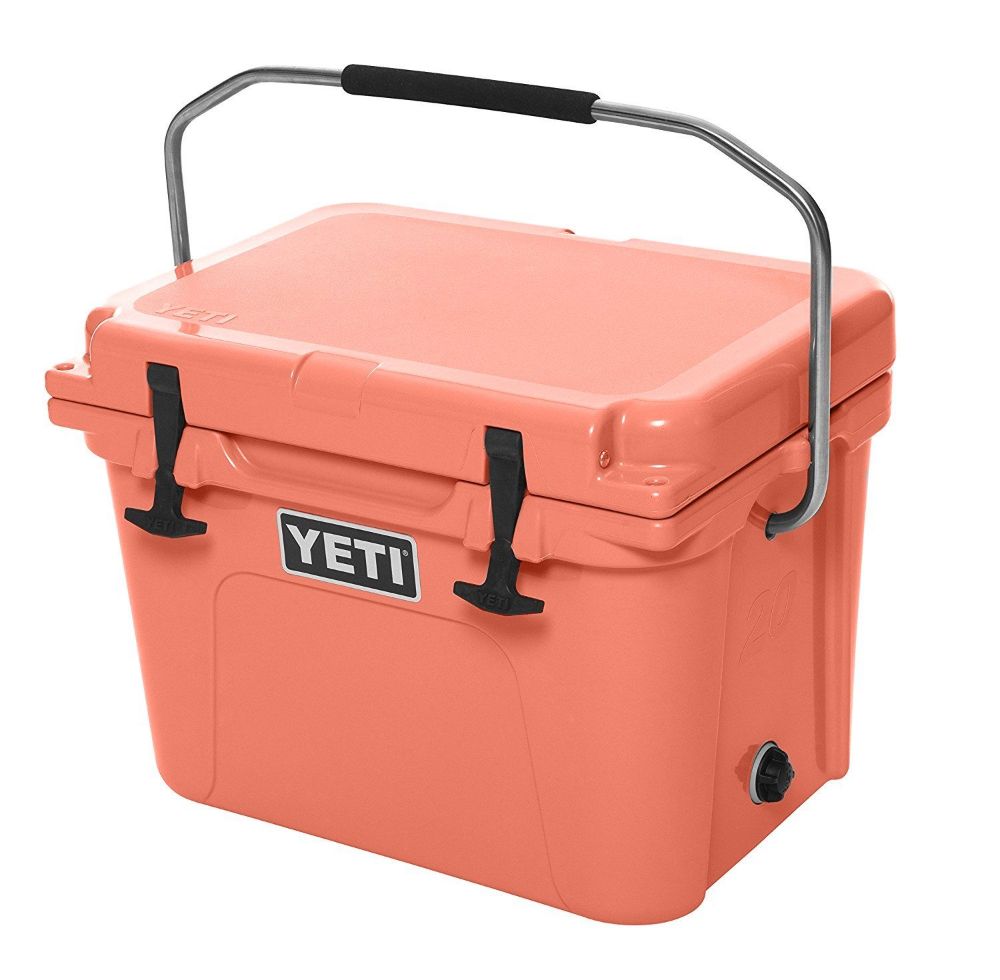 Coral is a pinkish/orangey color that is inspired by the sunrise and sunset because there are many adventures out there that last from sun up until son down.
This was released in March 2018 and they are currently sold out on Yeti's main website and you won't find this color in stores. But it is still available at Amazon.
See Coral Yeti Coolers at Amazon
9. Reef Blue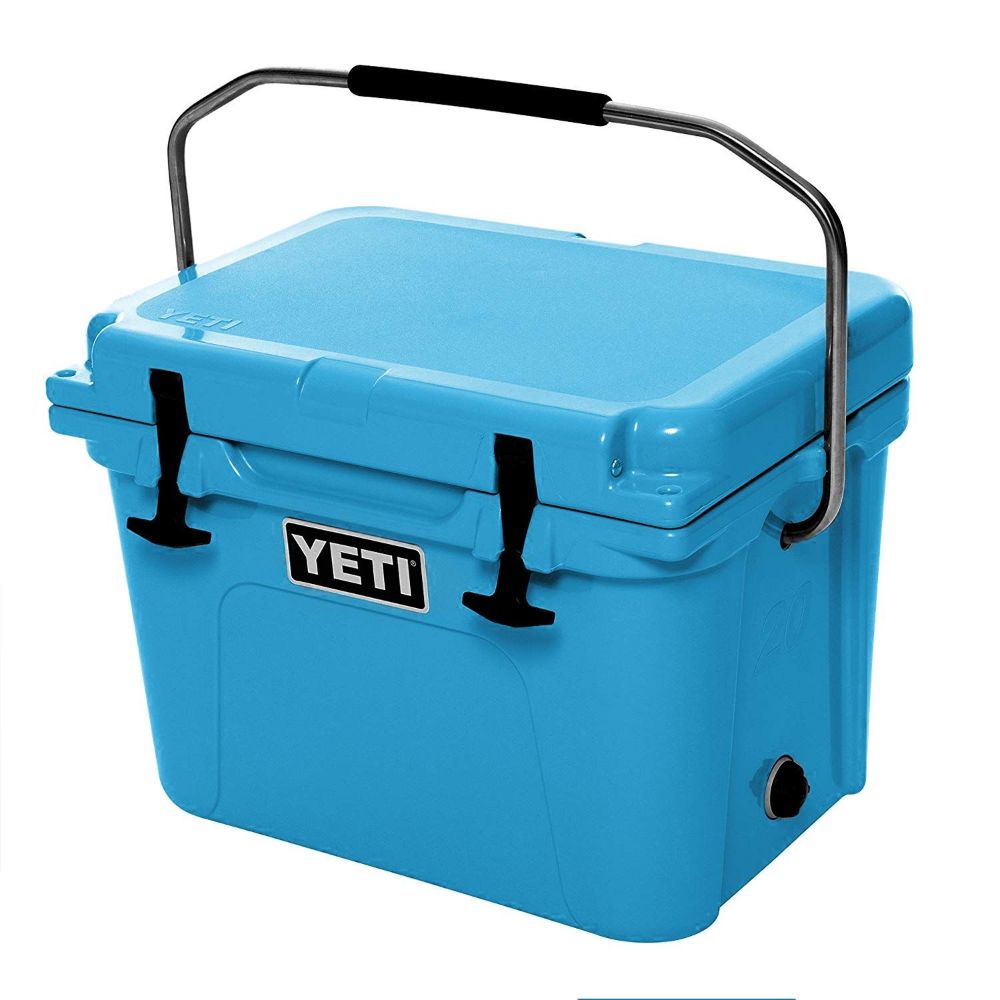 Released in April of 2019 Reef Blue is a much more vibrant blue than the Ice Blue that Yeti have had for years.
Inspired by the tropical waters of the Florida Keys this color was released across a variety of different Yeti coolers including their Camino Carryall bag, Tundra Haul and Rambler mugs.
See Reef Blue Coolers at Amazon
10. High Country/Outback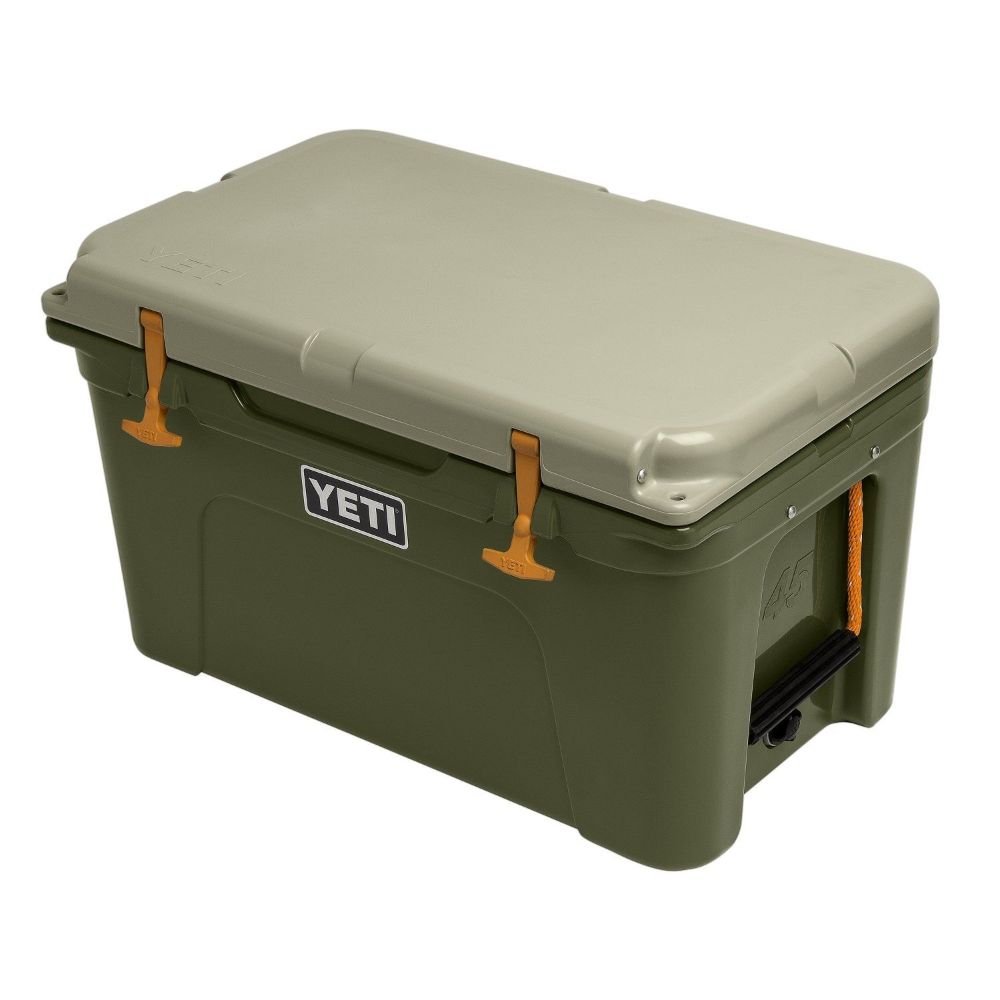 You'll notice that every single Yeti cooler color option is a single tone, meaning the lid and the cooler are the same color.
The limited edition High Country is the exception to this rule with a dark green cooler body and a lid very similar to the desert tan color.
It is also the only Yeti cooler that doesn't have black rope handles or rubber latches but instead has bright orange ones.
This color is sometimes called "Outback" though usually it's referred to as "High Country" and it is only available in for the Yeti Tundra 45 and there is also some stock available for the Yeti Tundra 105, which is a pretty massive cooler.
See High Country Yeti Coolers at Amazon
Yeti Soft Sided Cooler Colors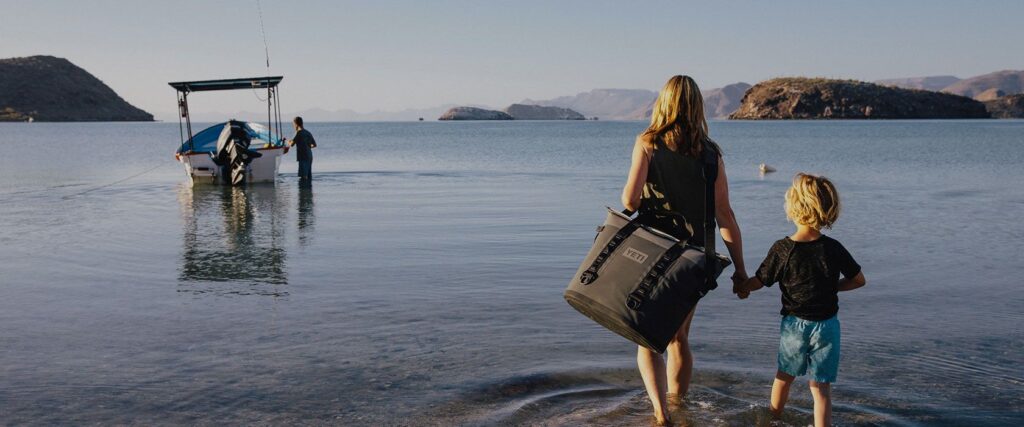 Yeti Soft Sided coolers like the Hopper Flip, Hopper M30 and BackFlip come in a much limited color set when compared to the hard sided coolers, but Yeti is constantly adding limited edition colors to this range also.
Here is the full list of Yeti soft sided cooler colors.
1. Fog Grey/Tahoe Blue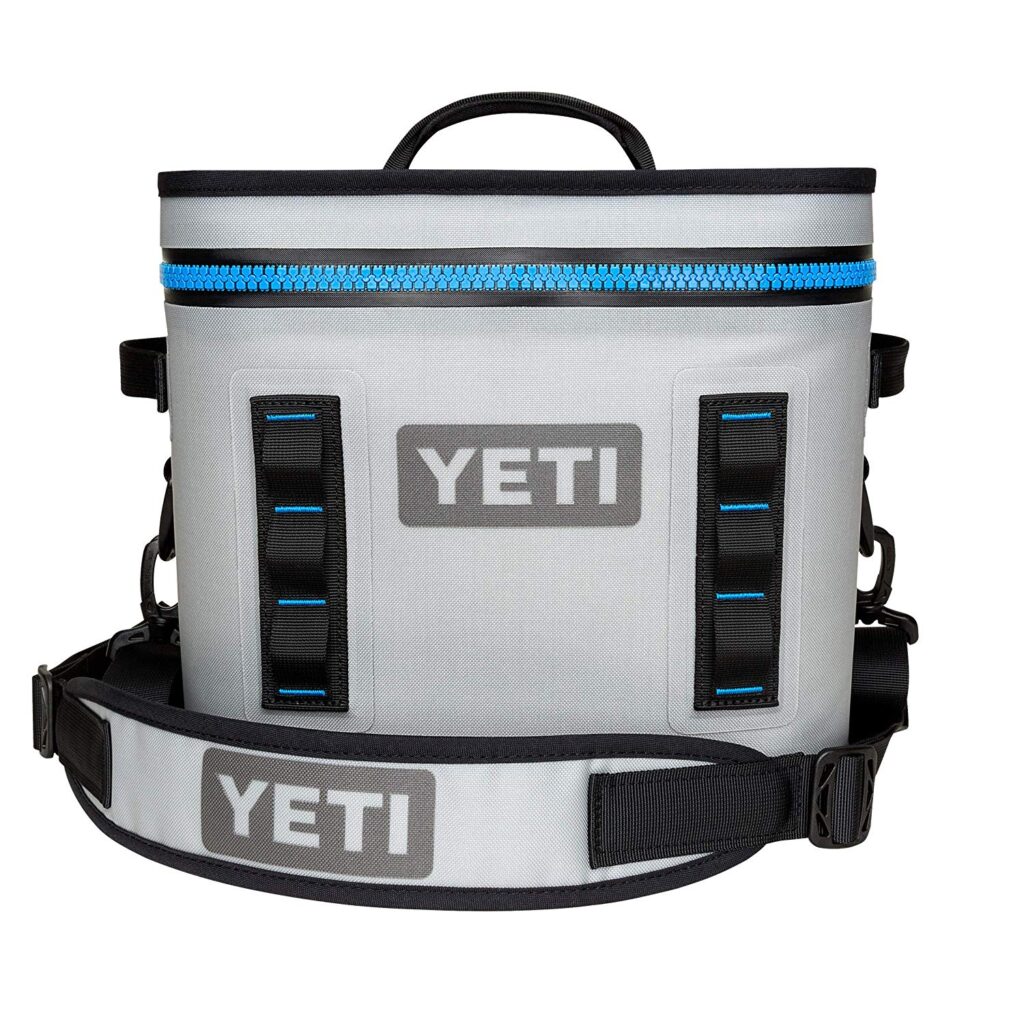 One of the original Yeti colors this grey/blue combination looks great in my opinion. Grey all over with the accents and the zipper being a bright blue color, this design really pops.
See Fog Grey Yeti Hopper Coolers at Amazon
2. Field Tan/Blaze Orange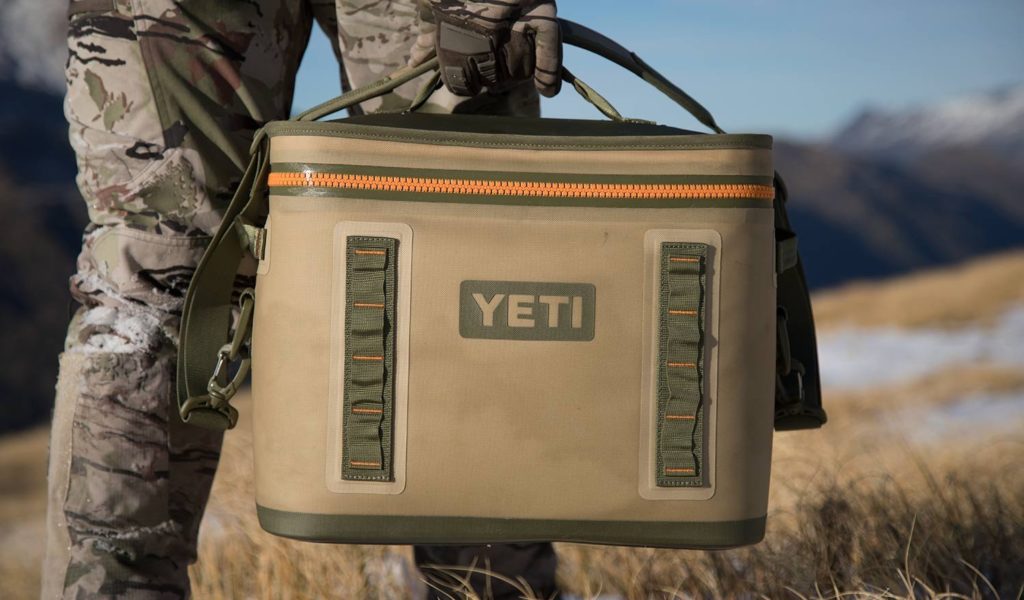 This is one of the earlier colors of the Yeti soft sided coolers that has now been discontinued. When the first Yeti Hopper first came out this was one of the original colors.
The cooler is tan and the accents and the zipper is a bright orange color.
See Field Tan Yeti Hopper Coolers at Amazon
3. Charcoal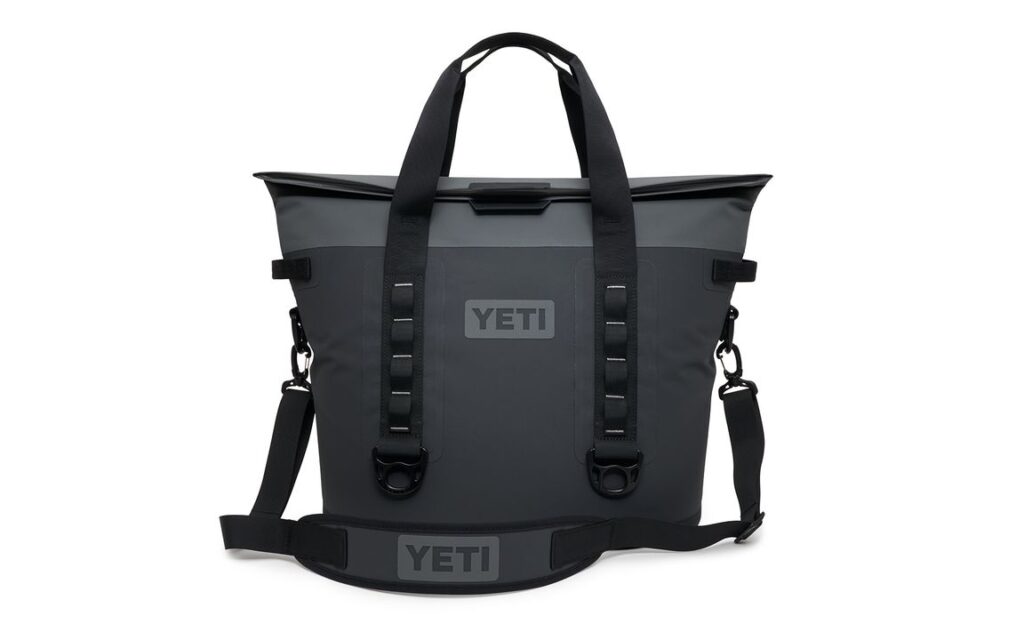 Charcoal is my favorite color for the Yeti soft sided coolers.
See Charcoal Yeti Hopper Coolers at Amazon
4. River Green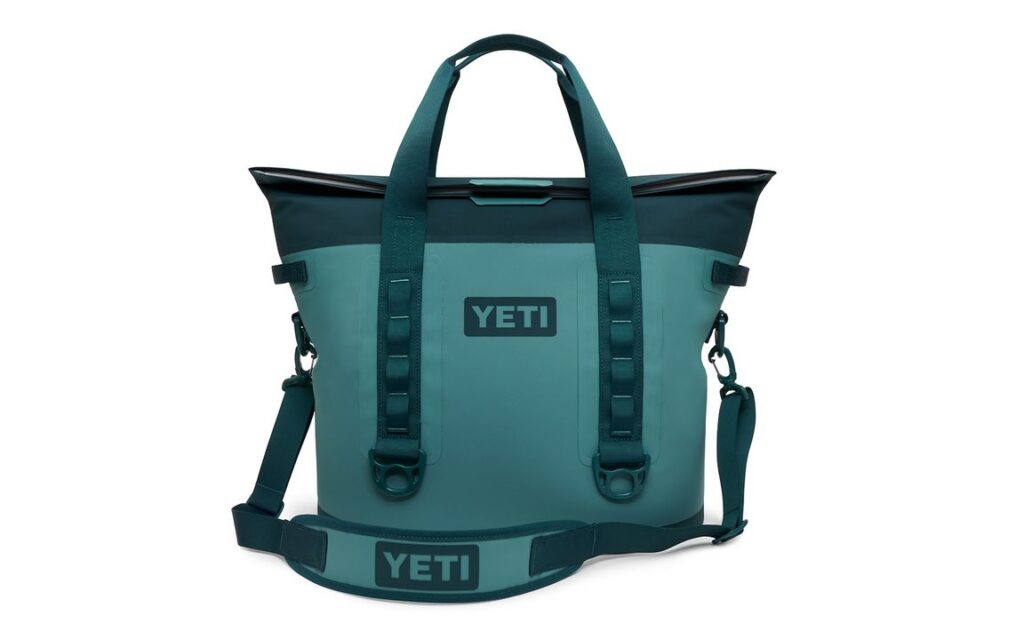 River Green is Yeti's Fall 2019 color and they have done it for the soft sided coolers also.
See River Green Yeti Hopper Coolers at Amazon
5. Navy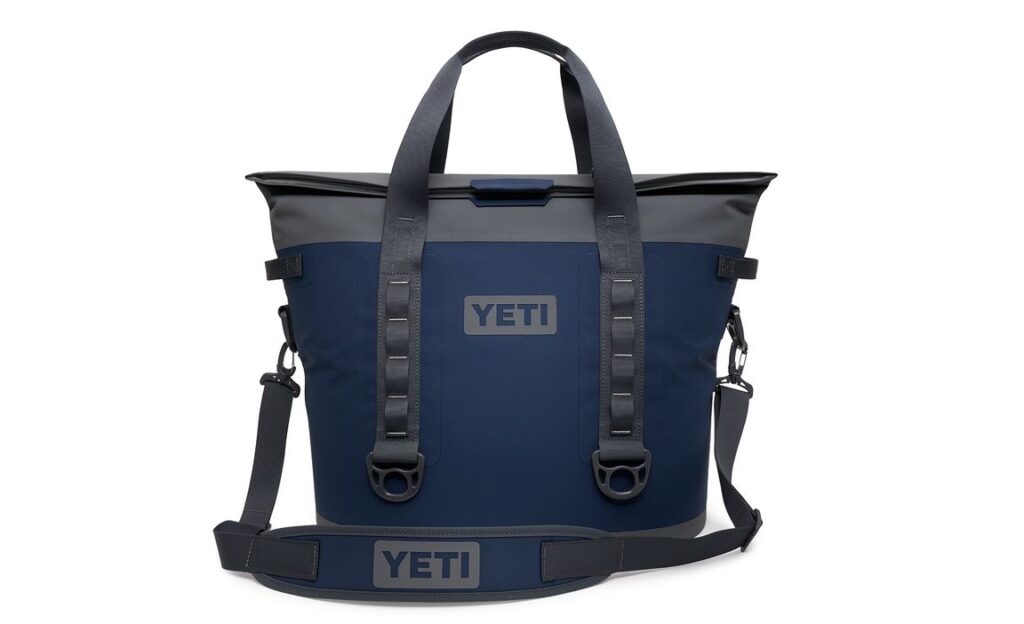 Navy is a brand new color that was released with the M30 line of coolers and I think it looks really smart.
See Navy Yeti Hopper Coolers at Amazon
Is Yeti Coming Out With New Colors?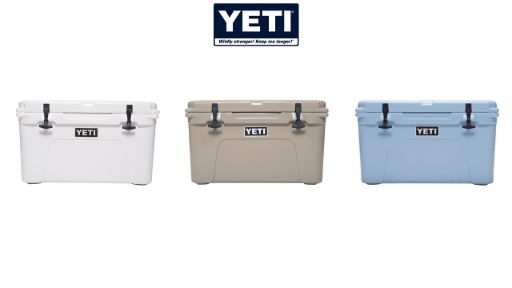 Yeti is constantly releasing new limited edition colors as well as occasionally repeating popular colors from the past.
The most recent limited edition colors are ones like Reef Blue and River Green and Charcoal was an old limited edition release that was then re-released in 2019.
Yeti is also constantly trying to increase sales and as they increase in size and volume getting significant growth will become harder. This leads them to having a wider offering of colors to appeal to a broader market (because not everyone wants a white or tan cooler).
Yeti seems to be releasing more colors for their tumblers/bottles than they do for the hard sided coolers. Recently "Clay" as well as "Peak Purple" were released for the cups, mugs and bottles but weren't released for the hard sided coolers.
I imagine this is because powder coating stainless steel cups and bottles is much easier and cheaper than customising the colors of roto-molded coolers.
Do Yeti Sell Camo Coolers?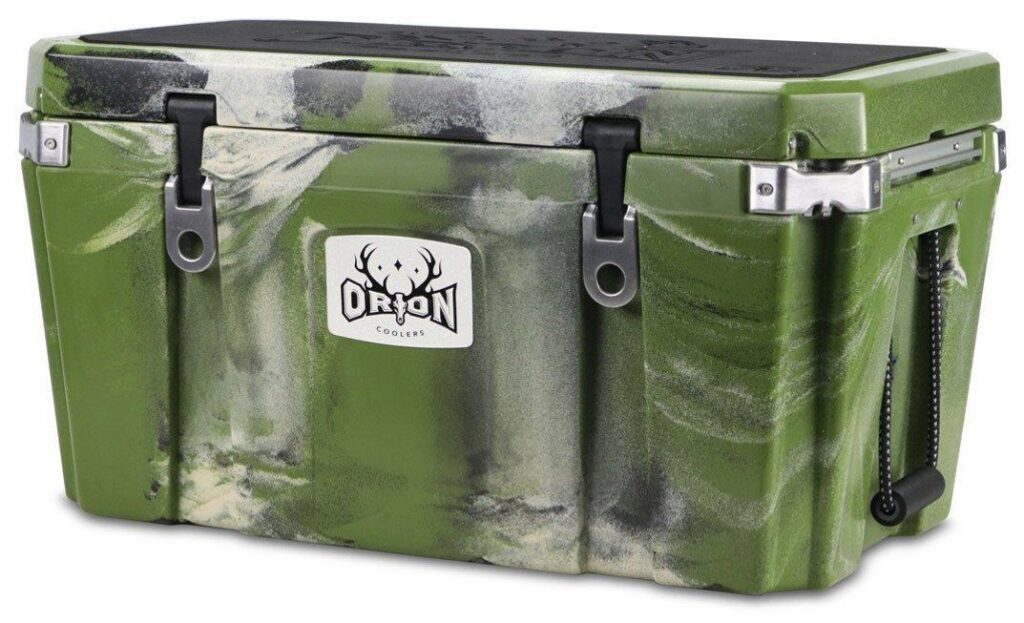 Orion Coolers offer really cool camp colored coolers that have a blend of multiple colors.
Something great about this is that the way they are created through roto-molding the plastic, no one cooler ever looks exactly the same. This means every cooler is a little bit unique.
A lot of hunters and campers also love the camp coolers and it make the cooler look very masculine.
Unfortunately Yeti do NOT sell any camo coolers. There was a very limited edition run of Yeti coolers in the past that were "hunter green" with a camo lid, but these are no longer available and I wasn't able to find them for sale on Amazon or anywhere else.
This may change in the future if Yeti does a limited edition run of camo coolers so I'll leave an affiliate link below that will do an Amazon search for Yeti camo coolers. Simply click it to see if there are any available.
Click here to see Yeti Camo Coolers at Amazon
What Size Yeti Coolers Have The Most Options?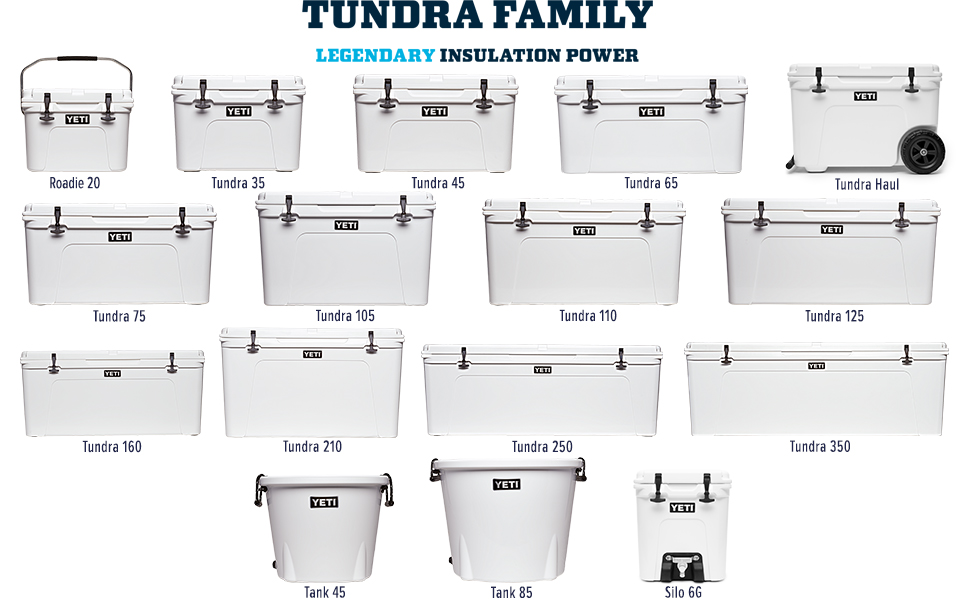 The smaller and more popular sizes of Yeti coolers have more color options available and once you get into the larger sized coolers you have very few color options available to you.
For example, the smaller Yeti Roadie and Yeti 35 have 9 different color options currently available at the time of writing, the Yeti 45 has 8 color options, the Yeti 65 has 6 color options and the Yeti 350 (Yeti's largest cooler) has only a single color option – white.
So the smaller you go in cooler size the more color options you'll have.
Where Can You Buy Different Color Yeti Coolers?
Not all Yeti cooler colors are available from all places. Yeti's own website will only sell the two major colors – white and tan – as well as the current limited edition colors that Yeti are promoting.
Older limited edition colors will become sold out on Yeti's website to make way for new stock that is coming in.
Yeti stores that distribute Yeti products will also have access to the current colors from Yeti. You may get lucky and find a store having old stock of a previous limited edition color but this is unlikely.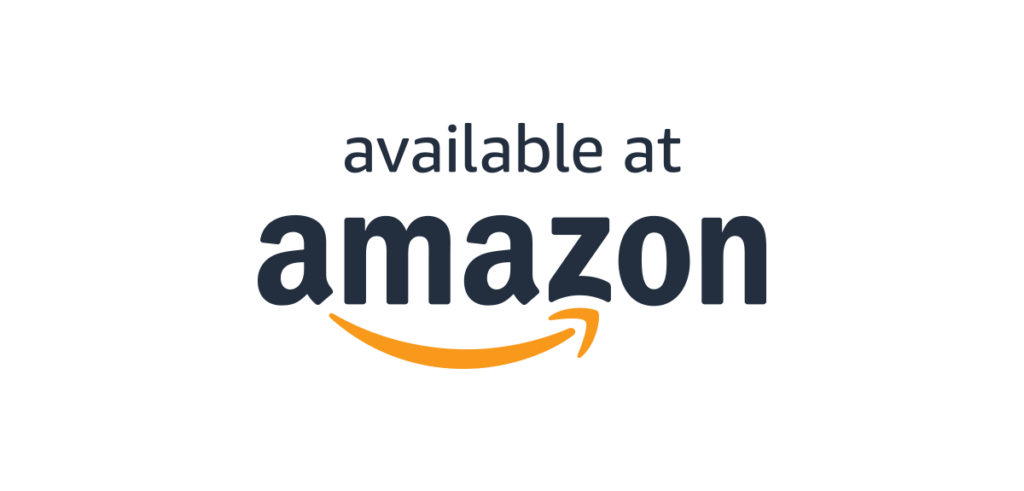 Amazon has the widest range of colors available as they stock both the current colors as well as older limited edition colors (when there is stock).
For example, Yeti hasn't made pink coolers in quite some time, but you can still buy pink Yeti Roadies and Yeti 35's on Amazon.
So if you want to see the largest range of color options click my Amazon affiliate link below:
Click here to see Yeti Coolers at Amazon.
Can You Get a Custom Color Yeti Cooler?
Wouldn't it be awesome if you could get a custom designed Yeti cooler in the exact color that you want?
Maybe you want colors to match your company logo or your favorite sports team.
Unfortunately you cannot get custom color Yeti coolers. Yeti's customization is limited to logos on the lids of coolers.
This may be your company's logo or it may be a collegiate or Nascar logo. Click here to see Yeti custom options.
There are more custom options for Yeti cups, mugs and bottles, but there still isn't the option to custom color them.
So no, unfortunately Yeti do not do custom colors for any of their coolers.