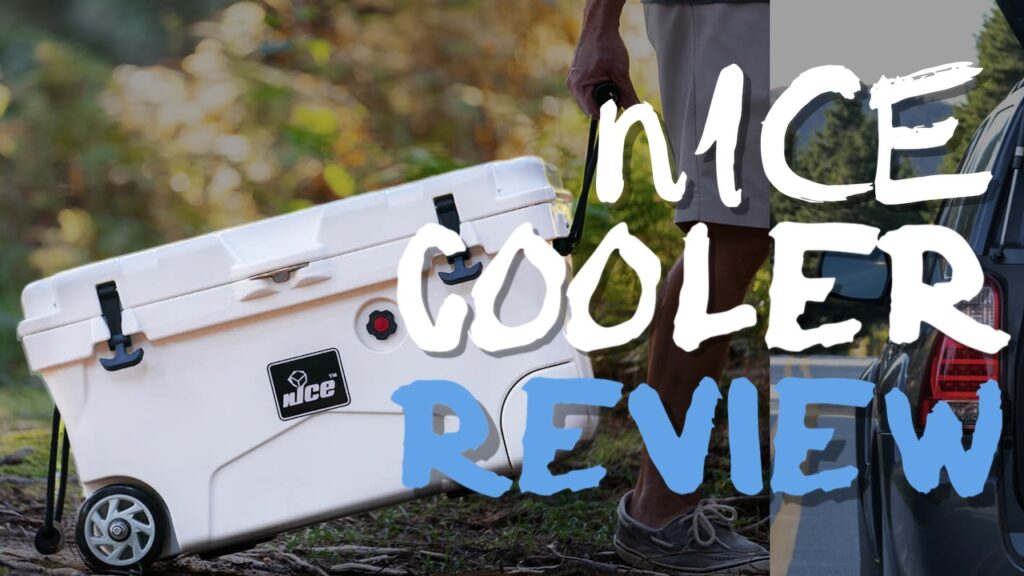 nICE coolers are affordable high-quality roto-moulded coolers with interchangeable wheels. They are bear proof, perform fairly well in terms of ice retention, look quite stylish and are worth considering for your next cooler.
There are a lot of great roto-moulded coolers on the market, so I'm going to be 100% honest with you. There are only really 2 key factors that make nICE coolers stand out from the pack and make them worthwhile considering. Those two factors are the affordable price and the interchangeable wheels.
The bright colors of this cooler may also come into play as it does help it stand out from the standard white and tan coolers out there.
In this nICE cooler review we'll look at price and how these coolers compare to others on the market, as well as features (like the wheels) and how build quality and performance stacks up.
By the end of this review you'll have a great idea as to whether or not you want to purchase a nICE cooler or look at something else.
One Of The Most Affordable Roto-Moulded Coolers On The Market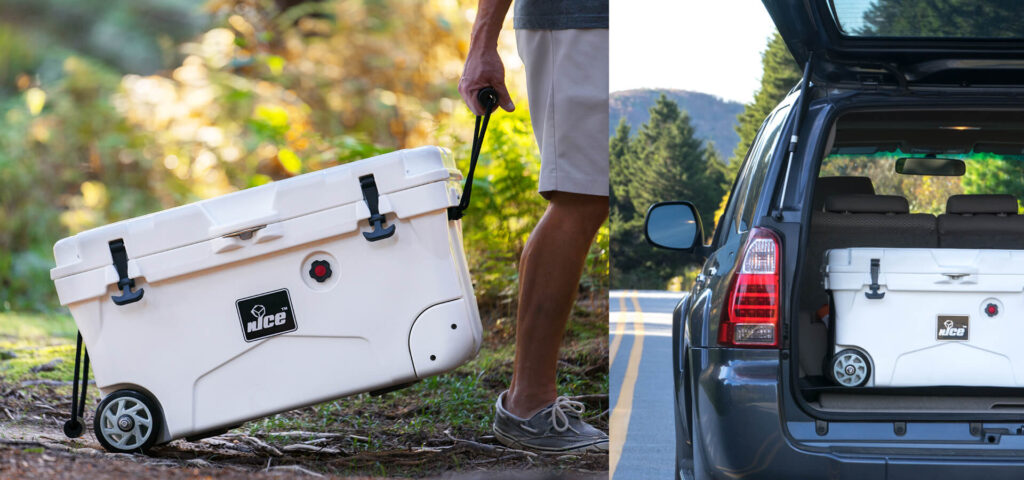 nICE coolers are some of the most affordable roto-moulded coolers on the market.
They are nearly half the price of market leader Yeti and cheaper than other brands like RTIC, Orca and Pelican.
They aren't the cheapest roto-moulded cooler in the market though. Ozark Trail (Walmart's brand) tends to be the cheapest, but the nICE coolers aren't much more expensive than Ozark and they come with some features that Ozark doesn't have.
Below you can see a comparison between nICE coolers and Yeti coolers and you can see that you could save yourself hundreds of dollars purchasing nICE over Yeti. Click on any of the links below to see the current price on Amazon or Walmart.
nICE COOLERS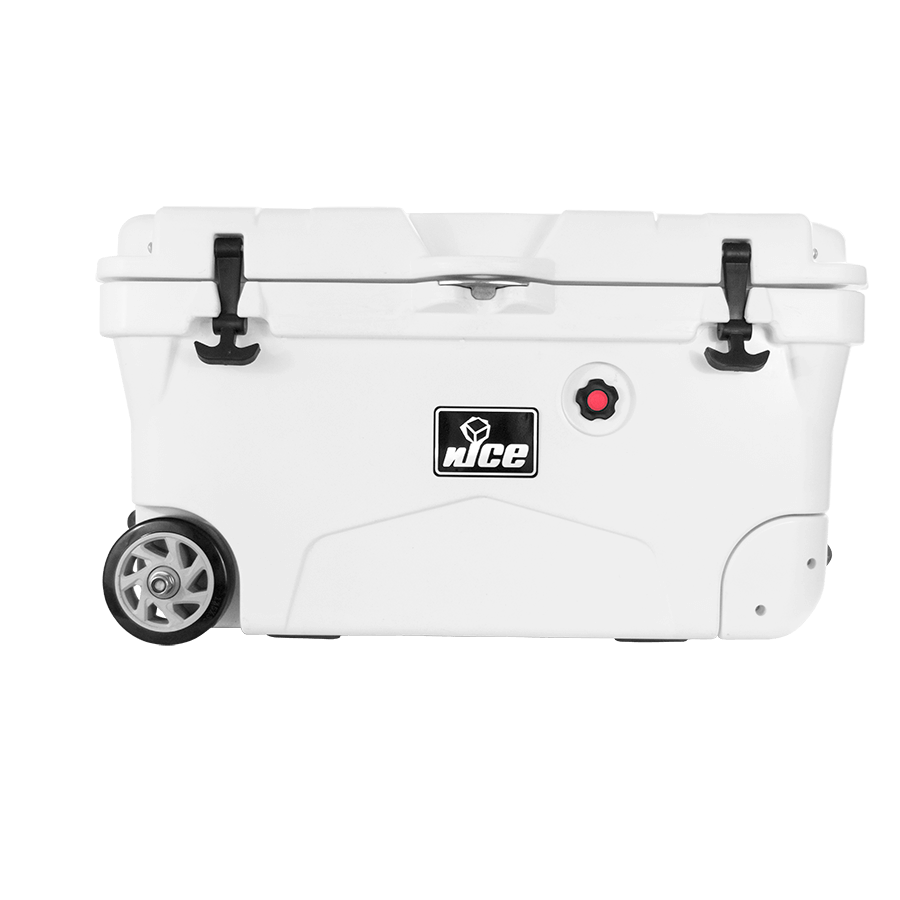 nICE 26-Quart:
---
nICE 50-Quart: $199.99 RRP (see more details)
---
nICE 75-Quart: $249.99 RRP (see more details)
---
nICE 110-Quart: $299.99 (see more details)
YETI COOLERS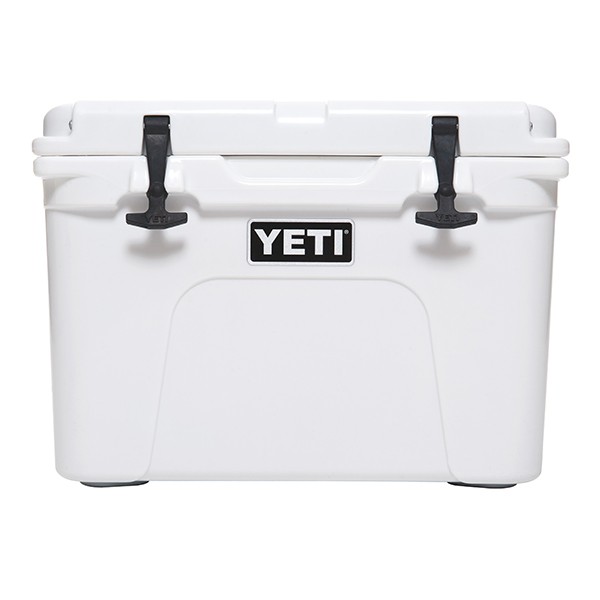 Yeti 35 (28.8-Quart):
---
Yeti 65 (57.2-Quart):
---
Yeti 75 (74.8-Quart):
---
Yeti 110 (96.4-Quart):
The question remains though, are these coolers high-quality enough to offer great value for money, or are they just a cheap alternative that doesn't perform as well as competitors?
The Build Quality Is Good – Backed By a 5-Year Warranty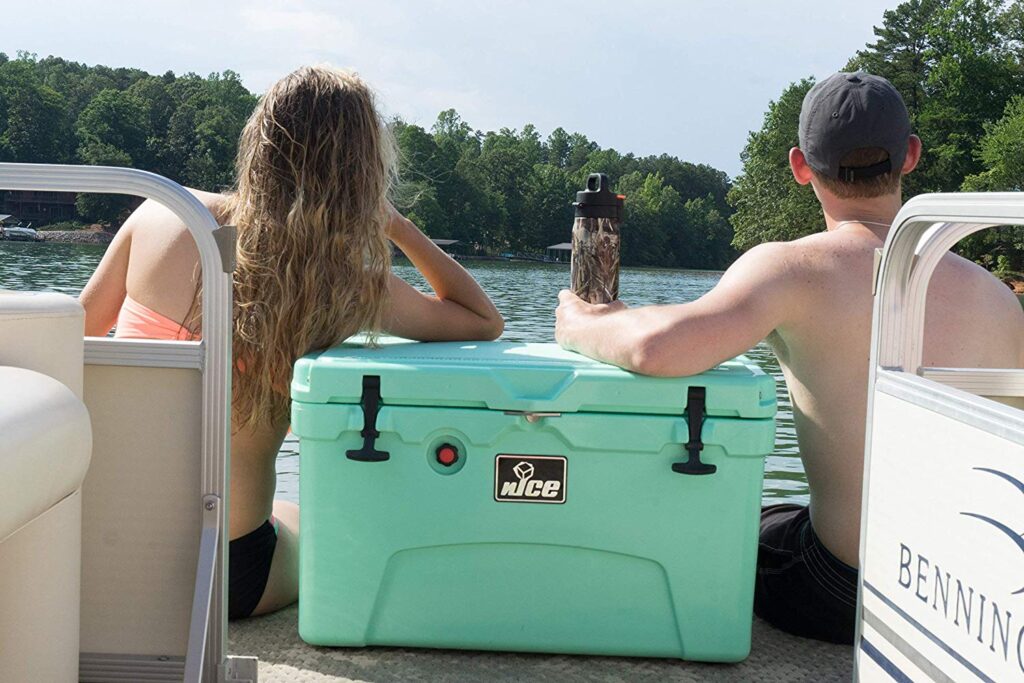 The build quality of these coolers is superb and meets all the quality standards you would expect for a root-moulded cooler.
It is made with strong polyethylene plastic for the walls and then pressure injected with polyurethane foam (just like what a Yeti cooler is made from).
The walls range from 1.75 to 2 inches in thickness which is what allows it to keep ice for days. This insulation thickness is on par with other coolers.
It is made in China, not the USA, but from what I can tell build quality is good. Yeti coolers aren't made in the USA either and neither are a lot of the best wheeled coolers, so this shouldn't be a deal breaker for most people.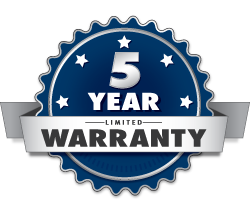 nICE coolers are also backed by a 5-year warranty, so if anything goes wrong with the cooler they will fix it or replace it free of charge.
nICE are also on their third generation of cooler designs (they call it the G3) so this shows that the company is willing to iterate, and continually make better and better coolers. They don't seem to be a company to release a cooler for a short period of time and then disappear (like what happened with Palm coolers).
Overall the build quality is there and isn't something that I would be worried about, so now it comes down to looking at the features and if this is going to be the best cooler for you.
The Only Cooler With Interchangeable Wheels
This is the one thing nICE coolers have that no other cooler on the market has, easily interchangeable wheels.
This is only available on their G3 models, but these models are selling for the same price as their older G2 models that didn't have wheels.
By default the cooler comes with small wheels which have a low profile and don't stick out much from the cooler at all. Great for rolling your cooler across hard ground, or short distances on rougher ground.
These are great built in wheels and very functional and they come with your cooler at absolutely no extra cost. Compare that to the Yeti Tundra Haul wheeled cooler which is an extra $50 compared to the similar sized Yeti 65 which has no wheels.
Default Wheels

Multi-Terrain Wheels

Inflatable Beach Wheels
But you can also purchase either multi-terrain wheels, which are larger and stick out from the cooler, or inflatable beach wheels, which are larger again but great for (you guessed it) rolling your cooler across the sand.
While the inflatable wheels are only for a single use case, the multi-terrain wheels can be great for camping or pulling your cooler longer distances with ease.
If you're looking for a roto-moulded cooler with large wheels to go on almost any terrain then nICE coolers are going to be a great option for you.
Days Worth of Ice Retention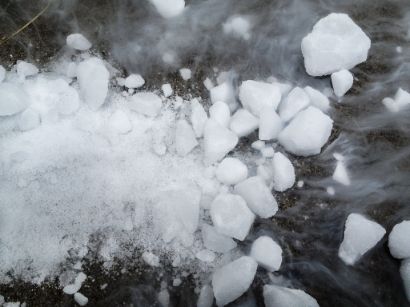 The thick walls of the nICE coolers means that it has high-quality ice retention and can keep ice for days.
This ice test showed that the nICE cooler was able to keep ice for a little over 5 days, but was outperformed by more expensive cooler brands like the Orca, TechniIce and Engel coolers.
This ice test also completely filled the cooler with ice which isn't something you're going to be doing when using the cooler normal. You'll likely only half fill it with ice. So expect ice retention of around the 3-4 day mark for this cooler.
Other Features of nICE Coolers
We've already talked about the wheels but there are quite a few other great features of the nICE cooler that you should know about.
Pressure Release Valve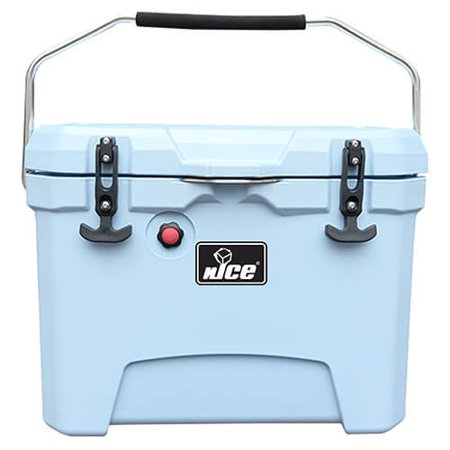 To help keep ice for longer the nICE cooler has a rubber gasket in the lid which keeps the warm air out and the cold air in. This can create a pressure difference that can make it hard to open the cooler.
A lot of high-end coolers have this issue. To solve this problem nICE have added a pressure release valve.
Before you open the cooler press on this valve and it allows air out of/into the cooler to equalize the air pressure. This then allows the lid to be easily opened.
There are only a couple of cooler brands on the market that have this, and it's a pretty cool feature.
Rubber Latches
nICE coolers have pull down anchor style rubber latches that use the elasticity in the rubber to keep the lid held down tight.
This helps to keep a firm seal on the lid allowing the cooler to keep ice longer and all meaning the lid won't open if the cooler falls over (spilling your contents everywhere).
Lock + Bottle Opener
The front of the cooler has spot where you can padlock the lid to the body of the cooler. This allows you to protect what is inside your cooler and is also what makes the cooler bear proof.
On the main body of the cooler is a metal plate that doubles as a bottle opener. So you don't need an additional bottle opener, you'll always have one with you which is super handy.
Bear Proof
As mentioned above, when locked the nICE coolers are certified bear proof. This means that if a bear does wander into your camp ground and try to get into your cooler it will be unable to (assuming the cooler is locked).
For most of us this isn't something we need, but for those camping in bear country it will mean the bear is much more likely to give up and move on from your camp site, vs hanging around and causing more danger to you and your family.
Rubber Gasket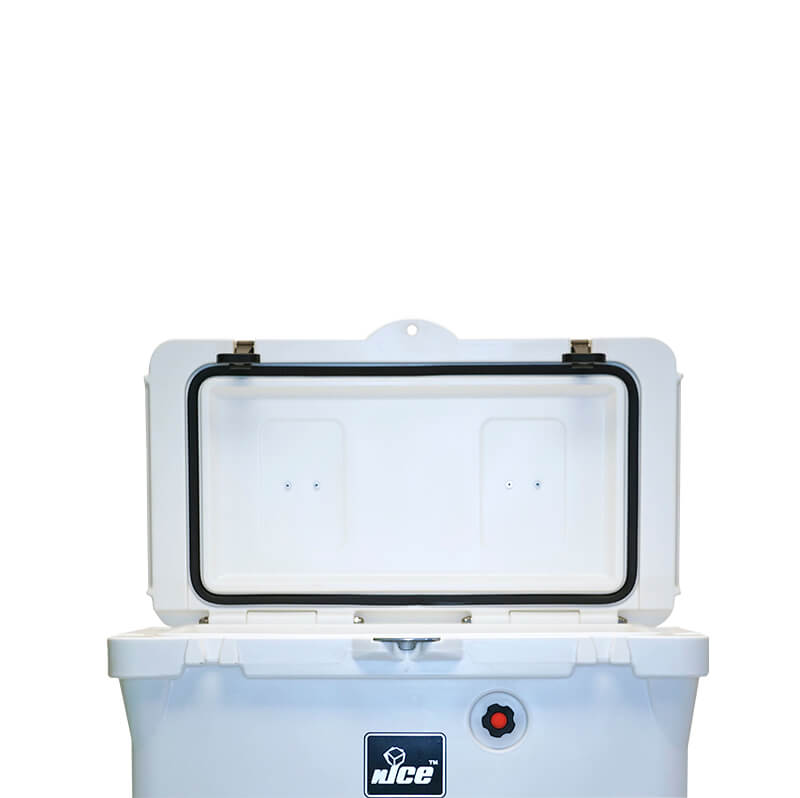 Inside the lid of the cooler is a commercial grade rubber gasket. When the lid is closed this creates an airtight barrier keeping the warm air out of the cooler and keeping the cold air in. This also helps to minimise leaks if the cooler falls over.
I am unsure if this cooler is 100% leak proof as many roto-moulded coolers do actually leak some water when tipped over.
Strong Stainless Steel Hinges
Cheaper coolers like the Coleman Xtreme have flimsy plastic hinges that can get damaged over time and easily break if too much force is applied to them.
nICE coolers have strong stainless steel hinges instead. On the smaller 20-quart size there is just a single hinge and on the larger sizes there are 2 hinges.
These are super strong and highly unlikely to break.
Inbuilt Cup Holders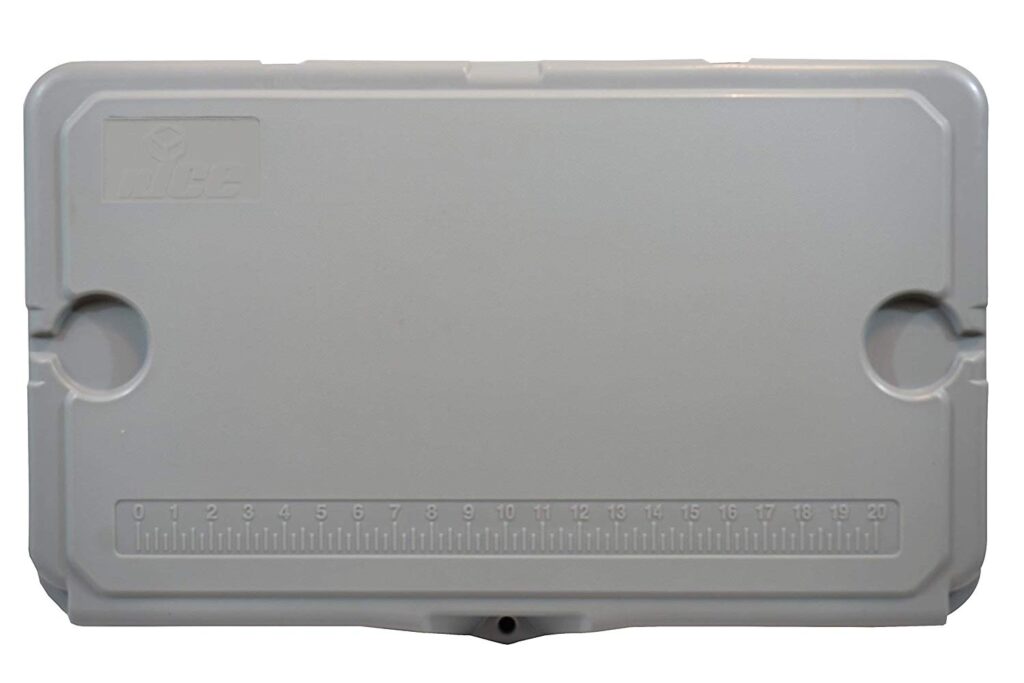 Most roto-molded coolers don't have any inbuilt cup holders and it's something I absolutely love about the cheaper coolers.
So I was excited when I saw that nICE coolers have 2 inbuilt cup holders in the lid for your beverages. The cup holders are near the side and are designed so they allow any water to run off the side so you don't get water pooling in your lid when it's raining or from condensation from your drink.
The only other cooler I've seen to have this feature is the Ozark Trail coolers.
Tie Down Points
nICE coolers have tie down points on the side of the cooler similar to the Yeti tie down points. You can tie down the cooler to your truck, van or boat but still be able to open the lid.
This means your cooler won't slide around when you're moving.
As far as I am aware nICE don't actually sell any tie down straps for this cooler so you would need to buy another brand of tie down straps. Check out Yeti tie down straps at Amazon if you're interested.
Non-Slip Rubber Feet
On the bottom of the nICE cooler are non-slip and non-marking rubber feet.
These grippy feet keep your cooler firmly planted on the floor and means it won't move around much when driving.
I love these non-slip feet as it means I don't actually have to worry about tying down the cooler when I drive and it also means my kids can jump all over it and I never have to worry about it slipping out from under them.
Attached Drain Plug
The drain plug is attached to the main body of the cooler with a chain, meaning you're never going to lose your drain plug.
I love this feature and something I wish more coolers had.
Where To Buy nICE Coolers
I thought this would be an easy thing to answer, but it's actually not. It's actually quite difficult to find out where to buy the latest models of the nICE coolers.
They don't sell the coolers through their website, and there is no information on what stores currently stock the product.
So your best best is either Amazon or Walmart. At the time of writing Amazon had some of the smaller models and a lot of the older models, and Walmart had some of the larger models.
I'll provide links below to nICE coolers on both Amazon and Walmart so if you're interested in purchasing one then hopefully that helps you. Links in the article are affiliate links so if you do click them and end up buying then it helps out the site (so thank you).
nICE 26-Quart:
nICE 50-Quart: $199.99 RRP (see more details)
nICE 75-Quart: $249.99 RRP (see more details)
nICE 110-Quart: $299.99 (see more details)
Other Coolers Similar to nICE Coolers
If you're considering a nICE cooler but want to explore other coolers on the market before you make your decision then below are some of the coolers most similar to nICE coolers that you should check out.
Ozark Trail Coolers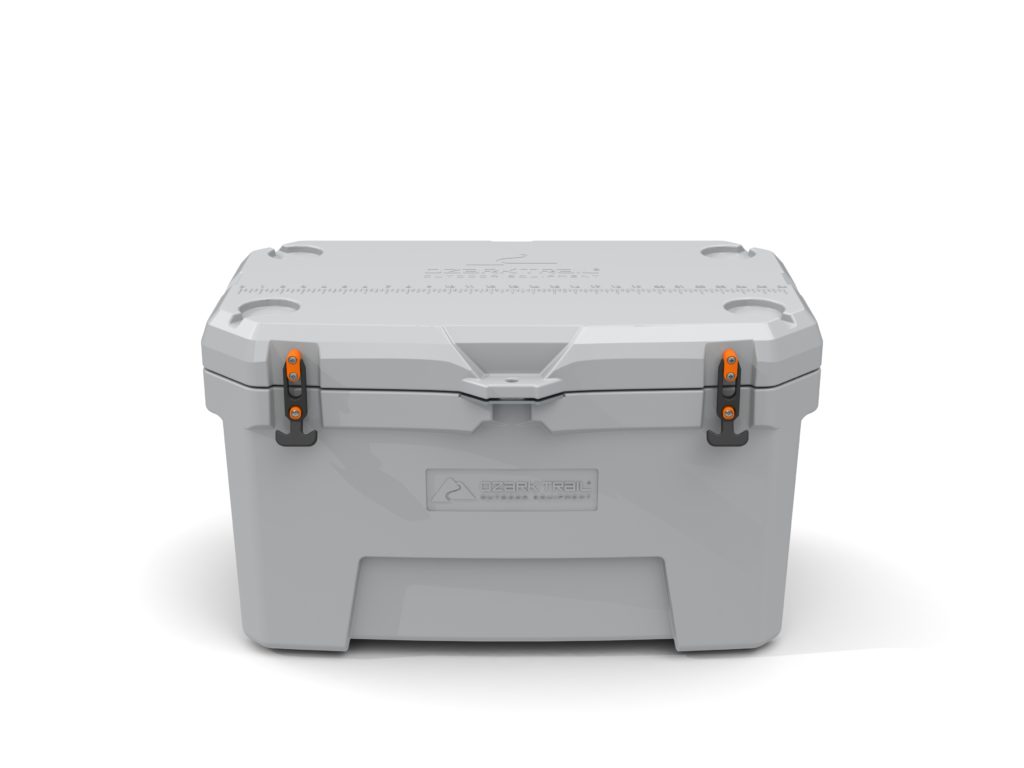 Ozark Trail are Walmart's brand of coolers and are very similar to nICE coolers both in terms of price and features.
They are actually a bit cheaper than nICE and they are the only other roto-molded cooler that has cup holders in the lid.
Most Ozark Trail coolers don't have wheels but there is a super affordable wheel kit you can buy to convert them into wheeled coolers.
Definitely worth considering if you're looking for a cheap roto-molded cooler.
Read my Ozark Trail Cooler Review
See Ozark Trail Coolers at Walmart
RTIC Coolers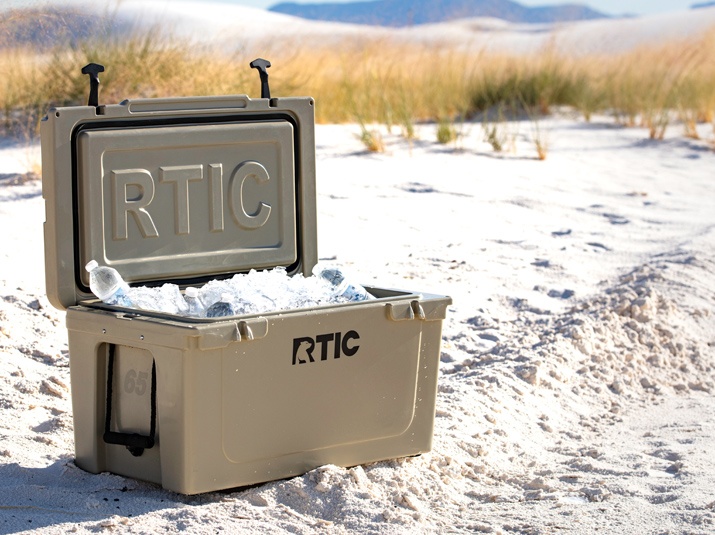 RTIC Coolers are some of the best affordable roto-molded coolers. They are a bit more expensive than nICE coolers but the quality is a bit higher.
You will get better ice retention and an overall nicer design. They are the closest in design to the market leading brand YETI.
People rave about these coolers.
Lifetime Coolers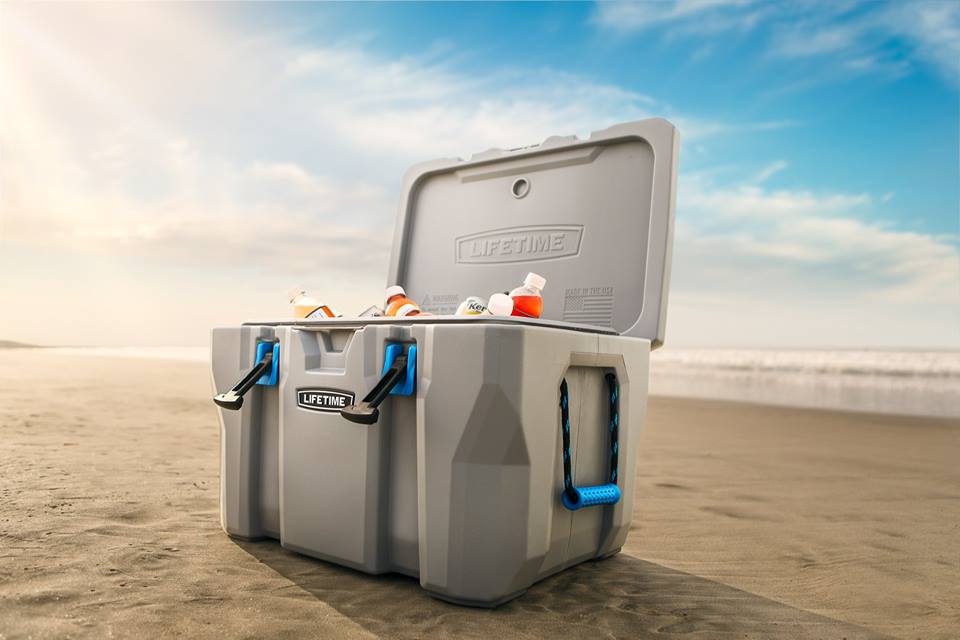 Lifetime coolers are made in the USA and are currently the most affordable high-end cooler on the market.
Like nICE coolers they are also bear proof but they have some unique features like grip or slide feet and cam style latches which I find easier to open.
Read my Lifetime Cooler Review