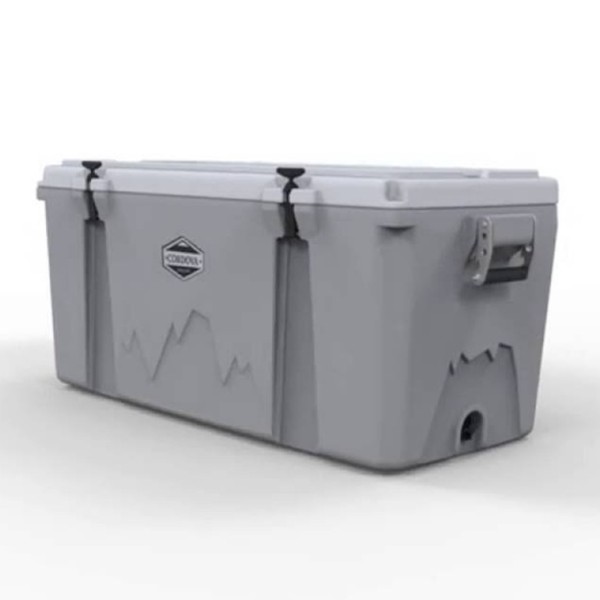 [yasr_overall_rating]
Cordova is a new entrant to the roto-moudled cooler market. In this Cordova cooler review we'll look at what makes this cooler stand out from the rest and whether or not it's worth buying.
A Little Bit About Cordova
Cordova are a brand new cooler, entering the market in June 2016 (see their announcement video) with the promise of 20-40% better ice retention, eco-friendly foam and the strongest handles of any cooler on the market.
Cordova was started by 3 exteme outdoor enthusiasts (Scott Campbell Jr. from Deadliest Catch, Steve West from Steve's Outdoor Adventures TV and Mike West winner of the Baja 500) who felt that the current coolers on the market didn't live up to their needs.
Features That Make Cordova Coolers Stand Out
Cordova coolers are quite similar to other roto-moulded coolers on the market (see Cordova vs Yeti comparison) with a few key differences.
Handles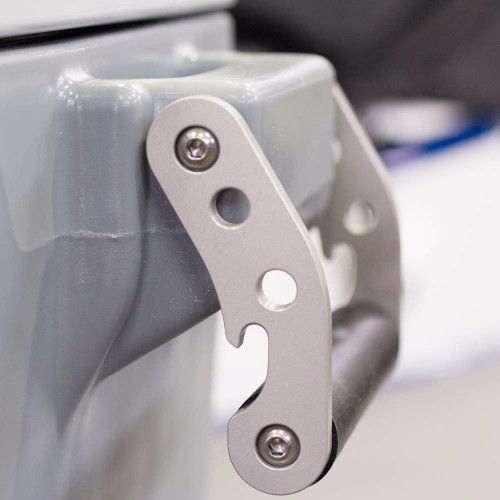 The Cordova handles are 100% unique. While other coolers use Nylon rope handles or plastic handles the Cordova takes it to the next level with their 100% alumium handles.
These handles look badass and give the design of this cooler some flair.
They also have built in bottle openers meaning you will never be without a way to enjoy your beer.
Most coolers similar to this one don't have bottle openers and you have to buy them separately and install them yourself. So having this is a really great feature.
Reverse T-Lock Latches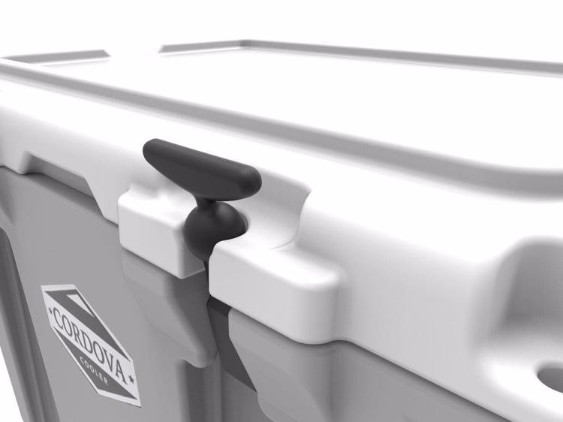 The latches on this cooler are similar to the Yeti's T-Rex latches. They are made of thick durable rubber and keep the lid locked in place with the tension of the rubber.
Unlike the Yeti the Cordova latches pull up instead of down.
This is much of a muchness and may be slightly easier to use than other coolers as you don't have to bend down as much to undo the latches.
Highest Insulation Rating Of Any Cooler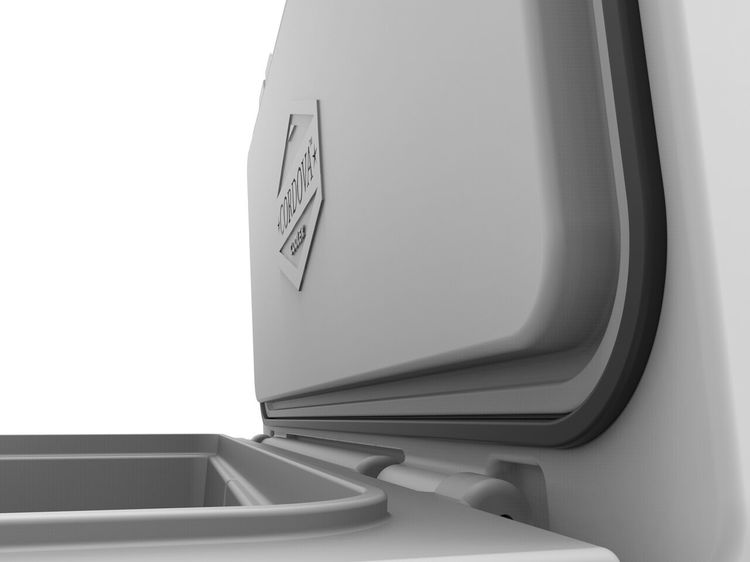 Cordova claim to have the highest insulation rating of any cooler on the market.
In saying this, I am unable to find how they have tested and defined this so I wouldn't take it as 100% fact.
Currently, as this cooler is so new, there are no comparison ice tests to prove that this cooler keeps ice the 20-40% longer that it claims.
It does appear to have thicker walls (around 3 inches instead of Yeti's 2 inches) and so that will likely add to it's ability to keep ice, but for now I would simply assume it perform better to other roto-moulded coolers.
Eco-Friendly Foam
A nice feature of this cooler is the use of eco-friendly foam, making this a more environmentally friendly choice than other coolers.
Made in USA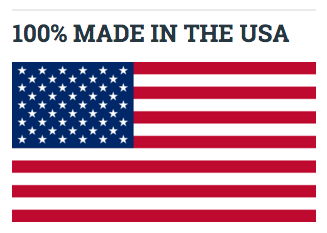 While other coolers like Yeti and Engel are manufactured overseas the Cordova coolers is made completely in the USA. So if supporting local manufacturing jobs is important to you then this cooler is definitely one to consider.
Lifetime Warranty

The Cordova cooler has one of the best warranties (see the details) in the industry – likely beaten only by Orca – with a lifetime warranty on their coolers.
This is great because you can buy this cooler knowing for sure it is going to be the last cooler you will ever buy.
If the cooler ever breaks of you have a problem with it you know that it will always be covered by warranty.
PLEASE NOTE: You must register your product within 30 days of purchase for the warranty to be valid. So don't forget to do this.
Price
Model Number
Quart
Capacity
Price
Amazon Price
(click to see)
Cordova Small
Yeti 35
28
28.8
$339.00
$299.99


Cordova Medium
Yeti 50
45
47.2
$439.00
$379.99
Not on Amazon

Cordova Large
Yeti 75
75
74.8
$539.00
$449.99
Not on Amazon

Cordova X-Large
Yeti 125
125
121.2
$699.99.00
$549.99
Not on Amazon

The Cordova cooler is actually one of the most expensive coolers in the market. Coming in at $40-$150 more expensive than the Yeti, depending on size.
This means shoppers looking to save some money on a cooler similar to Yeti will have to look elsewhere.
Yeti is already considered one of the most expensive brands of coolers on the market and you'll see in the comparison chart than Cordova coolers are actually a fair bit more expensive than Yeti.
However, they do come with a lifetime warranty and they are made in the USA so I guess the price can be justified. But then again the Orca cooler is also made in the USA and the price of that cooler is on par with Yeti, so I'm not sure.
Problems With Cordova Coolers
No cooler is perfect and when it comes to the Cordova it isn't without it's flaws. So let's look into them quickly.
Newness – The biggest flaw I have with this cooler at the moment is how new it is. Sometimes new means something is way better (eg. New computer) but new also means that something isn't as well tested and could have issues. The Cordova also has no comparison ice tests so there's no way to prove it's performance yet.
Price – The Cordova is more expensive than the Yeti which I don't like. If this cooler was cheaper I would be way more inclined to recommend people buy it over a Yeti. But being more expensive than a Yeti means it REALLY needs to stand out.
Lack of Color Options – There is currently only one color option available for this cooler – grey with a white lid. So if you're not into that color you're out of luck.
Lack of Accessories – Other coolers sell accessories (like cup holders, seats etc) but currently Cordova don't have any accessories available.
Should You Buy A Cordova Cooler?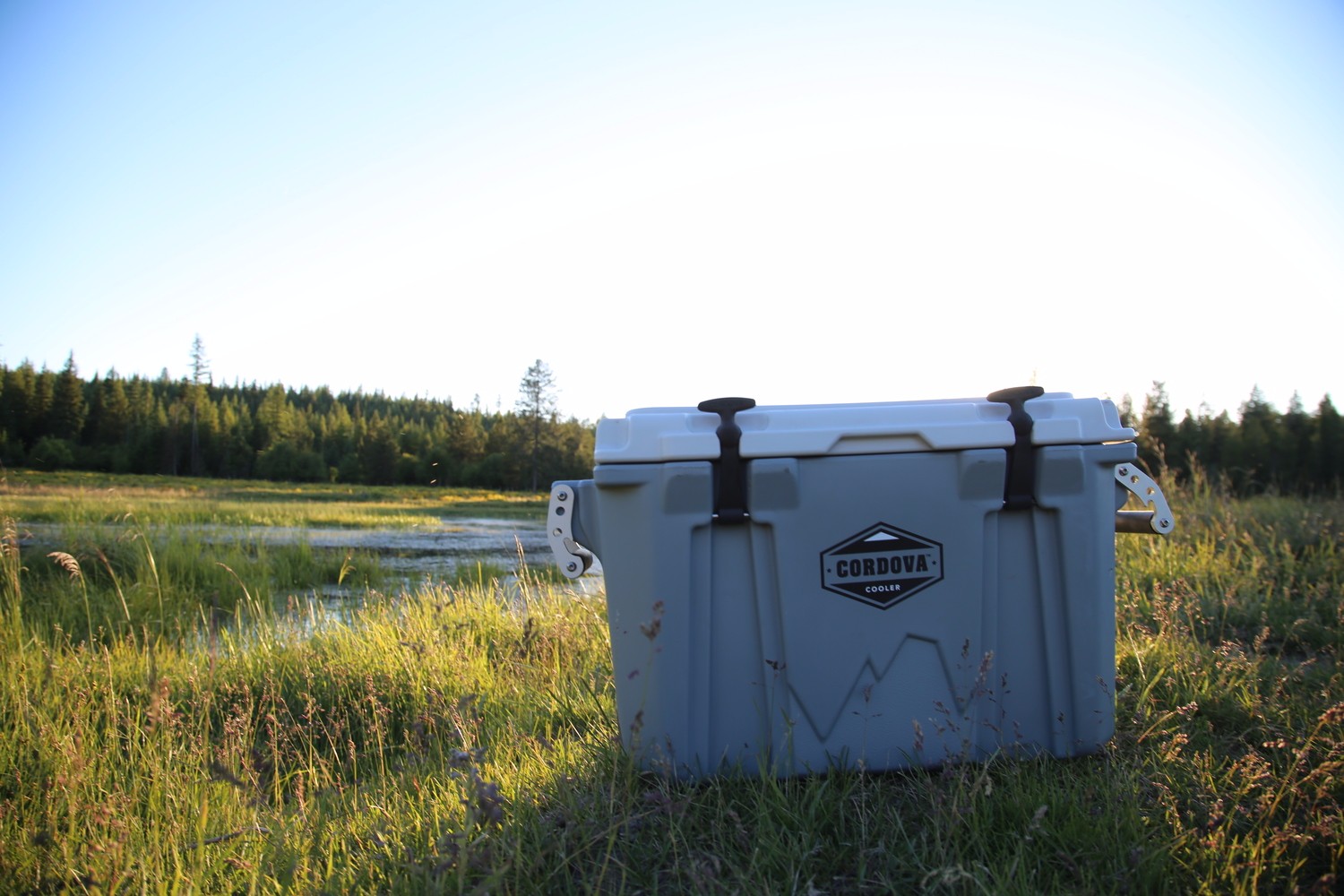 The Cordova cooler looks like a great cooler.
The strong aluminum handles and the lifetime warranty, as well as being completely made in the USA, are real selling points for this cooler.
The design is really nice and it comes with all the features you'de expect in a roto-moulded cooler – commercial grade gasket, non-slip rubber feat, bear proof, keeps ice for over 5+ days.
The real question is do you think the Cordova cooler is worth the extra cost when compared to the more popular brand or would you prefer to look into coolers like Yeti but cheaper?
The last of comparable ice chests and the fact that this product hasn't been on the market very long also makes it a riskier purchase than something like a Pelican or Yeti that has been around almost 10 years.
Ultimately the choice is yours and I wish you the best of luck.
[yasr_overall_rating]